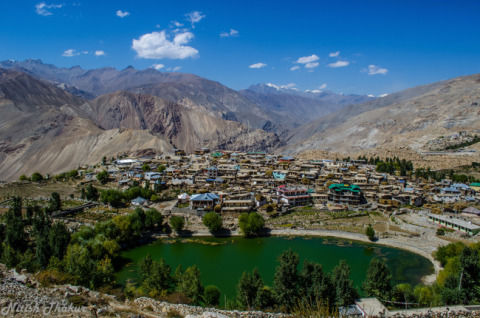 This beautiful lake is high altitude lake located in the Pooh sub-division of district Kinnaur. The lake is surrounded by willow and polar trees. There is a small village on the bank of this lake – and the village seems to be half buried by the lake's borders. On the water's northern side, are four Buddhist temples with stucco images and murals. Near Nako is a footprint-like impression ascribed to the saint Padmasambhava. It freezes in winter and people enjoy skating on this lake
Nako is one of the beauty treasures of Himachal Pradesh untouched by travelers. The village is known for its location in Hangrang Valley at Tibet border, beautiful Nako lake and monasteries.
Nako lake is an oval shape lake surrounded with mountains; valley and whitewashed village give a picturesque location. To experience the scenic beauty, boating attracts people from distant places during summer while the frozen lake in winter becomes hub for ice skating.
There is an ancient monastery located in the middle of the village founded by Ringchen Zangpo in 996 AD. It is famous for its sculptures, murals, art works and scripture. Lotsawa Lhakhang (Translator's Temple) is the largest part of the monasteries. The chortens, jhunkhang (community kitchen) and temples are worth visiting. Buddhist culture dominates the village. The food and clothing is very similar to the Tibetans. The small temple complex which is recent addition to the monastery is used for educational purpose.
During tenth and thirteenth centuries western Himalayan region developed a complex artistic culture under Buddhists culture. All such can be witnessed in seven temples of Nako Village.
Festivals and fairs are the other charm of the village. The tourists can also take part in the festivals. Traditional lamas dances known as Chham or mask dance are very popular in the region. The lamas through their dance show the defeat of the evil forces..
Nako has mesmerizing beauty but it is not a free zone for travelers. Tourists require inner line permit to enter the village. All the guest houses and dhabas are located near the village entrance. Since there is nothing much to see in the village a day-long trip is sufficient. But if you are looking for a place with beautiful surroundings to relax then Nako is the place.
HISTORY
In eighth century Master Rinpoche brought Buddhism to Nako and later great translator Rinchen Zangpo founded monasteries between 958-1055 AD. Nako and Tabo monasteries were estabilished around the same period but Nako represents a different kind of Buddhism. Nako monasteries are testimony of well developed Vajranya Buddhist iconography in India.