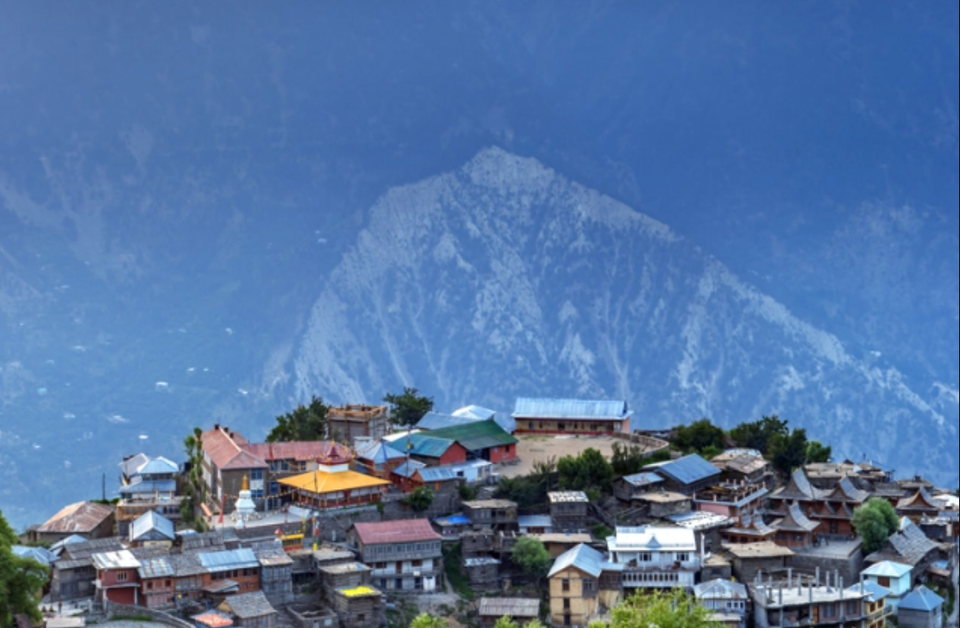 On the road between India and Tibet is where you'll find Kalpa, which is positioned at a height of 2759 metres. The settlement may be found to the north of Reckong Peo, which is known as a centre of Buddhist culture. This location is one of the many amazing spots to visit in Kinnaur, and it perfectly embodies the characteristics of a traditional Himalayan community.
The village of Kalpa is home to a number of Buddhist monasteries, including Gompa and Hu-Bu-Lan-car, both of which are popular destinations for visitors to the area. One may also take in the breathtaking scenery of the placid Satluj River as it winds its way down the Himalayas and winds its way through the rugged terrain of Kinnaur. As soon as you arrive at Kalpa, you will be greeted by the mesmerising views of the Kinner-Kailash range and the Shiva Lingam, which is a well-known Hindu religious landmark.
This pagoda-like structure is a magnificent example of the Tibetan Pagoda style, which is one of the many architectural styles used in Tibet. Craftwork made with Kinnauri adorns the interior of the Narayan-Nagini shrine as well. The temple, which can be found at the highest point of the hamlet known as Chini and is located on a hill, is the most popular destination in the community.
Narayan Nagini Temple
The Narayan Nagini Temple may be found in the Kinnaur District community of Chini, perched on a hill in the centre of the village. The Hu-Bu-Lan-Kar monastery is located relatively near to where the Temple is located. It is believed that this temple is 5000 years old, and according to Indian mythology, it plays an important role in the story of the Mahabharata.
According to the urban legends of the area. In this village, as in the majority of the others in the Kinnaur, Buddhism and Hinduism had coexisted. The people of Kalpa did not deviate from the customs that were followed by the rest of the Kinnauri.
The breathtaking sight of the snow-covered mountain Kinnaur Kailash is sure to stick in your mind. It's a must-see attraction when you're in Kalpa. If you leave the Hu-Bu-Lan-Kar Monastery and continue on through the hamlet, you will eventually come across the temple. It shouldn't take more than five minutes to walk there from the monastery.