As they say, you'll never know your limits unless you push yourself to them. In 2018 we thought of pushing ourselves for 110+ kilometers cross-over trek from lush green Parvati valley to cold arid Spiti valley in the Himalayas. With 17, 500 Feet to be gained above mean sea level, roaring Parvati and Pin rivers to be crossed innumerable times, some precarious vertical rocky wall sections to be negotiated, and acutely narrow trails to be traversed in 9 days, PIN PARVATI PASS appeared to be a perfect dose of challenge we were craving for!
Donning the Travel Agent Hat
Among my husband and me, we follow an idea selling cycle. Depending on the obsession, one of us takes out a destination from his or her travel wish-list and sell it to the other party. All tools of marketing are put into practice. Extensive research is done, the big picture is painted, the purpose of the travel is highlighted, inboxes are bombarded with videos and blogs, urgency instinct is stoked to label it as a now or never endeavor, complete itinerary with costing is chalked out, and constant follow-ups are done till the deal is sealed! Thanks to this standard operating procedure, we end up doing a decent amount of short and long excursions.
Trekking in the Himalayas demands your time, physical and mental fitness. Holiday lists of our respective employers were searched to find the auspicious period when the trek could be undertaken with a minimal number of leaves. The plight of working professionals! Finally, we zeroed in on 11th August batch of Bikat Adventures. Regular runs in Bengaluru's beautiful 'lung' area called Cubbon Park and power yoga sessions at home were added to our weekly fitness regime.
Go/No-Go Decision
This year monsoons were early. Heavy rains and flash floods wreaked havoc in Kullu region in the month of July. News of Beas river flooding the highways and people getting stranded kept flowing intermittently. Our parents got deeply perturbed with the idea of we being in the Himalayas in rains and no network. But our trek organizers kept telling the expedition was on as per the plan. A visit was paid to Bikat Adventures head office,
• To know about their ground research
and
• To do some drama to portray that they don't have an option to cancel the trek once we land in Kullu ????
We also had a discussion with a cousin based in Himachal Pradesh. He, in turn, contacted his friend based in Kullu. According to him, since the first week of August things were not as bad as portrayed in media. So, all anxieties were put to rest and we left for Kullu.
A Student caught off-guard before the exam
In the morning, we reached Bhuntar, a town around 10Km away from the main Kullu city. Bikat Adventures picked 6 of us in a Safari and after 3 Hours we reached Tosh. 20 Minutes of a steep hike to the guest house just warmed us up for what laid ahead in next 9 days. In the evening, we met our trek leader Sandeep, local route leader Naresh Ji and got to know our fellow trekkers.
Once our seasoned trekkers started sharing their stunning past experiences of hikes in India and abroad, I seriously felt like that student who happens to meet her classmates, minutes before entering the exam hall. Classmates are super confident because of the multiple mock tests they have taken as part of the main exam preparation and I seem to have landed directly for the main exam with just one mock test taken a year ago. It was funny and baffling at the same time! Did I do the right thing to register for such a tough trek with just one high- altitude trek done back in 2017? Ashish, being a supportive partner gave a pep talk on trusting my physical and mental fitness and just going with the flow.
Trek Route
We were going to experience the spectacular greenery in Great Himalayan National Park and cross over to the cold desert habitat of the Pin Valley National Park.
Day 2: Tosh -> Kheerganga Duration: 6 Hours
Day 3: Kheerganga -> Tunda Bhuj Duration: 5 Hours
Day 4: Tunda Bhuj -> Thakur Kuan Duration: 5 Hours
Day 5: Thakur Kuan -> Odi Thatch Duration: 5 Hours
Day 6: Odi Thatch -> Mantalai Lake Duration: 6 Hours
Day 7: Mantalai Lake -> Parvati base Camp Duration: 7 Hours
Day 8: Parvati Base Camp -> Pin Parvati Pass -> Pin Base Camp Duration: 8 Hours
Day 9: Pin Base Camp -> Tiya Duration: 7 Hours
Day 10: Tiya -> Mud (Village in Spiti) Duration: 5 Hours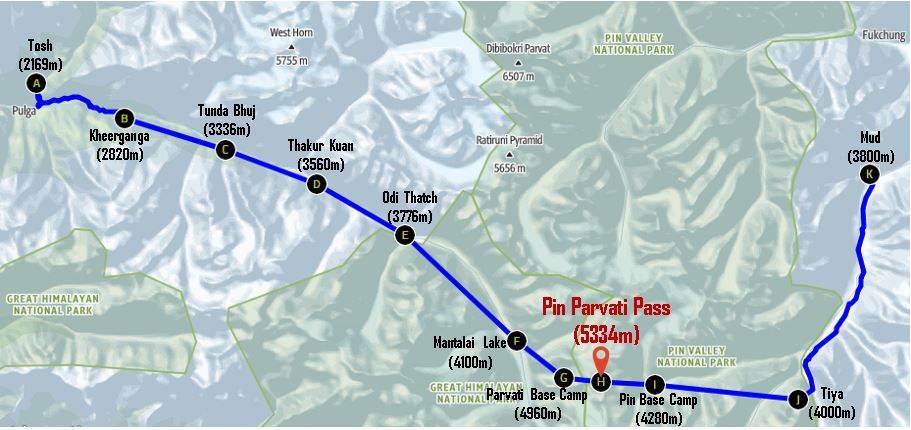 Maneuvering through the Landslides
A 15-minute ride from Tosh and we reached the base from where we had to start the trek. Our spirits were high seeing the bright sunshine and forests full of Deodar trees. Rains in the last few weeks had caused landslides at a couple of places. Soon, we came across the first landslide hit area. Normally, this trail would have taken 10 minutes. Due to a landslide, negotiating the new route through the boulders and loose soil took more than 40 minutes. We also crossed our first set of rivulets flowing down the mountains. This was to become a common phenomenon for the rest of the trek.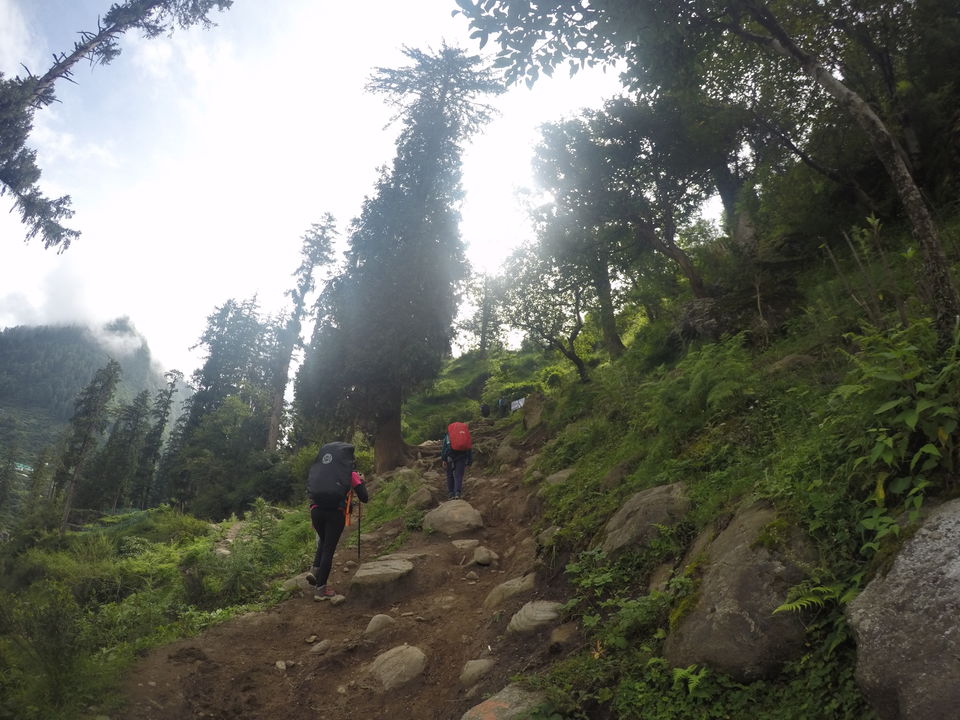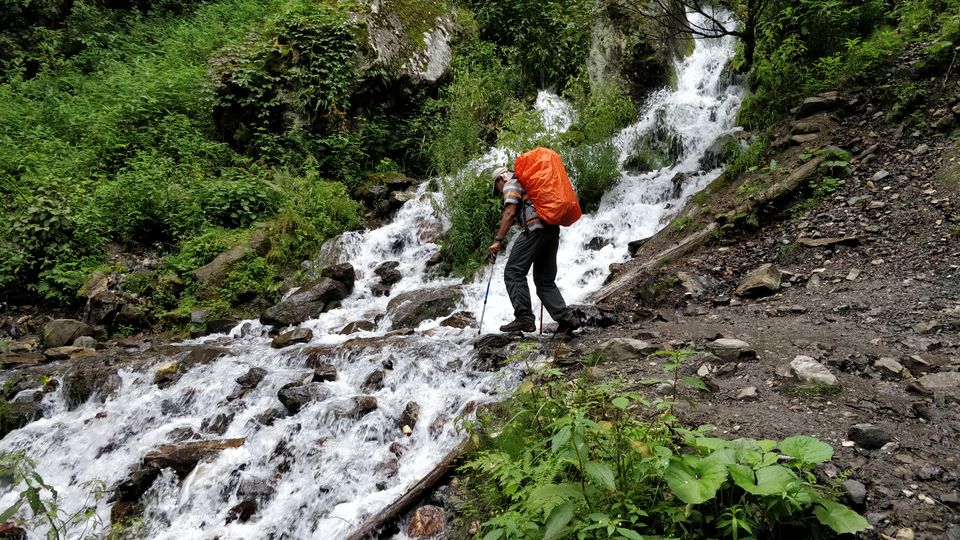 By the time we reached Kheerganga, it started raining. We had to quickly pitch our tents along with the support staff. Kheerganga has a hot water spring with a pool and many of us went to soothe our strained muscles.
Rains, Dense Forests and Muddy Trails
The heavy downpour from the night continued through the morning. We feared to lose a day. Views of waterfalls all around were spectacular but in our hearts, we prayed incessantly for the rain to stop.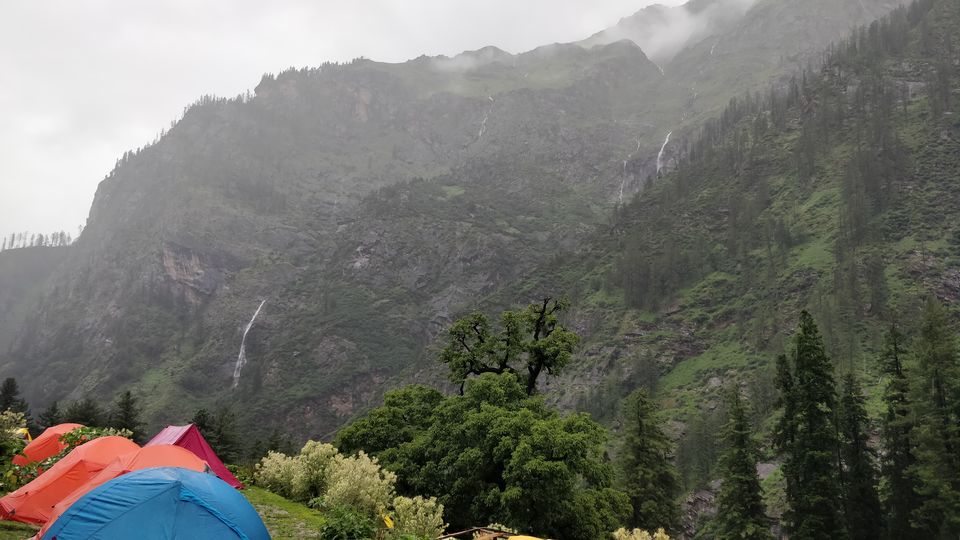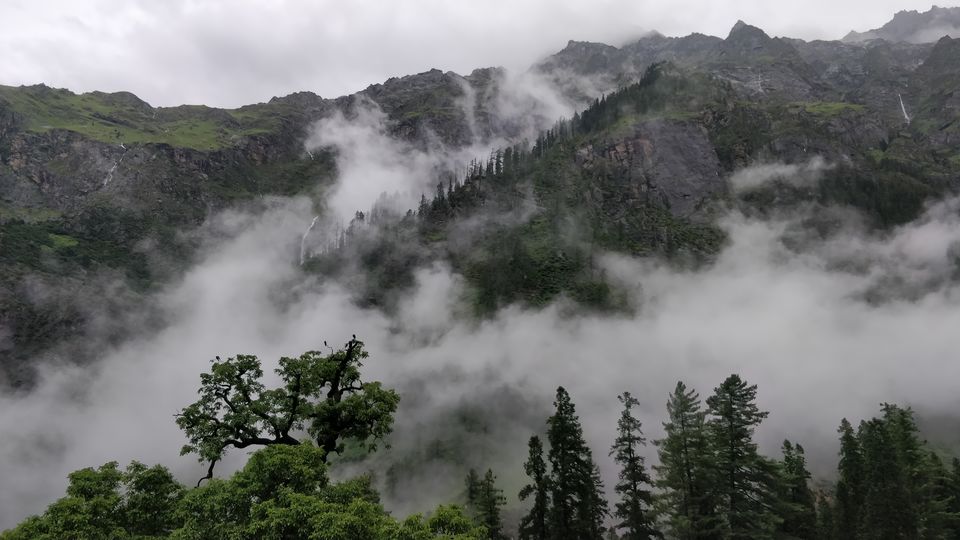 By noon, it was just drizzling. So, we took a leap of faith and began the trek to Tunda Bhuj. The trail goes through dense forests and is known to be muddy. But rains accentuated the muck and mire to another level. One really had to watch his step to avoid slipping.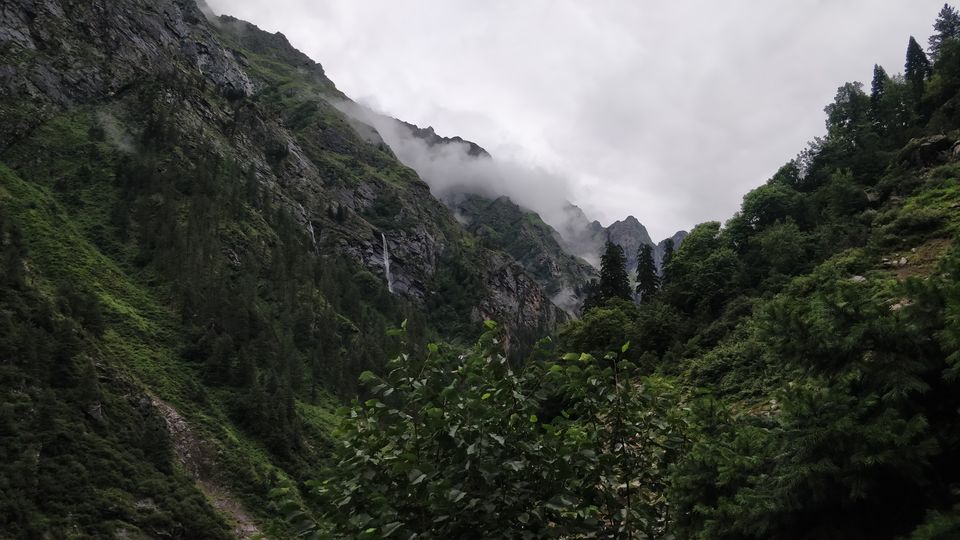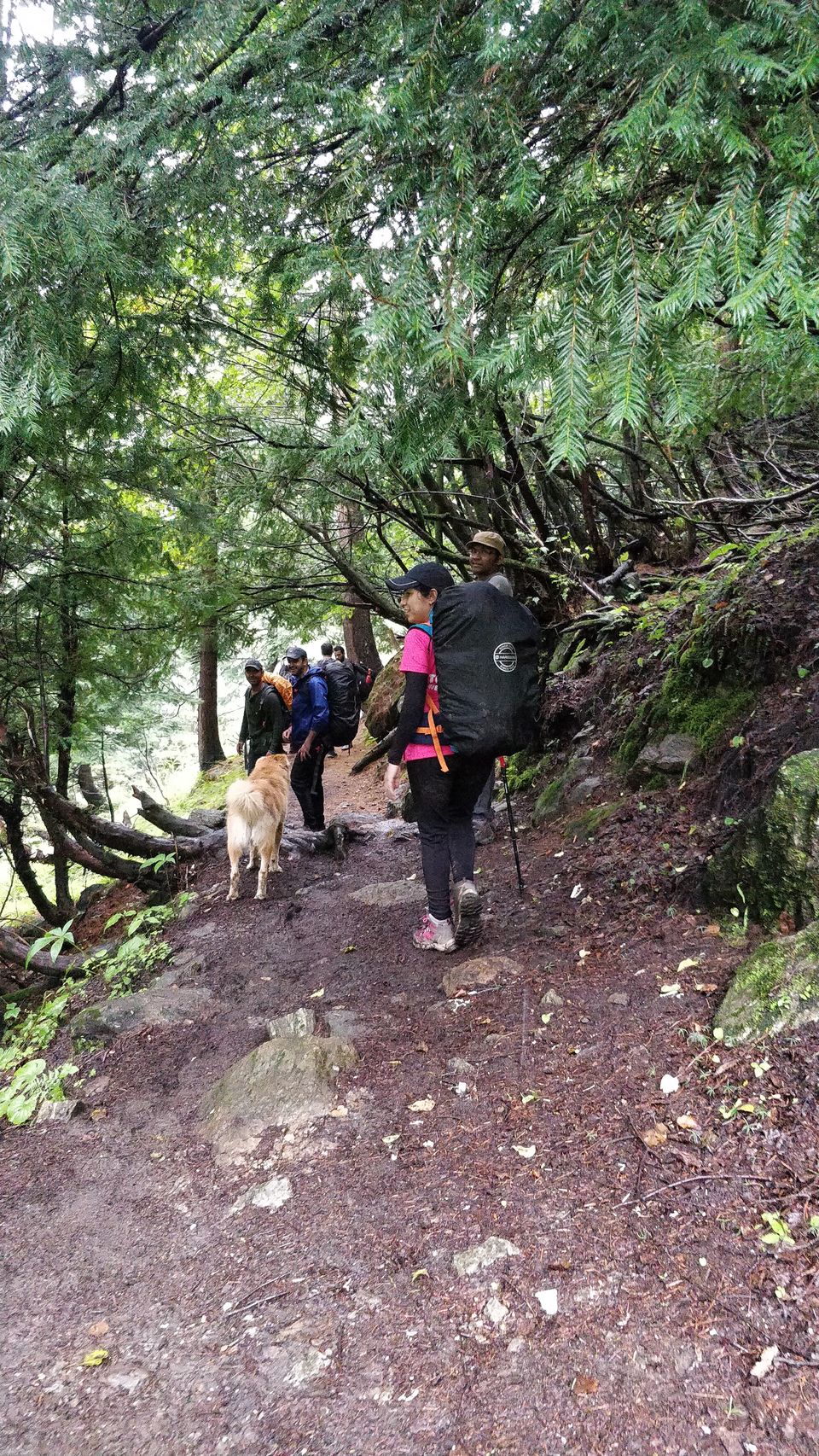 Gaining another 250 meters and Meeting a Dear Friend
Day 4 was relatively easy. We trekked for 4-5 hours, crossed a bridge on Parvati river and hiked on a steep incline to reach the campsite. The best part of the day was to meet our local guide, Devraj Ji from our 2017 Rupin pass trek. He was leading an 18-member Trek The Himalayas (TTH) group. We had very fond memories with him from Rupin Pass trek and it was a great delight to meet him again in the mountains. It is really a small world. Isn't it? For the rest of the trek, we actually had 2 local guides (Naresh Ji and Devraj Ji). In all tricky sections ahead, Devraj Ji used to wait for us to ensure we were safe. It wasn't his duty but pure friendship at play!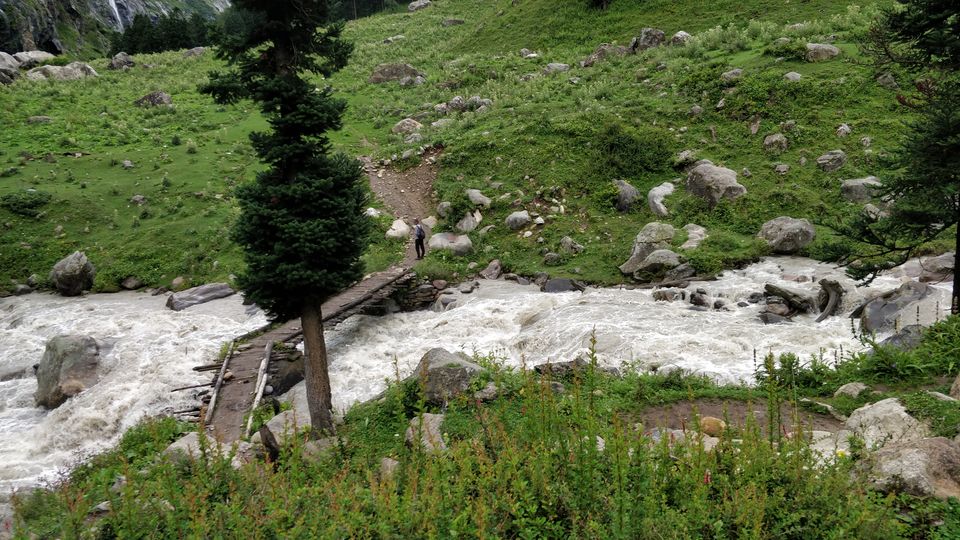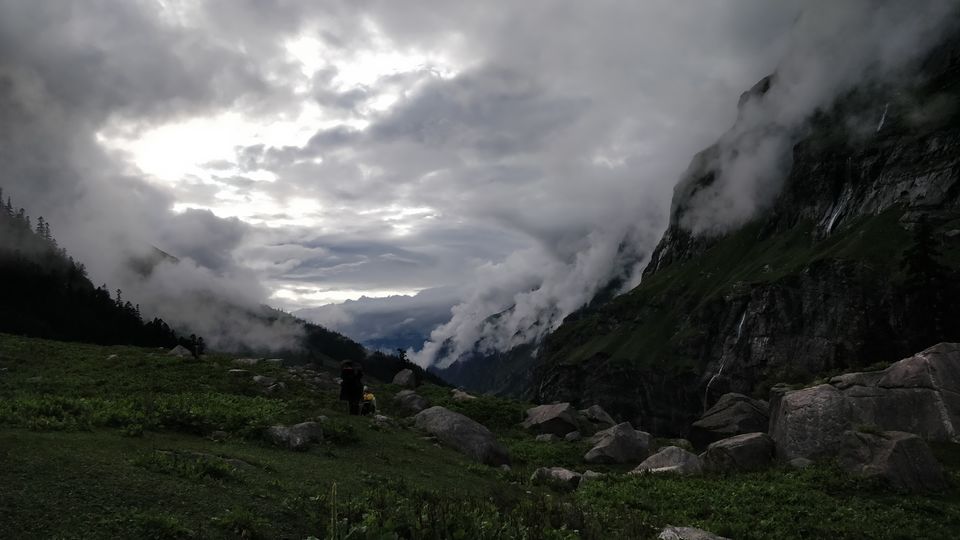 The Most Electrifying Day: Thakur Kuan to Odi Thatch
If I have to pick a day which pushed us to the limit, it was definitely the day we hiked to Odi Thatch. Trails became ultra-narrow. Within half an hour of the trek, we had to literally use all fours to have a firm grip and cross a vertical wall section. One wrong or missed step and you have a precipitous fall of a few hundred meters. Today we had additional staff to help us through these segments. After this we had to cross Pandu Pul I. There is a huge boulder on Parvati river which acts as a bridge. This is followed by another 20-feet boulder bridge, Pandu Pul II. As there is nothing to grasp on these smooth boulder bridges, ropes are used to ensure safe crossing.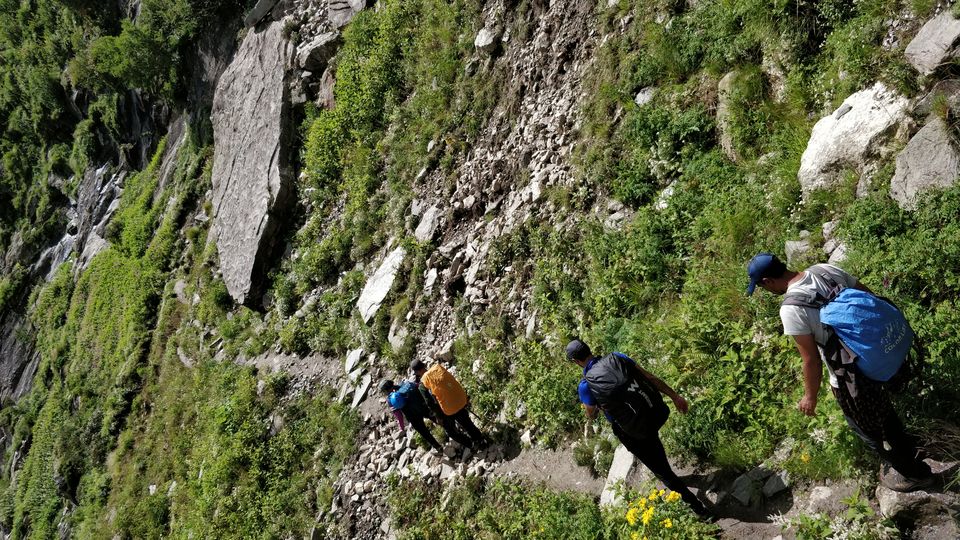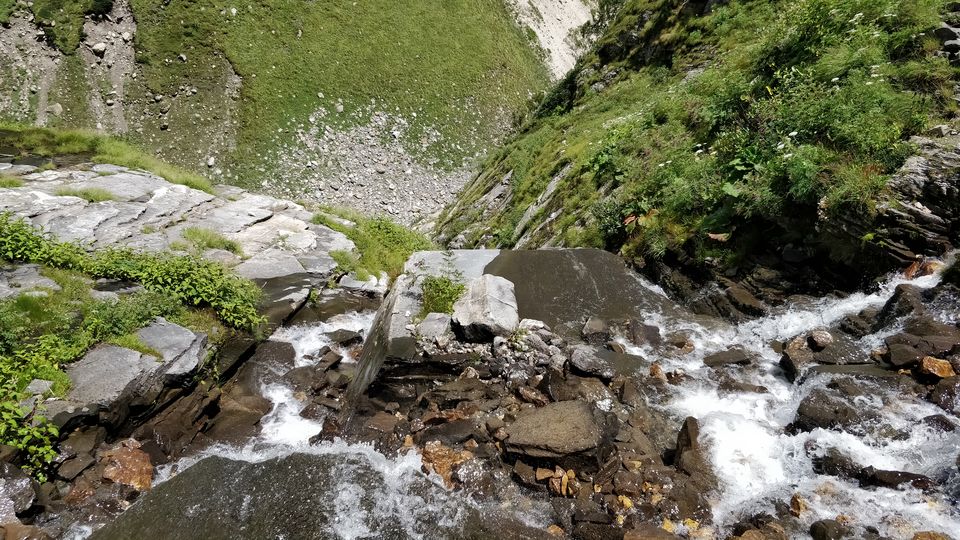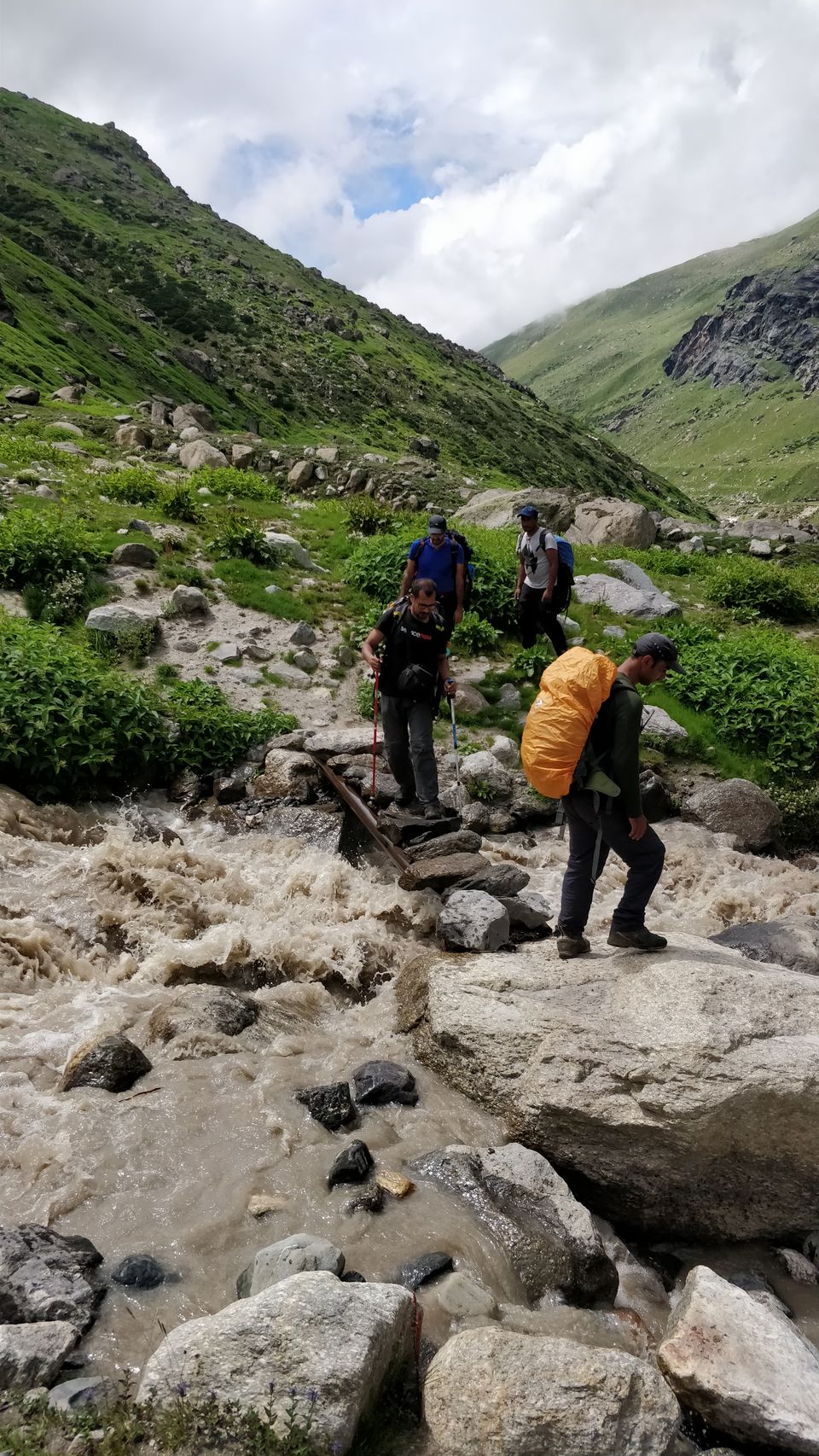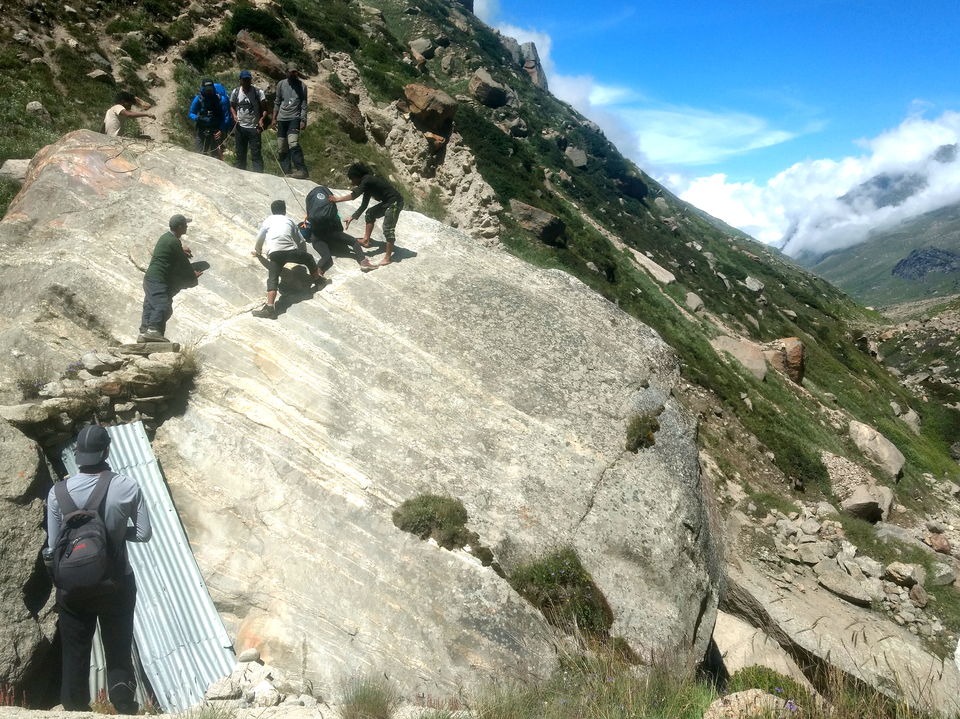 Reaching the origin of Parvati River
Parvati river emanates from Mantalai Lake. Many Hindu pilgrims undertake the long arduous journey to this point to pay obeisance to this abode of Lord Shiva and Parvati. Panoramic vistas of meadows with herds of grazing mountain goats, sheep and horses transform into barren mountains as we leave the treeline far behind. It is mystifying to witness how Parvati river originates from tranquil Mantalai lake and metamorphose into gushing Parvati river.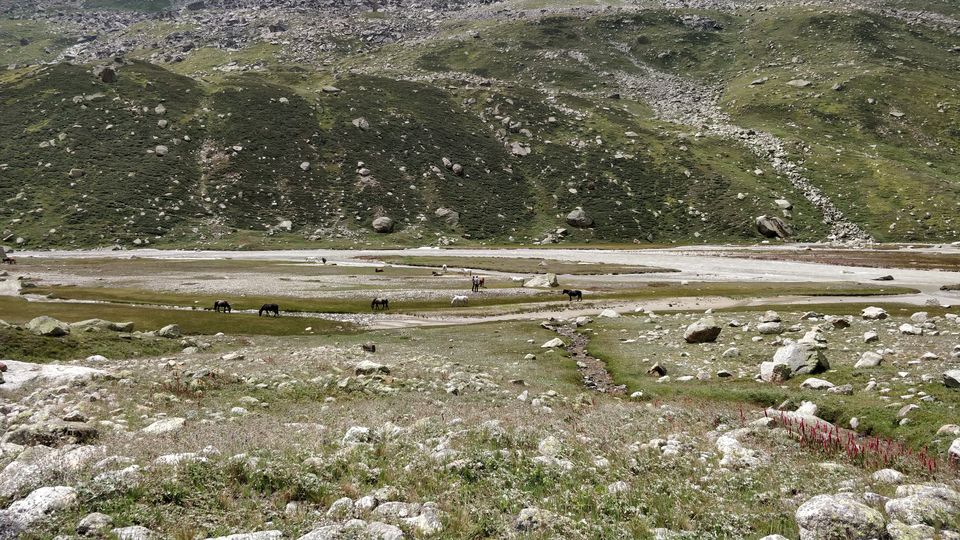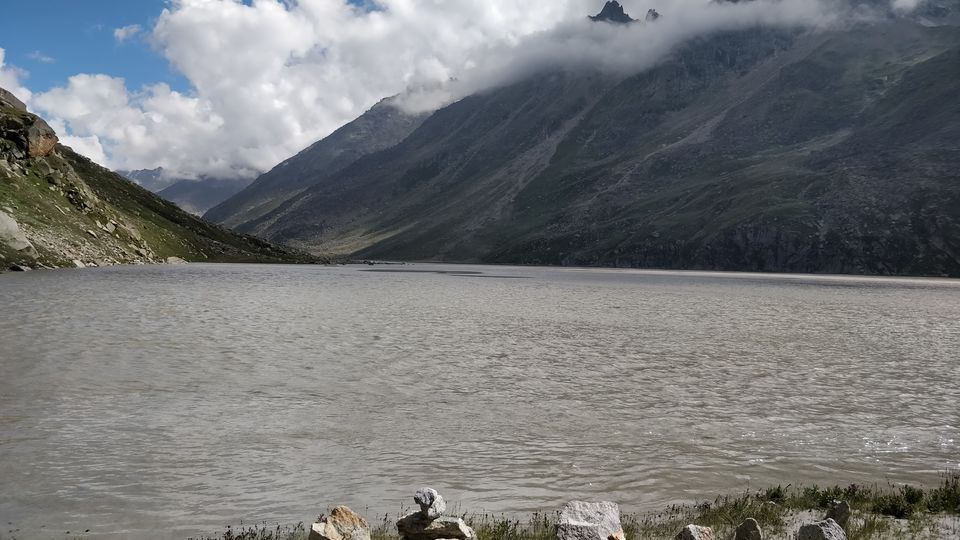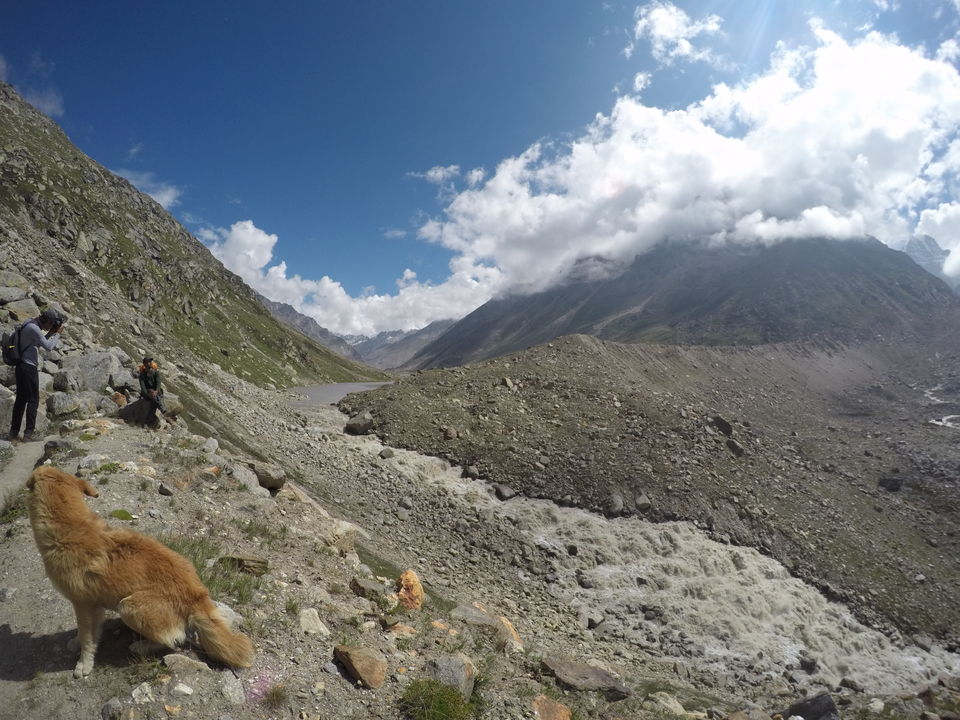 Mantalai Lake to Parvati Base Camp
This was another engrossing day. Though the distance was less, we had to ascend 2800 Feet in one shot. It was a sharp gradient with so-called end-point in sight, but it took us 3 – 4 Hours to reach it. Actually, it was just a ploy by our guides to keep us motivated. It was followed by scaling some more slopes and crossing 80-100 feet wide ice-cold waters. You just stop feeling your feet post that. As if this was not enough, the weather turned harsh. Cold winds and near zero visibility made the final 70 degrees ascend increasingly onerous. Some of us had difficulty in following the guides and lost track. Panic struck, and sparks flew. Testing times like these teach you the best life lessons! Finally, we reached Parvati Base Camp in the evening. With rain back in full swing, acclimatization walk was out of the question. We just stayed put in our tents and feasted on soups and food.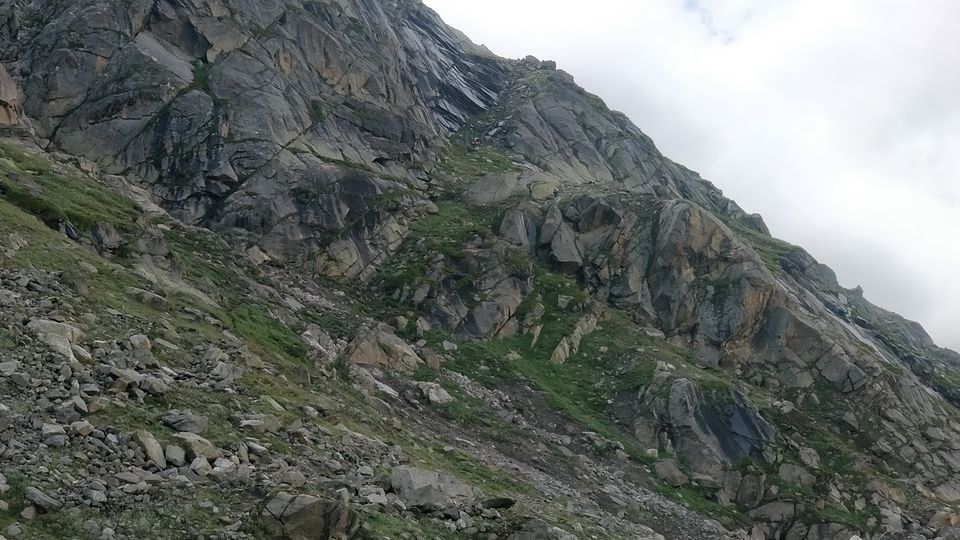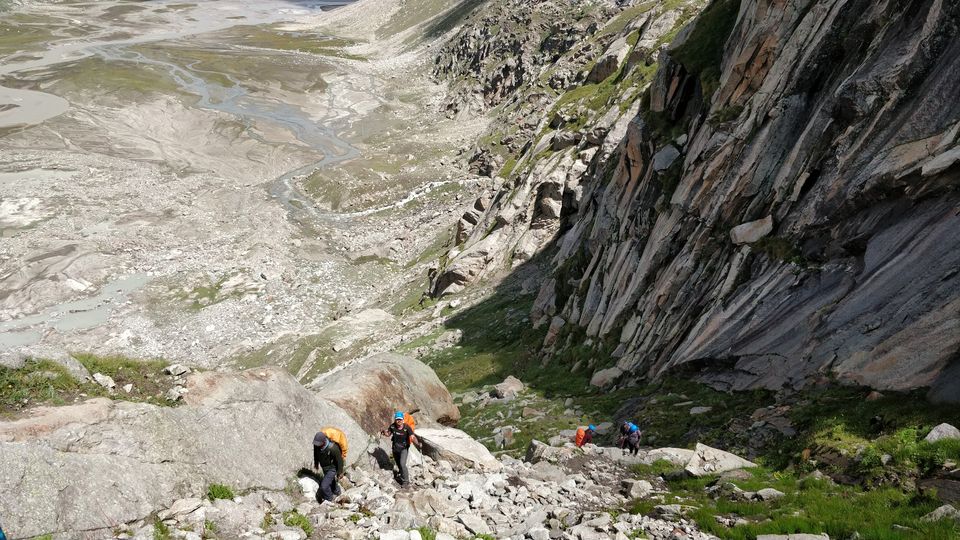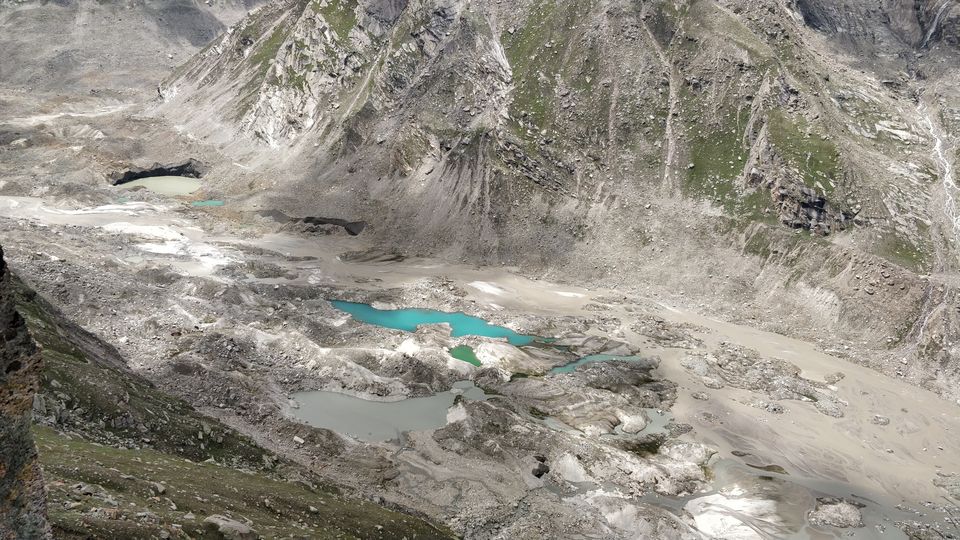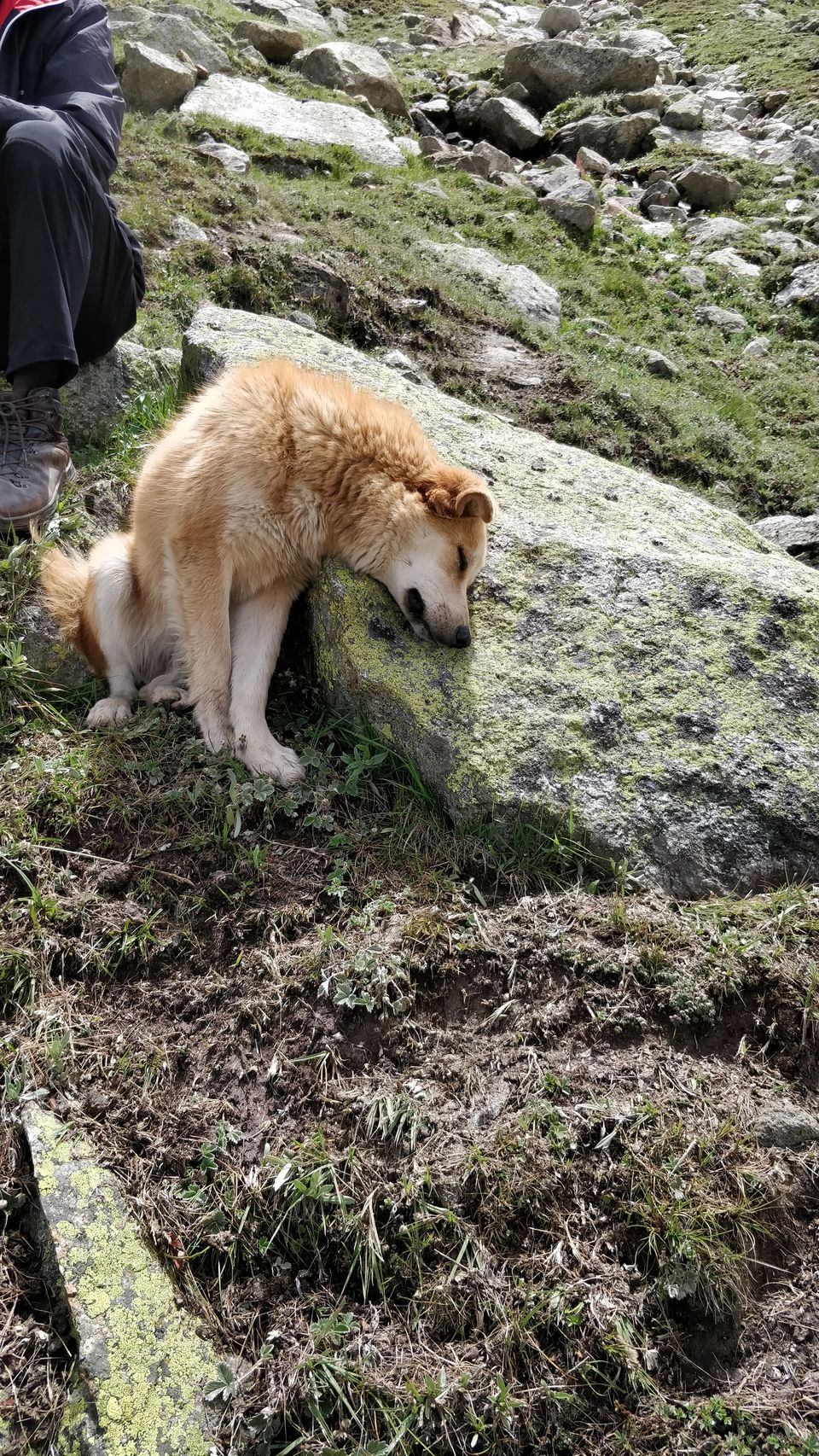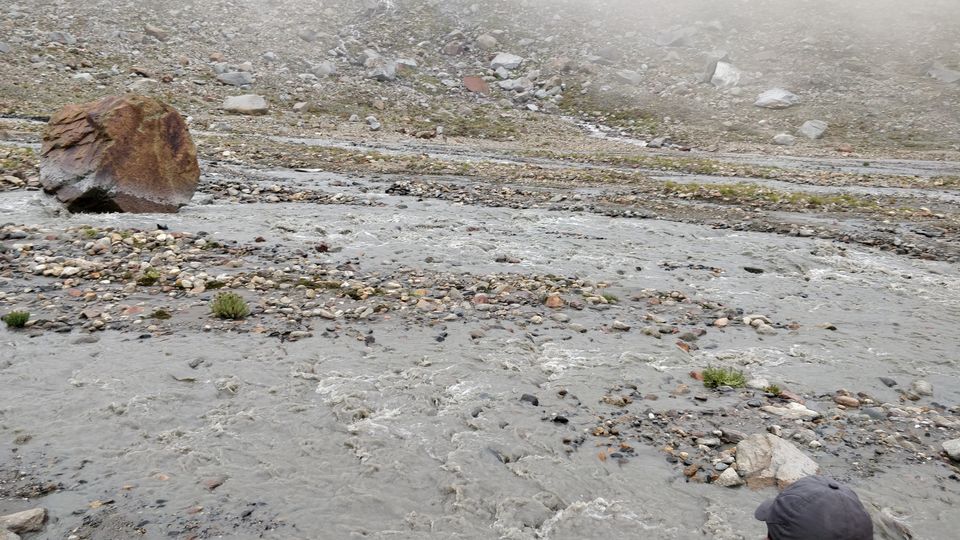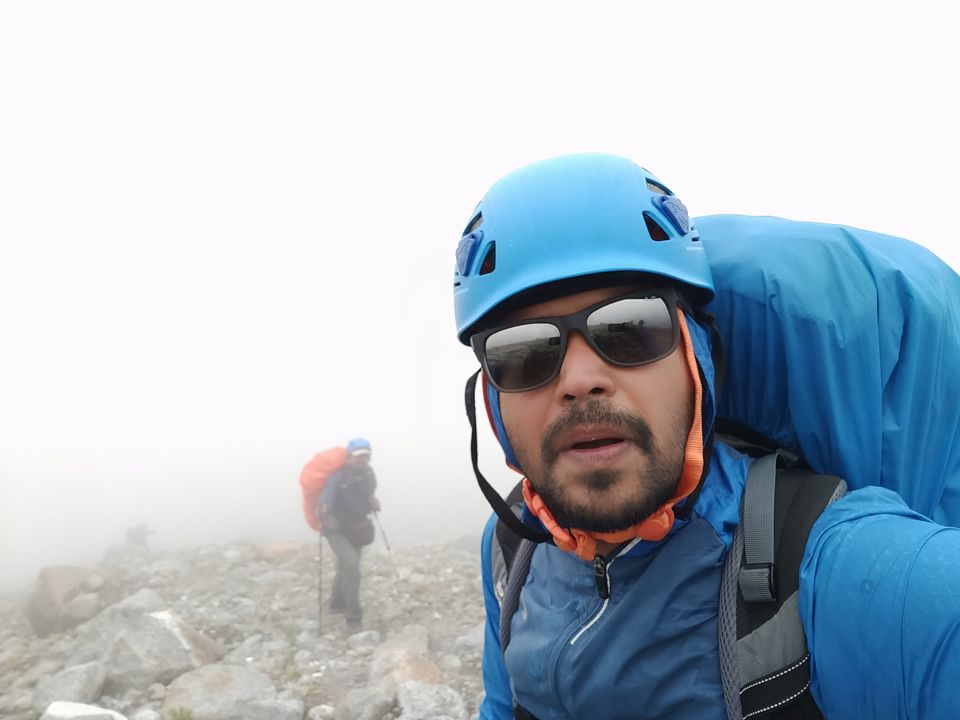 Crossing the Pin Parvati Pass
Today we had to wake up really early so that we could cross the pass when the snow was still firm. We were given crampons to avoid slipping on snow. The whole group was tied together using ropes with the slowest person in the front. The order was reversed in the middle as things didn't seem to work out. Push and Pull mechanism in both the respective arrangements led to rapid depletion of patience levels. But we somehow inched ourselves forward on the glacier for 3 Km. I felt this approach of keeping the group together and ruining the overall mood and pace was pointless. Finally, we regained our freedom before the last 1300-feet slope to Pin Parvati Pass! No wonder, we just ran like maniacs! This final dash to the pass was exhilarating!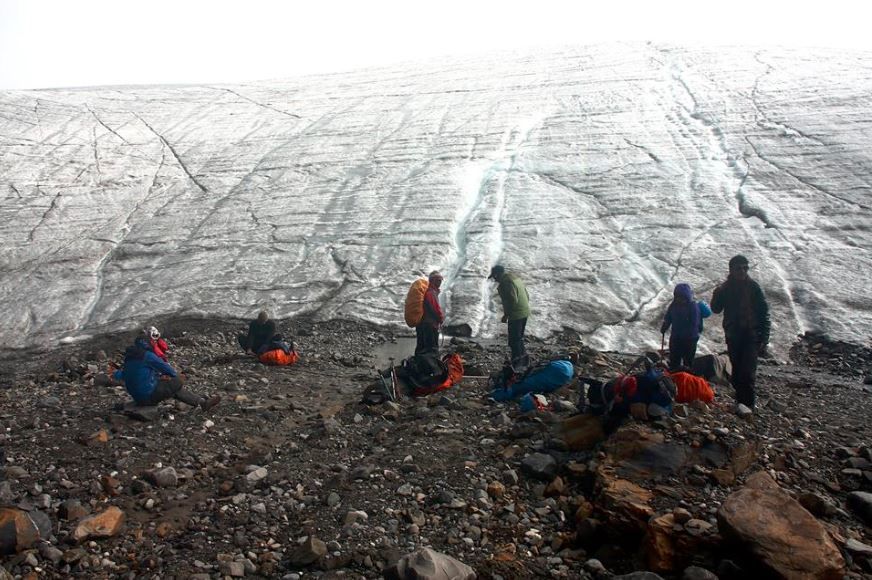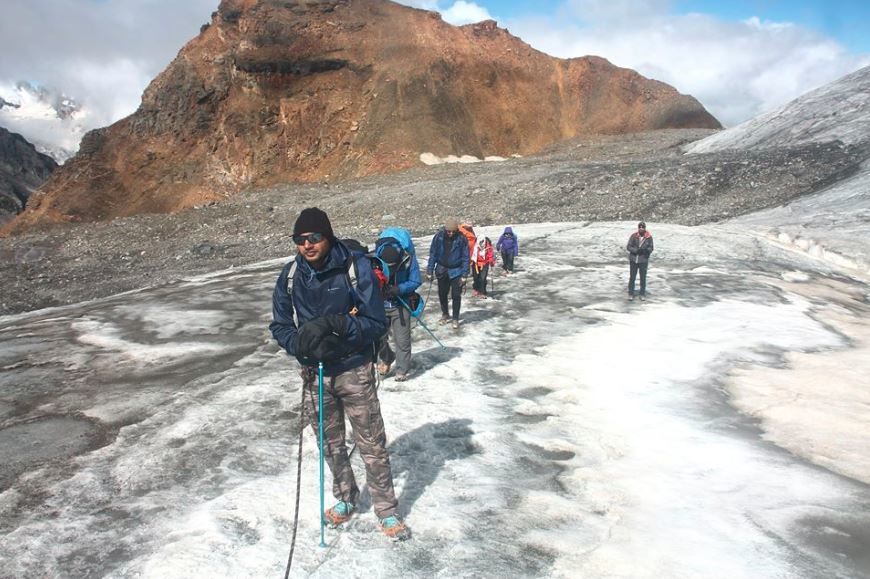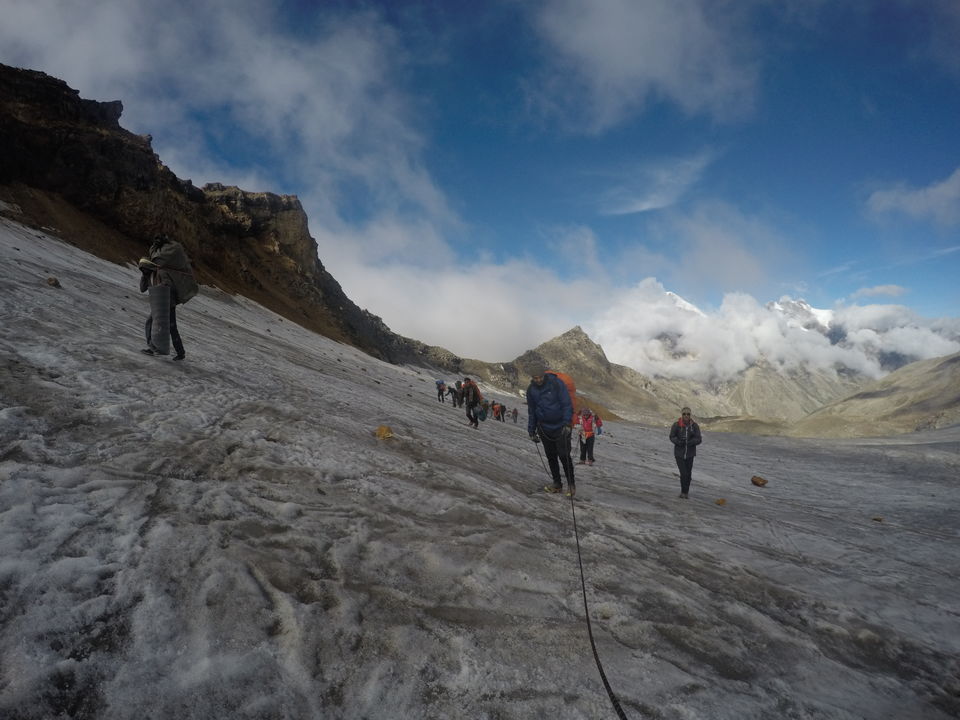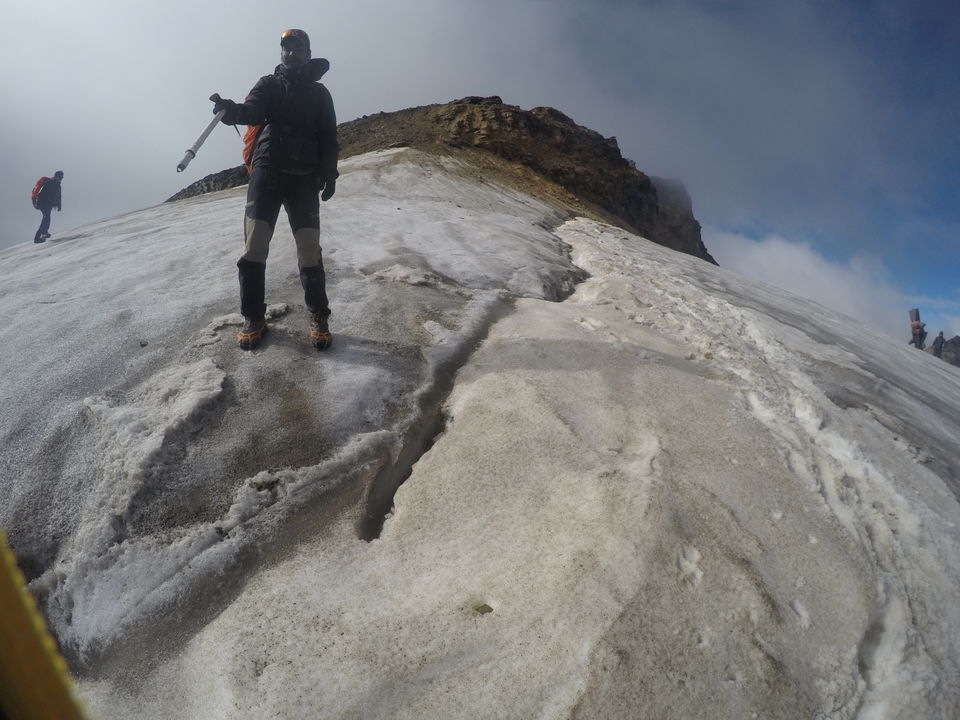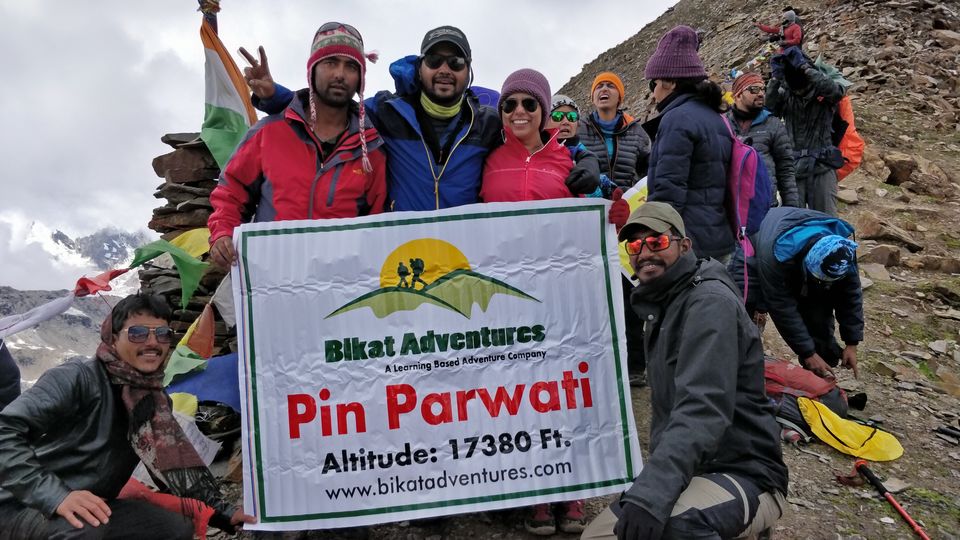 After scaling Pin Parvati Pass, now it was time to walk and at times skid through the snow-clad slopes to enter Pin valley. We also crossed one big unrestrained runnel (called Paagal Naala). It required an hour-long strategic meeting of the trek leaders of Bikat Adventures and TTH to find a way to cross it. In the evening, we reached Pin Base Camp.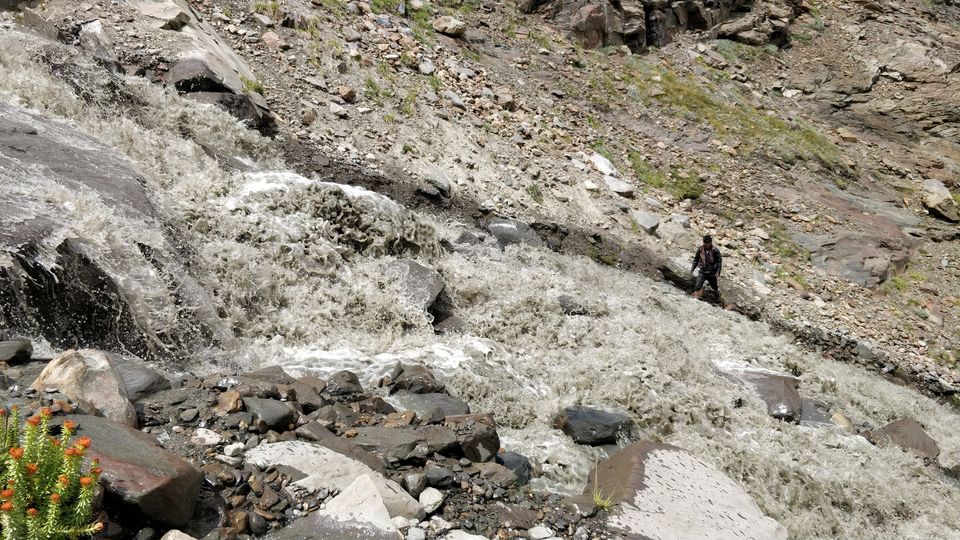 A never-ending trek to Tiya
At morning 7 AM, we formed a human chain and crossed the piercing cold waters of Pin river. I am at a complete loss of words to explain how it felt during and after the drill. Sensation in feet and legs was gone for good 15 minutes. Mind and heart took a while to get out of the electric shock we just experienced. Lifting the feet and putting them in shoes became a herculean task! Like everything, this phase also passed.
Then began the endless journey to Tiya. We walked on extremely narrow downward slopes and crossed a lot of large and small streams. Hazel-colored mountains of Pin valley were in stark contrast to the Pine and Deodar rich mountains of Parvati valley. It is amazing how nature dons' different garbs and present itself in different forms.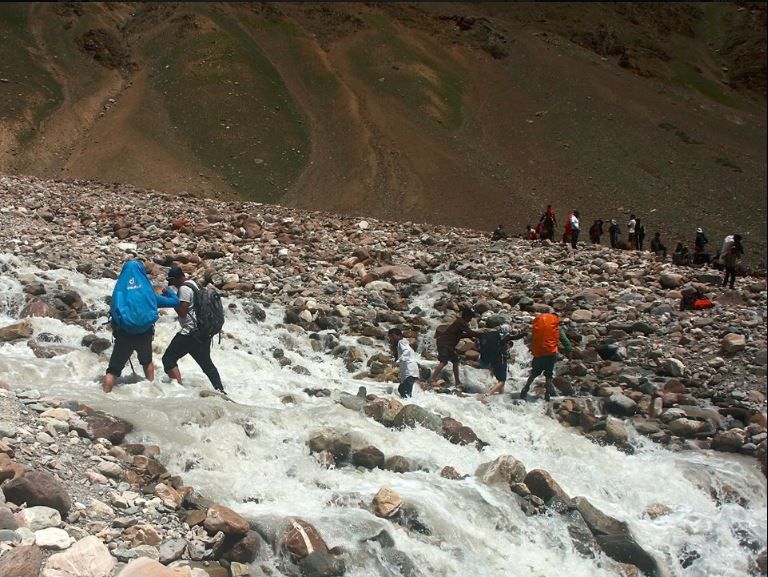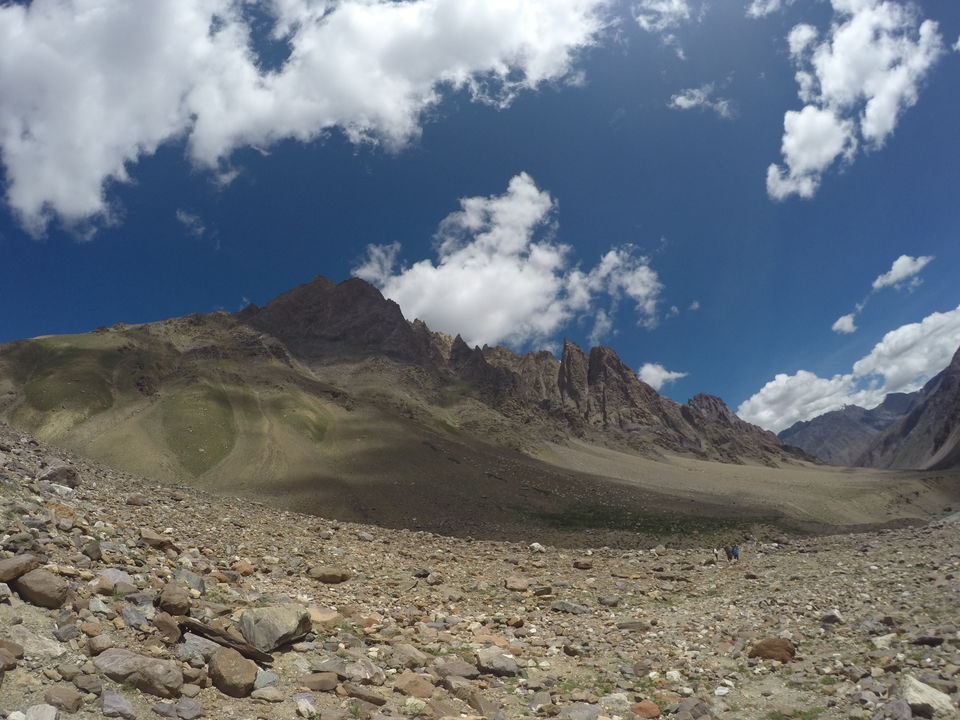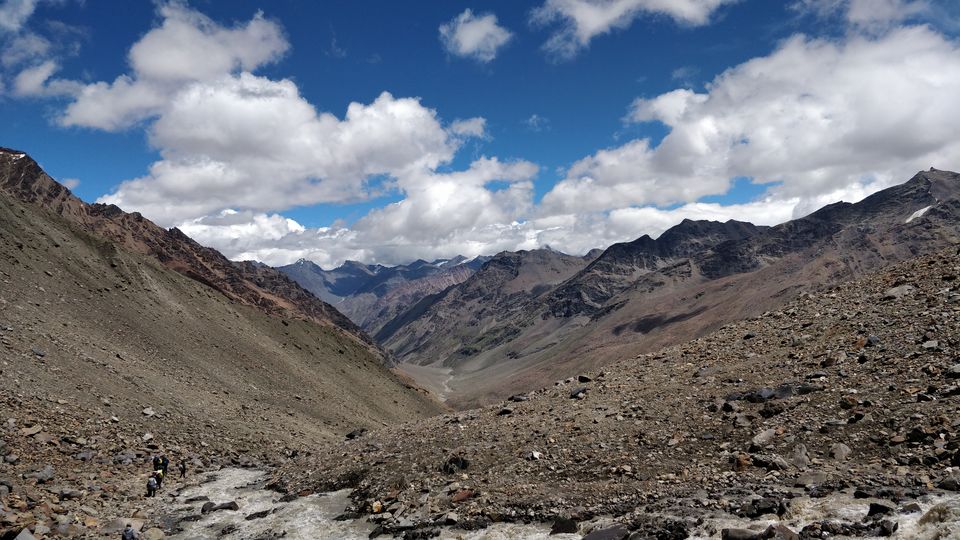 Our Trek got extended by another 10 Km
Ideally, we were supposed to walk for 5 Km, cross a big runnel (Pagal Naala) and wait for the vehicle to take us to Mud village. Due to some communication gap, the vehicle didn't arrive. Waiting for an hour didn't help and few of us decided to just extend the trek by another 10 Km. We walked on the winding roads and saw Mud village very soon. But it was just a reverse rear-view mirror warning. 'Objects are much farther than they appear'.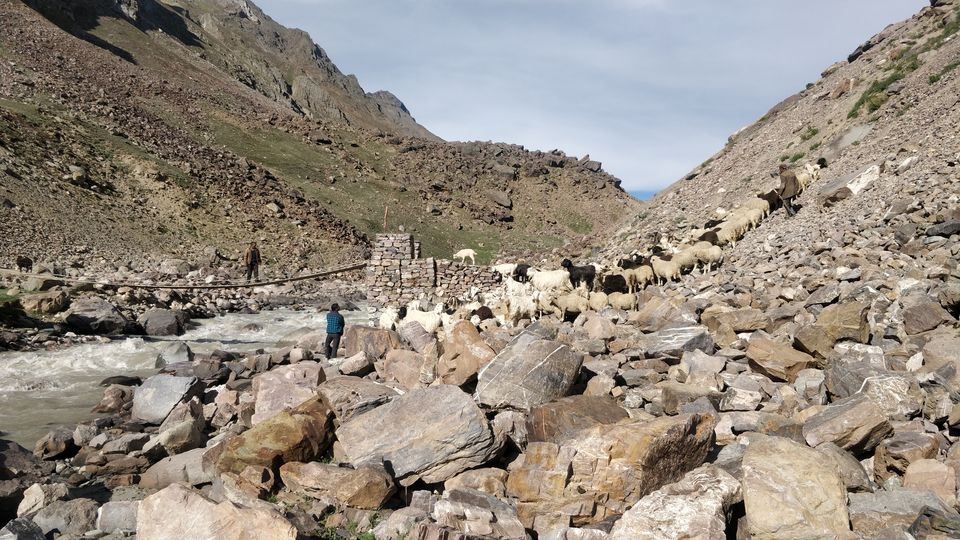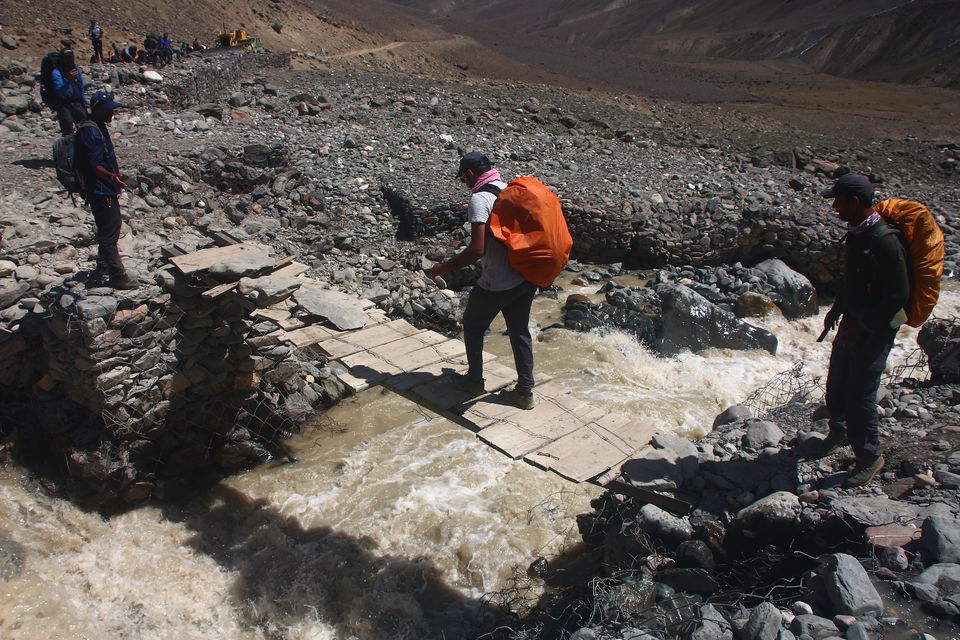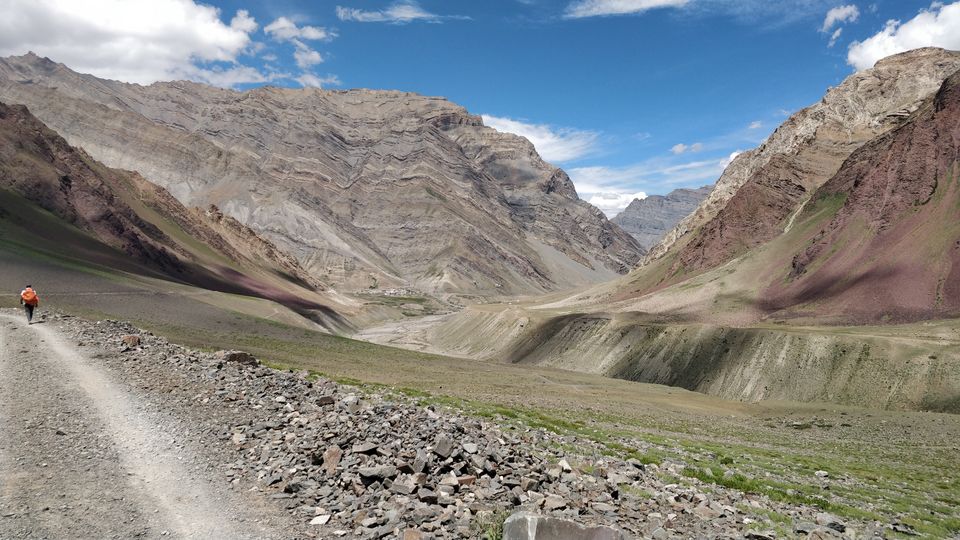 Lack of patience to wait and remaining adrenaline pushed us to undertake this additional 10 Km trek. But in our hearts of heart, we were dreaming of the vehicle arriving at the next turn to pick us up. We saw two vehicles pass by. But none were meant for us! As we approached the village, our thoughts took a different course. Now we badly hoped, come what may, the remaining group members should not reach before us! Human imperfections!
Few Lessons from this Escapade
• Past trekking experiences enhance confidence. But what matters the most is your present level of physical and mental fitness. Prepare really well before undertaking a high-altitude trek like Pin Parvati Pass.
• Carry floaters. They are really useful to walk on sharp stones and pebbles while crossing ice-cold waters.
• Pack light and systematically. Every kilogram matters. Carry bare minimum stuff. You'll never change clothes as frequently as you change in normal life.
• Ensure the trekking shoes are in supreme condition before leaving the city. New shoes bought a year or two ago don't count. They need to be used every few months for the sole to remain intact.
• Drink 6-8 litres of water and carry energy bars and dry fruits for munching.
• Waterproof Backpack cover alone is not enough. Put all the contents of the bag in individual plastic covers to avoid clothes getting wet.
• Do not litter. It is heart-breaking to see plastic lying around in the wilderness. As trekkers, it is our responsibility to keep nature as pristine as possible.
• Listen to the trek guides. They know best.
• Be mentally prepared for mission staying unaccomplished. Weather can turn bad any time and there is a looming possibility of not completing this trek.
Situation of our folks back home
As we were away from the network we didn't know what was happening back home. We happily kept marching forward and most of the days, we were fortunate to have good weather conditions. But August 13 onwards, Kheerganga and all the approach towns to our trek had severe rains. News of cloudburst in Manikaran, floods in Bhuntar (our starting point), and Kullu raised alarm at home. Highways were blocked for days together. Till the end of the trek, parents on both sides and friends were at wits' end. They kept calling Bikat Adventures office intermittently, following the coordinates of our trek itinerary and finding the weather forecast for each campsite. Finally, they breathed a great sigh of relief when we called from the lone phone booth in Mud village. This is one repercussion I am deeply regretful of! Wish it could be altered!
Exploring Spiti Life added to the wish-list
Did I say at the start, idea is to cover the places in one's travel wish-list? But what if every wish fulfilled, adds another wish to the list! Glimpses of Spiti villages: Mud, Kaza, Key, and Kibber on our way back were mesmerizing and made us crave for more. Hand-drawn map of Spiti on the wall of a hotel in Kaza conjured up a new desire of extensively exploring the life in Spiti. God knows when that will happen! This beautiful trek to Pin Parvati Pass will remain engrained in my memory for years to come!