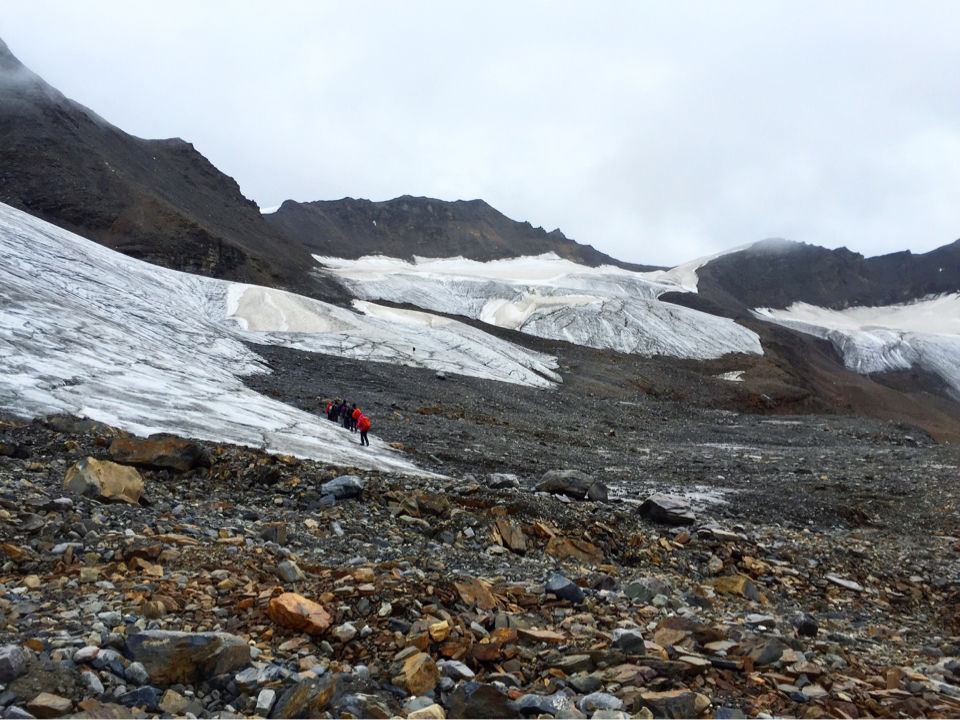 Pin Parvati Pass Trek is a high altitude crossover trek which starts from lush green valleys of river parvati and ends up in cold desert of Spiti Valley. The season for this trek is from July to September as this is a monsoon trek.
This trek is a Roller Coaster Ride in Himalayas because it gives you many ups and downs, full of thrill and adventure. There are many surprises, dangerous portions and we can't even guess what's been there waiting for us. Weather changes rapidly, terrain becomes hard and strenuous as we move ahead and most importantly the height gain. We start from 9000 ft. , go up till 17,500 ft. and get down at 11,500 ft. Such variation gives you a lifetime experience of trekking in The Great Himalayas.
Manali to Barsheni Village Drive (92 km) and Trek to Kalga Village.
13 trekkers from all over India met at Manali Ram bagh at 10am and moved for Barsheni Village in Parvati Valley where Bhuntar-Manikaran road ends. From there we trekked for around half an hour uphill after crossing the under construction Dam to Kalga Village. This day we had a home stay.
Kalga village is a very small village in the lap of parvati valley full of Apple Orchids and green trails. The local family welcomed us so warmly that we felt as if we are their family members.
We introduced ourselves to everyone. Our trek leader did the briefing of entire trek and we discussed our queries about next 11 days of trek. Then we had home cooked dinner which was very delicious.
Everyone was very excited for the real adventure which was going to start from next day.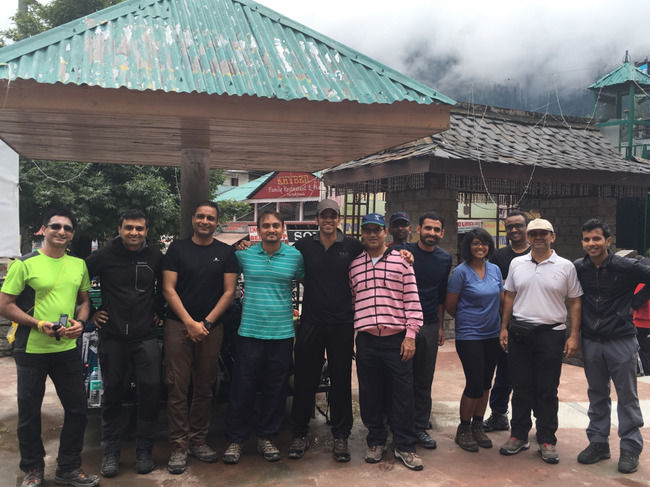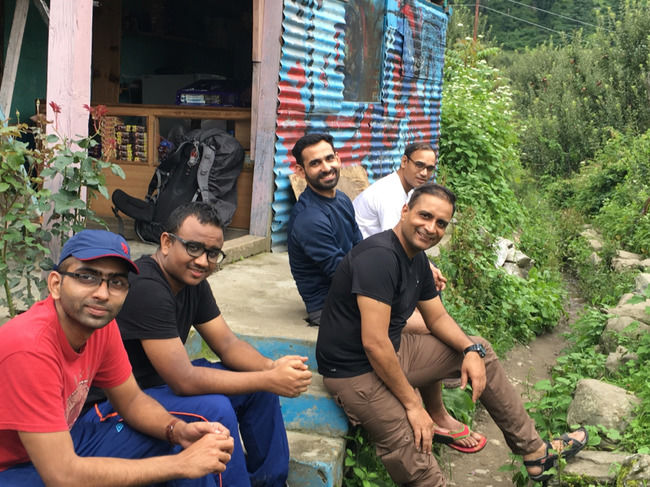 Kalga Village to Kheer Ganga Trek (9 km, 9,300 ft.)
We started at 9 am from Kalga. There are two routes from here : one is directly going upwards and other is from Pulga for which we had to cross the dam again. Since it's monsoon season, our trek leader suggested us to take the pulga route which is in much better condition.
After crossing the dam there are stairs which goes down towards Tosh nallah and cross the bridge over there. In monsoon, the water flow in nallahs and waterfalls become very fast.
Now It was a gradual acsend up till half way which is Rudra Nag waterfall. We cross lush green parvati valley and reached Nakthan village where we had tea and snacks. It was drizzling all the time.
Now it's just half an hour from here to rudra nag where we had our packed lunch. There is a small temple, two cafes and a house near the waterfall. The name explains the waterfall because it's in shape of Nag (Snake).
Post lunch we crossed a very beautiful bridge under which parvati river is flowing tremendously. Everyone stopped there for pictures and enjoyed the beauty of mother nature.
After crossing the bridge it was steep ascend uptill Kheer Ganga with few flat surfaces.
After a sharp U turn we got the first glimpse of a banner saying Welcome to Kheer Ganga. Then we trekked for few more minutes and reached our today's home stay.
Kheer ganga is famous for Hot Sulphur Water Spring for which we were very excited. After settling down there we went for hot water bath. It's so relaxing and natural. The view from spring is so mesmerizing, beautiful meadow and mountain peaks in front of you. After taking bath we got back for evening snacks. Then we had our briefing session for next day, had dinner at 8 pm and slept early.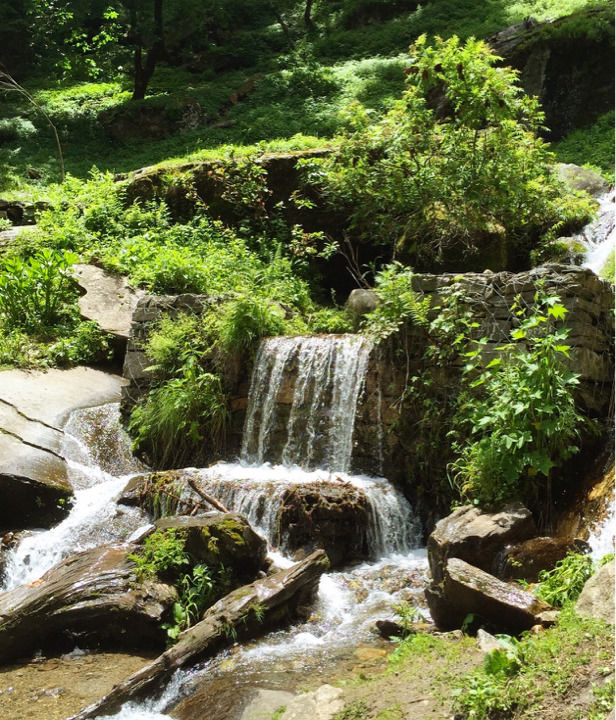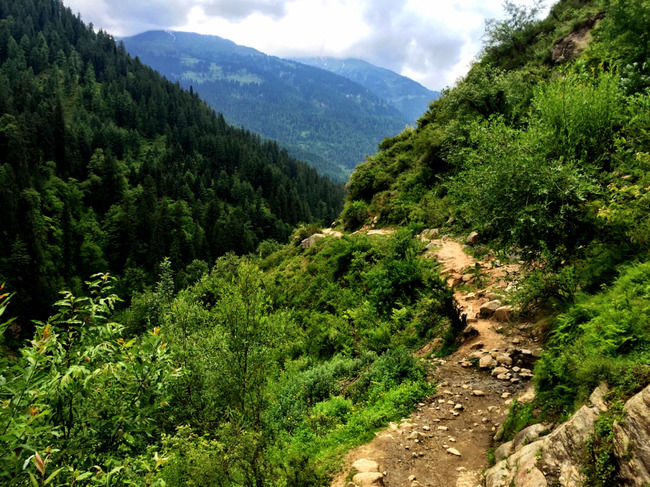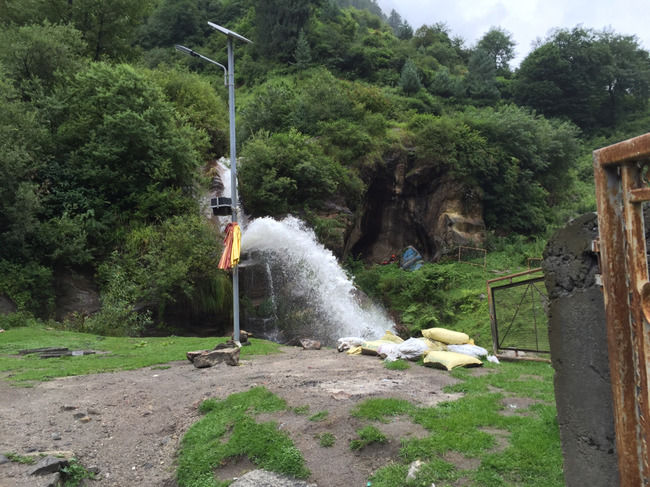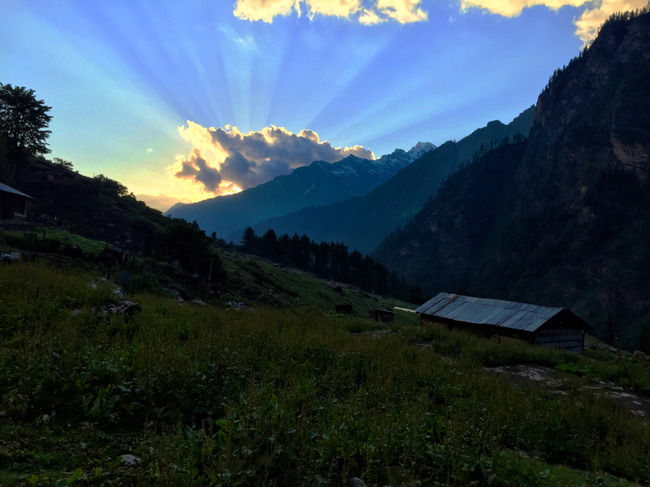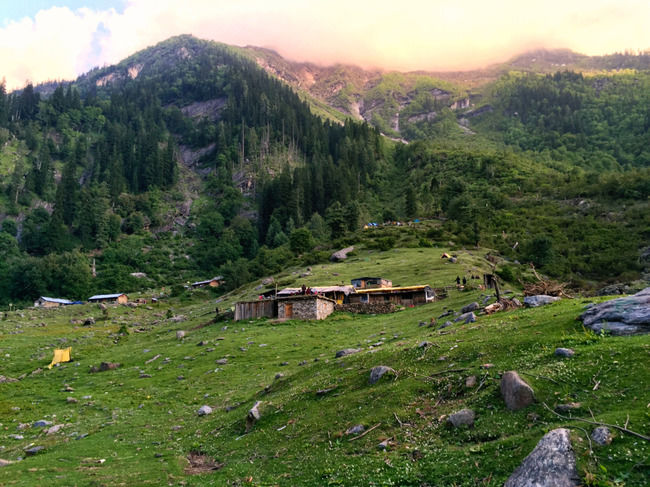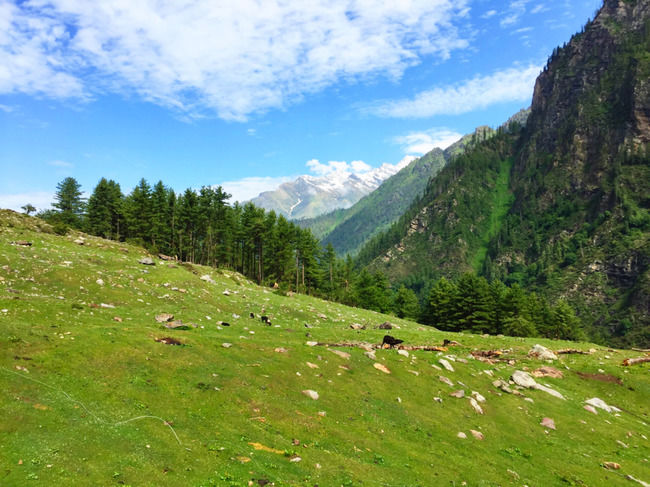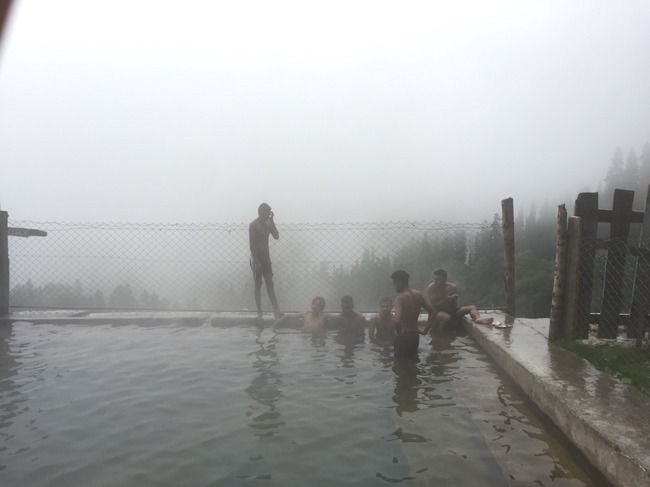 Kheer Ganga to Tunda Bhuj Trek (10km approx., 10,500 ft.)
Now after having early morning hot water bath and delicious breakfast we started our trek for next campsite Tunda Bhuj which is approximately 10 km from kheer ganga and the height gain is 1200 ft. Now there won't be any shop or village for next 10 days except one Baba ki shop at tunda bhuj.
We entered into dense forest of deodar trees and trail goes up with gradual ascend. We trekked along river parvati and after few km there comes another bridge. Pin parvati pass trek is full of surprises and twist & turns.
Today we had to find a place for lunch as there were no cafes, house or any kind of civilization. We sat near a water stream from which water was drinkable and had our packed lunch.
Now again it's a long steep ascend till our campsite from there. It was drizzling again and clouds came down. Our rain ponchos were out.
The last few minutes of climb was little bit strenuous and after crossing the last ridge we saw our porters and kitchen tent and yes that baba ki shop. We had different variety of teas there which were very relaxing. Honey ginger lemon tea, mint tea, ginger mint tea and many more. All were natural instead of ready made flavors.
Our trek leader told us that this campsite has been spoiled due to rain so we all stayed in one big tent tonight because of lack of space to pitch many tents. We enjoyed a lot. Post dinner we played games.
Next morning we had chats with Baba Ashok Giri who runs that last shop. He lives there from april to november and moves to kheer ganga from november to april. Every trekking group meets him for sure because you can't ignore his shop and he takes care of everyone by providing yummy meals.
Now it was the time to leave for next campsite.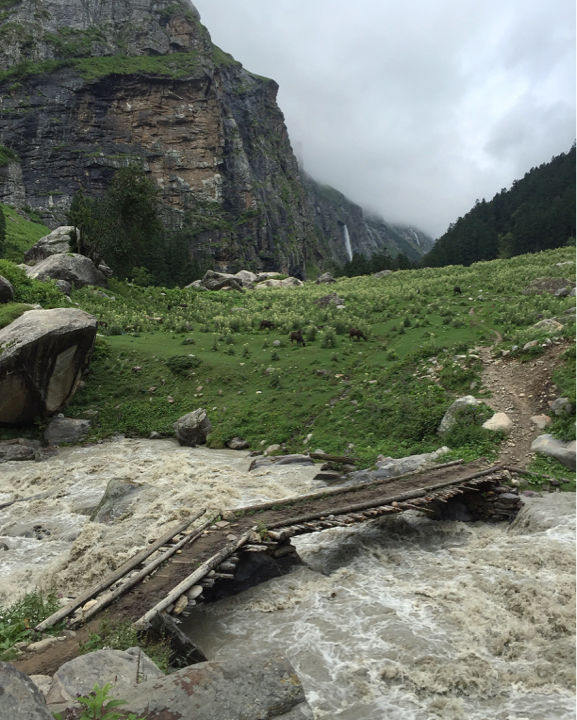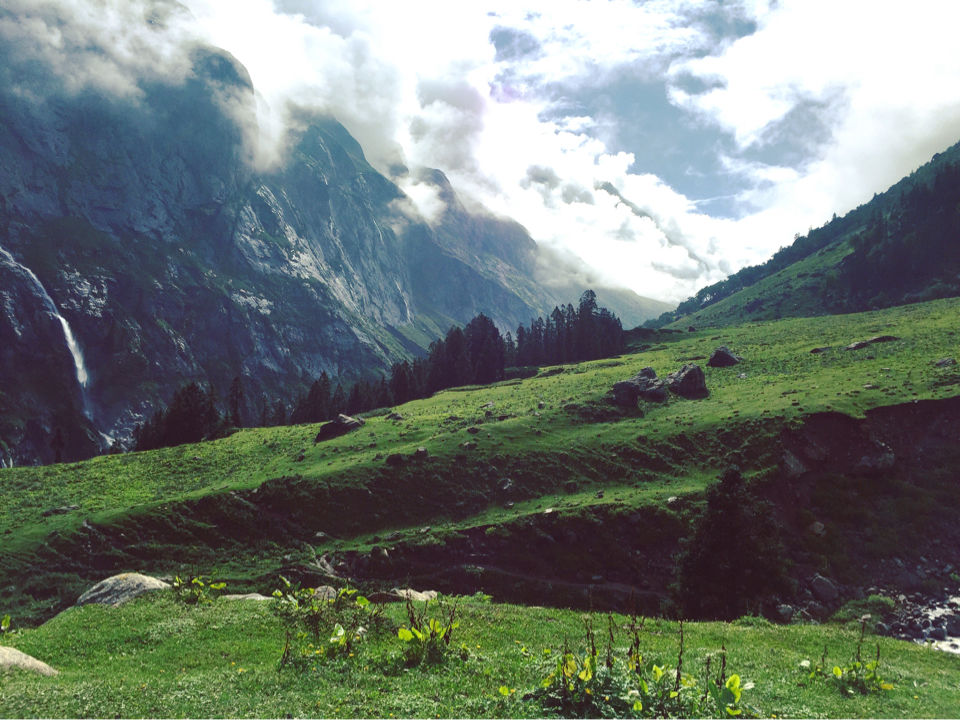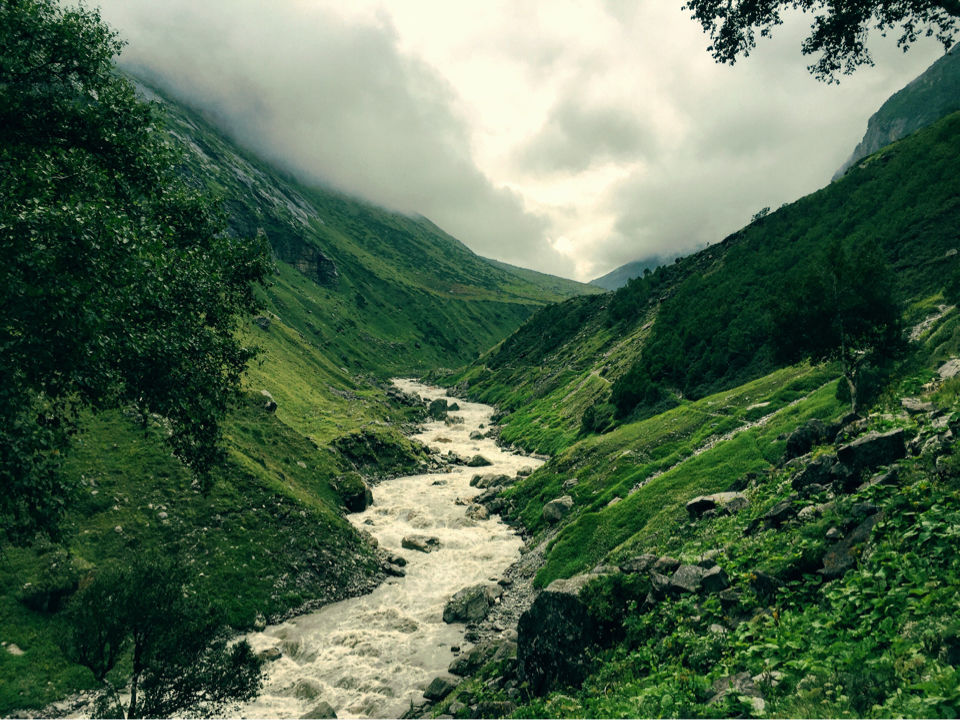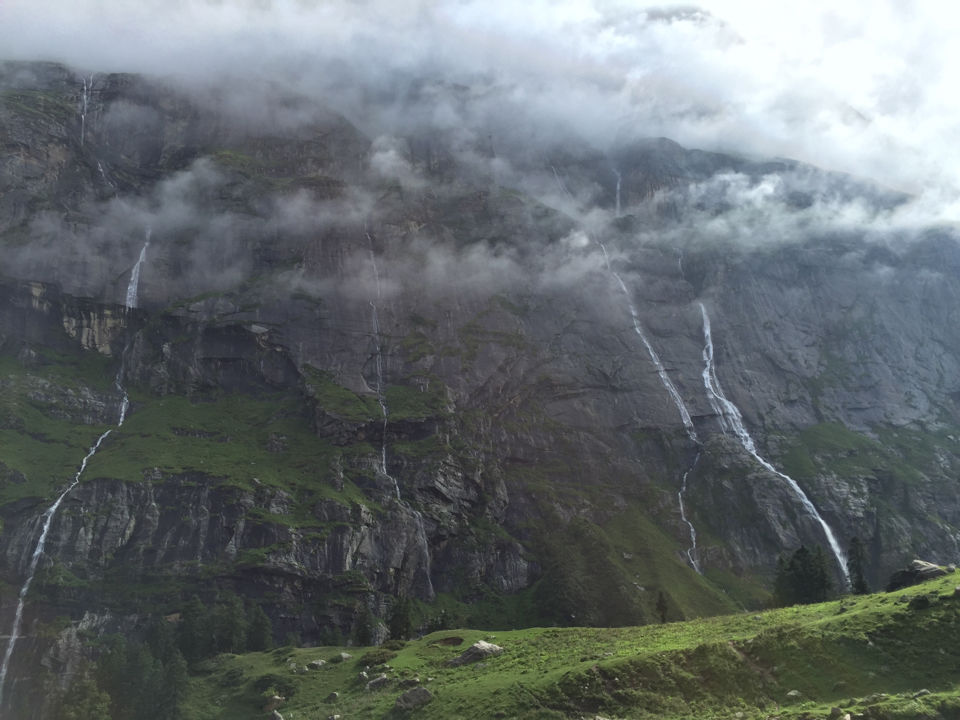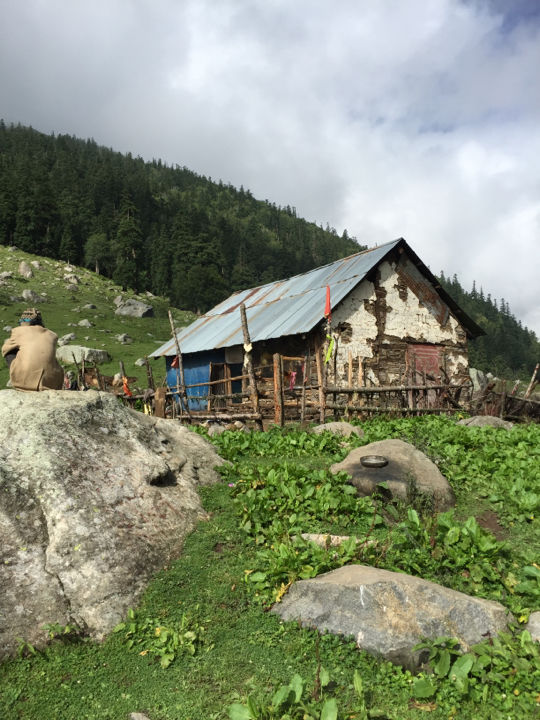 Tunda Bhuj to Thakur Kaun Trek (10km approx., 11,800 ft.)
We started at 9 am as it's gonna be a long day ahead. Now we could see that tree line is going to end and it's all bushes and small plants with full of flowers all over around us.
As we realized valley has become narrow and we were closer to the river I saw my trek leader with some helpers waiting for us above a bolder. He said give me your hand and be careful.
That was the first surprise and we realized that now the trek has become dangerous and difficult.
Back to back there were boulders and huge rocks which had to be crossed with the help of trekking team. There were some portions where if one slips could fall into the river directly. This was the most surprising and fun part till now.
After crossing the big boulders and narrow areas it was 45 degree strenuous climb over rocks. After the climb we reached at a small flat area where we sat on huge rocks and had our packed lunch. Then we started again and now it was almost gradual ascend not really hard through tall bushes and flowers.
We reached are campsite and started pitching our own tents on twin sharing basis. It was a long flat land with 360 degree view of tall mountains and river on one side in full flow but it wasn't visible as it was little bit away and downwards but we could here it perfectly. It was a dangerous day and we climbed for almost 10 km.
We had our evenings snacks, thanks to the Bhuvan Bhai our cook.
Then next day briefing & dinner at 7:30 pm and tonight it was very clear and moonlight. We sat outside post dinner in wind chill and looked at the stars. Such a beautiful time it was.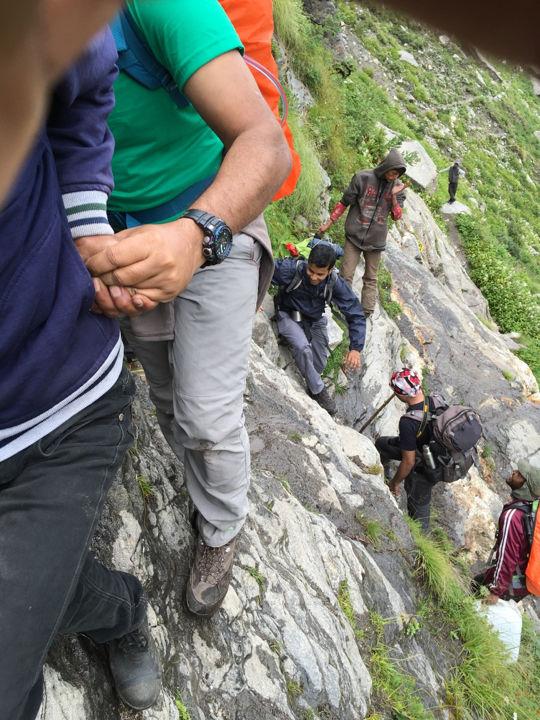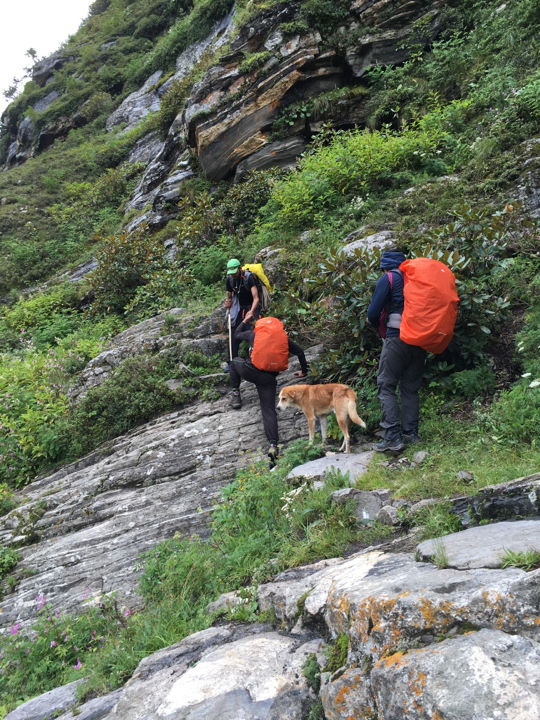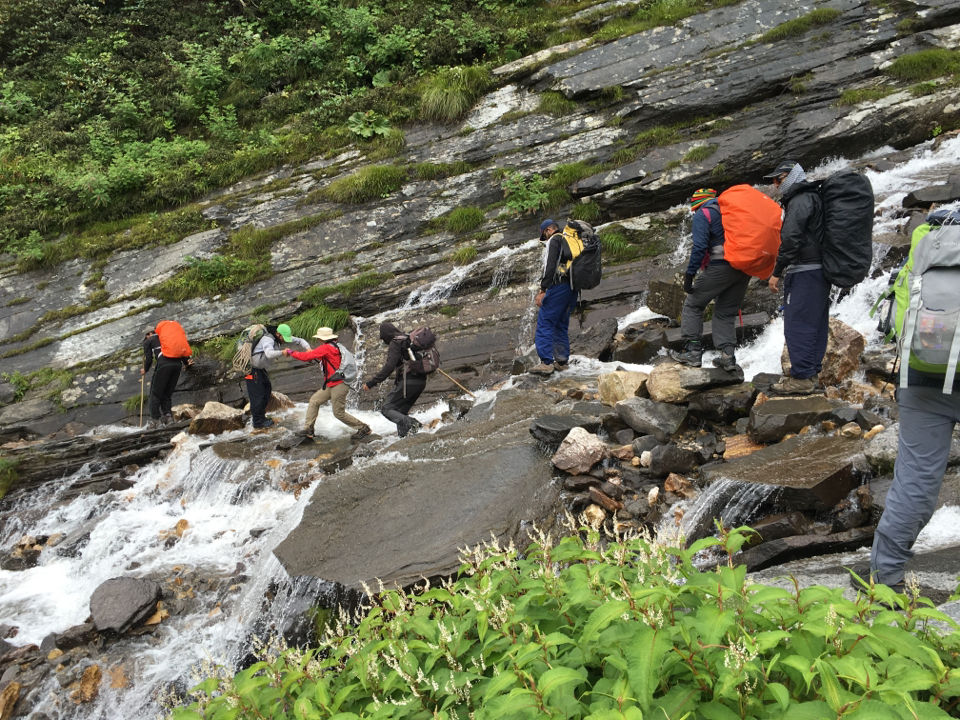 Thakur Kaun to Odi Thatch Trek (10 km approx., 13,000 ft. )
After the previous day adventures we were very curious to know about today's dangerous points. Our trek leader said just be prepared for Everything.
We understood that it's gonna be full of adventure and fun.
After a gradual ascend we saw a broken bridge which was in use few years back to cross river parvati and trail continues on other side. But it was broken and we had to continue on right side of the river. We didn't knew that we had to cross two tough bridges instead of one.
We reached at the first one. These are natural bridges made from huge rocks which fallen down because of landslides. We had to tie a rope on our waist and had to go down on rock and then cross the piles of huge rocks. It was an amazing experience as the nallah which was flowing underneath was very aggressive.
Now after crossing first one there comes another which has a name called Pandu Pul. It was bit easier than first one but this time we were crossing river parvati. Now the trail continues on left side of river parvati. From here the trail is muddy and rocky both but not steep. After few km of trek we had our packed lunch.
Post lunch we continued and crossed many small water streams. Then we entered into a huge flat meadow where one can construct a full size cricket stadium. It was that huge.
After crossing that there was our next campsite. We pitched our tents we couldn't wait so we went out to roam around this campsite as we reached early at 2:30 pm. The weather was favorable as Sun came out. In the evening we played few games, sang songs with our trekking team.
We had dinner at 7:30 pm till then weather was again cloudy and it was wind chill so our down jackets came out now. We slept early this night.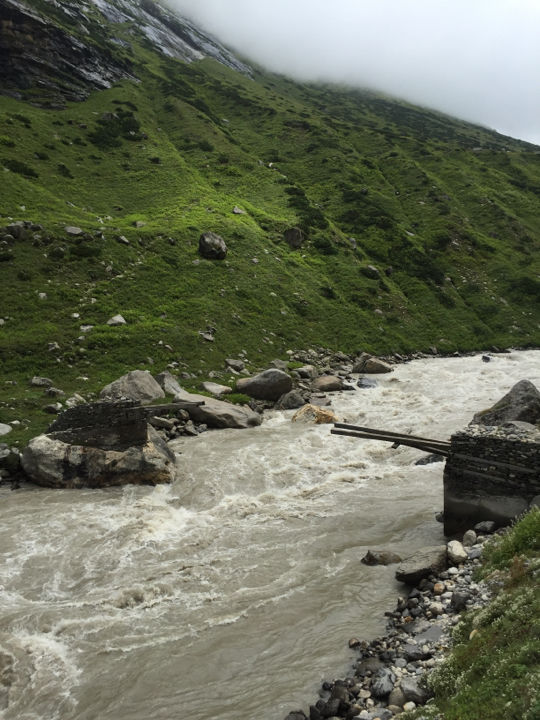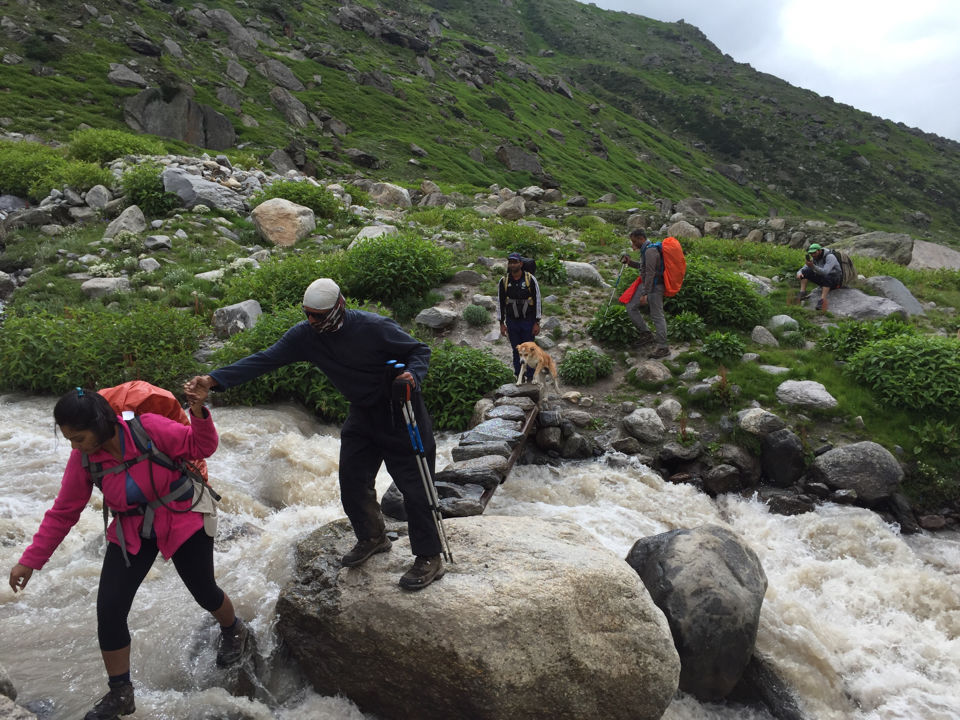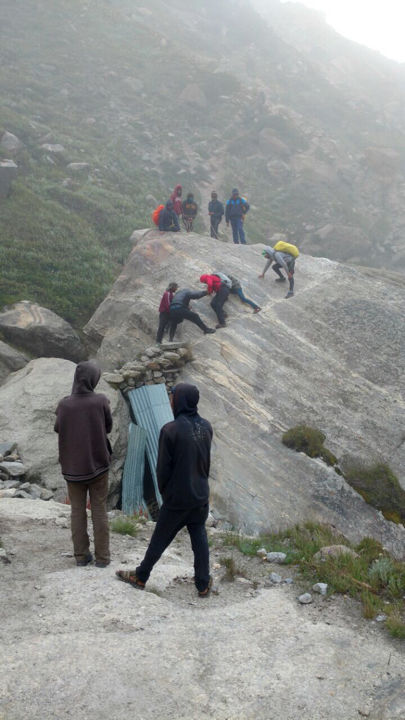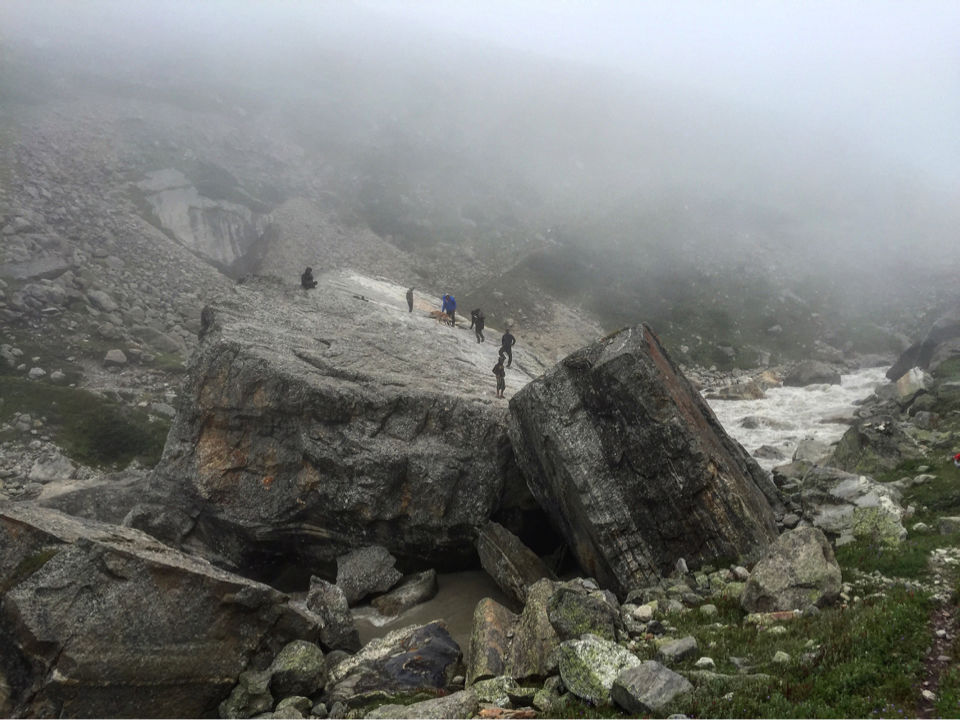 Odi Thatch to Mantalai Lake Trek (10 km approx., 14,300 ft.)
This day is going to be somewhat easier than previous day but as we gain height air gets thinner and oxygen level decreases so we need to drink minimum 5 ltr of water everyday to acclimatize easily.
After few km of trek we reached at parvati river basin. Terrain was muddy and wet. We saw many shepherd here and the meh-meh of sheeps. Who wants to go away from such kind of place. Beautiful landscapes and perfect weather makes your day.
We had our packed lunch on river side. Clicked some pictures and spent a good amount of time there.
Post lunch it was a little bit tough ascend on morain. We had to cross a ridge behind which was the origin of parvati river, the mantalai lake.
We reached on top of the ridge and it was a beautiful site to see Parvati river coming out from mantalai lake. It's a huge lake with a small temple on its shore.
Then it's a descend towards lake and then we spend some time in temple and moved forward to our campsite. It was a long walk along the shore of the lake and we reached finally. We pitched our tents and moved inside as it started raining heavily.
From mantalai lake one can see the mother nature very close and it gives you feeling as if you are in heaven.
It was a cold chilly night. We spent our time inside the tent and slept early as we had to move ahead early next morning.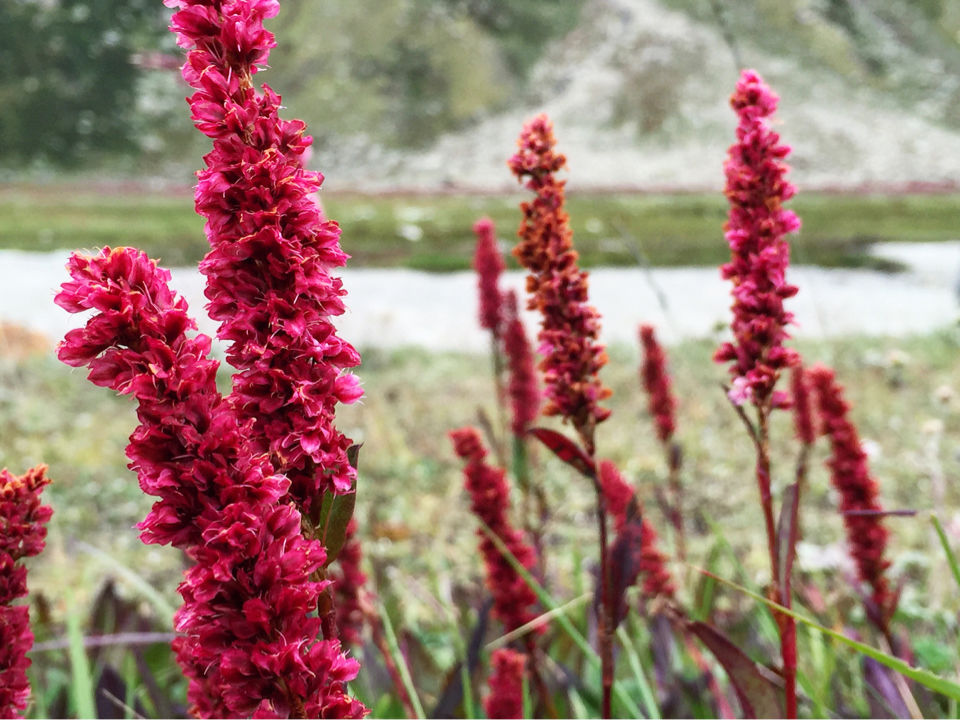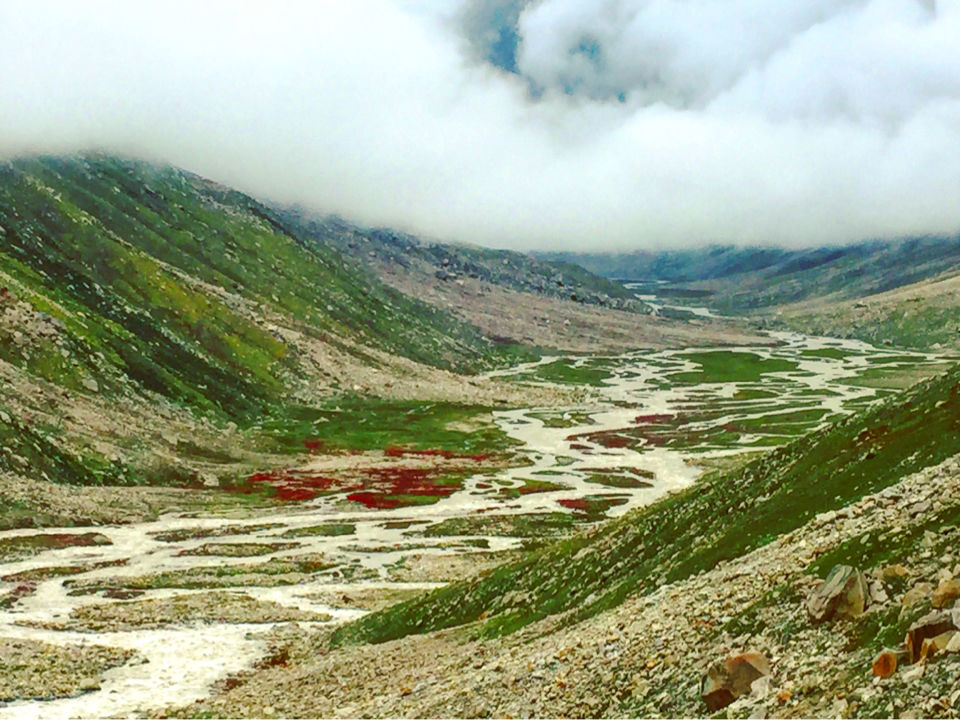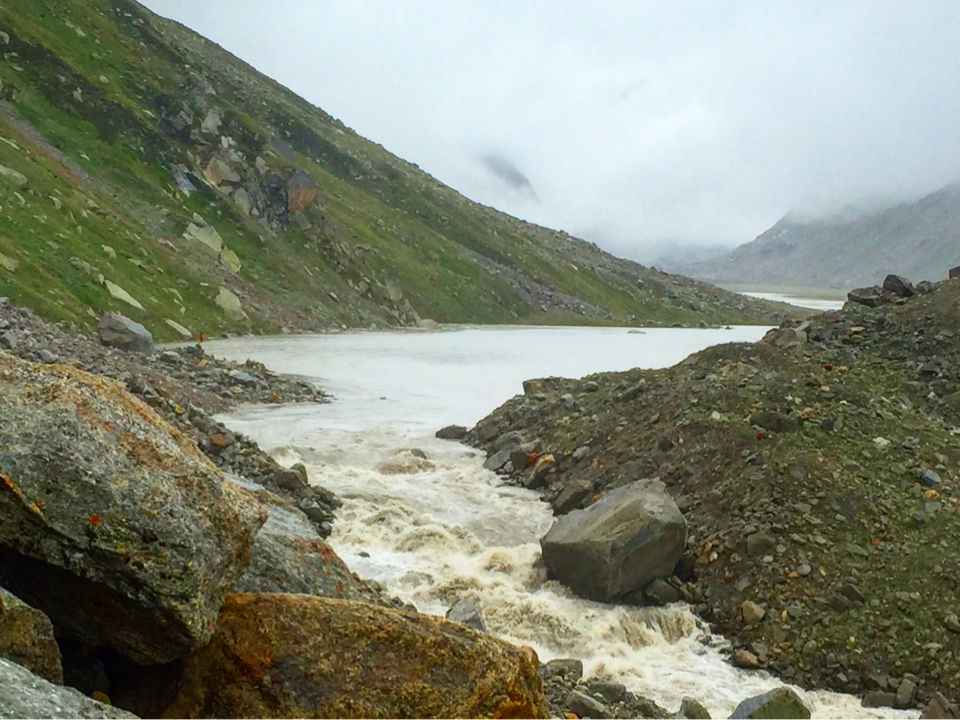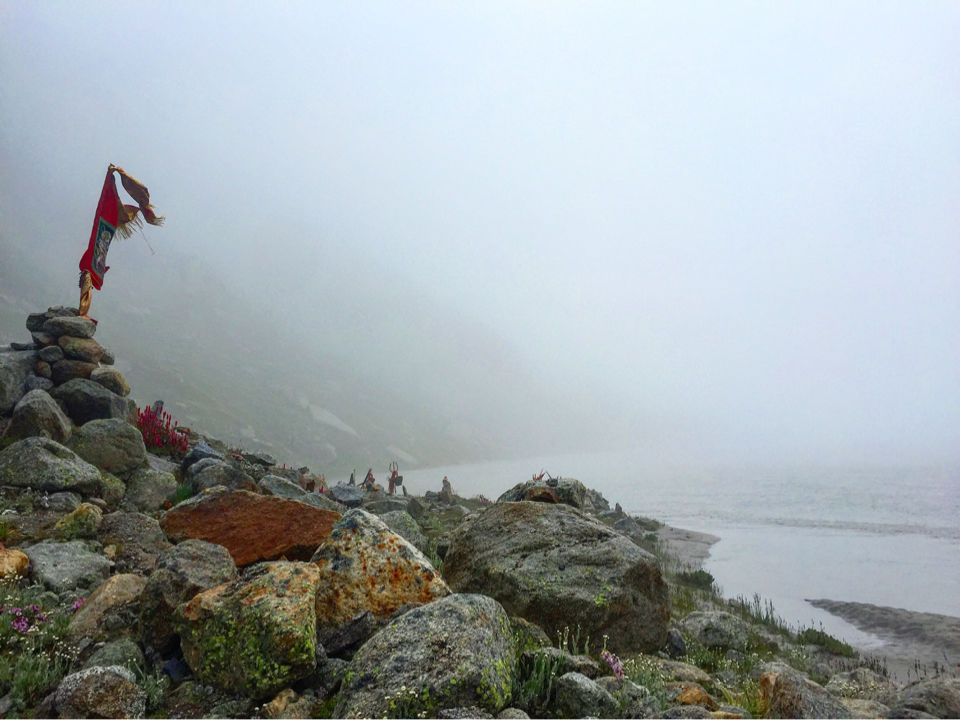 Mantalai Lake to Parvati Base Camp Trek (7 km approx., 16,800 ft.)
This was the most difficult day of entire pin parvati pass trek. Km are less but time to reach base camp is around 8-9 hours. 90% of the trail is steep 60 degree angle ascend and the height gain is 2500 ft.
We came across our first barefoot river crossing just after few minutes of trek. The water was very cold as it was coming straight away from glaciers. Our trekking team helped us to cross the river.
Just after crossing the river we could see the steep climb in front of us. We started together and maintained a pace between us so that no one gets too far from other ones. Again it was drizzling and the climb was slippery. But the view from up there was breath taking. Glaciers were clearly visible and they were right in front of us. We could see the glacial stream coming down into mantalai lake.
We had our lunch in between and didn't waited and moved on. Now again there was a surprise. We reached at somewhat flat surface where glacial streams were flowing through and we had no option but to remove our shoes again and cross the stream barefoot. This made our foot numb. We were jumping after crossing the streams.
Now again there was a steep climb on huge rocks and base camp was above them.
It was already 3 pm and we were still climbing all the way. Clouds covered the whole valley and visibility dropped down to 10% only.
Once we crossed the above ridge we saw our kitchen tent and took a deep breath. It was raining again and super chill place. We reached at height of 16,300 ft.
The base camp is full of morain and uneven surface. Oxygen level was low and all surrounded by glaciers and peaks. It was hard to find a place to pitch our tents. Luckily we found one and started pitching our tents.
Then it was soup time. Everyone was wearing woolen caps, down jackets and woolen socks. Such weather in August is very rare for the city people.
It was a long tiring day so we had our next day briefing from trek leader and dinner at the same time and we got back to our sleeping bags very early because next morning it was the most important day of the entire trek. We had to cross the pass and for that we had to leave as early as possible.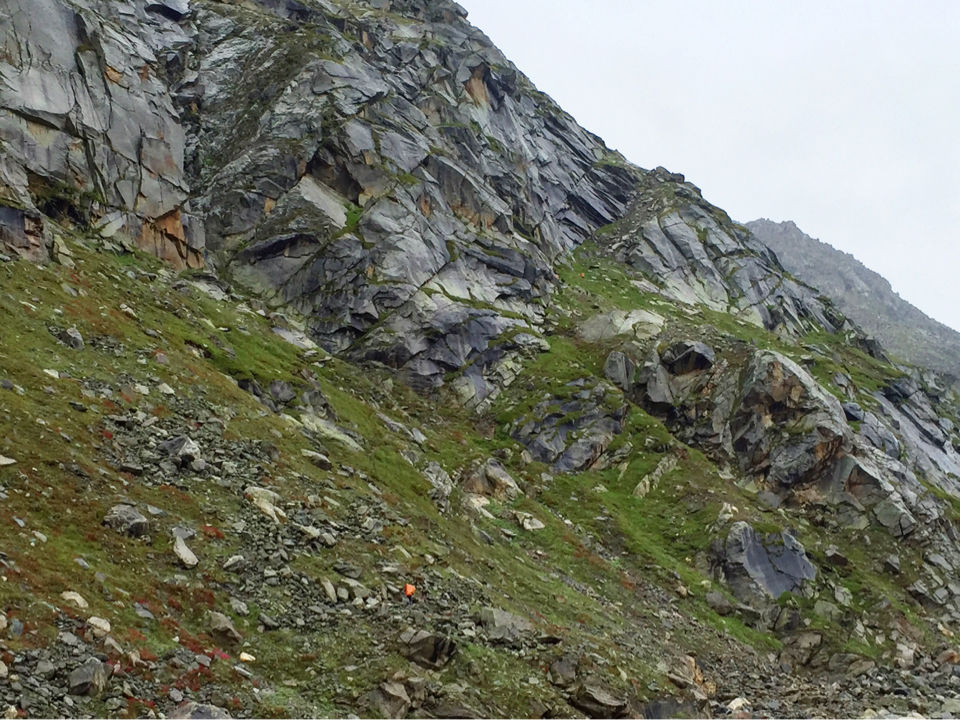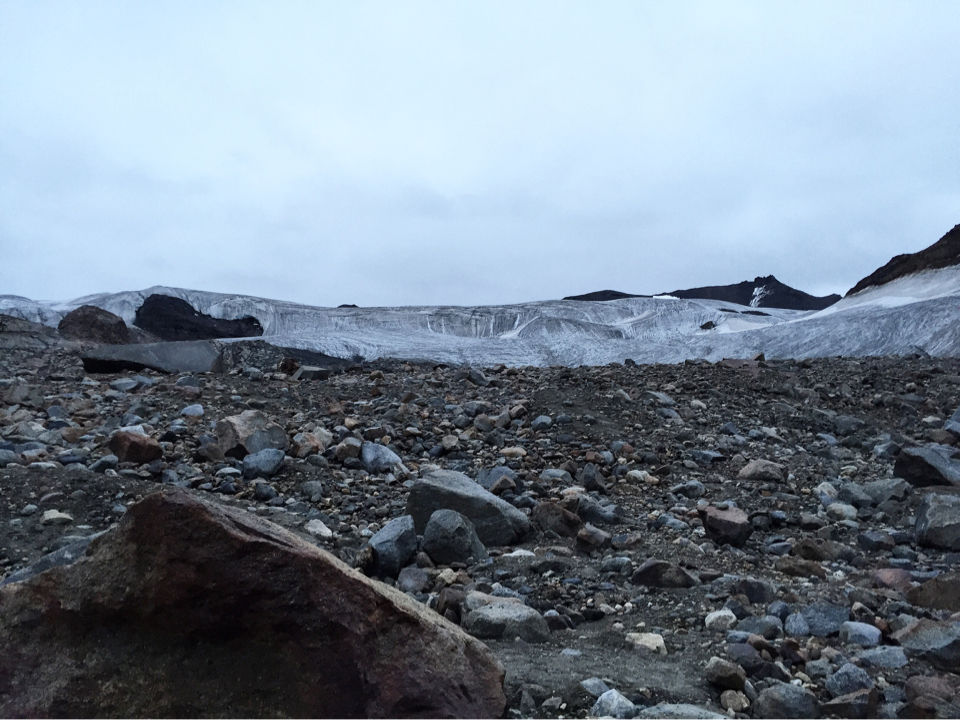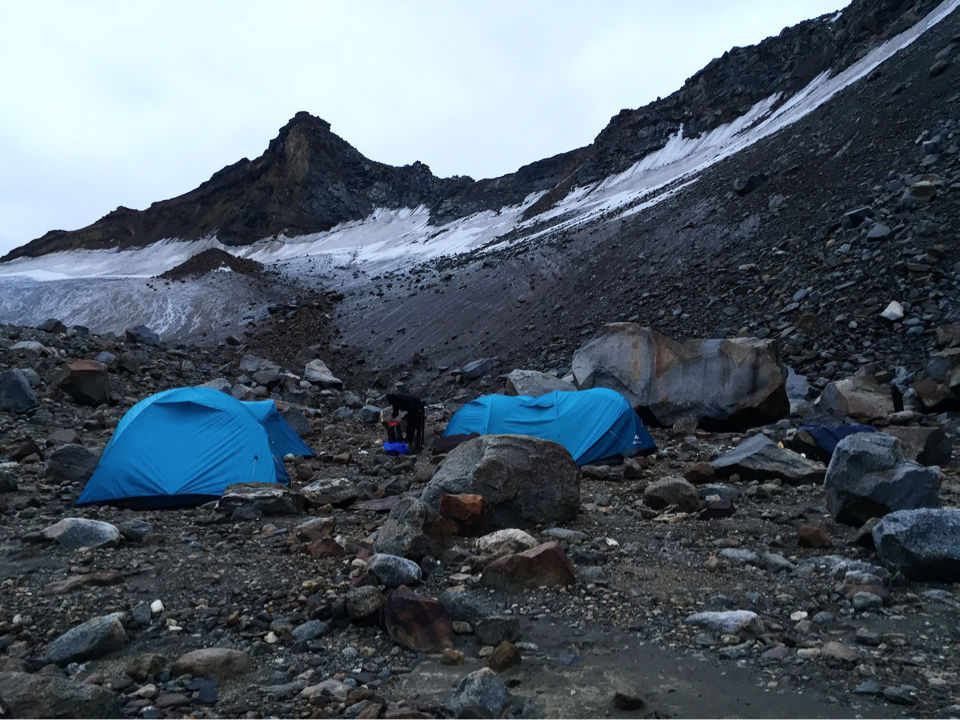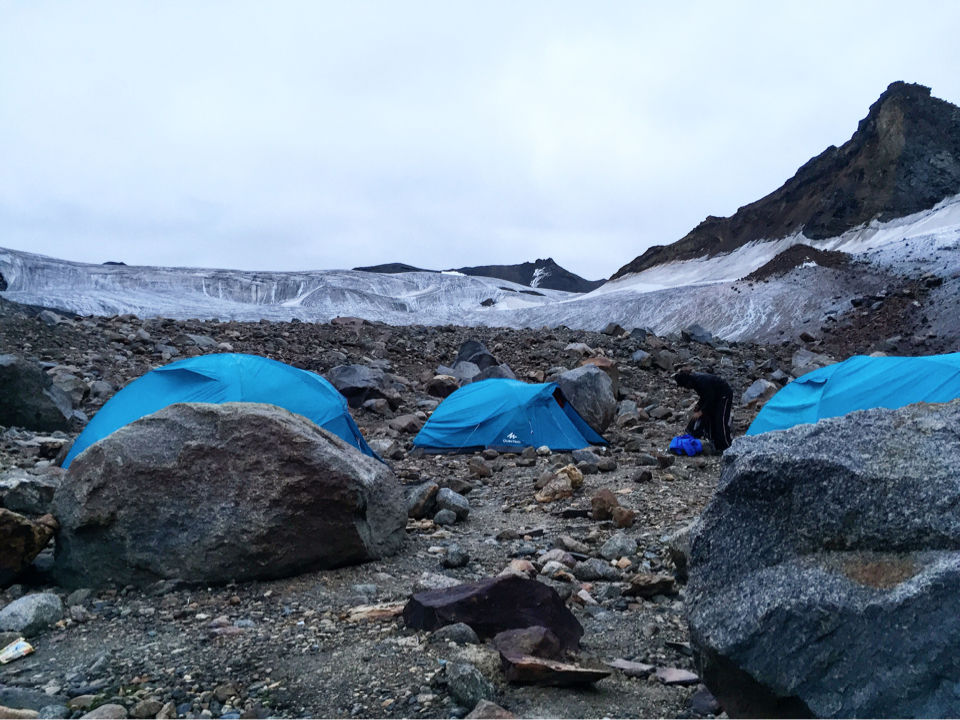 Parvati Base Camp to Pin side Base Camp (15,300 ft. ) over Pin Parvati Pass (17,500 ft. ) Trek (10-12 km)
As I said we had to start early, we woke up at 4:30 am, had our breakfast at 5:30 am and left from parvati base camp at 6 am.
Just after few steps we started our trek over glacier. This time there was no need of crampons as there was not much snow over glacier.
The climb is 45 degree steep and we were trekking non stop. We were not allowed to sit and rest. If we had to rest then we had to stand and take long breaths. We maintained a pace to stay together and closer. Then we came across huge glaciers. The view was breath taking.
We had to cross various crevaces on glacier. Yes, you come across glacier crevaces on this trek. There were small ones and bigger once also.
We used to jump and cross them. Some were very deep and wide enough to fall a person inside it.
Then there comes the pass right in front of us. It was a very steep 30 minutes climb.
Now we were at the top of Pin Parvati Pass at an altitude of 17,500 ft. We could see both the valleys. On the other side is beautiful Pin Valley and from where we came it was mesmerizing Parvati Valley.
It's an amazing crossover from lush green parvati valley to cold desert of pin valley, spiti.
And guess what, it started snowfall there. We could see all the glaciers and peaks from top. That was amazing feeling. We were clicking the pictures , performing the rituals of crossing the pass at the small temple there, suddenly two of our porters came and said one of their porter fell in crevace in Pin Valley side and he was carrying stove kit also. He fell 15 ft. down in crevace.
We started our descend towards pin valley and our trek leader with his team rescued the porter and the stove kit with the help of rope. One of our member went down using rope and brought back the poor guy and all the stuff. Everything was fine. He didn't got much injuries. Thanks to our brave team.
Now it was completely descend on morain and mud. At one point we had our packed lunch and then again moved down. The view was very different now. All desert huge brown rock and mud mountains. Now the river along us was Pin river.
Again we got a surprise that we had to cross the nallah which was in heavy flow without shoes. Trekking team helped us to cross the nallah and thank god sun was bright and weather was clear.
Now again descend and suddenly I saw my friend's day pack was flowing down in river. Our trek leader removed his shoes and got into the river and saved his bag. That was so sudden that we didn't even realized what has happened. Our TL is a true mountaineer.
Then again we got a surprise. We had to cross the river. This time it was the broadest and deepest river that we crossed from the entire trek. We used rope to cross it as the flow was very fast and it was uncontrolable.
Our feet were totally numb. But we managed somehow. Then after an hour of trek on morain and almost flat surface we reached our Pin side Base Camp.
It was a very tiring and long day so we pitched our tents and sat down in dining tent together. Had dinner and lots of gossip. We were very happy after crossing the pass successfully.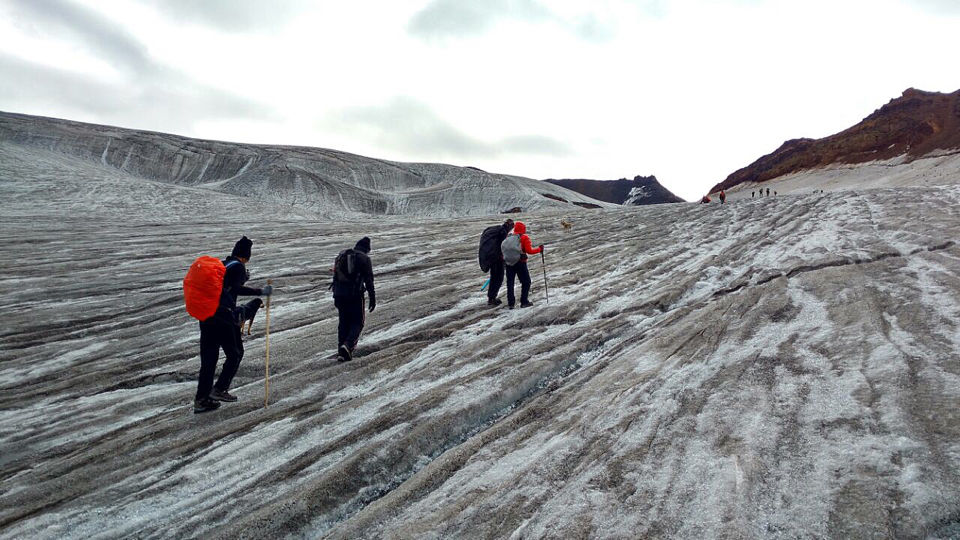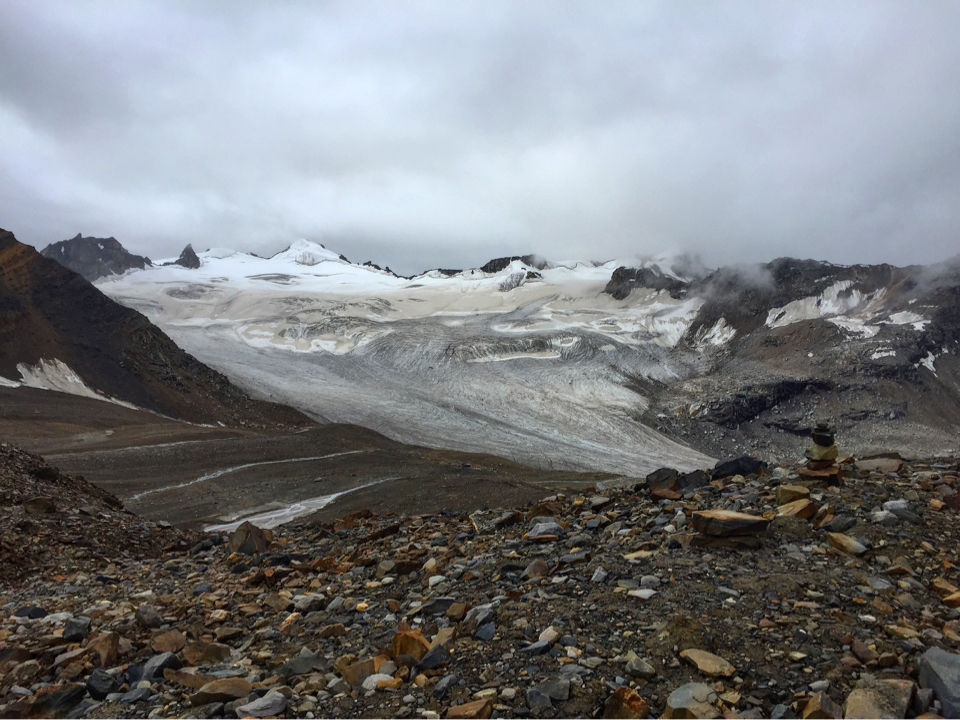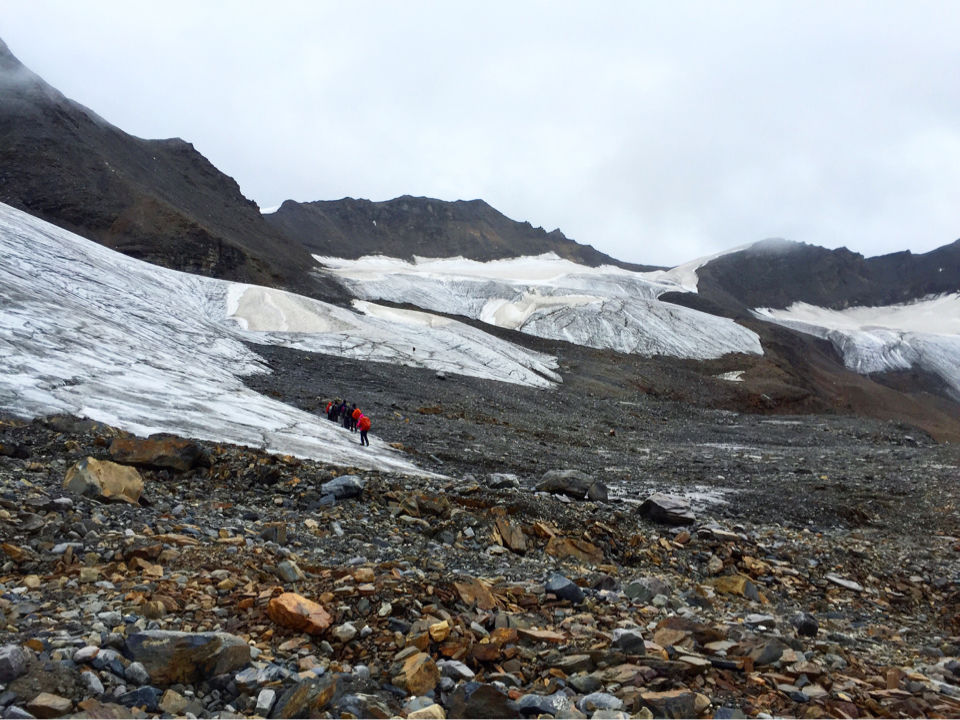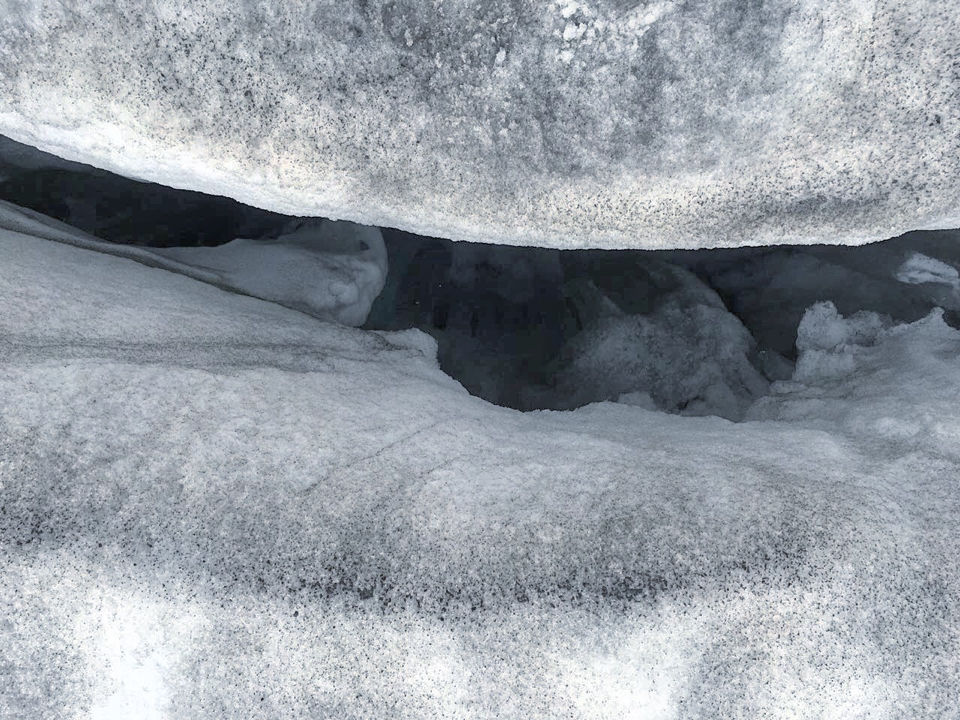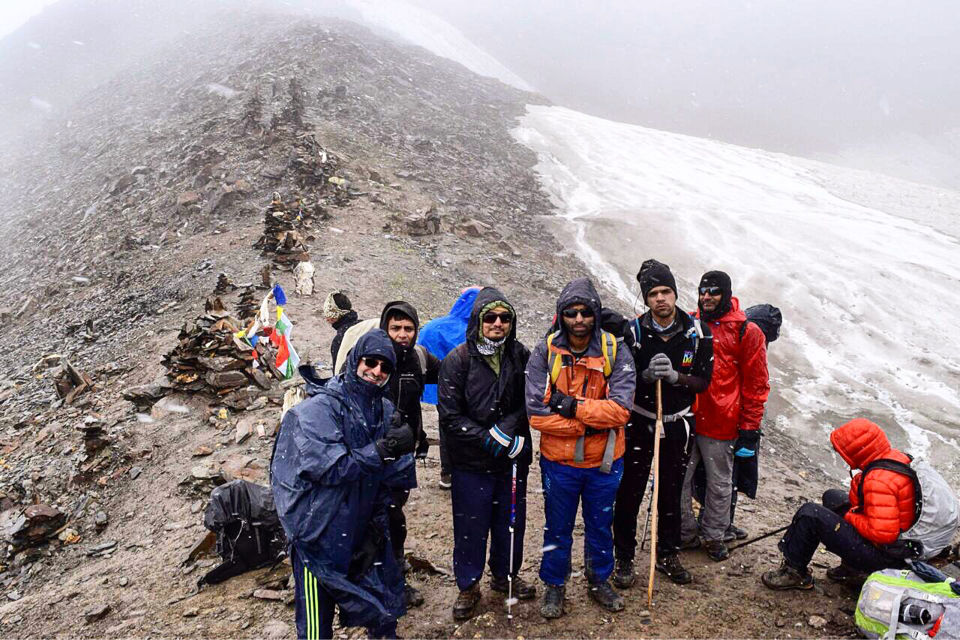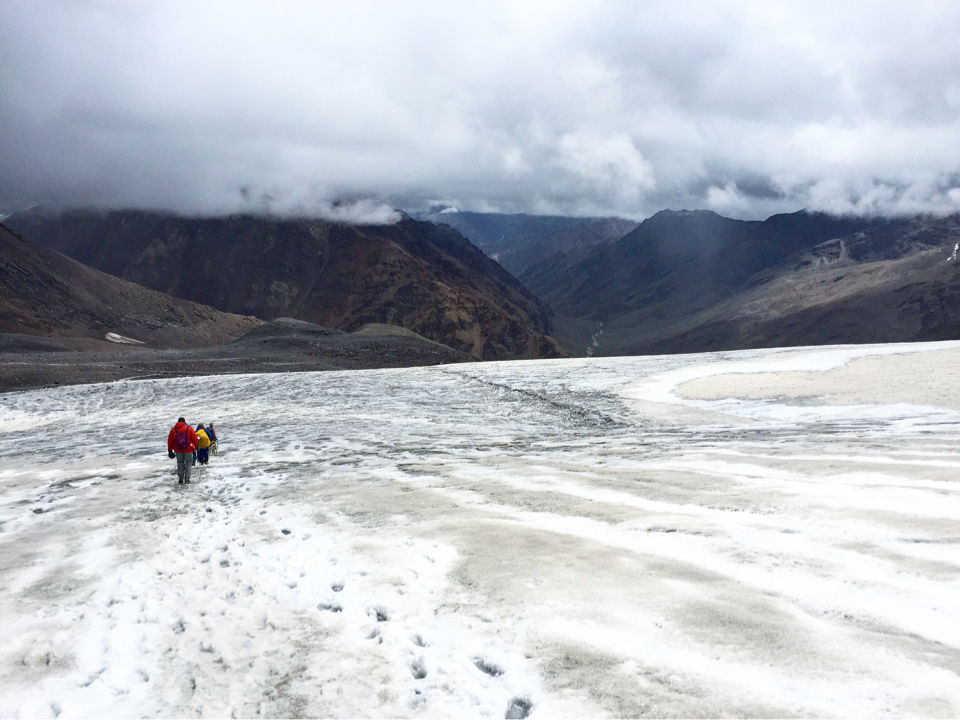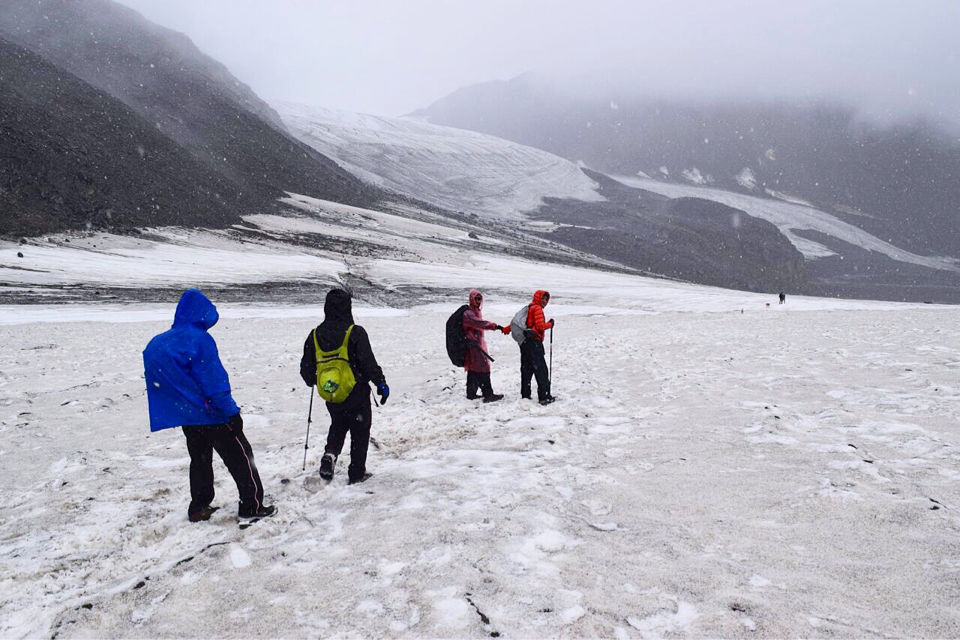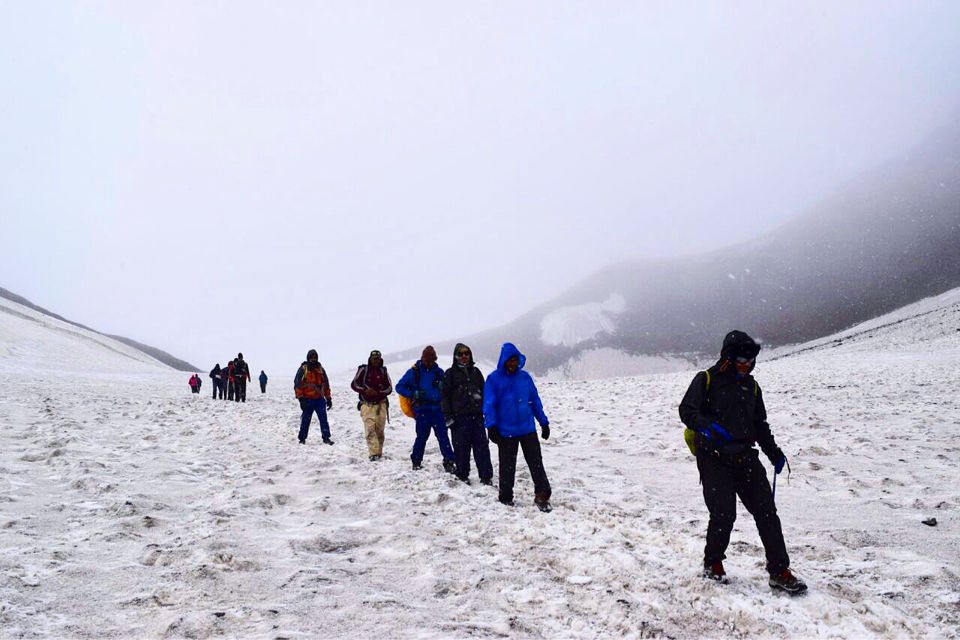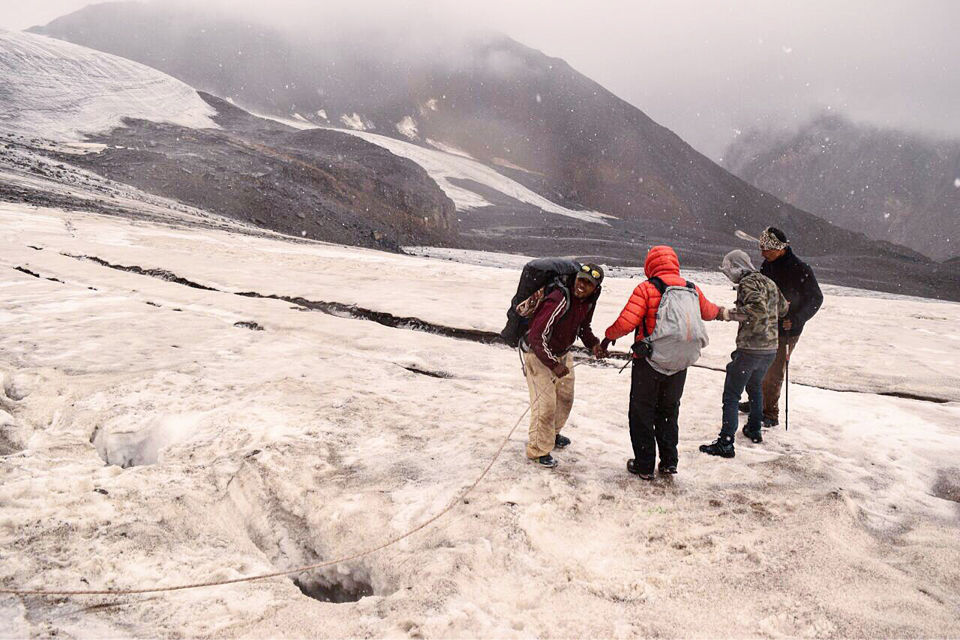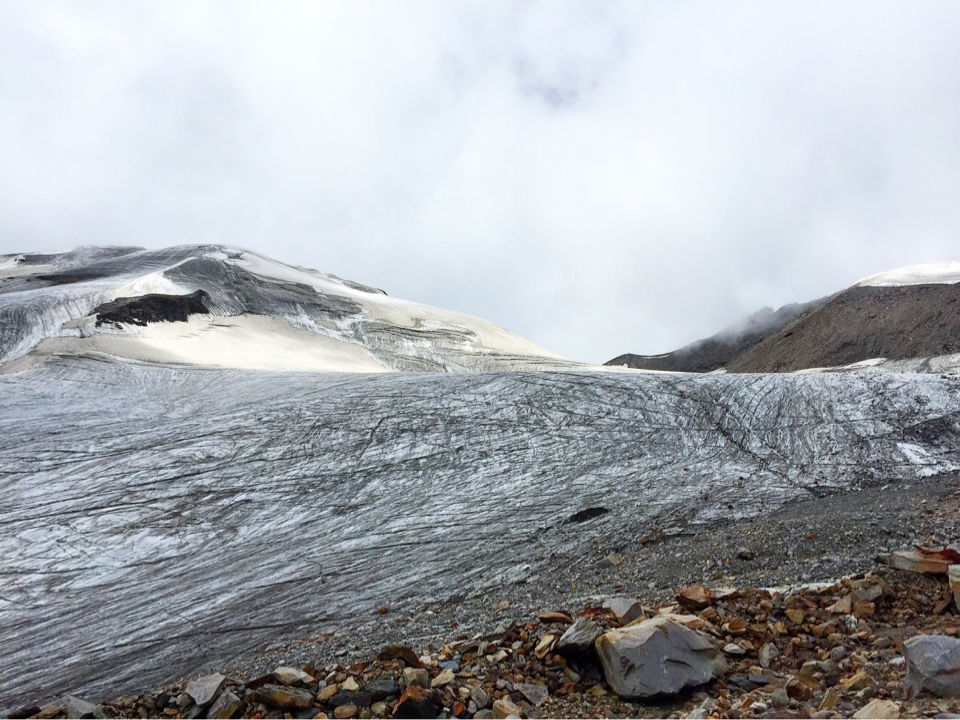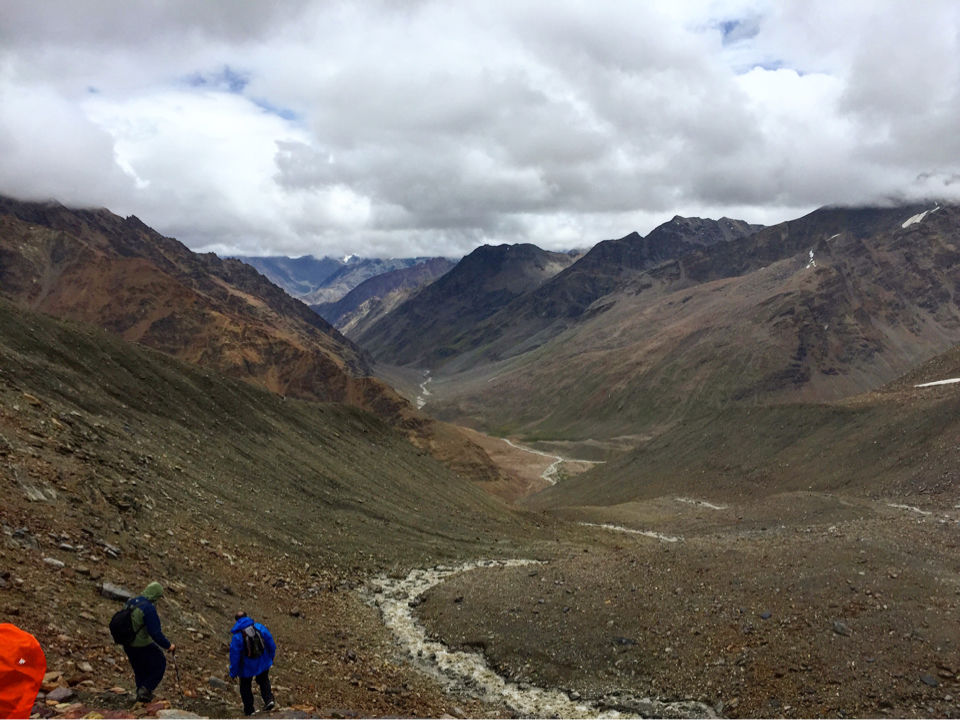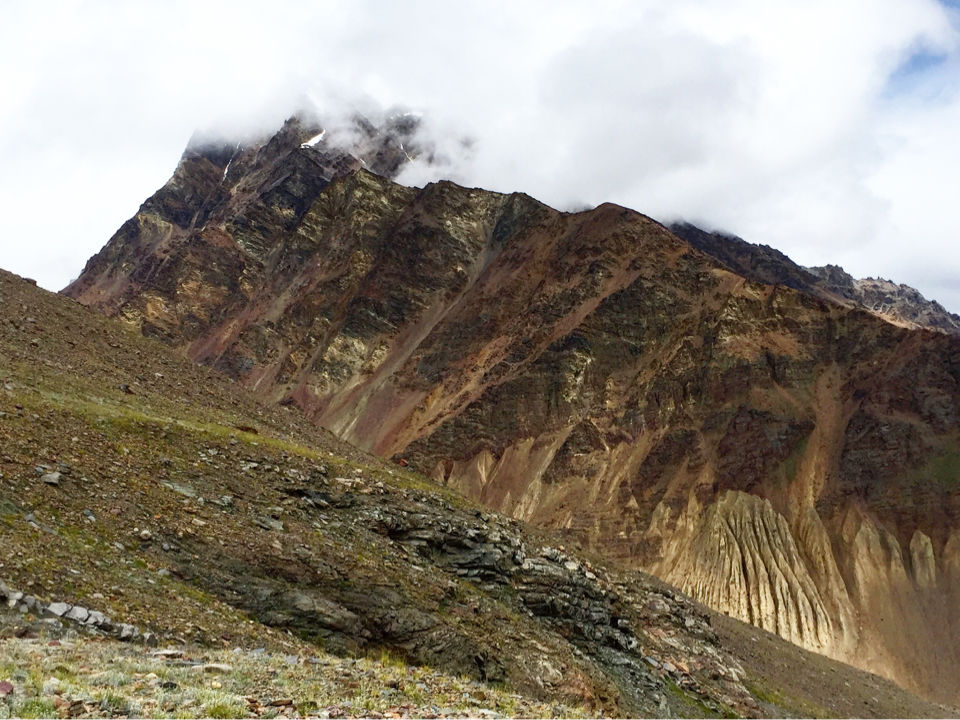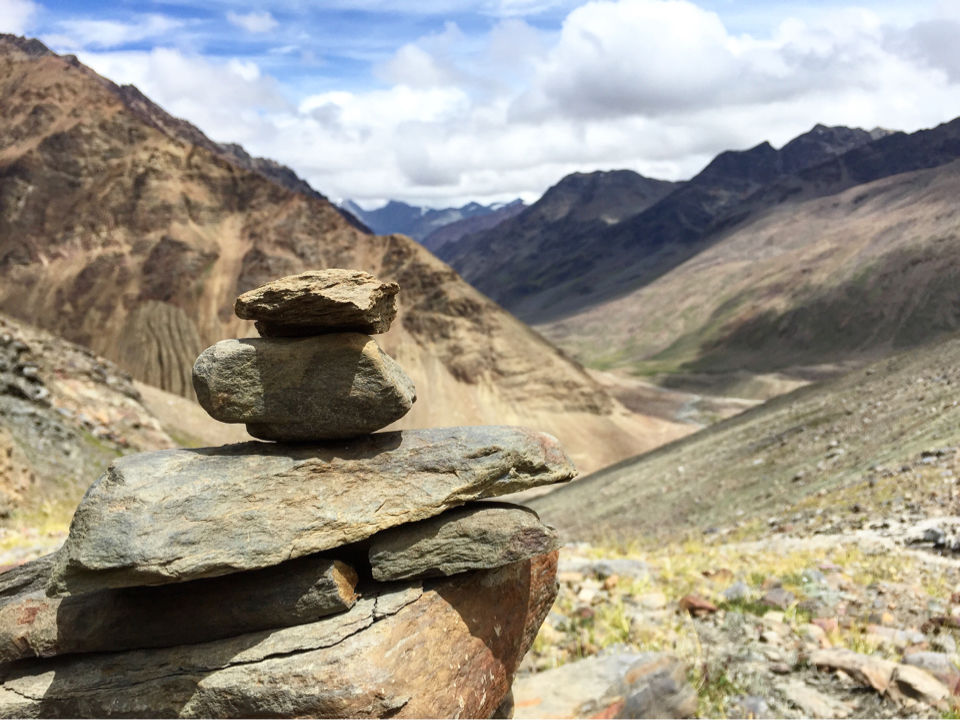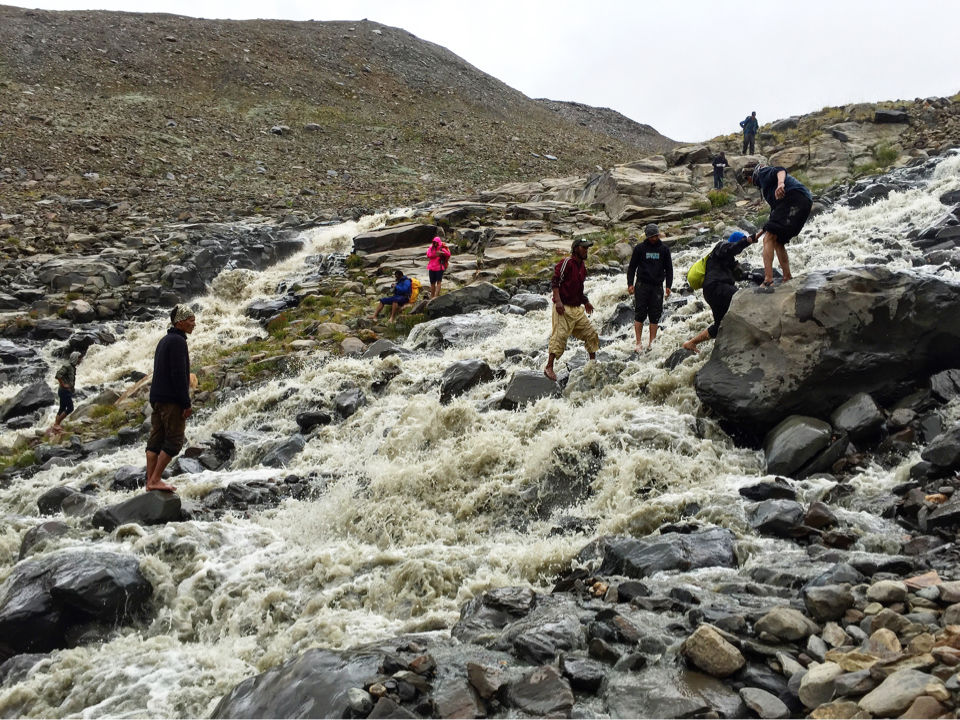 Pin Side Base Camp to Wichkurung Thatch Trek (10 km)
We got up late this morning around 6:30 am. Everyone was in relaxed mood as it was only descend now and we thought it's going to be a smooth trek now.
But no, this trek gives you surprises till the end. As I said it's a roller coaster in Himalayas.
We were about to start and it started raining heavily. Usually it doesn't rain in Spiti as it's a cold desert. Just like Ladhak.
We started when the rain slow down with our rain ponchos on. After few km we again had came across nallahs and glacial streams. First few ones were easy but there was again a huge nallah with tremendous flow which we had to cross barefoot. We had like made a new habit now, crossing bare foot the chilled water.
Then again we crossed one more and then it started raining heavily. Today's weather was very much unfavorable. We had our packed lunch in rain covering ourselves with ponchos.
Post lunch the terrain got muddy and rocky and the trail became slippery. Just after few minutes when rain stopped, one of our porter got badly injured by falling stone on his head. Our trek leader and helpers did dressing of his wound. Luckily everything was in control.
We moved ahead on TL's order and there comes few slippery portion where we had to take TL's help to cross them.
We reached our last campsite at around 3 pm, pitched our tents and had maggi with ginger tea. It was the perfect weather for maggi.
From the campsite we could see on the opposite side of the Pin river the trail going upwards to Pin Bhaba Pass. The view is spectacular from here and we enjoyed clicking the rocky mountains of spiti.
The weather became clear, we could see each other in the moon light and there were stars all around the sky. We tried to make few constellations.
Then we slept at around 10 pm as we had to leave early next morning for the 15 km walk.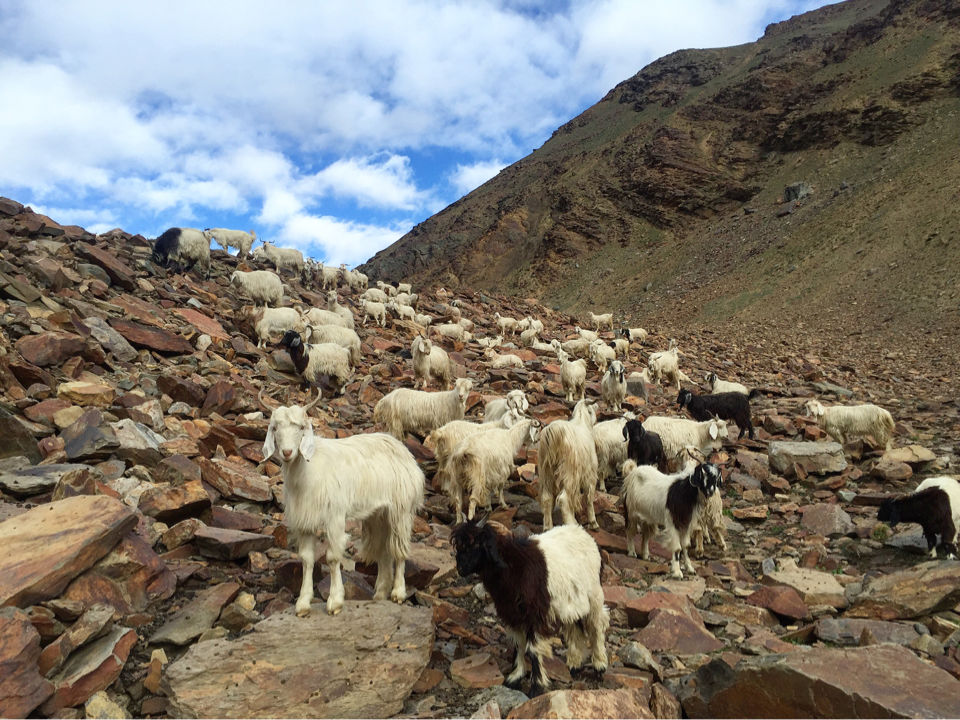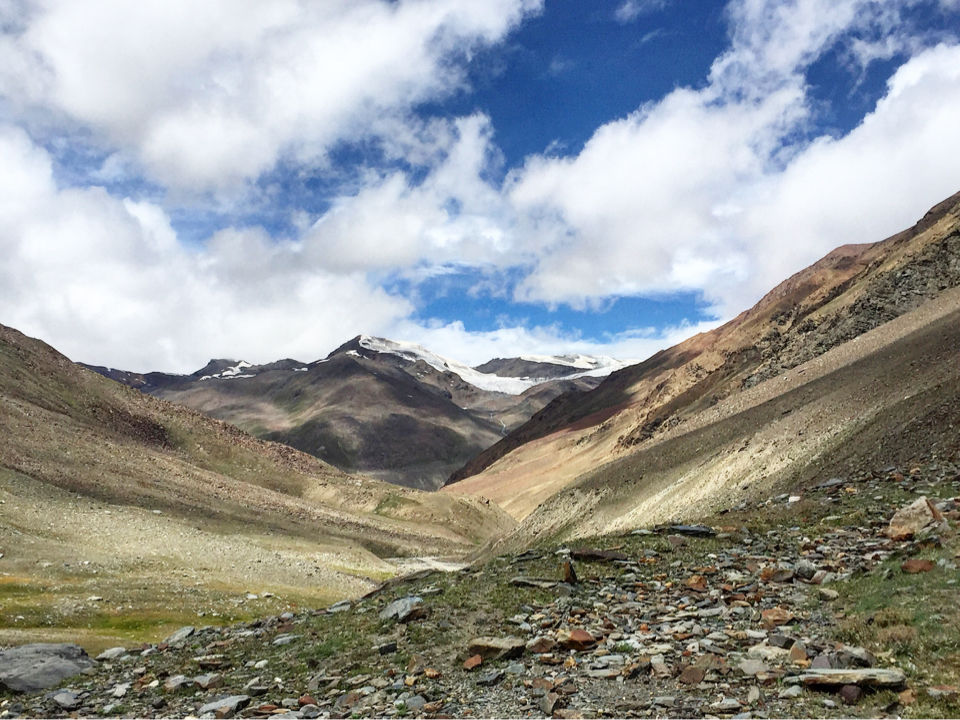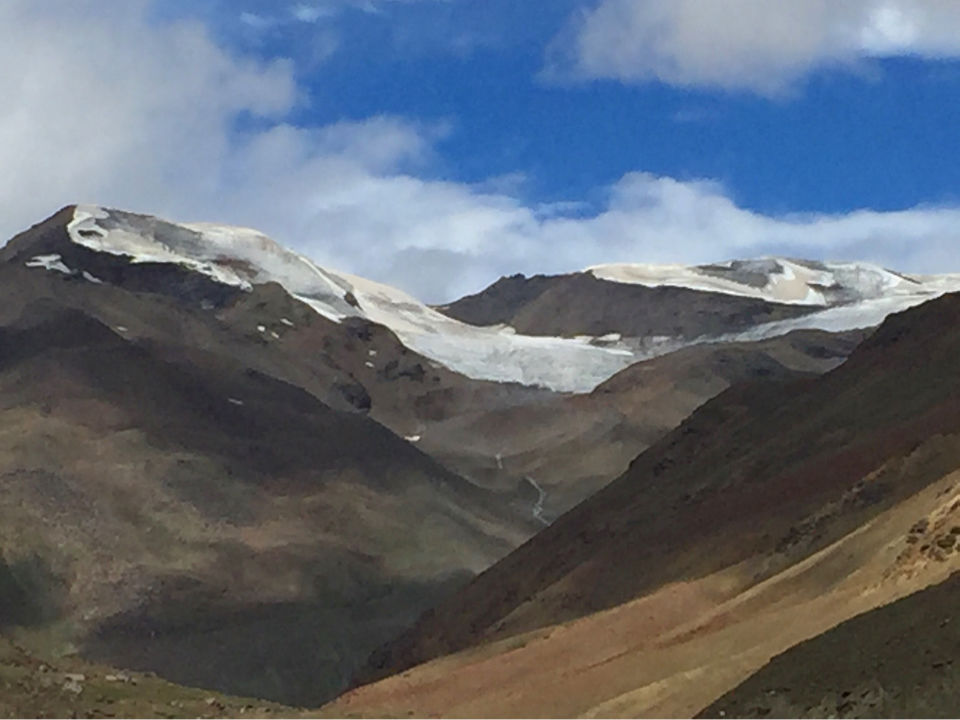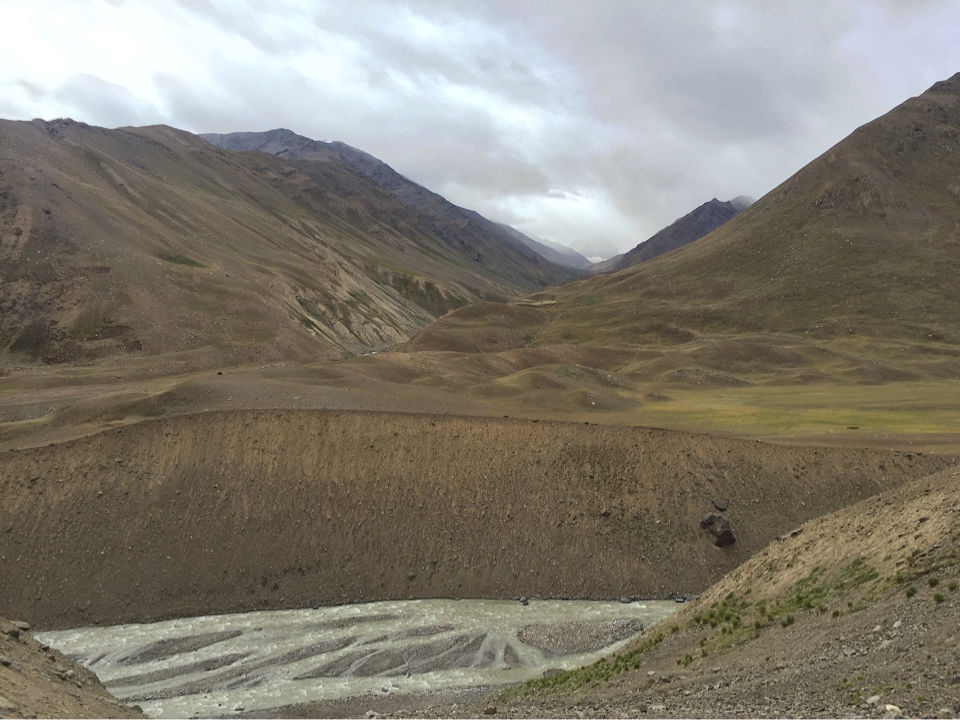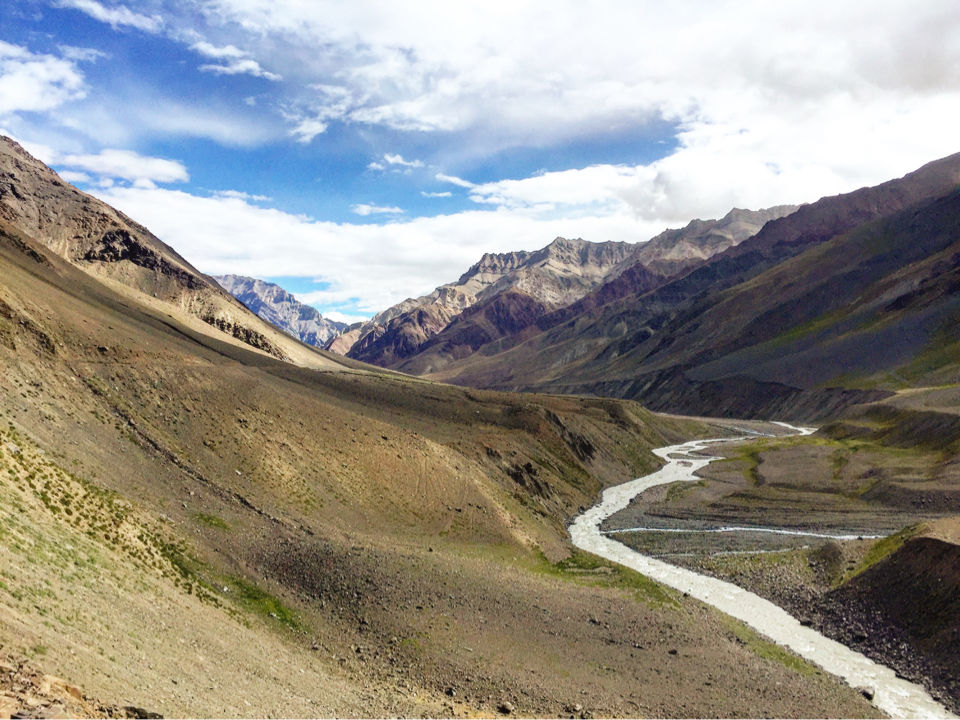 Wichkurung Thatch to Mudh Village Trek (15 km approx.) and drive to Kaza (55 km)
Our trek leader started for mudh village at 5 am to make sure car reaches on time to mudh from kaza so that there won't be any delay.
It was 15 August, Independence Day. We started our last 15 km of trek with National Anthem at 8 am. It was a long walk and we had to cross few nallahs in which there was one nallah called Pagal Nallah(Mad Water Stream) whose flow was very uncertain that's why the name called so. We fortunately got it in good condition.
We clicked many pictures on the way as the trek was full of landscapes and it was a bright sunny day. The blue sky was complimenting the brown, red, yellow rocky mountains.
After few km of walk we got the first glimpse of mudh village which was very far. It was coming closer bit by bit.
We reached the village at 12 noon. Our TL was waiting for us at a cafe. We had our lunch from there and drove to Kaza at 3 pm and reached at 4:30 pm. We had our hotel rooms booked there already. We checked in and everyone took hot water bath after 10 days.
Finally the trek has come to end. Now it was again 210 km 9hr drive from Kaza to Manali next morning.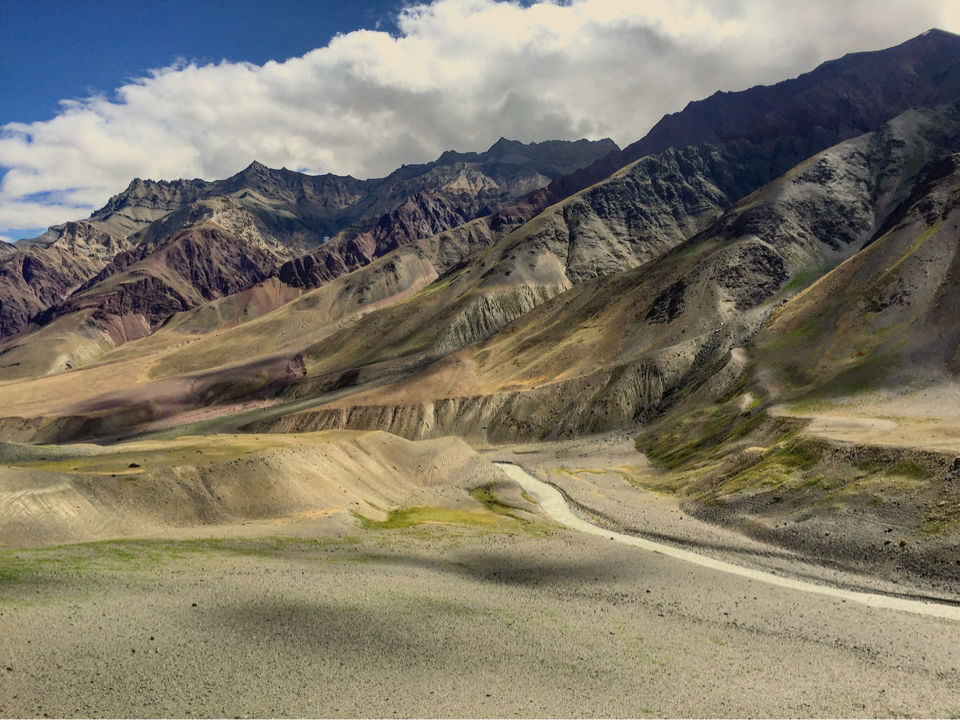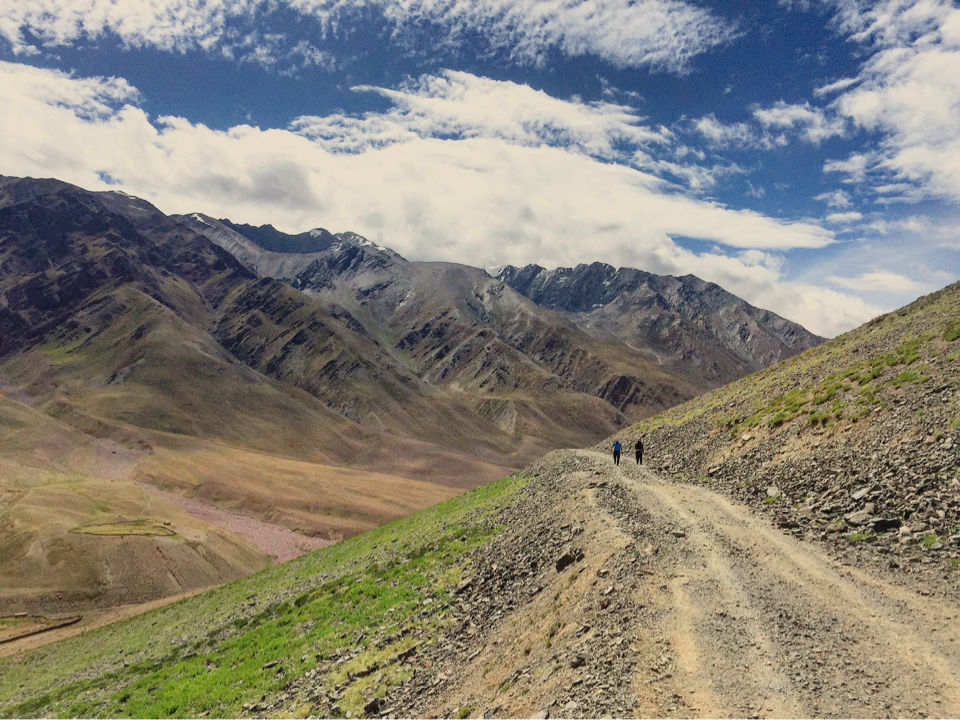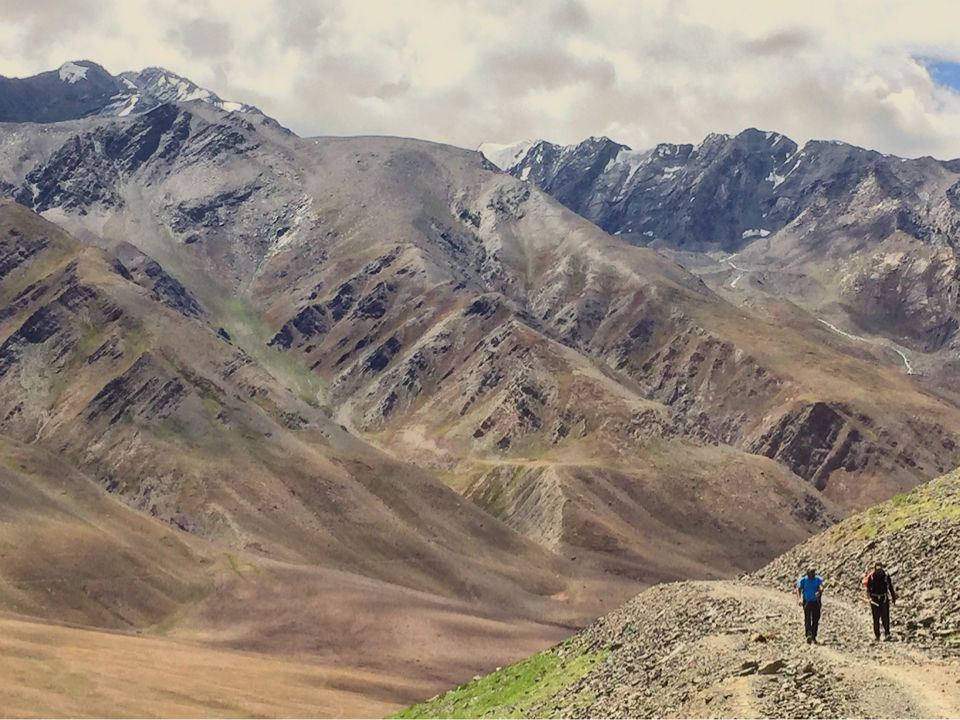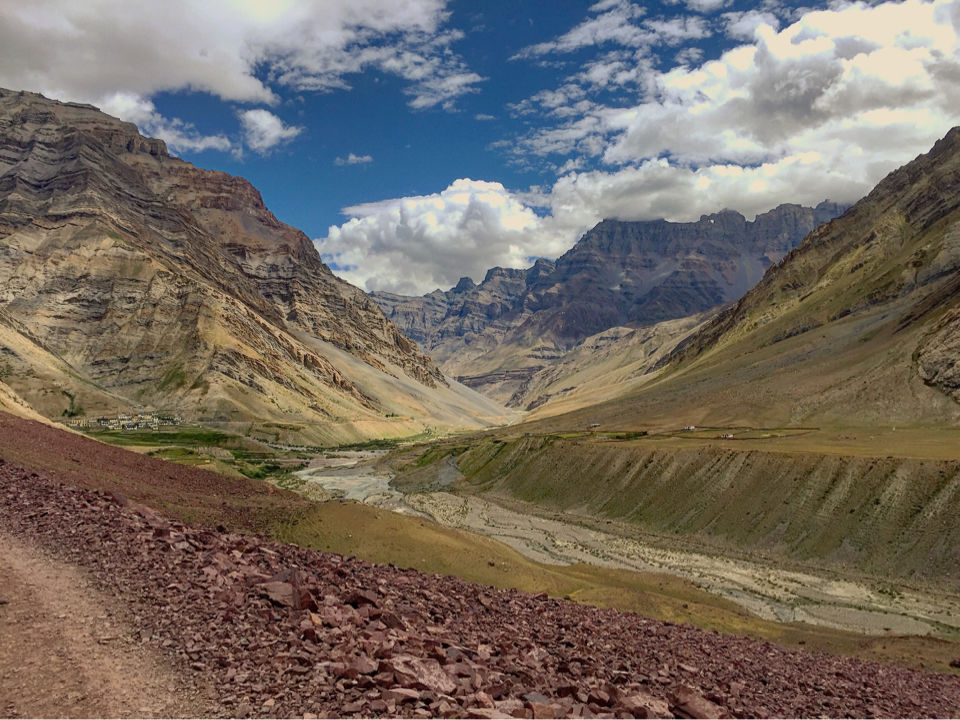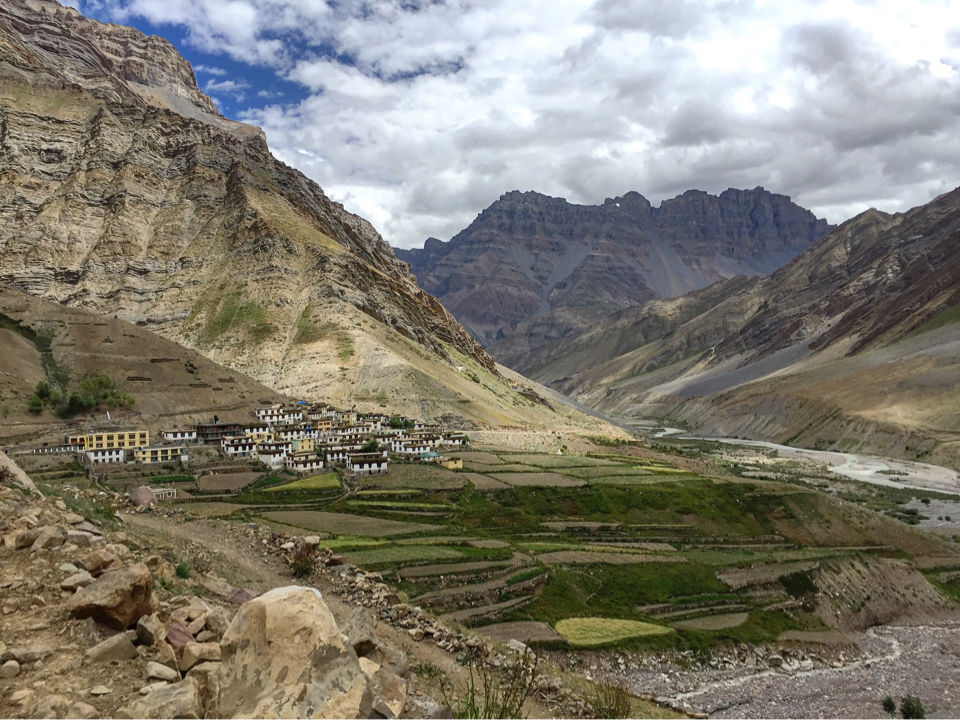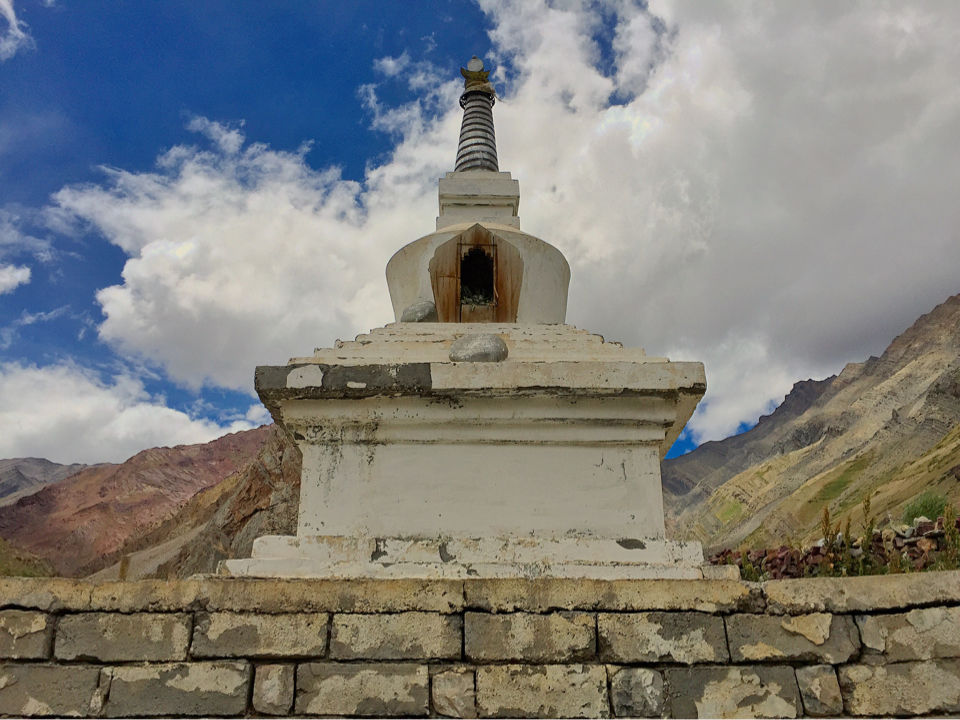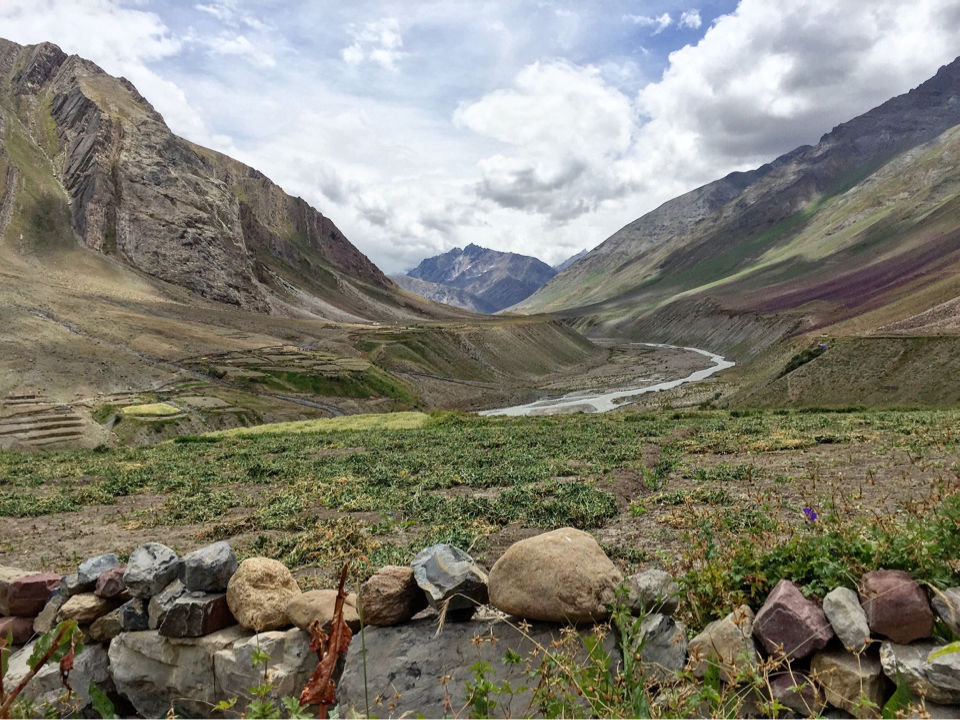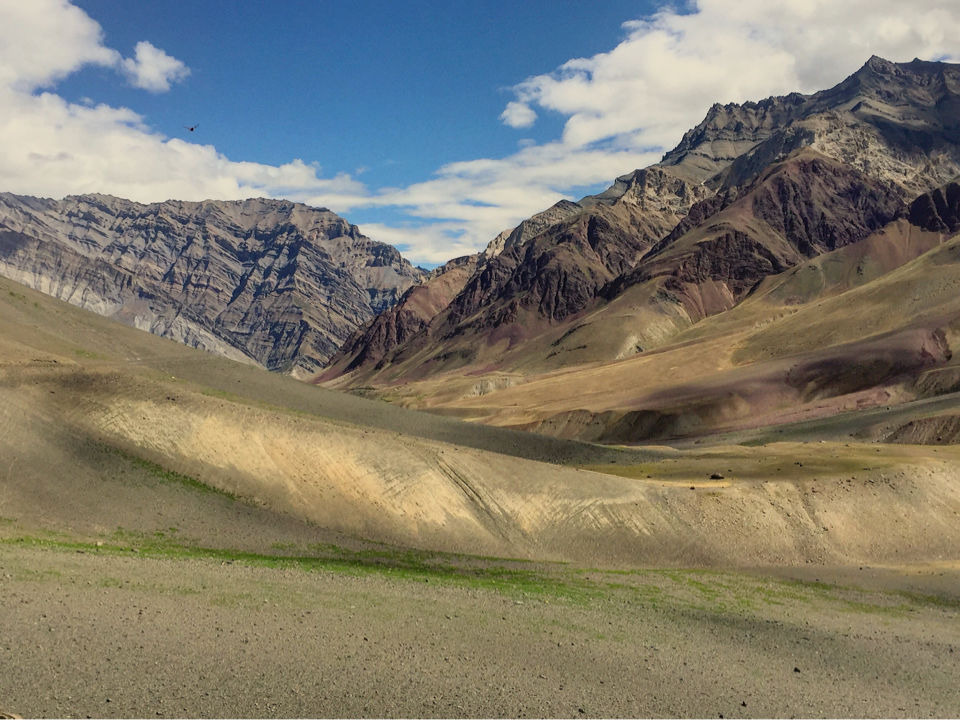 Kaza To Manali Drive (250 km) via Chandertal (moon lake)
We asked our drivers for Chandertal as it wasn't included in our Trek Iteinary but it was on the same route. Some 15 km away from the highway. He agreed and asked for 2000 bucks per car and said it will take 3 hrs extra. So we decided to go to Chandertal as well.
We started at 5 am because we didn't wanted to reach manali later than 8 pm.
The drive was bumpy and full of dust. We had our breakfast at a dhaba in Losar village and reached Kunzum Pass (14,500 ft) at 9:30 am, clicked few pictures and moved on & reached Chandertal at 10:30 am.
There is 20 minutes walk for lake from last point of road. The lake is so beautiful and the place is very calm. It gives you positive energy. The water in lake is like mirror, it reflects the as it is view of surrounded mountains.
This is a mystery lake as the water comes from inside the ground and no one knows what's the source of the lake. River Chandra originates from here.
We spent around 40 min there, clicked many pictures and again started our drive back to manali. We reached Chattru at 2pm where we had our lunch.
We had rajma chawal and kadhi chawal at the dhaba which were very delicious.
Now moving ahead and after crossing the famous Rohtang Pass in heavy clouds we reached our destination Manali at 5:30 pm. It was almost 13 hrs drive.
Finally the pin parvati pass trek got ended and we checked into our hotel rooms. All of the team members had dinner together in Manali with long long gossips and discussions of our 11 day roller coaster trek.
Everyone moved to their hometowns next day.
We had the best 11 days of our life which started with strangers and ended with a family of trekkers.
Happy Trekking !
#TripotoTakeMeToHampta