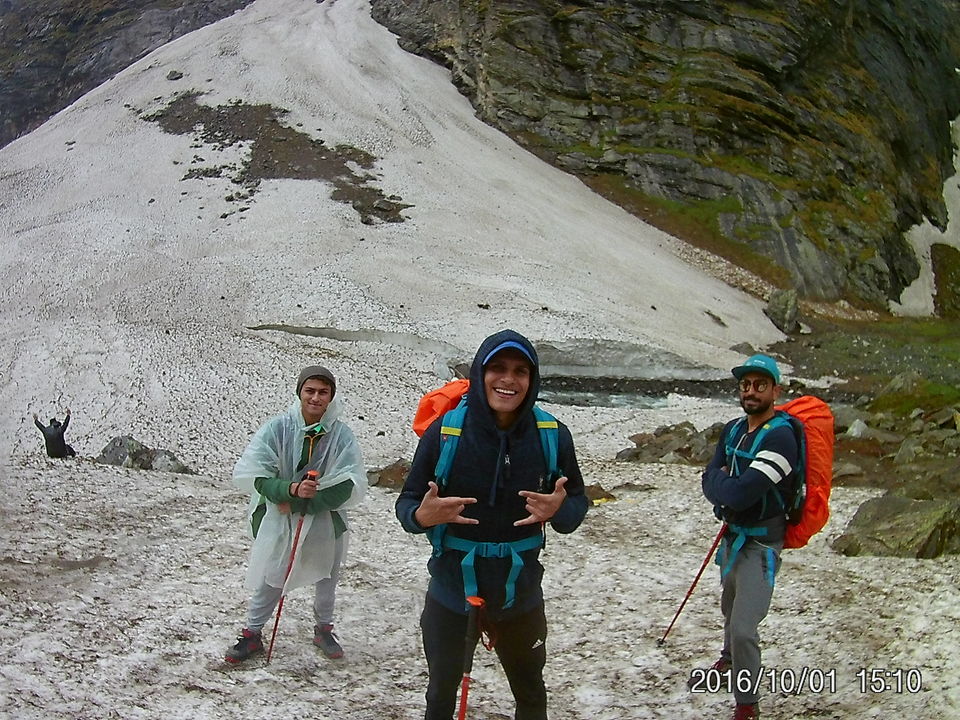 This was one trip that was long overdue for me. I had been planning it for almost 5 years and it just never happened. It certainly felt like it wouldn't happen this time either. But fortunately, it did.
We were a group of eight people, ready to explore the unknown. Our plan was to explore Spiti by road. We had all heard a lot about the famed mountains and valleys of Lahaul and Spiti. Our itienary was such that, we would initially drive to Manali. From there we would do a 5 day crossover trek called Hampta pass and then drive onwards to Kaza. The Hampta Pass trek had attributes of, both, the lush green Kullu Valley and the arid Spiti region. For that particular reason, it was referred to as a crossover trek. Eventually, we planned on returning via the Shimla route, completing the entire circuit. It was an itienary which had a little bit of everything about it.
We left our homes at 5am on the 8th of June. We were driving down in two vehicles (an XUV 500 and a Jeep Compass). The road from Kanpur to Manali is long. It took us more than 20 hours to reach Kasol which is where we halted for the night before driving onwards to Manali. We reached Kasol late at about 2 AM. Kasol is a beautiful village located at the banks of the treacherous Parvati river. Here, we stayed at a local guesthouse. The river was about 1km from the guesthouse. Sitting by the moonlit river at 3am with nothing but the sound of the flowing water was a blissfull experience. Kasol is famous for its Hashish, which eventually sells at cafes in Amsterdam by the world famous name: Malana Cream.
The next day we left for Manali early in the morning at 8AM. We had decided on starting our trek on the same day we reached Manali. I personally felt it was a bad decision, because we were all really exhausted after the long drive and we had barely had any sleep. It was a 4 hour drive from Kasol to Manali. So we reached Manali by 12PM.
We had booked our trek through this company called Adventurescape. The idea behind not going with a well renowned company such as India Hikes was that, we did not want ours to be a commercial experience. Companies like India hikes have permanent camping settlements in the area, which makes it much less of an adventure.
Through adventurescape, we booked our own tour in which we had a full team. We had our own guide, tents and food. A team of 3-4 mules and porters accompanied us throughout. They helped us carry and setup all our equipment. The only thing that we were meant to carry on our own, were our backpacks, which ended up being a tedious task.
Our team was fabulous. It was led by our guide Sheru. Along with him were two others, who cooked and pitched our tents at different campsites.
We drove to the starting point of our trek in the company's hired vehicles. This was a village called Jobra which is where the trek began. The first day was a short 3km hike, which took us a couple of hours to finish. The hike started off with a walk through the woods which eventually transformed into wide open meadows. Our campsite was in a vast picturesque valley, at a place called Chika. The staff helped pitch our tents. We had three tents to ourselves and each could accommodate three people. Apart from that, we had a separate dining tent where our food would be served. The temperature dropped to zero degrees at night. Dinner was served at about 8PM. Today was the only day non-vegetarian could be served because meat goes bust after one day. We organised a small bonfire for ourselves and called it a night pretty early. I suffered from extreme acute mountain sickness on this day. It was probably because I was really tired by the hectic schedule of the past two days. Adequate sleep and consuming lots of water is probably the best way to deal with acute mountain sickness.
Our day started early in the morning at 7am, beginning with our morning chores. We started our trek at 8:30AM, post breakfast. Today, we had an uphill trek of about 5-6 KM. The path went alongside a river which meandered its way in-between the most gorgeous valley. You could see shepherds grazing their sheep all along the way. The path was frequently used by hikers and shepherds alike. We were asked to carry plenty of water and wear clothes in layers. While we were hiking, it would get quite warm. So we just took off those extra layers. Another important piece of advise is to have the right footwear. You must have ankle high trekking boots. The ankle support is very important because throughout the four days there will be numerous instances wherein, if you did not have the right footwear, you would slip or twist your ankle.
We hiked along the stream throughout the day, so there was plenty of water available. Water from these streams is one of the freshest I've had in my life. It is the ideal thirst quenching spring water, and better than any RO water from our cities. We reached our campsite by 4PM. It was called Balu Ka Ghera and was located on a flatter region of the valley. We slept off early post dinner, since the next day was supposed to be our most hectic so far.
This was the most tiring and eventful day of our entire trek. We started, post breakfast, at 8AM. Today was the day, when we were supposed to cross the Hampta Pass. The day was divided into three main parts - The gruesome assent along the Kullu Valley, followed by the crossing of Hampta Pass and finally the descent into the Spiti-Lahaul Valley. All three parts of the day were extremely taxing. The climb early in the day was at an angle of almost 45 degrees and went on for 5-6 hours. This was the most challenging bit. At this time of the year, the high altitude path was mostly snow covered and extremely slippery. None of the other trekking groups had managed to cross the pass yet, since the weather in the early season is very unpredictable. In order to cross the pass, it is absolutely important that your mules are able to cross it as well. You cannot attempt to venture forward without your supplies. After much discussion, we urged the tour guide and the mule riders to attempt to cross the pass. It was extremely tough for the mules since the snow was knee deep, but somehow, much to the credit of the local mule men, they managed to cross. The pass was a snow covered, flat area high in the mountains. It was at a height of 14039 feet. The view was picturesque and beautiful from the top. Normally, you would think that the decent would be much easier, but this was not the case. I found the decent as hard as the ascent. We had to make an almost vertical descent from 14000 feet to about 11000 feet. Moreover, it started to rain just when we began our descent, which made matters even worse. One small slip could have resulted in a 3000 feet fall. We had to be very calculated with each step that we took. By the time we reached out campsite at Shea Goru, everyone was exhausted to the point of collapse. We made a small fire and relaxed for a bit, enjoying the most brilliant view of the night sky. We could, very clearly, see the centre of the milky way with our naked eyes. It was the most breathtaking view, but sadly we were not able to catch it on camera.
This was our last and easiest day of the trek. We started at about 10am. The first thing that we had to do was to cross a river, which was scary but fun. Today, was an all-descent hike from Shea Goru to Chatru. It was very relaxing as you could walk comfortably while enjoying the view. On the other days, it was quite the opposite. You would be so exhausted by the hike, that you would not be able to enjoy the beauty all around you.
We reached our last campsite by about 3Pm. Originally, we had planned our trek is such a way, that our cars would be at Chatru by the time we reached. We planned to drive onwards to Kaza on the same day. This plan did not work out because our cars were not able to get the Rohtang Pass permit in time. To give you guys an idea: Our Hampta pass trek was a short cut through the mountains and hence we were able to combine it with Spiti Valley. The normal route for vehicles was to go via the Rohtang Pass and onwards to Chatru. We had planned our trek in such a way that we could depart from Chatru on the same day, instead of camping there for the night (which is what other people would normally do). Unfortunately, our vehicles were delayed due to issues with the permit and we were forced to camp at Chatru. Every vehicle needs to have a permit to cross Rohtang pass. You can easily get this permit at Manali but be sure to get it one day in advance. My advise to travellers would be to get the permit one day in advance and also to cross the pass early in the morning (3Am), in order to avoid the ever present traffic jams. Chatru was a town of only 300 people and was frequented by, both trekkers and travellers. Less than a Kilometre from the campsite, were a bunch of dhabas that served very basic stuff like Tea, Coffee, Maggie and Eggs. After eating our trek food for four days, this was a much needed change. Maggie, Chai and the mountains is the perfect combo!
We relaxed and arranged for a cozy campfire at night. By now, we were craving meat to such an extent, that we were ready to buy a lamb from the local shepherds and get it cooked at our campsite (though, eventually, it did not work out). Our vehicles reached Chatru early, the next morning.
Overall the trek was a fabulous experience. Hampta pass is probably a moderately difficult trek. We were all beginners and we barely made it, in the end. People attempting this trek should have a decent level of fitness so that they can enjoy it to the fullest. One would be able to complete it as a beginner as well, but there is no point doing it of you don't enjoy it.
It is a beautiful picturesque trek. A setting which is nothing less than the one you would see in movies.
Beware: Walking with you backpack is not as easy as it looks. Keep it light (8Kg tops).