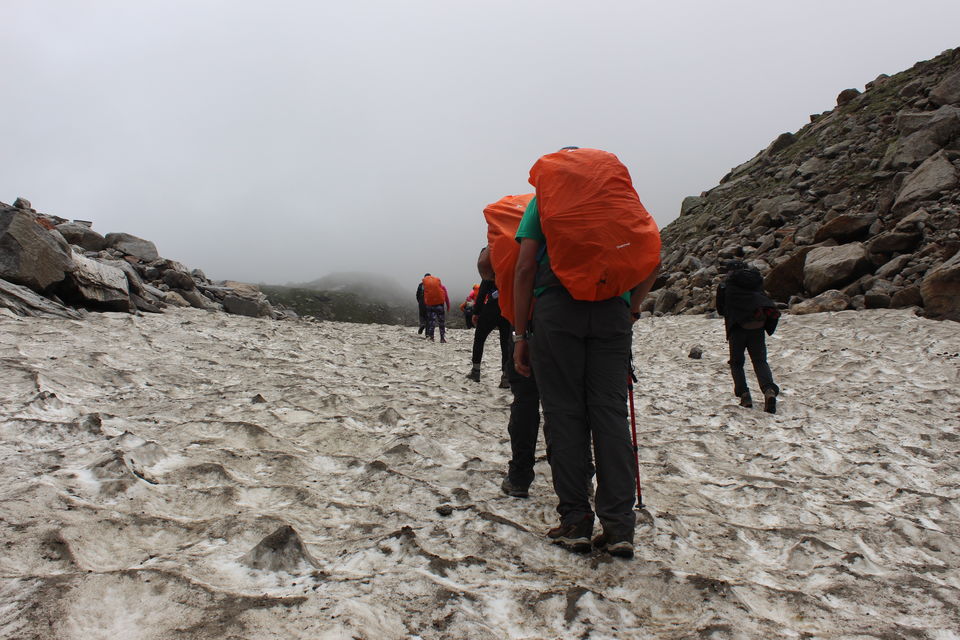 A trek which takes you from lush green valleys of Kullu to the untouched beauty of Spiti. Hampta pass is no wonder a beginner's delight. And trust me it is a way beautiful world beyond the mainstream honeymoon town of Manali.
Once I was done with a few one-day hikes in the Himalayas all I wanted to do was a 4/5 days trek. After a lot of net searching and taking Fb recommendations from some regular trekkers, I zeroed down on Hampta pass. It suited all my needs plus I was excited to see the infamous landscapes of Spiti.
I visited this trek in monsoon when the valley was all alive with the colorful flowers, and mountains were all decorated with waterfalls.
This trek can easily be done in 4 days with this itinerary.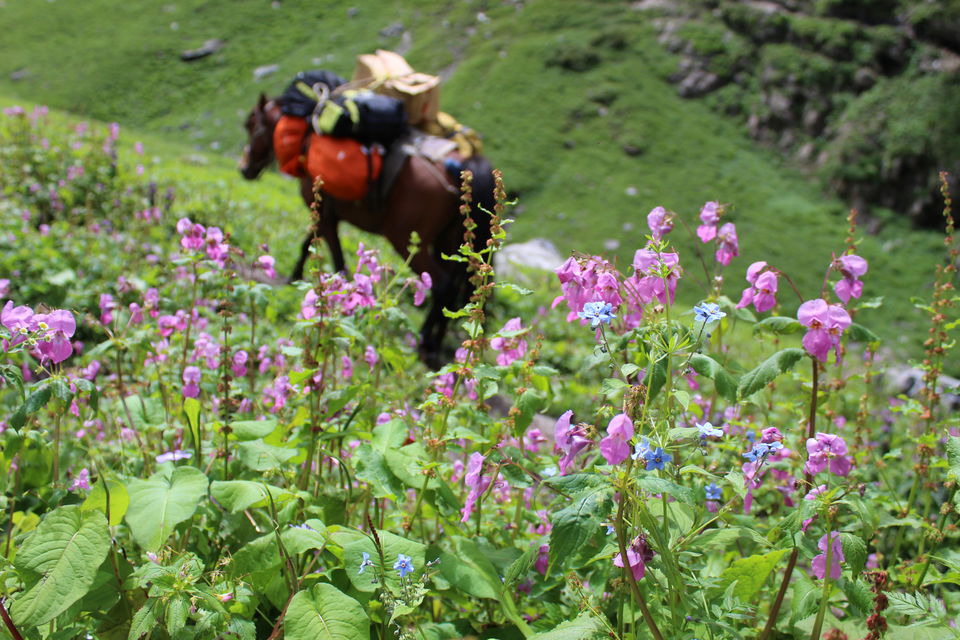 Day 1: Jobra to Chika
An easy trail through meadows and rocks alongside Rani Nala. As soon as we started our trek I was ecstatic from the crown of my head to the soles of my feet. And why not this place was the epitome of peace and beauty. Exactly what I came for.
A campsite next to a waterfall and a water stream. Period
No matter how perfect the day is, it always has to end. And our day ended with a simple yet delicious meal of Dal, Rice, pickle, and custard.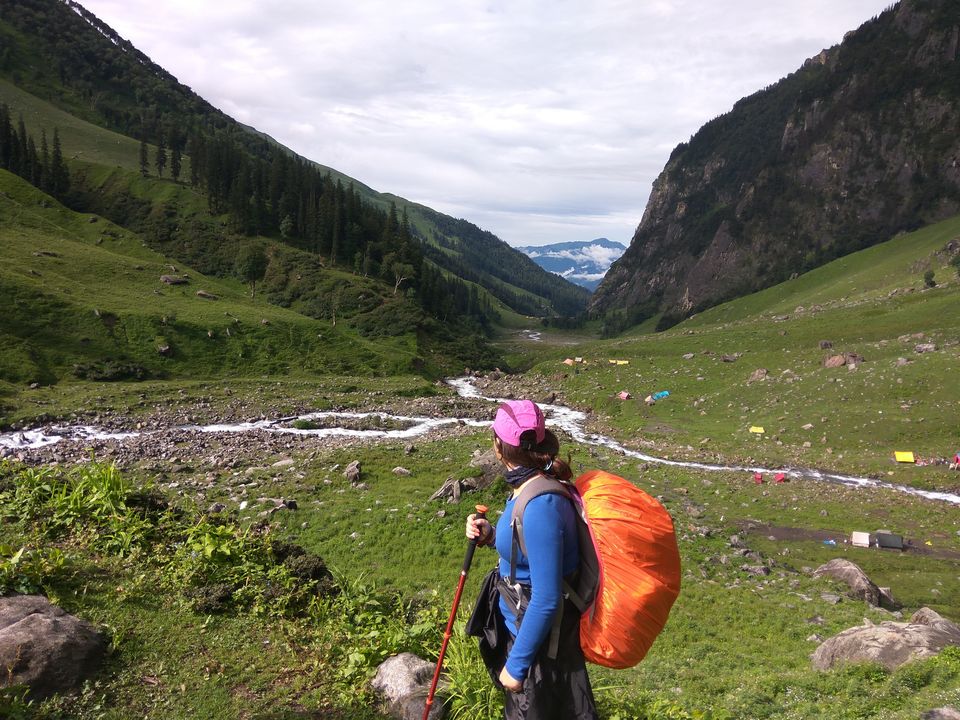 Day 2: Chika to Balu ka Gera
After waking up to a beautiful morning we did some yoga to prepare our body for today's trek. A healthy yet simple breakfast followed by a team brief. And in the briefing, we were told about today's task in hand which was not climbing the hill but crossing a river. I had read about it somewhere during my net surfing but taking first-hand instructions from the trek leader was altogether a different thing. A chill ran through my spine.
Today's trail was relatively easy but was made a little uncomfortable by the rain. Trekking in monsoon has its pros and cons.
More than the trail we were all excited about the river crossing but as soon as we reached there our excitement turned into fear. It wasn't a very big river but not a small one even. Almost knee-high deep, quite rocky and carrying snow melted chilled water.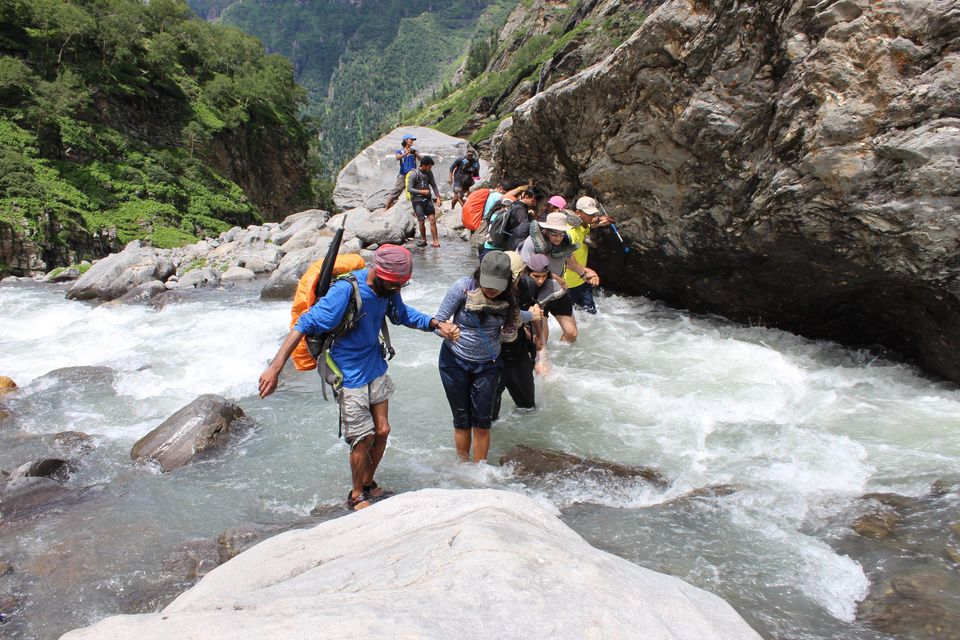 After crossing the river and meadows adorned with colorful wildflowers we reached our next campsite Balu Ka Gera.
Mountains, clouds, streams, and flowers – this campsite was heaven. Though Maggie served as snacks was an earthy experience.
We hit our tents on time as we had to break early next day.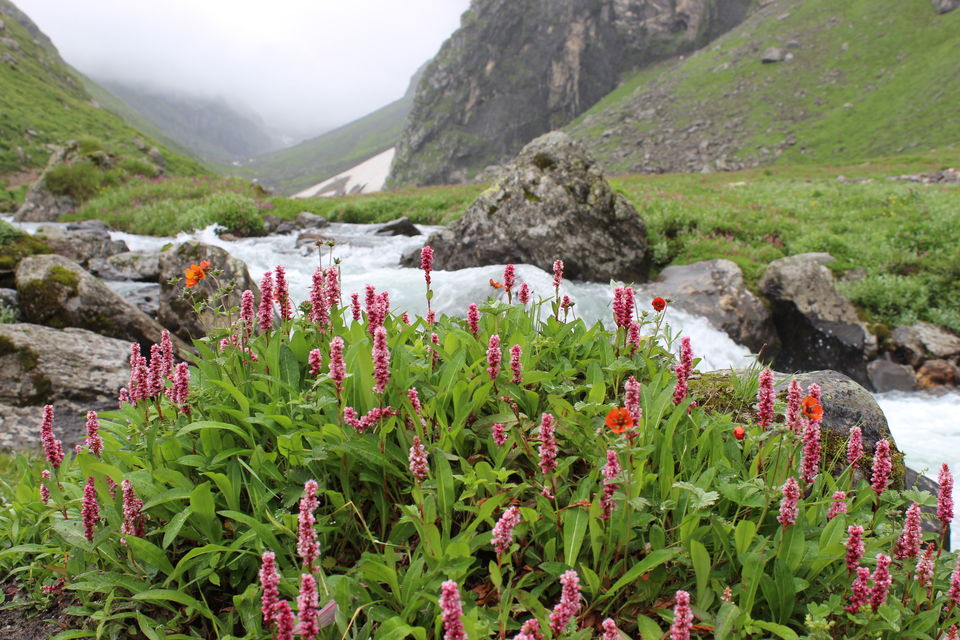 Day 3: Balu ka Gera to Shea Guru Via Hampta pass
From boulders to the snow-laden path, there will be many variations in the next trail. This day would be on a difficult side than other days due to steep ascent and descent but crossing the pass would be an absolute proud moment. And the campsite of Shea guru would be equally rewarding. Beware of the chilly winds as the word Shea itself means cold.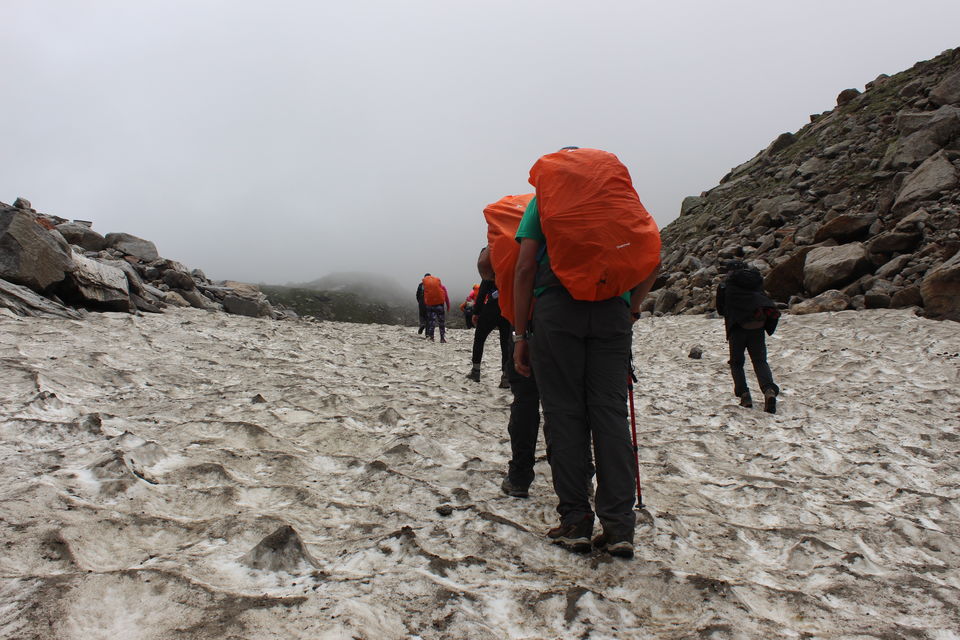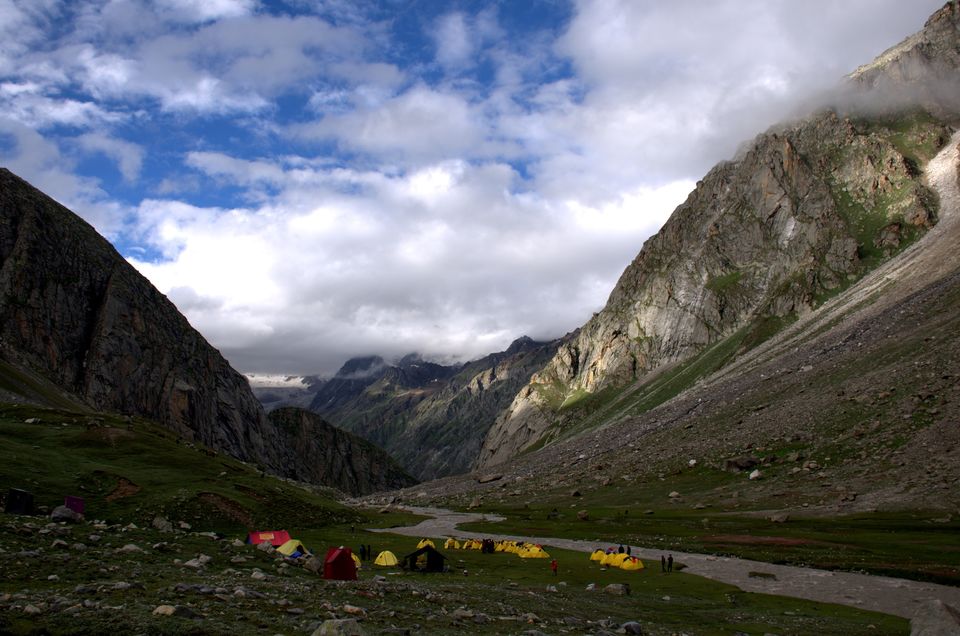 Day 4: Shea Guru to Chatru.
Camping next to river Chandra was one of its kind experience. Like a lullaby, happily, it was hopping over the rocks. But sleeping next to it is one thing and crossing is another.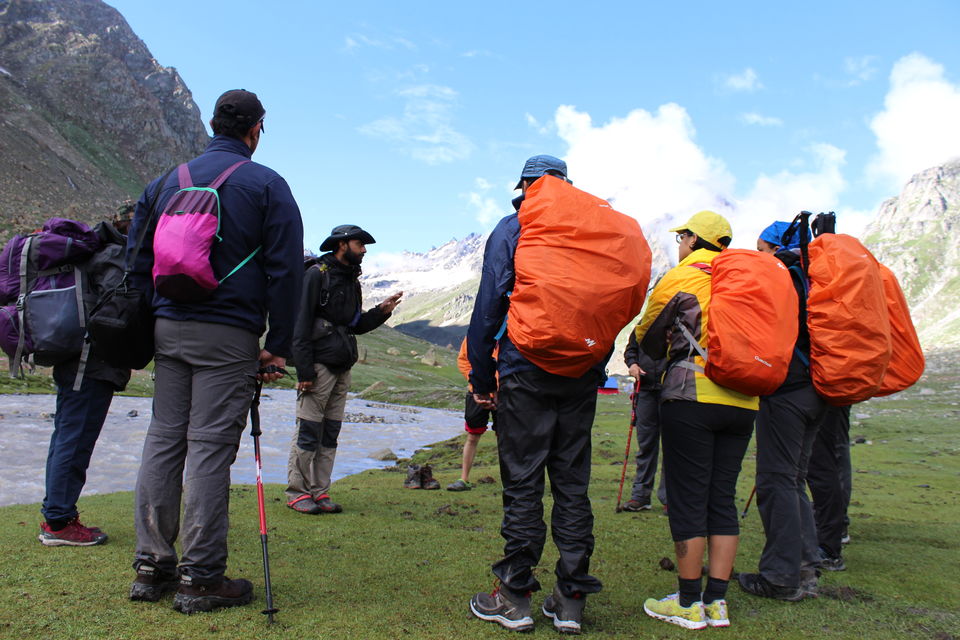 Though the relatively easy hike and the first view of Spiti will make up for the challenges of crossing this biting cold river.
Welcome to Spiti! The cold desert.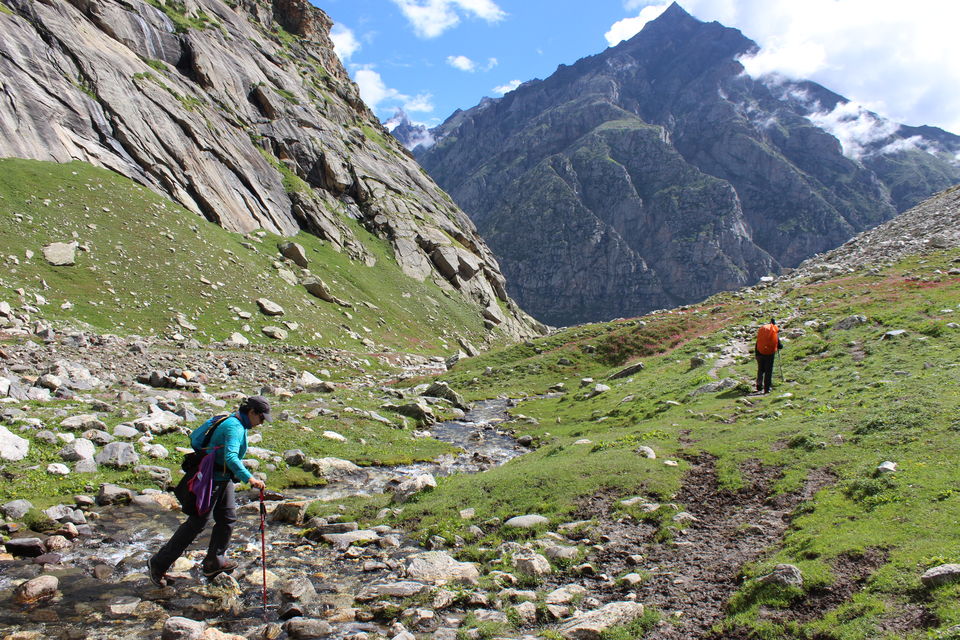 No meadows, no greenery and still the beauty!
Yes, now that you are in Spiti let your eyes enjoy the breath-taking views and the untouched natural beauty.
The trek ends at Chatru which is along the road of Manali – Chadratal but there is practically no traffic except a few adventurous two and four wheelers.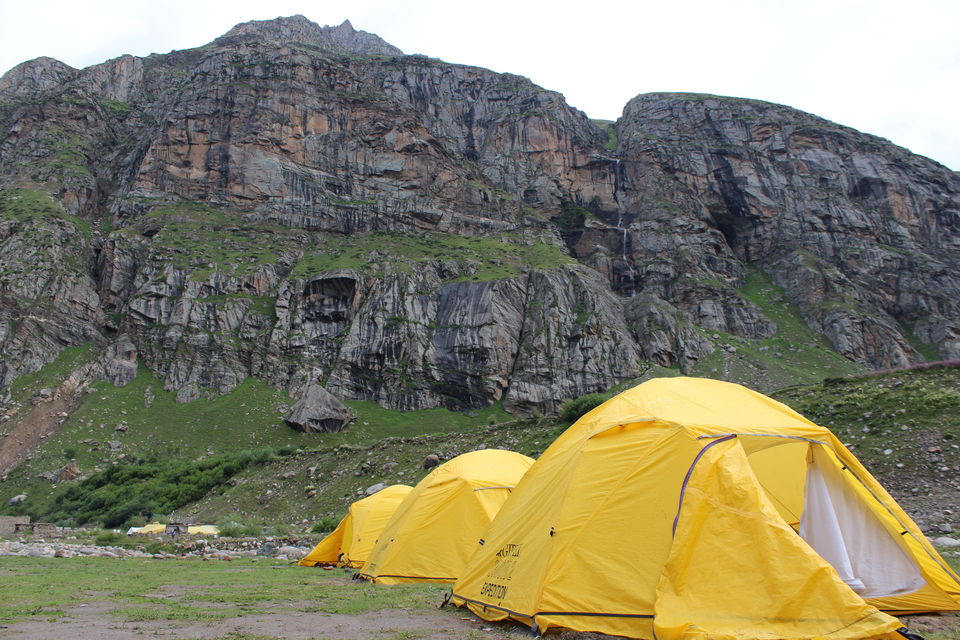 "My trek ended here but not my adventures" Here goes the next one - Rupin Pass