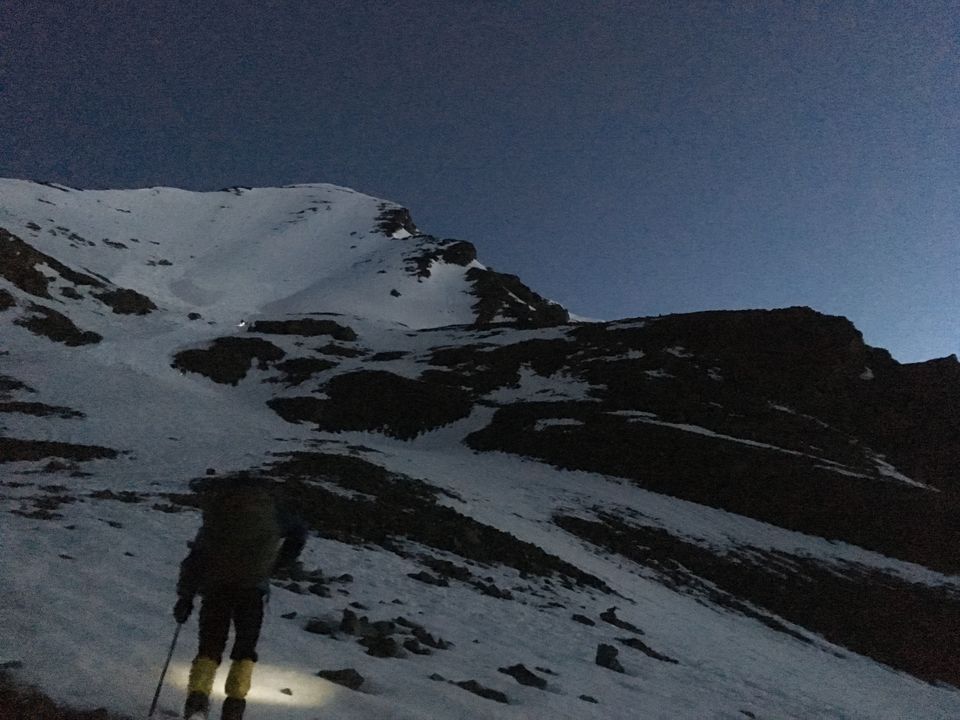 I am mountain kind of person so my relationship with mountains is somewhat inarticulate, yet possessed a hidden eloquent. I have done many treks but Stok Kangri have a special place in my heart. This trek change me from hidebound traveler to free soul, where I found true myself open to infinite possibilities, where there is no limit of joy and peace.
When I started my trek, I was trapped in my own mind of being alone. Because I planned this trek my friend, but due to some circumstance she cancelled the trek. This make me think twice because Stok Kangri(6153mtr) is high altitude trek and little technical, doing solo is little challenging for me both physically and mentally.
But without having second thought i pack my bag pack and catch the flight. The day I started my trek it made me realize why we are afraid of going solo? When we are in world of infinite possibilities, just we need to let go of your rigid plans and go with the flow so we can experience the best part of travel. I love the base camp of Stok Kangri so much that after summit I stayed three days in the base camp doing nothing. Every day I wakeup in the womb of nature see sunset and sunrise, sitting beside the river watching the stillness of nature. I have learn a lot from this trek and will continue as there is always room for learning something more and improvement as we are humans and WE Evolve!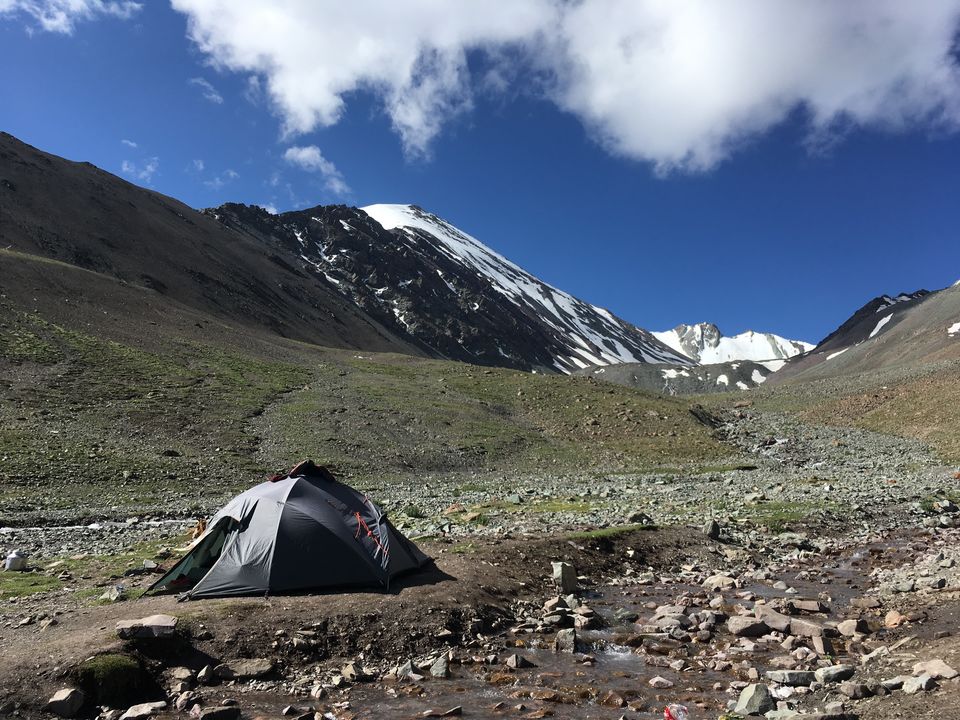 Travel Guide
Maximum altitude: 20,187 feet
Season: End-June to mid-September
Climbing Permit: Trekkers need a permit to climb Stok Kangri. Permits are available at the Indian Mountaineering Foundation's office in Leh for ₹200 for Indians and ₹2,000 for foreign nationals. If you forget to get the permit you can get in Mankorma base camp.
Stay: Home stay is available you can pay 1500 INR per day which include food, tent, sleeping bad and sleeping mat. You need to inform in advance to the camps of the home stay. So that they can arrange for the home stay
Guide: Porter, mules and guide are available in the trek. Guide will cost you around 6000-7000 INR for the whole trek.
Gears: All gears are available in the base camp you can rent gears in the base camp crampons 200INR, snow boot 300INR, Ice axe 300 INR and rope with safety harness 200 INR.
Itinerary
Day1: Leh to Mankorma (14200 ft., 4-5 hrs)
I started my journey form Leh, I book a cab from Leh to Stoke village for 800INR. From Stoke village it will take 4-5 hrs to reach to Mankorma. Mankorma is a pleasurable place. It lies in a grassy area. This area has a number of water bodies in the form of lakes and water streams. I put tent near to river and get to the Dhabba for the maggi and Chai. Food is awesome in the Dhabba. If you want to do star gazing this is the best place because you can see millions of twinkling stars in a white band, which is the Orion arm of the Milky Way – our galaxy. Next day in the morning I left for the base camp.
Day2: Mankorma to base camp (16300 ft. 2-3 hrs)
Second day was little difficult in climbing and breathing, the divine scenery will compensate generously for it, and make it a wonderful excursion. After crossing a hissing river, the trail become wider and smoother, but will keep ascending. Along the way, I have encounter numerous alpine lakes, and their tiny ripples and waves will seem white due to the sunlight falling on them and illuminating them.
On reaching the base camp, I enjoy lunch and spend the rest of the day at leisure. The base camp is situated on a comparatively flatter land form. A narrow brook makes its way through here, and the slopes and ground have a nice green covering.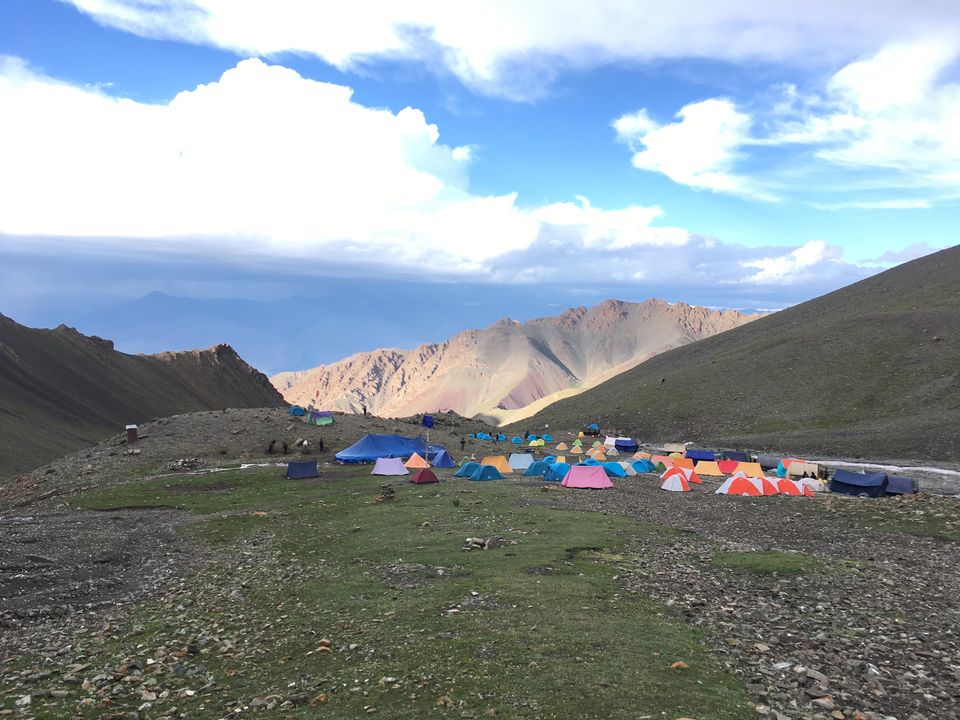 Day3: Base Camp (16300 feet) - Stok Kangri (20187 feet) - Base Camp ( 9-10hrs)
I left the base camp at 12:30PM considering the length of the journey, I divided into a number of smaller sections, to stop to rest after each one. Starting from the base camp I encounter first sharp and lengthy ascent, after which the altitude gain will become lesser. The slopes and your ascent will be gentle till you arrive at the magnificent river of ice, which originates from the peak.
After the glacier there is gruelling hike of approximately three hours from the base camp. The real climb to the summit of Mount Stok Kangri begins here. To reach the top, there will climb for about two hours more along the southern face of the mountain. The gradient of the slope here is almost 75 degrees, and the path contains loads of small rocks, enormous boulders and 2-3 feet ice. One little mistake can be dangerous.
once you reach the ridge you can have clear view of the summit and colourful Buddhist prayer flags decorating it. On reaching the top, you can look around and see the Karakoram Range in the north and the Zanskar Mountains in the south. Coming down brings a different challenge as due to the force of gravity, you will end up descending too fast.