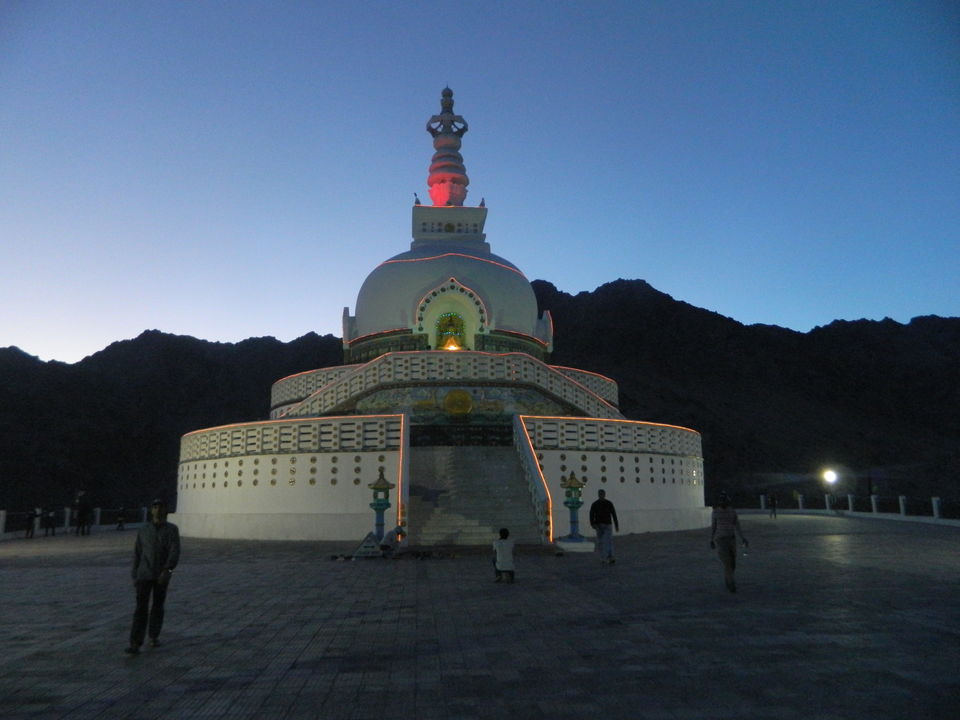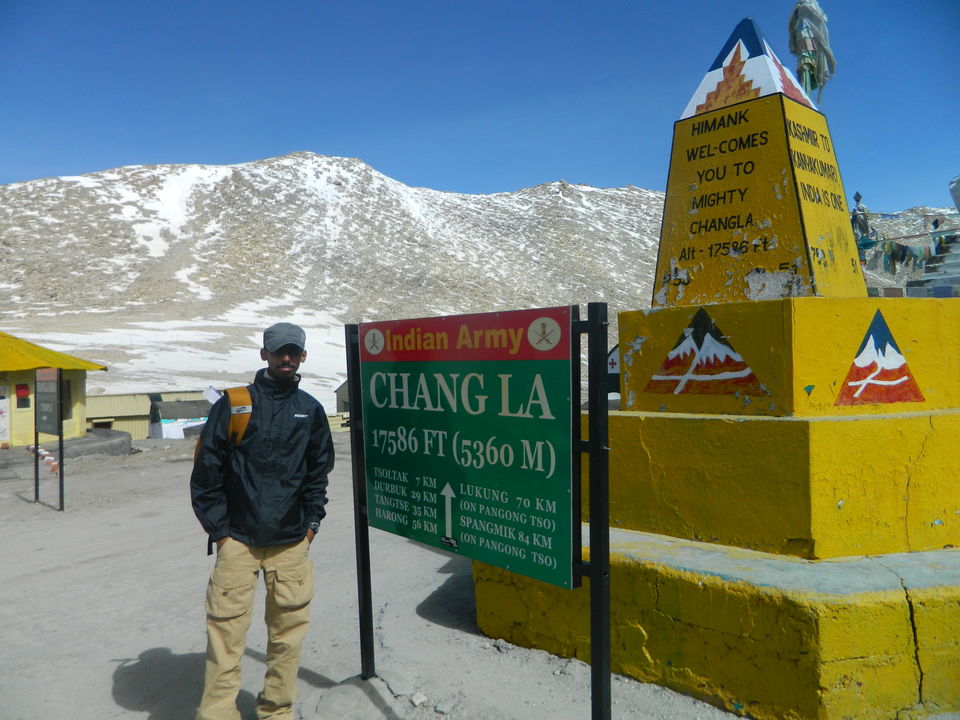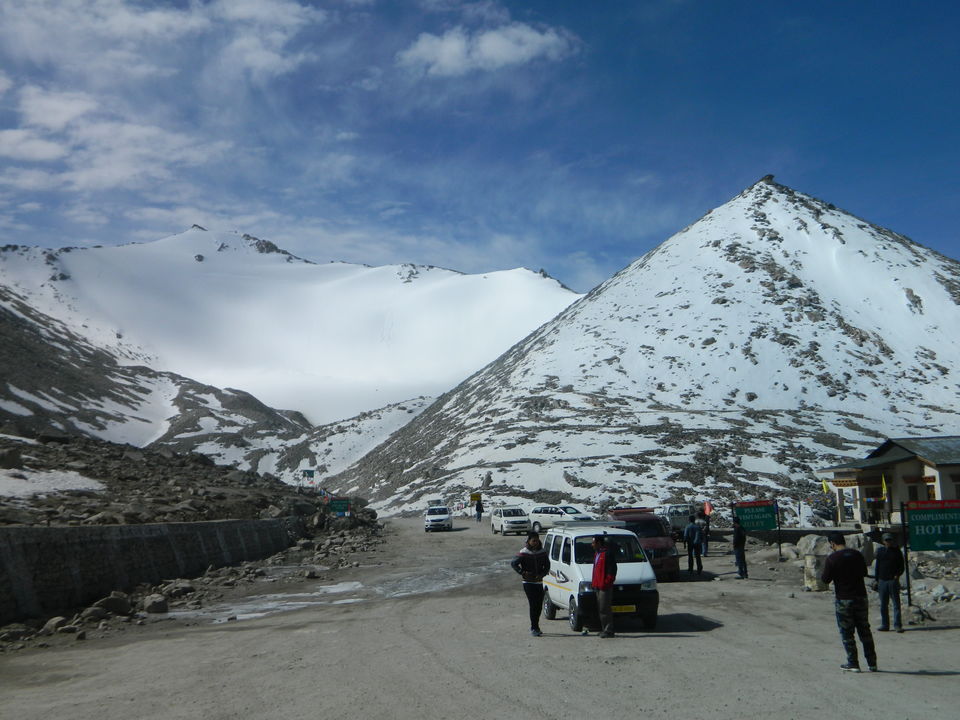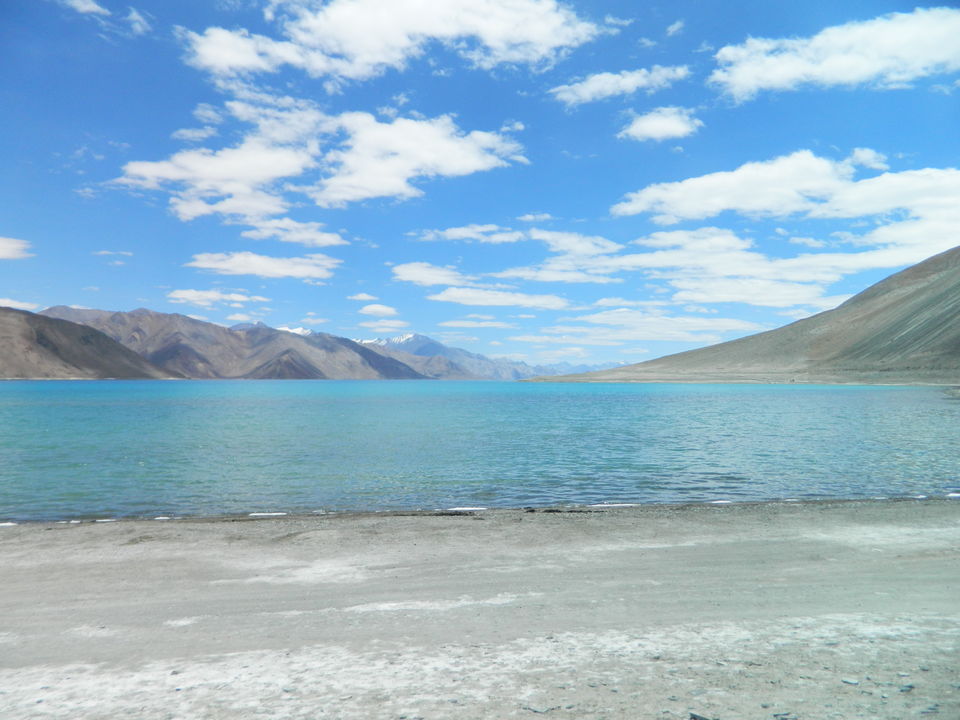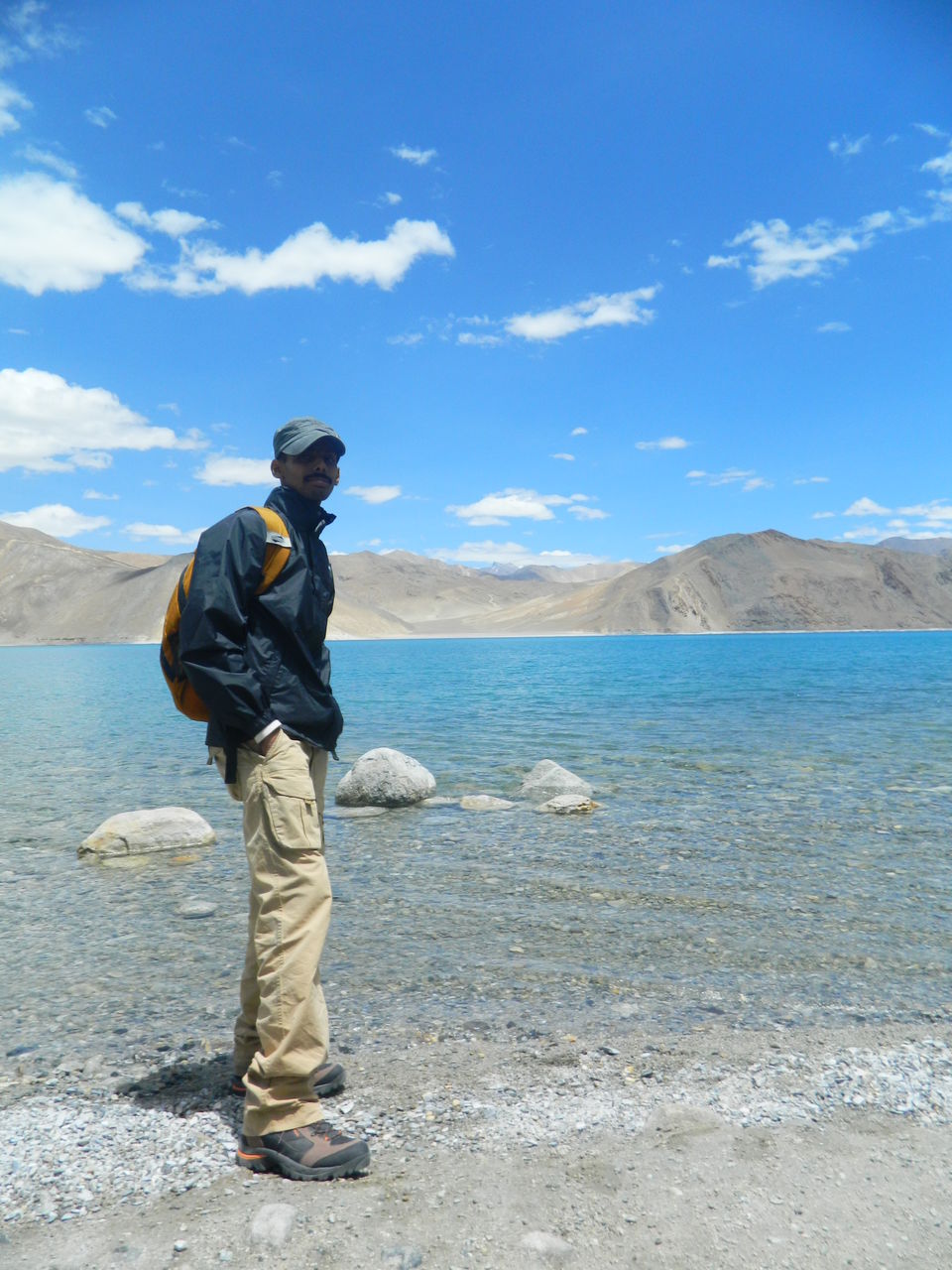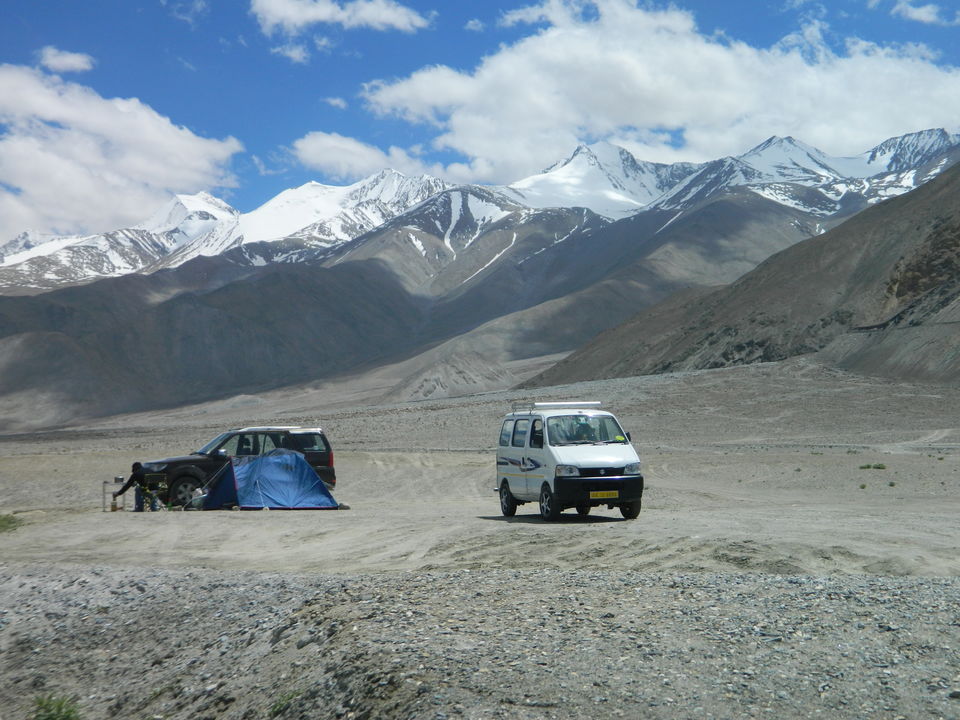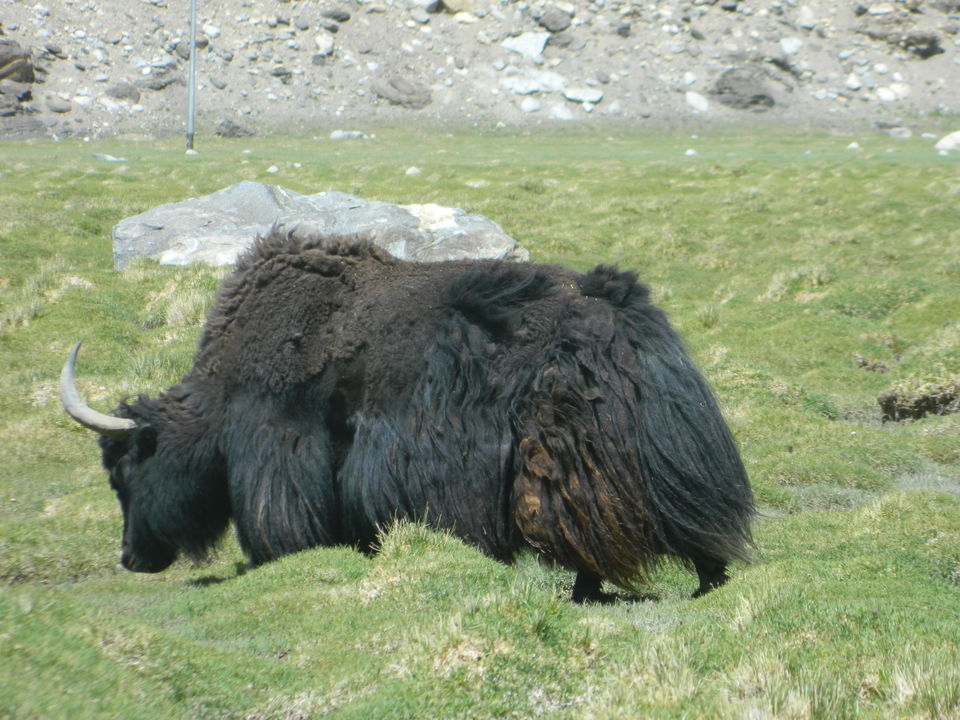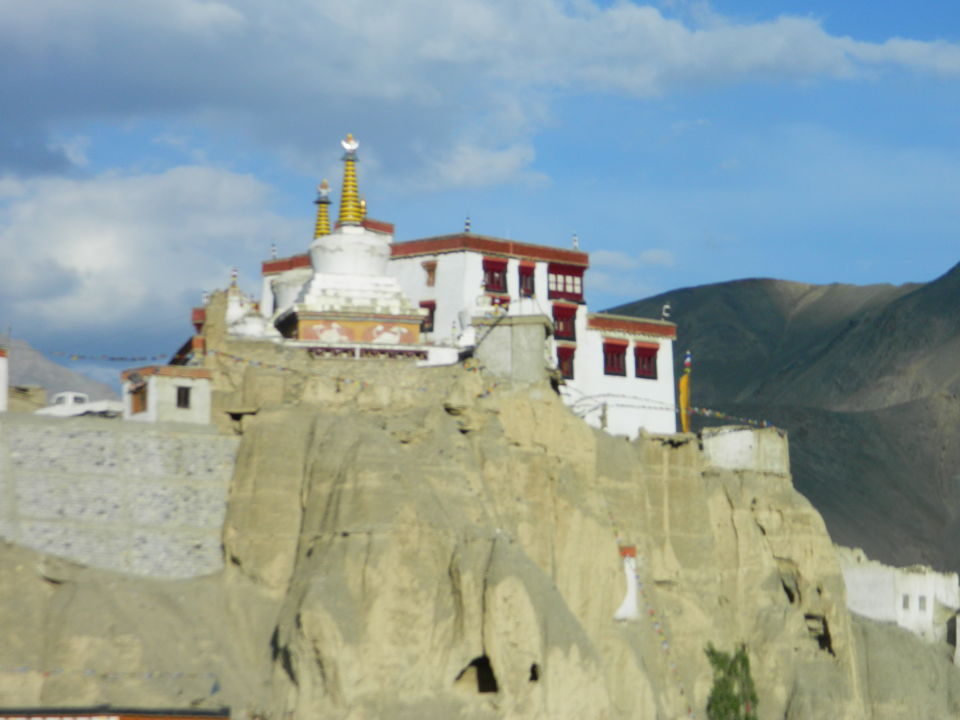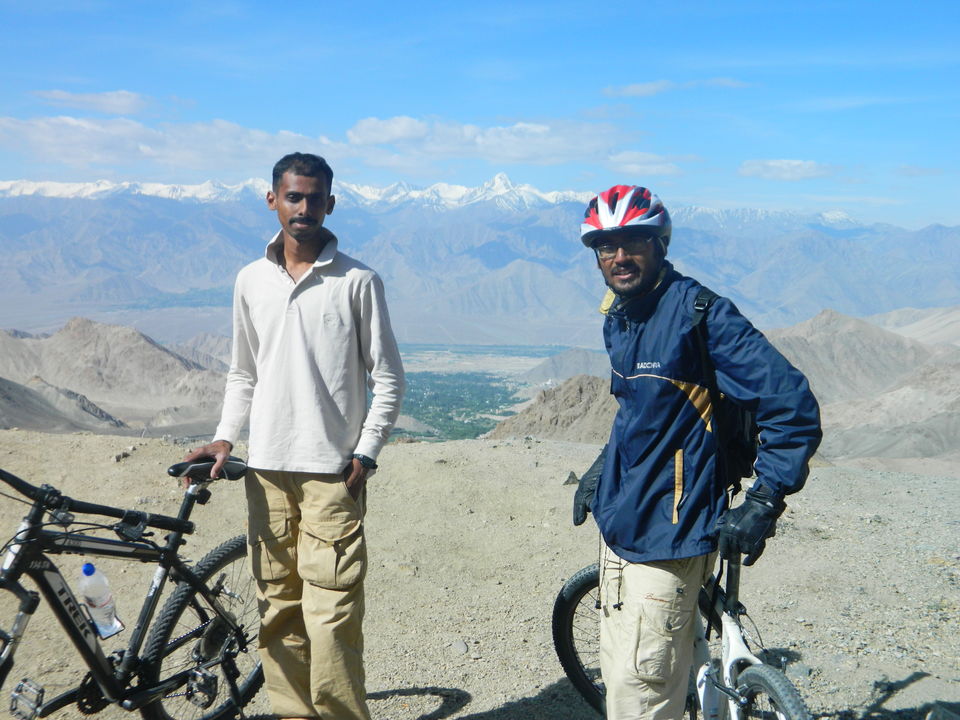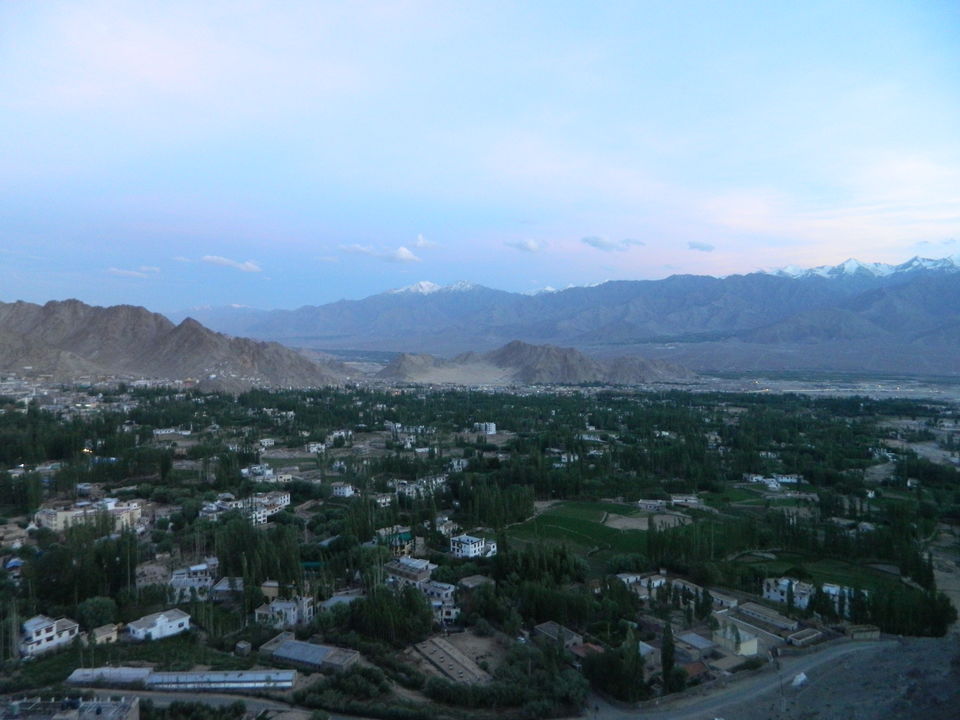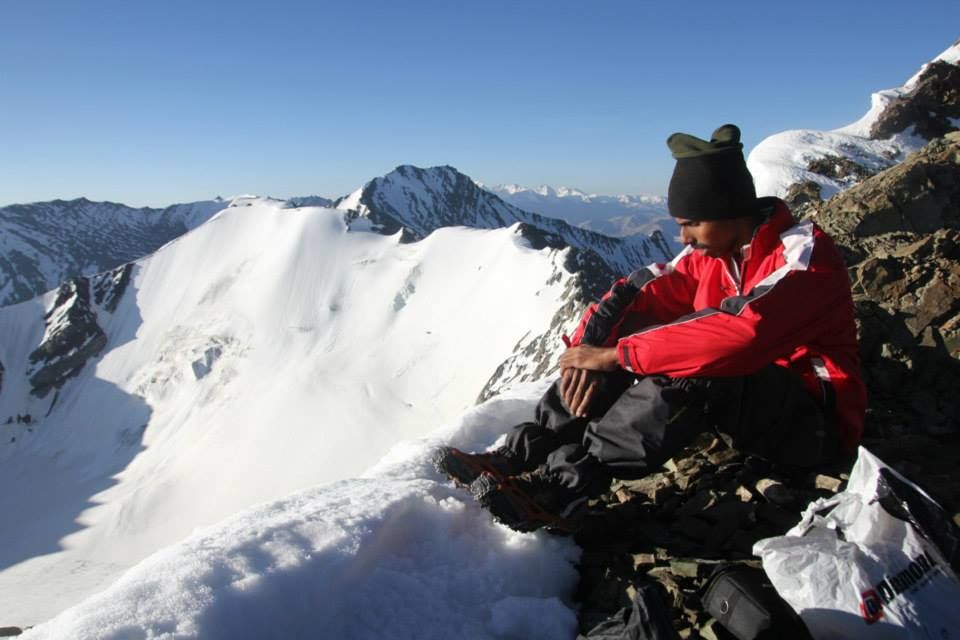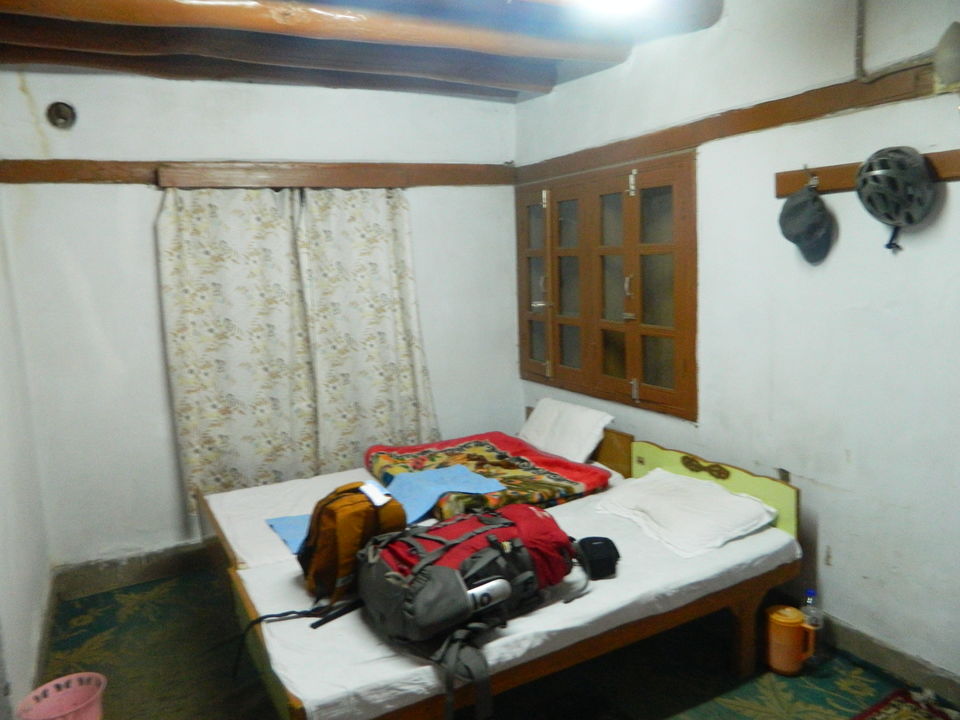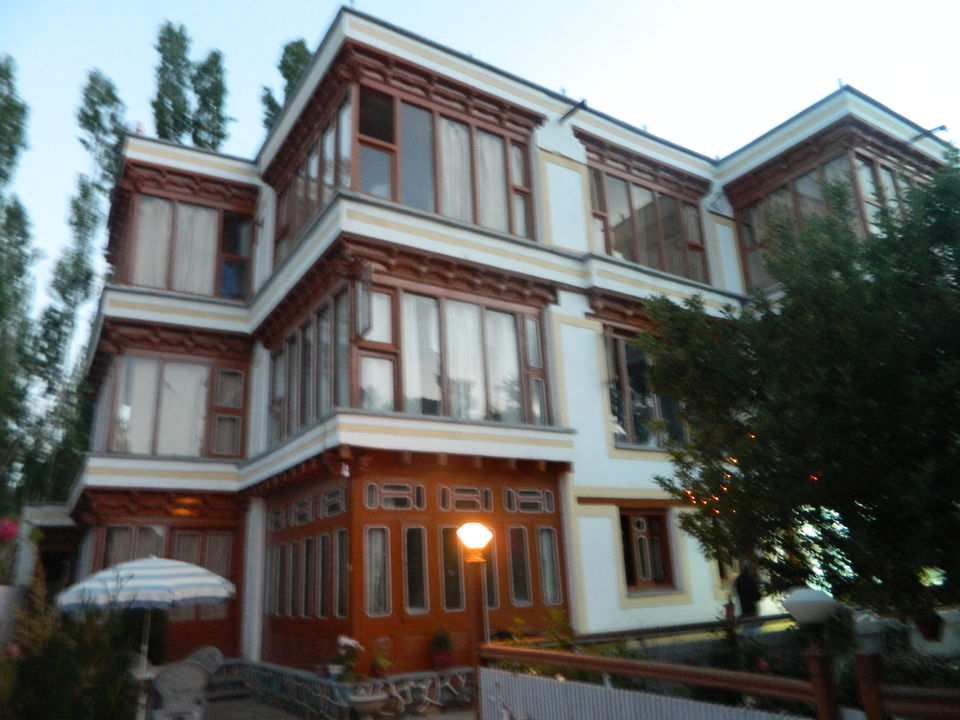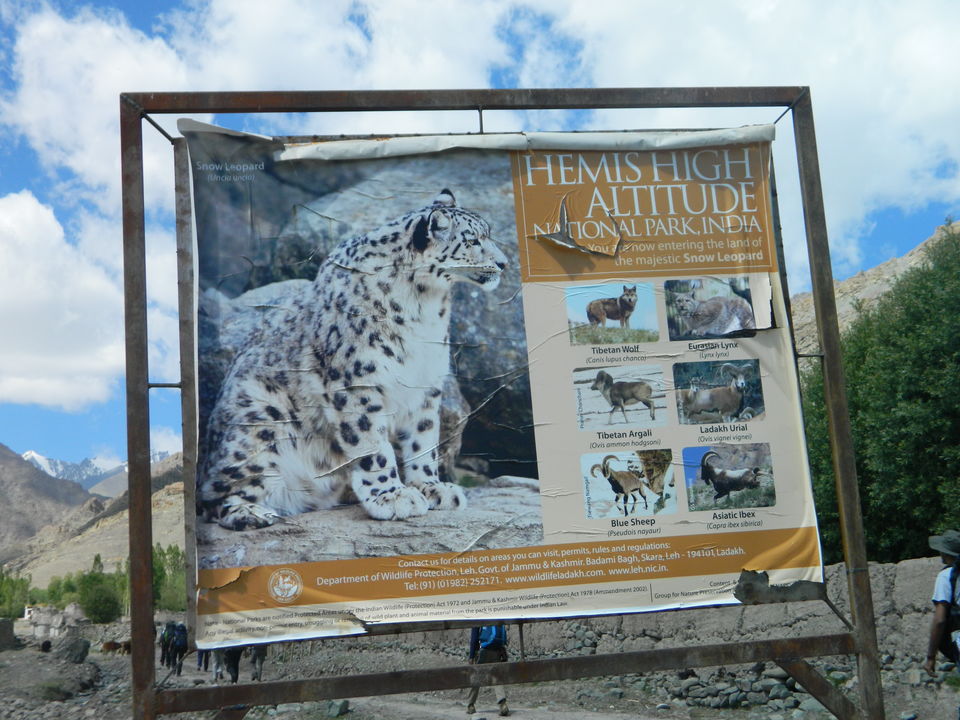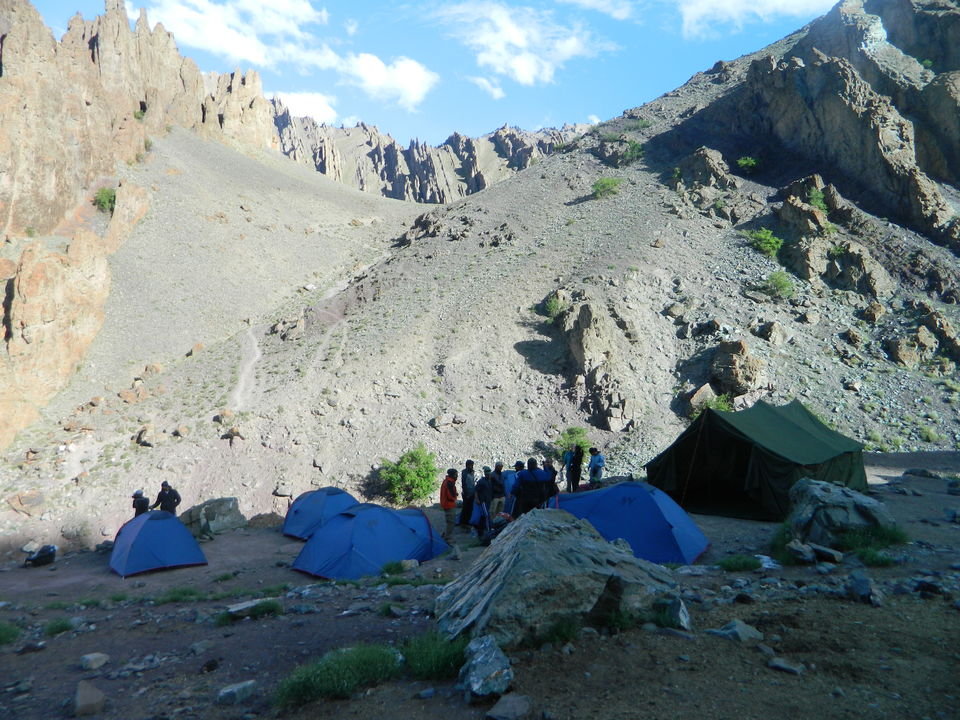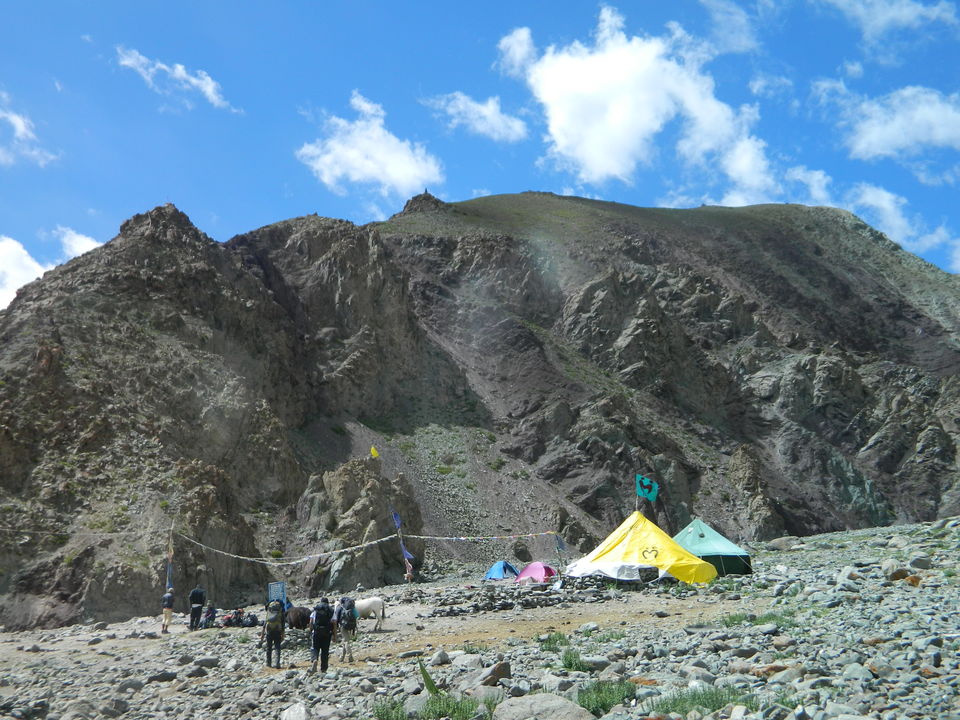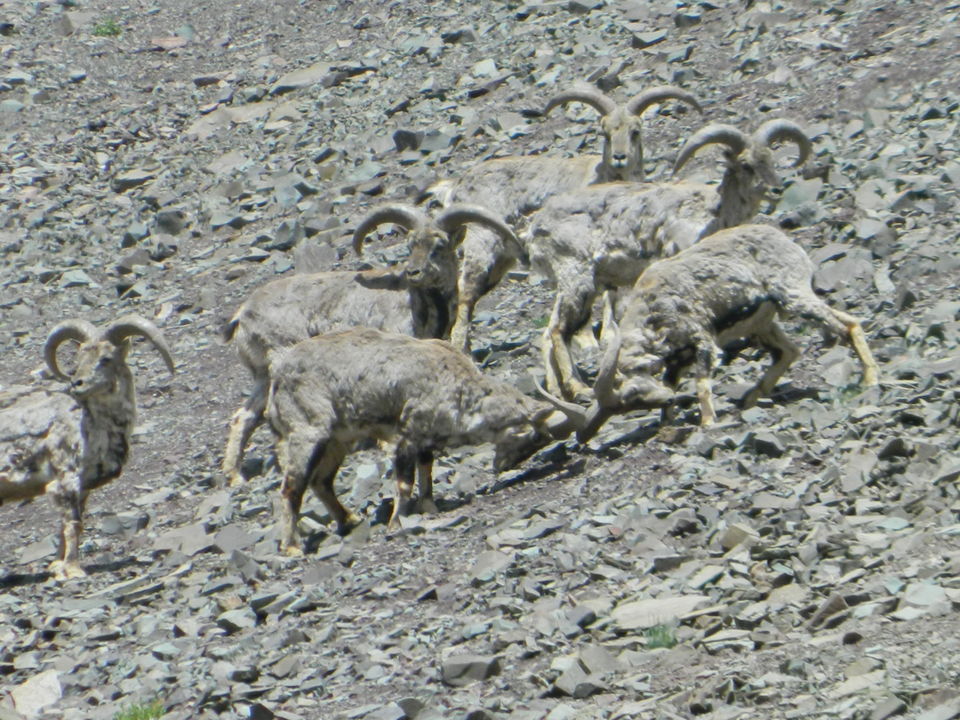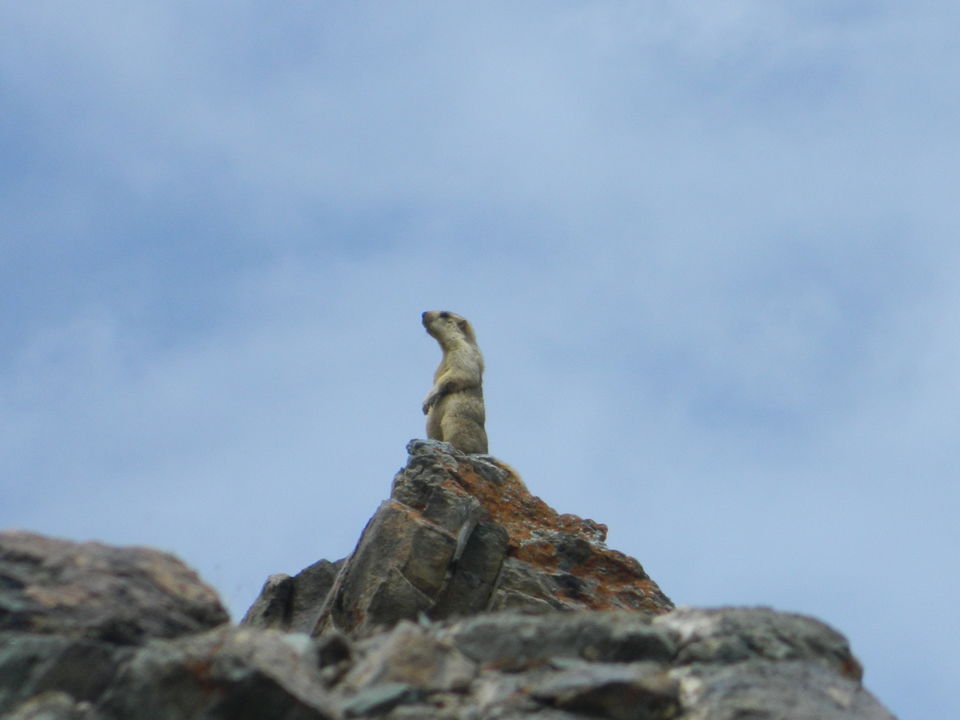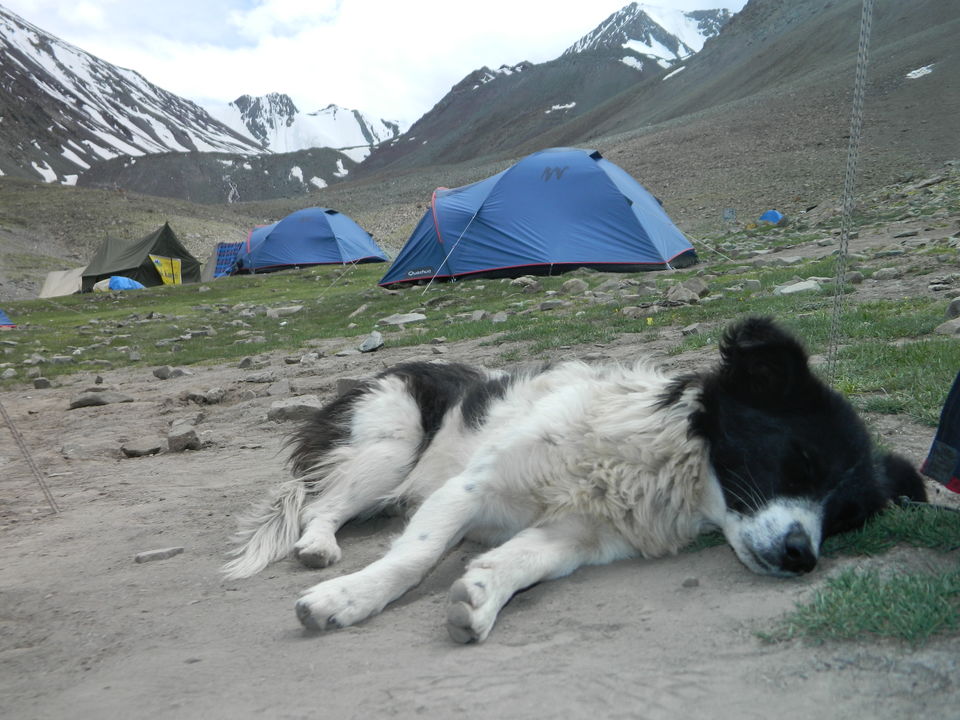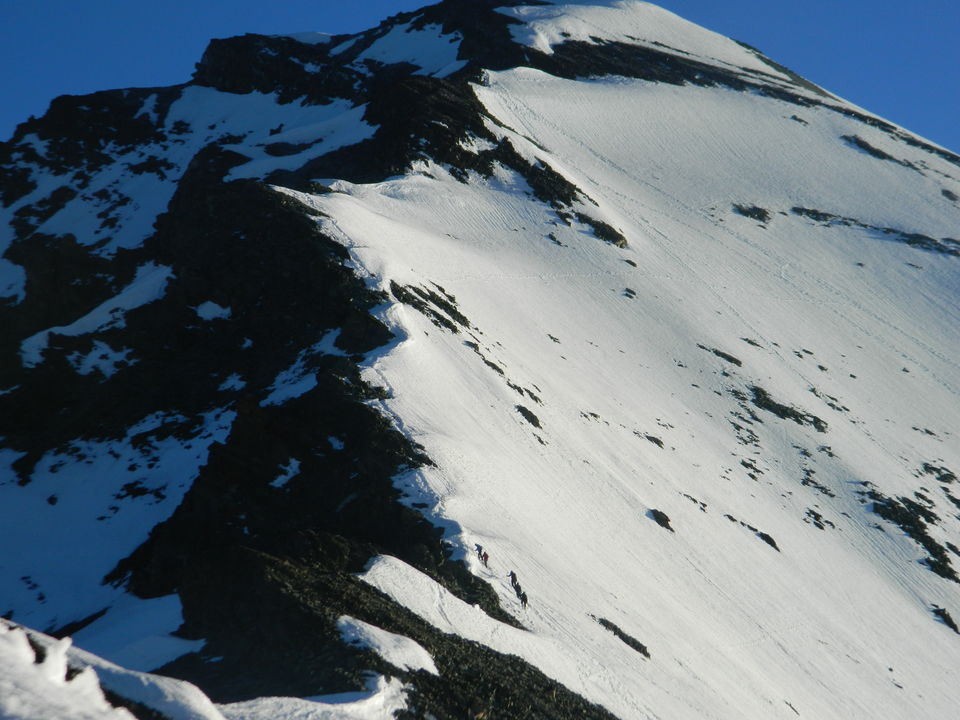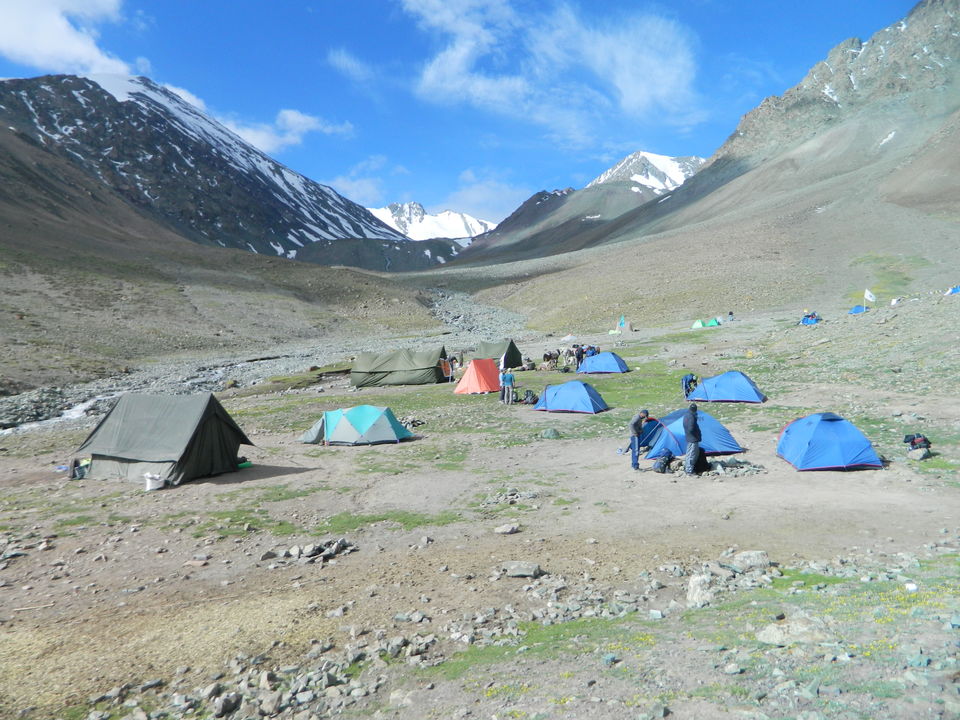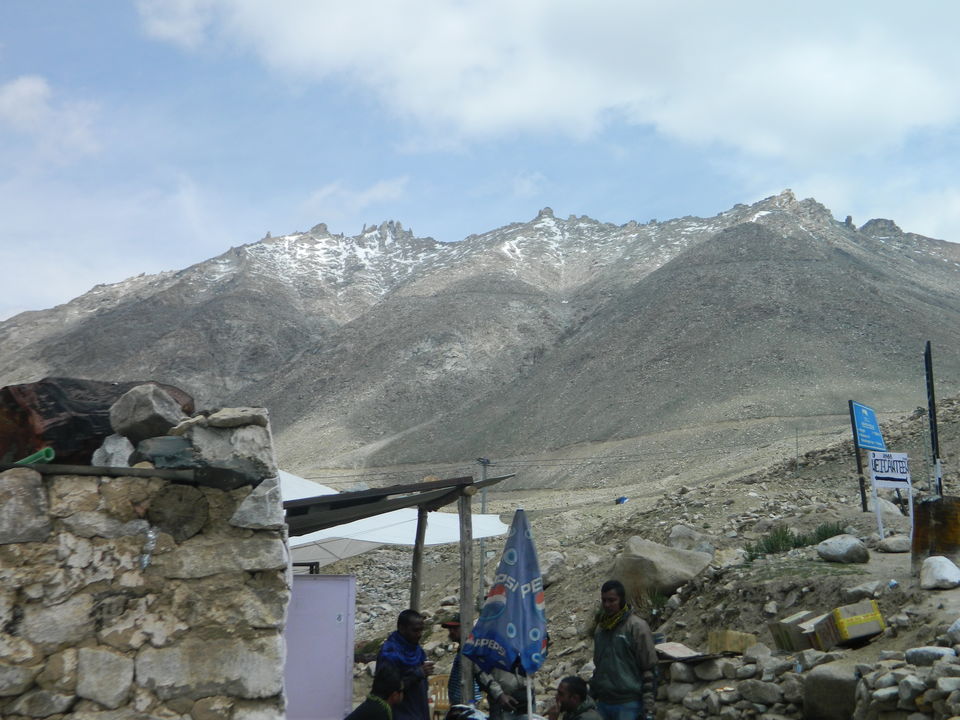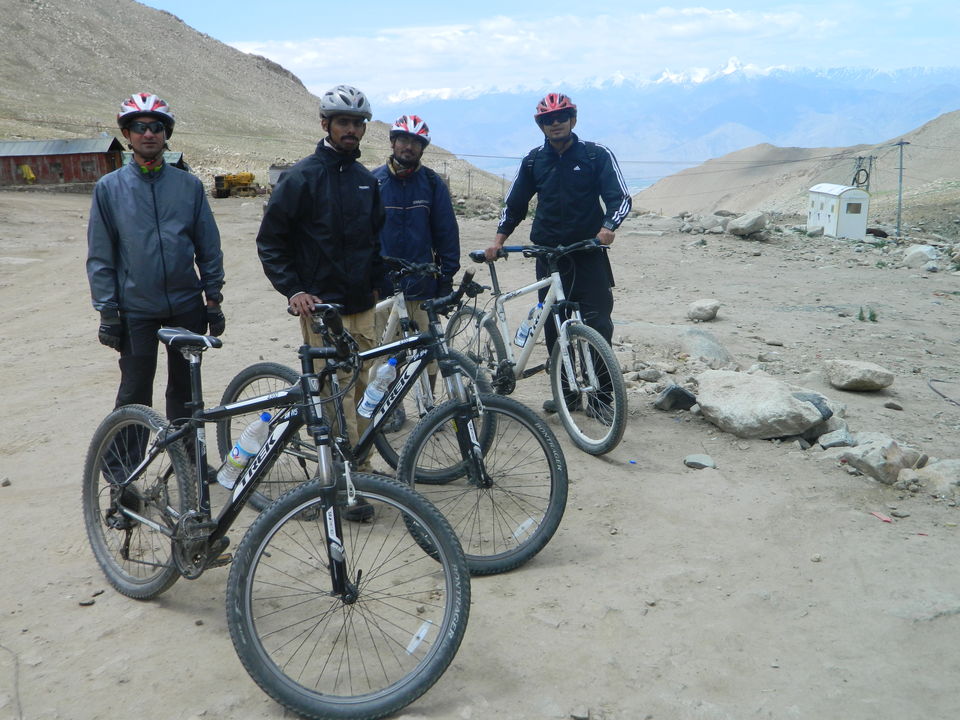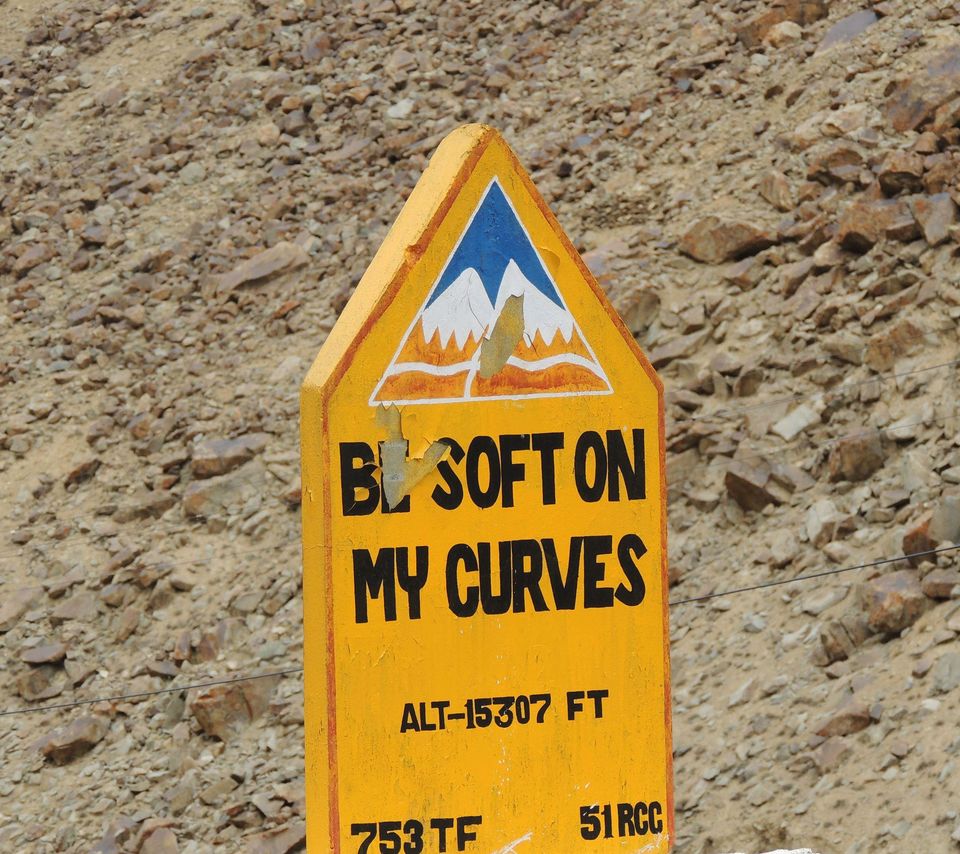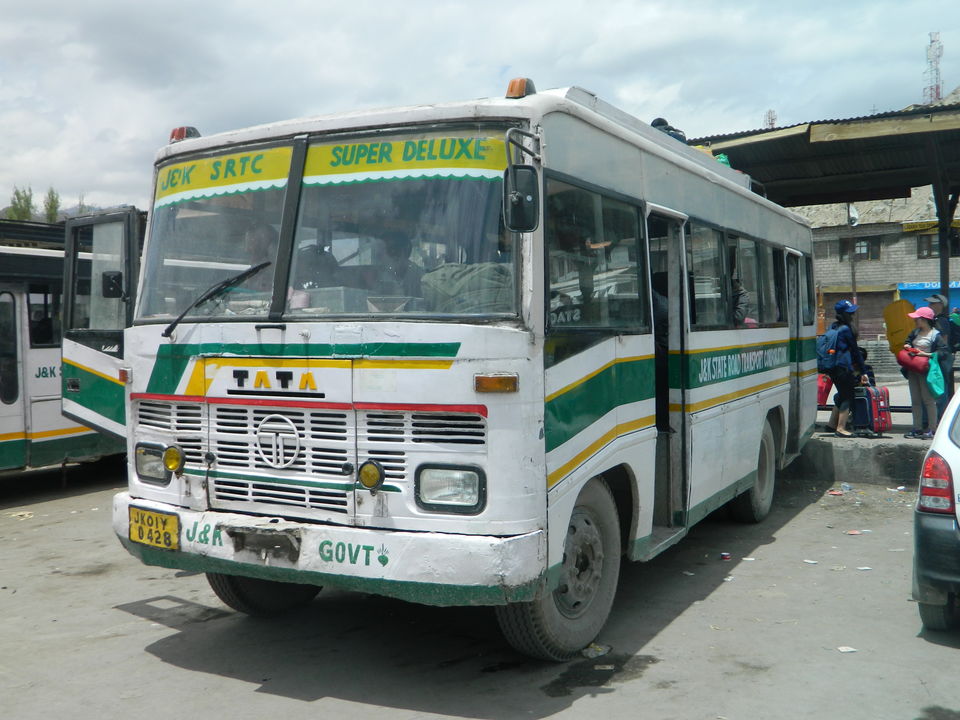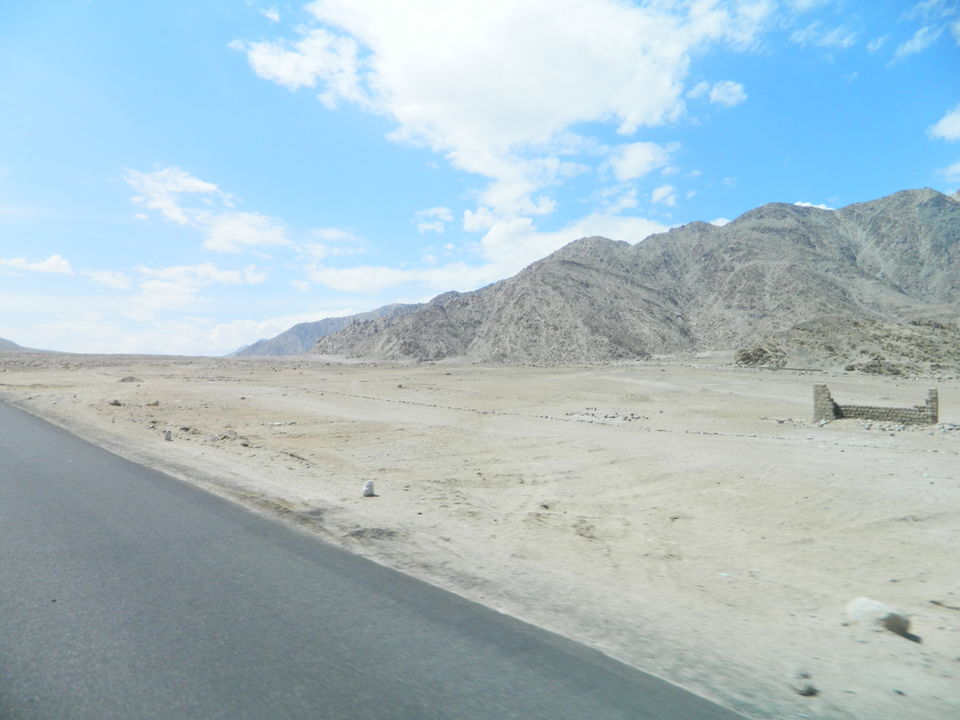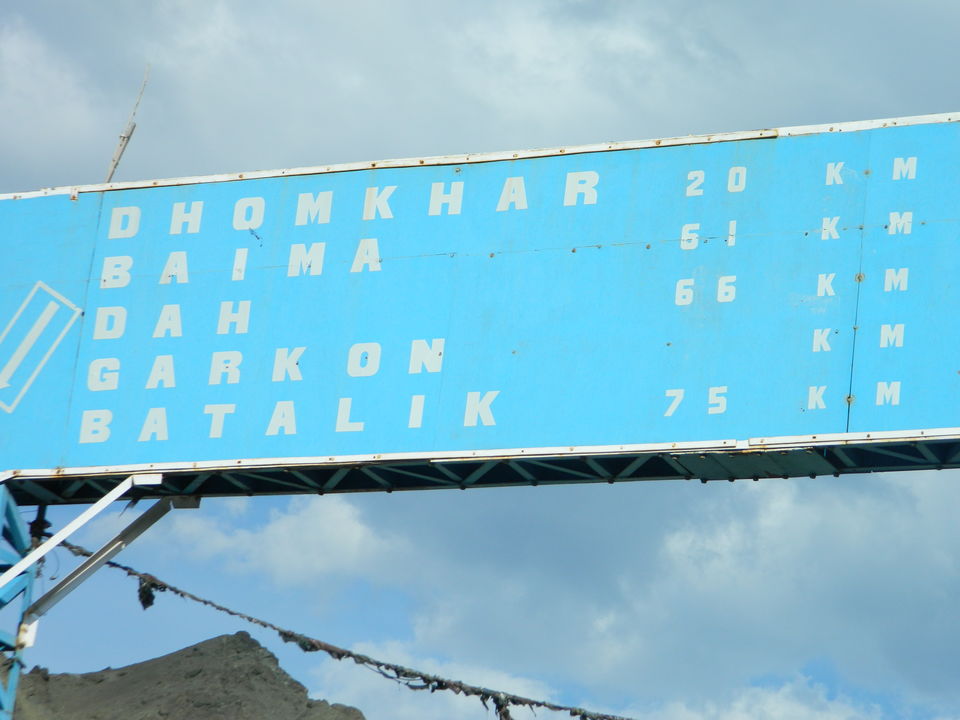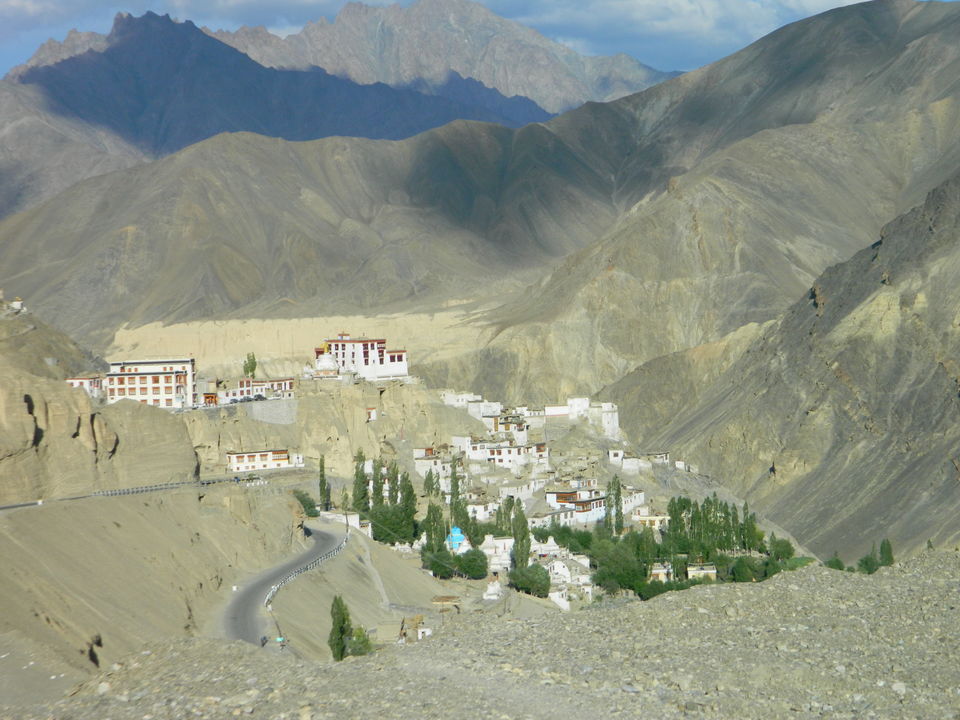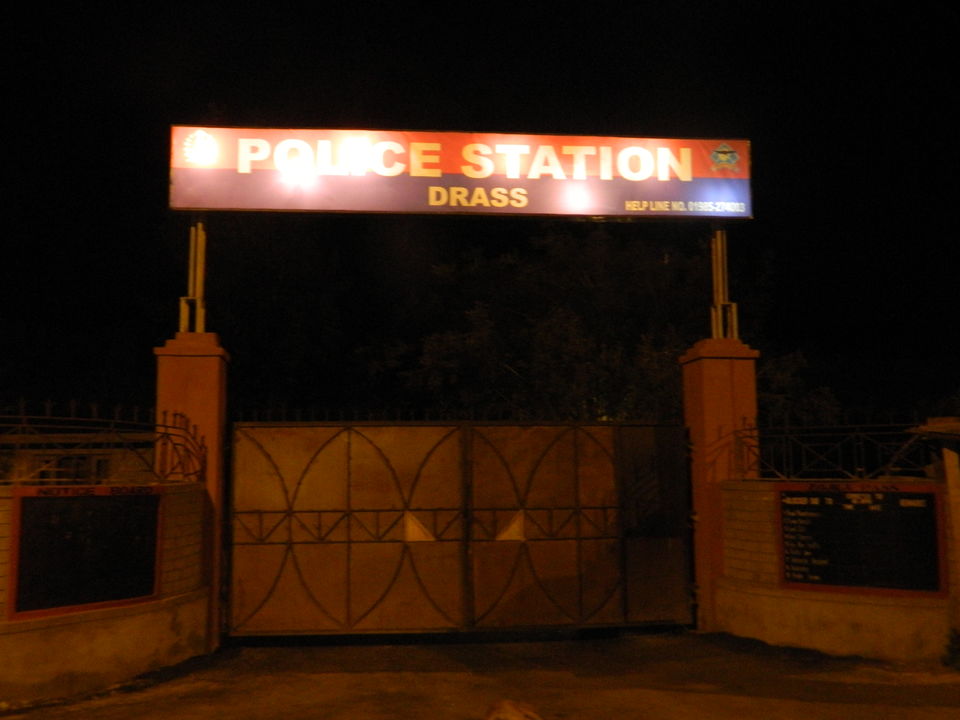 (03 Jun 13-13 Jun 13)
Day 1: Arrival at Leh- the moonland
It was 1:00 am and I was the first to check in and got a window seat. Sitting in my window seat looking at my watch it was 05:15 am. It was drizzling and I was having a good view of runway. The tracks were illuminated and it was warm inside. By the time the the captain announced "we are ready for the take off and we will be reaching Leh around 06:30 am". I was peeping through the window to catch the first glimpses of the moonland and around 06:00 am I saw the high altitude desert and the snow covered peaks. On the way the captain announced "we are now flying over the Thiksey monastery and earlier over one of the TSO". Finally I was able to see the runway of Leh. I landed around 06:30 am and I was eagerly waiting to in-hail the first breathe of Leh air. The doors opened welcoming me to the moonland with a cool breeze. I was happy that now I am completely cut-off from the outside world. I hired a prepaid taxi and reached my destination- Hotel Bimla. The caretaker of the hotel Mr. Dhangiri welcomed me with a big smile. He is a native of Nepal. By then, a voice strike me from behind asking me "are you a member of TTH Stok Kangri Expd??". Turning back I saw a smart young man in green outfit. Mr. Ravi Kiran our ground coordinator. He reached Leh the day before. Soon I occupied my room and directly went for a good sound sleep. I woke up around 04:30 pm, took a luke warm bath and stepped out of my room to meet Mr. Kiran. We decided to go around the streets and markets off Leh. We roamed the streets and identified the main market areas, taxi stand & bus stand. While returning we met some of our fellow trekkers and our trek lead Mr. Sandeep. Sandeep is a tall guy with athletic physic. He is a professional mountaineer and a instructor for NSG. I was impressed about this guy reading about him on TTH website. Later we had a group dinner and then to sleep. In between we planned a cycling expedition to Khardung La the next day.
Day 2: Cycling to KARDUNG LA
Four of us Bhuvan, Durgessh, Kiran and myself decided to go on cycle expedition to Kardung la as a acclimatization trip. We hired trek cycles on rent a day before. By 05:00 am we woke up and we were ready by 05:30 am to start. We reached the highway to Kardung la in 20 min. The climb started. We peddled in a constant speed having break on a regular interval. As the day progressed and gained altitude, the interval of taking break grew shorter. Being professional cyclist Ravi moved well ahead of us in a professional manner. Some where around 10:30 am we reached south Pullu. Then we decided its not wise to go ahead as we were extremely tired and also the weather was deteriorating. So we started our descent after having a mild breakfast at South Pullu. Down the road we were cruising at an average speed of 35 kmph with the top speed clocking at 50 kmph. In the evening we decided to go to Shanti-Stupa for a small trek. From Shanti-Stupa we clicked a awesome view of Leh city and Stok Kangri peak. The plan for next day was to Pangong TSO.
Day 3: Trip to Pangong TSO
Its 6 in the morning. Four of us Arundhati, Bhuvan, Kiran and myself were ready to take the cab to Pangong. Pangong is 150 km away from Leh. The one way drive takes 6 hrs from Leh. So we departed from Leh at 06:00 am. The drive was awesome through the mountains and off road terrains. In short it was a roller coaster ride. For all there you have to get an inner liner permit which can be obtained from IG office. We halted at Chang La pass for a tea break. There the travelers were given black tea as a service from Indian Army. We continued our journey and as we were close to Pangong the landscape were similar to desert. The only difference was there were mountains around it along with Marmoths and Yaks. We reached Pangong at 12:30 pm. For people like us from cities, Pangong is like heaven down to earth. We spent almost 2 hrs on bank and enjoyed the landscape.The highlight was a guy with who had camped there isolating himself from the outer world along with his Safari Strome parked for shade and books. We reached Leh back by 06:30 pm. After having my dinner, straight way I went to bed as we were starting our expedition the next day.
Day 4: Leh(11,500ft) to Chang Ma(13,087ft)
My watched ticked 07:30 in the morning and our departure time was schedule at 08:30 am. I and Mr. Ravi stepped out to check out whether hotel Lamayaru's restaurant is open or not. Fortunately the restaurant was open and we had a musli-power porridge as our breakfast. The van was fully loaded with stuff for the week long trek. We were dropped at Stok village. It was a hot sunny day. After a trek of 4 hours we reached our day one destination Chang Ma. A agency called Mitra has built small camps at all the advance bases. We spend the night in our tents and trekking the near by hills at evening and playing UNO...
Day 5: Chang Ma to Mankorma (14,200ft)
The night stay at Chang Ma was awesome. The first time in my life I was under the ocean of stars. Now I have a image in my mind how the sky will look when I will be at the base camp. We started the day's trek by 8 am. We were often crossing the Stok river from one end to another. After a half day enjoyable trek, finally we reached Mankorma by 01:00 pm. We were welcomed to Mankorma by an IAF chopper which flew overhead of us doing a valley flying. Soon we were lucky enough to spot a herd of Blue Sheep with two lambs. After lunch I, Bhuvan and Durgesh trekked a near by mountain as a acclimatization trek. The Mankorma package had a surprise, the sudden ghost wind. It was blowing at such a high speed that it uprooted our dinning tent while we were busy with the game Mafia inside...
Day 6: Mankorma to Base Camp (16,300ft)
This was bit tiring day for everyone and a new member joined our team on the way. His name was Mr.Doggy. The most active member, but he was frequently disturbed by Marmots sitting inside their borrow. The whole day's trek was to climb, so everyone was in their own phase. Finally, we reached the base camp by around 12 noon. The place was bright and sunny. From here we had a good view of Gulap Kangri. In the evening we started our acclimatization trek. We started climbing a near by hill with Sandeep giving us the instruction to be followed on the following day. Three of us myself, Durgesh and Abijheet decided to go further. We three climbed far ahead of them in the aim of getting a close view of a near by glacier.
Day 7: Silence before the Adrenaline rush
Tonight we are going to start our final push to summit. Everyone is trilled and prepared for it. We had split ourselves into two groups. The faster ones and the slower ones. I decided to get myself in the slower one as its all new to me, the terrain, the altitude and the temperature. I don't know how my body was going to react. So I don't want to take any chance. The decision was the slower group will start their ascend at 10:30 pm and the faster group by 11:30 pm. The plan was to summit all together. The whole day we were taking rest. Actually we should have slept for the whole day as we would be walking for the whole night till the next day noon. But it was out of our daily schedule for everyone. I was unable to close my eyes for a minute, and guess everyone would felt the same. I had my lunch around 1 pm and dinner by 04:30 pm. That was ridiculous. But I forcefully had my dinner remembering my goal. It was 10 pm and I was wearing my gaiters and checking my day-pack for the foodstuff and crampons. With the loud shout in everyone's mind we started our final push. It was one of my awesome moment of my life. Starting a trek in pitch dark, I can see everyone's headlamp shining. Everyone were following each others footsteps. But Mr.Doggy was ahead leading our way. On reaching the top of first mountain we had a marvelous night view of Leh city sparkling like a gem. We continued our trek with caution. The snow was hard and slippery & in some places it curved in to 2 ft deep. Sandeep was giving instructions. Around 12 in the midnight the faster group overtook us and Sandeep started leading them.
Day 8: Summit Day (20,085 ft)
Its past midnight and we were trekking on the snow. I cant really remember the time when Prakash, our trek lead told us to wear the crampons as we have reached the glacier. In distance I can see the head lamp shining of the faster group. I was eagerly waiting to catch up with them so that we will make it to the summit all together. But we were considerably trekking in a slow pace. It was pitch dark and we had no idea where we are and what is the gradient ahead. It was tough and we were stopping for breathe after 20-25 steps. I was thinking to break from the group and move ahead. But I have to stick with the norms because we all started our trek together from Base Camp and cannot leave anyone behind. After about half hour I heard a voice with the same thought I had, "Can we break and move ahead..." by Arundhati. I felt now its the time to break and move ahead so that we can make a path & guide people as the gradient was around 60 deg max. By the time there was some sunlight and we were able to see a huge wall before us. As I was approaching the foot of ridge, I saw a flashing light- a sign of SOS. It was Bhuvan. He was struck with mild AMS and was descending. I and Arundhati decided to take a break after every 30 steps. But the gradient and altitude was taking the toll out of me. As we were acquiring the height we were decreasing the steps to 20 even to 10 at final push to ridge. Though the climb was tiring it was enjoyable moment as each step of mine was a achievement in my life. I was lucky to see the sunrise along with Karakoram Range. Suddenly some movement on the ridge got my attention and it was disappointing. The faster team started to move towards the summit. I continued my climb and by 05:40 am I was on the ridge. I was happy to reach the ridge well before the turn round time, but I cannot see others climbing. I sat down on the ridge cursing Sandeep for leaving us behind and had my breakfast. It was an awesome sight from the ridge. Its 06:20 am and my hope for climbing to summit was decreasing. Now Dr. Raja joined us at ridge. But the news he bought was not good. Mubarak was struck on a rock at middle. Others slipped and skidded back and Prakash was on rescue. The fall of Shohail was terrible and near miss. He got his knee injured. In between I even tried to trek towards the summit. But I realized its foolish to do that without any guidance and technical instruments like ice axe. By now its 07:30 am. We were on the ridge for about two hours in that cold. I was able to hear the voice of Mubarak for help. With nil hope left I decide to descend. But how, that was the question. Its steep slope, no ropes if you skid you may end up with hitting some rocks in between. I decided to skid first and on the way I have to rescue Mubarak also because Prakash was too tired to climb up to Mubarak. In "Main Hu Na" style I skidded from ridge tumbling. At some point my head was before my foot. That could have been fatal if I have ended up with some rocks. Finally I stopped somewhere near to Mubarak. Taking him with me again I cautiously skidded to reach Prakash. At the ridge Dr. Raja and Arundhati was preparing for the same. I was afraid if they start to tumble it would be dangerous. At one point Dr. Raja's legs curved into ice till hip. Thank god, fortunately both reached down and joined me safely. With all these extra adventures I reached my tent by noon. After having my lunch, I slept off with disappointment.
Day 9: Back to Leh
It was the departure day. All of us were prepared to return to the main land. Bhuvan stayed back at base camp to do the summit again with the next batch. Sandeep offered me to do the summit today. But my plans and schedule stopped me. On the way I decided to summit with the next batch. We reached Leh by noon. Later due to some personal commitments I had to cancel my plan and TTH offered me a free summit next year. Now am preparing and waiting for June 2014. On all the trek was awesome. Got a lot of good friends and experiences. The food provided by TTH was awesome and outstanding. A big thanks for them. I took the disappointment in a positive way. May be the moonland Leh want me to come next year for something big in 2014. Certainly I too want to visit this dreamland every year- MOONLAND MY DREAMLAND.
Day 10: Leh to Srinagar
We have booked our tickets in JKSRTC super deluxe to Srinagar. The departure time was 1330 hrs. We boarded the bus at around 1300 hrs. Unfortunately on the departing day there was a bomb blast in Bodh Gaya Bihar and as a protest for the blast there was a bandh and we walked all our way to bus stand. The highway was awesome with beautiful landscape on both sides. We passed important places which I heard on TV during Kargil conflict like Kargil Drass Zojilla pass Batalik. We had our dinner at Kargil. The bus reached Srinagar at about 0700hrs. There after we boarded our flight to Delhi at evening. BRO has done a commendable job at that great heights making roads even smoother than on plains.
(http://www.shimzz.blogspot.in/2013/07/stok-kangri-expedition-2013.html)
A good hotel with decent rooms at affordable price. Caretaker and staff are friendly. A good place to stay.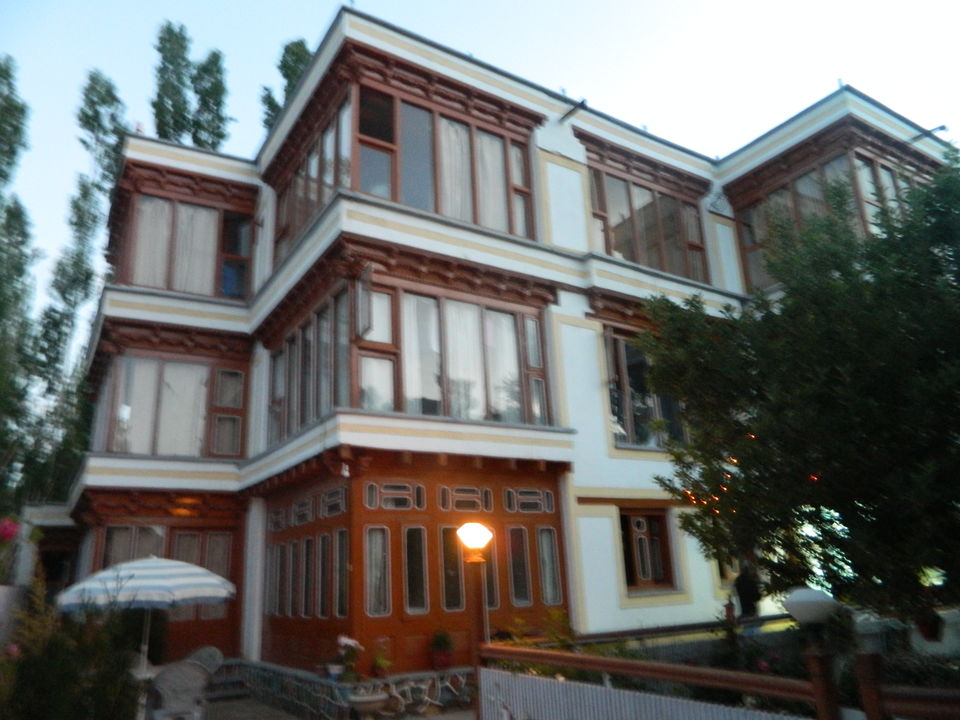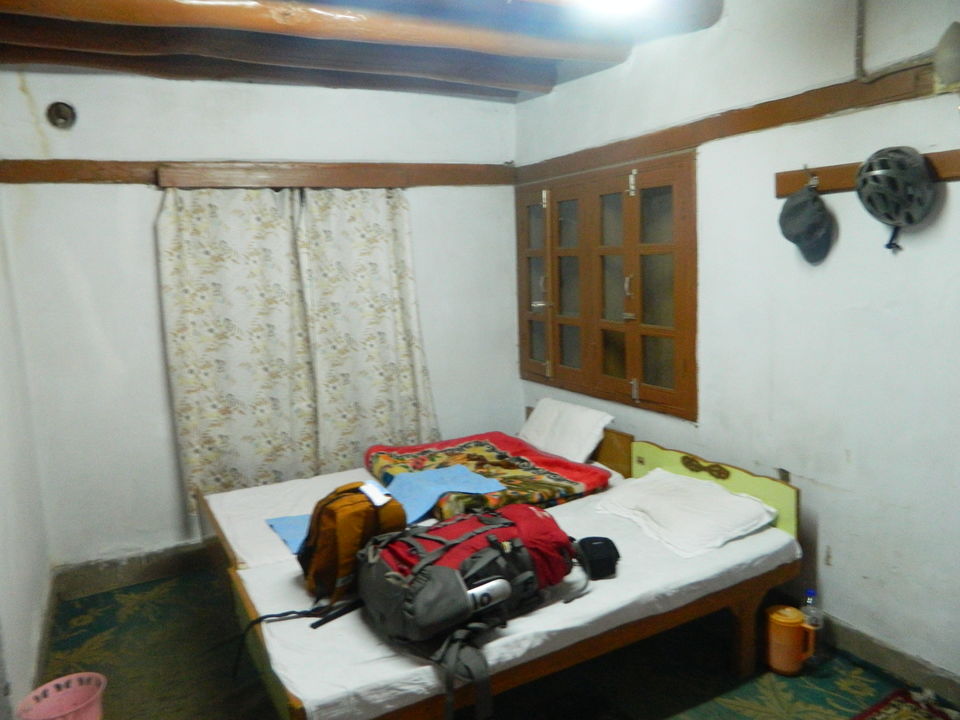 The first 24 km, as far as the South Pullu check point, are paved. From there to the North Pullu check point about 15 km beyond the pass the roadway is primarily loose rock, dirt, and occasional rivulets of snow melt. However, this pass is in better repair than many of the surrounding passes (Tanglang La, for example). I love this because after a tiring cycling the first point we saw a cafe to halt. relief :) :)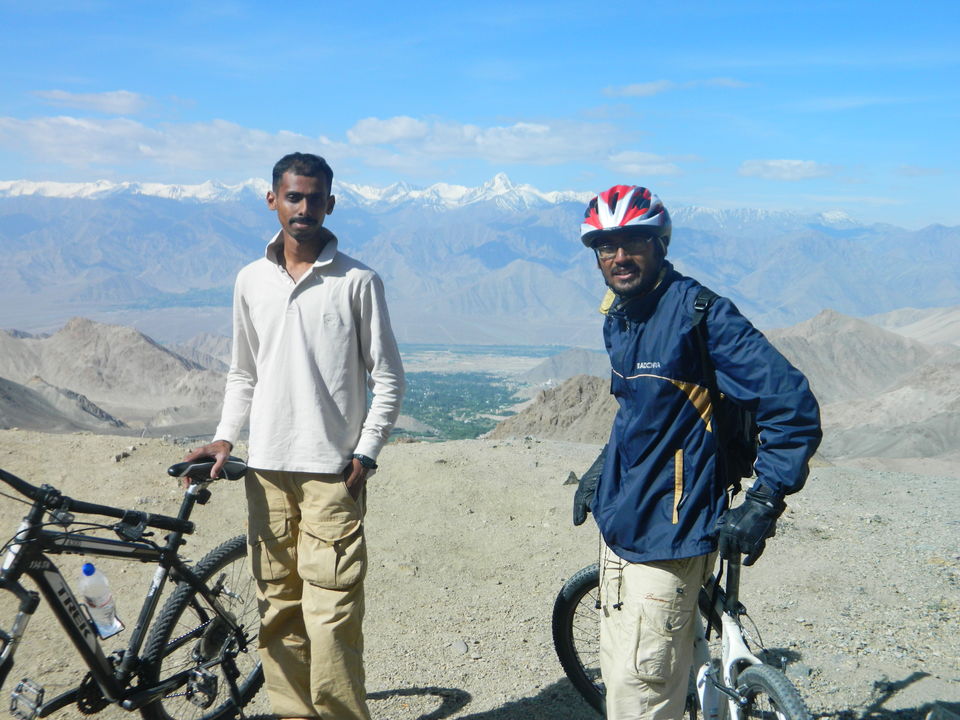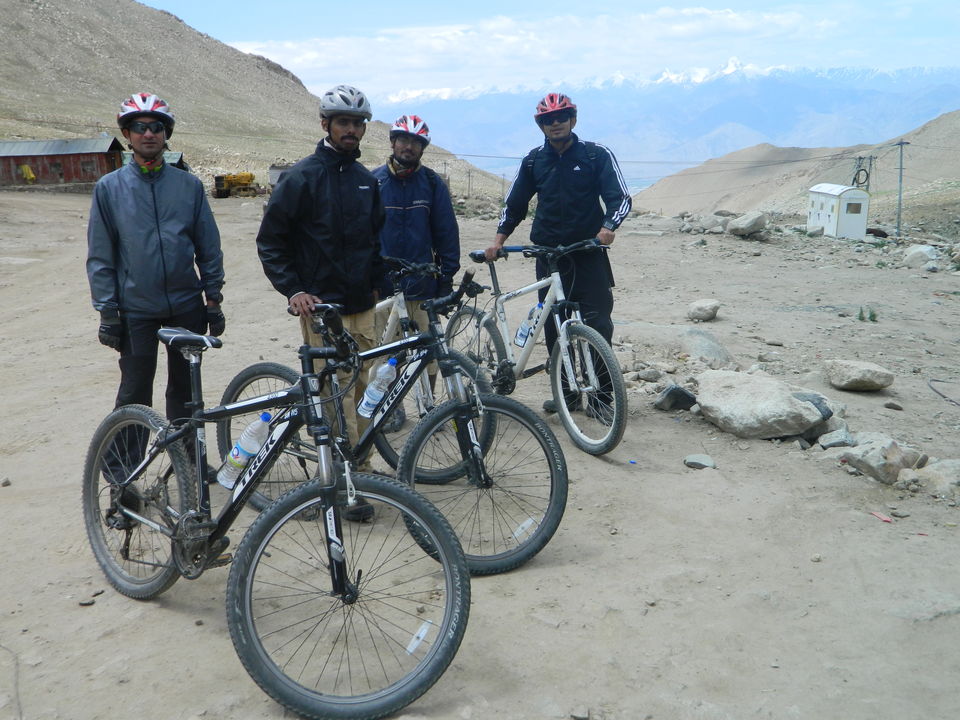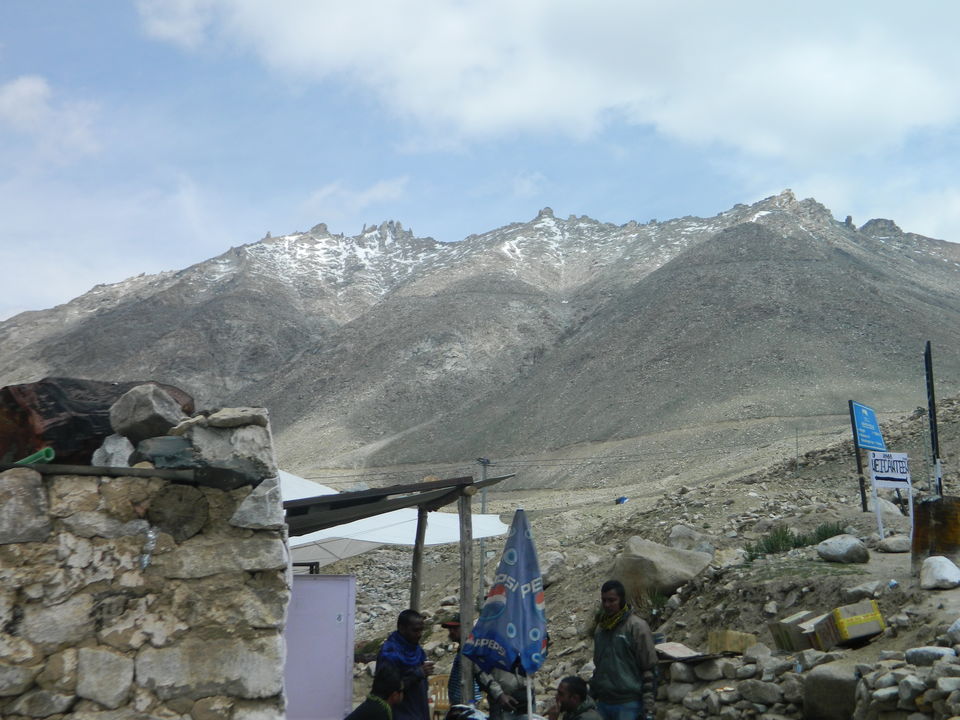 Shanti Stupa is a Buddhist white-domed stupa (chorten) on a hilltop in Chanspa, Leh district, Ladakh, in the north Indian state of Jammu and Kashmir.[1] It was built in 1991 by Japanese Buddhist Bhikshu Gyomyo Nakamura . The Shanti Stupa holds the relics of the Buddha at its base, enshrined by the 14th Dalai Lama himself .[2] The stupa has become a tourist attraction not only due to its religious significance but also due to its location which provides panoramic views of the surrounding landscape. According to me, its a lovely place filled with silence. You get a amazing view of Leh from here and Stok range.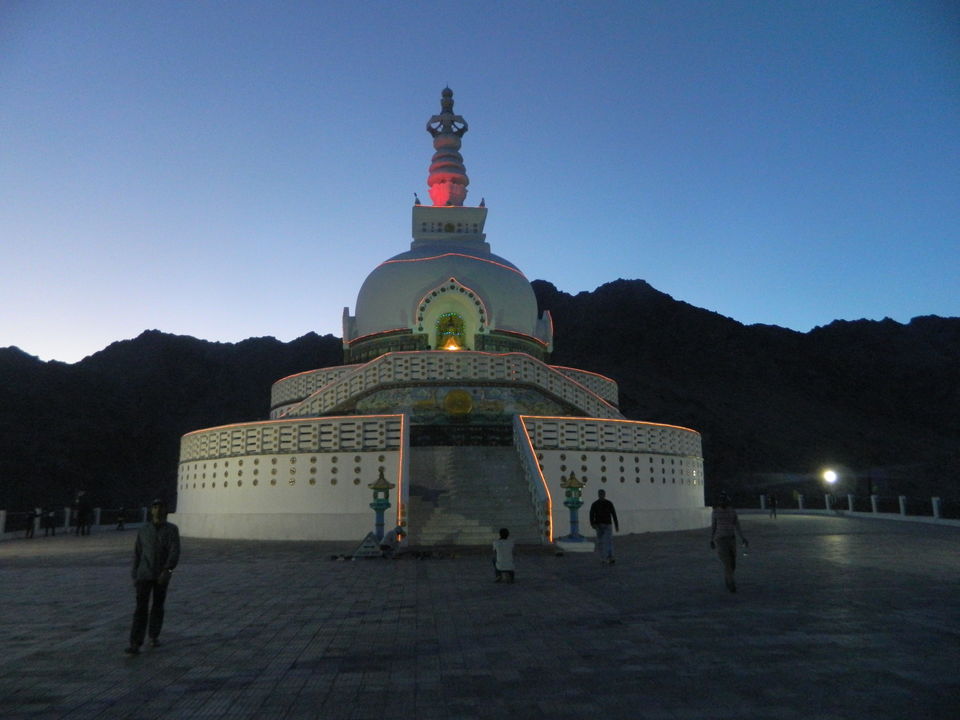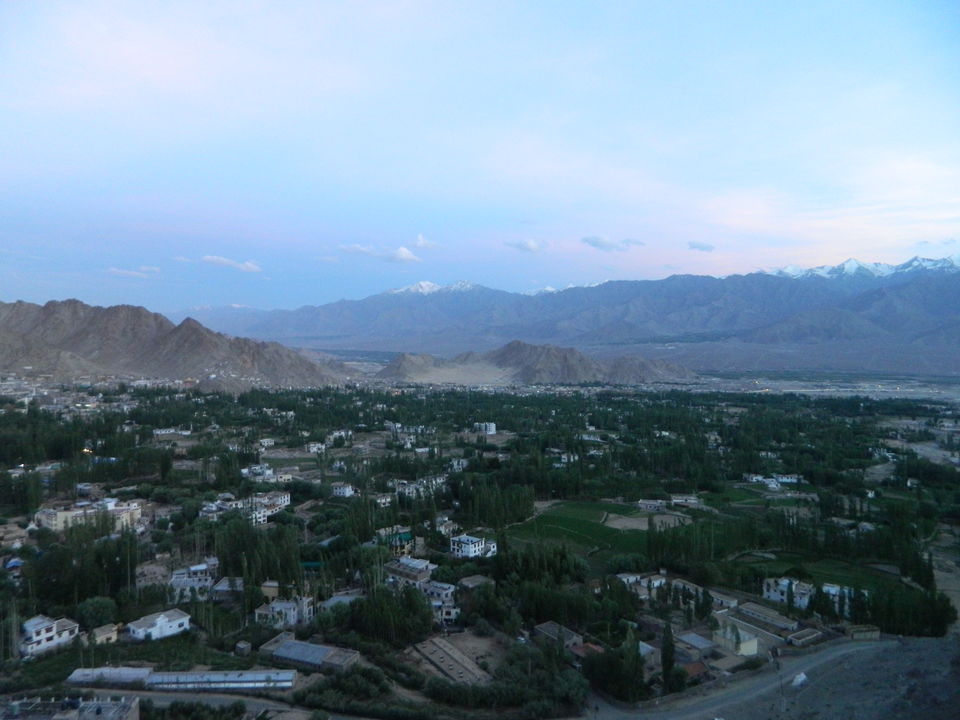 The Chang La (el. 5,360 m or 17,590 ft) is a high mountain pass in Ladakh, India.[1][2] It is the third highest motorable road in the world. he small town of Tangste is the nearest settlement. The Changla Pass is the main gateway for the Changthang Plateau situated in the Himalayas. The nomadic tribes of the region are collectively known as the Changpa or Chang-pa.A awesome halt enroute to Pangong TSO. Surrounding peaks 100% covered with snow and wind blowing at high speed makes the area chill out :P :P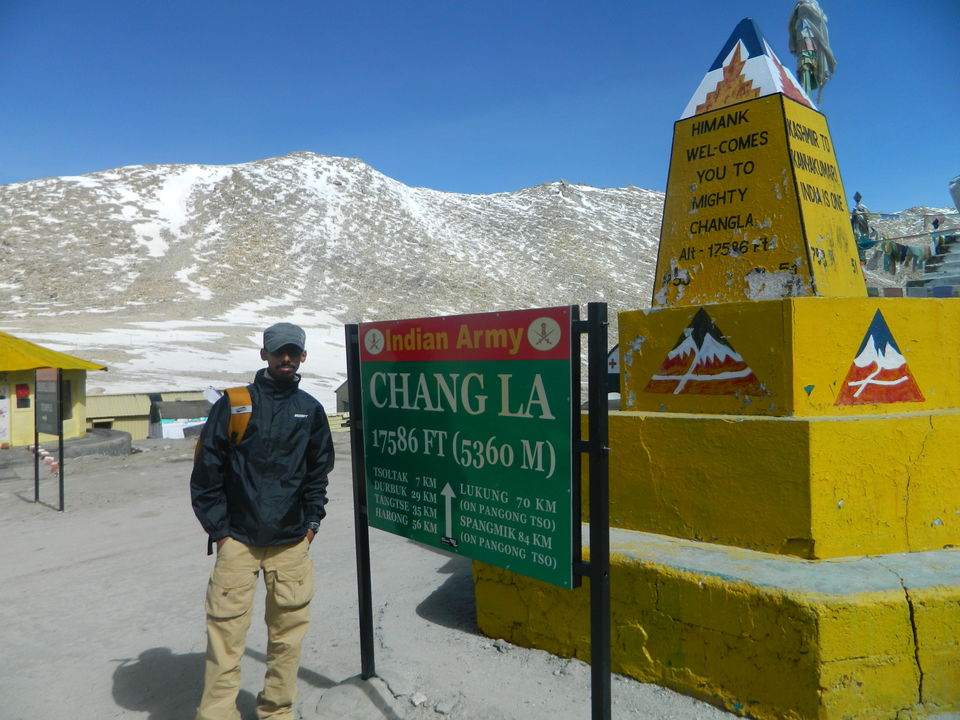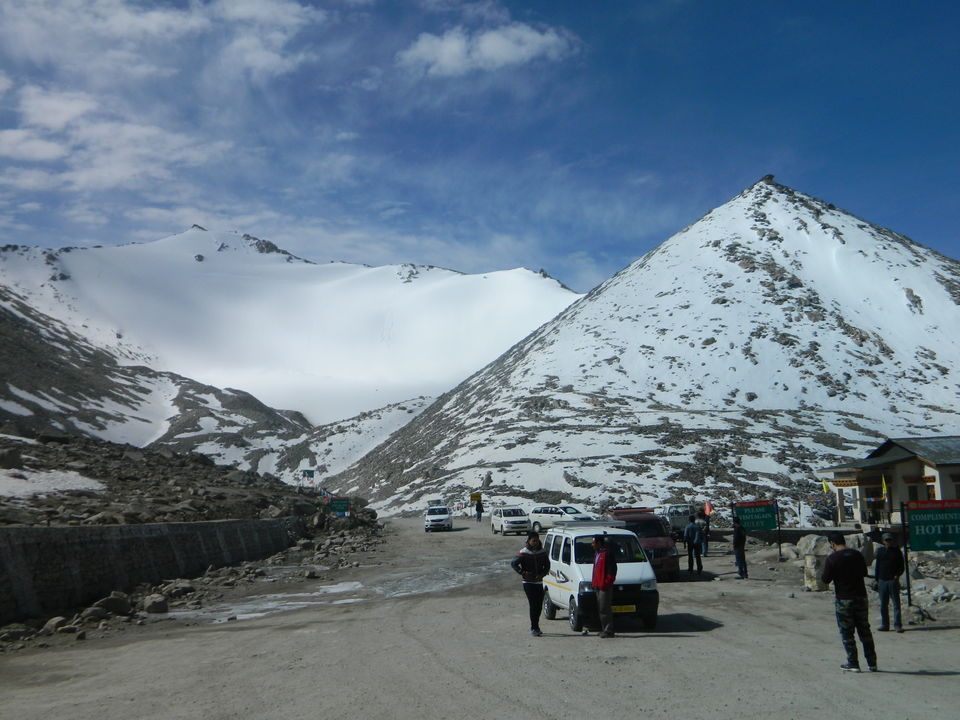 The highway was awesome with beautiful landscape on both sides. We passed important places which I heard on TV during Kargil conflict like Kargil Drass Zojilla pass Batalik. We had our dinner at Kargil. BRO has done a commendable job at that great heights making roads even smoother than on plains.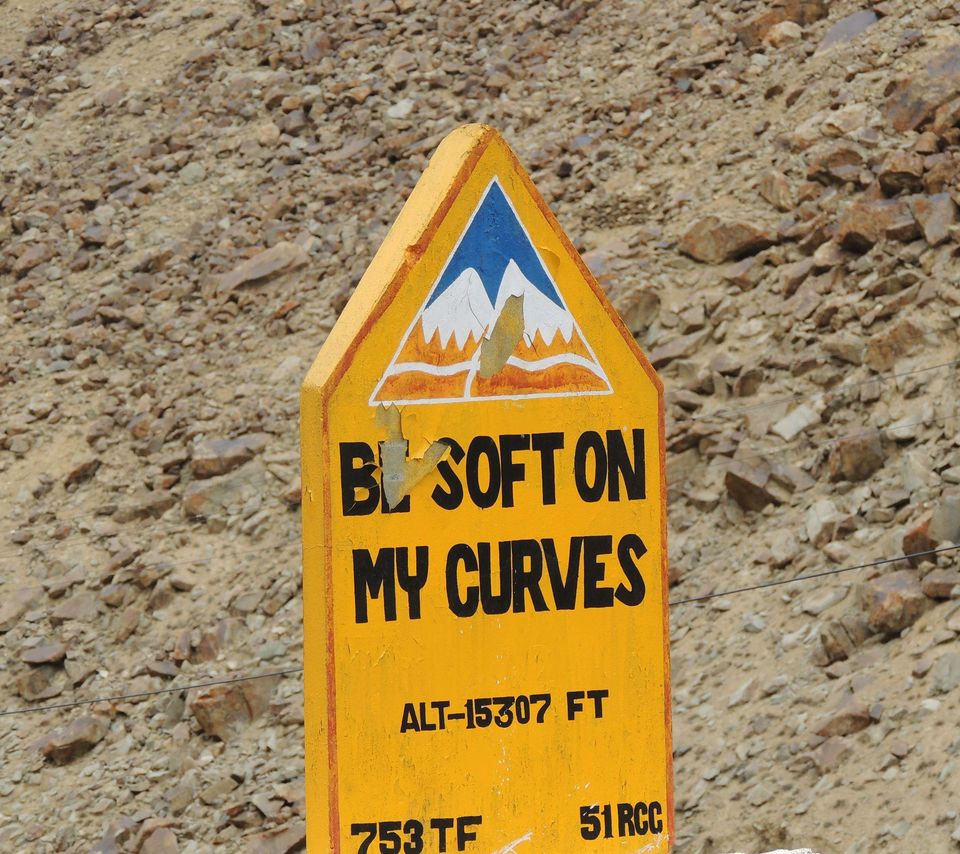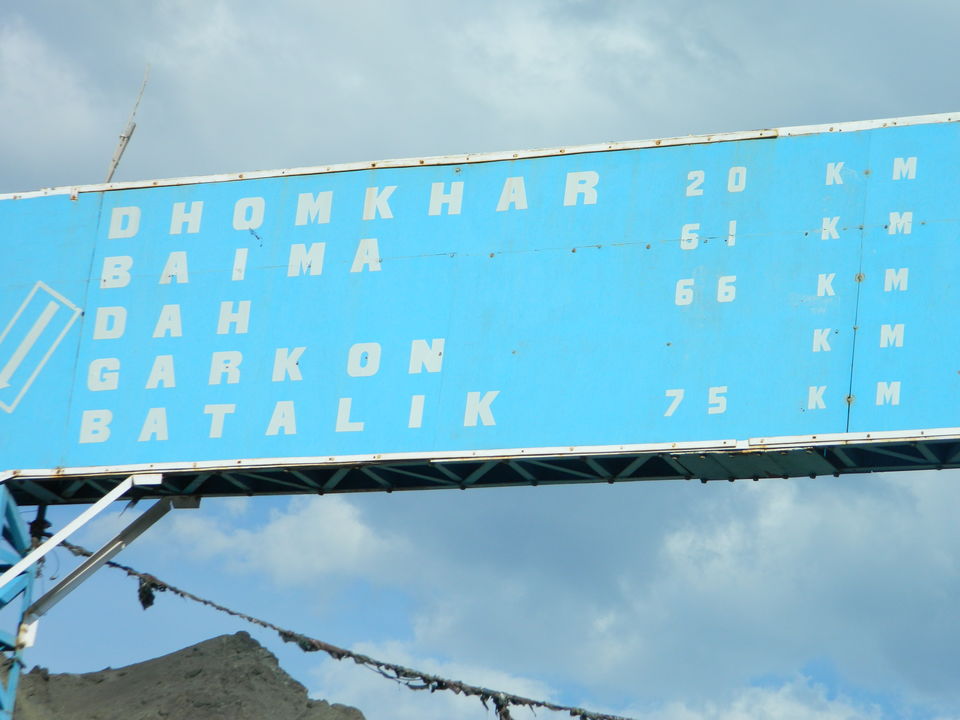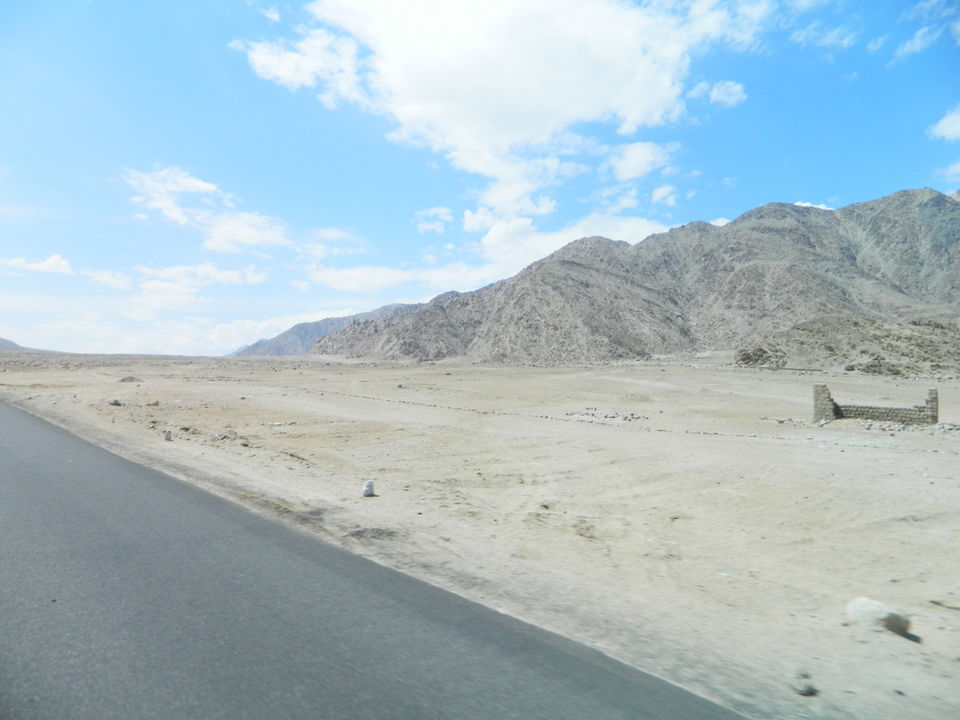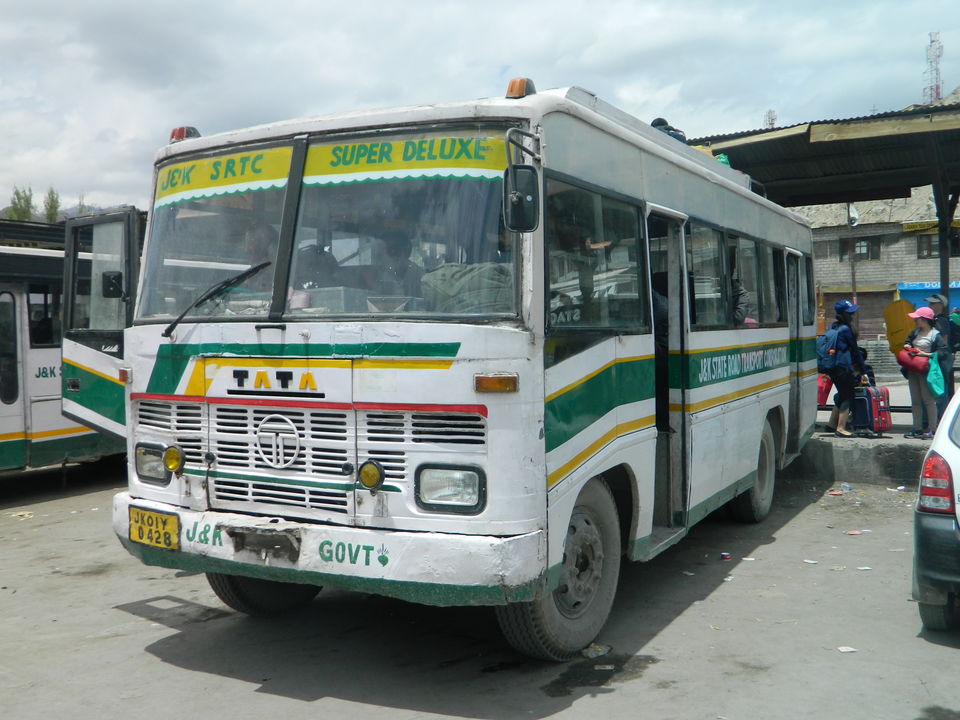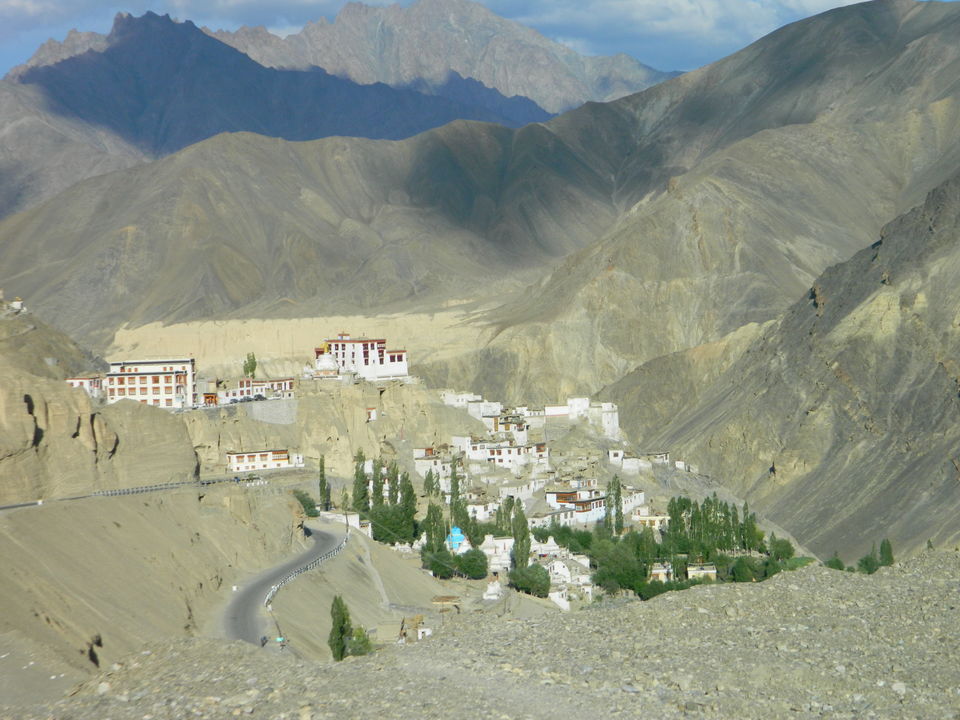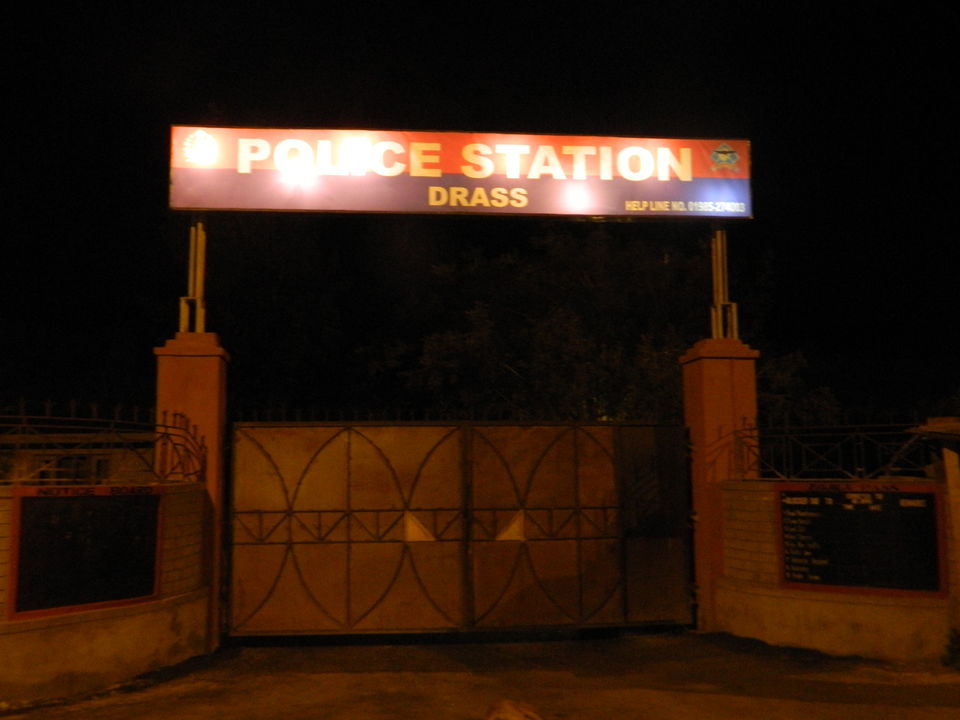 Pangong Tso (Tibetan: ང་གོང་མཚོ, Wylie: spang gong mtsho; Hindi: पांगोंग त्सो; Chinese: 班公错; pinyin: bangongcuo), Tibetan for "long, narrow, enchanted lake", also referred to as Pangong Lake, is an endorheic lake in the Himalayas situated at a height of about 4,350 m (14,270 ft). It is 134 km (83 mi) long and extends from India to Tibet. Approximately 60% of the length of the lake lies in Tibet. The lake is 5 km (3.1 mi) wide at its broadest point. All together it covers 604 km2. During winter the lake freezes completely, despite being saline water. It is not part of Indus river basin area and geographically a separate land locked river basin.For people from city this place will be not less than heaven. Crystal clear water, sky. and mountains. Chill breeze and tented accommodation makes the place mindblowing. The only issue for concern is that recent increase of tourist attraction to this area have accumulated a lot of garbage like plastic on its vicinity. I request its our responsibility to minimize the use of plastic and keep the area virgin for ever.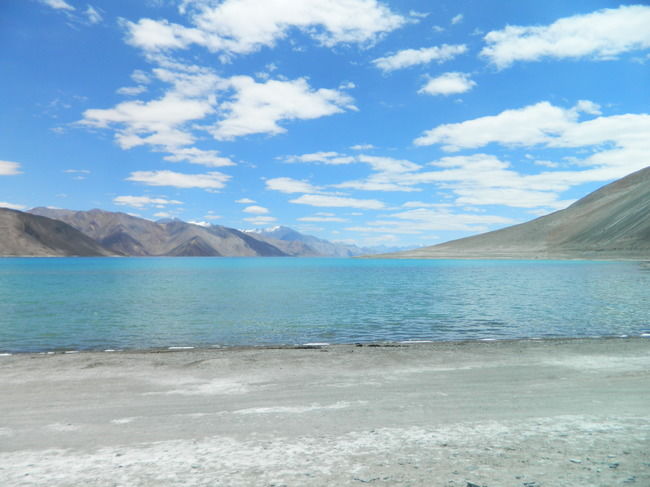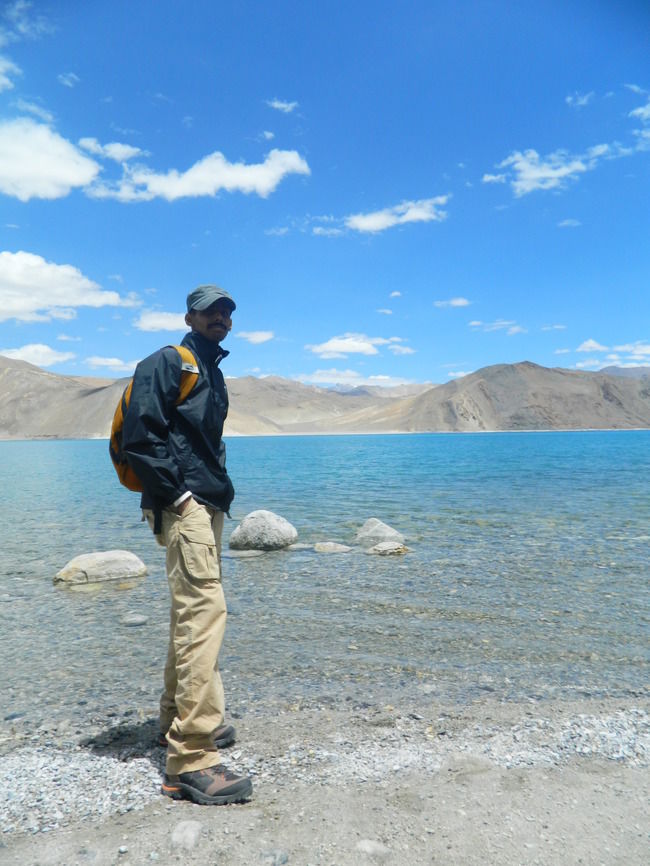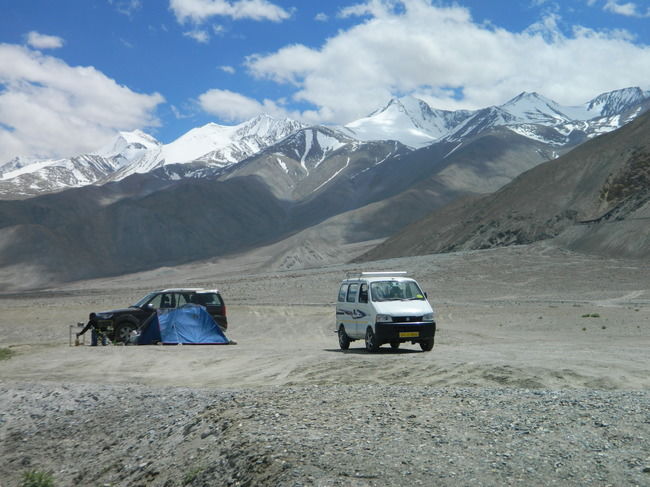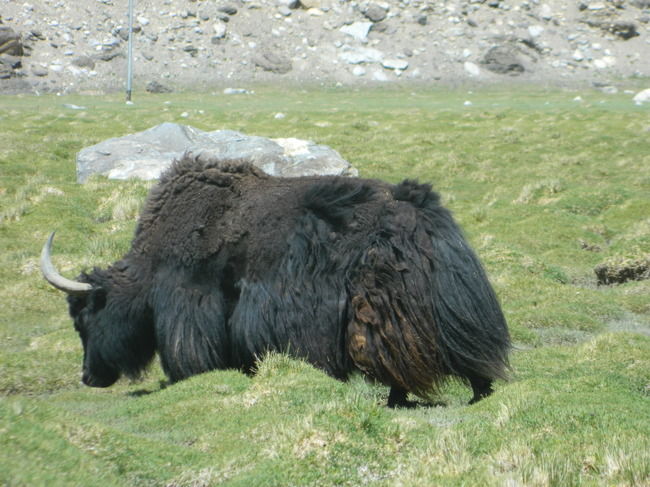 An awesome expedition. On clear sky day from the top of Stok Kangri you will get a view of even K2. Memorable camps and landscapes. High altitude funa. More details can be extracted from trip over view or from my blog http://www.shimzz.blogspot.in/2013/07/stok-kangri-expedition-2013.html or from my facebook account.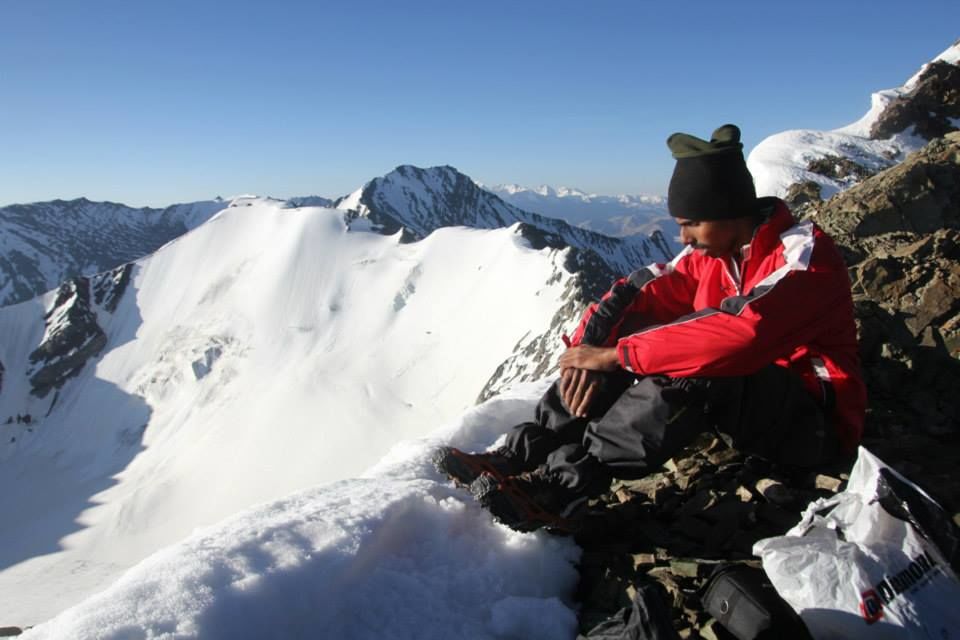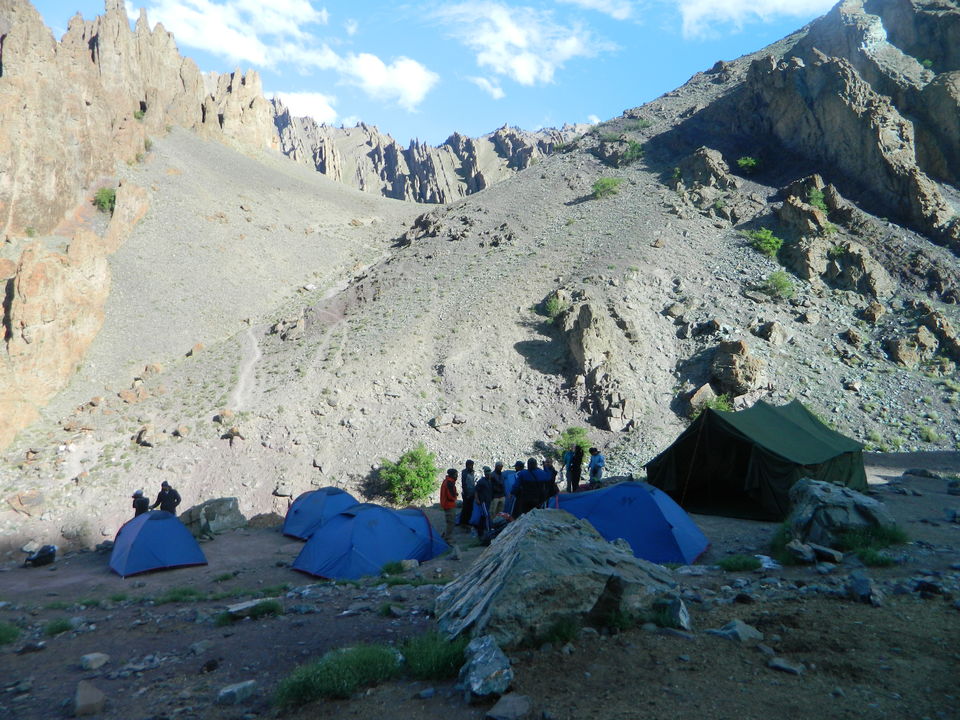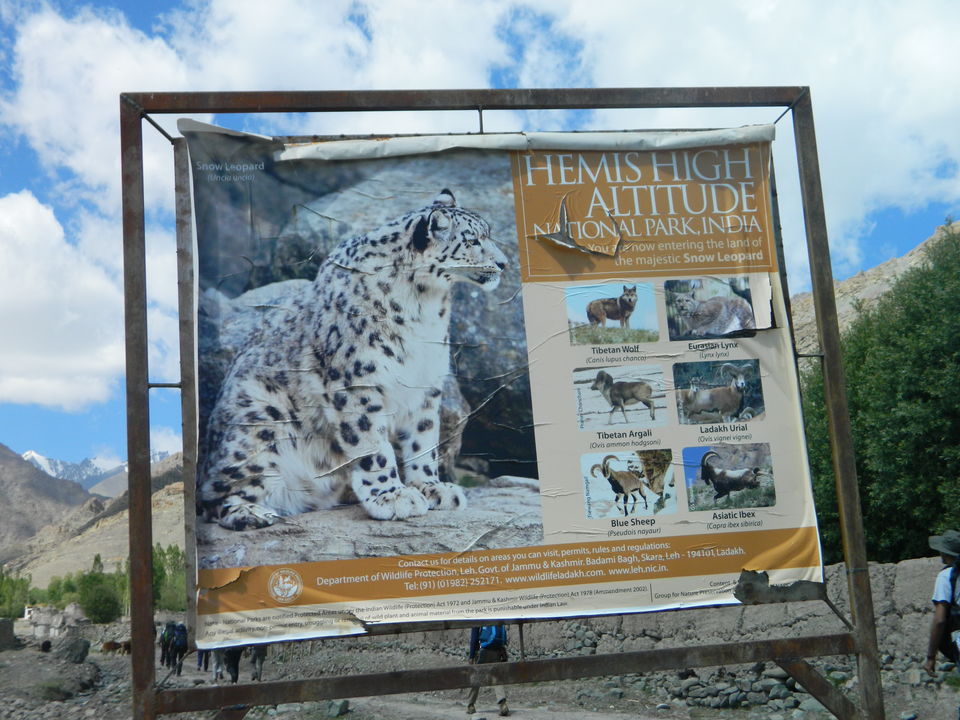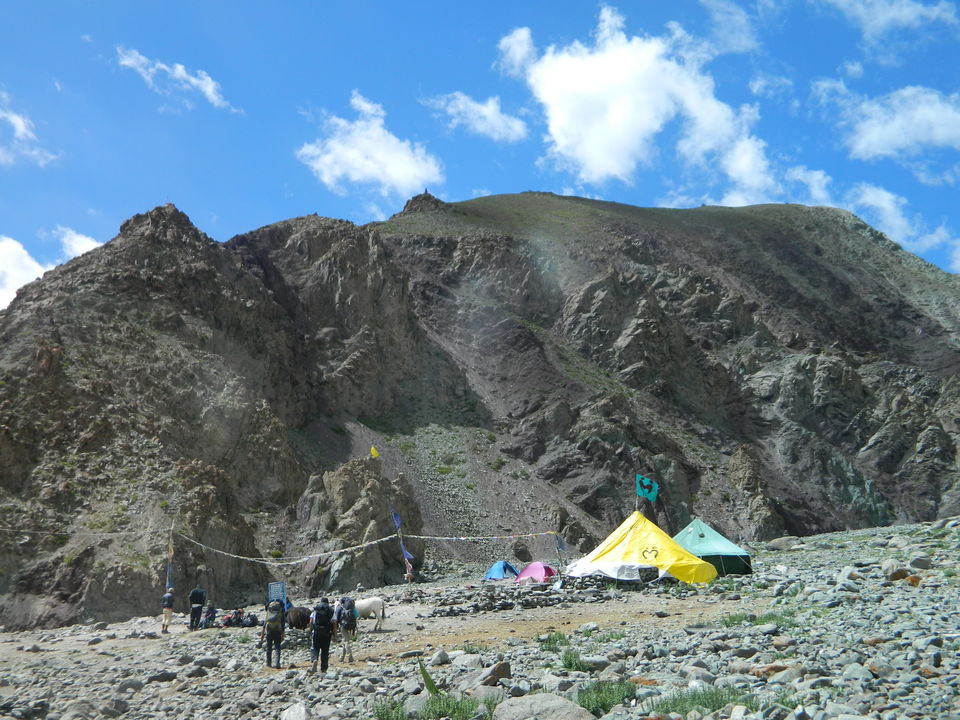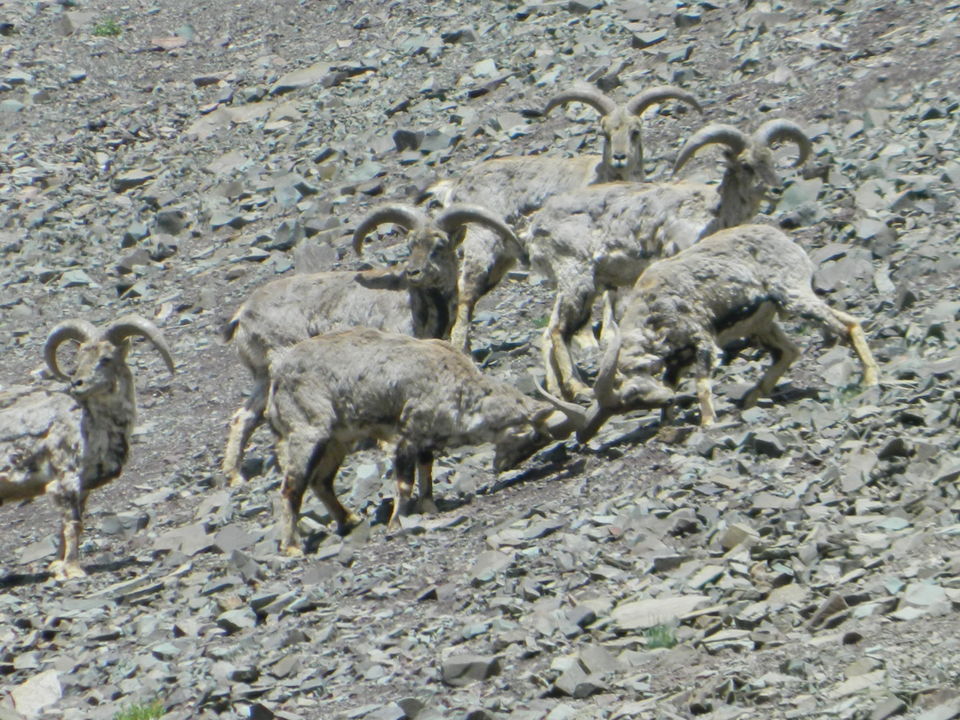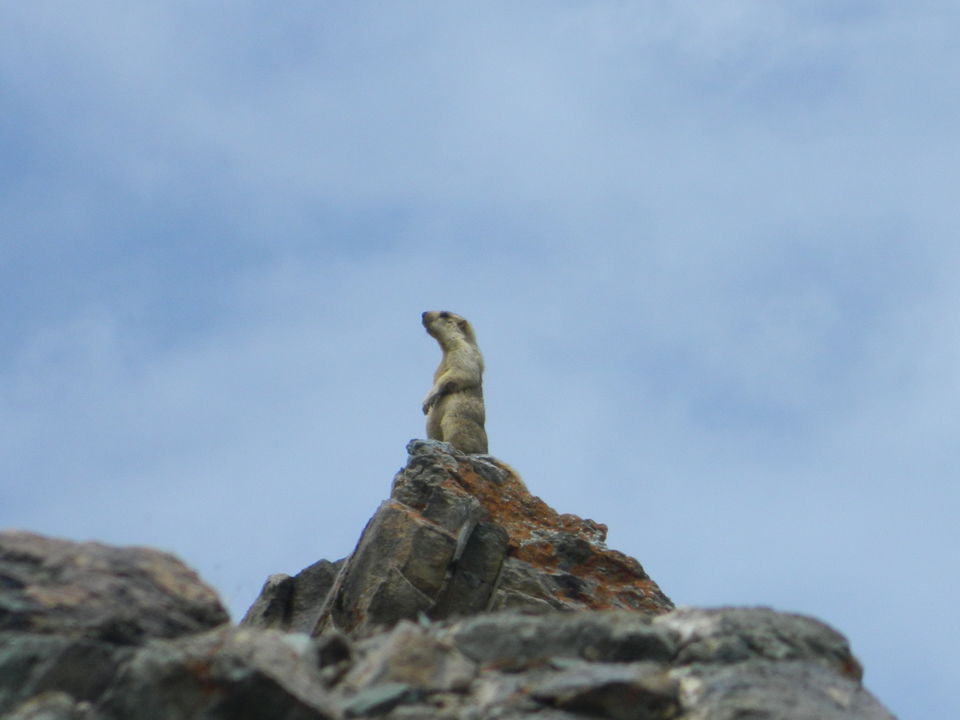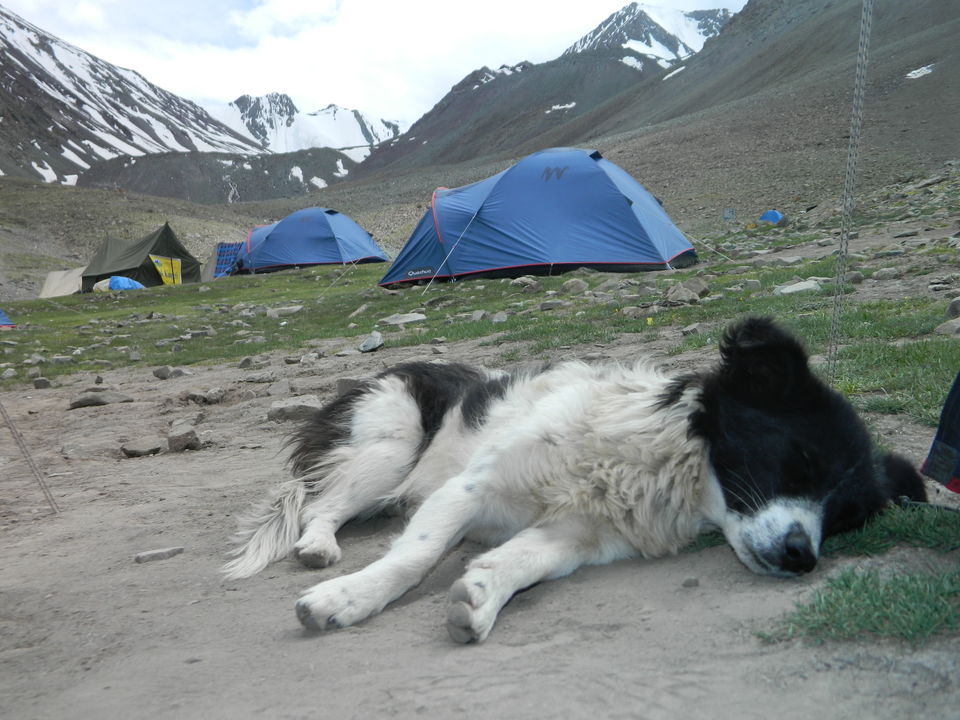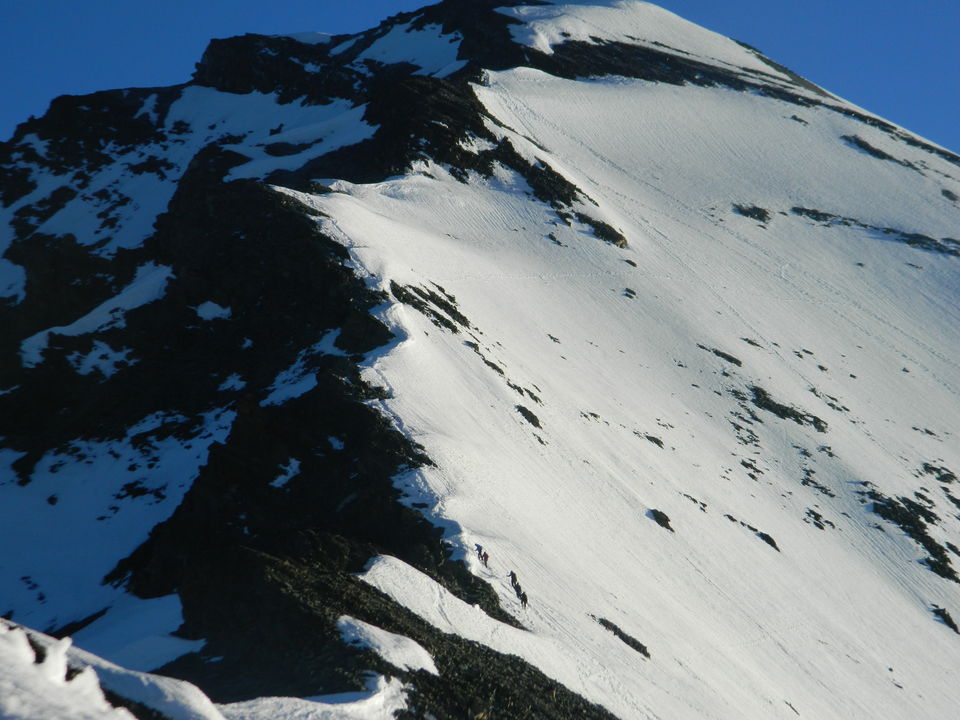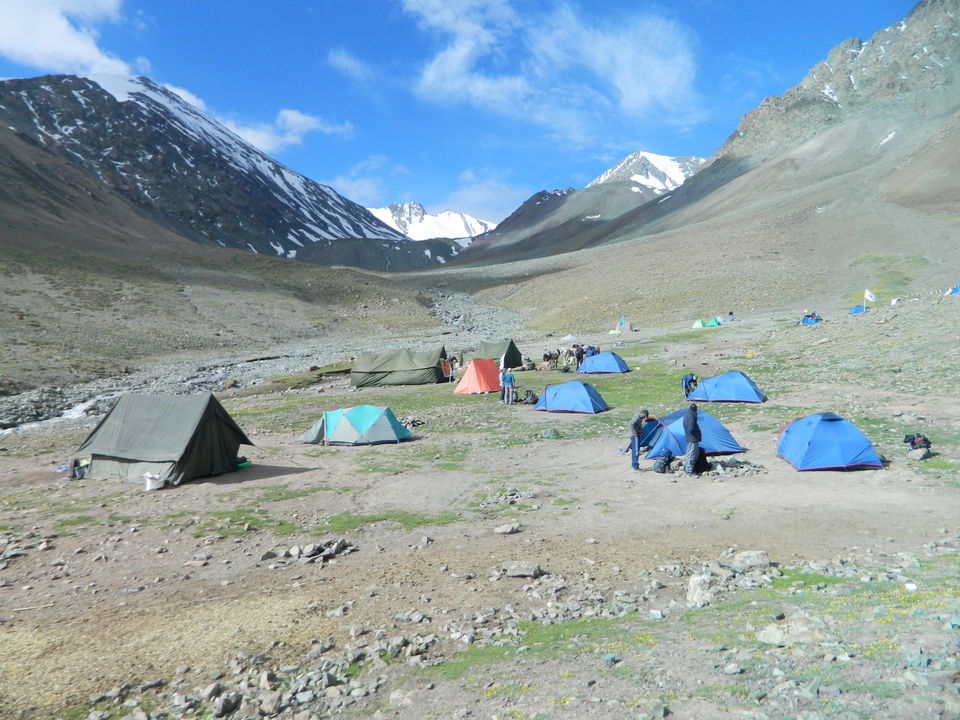 Frequent Searches Leading To This Page:-
Best Time to Visit Leh, Places to Visit in Leh, Best Tour Packages for Leh, Top Leh Tour Packages for Family, Top Leh tour packages with price, Budget Trip Packages for Group to Leh, Things to do in Leh, Leh Holiday Tour Packages