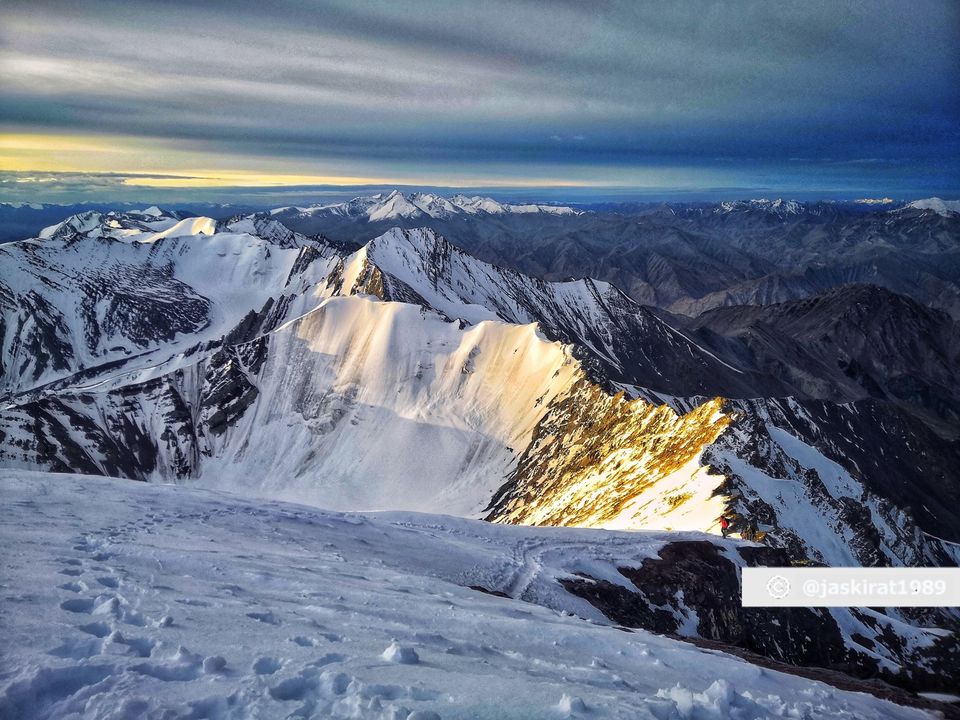 I had done just a few Himalayan treks before, namely Triund and Hampta Pass (max altitude 4300m). So when a friend of mine invited me along for Stok Kangri (peak altitude 6153m), I was both excited and intimidated. Eventually booked the trek and flight tickets and started preparing for the trek by jogging regularly.
The flight to Leh from Delhi is a short one. Only 1-1.5 hours. The view of the mountains below leaves you breathless. The landscape changes quickly, from the green mountains of Himachal, to snow covered Dhauladhar range and then finally the barren mountains of Ladakh.
The barren mountains of Ladakh are unlike any other. Ladakh is a cold dessert. Most of the rain is blocked by mountain ranges further south. You can see green valleys where a river might be a source of water.

Arriving in Leh in the morning, we had to rest the entire day. Delhi is almost at sea level, while Leh is at 3500m (11,500 ft) above sea level. We reached our guest house where the tour operator gave us a briefing of the expedition and laid out the next steps.
By evening, almost all of us could feel the effects of the sudden change in altitude. Symptoms of altitude sickness are headaches, drowsiness, nausea, lost apetite and tiredness.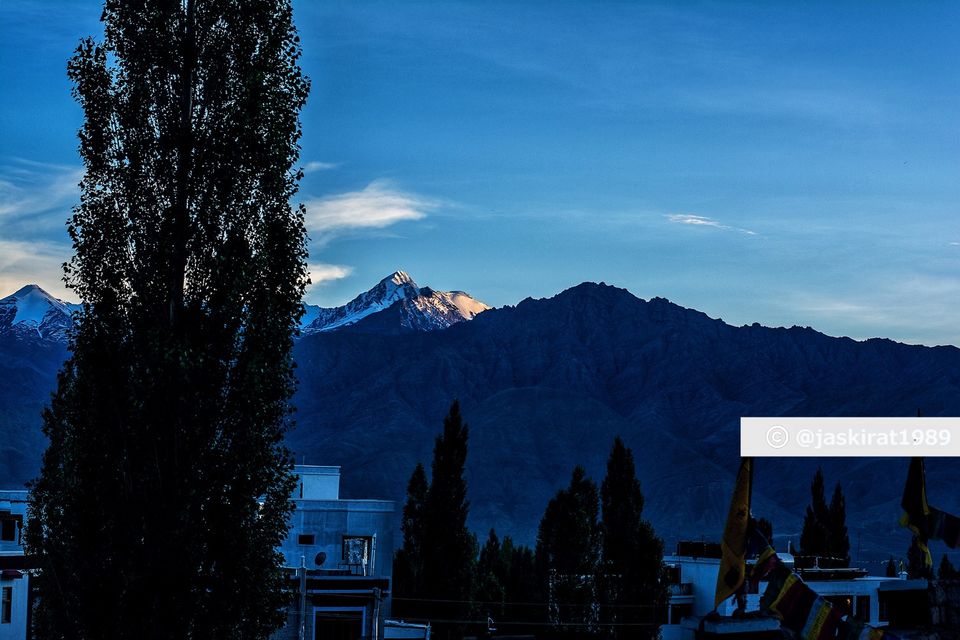 The sight of Stok and our difficulty acclimatizing to Leh's altitude revealed the magnitude of the challenges that lay ahead.
Well rested and acclimatized to Leh's altitude, we decided to make the best of the spare day we had. Obviously we rented bikes... And I got to try out my new wide angle lens too...! Renting a Royal Enfield at that time cost us 1500 (Classic 350) to 1800 (Himalayan) per day.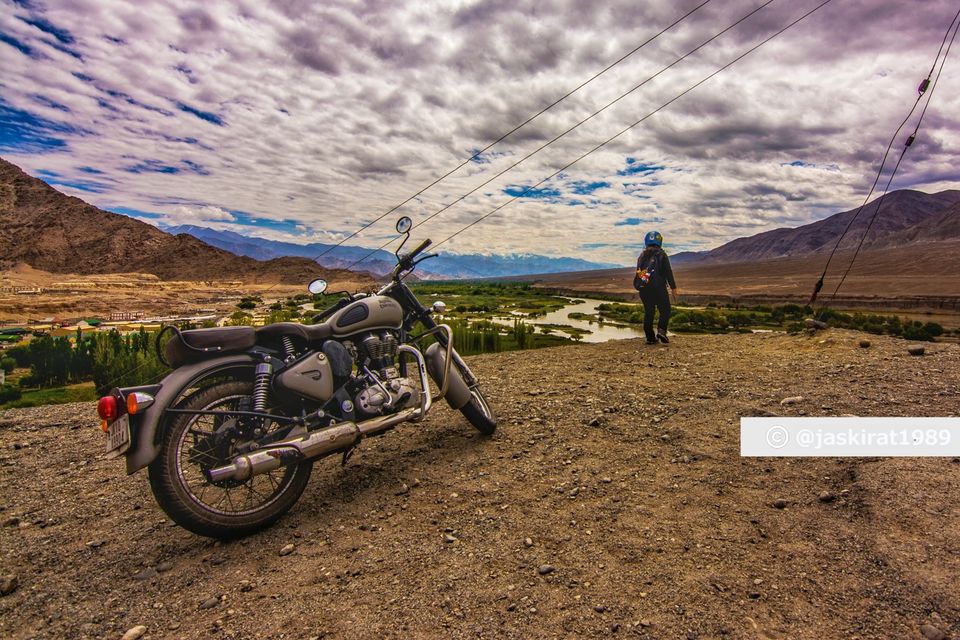 Sangam means coming together. Just 40kms from Leh town is the sangam of Indus and Zanskar rivers. You can easily distinguish the colors of the two rivers and see the waters mixing downstream. On the way we saw Magnetic Hill and Pathar Sahib Gurudwara. On the way back, we visited Spituk Monastery.
In the evening we returned the bikes and walked from our guest house to Shanti Stupa. To reach the Stupa, you need to climb 500 steps. Hardly acclimatized to the altitude, we quickly ran out of breath.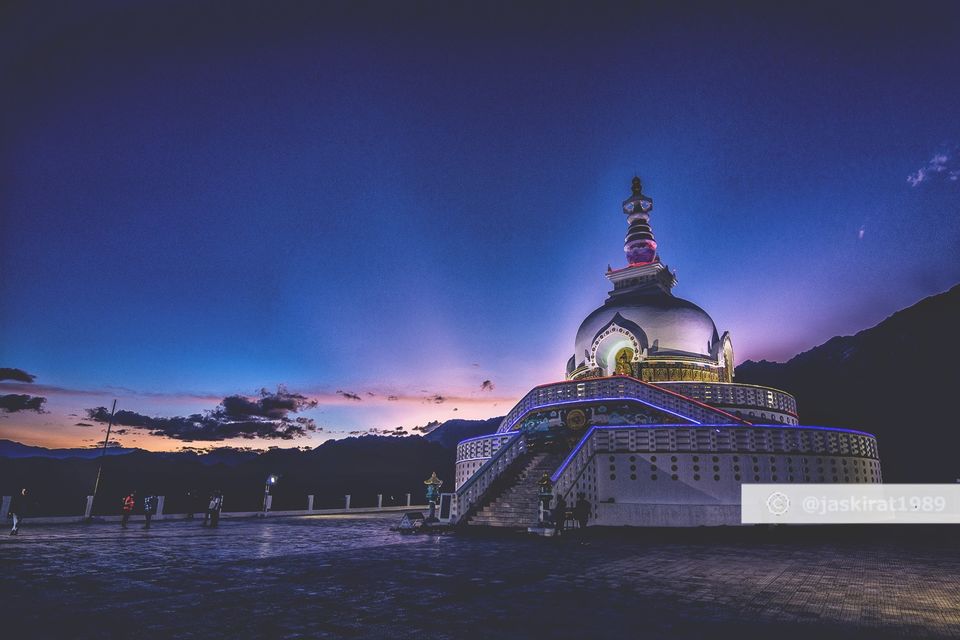 We reached the Stupa just around sunset and were treated with panoramic views of the valley. Stok Kangri too was visible with its sister peaks.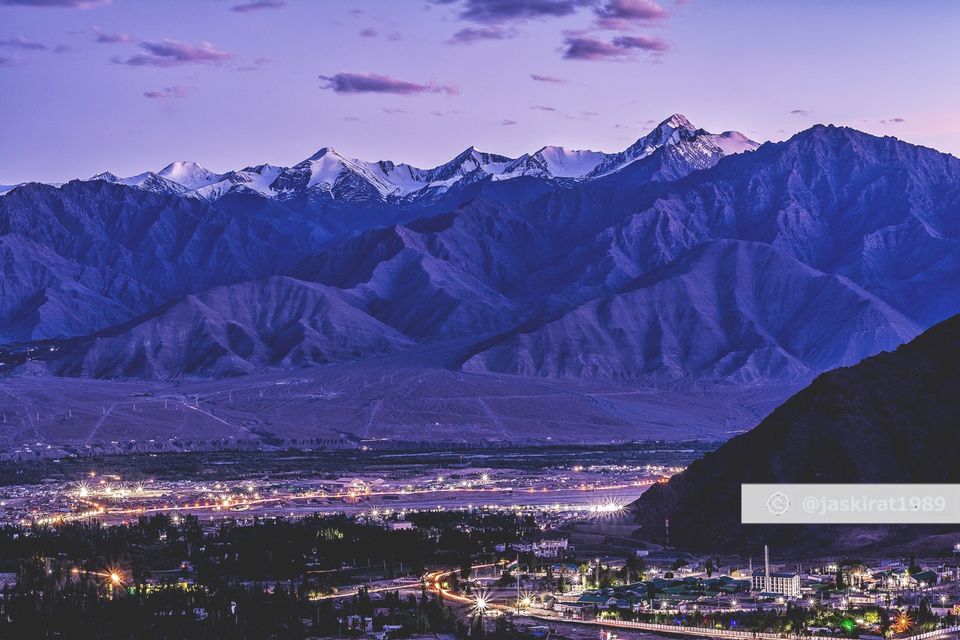 At 6,153m (20,190ft) Stok Kangri seems like a short peak. I've been asked many times if I'll do an 8k peak. And being trek-able, people think it's a walk in the park. But to put things into perspective, the tallest peak in the French alps, Mont Blanc is 4,807m (15,778 ft). Stok Kangri's basecamp is at 4,900m. The tallest mountain in all of Europe, Mt Elbrus is 5,642m (18,510ft), half a kilometer shorter than Stok. Just the sheer altitude of this peak makes it a dangerous summit.
Day 1: Leh (3,500m) to Chang Ma (3,900m)
We reached Stok Village, the starting point of our trek, by noon, in a cab. Stok Village has a palace where the King of Ladakh and his Queen reside. Wearing a 10kg rucksack on my back, I started walking on the trail next to the rivulet. The landscape changed quickly. Rocky river beds. Tall, rocky and dry mountains devoid of vegetation.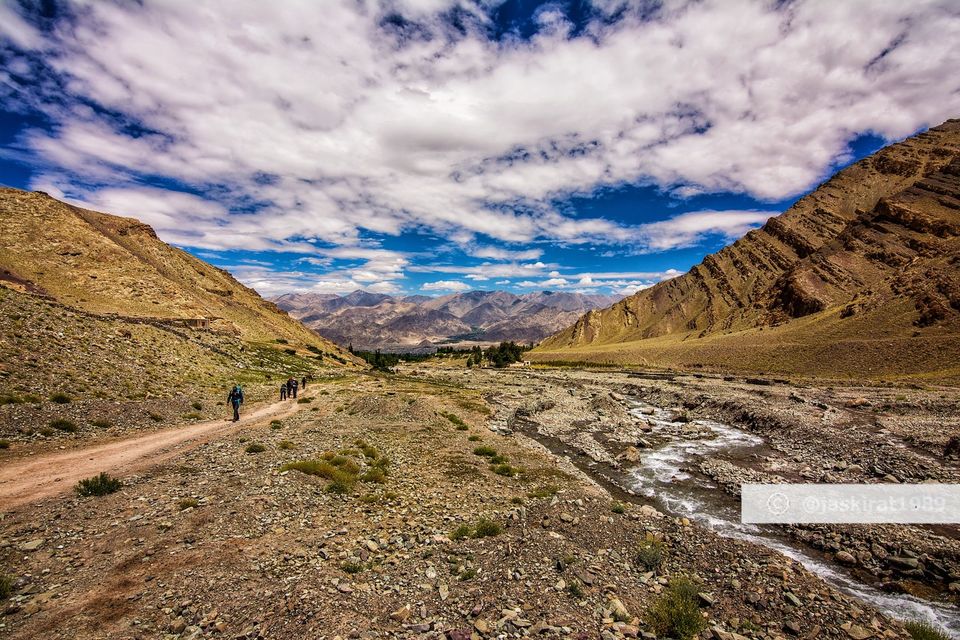 Trekking at high altitude requires you to drink 3-4 litres of water at least per day. This is to ensure you don't get dehydrated and the blood circulation isn't impacted. The rivulet we were walking next to was our source of drinking water. We filled our water bottles directly from it. The water was sweet and pure. We think we're living in the civilized world when we're in a city. Yet, our water sources are polluted so much that we can't even bathe in them.
Climb high, sleep low...
We reached the first camp, Chang Ma, after a short 3 hour walk. We had lunch and then set out for an acclimatization walk. The idea is to climb to a higher altitude than the camp for the night and come back to a lower altitude to sleep. This ensures that your body gets accustomed to higher altitudes and the next day is easier. The landscape got even more dramatic...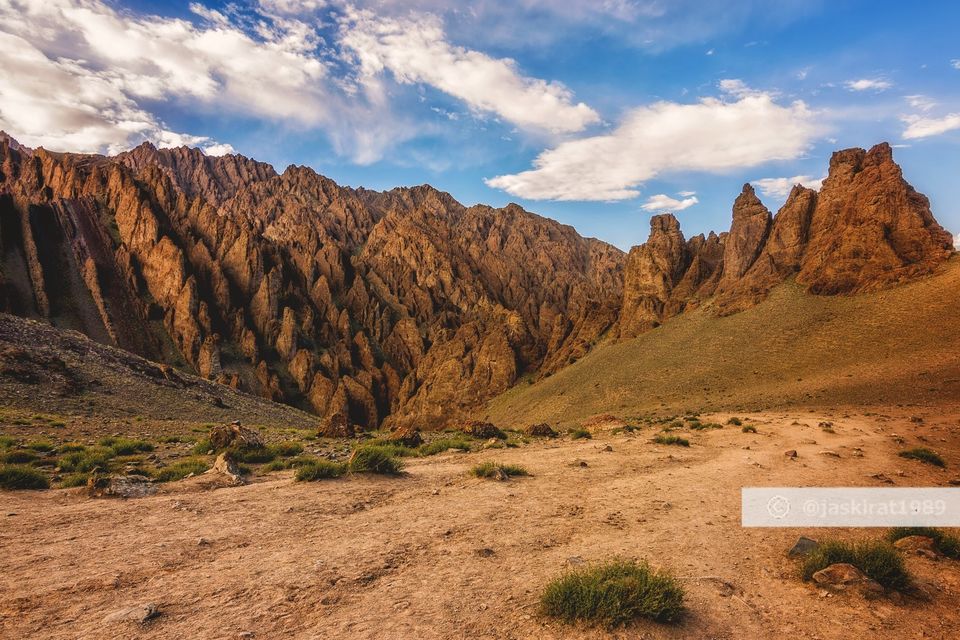 Godzilla's scales - That's what I was reminded of when I saw these mountains. This was one of the most dramatic landscapes we saw. Slim rock formations jutting out vertically.
Ladakh and these mountain ranges were formed over 45 million years ago when the Indian plate folded over the Eurasian plate. Horizontal layers of rock sedimented over millenia were exposed and were placed at an angle. Over time, the softer layers of rock got eroded faster than the harder layers. And that has created this amazing landscape.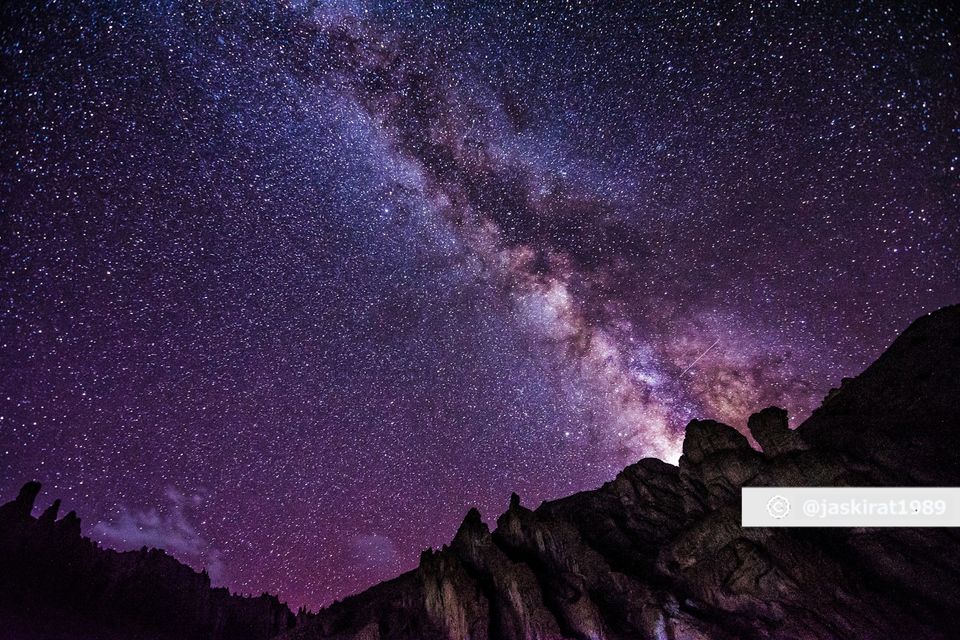 At night, I got to see the clearest night sky ever! The sky was so clear and dark that we could see the Milky Way with our own eyes! And I finally got a chance to use my wide angle lens for what it's meant...
Day 2: Chang Ma (3,900m) to Mankorma (4,300m)
It was a relatively easier climb (or rather a walk) from Chang-Ma camp to Mankorma. We went from 3,900m to 4,300m in a short 2-3 hour walk. The next camp wasn't too far. We reached before the mules did with our tents and gear. So. We waited next to the river and rested.
Upon reaching the camp, we were trained on setting up our tents. We ourselves put up our tents and arranged the mattresses and sleeping bags. After lunch we went for the usual acclimatization walk.
Day 3: Mankorma (4,200m) to Base Camp (4,900m).
This was a tough climb. A longer walk. Higher gain in altitude. Yet we reached by lunch time. The sky got cloudier. The air colder. As we neared the base camp, we could start seeing Stok Kangri, which was hidden from view earlier.
After lunch we set out for Advanced Base Camp for the day's acclimatization hike. This was the toughest acclimatization hike till now. We went from 4,900m (16,000ft) to 5,300m (17,400ft). The climb was steep and we crossed multiple ice/snow patches.
We were told to wear warm clothing. The wind was icy cold. Each step required effort due to the altitude. And we were already tired from our trek up to base camp.
Reaching Advanced Base Camp, at the foothill of Stok, we were next to a large glacier, one we will be crossing at night the next night. The vertical face was a standing glacier, towering above us like The Wall from GoT.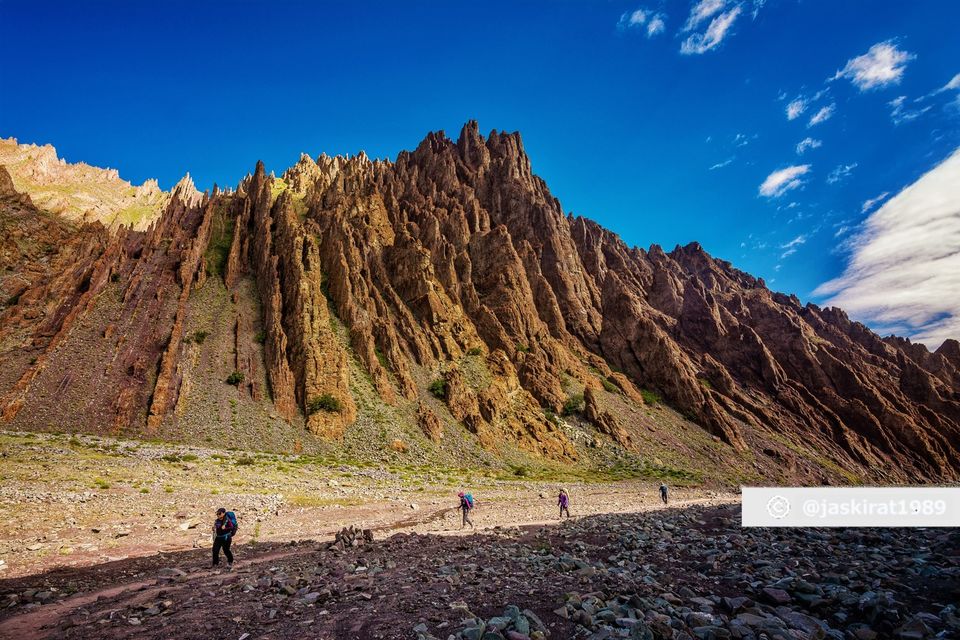 Breathless, we thought about how we'll descend down to base camp. The next night, we'll be coming up to this point and going beyond to the summit. This was only 1/8th of the way to the summit. Awestruck, we made our way back for the night.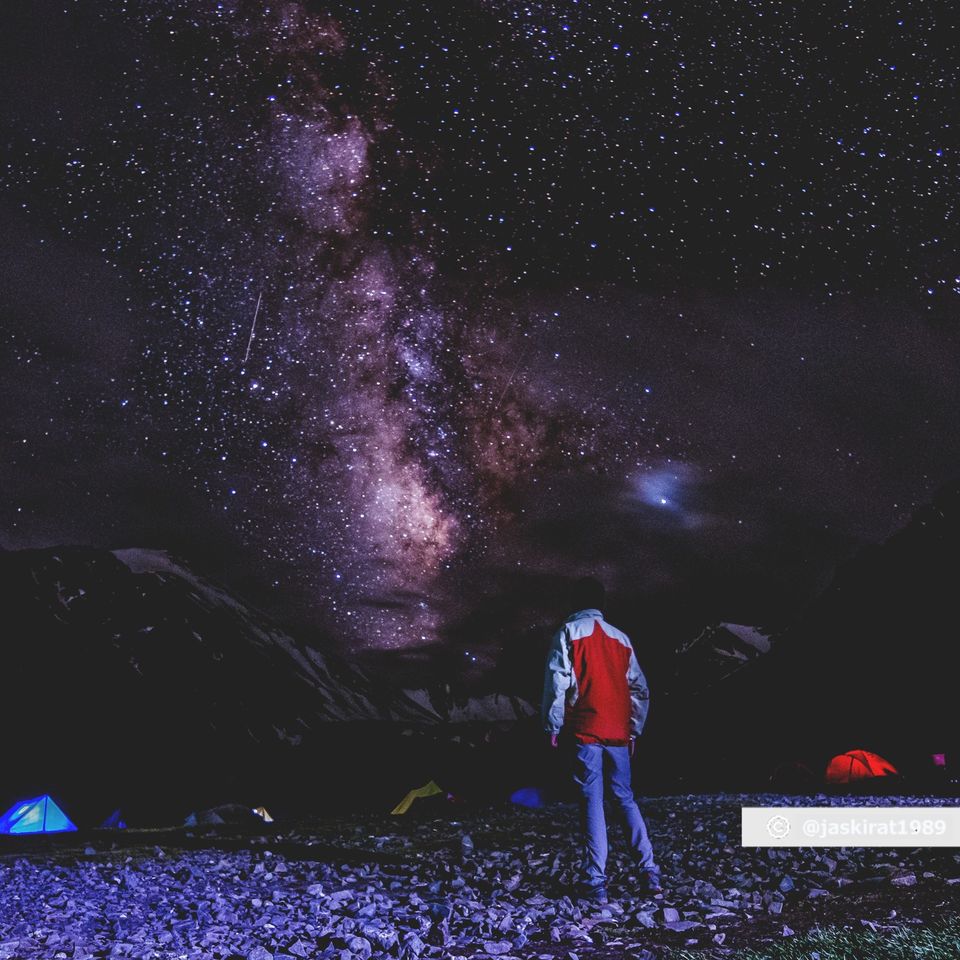 Day 4 and 5: Rest day and Summit Attempt
The next day (day 4) was a rest day. We just resized our crampons, trained on putting them on, along with gaiters and harness. We learned how to walk when roped up. And then we slept for a few hours after having lunch. It was going to be a long night.
Why do we summit at night? For one, the snow (the glacier we're crossing, and on the shoulder) is hard. Lesser chances of your foot pushing through into the snow. Also the snow is easier to walk on, not as slippery. Secondly, the weather is more stable at night and more predictable.
All of us wore headtorches and walked in line, resting when needed. Too long a rest and we started to freeze. It took us probably 2 hours to cross the glacier. In the darkness, we didn't even realize the scale of the glacier we crossed, or the height of the shoulder we climbed. We just walked one step at a time, not knowing how far we had to go.
It was 5am in the morning. We had walked for eight hours now. The shoulder climb was, to put it succinctly, "fucking hell". The shoulder was at an altitude of 5,900m (19,350ft). We took a short 15min break at the shoulder, took some refreshments, roped up in groups of six and started the climb on the neck.
Walking on the neck was nothing short of exhilarating. On the right was a steep snow face, descending all the way down to the glacier we had crossed. On the left was a rocky cliff, descending even further down to Markha Valley. The way was not more than 2 feet wide at places, with place for only one person to stand safely. We crossed rocky outcrops with only small cracks for footholds. I remembered what the guide had said the previous day: "Agar right mein gire to pakka se maroge. Agar left mein gire to body bhi nahi milegi."
At dawn, we started to see light at the horizon. Looking back, we were able to see the glacier, the shoulder and the part of the neck we had crossed. Distant headtorches indicated other teams trying to climb up to the shoulder. It was still 2 hours to the summit. We were tired, cold, awed and dazed. All we could do was keep walking.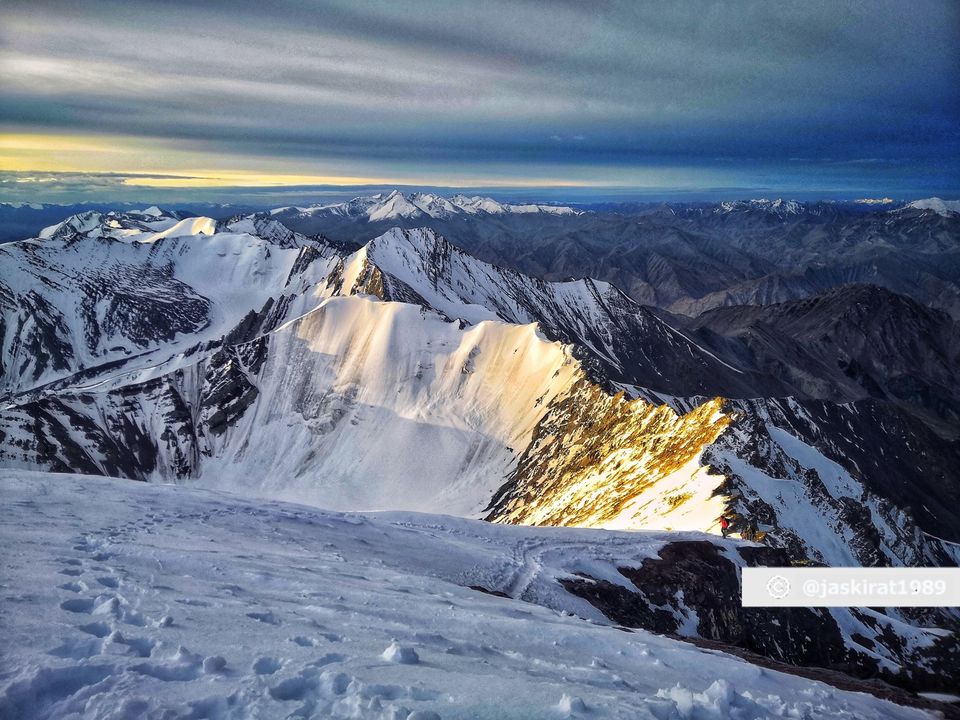 Few people can say they have summitted a 6k peak. Fewer have seen a sunrise from the top. We were lucky. The skies were clear after 2 days of rain and snow. We started well in time and walked consistently at an amazing pace, passing 2 other groups. Everyone in our group who attempted ended up summitting.
The summit offered panoramic views of surrounding peaks including Kang Yatse 1 and 2 (seen in the image above).
The last 2 hours were tough. It was steep and cold. The altitude made breathing tough. We had to take a break to catch our breath every 2 steps. On top of that, due to the sub-zero air I got chest congestion. Coupled with the low altitude, breathing became a laborious task for me.
I hadn't saved anything for the descent. I was beyond exhausted. Stopping meant feeling cold. The crampons gripped our feet hard and made our toes hurt. The only option was to reach the base camp.
Descending down the neck and shoulder, we finally reached the glacier. The slope was moderate and there were fewer rocks. We decided to slide on the snow. Best decision ever! Distance that would have taken us 2 hours took us just half an hour.
Day 6: Back to Leh
The descent from Base Camp back to Stok Village, the reverse of which we completed in 3 days, was done in 4 hours.
There was a moment when I found myself completely alone in the valley. Not a soul in sight. I'm not sure about you: maybe you'd freak out, or make sure you're never in such a position. But I enjoyed it. Being one with nature. With myself.
We recollected at Stok Village and got on a tempo Traveller back to Leh. Upon reaching the guest house we all took a bath (which we hadn't for almost a week now), got ready and headed out for dinner. And as I do after each of my treks, I had butter chicken to celebrate.
Stok Kangri will be closed for the next 5 years. The locals are disallowing any trekking to the summit as their water sources and their land is getting polluted.
I saw people in our and other groups throwing trash and cigarette buds in the open, in Leh, on the trail or at campsites. As tourists, we need to be mindful of our behavior.
Climbing Stok Kangri was the most difficult thing I've done in my life. It was voluntary suffering, as mountaineers like to call it. I'm not sure if I'll do such a high altitude expedition again. But it was one hell of an experience!
To conclude, I'll say this: By climbing a mountain, we don't conquer it. We are merely guests there. We conquer ourselves, our limitations, fears and anxieties. We push ourselves to the point we thought was not possible for us and then beyond it. And we understand that no matter how tough the way, we can, and should keep walking.
More pics and stories on my Insta page (@jaskirat1989)