The adventurous journey embarked when we reached Naggar base camp, an ancient town which was also once capital of Kullu Kingdom, now located in Kullu district on the bank of river Beas. The journey from Pathankot railway station to Naggar village began at midnight and ended early morning at 8:00am. That night after a lot of reluctance I fell asleep in the 12 seated winger, watching millions and trillions of stars in the sky. With every kilometer passing, it became difficult to close my eyes, the stars came closer and closer with the rise in altitude, forcing me to stay with them by distracting me from my sleep & grabbing all my attention.
After a short nap of an hour or two, I opened my eyes and was struck by the most beautiful sight that I had ever encountered in my whole life. It was something like this.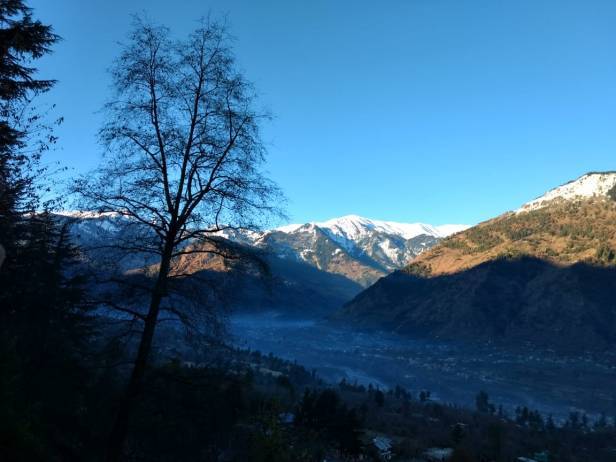 The sun beautifully helped the mountains in looking the best by garnishing the plain white colored layer that covered the hills by its golden rays. Besides the road on which we were traveling was the Beas river, flowing playfully and freely without worrying much about the sun, snow or the mountains. The feeling of ultimate freedom was expressed by its unhindered flow and unrestricted movement.
Then we reached Naggar, which again didn't fail to surprise. The fascinating view I had from the place of stay was something like this.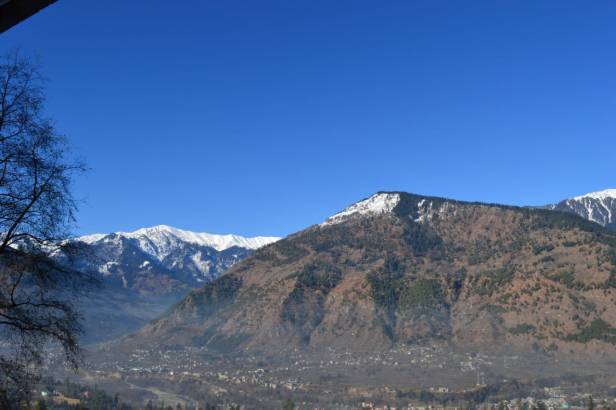 I was flabbergasted by the view from the gallery of my Hotel because having stayed in a congested city were the farthest you can see from the window of your house is about 15-20 meters, this was no less than a heaven.
The atmosphere was around 10 degree when we reached in the morning. It went around 0 to -1 at nights, which was very scary to handle as I was not habituated to such kind of chills. These are the temperatures experienced in mid-December.
Next was the trek to Nathan Village, the base camp for reaching the Fittikarg Top. We were supposed to leave the baggage at Naggar and take necessary stuff along with us. As we were supposed to carry our own bags and climb, it was very important to maintain the least weight of the bag, making the trekking more fun and less laborious.
But it didn't happen that way with me! I ended up stuffing my bag with all the things that I thought I would need:/! Being the first time, I messed up badly. I never used them on my way up and ended up overburdening myself! These taught me a very big lesson for life. "When you lighten your baggage your journey becomes more enjoyable".
Nevertheless, I still enjoyed my trek with some beautiful natural scenery that I encountered through out our trek.
I'll share them with you!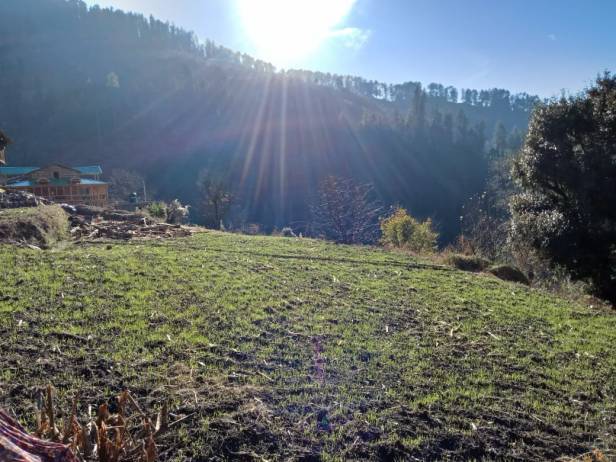 The sun waved us through its warm rays when we were trekking past Nashala Village (The place were movies like Krrish, Tubelight and Yeh Jawani Hai Deewani were shot).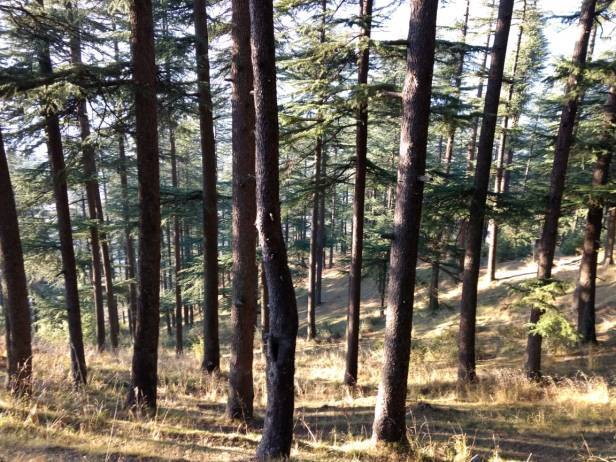 Amidst the forest and mountains. I almost saved myself from rolling down from one of these slopes :D. Although I wonder how fun it would have been if I actually had rolled down once! :p Maybe I can try it next time!
Soon we reached Nathan Village, where we stayed in the local homes which gave us a being home feeling. There were beautiful purple flowers just beside our room and a collection of pumpkins.
No idea what it is called, but couldn't keep my eyes off them!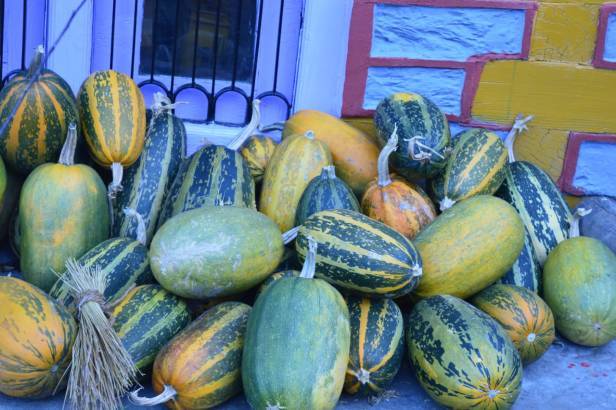 That day we stayed in the local homes and had the local food. The food was very simple yet delicious. We had puri (fried wheat bread) and some vegetable which belonged to the localities and I can't seem to remember its name. It was tasty though.
That day we spent gazing the sky, inquiring around the houses and at night gathered around the campfire to share our personal experiences.
A beautiful experience I encountered was with the local kids. When I was walking down the small lane making my way to fetch some water, a group of kids(around5-6 girls) stopped me. They were very dominating, in a funny way. ???? They inquired me about everything, from my name to my favorite game! After I answered all the questions very calmly and politely, the sweetly ordered me to sign a song for them. I was not the first one to be child-captivated that day. It happened with every passerby that day.
I eventually escaped myself after singing the poem "Twinkle twinkle little star" for them. It was fun overall. ????
The captures of Nathan Village and local homes during our stay. The little green tent that you see in the second picture is the made-up washroom that we were supposed to use for that day! Believe me, it was the most challenging task to travel 1 kilometer away just to pee in a big hole dug, covered by a small tent. But still an experience it was! ????
Next day morning we left for the Fittikarg Top were we had fun with snow and saw a beautifully shaped leaf.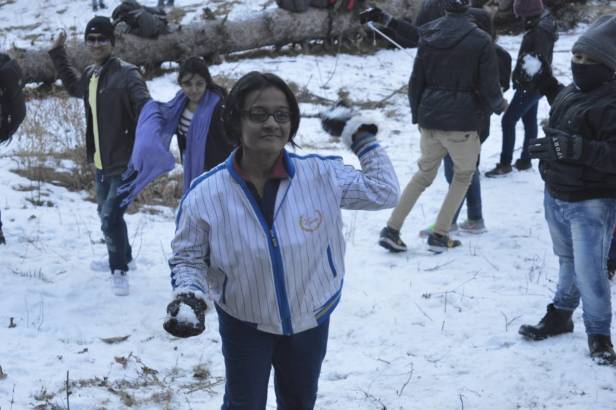 Me on my "warrior mode" when I was attacked with a snowball by one of my friends.
The beautiful shape amazed me! But I couldn't carry the leaf for long, it eventually broke as it was very dry.
Lastly, the distinctness of Manali.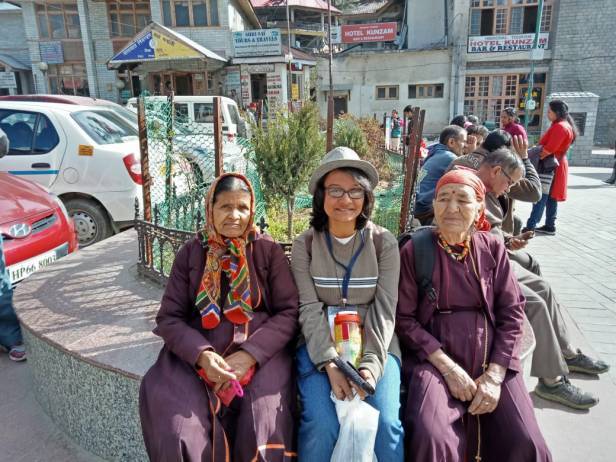 The beautiful people of Manali greeted me when I was out on Manali Road searching for some food. They were very sweet and polite when I communicated with them and requested for a picture.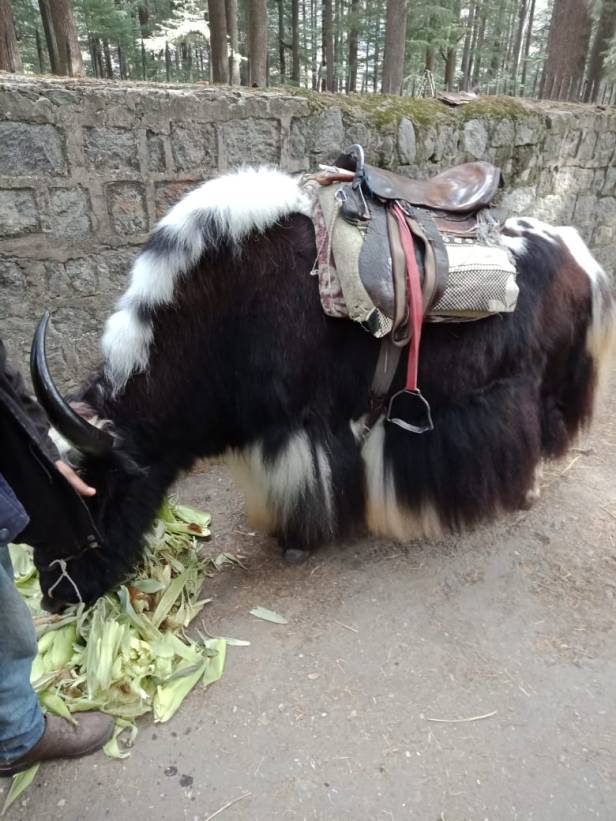 The Yak outside the Hidimba temple was very attractive, but they Yak owner was not! I'll tell you why! This is a very special click. The Yak owner asked for 100Rs. to take a picture of it and we refused to pay. This is a picture taken by sneaking without his permission! Sneaky-Picky it is:)!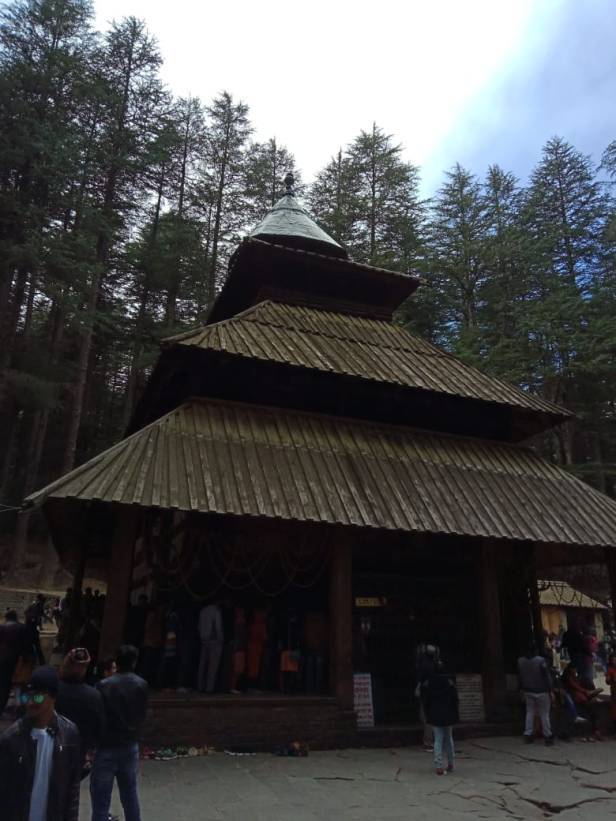 The Hidimba temple. It was very crowded up here. I didn't dare to stand in the line to enter the temple as it was so long. But I sat there for a few minutes, experiencing the nature and observing people around. There was this huge fat dog there in the temple that I loved the most.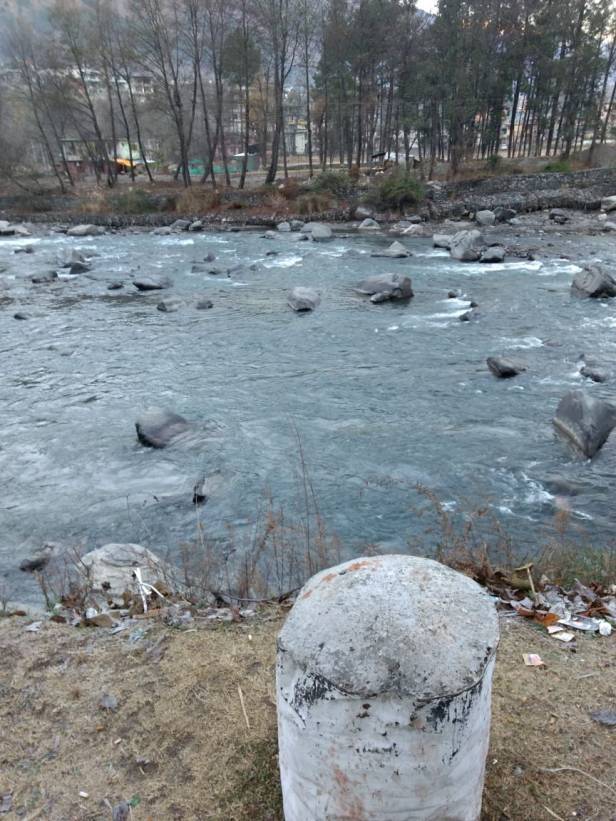 The Beas river flowing with the breeze - a close-up!
The trip was overall an awesome one and the night we left was the worst part of the whole trip. I didn't want to leave the determined mountains and free-flowing river. As that was not practically possible I decided to carry along the determination and freedom I learned from them and apply it in my life. Would love to go there again and again!