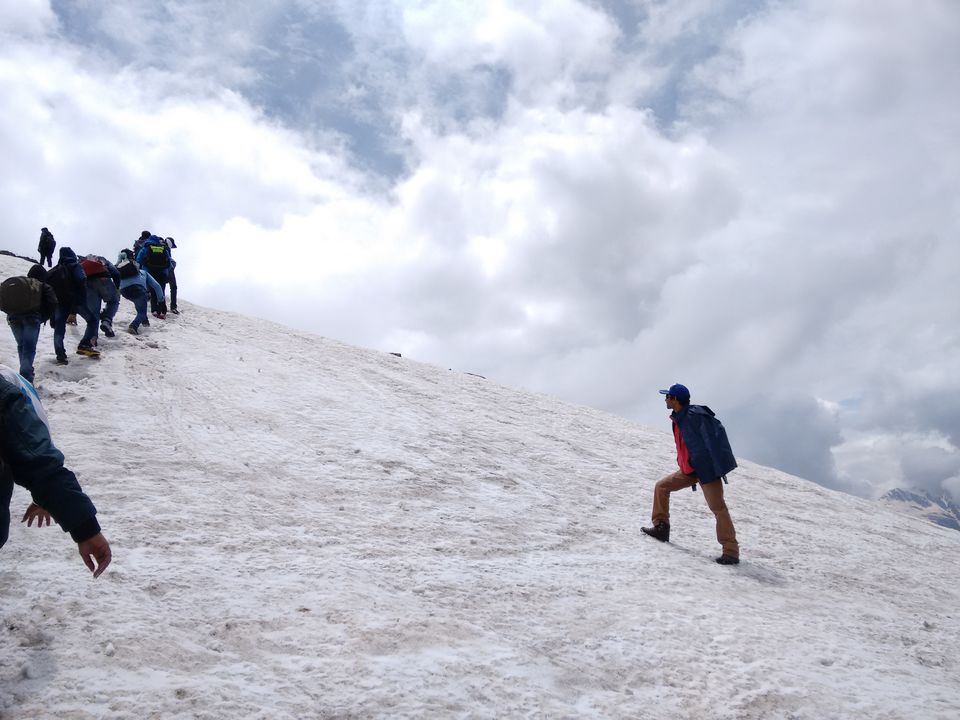 Hello Fellas ..this is a small story of how a trip to a certain place can change your life forever. From ahmedabad to delhi to pathankot to manali we embarked on a journey that would later transform our lives. Singing all the way in the train , Playing games of all kinds , Staying in midst of a forest in tents for the first time, watching a river flow by , the first sight of snow , walking falling and playing with the snow , the climb up the mountain and the clouds hugging you was the most cherishing experience i had in my lifetime till that date. Some things in detail come in the story that includes my meeting with shayaris , my love for hot chocolate , my curiosity while star gazing and the tales at bonfire. Hang On!! River rafting and Bus journey will take your hearts away.
Let's start the Journey
Day 1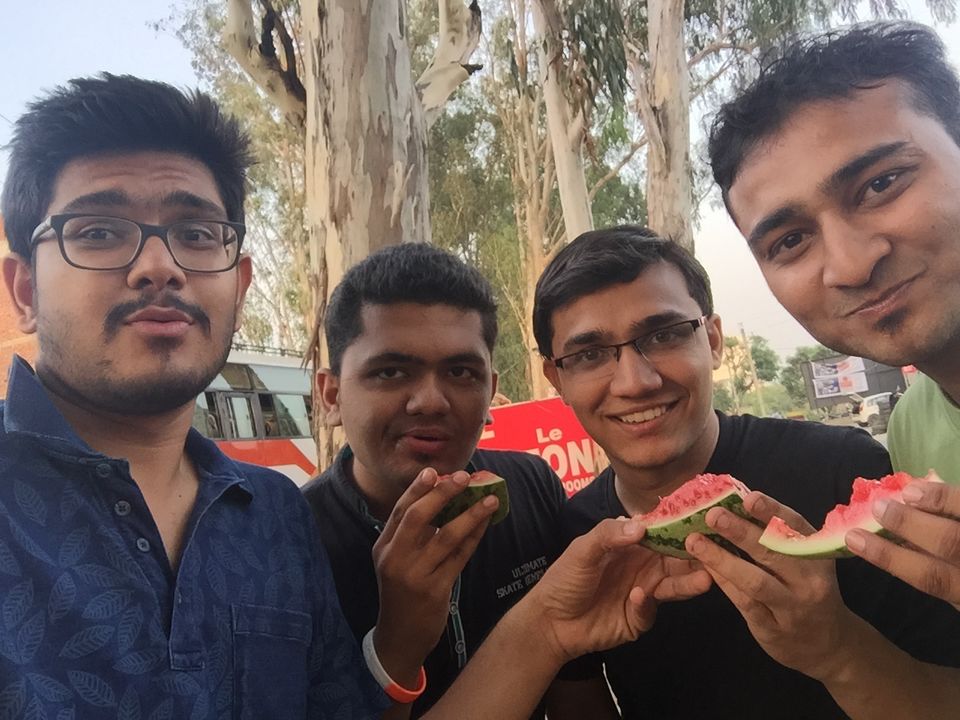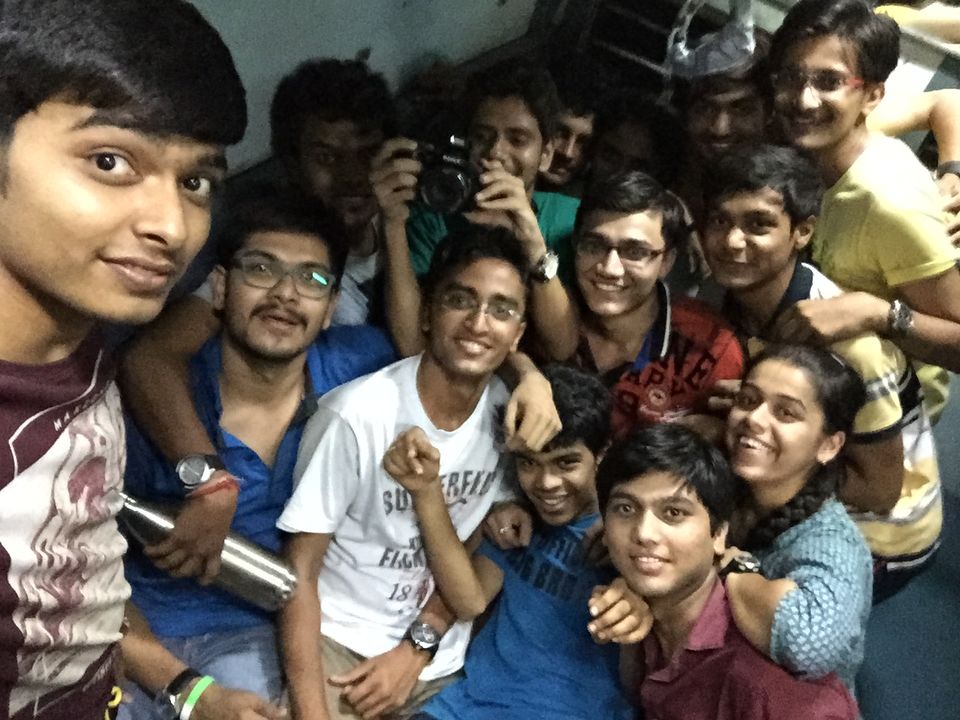 Me and my friends (3 of them to be precise ) took a train from Ahmedabad to Pathankot via Delhi . We started of as 4 but became 40 in the train journey as many of our batch-mates were travelling to the same place in the train. Train journey was one of the most memorable part of the trip as we all together would not sleep and won't let sleep anyone in the train. We sang songs the whole night ( Antakshari ) was played with 20 players in each team . We were joined by the personnel from armed forces in singing and even the people in the train would come to look around whats happening in our compartment.
We reached the Destination Mountainssss baby !! (Day-2)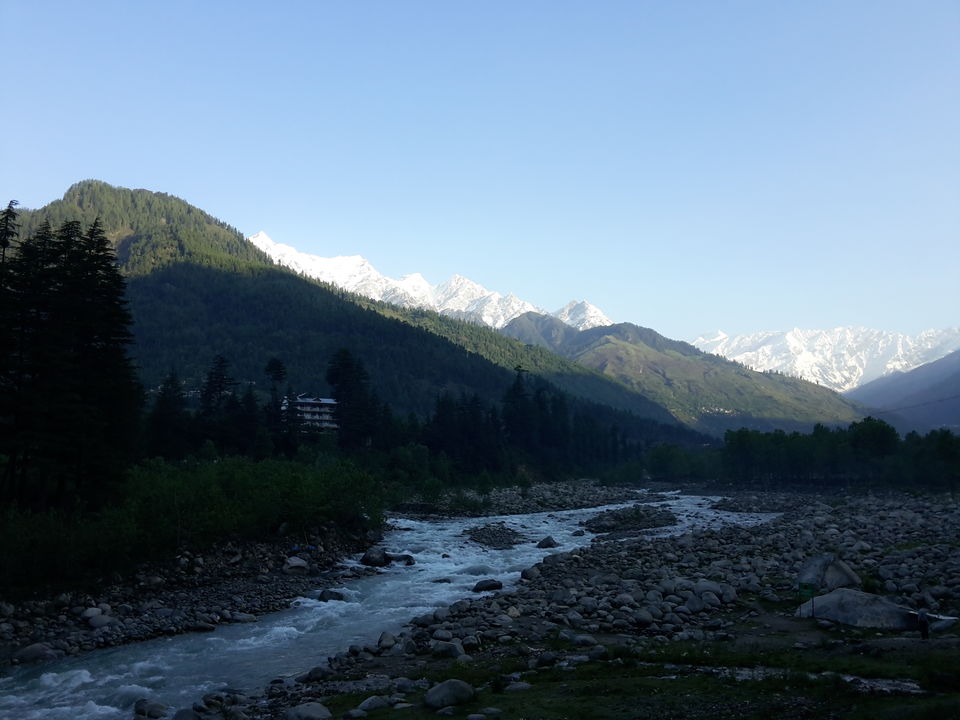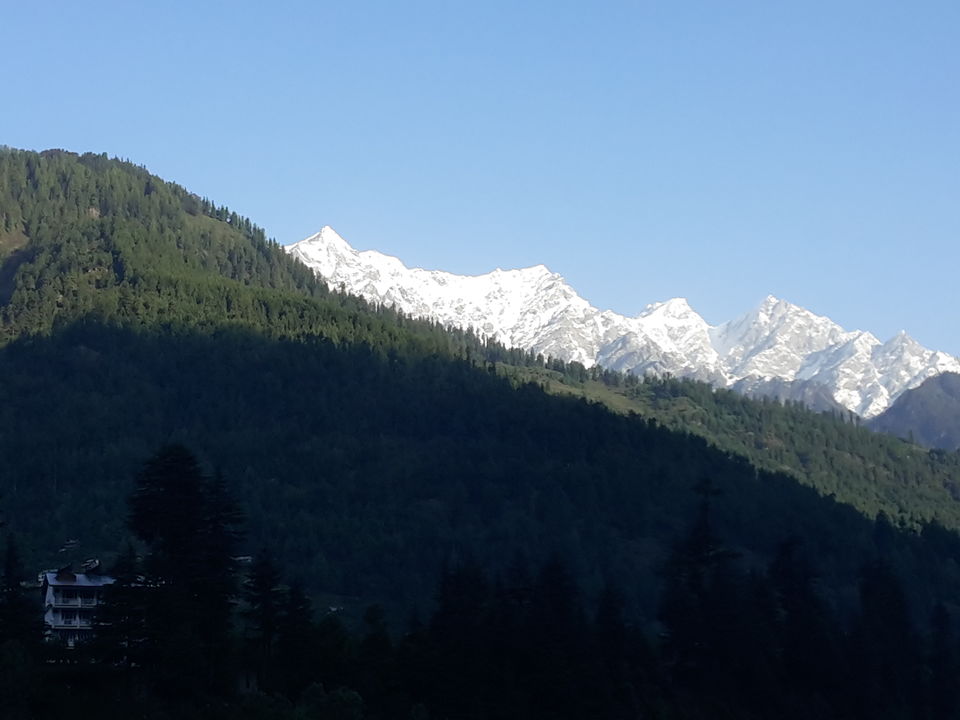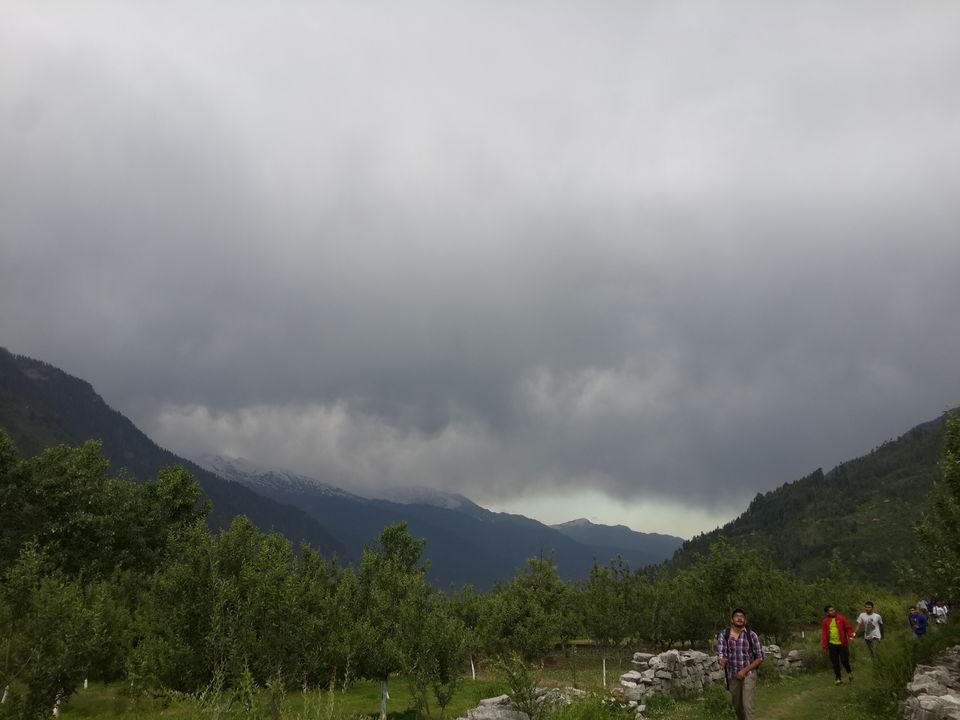 We reached pathankot at 10:00 am and were taken in a bus to our first camping site. The view was fantastic all the way and the first glimpse of the mountains thrilled every inch of my body as we were finally innn the mountainsss !! We were carrying our rucksacks and sleeping bags with us which we had to lift and walk for few kilometers .
We crossed the river and entered the forests through a bridge that was so narrow that only a person could walk on it at a time. The mountains were looking very beautiful through the forests and then we were asked to drink water from the small stream passing by and we were shocked with the purity of water that was available there , any-day better then a Himalaya or Evian(just telling). We walked for 2 kilometers and arrived at the camping site .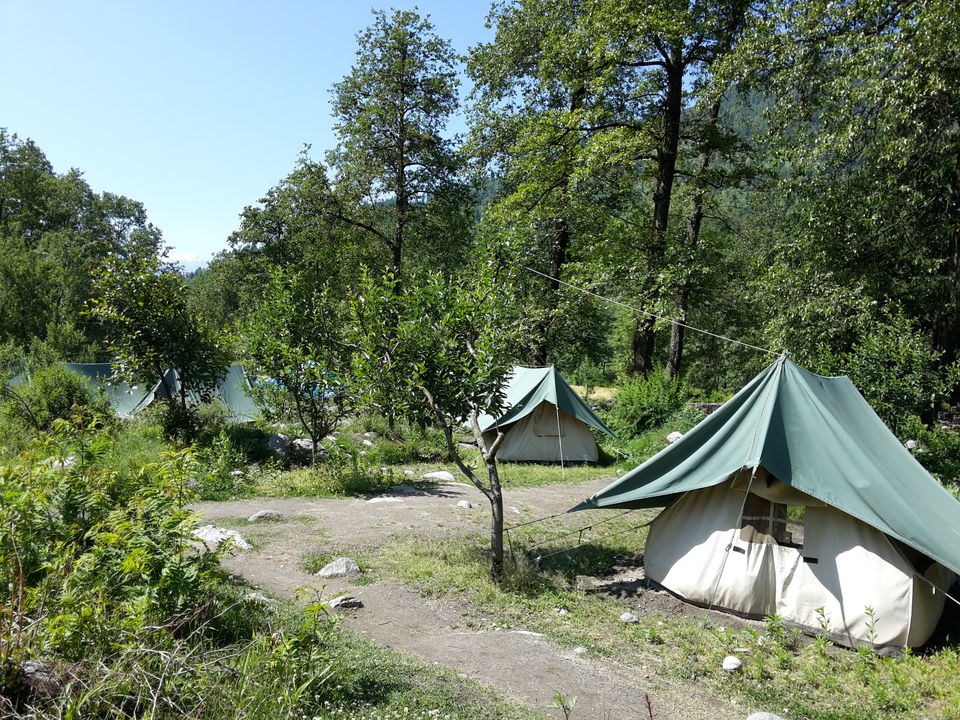 To be frank i had never seen anything like this before as it was right between the trees and a river flowing by , we could watch the mountains from our tents . Man it was a dream come true for a 19 year old like me back then. We got into our tents threw our luggage on one side and went to explore the place .
We sat on the rocks and the camera's were out , the river flowing by was freezing cold but still we entered it and were playing with water . The water was actually the melted snow coming straight from the mountains. The briefing happened in a few moments and we proceeded towards lunch . It was an easy day as no activities were there and we had to enjoy the surroundings as well as get acclimatized with the atmosphere.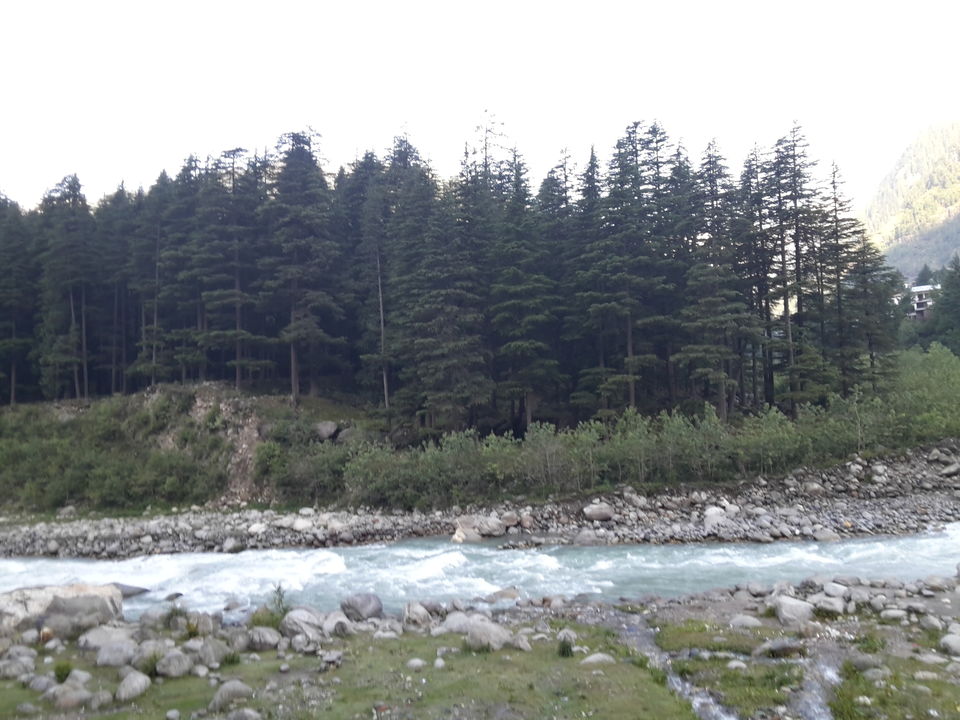 The temperature during the day was around 12 degree and would drop down to 1-2 degree during the nights. After the lunch we meet other people , introduced ourselves and meet our instructor for the rest of the days at the site. He was a young man looking sharp and determined ready to take on an challenge. We were then taken for bringing some wood for the Camp Fire in the nights to come . We would enthusiastically bring a lot of branches and leaves along. The paths there seemed to be trodden and it is like you are the first one to explore those roads.
We start our first Trek! (Day-3)
It hardly seemed that we just had spend 2 days and made so many memories that would last a lifetime. The 3rd day started with a bang as it our first night in the tents ...in the sleeping bags. It was an amazing experience and we enjoyed every moment of it. Early in the morning we were woken up by some of our friends as they brought water in the tents to threaten us either we woke up or we would have our bathing session there only. We woke up immediately and would get freshen up and go for the breakfast. The breakfast served was delicious and the hot Chai would help us compensate for the cold there.
We begin at around 8 am in the morning and went on towards the road then diverging towards the mountains. We were going to see a waterfall and a range of mountains . We were greeted by lush green outfields and the flowers were grown all along the way. The site was mesmerizing and we stayed there for 15 minutes before returning back. The whole trek was around 8 kilometers.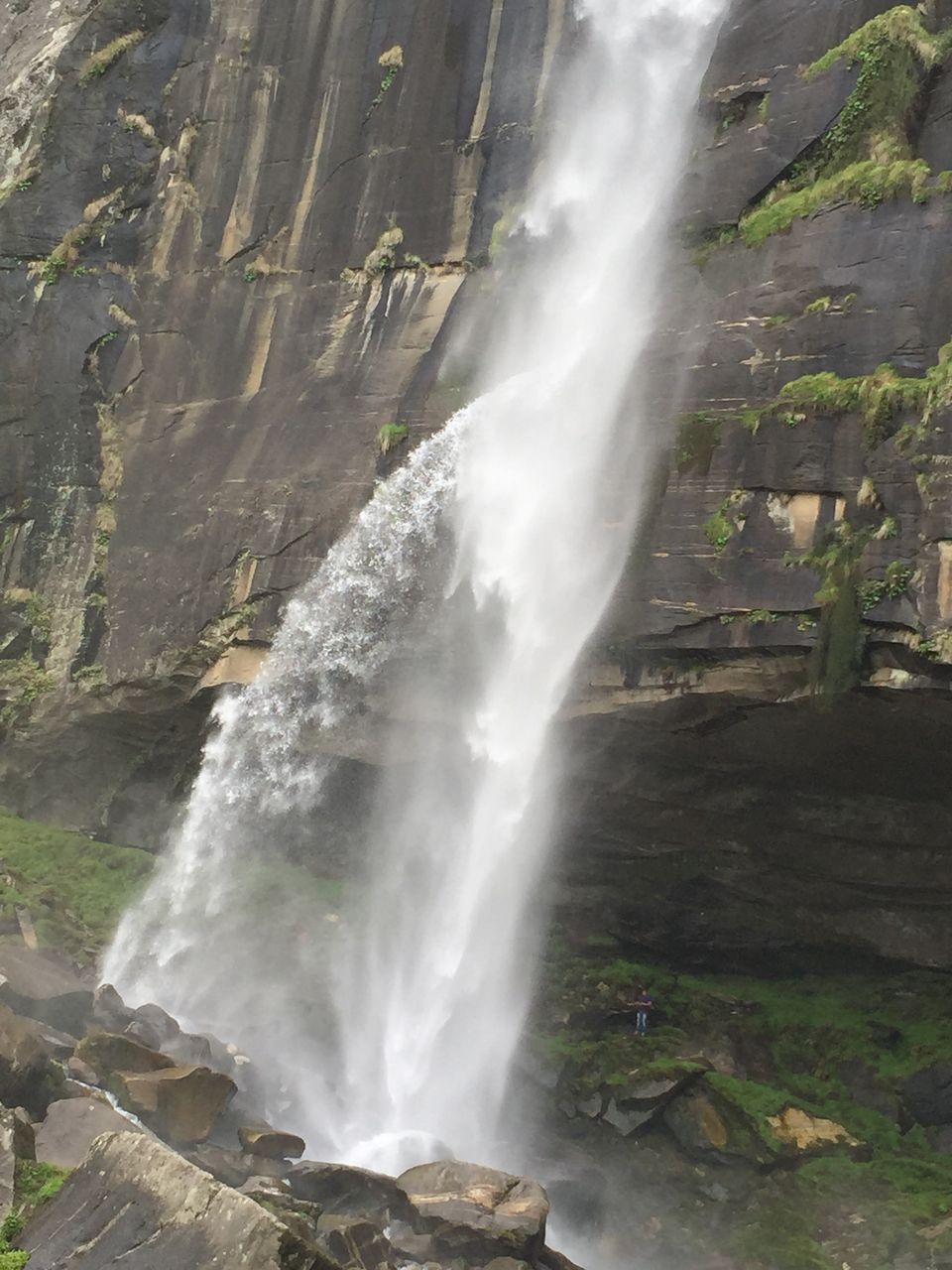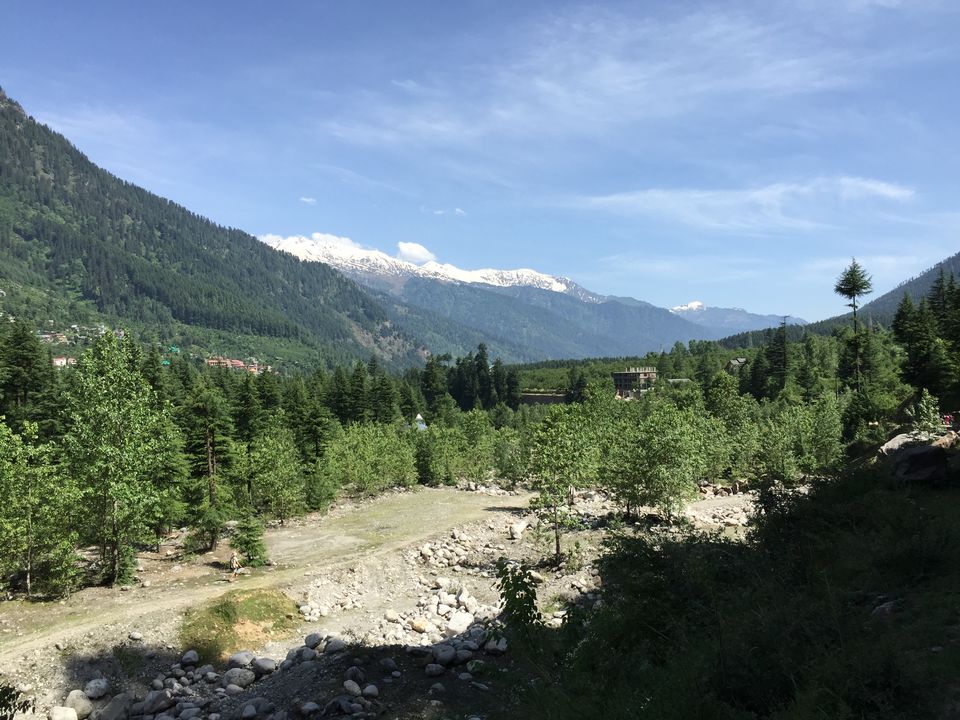 We would return back to the camp site and we would have a game session there in which we played a wonderful game. 40 players per team and we had to make a line in which the first person passes the bottle to the person behind him from between his legs and then so on till the bottle reaches the 40th person and then he will run to the first person and start it over. A time limit of 10 minutes and we completed 2 and half rounds without dropping it once was kind of a achievement back then. We won the contest and then played some more games till we went to sleep.
Rock Climbing and Oldddd Manali !! (Day-4)
On the next day we would begin again early in the morning and go on our way for rock climbing . We saw the rock that was to be climbed and it looked quite easy as the supervisors were doing it. They did it without any protection and we were all amazed to see a lady jump from that height and again climb it without protection . Our instructor there was a woman who had a lot of achievements in mountain climbing on her name. We started one by one to climb the rock and it didn't seem as easy as it looked. However , most of us did it but the rappelling was a lot of fun . It is as if you are free falling from the top of a mountain and when you see above its the sky..it was an mind blowing experience.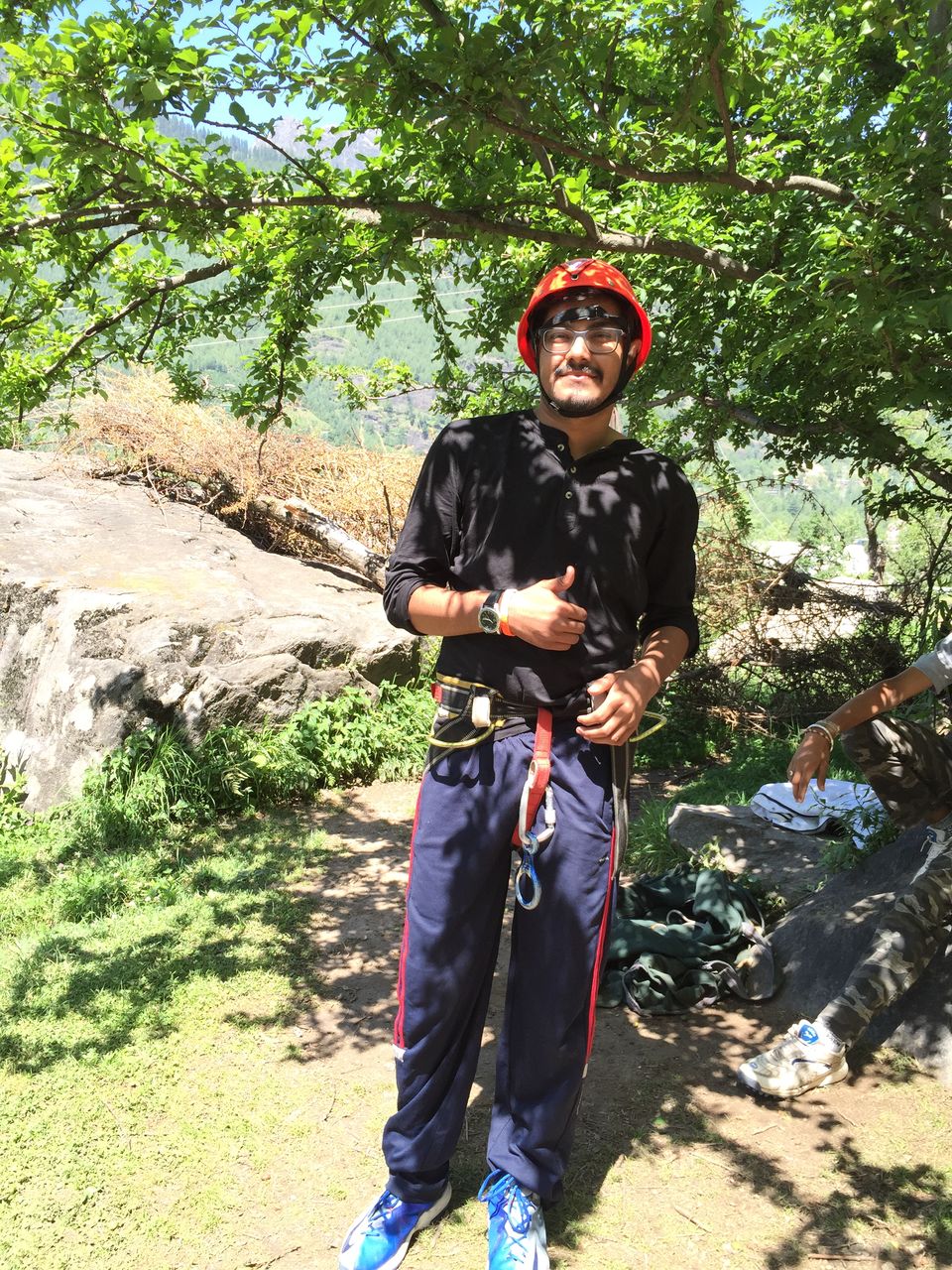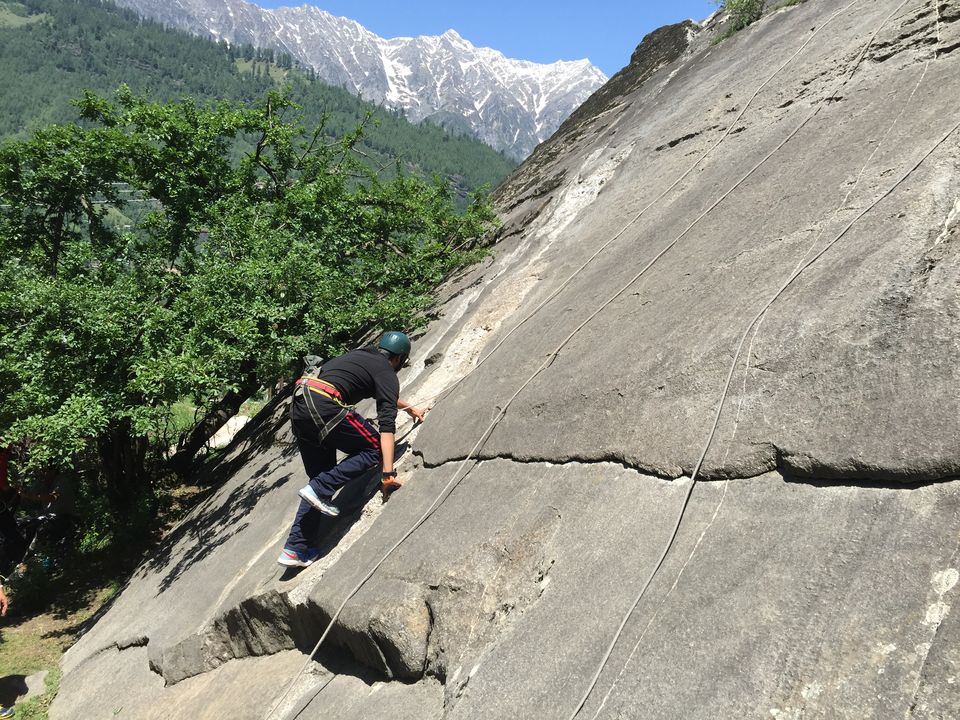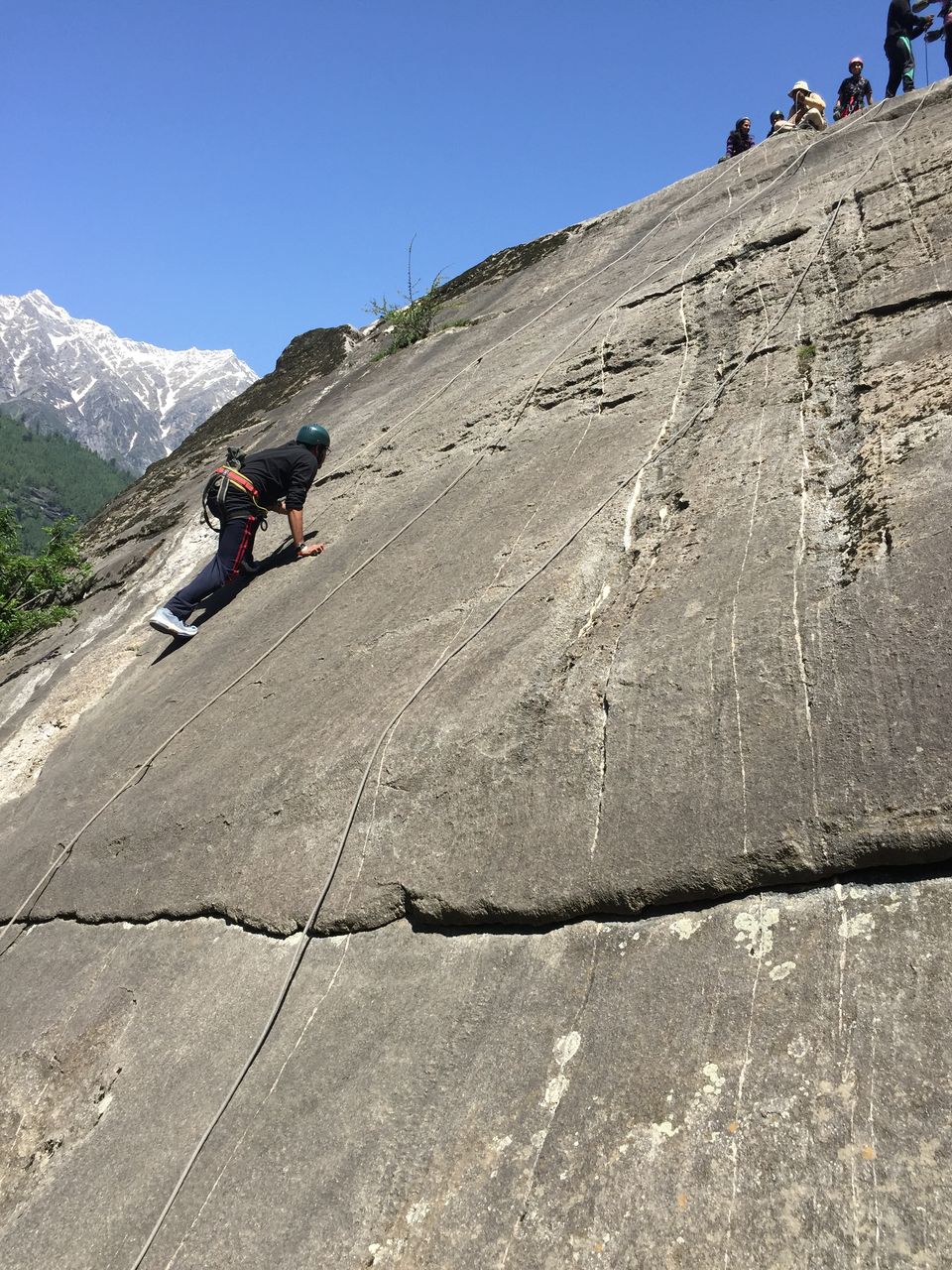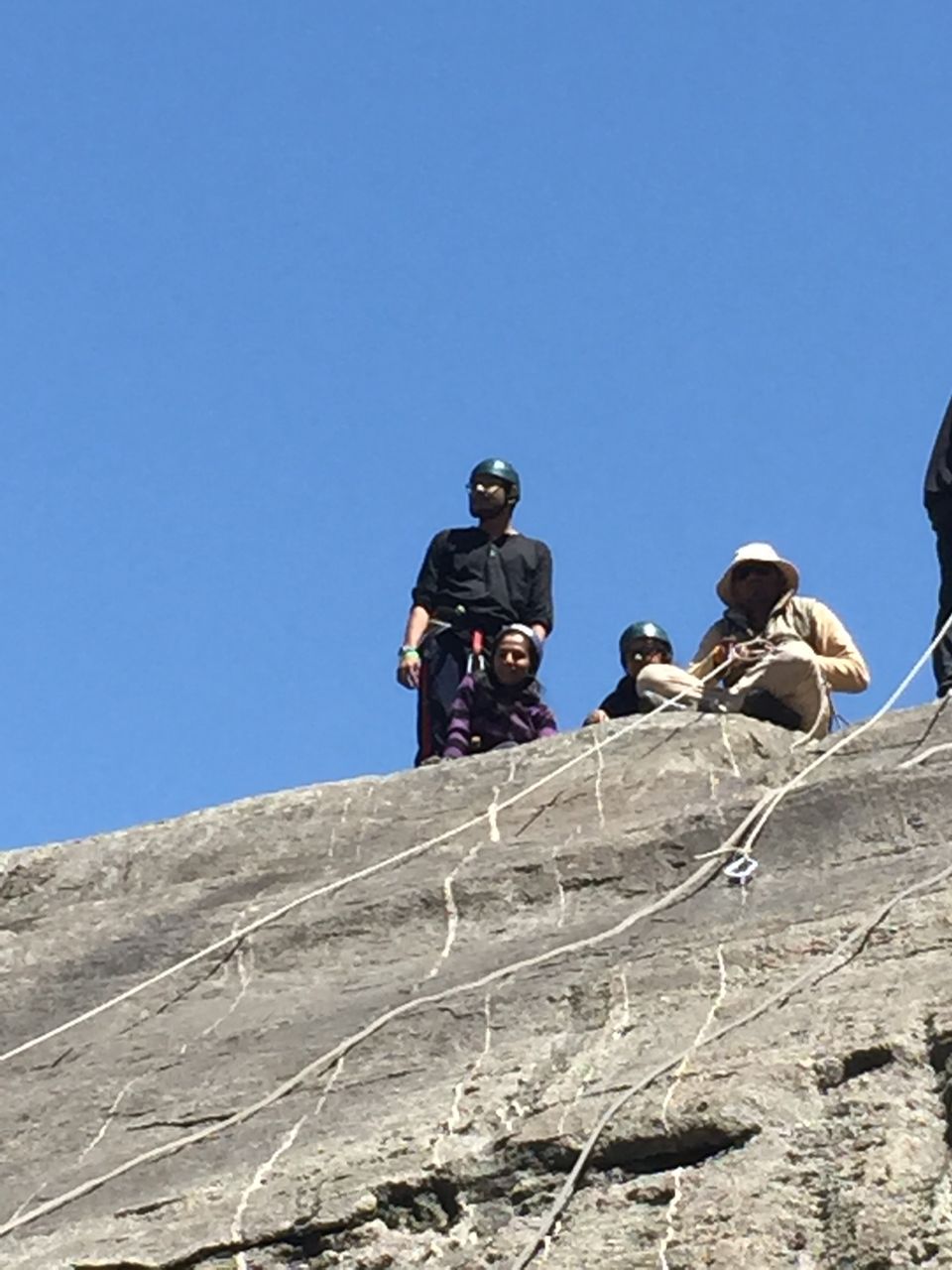 After that we headed for lunch following which we went to the old Manali as they call it . Visited a temple and went on the streets for shopping. We were told this was our last visit to the city and hence purchase anything we would wish to. The manali Hat is quiet famous and we purchased that.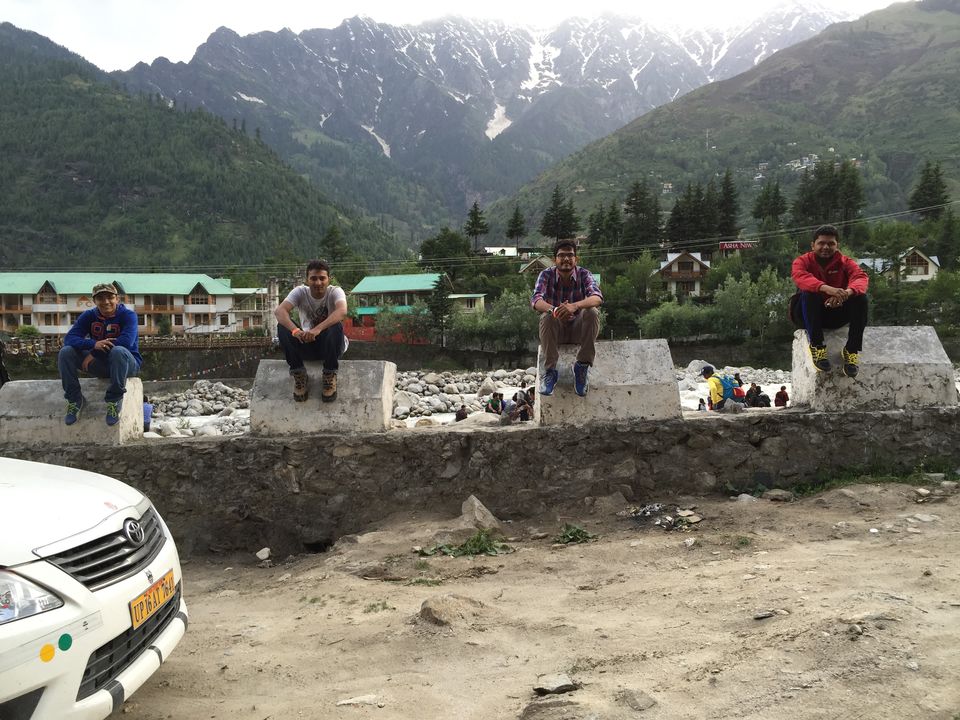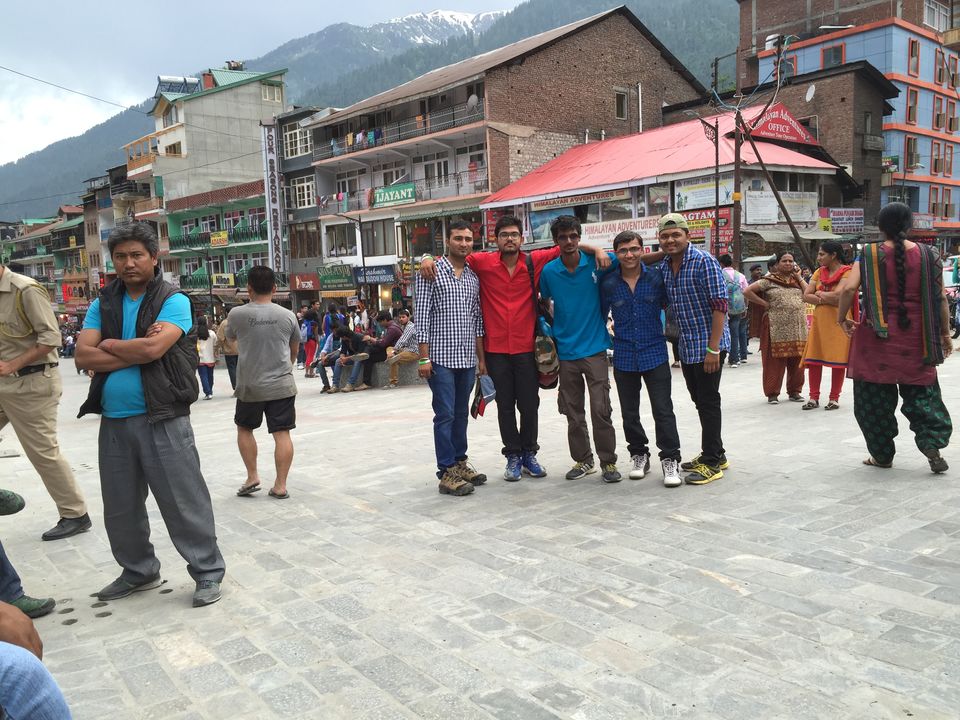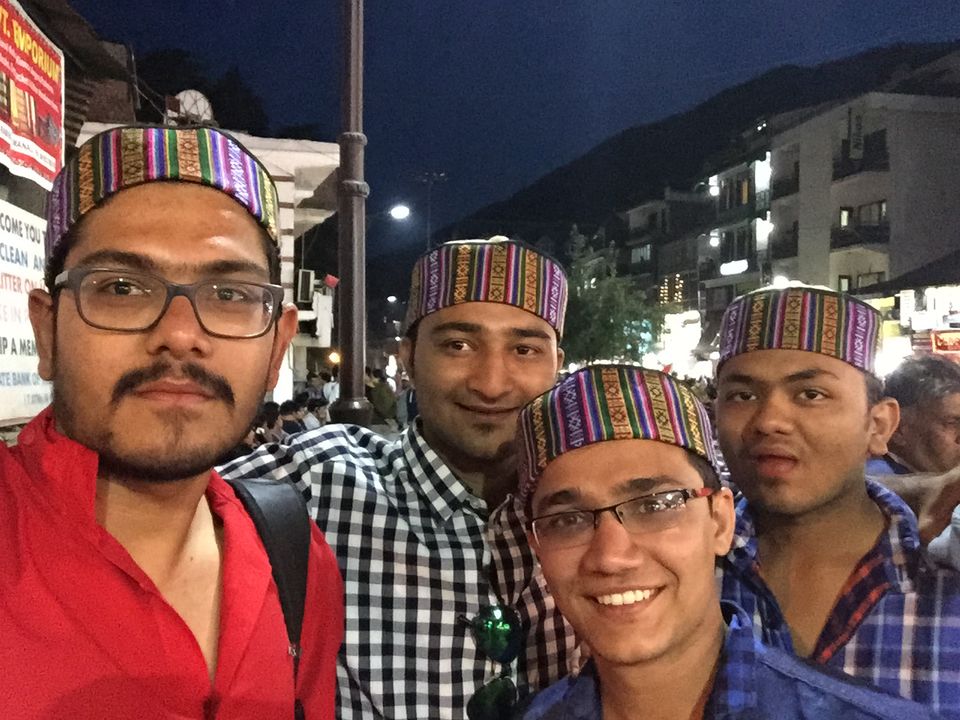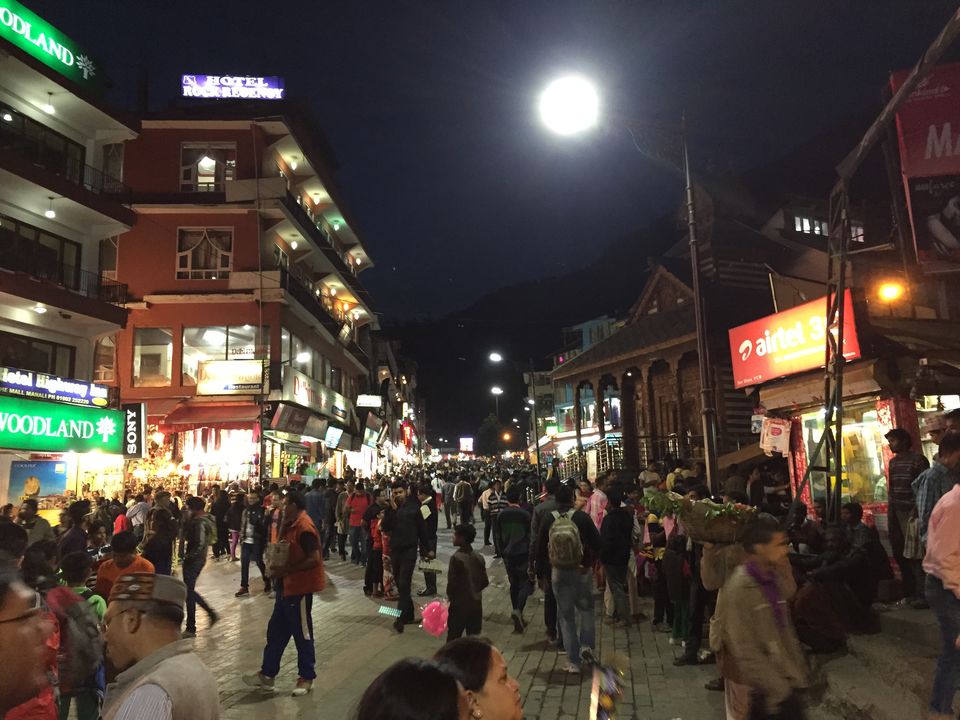 Waterfall and Camp Fire!! (Day-5)
Next day we wake up and our instructors calling us to take bath in the river flowing besides our campsite. I am like are you crazy dude? the water must be at 1-2 degree it was that cold . The temperature there too was in the same range early morning which would even intensify our torment. The instructor told us to come in the mid section of the river and take a dive into the water. The moment we kept foot in our water it froze! literally we were not able to understand we had our feet or not. Then gathering all the will i had left in me i took a deep breathe and dived into the water only to realize that i had lost my specs in it. The mother nature took my specs and i had one more suffering to add. But when i look back at that dive today i don't remember a better refreshing bath yet in my life. some of us dived and some didn't i am happy i did. I have that adventurous spirit in me that makes me do things that a normal person would not consider doing it.
We trekked to the top of a mountain in the next few hours to drink some absolutely pure water straight form the mountains and watch a waterfall in it's full flow. The sight of water falling from the top was beautiful as a cave sought of structure was built around the waterfall and there was a stairway that would go down where the water landed for the first time after falling. The location was out of this world!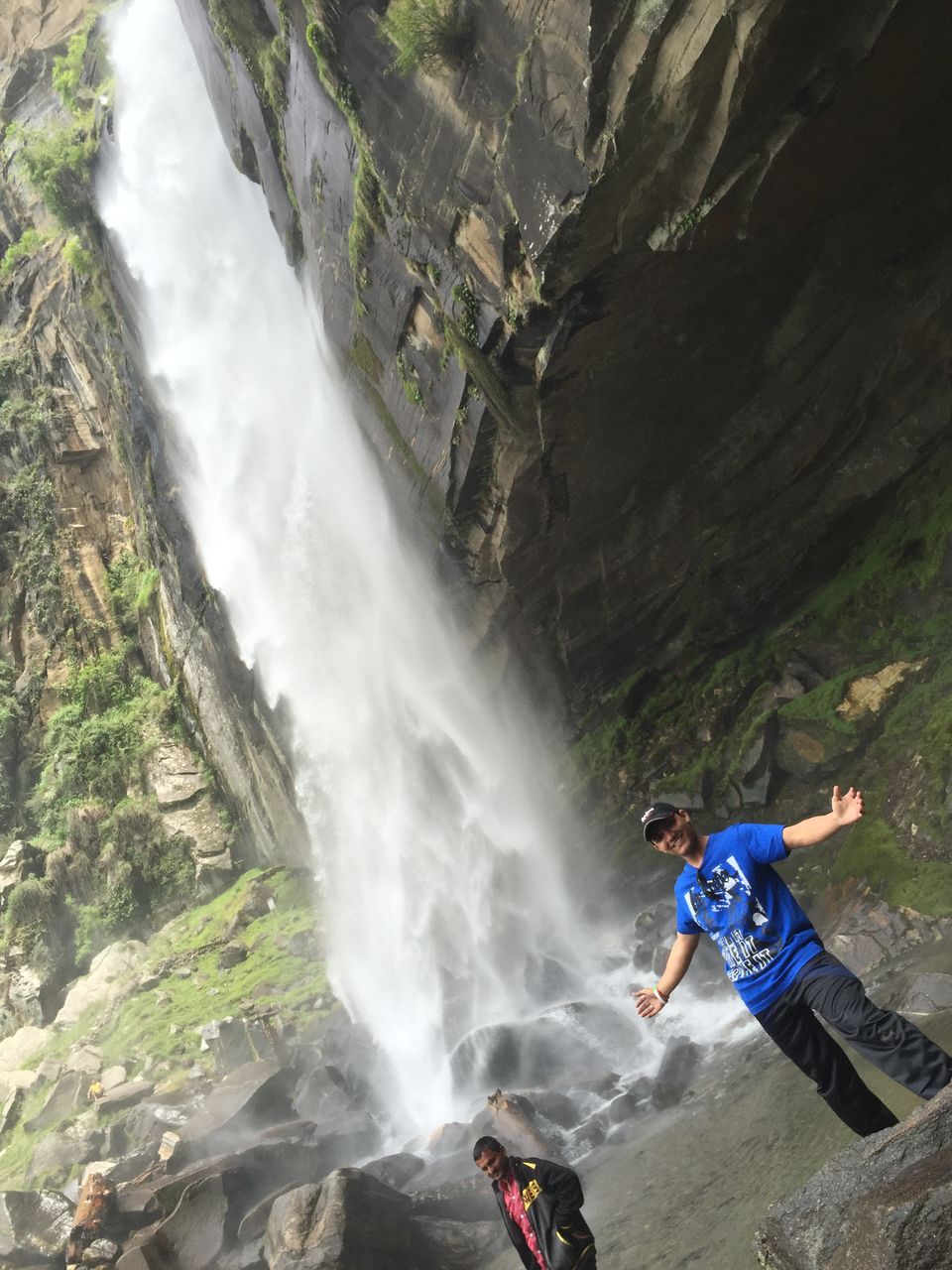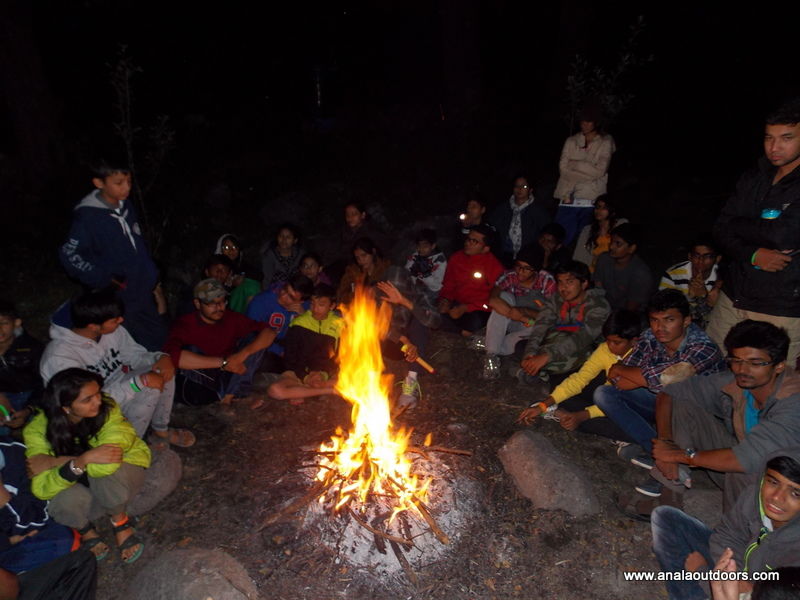 The evening as we went back was going to be a memorable one i never realized. We sat at the campfire and all were sitting quietly until the instructor got pissed of from the silence and started walking. Its then when a shayar was born my first narration of a shayari which just lighted up the evening. Now Everyone was in the mood of narrating shayaris, singing songs , dancing , showing there own personal art . I am happy i got a chance to speak some more shayaris there and my friends are looking at me ..we never knew you had this side in your life too. That was an electrifying atmosphere and the campfire finally ended with some couple dances. We would sit there for a long amount of time talking and singing.
Time to leave the campsite and go to the next one (Day-6)
We walked for around 6 km with our rucksacks on our shoulders and first time we realized how heavy were they actually. We reached at the base camp which was at a height of around 7000 ft. We had a river passing by , the forests were gone but the mountains had arrived . The mountains were clearly visible now with the snow on them. We were briefed by our new instructor and we had the day to enjoy. We played Satolya ( a game using stones) we played maal dadi (a game in which u hit other with a soft ball) and many more such games. We had a round of cards before going to sleep . It was much more cold here.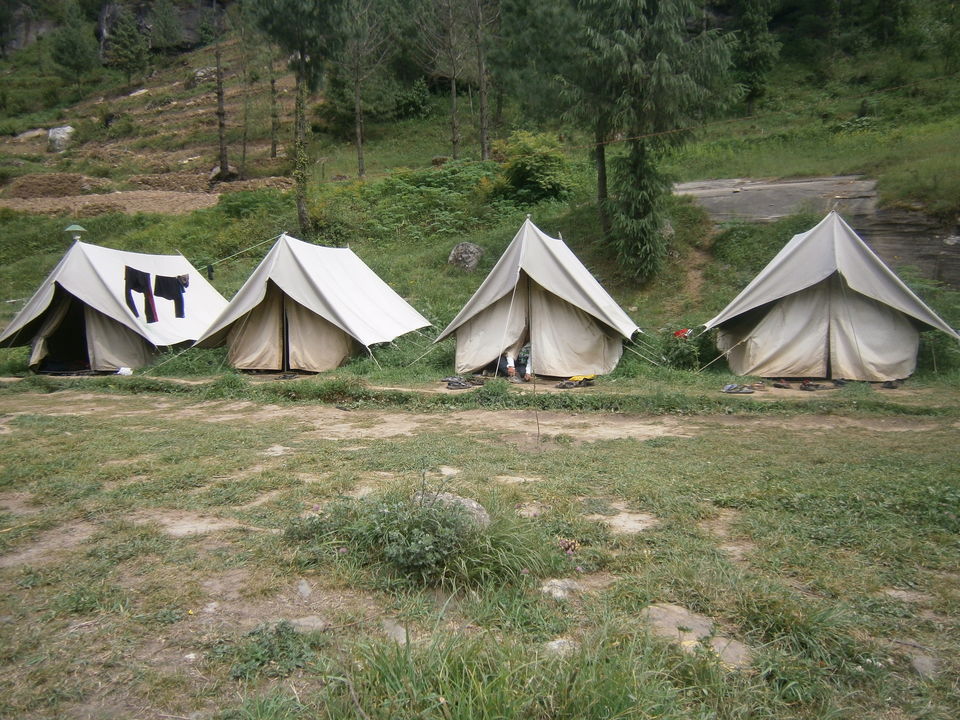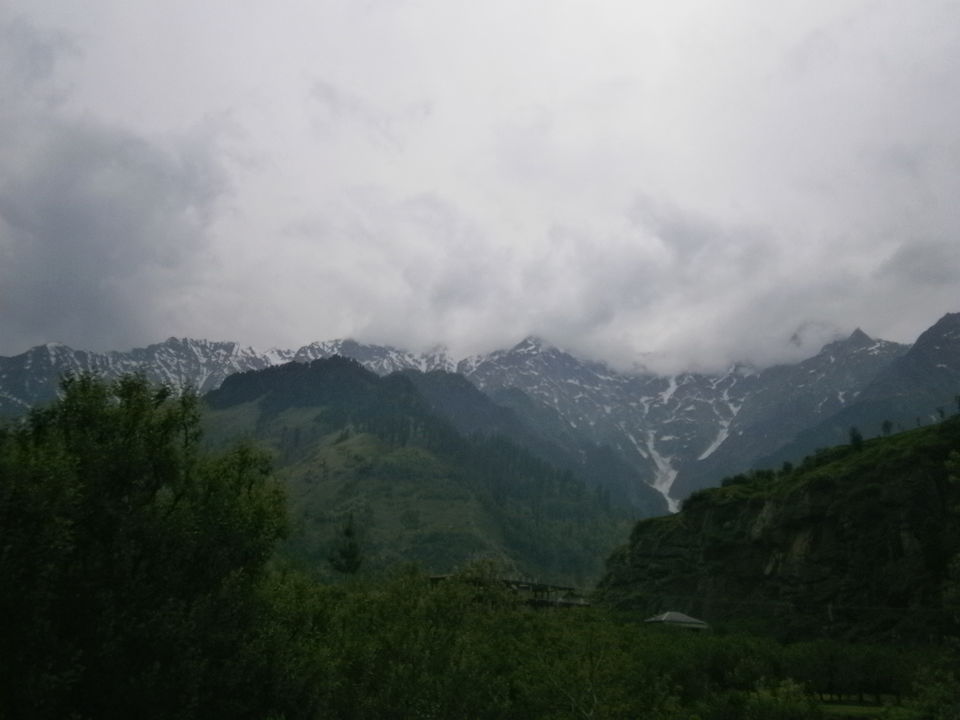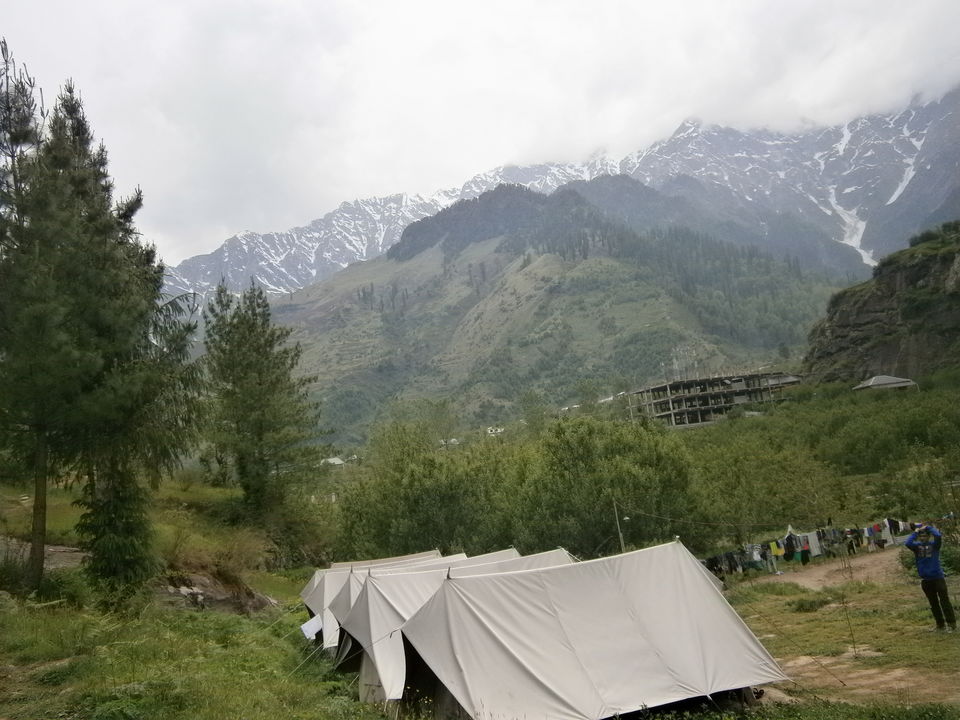 River Crossing and Zip Line (Day -7 and 8 )
In the next upcoming two days we would enjoy our stay at this beautiful location with a bunch of group and individual activities. Zip line was not that scary but while doing river crossing the force of water that was coming from the top was tremendous .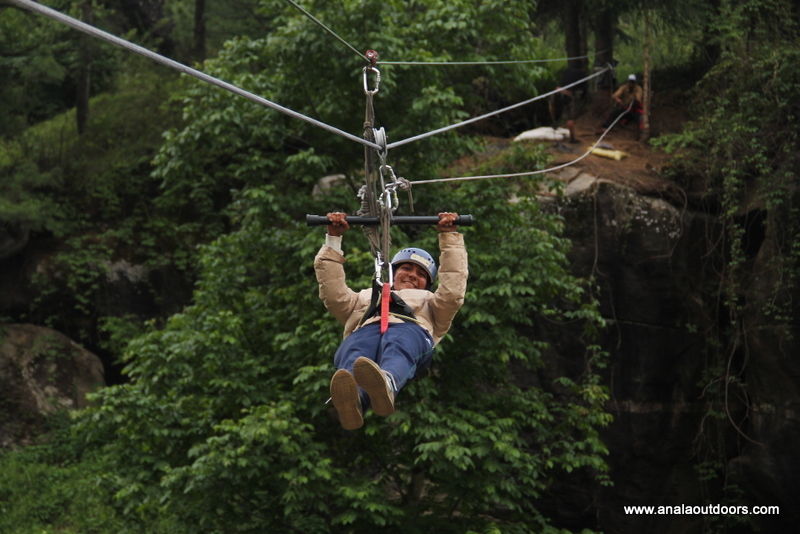 We had to go from one end to the other even though both the ends looked quite close but the force of water along with its coldness made it a difficult task to complete. We would get dragged by the force of water if we weren't holding the ropes in front of us. The accomplishment feeling is always satisfying.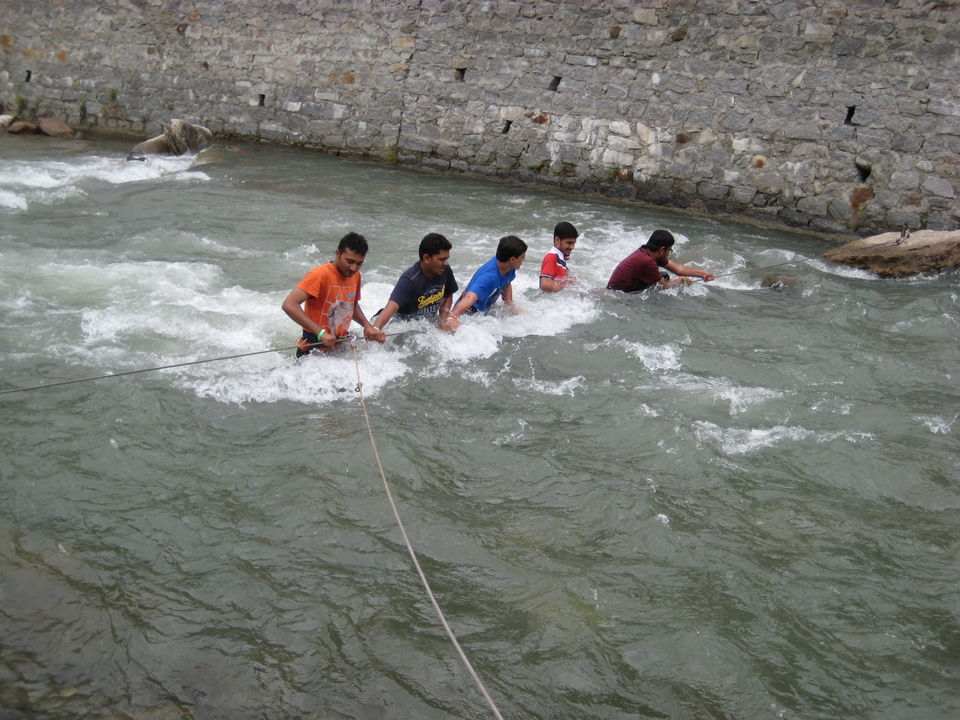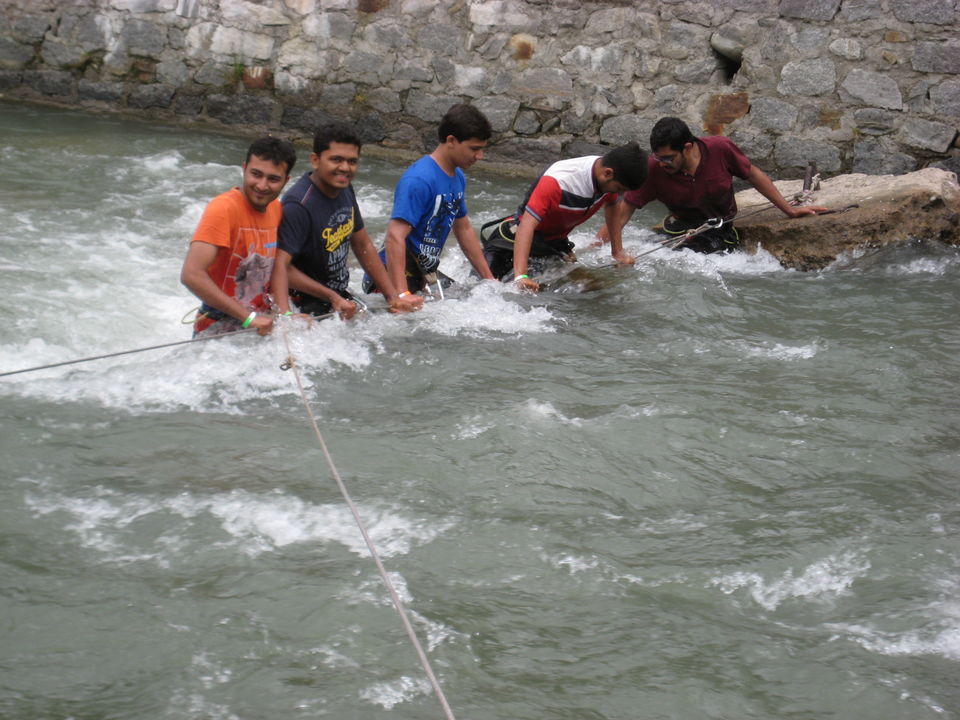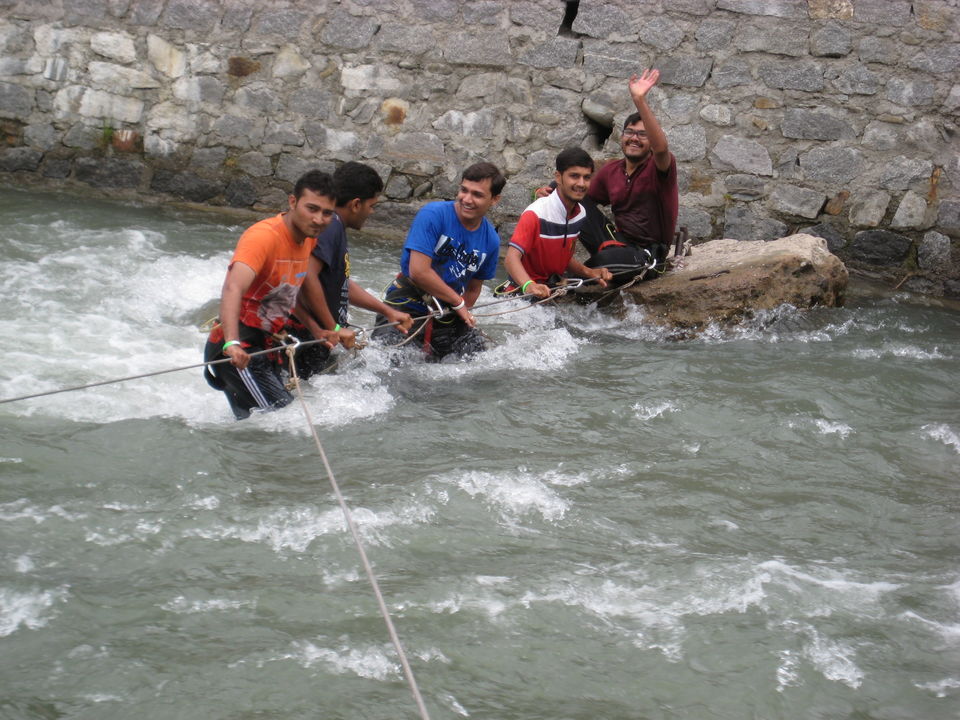 Next was a task in which we had to make maggi for the whole camp and we were distributed in groups. The best maggi would be judged by our Maharaj and he would then give gifts to them. Our group luckily made the best maggi !!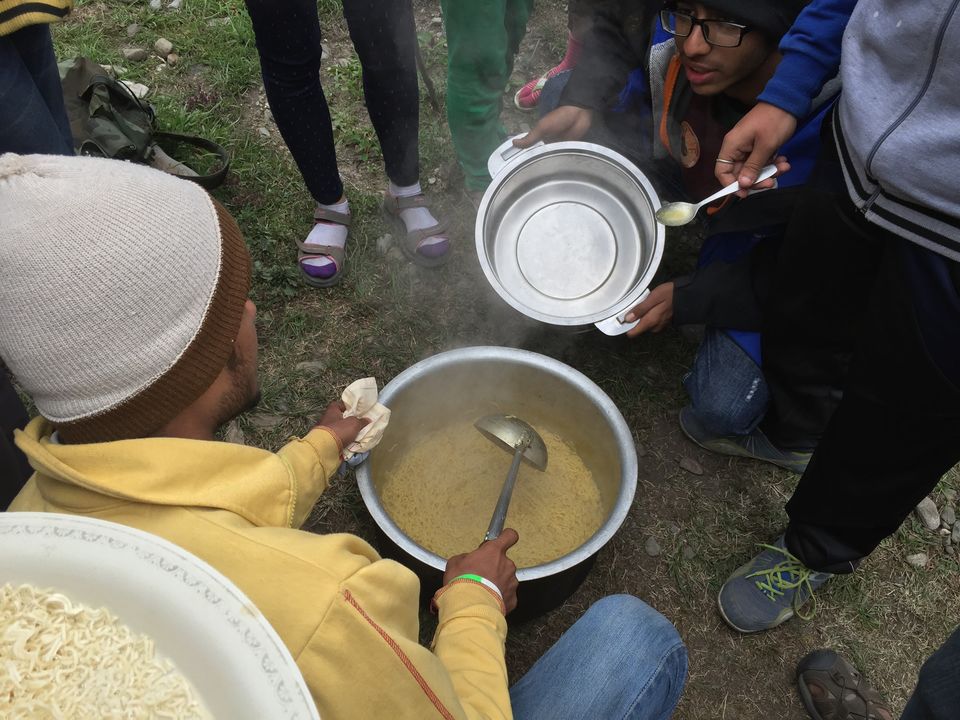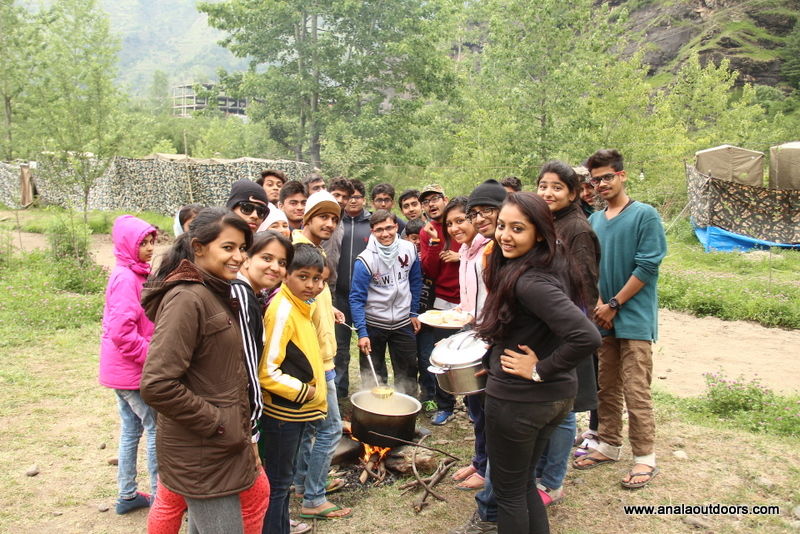 The nights would be more fascinating than the days . We would sit around fire and then hot chocolate and popcorn would be served to us.
The perfect match "Fire.Hot Chocolate.Popcorn.Shayari.Stars" .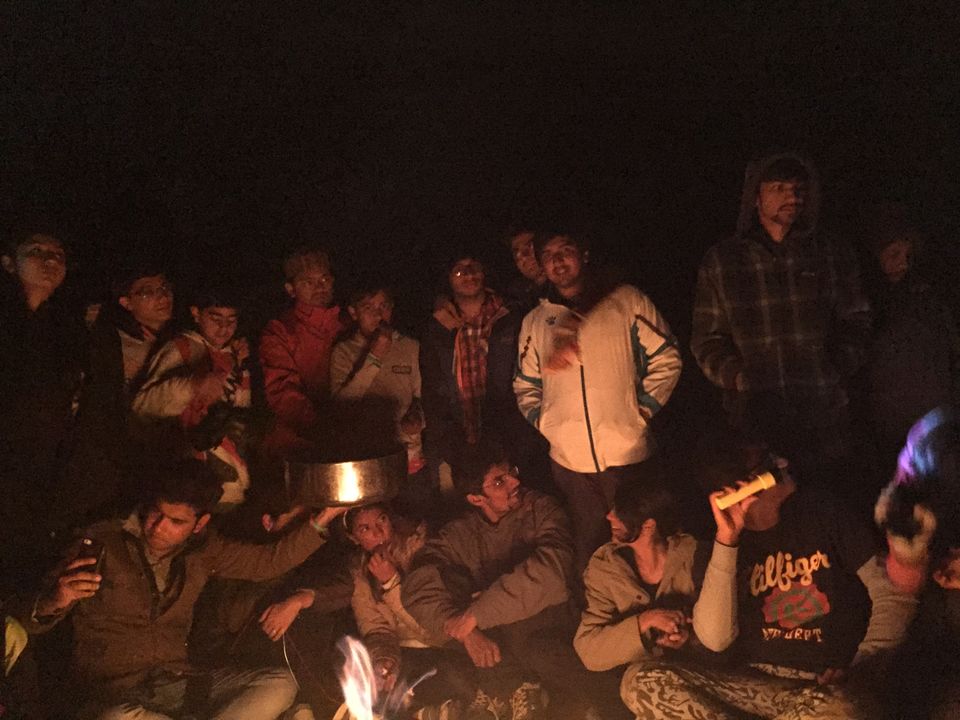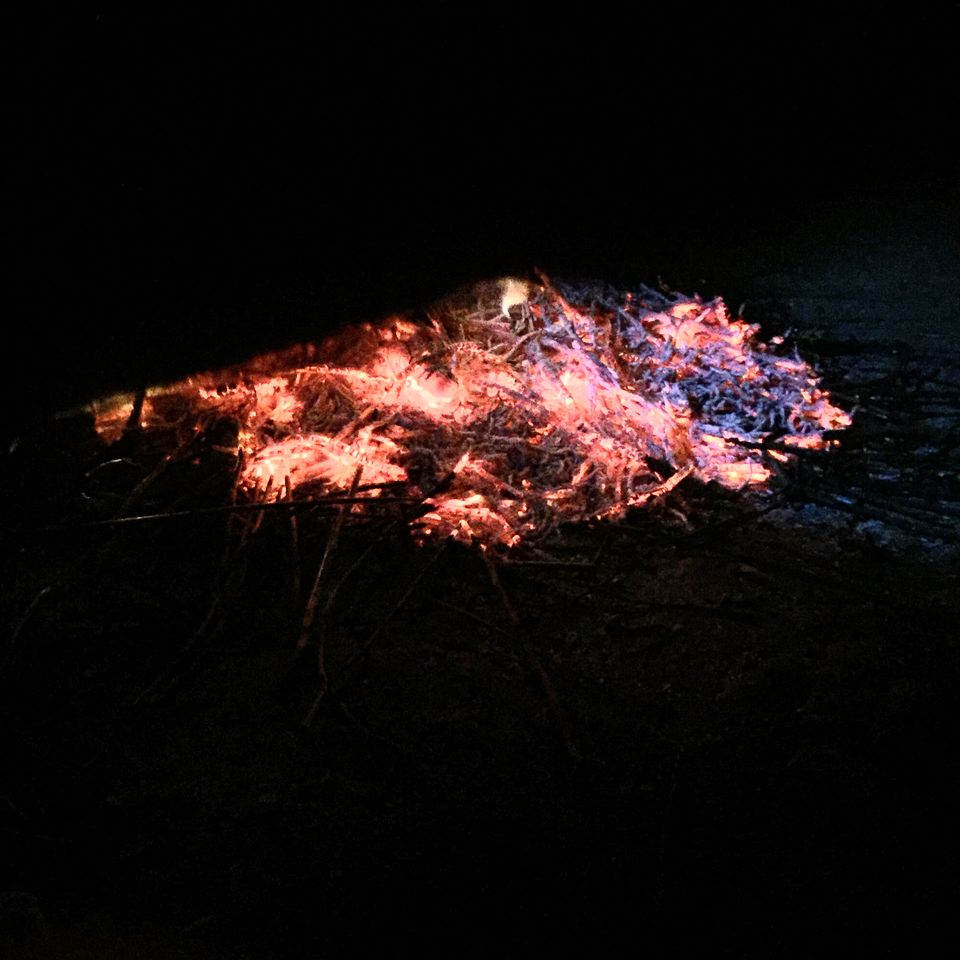 We would again enjoy a lot by the campfire and my instincts of becoming a shayar would strengthen there. We had some amazing time there in the night which would be memorable to everyone on the trip.
Adventure Begins ( Day - 9 ) Solang Valley
We would walk 8 km and go to a place called solang valley . The reason they call it Solang Nala is because of a village calle Solang nearby and a stream of water called nullah flowing by. The view of the valley is beautiful and the Ropeway about the top is amazing. The winter conditions are appropriate for skiing but as it was summer it was time for paragliding , zorbing , horse riding and such activities .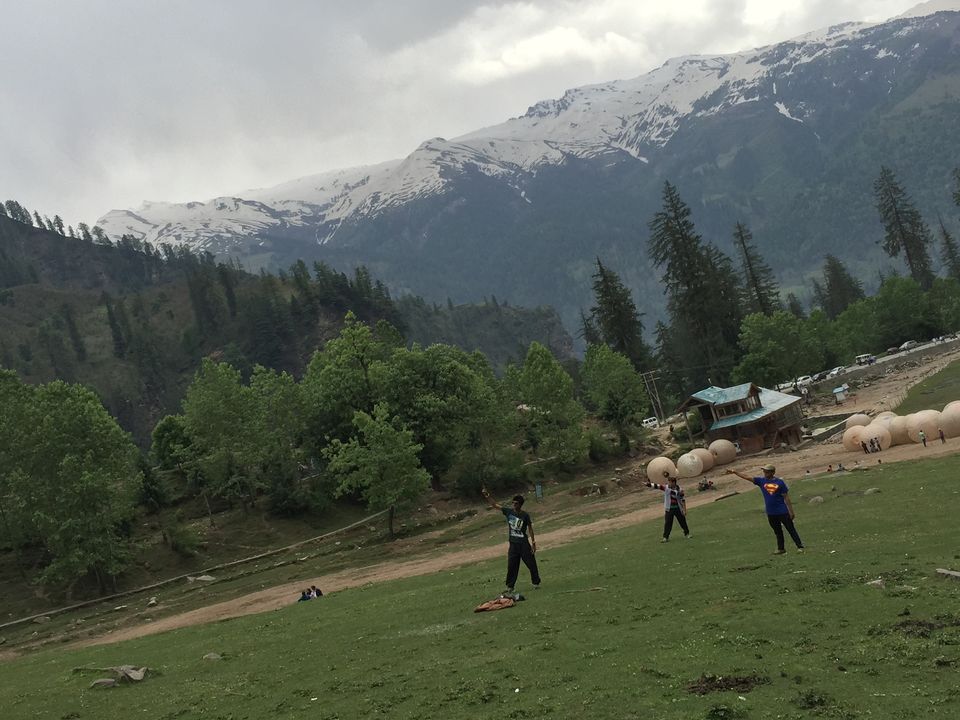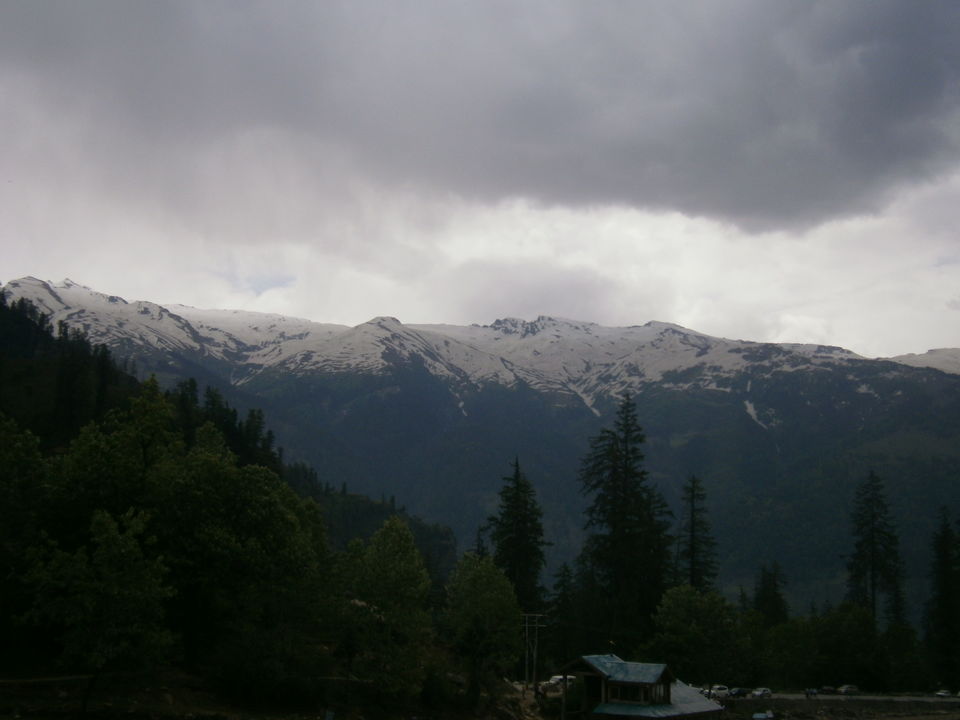 The day was spent at that place and on the way back we all were dancing on the streets and sprint here and there. The night was nothing less than exciting as due to the taxi strike our main trek point Bhrigu Lake was cancelled and would not be able to go there . We rebelled as a group that day asking some other groups outside if they were going or not and then going to talk to the instructors that this was the main reason for us joining on the Trek.
They had a meeting and then called all of us discussing how dangerous it can be and we all will have to walk much more than expected due to the taxi strike. Our spirits were higher than the mountains and nothing was going to stop us . We all agreed and wake up time was 5 am. Who all wanna join must report or else they can stay back here.
Most exciting day of my life (Day-10)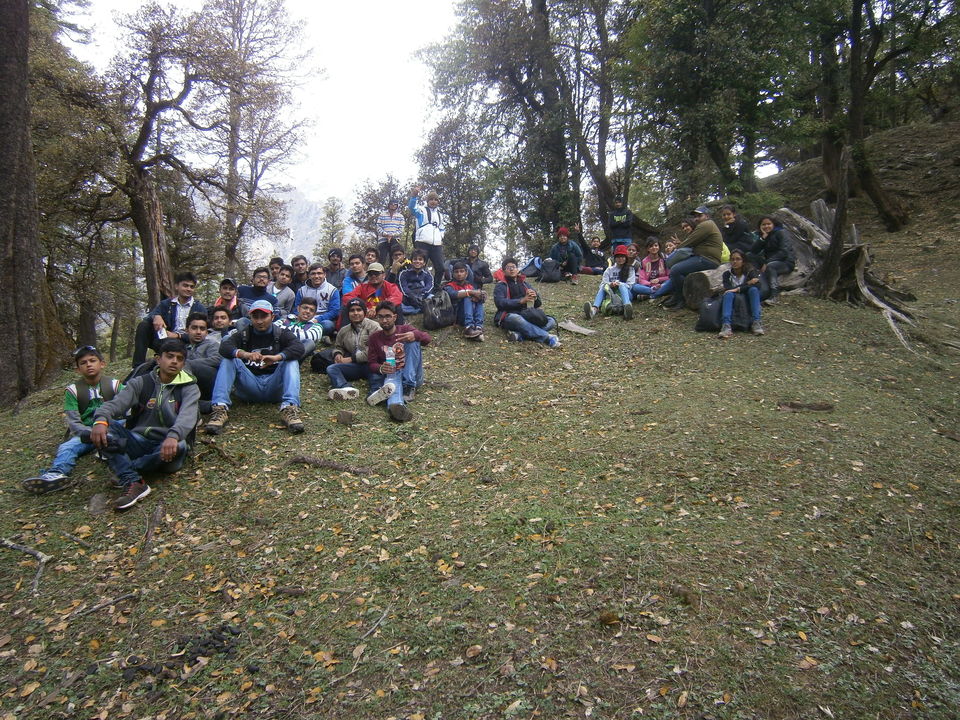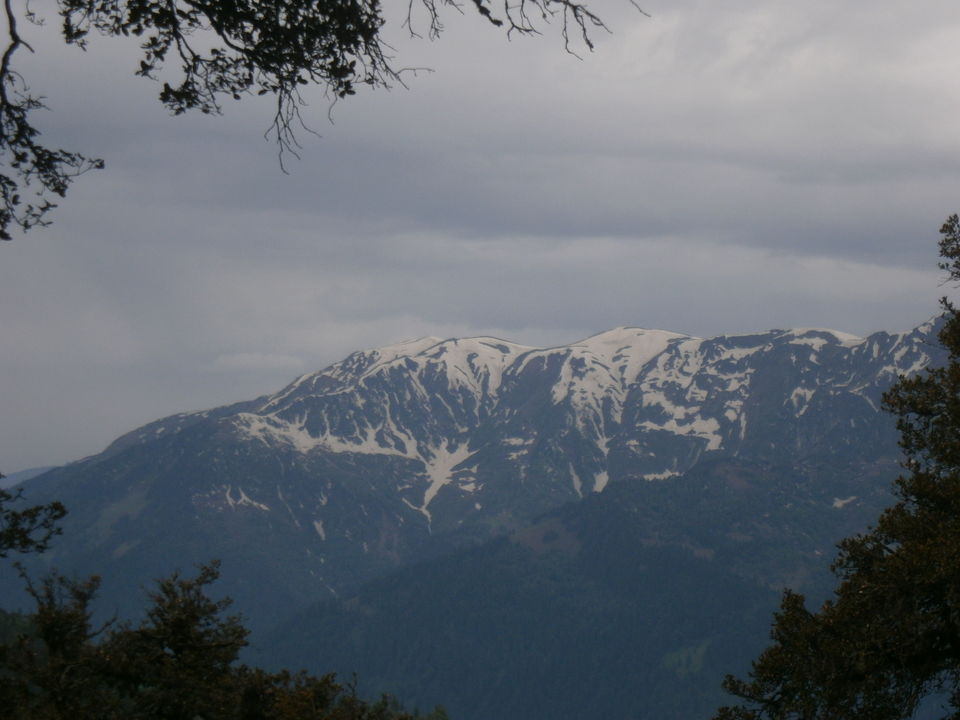 We begin at 6 am in the morning and would carry nothing but bag with one water bottle and an extra layer of clothing. The distance that we had to cover today was around 15 km in which we had to climb the mountains , cross them and go to the other mountain and so on. WE all were excited to go for this trek as we were going to a height of 14500 ft .
We started our trek around 8500 ft and went upwards. We had to go from points to point and a group of 50 to 60 people was walking together . All were shouting as loud as we could as the look of valley on both the sides was amazing. Once we reached the point called Ground Zero where it was super cool the whole mountain we crossed was visible in the back and the next mountain to be climbed was even taller than that was in front of us.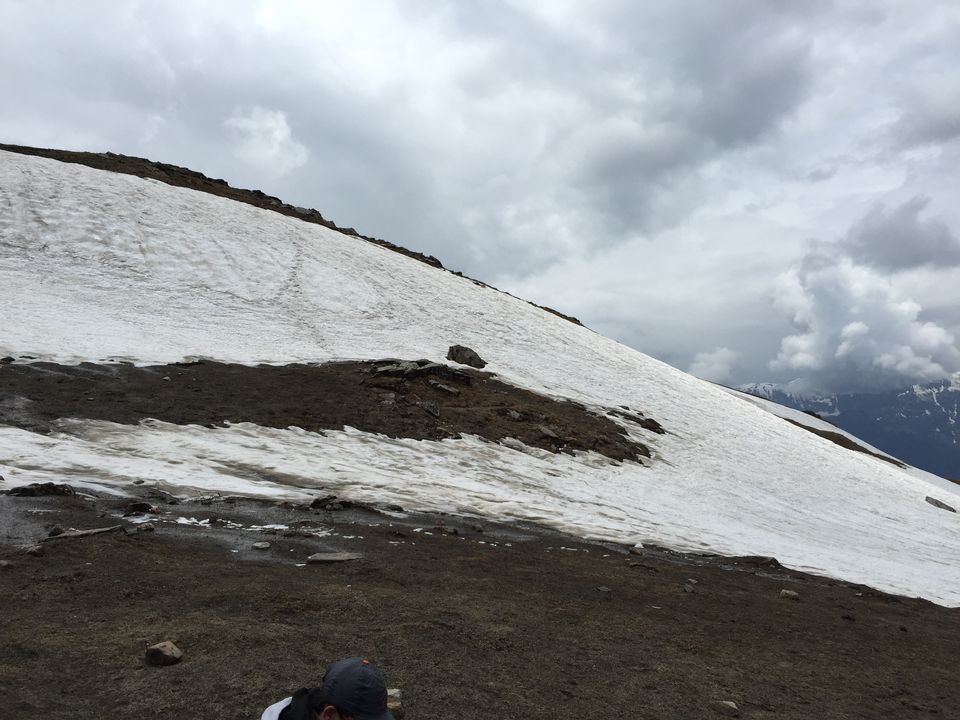 We reached a point called -1 degree and that was our first meeting with snow. The snow was having a lot of dirt on it but for the first time we walked on it . We fell down like a small child learning to walk for first time .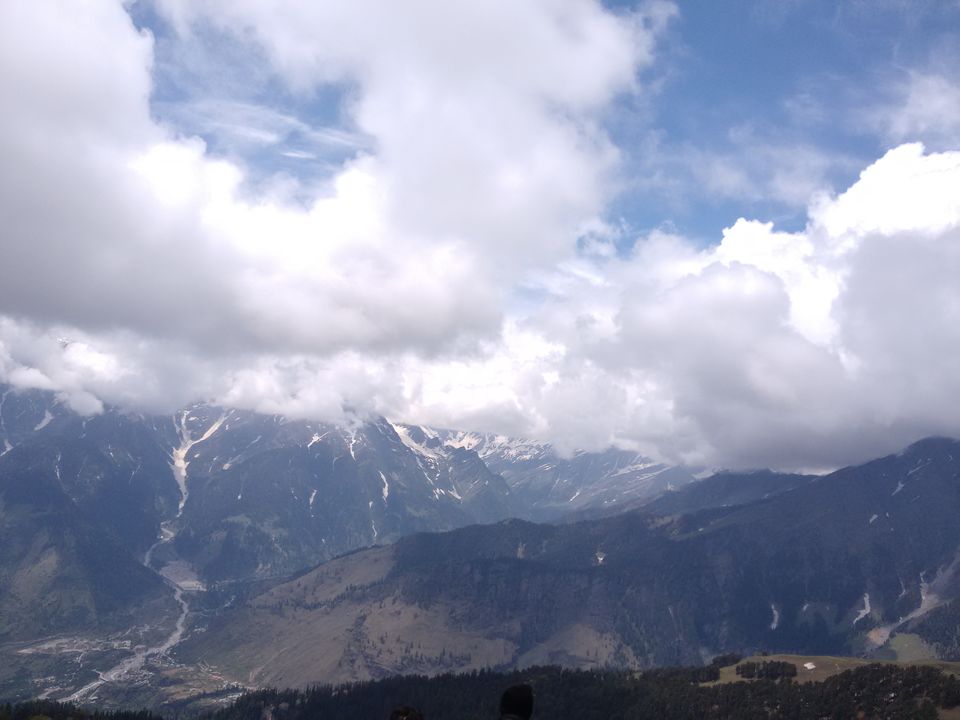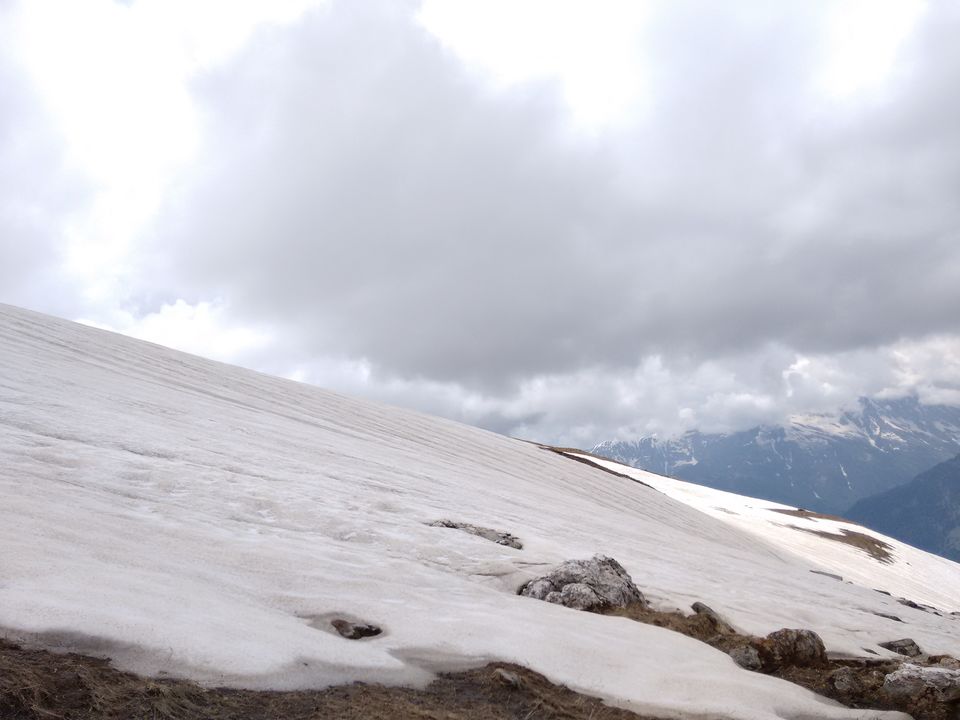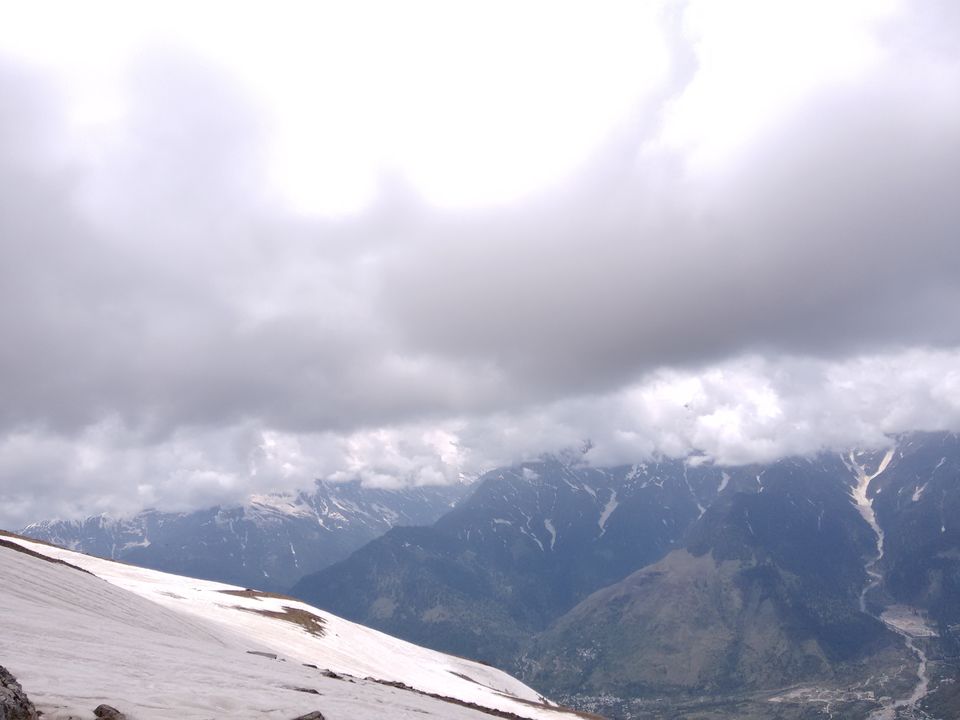 From there we trekked upwards and went to a height of 11000 ft . The snow was waiting for us !!We walked on it played with it and the view on the other side made me speechless. The air was refreshing it was like someone just put life back into me. "Those mountains left a mark on my soul"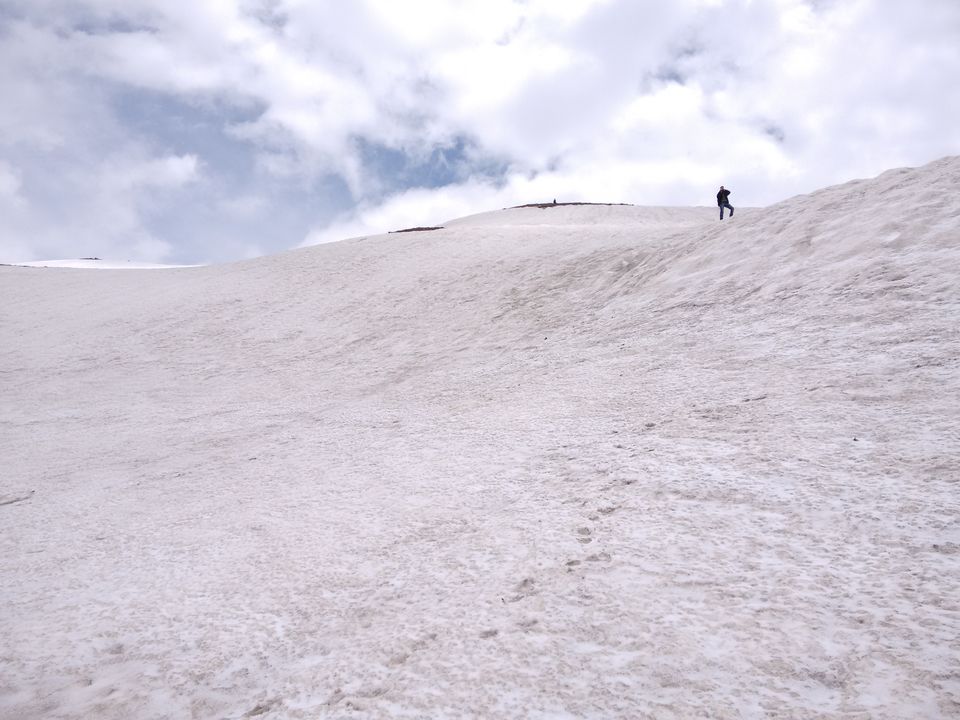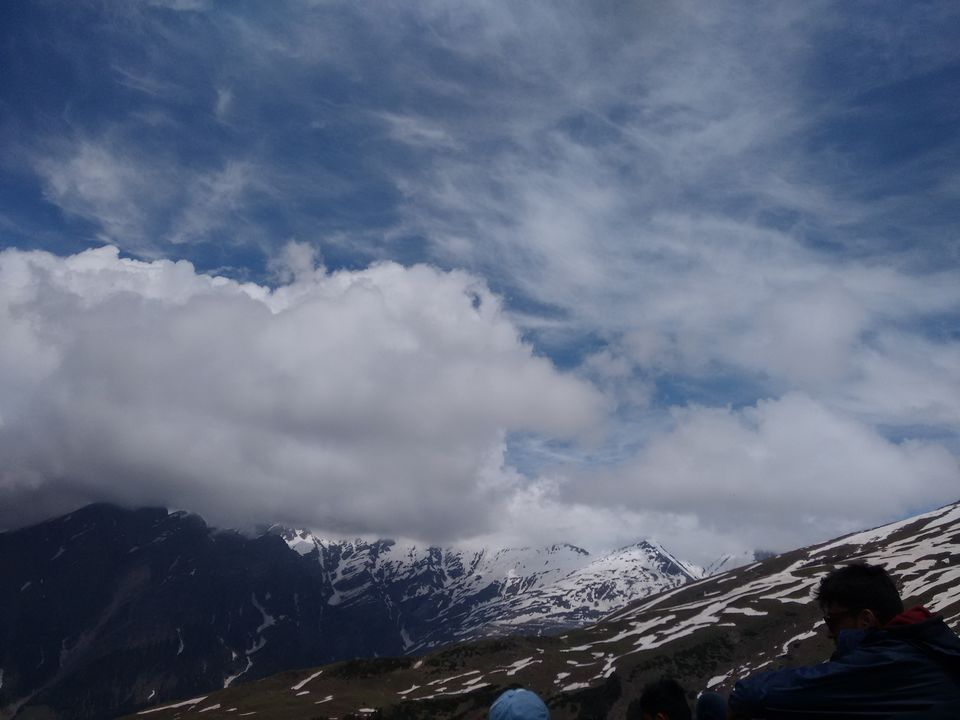 After having a small break we started walking on the snow as now we had to cross the mountains walking horizontally. We would follow the steps of the person in front of us and still slip. The walking on snow is not easy at least for the first timers. The more deep your foot would go the more grip you got on it.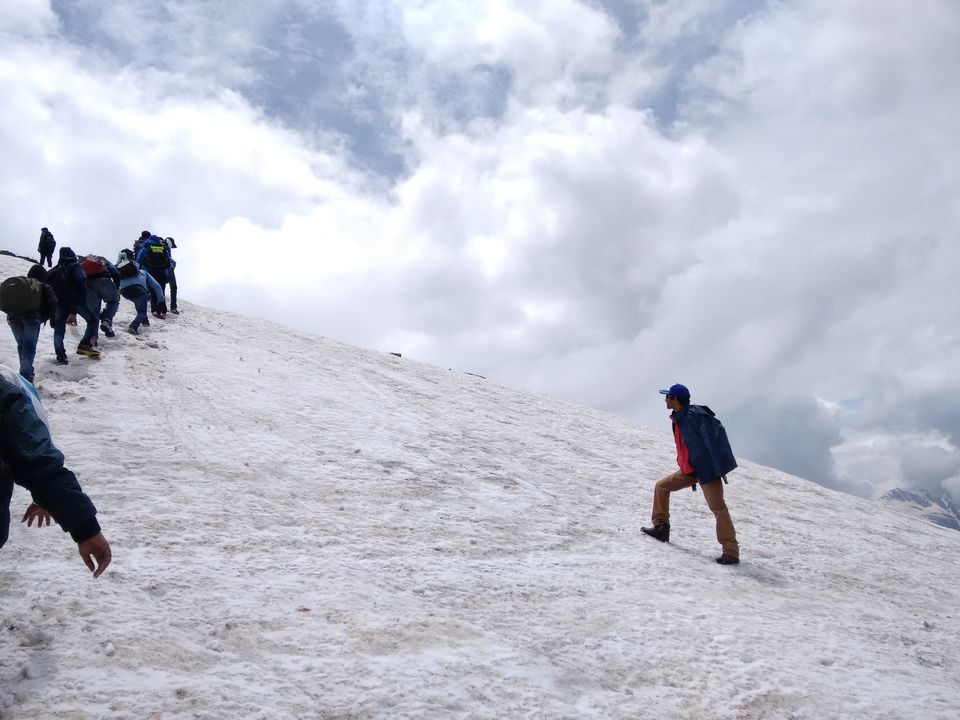 The cover photo shows that path in which it is snow all around us and if we slip badly we have the fear to go down in the valley. It was risky but without risk the thrill is not achieved. We went on till 13000 ft and rested there. My body nearly had given up that i wont be able to continue any longer as the trekking on snow was quite tough for me. But the nature supported me too. We had snowfall there!! the moment just became magical we all were trying to enjoy the most we can.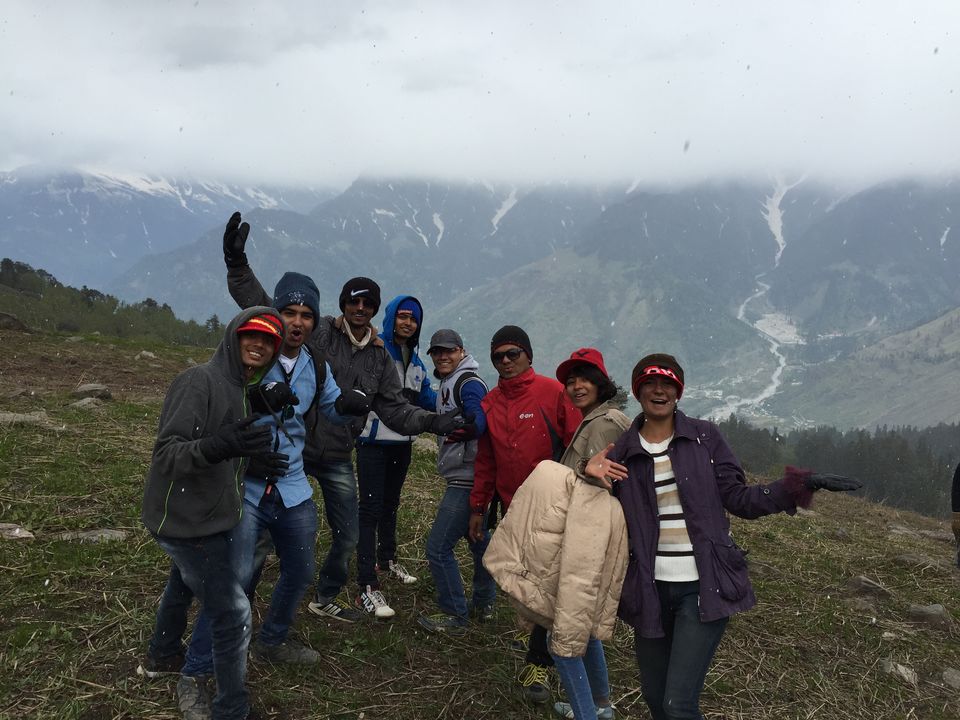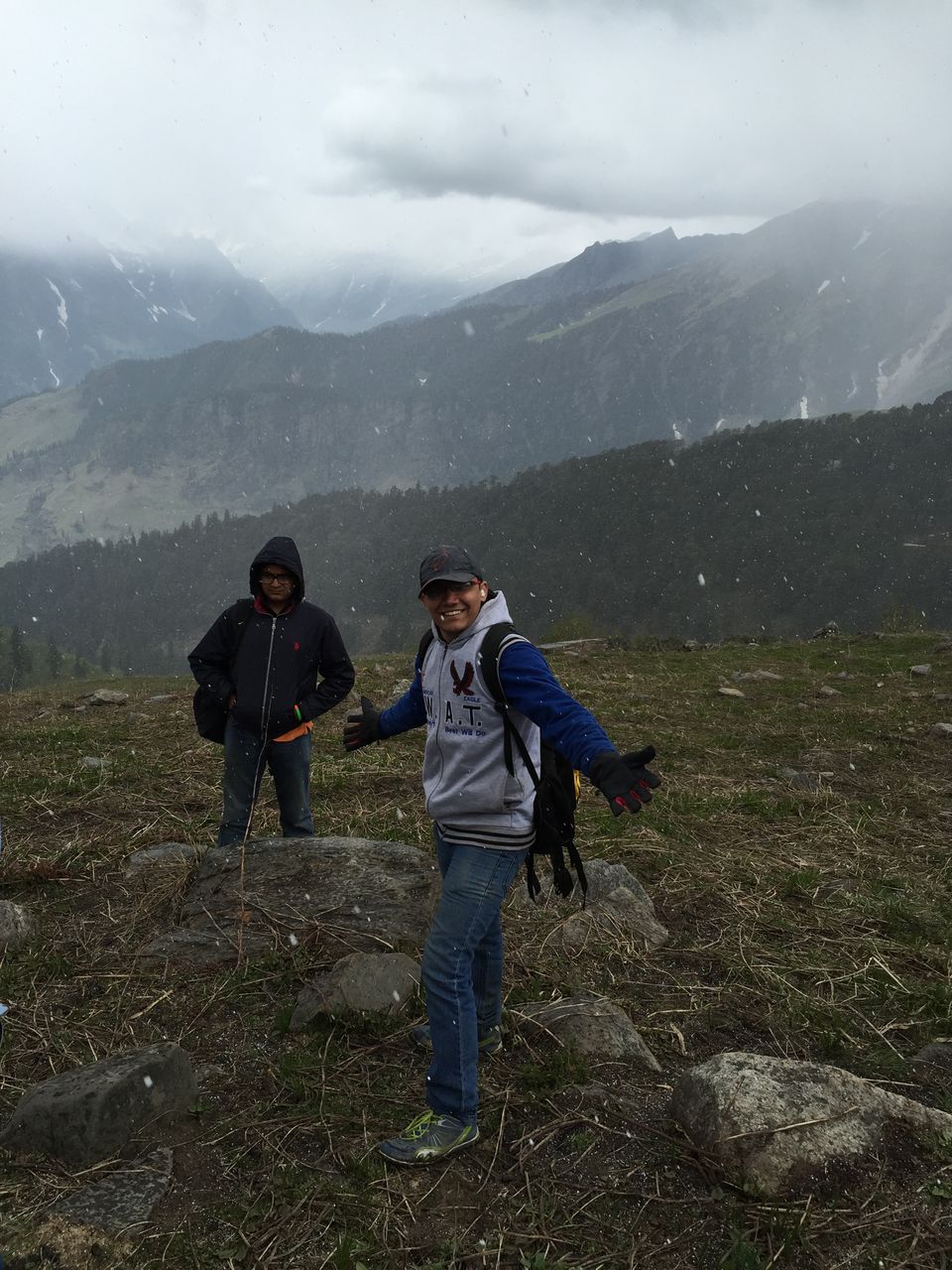 But sooner we realized that we still have to trek higher an if the cold hits us we wont be able to go ahead. We all were hiding below the rocks there or any cover we could use. We had to stop our mount there only and unfortunately we had to return back from there.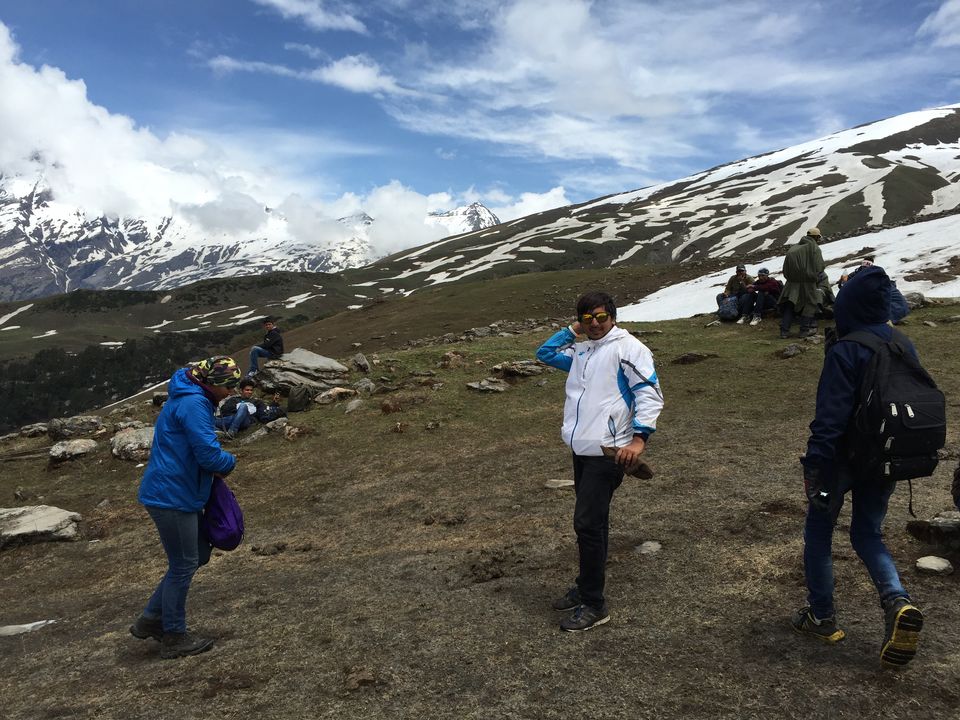 The moment we decided that we have to return we walked horizontally on the mountain that was covered with snow and all are sitting at one spot.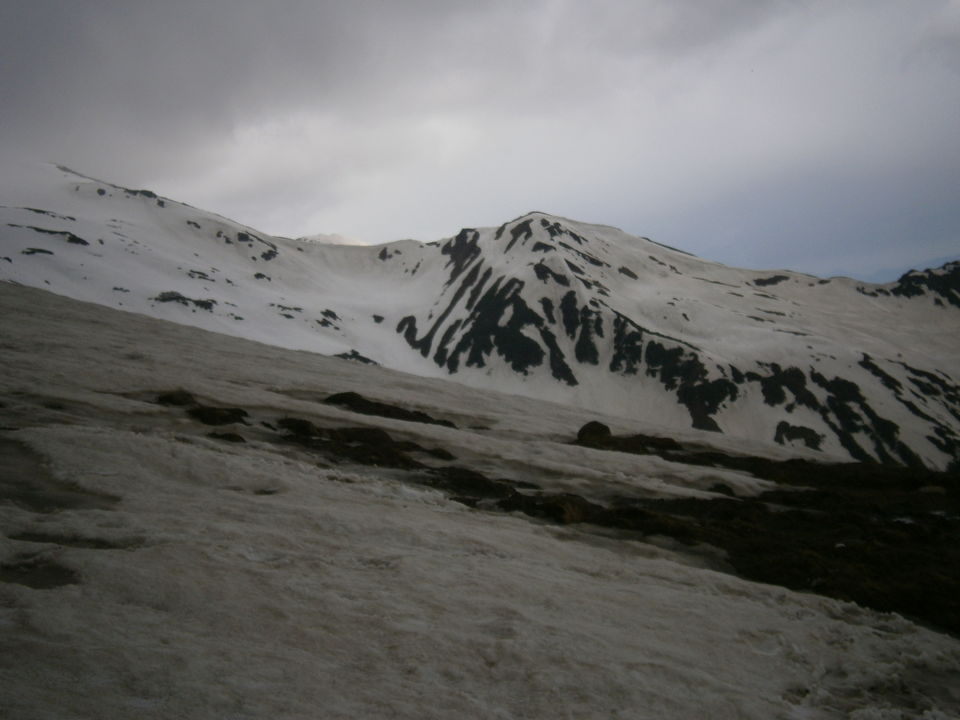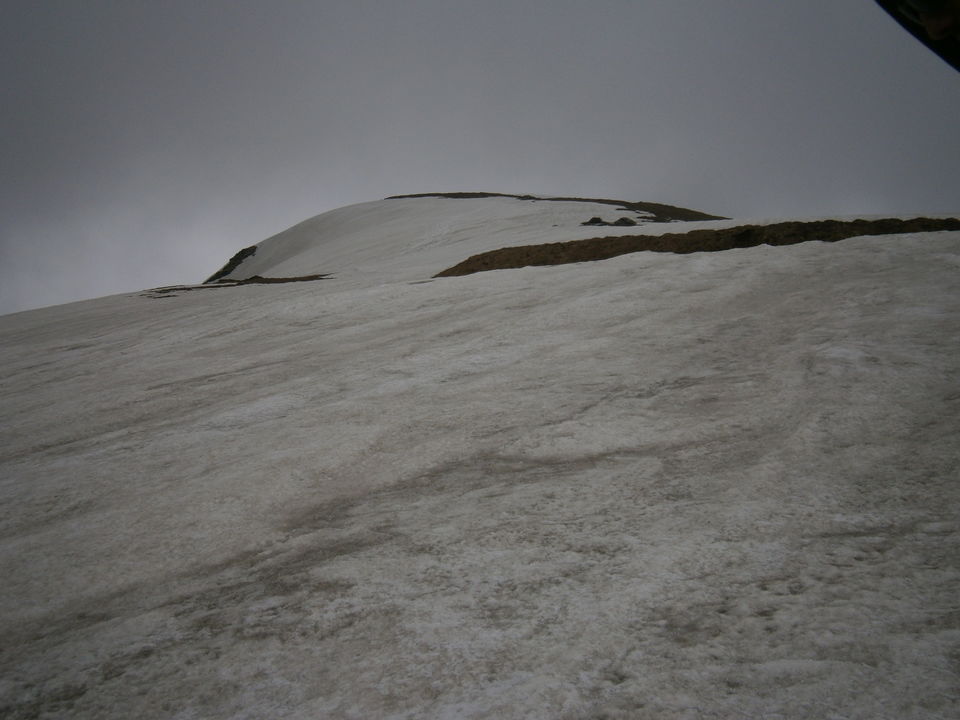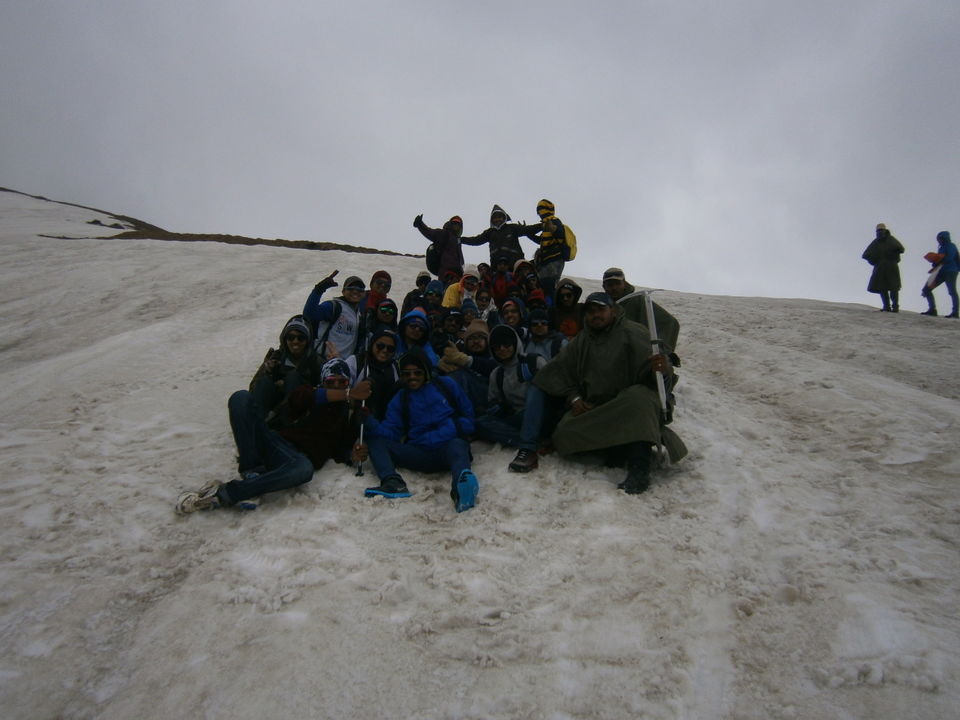 Suddenly our instructor tells us that we have to start sliding down from here . We all are like what are you talking and i was sitting on the 2nd or 3rd number position .
It was a slide from 13000 ft to 11000 ft in SNOW .. the first person who went i was watching him closely and they told me that lie down or else you will start rolling . I was pushed from the back and my slide begun ..the most joyous 5 mins of my life were they in which it was freaking cold but the fire in my heart was even warmer.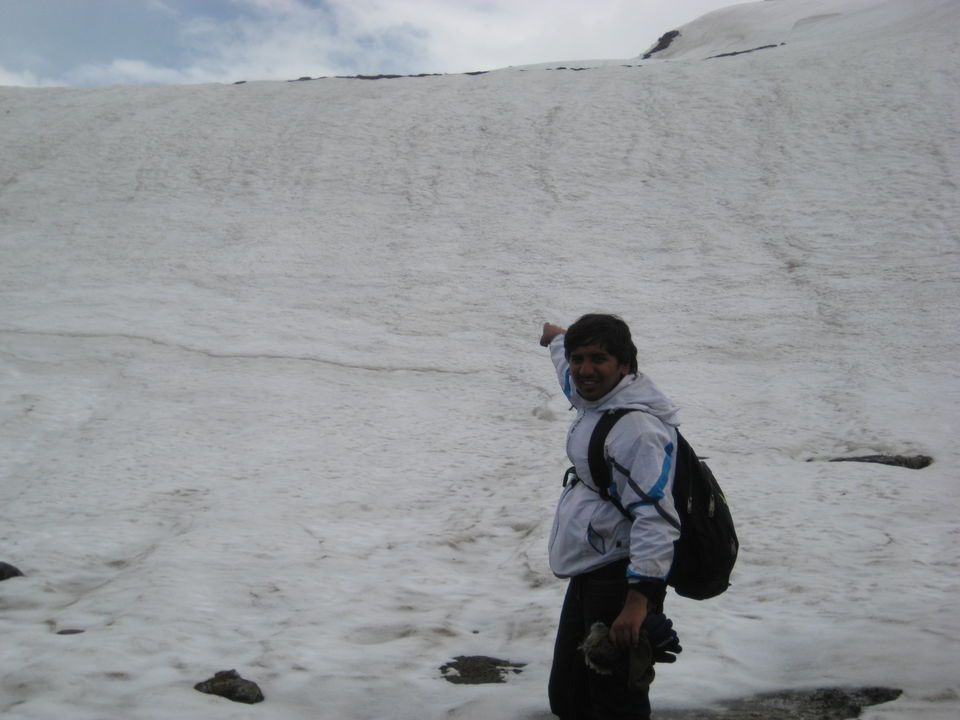 We trekked down to the Ground Zero point and had our dinner there it was already late in the evening. Went back to the place we stayed and it was a day that as i already said left a mark on my soul.
Pack up Time ( Day-11)
It was the last day of the camp and we all had enjoyed so much that we never wanted to leave.But as it is said all good things come to an end this was our time to say goodbye to 4 amazing days at the high camp. We had our breakfast and left for Pathankot Railway station . I still had a small tale left in my journey . I would leave my group behind and go to delhi via Bus straight from manali. The bus journey started late and i had a chance to do river rafting there. This experience sums up my whole journey .
I a 19 year old kid who never embarked on a journey alone before was doing river rafting with all unknown people on the boat just to have a lifetime experience. My gut level was high . My journey started late in the evening and the drivers how they drive those buses is a thrilling experience in itself . As the roads are too narrow and when 2 buses come in front of each other its a treat to watch how they pass each other. The other side the river and mountains follow you for a long distance of your journey. I had a once in a lifetime type of experience in Manali and one that i would cherish for many years too come.
Mountains Came Calling For My Soul....How could my body Deny?? - Musafir _ Rooh _ Slm