Valentine's day was round the corner and i wanted to do something different this time! Cheesy dinners, movie dates and Lonavala trips had become such a cliche for people who have stayed in Mumbai for some time and i was determined to suggest something new this time. I was already working on so many constraints especially time since staying overnight wasn't an option. A determined search and enquiry brought up this idea of whitewater rafting which was a bit of a new idea at that time. Believe me it was one of the best trips i could dream of around mumbai, worth all the efforts.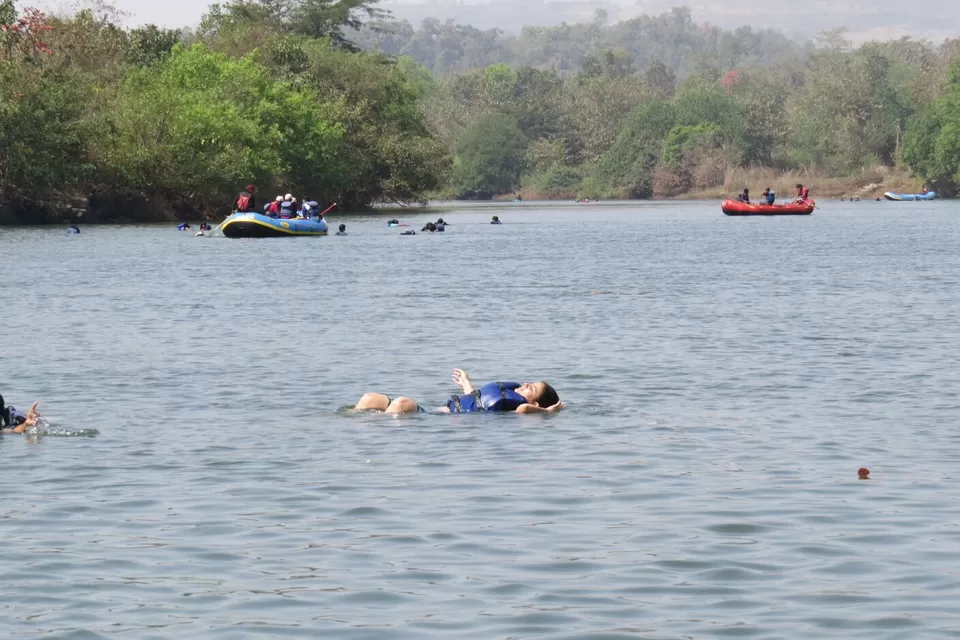 How to Reach?
Talking of white water rafting, the first choice that comes in mind is Rishikesh however the Kolad one is also a fun filled activity if not the same. Lying somewhere around a village in Raigadh district, right upfront the mumbai-goa highway NH17, it takes few kms of detour to reach the rafting site. We had our car so it took some 2 hours or so to reach the place. The actual distance could be somewhat around 100 odd kms from panvel. ST buses do ply regularly from Dadar or vashi flyovers and can be taken around 5:30 0r 6 in the morning. Of late the place has gathered some traction, still we were able to spot the site as we could spot few hoardings and bill boards. A hundred meters from the highway is the actual starting point which is also the meeting point of likeminded people and various trip organisers.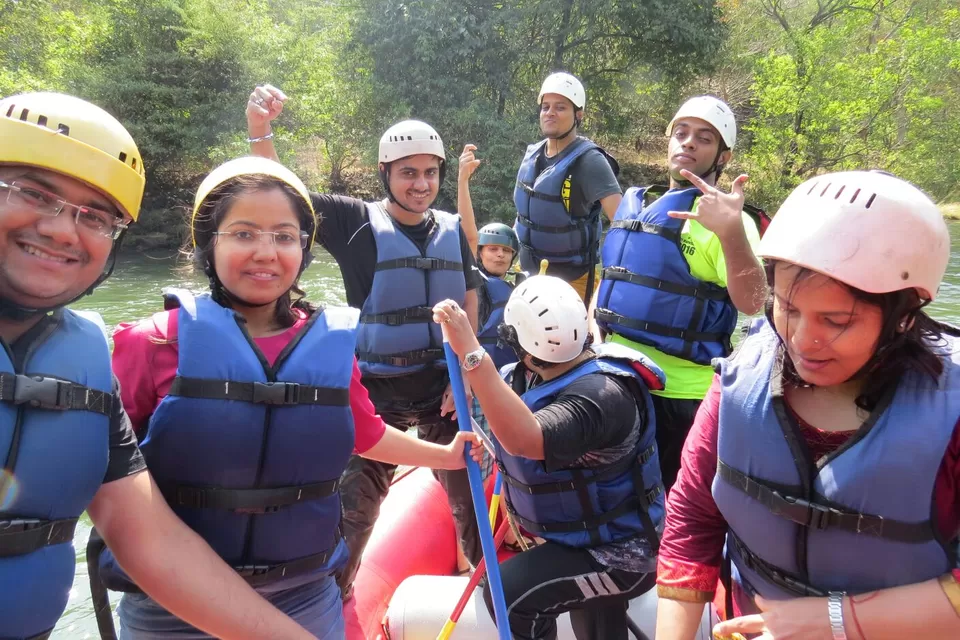 The Experience!
Well I am a die hard monsoon lover and to me all the good things in life revolve around those 4-5 months in mumbai. Thats why I was not very upbeat about this thing keeping in mind how sunny it gets around during the non monsoon months. However the mornings are always pleasant and so was that day. We had some quick breakfast along our way and so were ready to take the plunge. The rafting site is actually the downstream of a dam (Rawalge) over the Kundalika river and the gates are being opened at a designated time every morning. Thats when the fun starts. We had booked it through thrillophilia and could find our group there. They helped us gear up with the basic jackets and head guards and we were off to the base after some time. For every raft of some 8 people we had an instructor and he guided us carry our raft which was quite heavy, although it was a good warm up session. The water was still cold and we started with a slow floating raft along the river. The instructor had some quick coaching tips on how to move the raft forward or riverse and the group had to maintain the harmony. Once we were getting to know the flow, we heard the dam gate opening siren and then the real fun started. The water came gushing through the gates which we obviously couldn't see but could definitely feel! After that all we needed was to maintain the direction. The real drama starts when the raft comes near to the rapids (where there's a steep fall in the riverbed). The first few were chilled out ones where the group celebrated in joy as if we have conquered the river. However our guide kept on insisting about holding the raft ropes tightly whenever we encounter a rapid. We took it lightly until a level 3 rapid came along and we were able to sense that we are not gonna survive this one. You could see it from some distance the severity of the fall and thats when our raft went upside down! Some of the members were totally under water beneath the raft however the guide quickly took over the situation. We somehow survived through it and finally all the raft members were back on it. You need to be there to feel the same and thats when you could feel some adrenalin pumping through your veins. Once we crossed these rapids the flow became wider and the river depth increased. Thats when our guide came up with the quirky idea of jumping in the river. Believe me i had never done something like this ever, even with those jackets on but still i jumped. With my 70kg of weight i went so down under that for once i thought it was all over but then i floated back up, thanks to those jackets. but to my horror, when my heads were up and i could barely breathe a little, i found my raft way ahead of me and it was so scary.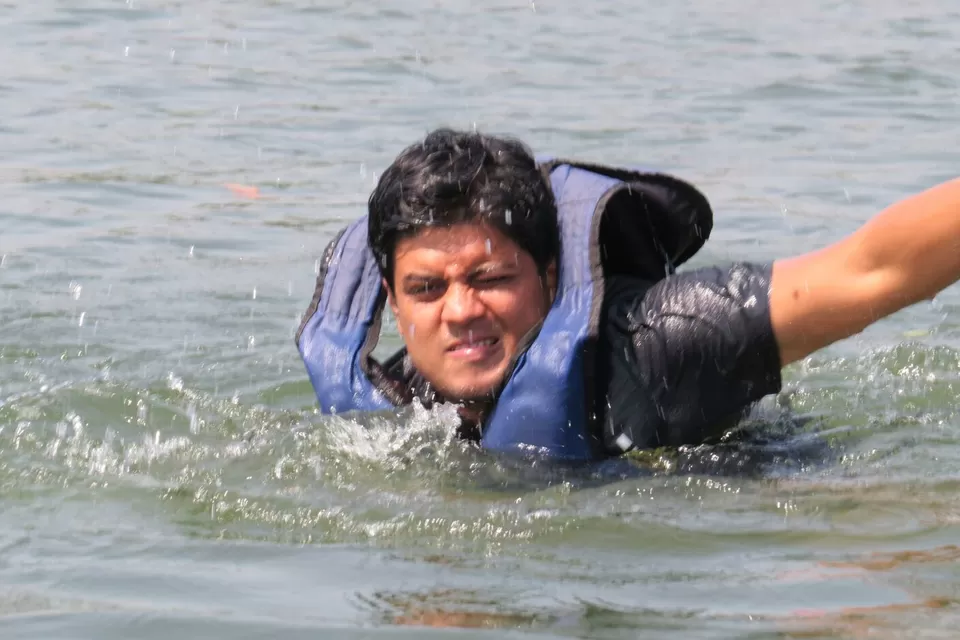 The guide then took notice of my head and threw a rope which i grabbed and swimmed back. I wish i had those videos but then some story are better save for our memories.
The whole stretch is around 12 kms long and once all rapids are crossed, the river becomes somewhat flatter. The flow almost becomes negligible and you could just lie there floating like a frog. Well i got that moment captured!!!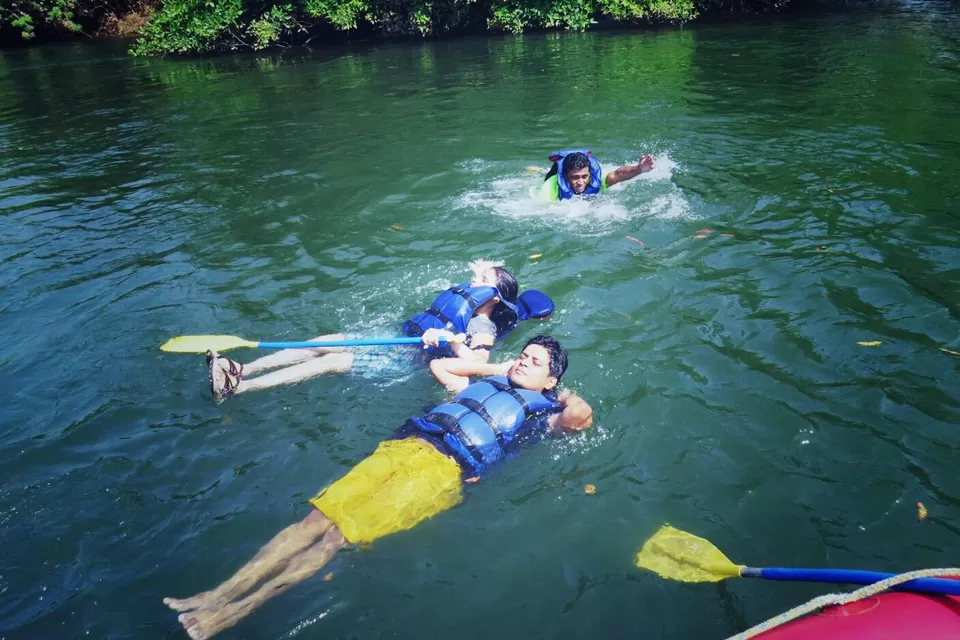 After some 8-10 odd kms we took a break at a shore nearby.It was a brief stay to gather back our lost breathe and we had some picture moments. Then by the time it was around 11, the sun was at its full glory and we could feel the heat. Even the river was still like a grave and all we needed was to hit the hand peddles to reach the finishing line. The last half an hour was tough to get through. I mean we could see where we needed to reach but it seemed as if it was never going to come!. Once done we quickly went to change. There are arrangements for changing rooms and some snacks and we were hungry like anything.
Some more activities were lined up for the day but we had our fun and so we decided to go back. The return journey was somewhat boring but we were drooling over the experience. It was more fun that what i thought it to be and that too without the monsoons! I still wonder what it would feel like to go rafting around july-aug when the water volume would be like 3x....!!!