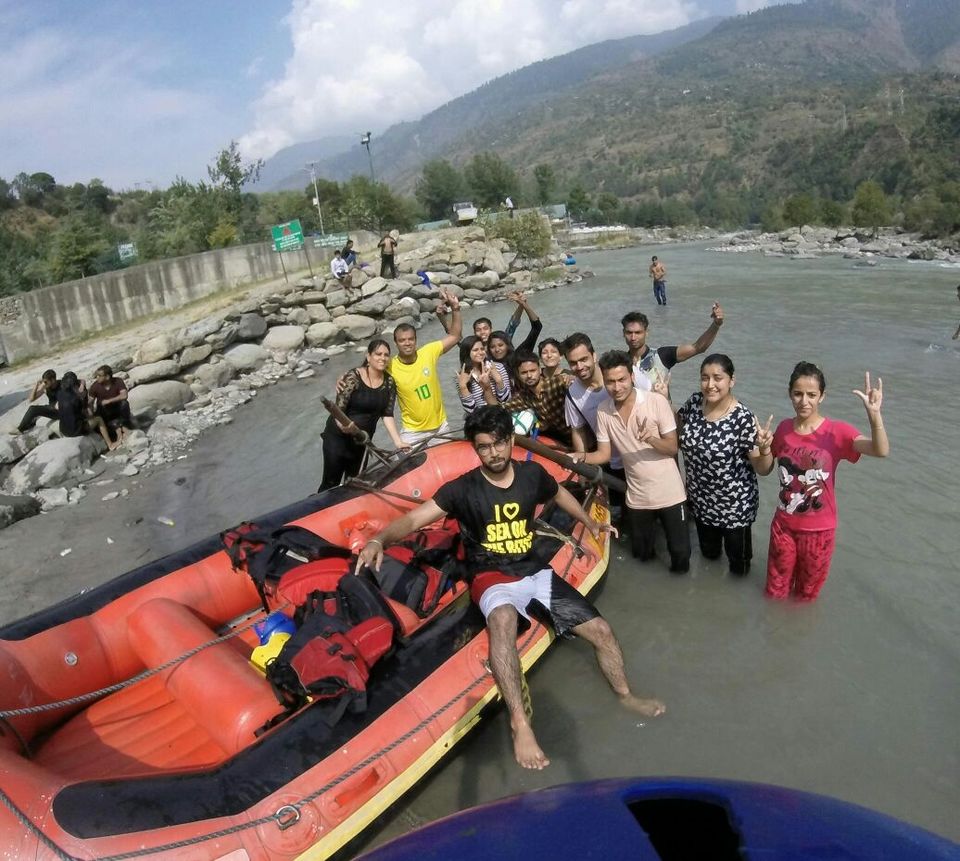 Since my childhood I had heard about this Manali package tours which honeymooners take.. because when I was small my parents went for second honeymoon there .. since then I wanted to go just because of I'm curious to know what's so special in this Manali! Now was the time to explore the heart of beautiful Himachal! So I went last year in September 2016 with my college friends, we took a Volvo bus from Delhi to Manali. The drive in the night was a wonderful experience for everyone but not for me because I'm acrophobic. It was dark, from the front seat only thing I could see in the headlights was the narrow road with pits and pot holes, no street lights in most of the forest area! We reached Manali safe and sound in the morning.. it's time to transfer our luggage to cabs but while doing that I got stuck up and mesmerized by the beauty of manali.. then we straight away we went to Himalayan ecstasy hotel, Since our six rooms were already booked for two night & three days, so we took the keys and started exploring each and every room.. I want to add up something to this i.e. that I fell down on the floor from wooden stairs and it was hell funny and embarrassing for me after that I had my brunch. Soon after it we went to Hidimba Devi temple it took half and hour to reach there, temple is built with wood and has a wooden pagoda with three tapering roofs and the Hidimba Devi image is in a massive rock cave, camera's are not allowed so I couldn't click any pictures which I wanted to because I saw very weird things in the temple then I stopped stalking and I prayed for my good life! You can't imagine the temple is surrounded by plenty of pine trees while spending time there we clicked several pictures and every picture comes like a Masterpiece. All of sudden we all decided to do something adventurous so we went to club house for zip lining and river rappelling which you can enjoy at very cheap rates. I can't tell you while doing river rappelling over beas river my feet got numb of cold water.. After all this we're starving and we searching for McDonalds but couldn't find it so we had some Indian cuisine like 'dal makhani, butter naan, shahi paneer' we're so full we declared our sightseeing for a day. We about to go back to our hotel but I forget to buy the Booze for the night.. yet another we again on sighting we went to the famous shopping destination of manali mall Road.. There are numerous vendors walking around the mall road trying to sell kesar so you can buy a bottle or two at negotiable rate. The best part is wooden handicrafts they have key chains to show pieces to front door welcome signs, everything made of wood. You can ask them for a personalised item. There is a Tibeten market near by Gadhan Thekchhokling Gompa Monastery, it's famous for its hand-woven carpets, designer rugs, shawls and woollen apparels, the market lasts a lot to offer towards Tibetans culture. They even have local handicrafts, prayer wheels, bamboo souvenirs and silver jewellery take some of this as souvenirs or gift but make sure that you bargain. After buying all this we head back to our hotel, now it's the time to have a BLAST and I took a hot shower then I wore my pyjamas and my jacket, went downstairs to ask about the dinner what's the meal in Their buffet.. so i straight goes to my room turn on the music making a party atmosphere.. we're so high and i started dancing on random songs which is terribly funny because i was doing the lap dance 'twerk' and after that night, in morning i don't remember a single thing so I went to bathroom to recall everything and suddenly someone started banging my door also started shouting at me like 'dude we getting late and you still in the bathroom our cab is outside' I was like 'no one told me that we have leave for rohtang so early' so I got ready in 15min and we left for rohtang.
We're so excited to see the snow so I started Imagining tall majestic Himalayan Mountains, beautiful winding roads, white snow all around, small dhabas selling hot beverages in the freezing cold weather, at an altitude of above 3900 meters above sea-level. I must tell you rohtang is not for the faint hearted but the sad news for us is there is no snow for us, we reached on time after being stuck in traffic jam, we stepped out of the car and we realised that we can't breathe easily so I learnt one thing you don't have to play around then you must be in trouble in breathing. After reaching there are few pointers you have to do like sit down of the edge of the valley, feel the freezing wind n don't forget to click hundreds of pictures like I did! Unfortunately we spent 2 hours there because one of our friend get sick of cold weather so we went back to our hotel, after returning from there we saw a beas river temple called as 'maharishi vedvyas temple' the temple built like a Igloo and it's a origin of Beas river from Beas Kund. Our one cab gone and we have get hurry, so we took some pictures and we still cherished about every single picture. We came back to our hotel we're hell tired and we got to know that this is the last night we have...
So we planned for smoke weed.. I asked the hotel servants to provide me some weed and they were so kind they gave me two joints for free. Some of my friends came outside to smoke up, we sat in a circle and start smoking. After that I don't know anything
Next morning everyone packing their bags because we have to catch the bus after the river rafting.
This is my first time for river rafting and I don't have any clue how is that dangerous or not, I was afraid and excited too. So we check out from the hotel and reached the point where we start river rafting so we get a safety things done first and one instructor came and told some stuff about river rafting then he told us to bring the boat, instructor came and arrange the sitting by weight and I sit in the middle you know what sitting in middle is the safest and I was so happy that I am not going to die in this adventurous sport. The fun part is everyone is sitting very tightly but I am just enjoying the ride, The journey is about to end now so we're shivering by cold water and everyone is enjoying another side I was drying myself after we changed our clothes and ready to go back to pavilion.