If you have the courage to taste the difficulty on the roads and ready to experience a trip with an adventure-seeking spirit, just get a high cc bike & hit the road with a heavy rucksack.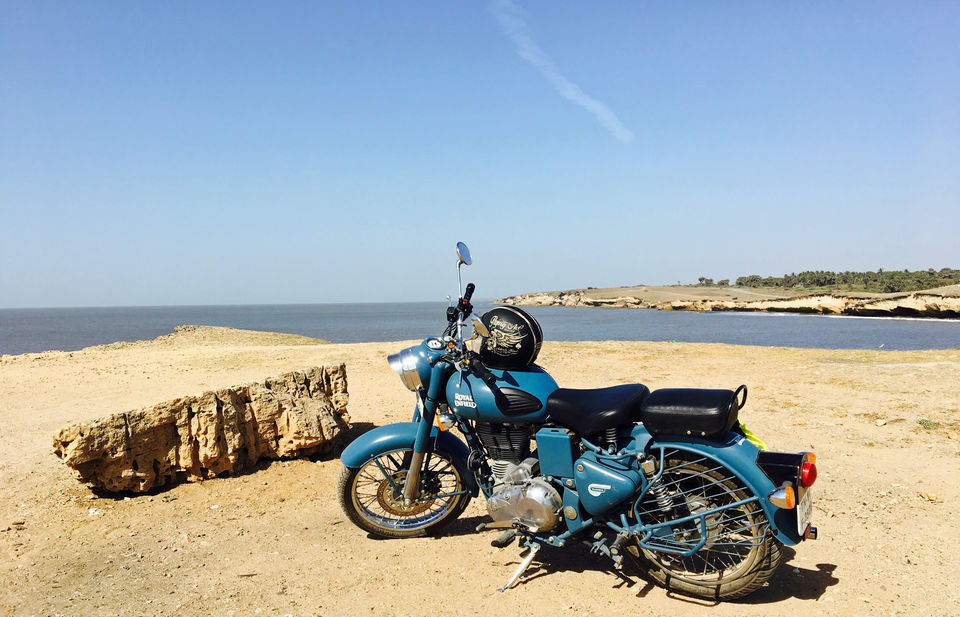 Started the engine at Ahmedabad
We kick-started our bike from Ahmedabad on NH47 that took around three hours plus half an hour to reach Rajkot with a couple of halts to take some high-caffeine tea. The road is good and the food is available at many locations in between. If you start in the evening, you should stay in Rajkot for a night & continue your ride the following morning a little early because rides always make us tired out if we do not believe in rest. We did the same & check into a hotel named 'Krishna Palace'. This budget hotel charged Rs.550 for a night.
Road to Diu at the crack of dawn
Without pressing the snooze button, woke up early & continue our road journey to Diu Island. There are three roads but if you choose the fastest route via NH151 & NH51, your ride will be smooth and you can go 'Somnath Temple' also & feel spirituality to a greater extent just 80km before the island. But we started from Rajkot at 6'o clock in the morning & reached that beautiful island Diu afternoon around 1'o clock. A bit late because I chose another route via Amreli & visited Somnath Temple while coming back from Diu after two happy days.
Feeling so refreshed & excited that time when we were entering into that 40km square area surrounded by water where most of the people especially enjoy drinking on the sand with a pleasant sound of waves crashing against the seashore. A non-decorated bridge connects the non-alcoholic Gujarat to a boozy Portuguese Island and tells us that you are approaching the Diu Island.

Note: Go Legal, Be Aware. If you buy extra alcohol bottles & feeling like bringing back to Gujarat, there is a checkpoint at the Gateway of Diu where vehicles are being checked.
Need to know about your stay
You will find a huge crowd of travelers in Diu so it is not so easy to get a room in a good hotel near famous beaches in Diu. We did not pre-book any room so we have to pay Rs.3550 for a night in a Swiss Ac Tent at Hotel Palms where only last one tent was available. I recommend you to get your room pre-booked so that as it would be convenient to stay without hustle & bustle because hotels with sea views are crowd-pullers. Hotel Palms is just a perfect place to stay near Nagoa Beach, the main tourist destination in Diu.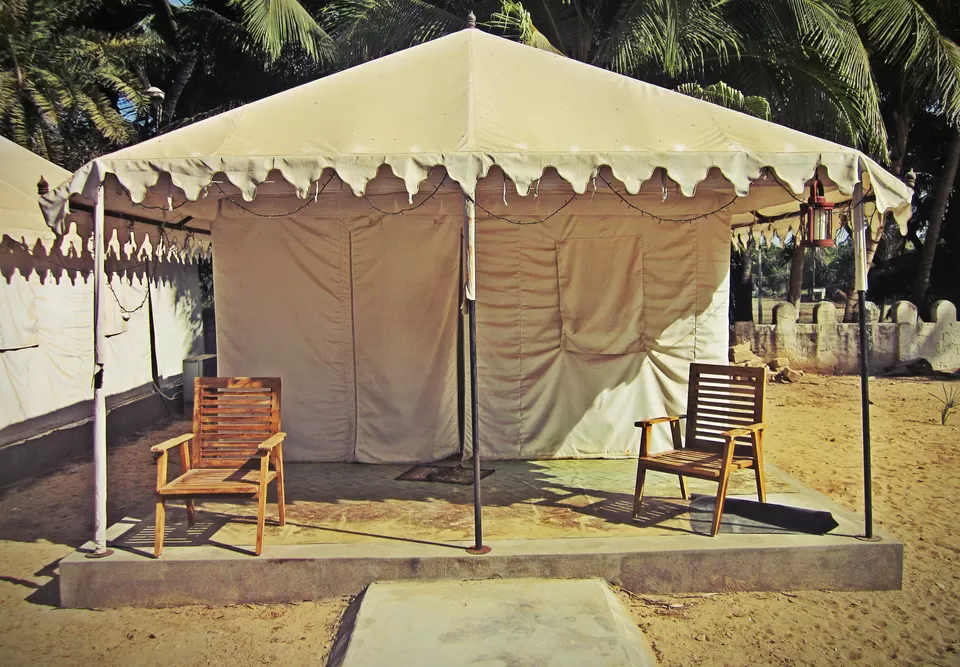 It is Nagoa - Just feel it
Nagoa Beach is famous for water-sport activities such as Parasailing, Jet Ski, Banana Ride & much more. The prices start from Rs.200 to Rs.1500 depend on the type of activity. Sometimes, Scuba Diving is also available but it is expensive there. It could be a more adventurous trip if you capture some water rides & parasailing pictures into your camera.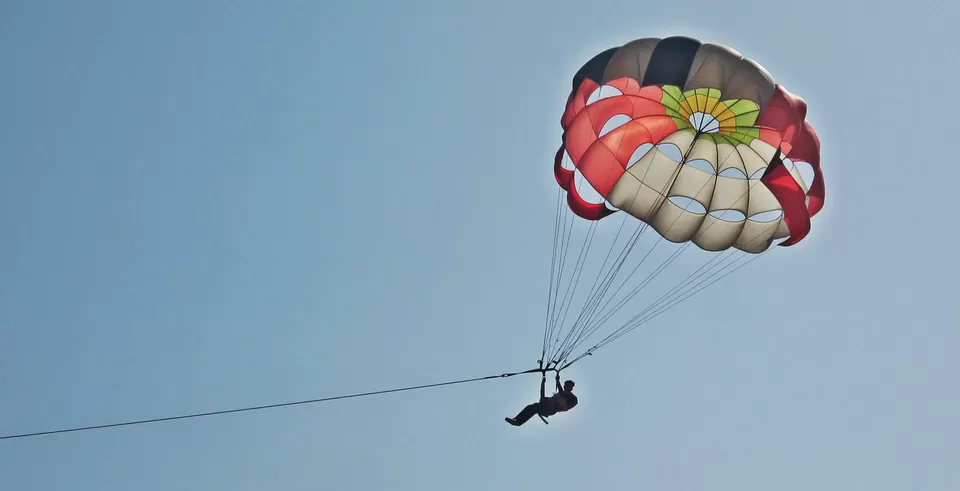 You must spend a full evening at Nagoa Beach. You will see a number of alcoholic people involving into a number of amusing activities, a queue taking tickets of water rides, some human beings flying in the air & a few couples sharing love under the shade of Hokka Trees.
In the evening, we wanted to taste some good Indian food so we decided to go 'Kostamar Beach Resort' which is very costly but taste was there. Finally, alcohol was the ultimate solution.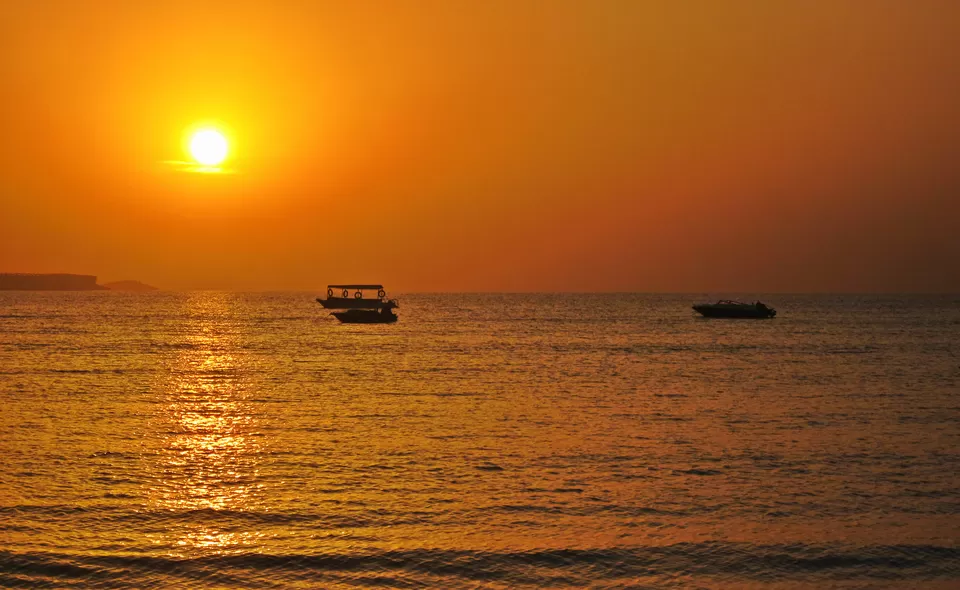 Next morning was awesome at Nagao Beach. I cannot express my feelings and the scenic views we captured into our eyes. The sunrise is much more beautiful than the pictures I posted.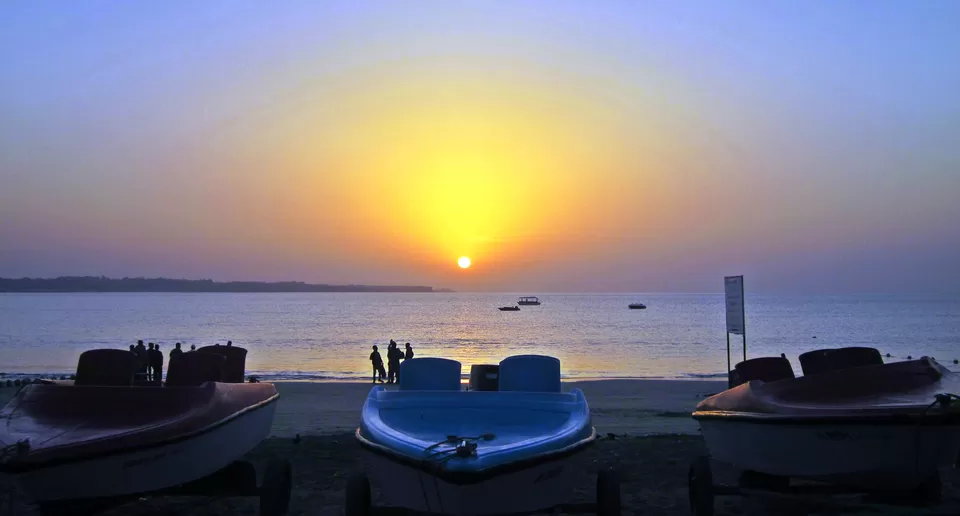 Major destinations in one go
We made a list of top tourist places to cover almost the whole island & this is the only route you should follow that will save some petrol & time as well to explore the things in an organized way. Leaving Nagoa Beach with wonderful memories is just a beginning to go for a wander around the city.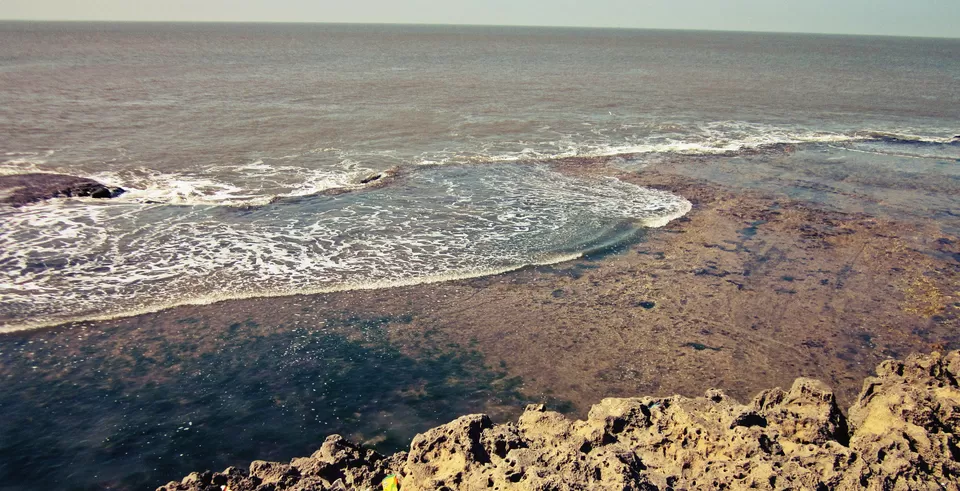 Get yourself photographed with dinosaurs in a small park while going to Gangeshwar Temple from Nagoa Beach.
Gangeshwar Temple – Around 4km from Nagoa Beach, this religious place is located in the midst of the rocks on the seashore.
Naida Caves – Around 3.5km from Gangeshwar Temple, this tourist attraction is synonymous with a photographer's paradise for sure.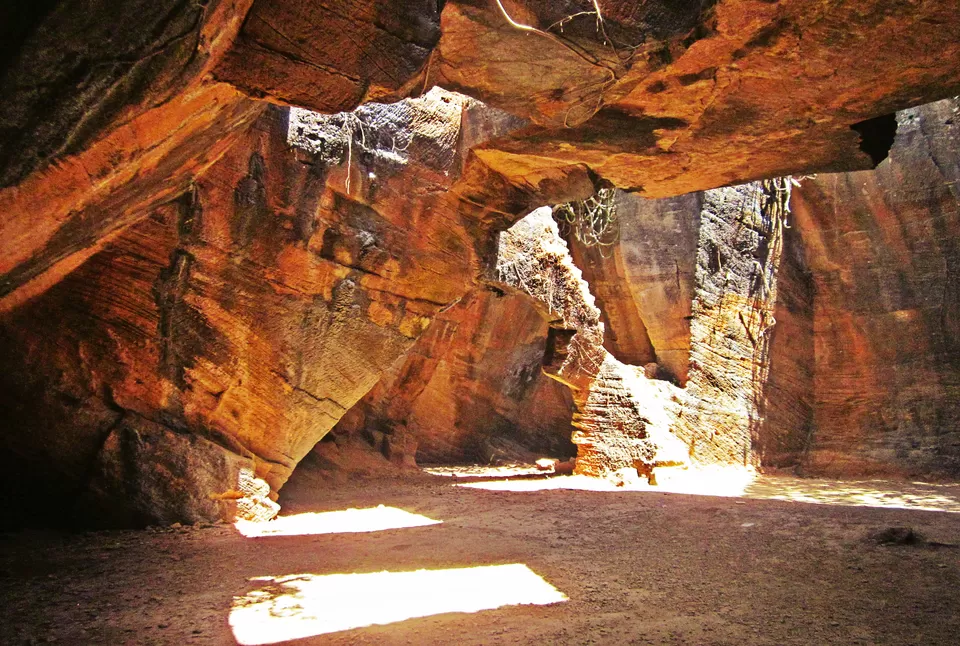 You cannot wait for taking a gamut of photos inside these amazing caves.
St. Paul Church – Around 2km from Naida Caves, this functional church is a good example of baroque architecture style and most famous in Diu.
Diu Fort – Around 0.7km from St. Paul Church, this massive Portuguese fort takes an hour or two to see the cannons, the island's jail & lighthouse. You cannot be satisfied enjoying instead of taking a variety of pictures inside the fort.
Fortim-do-Mar – You can enjoy a very nice view of 'Pani Kotha' from Diu Fort. A Bollywood movie 'Qayamat' was shot here.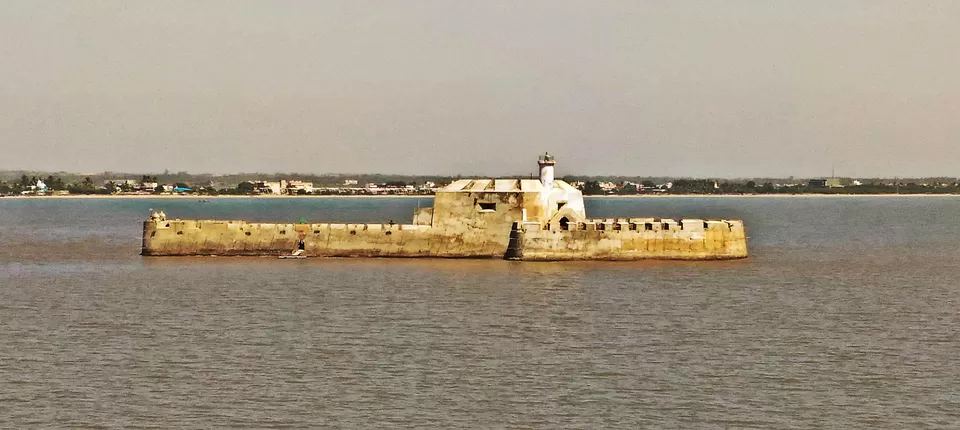 We visited all the main places mentioned above before sunset & went to Somnath accordingly and stay there. But you must spend one more day on this island so that you get energized to visit few miscellaneous places too such as – Jallandhar Beach, Diu Museum, Shell Museum, Gomti Beach, Chakratirth Beach, Khukri Memorial & a Fishing Village in Diu.
Truly said that it is not about the destination, it is about the ride and only a real rider cum traveler can feel it. Riding a bike from Ahmedabad to Diu is undoubtedly an unforgettable journey on the road.
"1000 kilometers by two-wheeler in 4 days with 1 halt" ain't a fictitious statement, actually we accomplished because nothing compares to an adventurous pleasure of a bike ride.