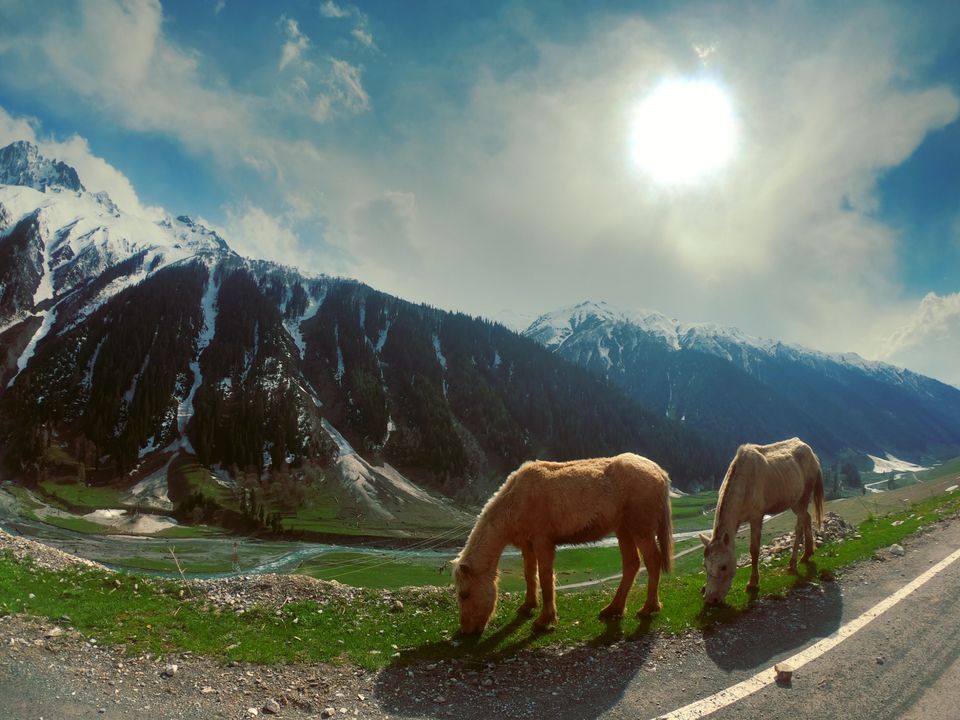 This post comes straight from the heart. We had been planning to go to Kashmir since last year, however, for some reason or the other it did not materialise... the terrorist activity also being one of the them. Anyways, this summer (last week of April, 2019) my sister and I decided to go for it ! The complete circuit (11 days) was a road trip (my sister drove all the way), starting from Delhi and back and covering all the destinations within Kashmir (Srinagar, Pahalgam, Dakhsum, Gulmarg and Sonamarg) that were on our itinerary. The trip is a big testimonial in itself that one can visit Kashmir if two girls, alone can ! When we started planning the trip, to our surprise the hotels were coming up in high demand for the dates that we were planning for. And when we landed in Kashmir, we came across a lot of tourist from places like south and Maharashtra but not from north. The total package cost for 10 nights costed us around 30k (for both of us) including breakfast and dinner. On our way to Srinagar, we did a night stay at Patnitop.
The entire travel experience within the valley was overwhelming ! And the kind of love and affection that we received from the locals cannot be described in words. People were randomly coming up to us and taking our feedback on our experience... we even got random invites for tea! There are particularly two incidents that I would want to highlight. During our visit to Pahalgam, we were staying at a hotel at Lidder valley. On our last night at the hotel, there were only the two of us and another all girls' group there. The hotel staff comprised of almost 12 local Kashmiri boys. They were the most helpful and polite lot! During our trip, we covered some of the non touristy spots as well like Daksum and Martand Sun Temple in Anantnag. At these places you would come across very few local crowd and hardly any tourist. Post checking into the hotel at Dakhsum, we went for a drive to Sinthan top. On our return, the hotel Manager said he was about to leave to look for us as we had taken longer than expected to return ! We've never had such an experience at any other place. The entire trip is full of such big and small experiences filled with warmth and affection.
I would like to extend a big thank you to the man behind our trip who had organised everything for us, Adil from TSH Travel Division, and his friends who took us around Downtown in Srinagar and for the special home made Noon Chai that we had.
By the end of the trip one is left with a lot of questions... like life hasn't stopped in cities like Mumbai or Punjab in spite of the repeated mishappenings that the places have seen over the years, then why it should in Kashmir...
I would encourage everyone to visit and experience jannat-e-Kashmir for yourself. I sincerely hope that the valley will regain its peace one day and the quote, "Agar firdaus bar roo-e zameen ast, Hameen ast-o hameen ast-o hameen ast" will stand true to itself !