More than 700 years back, the great Persian poet, Amit Khusrau, wrote something about Kashmir, that has become a part of Bollywood songs, make people hum, and has become the caption of thousands of Instagram posts.
"Agar firdaus bar roo-e zameen ast,
Hameen ast-o hameen ast-o hameen ast."
The above lines translate to, "If there is heaven somewhere on earth, it is here."
Even after years of unrest, violence and terrorism, there's something about this place that still gives meaning to what Amir Khusrau wrote centuries back.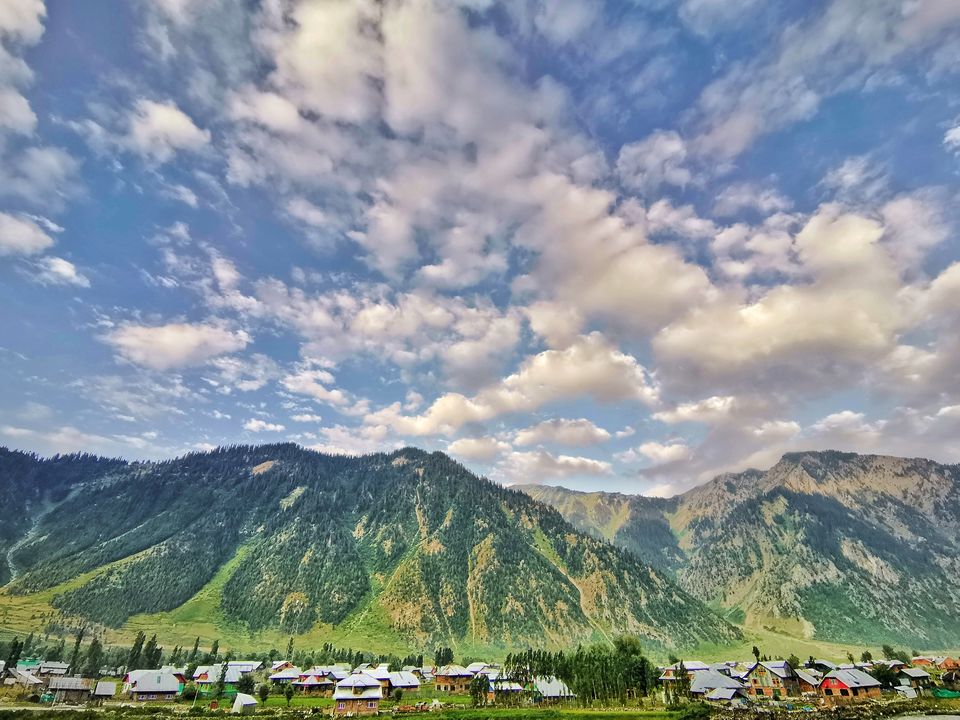 The Plan
There was no plan. Had 9 days at hand. And after struggling to zero in on a few places, like Valley of Flowers, Manimahesh & Kashmir, the last one seemed to be on the top of my list. And thankfully so. Because had I not visited Kashmir then, I don't know whether it would have been the same. Because I returned from Kashmir during the unrest, and when pilgrims were sent back in August, earlier this year. And since then, no one knows, how Kashmir will shape up after this big decision on it.
Delhi – Jammu – Akhnoor Bypass – Ramban
Time taken: Roughly 10 hours till Jammu. And roughly 6 hours for everything else.
We left Delhi at around 9PM, and reached Jammu before 7AM.
While the original plan was to take the Mughal Road and then decide what to do, we were stopped at Akhnoor Bypass and were not allowed to go to Rajouri because of a lot of reasons – reasons which originated because of the Amarnath Yatra in that season.
You can read about them here – Why travelling to Kashmir during Amarnath Yatra should be avoided by travellers.

We had to take the Srinagar Highway, and were again stopped at Ramban in the afternoon. And that's where we spent the rest of the day.
We were shocked to have been stopped that way. But we had no other option.
Ramban – Doodhpathri - Srinagar


Time Taken: 11 hours
(Ramban to Khan Village for Lunch. Relaxing time at Doodhpathri. Srinagar)
After several stops by the army, we crossed Anantnag, and before we went to Srinagar, we planned on visiting Doodhpathri. A school friend Fahd, who lives in Srinagar, also joined us mid way and offered to show us around the place.
At first we made a halt at Khan Village, where we had lunch, and the continued our drive towards Doodhpathri.
The drive, the place, everything was mesmerizing about Doodhpathri. A few years back, whet used to be a slushy mud road is now paved in black tarmac. The view view of the valley, till the last point ill where the car can go, it's delightful.
We spent some time at the banks of the river. Though, we wanted to hike up and see from where the river originated, but lack of time due to delays of army stops didn't allow us to.
We then drove to Srinagar, checked in our hotel, and then stepped out to witness a beautiful sunset at Zero Bridge. He also showed the damage floods had done to the city 5 years back.
Later in the night, Fahd, showed us around Srinagar, including all the so claimed sensitive/dangerous places like Lal Chowk, and Old Town, where we had our dinner.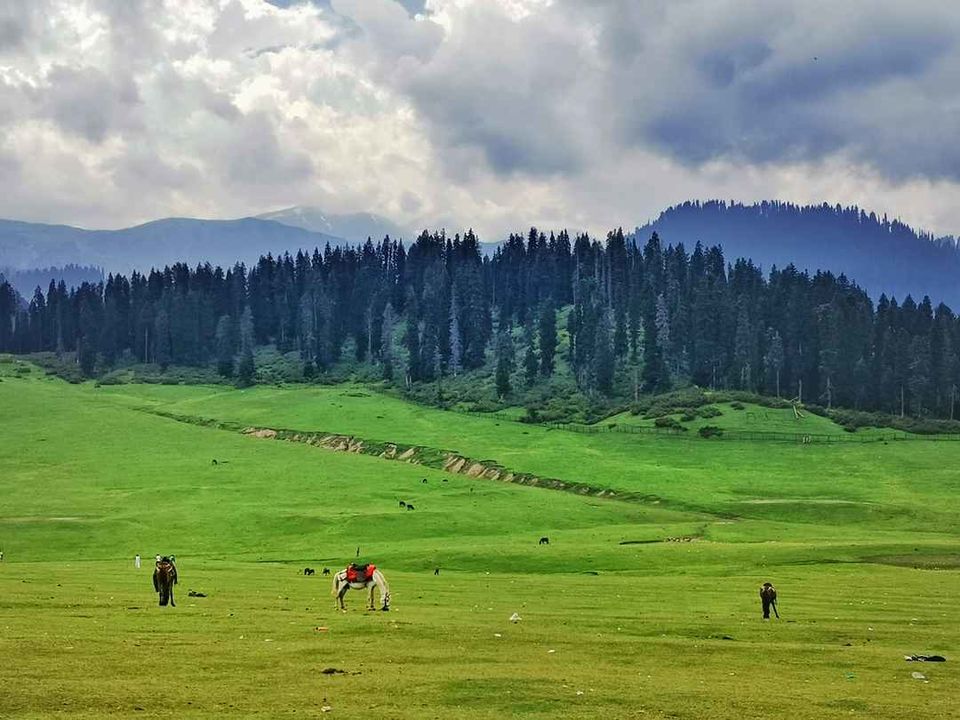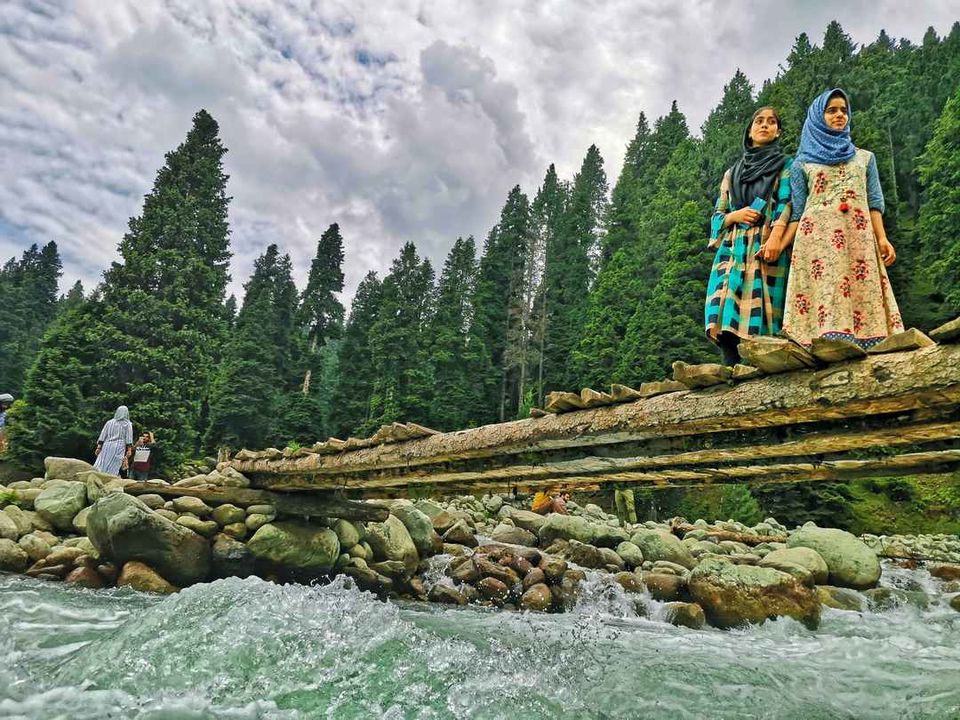 Srinagar – Dal Lake – Gurez Valley
(Time taken: Srinagar to Dawar, with ample stops for breakfast and photography – 7.5 Hours)
We woke up early morning to catch sunrise at Dal Lake. We quickly reached there, found a houseboat, and started our Shikaara Ride. The magical rays of the sun, dressing the clouds in its yellow shade looked absolutely magical.
We roamed around Dal and realised, it's more than a lake. It's a city within itself.
A chat with the Boatman, and visiting the houses, shops, schools inside Dal Lake was quite an experience.
Time taken at Dal Lake: 1.5 hours Shikara Ride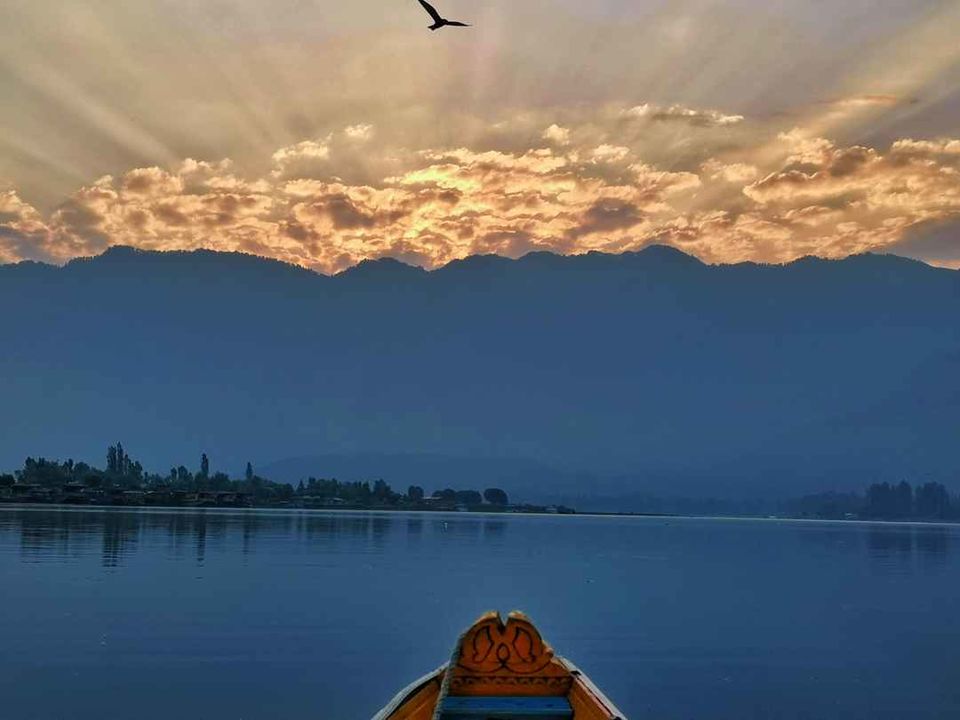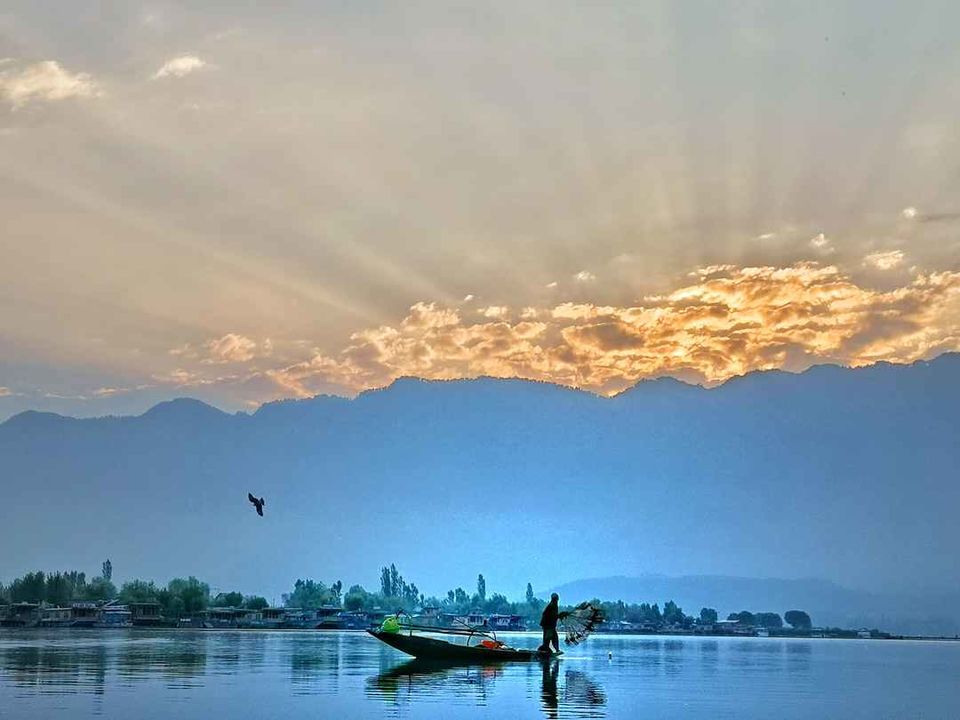 Soon after that, we went back to our hotel, had breakfast and checked out. It was almost 10 AM when we left Srinagar.
Some traffic while leaving Srinagar, a few stops and we were just before Razdan Pass where we halted for lunch. The view kept getting better with every turn.
After our lunch, we reached Razdan Pass, and a whole new world opened up to us. The valley welcomed us with a view I hadn't expected.
Too many stops slowed us down a bit, but it was all worth it.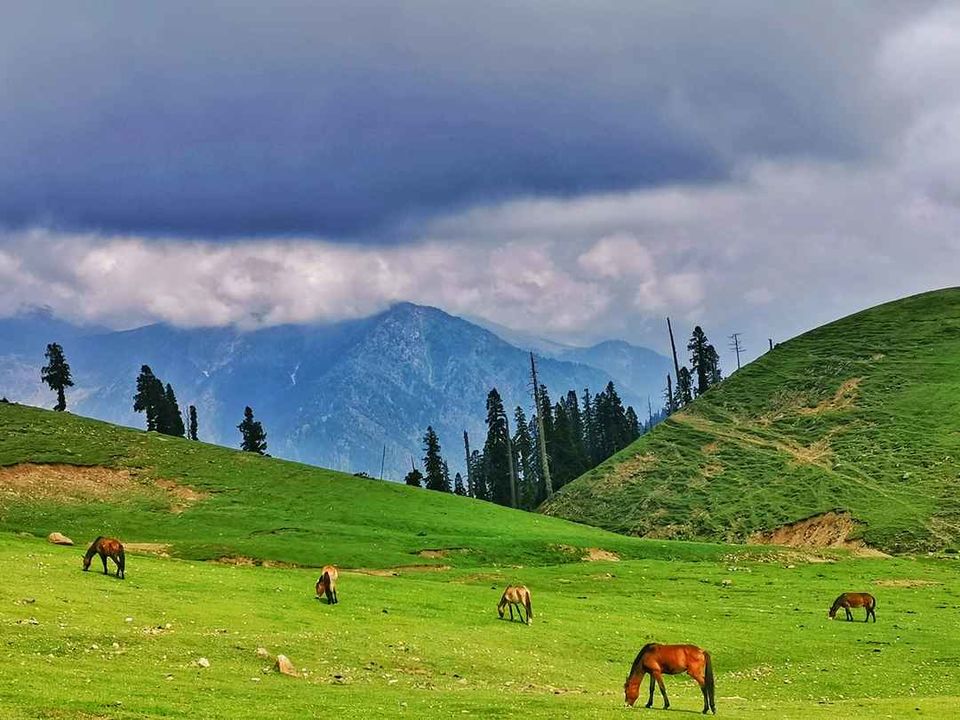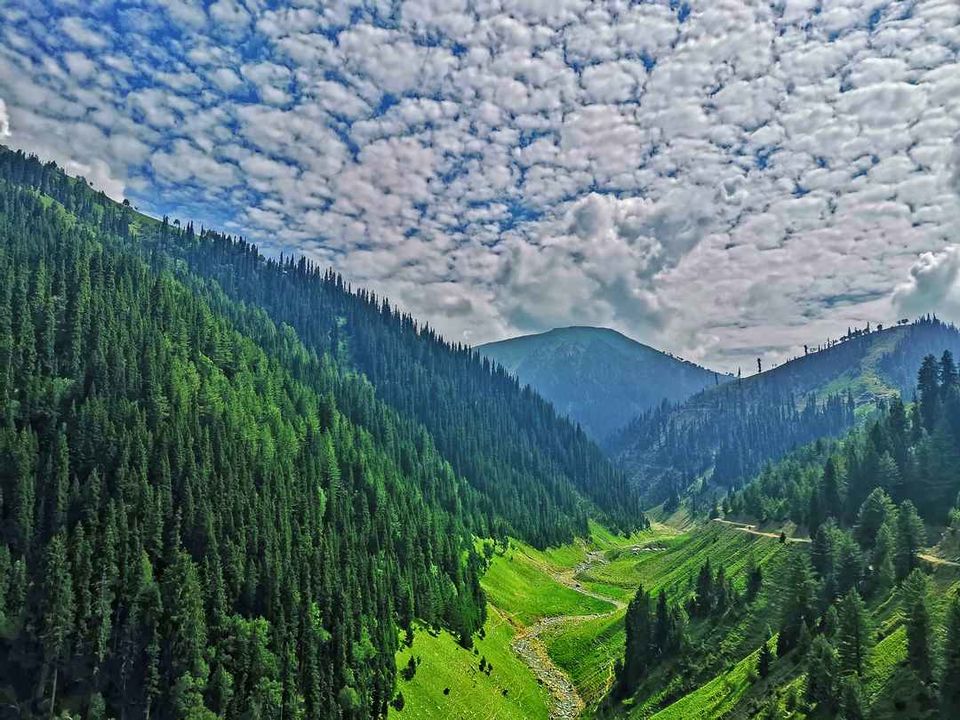 Enroute, a guy (Showkat) asked for a ride, and he turned out to be the Sarpanch's Son in one of the villages (Shahpur) of Gurez Valley itself.
We reached Dawar (which is the main town of Gurez) at around 5:30 PM, and since the Tourism Hotel was full, we booked Kaka Palace for our stay.
Time taken: Srinagar to Dawar, with ample stops for breakfast and photography – 7.5 Hours
We then went to drop Showkat to his village, Shahpur (6KMS from there), and he kept showing us and giving us information about different places. He told us about the legend of Habba Khatoun. He also took us to the Indian Army check post, the last check post before the LOC.
He told us about a Pakistani boy, who fell into the Kishanganga river a few days back. The story brought a tear to our eye. You can read all about it here -
Read how a 7-year old brought together the armies of India and Pakistan, and made them cry.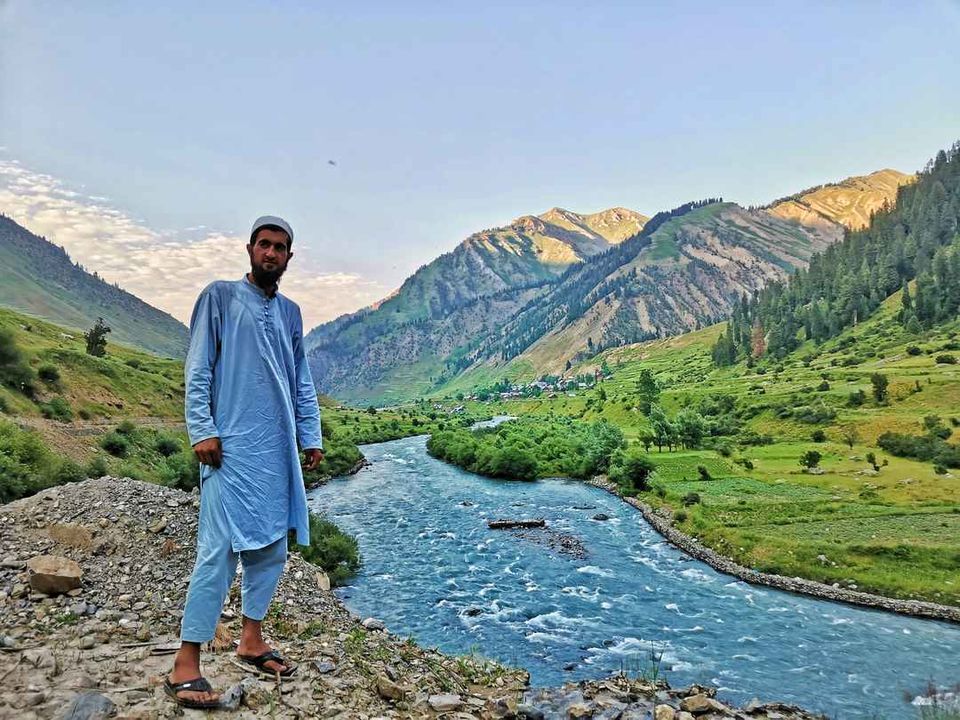 We then came back to our hotel, and had a hearty meal. Had one of the best Tabak Maas I had ever tasted.
Dawar – Tuleil (till Chakwali) - Dawar
Distance Travelled: Roughly 130 KMS. Time taken, roughly 11 Hours.
Early morning, by 5:30, we were out of the hotel, and drove back a litte to click pictures and catch sunrise. It was a beautiful sight.
We then came back to our hotel to pick up the remaining people who didn't wake up early, and left towards Tuleil. We didn't really have a plan. We thought of driving till as far as possible, and if we returned in time, maybe even heading back towards Srinagar. Little did we know what was in store for us.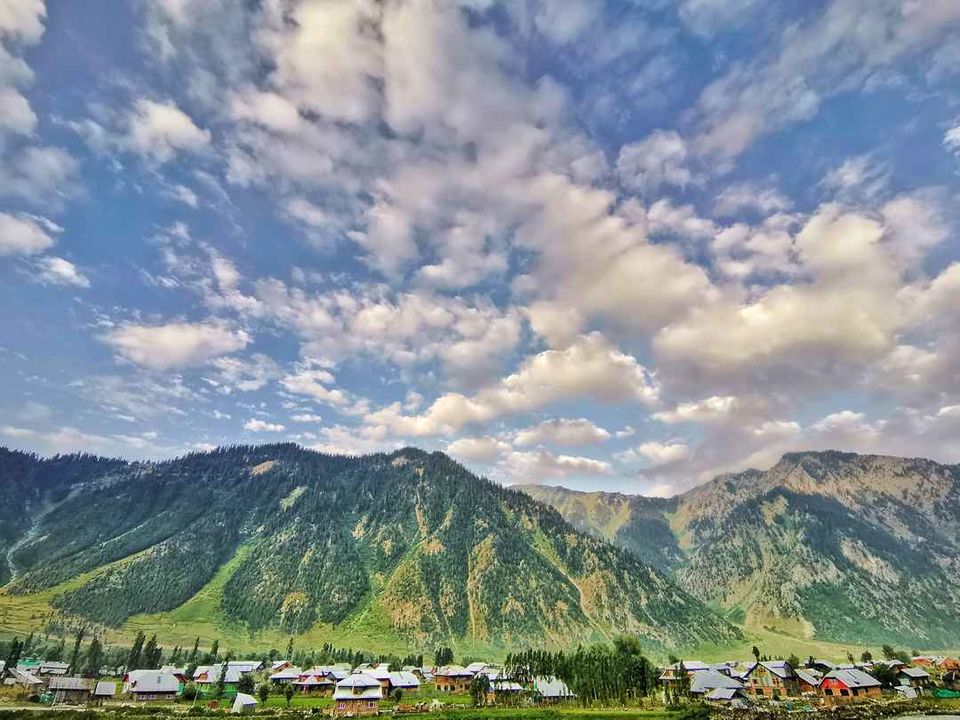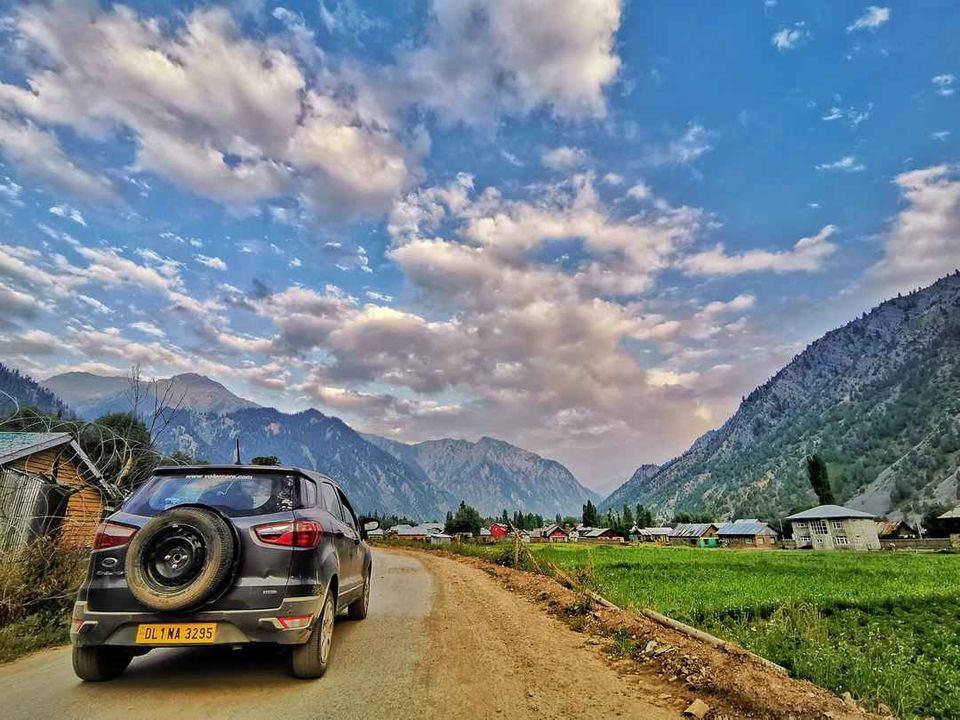 We left our hotel, at around 7 AM, thinking we would have tea at the first possible place. After all, the day doesn't begin till I have tea. And am sure it's the same for many of you too.
After a few more checkposts, we realised that we may not be able to find a shop that serves tea. Luckily, while asking about tea at one of the shops, we spotted an army camp up there too. On requesting the personnel, they happily offered us tea. We spent quite some good time chatting with them and enjoying tea. They were kind enough to even offer us breakfast, as we wouldn't have been able to find anything to eat throughout. We politely declined and moved further.
Checkpoints after checkpoints, the landscapes kept changing. And then we reached a village that simply took my breath away. If ever I get a chance to pick a place where I wouldn't want to spend the rest of my life, it could be that place – Sheikhpora.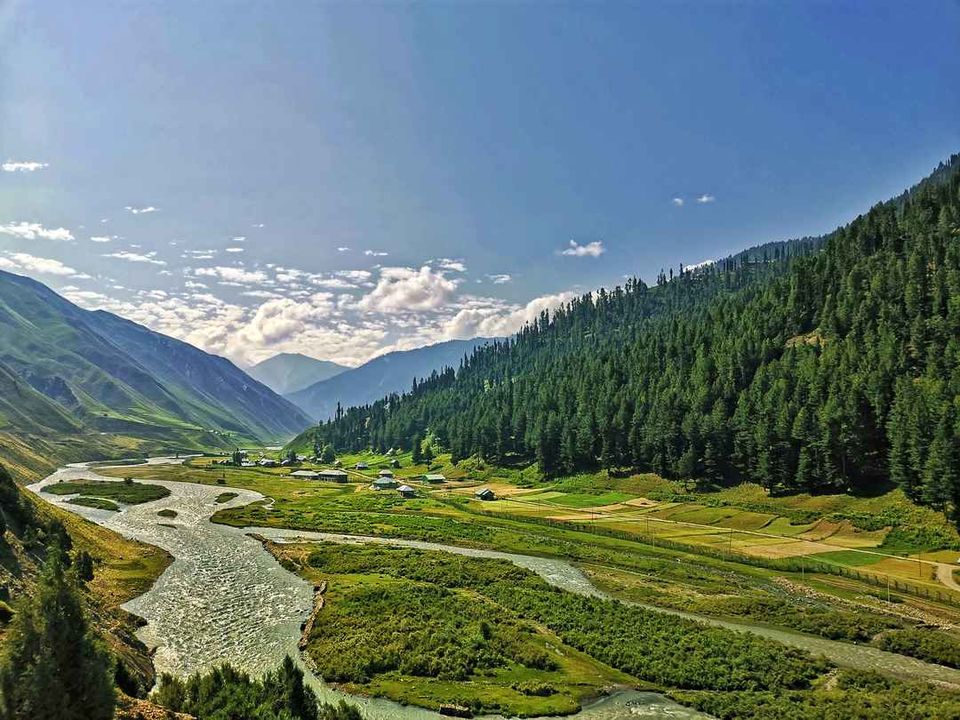 After clicking 387 pictures of Sheikhpora, we left, and then kept on seeing many beautiful villages, one after the other. All villages had one thing in common. None had a restaurant / dhaba where we could find something to eat.
After making entries at a few more checkposts, we reached one, where we were made to speak to a Major over the phone. He interviewed me, and asked me questions about me, my work, my residence along with many other. He also enquired about other people, and then gave us a verbal permission to go ahead.
And then came a check post that submitted our documents before we moved further.
And then came a pretty village, named Gujran. We were told that we might find something to eat or drink there. But sadly, no.
And then, after witnessing a few more beautiful villages, we reached the last village and checkpost on the Indian border – Chakwali.
And just like everywhere, there was no shop either. But, a local villager was kind enough to invite us over and offer us food. It was between 2PM and 3PM. That was our first meal of the day, and it tasted like the best meal ever.
After that, we left, and made it back to Dawar just before sunset.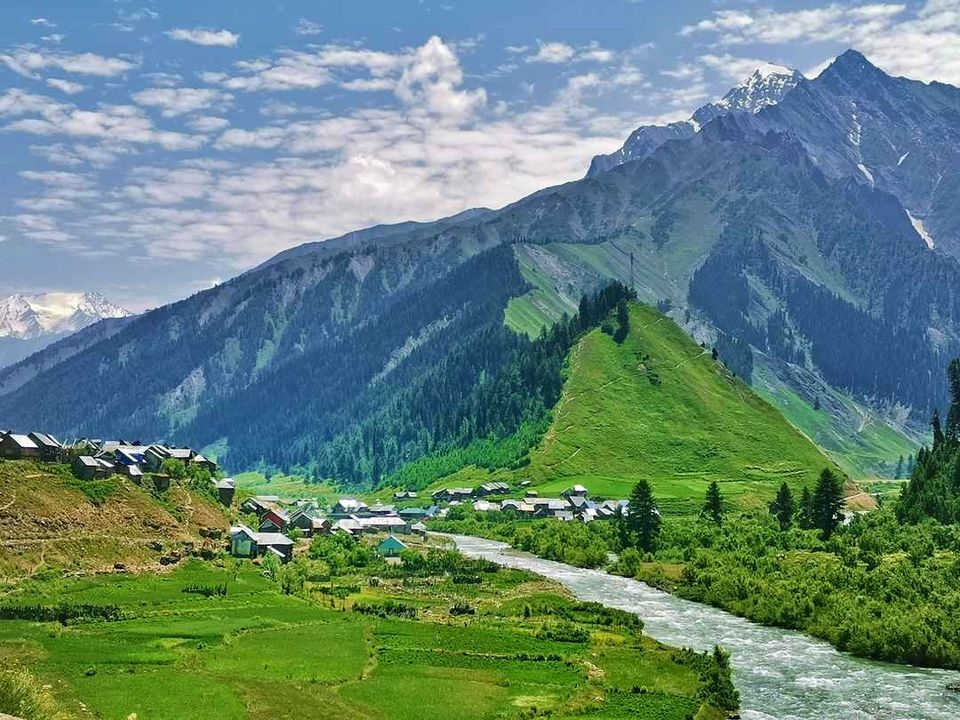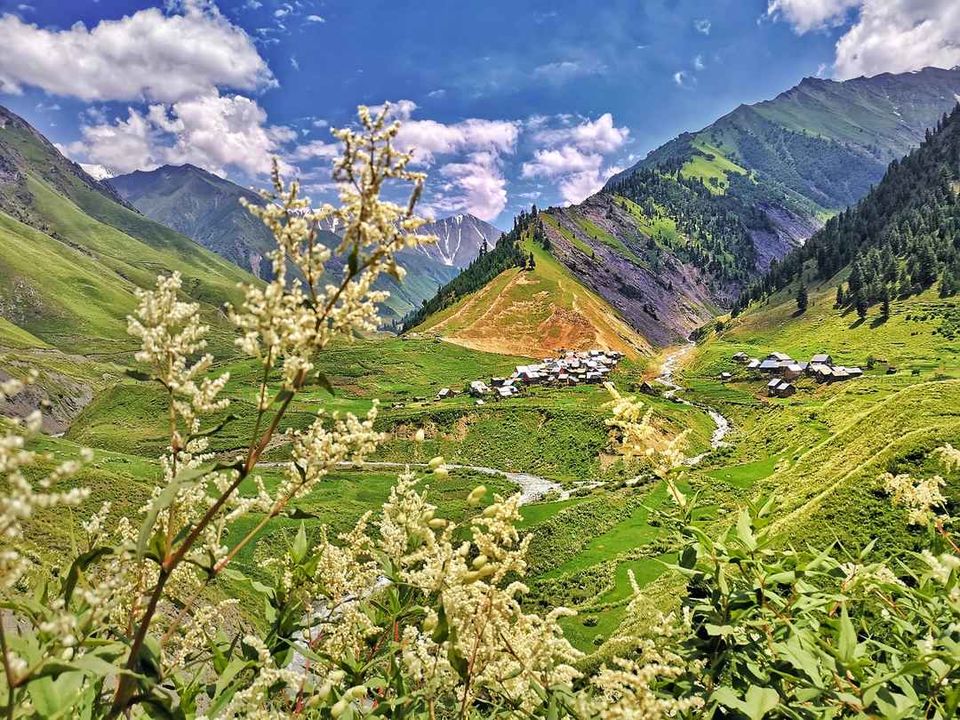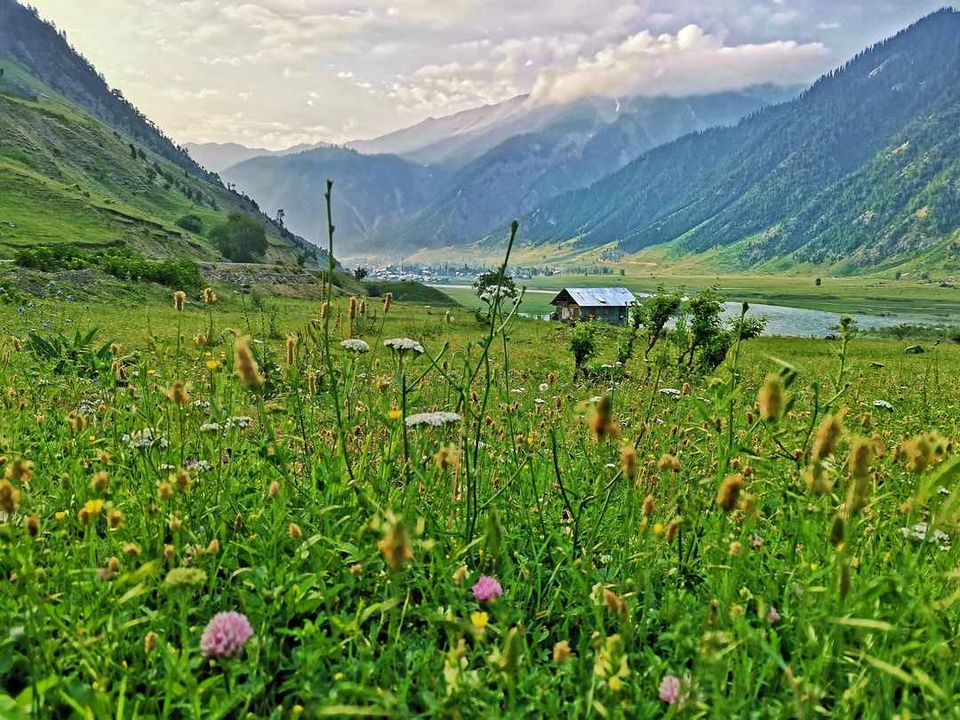 Dawar – Srinagar – Pahalgam
Time taken: 10 hours
We left our hotel after breakfast, and admired the beauty all around. As we reached Razdan Pass, a thick cloud cover engulfed us. It started raining heavily. Driving had become a little tough.
We stopped at the same Dhaba for a quick bite. It was raining so heavily, that it was impossible to even step down from the car.
After lunch, as we left, we witnessed the emergence of several waterfalls in the roads. The roads had gotten badly damaged in the fierce rain.
We were lucky to cross the sensitive areas, just in time, before landslides blocked the way. But the drive was a rather adventurous one.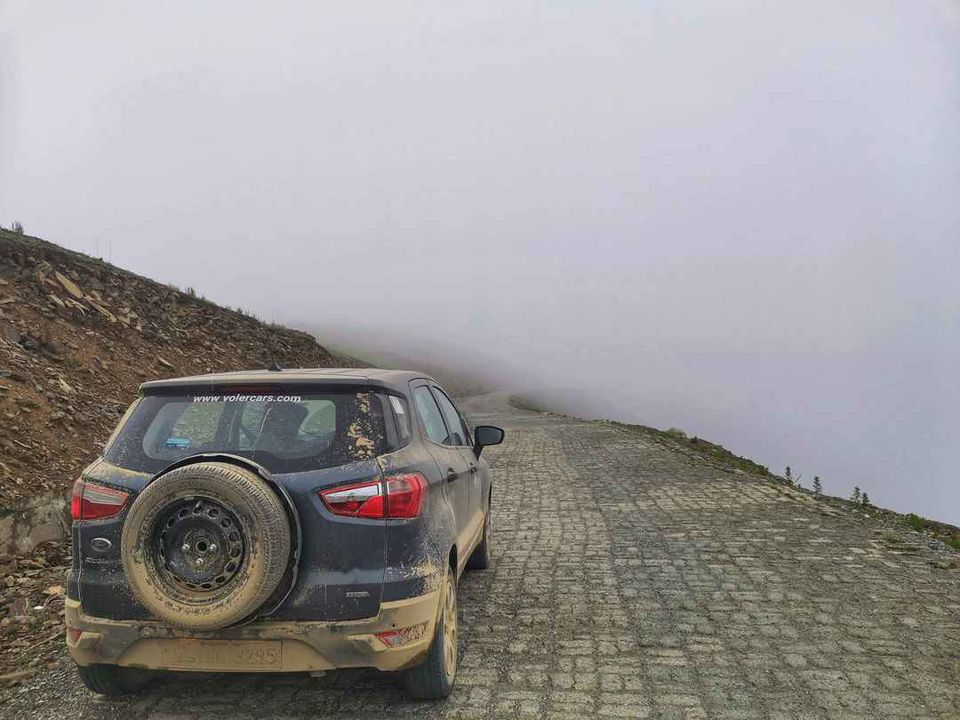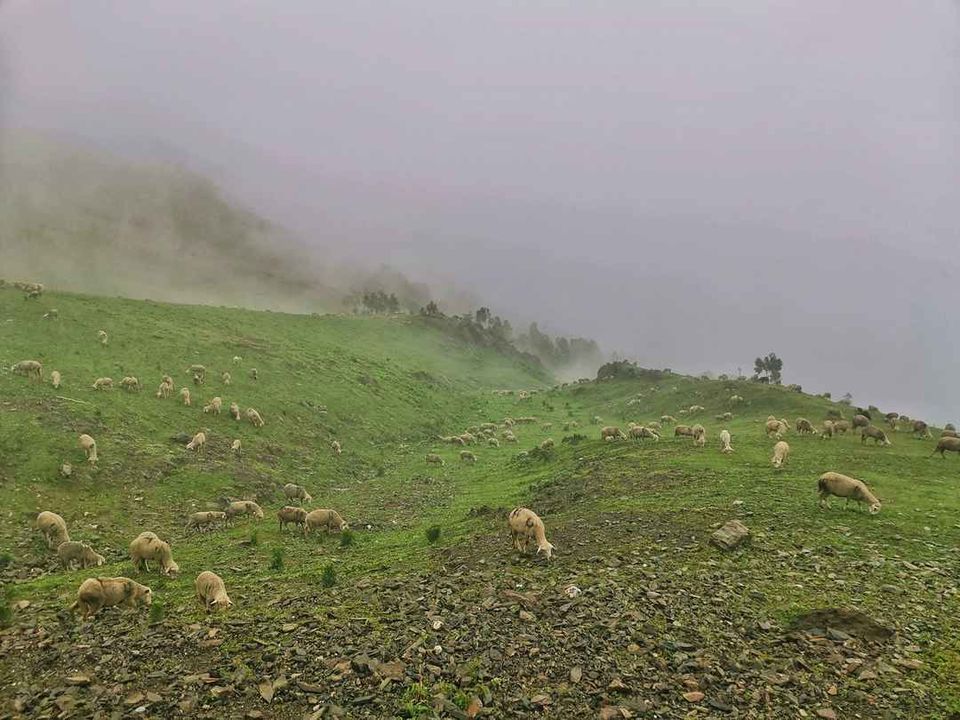 We reached Srinagar where Fahd took us for a heart lunch to Mughal Durbar. We ordered a Kashmiri Thali, that came with 4 pieces of 4 different types of chicken and meat each. Add to it Rista, Rogan Josh, and Goshtaba.
We then went to Fahd's office, where we talked and decided to leave for Pahalgam. He booked us a stay in Pahalgam, and thankfully he did, and gave us a booking voucher too, which was useful when the police stopped us and didn't let us go to Pahalgam, after crossing Kashmir. We showed them the voucher and were able to convince them to let us go.
We reached Pahalgam by evening. At the entrance of Pahalgam, we were stopped, our luggage scanned, and asked lots of questions. The security seemed to be very tight.
It was dark by the time we checked in our hotel.
Pahalgam – Aru – Kokernag – Daksum, Sinthan Top, Kishtwar
Time taken: 9 hours

We woke up early, went to the taxi stand, and took a cab for Aru.
In Pahalgam, unless you have a private car, you are not allowed to drive a self rental, or take any other state's cab to other tourist places like Aru, Betab etc.
The drive is beautiful. And Aru was even more beautiful. We took walks, had breakfast and spent some leisurely time there.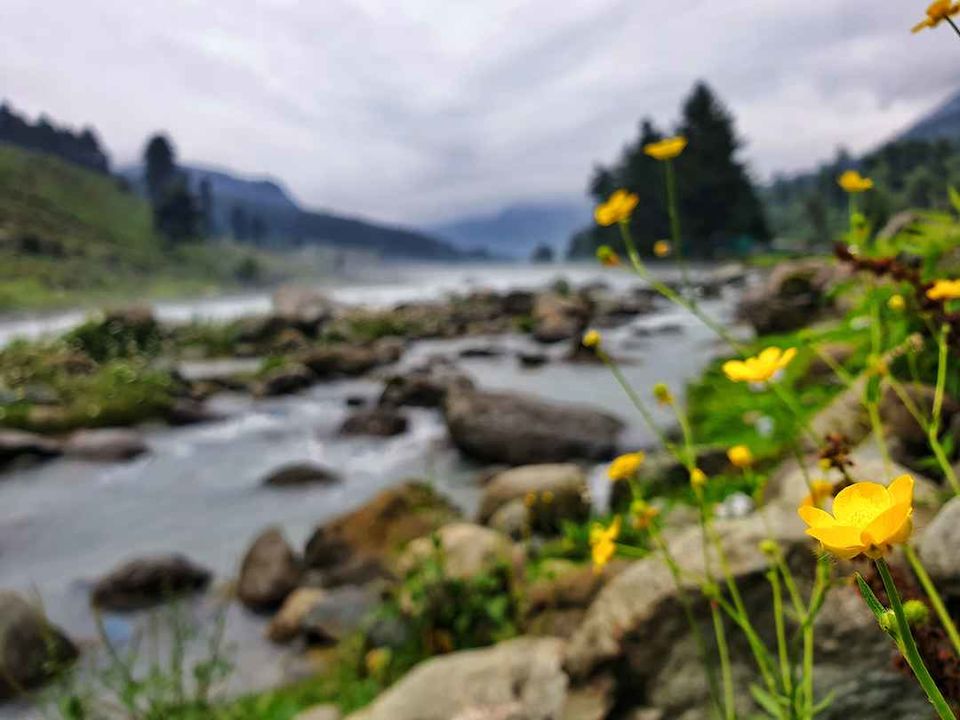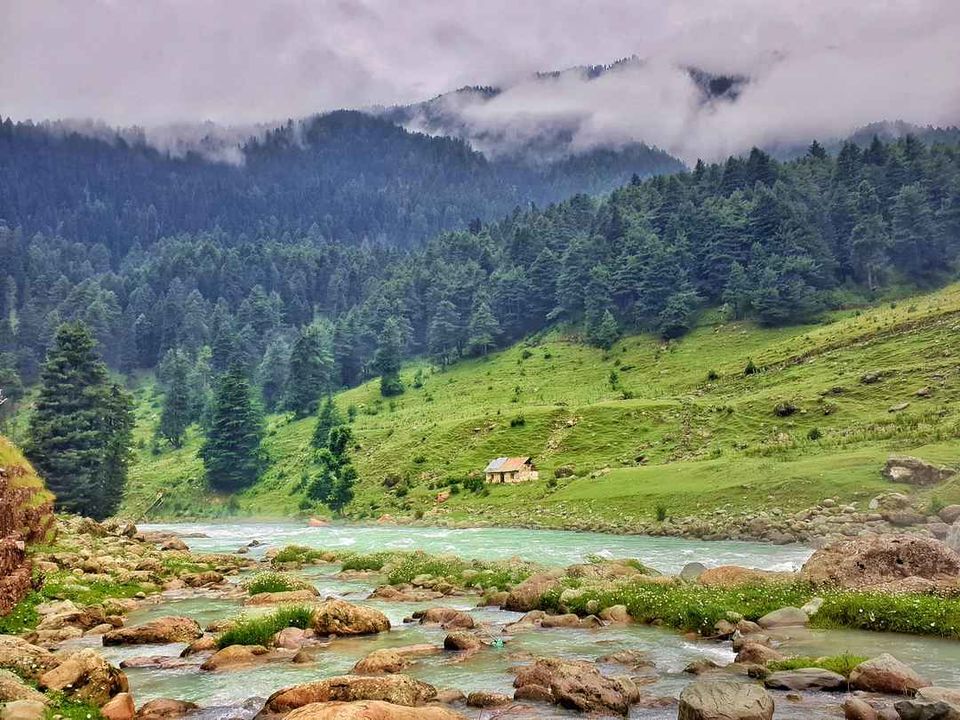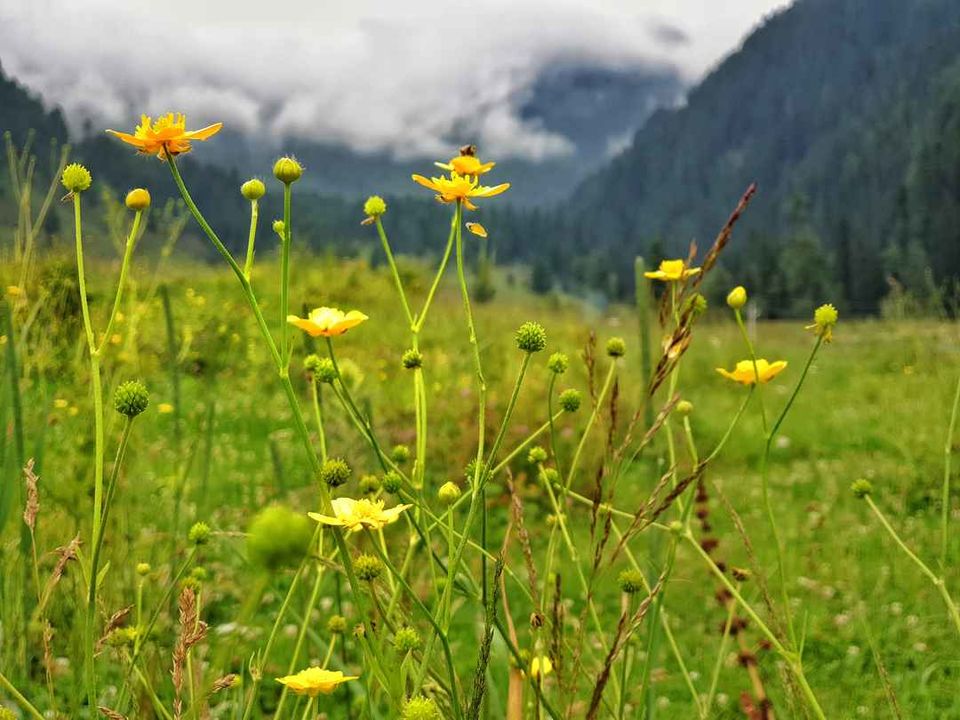 We came back to Pahalgam, and checked out, while deciding where to go next. While driving we went to Kokernag, which was suggested to us by Fahd.
Kokernag is a village, which has a park, where you can find a lesser known water spring. Some call it a PAANI KA CHASHMA and some, a small waterfall.
It is named such, because if you notice, it appears that a big hen (KOKER) has put its feet there, and that's where the water is coming from.
From Kokernag, we headed towards Daksum. A peaceful and a serene place it was. We thought about staying the night there. But we still had daylight, and thought about driving a little further up towards Sinthan top.
Even till now, every time I close my eyes, the view from Sinthan Top play up in my head. The views were out of this world. The clouds cover made them even better. On reaching Sinthan, we decided to keep driving towards Kishtwar.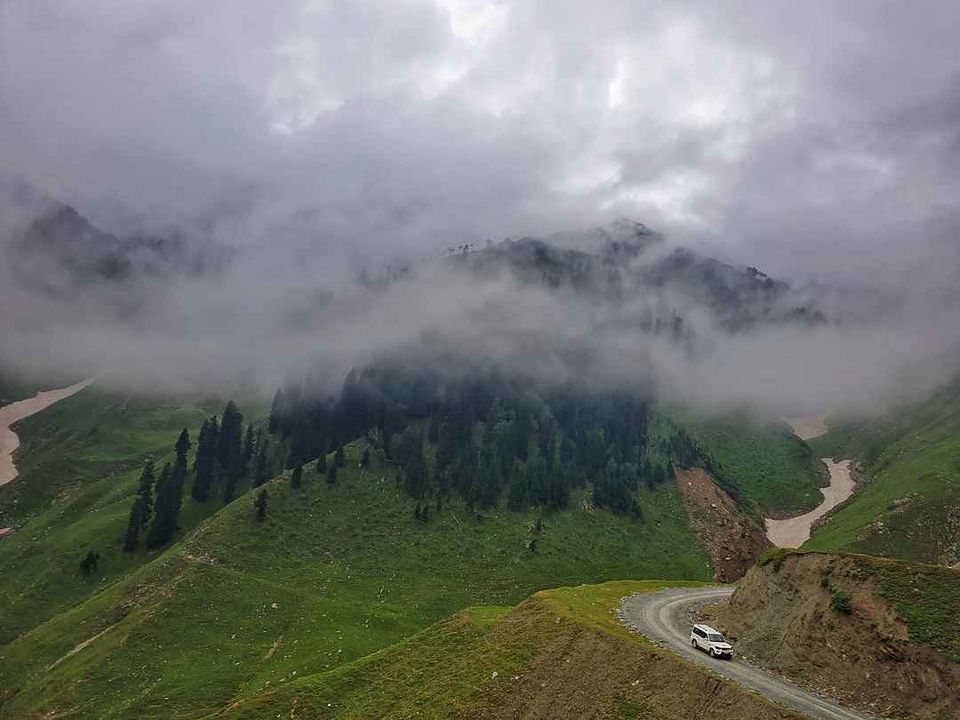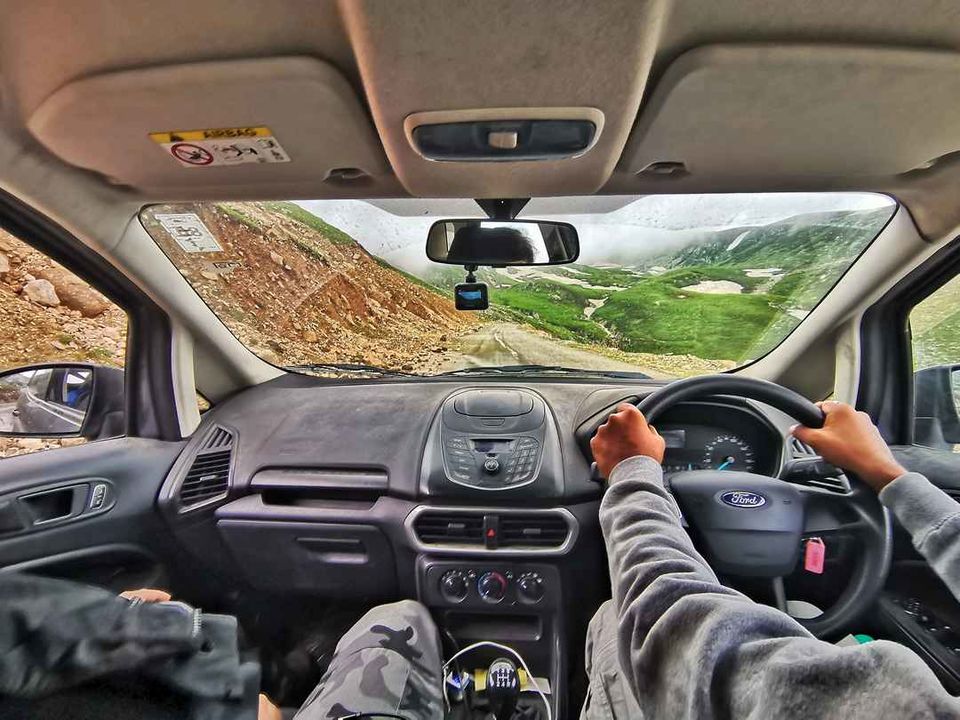 Kishtwar – Pathankot
Time taken: 8.5 hours
We were woken up by loud sounds that sounded like gunshots. On looking out of the hotel, we saw normalcy on the streets, so our guess was that there's a shooting range nearby, and the valley is echoing with that sound.
The views outside the room were so serene, that it was hard to imagine that place, along with such sounds.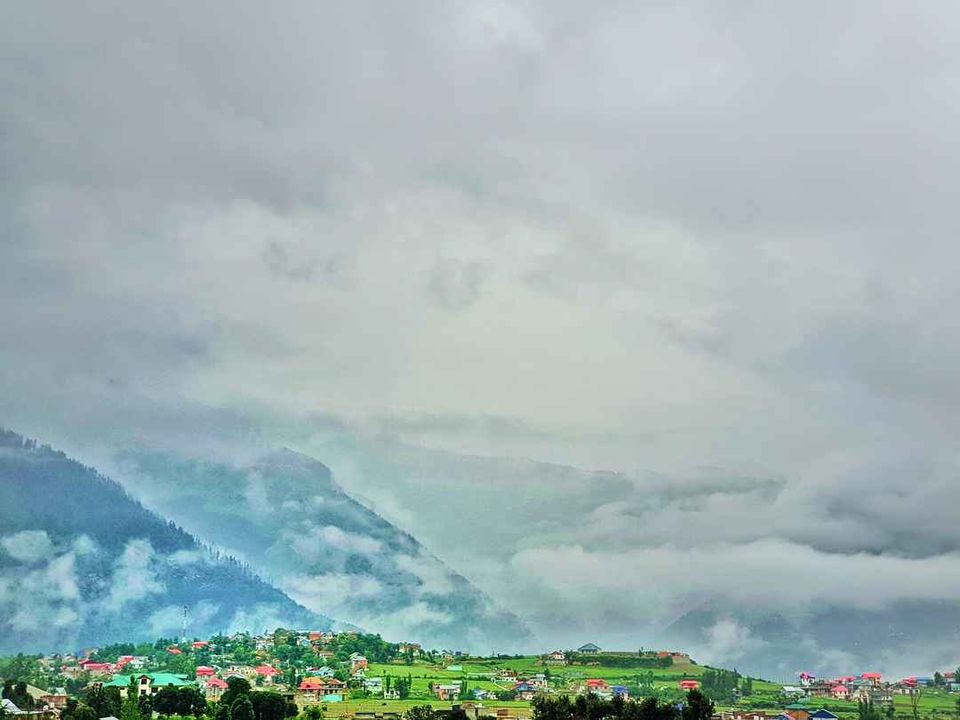 We left the hotel pretty late, by 11ish or something. We reached the market at the bus stop, got a puncture fixed and then started our drive towards, till wherever we reached.
We had thoughts of taking the famous Kishtwar – Killar Road, but lack of time didn't allow us to.
The views after Kishtwar kept delighting us throughout.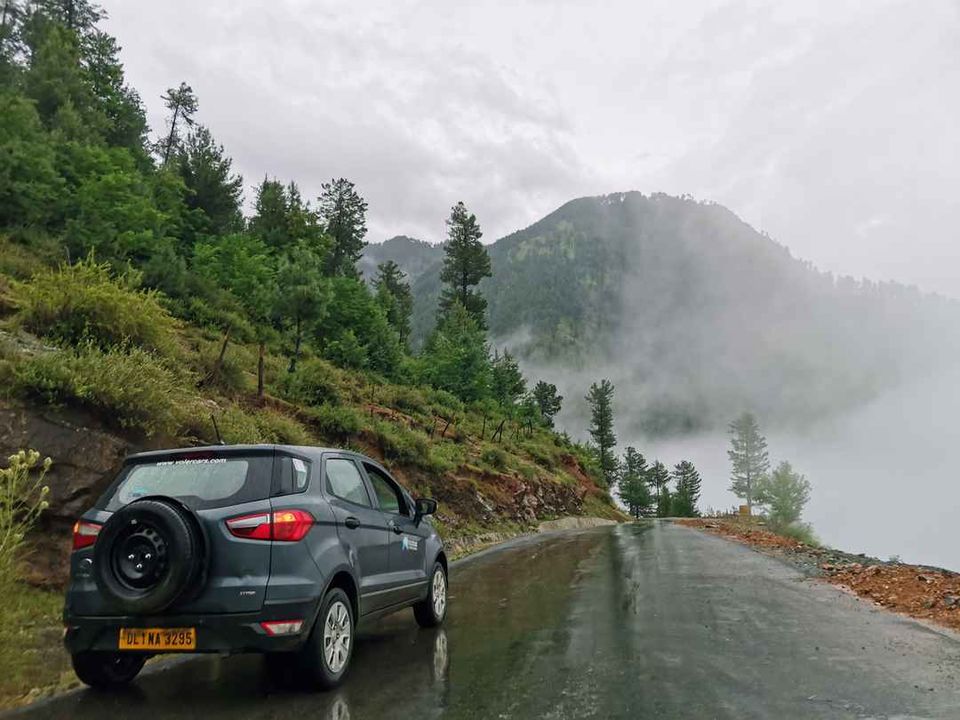 Enroute, we saw a board towards Bhanderwah, but thought of visiting another time.
The rest of the drive was pretty normal, and there's not much to talk about.
But, if you are driving a self drive / car rental, always ensure to go to Lakhanpur Border, and get the closing to the permit (MCD PERMIT for commercial vehicles) you had taken, else, everyday fee would continue to pile on.
Pathankot – Delhi
The rest of the drive has nothing much in it.
Now back in the city, and everyday, those beautiful views cross my mind.
The situation in the valley is still not close to normal, but I wish it really happens soon.
Let's connect and follow & learn from each other's journeys
If you have any questions about travelling to Kashmir, especially to Gurez, feel free to drop me a message here or on my Instagram. Am most active on Instagram.
Below are some of my Instagram posts from Kashmir
Doodhpathri through my eyes (read caption)
Gurez Through my eyes. Read Caption
Dal Lake through my eyes. Read Caption.
Kashmir Road Trip Video Teaser