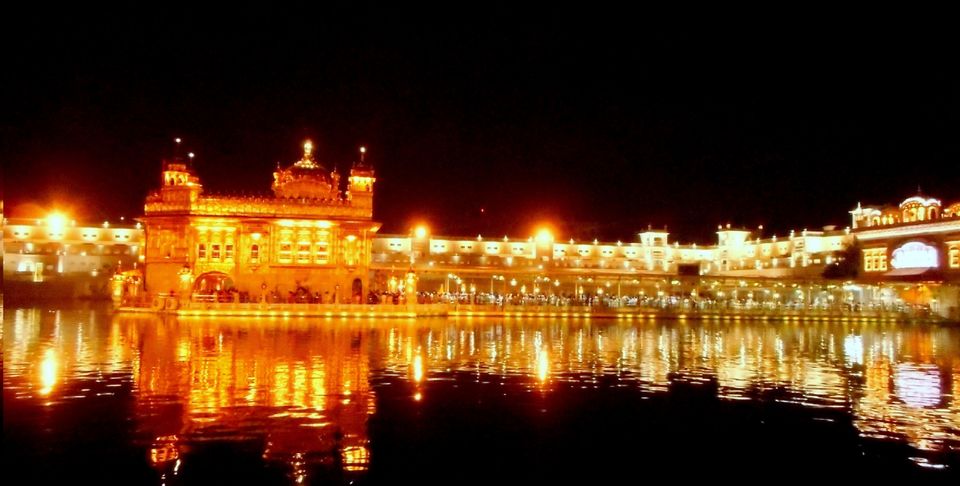 Finally the day has come, when I started my life's epic solo trip to Ladakh. I was so excited, that I didn't sleep whole night. It was a beautiful morning of 12th Sept when I started from Delhi at 7:00 am in morning and reached Amrtisar around 7:30 pm in the evening via Panipat, Ambala, Ludhiana, Jalandhar following the National Highway NH1.
I started my ride with a smile on face, Calmness in mind, courage & Excitement in heart. Then, I had my breakfast near Panipat around 10:00am and had lunch between Ambala & Ludhiana around 2:30pm. Later I stopped for a short tea break just before Jalandhar around 5:30pm. It was a beautiful, smooth ride as the Highway was straight and fully constructed.
I have reached Amritsar around 7:30pm & looked for a decent hotel for night stay. Soon I found a good hotel at very economical rate close to main highway. Then I've kept my luggage at the hotel and visited the Golden Temple that evening and had dinner (Langar) at the Gurudwara Harmandir Sahib. The gurudwara was looking so beautiful in lights, like pure gold. The reflection of the temple in the holy pond was amazing. Thousands of people from different walks of life were present there for the darshan. I took a complete circle of the temple around holy pond and came back to hotel around 1:00am midnight and slept.
Watch all the Episodes of My Ladakh Trip:
Episode 1.) Delhi-Ambala-Ludhiana-Amritsar - https://youtu.be/OGWggm5P-GY
Episode 2.) Amritsar-Pathankot-Udhampur-Ramban-Srinagar - https://youtu.be/0Oo-IcRemyg
Episode 3.) Srinagar-Sonamarg-Jojila-Drass-Kargil - https://youtu.be/IqwRB6GuKjE
Episode 4.) Kargil-Magnetic Hill-Gurudwara Pathar Sahib-Leh - https://youtu.be/I8teXM-_32I
Episode 5.) Leh-Khardungla-Disket-Hunder(Nubra Valley) - https://youtu.be/VlpXxkp_3LM
Episode 6.) Hunder to Turtuk (Last village of India) - https://youtu.be/QtFqQcFbI20
Episode 7.) Hunder(Nubra valley)-Durbuk-Pangong Lake - https://youtu.be/FfKN6pIgdNI
Episode 8.) Pangong Lake-Changla Pass-Leh - https://youtu.be/_Jix4Fpg4XI
Episode 9.) Leh-Karu-Upshi-kiari-Chumanthang-Nyoma - https://youtu.be/PkKGyBRVX8w
Episode 10.) Nyoma-HANLE-Sumdo - https://youtu.be/PNlZAAhYQaY
Episode 11.) Sumdo-Tsokar-Debring-Pang-Lachungla Pass-GATA Loops-Sarchu - https://youtu.be/ZpPIDKh07_g
Episode 12.) Sarchu-Baralachala Pass-ZingZing Bar-Darcha-Jispa-Keylong-Rohtang Pass-Manali - https://youtu.be/iZeri4rHF3M
Episode 13.) Manali-Kullu-Mandi-Chandigarh-Delhi - https://youtu.be/MDxZ-IpkEaQ