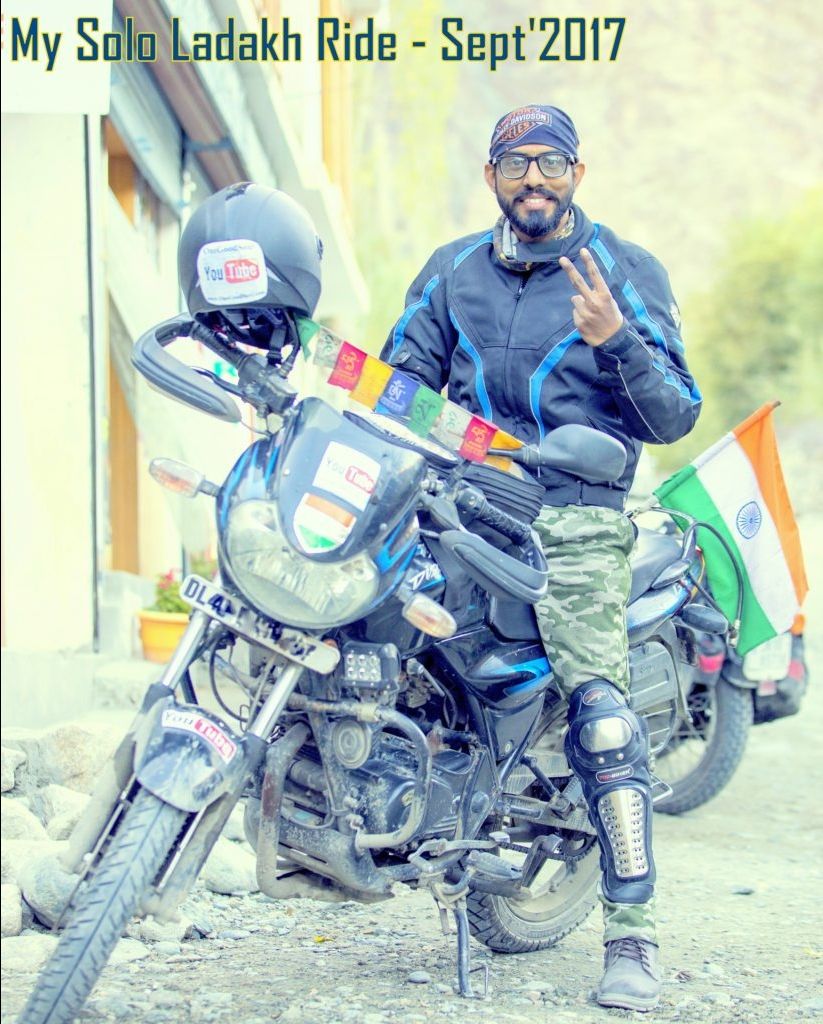 My Solo Ladakh Bike Trip on Bajaj Discover 135
Watch all videos on YouTube Channel - OneGoodSoul -
https://www.youtube.com/user/Mayashri
15 Days in Ladakh – Solo
15 Days – 7 High Passes – No Mobile – No GPS – A 10 years old Bike and Me (OneGoodSoul-Mayank)
It's a dream destination for every biker and travel enthusiast in India and across the world. People come here from every part of the world. Its a paradise for travelers & Bikers. It Is known for its serene beauty, dangerous yet exciting & thrilling roads, Steep & High Altitude Passes, beautiful Lakes & Magnificent Mountains, breathtaking views and ultimate peace for everyone. This place gets open for the world, only for 4-5 months every year.
It has some of the highest Motorable roads in the world. Here the UV rays do their work very effectively (Skin burns). The Oxygen level is comparatively less here. No matter what weather conditions are here, people still want to come here once in their Life. Yes, I am talking about the mystical 'LADAKH'.
Its a dream of every traveler and biking enthusiast to ride & travel in Ladakh. Every biker and travel enthusiast have 'Ladakh' in their bucket list at the top. They dream about Ladakh, since when they were a teenager, Since when they got a hold on Bikes for the first time.
Like many others, It was my dream too, to visit Ladakh. I was also fascinated about the Name 'LADAKH'. For me it was always like 'LADDAAaaaKHhh…' something really big, grand and ultimate destination. I used to get excited about its pristine beauty and thrilling roads, whenever I used to see the pictures, articles in newspaper/magazines, watched programs on TV and videos on Internet, I used to get completely mesmerized by it.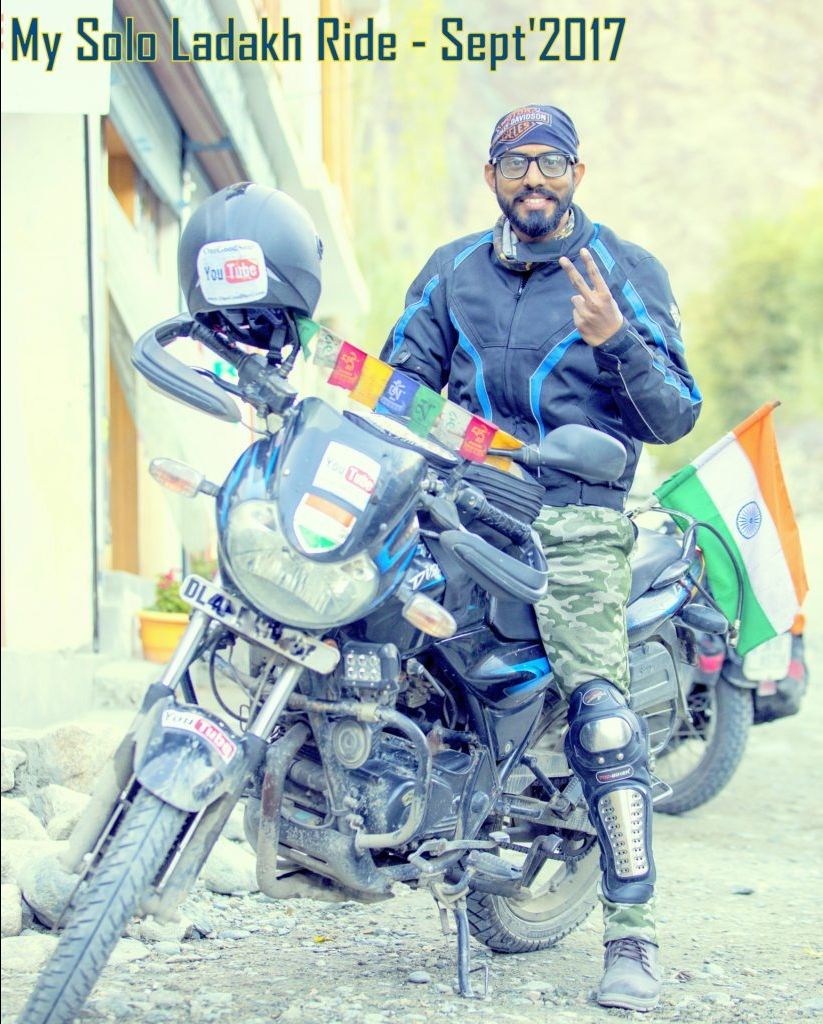 I was also just like any other working guy, busy in my daily routine & hectic office life for so many years, but I was not able to get time to think or plan about this grand trip to Ladakh. I was passing through my late 20's & turned 30 also, but I didn't get time to even think about this bike trip. Though I have traveled many places/hill stations but still something was missing in life. And then one day I realized that, what's the point working continuously in life when I don't get time to live my life (At-least for few days). I realized that, there is only one person who need to travel & feel the journey and that is Me 'Myself'. I was the one who wanted to travel Ladakh for so long, then What am I waiting for…that was the turning point. Pheww…. I've realized that, actually its the best time of life, that I can travel – SOLO, without depending on others and can enjoy my own company in my way. There was no need, asking friends to tag along for this trip OR Joining any biking group who ride on fixed itinerary and follow the schedule. When I wanted to feel free… So, No point getting bound to anyone for my own dream travel. Moreover, from my past experience I can say that, very less people are actually adventurous by heart and excited about the real travel or solo travel ( No luxury travel). So this is how I decided to go for 'My Solo Ladakh Bike Trip" on my 10 years old Bajaj Discover-135 bike & completed it successfully in Sept'2017. I have traveled around 3600 kms in my whole journey. Before starting, I have prepared my bike for this hardcore trip.
Day 1 (12th Sept'2017) – Delhi to Amritsar (480 Kms approx.)
Finally the day has come, when I started my life's epic solo trip to Ladakh. I was so excited, that I didn't sleep whole night. It was a beautiful morning of 12th Sept when I started from Delhi at 7:00 am in morning and reached Amrtisar around 7:30 pm in the evening via Panipat, Ambala, Ludhiana, Jalandhar following the National Highway NH1.
I started my ride with a smile on face, Calmness in mind, courage & Excitement in heart. Then, I had my breakfast near Panipat around 10:00am and had lunch between Ambala & Ludhiana around 2:30pm. Later I stopped for a short tea break just before Jalandhar around 5:30pm. It was a beautiful, smooth ride as the Highway was straight and fully constructed.
I have reached Amritsar around 7:30pm & looked for a decent hotel for night stay. Soon I found a good hotel at very economical rate close to main highway. Then I've kept my luggage at the hotel and visited the Golden Temple that evening and had dinner (Langar) at the Gurudwara Harmandir Sahib. The gurudwara was looking so beautiful in lights, like pure gold. The reflection of the temple in the holy pond was amazing. Thousands of people from different walks of life were present there for the darshan. I took a complete circle of the temple around holy pond and came back to hotel around 1:00am midnight and slept.
Episode 1.) Delhi-Ambala-Ludhiana-Amritsar - https://youtu.be/OGWggm5P-GY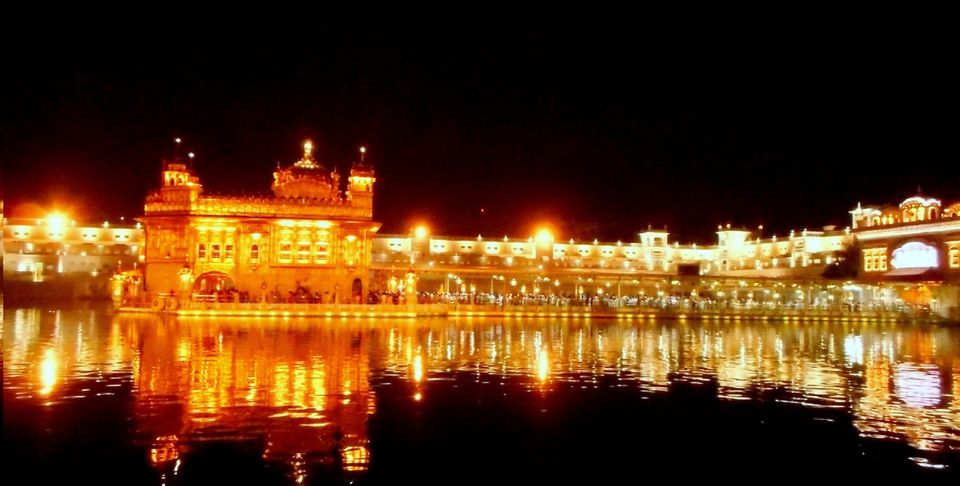 Day 2 (13th Sept'2017) – Amritsar to Ramban (330 Kms approx.)
Next Day morning around 8:00 am, I have started from Amritsar and reached Ramban around 7:30pm evening. I must say It was a tiring ride, as the hills and turns started after Pathankot and Udhampur. The ride was going nice and suddenly one small problem came at Lakhanpur Toll, my bikes clutch bar (Yoke) got broken. So I have looked around for the local mechanic but they couldn't help coz the spare part was not available at their shop. So I started searching for the Bajaj Service center and fortunately I got that center just after 2 kms from the Toll. It took 1 hour to fix the issue. In total my 1.5 hour got wasted and I got delayed from my schedule.
After this I had my Lunch around 2:00pm and continued my journey. I have crossed Udhampur hills and reached the Chenani-Nashri Tunnel (9.2 kms long) around 5:30pm, which was opened this year in April'17.
After crossing this tunnel the road condition was really bad, which lead to delay. I could only managed to ride till Ramban, as the Sunset happened around 6:00pm. It was in the dark I rode my bike till Ramban in bad condition road. I searched for a cheap hotel and checked into it. I was feeling very exhausted that day, so I rested for some time and had my dinner around 9:00pm in the local dhaba and slept around 10:30pm.
Episode 2.) Amritsar-Pathankot-Udhampur-Ramban-Srinagar - https://youtu.be/0Oo-IcRemyg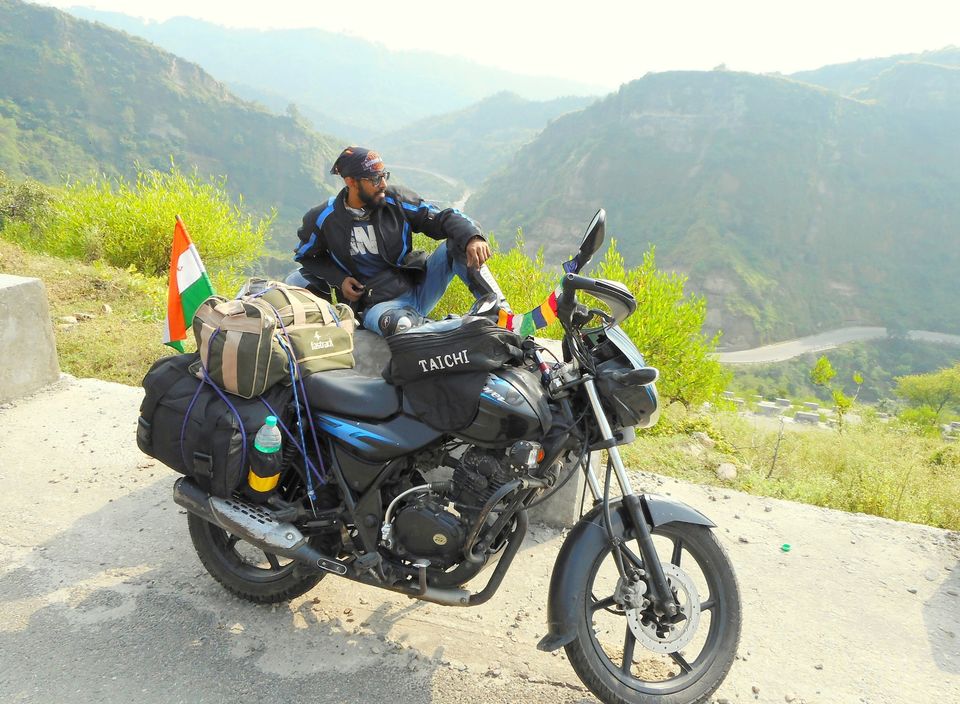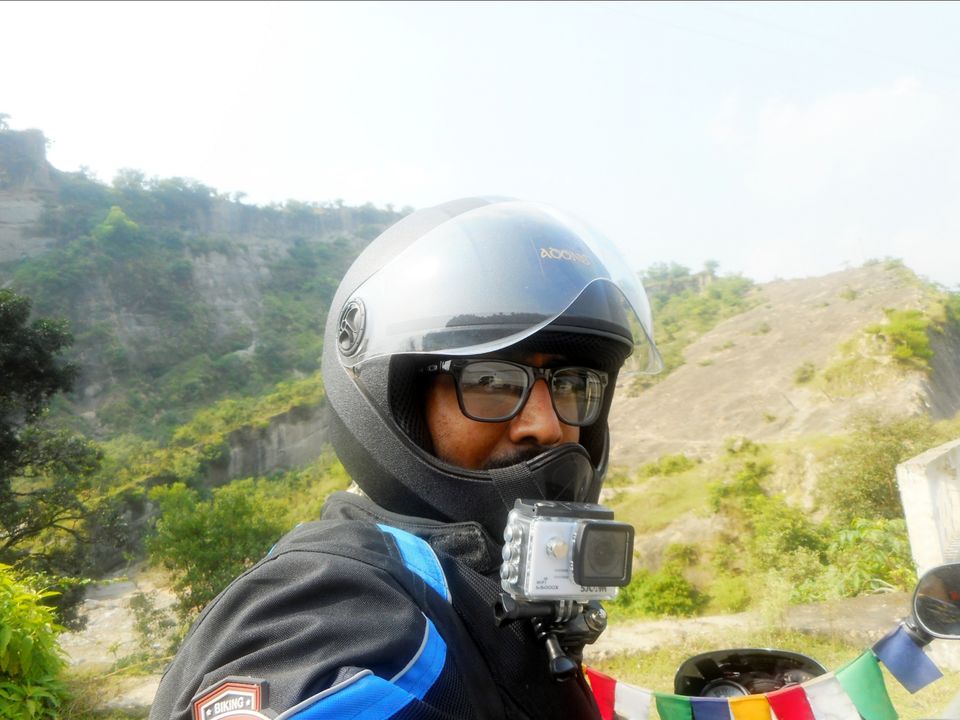 Day 3 (14th Sept'2017) – Ramban to Srinagar & Srinagar Sightseeing (130 Kms approx.)
A new day started around 8:00am and I've moved from Ramban to Srinagar. Today I have not traveled much as I had to stay at Srinagar only. I have traveled through the highway via Banihal, Anantnag, Awantipura and Pampore. I reached Srinagar by 1:00pm and chose to stay in houseboat (It was a must to stay on a floating boat, as seen in old movies). It was the real charm of the Dal Lake.
There were so many houseboat's in a row on the calm water of Dal lake. I checked into a beautiful Houseboat and kept my luggage there. Then I decided to take a round of Dal Lake and have my lunch outside. Around 2:30 pm I took my bike and traveled along the Dal Lake and visited beautiful Nishat Bagh. I had my lunch there and came back to my houseboat location. Where my houseboat owner have arranged a Shikara Ride.
It was around 5:30pm I went for the Shikara Ride in Dal lake and visited the Floating market. So many vendors on their boats came to sell various types of things and handicrafts. It was so beautiful and memorable experience with a little bitterness, coz in the middle of Dal lake when we stopped at Nehru Park (Tourist Spot) someone stole my mobile. I have inquired about it with the people standing there, but no one could help. Hence, my mood got a little off. However, I tried overcoming it by sipping a hot Kahwa (Local hot refreshing drink) and continued my shikara ride and came back to my House boat by 7:30pm.
After this,I've called my family and informed about my location and details from an STD/PCO booth. I roamed around in the local market so sometime just opposite to Dal lake and had my dinner around 9:00pm and came back to my houseboat and slept by 10:30pm.
Episode 2.) Amritsar-Pathankot-Udhampur-Ramban-Srinagar - https://youtu.be/0Oo-IcRemyg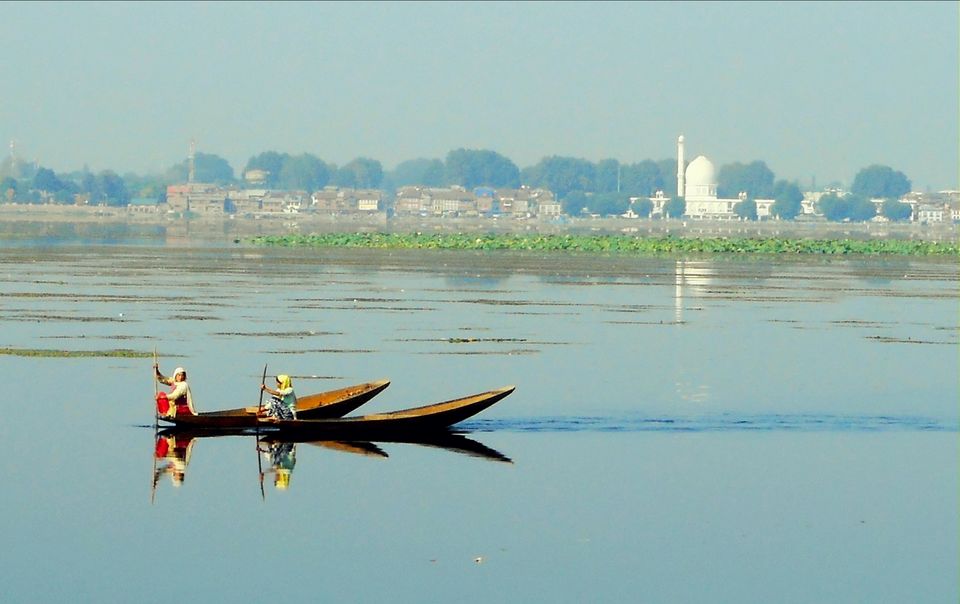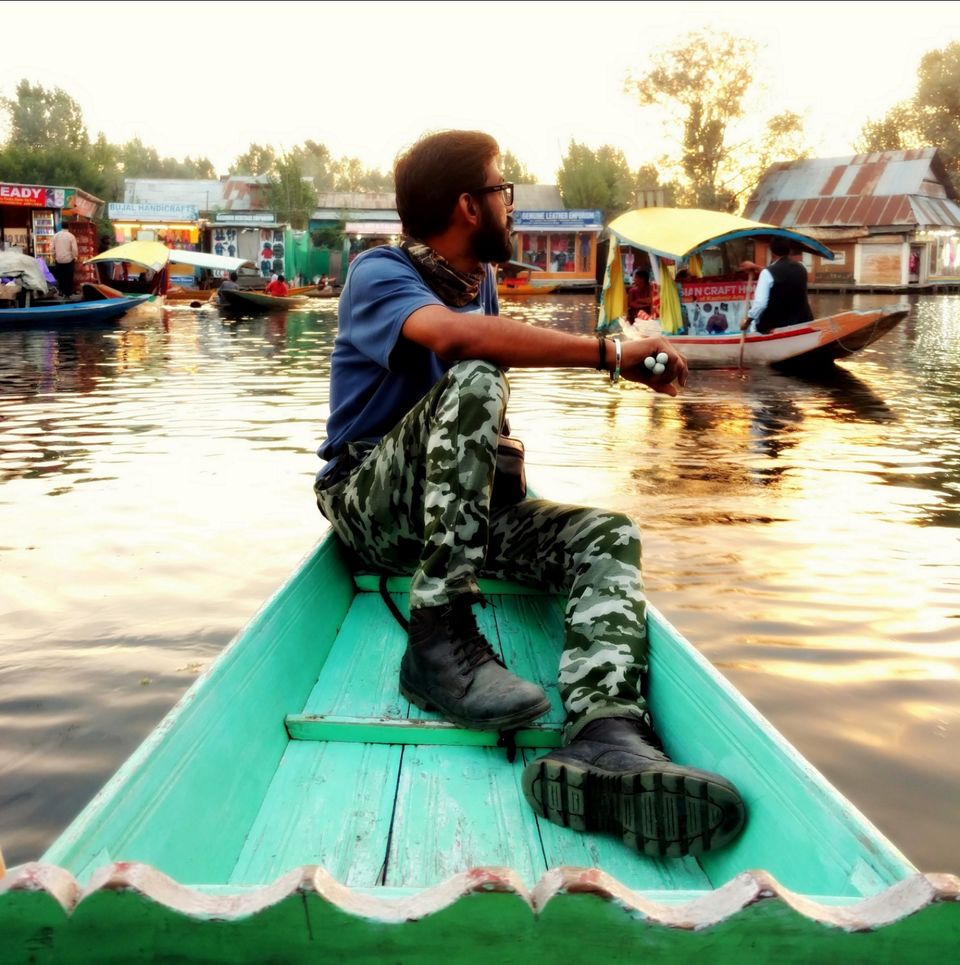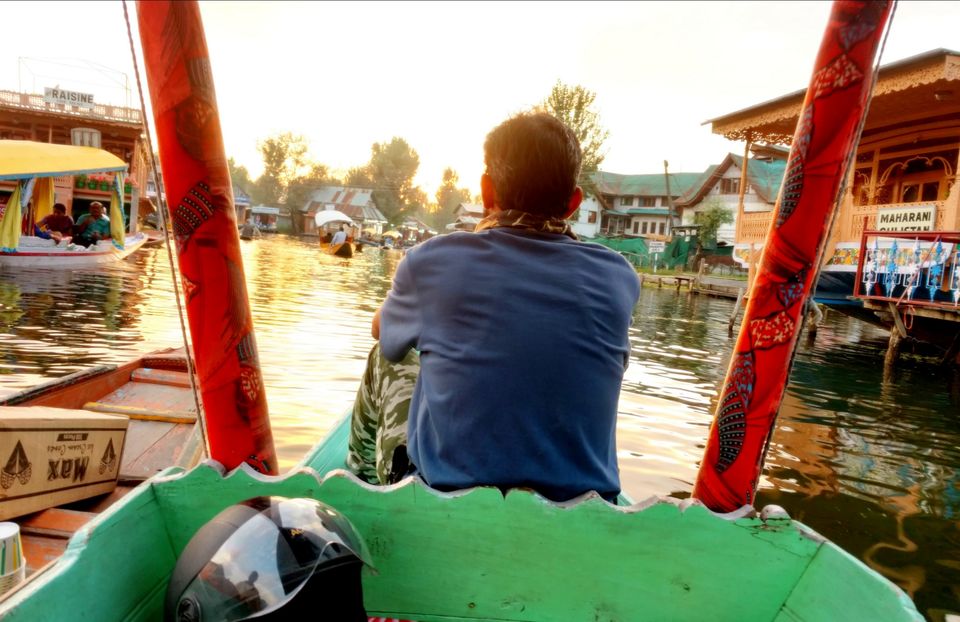 Day 4 (15th Sept'2017) – Srinagar to Kargil (210 Kms approx.)
Today, I have traveled from Srinagar to Kargil via Sonamarg, Baltal, Joji-La pass and Drass.
It was a fresh new day which turned out to be quite thrilling and adventurous. I have started around 8:30am from Srinagar and had my breakfast at Kangan village at 10:00am.
I've traveled through beautiful Sonamarg around 11:30am and successfully crossed Joji-La pass by 1:00pm. I must say, It was a first hardcore test of my biking skills. It was very narrow and off-roading route beside a deep valley. After Joji-la pass, I stopped at Gumri Post for lunch, it was a small cafe run by Army. It was getting cold due to Increase in height, cold breeze and cloudy weather.
Later, I crossed Drass and reached Kargil war memorial at 4:00pm. It's a must visit for every Indian to see the bravery and courage of Indian Army. I actually got goose-bums and felt very proud while I was there at the memorial. I reached Kargil by 6:00pm and looked for an economical hotel. I checked into a hotel by 6:30 pm and went to nearby mechanic shop to get my bike fixed (few minor issues of nuts & bolts). Then, I visited the local market (mall road) for some time and had my dinner around 9:00pm and came back to hotel and slept by 10:30pm.
Episode 3.) Srinagar-Sonamarg-Jojila-Drass-Kargil - https://youtu.be/IqwRB6GuKjE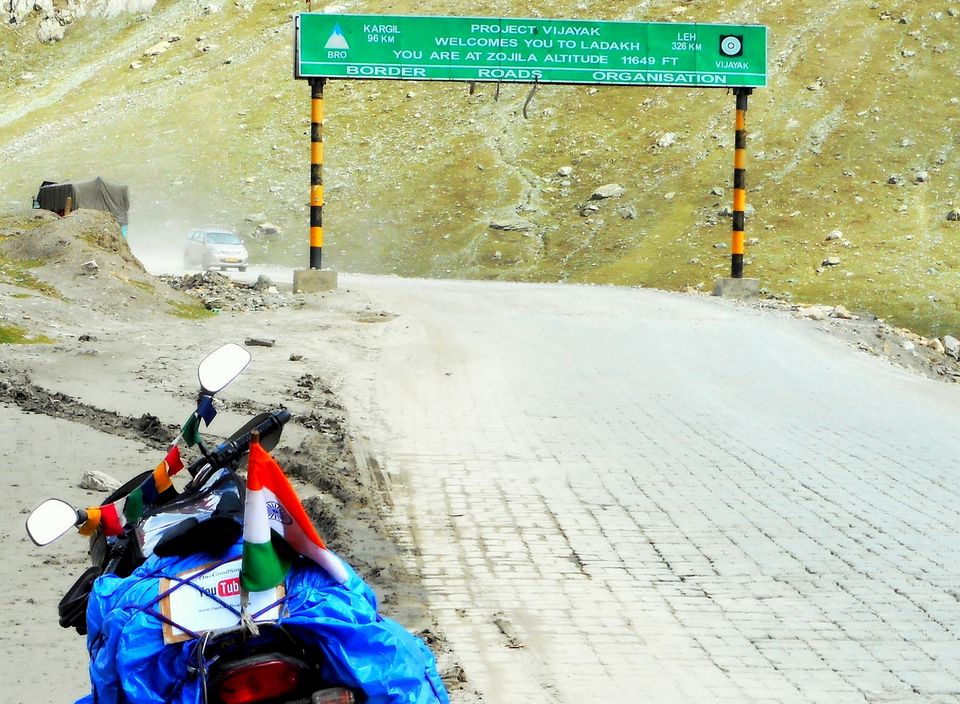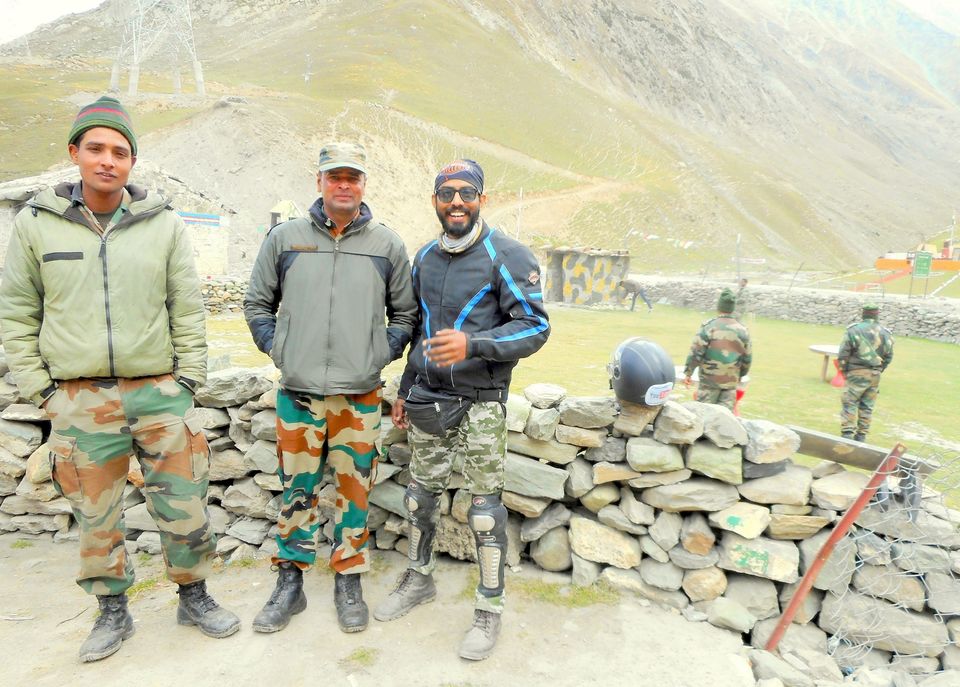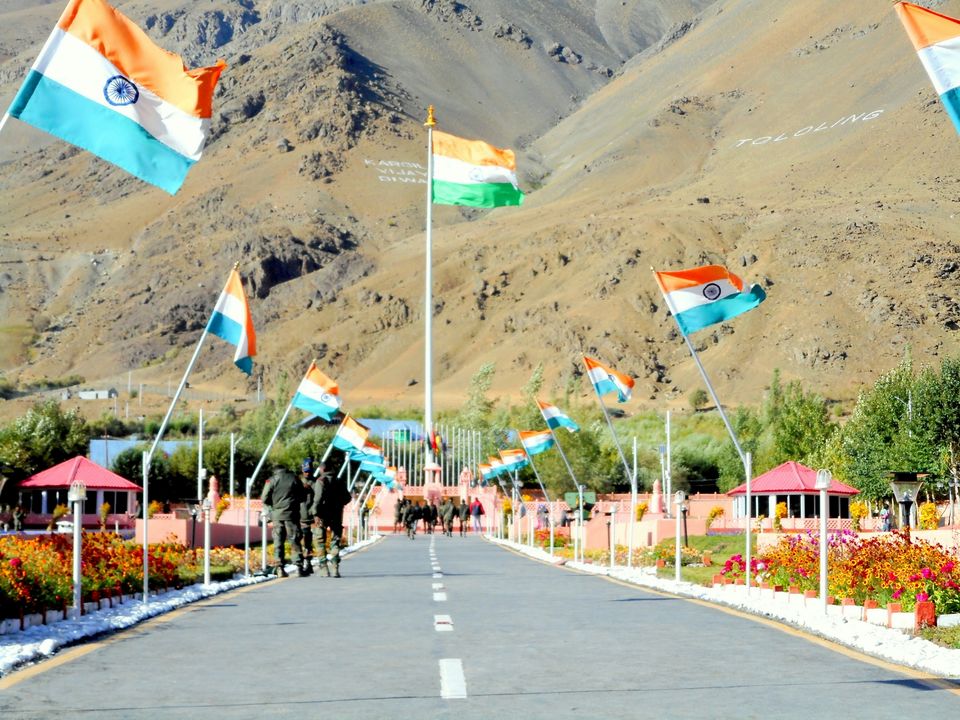 Day 5 (16th Sept'2017) – Kargil to Leh (220 Kms approx.)
Today, I've covered 220 Kms from Kargil to Leh via Mulbek, Lamayuru, Nimmoo, Magnetic Hill and Gurudwara Pathar Sahib.
I started from Kargil at 8:30am and had my breakfast at Mulbek village around 10:30am. It was quite chilly and breezy for a long stretch after Mulbek. Then after crossing Fotula Top, I've reached Lamayuru Monastery by 1:00pm and had my Lunch there.
Post lunch around 2:00pm, the ride was so smooth and ultimate that I can't forget. There was a long, straight patch of road for about 10-12 kms, which was smooth & ideal for a relaxed ride. There were big mountains on both sides of the long, black tarmac road…Amazing!
Then, after crossing Nimmoo Monastery around 5:00pm, I reached the famous Magnetic hill. It was an Amazing experience to ride and test the gravity. I have spent approx. 30 mins there. The bike actually climb up to hill (See the video). Next I visited the Gurudwara Pathar Sahib around 6:30pm and reached Leh by 8:00pm.
I checked into a good hotel and moved out to visit the local market (Bada bazar). It was very vibrant and colourful nightlife in Leh. I had my Dinner out and roamed around till late in night and came back to hotel by 11:00pm. It was one of the beautiful, happening day of my ride.
Episode 4.) Kargil-Magnetic Hill-Gurudwara Pathar Sahib-Leh - https://youtu.be/I8teXM-_32I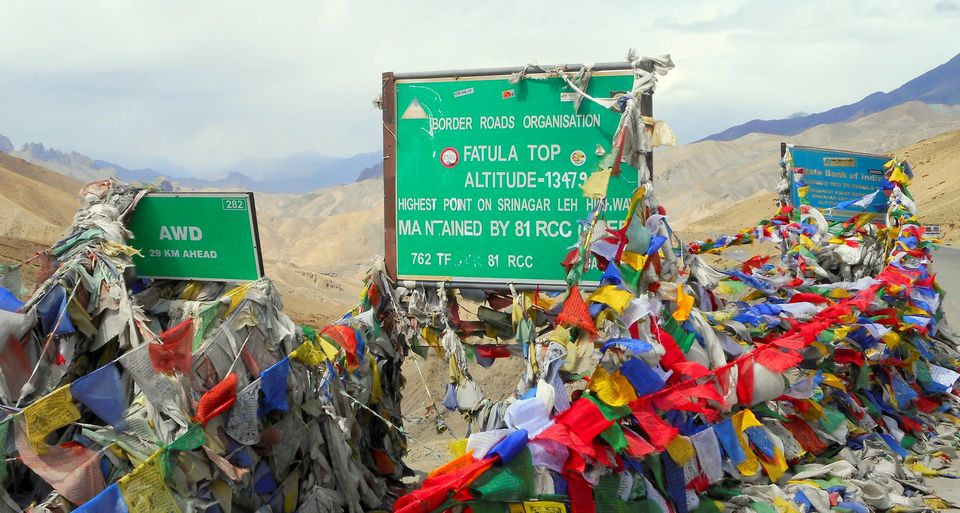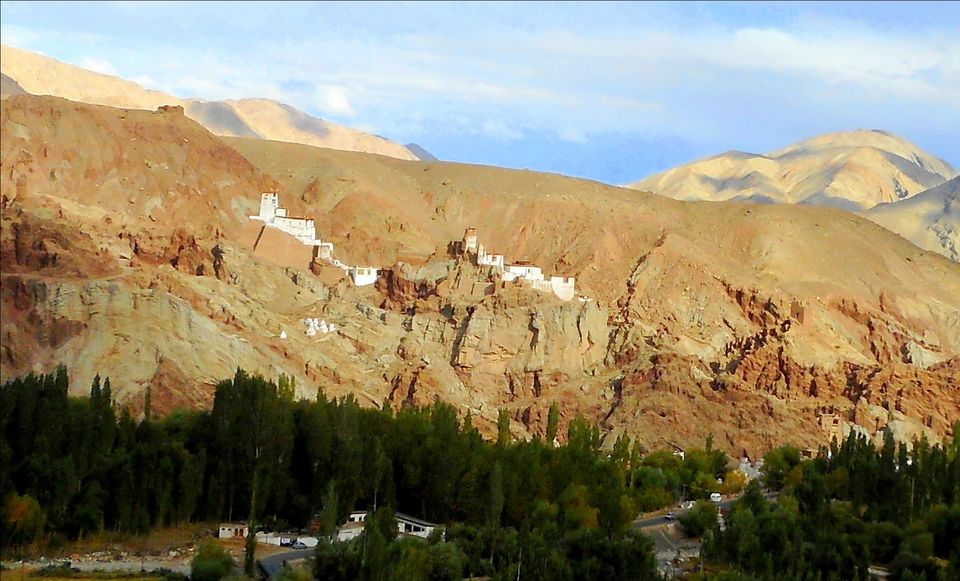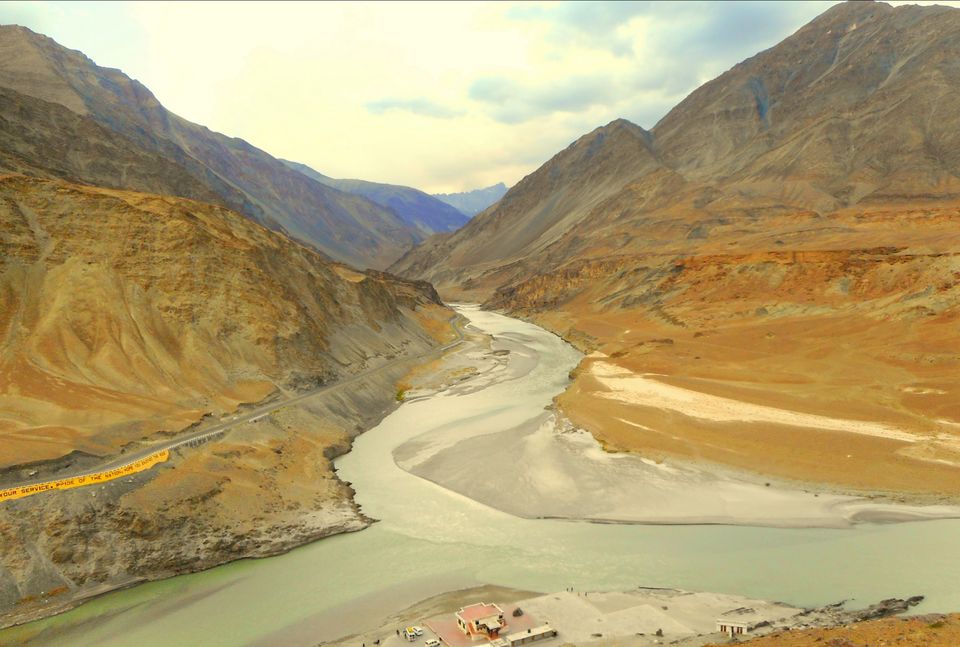 Day 6 (17th Sept'2017) – Leh Sightseeing and body acclimatization
Today morning I was quite relaxed, as I don't have to ride anywhere. I woke up by 8:00am and went to DC office at 9:00am to get my Inner Line Permits Issued for my upcoming travel. I got my Permits issued by 11:00am.
Then I went to see the beautiful Leh Palace, located at a hill. Apart from palace, there was a Castle and temple also, where we can reach by trekking. So I did some 30 mins climbing on hill to reach that castle. I have spent good 2 hours to cover these two places, had my lunch at a local restaurant and came back to my hotel around 2:30pm to take some rest. As it was quite tiring due to high altitude.
Then around 5:00pm, I again went out to get the fuel for my bike. I bought two 10 litre petrol gallons and 2 extra bungee chords. Later in evening I visited the local market and drive around some places. I had my dinner by 9:00pm and came back to hotel and slept by 11:00pm.
*** About Inner Line Permit – From April 2017, the government authorities have made it compulsory to obtain an Inner line permit for Domestic and International travelers visiting some of the protected areas of Ladakh.
You need to get Inner Line permits issued to visit anywhere in Ladakh and get them issued from DC office. There is some nominal fees for it, which you need to pay. (400 INR per person and 20 INR per person for each day you spend in Ladakh. I have paid 520 INR for my six days travel in Ladakh to cover these places – Khardungla, Nubra, Turtuk, Pangong lake, Hanle & tso-moriri.
ILP is required for some areas like Nubra valley, Khardung La, Pangong Tso, Tso Moriri, Dah, Hanu Villages, Man, Merak, Nyoma, Loma Bend, Turtuk, Tyakshi, Chusul, Hanle, Digger La, Tangyar (for trekking only). No permits are required to visit the local places near Leh town or Leh local sightseeing, places on Srinagar Leh Highway, places on Manali – Leh Highway.
Inner line permits are issued from DC office in Leh town. Timing of the Leh DC office are 9.00 AM to 5.00 PM, however the application forms needs to be submitted before 3 pm. Self attested photocopies of valid nationality proof, Photo-IDs are necessary to procure Inner Line Permits.
In the application form, you need to express your interest to visit the places you wish to travel along with the dates you would be visiting these places in your Leh trip.
Validity of the inner line permits are 3 weeks for Indians and 1 week for foreigners.
In order to get the permits for Hanle and Changthang or to go to Tso Moriri via Chusul – Nyoma route from Pangong Tso you need to mention all places enroute so that you are not sent back from any post. These places are: Man – Merak – Chusul – Tsaga – Loma – Nyoma and hanle.
Episode 4.) Kargil-Magnetic Hill-Gurudwara Pathar Sahib-Leh - https://youtu.be/I8teXM-_32I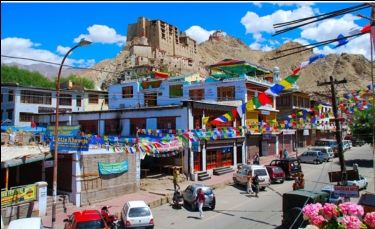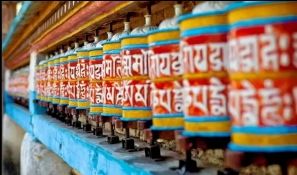 Day 7 (18th Sept'2017) – Leh to Hunder via Khardungla Pass (130 Kms approx.)
Today I have started my journey around 8:30am and covered South Pullu, Khardung-La Pass, North Pullu, Diskit and reached Hunder by 6:30pm.
It was the big day to fulfill my dream ride to Khardungla Pass (One of the highest motorable road in the world), that too on my own BajajDiscover 135.
I have started from Leh (height 11,500 ft) and reached south pullu around 10:00am. It was quite cold and tiring ride, as the road condition was not that good. After south pullu, the toughest route started on narrow un-constructed road, deep valley beside, risky and tiring ride. I made it to Khardungla-Pass (Height 18,380 ft) by 11:30am, but the ride was real hardcore & super thrilling.
I have spent close to 1 hour at khardungla and had Maggi/tea, whereas its not recommended to stay more than 20 mins at this place due to high altitude and less oxygen level. As people get mountain sickness & breathing issues. However, for me it was an amazing, achievement feeling for which I've waited for many years.
Around 12:30pm, I have started getting down the other side of the mountain, which was not at all easy. It was equally tough and risky with steep down road beside deep valley.
My Bike was getting drifted down at some places due to heavy load and was about to skid few times, but fortunately it didn't. It took me almost 2 hours to complete 15 kms (Imagine how bad the road condition was) to reach North Pullu by 2:20pm, where I had my tea break.
After that, I reached Khagral village around 4:00pm and had my lunch break and had a cup of tea. After refreshing myself around 4:40pm, I started my ride again towards Diskit village. I reached Diskit around 5:30pm and visited 106 feet tall, Lord Buddha statue. It was really big, beautiful and mesmerizing. It was 5:45pm, the sun was about to set in west & I was riding towards my final destination of the day 'Hunder – Nubra valley'.
I reached Hunder around 6:30pm and checked into a homestay taken care by an old couple. It was a good, comfortable & cozy place to stay. After whole days exhausting ride, I had an awesome, filling dinner around 8:30pm and slept by 10:00pm.
Episode 5.) Leh-Khardungla-Disket-Hunder(Nubra Valley) - https://youtu.be/VlpXxkp_3LM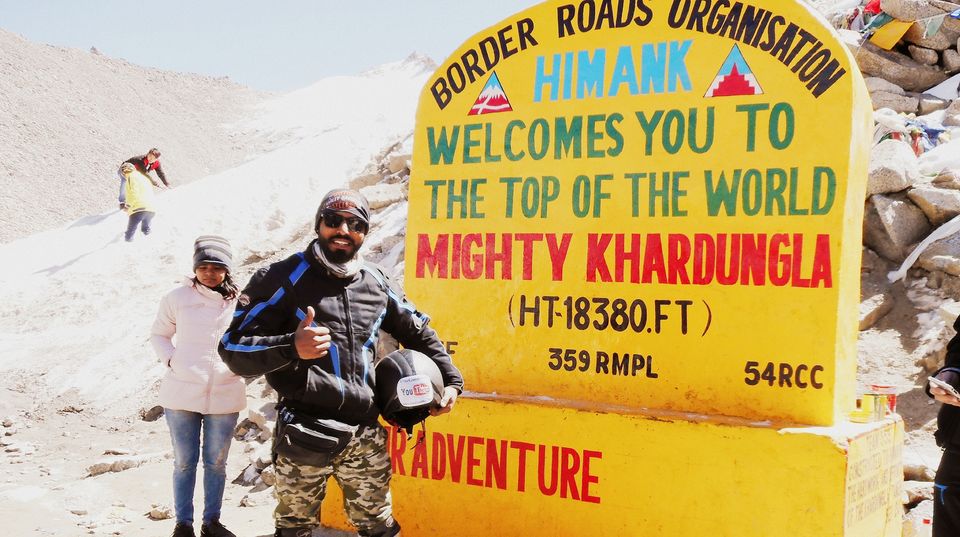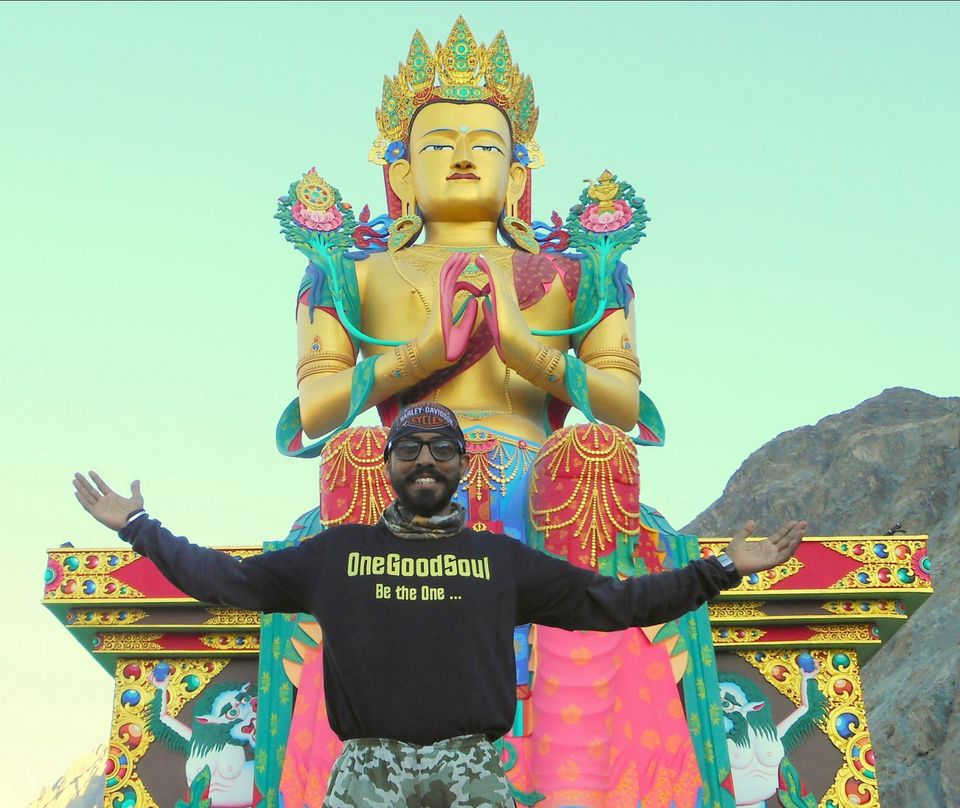 Day 8 (19th Sept'2017) – Hunder to Turtuk and back (Last village of India) (180 Kms approx.)
Today, I got a bit late in starting my ride, it was 10:30am.
Initially my plan was to go to Panamik, Sumur and Pangong Lake. But I got confused between two plans, whether to go Panamik & sumur OR go to Turtuk. As most of the people I met were going to Turtuk, so I also decided to go to Turtuk only.
In morning, I went to Disket first (which was 7 kms) for petrol and got a full tank in my bike. I came back and visited the Sand Dunes (Cold desert) of Hunder. I took the Double hump camel ride, which was so amazing. There was sand all around and desert was so big. The time was around 12:30pm and I came back to my homestay and left all my luggage there, to get ready for Turtuk.
Then I had my lunch in Huder at 1:30pm and started my ride to Last village of India 'Turtuk'. It was in POK (Pakistan) before 1971 war and its a Muslim village. It comes under Baltistan and the language in use is Balti.
It was one of the amazing, smooth ride to Turtuk, beautiful scenic view along the Nubra River flowing beside the highway. I crossed some small villages named as Thoise & Chalunka. I reached Turtuk around 4:40pm and visited the last military check-post. There I met one young photographer, while having tea at a local shop and had a nice chat for about an hour. Hence, got late in starting my return journey.
By the time I started coming back (At 6:00pm), the Sun was already set and it was getting dark and then completely dark.
I was able to see the stars in the sky at 7:00pm in evening. There was nobody with me or around, no vehicle, no light, no village across 30-40 kms and I was riding alone in that dark, cold evening. I continued my ride and finally reached back to my Homestay at Hunder by 8:30pm. I felt so happy and relaxed after reaching my homestay. It was a difficult yet thrilling ride of 80 kms in a Dark night at such a risky and isolated place. My homestay owner (Uncle & Aunty) were also happy to see me as they were also worried for me coz I was riding alone and got late.
Aunty have already made a nice non-veg dinner for all the homestay people, but when she came to know that I am a vegetarian she made a very nice hot vegetarian dinner (Daal, Rice) specially for me and I swear to god it tasted really awesome. Later I slept around 10:30pm.
 Episode 6.) Hunder to Turtuk (Last village of India) - https://youtu.be/QtFqQcFbI20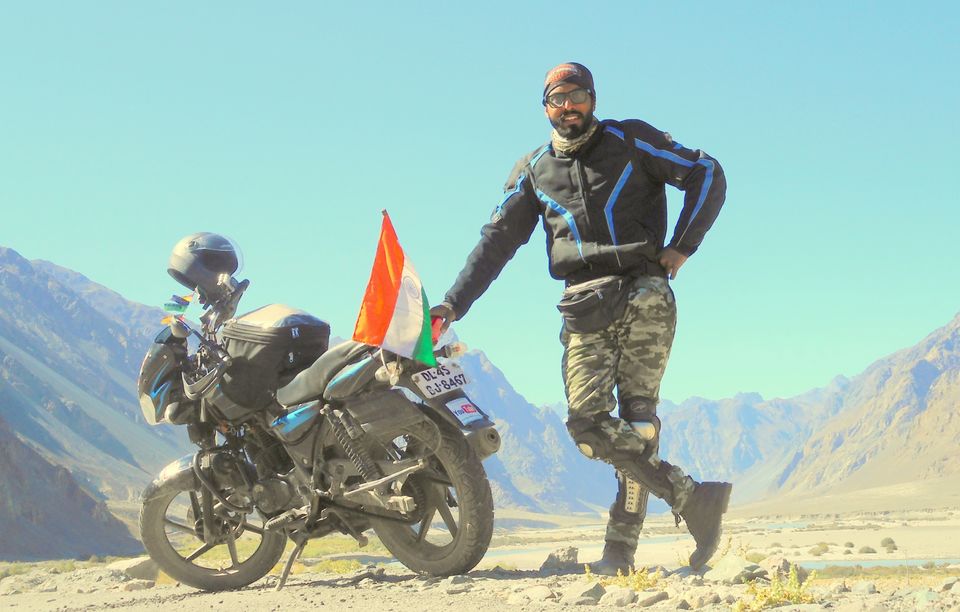 Day 9 (20th Sept'2017) – Hunder to Pangong Lake (130 Kms approx.)
A fresh new day started at 8:30am. Today I was heading towards Pangong Lake via Shyok valley, covering Agam village, Shyok, Durbuk and Tangtse villages. I've experienced the real beauty of Nubra Valley in morning but It was not at all a smooth ride today. I rode 4 hours continuously to reach my first halt and reached Agam village by 12:30pm. Here I took a 45 mins Maggi break at the military cafe.
After that I continued my ride on this ultimate off-roading route and reached Shyok village around 2:30pm. Here I took a small tea break for 20 mins.
Then I moved to my next destination Pangong lake and finally reached at Lukung post (Pangong Lake) by 5:15 pm and experienced the ultimate, serene beauty of the blue lake.
The sun was setting in the west and the reflection of blue sky made the lake so perfect. It was so cold  & breezy but amazing picturesque view. I've spent around 40 mins there and moved to Spangmik (6-7 kms ahead) for Camp stay.
Most of the Camps. Tents and stay options are at Spangmik. I found a really nice Campsite and stayed there over night. After having a nice, filling dinner around 8:30pm, I sat outside my camp and spent some nice time looking at the sparkling stars of our milky way in crystal clear dark Sky. It was a splendid view of the sky, like someone has sprinkled a white colour brush on black canvas to create white spots. Later, I slept around 10:30pm in my tent.
Episode 7.) Hunder(Nubra valley)-Durbuk-Pangong Lake - https://youtu.be/FfKN6pIgdNI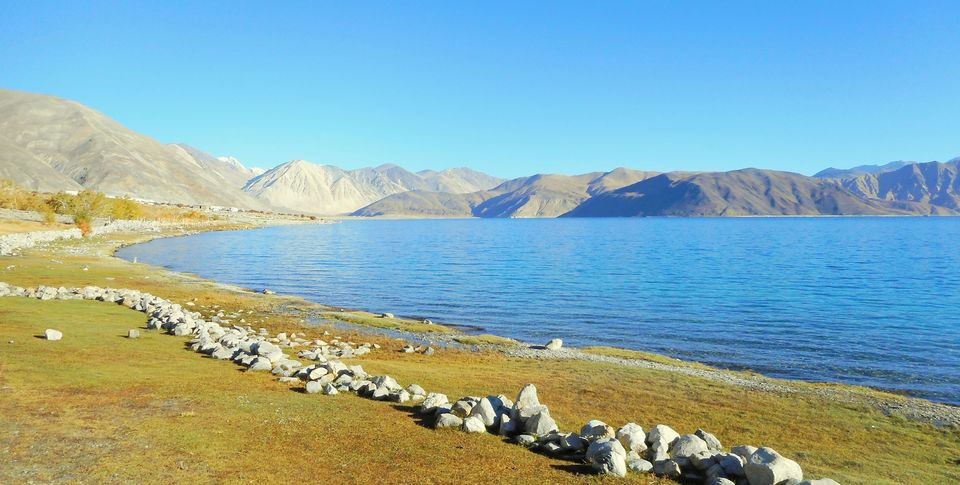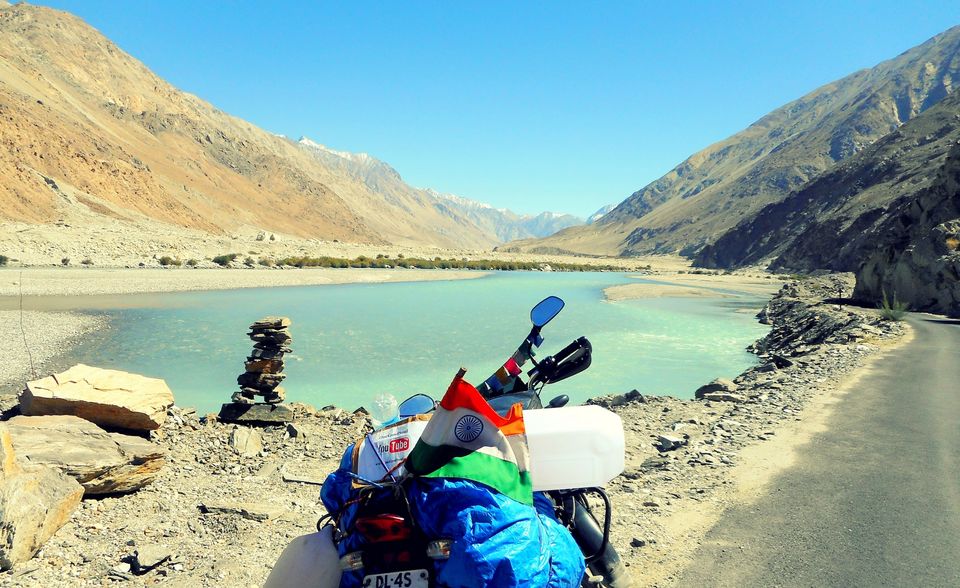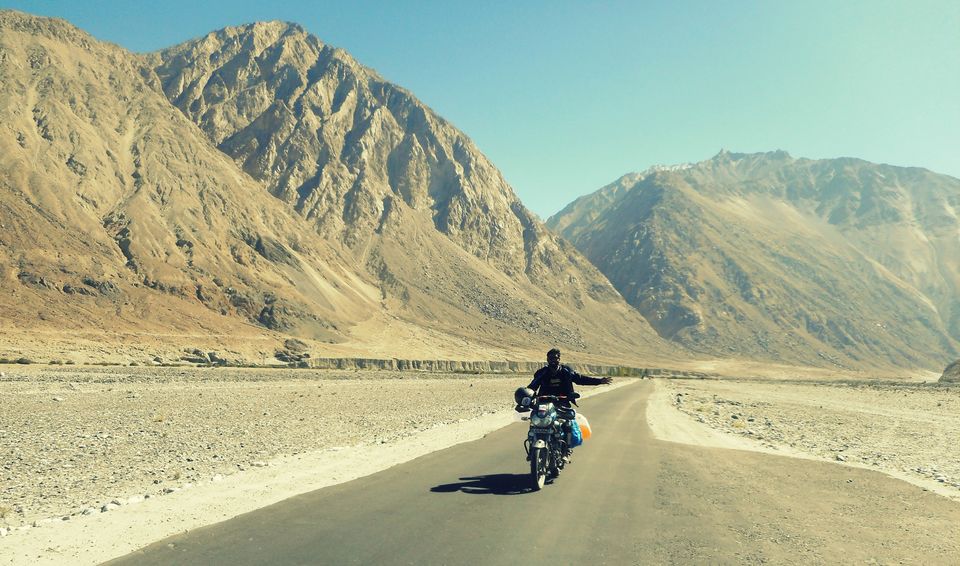 Day 10 (21st Sept'2017) – Pangong Lake to Leh(160 Kms approx.)
Today, I've traveled through Tangtse, Durbuk, Tsoltak Lake, Changla Pass, Zingral, Sakti and Karu to reach Leh. I woke up early morning at 7:00am to see the beauty of Pangong lake. So I got ready and went to the lake and Sat beside it. It was so beautiful & relaxed feeling while sitting at the shore of Pangong Lake, listening the soothing sound of water, looking at crystal clear water, completely blue in colour due to the reflection of the sky, the reflections of the sparkling sun rays falling on crystal clear water was amazing.
I had my breakfast around 8:30am and then again I took my loaded bike to lake side. There I met some fellow bikers, whom I met 2 days before at North Pullu. We've spent some nice time clicking pictures and chitchat session.
Then I moved back to Lukung post (3 Idiots point), where I went yesterday evening but due to low light and cold, I couldn't see the place properly. There I clicked some pictures and had maggi/tea.
It was 11:45am, when I left Pangong Lake and started my return journey to Leh. The route was same till Durbuk village, from there I took the left from Diversion point towards Leh. After this turn the altitude started increasing almost every passing kilometer. Just after crossing Tsoltak Lake (16,600 ft) the off-roading started again. I started climbing towards Changla-Pass. It was very cold and windy, steep climbing turns and deep valley beside.
It took all my power and strength to ride up. Then finally I reached at the Changla-Pass (17, 688 ft) , 2nd Highest Pass in the world after Khardungla. There I had tea& maggi.
It was around 3:00 pm, when I started coming down from Changla Pass & while coming down, my bike skidded & fell twice. The side guards (Leg Guards) got bend, It was so difficult to pull-up the fallen loaded bike on a slope, so I waited for some time & took help from a taxi driver to pull my loaded bike up. Then again, I continued my ride and crossed Zingral village, Sakti Village and reached Karu. From Karu, I took right turn towards Leh & enjoyed a smooth highway ride. The sun was setting right in front of my eyes in the west.
I've reached Leh around 6:30pm & Immediately after reaching Leh, I have got my bike fixed by a local mechanic. Tightened some screw& Nuts, fog-lights and balanced the handle bar, which got disturbed after the big fall.
Later, I checked into a hotel and went out to have my Dinner in Leh market. As usual it was vibrant and lively market area, where I've already spent two days before, so I roamed around places and came back to hotel by 10:30pm and slept.
Episode 8.) Pangong Lake-Changla Pass-Leh - https://youtu.be/_Jix4Fpg4XI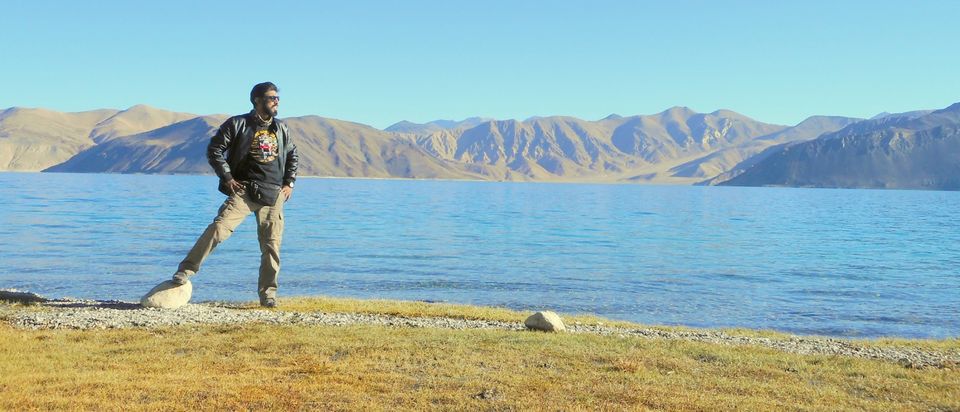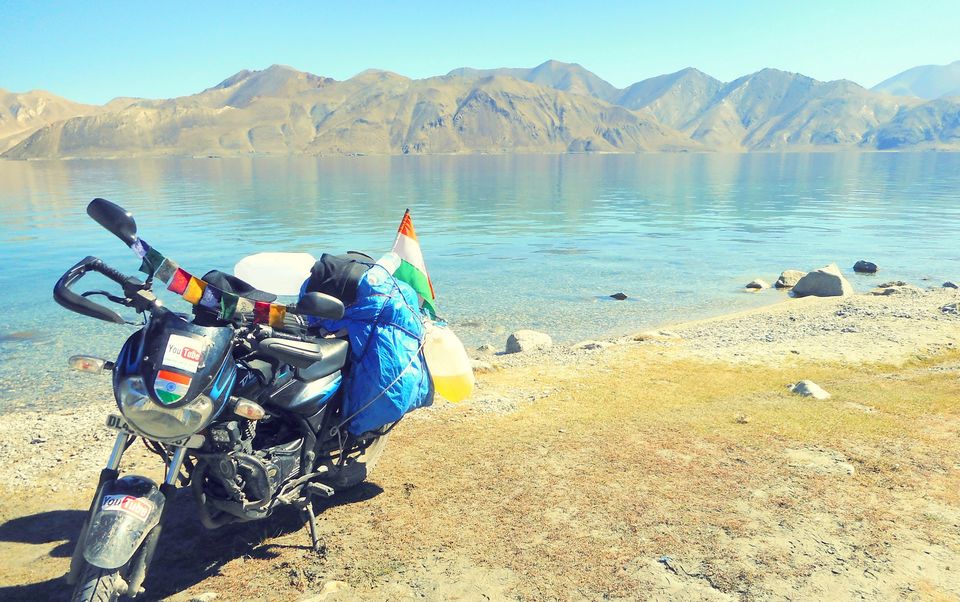 Day 11 (22nd Sept'2017) – Leh to Nyoma (180 Kms approx.)
Today, my day started at 8:30am and as per plan, I headed towards Hanle (260 kms away) but I could only make till Nyoma. I've traveled through Karu, Upshi, Kiari, Himya, Chumathang, Mahe vilages to reach Nyoma.
As per my information the roads were supposed to be quite good till Hanle. However it turned out opposite and it became one of the tiring and adventurous day of my trip.
In morning, I started from Leh around 8:30am and covered Shey Palace and Thiksey Monastery (from outside only). Then I reached Karu around 10:00am. I took fuel for my bike, got a full tank and took extra petrol (18 liters) in two big petrol gallons (09 liter each), which I carried at the back of my bike(Tide with Bungee chords).
After Karu, the roads were slightly off-road and I reached Upshi village around 11:00am. Then just after the Upshi village the road conditions were very bad, I thought it will be for 1-2 kms and will cross soon but No, it was a long, narrow, risky and dangerous road for around 70 kms along the Indus river beside deep valley till Kiari Village. I swear to Got, it was a tough & tiring ride.
In morning I wished for a smooth ride but let me tell you, when you are in Ladakh and that too a Solo Rider, just expect the unexpected & Be ready for adventure and thrill."
So, It took me approx 5 hours to cover 70-75 kms , as the road conditions were very bad. It was cold and windy too. At some places, the steep slopes and turns made it really tough to handle a fully loaded bike. Yes, I fell twice and pulled my bike-up on my own as learned from my past falls(3 times) in last 10 days. 
I crossed Kiari village around 3:30pm and took a maggi break at Himya village around 4:00pm. The local dhaba guy told me that, I will not be able to reach Hanle today as its very far and the time was already around 4:30pm. He suggested me to reach till Mahe and stay overnight there.
After the break, I continued my ride and decided to ride till sunset. Fortunately, the road condition was decent and pretty good. So, I raised the speed of my bike and crossed Chumathang by 5:15pm and reached Mahe around 5:50pm. It was almost dark, I asked 2-3 locals for a night homestay but disappointed, as there was nothing available and the Sun was already set in the west.
I decided to go ahead till Nyoma, which was 20 kms more to ride. I switched-On my LED Fog lights for better visibility on road but there was more to come, hell… the road condition was again bad and it was complete Dark in those bumpy roads.
So I maintained my cool, kept my patience, got a grip on bike and slowed down my speed to 10kms/hr and continued moving ahead slowly. There was nobody around on those roads, as it was already a distant and isolated village area. Anything could have happened there, anytime.
Finally after 1 and a half hour of difficult ride, I reached Nyoma village at 7:30pm and searched for a place to stay. To my Surprise, it was a Dark, no electricity village, no people were around. After 15 mins of search in the village roads, one local guy met who lead me to a homestay. Thankfully I got a shelter around 8:00pm in that cold night. The Homestay Lady gave me freshly made, nice, hot food – Daal, Rice, chapati etc. I was so hungry that I ate double my hunger.
So after a real adventurous, tiring and thrilling day, I ended my day & went to sleep around 10:30pm. Due to the bad conditioned, risky roads I did not get time to record any videos and couldn't click pics, as the whole route was very narrow beside deep valley. My whole focus was to handle the bike and ride safe.
Episode 9.) Leh-Karu-Upshi-kiari-Chumanthang-Nyoma - https://youtu.be/PkKGyBRVX8w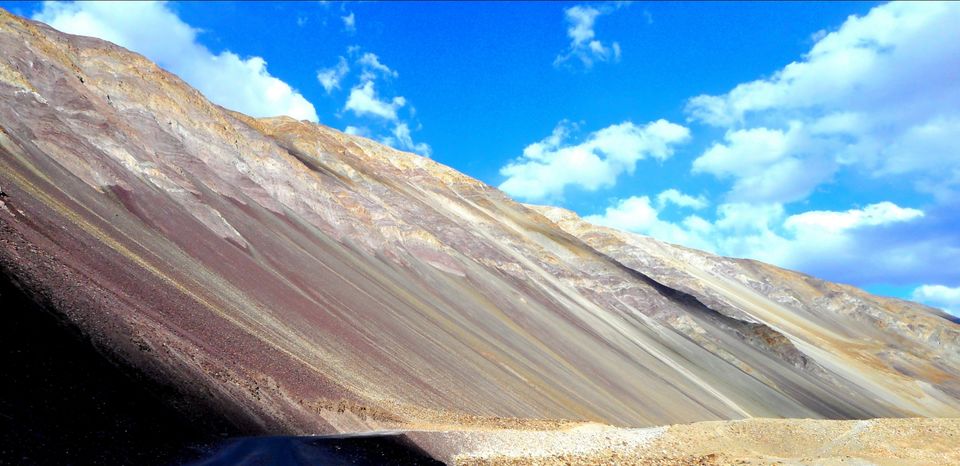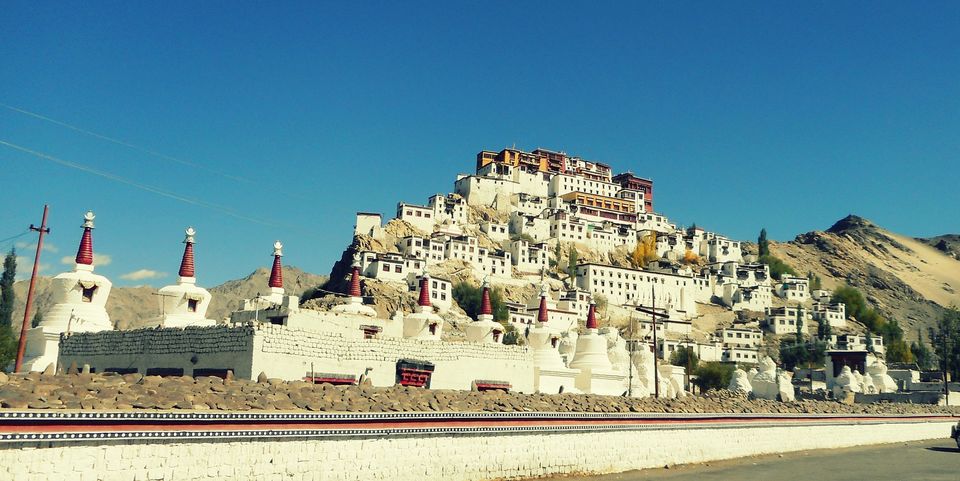 Day 12 (23rd Sept'2017) – Nyoma to Hanle and Hanle to Sumdo (205 Kms approx.)
Today I've covered Loma, Rango, Hanle, Nyoma, Mahe villages to reach Sumdo Village.
I got up at 7:00am and wanted to start an early ride towards Hanle. But It was a cold, chilly, Cloudy morning at Nyoma. There were rainy clouds, with no sunshine.
It rained in the night and was drizzling a bit in morning. So I had some Tea and awesome hot Parantha's made by the homestay lady. It was so sweet of her coz she made it only for me and told me, that its a long way to ride and I will not find any dhaba/shop there, so I should eat nicely.
Then I started my ride around 8:20am &I reached Loma Village around 9:00am, showed my permit papers at the Military post and crossed a river bridge towards Hanle.
From Loma village, Hanle was around 50 kms ahead. Then I crossed a small village Rango around 9:30am.
After riding 3-4 kms ahead, the famous road to Hanle started. It was so amazing, straight, long tarmac road. There was Sand across both sides of the road. Complete Barren land.
The ride was really something different, smooth, clear black road, high mountains both sides of the road, sand across all over, scenic views, different shades of the mountains, a little sunshine coming through the rainy clouds….just so perfect.
Finally, I reached Hanle at 11:00am and climbed up to Hanle Astronomical Observatory situated at a hilltop. It was an amazing, achievement feeling with beautiful view around. I met the guy who was taking care of the place and took me inside the observatory to show the telescope. The telescope name was Himalayan Chandra-2, he told me few things about it. They open the telescope shutters in the night, when the sky is clear & focus on the stars and other astronomical units for research. It was so thrilling and exciting to be there.
I have also seen Hanle Monastery from a distance, which was located at some other hill.
After spending some time, I started my return journey around 11:45am, as I had to reach back to Nyoma and move further. I again followed the same route and experienced the clear beautiful views of that place. By this time, the sun has come out and the weather was much clear than morning.
I've experienced the cold sand storm Or I would say small sand tornado's (Swirls). Later, while coming back, just 7 kms before the Nyoma village, I met with a dark thunder storm & heavy rainfall. Fortunately, there was a small shed at the roadside where I took shelter and saved myself from the rain. It was almost dark like evening at 2:00pm in afternoon.
Somehow in little drizzle, I came back to Nyoma village by 2:45pm. Then I took my luggage from homestay, had a cup of tea and started riding again by 4:00pm towards Mahe.
The weather was still not very clear, however I continued riding in that drizzle and reached Mahe village around 5:30pm. Again I couldn't find any place to stay there. One local person suggested me to go to Sumdo Village, which was approximately 14 kms ahead of Mahe, on Tsomoriri route.
It was almost dark and the roads were not at all easy, mind it !
Then, I decided to ride ahead, switched-On the extra lights and reached Sumdo village by 6:20pm.
It was cold, chilly and dark by then. I searched a homestay and kept my luggage there. It was not a homestay I would say but kind of place where they keep there kettles & sheeps (Gou-shala). But I had to stay there, coz there was no other option.
There I met one other guy staying at the same place, who was riding on Bycycle (Yes he was a cyclist) from Chennai. Later, we both had dinner by 7:30pm and slept around 10:00pm. It was really a small village with no electricity. People end their day by sunset and sleep almost by 9:00pm.
Episode 10.) Nyoma-HANLE-Sumdo - https://youtu.be/PNlZAAhYQaY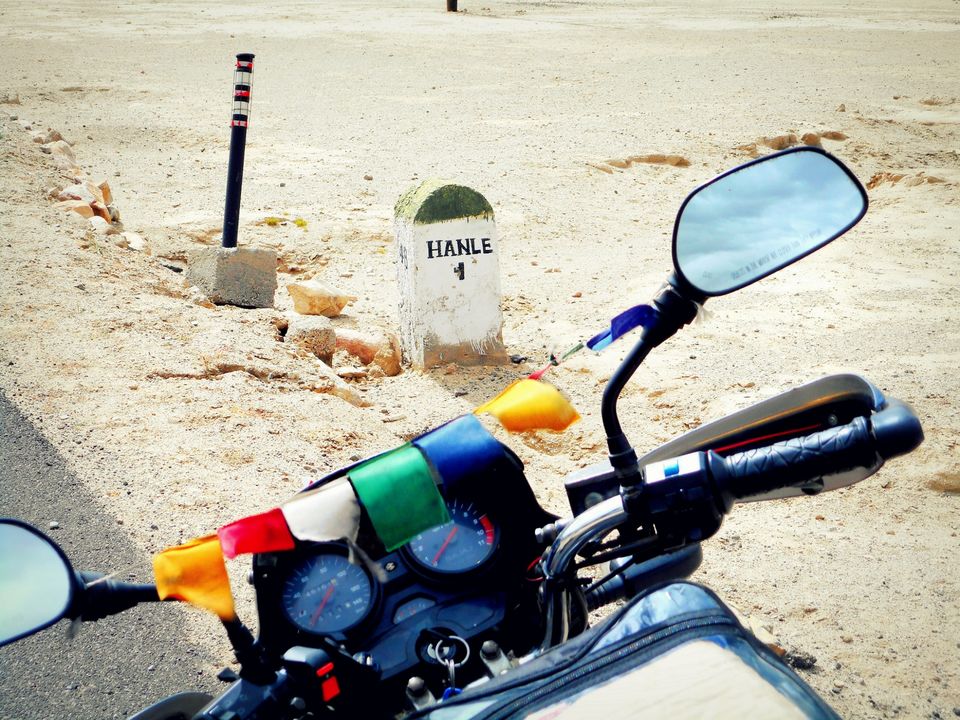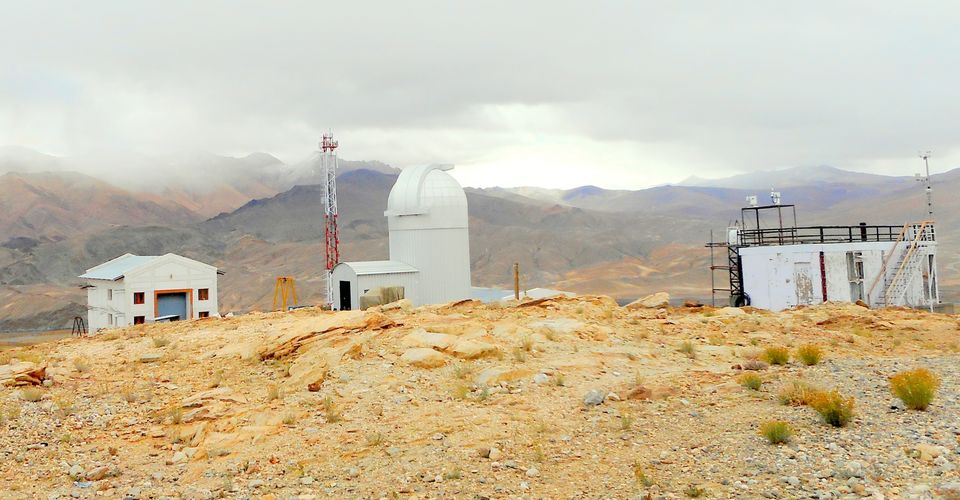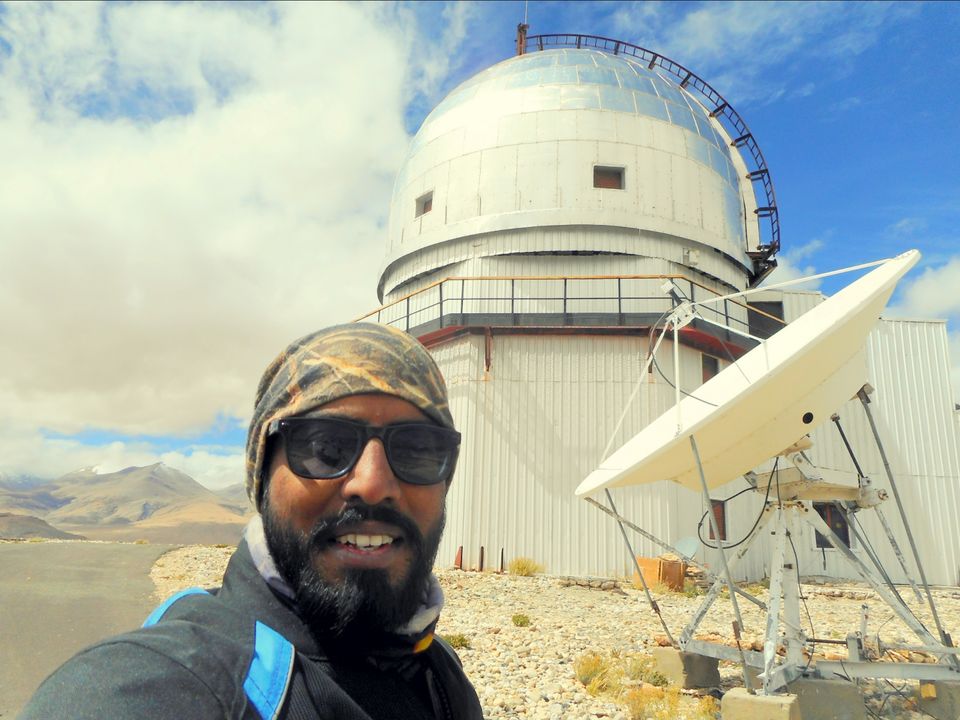 Day 13 (24th Sept'2017) – Sumdo to Sarchu(190 Kms approx.)
It was a freezing morning at Sumdo Village. I woke up at 7:00am, came out and saw that It was drizzling today also, yes everything was wet. I got ready, had my tea-breakfast and started my ride at 8:00am. The other rider (Cyclist) also started on his cycle slowly. We both wished each-other, clicked a picture, shared numbers and took our way towards Tsokar. As we both had the same route to follow but had different type of vehicles to ride at different speeds. So we parted soon.
It was complete off-roading for me till tsokar via Changthang village. I reached Tsoker lake & village around 11:00am, there I had Tea and rested for 15 mins.
After this, I continued my journey and reached 'Debring Junction' at 12:30pm, where the road was meeting with Leh-Manali Highway. I was so happy to see the proper road after a long stretch. Then I reached to PANG around 1:30pm and had my Lunch break there.
Around 2:00pm I started from PANG on Leh-Manali Highway & I must say that after PANG the road was not easy at all. I Crossed Lachungla Pass, Nakeela Pass and GATA Loops and after so many ups-downs in altitudes I've reached at the bottom of valley around 5:00pm. Still SARCHU was around 20 km away and It was getting dark and cold, due to snow clad mountains and close proximity of Baralachala Pass.
Finally I managed to reach at 'SARCHU' around 6:30pm. I have made an official entry at the military check-post. Then, I found one tented Campsite right beside the highway and stayed there overnight in camp. I was the only guest in that campsite along with 4 other people, one was the owner, one was cook, and two others were care-taker of the camp. In total there were only 5 people in that aloof, cold, mountain area night of Sarchu.
To my surprise, the owner has setup a TV (DTH) connection running in the camp cafeteria, where we all five have sat together and watched the Ind-AUS (D/N) cricket match and had hot dinner. It was really a pleasant and memorable experience. A nice relaxing evening after many days of hardcore riding.
Episode 11.) Sumdo-Tsokar-Debring-Pang-Lachungla Pass-GATA Loops-Sarchu - https://youtu.be/ZpPIDKh07_g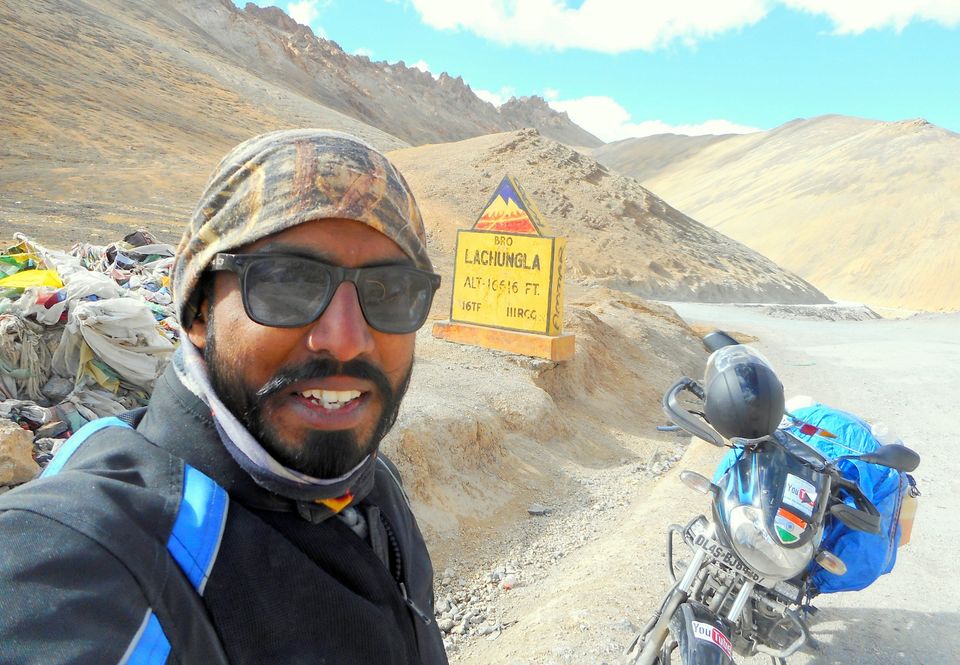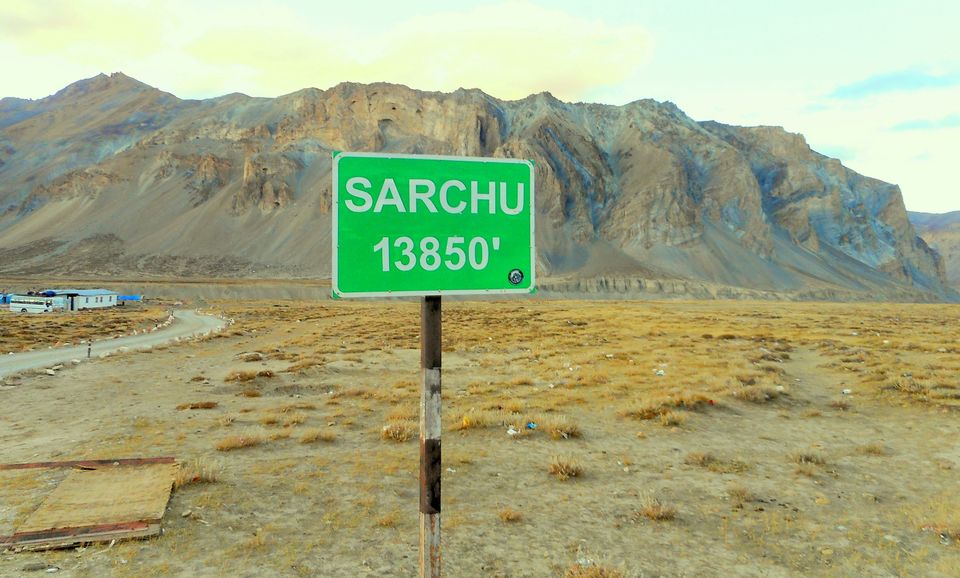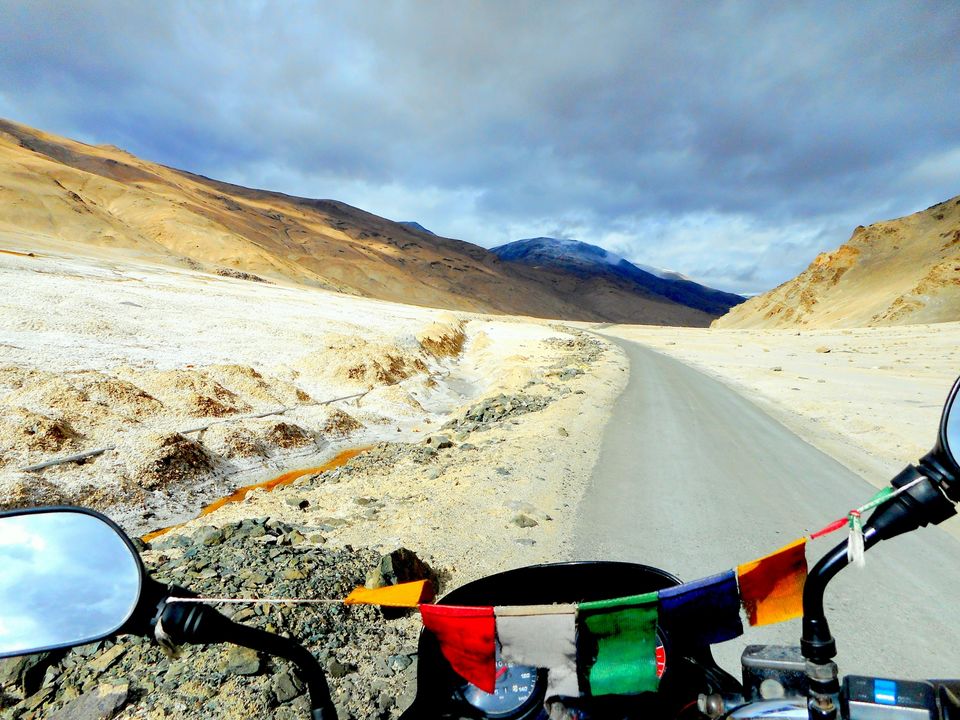 Day 14 (25th Sept'2017) – Sarchu to Manali (230 Kms approx.)
It was a beautiful freezing cold morning when I woke up at 7:30 am. I started my ride at 9:00am from Sarchu campsite towards Baralachala Pass. It was very cold but the initial ride was pleasant and smooth. Soon the steep climbing started and I was in the middle of high snow capped mountains. It was amazing view to see the pure white snowy mountains around. Finally I've reached at Baralachala Pass around 10:30 am. It was so beautiful at the top, snow all around, felt like a white blanket of snow is covering the mountains.
After that I crossed Suraj Taal, Deepak Taal and ZingZing Bar. It was really an amazing ride. I reached Darcha around 12:30 pm and had my lunch (Freshly made hot Daal-Chawal) and registered my bike at the police check-post.
Then I continued my journey and crossed Jispa at 1:30pm and reached Keylong at 2:00pm. I have taken a small break of 10 minutes there and after that around 2:30 pm I crossed Tandi and crossed Sissu by 3:00pm. I reached Khoksar village at 3:30pm and had a cup of tea.
The weather was not at all good. It was Dark, cloudy and rainy. Then the rain started and within 15 minutes of rain, the roads got completely messed-up, muddy, slushy and slippery. I continued my ride in the drizzle and started climbing-up towards Rohtang Pass. It was dangerous to ride up on slippery, slushy, narrow roads. The whole road for about 8-10 kms till Rohtang Pass was not in good shape. After 1 hour of hardcore off-road biking in cold & wet conditions, I've managed to reach up at Rohtang Pass by 4:30pm.
I've spent around 30 mins there and started coming down towards Manali. It was again not easy to ride down in the drizzle and slippery narrow road. I continued my ride and after coming down half way, the drizzle stopped and finally managed to reach Manali by 7:00 pm in the evening. I looked for a hotel and checked-in. It was really a one of the longest and toughest ride of my Ladakh journey.
Later in the evening, I've visited the Mall road & took a relaxing walk after having my dinner.
Episode 12.) Sarchu-Baralachala Pass-ZingZing Bar-Darcha-Jispa-Keylong-Rohtang Pass-Manali - https://youtu.be/iZeri4rHF3M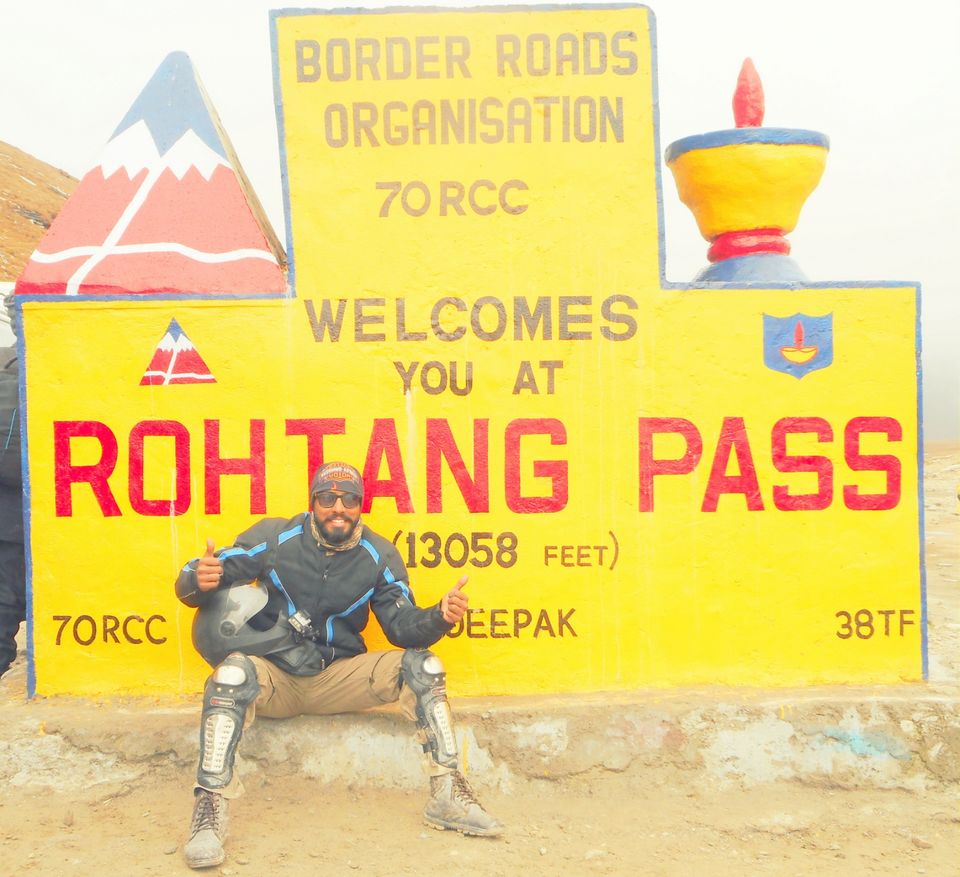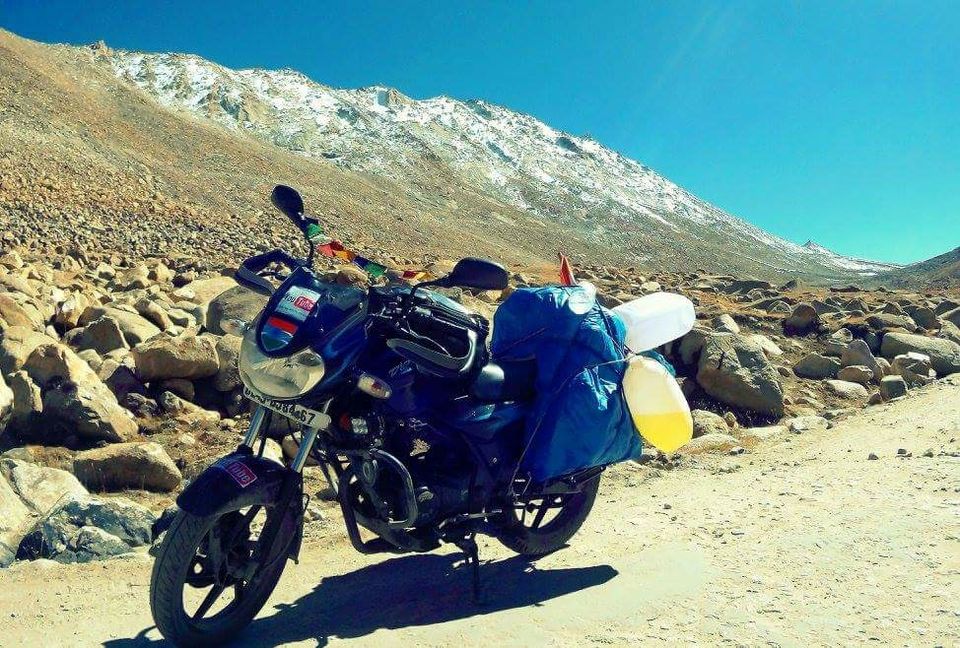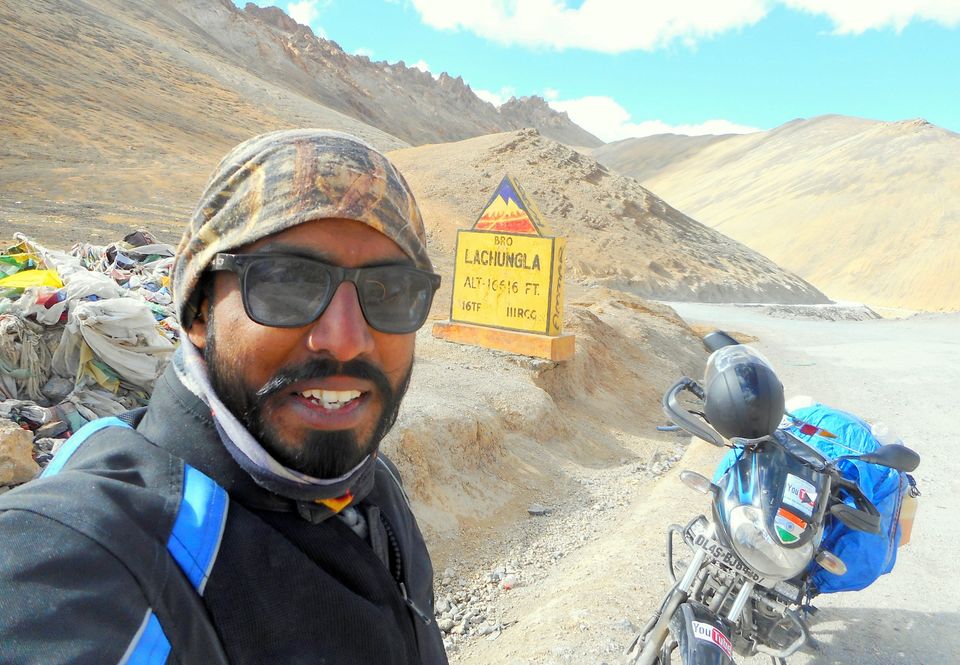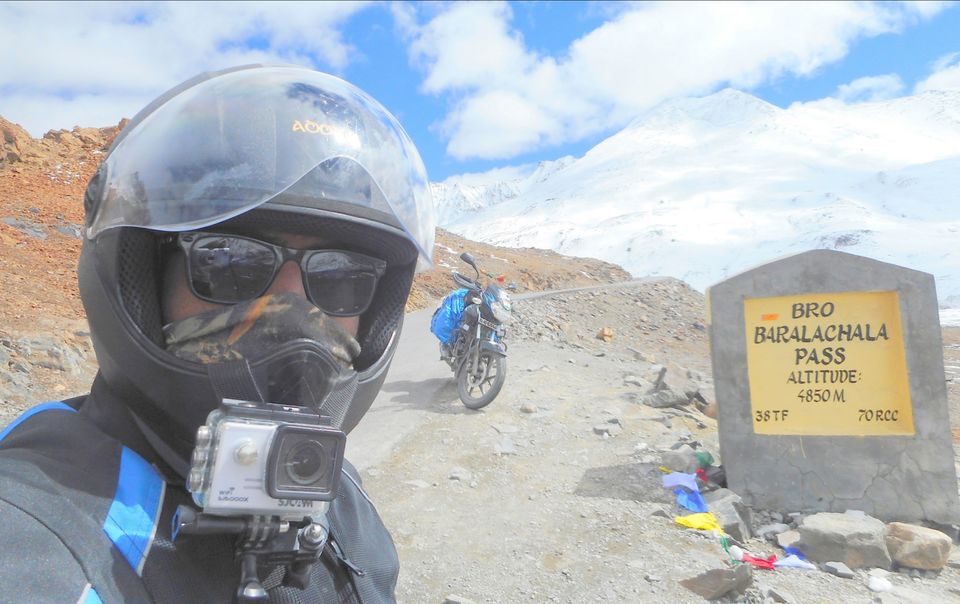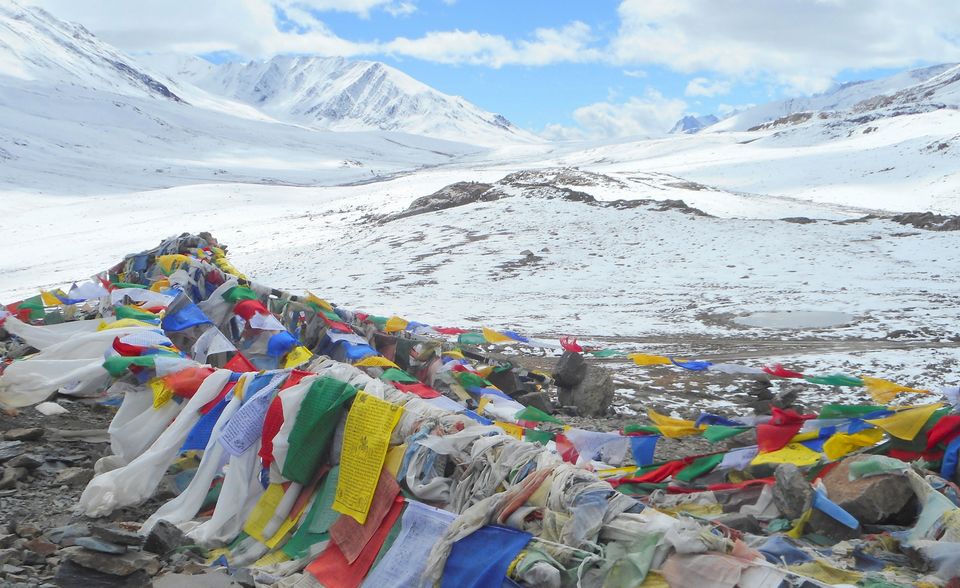 Day 15 (26th Sept'2017) – Manali to Delhi (580 Kms approx.)
This was the last day of my Ladakh Trip. I had a plan to ride from Manali to Delhi (580 kms) today only. So, I've started my day early at 7:00am and went to see Hidimba Devi Temple. Then after tea & breakfast, I left Manali around 8:30am. I used all my Petrol CAN's and filled in the tank.
It was quite difficult to ride down on narrow Manali-Kullu road in day, while traffic coming up. Hence my speed was quite less around 35-40 kmph only. Later I crossed Kullu around 10:30am and reached Mandi by 1:00pm. After Mandi, around 1:15pm I took the Kiratpur By-pass highway and continued my ride. I stopped at Bilaspur, for lunch break at 2:45pm. After lunch, I tried hard to pull my bike till Chandigarh, as I was running late from my schedule.
Finally I reached Chandigrah via Kharar around 7:30 pm evening. I took a small breather, but didn't stop. It was already dark & my fog lights were not working.
I was tired, exhausted, hungry but I wanted to reach Delhi also. So I gathered all my standby power and strength to ride further.
Then, I reached Ambala (NH1) highway and pulled my bike at 85-90 kmph and crossed Kurukshetra, Karnal, Panipat, Sonipat and managed to reach Delhi around 11:30pm.
Ohh man …it was really a marathon ride from Chandigarh to Delhi in 4 hours (7:30pm to 11:30pm)
Seriously, I was filled with so many feelings at the same time. I was feeling Happy, Proud, Achieved, thrilled, relaxed, tired, sleepy, exhausted but at the end I knew that 'I Made It, I Lived my Dream – My Solo Ladakh Bike Trip'. 
I was so dead tired after reaching home and crashed on bed, I woke up next day evening 4:00pm. 
Episode 13.) Manali-Kullu-Mandi-Chandigarh-Delhi - https://youtu.be/MDxZ-IpkEaQ