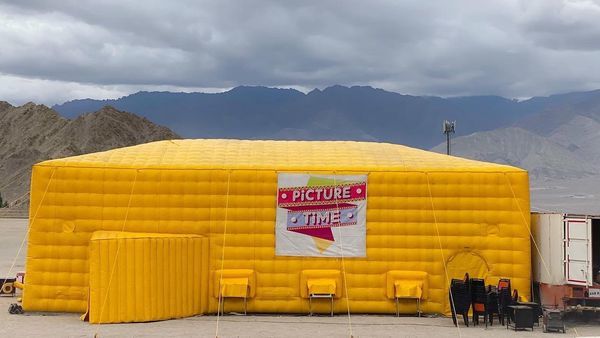 Khapa-chan, which means snow land, is yet another name for Ladakh and is known for its serene beauty. Ladakh is also known as the remote area of India and has been longing for the best cinema experience over the years. Read to know more!
Ladakh has opened its first largest mobile movie theatre at an altitude above 11,562, giving the best cinema experience, stated as per recent reports
A small brief about this fabulous innovation.
1. This fabulous mobile theatre was inaugurated in the Paldan area in Leh-Ladakh by Picture-Time Digiplex, on 28 August 2021.
2. This theatre has been built with all the modern technologies and is completely waterproof, weatherproof, made of inflatable material, and can operate at 28 degrees.
3. It will serve as a portal into the worlds of art and film.
4. There shall be 4 more such theatres installed shortly in Leh.
Who were the special guests during the launch?
The event was attended by Ladakh Buddhist Association president Thupstan Chewang and actor Pankaj Tripathi, to establish the theatre on the NSD premises in Leh.
What's in the house for the travellers?
1. Offers affordable tickets.
2. Best place to experience some entertainment during your travel visit to Ladakh.
3. On top of the world cinema experience, in between the mountains along with the best facilities and some adventure to tag along.
If you're looking for a cinematic experience in the hills, then why don't explore the world's highest movie theatre?
If you've visited this fabulous place or are planning to do so, let us know in the comments section below, and earn Tripoto credits!
Explore the best of travel inspiration on Tripoto Instagram!