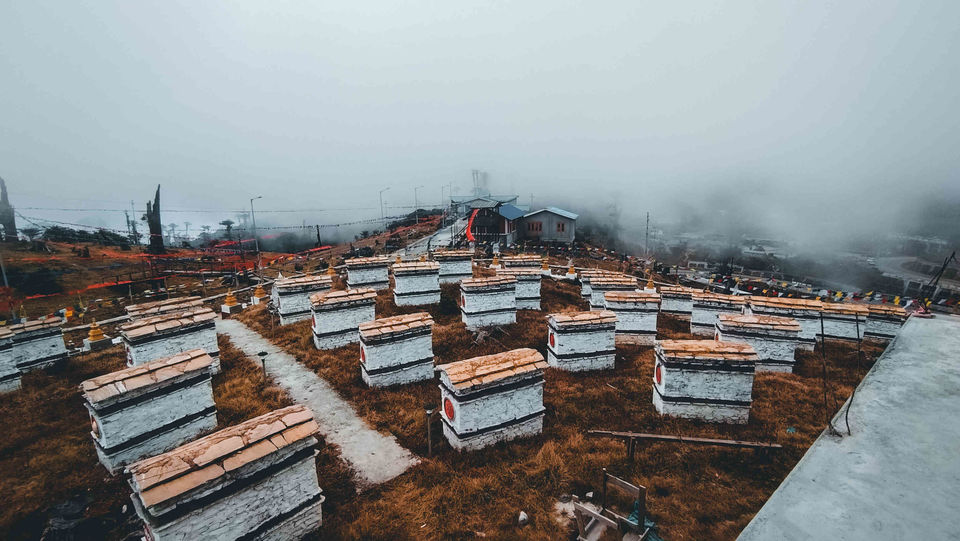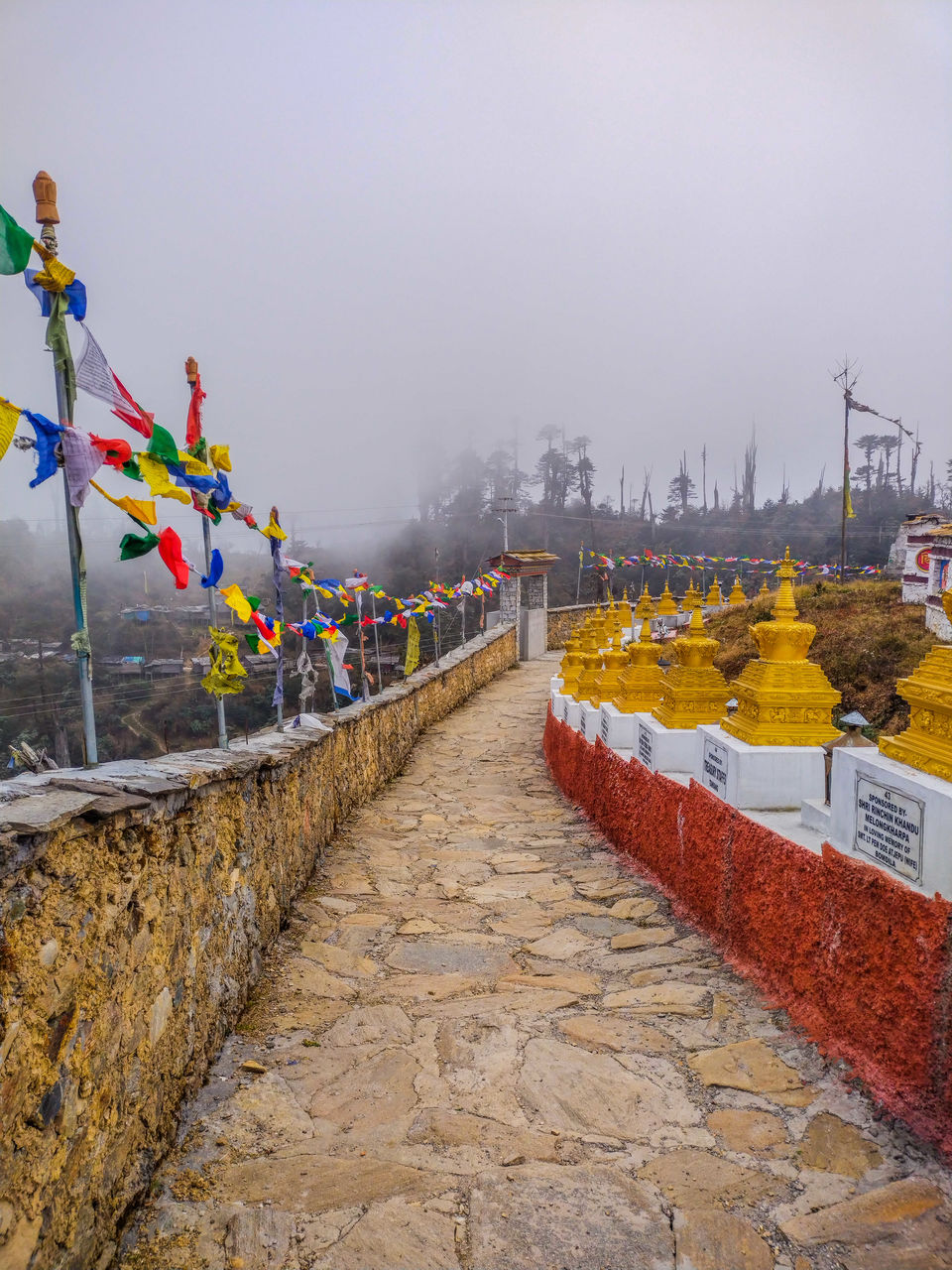 On my recent trip to Arunachal Pradesh, I experienced some incredible places that completely blew me away. Somewhere that not only made an impact on me but made me want to revisit all of those locations.
Arunachal Pradesh has 108 Mandala Top among these places!
This mystical new attraction is located in the Himalayas and is a popular choice for locals and tourists alike. At an elevation of about 10,000 feet above sea level, it offers stunning views of the surrounding area.
Going on a spiritual pilgrimage is one of the most euphoric experiences one can have in life. There are 108 temples in this area that make for a great day trip if you come here. This is an amazing place to visit if you love exploring new and different cultures, or want to connect with your own spirituality.
The following is a comprehensive guide to the 108-mandala top in Arunachal Pradesh.
What is Mandala Top Or 108 Mane?
Mandala Top Buddhist Temple is a circle of 108 stupas on top of a mountain in Arunachal Pradesh. The project started in 2018.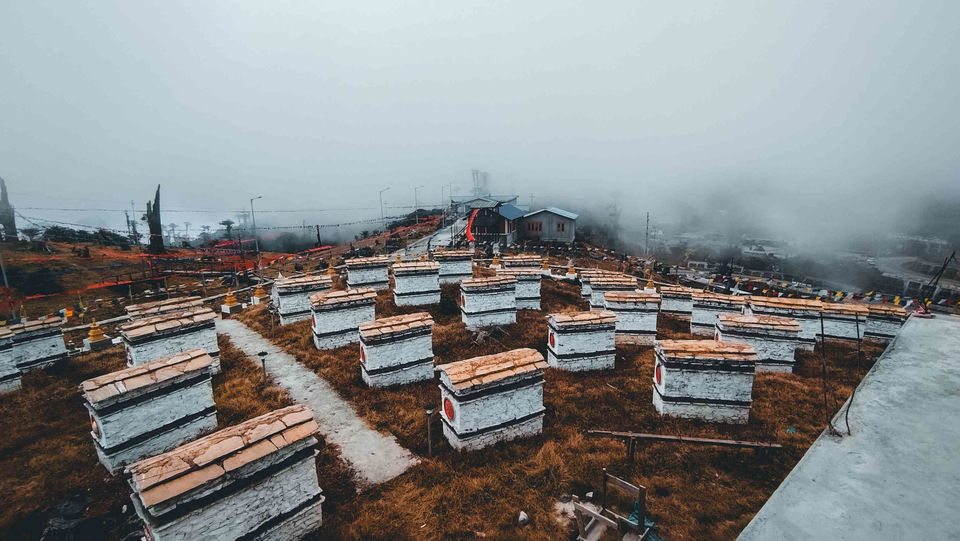 These is the first place in India where the mantra "Om Mane Padme Hum" is engraved on 108 pillars.
Buddhist monuments, typically known as stupas, are often built in memory of a deceased loved one or to preserve important Buddhist antiquities. Southeast Asia and East Asia are particularly prone to these structures.
Arunachal Pradesh Buddhist stupas stand out from those found in neighboring Nepal and elsewhere in India. These impressive structures are typically long square constructs with bright red and white paintwork, along a yellow roof. They often boast carvings or prayer wheels within them, found near the towns of West Kameng and Tawang.
The Mandala Top religious site was a wonderful experience for everyone involved. The community of Mandala Top donated stupas from each family in a collaborative effort, thus creating an impromptu spiritual center that functioned well and helped to inspire others.
How to reach Mandala Top?
The drive from Dirang to Mandala Top takes you through beautiful rolling hills and valleys. As you travel closer to the top of the hill, the landscape becomes more dramatic towering mountains in all directions. The views are simply stunning! You can reach Mandala Top most easily by following the main highway NH13 through Arunachal Pradesh towards Tawang.
Once you reach Dirang, take a left towards Mandala Top. You will find a signpost that will guide you to Mandala Top along the route and stone markers will indicate how many kilometers you have left.
Can Mandala Top be reached by public transport?
If you have a car or motorcycle, you can reach Mandala Top more conveniently. As Aditya and I travel by motorcycle, we believe one must travel by motorcycle as well. This is because motorcycles provide a more environmentally friendly option than cars when it comes to transportation. Additionally, riding on a motorcycle allows you to experience the beauty of nature in its fullest form- something that car trips can never offer.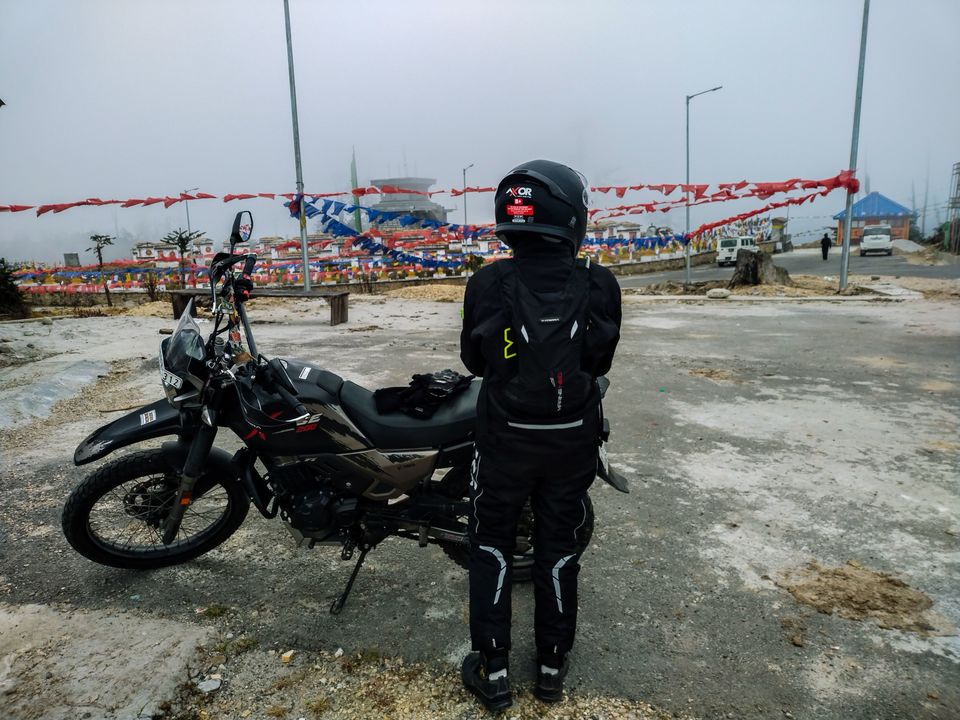 Dirang is an ideal option if you're looking for a taxi service to take you up to Mandala Top and back. The minimum charge would be 3000 rupees. Roads can be bumpy, so make sure your vehicle is in good condition before making the journey!
The Mandala Top peak is only accessible by Sumo Jeeps, as there are no buses through Arunachal Pradesh. In order to get to the top of Mandala, Dirang Travel will be your best bet - they might have any shared Sumo Jeeps headed in that direction.
The Mandala Top 108 Mane is a religious attraction. Mandala Top is always open to pilgrims and tourists. The area is not illuminated after dark, making it difficult to see anything.
With its natural beauty and fascinating history, Arunachal Pradesh is an excellent place to visit. However, this place is not overrun with tourists, so you won't have to worry about getting overcrowded. Around 11am, it was pretty deserted, but by the time we left around 2pm, the crowds had picked up.
Besides the fact that Mandala Top is FREE to visit, but you can also enjoy all of the fascinating features and activities that make it an essential part of Buddhist culture. Whether you're looking for a day out or inspiration for your next meditation practice, Mandala Top has something for everyone!
Accommodations near Mandala Top in Arunachal Pradesh?
Mandala Top is currently in its early-phase development, and there are not many guesthouses or homestays available in the area yet. However, we hope to have more infrastructure soon so that guests can enjoy a better experience.
Dirang and Sangti valley are great spots for exploring more amazing villages and attractions. Dirang has a lot of beautiful temples, while Sangti Valley has some incredibly scenic locations that offer stunning views of the Himalayas.
Newly opened in 2021, Lanying Riverview Homestay provides guests with excellent accommodation. This cozy cottage lies in the mountains next to the Kameng river and makes for a pleasant stopover for a few days when you're on your way to Tawang. Guests can enjoy comfortable beds and delicious home-cooked meals from their hosts who are passionate about making their guests feel at home.
Things to do in Mandala Top?
There is a lot to do on Mandala Top, especially if you want to make the journey up here. Depending on what you're looking for, there are plenty of activities and things to see.
As the new attraction in the area, there is still a lot of work to be done in terms of infrastructure. However, there are plenty of things to do around here.
I. Take in a view from the tree houses or pack a picnic!
As you walk around the highlands, there are stunning views of the trees, hills, and mountain peaks all around you. You can see everything from the tops of the Mountains to the smaller villages below. This is a perfect place to take in nature while enjoying delicious Himalayan food!
There were many treehouses around the circle, some taller than others. You could climb up to them and get a great view of everything below. They also had comfortable seating areas with picnic tables nearby.
II. Walk clockwise around the 108 manes
The walk around the 108-stupa circle is a great way to get some fresh air and enjoy the beautiful temples nearby. Buddhists traditionally walk around a stupa in a clockwise direction. So, if you're looking to go for a walk, make sure that you do it this way.
There are stunning welcome statues at the four entrances, and I loved seeing them all! They added a really unique and charming touch to the area. If you're feeling active, it may surprise you that 108 Stupa is also part of a cycling trackback to Dirang. You can take a bike up here and cycle down to the bottom!
III. Mandala pass is topped with prayer flags
At the moment, only a concrete structure is standing out on top of the Mandala. The design is not yet finished and needs some more work before it can be perfected.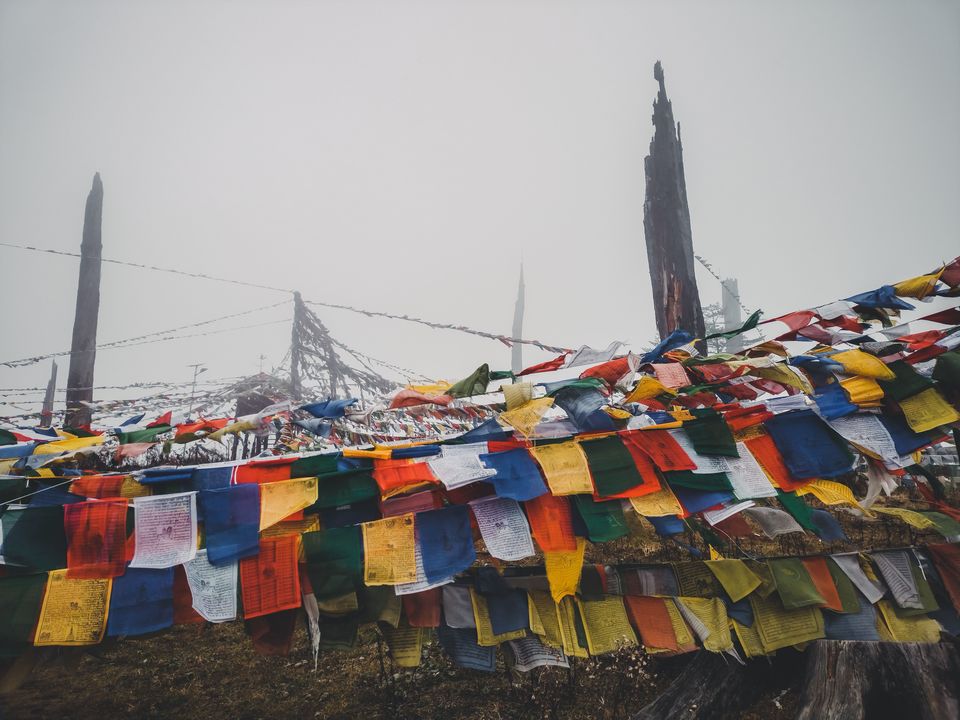 The temple has placed beautiful prayer flags on the roof, so be sure to head up there and take in the views. So many people were venturing up to take selfies with the prayer flags.
But, be careful as there is no safety barrier in place!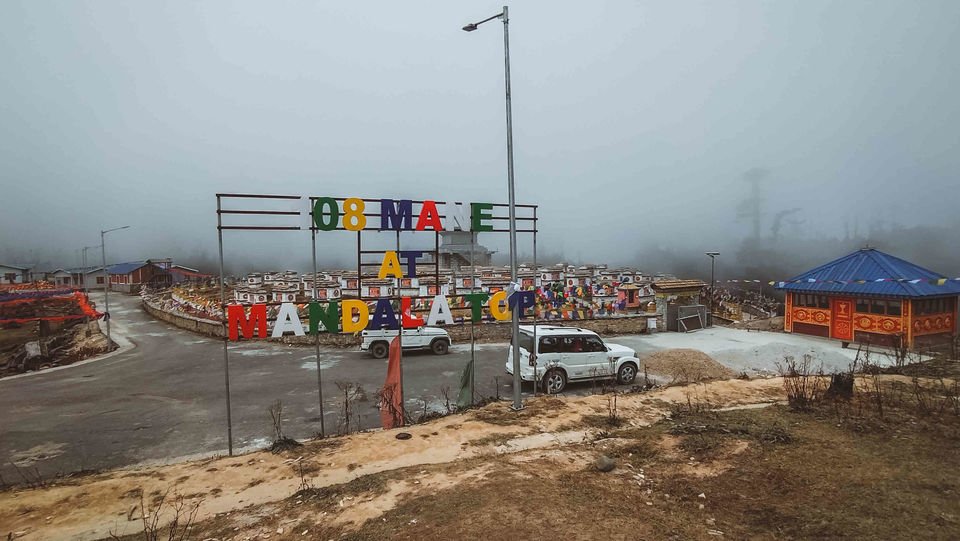 IV. The 108-day Mandala festival
If you're looking to visit Mandala in November, be prepared for a very special event! The 108th Annual Mandala Festival of Prayers will take place in November. The festival started in 2019 and has been successful so they are planning to run it again in 2023.
It's an event that attracts tourists to the area and provides a great opportunity for them to get some fun! A lunar calendar determines the dates of the Mandala Festival, which lasts for three days.
The event is a celebration of Buddhist, Monpa, and Tibetan cultures. Participants will be singing and dancing along with music, crafts, fashion shows, and cuisine.
108 Mandala Top: Things to know before you visit
To visit Arunachal Pradesh, you will need a permit. ILP for Indian Nationals and PAP for Foreign Nationals. This can be obtained either online here, from an Indian nationality office, at the local travel desk in Guwahati/your tour operator in Arunachal Pradesh.
It is not allowed to take photos of the army or military bases in Mandala. Failure to comply may result in a permit revocation. So, please be careful when capturing images of military installations or troops.
The Mandala Top altitude is a little high, so be aware if you're prone to altitude sickness. Bring your pills if necessary!
Make sure you bundle up warm ahead of time when visiting Mandala – even in the lower temperatures, it can be quite chilly.