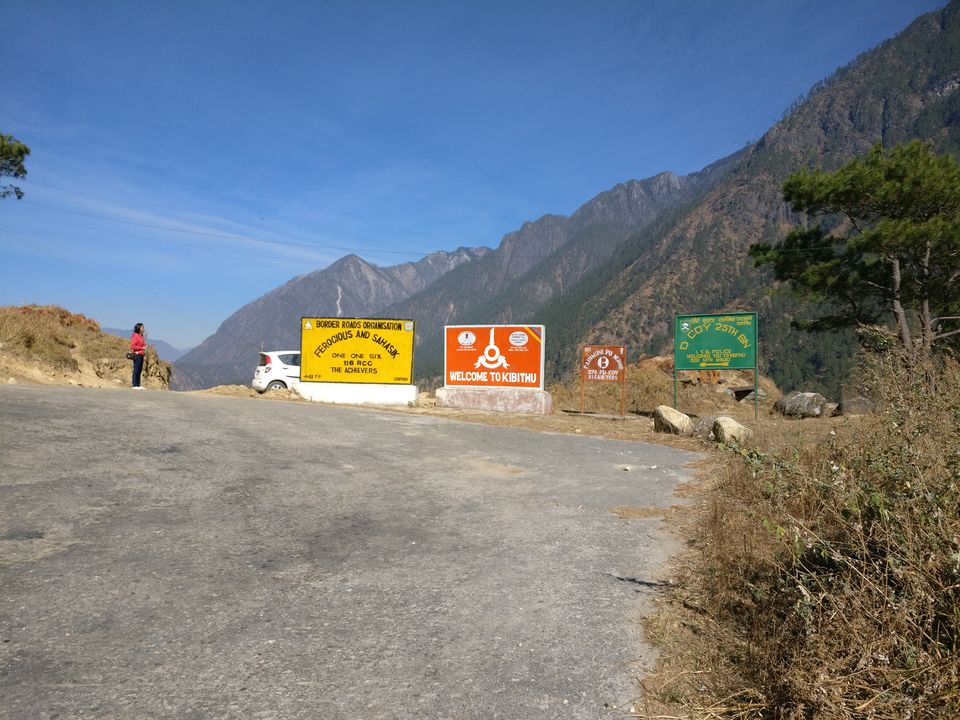 After an out of the control and a year totally not desired for, all I wanted was to find something meaningful. what could be one of the most motivating place at my close proximity and probably could mark a feel good factor and kind off inculcate a self confidence within? I made it through DONG!
Dong, is the easternmost car accessible village of India. It is kind of a junction in the Arunachal Pradesh where the Lohit River (known as Yarlung Tsangpo, before entering India from Tibet) and the Sati (Sai ti) river meet to turns into Brahmaputra after entering Assam via Parsuram Kund in Arunachal Pradesh. This place also borders with North Myanmar and Tibet on both the sides. The nearest, little populated town is Kibithu (army headquarters) and the last Easternmost Village is called Kaho, which lies on the other side of the river and is accessible by a hanging bridge. Its not typically located high up the altitude as other parts of Arunachal but offers a spectacular view of the Lohit river and the low lying mountains that passes by the way. Dong, lies in Anjaw District which is the second least populus district in India, ranked 639 out of 640 districts in India. Dong, experiences the first ever sunrise In India and thus the name "the land of the rising sun" or Arunachal that means the place of the Dawn-lit mountains came into being, from its former name of NEFA.
With some great reviews and excitement of watching the FIRST SUNRISE ON THE FIRST DAY OF 2018 was something that gives a FEEL to all the touring spirit I have inbuilt in me and also a boost to all the "surya bhagwan ko kalsi dalo" belief of my mom. With this Me and Gaurav decided to head towards the easternmost part of our country in my Maruti Ritz, where we were supposed to cover around 300 Kms and it took us 12 hours exact to reach Walong town from Dibrugarh. We stayed at the Inspection bungalow at Walong before going to Dong. This 12 hour covers a total non-stop drive with one or two food stops. First stop at Panitola near Tinsukia and the second near Tiding after crossing Hayuliang (pronounced Haye long).
We started by 6 am on the 30 th of December 2017 and the route shall be DIBRUGARH-TINSUKIA-NAMSAI-WAKRO-PARSURAMKUND-HAYULIANG-TIDING-WALONG-DONG. However, the return we took a different route DONG-TIDING-HAYULIANG-TEZU-NAMSAI-TINSUKIA-DIBRUGARH.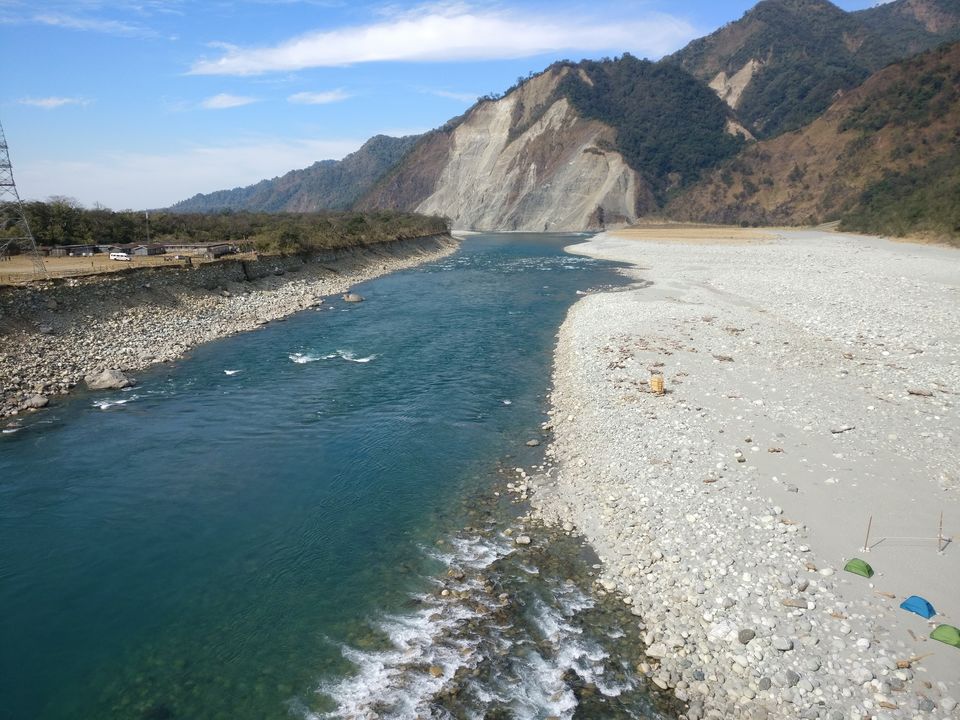 The road all over is pretty pitch, as our travel time was winters, we dint have much to bother about the weather for rain or landslides like we faced during our visit to Tawang with Ajay and Shankar. The road was pretty pitch other then the stretch from Namsai to Wakro, which was pretty gravel and puddles and also the roads were much aloof. But the scenic beauty that Wakro provided is beyond compare. India is so amazingly carved that it provides so much of variety to the views and also its culture and the amazing Brown Rice with local pulses that we tried on the way, gave us our test with the spiciest meal I have ever tried.
Our original plan was to stay at Dong and go for a Early morning trek to the Millenium point, which is the exact point and the highest point of the First ever Sunrise to touch India for 2018. On the 30 th we reached Walong by 6 PM dot. Exactly a 12 hour drive to the interior, towards the easternmost land of India. The only point of concern was Gaurav don't drive a manual transmitted car, bloody high level guy.
I have a restaurant here in my home town and I had a Chef with all his touring imaginations in mind. Though he left but we had a pretty great relation and he suggested this place where even Sumit was supposed to accompany with a gang of 5 and collectively known as AOG (Aisle on greens). These people have taken up the responsibility of promoting sustainable tourism in the remote parts of Assam and Nagaland and collectively north-east. However, Sumit couldn't make it but he suggested me Max, from their group whom we can meet up there. We met them in Walong, and planned everything for the next day's trek and stay. A group of 5 enthusiasts, Nirupom, Max, Nikhilesh, Milton and Carol, a group of Chaps I would love to travel again with. Thanks Sumit! These people are trying to promote sustainable tourism via a music, camping and adventure festival in the easternmost part of India, I wish them Success.
31st December, Walong IB, Anjaw, Arunachal Pradesh
We met at Walong IB and planned on things for the next day's stay. We woke up early, explored the nearby place at Walong, had our breakfast and decided to move towards Dong. The AOG team had reached early morning that day, so they explored the Kibithoo HQ and the easternmost highway around 15 KMs from Walong. So, I and Gaurav decided to first go towards Kibithoo, Kaho and then join the rest at the foots of Dong. Carol bounced along with us.
The roads after Walong are pitch perfect. Not much altitude and again the Lohit Blues flowing along with us. Photographs don't do any justice to the place, and after two puffs of herbs things change drastically. One side of the road has the river, down and the other side keeps changing. The Pine tree available here is a rare typical one called Pinus Merkusii and is found only in this place of India. At times it is flat with pine trees, at time we see tall mountain peak and at times we saw thick and dense forest. The main Kibithu HQ is totally under the Indian Army control and is not habitable for any civilian.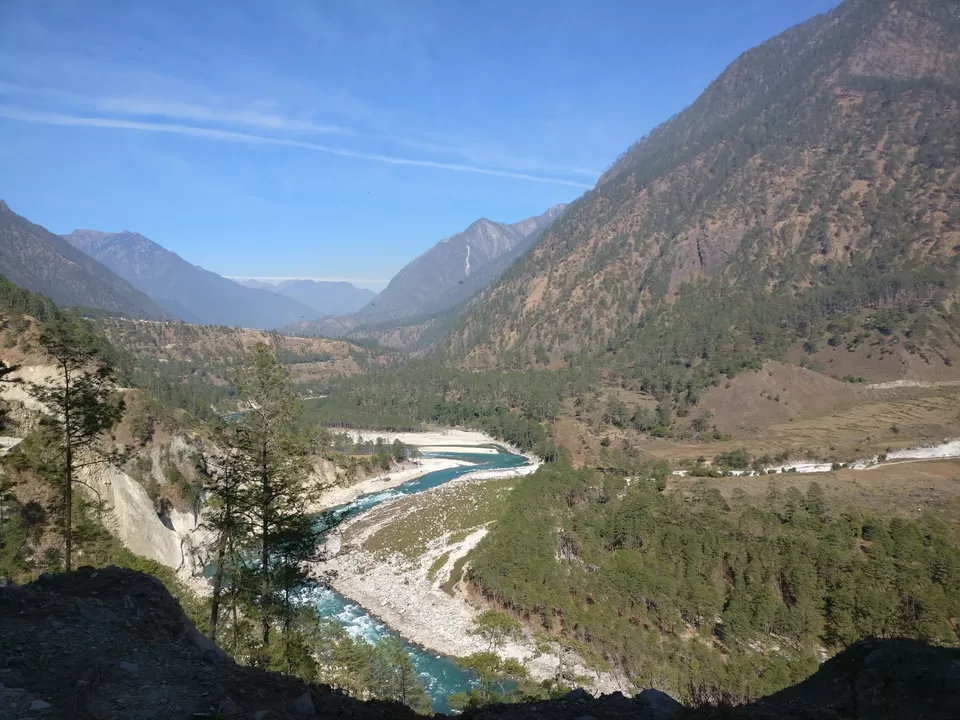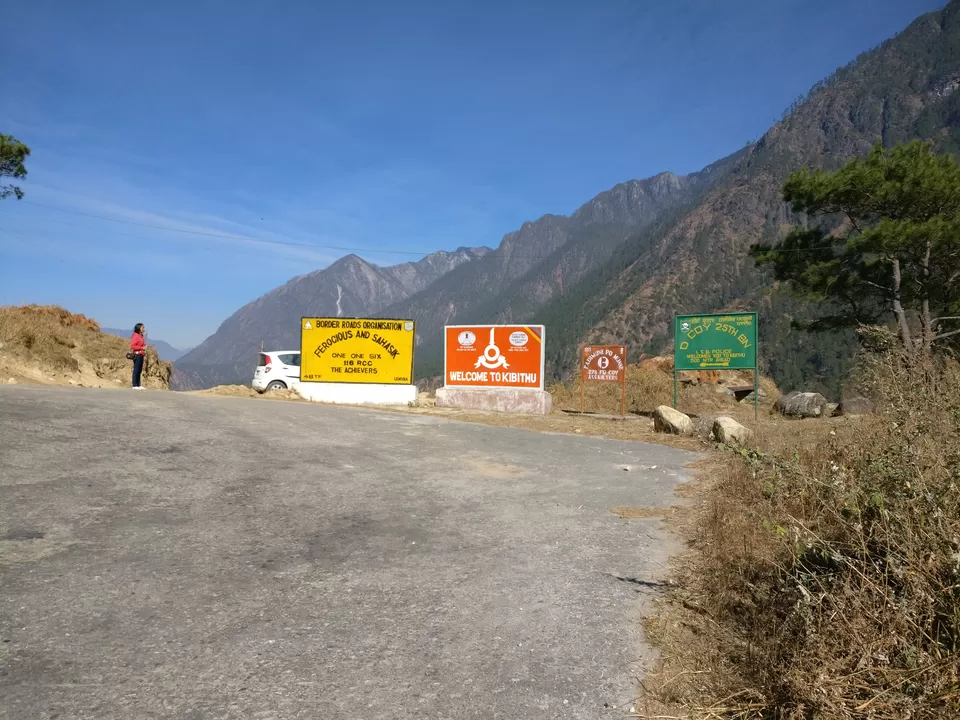 Sound on, to listen to the wind, to the exciting weather it provide us up here. The shown video is exactly at the Kibithu Junction. We saw a road that was down towards the left of the hill and we just went through. It was like a forest area, crossing pine trees, bridges and thinking; International border par hai hum, pata bhi nai rasta safe ya nai. Still somehow, with little worry and more excitement, we reached an Army supply camp and met a Jawan. He told us about the camp and showed us the hanging bridge which also has a rope-way to supply goods on the other side of the river. the hanging bridge was kinda tilted because of the tremendous wind blowing thriugh the valley. We walked over it, I pulled some pranks with my friends and the views, it just cant be expressed, only experienced.
It was a good experience and then we headed back towards Dong. there is an IB at Garam Pani, though not in use. We parked the car, packed up our stuffs for the trek and the stay. we moved towards Dong, its just a 30-45 Min trek from there that again has a hanging bridge to it. That particular day Dong village was attacked by a forest fire, the morning around 4 am, there was a forest fire and it was slowly spreading all over the Village. However, the villagers had some kind of auspicious link to it and they were happy about it, one guy from the village told us that this is happening after a long time, after 4 years and we are happy this happened today with you guys coming. The New Year Party just got grand.
Dong Village and the Sempa Village with one GB ( Gaon Budha); GB is typically the head of the village; is the easternmost habitable village of India. It is located at a 30 minutes trek from Garam Pani. Garam Pani is a place at the foothills of Dong Village which offers natural geyser potholes. There were small potholes that provide hot water geysers naturally, that's the point from where the trek towards Dong village starts. It also includes a hanging foot over bridge with Lohit passing beneath it. The LOHIT BLUES are one of the most mesmerizing things I have seen after the banks of River Ganga in Rishikesh in Uttarakhand. The GB was one of the coolest budha (old person) I have seen in my life, he drank and sang on the eve of the new years with us and offered such great hospitality that can beat any 5 starer. He sang the local Arunachal music and it was like Christmas to the ears, and then he said, "bottoms up everybody". I mean the feel of hunting a wild goat and then cooking them with the local herbs and spices with the homegrown rice and spices, somewhere in the mountain with a family we have just met, wild!
We stayed there enjoyed the party, had great food, we had the local rice beer called Apong. We met these few little kids Sanam and Dorjee, did a sky lantern thing with AOG, celebrated and danced at 12 midnight when the calenders changed, Bonfire and then decided to start the trek by 3 am. The forest fire was still there, and it was said that this is continue for 3 days and it was burning in a line. like an army of fire marching to execute.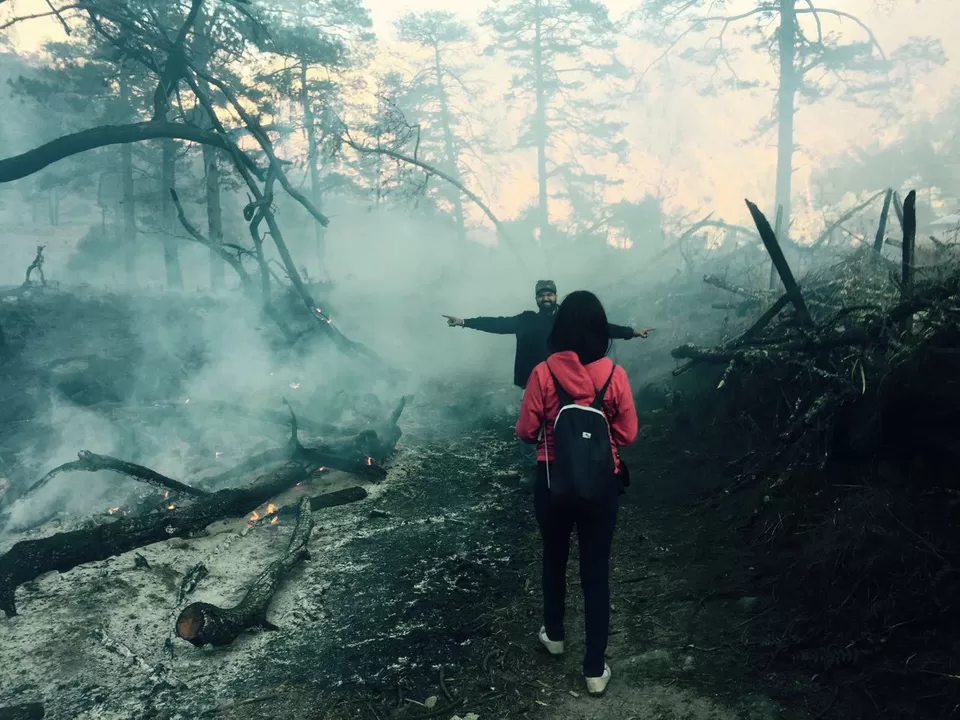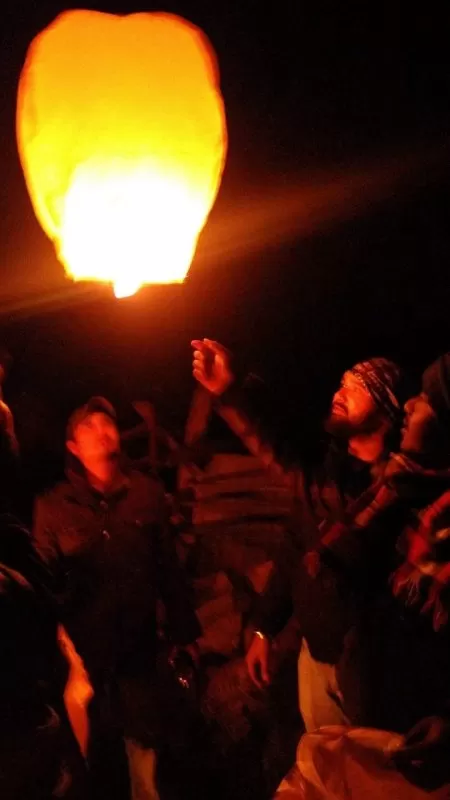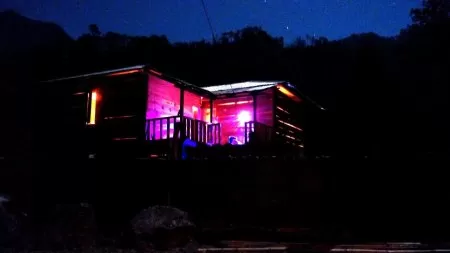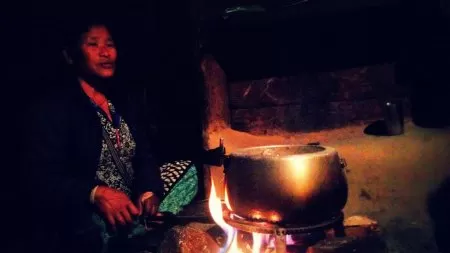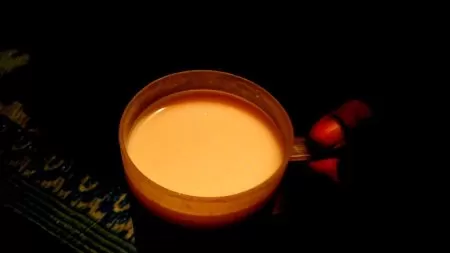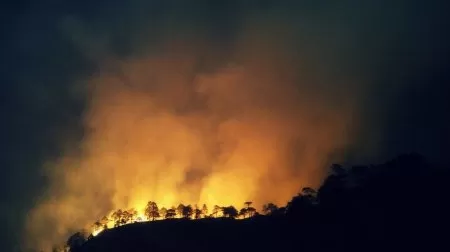 One good thing about the trek's in Arunachal Pradesh is that there are no such big trails, where all you need to do is follow. People still take up directions and mark their points to trek. For any non trekkers it could be fatal. I believe Arunachal is the next Himachal in making and thete are a lot of opportunities for proffessional explorers to enter into Arunachal. The Millenium point was like a plain empty land with clear views and there rose the sun, head held high.
HAPPY NEW YEAR GUYS!

We returned to the camp, relaxed and freshened up and planned on our retreat. Gaurav, the business man, had calls to make and waiting to make money back there. We bid goodbye to the villagers, the AOG gang and sanam and Dorjee and retreated towards our car. The forest fire was still on but nothing changed their mind.
When the party was going on, we met the Gaon Budhi (the female old person of the village) in the kitchen. She was cooking and we were discussing on how we can bring in tourism in these part of the world, to which the lady disagree, she says the freshness we have here is because its remote, less people coming and less is the pollution. She also said, that they are happy to be here in the way they are. Its not money we are living for, its the quality of life.
We reached the foothills, and started our journey to Dibrugarh, this time via Tezu, we found many orange orchards on the way and we tried to enter a few orchards and steal Oranges. The oranges were small in size but tremendously sweet in taste and we kept some in our car too. The road via Tezu is shorter and in much better condition. This route just before reaching Tezu is newly constructed and you cant find a better road in Assam Arunachal area. We reached Dibrugarh by 7 pm on the 1st January 2018.
There are a lot of things one can do in there at Walong. Stay at Dong Village, trek to millenium point, trek down to Kaho, visit the many hanging bridges over Lohit river, local food at walong is amazing, they also have these small calling stores and they sell great coffee. The taste of Arunachal Maggi is something i can always drive or ride up to Arunachal and trust me the views offered by the deadly combination of low altitude hills and the blue Lohit River. Oh its so worth the tour and time, it did justice to all my plans and beliefs.
#roadsarefriends