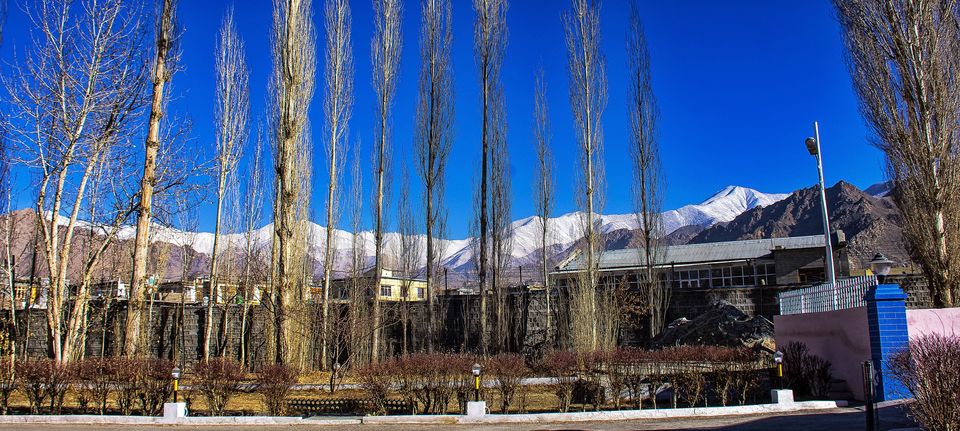 'Hello everybody. This is your captain speaking. It is twenty minutes past eleven, and we are about to land at Leh within a few minutes. Temperature on-board is 24 degrees, and it is ten degrees below zero outside'. I was looking down at the town of Leh from the circular window, appreciating the exquisite rough terrain when I heard this announcement. A strange chill shot down my back, and I knew this would be an experience worth remembering. As the flight circled the small town on the wide valley of the Karakoram giving me the opportunity to cherish the magnanimous aerial view, I realized that this solo trip is going to be much more than just a trip. I knew not what back then, but I know now.

Winter, I am coming! That's how I felt upon realizing I'll be going to Leh during the second week of Jan, '17. Architecture has taken me to a lot of places, and the very last of it was undoubtedly exciting. Having received all necessary permissions, I was all set to move out. Packed my bags, booked my tickets, and I was out to experience cold. I always wanted to take the bus from Delhi to Leh, but it was January, and roads were closed. An hour and twenty minutes after I boarded the flight from Delhi, I was welcomed by a rough landscape decorated with dry trees and a blue sky.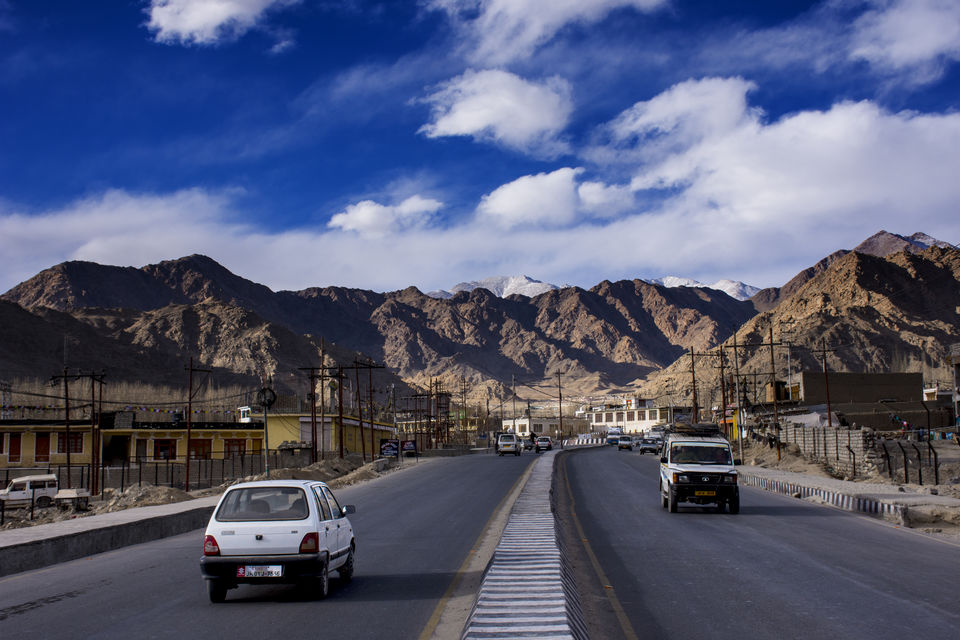 As I climbed down the stairs of the small airbus, a sharp chill stung me. It was the wind, so cold I wasn't prepared for it. Being a resident of Kolkata, I have never been exposed to cold below a moderate six degrees, and negative ten was beyond what I could withstand. It was something I had never felt before, but it was beautiful. It wasn't comfort, but it wasn't pain as well. As the omni van drove along the empty road, all I could see was sand on both sides, landmarked with a tea stall scarcely populated before it took a sharp right to enter a kuccha road. The rest of the journey wasn't smooth, with the vehicle treading on rocky paths before arriving at the DRDO guest house where I was supposed to stay. I fell in love with the place, it was the kind I had only seen pictures of, and read about. For the next three days, the huge campus of Defence Institute of High Altitude Research was my home, and I was happy. I wanted cold, and Leh gave me lots of it.
I decided to rest for the day against my wishes. The world out there was blue, and was inviting me dearly to play, but there I was, resting in my room, because I was advised to do so. Next day, I woke up at 6. There must have been some power which woke me up so early; having taken my bed tea, I decided to take a stroll. Going outside was a lot of work, you just cannot stroll outside with your pyjamas and t-shirt on, it will be minutes before you get a chill, and frostbite follows soon. It was about negative twenty in the morning, and I had to cover myself with layers of clothing before venturing out. Once outside, I was greeted with a beautiful view of the mountains complimenting the stark blue of the sky, with naked trees scattered all around. I was carrying my camera, hoping for some nice shots of the bare and dry rockscape, but I had to return within few minutes. I had forgotten my gloves. Putting it on, I strolled around the place, I was inside one of the high security army laboratory compounds, and I had to be especially careful with my camera, I wasn't allowed to take pictures everywhere. It was comfortable for the first fifteen minutes, however I started to feel the chill soon. Wind speeds rose considerably during the afternoon, and temperature was around minus sixteen, about minus twenty taking into account the wind-chill. It was the kind of cold which you cannot feel, the kind which your skin fails to sense. It was the cold which hit your bones directly, and numbs your muscles. I found out that resting your body will only make the condition worse, the right thing to do is continuously keep your body working to avoid the numbness from taking over. My fingers used to freeze, I guess my gloves weren't designed for such cold, but decided to hold on. I came so far, and I wasn't ready to spend my time inside the room.

I was particularly smitten by one view so spectacular I was compelled to sit down and enjoy it. It was a scene right out of a NatGeo documentary- there was a vast expanse of dark sand that ascended to dry hills at a distance backed by snow-capped mountains at a further offset. The clear blue sky only added to the elegance, and I felt as if I was in deep slumber, feeding off a dream. That was the kind of setting we see in films, and I was sitting right in front of it. I had packed a butter toast to enjoy it outdoors, however that was a bad decision, the toast was nearly frozen and I had great trouble devouring that. I couldn't sit for long as the chill had started to take over. I met some local farmers on my way back who told me that life was hard in such cold climate. Water froze in minutes, and vegetables took time to get cooked. The land was semi fertile, and growing food was a tough job. Winters they said were hard, with no road connectivity. I was shocked to hear their ailments after the 2015 earthquake, but their story of comeback was as inspiring as is their resilience and will to survive.
I had a free evening, which I decided to dedicate to the town. I prefer to walk around any new place I visit, it is undoubtedly the best way to get to know a place. I had no idea my prepaid connection wouldn't work there, so I was a free agent; not having to maintain constant connection is a privilege one gets to enjoy so rarely in the modern world. I walked down to the bus stand hoping to gather some information about how to go to Turtuk from Leh, however was disappointed to find that tourists were temporarily restricted from moving north of Leh owing to cross border security issues. I had no further business in Leh and temperatures were dropping, I decided against lingering any longer with a determination to come back, better prepared for an elaborate visit.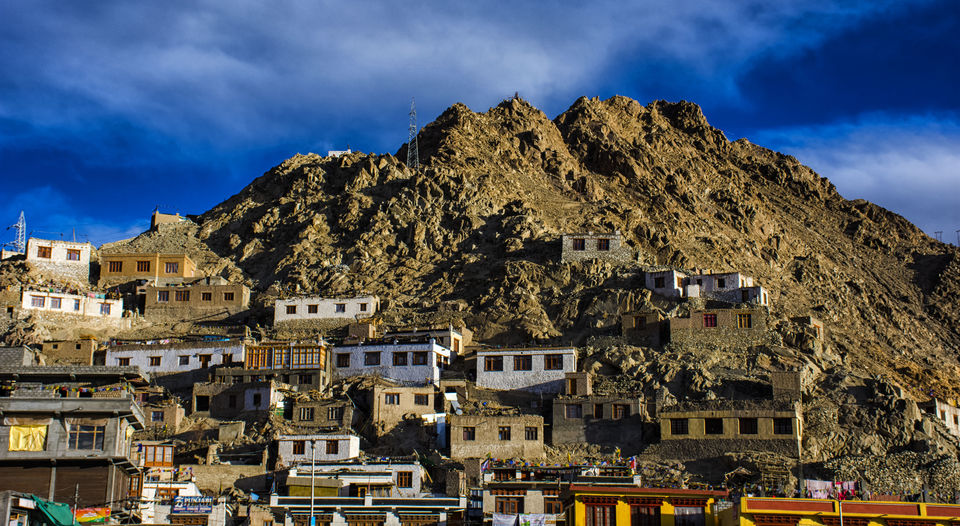 The cold changed me. It made me realize that nature is the boss. I went there looking for cold, I came back realizing that all I needed was warmth. It humbled me. I was overpowered. I surrendered. Such was the strength of it, I had to put myself down, and accept defeat. I knew winters, I just realized I never knew cold until then, the cold that numbs and silences you, the cold that takes over, the cold that crushes and kills. I didn't get an opportunity to go for sightseeing, neither did I taste local items or experience local cultures. I only got the chance to experience the out of the world sceneries, and enjoy the chilling cold. And perhaps that's why this experience was so special. I came back with few memories, but those were deep and profound, one that will last till my end. It was a cold desert, and it molded me to its tunes. It taught me that nature is the greatest leveler, it is the joker in the deck.
I am definitely going back.