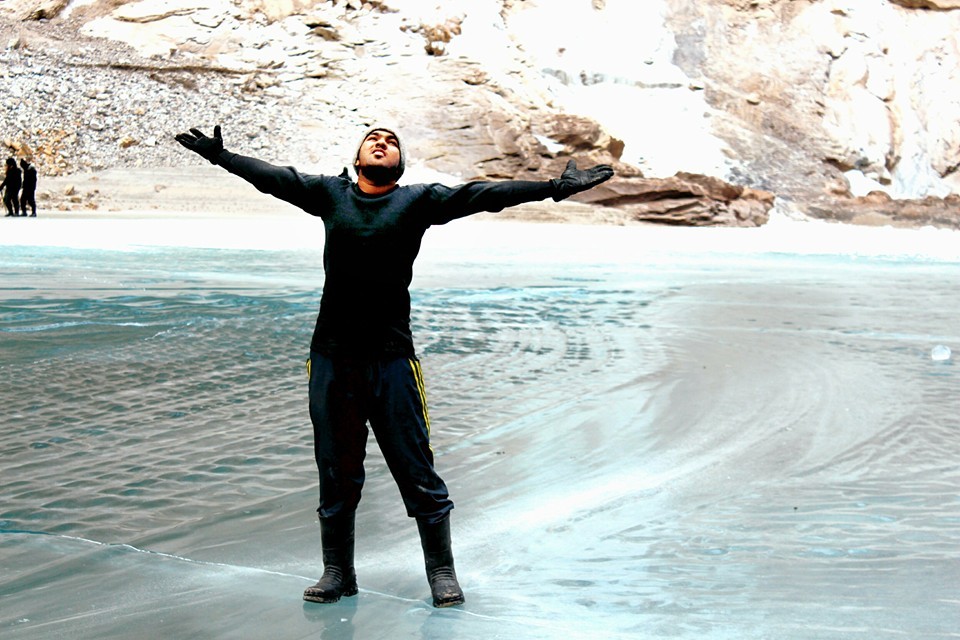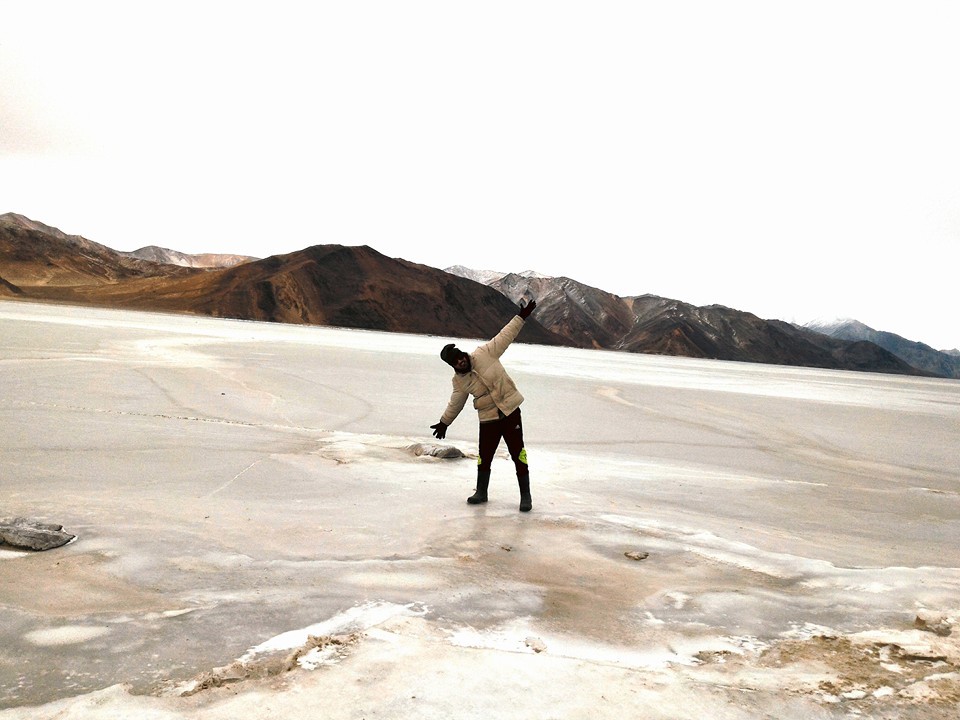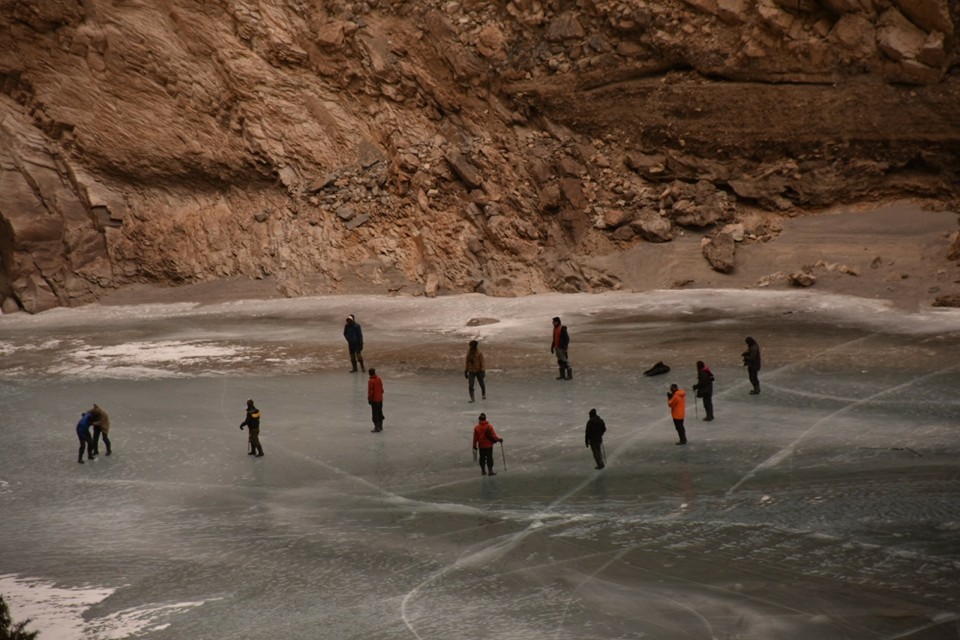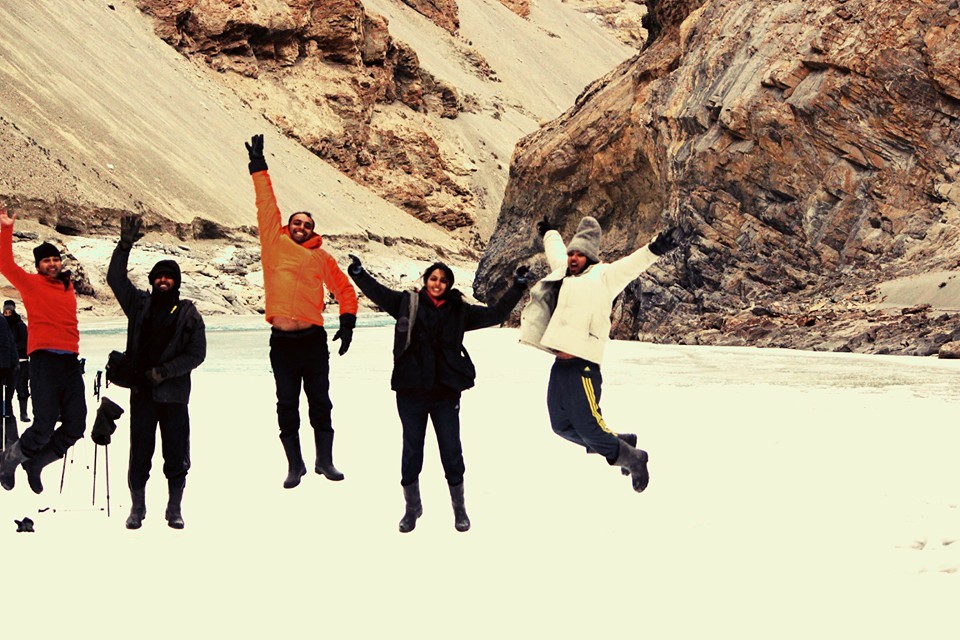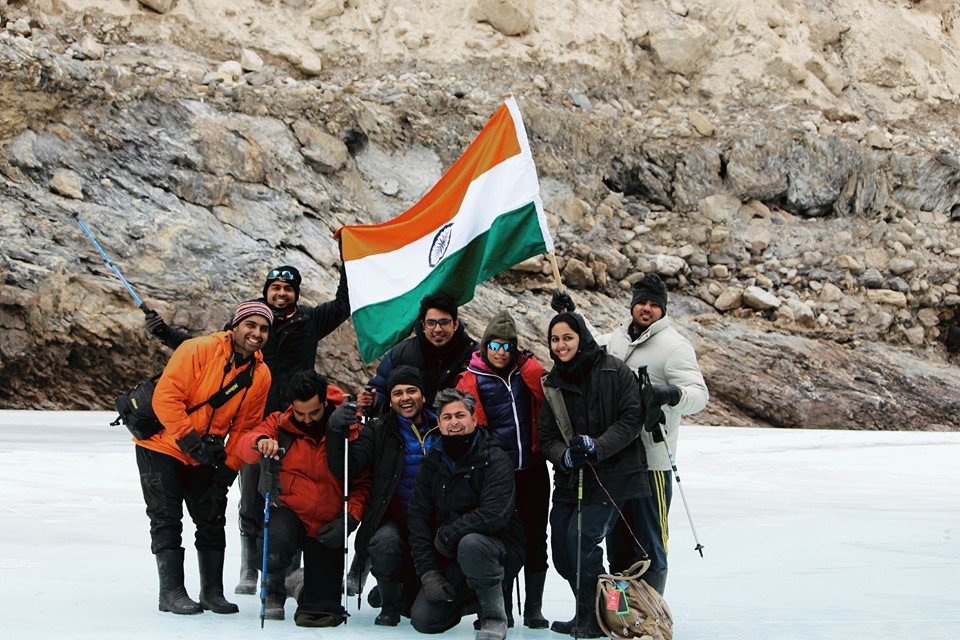 After months of anticipation, rescheduling tickets, all the long 10 km runs, the half marathon and all those small treks, countless hours at the gym, hunting for all the right gear it was that day which I had been waiting for.... my Chadar-Trek was finally happening. We boarded the flight from Mumbai to Delhi which proceeded to Leh. The route was mesmerising, filled with mountains and lakes. There is no navigation for landing in Leh, the pilot just uses the hills to find the way. We finally landed. The airport was smaller than our Ghatkopar metro station but was surrounded by the breath taking view of the mountains. The first step out of the flight was one of a shock; as a -16 degree warm afternoon (relatively of course) greeted us. We made our way to the hotel, met with our trek leader and a fully charged up group. We did a bit of final trek shopping in the Leh market. That night was extremely cold (-25 degrees). My toes were frozen stiff and I couldn't sleep for one sec. I can still imagine the tears in my eyes because of the pain. For the first time in my life a 5 am wakeup call was a blessing.
We made our way by bus through the narrow, dangerous winding roads of picturesque Leh to our base camp; we had to trek down a couple of kms to reach the Zanskar River on the side of which we pitched our tents. The view was right out of a children's drawing book!! A huge blue frozen river appeared to be extending till eternity with tall mountains on both the sides. That day we taught ourselves how to walk on ice and the precautions required, like checking if the ice is solid etc. The first step on ice is one, of a marvel, everybody trying to find their step on a surface which is more slippery than glass. I guess penguins would have gotten a complex looking at us. The night was a freezing - 30 to -35 degrees and we had to sleep in a tent with just a sleeping bag, surprisingly I slept than the previous night.
We started our trek in the morning; walked about 2 km on the frozen river and then we realized that the ice had cracked ahead. We had to do a bit of rock climbing, it took us about 2 hrs to get to a point where we could see solid ice again. After a few km on ice, again we had a more hazardous mountain climb with a steep 100 m drop and a very narrow ledge just enough to put one step at a time. Thankfully we had all done quite a few difficult treks before so we could manage this tough patch. Even our local porters found it hard as one of them dropped a bag of rice meant for our dinner. Finally we reached the next camp named Koma before the nightfall. Tents were literally half on the river. We played volleyball on snow and had campfire at night, played music and had a bit of brandy in our tents to celebrate the day. Thanks to two Guju girls in our group who had carried ample sumptuous food which was enough for the whole lot.
Next day we started early morning around 6 am towards the next campsite, Tibb. We saw some beautiful serene, frozen waterfalls on the way. We played football and had quite a few 100 m races on the river. There were a lot of sliding tackles as none of us were scared of falling on ice anymore. Unfortunately Prabhu the photographer of the group fell and fractured his shoulder; we immediately bandaged it and put a sling. Cheers to how tough this guy was he kept clicking pics with one hand. After some distance of walking we realized that the ice was completely cracked ahead and we couldn't reach the final waterfall, so had to turn back. The news came as bit of a disappointment at the time but little did I know my adventure was just beginning.
We headed back to the base camp; the 2 climbing patches had become more dangerous than before as more soil had eroded away from the already narrow ledges. One girl from our group (Manasi) who was a pretty good climber lost her balance and almost had a 50m fall which could have been her last if it was not for our trek leader (Rohan) who caught her with one hand and threw her up in an almost a bollywood fashion. After everyone calmed down from that incident we took a Rang De Basanti style shirtless pic on snow (yes we were that happy), and the icing on the cake was we waving the Indian tricolour on the frozen river on our Republic Day. The locals gave us a branch each for completing the Chadar trek, as is the norm. We were supposed to leave for Leh that night but because of an avalanche our bus was blocked so we decided to camp there for the night, more campfires, more music and a lot of dance followed.
The next day morning Vipin a crazy guy from the group tried convincing everyone to take a dip in a small river patch which wasn't frozen, every single sane person refused saying that they didn't have a death wish, but lucky for him he had someone as insane as him in the group... ME. We took our towels and started out descent towards the river, everyone was looking at us in disbelief but people from our group and from other camp sites started following us because they couldn't believe we would go through it. By the time we reached the river crowd had gathered to see us jump and some had a bird's eye view from the camp site. Suddenly Vipin tells me he's in 2 minds, I told him we can't back out now and disappoint these eagerly waiting onlookers, and we have to jump now. We took off our 4 layers of clothing and were just down to our inners. Vipin jumped first he was in for about 10 sec. I followed him; and the water was ice cold, colder than anything I've ever felt but the worst part was when I got out the temperature was - 20 degrees. I screamed as loud as I could. It was a scream filled with pain, jubilation and a sense of achievement and I bowed to my audience who were cheering. I couldn't believe what we had just done. We immediately changed our wet clothes so we don't die of hypothermia. The best part was that after us our audience got so inspired to see us still alive that 10 more people including one girl jumped in and each and every one of them loved it and thanked us for being crazy enough to try it first. We reached back to our hotel in Leh and partied like crazy, we toasted that all of us were back in one piece we even danced on the tables even though our trek leader tried to stop us, the hotel owner said in his 7 years there he's never seen a group partying so hard so he will let it go on all night.
We had 3 extra days at hand because the trek ended early. Some of them decided to reschedule their tickets and go home. 11 of us decided to hire 2 cars and roam around instead. First day we went to this beautiful village of Tur-Tuk which was in Pakistan before India got it back in the 1971 war. It was a whole day journey we crossed Khardungla pass which is the highest motorable road in the world. The roads were really slippery and in spite of using chains in the wheels our Innova skidded 4 or 5 times, once almost 360 degrees. Now I know what the guys in Tokyo drift felt. We reached Tur-Tuk at night; we stayed in a guest house owned by a Baruchistani Muslim man. He was an awesome host. He told us all the war history etc and treated us to a chicken dinner (which was bought from his neighbor).
Morning we got up at 5 am and went for Namaz in the small village mosque. People were really friendly and greeted us with the genuine smiles. We then visited a Buddhist monastery, a 150 old library and a new mosque which villagers were building using local resources and labour. We helped them carve wood for it and they gave us a block of wood each as souvenirs. We ate a lot of free apricots and were on our way to the Buddha's statue at Diskit. We stayed the night there.
Next day was very very eventful we got up early went all the way to Panggong. The lake was frozen solid, we walked around half a km on the lake and then it happened; our friend Himanshu, he stepped on a loose sheet of ice and fell in the river. Thankfully he had held on to the ice and we pulled him up, took off his clothes and each of us gave him a layer of cloth each. He was fine after a few hours. Also one of the guys Jai had wandered alone about 1km ahead of us and he wasn't even aware of the loose ice. We tried screaming but he couldn't hear us. We ran and retrieved him; thank God he didn't fall because without anyone around to help him it would have been fatal.
We left Pangong at 2 pm, before sunset we wanted to cross the Chang La pass which was one of the most dangerous roads in the world because of how narrow it is and the steep drop on the side also because the road was extremely slippery due to snow. One car went ahead, unfortunately just before Chang La pass the chain on our car tire broke. We put it back thrice and each time the same result. It was about 6. 30 pm and it was getting dark, not a car in sight no cell phone reception we knew we had to get out of this place in some time otherwise we weren't going to survive the - 30 degree extremely windy conditions here at night. We finally managed to change the tire with the spare one so that the chain had better grip on the tire. Now I'm sure most of u have changed a tire in our life. Take the jack, raise the car remove the old tire put in the new one, simple. Right???? Now add to that the temperature of - 30 degrees with the wind chill factor it goes down to more than - 55 degrees and fear that it's your last hope of survival well then it gets a bit difficult. Finally we managed to change the tire but luck was not on our side the car now refused to start - Mr Murphy we proved your law, "when things go wrong they go really wrong". The driver said he had to light a cloth and heat the diesel tank and this poor guy had just one matchstick left but thankfully it lit. We all had lost hope that the car would start, so my friend Abhijeet and I started walking towards the army base that we had seen 2 km back to get help, bad luck followed as the snow was about 2 feet deep and it completely got inside my gum boots making it almost impossible to walk. I was feeling a tingling in my toe; I realized that it was the first stage of frost bite setting in. I took off my gum boots removed all the snow, put it back on and continued the hike. The pain was just excruciating. I was aware that there was a very high possibility now that if I made the hike to the army camp I risked losing a couple of toes to frost bite but it was a chance that had to be taken because I was sure we wouldn't survive the night out here without help and both of us had the best warm clothes among the lot and I was the fittest and technically a better climber than the other 4 so I had to make the 2 km hike with Abhijeet, because in those conditions he couldn't have gone alone . But thank God finally we heard our friends screaming for us to come back from a distance, the car had started and in about 10 min we were on our way. We crossed the feared Chang La pass at night which we wanted to avoid at all cost. Our friends were waiting for us on the other side; they had already informed the military to come help us if we hadn't come in another half an hour.
That day we celebrated again at the hotel that we were back in one piece. The next day was thankfully uneventful. We had a contact in army so we had their hospitality and we were dropped at Leh airport to finally go back home.
On the whole I have learned a lot from this trip.... Some People are really calm in adversities - The way we managed to keep calm when our car broke down ; others are really passionate – Prabhu, the guy who clicked pics with one hand despite of a fractured shoulder; Some people should be in Bollywood - our trek leader who saved Manasi with one hand from falling 50 metres ; some are just plain crazy- Vipin and I, motivated our audience to jump into the water when temp was - 20 degrees; and most importantly I learned how important it is to be back in one piece and I will celebrate that every single day of my life.
This is by far the most epic, life changing , once in a lifetime adventure (until the next one of course)
Cheers!!