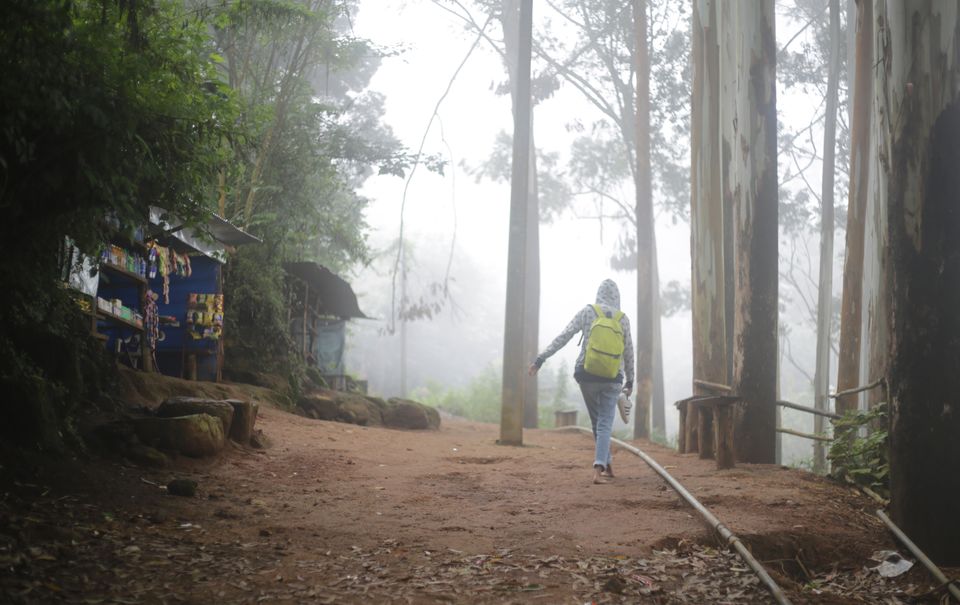 Three friends (all from different locations), one destination (a lot nearer to me than them), lots of planning (I am a newbie wanderlust-er) and loads of luggage (to pack up all the memories, you see).
Hansa, Ananya and I, we boarded the bus from Bangalore on 30th Sep to Kodai(kanal)! The bus that was supposed to take us to our destination had proper beds man! Ananya and I got super excited just by the look of it and thus started our photo shoot with the train berth like beds.
With around 57 hairpin bends to Kodai, I couldn't sleep much. Perks of being a light sleeper!
At about 6.30 am I woke up to see a giant waterfall cascading through the hills leaving me speechless. We had indeed reached a hill station! After getting down from the bus we boarded a taxi for our next set of travel to Vattakanal, where we had booked our hostel. I could feel the chill on my skin, hence making me realize that it's time to take out the jackets.
Twenty minutes of drive later we reached a narrow and steep road leading to a scenic valley from where we could actually see the whole town of Kodaikanal. No tired bone in our body could survive after that view. We took out our gears and started to go click click click even before we could look for our room!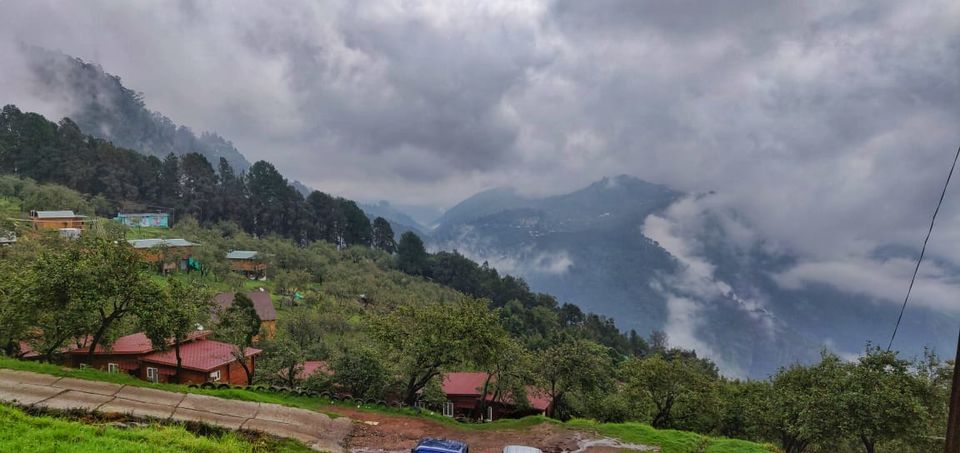 I won't say we stayed in the most lavish resorts there. In fact, our hostel was one of the most humble, cost effective ones with creaky bunk beds, damp foot mats and crappy service, but the view we had from there kind of made up for it. It was Rs 799/- a night only. Budget vacation on point with this! We waited (im)patiently till the hotel staff lazily cleaned out our room to make it livable. We utilized that time to go and have the clichéd but most effective breakfast while in the hills, Maggi with chai.
P.S : I won't recommend this hostel though. Go at your own risk!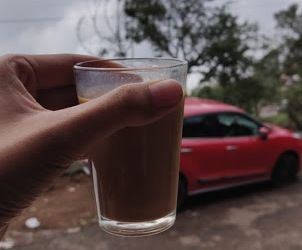 Content with the breakfast we went back to the room and freshened up to set out for our trail. We planned to explore the town of Kodai and look around for a few tourist spots only to get stuck in a pathetic traffic jam, courtesy: the narrow roads of Vattakanal and the long weekend. Somehow our 30-year-old wisdom came into play and we decided to get down and explore the local places before moving out to the town. Leaving our shared taxi midway we found a beautiful resort called The Kodai Haven. Flowers everywhere; Ananya and I went bonkers as if we had found out paradise. We spent hours there clicking pictures of flowers, with flowers without even realizing that it was actually lunch time and all this running around had made us hungry.
We made our way towards Altaf Cafe, a quaint little cafe with a superb view of hills in Vattakanal. I kid you not when I say with an amazing view, the food they served was superb too. Its food and view are now etched in my heart forever to stay!
Needless to say, we were on almost a food coma but our spirits were hyperactive as ever. At around 4 o clock we thought of looking for a taxi to town again. This time we found one immediately as the crowd and traffic had subsided, thanks to one good batch of rain. The evening sun had made the place look even prettier and the rain washed town looked clean and picturesque. Kodaikanal town has a very scenic charm with many handicraft shops and yummy homemade chocolate museums scattered all over the town. I got to know that it is the only hill station in India that was settled by Americans and not British. Interesting no?! We spent quality time over each and every shop buying a good amount of memorabilia and souvenirs for ourselves and our loved ones.
The artefacts and handicrafts at these shops are pretty affordable and cute. Do not miss on them!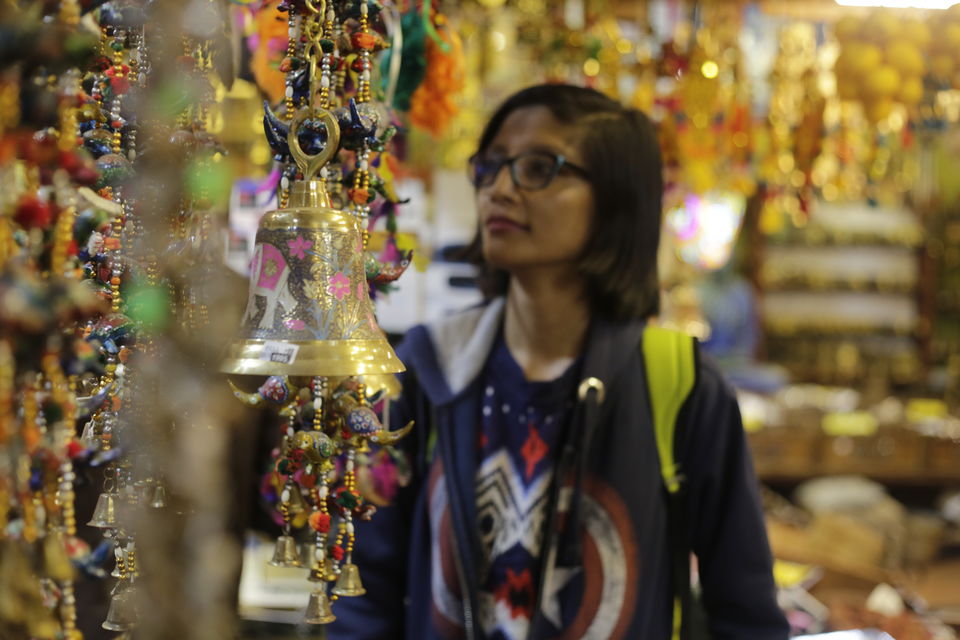 Come to a hillstation and not look for cozy cafes serving hot coffee and yummy snacks? Not possible! We googled straight for best cafes in Kodaikanal and came across Muncheez which served us with lip-smacking burgers and sandwiches with special coffee saving us from the chill. Its cozy little interior with a stone fireplace, wooden furnishings and tungsten lighting gave us such nice vibes with even nicer pictures! :P
Coming back to our hostel at around 8 pm wasn't of many hassles as we made friends with a gentleman taxiwallah who dropped us back, that too 100rs less than the appointed price! God bless you anna!
Now came the hardest part. We reached our hostel to see a room with no lights, no power back up, hence no Wi-Fi, no clean water and no mobile networks! Cut off from the rest of the world we tried to chill inside our cold damp room until the fellow hostel mates with whom we had had a casual chat earlier in the day invited us for some drinks and adda session. We happily accepted their invite, and amidst the faint sound of a waterfall, heavy chirps of the cicadas, thick fog flowing in every ten minutes and the heavenly voice of Papon chiming through one of the phones we socialized with them till we were too tired to sit outside in the cold. Bidding farewell to the guys we came back to the room and had a hearty candlelit adda session ourselves. A night away from the civilization actually gave us a better way to connect to ourselves. With no wifi and charge in our phones, we actually took out time to talk to each other and know each other a bit more instead of half-hearted conversations with our faces buried into our phones.
Morning knocked in with sweet sunlight filtering through the windows and we prepared ourselves to fight the cold morning breeze and bravely pack our belongings and get ready for the checkout. Then came the hostel staff with some amazing complimentary breakfast of soft idlis, sambhar, and chutney and tea! Aah that amazing tea. And voila! we were energized for the day!
We checked out leaving our extra luggage at the room itself and planned for a quick hike to the Dolphin's nose in Dindigul which was about an hour's trek from our place. A natural staircase made of the roots and soil-bound together, the route downhill the dolphin nose was fascinating in itself! Tiny shops selling bread omelet, Maggi and tea were the best thing a man could get there. Funny enough, we couldn't actually get to the whole way down to the viewpoint as we were falling short of time, but we thoroughly enjoyed the waterfall that we met halfway.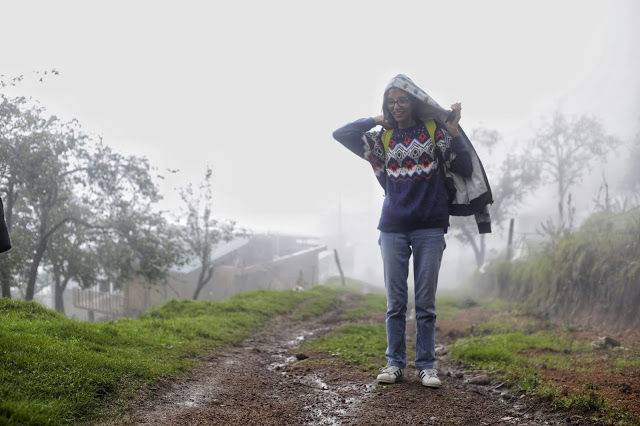 We took our luggage and got into a taxi to the town. Our bus back to Bangalore was scheduled for 6.30 pm and we planned the itinerary around it by first going to a café for a late lunch followed by some more shopping consisting mostly of the local homemade chocolates and eatables for the journey. The café called the Cloud Street stole my heart with its vintage décor, wood burn pizza oven, tiny books corner and a huge collection of succulents planted in almost anything and everything including a typewriter!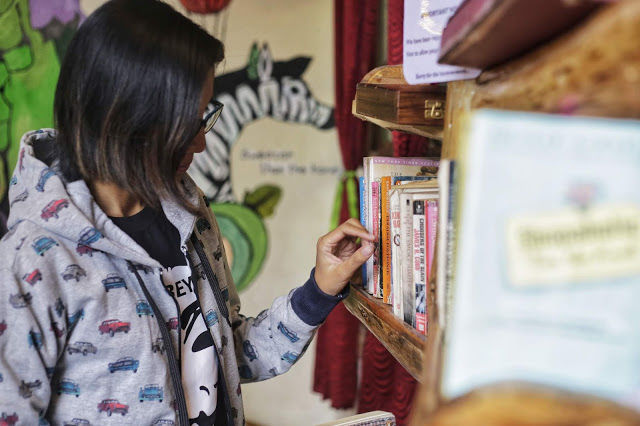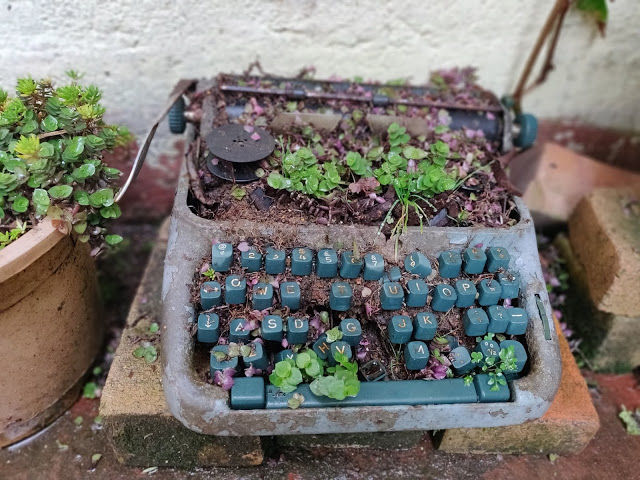 Well, with our foodgasm completed, it was almost time to say goodbye to Kodai. With our hearts filled with some unforgettable memories, we boarded the bus to come back to the daily grind only to be collecting experiences and memories that would never erase but only grow fonder and stronger with time!
I would not say that this was the most favorite trip of mine with friends. I have had a few good ones before and I wish to have even better ones, but this one will always be one such special journey for me..
Until next time!
With love,
Ankita
Ananya
Abhishek