Sunset is the Golden Hour when the Sun bids us farewell by painting the sky with thousand shades of amazing colours. The enigmatic beauty of this nature's wonder at the end of a day always makes us happy and cheerful. It also signifies the beginning of a new day full of promises and hopes. Although it's a daily phenomenon, still the captivating beauty of setting sun takes your breath away, leaves you speechless, makes you stop by to appreciate this gorgeous view and finally transported you to an enchanted world. There is always something magical in it, that's why the beauty of sunset never ceases to amaze me.
During this lock-down period, sitting at home while going through my old archives, I realized that I have a good collection of sunset photos that portray some of the most beautiful moments and wonderful memories in my life.
My memories of Sunset
As they say, every sunset tells a different tales. So, here are some of my favourite sunset stories. Let's start with the sunset of my favourite city the 'City of Joy'.
Urban sunset over the 'City of Joy' Kolkata, West Bengal
Ever since I have started traveling, I have been experiencing beautiful sunsets in many places but it had always been overlooked in my beloved city Kolkata until 2017 when I bought my first DSLR and started photography. And believe me, watching a sunset in this vibrant city, whether it is over iconic Howrah Bridge or Kolkata's pride Victoria Memorial Hall, is and will be always one of those moments when you have to stop by and watch it happen.
"When the sun is setting, leave whatever you are doing and watch it." – Mehmet Murat Ildan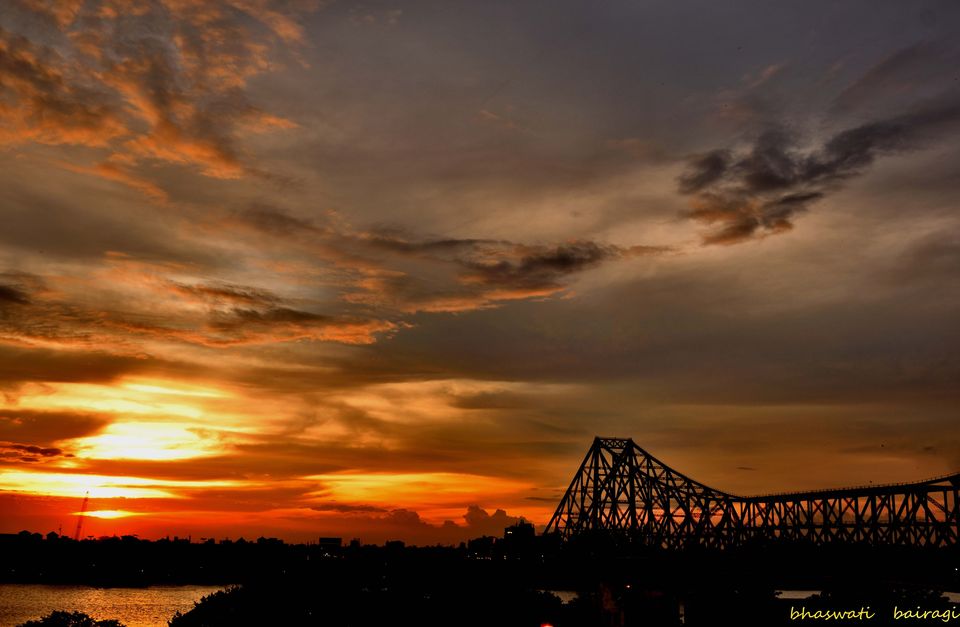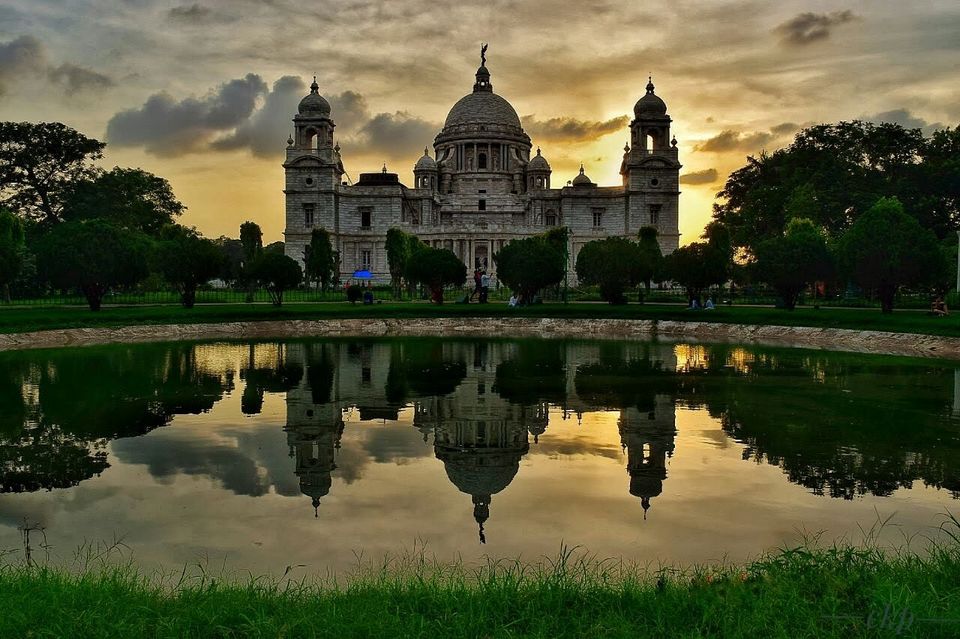 Sunset on river Brahmaputra, Assam
We were cruising down the majestic Brahmaputra river during my trip to Assam. We all were on the deck watching the magnificent beauty of surroundings while sipping elegant Assam tea. As the sun started going down slowly over the horizon, the sky began turning pinkish-red and at the end of the cruise, we experienced this gorgeous sunset over the mighty river in one of the most naturally beautiful locations.
"There is nothing more musical than a Sunset" – Claude Debussy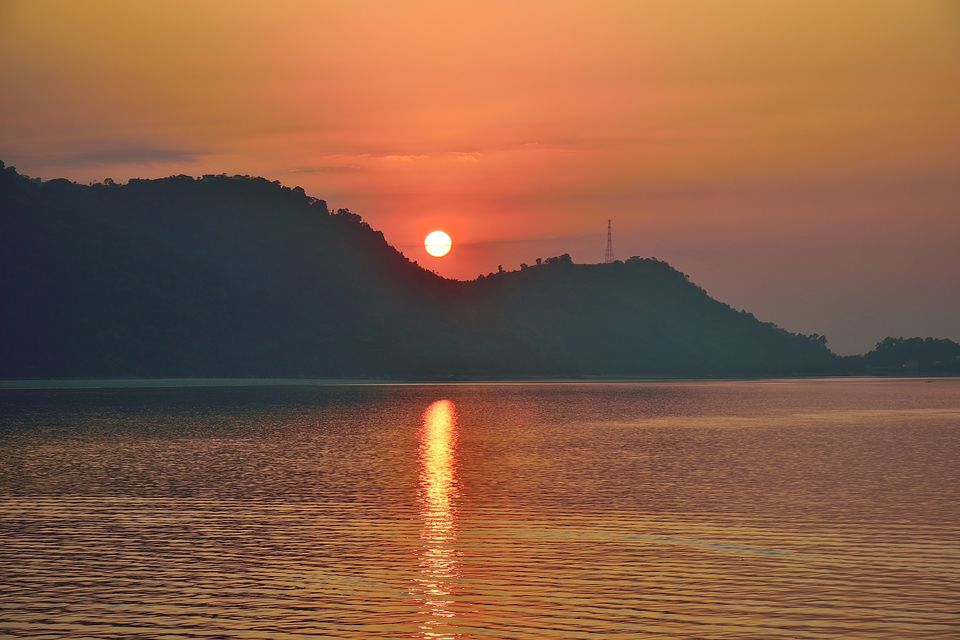 Crimson Sunset at 'Switzerland of Uttarakhand' Chopta, Uttarakhand
Chopta, a picturesque hamlet on the Garwal Himalayas. A short trek( 19 – 20 km ) from Deoriatal through the thick forest of Pine, Oak, Maple trees and green meadows, and we reached Chopta in the late afternoon. As that was the first trek of my life, I was totally exhausted. As soon as I reached the pick- up point near Chopta campsite, the guide asked me to look up and through the trees, I saw that fiery sky. Instantly all my fatigue disappeared and my mind filled with joy and happiness. I chose a vantage point for taking this shot without any obstacles. This is one of my favourite sunset because it came totally unexpected for me.
"Keep looking up! I learn from the past, dream about the future and look up. There's nothing like a beautiful sunset to end a healthy day." – Rachel Boston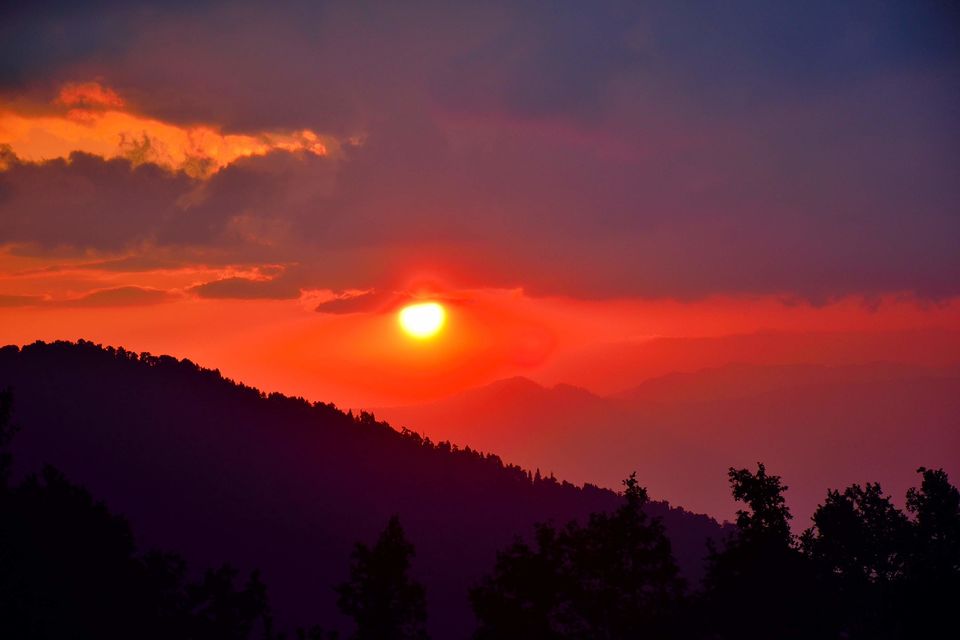 Sunset at Himalayan hamlet Seema, Uttarakhand
Seema is a tiny village, nestled in the lap of Himalayas, on the way to Har-ki-Dun valley, in Garwal Himalayas. We reached there after a fourteen km trek from Taluka, in the afternoon. While relaxing at the Forest Rest House's courtyard on the bank of Supin river, I witnessed this gorgeous sunset. The picture will never justify how magical it was.
"Clouds come floating into my life, no longer to carry rain or usher storm, but to add color to my sunset sky." -Rabindranath Tagore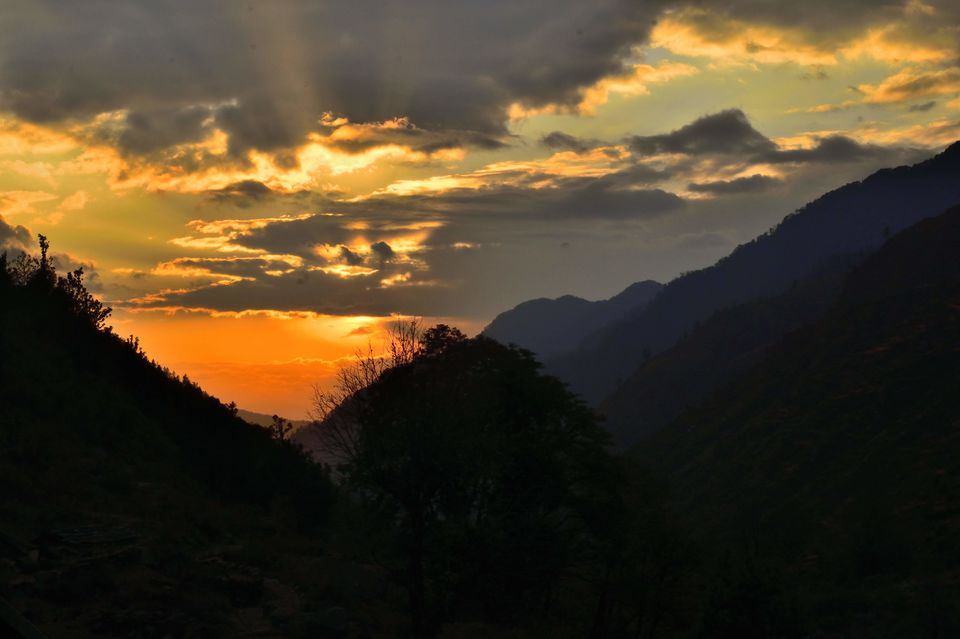 Sunset over Mt. Chowkhamba at Deoriataal
Deoriatal, a small lake nestled amidst lush green meadows in the backdrop of snow-capped Chowkhamba range at an elevation of 8000 feet. The mesmerizing beauty of the surroundings make it a popular camping ground in Garwal Himalayas. The morning we reached the campsite was glorious bright but the afternoon was cloudy. We couldn't expect to see the sunset. But suddenly, the peak of the Mt. Chowkhamba appeared out of the cloud and last rays of the sun fell on it and created a stunning sunset.
"Sunsets, like childhood, are viewed with wonder not just because they are beautiful but because they are fleeting." – Richard Paul Evans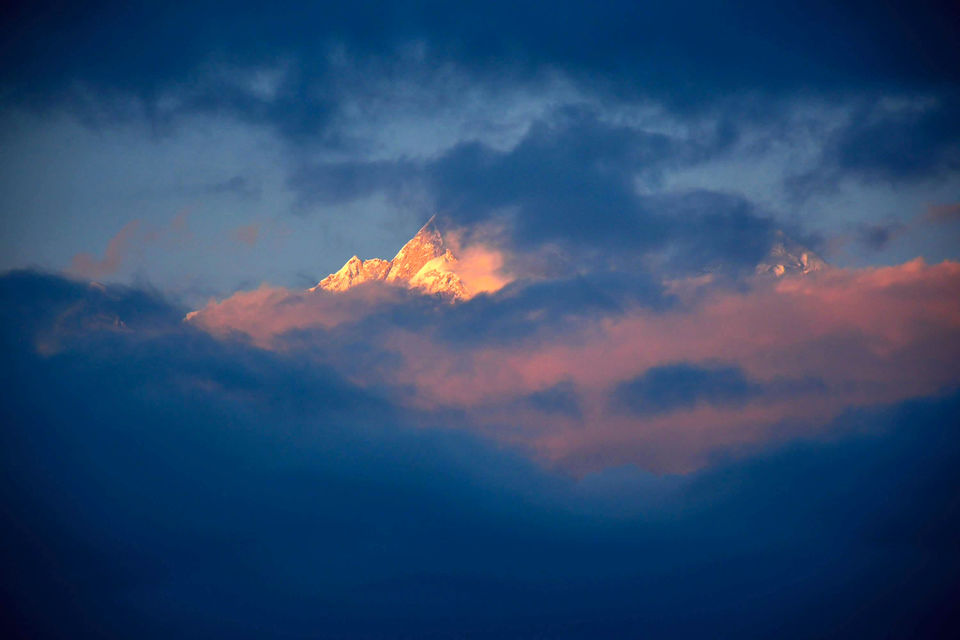 Silhouette at Radhanagar Beach, Swarajdweep Island(Havelock), A & N Islands
Radhanagar beach, one of the most popular beaches in Havelock island, is famous for its gorgeous sunset views. Sitting on white sand in front of turquoise blue water under the azure blue sky and watching a magnificent sunset made for the perfect end to a perfect day. The time stopped, the sight was just breathtakingly beautiful but people kept moving happily and I took this silhouette.
"Sunsets are so beautiful that they almost seem as if we were looking through the gates of Heaven." – John Lubbock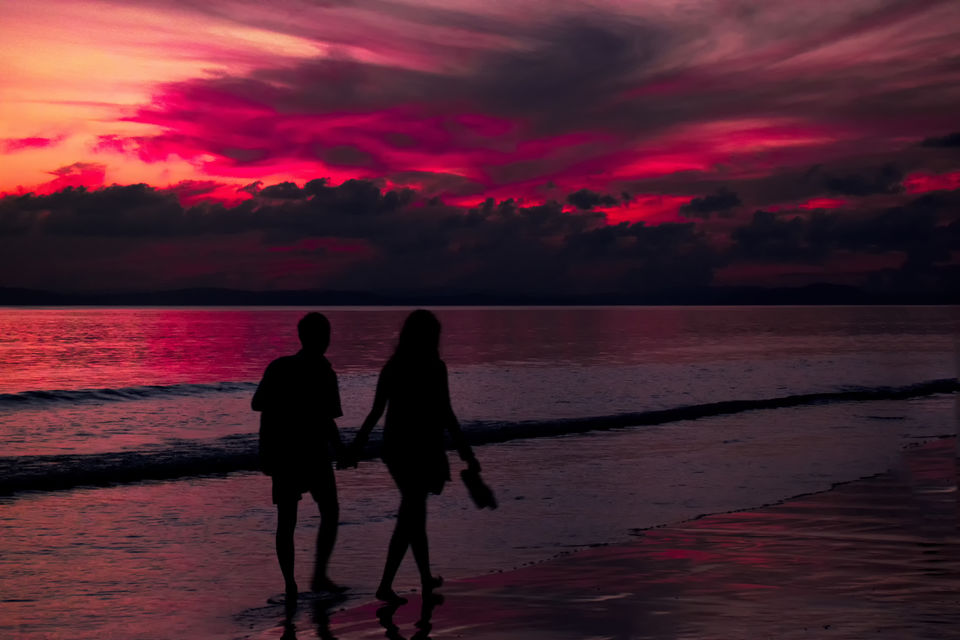 Happy moment at Chidiyatapu, Port Blair, A&N Islands
Chidiyatapu is a beautiful beach around 30 km from Port Blair. The day I went there was the last day of my Andaman trip. The following morning I had the return flight to Kolkata. The brilliant colours of the sunset decorated the canvas of the sky while the sun was dipping slowly in the distance behind the hill conveying the end of a beautiful day and a trip as well.
"Sunset is so marvellous that even the sun itself watches it every day in the reflections of the infinite oceans!" – Mehmet Murat Ildan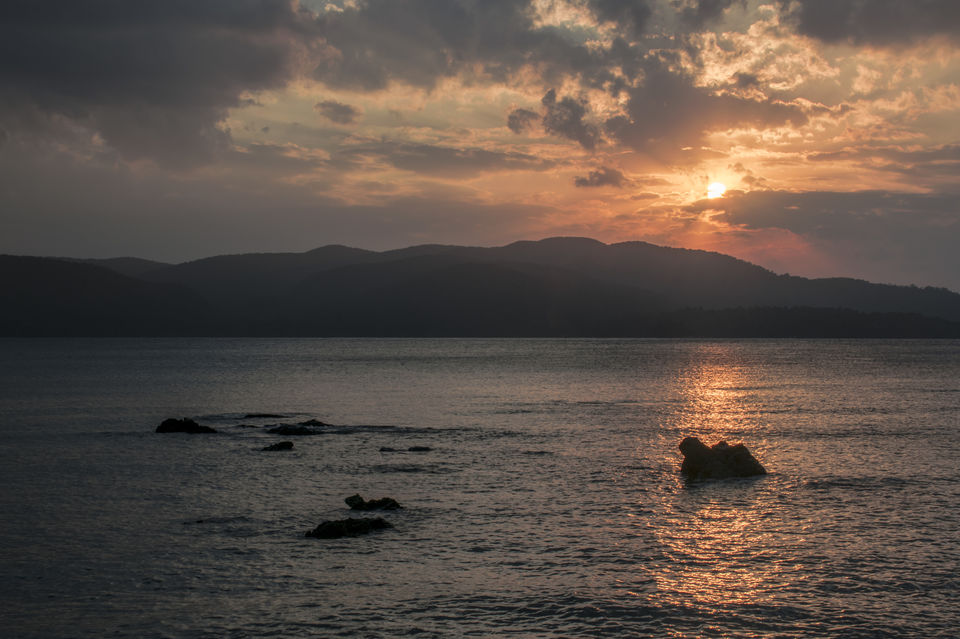 Sunset at 'Queen of Hill' Shimla, Himachal Pradesh
I fell in love with 'Queen of Hill' Shimla the first time I visited it back in 2014. It was my second visit in 2017 and I was greeted with pretty much opposite of what most of the travelers hope to see - a spell of shower, thick mist and gloomy sky. As the rain ceased, I stepped in the rain-drenched Mall for strolling around. Suddenly, the sky opened up and it turned out to be the most dramatic sunset I have ever seen. It was truly a moment to cherish.
"Don't forget: beautiful sunsets need cloudy skies…" – Paulo Coelho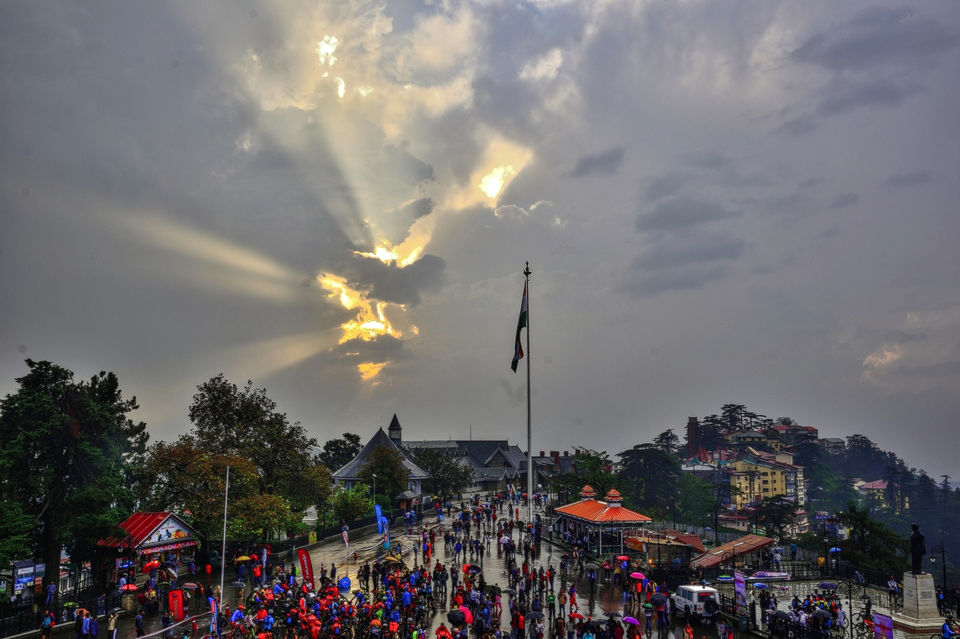 Sunset over the Kaziranga National Park, Assam
This stunning sunset photo from my safari in the Kaziranga National Park where we had an amazing afternoon of wildlife sightings. At the end of the day, when we came out of the jungle, the sun already dipped below the horizon. The open hood gypsy was moving fast down the narrow forest trail. A couple of meters away from the main gate, we were going through an open space and witnessed this splendid sunset that lit the sky with gorgeous pink.
"Softly the evening came with the sunset." – Henry Wadsworth Longfellow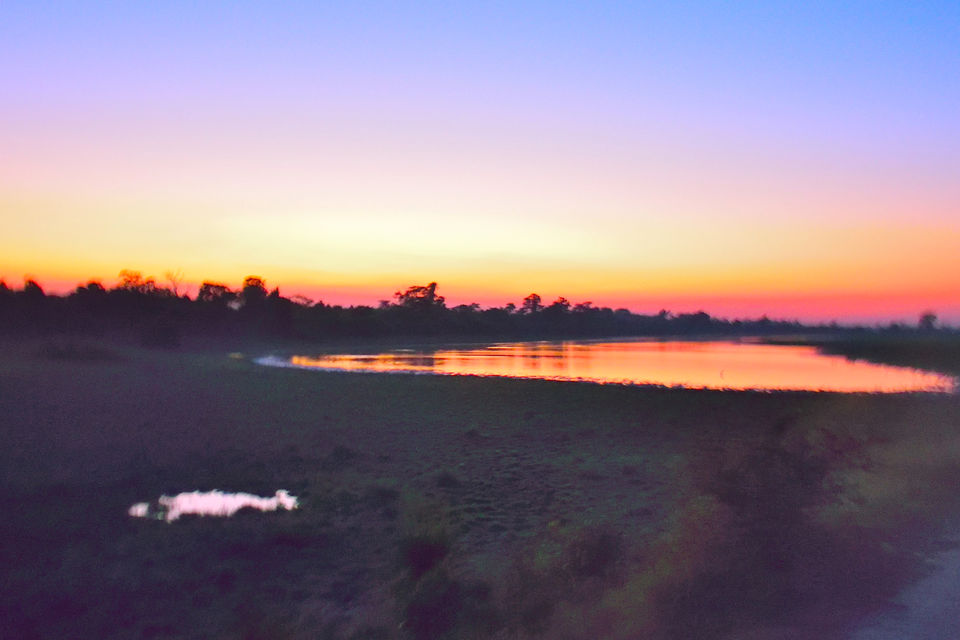 Sunset at Laxmanpur Beach 1, Neil Island, A & N
This is the best beach of Neil island, A & N to experience the amazing sunset. It was a magical moment watching the golden sun goes slowly beneath the horizon. There is something about the colours of the sunset here. So incredible! Absolutely can't miss when you are in Neil Island.
"A sunset is the sun's fiery kiss to the night." – Crystal Woods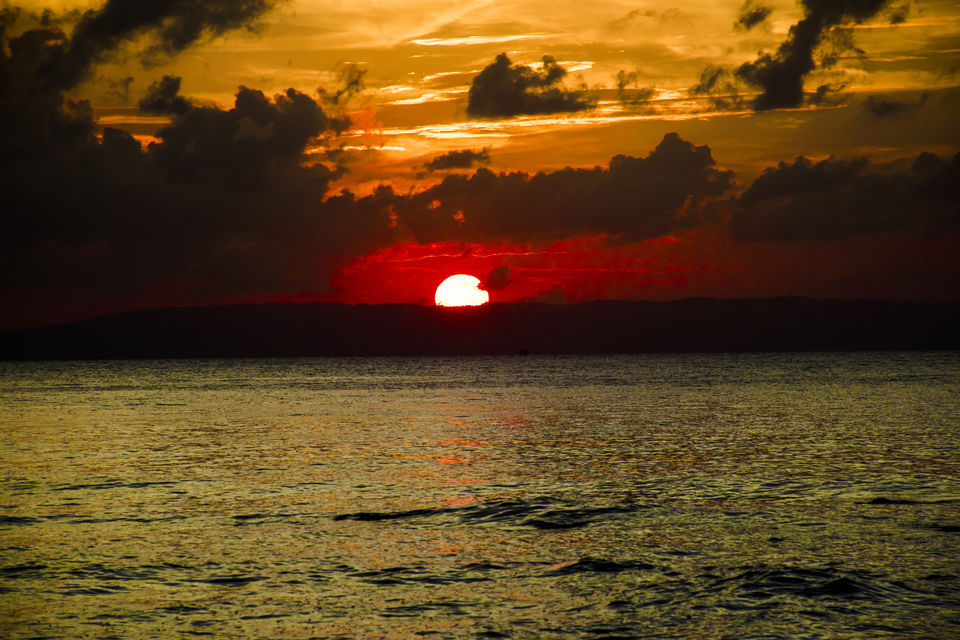 Golden hour at Puri Beach, Odisha
Puri, a holy city, is famous as the 'land of Lord Jagannath'. Apart from that, the city is also known for its sun-kissed coastline, stunning sunrise, bustling market and famous Khaja, a sweet delicacy. At the end of the day, when you relax on the beach and think you have seen the best the place has to offer, it continues to impress you with the most gorgeous sunset that made you feel like in heaven.
"Life does not come with instructions on how to live, but it does come with trees, sunsets, smiles and laughter, so enjoy your day." – Debbie Shapiro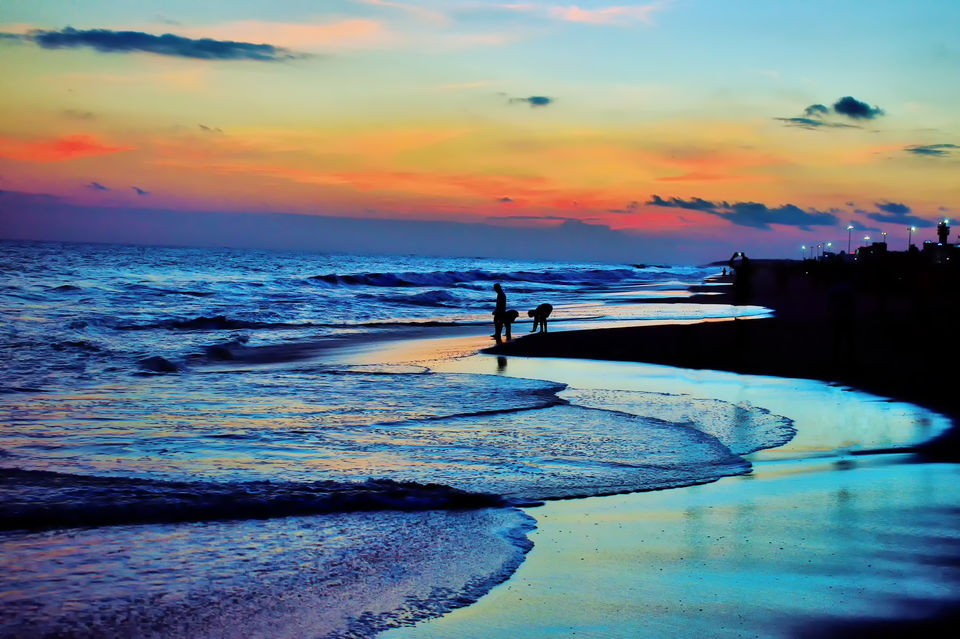 Surreal sunset over Masjid, Murshidabad, W.B
Murshidabad, a small town on the bank of river Bhagirathi is famous for its silk. The chief attraction of Murshidabad is the Hazarduari Palace, a palace with thousand doors. The day I reached there, was a sultry summer day and I was welcomed with a drizzle, followed by a spell of hard shower. As the rain ceased, I was roaming around the Hazarduari campus and witnessed this surreal sunset over the Madina, the most sacred Muslim place in Bengal, made to replicate Hazrat Muhammad's tomb at Madina.
"Enjoy the beauty of a sunset nature's farewell kiss for the night." – Sharon Rene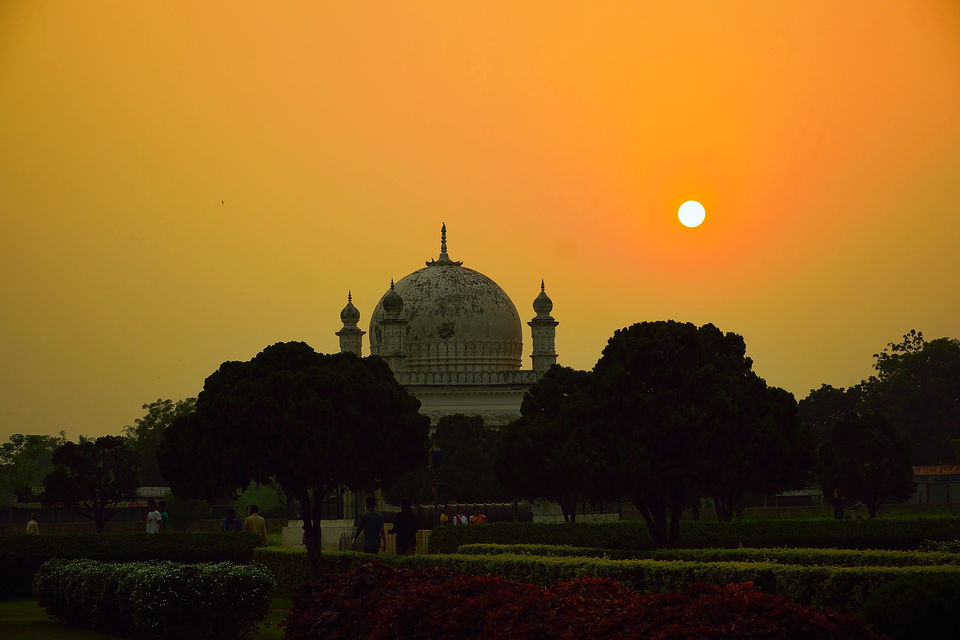 Sunset at Ramdhura, Kalimpong, W.B
Ramdhura, a picturesque serene hamlet of North Bengal, located at 5000 feet above sea level. The natural beauty and unhindered view of Mt. Kanchenjunga makes this offbeat destination a favourite tourist spot. I went there in April and was greeted with a wide array of flowers and Orchids. While walking alone down the narrow lonely roads lined with emerald pine trees, suddenly, around a bend, I saw this beautiful sunset.
"Sunsets are proof that no matter what happens, every day can end beautifully." – Kristen Butle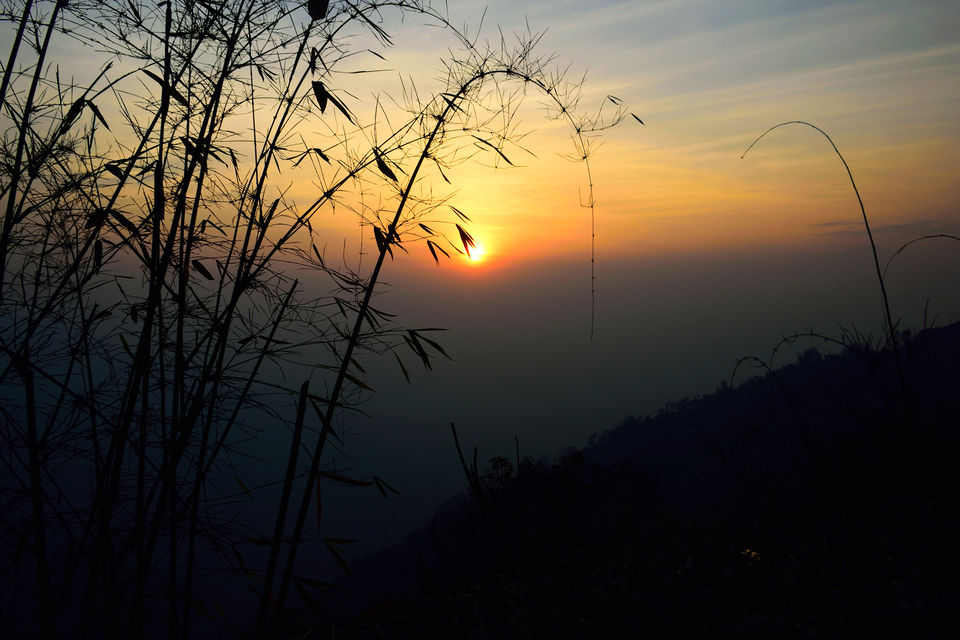 Sunset at Varanasi, Uttar Pradesh
Varanasi is an old city of Northern India. The city is famous for its Ghats, Dev Deepavali and temples. I was once in Varanasi during Dev Deepavali and this photo was taken while enjoying the evening boating by the Ghats. There is nothing more enchanting than watching a colourful sunset while boating on the river Ganges.
"When your world moves too fast and you lose yourself in the chaos, introduce yourself to each color of the sunset." – Christy Ann Martine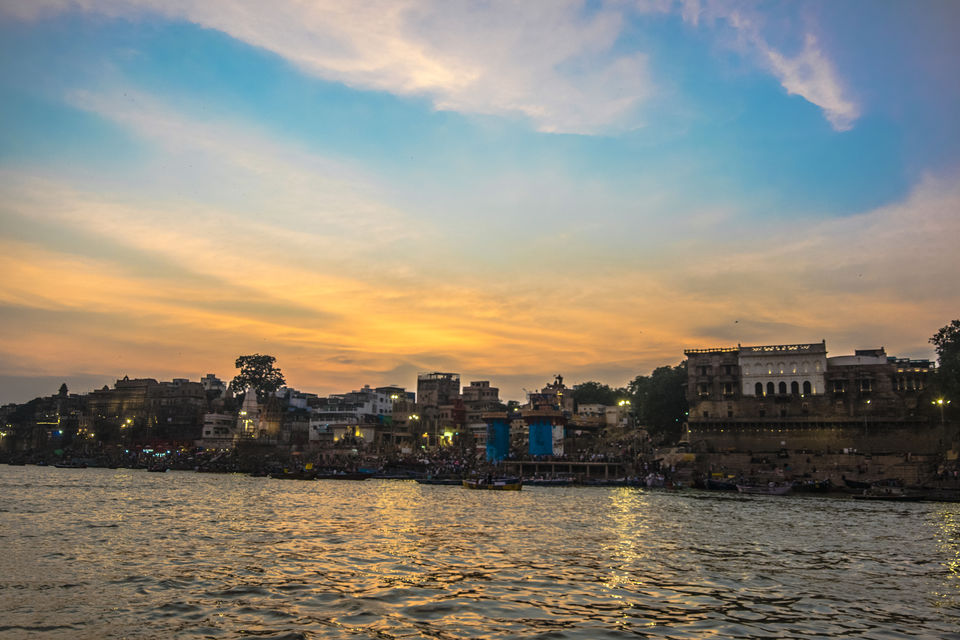 Sunset at Har – ki – Dun Valley, Uttarakhand
Har-ki-Dun, the 'Valley of God', is one of the most beautiful trekking spots in Garwal Himalayas at an altitude of 12,000 feet. The base camp of this trek is Sankri, 220 km away from Dehradun. Snow-covered Swargarohini peak, gently flowing Tons river and alpine vegetation makes this valley very popular among trekkers. I reached there almost at the end of the day although it was cloudy but just before the dark, the sky started getting colour and I got this view.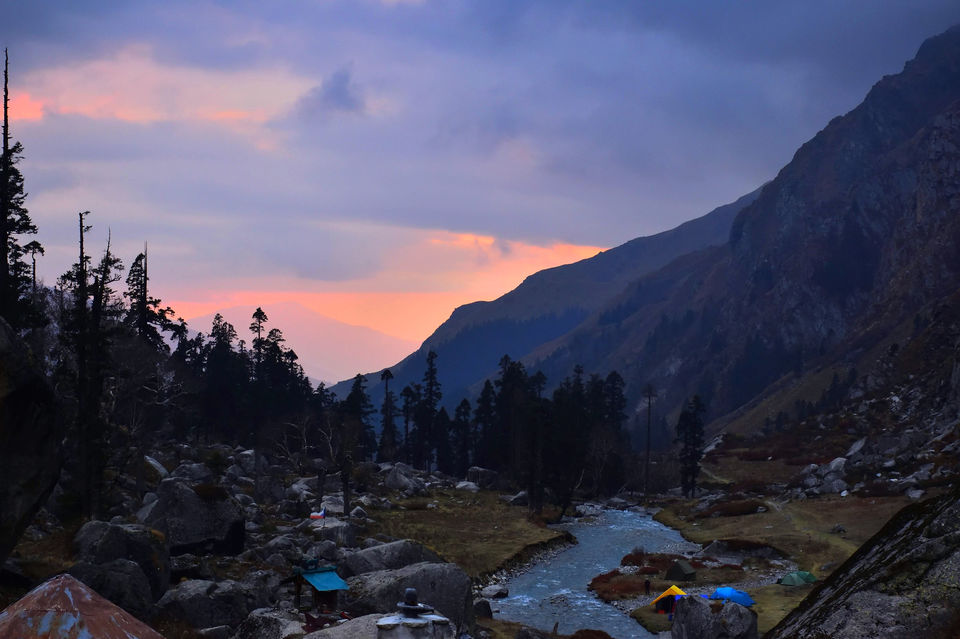 Sunset over picturesque Dal Lake Kashmir
Dal lake is the Jewel in the crown of Kashmir. Dal lake means delightful Houseboats, Colourful Shikaras, majestic Pir Panjal range and floating market. But there is much more to see. I stayed overnight in a Houseboat at Dal Lake as a part of my Kashmir Trip. An afternoon Shikara ride over Dal Lake was pretty enjoyable but at the sunset, the aura of setting sun over the lake just leaves you awestruck. It was truly a special moment in a beautiful ambiance.
"The water was glassy and calm, still candy-colored in the afterglow of sunset." – Stephen King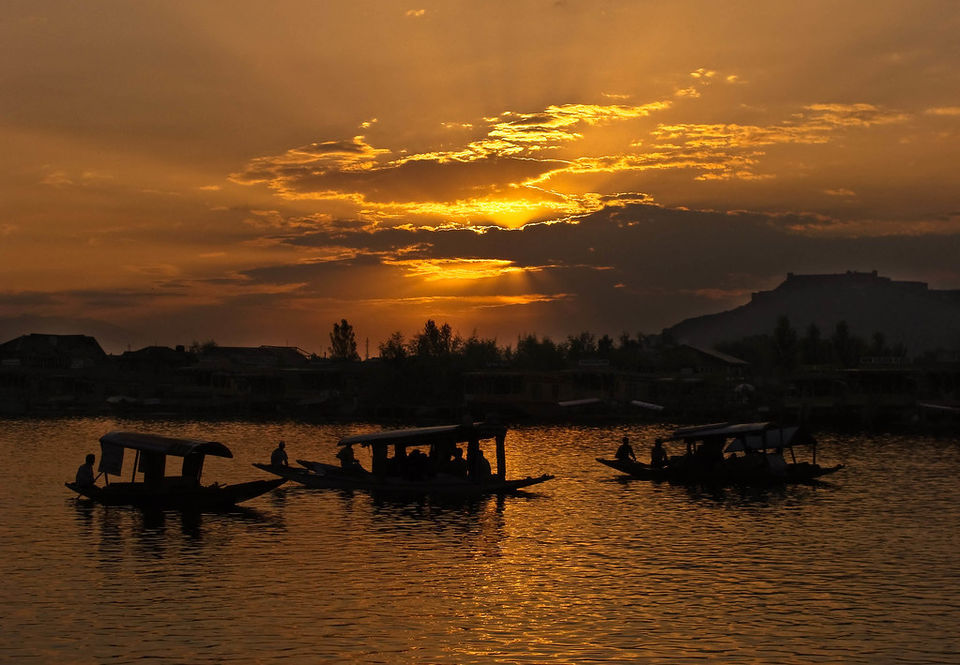 Sunset over the Thar Desert, Rajasthan
Enjoying a colourful sunset behind the dunes was always on my bucket list. And it happened when I was in Desert Safari Camp as a part of my Rajasthan trip, the only state of India that boasts of having the part of Thar desert. At the end of our camel safari on the way to Desert camp, we were dropped at sunset point and witnessed an incredibly beautiful golden sunset over the dunes. It was an awesome experience.
"Are you dreaming? Stop dreaming; come and watch the sunset, it is better than all the dreams!" – Mehmet Murat Ildan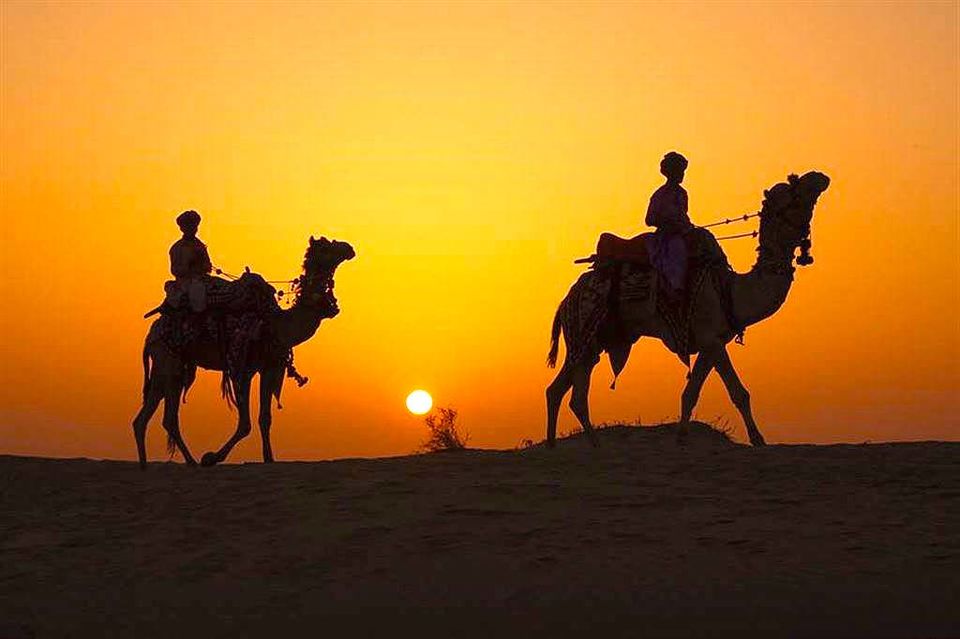 Sunset point at Mount Abu, Rajasthan
Mount Abu, the only hill station of desert state Rajasthan. There is a sunset point near Nakki Lake. This is a popular viewpoint of Aravalli range of mountains. During sunset, it offers spectacular views of the sunset over the valley.
"There is nothing like a beautiful sunset to end a healthy day." - Rachel Boston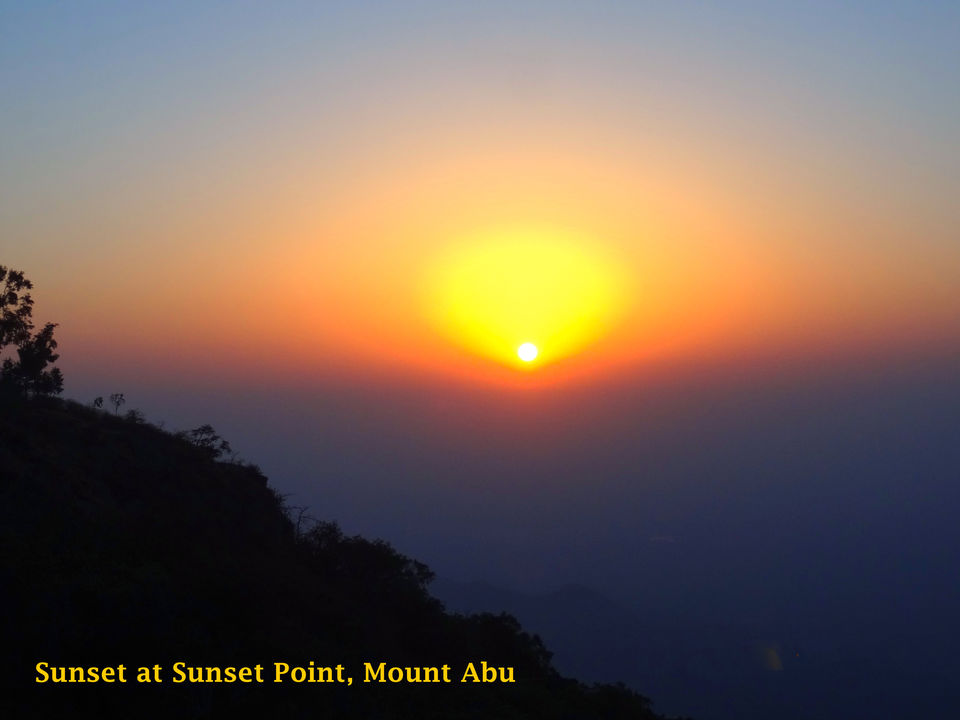 Sunset at Kovalam Beach, Kerala
Kovalam beach is one of the finest beaches in Kerala. I went to this beautiful beach as a part of my Kerala trip. This beach is a combination of three beaches and we traveled all these beaches by a speedboat ride. After the ride, we all were waiting for the sunset although the day was cloudy. Suddenly the sky started taking colours and we witnessed this beautiful golden sky.
"A sunset paints the sky as if there were no tomorrow." – Anthony T. Hincks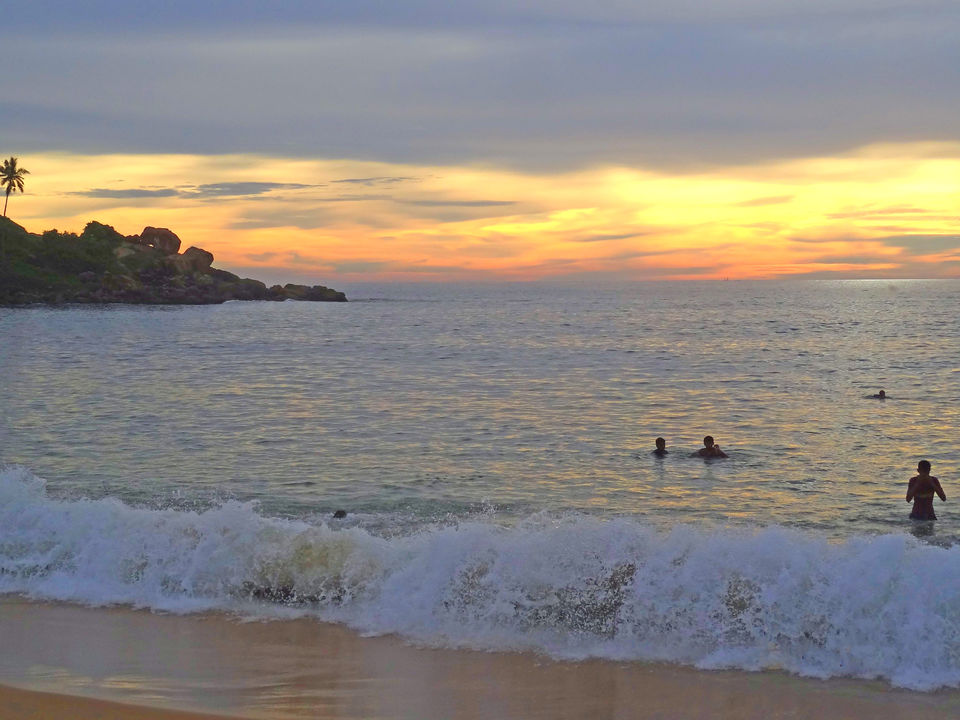 So, these are some beautiful sunsets I have ever seen around India. Some of the locations are very famous as sunset point whereas others you might not know. But all these beautiful photos surely make you fall in love with sunset.
Sunsets still on my bucket list
India still has some more famous places that offer awe-inspiring sunsets, among them, there are some places where I have been but did not get to see the sunset and some places I have never been to. Hence, they are still on my bucket list. And if you are a sunset chaser or Indians or in India, you can't afford to miss the following places.
Sunset over The Tajmahal, Uttarpradesh
India is boast of having one of the most-admired seven wonders of the world – The Taj Mahal. The sunset behind this most beautiful monument of eternal love is a sight to behold.
Sunset at Kanyakumari, Tamilnadu
Kanyakumari, the southernmost tip of India is famous for both sunrise and sunset just like Puri beach. I had been there long back in 2004 for the first time and then in 2014, after a gap of almost 10 years. During my second visit, while strolling on the beach in the late afternoon, we saw the sky started getting colour but the day was cloudy and eventually, we got no luck. So this beach is still on my bucket list.
Sunset over Nubra valley, Ladakh
Sunset at Nubra valley is an awe-inspiring sight as seen in many photos. It's must visit place during sunset when you are in Ladakh.
Sunset at Palolem Beach, Goa
It's said that almost every beach in Goa is famous for beautiful sunset but the stunning background of Palolem Beach makes it one of the best spots.
Sunset at Fort Kochi, Kerala
Watching the sunset at Fort Kochi beach in Kochi with the Chinese fishing net is a spectacular sight. When I have been in Kochi, I visited this beach, saw the Chinese fishing nets but due to cloudy sky, I could n't get sunset views.
Sunset at Great Rann of Kutch, Gujrat
Sunset at Great Rann of Kutch on the white desert is also a spectacular sight. You shouldn't be missed when you are in Gujrat.
When the COVID pandemic gets over, when we can move freely like before, I would like to tick off all these places as early as possible from my bucket list.