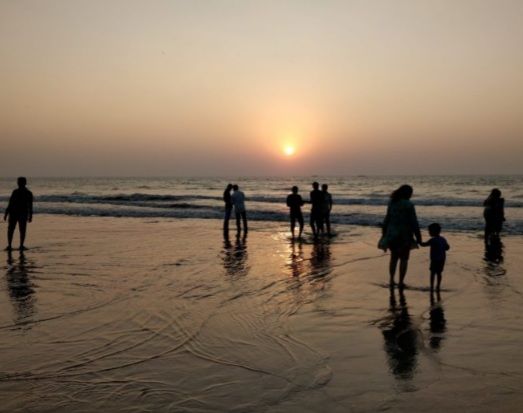 Celebrating one's birthday is a special life event that's meant to be shared by loved ones. A typical birthday party involves gifts, music,dinner and games and is usually attented by friends and family. But this birthday was totally different for me. My dear friend called me and told me to spend my special day in a unique way. So we planned to visit juhu beach (juhu chaupatti) in Mumbai.
I am a die heart fan of beaches. Simple but true. Life is better at beach. Everything is better at beach! With no where to go and no where to be, a day at the beach is just what you need.
Journey begins

We decided to reach out there by local train. There is no direct station to juhu. The nearest railway station is Santa cruz. After that we booked a taxi. It took 15 minutes approximately to juhu by taxi after Santa cruz.

Ocean experience
As we reached there that feeling was really mesmerizing. That ocean breeze puts my mind at ease. It was really relaxing moment for me. It was like sky above, sand below and peace within. Looking at the ocean melt away all my problems for a moment.
Me and my friend started to play with sand. We were just drawing pictures in sand, made small castles, wrote names and many more. We were just enjoying the present moments forgetting all issues and problems of life.
The chaat heaven
Ofcourse, when it comes to food we Indians are crazy about chaat. We want some spicy, masaledar khana at every occasion. And if it is street food than it's like cherry on the cake. This place is too good for pani puri, sev puri, Dahi puri, bhel puri, ragda Patice, etc.

I am a sev puri lover we ordered sev puri and bhel puri. It was amazing chat you will get over here. Big thumbs up to this street food. Chaat lovers must visit this place for once.
We also tried biryani and Pav bhaji. Pav bhaji at juhu chaupati is a must try for all food lovers. The rate varies from Rs 20 to Rs 30. Pav bhaji is available at almost all the stalls at the juhu chaupati.
Hotels near juhu
There are lot of two and three star hotels near juhu beach. Some of hotels are:
1. Sun and sand hotel
2. Juhu hotel
3. Sea princess
4. Sea palace
5. Juhu residency
Another attraction at juhu - Buglows of flim stars
Many indian film stars reside in juhu area. Some of them are Amitabh Bachchan, Ajay devgan, akshay Kumar, koena Mitra and Amrish puri.
And we Indians are craziest fans of these film stars. We went near amitabh bachchan's bungalow and clicked a picture for a life time memory.

Amitabh bachchan's bungalow is named 'pratiksha'. People from all over the country come to visit Amitabh's bunglow pratiksha. It has become a tourist attraction.
Time for the sunset 🌞
Sunsets are breathtaking and magical. I love taking photos when sun sets. Collecting sunsets is an amazing way to boost happiness. Every time I see a beautiful sunset, I say thanks. Thanks for the pink clouds, thanks the crack in the sky, thanks to the colors. It was such an amazing view of sunset.

Farewell time🙋‍♀️
It was such a great way to end the day with a beautiful sunset. We were not in the mood to leave the beach but as it is said " when you leave a beautiful place, you carry it with you wherever you go."
Now it was time to go back to a regular hectic schedule but we carried memories with us for life time. I am glad and lucky enough to have a friend like her. She really brightened up my world on this special day. I thanked her for celebrating my birthday in such a unique way.
While most people say the beach drains you. I would argue that it actually gifts you the gift of total relaxation. After coming home and taking a shower, I was practically asleep before my head hits the pillow. This true sense of relaxation brings us all back to our lives with a renewed sense of purpose and a decluttered mind.
One must visit beach once in a while. A good beach a day keeps the doctor away.

Bye every one and thanks for reading and showing some love for this blog.
I hope you all enjoyed the beach time with me. In the end I just want to say,

" Don't worry, beach happy"