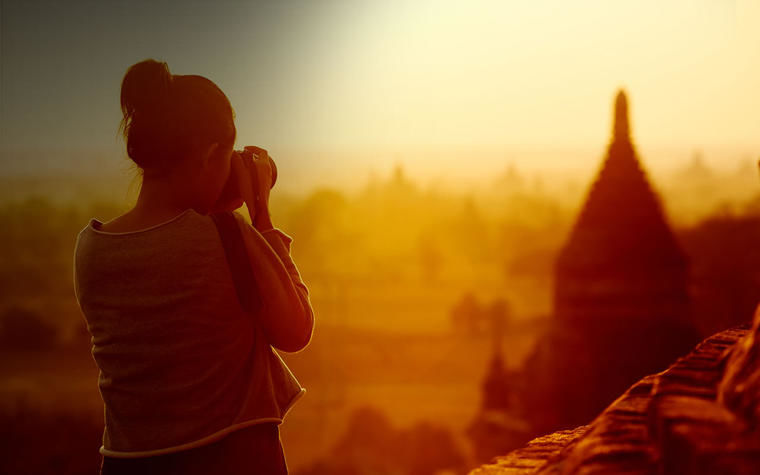 India is considered as unsafe destination for travelers from all over the world. More so in case of the female travelers coming to India. But India is an exceptionally beautiful destination that a lot of single female travelers come to India every year and share their Indian travel stories, tips and tricks for a safe and hassle free journey around the country.
The fact is, not all parts of India are unsafe, neither all men in India are eve-teasers. The trick is to research well before setting out for a trip in India and follow a few easy rules and VOILA!
I have compiled a list of top 10 destinations in India which are notable for their undoubted charm but are also safe for the solo women traveler. A lot of these destinations are definitely going to be on everyone's bucket list after you have gone through them.
1. Nainital, Uttarakhand
Situated in the serene valleys of Uttarakhand, Nainital is an excellent getaway for spending some time alone in sheer tranquility in the lap of Mother Nature. Inhabited by local kumaoni people known for their warm nature and friendly smiles, the small town of Nainital is both an incredibly safe and incredibly fun place to explore all by yourself.
Things to do: Snow View, Tiffin Top, China Peak, Bhimtal, Naukuchiyatal, Saattal, Lover's Point, Himalaya Darshan, Ropeway (Cable Car), Nanda Devi Temple, Jama Masjid, Pangot, Corbett National Park

2. Shimla, Himachal Pradesh
Hill stations, by rule of thumb, are generally safer due to the number of people present at any given time. Blessed with scenic beauty and soothing climate and friendly people, this hill station is perfect for solo female travelers. Shimla also offers lots of attractive and safe lodging options which makes it a very viable destination for a female traveler.
Things to do: Viceregal Lodge, Town Hall, Jakhu Temple, Gaiety Museum, Christ Church, State Museum, Kali Bari Temple, Himalayan Bird Park and Kufri
3. Khajuraho, Madhya Pradesh:
Recognized by UNESCO as a world heritage site, the temples of Khajuraho are truly a sight to behold. There can be slight reservations about Khajuraho due to the amount of heckling that goes on here but once you learn how to deal with the guides and vendors Khajuraho becomes one of the safest spots in the country to spend a quiet weekend. Other than the temple complex, Khajuraho has very little to explore; there are two lakes that can be visited and one can even enjoy boating here. I would suggest visiting Khajuraho during winter months as the weather in summer is intolerable.
Things to do: Lakshmana Temple, Kandariya Mahadev Temple, Old Village, Lakshmi Temple, Matangeshwar Mahadev Temple, Parshwanath Temple, Lord Mahavira Temple and Adinath Temple
4. Udaipur, Rajasthan

Udaipur is one of those cities in Rajasthan that is clearly safe for women; moreover highly hospitable. People are friendly and that is why one has the ease of roaming freely in the city; of course you will be approached by many travel agents and guides but your polite NO can easily brush them off. The rich culture running through the cities veins is easily seen in every street you set your foot in.
Things to do: Lake Palace, City Palace, Lake Pichola, Ahar Museum, Sajjan Garh/ Monsoon Palace, Bagore ki Haveli, Sunset Point
5. Kaziranga, Assam
AND why can't you go to a national park alone?? Since there are no travel rules, you have all the rights to go to any place you want and that definitely includes wildlife reserves. Kaziranga National Park in Assam, which is known for conserving the rare species of one-horned rhinos, is a great place to see in India. Along with the one-horned rhinos, Kaziranga is home to sizeable species of birds and animals. The best way to explore the park is by taking elephant rides although jeep safari is also not a bad idea. Spotting wildlife keeps one engaged for hours in the national park. Also, if photography is something that you like, this UNESCO tagged World Heritage Site in India is an ideal place.
Things to do: One-horned Rhino, Leopard, Fishing Cat, Large Indian Civet, Small Indian Civet, Sambar, Barking deer, Hog deer, Gaur, Hog Badger, Hoolock Gibbon, Capped Langur, Assamese Macaque and Rhesus Macaque
6. Varanasi, Uttar Pradesh

The holy city of Varanasi is the religious hub of the northern region of India. The city of temples is known for its large number of ghats built next to the holy Ganges river. The evening Ganga Aarti will reconnect you with your spiritual self and the morning boat ride in the pious river will provide once in a lifetime experience. The people in Varanasi are very friendly and helpful in nature and will often at times go out of their way to help out a stranger in need.
Things to do: Vishwanath Temple, Assi Ghat, Dashwamedh Ghat, Manikarnika Ghat, Ramnagar Fort and Museum, Gyan Kupor Well, Tulsi Manas Temple, New Vishwanath Temple, Durga Temple, Bharat Mata Temple
7. Rishikesh, Uttarakhand
Looking for an adventure? Rishikesh is the answer! Reckoned to be one of the best places for river rafting in India, this small town on the foothills of the Himalaya in Uttarakhand is worth giving a chance. Not only rafting but the opportunity for a bunch of adventure activities like fox-flying, bungee jumping and cliff jumping makes the place ever so enthralling. If adventure is not your idea of having fun, you might like to try yoga, which has a large number of centers here. Camping along the free flowing emerald Ganga brings yet another THUMBS UP for this place; it will be better to take along some of your girlies to Rishikesh if female travelling is the motive. This way, you will be able to enjoy team activity like rafting without being interrupted by others. Like Varanasi, Ganga Aarti in Rishikesh in the evening time is worth witnessing, when the entire atmosphere starts to get divine and filled with spirituality.
Attractions: Swarg Niwas Temple, Shri Trayanbakshwar Temple, Swarg Ashram, Lakshman Jhula, Maharishi Mahesh Yogi Asharam, Neelkantha Mahadev Temple, Neergarh Waterfall.
8. Sikkim
North East is just WOW and Sikkim is simply WOWEST! This part of India is blessed with pristine beauty and if you are a woman traveller who has set out in search of immaculate splendor in India then Sikkim is the right place for you! The sky-kissing mountains, gorgeous valleys, rhododendron-strewn trails, patches of rice terraces and the graceful Buddhist monasteries make up most of Sikkim. However, hospitality and rich tradition can by no means be ignored as it has helped in giving Sikkim a unique identity.
Attractions: Rumtek Gompa, Samdruptse, Norbugang Park, Ganesh Tok, Khecheopalri Lake, Guru Padmasambhava Statue, Rabdentse, Pelling, Hot Water Springs, Dubdi Gompa, Sakyamuni Complex, Old Rumtek Gompa, Tsomgo Lake, Namchi, Yamthang Valley, Golden Stupa, Yuksom, Ravangla
9. Ladakh, Jammu & Kashmir
What do you mean by OH I really want to go to Ladakh? Beautiful Ladakh is a fantasy of all and in this bid why should boys have all the fun?! We are brave, confident and independent women and we have self-learnt how to travel alone in India and thus, we deserve to trudge to this absolutely rewarding destination ALL BY OURSELF! For the love of landscape, culture and hospitality, Ladakh has been on the list of every traveller. The Ladakhis are modest people, mostly cash poor but rich at heart. If we talk about nature, the landscape is impeccable and feel of standing amidst it is truly out of the world!
Attractions: Leh Palace, Pangong Lake, Lake Tsomoriri, Nubra Valley, Zanskar Valley, Markha Valley, Lamayuru Monastery, Hemis Monastery, Tso Kar, Alchi Monastery, Shey Monastery, Phutkal Monastery, Diskit Monastery, Hemis National Park, Stok Palace, Wanla Gompa, Likir Monastery, Sham Valley, Thiksey Gompa, Phyang Monastery, Rizong Monastery, Sar – Zung Temple, Khardung La, Namgyal Stupa
10. Munnar, Kerala

Munnar, though famous for its tea plantations, is also a place of breathtaking beauty and amazing landscapes. Located in the state of Kerala, Munnar is considered a very safe place to travel to, owing to the honest and hardworking nature of the people working here. The variety of resorts around this place also offer some very attractive options to the people who are looking to travel solo to the district. Munnar is also a great place to go trekking, hiking and cycling and the best part is that you can enjoy all these activities without being interrupted by touts or eve-teasers. Kerala is one of the safest places for female travelers in India and heartwarming welcome, pleasant smiles and helpful people are a textbook case here.
Attractions: Mattupetty, Pallivasal, Tea Museum
So ladies, it's your time to tie your shoes and explore the country like never before!