It has been a week since I returned from the land of the rising sun and I am already craving for the food I had there. Yes, you read that right- a vegetarian missing the food she had in a largely fish-meat diet country like Japan.
To be honest, vegetarian food is difficult to find in Japan, but when you find it, it is worth the search. This is thanks to the vegan cafes and other food joints in general who have given Japanese food a global twist- borrowing from other countries. To see is to believe, and if the pictures do not convince you, I bet you try them on your next trip to Japan.
Japanese Vegetable curry, made with soy meat
Where- In-house restaurant for Yurari Onsen, Narusawa, around Kawaguchiko, Japan
Tastes like- Home
If you are an Indian, and you are missing home food, Japanese curry is your answer. On the menu card of this in-house restaurant, there were just two vegetarian options- one was vegetable pasta made in Japanese style and the second was the vegetable curry. In a last minute change of heart, I decided to try the curry and not the pasta. I knew it is going to be a great meal, the minute I first set sight on my plate. Not just the curry, the sautéed vegetables with it were also a delight. Why feels like home you ask, it tastes a lot like Indian curries-with the flavor of dry whole spices used so frequently in Indian dishes. My moment of truth came a few days later, when I was told the Japanese curry is indeed inspired by Indian curry, a recipe borrowed to make nutritious meals for Japanese soldiers during one of the past wars. I ain't complaining about it.
Rice bowl made loko moko style, served with tofu mini burgers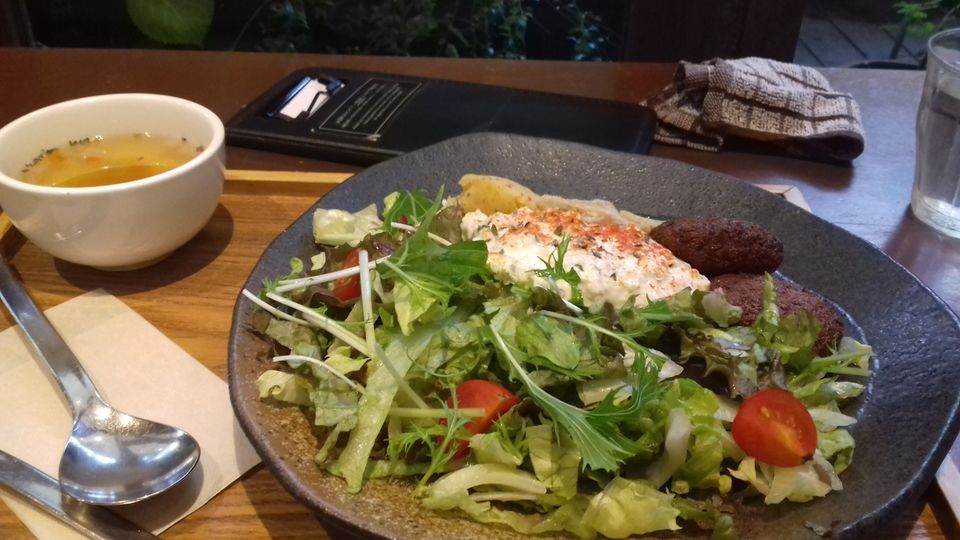 Where- Mumokuteki, Kyoto
Tastes like- Heaven, when been hungry for 3-4 hours
Mumokuteki in Kyoto serves vegan and vegetarian food, along with other Japanese food options. I opted for this meal, as it looked tempting enough on the menu card itself. This was my first meal in Kyoto, after almost five hours of travel. Sticky rice served with a base made of tofu, salad and mini tofu burgers, along with a bowl of vegetable soup. The meal is filling, tasty and my guess would be is pretty nutritious too.
Authentic Japanese meal, sticky rice with bean sauce, cooked in tofu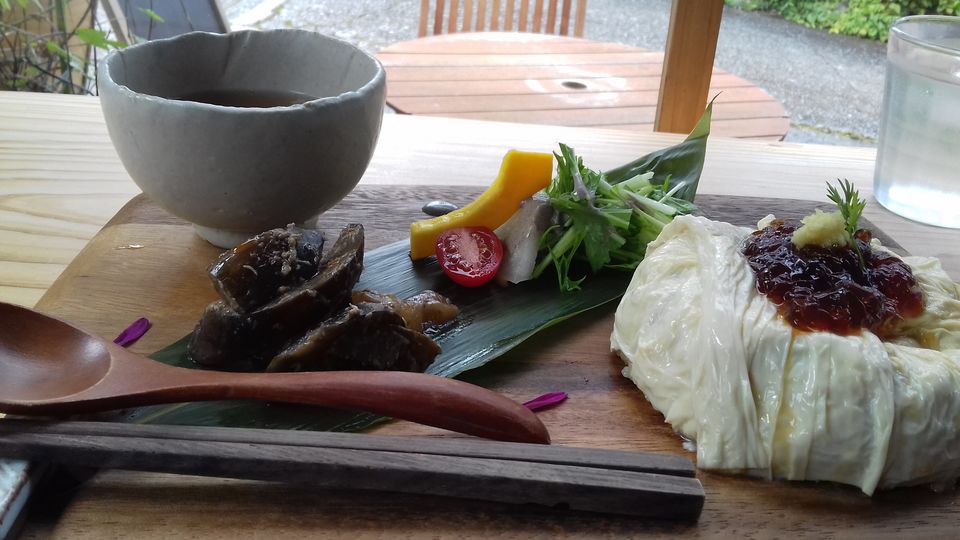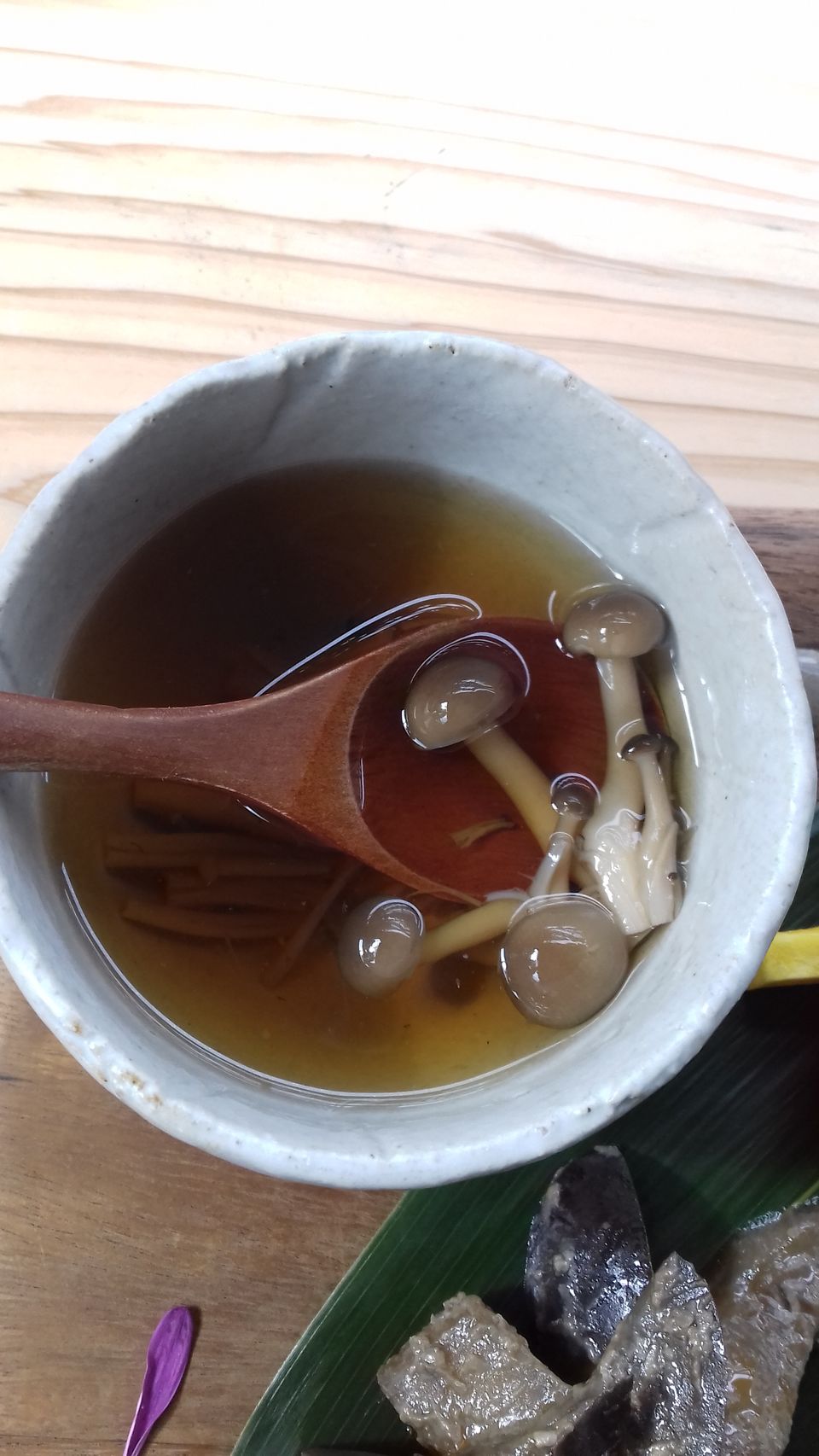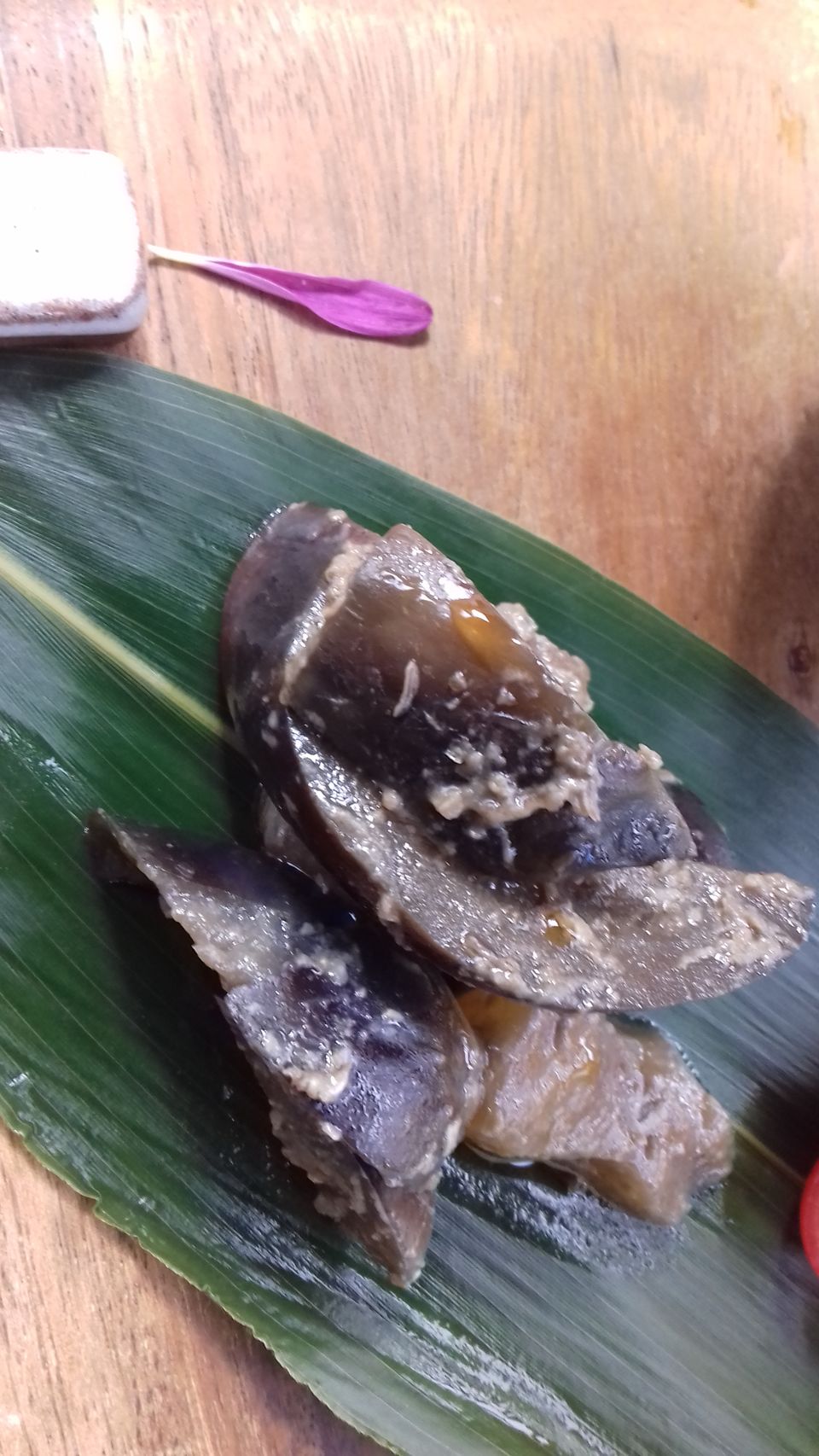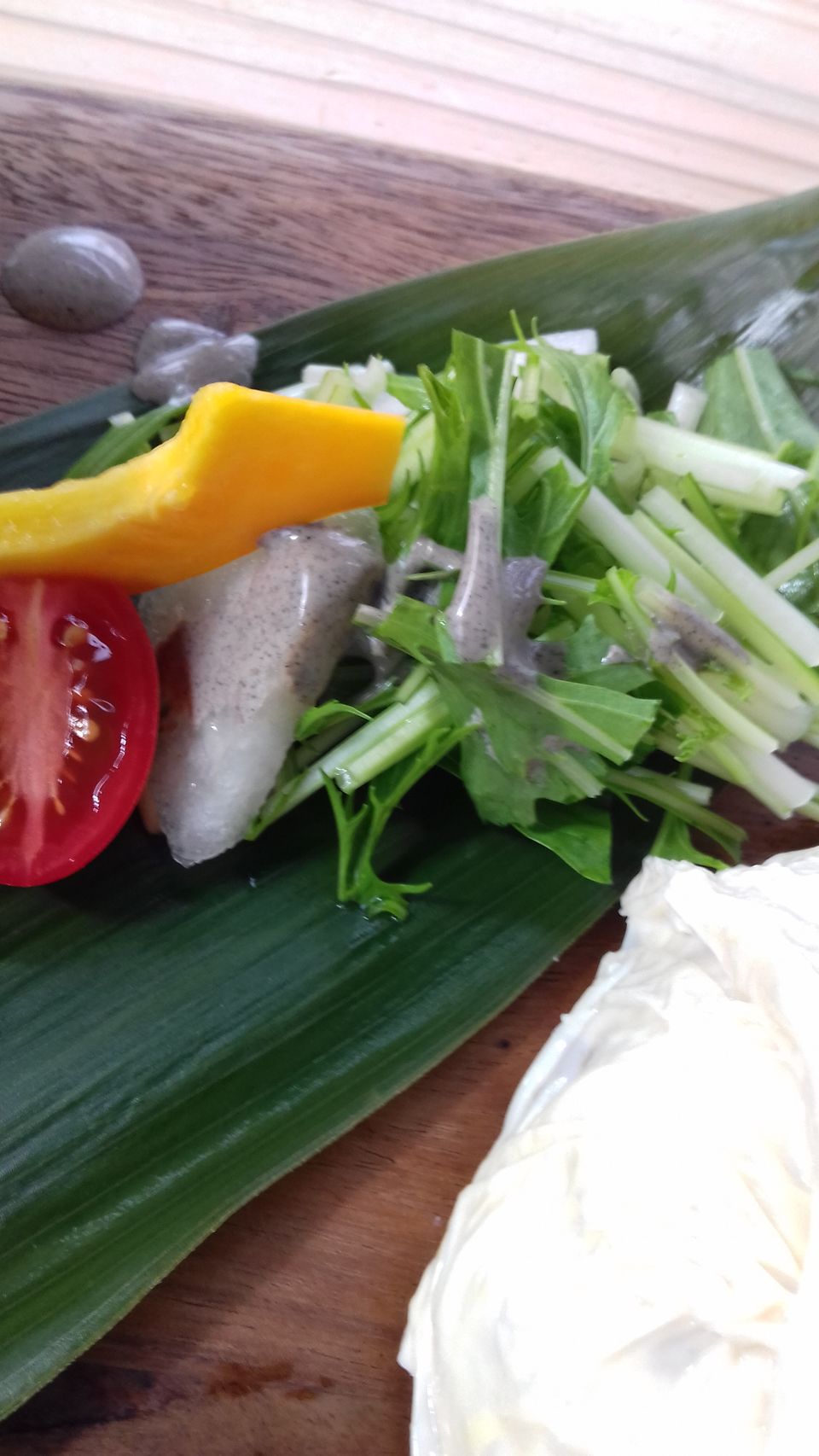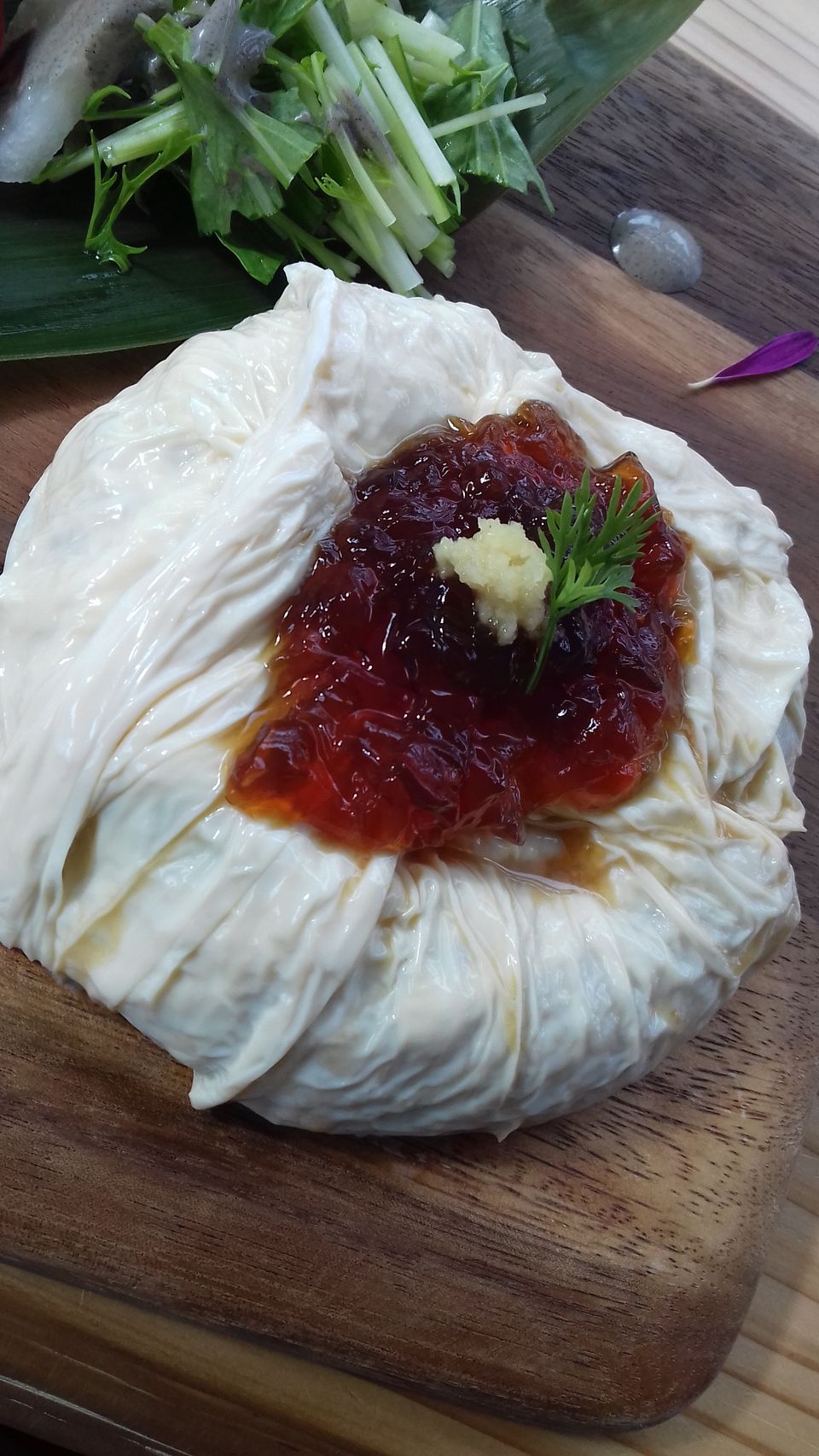 Where- Meguri, Nikko
Tastes like- acquired taste
As it holds true for any authentic meal, this one was purely acquired taste. I love mushrooms, but I love them the way they prepared in India. The mushroom soup that accompanied this meal, was too raw for my taste buds to adjust instantly. Next up was the meal- comprising of three parts- salads, a side dish made of eggplant and sticky rice cooked with a layer of tofu, and beans sauce as its base.
The salad- with a dash of the local peaches in it- is to die for. I am no fan of eggplant, but this one was pure delight, cooked the traditional Japanese style, with a bitter-sweet taste to it. The main meal- sticky rice cooked in tofu is again acquired taste. The beans sauce, however, with a tangy taste to it, helps you finish the rice with some ease.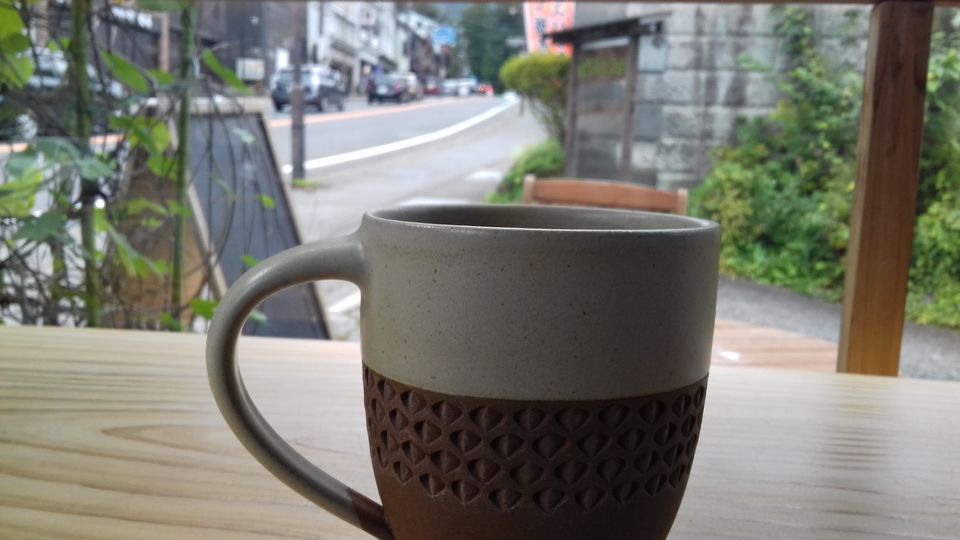 The meal was followed by Bancha tea, which according to google is one of the lowest grades of green tea, lending it a raw taste. For the tea lover in me-bancha tea in hand, picturesque streets in sight, raw green tea flavor in my mouth and a chill in the air- was the perfect afternoon I could ask for.
Japanese noodles and some desserts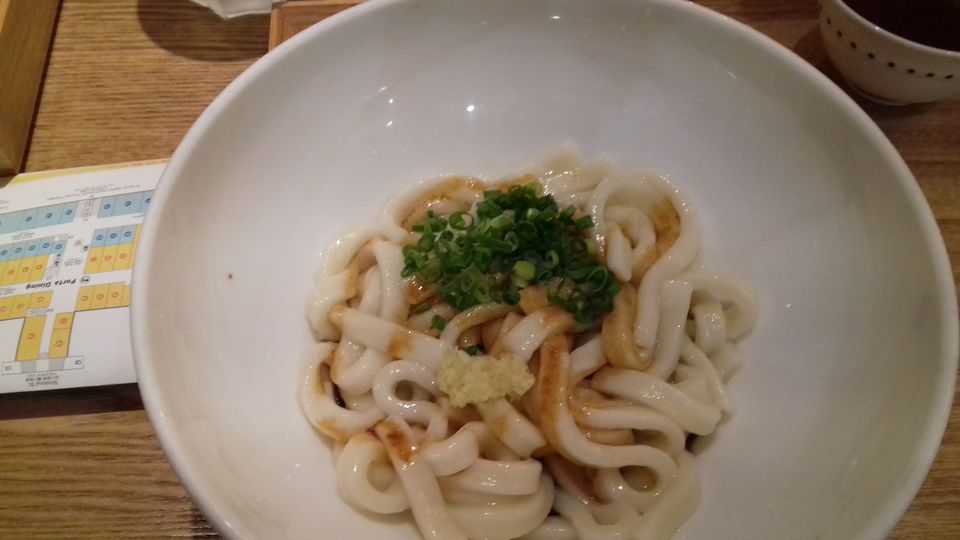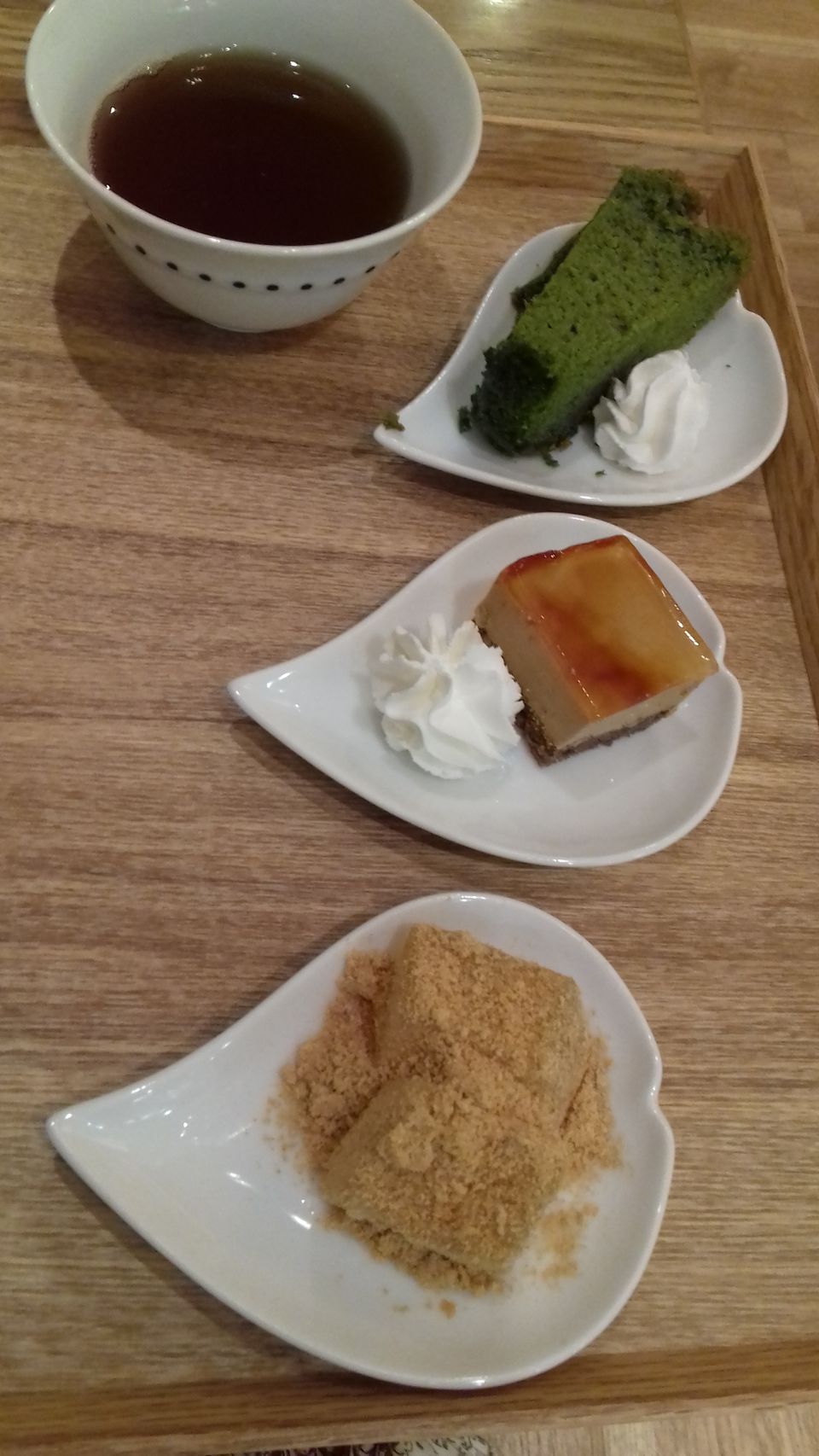 Where- Men iroiro, Kyoto station
Tastes like- Bland
Here is a word of caution, Japanese noodles may not be your cup of tea, if for your spice is life. This one I tried at an outlet in Kyoto, was too bland for my palette, with garlic being the most dominant flavor. But, there is a bright side, this place serves its meal with tea and a small tray of three desserts of your choice- I chose a cheesecake, a soy powder flavoured sweet and a macha flavoured ( green tea) mini pastry. The soy power sweet is a little dry in the mouth, but worth a try for the unique taste it offers.
The last meal- Fried vegetable curry, with sticky rice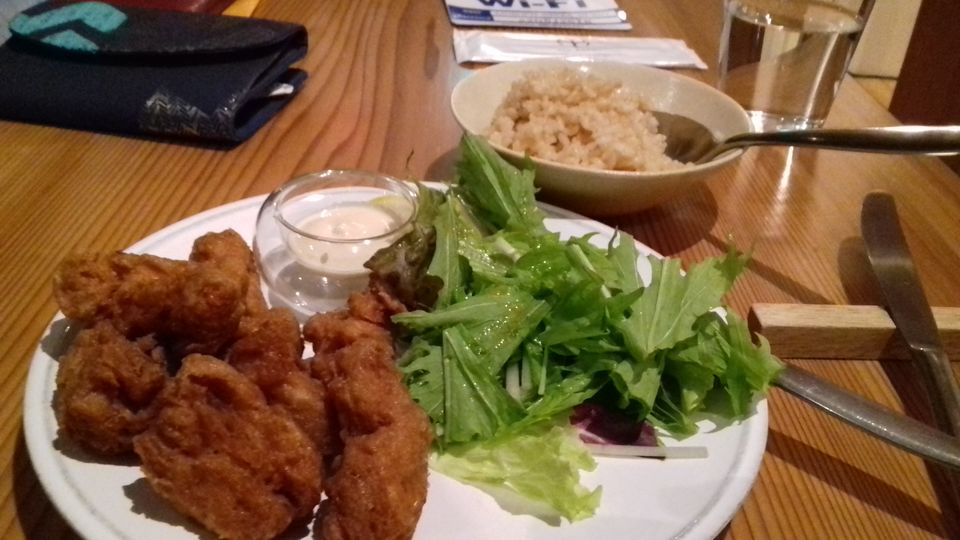 Where- Ain Soph, Ginza
Tastes like- a good meal
I found this place in Tokyo, without any effort- thanks to the website-Holycow, which for the uninitiated lists various vegan cafes across the world. This was also my last meal in Japan, before I bid good bye to this beautiful country. The meal, to my surprise, came along with dry fried vegetable, given I read curry, I was hoping for some gravy. Though dry, the fried vegetable is worth a try, I asked for a bowl of sticky rice along with it. Let me plead innocence here. I asked for the rice, assuming the curry was gravy. However, when the food arrived, I had to finish the rice with the help of the vegetables and the salad. Bright side, sticky rice is not so difficult to eat plain.
Vegetarian in Japan- No fish no meat -is the fourth part of my new travel series on Japan- documenting the food, people, nature, beauty and culture in the land of the rising sun. Vegetarian in Japan, will have a final part called Salads and munchies.
Disclaimer: I often hear how people are inspired by various travel blogs and wish to pack their bags and go travel. If any of my blogs does the same to you, I request you to read up on what I think about travel and how to afford it responsibly, here is the link https://tinyurl.com/yd5aa62y