After some of my blogs about exploring the offbeat spots in different regions, Here I bring something related to the food. No traveling is complete without the delicious food. If we are exploring a new place, we should always try to explore it's local cuisine as well. The way traveling teaches us about the culture and diversity of a place, the same way it's cuisine makes us aware of the art of culinary of that place. But, do we have to travel again and again to the same place for its local cuisine ? The answer is no. This blog is useful for those people who wants to try Japanese cuisine in the Japanese style but are not aware of the dishes or what to order at the moment. I would be explaining you about some Japanese dishes which I ordered with the drinks which you can try after reading my blog.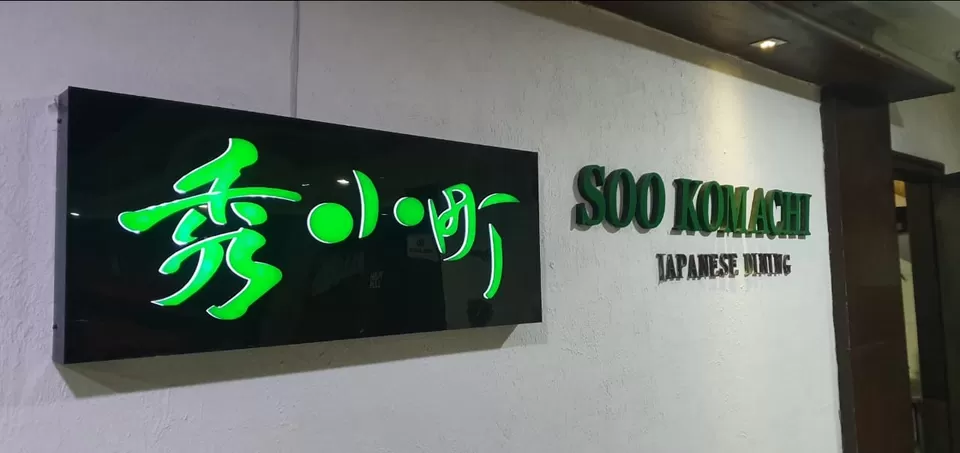 Actually if you have some idea about Japanese language, you will understand that the name of the restaurant is not exactly pronounced as it is written in the picture. The word "秀小町" actually translates to "shū komachi" but yeah it doesn't matter when you are well excited to go inside and experience the real Japanese culture.
When we talk about Japan, we always think of their discipline and their traditions which they follow. The same will be experienced inside the restaurant. You will be directed towards a private "tatami" room with "zashiki" style of seating in which you have to bend your knees and sit down on the mat. However, you can spread your legs as I can understand, being Indian, it's difficult for us to sit in zashiki style.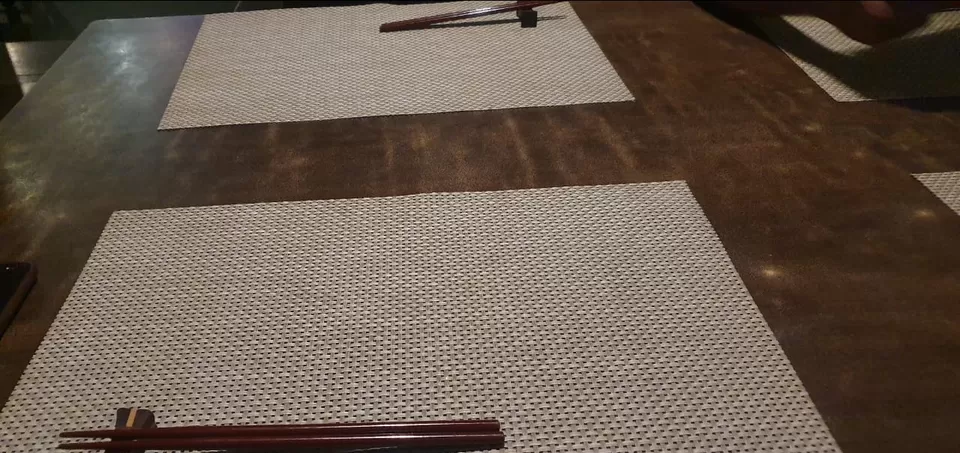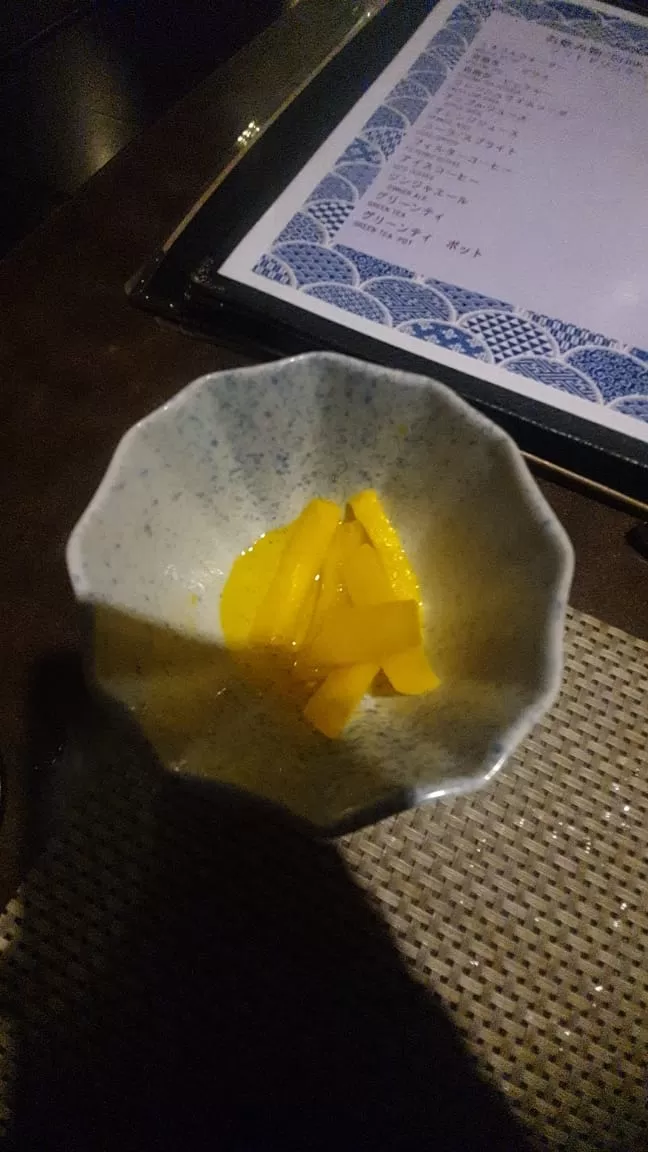 Your table will be already ready with a pair of chopsticks and a pickled dish "Takuan".
Let's start our dinner with the appetizer and the traditional tea followed by the main course.
1. Ebi Tinmaki Roll - Pronounced as "Ebiten Maki" is a type of cylindrical sushi rice wrapped in a nori (dried laver), is thinner than basic maki sushi. It's a kind of sushi roll filled with prawns. However, if you have different taste, you can also try Salmon roll, Maguro Roll (filled with tuna), Kappa Maki roll (filled with cucumber), etc. So, you always have options whether you are vegetarian or a non vegetarian.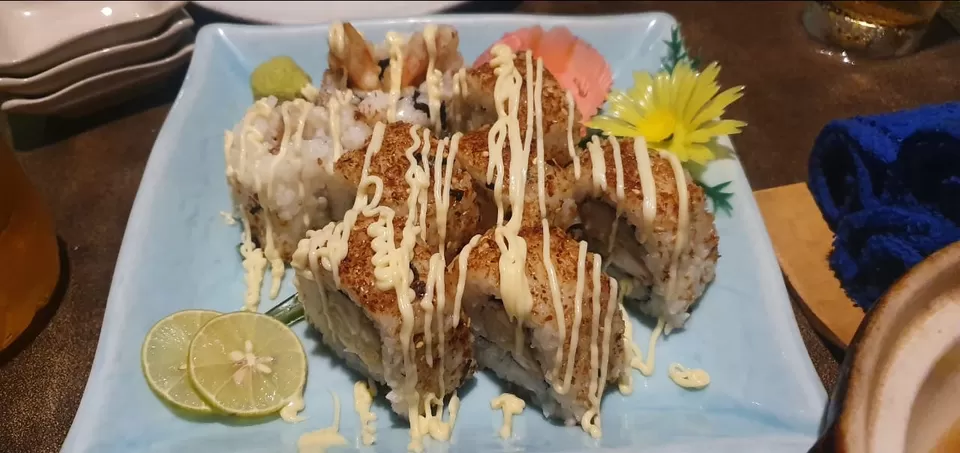 2. Oden (おでん) - It is one of the pot dish of Japan which is to be eaten like a soup. It consists of several ingredients like boiled eggs, daikon, konjac and processed fishcakes stewed in a soy flavoured broth. It also comes with tofu for vegetarians.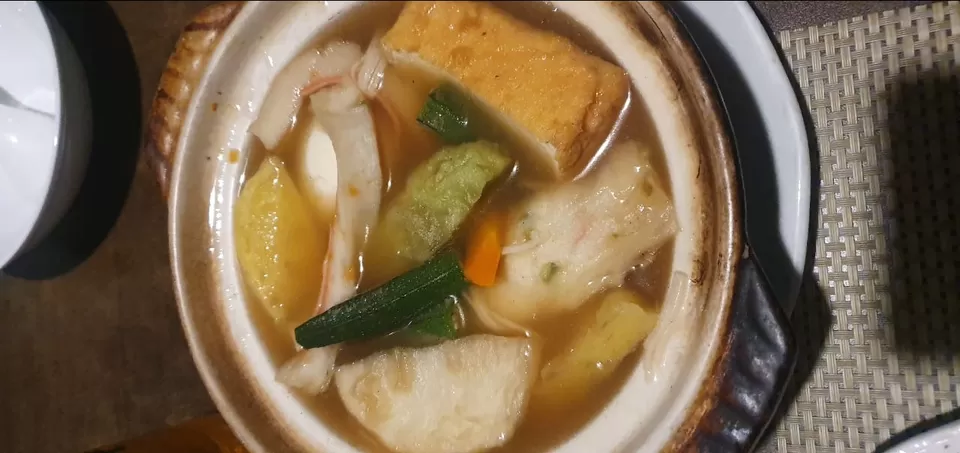 3. Kushiyaki Moriawase - This is another kind of appetizer also comes for both vegetarians and non vegetarians. Items are either skewered or grilled. Skewers or kushi are made with bamboo and various items are used like meat, seafood, vegetables and tofu.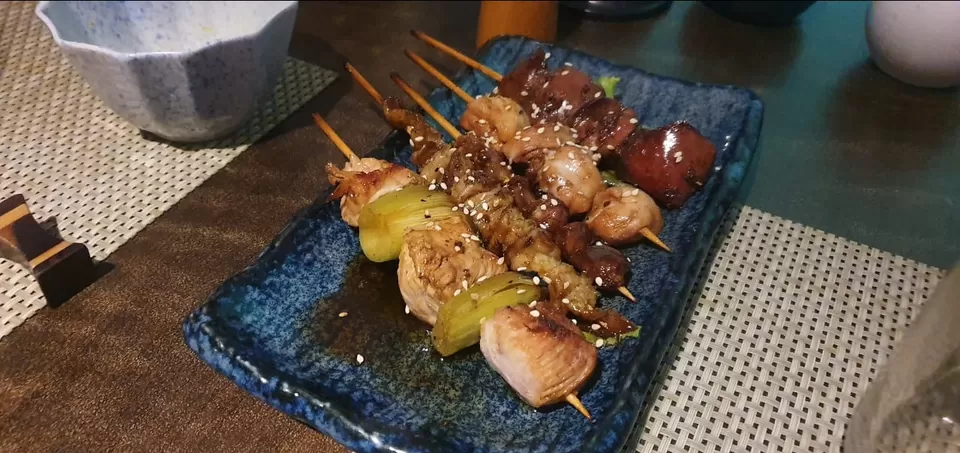 4. Sauce Yakisoba - Yakisoba is a Japanese noodle stir fry dish. Although soba means buckwheat, yakisoba noodles are actually made of wheat flour. It's main ingredients are Worcestershire sauce, vegetables, pork or chicken again depending upon what kind of foodie are you!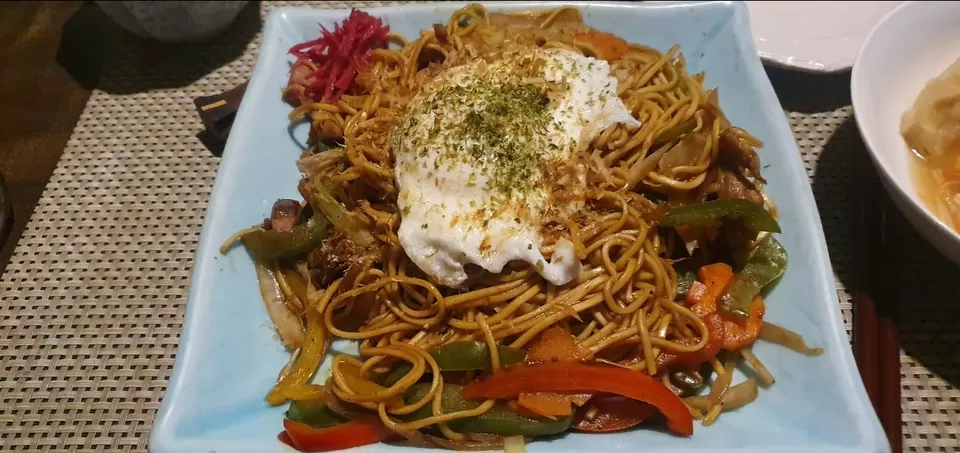 5. Oolong Tea - Also known as Wulong, a unique kind of tea that walk the line between green teas and black teas. Oolong tea is best brewed at hot temperatures but it can be served cooler also like we tried.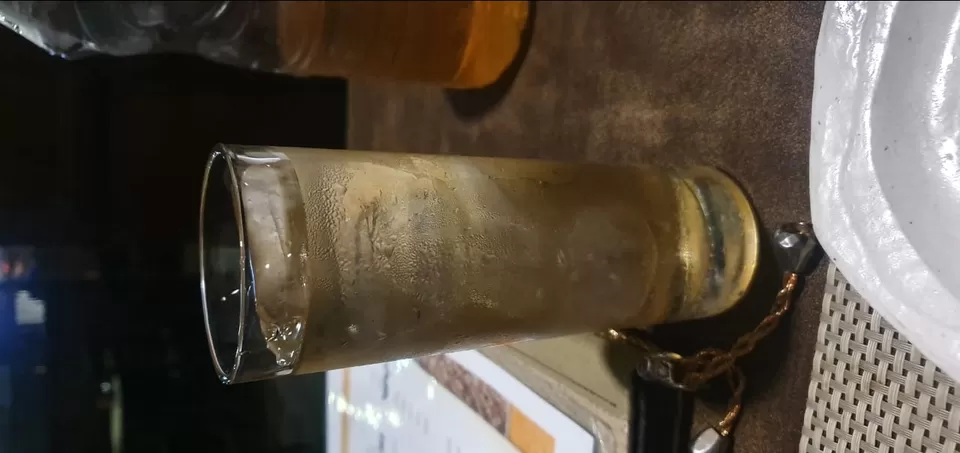 This is all you could try in one night of your Japanese culture. As you saw, it has variety of options for all kinds of foodie so you don't have to worry about being an vegetarian. If you really try to explore different cuisines and confused among many, Japanese is a good option to try something unique.
This restaurant is located at Plaza Mall, Gurgaon near M.G. Road Metro Station, Delhi NCR. Do let me know your feedback in comments if you try something else.
Till then, I will see you soon with my next destination. Take care all of ya !