Once you are out of hassle and bustle of Bangalore , you will be surprised with the numbers of many trekking spots within 100 km range. Take the Mysore road, you can trek Ramanagara, SRS Betta, Kuntibetta. Towards Hospete Road, Anthargange trek and caves. Famous but crowded Nandi hills toward Bangalore - Hyderabad highway road. Take the Tumkur road and then you will have Madhugiri, Shivagange, Siddarabetta.
For me exploring these trekking spots during weekends is now regular. Dont want to talk about its benefits here but I find it better than doing regular exercise and jogging. Amidst nature you will have your much needed exercise.
Anyways last weekend I explored Shivagange, another popular trekking spot but more famous for its religious significance and also known as Dakshin Kashi. Its beautiful place but also witness to tragic end of life of queen Shantala (how true is this story I am not sure!!).
Early morning drive. 80 km from my home. Driving on NICE road is always fun, drive till tumkur end of NICE road and then Bangalore-Pune Highway, drive another 35 km, then left turn and drive another 5km to reach Shivagange
You could see the mighty hill from distance. It was early morning and clouds were hovering over made it more beautiful.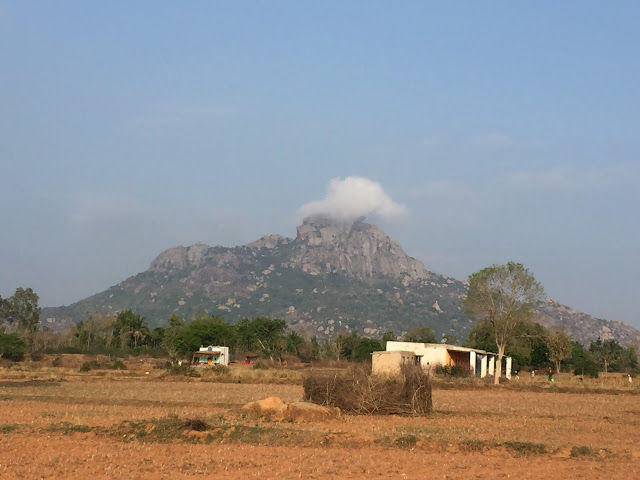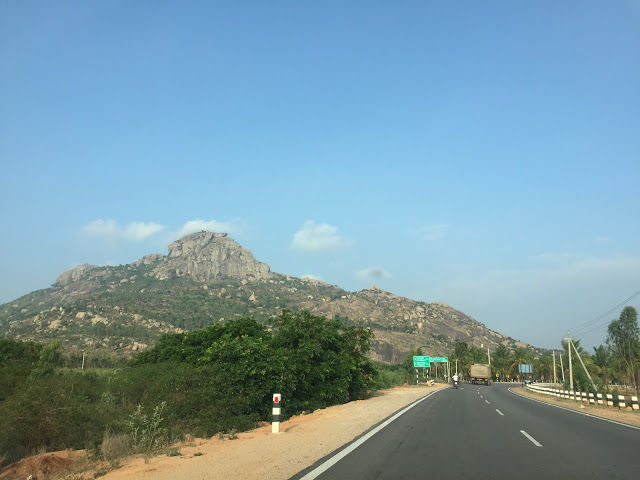 There was ample parking space (fee 30 rs) and not surprisingly there were many people around, mostly because of the temples and religious significance to the place. You can park your car near the big water pool "Kalyani" at the base of the hill.
Overall it was easy level of trek but tiring. The trekking path to reach summit from foothills is close to 2.5 km (one-way), the entire trail is well marked. There are man-made steps often carved into the rocky landscape makes the trail easier but there are many twisting and turning and few vertically steep rocky climbs. Good thing is, there are frequent rest opportunities with food stalls, place to sit, eat and relax. At the last climb trek becomes steep and narrow, however there are safety rails to climb.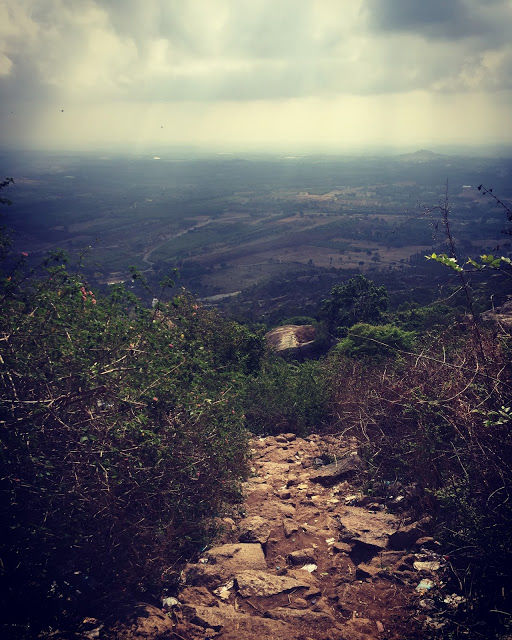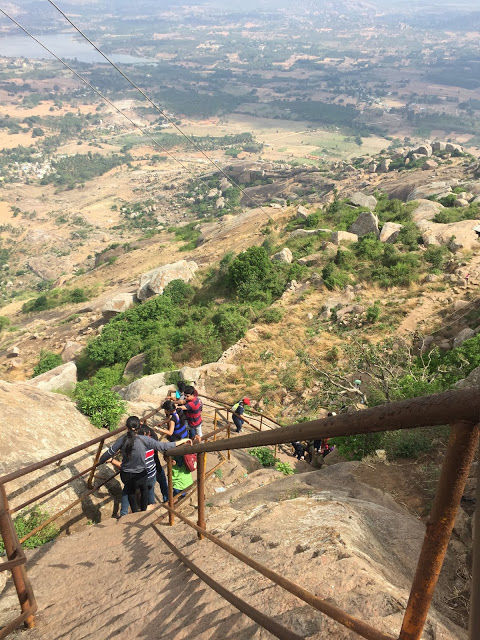 You could visit temples, shrine and Nandi statues during your trek up to the hills. I didnt visit all except the last temple at the peak. Some of the temples there (I think there were 3/4) are very significant, thats the reason Shivagange is also known as Dakshin Kashi.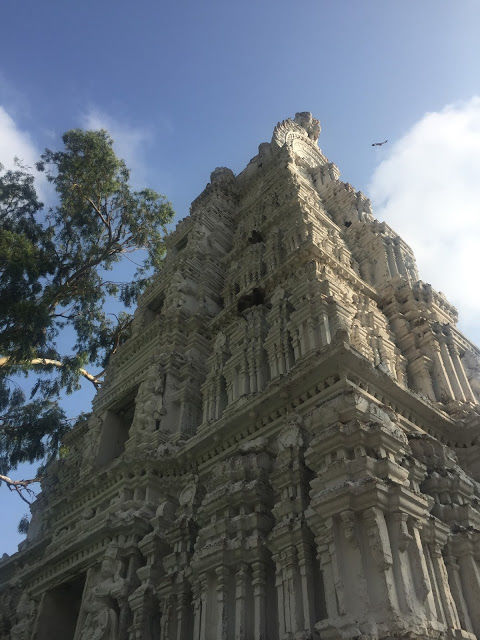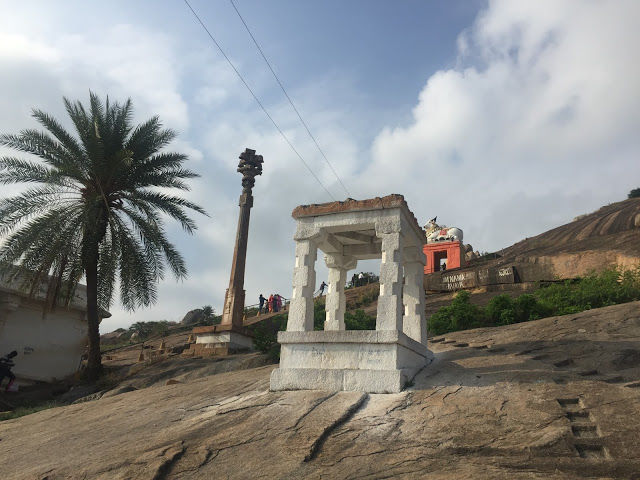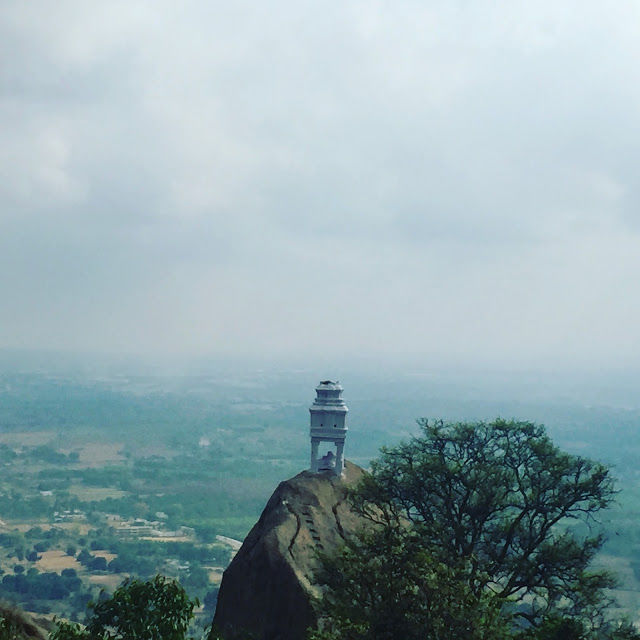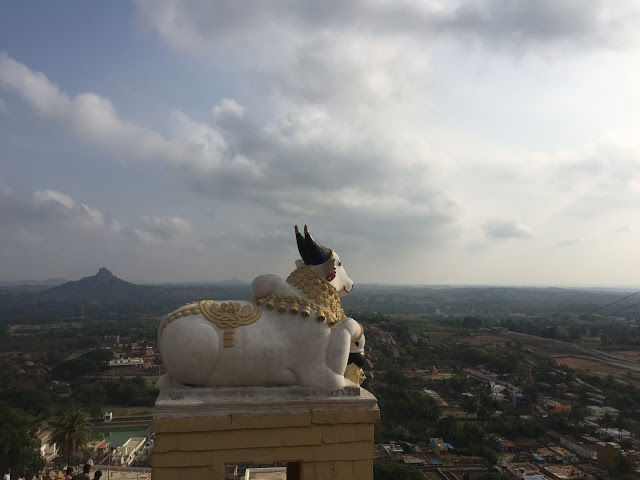 A giant Nandi statue is carved out of boulder at the top of the hill.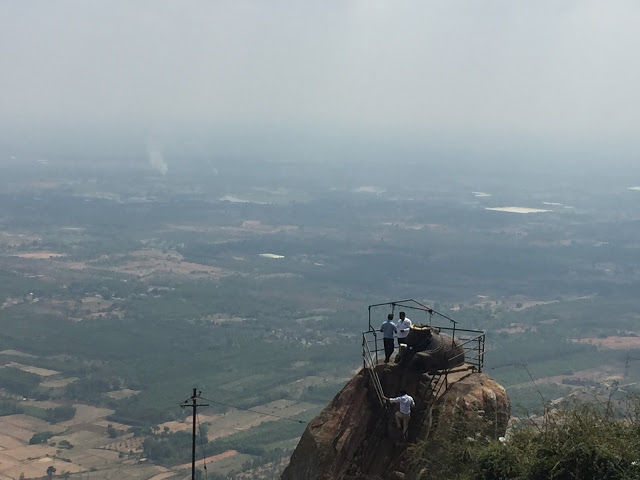 At the summit, apart from giant Nandi status, there is small temple, one food stall and a magnificent view point. From there you can see the entire valley, a lake down there, breathtaking view.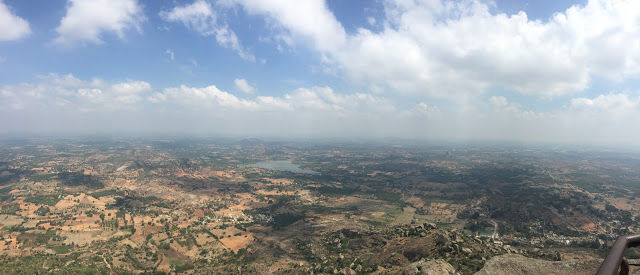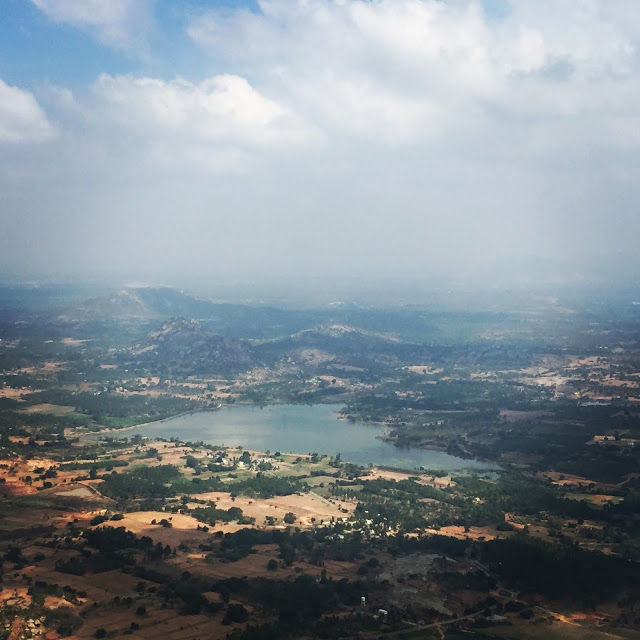 View point there is also known as "Shantala Drop", As legend goes Hoysala queen Shantala committed suicide here.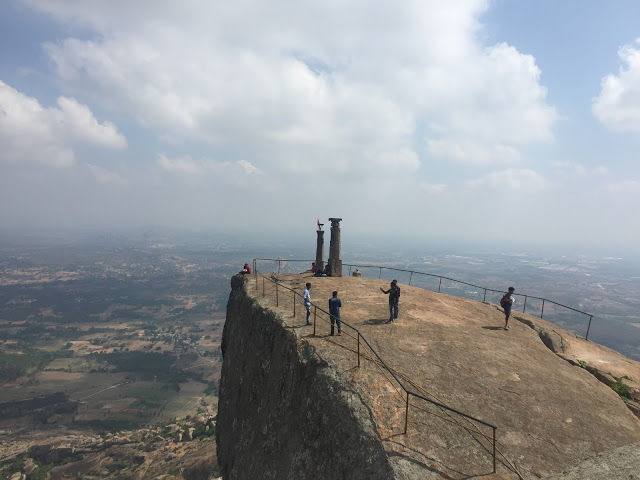 Shantala, The dancing queen.
If you have visited the temple of Belur, you might have seen the astonishing sculptures of Shantala. Its beautiful and no wonder Hoysala King Vishnuvardhna fell in love when he saw her first time.
Here goes the story ( I dont know its entirely true, not verified, its all bits and pieces from internet, a book reference from "K.V. Iyer", some quora post and a shopkeeper I talked to)
Shantala was daughter of one of the general in the Hoysala Kingdom, well trained bharatanatyam dancer, singer. King Vishuvardhna was more focused on managing his kingdom and reluctant to get married. King Vishunvardhana's mother played cupid role. When she saw beautiful Shantala and she decided that King Vishunvardhan should marry Shantala. She then organized a dance performance event in the palace, invited Shantala and her family and later asked Shantala to participate. Shantala was not alone, she was with her best friend, equally beautiful Lakshmi. Both were very close friend.
Shantala gave her best dance performance and King instantly fell for her. King's mother then talked to Shantala's parents, but there was problems. First, Shantala was Jain, different community, secondly she had to separate from her best friend Lakshmi. She was not willing to get married unless Lakshmi too is wedded to the King.
King allowed Shantala to keep her faith and practice her religion, also he agreed to marry Lakshmi on the same day.
Shantala became the main queen. Shantala supported King for administrative work and also promoted art, music in the kingdom and thus became very popular. With their love for each other, common interest for art and music everything was going fine but Shantala was not entirely happy because she could not give birth to child. As per rule those days only main queen's child can be successor of King. She insisted King many time to renounce herself from main queen position and let Lakshmi be main queen. Lakshmi had a baby boy. Shantala thought once she step down as main queen, Lakshmi's son can be successor. But King Vishnuvardhan was not ok and because of his love for Shantala, he refused to demote her as main queen.
Shantala was getting depressed and one day she decided to end her life. She throws herself off from Shivagange hill.
I am not sure how true is this story but there is another school of thoughts and they completely debunked the story. They believe Shantala didn't commit suicide. Since she was following Jainism, she decided to take vow of self starvation and thus ended her life.
We may not know the actual truth but one thing is sure, legend makes these place more interesting. Mixing history, legends, religious sentiments with adventure trek is no that bad!!!
Tip - Dont forget to carry water bottles for this tiring trek and if you want to buy, then buying from shops down there at base of hill is good idea. As you start ascending, you will find many food stalls selling one liter water bottle (MRP 20 rs) for 40 rs.
And beware of these monkeys.