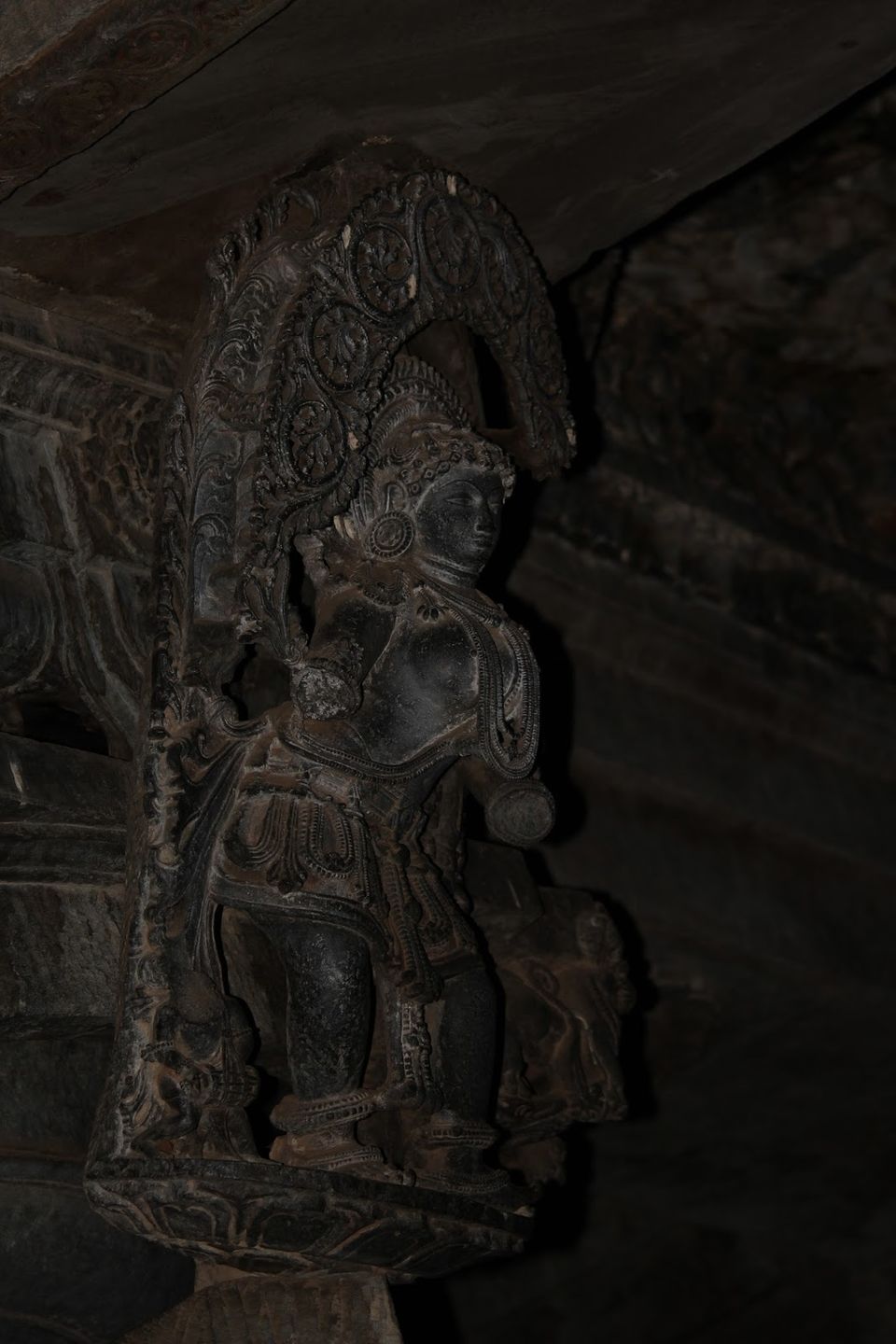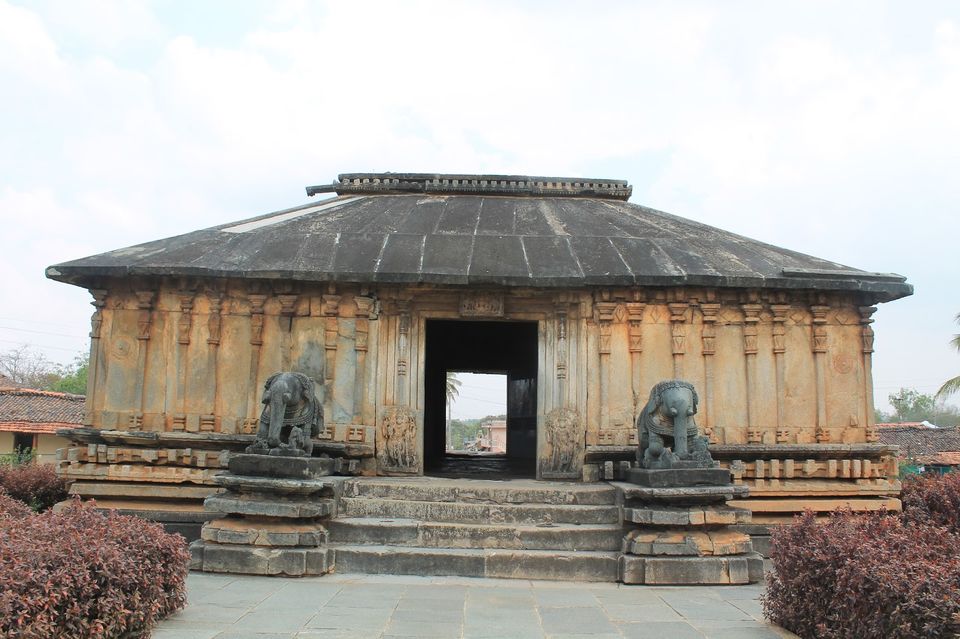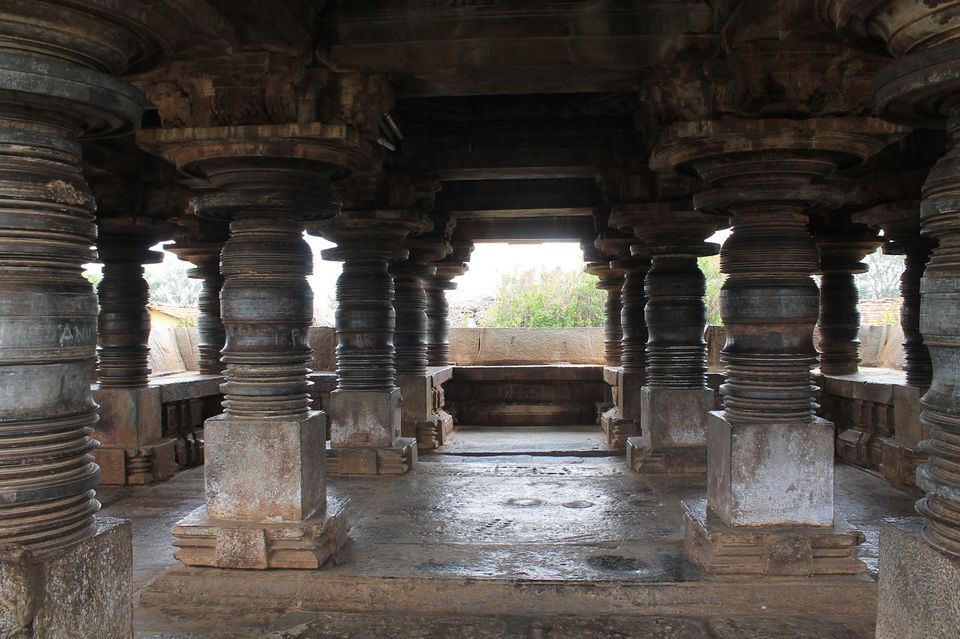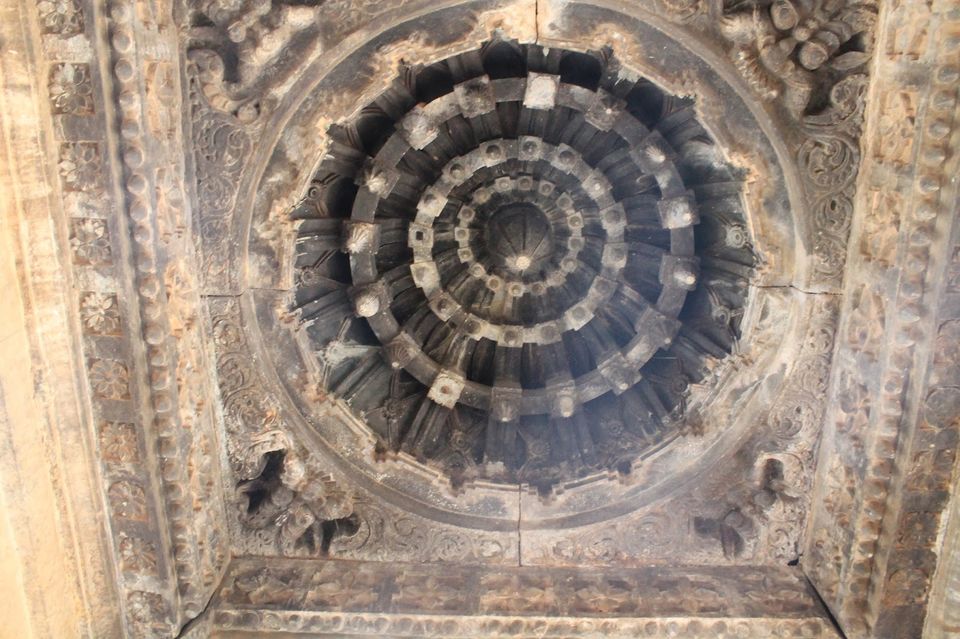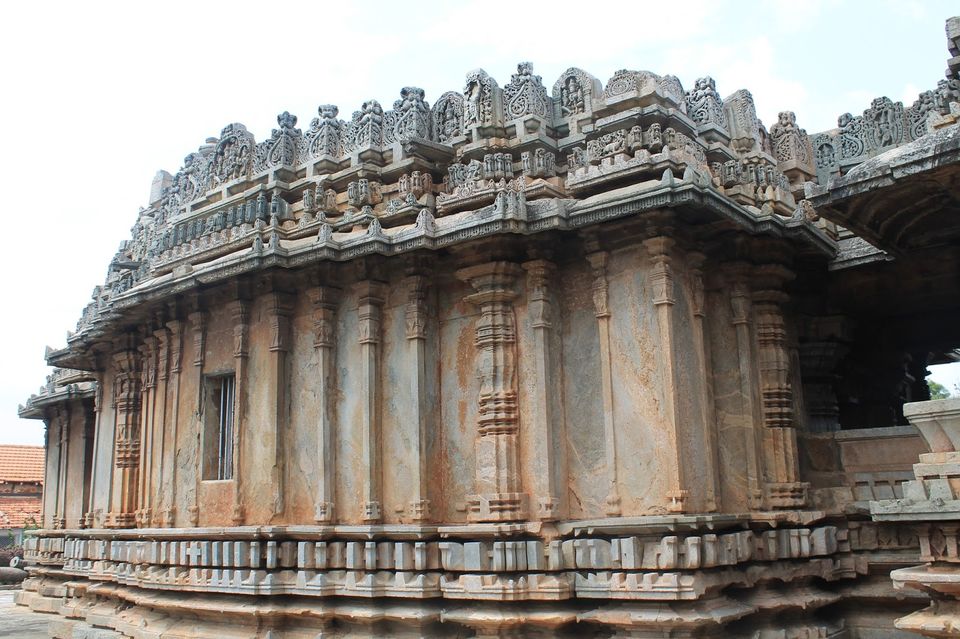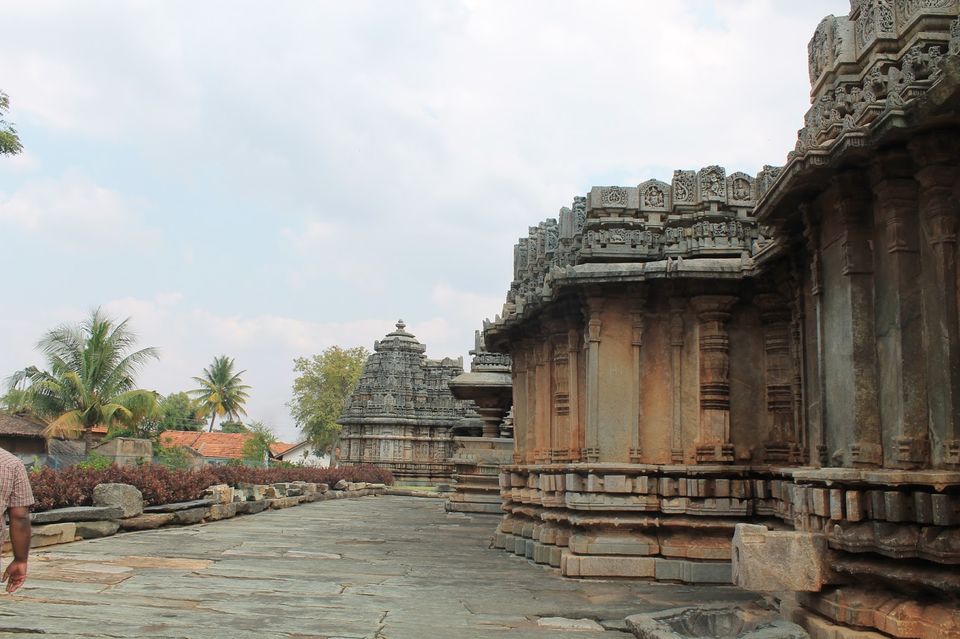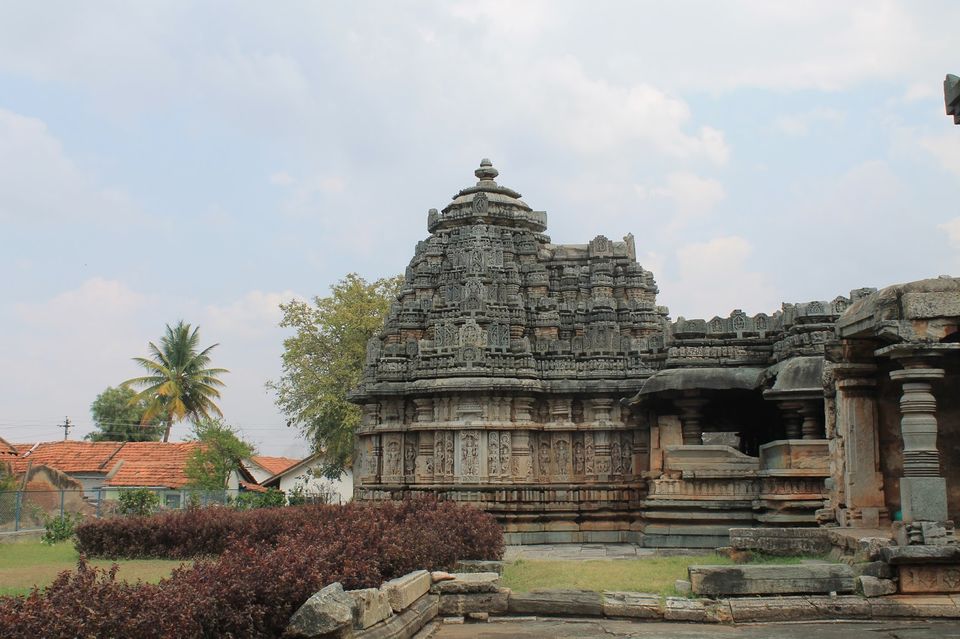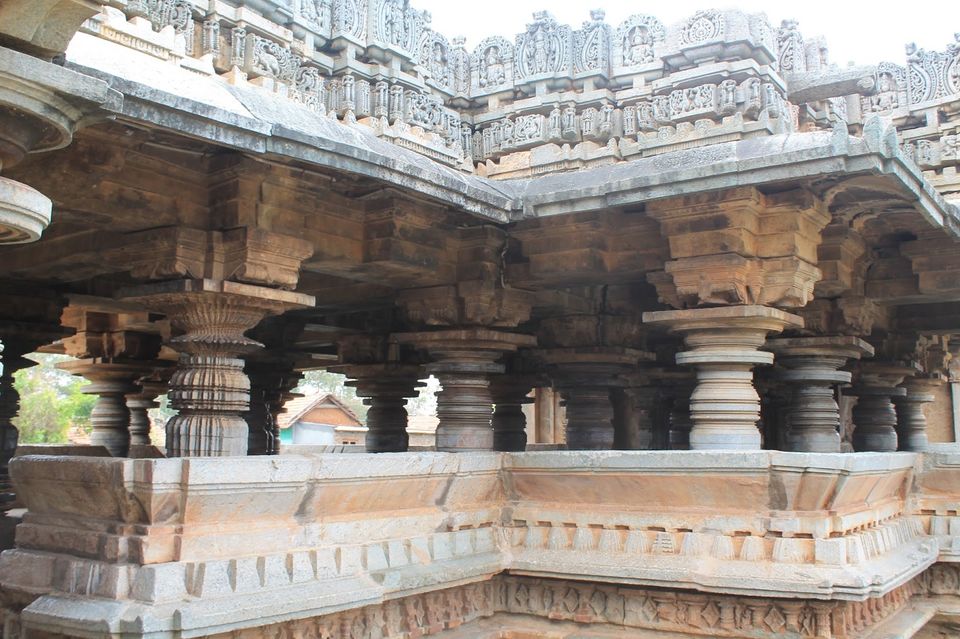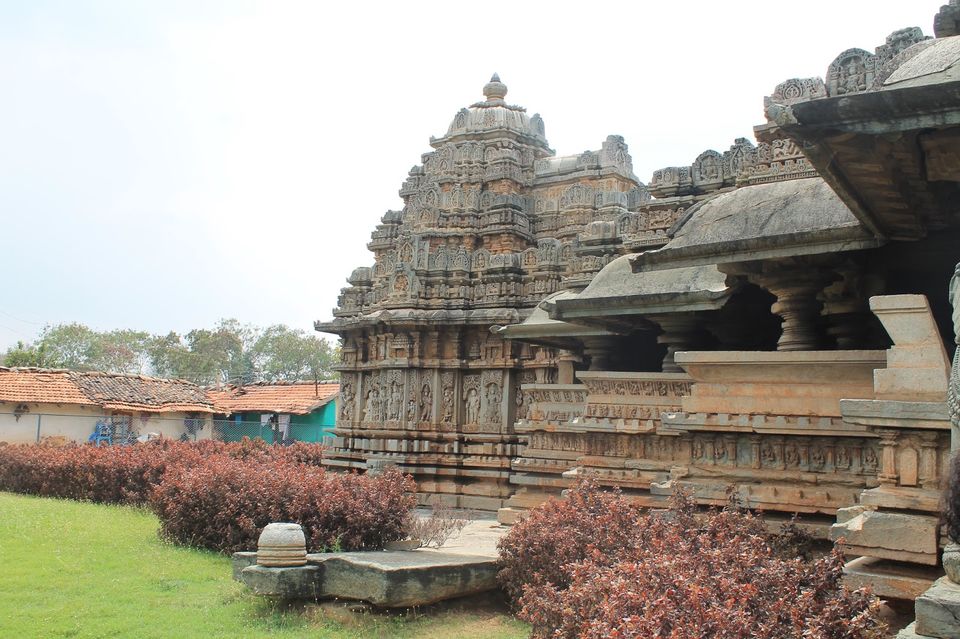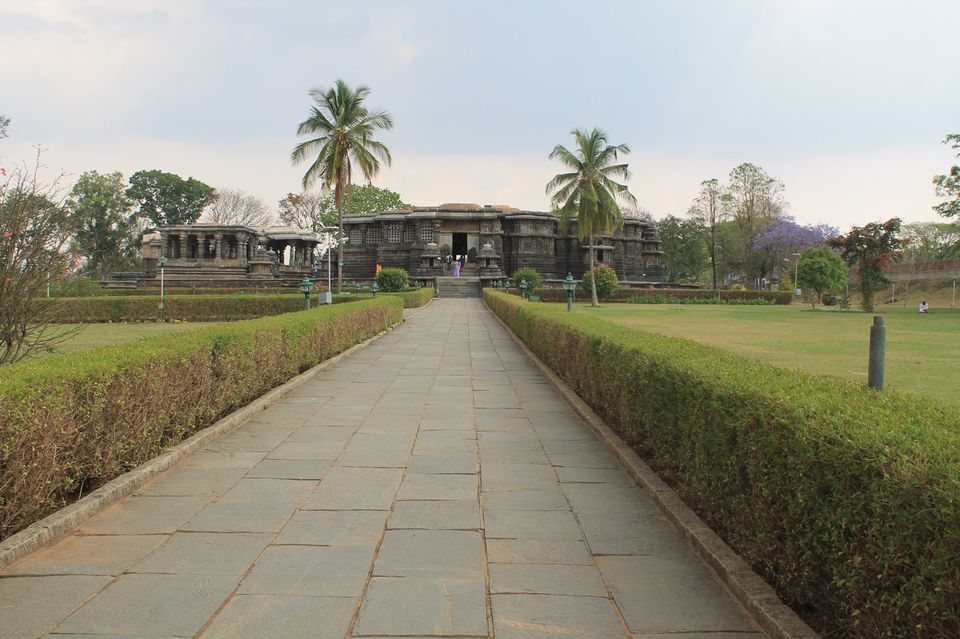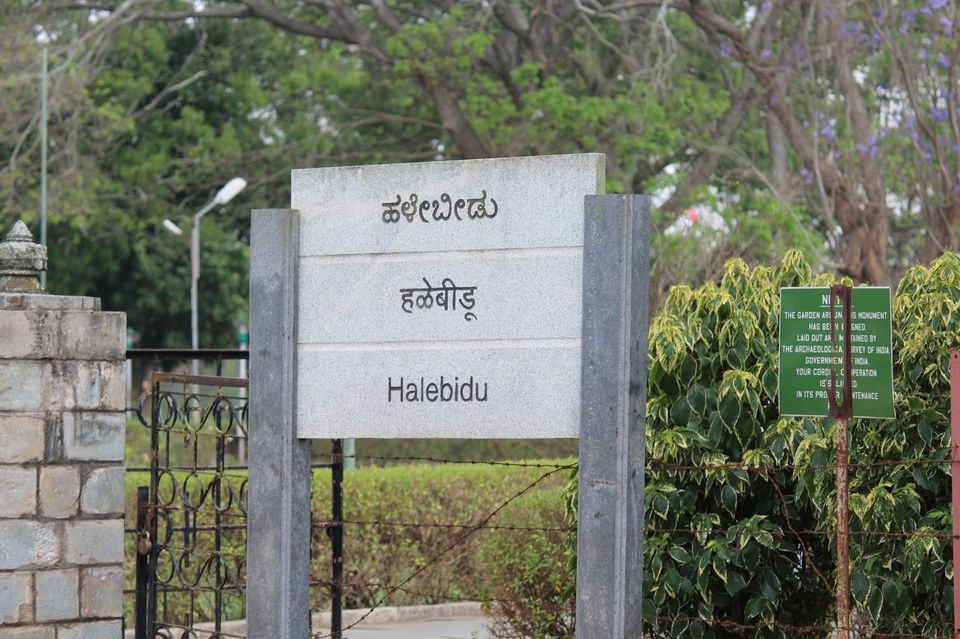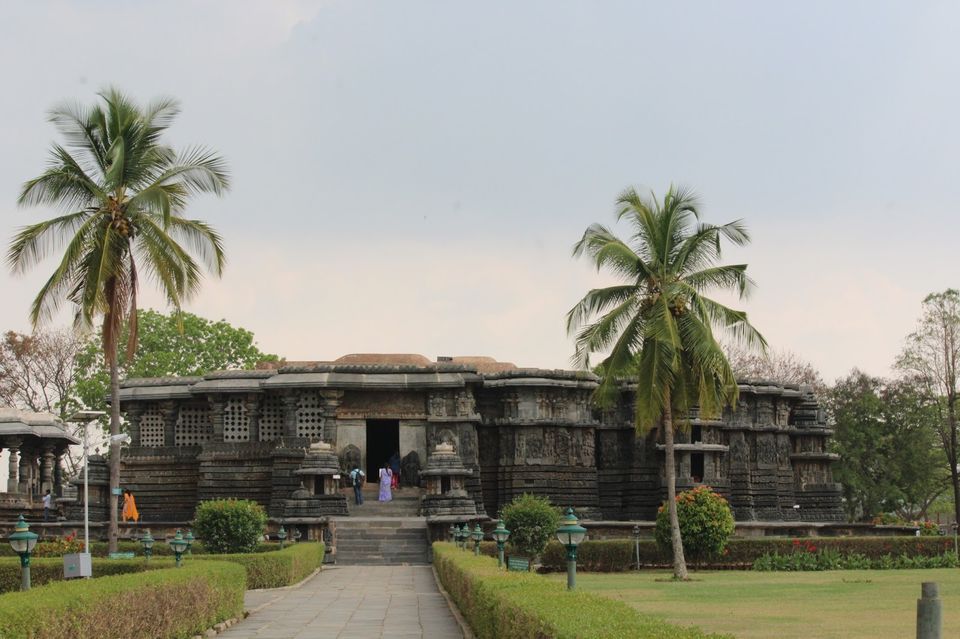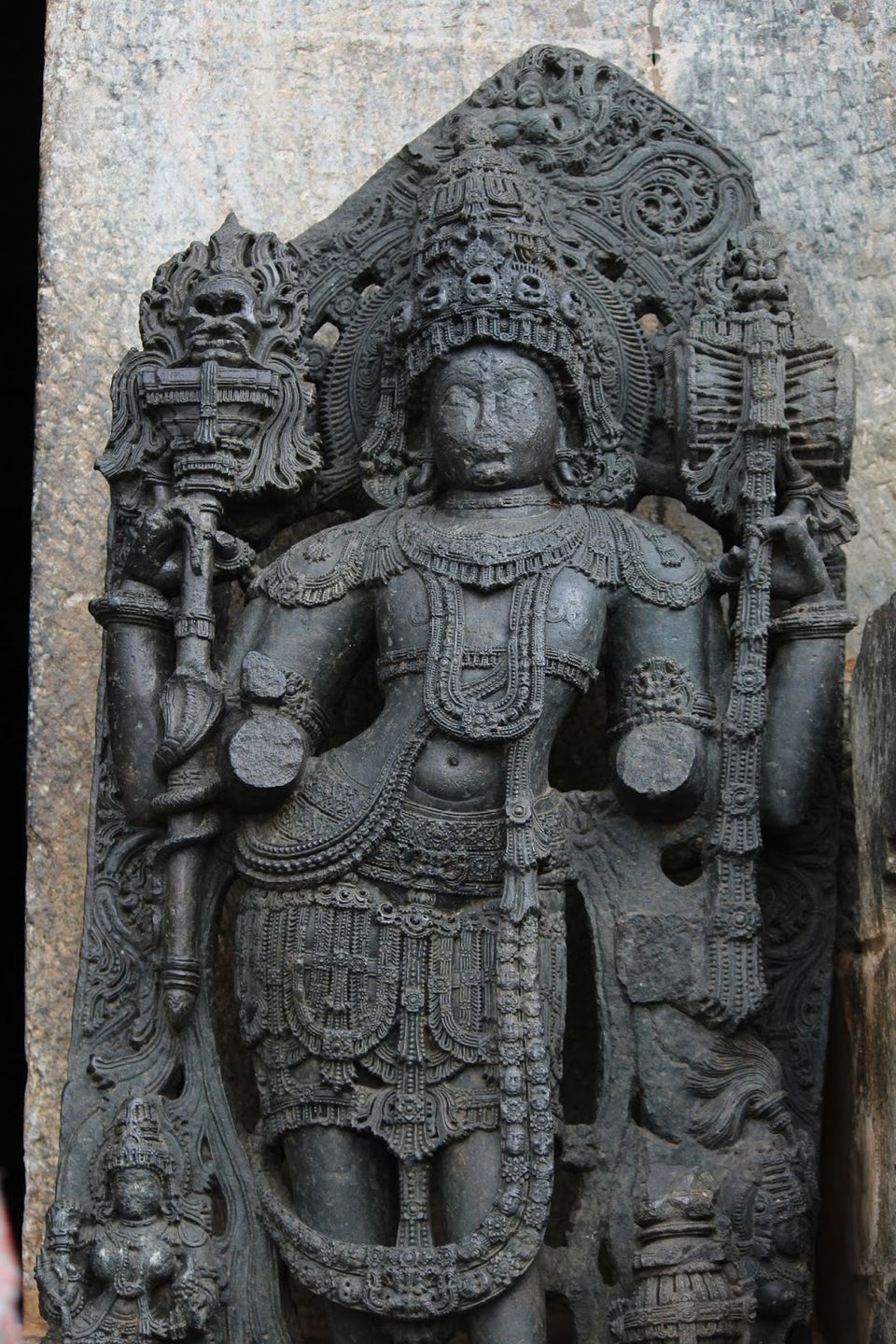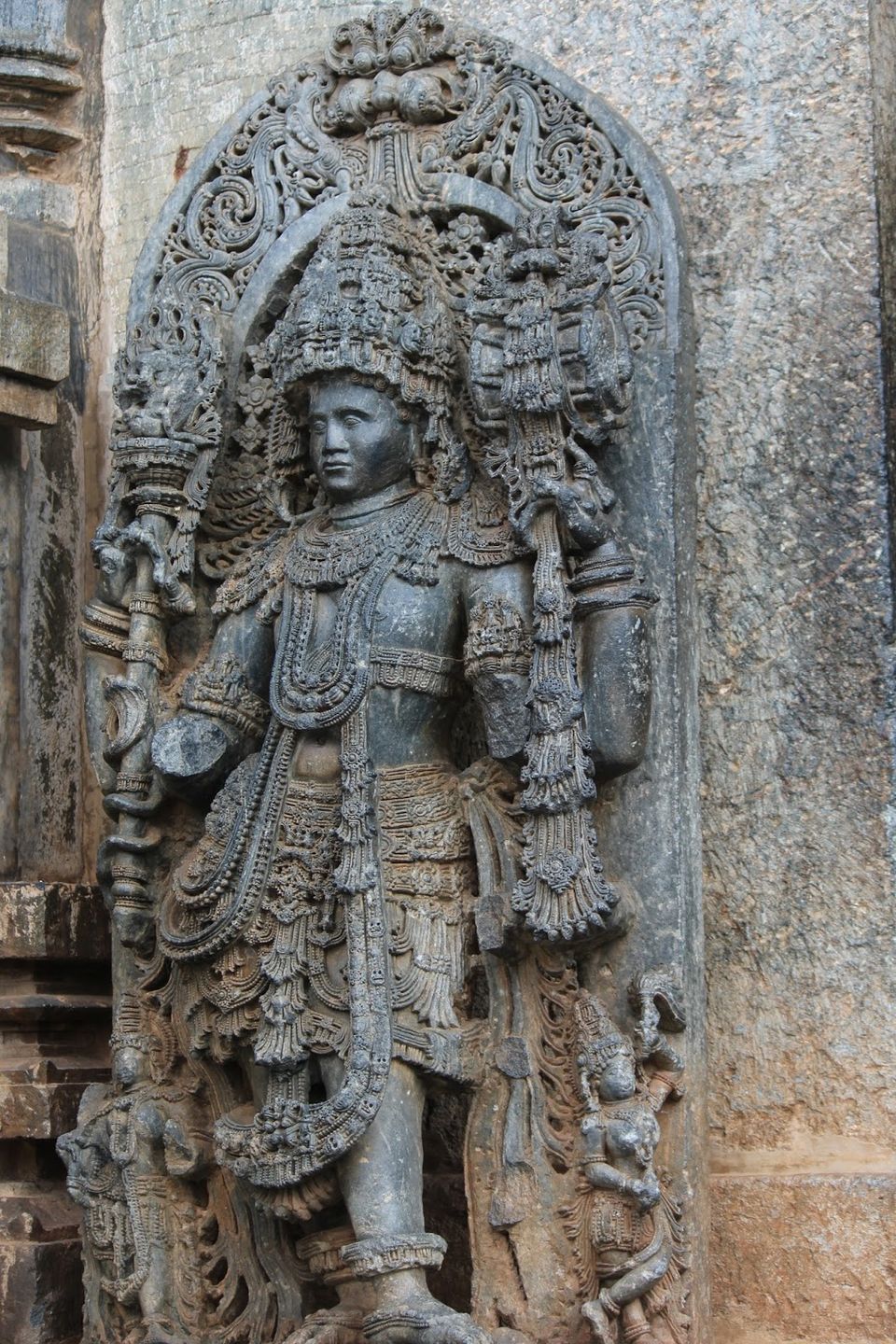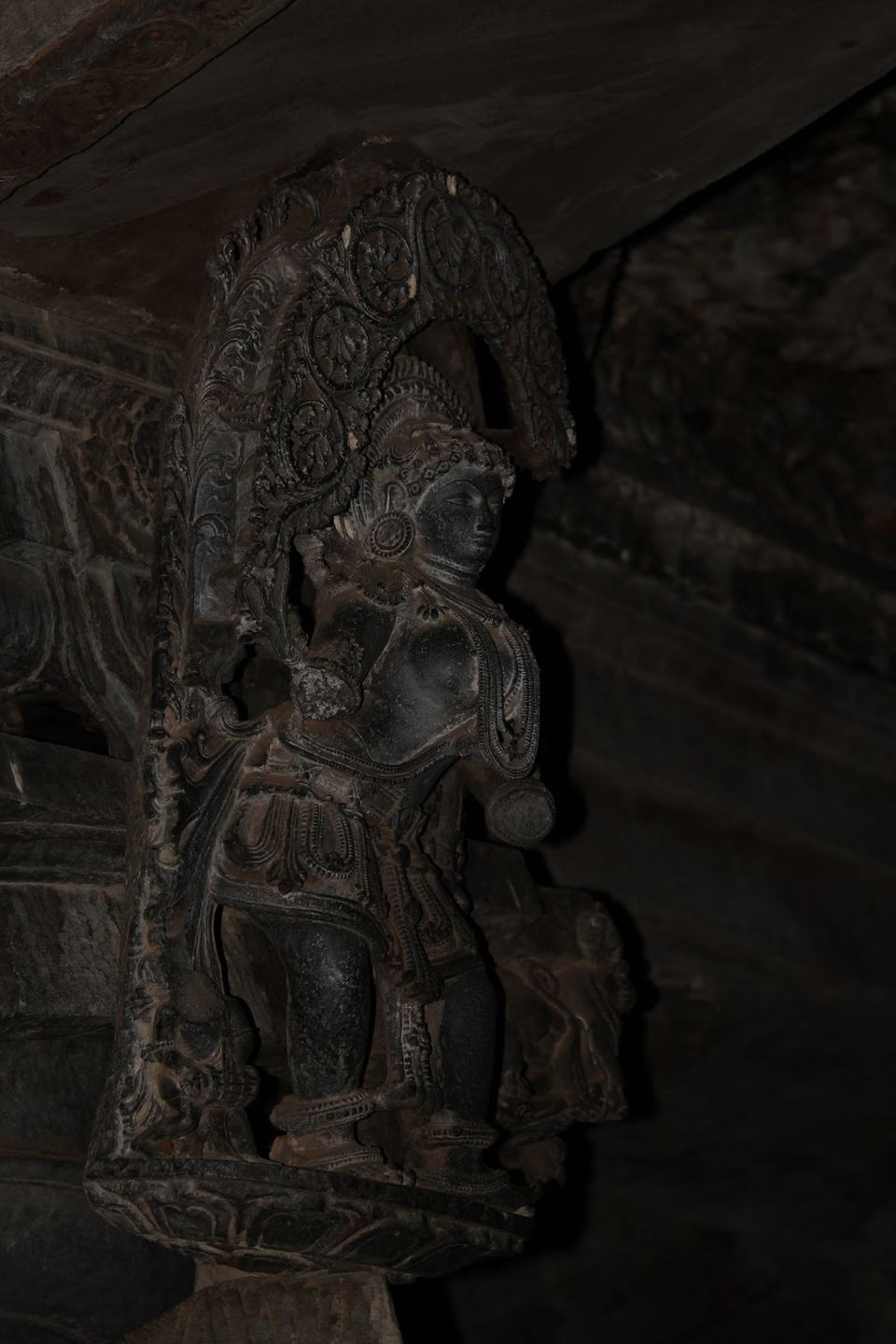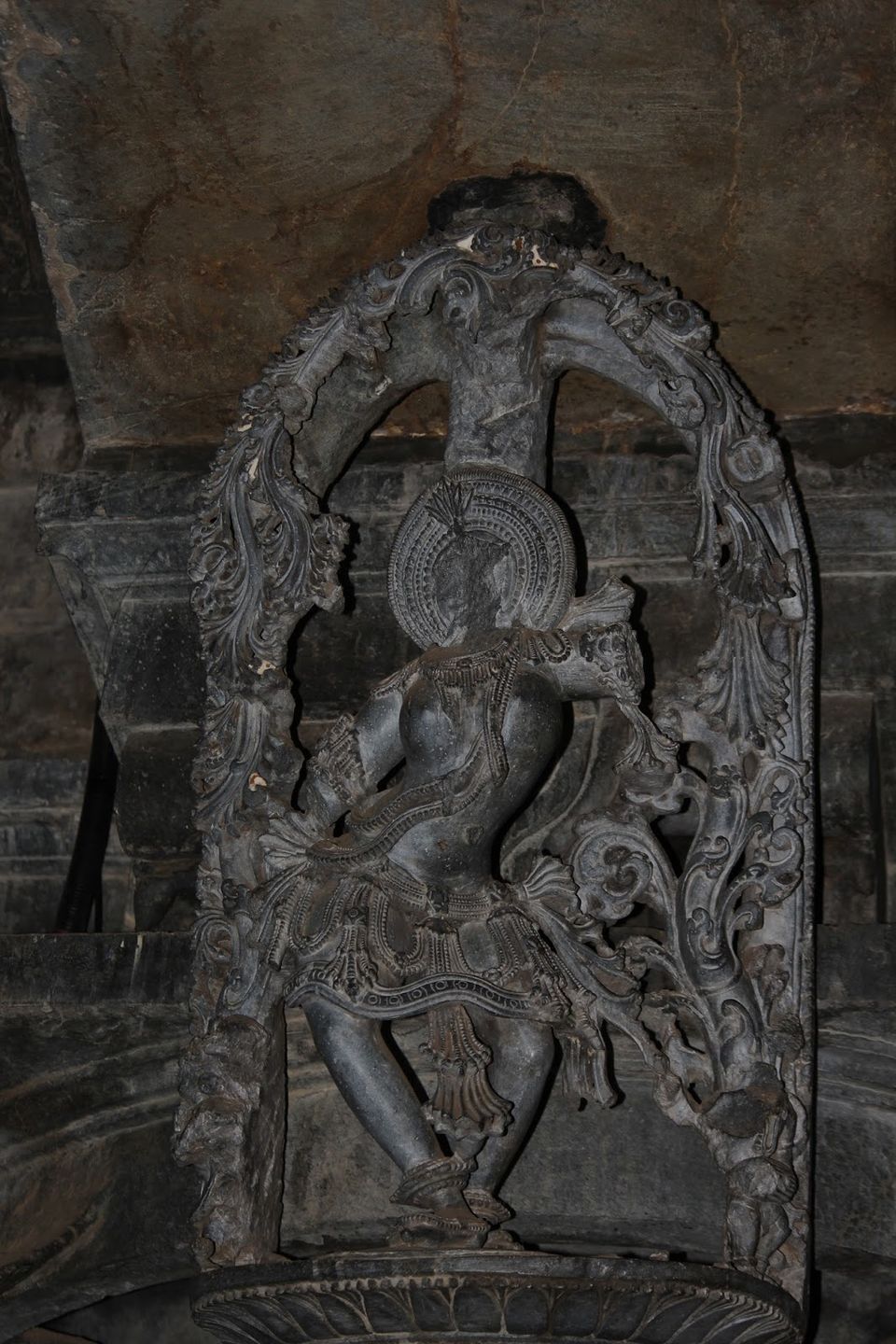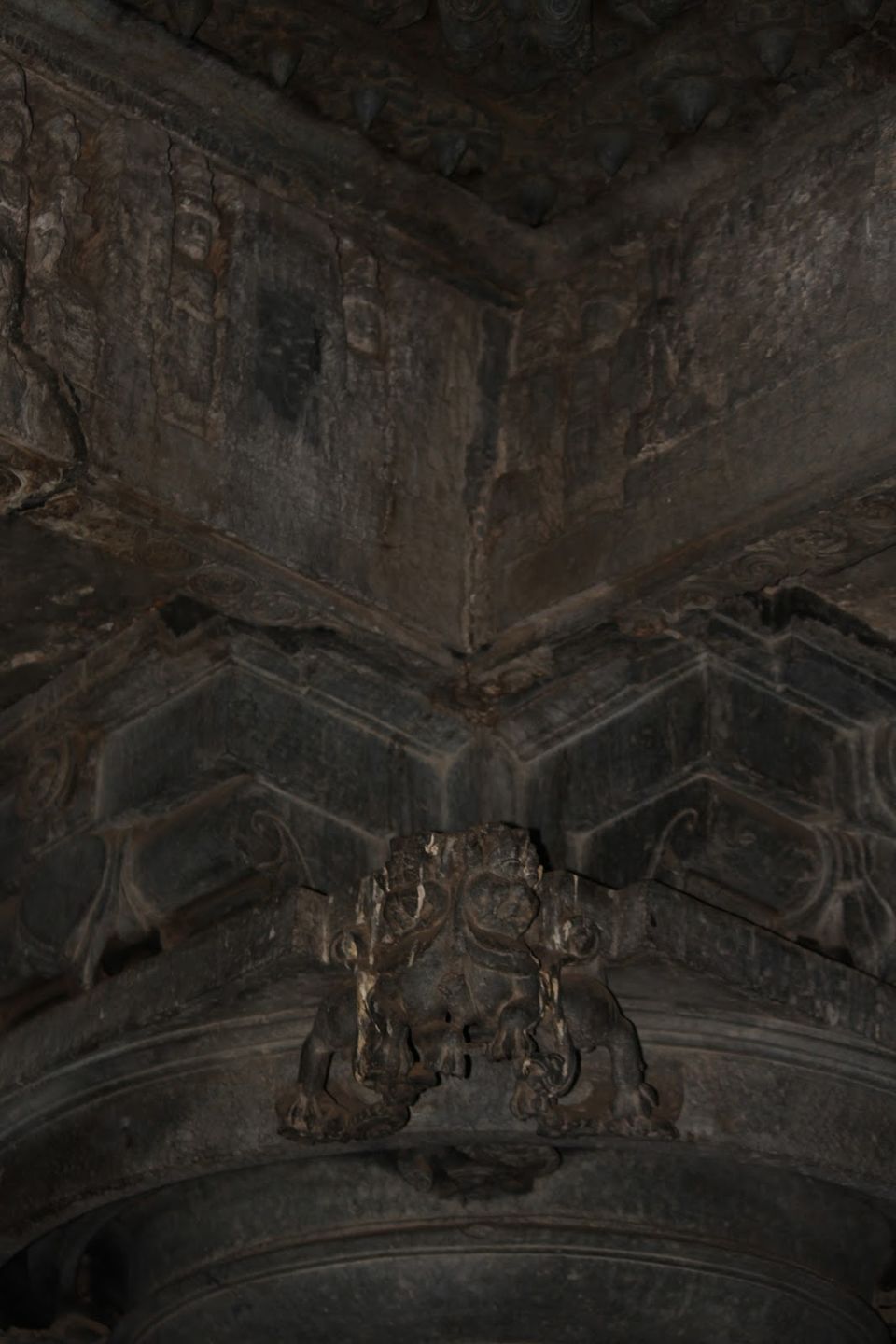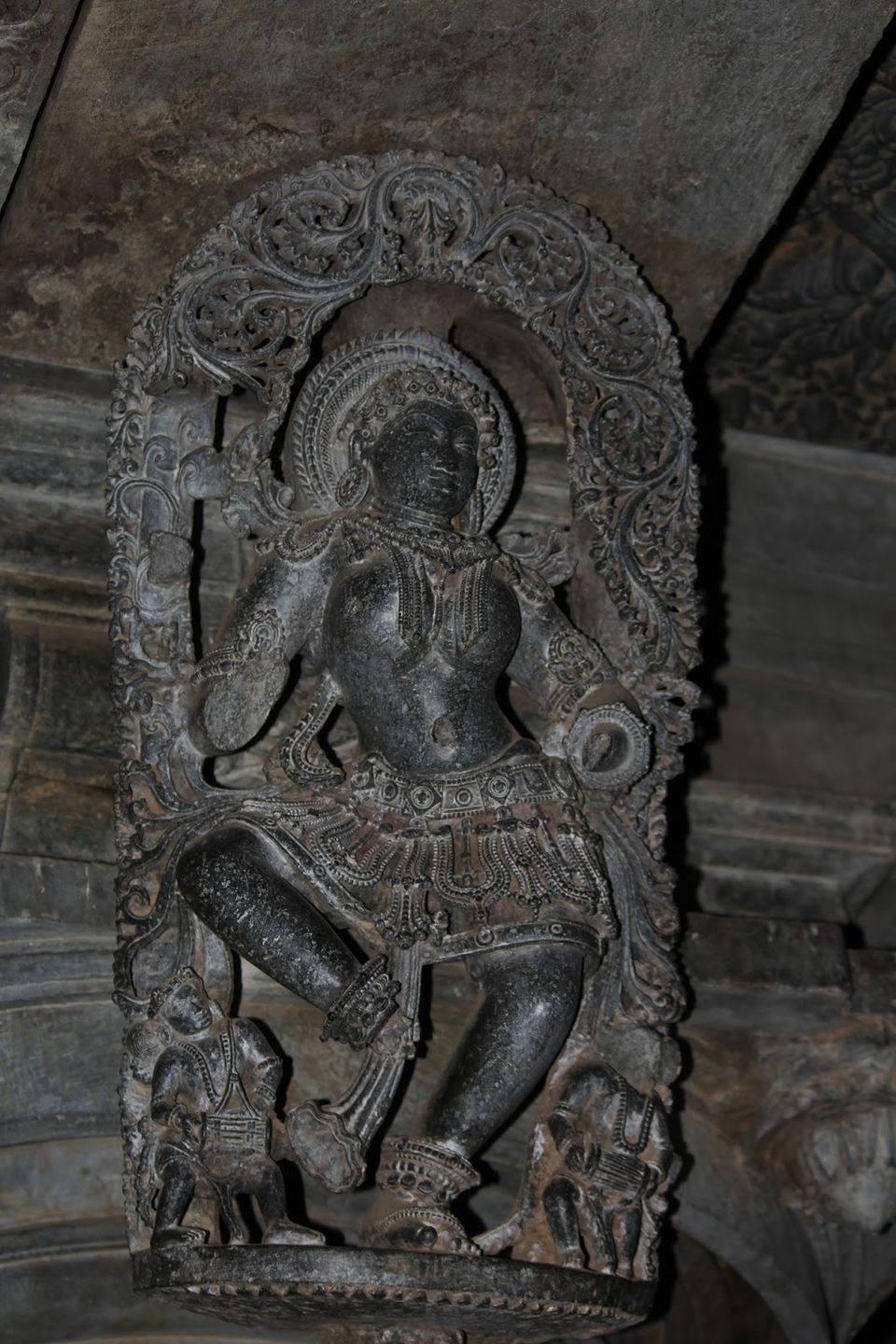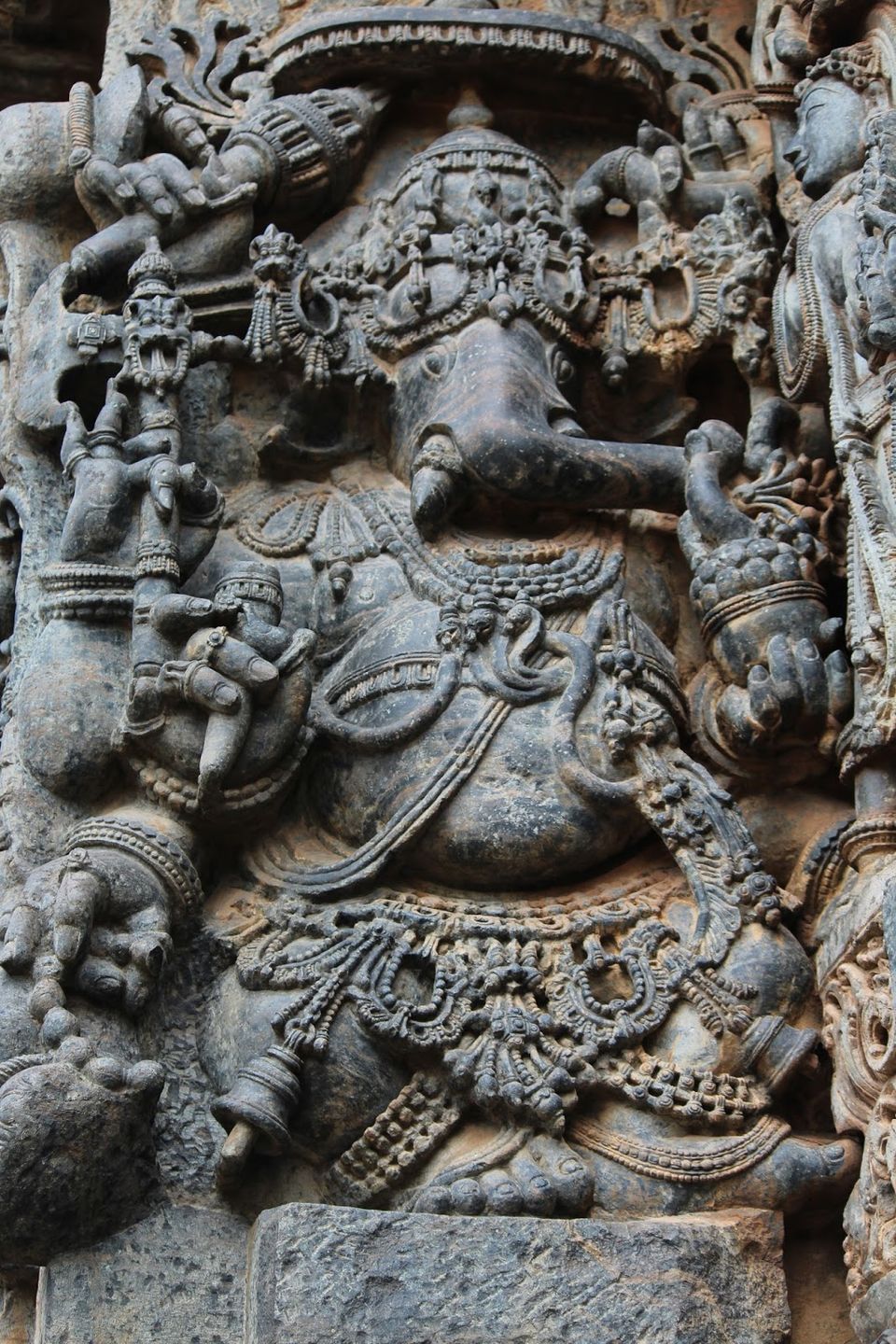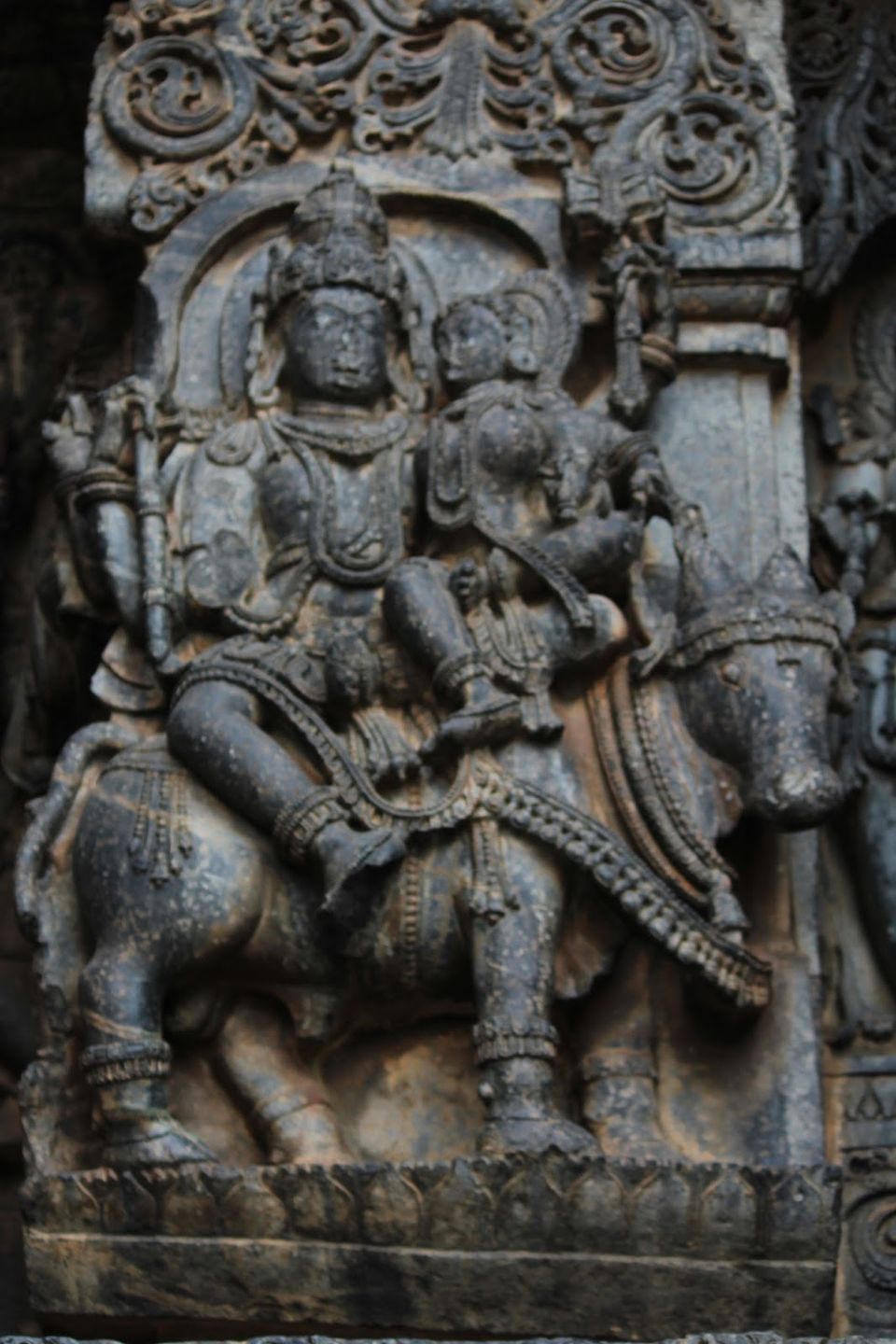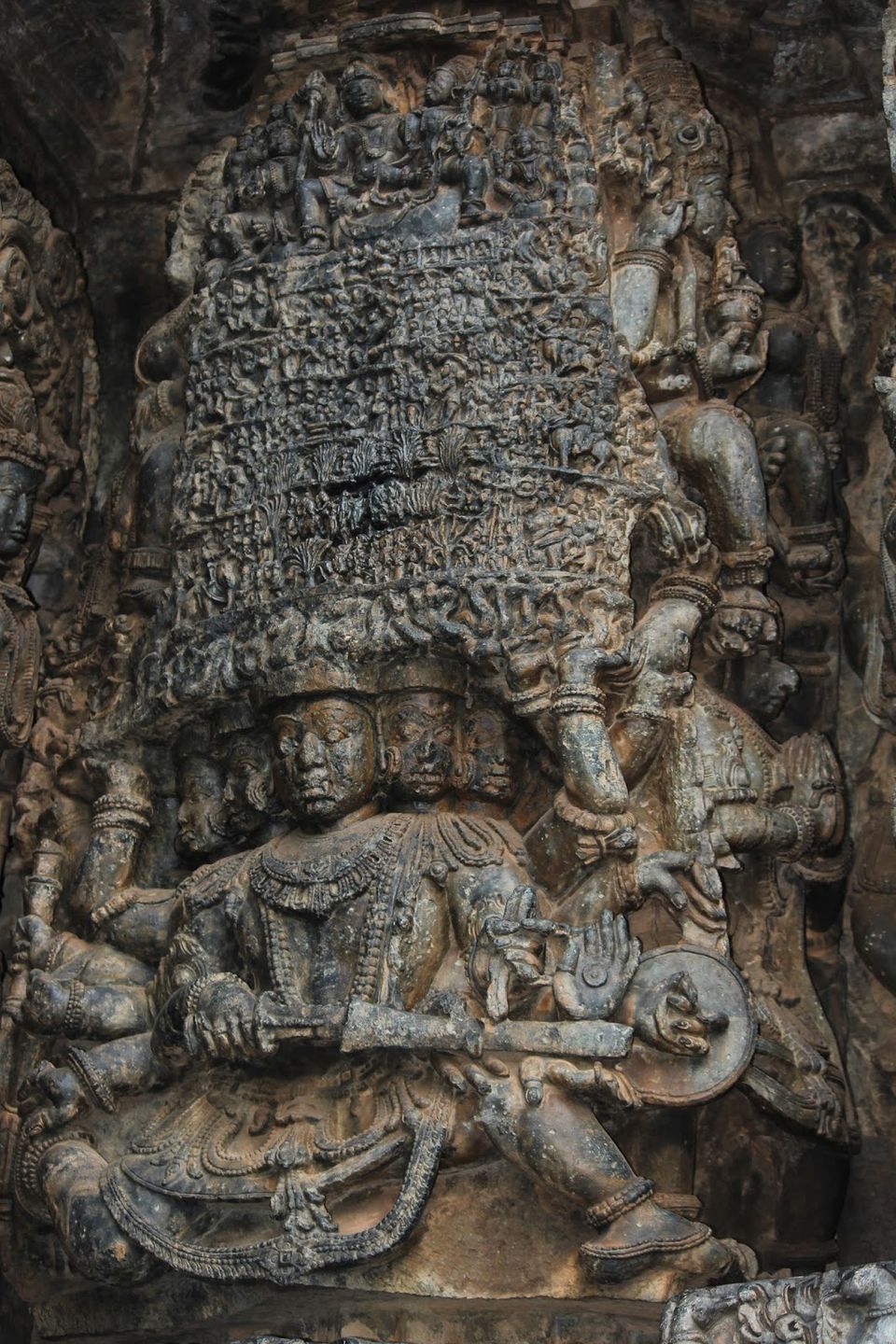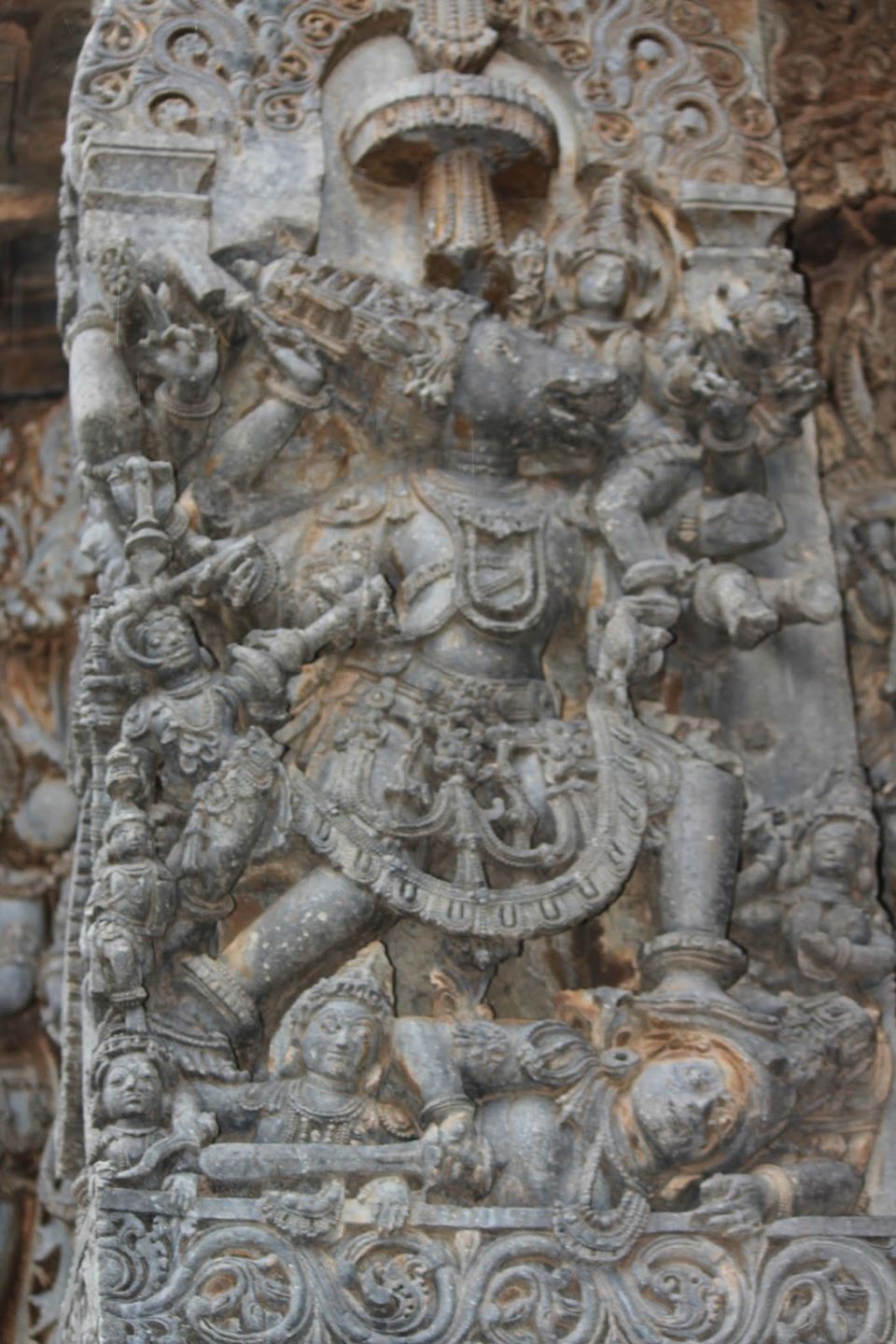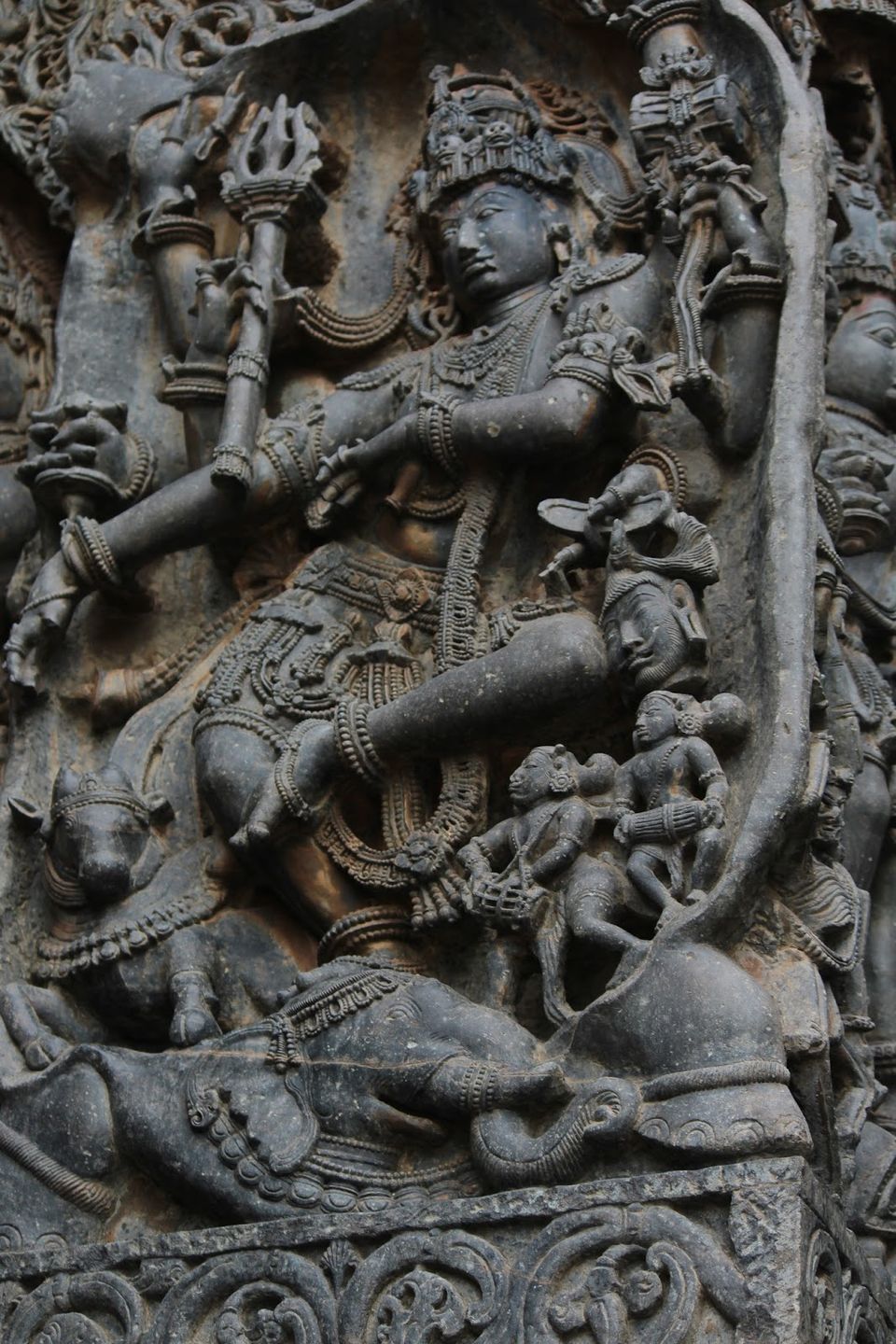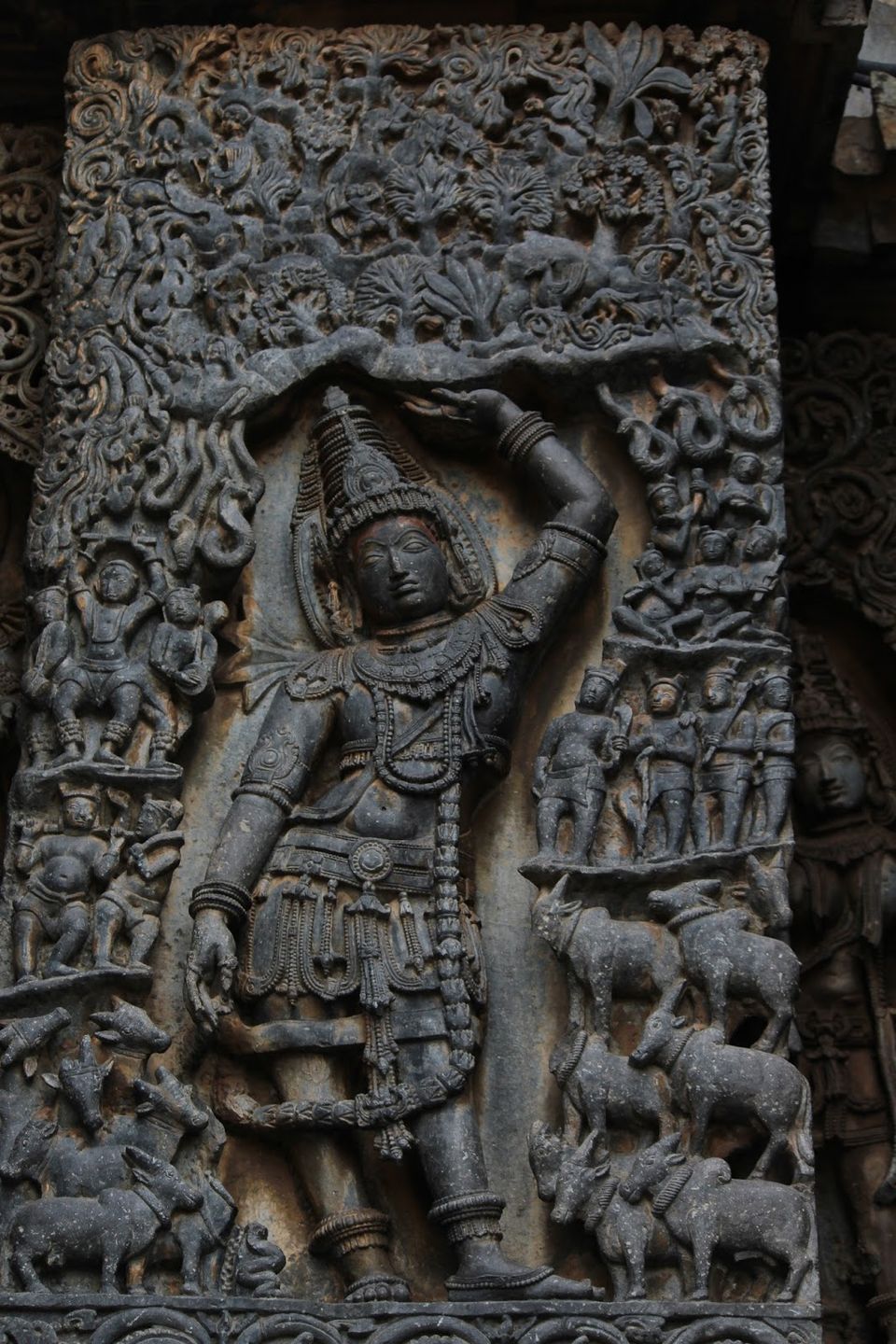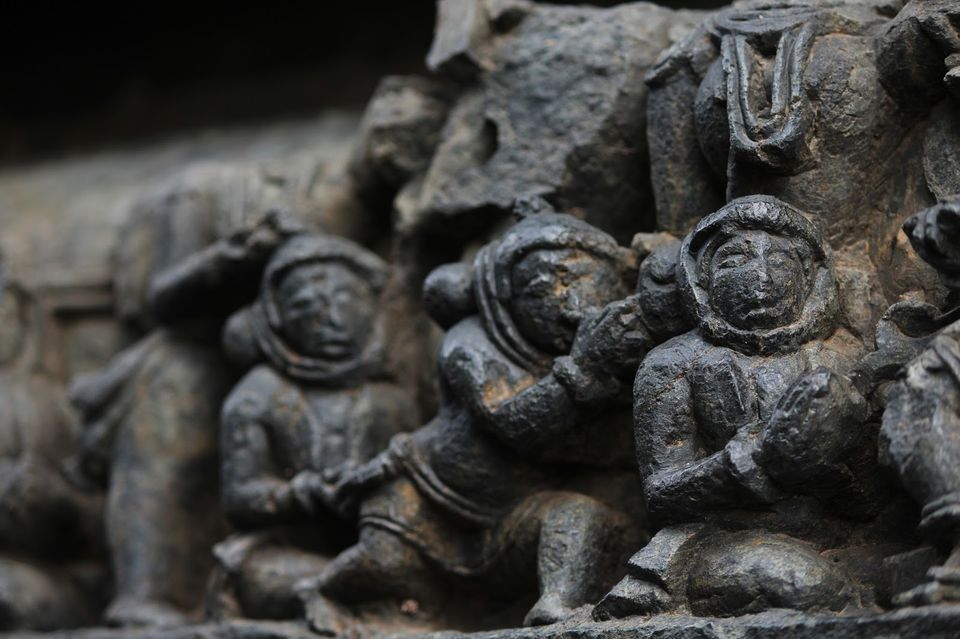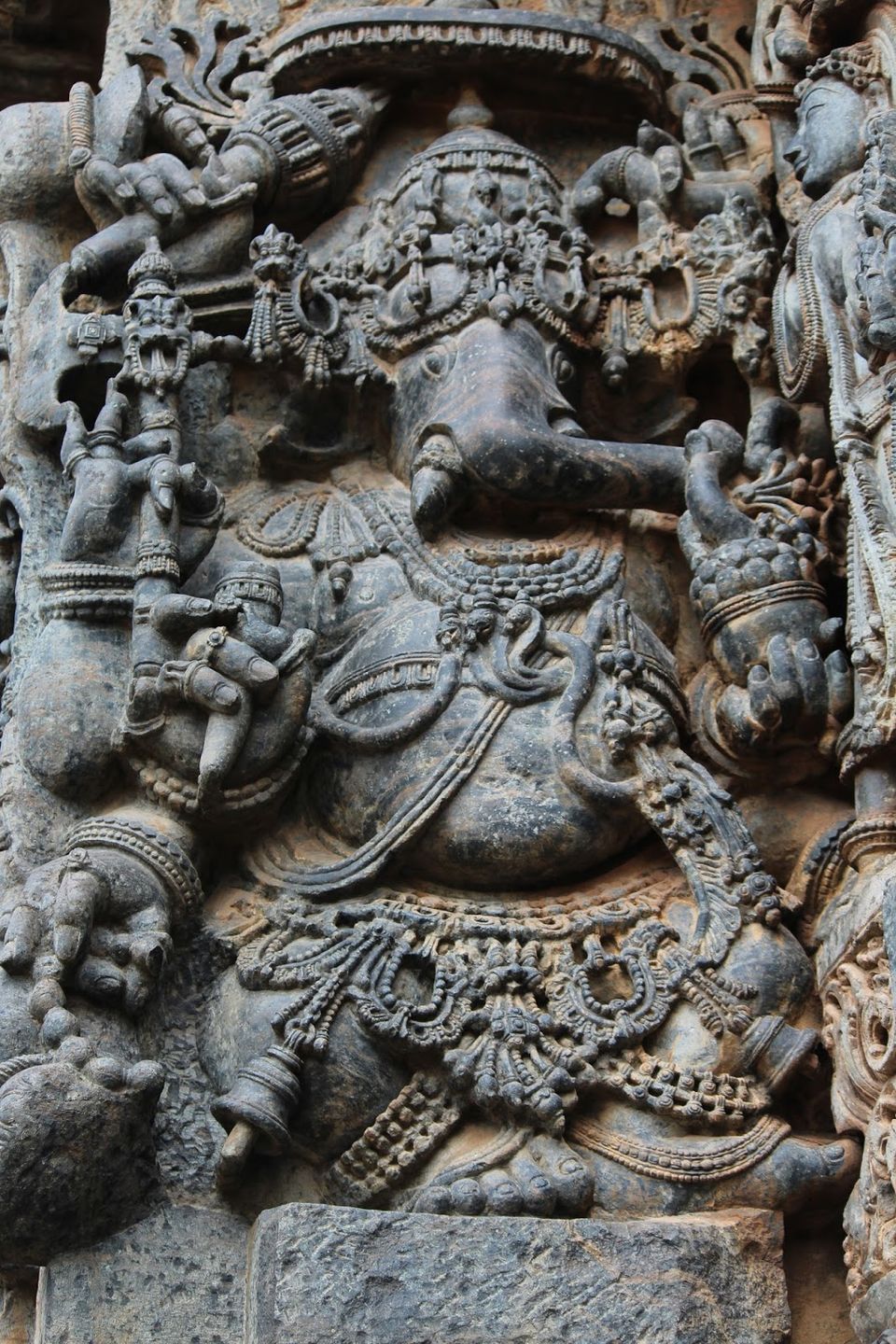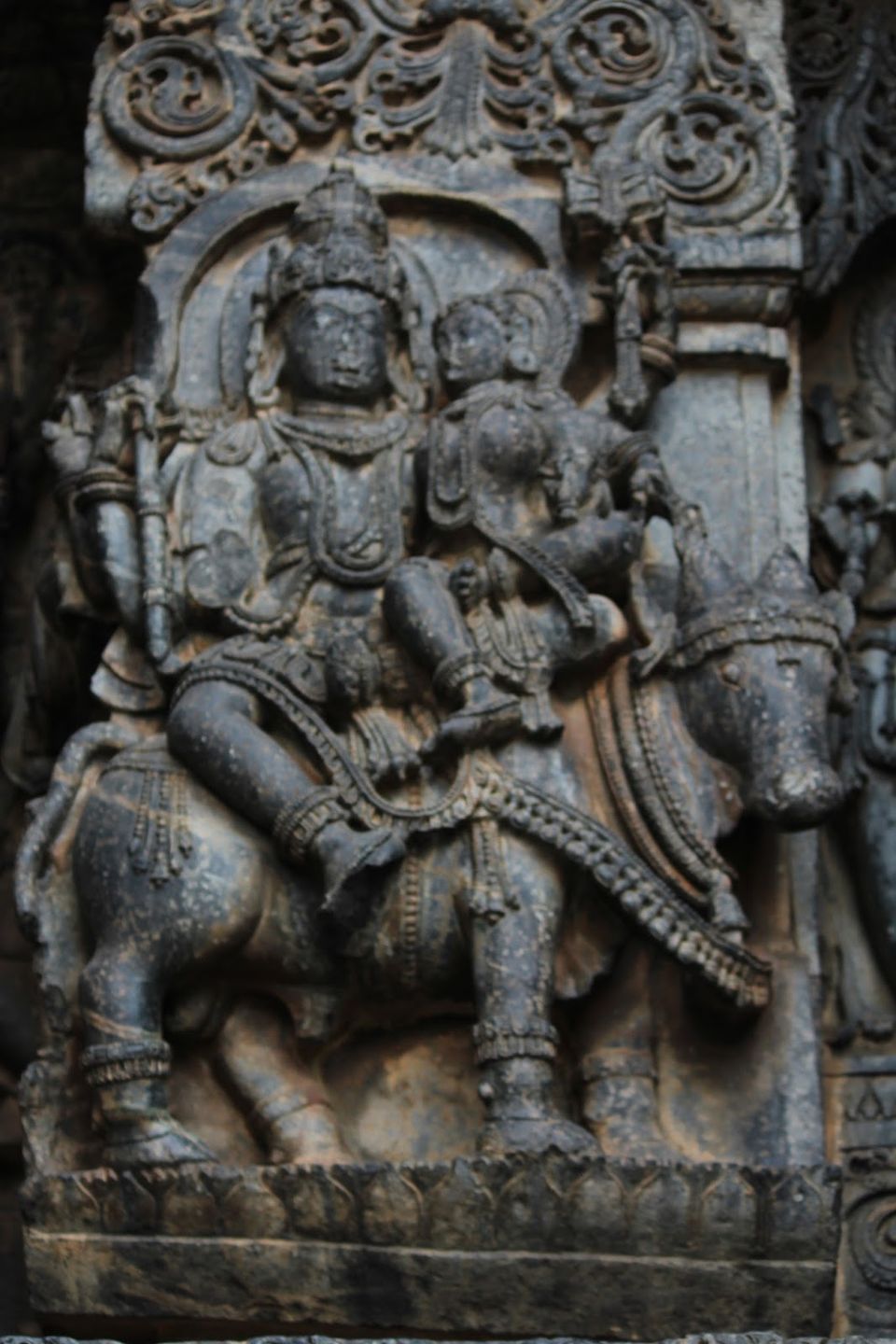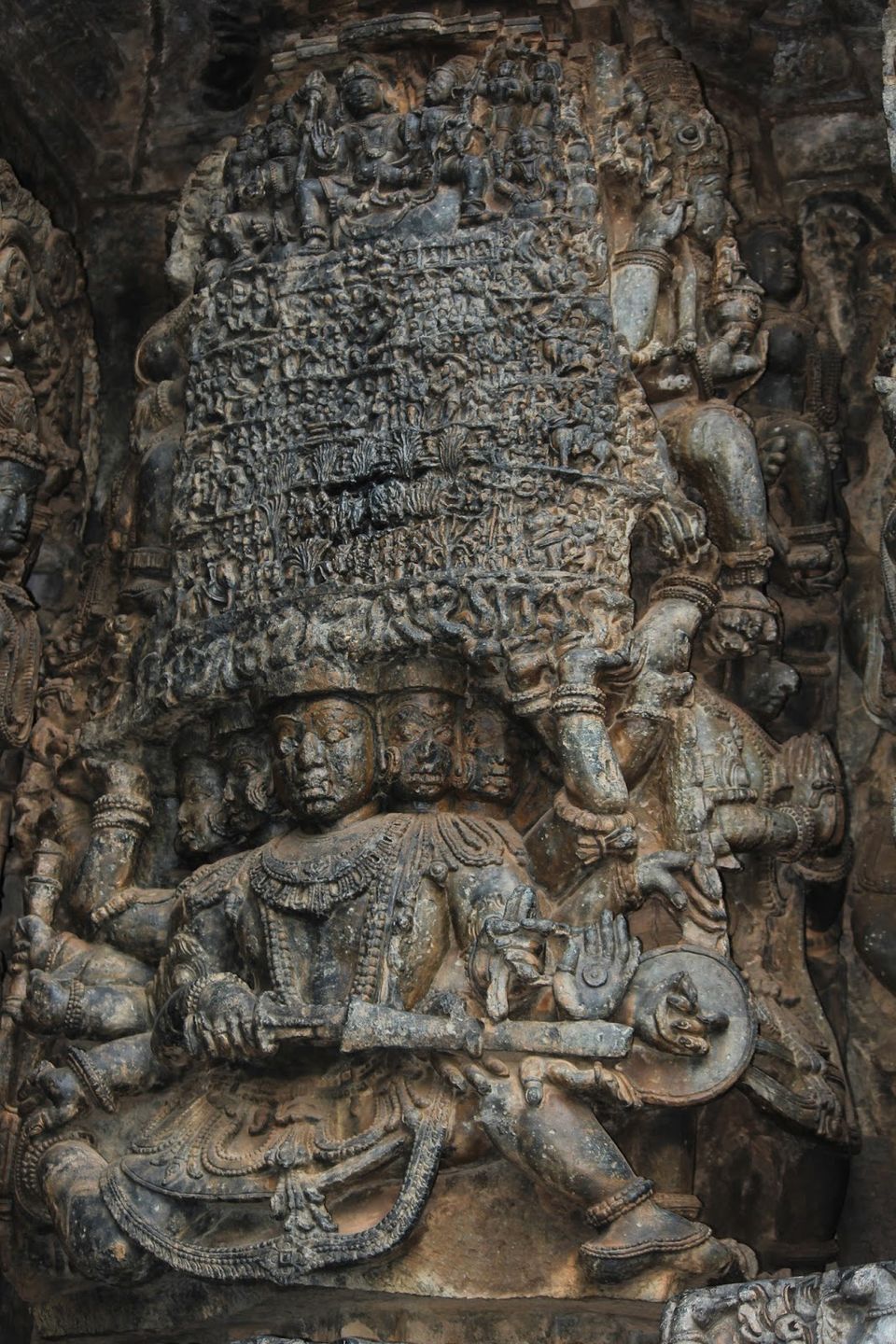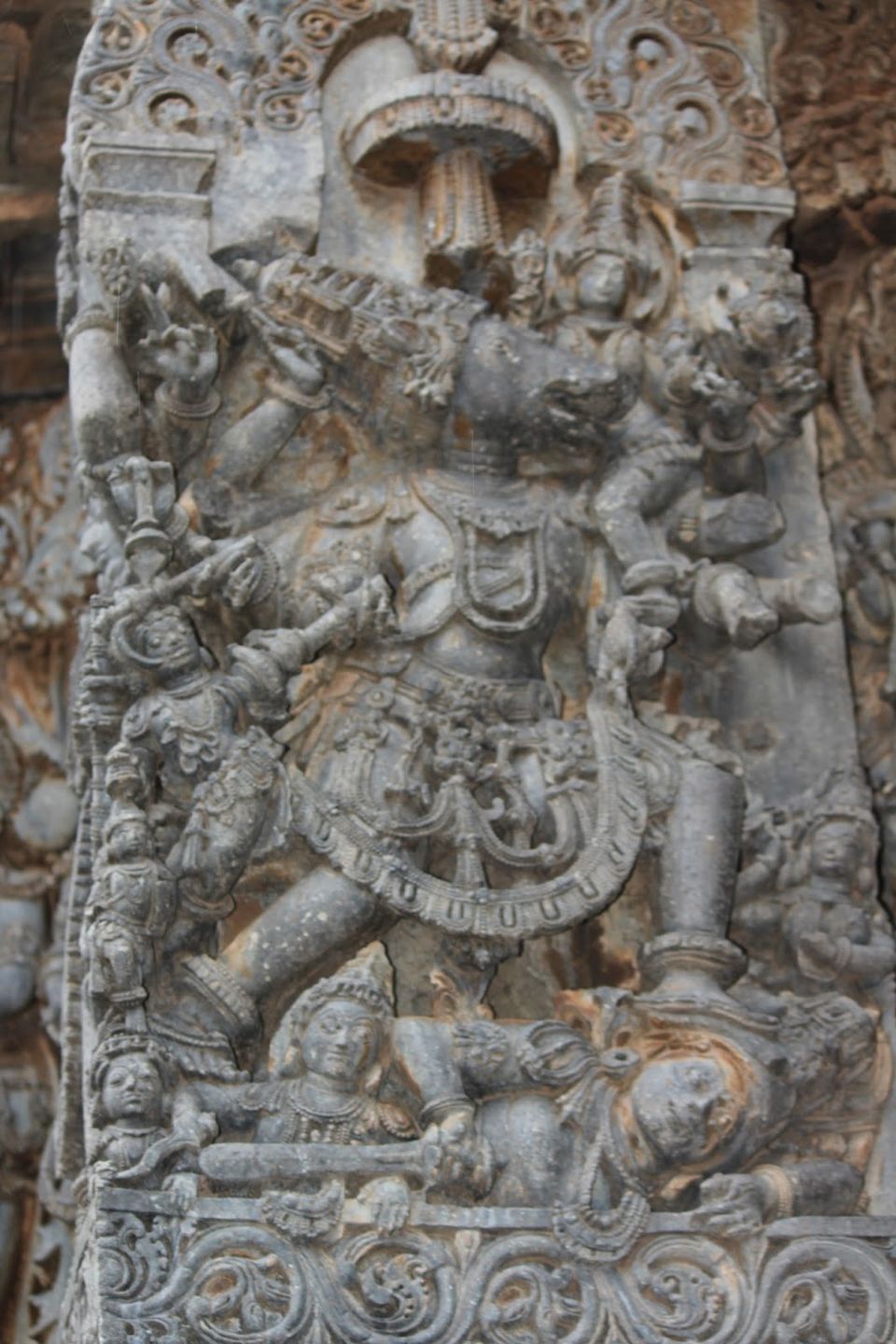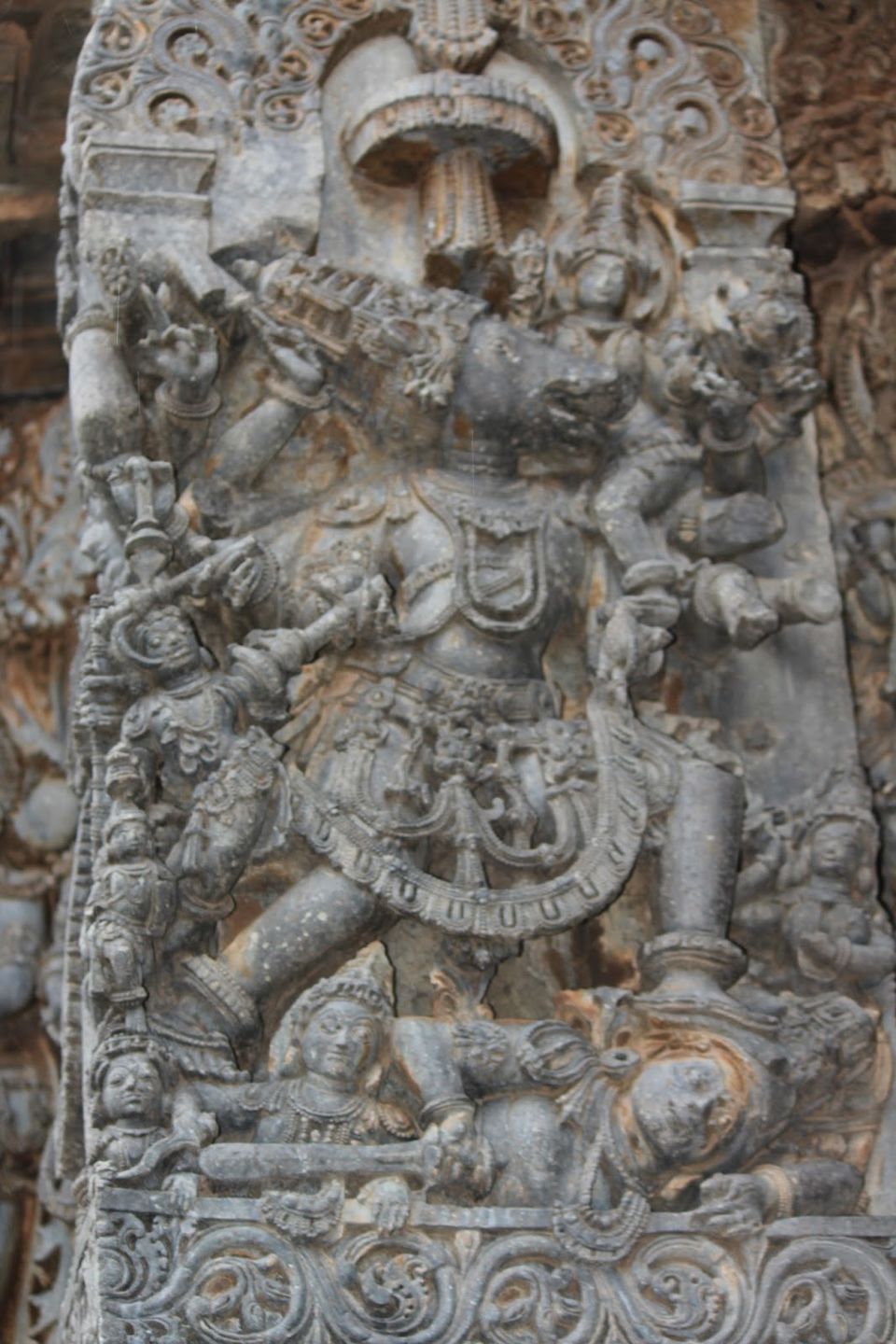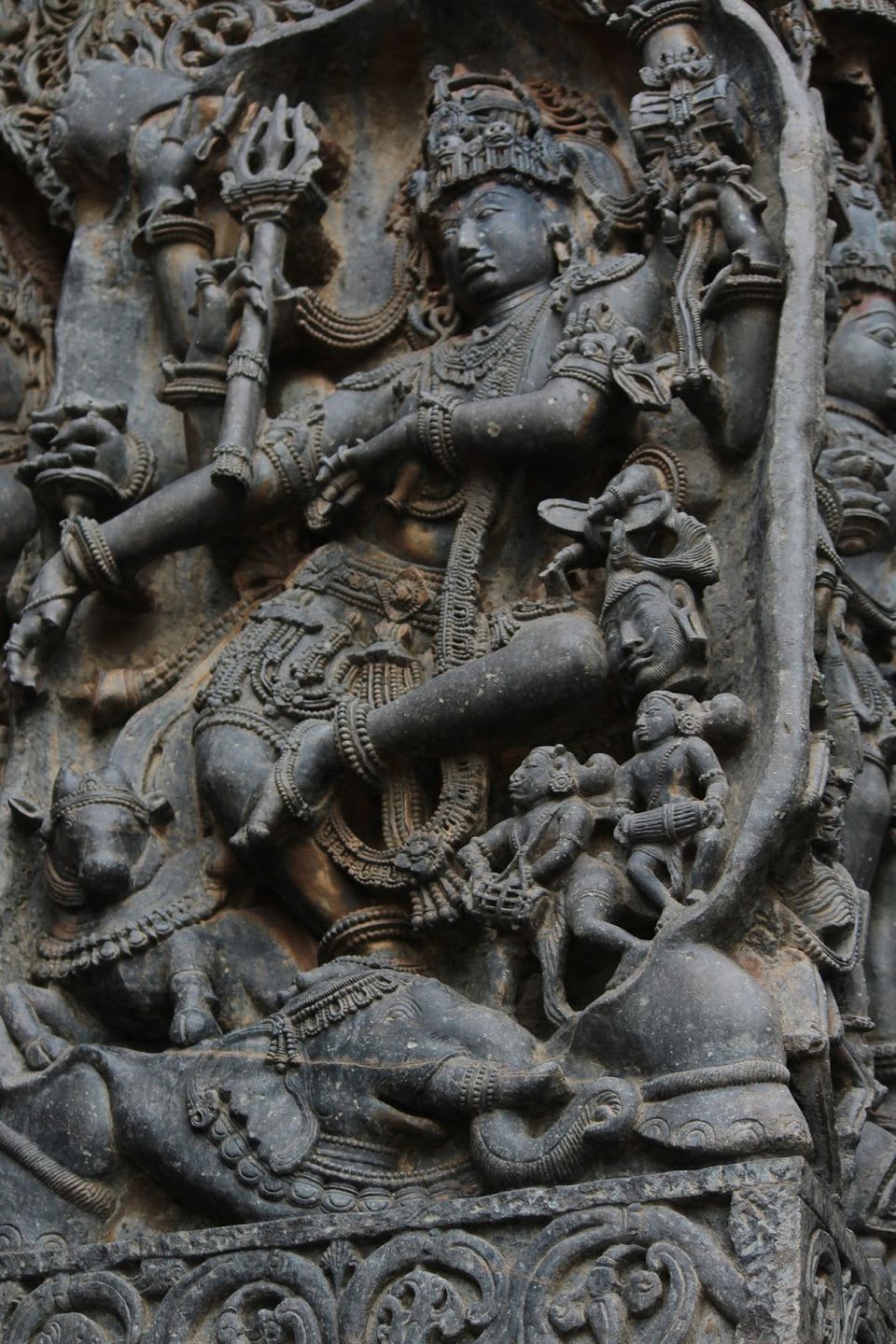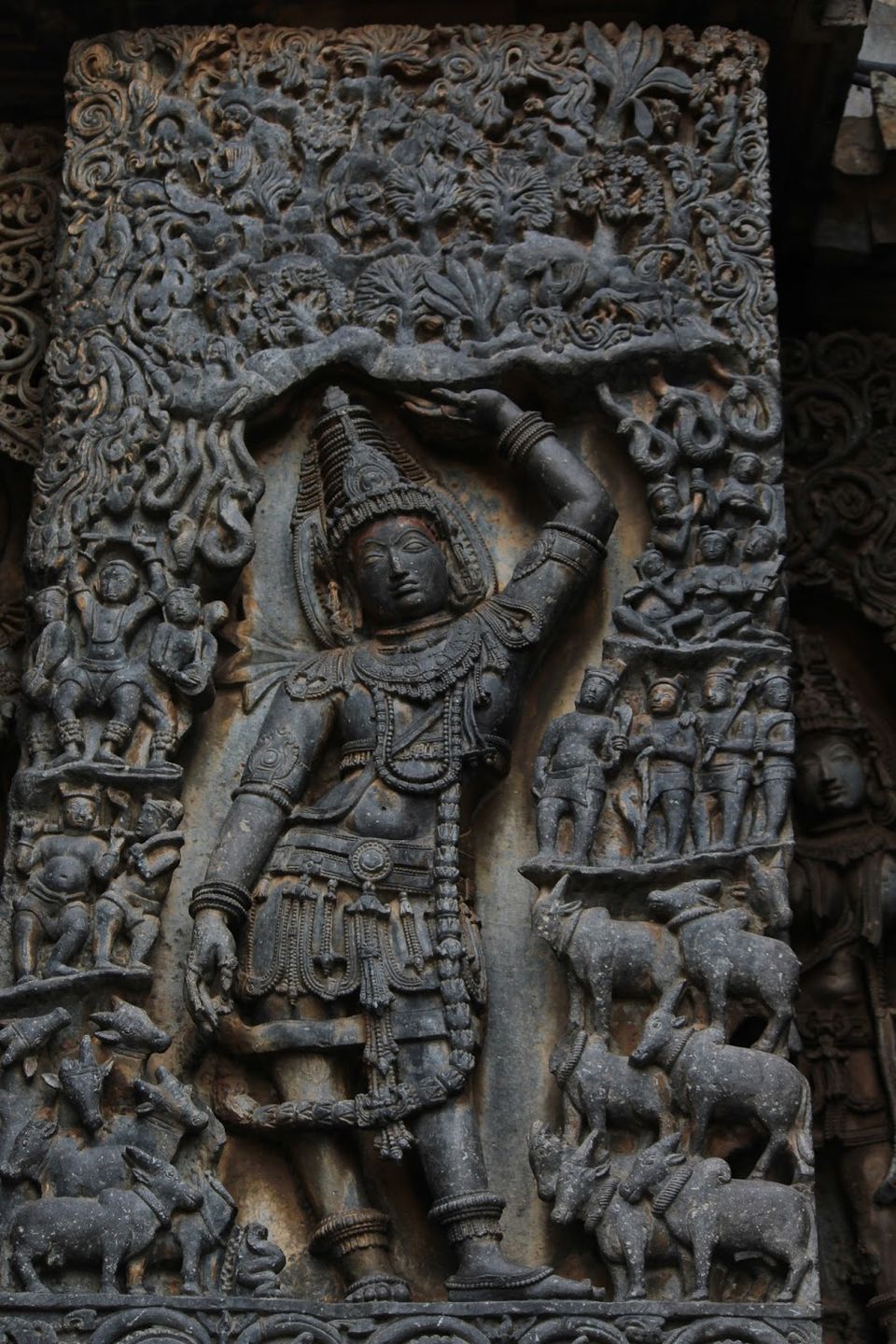 From
Bangalore
after you pass
Belur
towards Chickmagalur you will see the board, take right to 20 kms. The road is superb with paddy fields ON both sides.
The heroic Hoysalas
Hoysala dynasty is said to be named after the words hoy-sala means strike sala , which were called out to legendary head of the dynasty , when he was fighting with a tiger. sala killed the tiger and his bravery was immortalised in the royal emblem of the dynasty. hoysalas ruled deccan and parts of tamilnadu between 10th and 14th century.They had their origin in tribes of western ghats who followed jainism but later adopted hinduism. dynasty attained strong under the king vishnuvardhana who built several temples dedicated to lord vishnu. he captured gangavadi from cholas and moved the capital from belur to halebid during 1116.vishnuvardhan's dream of creating an independent kingdom was fulfilled by his grand son veera ballala who assumed the title dakshina chakravarthi . in the early 14th century alla-ud-din khilji the sultan of
Delhi
send his chief commander malik kafur to conquer south. he conquered hoysala in 1311-1127. veera ballala 111 resisted for three decades and was killed in the battle of
Madurai
in1343 and that was the end of mighty hoysala empire. the territories of hoysala came under the domain of hari hara 1 and the new kingdom was later known as vijayanagara empire.
1. Amriteshwar temple
built during the reign of veera balla 11 during 1196 AD is dedicated to lord vishnu. three idols is been worshiped here - vishnu - varahamoorthi ( lord vishnu's avatar ) - lord krishna. temple festival is during pournami in chaitra month ( in lunar month during march / april and is the first month of the year ) . unlike belur and halebid this temple is less visited by pilgrims and tourists , but is under the conservation of archeological society of
India
.
And from there we headed to halebid...roads are there connecting belwadi to halebid....take a straight road from belwadi we will reach main road , turn right halebid is 5 kms from there.
i kept on telling we should take a guide to see this place around , suddenly we heard a guide calling out and his charge was 1500 INR. i wondered why he charge this much it was only 200 INR @ madurai , so we decided and brought one temple guide which is helping me to write this blog. but inside we got govt authorised guides at a rate of 250 INR. So if planning to visit halebid i highly recommend you to take a govt authorised guide with you otherwise we will just it feel like a museum.
A BIT HISTORY ...
This ancient capital of hoysala was founded in the early 11th century and was known as dwarasamudra after a huge artificial lake of the same name , dating back to 9th century. the place attained glorious heights during the reign of veera ballala II. the empire extended from kaveri river in the west to krishna river in the east. malik kafur the general of alauddin khilji invaded and annexed the town and took away all the wealth of the temple.
in 1326 it was again attacked by forces of tughlaq dynasty. after the killing of the king in 1342 @ battle of madurai hoysalas was forced to relinquish their beautiful capital and it was never occupied again. nostalgically they named it as halebid or old capital.
As mentioned earlier most of the temples of hoysala was build during the reign of vishnuvardhana and is dedicated to lord vishnu. this temples were well maintained and guarded . but halebid temple is dedicated to lord shiva and is the largest among hoysala temples. the construction was started in the yer of 1121 by kettumalla , the minister of vishnuvardhana. even after working for one century there are still some unfinished portions in the sculptural extravaganza.
The temple has two identical temples each with two
Nandi
mandapam. one is for hoysaleswara and other for santhaleswara dedicated to santhaladevi the beloved queen of vishnuvardhana.
There were 84 natya sundaris ( beautiful ladies dancing ) in the temple . 70 of them were stolen by the British and currently it is in
Victoria
museum. how pathetic??? in the above picture the hands are not complete
The guide was trying to explain the beauty of carvings....i had mentioned about that carvings was from single rock right??? if we insert a needle in the mouth of skull it will come out from ear...
Most of you many know rat is the vehicle for lord ganesh...in the above sculpture lord ganesh is angry and he is dancing above rat...closely see the picture...you could observe because of weight of lord rat had opened the mouth and also grabbed his legs tightly... and look to lords last ornament , because of dancing it is about to fall....so the architects had not simply carved something out of rock...but had detailed every minute expression
This is the battle of kurukshetra.. bhima the second man in pandavas is considered to have a power of 1000 elephants....in the war he is fighting with elephants and throwing away to his back...and the crafts man imagines the height of killed elements had reached the sky..
Gajasura was a demon who assumed the form of elephant . The destroyer of universe Lord Shiva killed him and danced inside his stomach...... how beautifully the story is being carved here....see the head and legs of elephant down and magnificent shiva dancing on his tandava nritham.
Demon king Ravana was a great devote of Lord Shiva. Kaikesi was ravanas mother , once she asked ravana that she want to meet lord shiva and to fulfill his mothers wish ravana worshiped shiva for 1000 years , yet god does not appeared in front of him. getting angry ravana took whole kailas mountain in his head and started his journey to lanka . if you observe the sculpture down you could see because of weight the legs of ravana is going in both direction , and the mountain kailash with all trees and animals and above top an angry shiva and family.
and this is my favourite... lord shiva and parvathi sitting above nandi..Nandi looks angry...do you know why ? parvathi got her own vehicle a mongoose..in calm mood and lion in angry mood.I am only for my master...why parvathi is sitting above me ??? is what nandi thinking angrily...understanding nandis anger shiva smiling and consoling nandi with his hands through back with out the knowledge of his wife!!!! what a consoling attitude shiva...jus love it !!! <3
Small elephants given as design around the temple.....there is 1248 Elephants around the temple and each one is different....

Again rain came to our way...we enjoyed the rain and listened to guides words in wonders....sorry...we could not capture more due to rain....

The temples are carved out of soap stone , quarried from tumkur.
this stone is extremely easy to chisel , but attains iron like firmness when exposed to atmosphere. to maintain the shine of temple , the stone is treated with chemical wash and then polished in every ten years

Hope i could share with you whatever i learned from there...thanks for the wonderful guide mr.khaleel rahman for his patience.

We spend so much of time here so could not extend trip to belur...we were back soon on highway to bangalore with lot of memories...

HOW TO REACH ???
BY AIR - Nearest airport is Mangalore - 154 kms
BY RAIL - nearest rail is Hassan - 38 kms , which is connected to bangalore , mangalore mysore etc
BY ROAD- well connected to all major cities of Karnataka