Things to do in Krakow - a complete list of 20 great attraction, and not only for stags or hens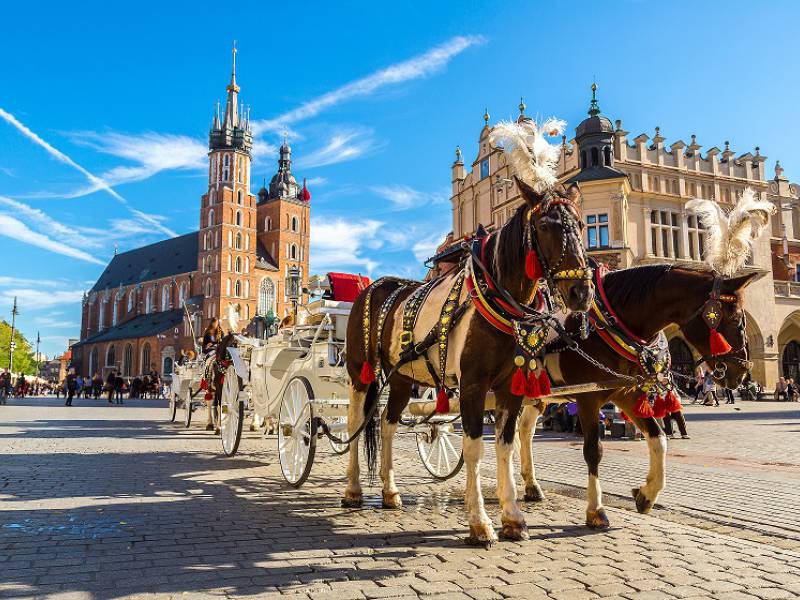 Krakow is the former royal capital of Poland and still remains its cultural heart. Since the fall of the Iron Curtain, it has been considered one of the best destinations to visit in the whole of Europe both for sightseeing and for partying. Its historic center is a major UNESCO listed World Heritage attraction. Medieval city walls and streets, gothic cathedrals and renaissance buildings plus the unique clubbing scene, make Krakow a winning combination of past and present. In 2019 over 14 million tourists appreciated its unique beauty and atmosphere. Despite this fact, Krakow still has an authentic feel mainly due to the very large student population which makes the city live its own life, bustling with parties and festivals throughout the year.
Krakow was fortunate enough to survive the Second World War largely untouched which has resulting in the stunning buildings and monuments that are still standing today. The main attraction in Krakow is the Market Square which is the largest in Europe and the epicentre of everything that happens in the city. Of course there is much more to see if you wander away from the centre such as the spectacular Wawel Castle of the famous Jewish District where the Schindler's list was filmed. With a number of monuments, museums and spacious parks it's no wonder the city is so popular amongst visitors. And it is of course close to the Unesco listed Wieliczka salt mine, and the infamous Auschwitz concentration camp which may not fit in with the usual sports tour activities, but it's still something many people think they should see whilst based so close to it.
With Krakow also being a student city it also makes for an awesome night out. Cheap prices, and more bars per square metre than any other city in Europe, not to mention a wide variety of clubs with music to suit any tastes mean this is the ultimate place to have your sports tour. In terms of sports Krakow is a very interesting destination for university and adult teams- especially bearing in mind extremely vibrant nightlife and cheap prices- though can be also a great destination for a successful school trip, which wants to combine training with educational programs.
Cultural tours - take a sightseeing tour of Krakow Old Town
There are different options of tours available including walking tours, electric car tours, or hop on-hop off buses. The most famous tours are:
1. The Royal Route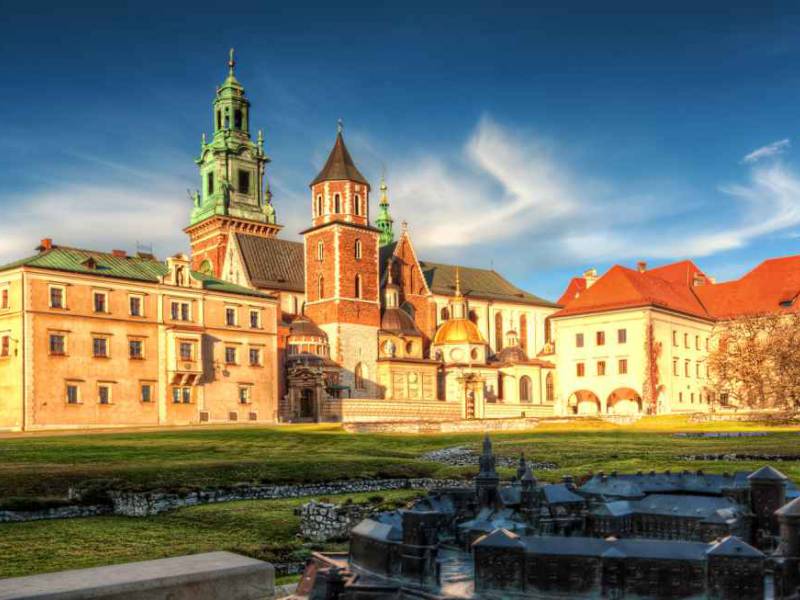 The Royal Route is one of the most popular and most important routes for Krakow sightseeing. During the tour we follow Polish kings' footsteps through the way of the coronation processions. Sightseeing begins at the Matejko Square, in front of the St. Florian Church, where the city authorities and Rector of the Jagiellonian University greeted the king. Subsequently the monarch was accompanied by his subjects to the city through St. Florian's Gate and then St. Florian's Street, Market Square, Grodzka Street and Kanonicza Street and finally reached his headquarters on Wawel Hill. In short, the road leads through the most beautiful part of the Old Town
2. The Schindler's list route (Kazimierz district and Oscar's Schindler's factory in Podgorze)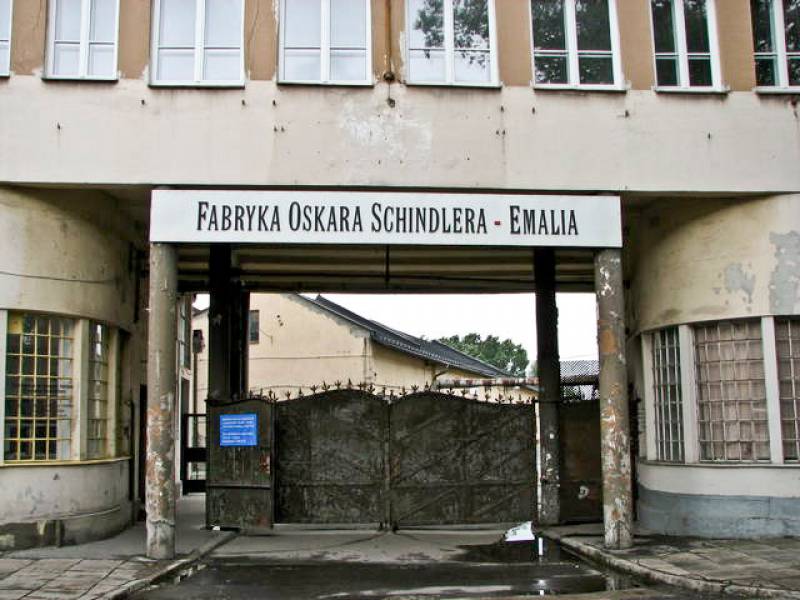 The Museum of Krakow During the Time of Occupation 1939-1945 was opened in 2010. Documents, photographs and first-hand accounts of survivors are used to powerfully present the Nazi occupation of Krakow during the Second World War. Visitors can leanr about the various phases of the Nazi occupation of Krakow, as well as the fate of the inhabitants of this multicultural city. The story of Oskar Schindler - the factory owner and savior of more than 1,000 Jews - is also a key component of the museum. Extensive photographic documentation presented in the museum is evidence of cunning and charisma of this German entrepreneur and his willingness to help others.
3. The Nowa Huta tour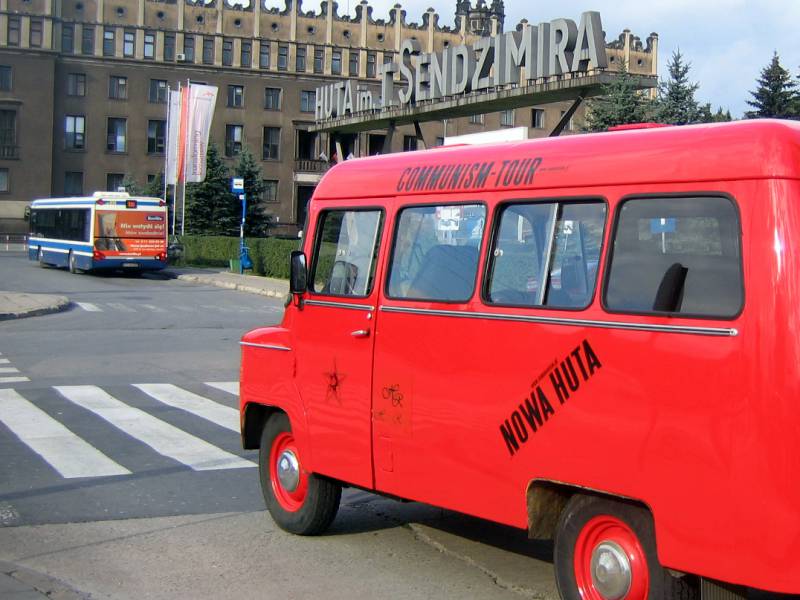 Feel what it was like to live during the communism times (visit "communist perfect city", and drive cars from that times). Nowa Huta was started in 1949 as a separate town near Krakow. It was planned as a huge center of heavy industry. The town was to become an ideal urban project for the Communist propaganda and populated mostly by industrial workers. The reasons for building a workers' paradise near bourgeois Krakow were mostly ideological and were against laws of economy. In the 1980s Nowa Huta became a place of many demonstrations and violent street protests of the Solidarity movement, fought by the police. During this tour you will not only visit these places, but you will be driven around them in typical communism era cars, plus depending on the chosen option of the tour, you may also pop up in a typical commie style bistro bar.
4. Kazimierz- the former Jewish district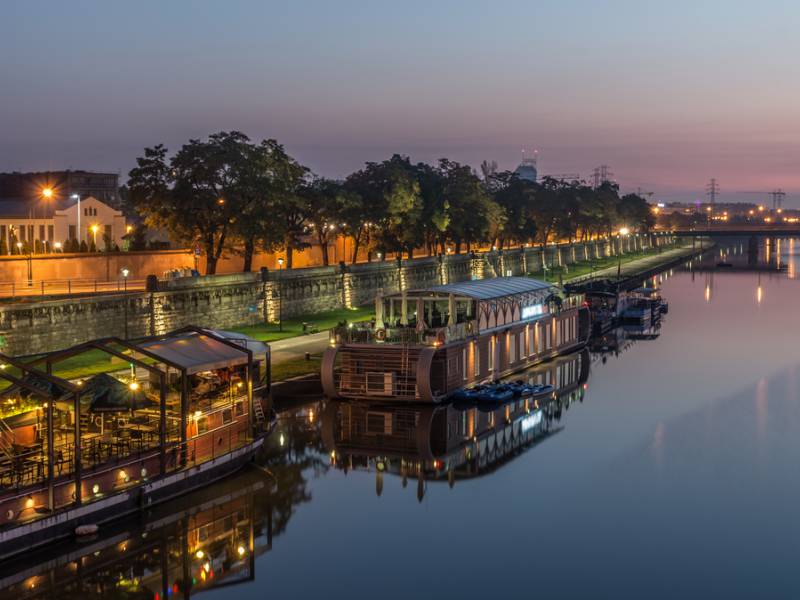 A popular part of Krakow with its pre-WWII architecture, synagogues & museums celebrating the Jewish heritage. The area is full of pubs, clubs & restaurants and featured in Steven Spielberg's film Schindler's List. The area was given the name by King Kazimierz III The Great in 1335. Today Kazimierz is a vibrant and bustling hive of activity day and night with its markets, festivals and attractions which include the Jewish cemetery and Galicia museum along with important synagogues.
At its beginning Kazimierz was a separate town founded in the 14th century by King Casimir the Great. A huge Jewish community lived here until World War II, cultivating its religion and culture. Nowadays the magic and exoticism of this district is comparable only with the nostalgic charm of the Josefov - Jewish quarter in Prague.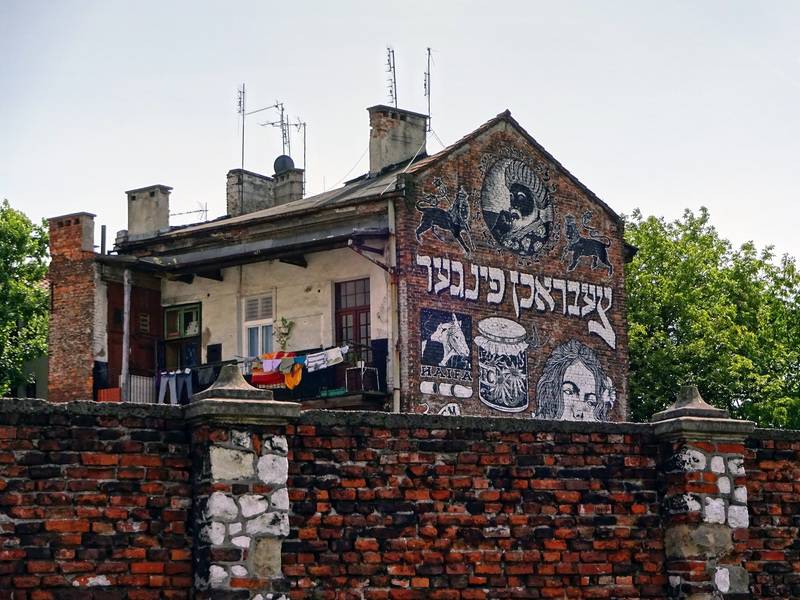 After the Second World War, devoid of Jews, Kazimierz was neglected by the communist authorities. However, since 1988, now a popular annual Jewish Cultural Festival has drawn Cracovians back to the heart of the Oppidum and re-introduced Jewish culture to a generation of Poles who have grown up without Poland's historic Jewish community. In 1993, Steven Spielberg shot his film Schindler's List largely in Kazimierz and this drew international attention to Kazimierz.
5. Kladka Ojca Bernatka or Father Bernatka Footbridge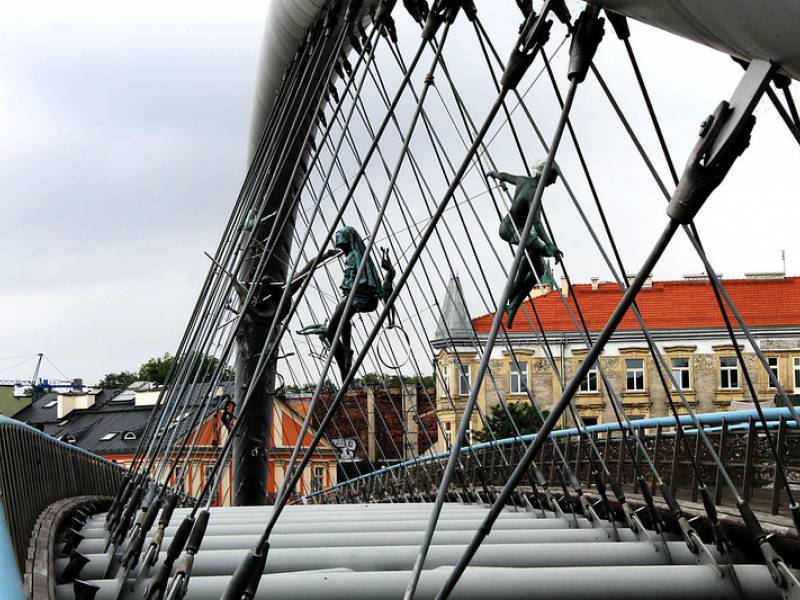 Spanning the Vistula River connecting the Area of Kazimierz with Podgorze is particularly enchanting when lit up at night. Loving couples dedicate their undying eternal love for each other by attaching a padlock to the railings and throwing the key to it in the river. There are literally 1,000s of them of all shapes, colours and sizes, that is a lot of love declared very similar to other bridge locations such Ponte Vecchio in Florence and Pont des Arts in Paris. Running parallel to the footbridge is the bicycle only version and between the two bridges angels are positioned on the structure.
6. Podgorze or Krakow Ghetto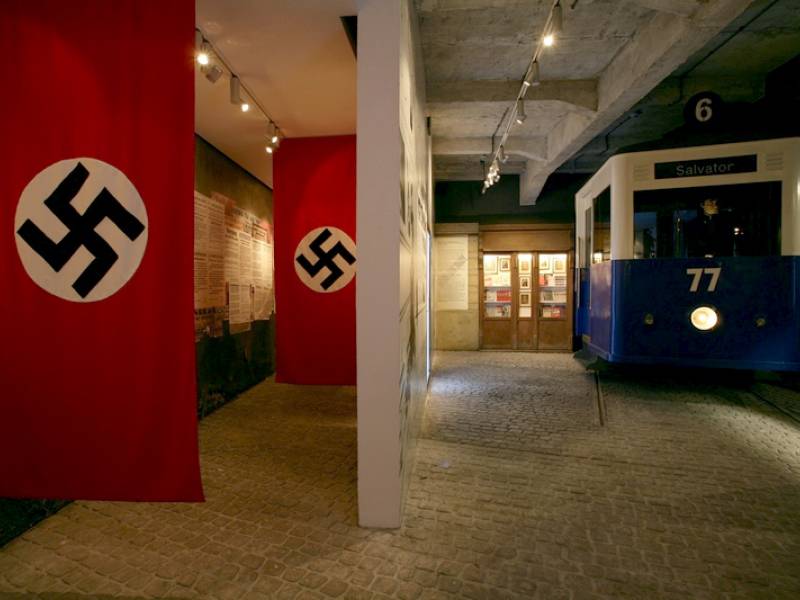 Like Kazimierz the are Podgorze were independent cities before being absorbed by Krakow. The area was made into a ghetto in 1941 by the Nazi regime and a memorial on Plac Bohaterow Ghettow of oversized chairs pays homage to the tragedy. The Krakow Mound which you can ascend via the spiral walkway is the supposed resting place of King Krak the founder of Krakow. Once again Spielberg's Schindler's List prompted the renovation of the original factory and is now a museum.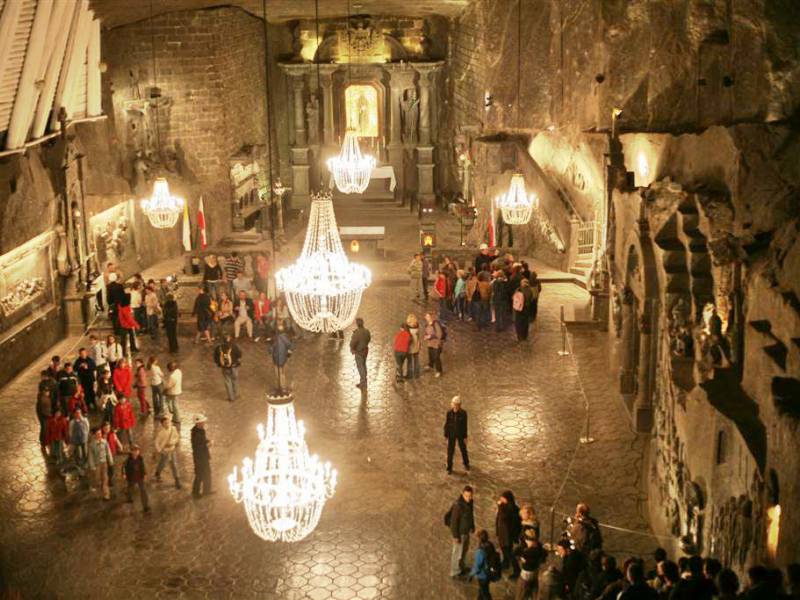 7. Wieliczka Salt Mine
Salt deposits mined in Wieliczka are even 15 million years old! The oldest traces of their exploitation by man comes from 3 thousand years BC. Initially, local people extract the salt by evaporating water from brine naturally flowing out of the ground. In the early Middle Ages (XII/XIII century) the first mineshafts were hollowed. Salt was one of the main riches of the Krakow region and Polish monarch surrounded the mines in Wieliczka and Bochnia with their special care. In the late 17th century the medical care of the miners was held by the real Polish Dr. Queen -Magdalena Bendzisławska, who took over the practice of her deceased husband and received a diploma confirming her competences as a surgeon from the King himself. It is only one of many fascinating stories associated with Wieliczka.
Wieliczka Salt Mine is located in the town of Wieliczka which is a short drive from Krakow. The mine was built in the 13th century and produced salt continuously until 2007. Nowadays the mine is purely a tourist attraction, with an underground museum, various salt sculptures, a lake, and even a gigantic chapel which is whole curved in salt. Inside the mine there are some spectacular photo opportunities, and the guides are knowledgeable and will keep you entertained with information and anecdotes about the mine.
8. Auschwitz Birkenau Museum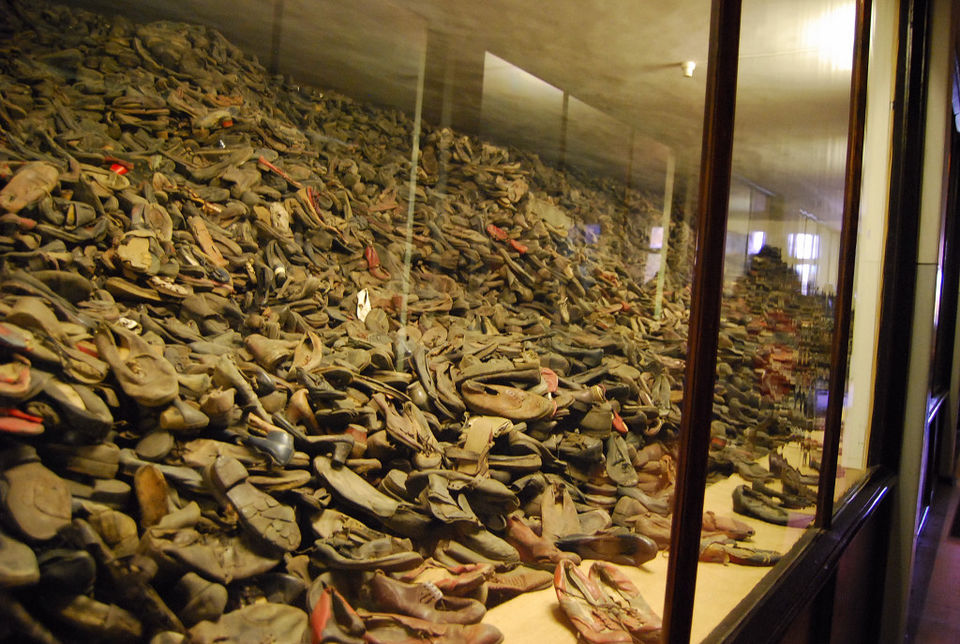 Oświęcim (Ger. Auschwitz) was annexed to the Reich after the German invasion of Poland and the concentration camp was established near the city in 1940. At the beginning of its existence most of the prisoners were Polish, but there were also Polish Jews (although at that time still not on a massive scale) and some representatives of other nationalities. After 1941, when the armed conflict between the Third Reich and the USSR began, many captured soldiers of the Red Army joined the prisoners. Soon, in a nearby Brzezinka (Germ. Birkenau) the Auschwitz II - designed as a death camp - was completed. It became a place of mass extermination for hundreds of thousands of Jews and about 20 thousand of Romani people, the true death factory, enforcing a plan of the 'Final Solution to the Jewish Question'. This infernal machine works until the liberation of the camp in 27 January 1945. Since 2005 the day of liberation is celebrated as the International Holocaust Remembrance Day.
For stags in Krakow: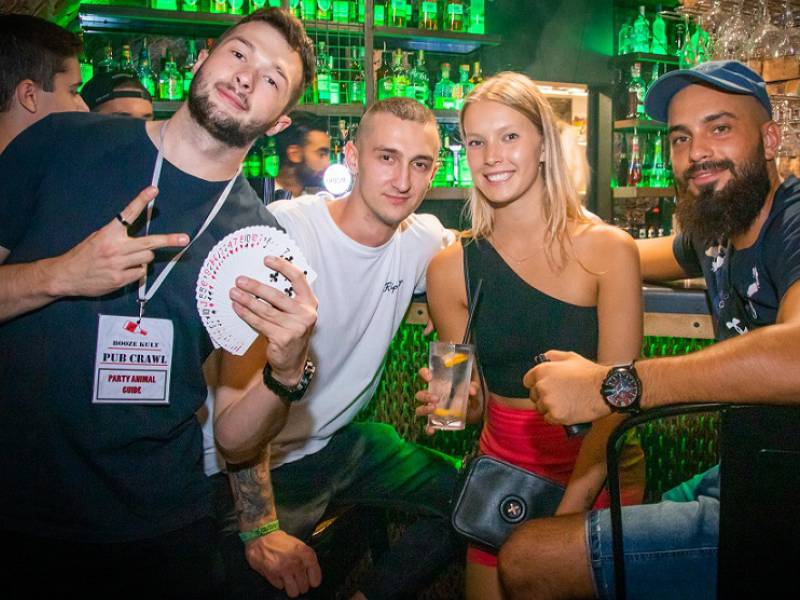 9. A guided bar crawl
There are a bewildering variety of pubs, clubs and restaurants in Krakow - unofficial stats claim there are around 400 bars and clubs here. They are concentrated largely in two areas: in the biggest market square in Europe and in the old Jewish district.
But it's not only the amount of clubs and bars, but the fact nightlife here is buzzing 6 out of 7 days a week. This is due to a very large student population (over 10 universities) that keep partying most of the week.
You can explore the Krakow nightlife on your own since it is a compact city everything is at hand. That said with a huge number of bars and clubs it's easy to miss the best ones unless you do your research prior to your arrival. Even though Krakow has numerous pubs & clubs it's better to get expert advice from dedicated stag do companies as it's very frustrating when large stag groups are refused entry to venues - get it organised & hassle free especially on the 1st night here.
10. Try the famous Kalashnikov shooting at the Krakow shooting range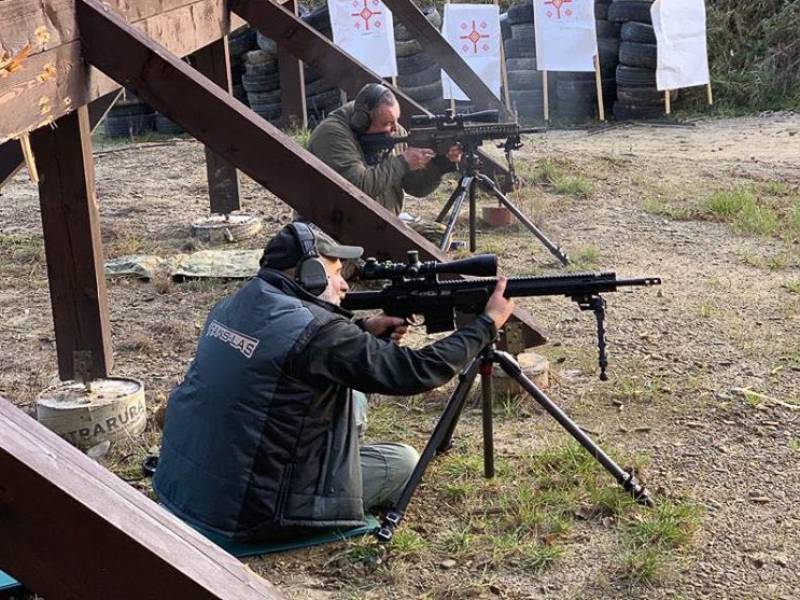 The original Kalashnikov rifle was invented in 1947 by, doctor of technical sciences and builder of small arms - Mikhail Kalashnikov. The initial AK-47 (Avtomat Kalashnikova model 1947) improved the AKM (Avtomat Kalashnikova Modernizirovanniy), The weapon is extremely durable, reliable and resistant to dirt. It is also easy to use and cheap to produce, making it ideal for mass production and the use of even poorly trained troops.The popular "Kalash" found a place in the Guinness Book of Records as the most common weapon in the world. Currently there are 100 million units of this rifle in use. When in Krakow on a stag do you will have a chance to try this gun as well as couple of other including the pump action shotgun, Glock or Uzi.
"The three most astonishing things in the past half-century were The Blues, Cubism and Polish Vodka" - P.Picasso
When in Poland it's a must to try a quality Polish Vodka. Nowadays most of people are aware of brands like Wyborowa or Sobieski or Zubrowka, which are simply put mass production vodkas. The quality is OK, the taste (as long as you mix it with soft drink !) is acceptable, but hey - did you know that vodka can be a gourmet spirit- same as whisky ? To give you an idea- Ballantine's is a good mass production whisky and goes well if served with Coke. But if you're into Whiskies you'd probably prefer to have a sip of Royal Lochnagar. Same story with Polish Vodka.
The Magic of Polish Vodka is the show based on vodka tasting experience of craft Polish vodkas combined with a themed illusion show. When visiting the country which invented vodka this is a must do stag activity ! The magician vividly tells curiosities about the history of vodkas as well as information about tasted beverages, weaving elements of the magic show into its story. A light and fun form where you can learn interesting facts about Polish vodka but without "historicism", and at the same time have a great time.
If you'd like to enjoy your Krakow stag weekend to the max without the sweat of having to organise all tiny details and tours by yourself, you might want to use a local expert stag do company like PartyKrakow - highly recommended.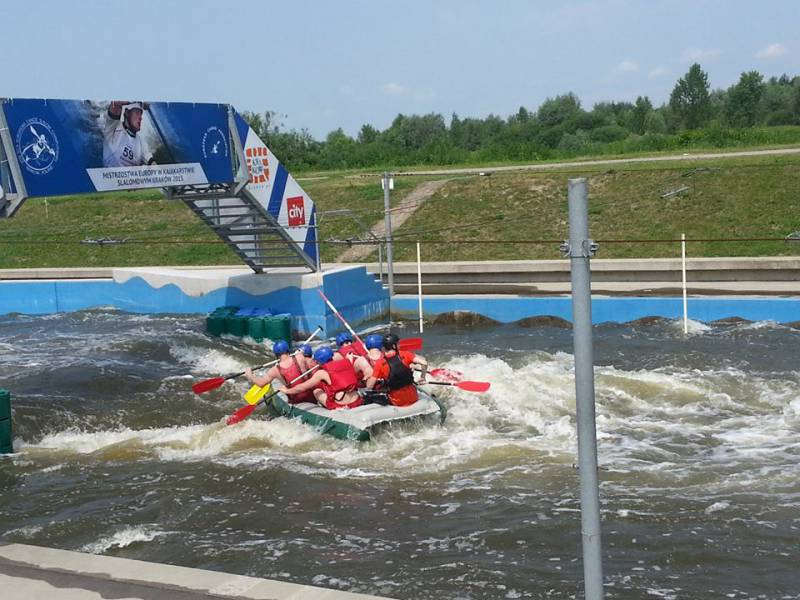 12. White Water rafting
A great opportunity to test your mettle and teamwork on a rafting challenge. This activity is popular especially with Krakow Stag Do groups and as company bonding exercises. All aboard the raft to navigate the river for a couple of hours followed by a hearty meal and a few beers 'n sing song, quite a day for sure. As always there are specialised companies providing this service so very easy to pre-book this exhilarating day out. However, if you do not have that amount of time you can book Krakow's Olympic standard white water circuit just a short trip outside of Krakow to enjoy this man-made white water run with your friends or work colleagues, this too, can be pre-booked from various agencies before you arrive in Krakow. WWR is open from April to November.
For kids and families
13. Sightseeing with children requires a blend of skill and sometimes unsurpassed wisdom.
Krakow's attractions can help you become Mum & Dad of the Year and best holiday ever, surprised? Take for instance the Legend of the Wawel Dragon defeated very cleverly by a cobbler's apprentice. Visit the dragon's den by the Vistula riverbank at the foot of the Royal Wawel Castle. The dragon was tricked with a sheep filled with sulphur and when the dragon drank water it exploded into a million pieces. They can explore the cave and the Wawel Dragon statue outside the lair breathes real fire, a great family snapshot opportunity.
Then onto the Royal Castle of Wawel at the top of the hill, this daunting medieval fortress will keep the younger ones enthralled with all the ramparts and passages to wander over, it won't be only the children's imaginations working overtime to be fair.
Some further attractions which will be fun are:
Main Market Square Underground Museum, free entrance with the Krakow Card showing daily life in Krakow from 800 years ago. Look out for the massive centuries old lead ball, another mystery for you to solve.
If you are a Leonardo da Vinci fan you might wish to visit the National Museum in Krakow (al.3 Maja 1) to view the famous Lady with Ermine painting on display.
14. "Krakow Disneyland"
If museums are not your thing for a family weekend, you can either visit EnergyLandia Park with its roller coasters, slides, scare houses etc... or visit a dinosaurs themed park where some of these fascinating creatures actually move, or go to "Miniatures Park" and see a miniature version of the Eiffel tower, Sfinx, Big Ben, or just enjoy yourself at Krakow indoor water park, with plenty of slides, saunas, and Jacuzzis
Romantic Weekend in Krakow
15. Romantic sights
There are many romantic places and scenic views that are particularly conducive to couples in love. Walking through the historic Old Town or the Jewish Quarter, Kazimierz will enhance any relationship memory. However, if you are looking for places little more secluded but equally charming, we offer several unique pathways. One of them being the Kazimierz-Podgórze footbridge 'Bernatka' (Krakow bridge of lovers where people fasten padlocks with their names as a symbol of an eternal love).
There is a beautiful and very picturesque Bednarski Park in Podgorze nearby footbridge Bernatka. This green area is located in a former quarry. Then you can go to the Mound of Krak, an early medieval barrow where the two of you can lovingly gaze over the entire city. Take a pleasant stroll through the Salwator district full of wonderful old villas and there is a really picturesque Premonstratensian Monastery located on the Vistula riverbank.
16. Boat Trip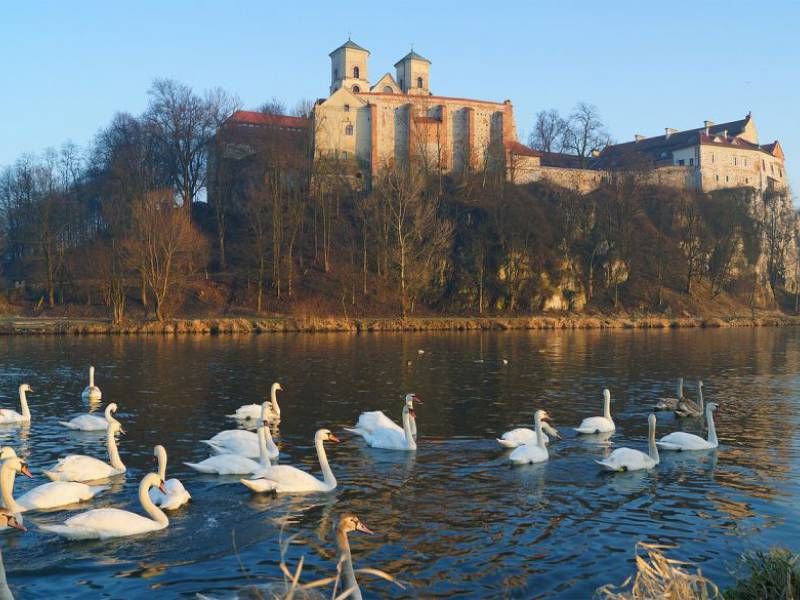 A romantic boat trip to the wonderfully situated Benedictine Abbey in Tyniec is also a fantastic idea. If you prefer to stay in the very centre, you should try the unique and romantic horse-drawn carriage rides to go sightseeing.
17. Horse Carriage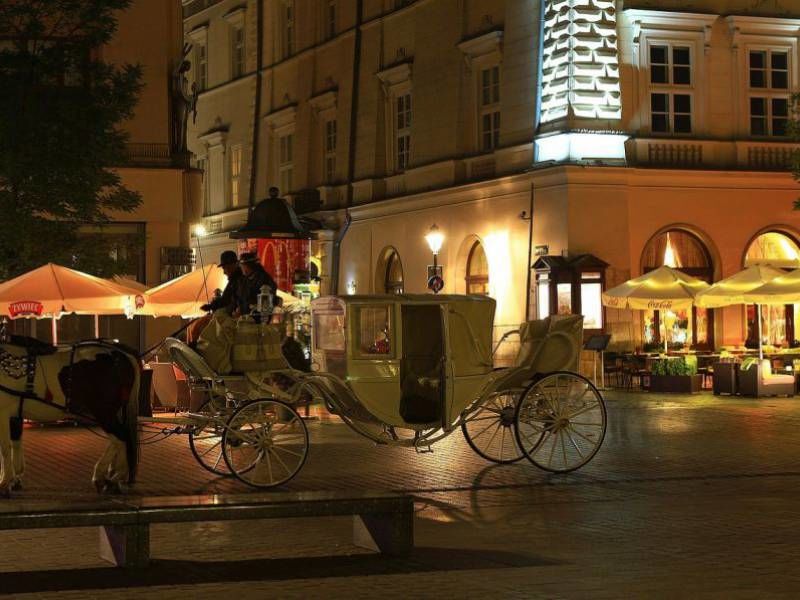 Horse & CarriageSightseeing tours are available directly from the main square as the carriages line the perimeter of Rynek in all their bright regalia feather head-dresses. These two-horse open top carriages will trot the Old town streets passing all the landmarks and monuments day and night and during the winter as the cabriolet version becomes a hard top with heating. Many 'Just Married' couples choose to parade their union with a famous Krakow Horse & Carriage ride.
18. Ojcowski National Park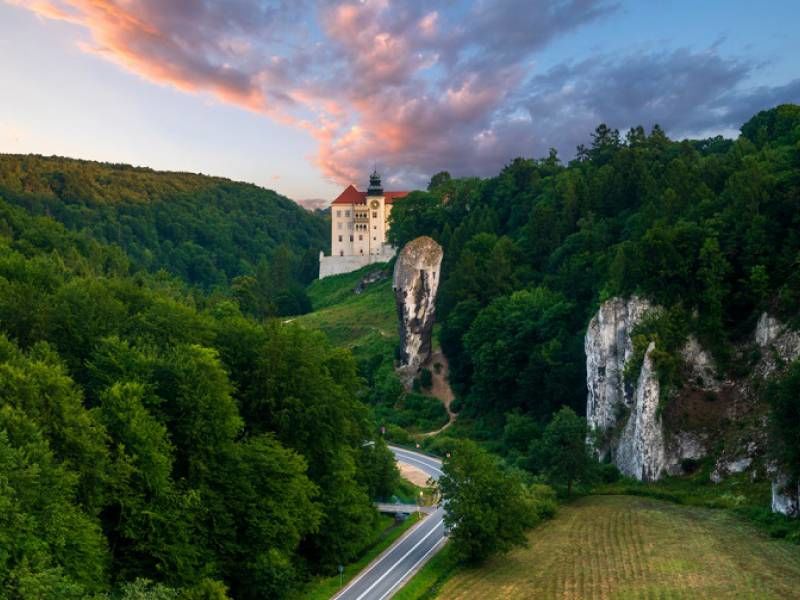 A short distance from Krakow this magnificent national park with forests and rugged limestone rock formations will give you a sense of nature you have never experienced. There are two castles, Kazimierz & Piaskowa Skawal to discover via the hiking paths. There are restaurants and places to sleep overnight plus Off Roading activities to reserve should that be your thing.
19. Zakopane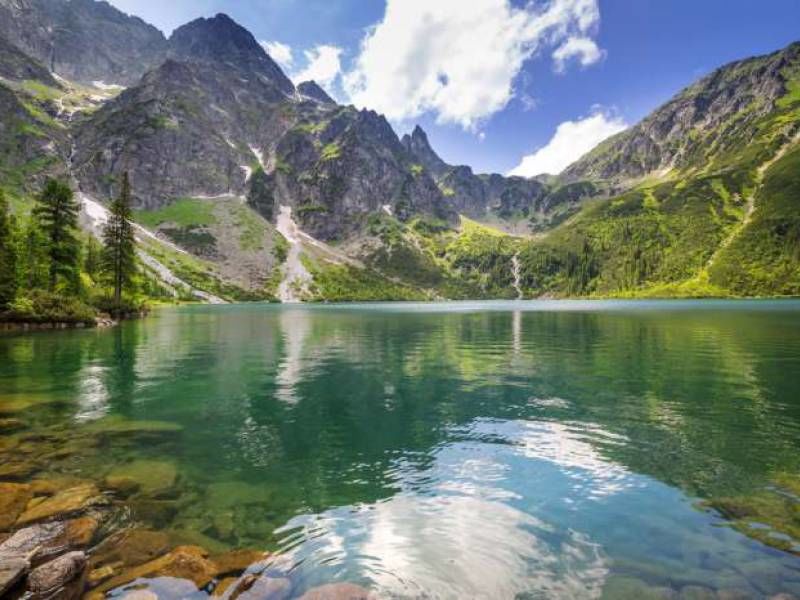 This mountain town is very popular all year round. In the winter it's a ski & snowboard resort while in the Summer a perfect city getaway to hike the mountain ranges. Excellent facilities and great local cuisine. There are many Spas and well-being centres in the area plus natural thermal baths. You can hire all your skiing & snowboarding equipment and may be try some snowmobiling too? No matter what time of year you go Zakopane will surprise you.
20. Also, a great variety of festivals and cultural events aimed at different groups of interest, min.: for college students- Juvenalia for rugby tours - Krakow Rugby Festival for music lovers- Krakow Live Festival for theatre enthusiasts- Materia Prima Festival for Krakow Jewish Culture Festival
Etc... you can a full list of the major festivals here
- for college students- Juvenalia
- for rugby tours – Krakow Rugby Festival
- for music lovers- Krakow Live Festival
- for theatre enthusiasts- Materia Prima Festival
- for Krakow Jewish Culture Festival
Etc… you can a full list of the major festivals here