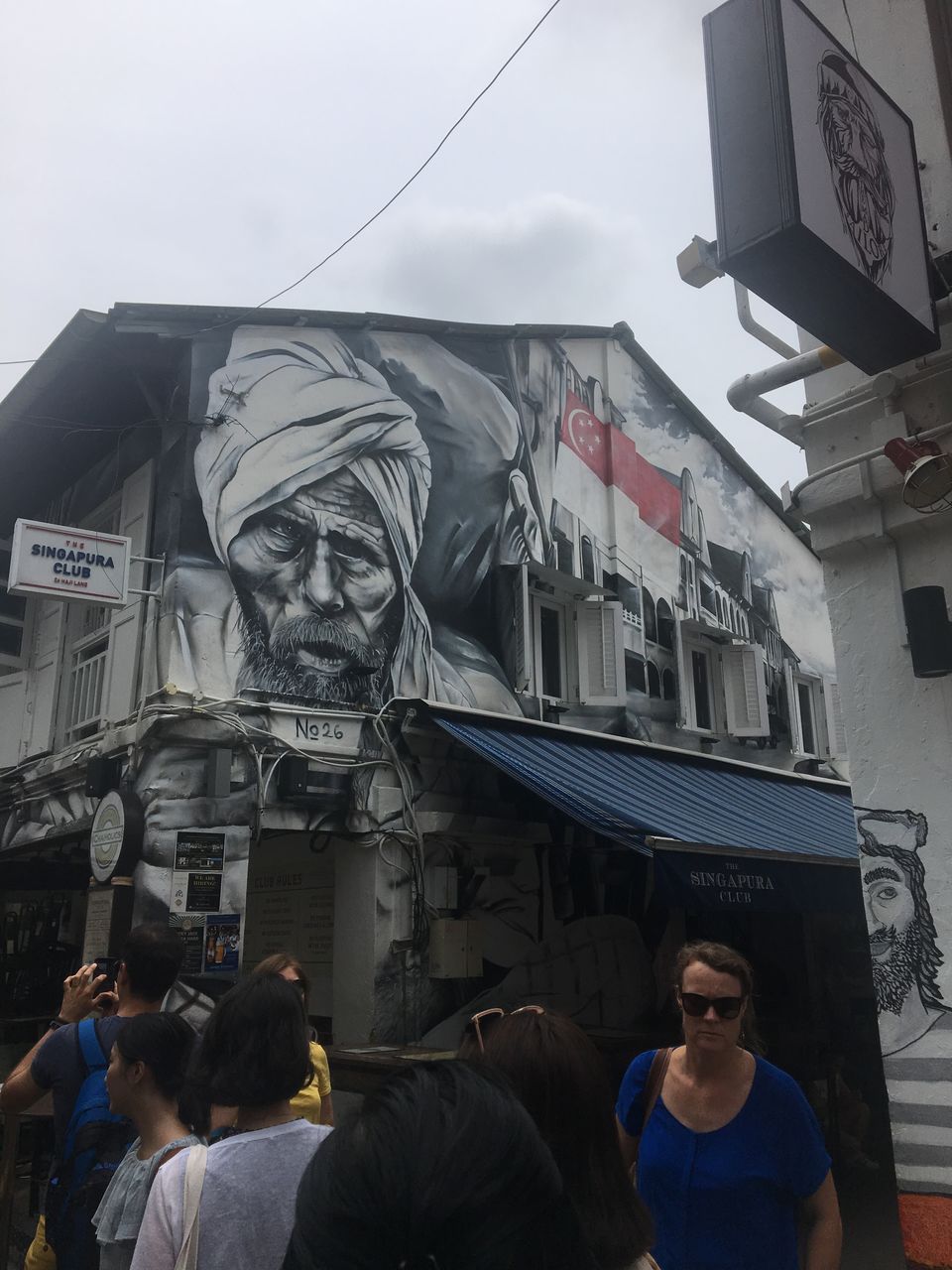 Singapore is a small country and mostly referred to as a city. Singapore is known by a lot of names like " the garden city", "the future city" or "the lion city" and it does justice to each one of them. In this blog I won't be telling you much about the historical and geographical background of this city, as you can always google it. This blog is about covering the best of Singapore in two days or most precisely two and a half days. Because Singapore is one expensive place.
DAY 1.
We landed in Singapore on 10th of June in the world's best airport, the Changi airport. the airport itself looks out of this world with orchids and plants at every nook and corner of it. we had to touch the orchids to actually believe they were real and not artificial. But we soon realised that Singapore don't do fake, they do everything fancy.
Moving on, we met the guy who was there to pick us up after a little panic episode when we almost lost our luggage with all our clothes in it. It's a long story, so lets save it for some other day. Nevertheless, we soon made out of the airport and yes, we found our luggage. Hello, Singapore.
Although we were so tired from our overnight flight, we could not blink an eye once we were on the road because Singapore is way too beautiful to blink and miss even one scene. Soon, we reached our hotel and as it was a bit too early for check in, we decided to keep our luggage in the hotel lobby and head out to grab some lunch. We were starving, all we ate in the morning was boring airplane food. As we were staying in one of the prime locations of singapore called "orchard road" , it was easy to find places to eat nearby. Now, my friends have already suggested that we eat at hawker centre's in Singapore for their amazing quality food and also to save some money. So when we spotted a hawker centre right opposite to our hotel; we were more than happy. We ordered Singapore's national dish "chicken rice". Chicken rice comes with rice, some boiled chicken and some boiled veggies. They have different sauces to go with it which one can take according to one's taste. The food was delicious and these hawker centre's are so freaking clean.
After that delicious meal, we were dying to get some sleep. We were so freakishly tired. So we quickly checked into the hotel and went to our rooms. Bedanga (my husband) announced that we only have a couple of hours to sleep as we are going to the Singapore zoo for the "night safari". Trust me, I was not at all excited to see animals in closed spaces after spending my entire night in planes and airports. But we have already booked our tickets for it, as it came highly recommended from a lot of our friends.
Post afternoon siesta in Singapore, we hurriedly got ready for our rendezvous with some wild animals in Singapore zoo. Now, Singapore night safari is almost an hour long safari in a tram like vehicle which familiarises you with the nocturnal animals and their mysterious life after dark. As we inched closer to the Singapore zoo i noticed street signs displaying the speed limit of vehicles as animals cross the road. I was a bit surprised as it was a zoo and not a wildlife sanctuary we were entering. But these sign boards definitely piqued my interest. So, let me tell you about the singapore zoo in general and night safari in particular. In the singapore zoo, the animals are not held captive in cages like in our zoos. They are kept in their natural habitat and the entire zoo has dedicated trek routes for the visitors from where they can spot the animals from a safe distance. Although, for some animals like tiger and lion, they have a safety glass between the animal and the visitors. Basically the Singapore zoo is like a big tropical rain forest with wild animals roaming freely in their natural habitat. The purpose of the night safari is to familiarise tourists with the nocturnal animals. These animals can be seen in their most active state during the night. The tram passes through narrow dimly lit passages with a pre-recorded message playing in the background which informs the tourists on what they are seeing. Trust me, it's an amazing experience. I have never seen so many wild animals in such close proximity. We were exhilarated by the end of the trip. Oh! how we wished for it to never end. But it ended and we came out of our zen only when our stomachs squirmed for food. There are restaurants right outside the zoo where one can have their share of multi cuisine food. We then went back to our hotel. I took a long hot shower and slumped into bed. But not before posting some amazing insta stories (*wink wink).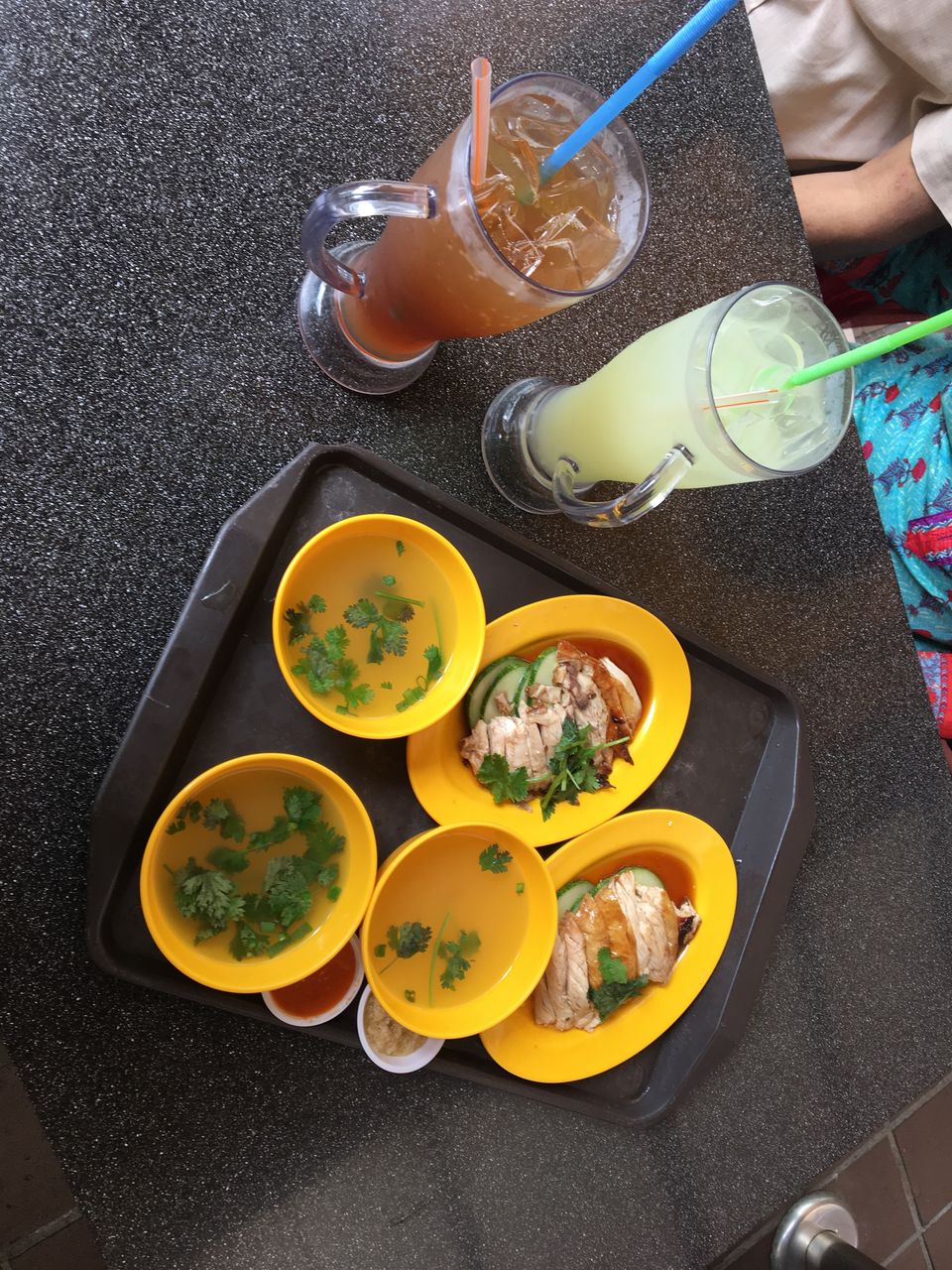 Day 2 in Singapore was dedicated for the city tour. We had a driver and a vehicle at our disposal and we were free to go explore any part of the city. My pinterest gyaan came in handy and off we went to explore the various neighbourhoods in singapore. Our first stop was "chinatown". I love chinatown. Everywhere we have travelled in south east Asia, we always go to china town. They never disapoint. Chinatown in Kualalumpur too was amazing but we loved Singapore Chinatown better. It was more beautiful with rows and rows of colourful houses which have been renovated. The market was amazing, with some really cool shops. Now, the most iconic place in chinatown was the "buddha tooth relic temple". It's a huge Chinese temple right in the middle of the Chinatown. It's beautiful from outside and even more beautiful from inside. Must must visit place in Chinatown. After roaming around for a bit in the Chinatown and taking in the amazing architecture details while merging in with the modern skyscapes of Singapore; we then made our way to our next stop which was "little india". Our driver told us that singapore has the highest population of Chinese and Indians are the third highest population group of Singapore. (aren't we colonising the world now eh!!). Little india was in every aspect a piece of India in Singapore. The market place enthralls all your senses at once. With indigenous sabzi markets and flower shops lining the streets, we find it okayish to visit. You can skip little india if you want. The most visited place in this neighbourhood though is "mustafa" shopping centre which is a huge huge shopping enclave with cheap electronics. As we were not intending to buy any, we skipped going inside it.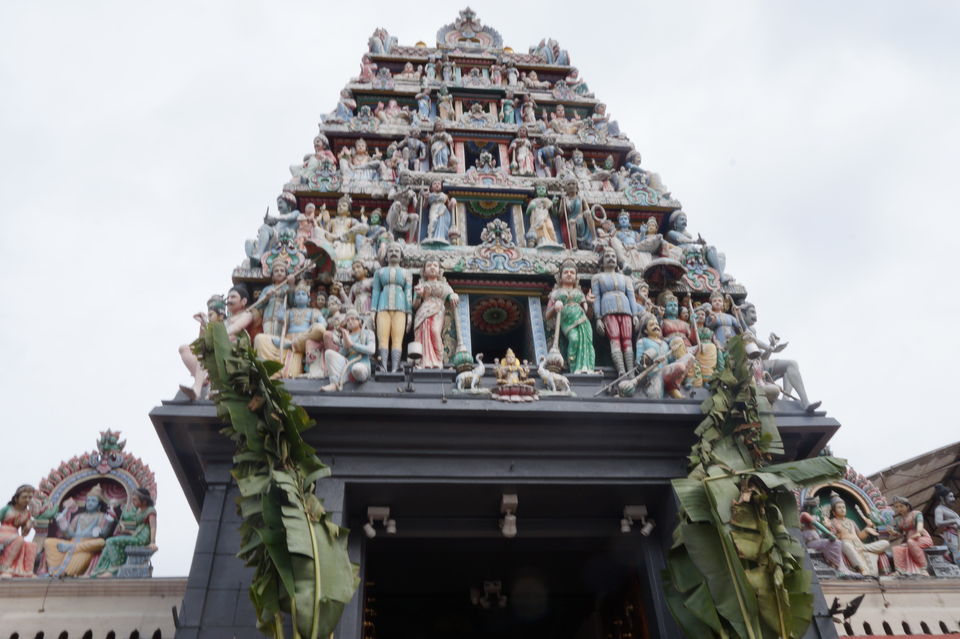 Moving on, we made our way to the next stop. I was the most excited to visit our next stop as all my favourite instagrammers and travel bloggers swear by this neighbourhood for being the coolest in Singapore. Yes, it's the "haji lane/arab street". And it truly is the coolest street in Singapore. It has amazing street art, coolest cafes and prettiest boutique shops where you can buy trinkets and souvenirs to bring back home.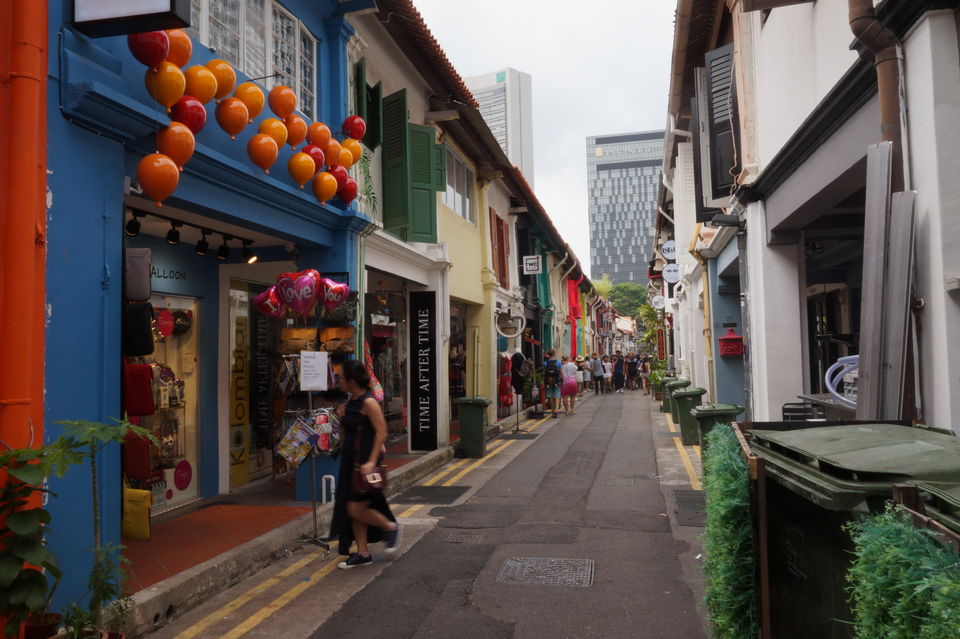 We were just running around clicking pictures at every corner and soaking in the cool hippie vibe of the place. At the end of it, we were starving for some food as we have walked a lot. A tip here is to take along comfortable shoes with you while visiting Singapore as you will be walking a lot. A LOT!! Our next stop was bugis street for some street shopping and bugis junction for some high street shopping. Singapore is paradise for shoppers. It is the most epic shopping destination in Asia. And while we were in Singapore, it was the sale season in the city which goes by the name of "the great Singapore sale". We went totally bersek in bugis junction. Every store was in sale. I headed to the "innisfree" store to buy some beloved face masks and also went to some other korean beauty shops to buy skincare products. Now another tip is that, whenever you visit any south east asian country, stock up on skincare products, as they have amazing skincare range and sometimes they are even cheaper then in india. Especially korean beauty shops are a must must visit. After stocking up my beauty cart, i went to "cotton on" store and the entire store was on sale. Freaking unbelievable!! I bought dresses, shoes, shrugs from "cotton on" as we were running short on time to explore all the stores. Hence, we made our way to our next destination and I was too sad on leaving the shopping paradise in bugis. Our next stop was merlion park. Merlion park is basically the Singapore promenade with the merlion standing tall and water coming out of it's mouth. I know it's too cliche but we had to click a picture with the merlion background. Right across the promenade is the high and mighty "marina bay sands" hotel with the most amazing architecture and the highest infinity pool in the world. If you think that our day has ended, you are very wrong. We still have "gardens by the bay" to cover. Our most anticipated destination of the day.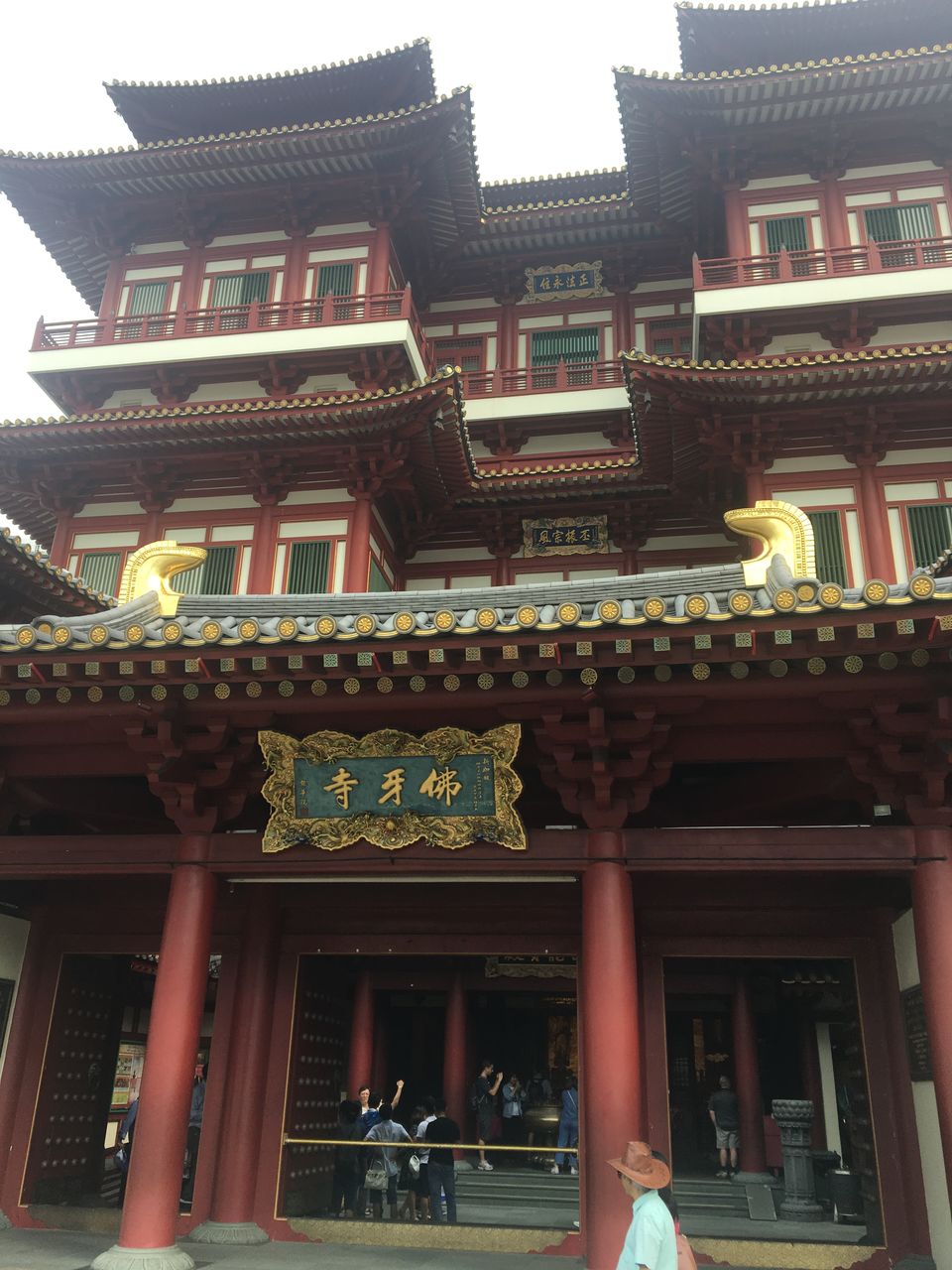 "Gardens by the bay" is a humongous area. You don't need to pay any entry fee to enter the gardens. But, you need tickets to go into the two observatories inside the gardens. I suggest you pre book your tickets online or ask your travel operator to do so. If you are booking through a travel operator, be specific about the fact that you want tickets for both observatories as they need separate tickets. The observatories are "the flower dome" and "the cloud forest". Flower dome houses thousands of flower species from across the globe in a controlled temperature. You will have to see it to believe it. The cloud forest houses the world's highest man made waterfall inside it. The temperatures are controlled to keep it cool and cloud like effect is given by I don't know what kind of technology. But it's amazing. Out of this world amazing actually. We were so tired at the end of the tour that we were thankful to sit on the ground while we wait for the light and sound show of the supertree grove. These supertrees light up at night for the show called "garden rhapsody" and believe me when I say that it's so beautiful that I cried. Literally cried. After the light and sound show we walked to the marina bay sands mall. Did some mall hopping with whatever energy we had. but who can say no to window shopping in "chanel" right!! We had our dinner at the mall food court and headed back to our hotel in the metro as we left our driver after he dropped us at the gardens by the bay. Now i can write whole paragraphs telling you about the impeccable metro connectivity in Singapore but let's not do that here. And just like that, our day 2 in singapore FINALLY ended. Inspite of being dead tired from the day long adventures, I could not sleep right away because i was too excited for the next day as we were going to the "universal studios" woot woot!!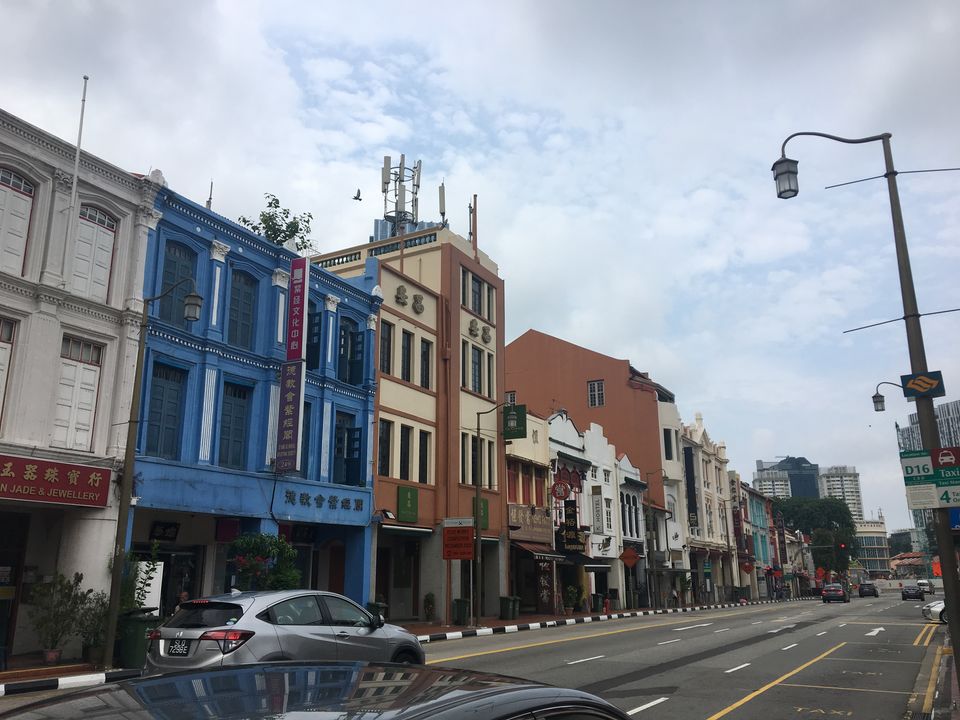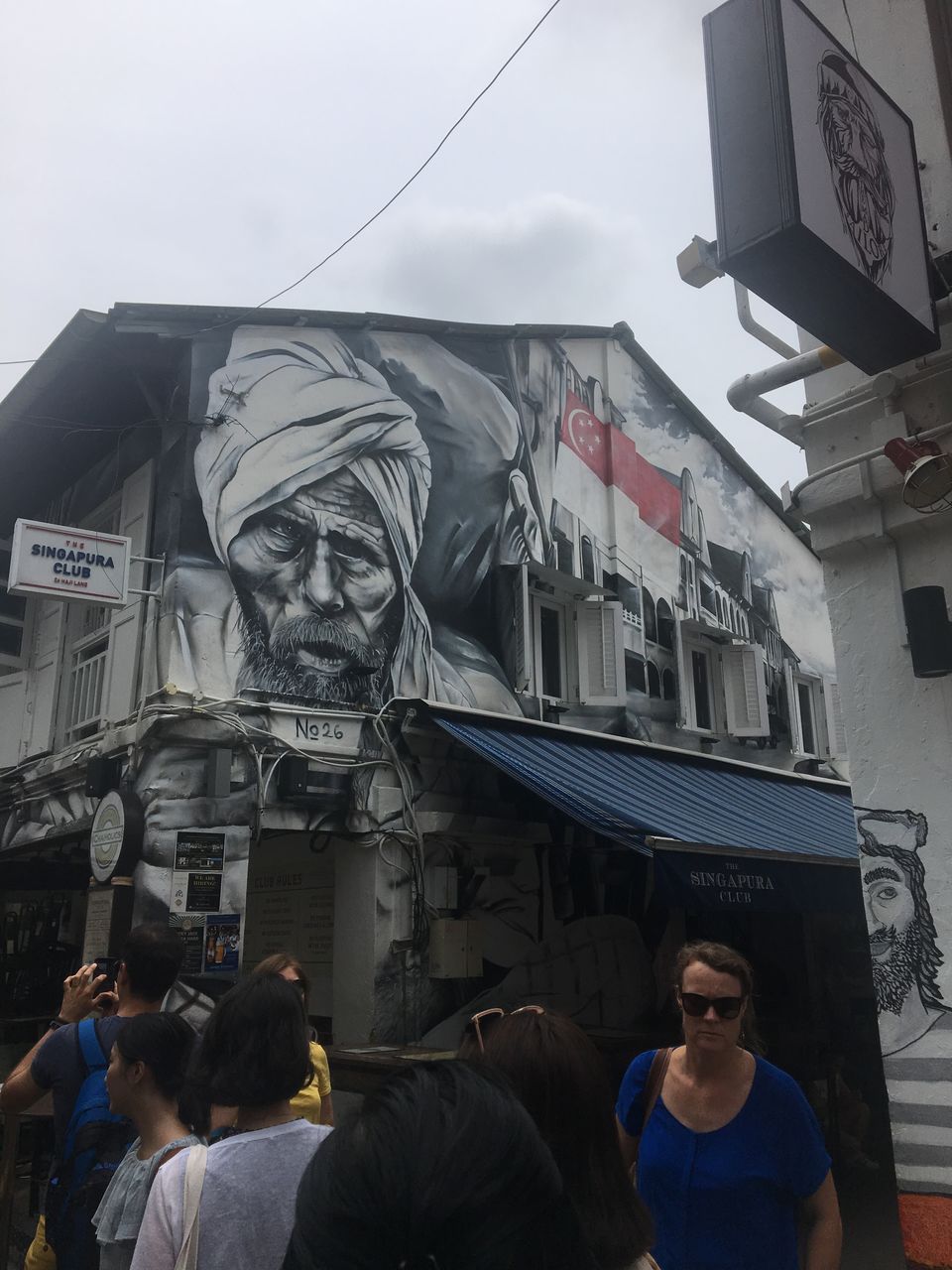 Our day 3 started with us getting into our most comfortable clothes for a day long adventure in the "universal studios". Now this has been on my bucket list since forever and when i was finally going to tick it off my list, I was jumping with excitement like a child in a candy shop. We made our way to the sentosa island which houses the universal studios quite early as it gets pretty crowded and it's advisable to reach as early as possible. We went there on a Monday as it is less crowded on week days compared to weekends. We reached by 10 am and after clicking our pictures in front of that famed globe, we went inside. Now, I don't want to divulge much about what's inside the universal studios as it will be a spoiler. But you cannot miss out on the jurassic park, mummy and transformer rides. You just cannot. There are food stalls everywhere inside the studios. You need not worry about food cravings. After spending some happiest hours of our life inside the universal studios, we came out of it at around 4 pm.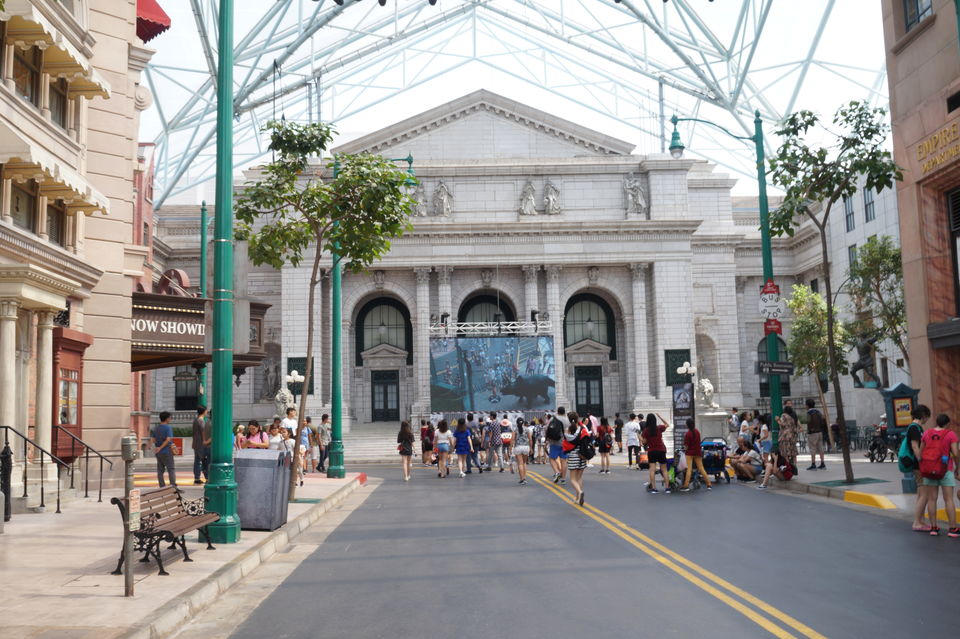 Our next stop was the sea aquarium right opposite to the universal studios. If you are someone interested in experiencing some marine life without diving into the deep sea, you must visit this aquarium. It houses a large number of fishes and other marine animals. That day too, we walked a lot. Our feet were crying for some rest at the end of it.After the sea aquarium, we went back to our hotel just as it was getting dark. But, we still had some shopping to do in the orchard road as we were flying to Thailand the next day. So, we quickly took a shower, changed into some fresh clothes and went exploring orchard road. Now, orchard road is every shopping lover's dream destination. The entire street is lined with shopping malls on both sides. From louis vuitton to zara, you name it and orchard road has it. We made our way to a mall called "ngee ann city" and went inside the "charles and keith" store. Why "charles and keith" you ask?? Because "charles and keith" is a brand based out of singapore and you can buy bags and shoes at a much more reasonable price then in any "charles and keith" store in India. If you visit singapore, do shop from "charles and keith". It's way too amazing to miss. So, after shopping and some mall hopping we walked back to our hawker centre where we ate on our first day, ate some dinner and sat there as the world passed by us in Singapore. Sad to leave this amazing city we still went back to our hotel and packed, as we had an early morning flight next day. Our suitcases and our hearts were full from all the love from Singapore.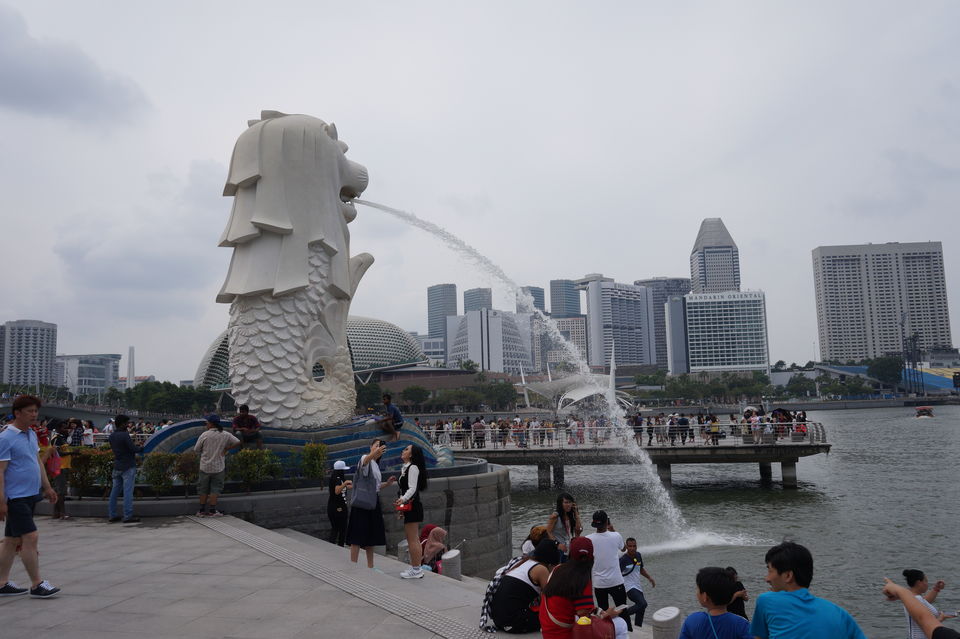 For all the amazing pictures from our Singapore trip, do follow me on instagram. My username is candid_scribbler.