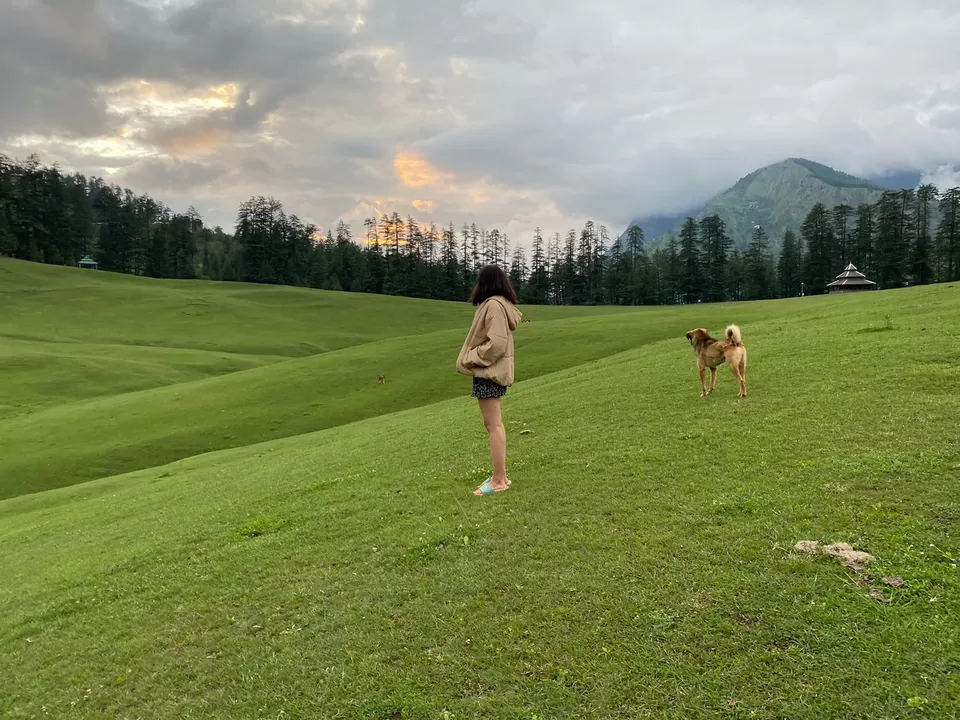 House Of Stories, Shangarh, Himachal Pradesh.
Out of all the places I've been to in Himachal in the past two years, a few have really touched me enough for me to write about them. House of Stories, Shangarh is one of them.
People say it's not about where you travel but who you travel with which makes your journey memorable, House of Stories changed that and made me realise a place can be your home and all the people who stay there can become your family.
I went to House of Stories as a solo traveller in April this year and in no time Vrinda and all the fellow travellers there became family. House of Stories has a very lively young vibe with backpackers from all over India. If you've seen their Instagram (which bdw you MUST follow) you already know butter and fly-the lovliest dogs ive met. They've been a part of House of Stories from the very beginning and now have added a cute little member- Uno to the family. I'm sure I won't be able to express all that I felt here but I'll still try. This was my first ever solo trip and couldn't have asked for a better place, a better property and a better Host! The people at House of Stories were available throughout my stay, even sometimes during the middle of night if I needed something. I hiked alone, chilled with groups, ate with everyone together like family, spent so much time with dogs, sat watching the marvellous Himalayas change colors in front of my eyes everyday, and saw the Milky way for the first time right from the House of Stories frontyard.
Location:
The first thing you will fall in love with once you reach House of Stories is the view! The view from my window made me stop and stare at the snow clad mountains and the most beautiful cloud formations. The sunsets were magical and whenever the skies were clear in the night we'd sit out and spend hours under millions of twinkling stars. The 180 degree view from House of Stories was definitely one of my favourite things. Trust me, just sit there in the grass and marvel !
Accommodation:
The hostel has 3 private rooms and 2 dorms with 4 beds each, all of which come with attached bathrooms. I stayed in the upper 4-bed dorm and it's the coziest room I've ever stayed in! They had dedicated work spaces, Wi-fi and power backup which was perfect for the workcation I had planned.
I spent most of my time during the days working from their common room. Playing Taboo every night after everyone finished work had become a routine and even today I miss those nights of endless laughter.
House of Stories, shangarh had multiple corners to set up your work desk, my favourite one was the small balcony area upstairs in front of my dorm overlooking a large outdoor space ahead (which was our bon fire adda), it had cute floor cushions and the wall was decorated with lights, macramés and frames of beautiful pictures of Shangarh clicked by Vrinda.
Food:
You'll get delicious home cooked vegetarian meals at the hostel. They also used to make me non-vegetarian meals on request (You must must must try their chicken curry!!)
Apart from this they also have a café at a 10-minute walking distance which serves Continental, Italian, Chinese and a lot more scrumptious dishes for all your cravings. From pizzas and pastas and falafel and burgers to Dal makhni and puddings, they have a vaaaaast menu and you will not be disappointed!
Price:
The dorm charges at House of Stories range from 500-750 depeding on how many days you're staying. They have their long stay packages going on for people like me who can work from anywhere. They have multiple packages offering breakfast, all meals etc and you can always get in touch with Vrinda for what suits you best.
Things to do around the Hostel:
The green spreads of the Shangarh meadows and a sunset point- both at a 15 minute walk from the hostel had become my go to spots. Apart from these there are multiple hikes and waterfalls to explore in Shangarh To name just a few out of the many many places you can and mist visit in shangarh, Ganjau thach, Thini top, barshangarh waterfall, sara lake, shumga thach are some of the hiking trails. I also went to this stunning waterfall Rupi Raila 45 minute drive away from House of Stories. Other than this, Raila twin towers, Manu Rishi temple in Shanshar, Deohari or Deori, Upper neahi, pundrik rishi lake and many many moreee villages. On a weekend, all of the hostelmates decided to drive down to Lahaul and it is one of my fondest memories of this trip! Lahaul is just around 4-5 hours from Shangarh and you can take a cab or plan this with other travlers you meet at the hostel and you will not regret!!
MUST TRIES at Café stories n' more:
You absolutely cannot miss out on their hand beaten cold coffee, Nutella pudding, sizzlers and Nutella Pancakes. You can also ask for their current signatures and chef's recommendations.
How to reach Hos:
Take any bus going towards manali/kullu/bhuntar/kasol from Delhi or Chandigarh and get off at Aut tunnel. Hereon, I took a local bus to Sainj and further, a cab to Shangarh. You can take a direct cab from Aut to Shangarh too!
If you'd like to enquire or book your stay at this amazing place I now call home, you can get in touch with Vrinda at 9811803439/7982761911.