Maldives…. My first sight of this mesmerizing island made me believe If there is Heaven on Earth then it's here.. "The Blue heaven" as I call it. I have never seen anything more beautiful in my life...from sugary white beaches to breath taking luxurious water bungalows, reef ringed atolls & vibrant sea life. It is truly a slice of paradise on Earth. Country blessed with everything you need for a perfect beach holiday with friends, family or someone special.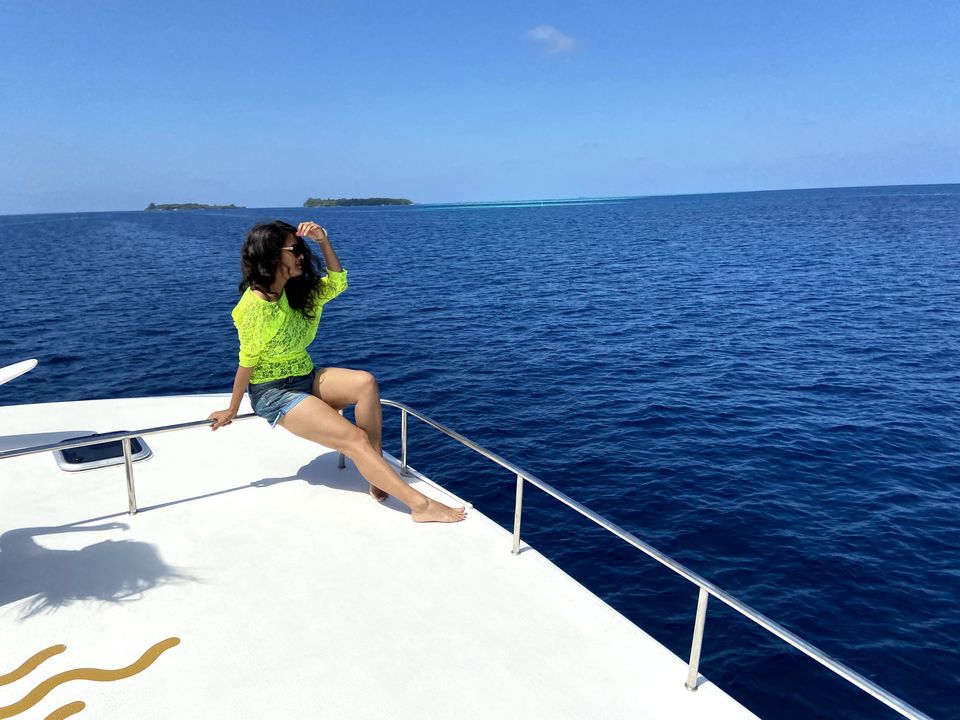 My trip started from Mumbai with the Monster fear- COVID-19, I was a bit scared to enter the airport which I found deserted. I asked security officers at the entrance and they told me air traffic is getting drastically reduced due to Corona fear, which spiked my anxiety.
Once inside the terminal, I located my first 2 co-travellers from Pune- Gagan, Monika and later Nafisa aunty and Roshan with our traditional Indian greeting Namaste which became a joke throughout our trip. Finally, all the Travel Khiladi's from Mumbai, Delhi, Hyderabad, Bangalore collaborated in Sri Lanka and boarded the connecting flight to Maldives @srilankanairlines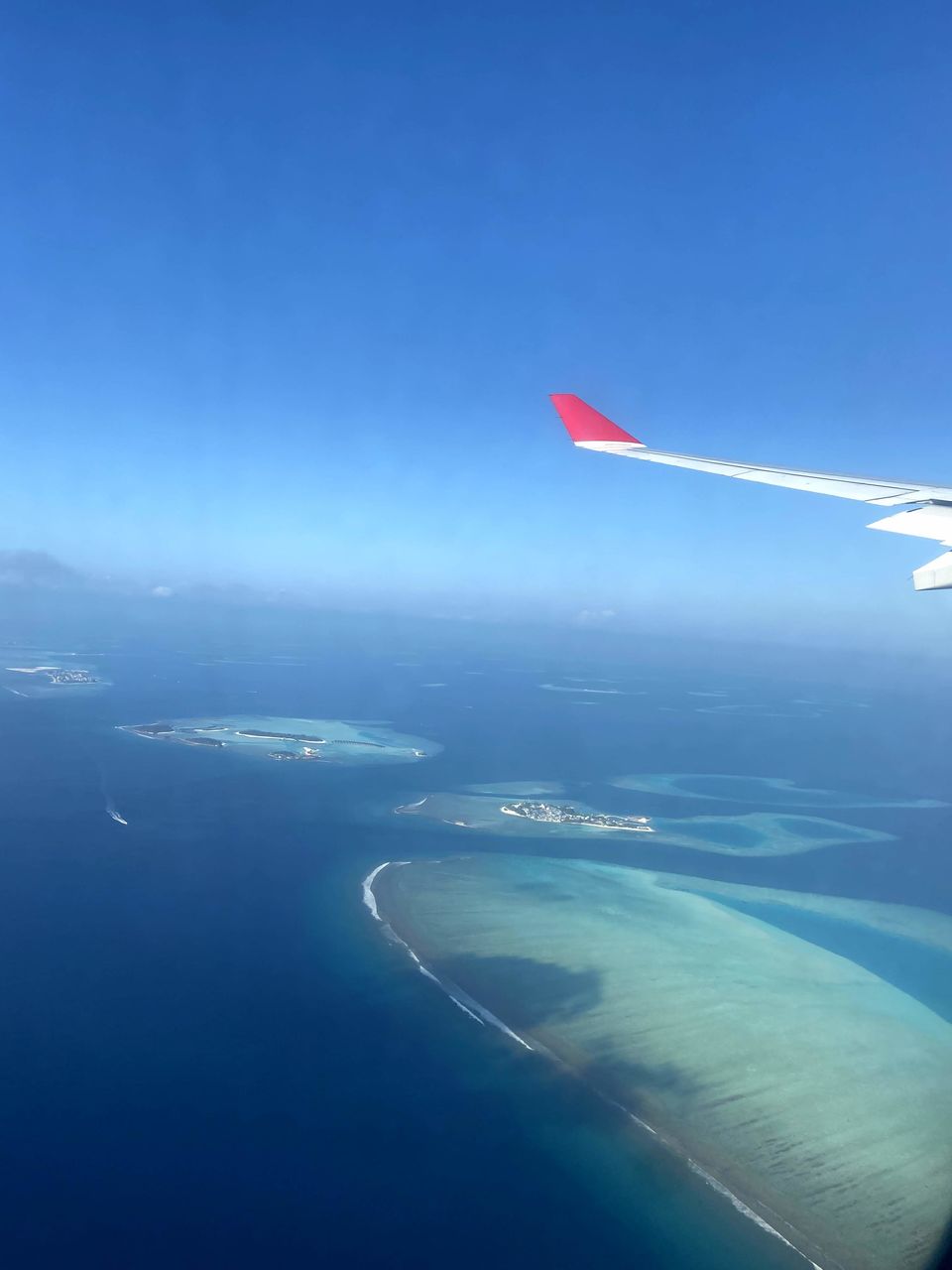 Maldives has been long known as a destination for millionaires staying in expensive private islands, but since the authorities have opened up Maafushi, a local island for tourists, Maldives is now within the reach of budget travellers as well.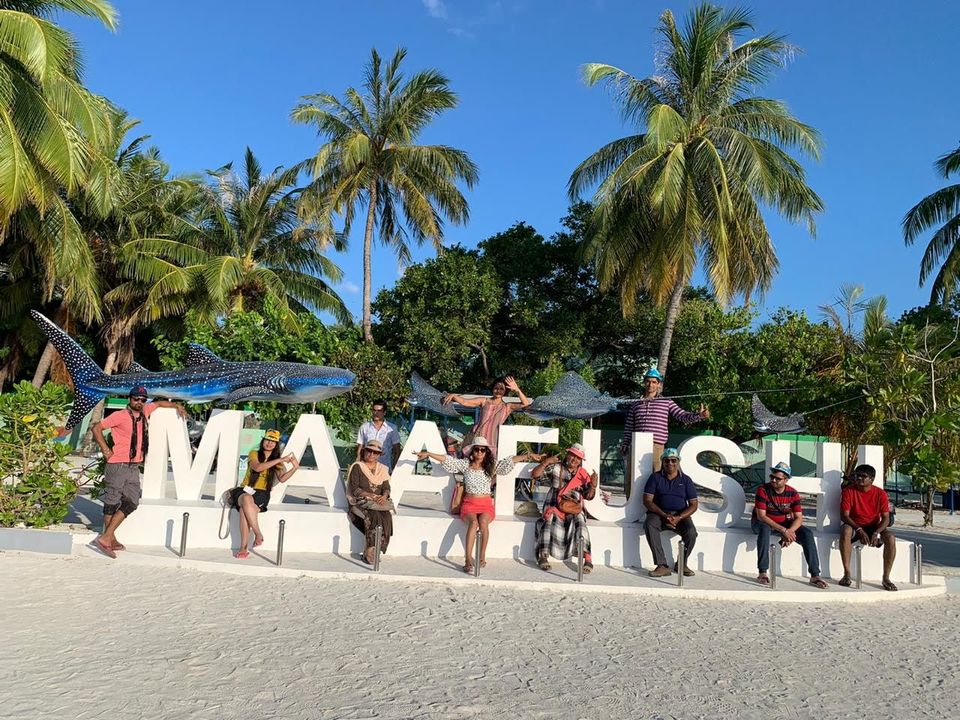 As you land in this piece of heaven and step out of the airport, you are spellbound with the breathtaking beauty, sparkling blue ocean for as far as your eyes can reach. After the overnight flight, a speedboat transfer to our hotel waited for us just outside the airport.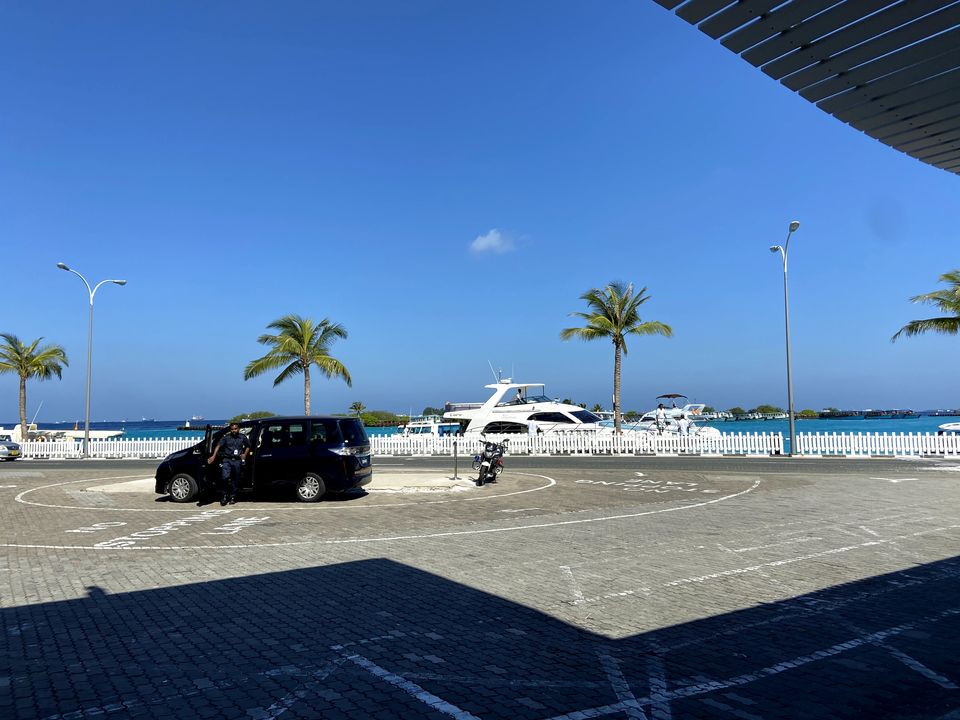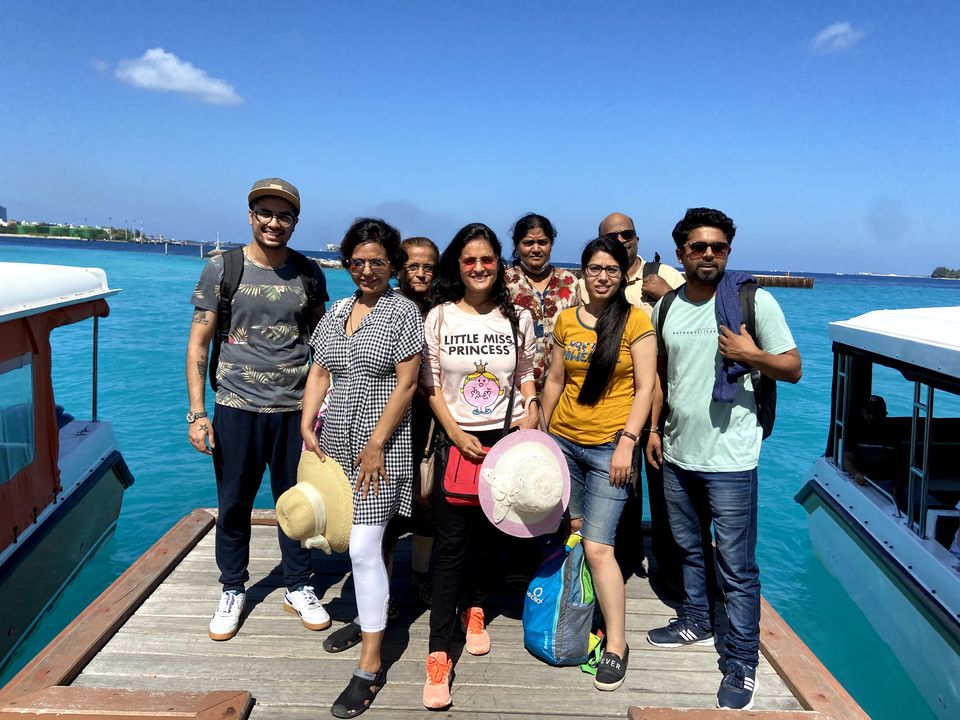 We had a warm welcome with a tropical drink at the Hotel Arena Beach. After check-in and a short nap, we kick started our trip. But first comes food so we indulged in a scrumptous lunch at the hotel. Some of the must-have dishes were Fish Reef Kebab, Pineapple Rice, Big Beef Burger and Roshi (Maldivian roti). Our hotel offered us complimentary fruits to beat the heat post-lunch which had the juiciest, most succulent oranges I have ever had.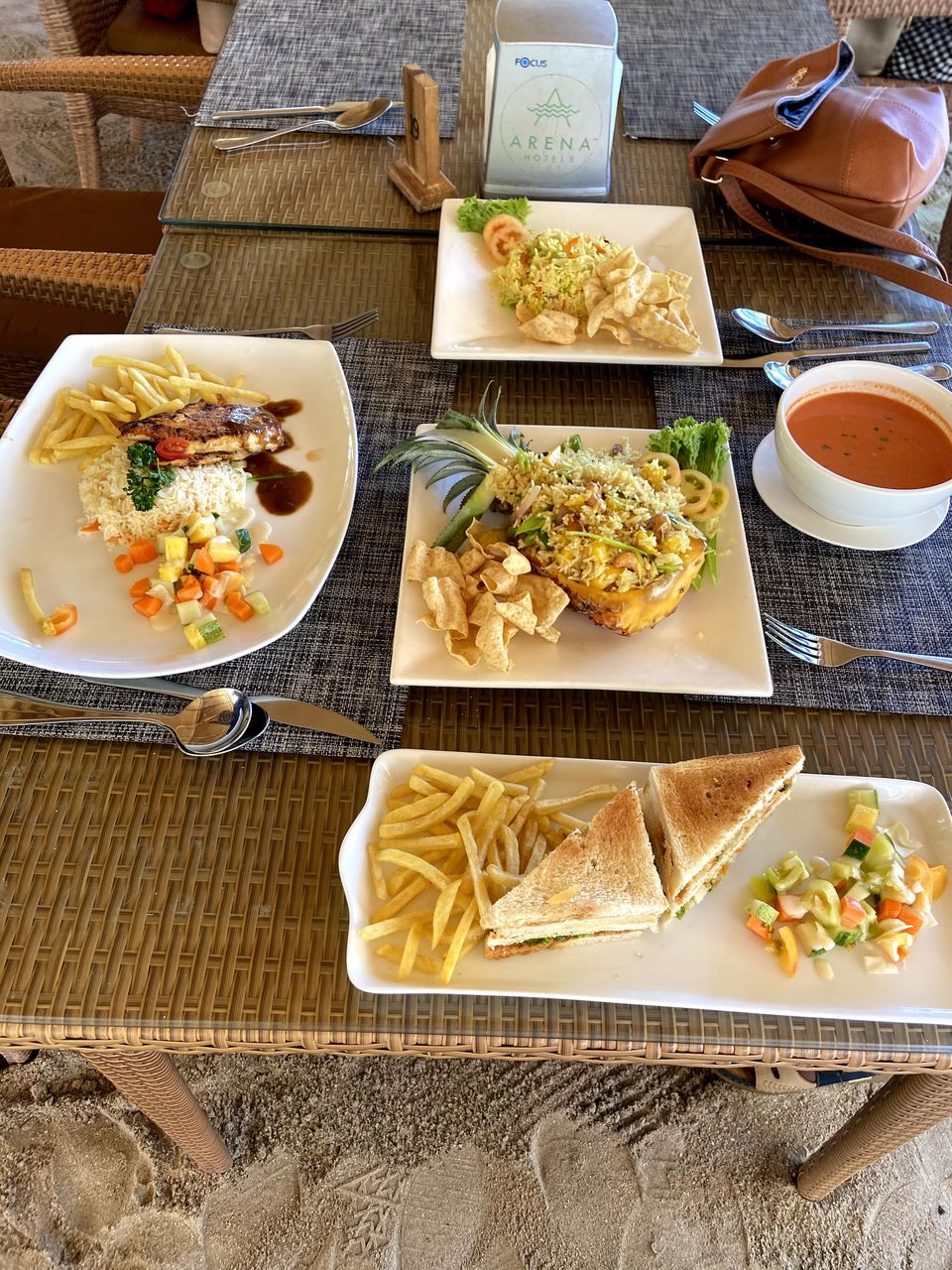 The day we landed in Maldives was the "International Women's day" and hence the time of celebration for all of us. All the beautiful women of the group (including myself) were greeted with boxes of goodies by our gentlemen fellas and a round of photo sessions followed.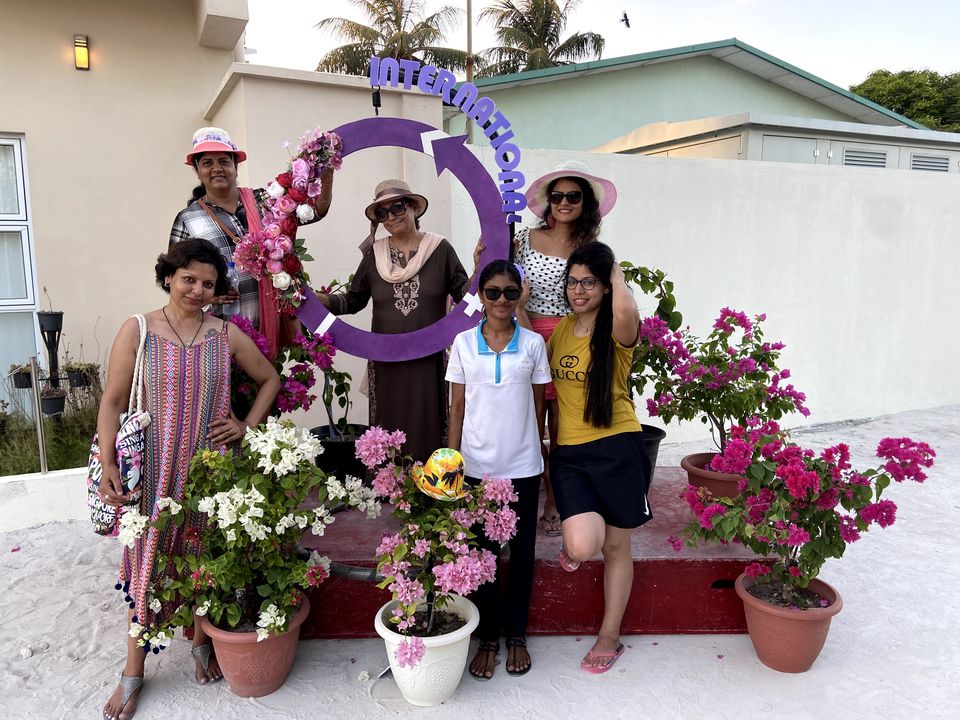 I recommend the first thing to do is "meet and greet with Maldives". We decided to do a walking tour of Maafushi with our local representative from the hotel. She took us through Bikini Beach, Maafushi Signage Point, Various official buildings, Maafushi prison (largest on the island), mosque, some beautiful swings by the beach for nice clicks... The island is full of cool and scintillating vibes and so was our group. No matter the age group we all gelled so well at the start of our journeys.. The highlight of the evening was - Monika and Nafisa aunty dancing on Bin tere Sanam in the walking tour. You can choose to explore Maafushi on foot or take bicycles which are available at free of cost from the hotel.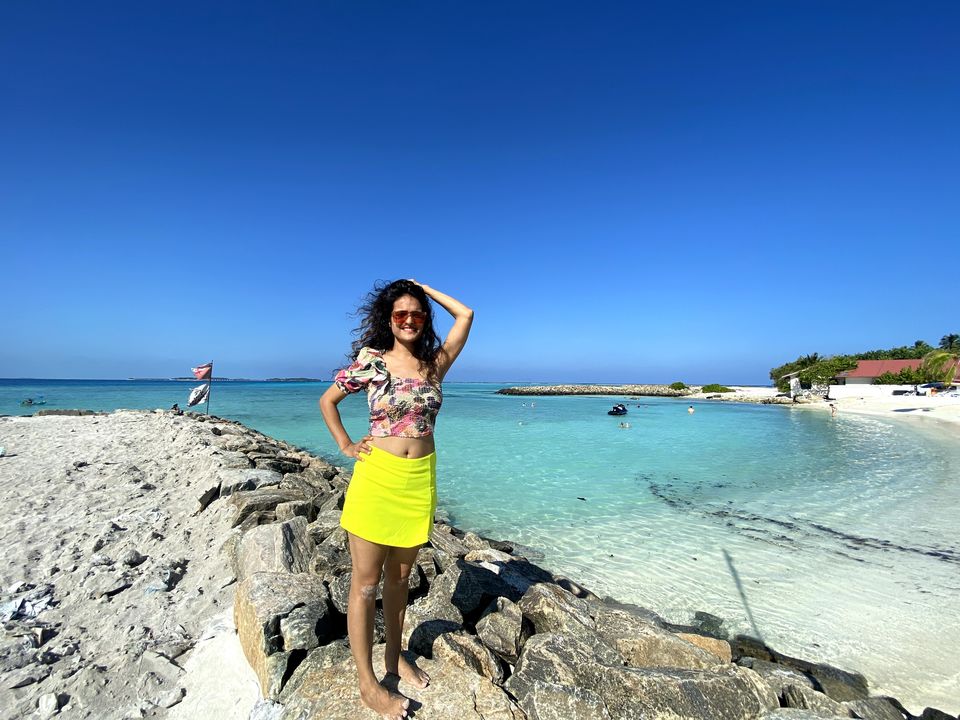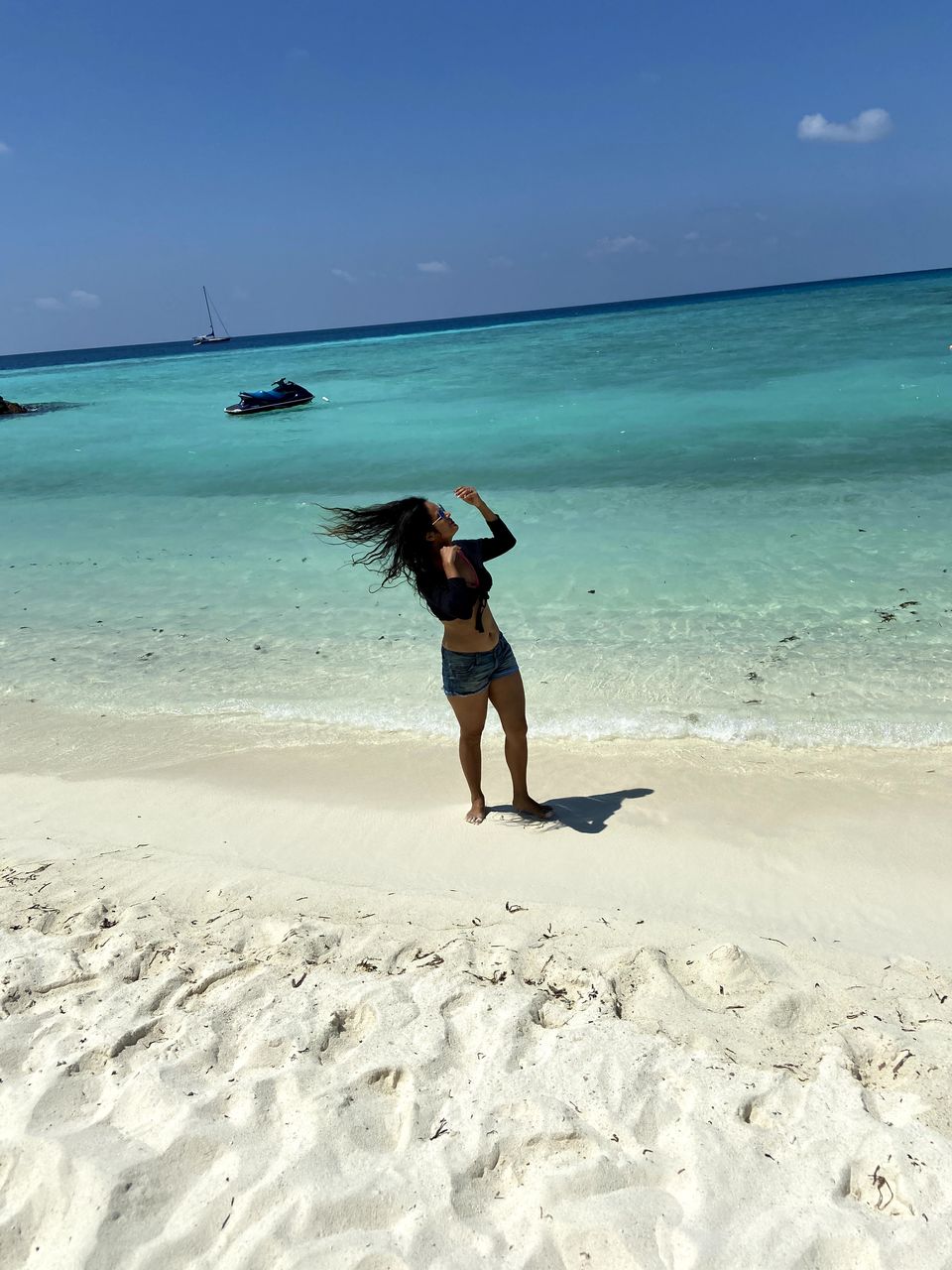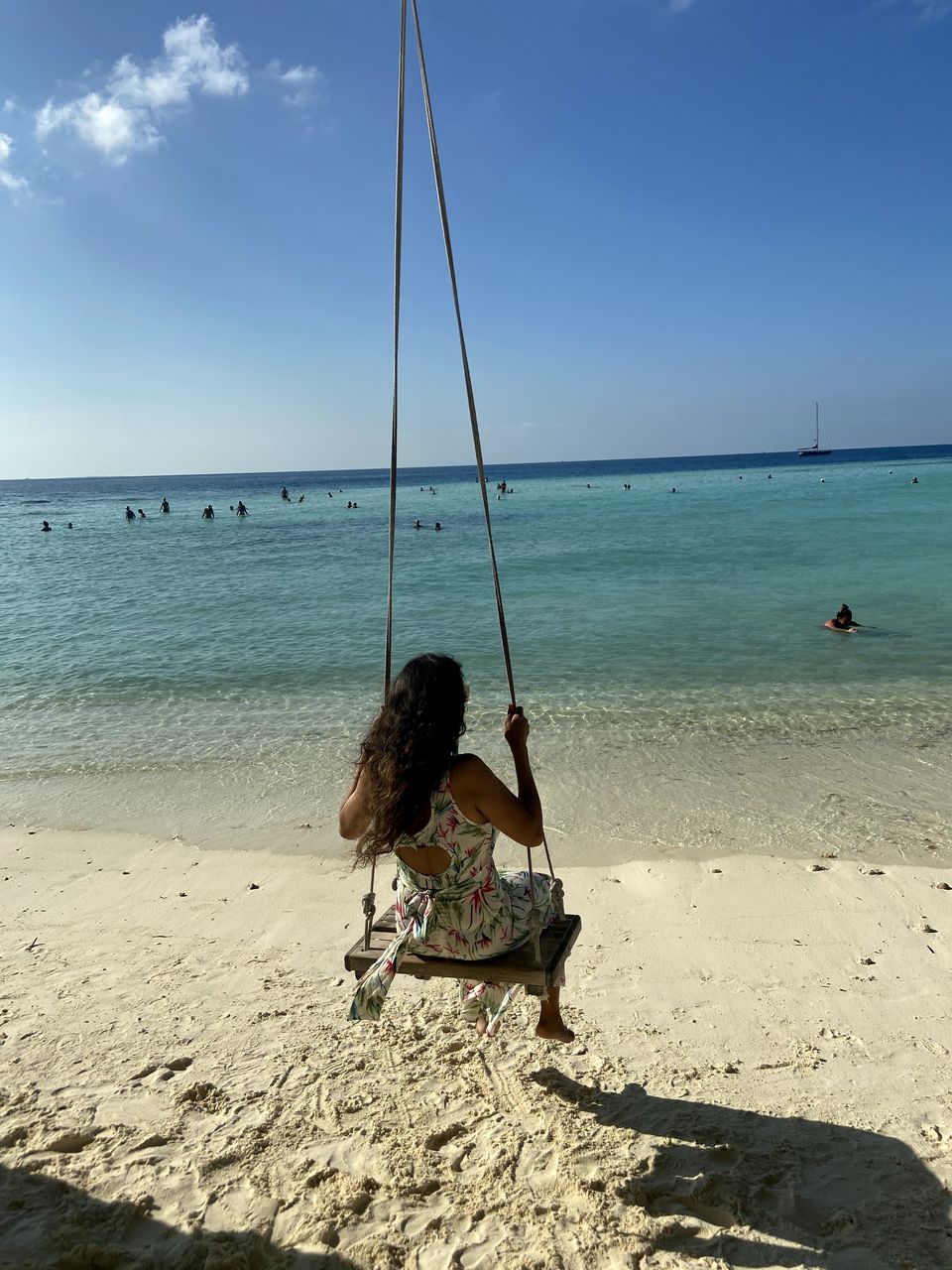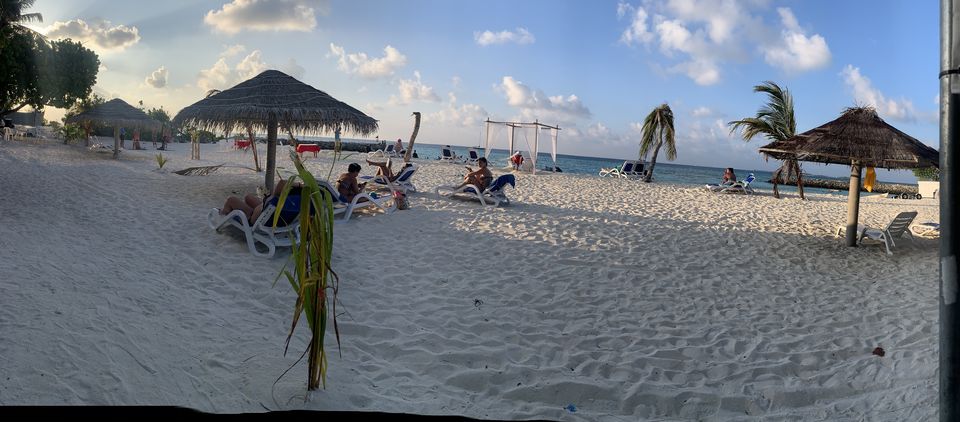 After a quick peek into the Maldivian culture, we decided to watch sunset from the back-road beach. The blue ocean syncs its colour to match the sky above during this engrossing beautiful sunset... My words can little describe this the dance of nature that my eyes soaked in.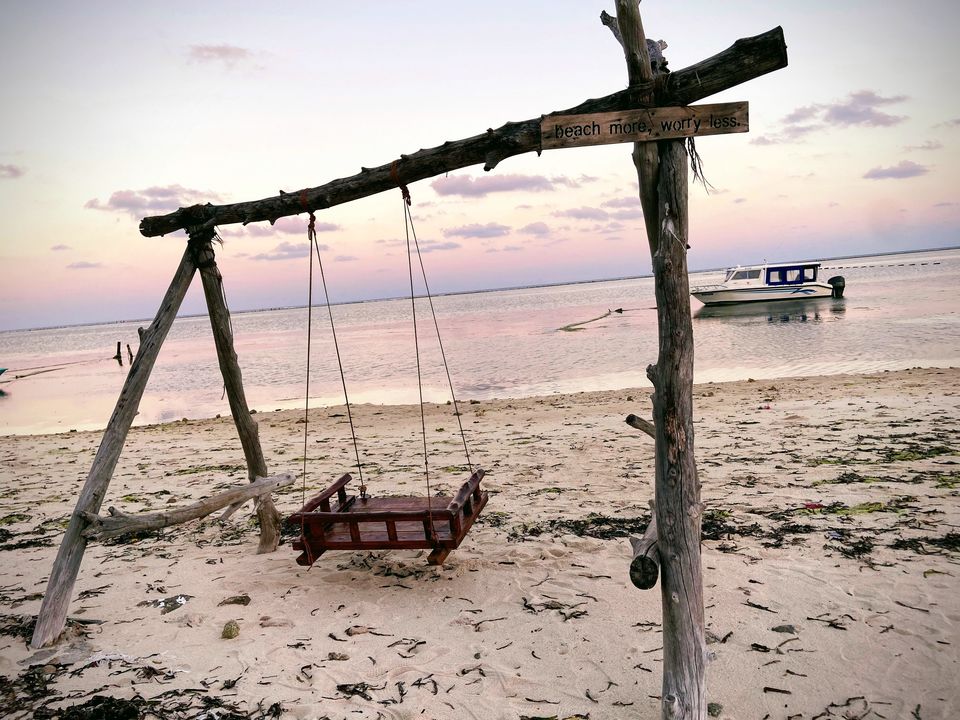 This place is a relatively lesser known beach side spot of Maafushi but one of the best places to be at sunset and afterwards. You can capture some great pictures by the swing or small boats parked in the evening or with moonlight. (landmark- near sun beach café)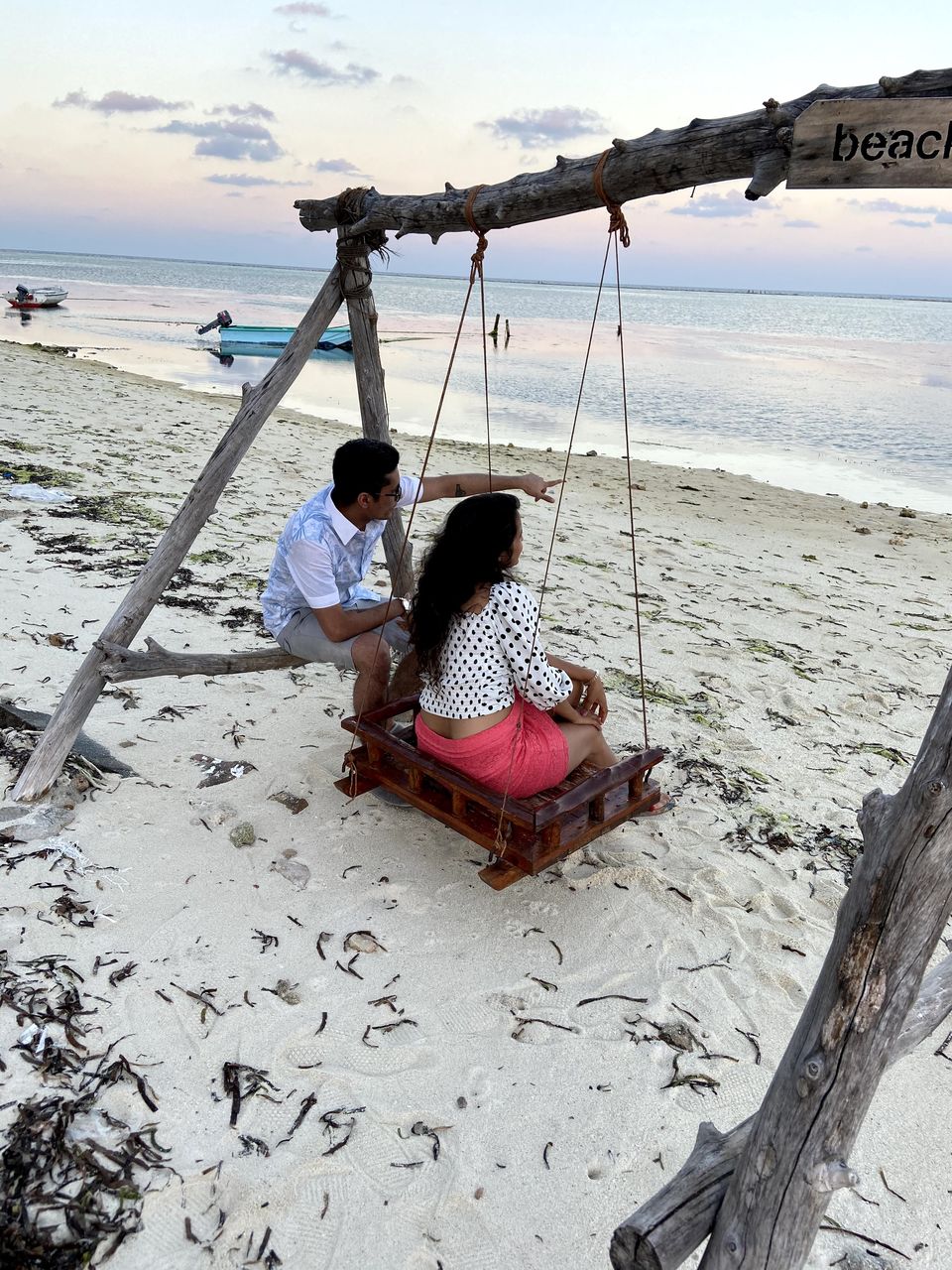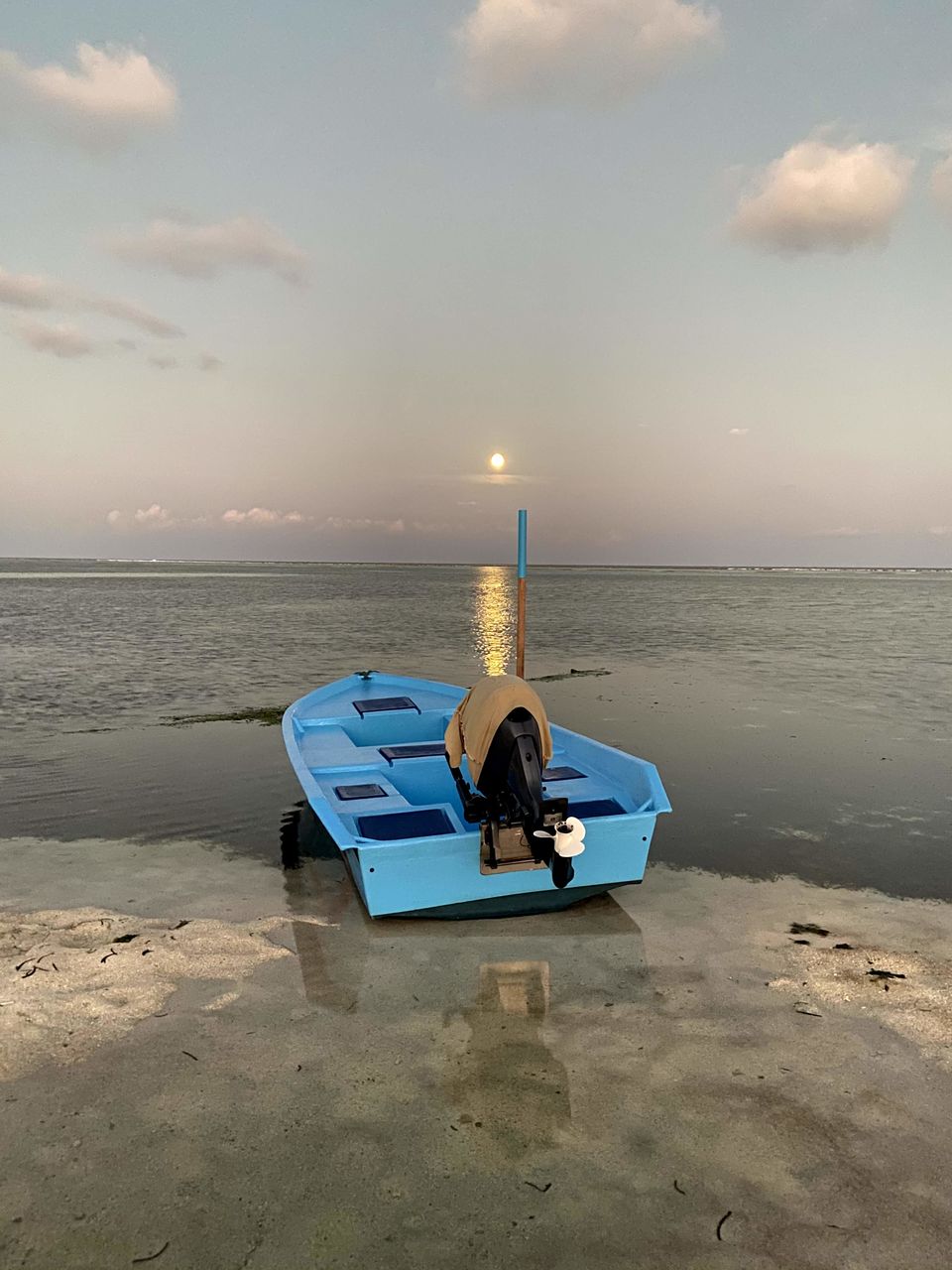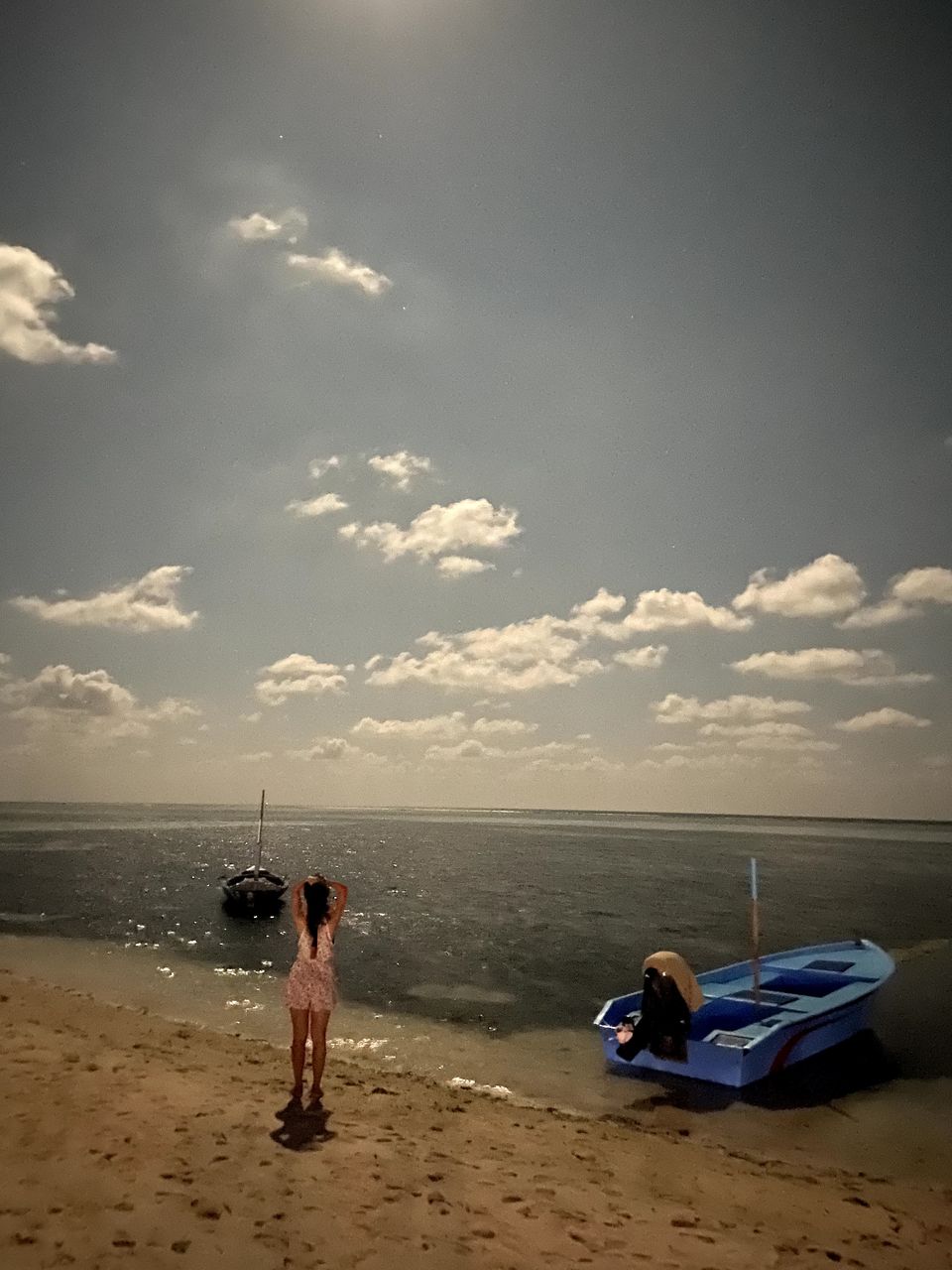 Alright, the best part of day one is yet to begin—the floating bar. Well Maafushi is governed by Sharia Law which prohibits Alcohol and so you won't find it anywhere on the island, not even in the resorts. But you can have it in the floating bar which runs from 7pm to 1 am and beyond sometimes. Best part is that they have frequent free pick and drop to & from Maafushi Ferry Terminal through small speed boats. After dinner some of us headed to the floating bar and enjoyed our time in the middle of the ocean. They have good music and you can just plug in your phone and play your own music as well. The people there are very warm and welcoming. You can have beer for 5$, wine 12$, LIT 14$ (USD).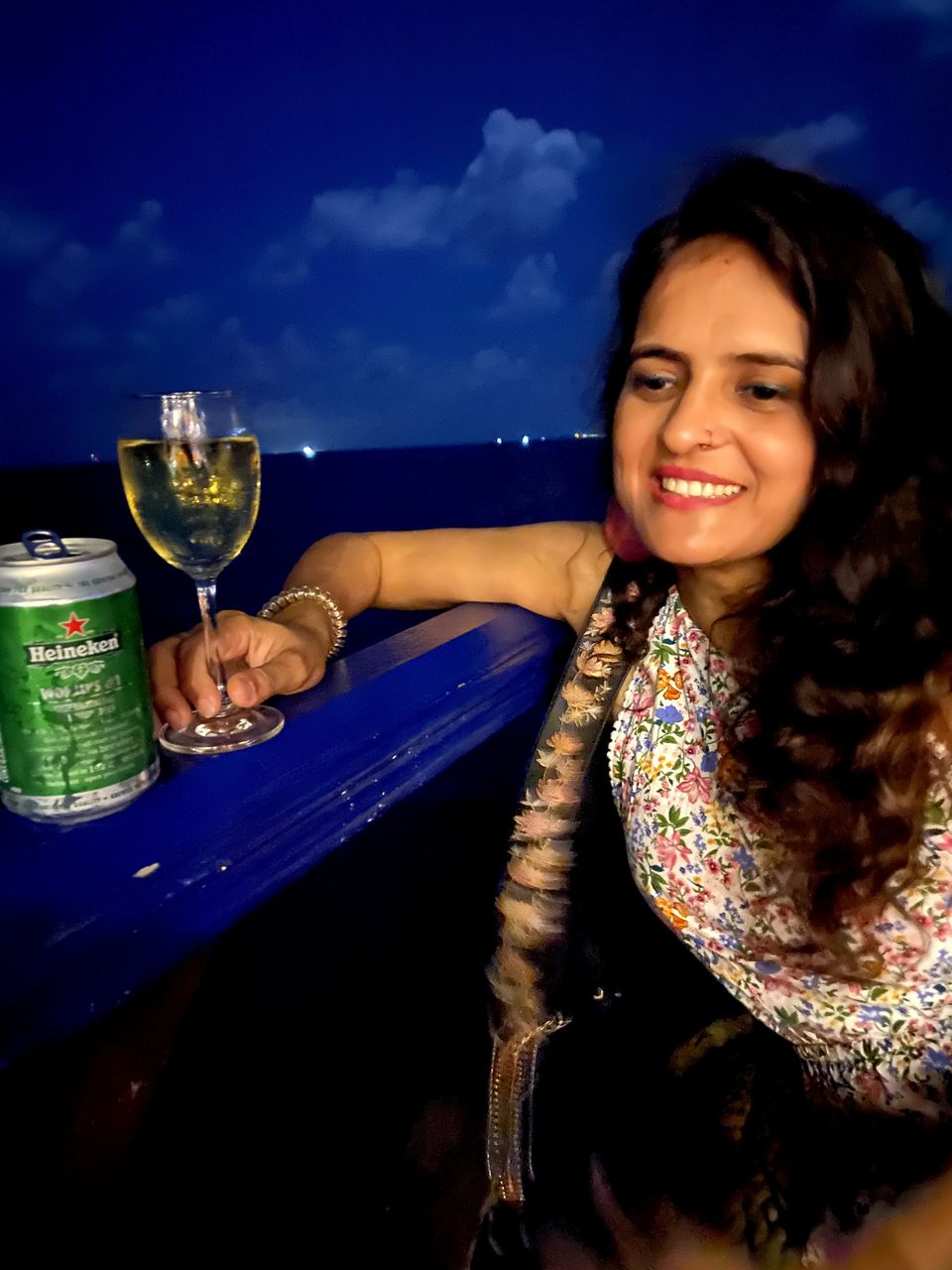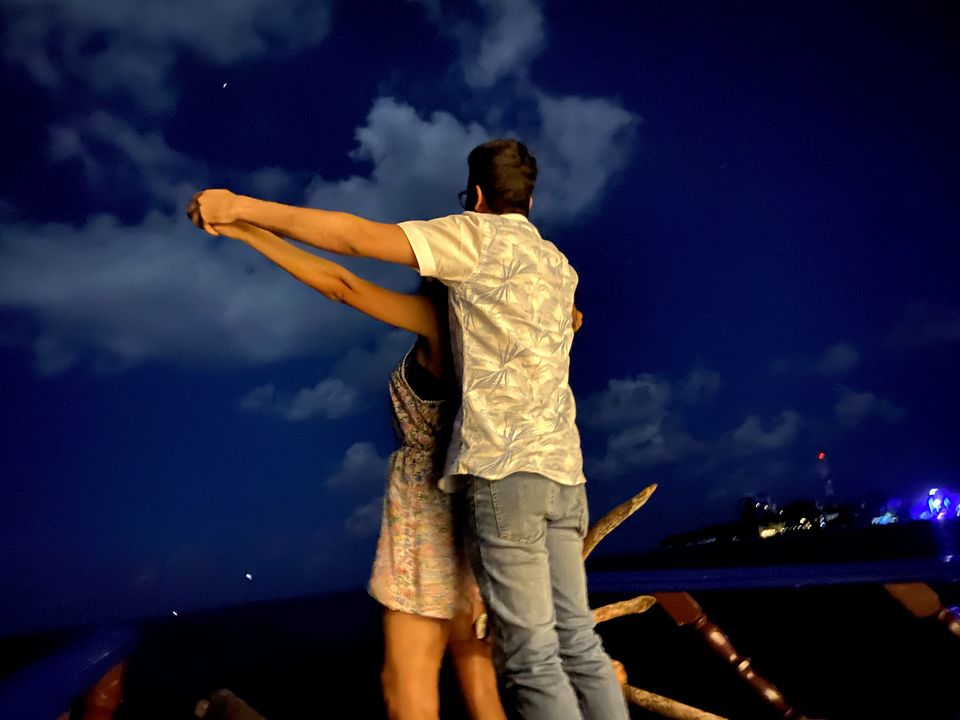 That's how we wrapped up our Day 1. Once I was back in my room I sat in the balcony for some time before going to bed, to listen to the crashing sound of waves and how gleaming the moonlight falling all over the ocean water.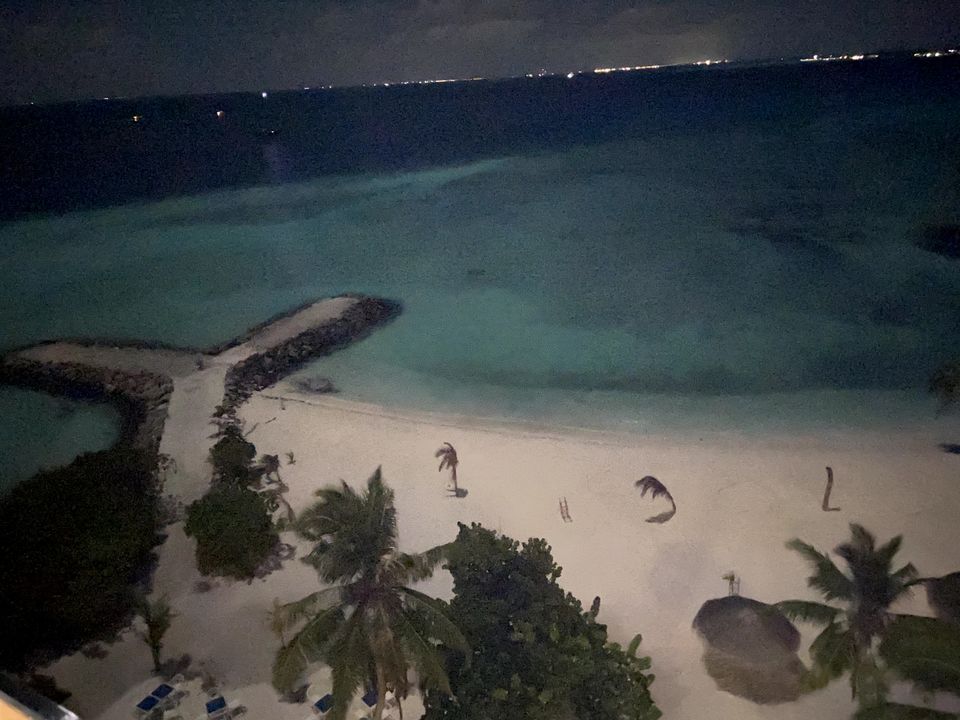 Next morning a fresh, bright day awaited us as I stepped on my balcony, I could see some hearts drawn in the sand just by the beach. Wow can you beat that start of the day.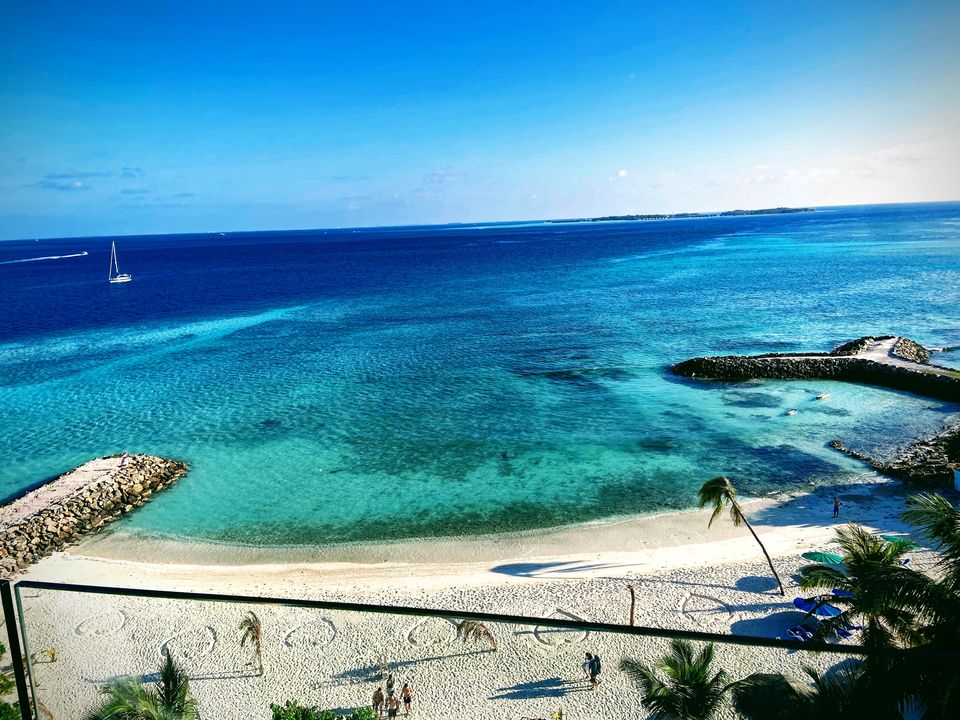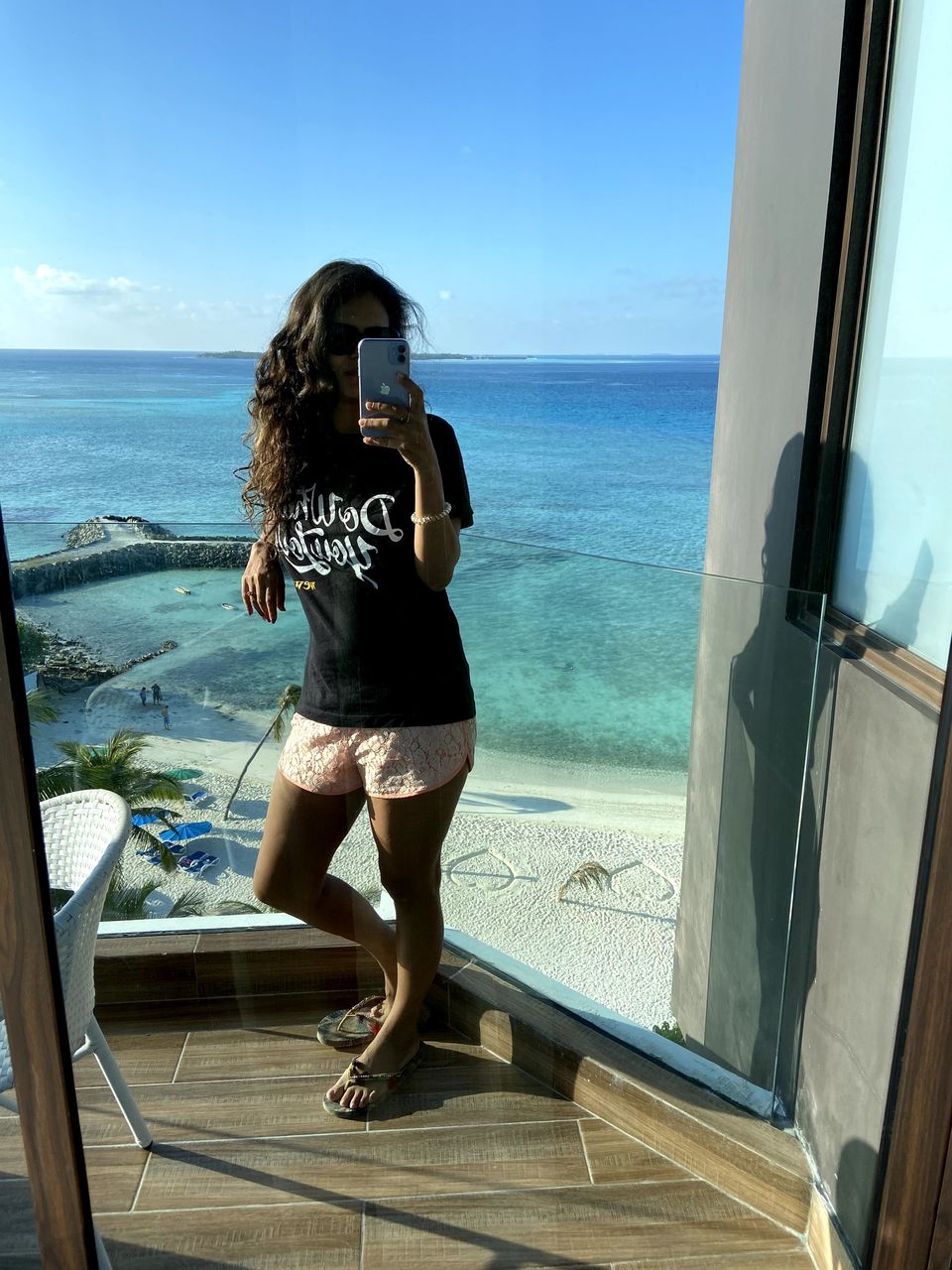 We all quickly finished breakfast and headed for our half-day excursion. It was a wonderful spread of fruits, salads, toasts, cereals, noodles, cakes, bakery, Roshi (Maldivian chapati), sausages, different kinds of cheese…...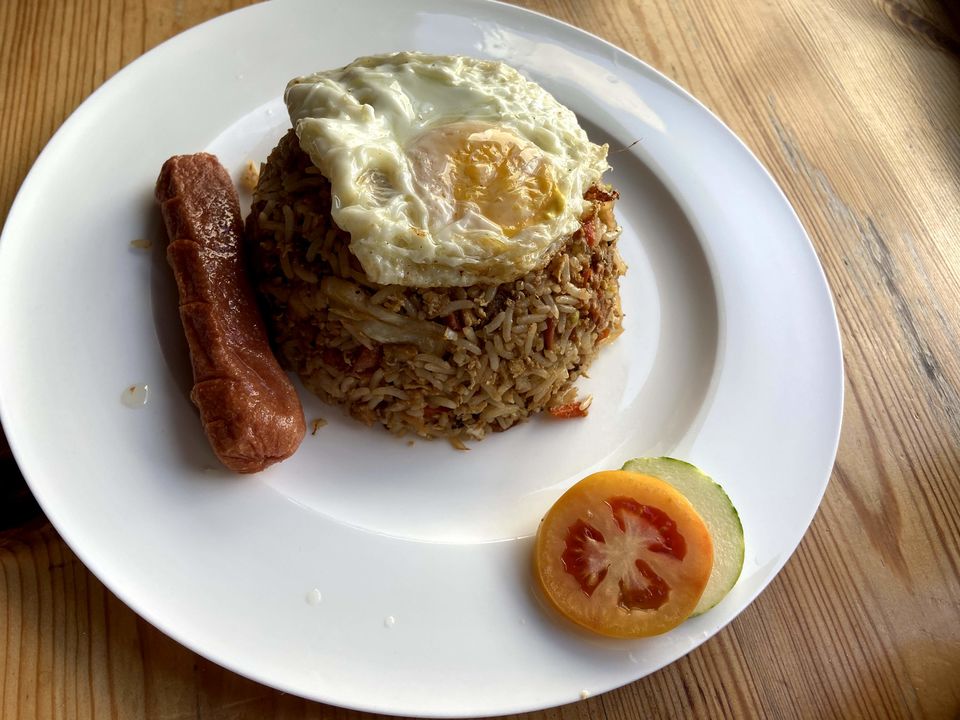 Our today's excursion was dolphin watching, snorkelling and picnic at the sandbank. We collected our snorkelling gears and protective jackets from the hotel's sports desk and proceeded to the terminal to embark on the speedboats. For hours we spotted dolphins in the middle of the Ocean, spent good time with 2 turns of snorkelling - one for colourful fishes and fascinating corals & another for sea turtles…absorbed loads of Vitamin D by the open deck of the boat and took infinite pictures. Bustling marine life and colourful corals under the sea which we all explored with our naked eyes will be cherished for lifetime.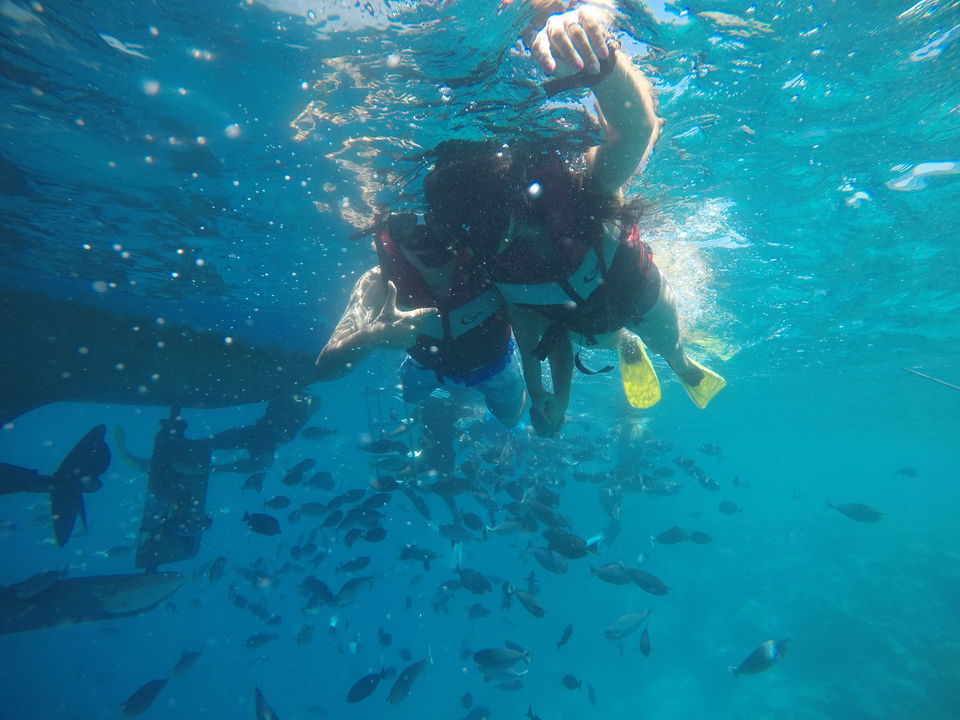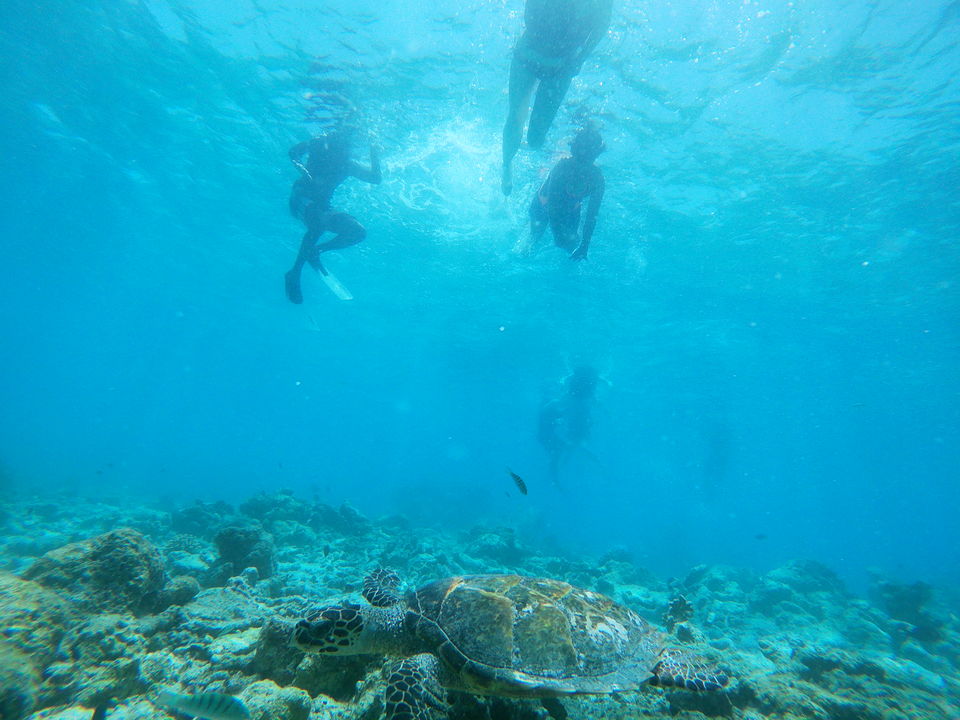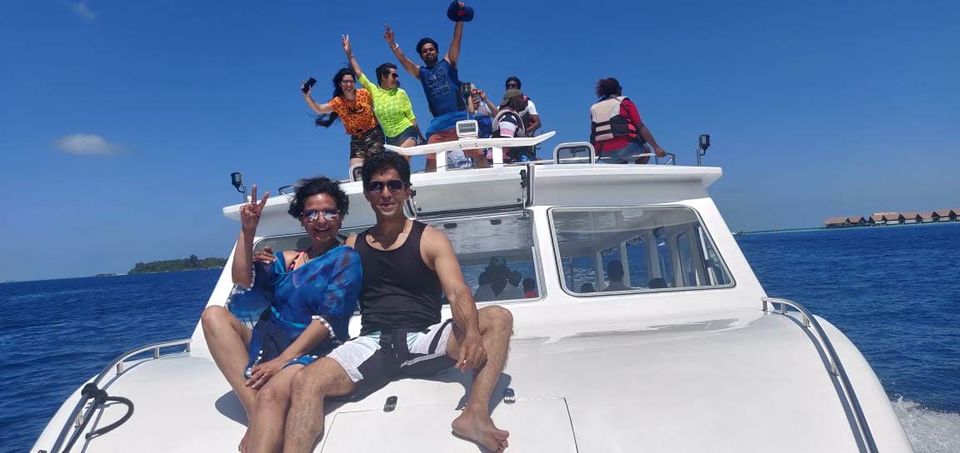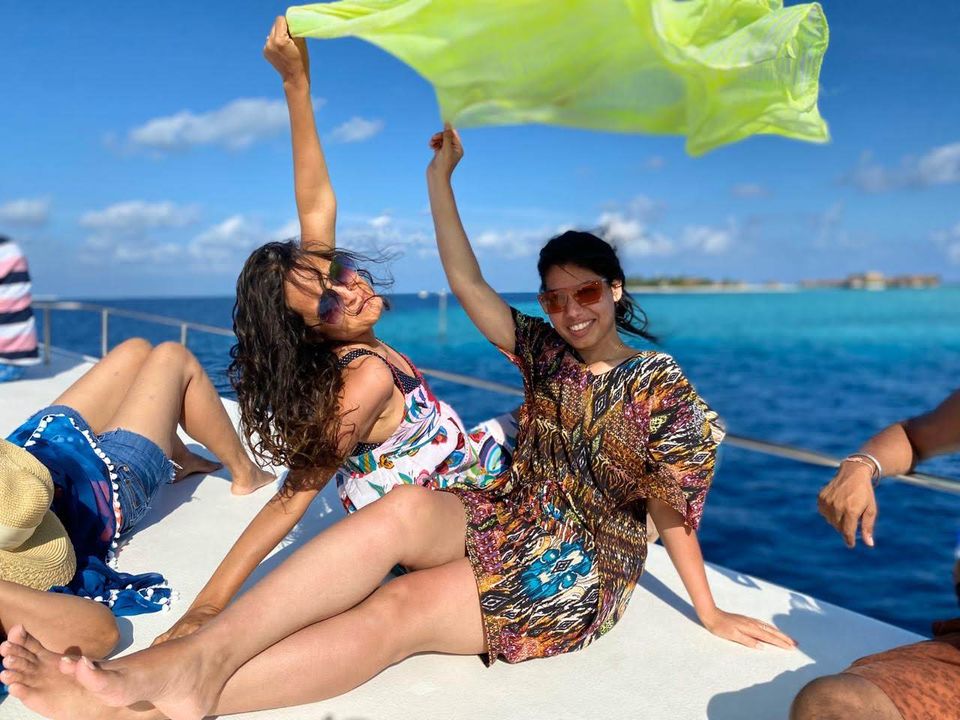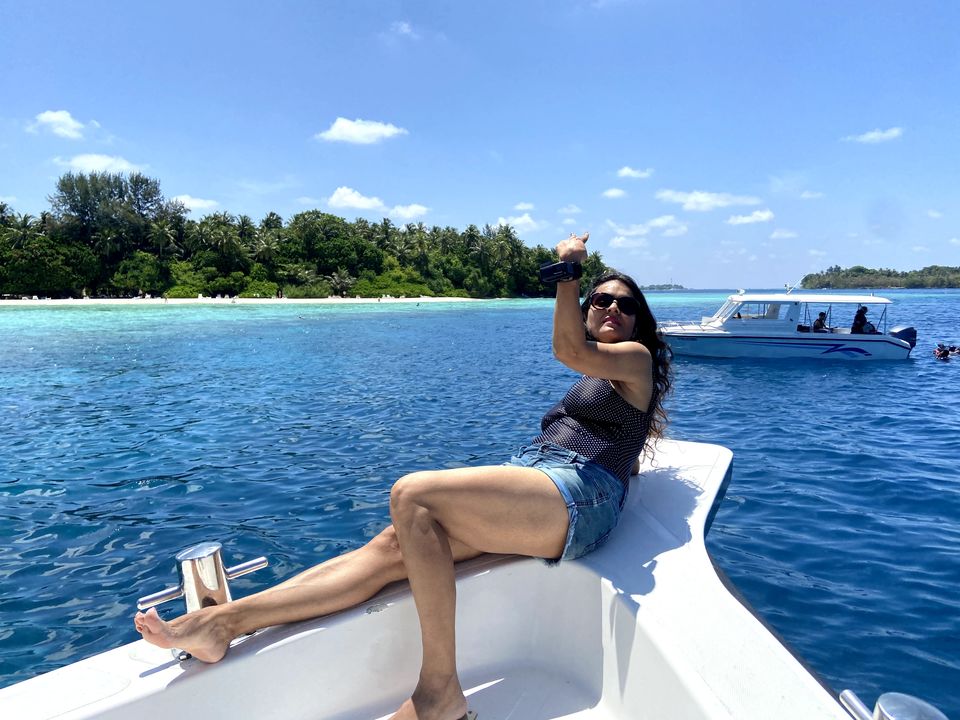 After this excursion we hopped on to small speed boats for Sandbank picnic and Holi celebration. We were damn hungry after spending hours swimming and so we quickly relished a picnic lunch packed by our hotel- spaghetti noodles, sauté veggies, grilled chicken, fruits and juices.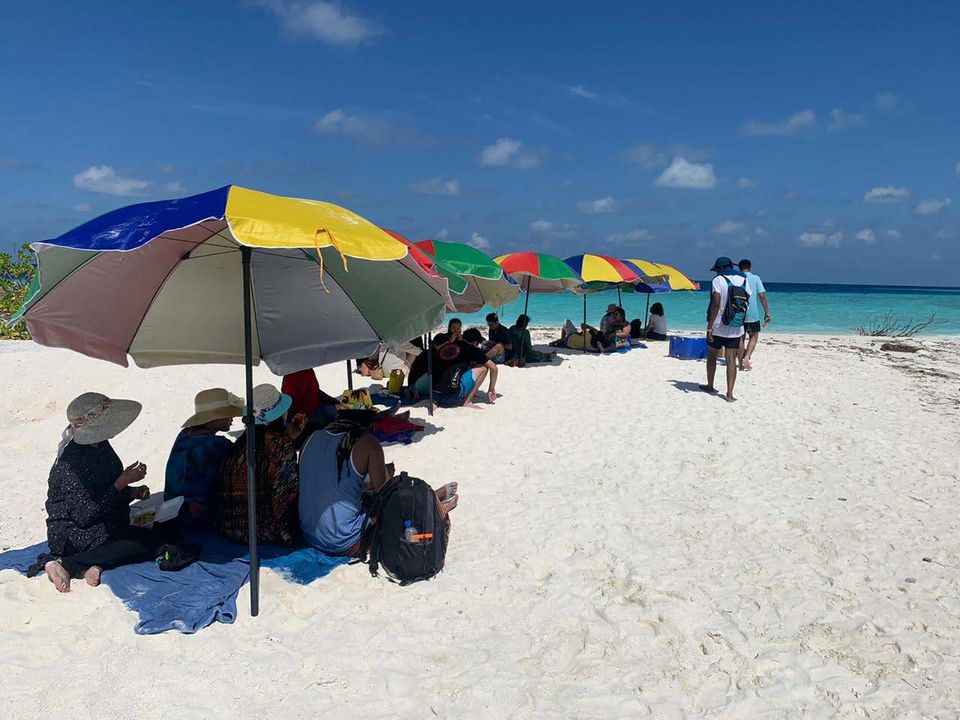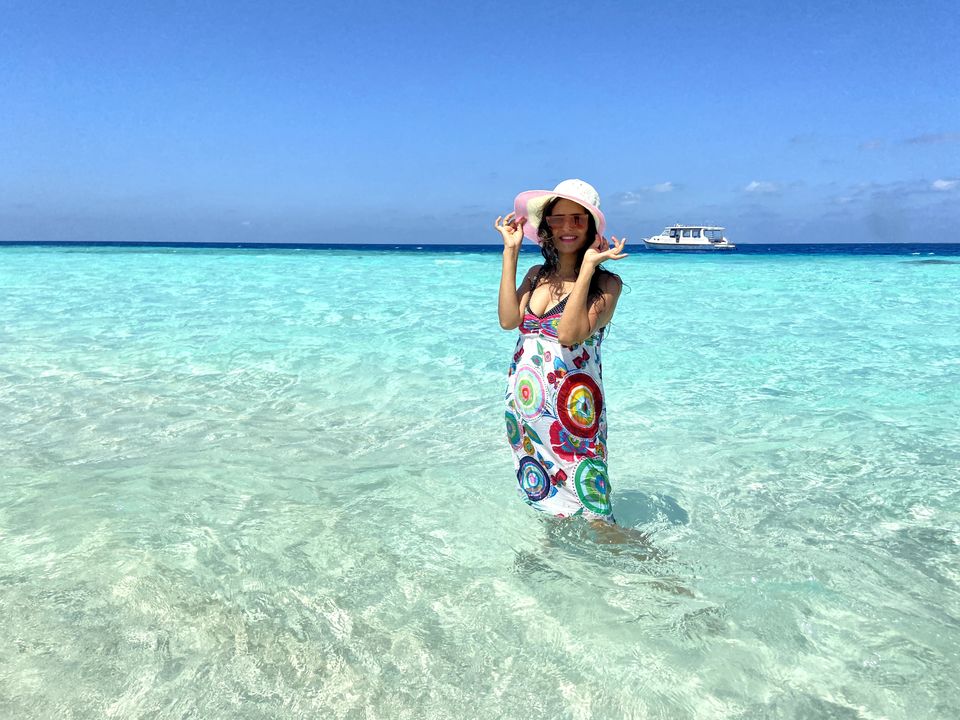 We ended the excursion with a crazy Holi celebration, our speedboat crew joined us eagerly looking at our excitement and madness levels. It was a nostalgic feeling and highlight of the day, most of us had this crazy Holi time with colour after ages and playing with colours by the sea may be once in a lifetime. "Excited main edda…." that was just the right saying for all us.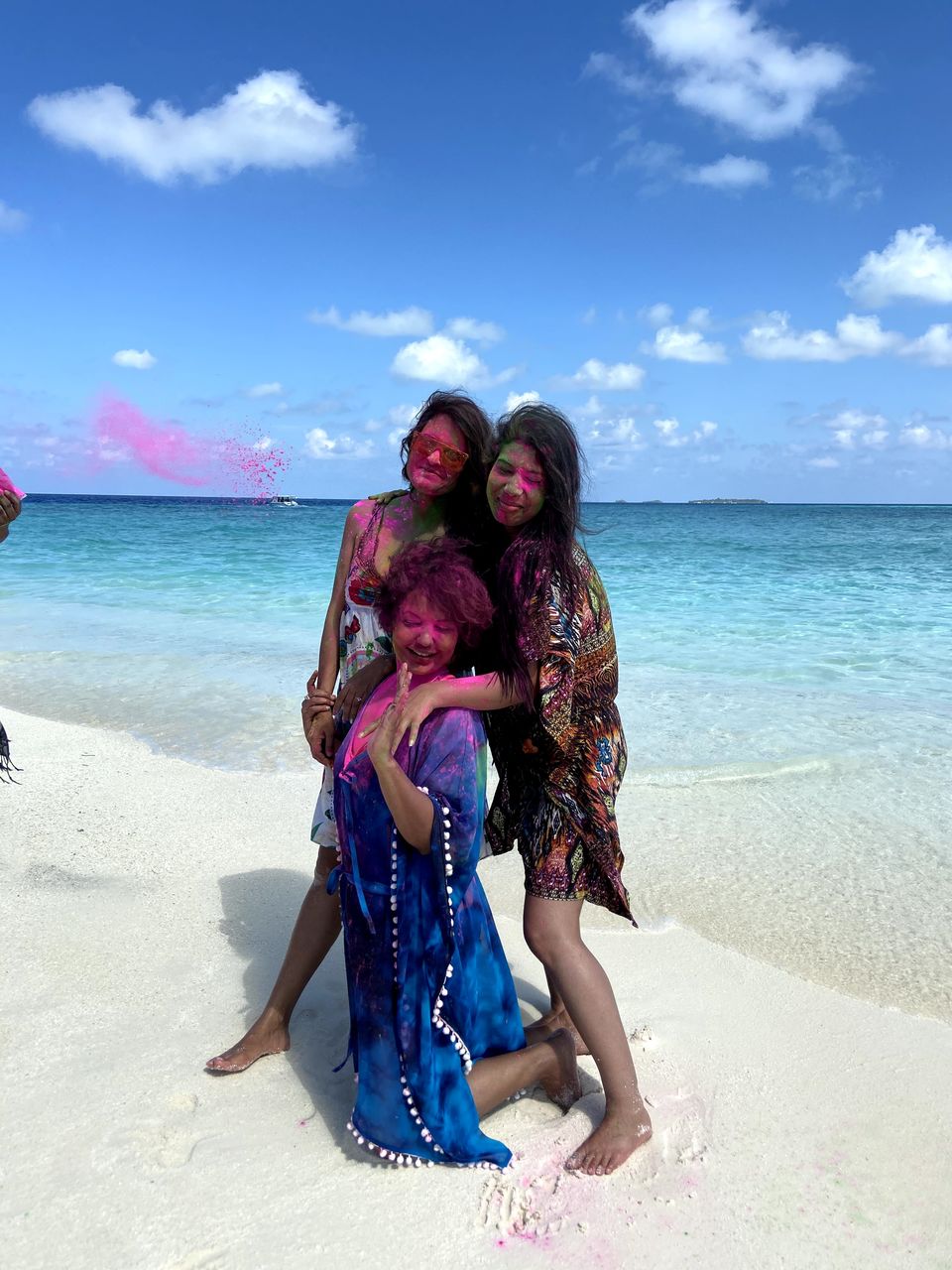 After we returned to our hotel around 5pm, evening was free to enjoy water sports, photoshoot or just relax in your room. For me I had my 2 favourite spots – sit out with a coffee in my room's balcony facing the beach with my glasses on and the back road beach to watch sunset & have cheap meals in Sun beach café. Do also visit hot bite for some quick meals and tasty burgers and nuggets.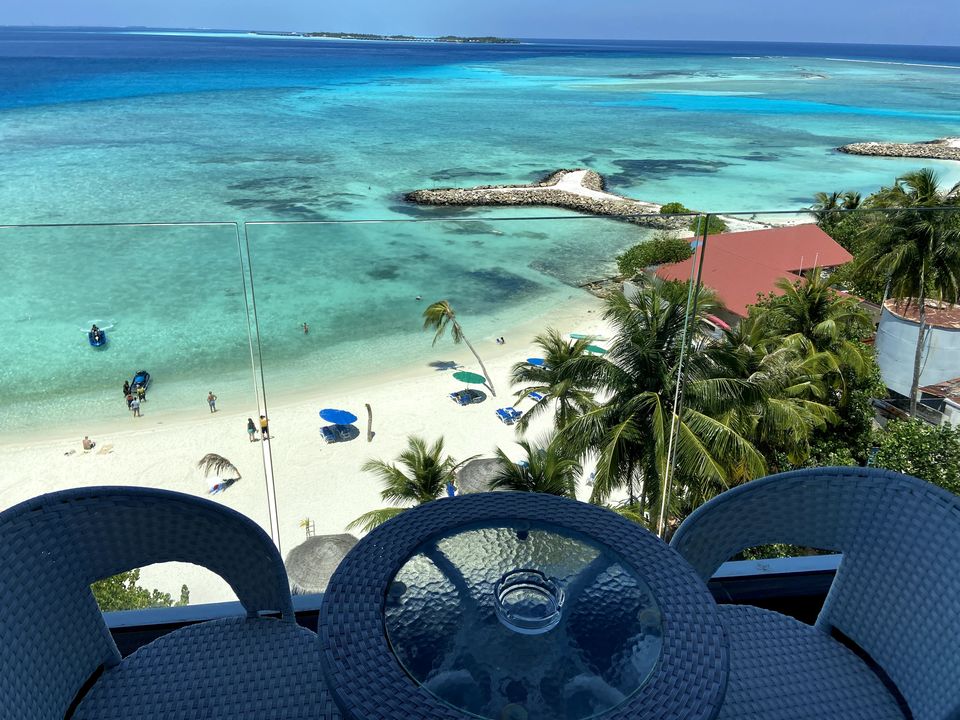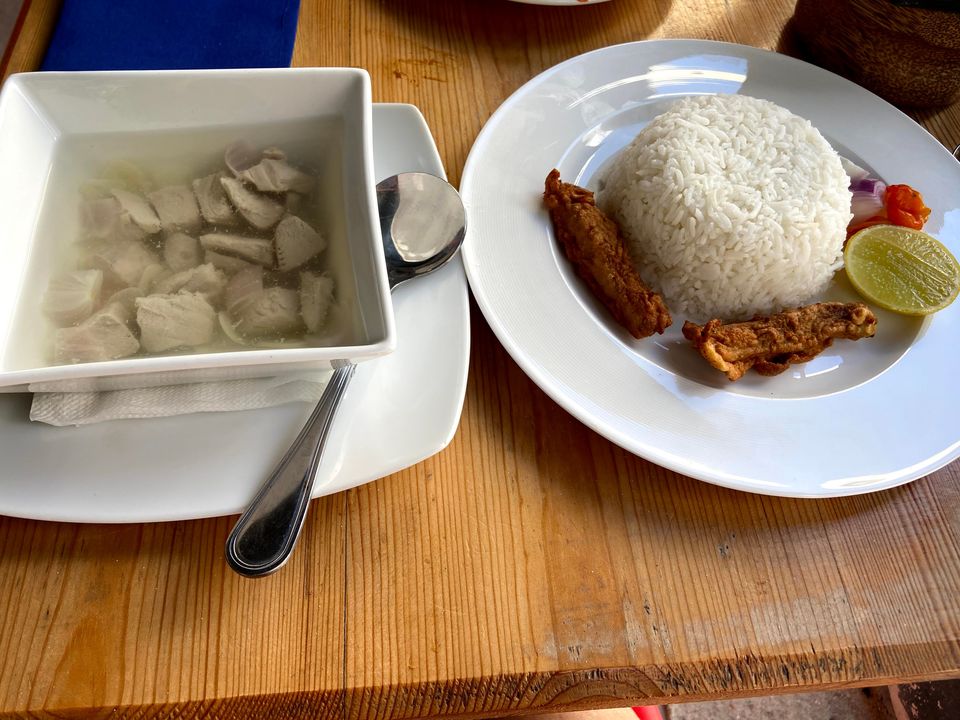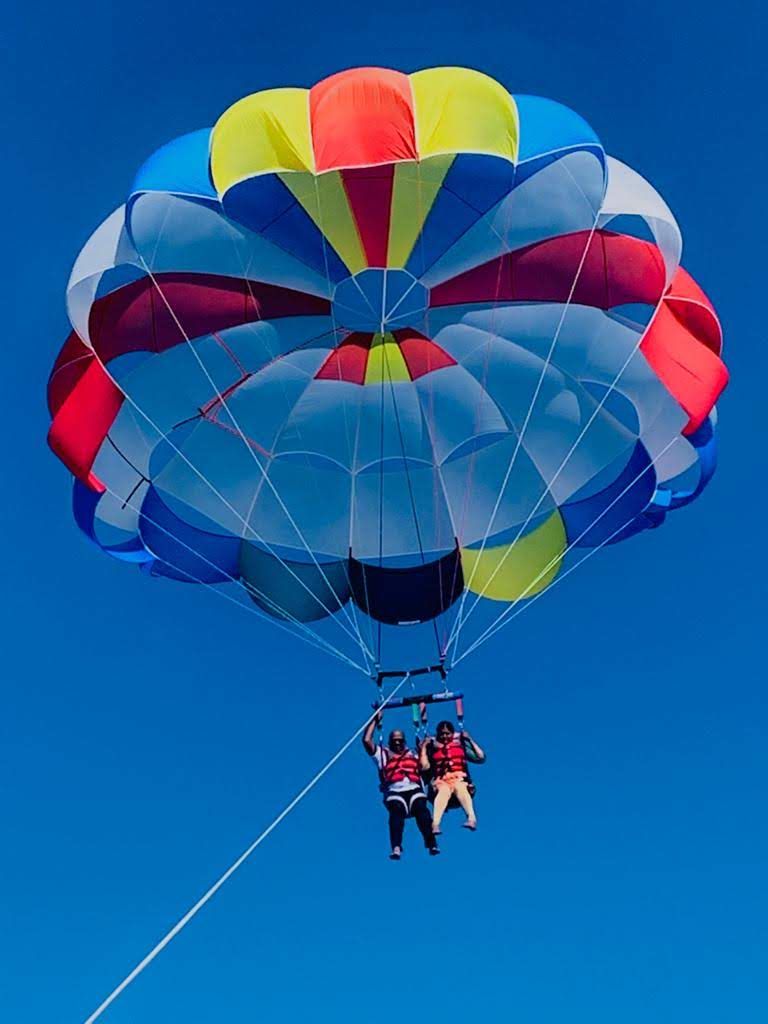 After an early dinner at Hot bite we headed again to the floating bar and today more people joined our group and overjoyed us. We overtook the bar and played our very own Bollywood music and made everyone including the firangis dance to our tunes…Look how my crazy people are enjoying it.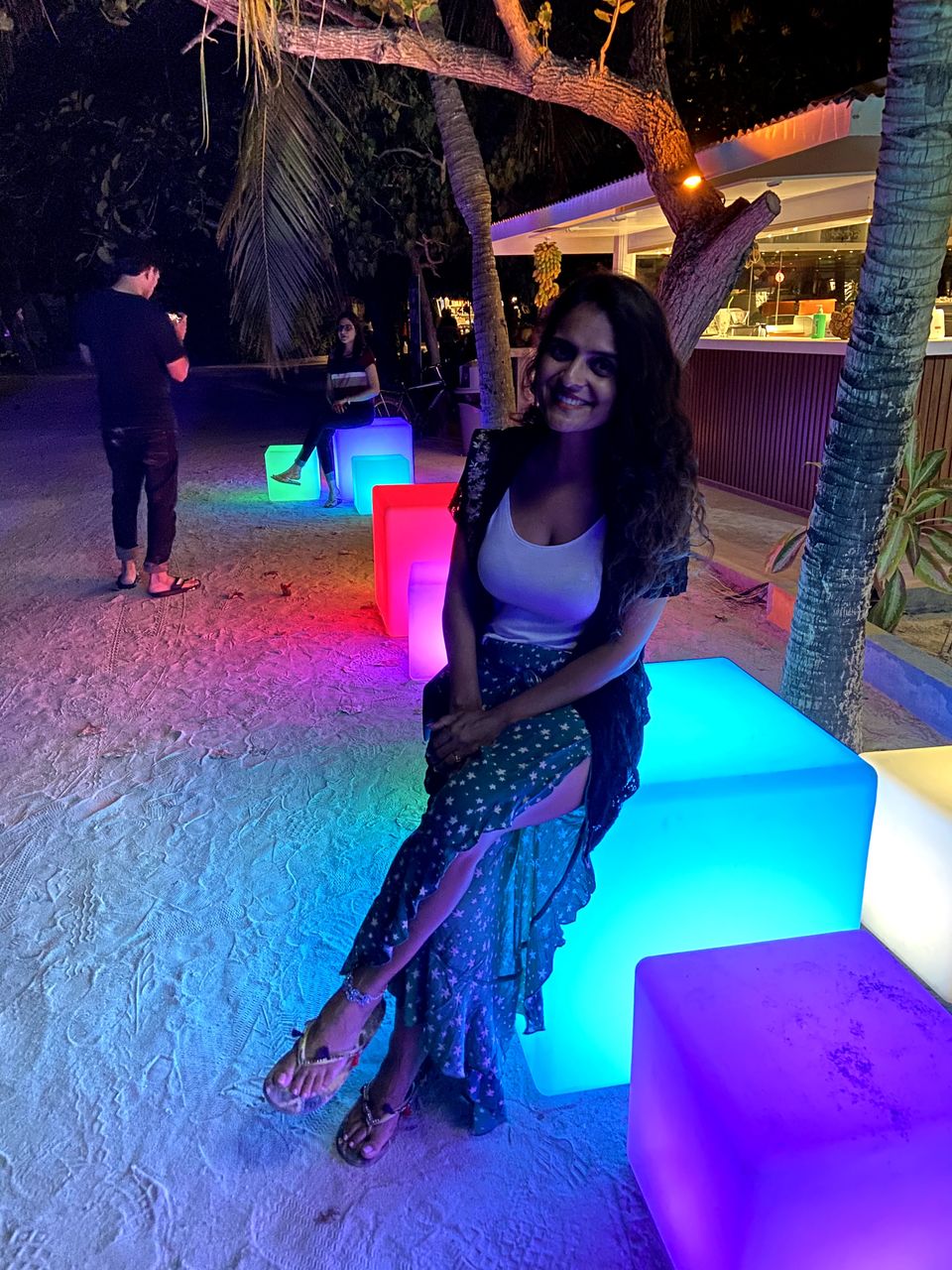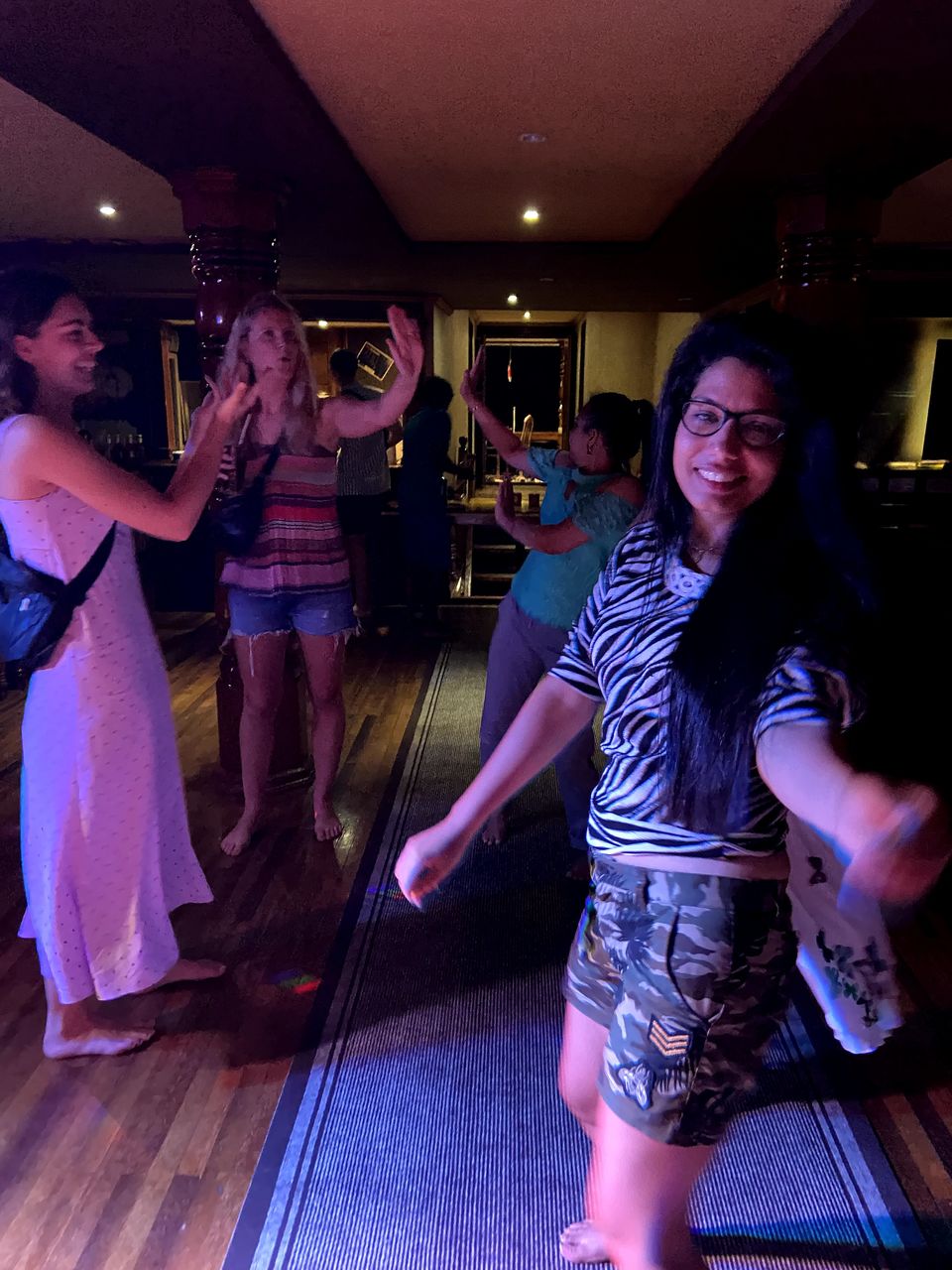 Some memories are for lifetime and never fading- sipping wine by the deck of a ship in the starry night ……
Day3: It was our most awaited day of the trip to one of the private island resorts in Maldives. We were excited to see what the most hyped water bungalows in Maldives look like. Excitement was through the roof to click some Instagram worthy pictures in the property. But unfortunately, the tour got cancelled a day before due to restrictions imposed by local authorities over fear of COVID-19 spreading in Maldives. All private island resorts banned day trips to minimise the spread of Virus as a precautionary measure. I appreciate their proactive measure but I was heartbroken as I was missing something Maldives is best known for.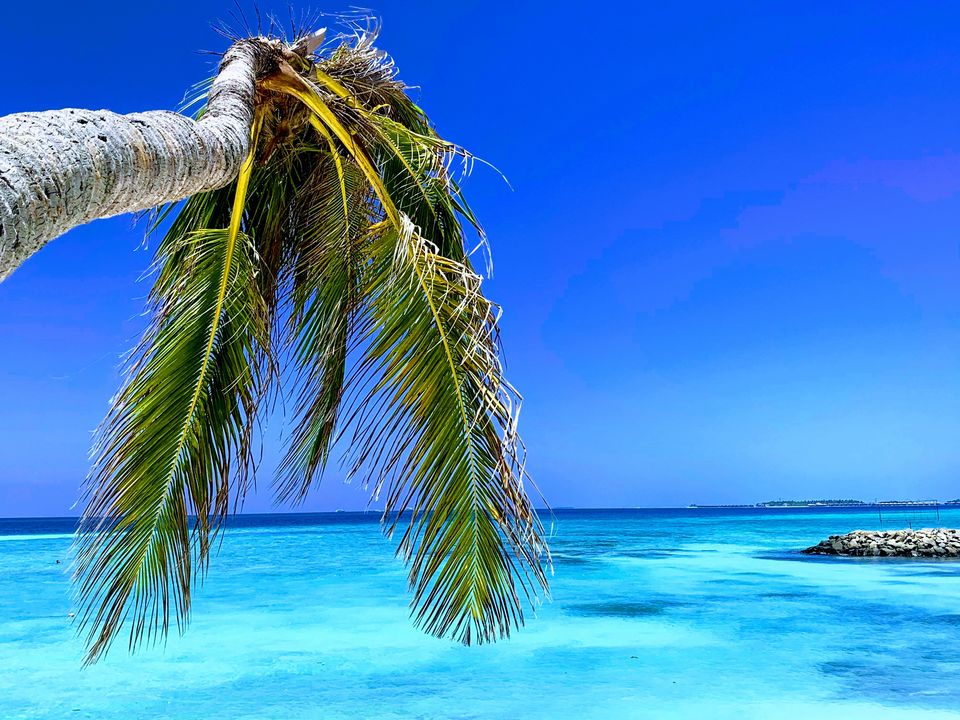 Well some of us decided to do water sports, submarine tours, some lazing in the pool and some super lazy ones catching up on sleep in bed.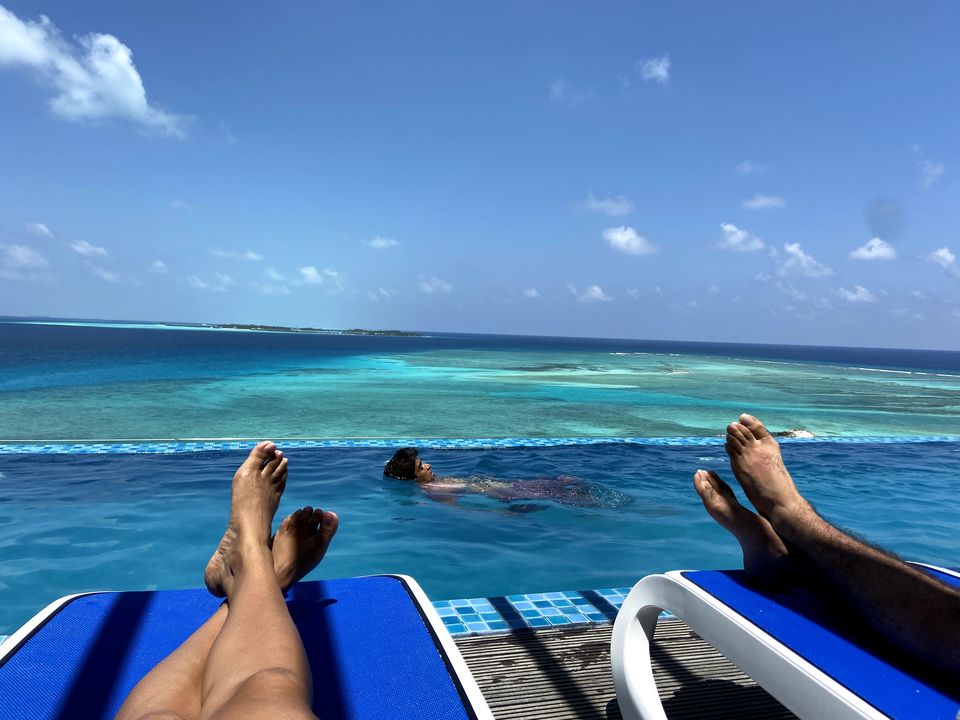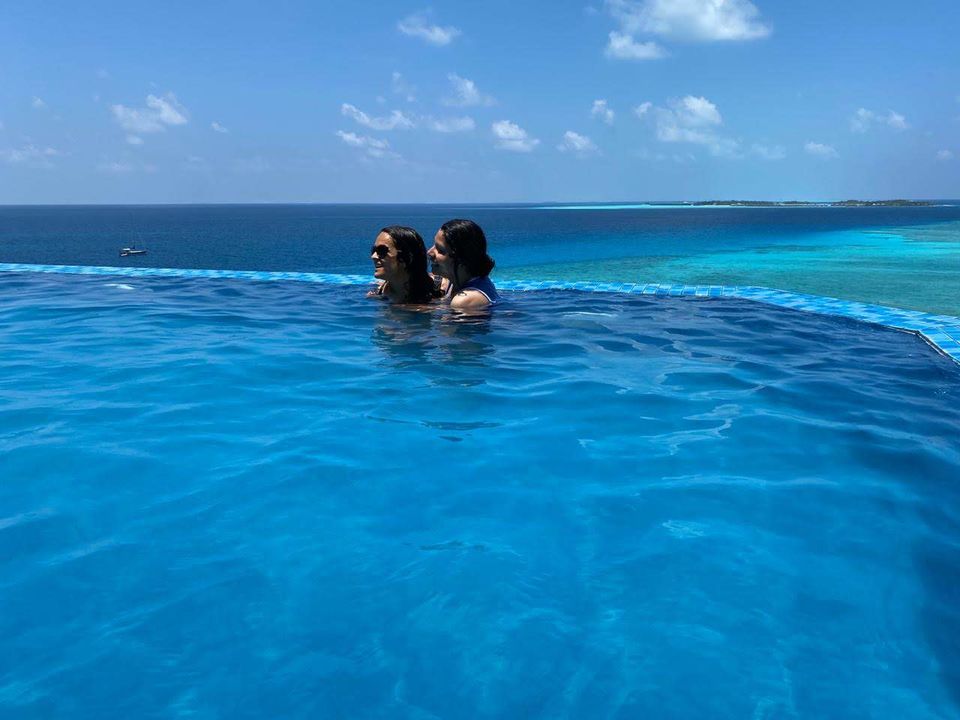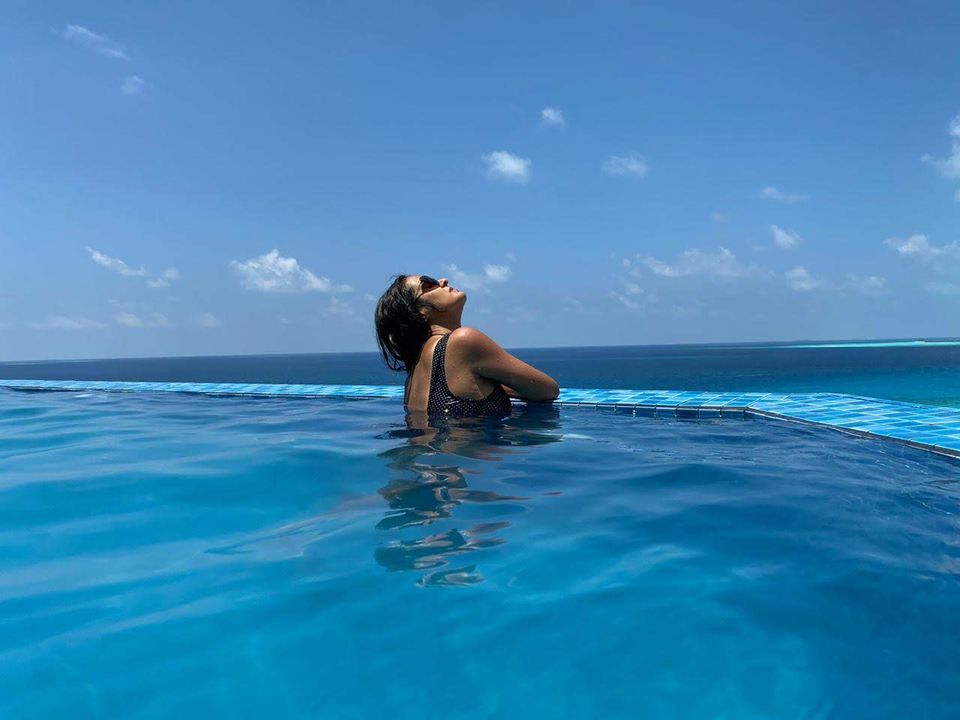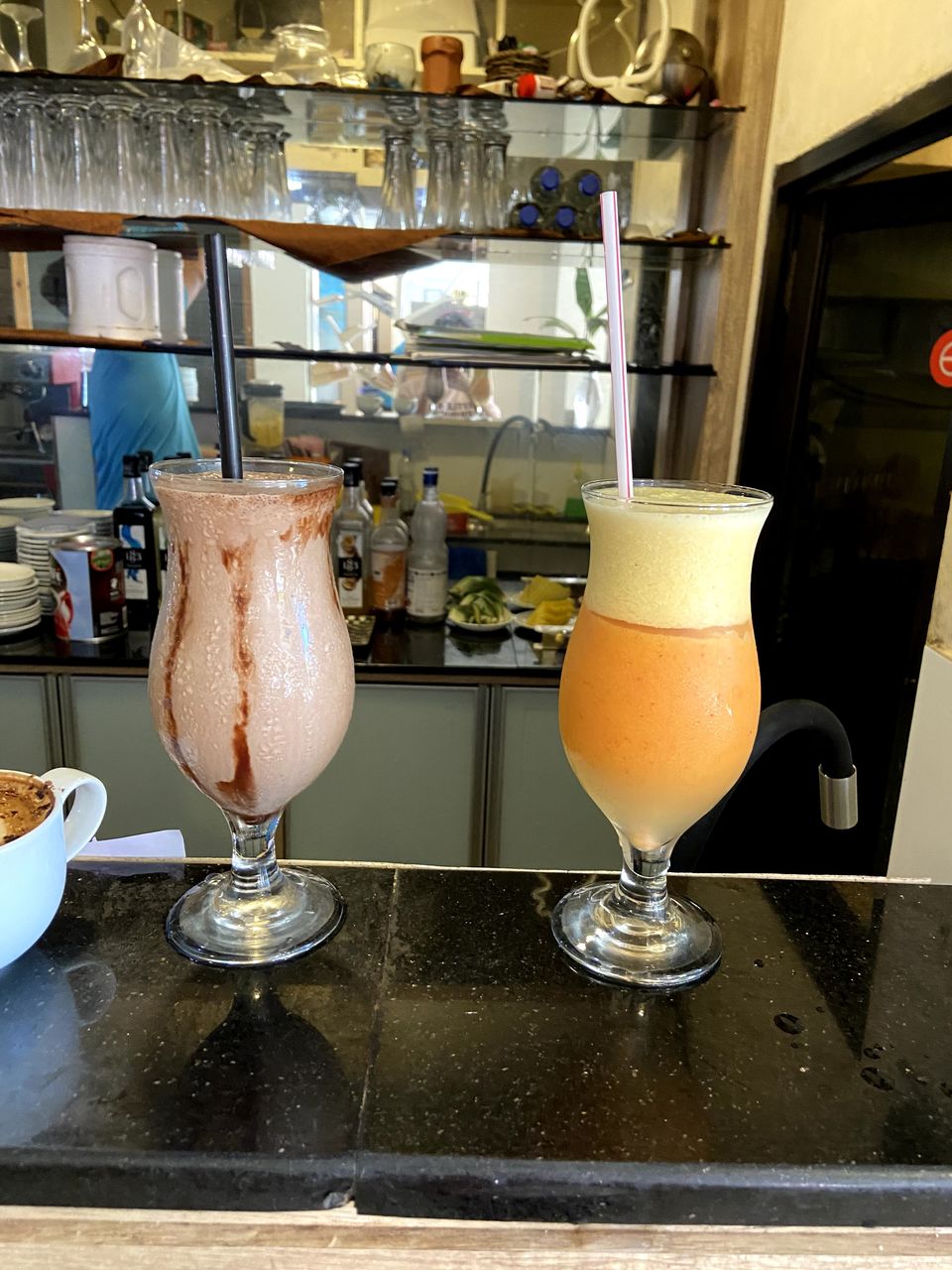 This evening I had special plans for my fellow travellers. We went to the Sun beach café. They have a proper set up by the beach surrounded by trees which are colourfully lit up with fairy lights after sunset. Some of us had gone there before but those who went for the first time, it was a different experience dining by the beach under the stars (hey note this place in picture below is a cheap deal for dinner by the beach after sunset). We spent time playing Tambola and Dumb- Charades while the restaurant was cooking our dinner. Keep enough time when you visit this place as they cook fresh meals and take as long as 1 hr to serve the food. But the wait is worth it for taste, view & money and fish curry with rice is a must try.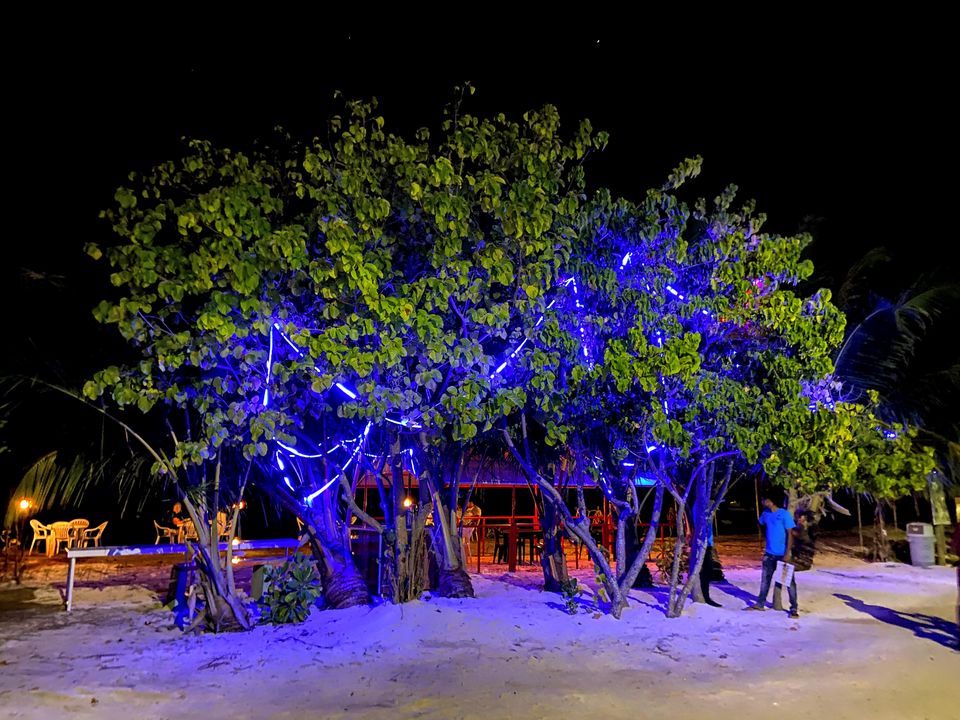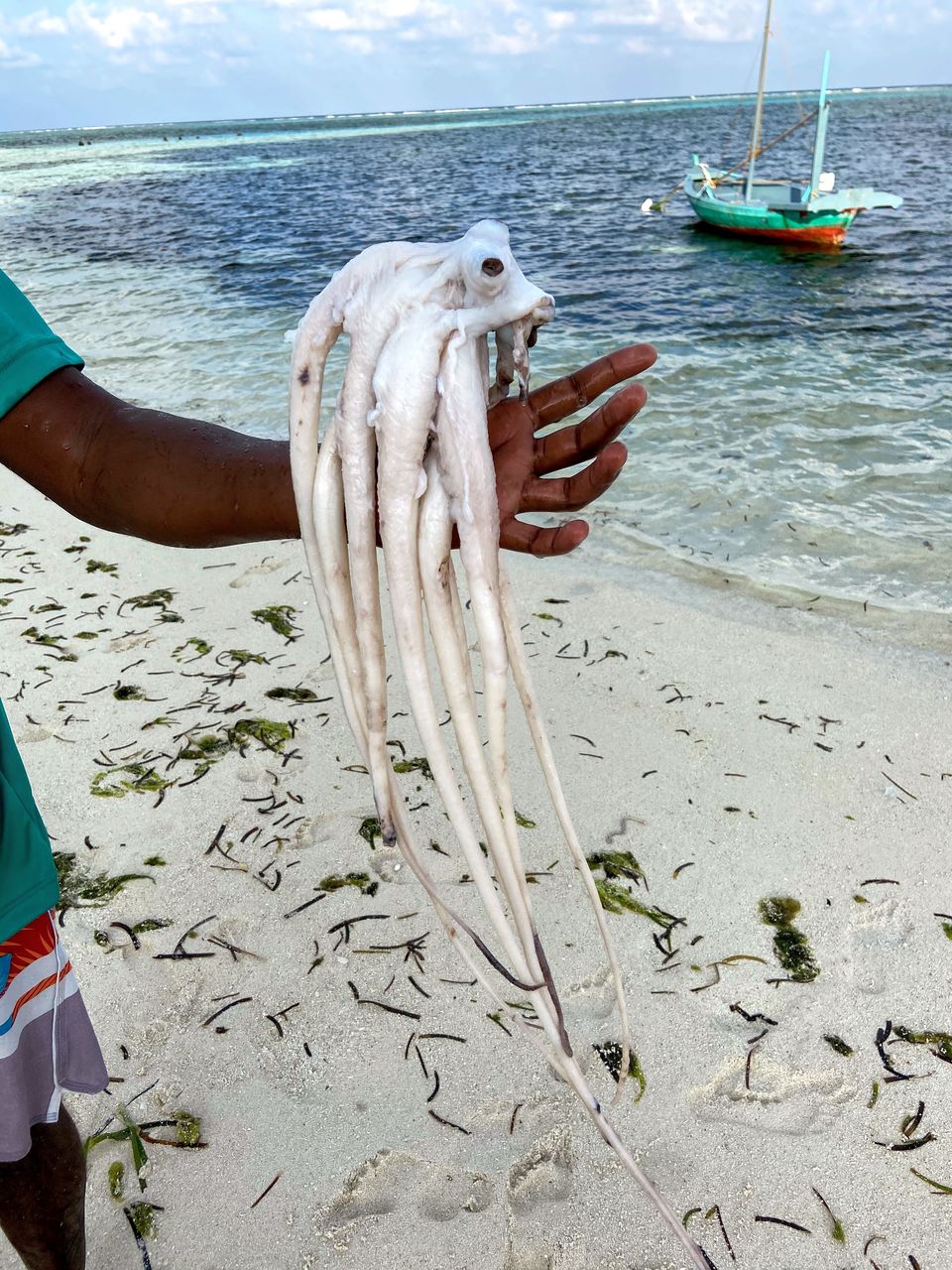 On the way to our hotel, we shopped for souvenirs to take back home. I asked for some discount for all of us as we were a group of 11 people and the guy at the counter was happy to extend that. One thing I must say about the people of Maafushi, they are quite easy going, happy and respectful. Cheers to you guys.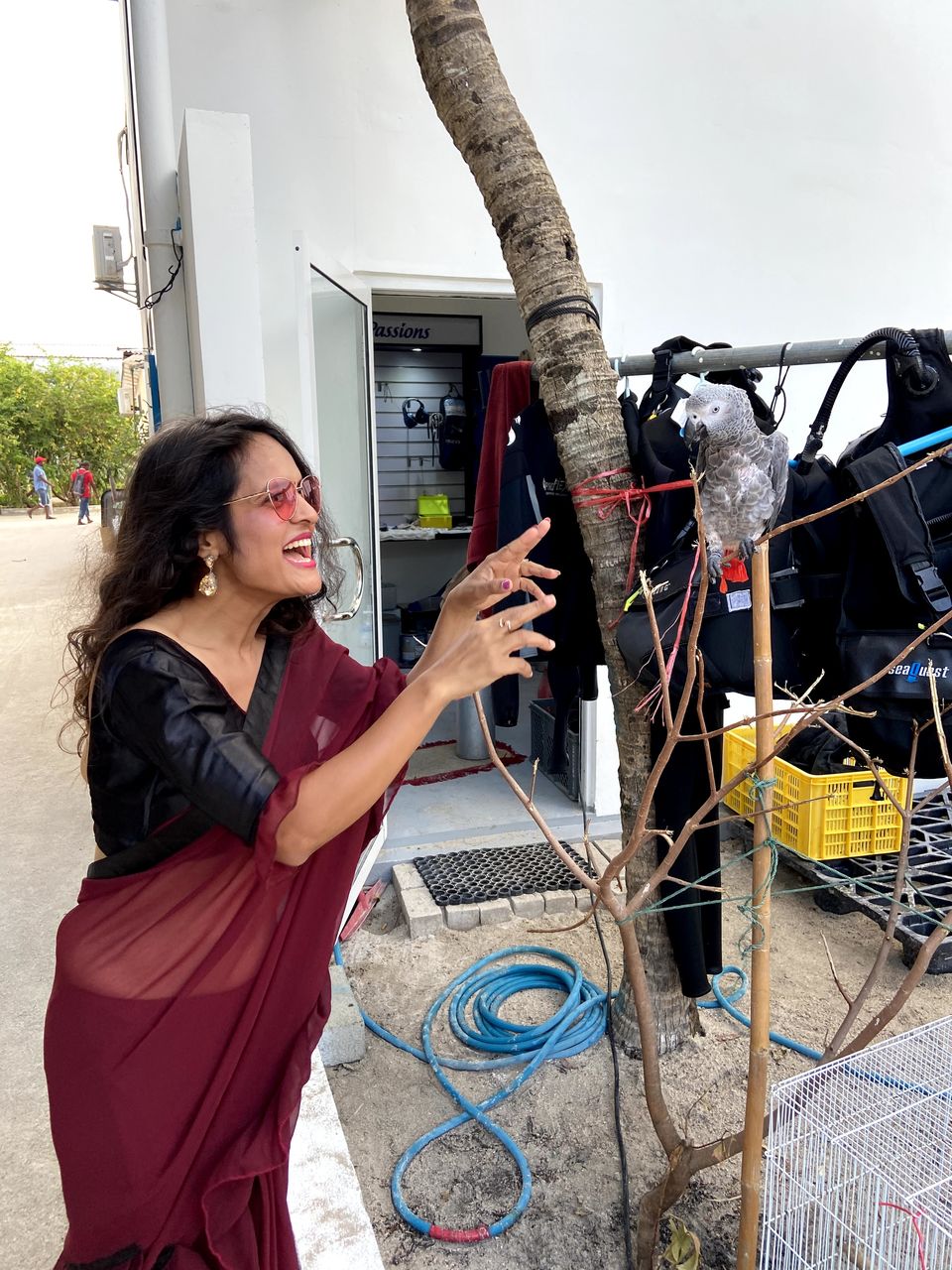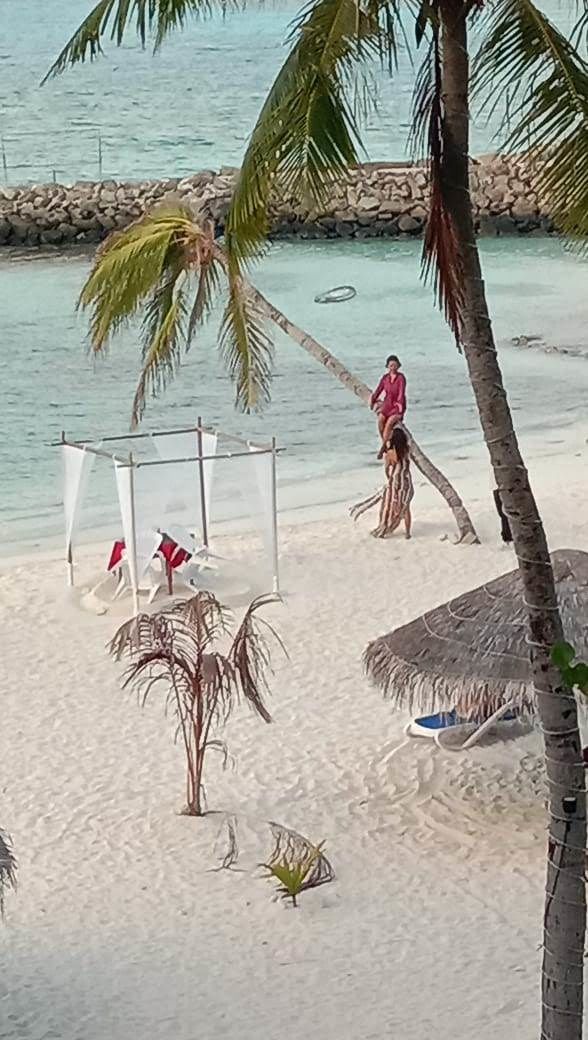 Fun had to go all throughout the night as it was our last night in Maldives. We returned to the hotel and danced at the DJ at the dinner area for some time. Later we played UNO – which turned out an interesting game after some time. Game of winning and cheating. That was the wrap of last night in Maldives.
Kavita, Monika and I decided to wake up early for sunrise. We met at our very own private beach at around 6am next morning and watched the beautiful Maldivian morning clouds ready to be kissed by the rising sun. Sunrise and Sunset list checked.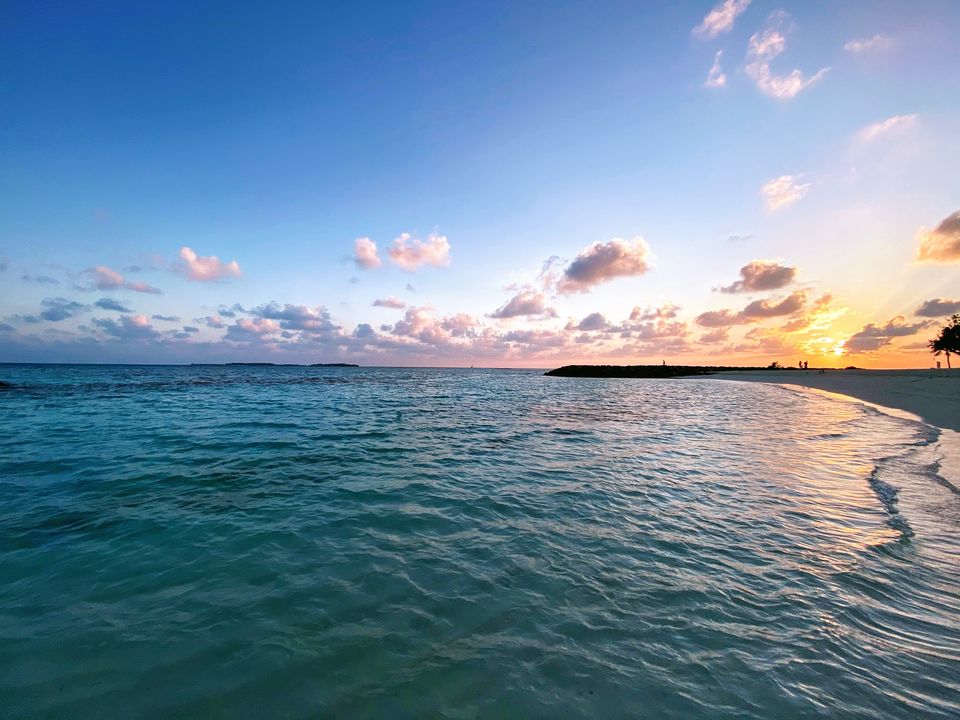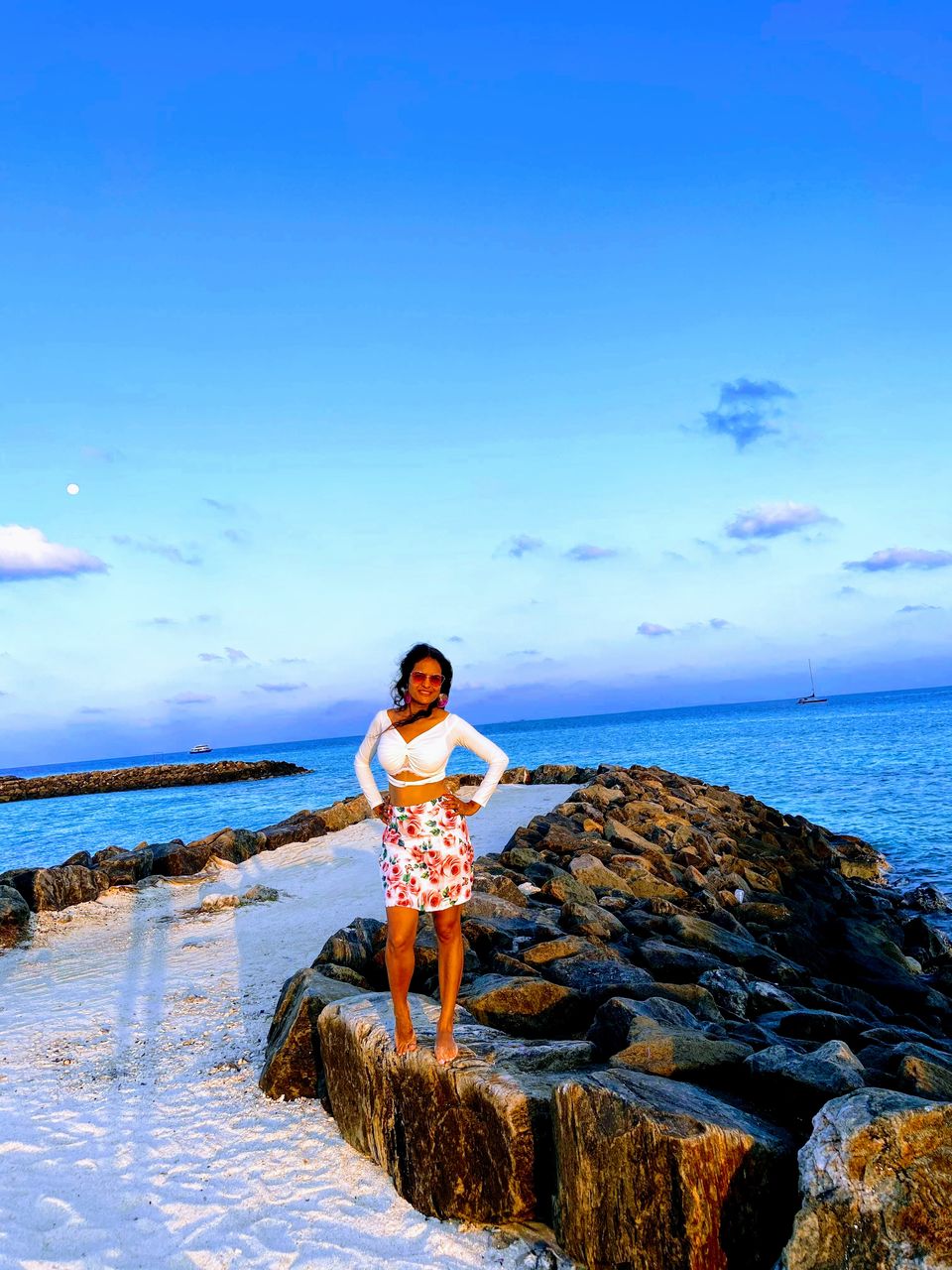 It was finally departure day, we headed to the ferry terminal after some group pictures and funny boomerangs. While sitting in the speedboat for our transfer back to the airport, we all were surely taking happy moments and memories back home but a little sadness in all of us. "Why do all the beautiful journeys in life end quickly with wonderful people"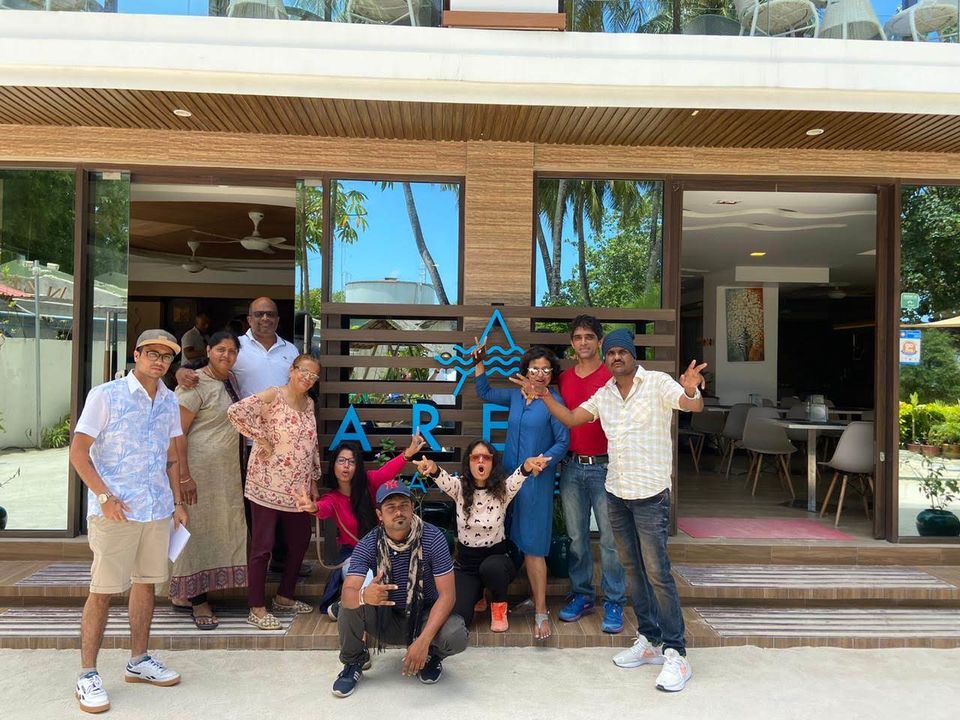 I thank each one of my co travellers – Nafisa Aunty, Mr & Mrs Prasad, Kavita, Roshan, Neeraj, Karan, Kumar, Gagan & Monika and our tour operators Manish & Neha @travelkhiladi, for your part in this beautiful journey of sea, sand, sun, beaches, tan…
It was a beautiful ride to blue heaven….MALDIVES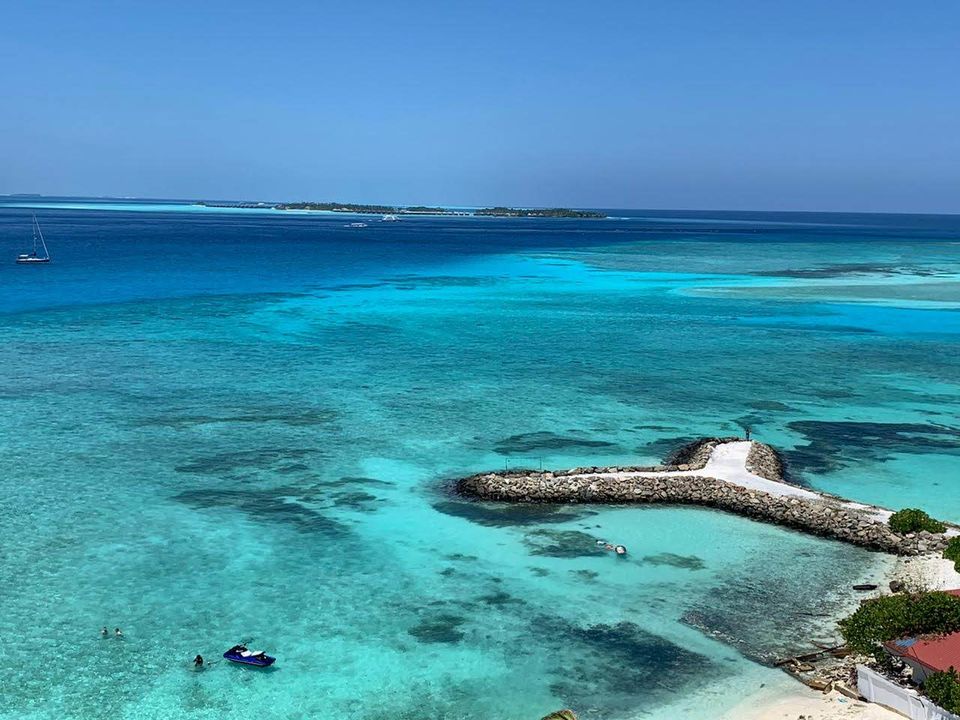 Maldives is paradise for beach lovers and maafushi is the heart of this paradise, the turquoise waters, white beaches and golden sun promises you the fun filled and best of the holiday time. Maafushi is like a blessing for budget travellers to explore Maldives.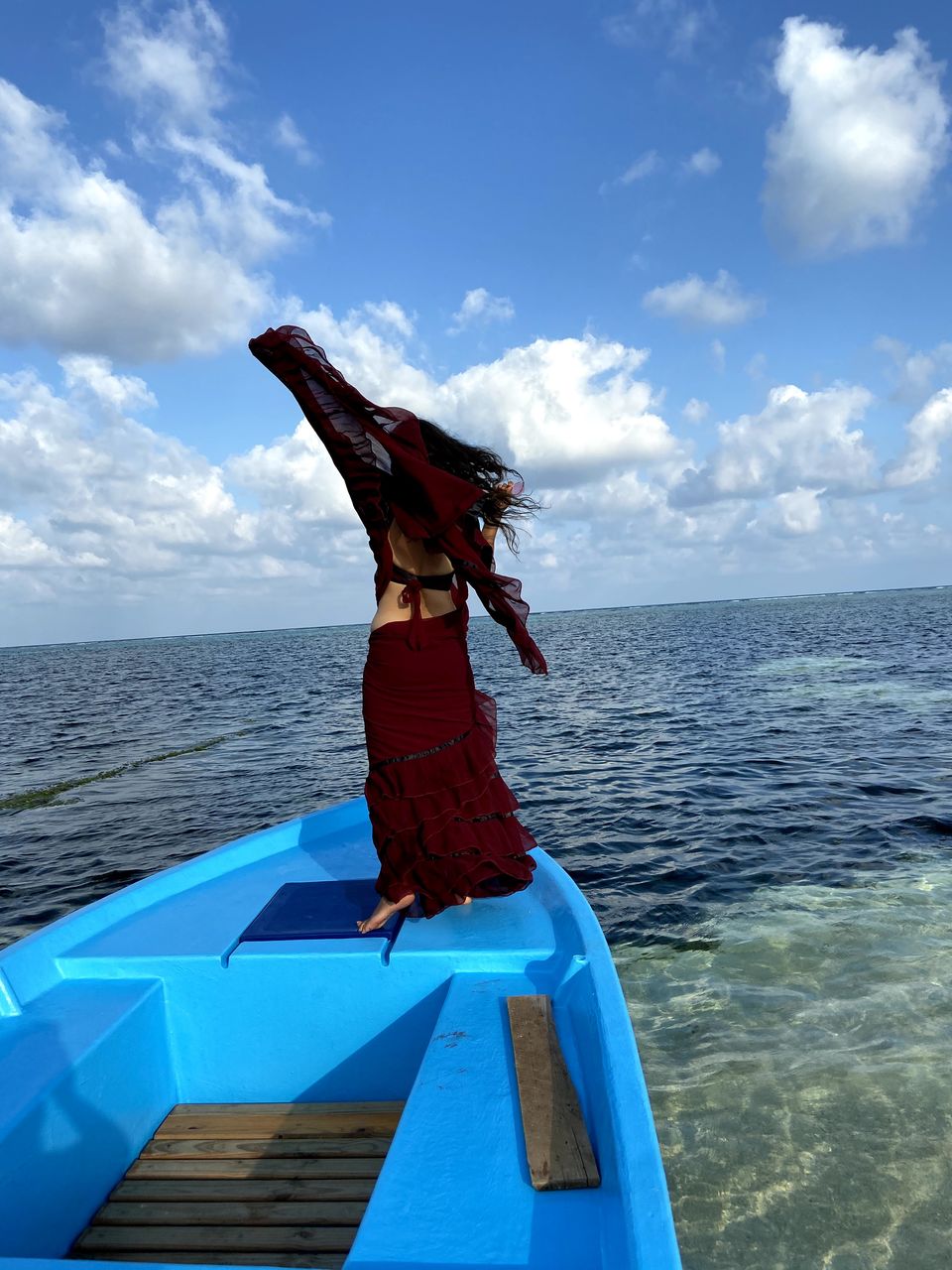 Pro tips:
1. No visa required for Indians
2. USD is the most accepted currency everywhere in Maldives so no need to exchange.
3. Shipwreck snorkelling, swimming with toothless sharks/dolphins/manta ray, fishing game at sunset
4. Check multiple options available for water sports, negotiate and make best choice out of all.