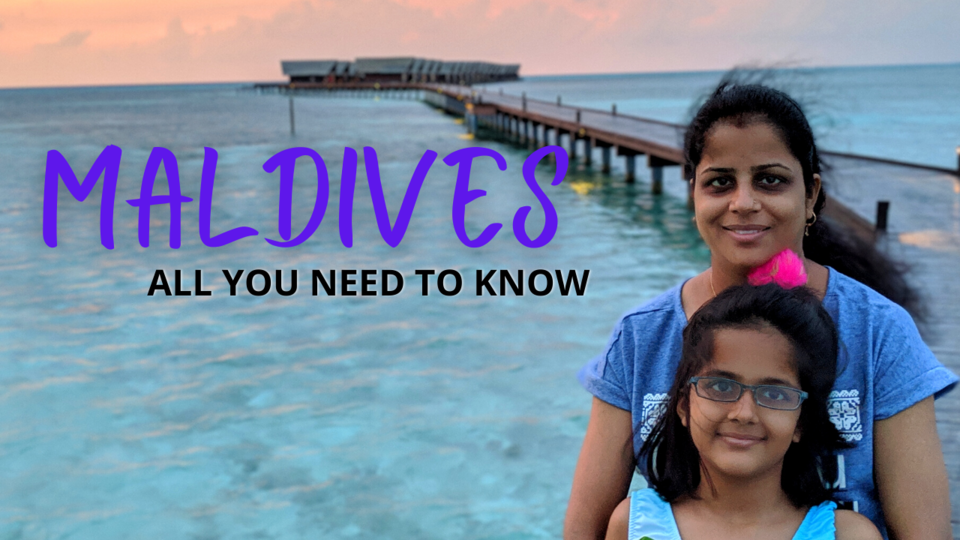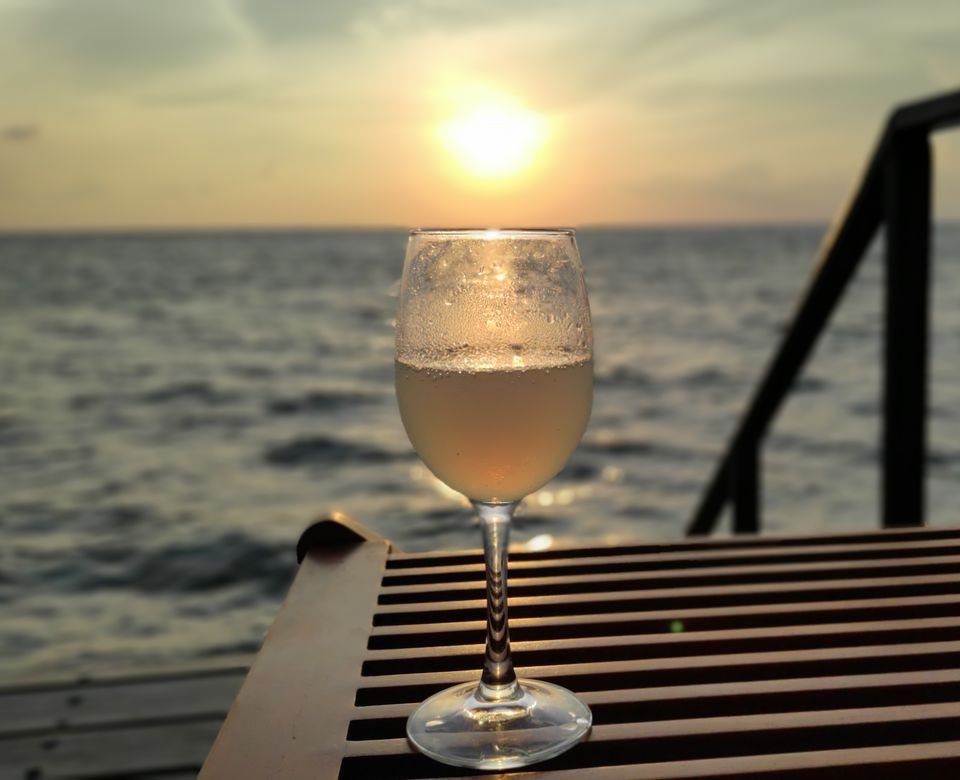 I did my Maldives tour on DIY basis, as I always do. DIY (Do It Yourself) is what I love about the travel. On this 4 day tour to one of the most beautiful places on planet earth, I decided to split my stay into 2 parts, 1st part was in Holiday Inn Kandooma and 2nd part was in Adaaran Select Hudhuranfushi. There were 2 main reasons for me to do this.
1st- to minimize the cost of stay
2nd-to explore 2 different Island/resorts.
And the bonus-got to see 2 different public islands in transit-
a) Maafushi
b) Hulhumale
The 1st experience after coming out of the airport was like, woooow. Just outside the terminal building there was the speed boat jetty. And, on the jetty itself you can see the crystal clear blue waters of Indian Ocean and can anticipate, what Maldives has in it's bag for you.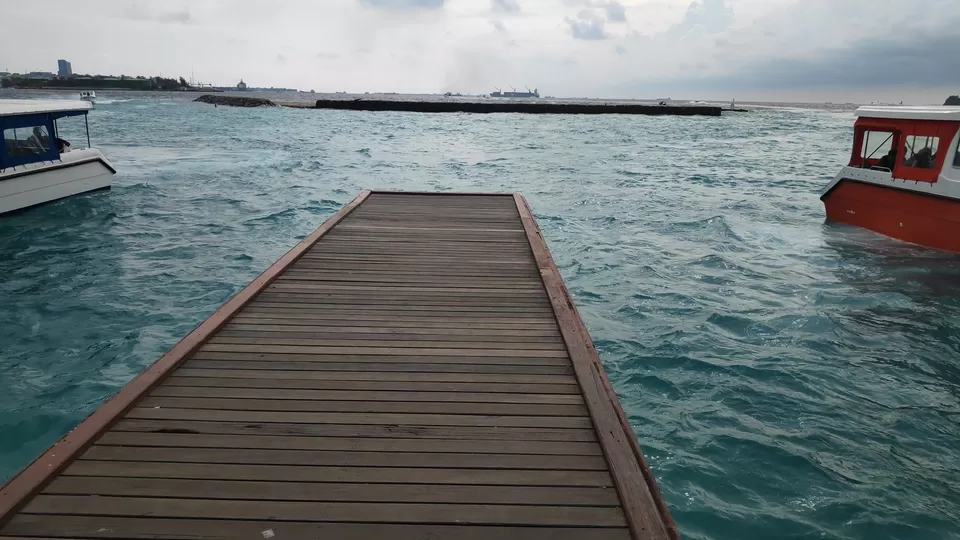 This was one of the finest resorts in terms of hospitality and reception. When we reached, entire formality had already been done. I just had to sign on couple of forms. A dedicated table was set for us for the check in process with a refreshing drink and a personalized leaflet.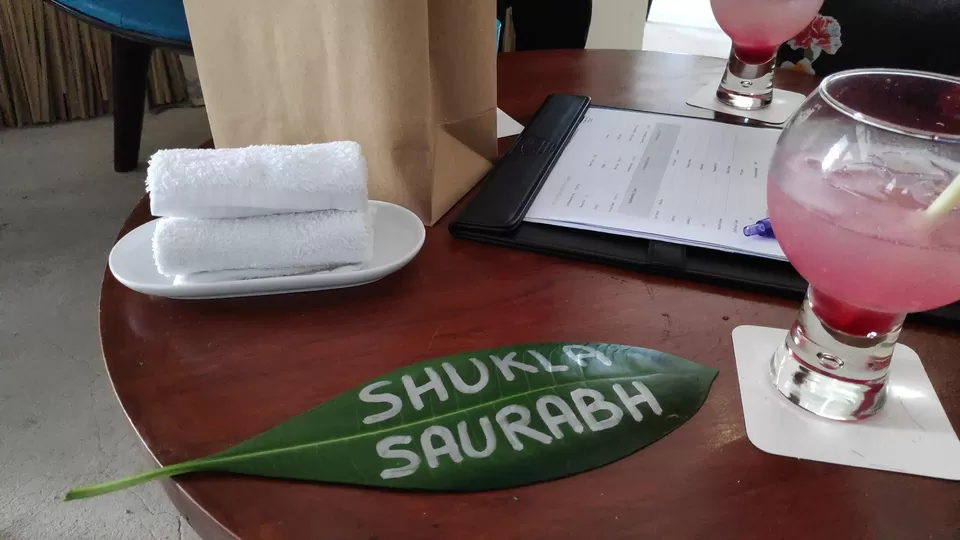 Holiday Inn is in South Male Atoll and one of the few resorts which allows to arrange for your own Speed Boat Transfers, if you have not been to Maldives, let me tell you the transfers cost you a bomb. So I took permission from Holiday Inn ( yes, permission is mandatory) and arranged my own transfers. My journey to/ from Holiday Inn was in 2 parts. 1st was from Airport to Maafushi island ( local island, approx 30 Kms from Airport) in a shared speed boat run by Kaani Hotel, Maafushi. It costed me about 20 USD per person one way and for child it was 10 USD. Then from Maafushi, I took private speed boat to Holiday inn and it costed me 50 USD each way.
For details you can watch my Maldives-Luxury on a budget, Part 1 on YouTube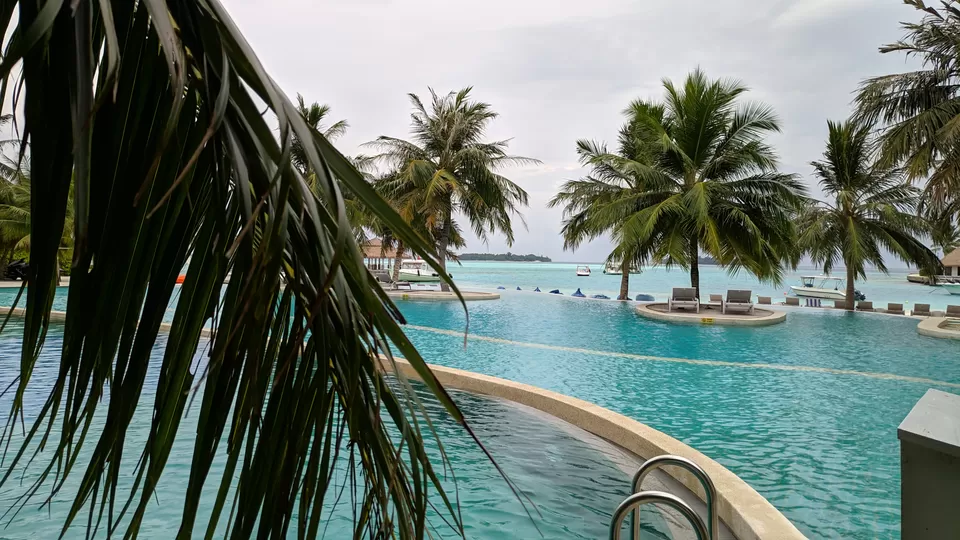 Our package here included the breakfast. The spread was huge and a dedicates Indian counter also. The taste of Indian food was also fine.
The resort had a club for kids and a splash pool.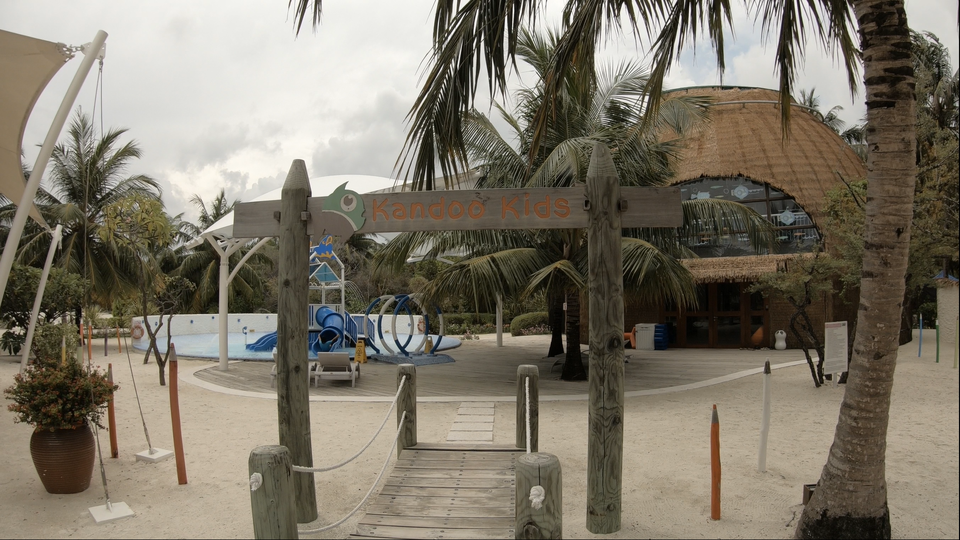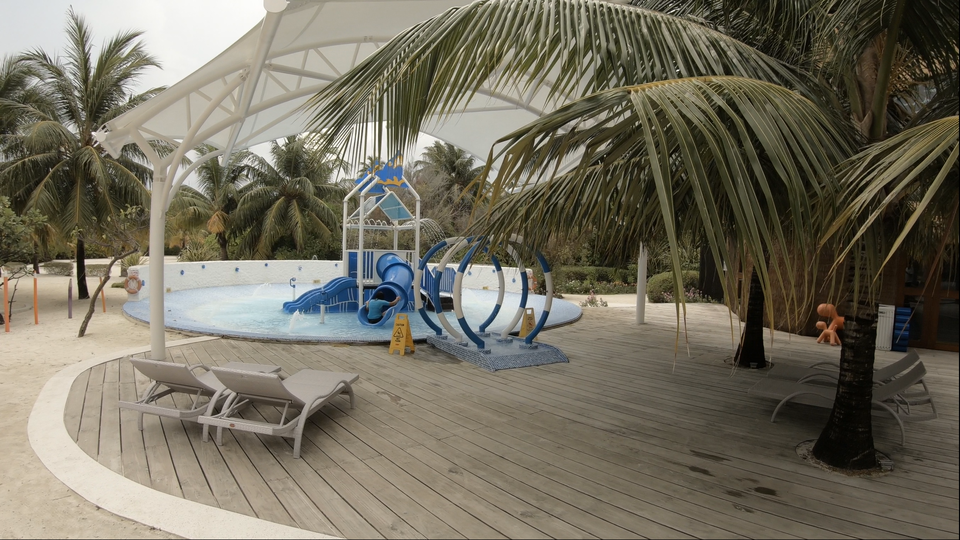 It was time to say bye to Holiday Inn and move to another resort, Adaaran Select Hudhuranfushi Via Maafushi & Hulhumale.
Maafushi is one of the most famous Public Island in the South Male Atoll. With lots of Guest Houses/ Hotels, eateries and a "Bikini Beach", Bikini beach is a rarity on Public Islands in Maldives. Maldives, being an Islamic country poses many restrictions on clothing.
Maafushi is heaven for Backpackers & Budget travelers, because it offers reasonably priced food and accommodation.
Many Operators here offer variety of excursions at very reasonable prices. When I say reasonable, it is reasonable from Maldives's standards. Don't compare it from anywhere else. The excursions prices starts from 20-25 USD and can go upto 165 USD. This 165 USD excursion gives you a chance of living the luxury resort life for a day ( mostly lunch inclusive). Mind you, only day and not the night.
If you are looking for budget trip in Maldives, Maafushi is the place. And from Mumbai you can have a 4 day trip to Maldives in about Rs 35,000.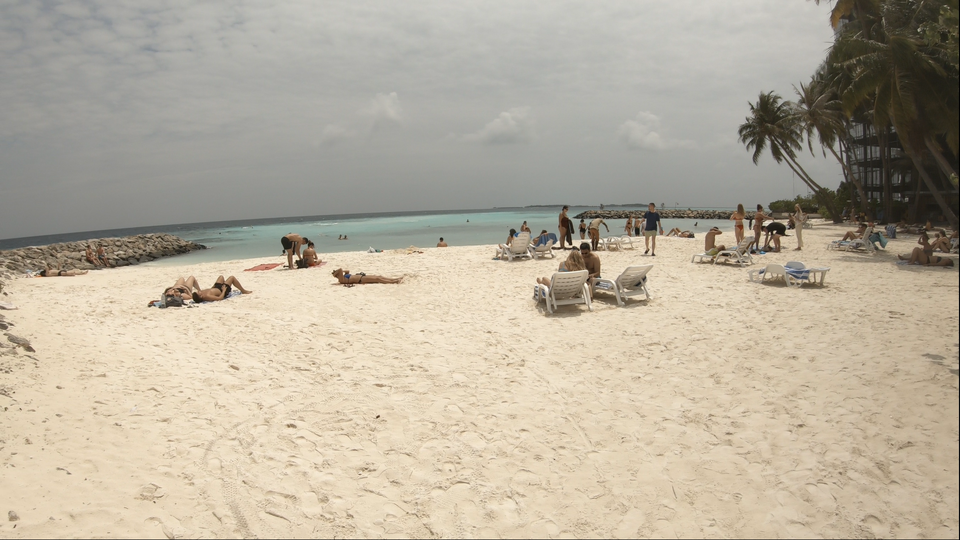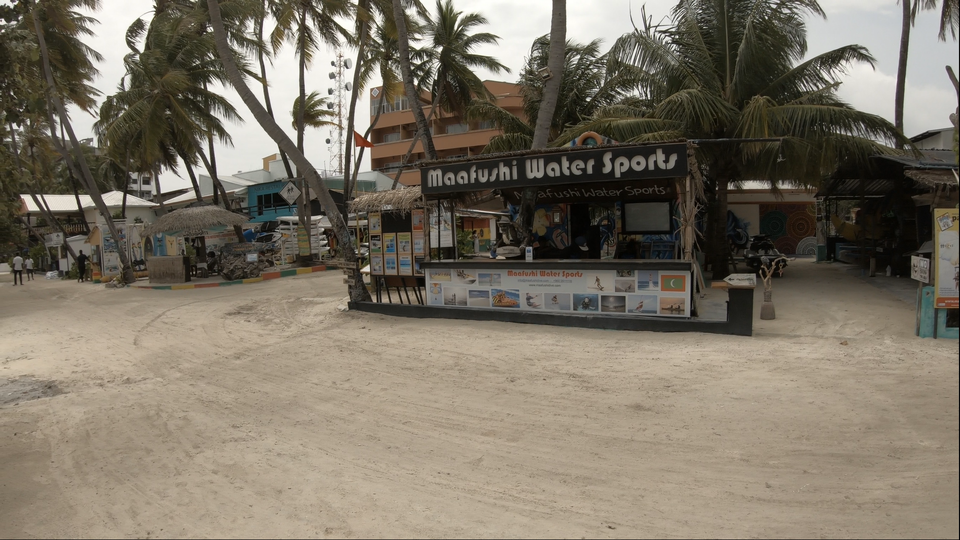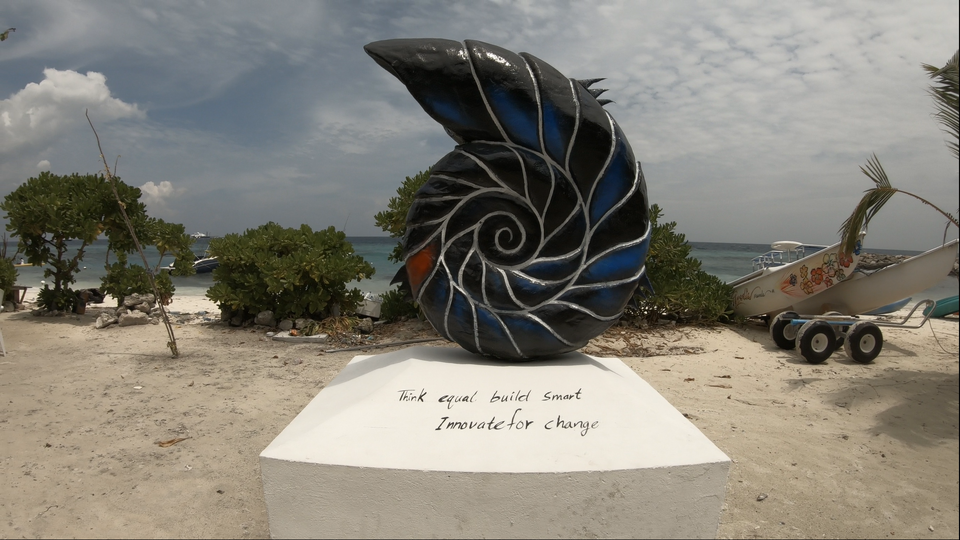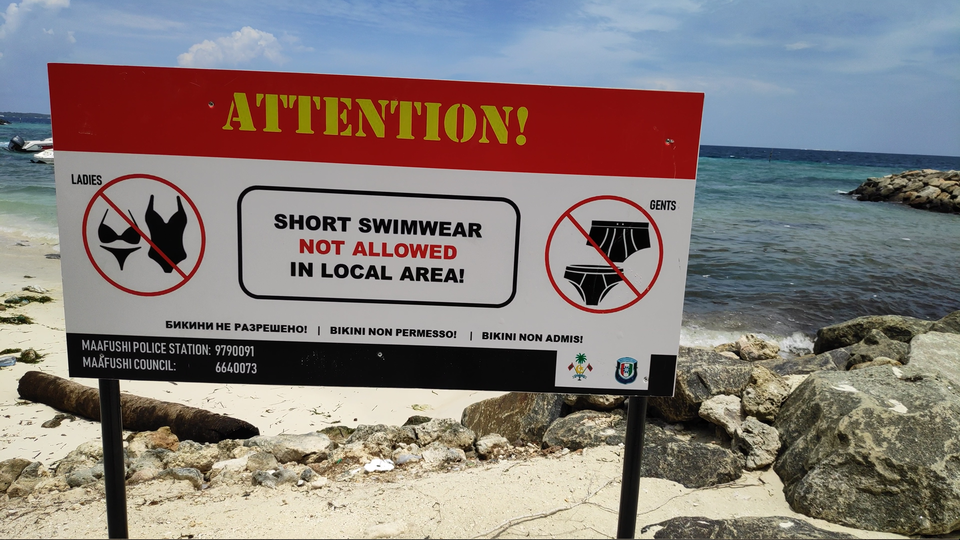 From Maafushi, we went to Male Airport. We had around 3 hours till we get our private Speed Boat Transfer to Adaaran Resort. So we thought of passing our time and went to an Island City named ' Hulhumale'. It's only 11 years old city and still in development phase. People from capital city of Male are relocating to this island because it has lots of open areas. We had a quick meal here on a very pretty beach side restaurant and came back to Airport to catch our speed boat.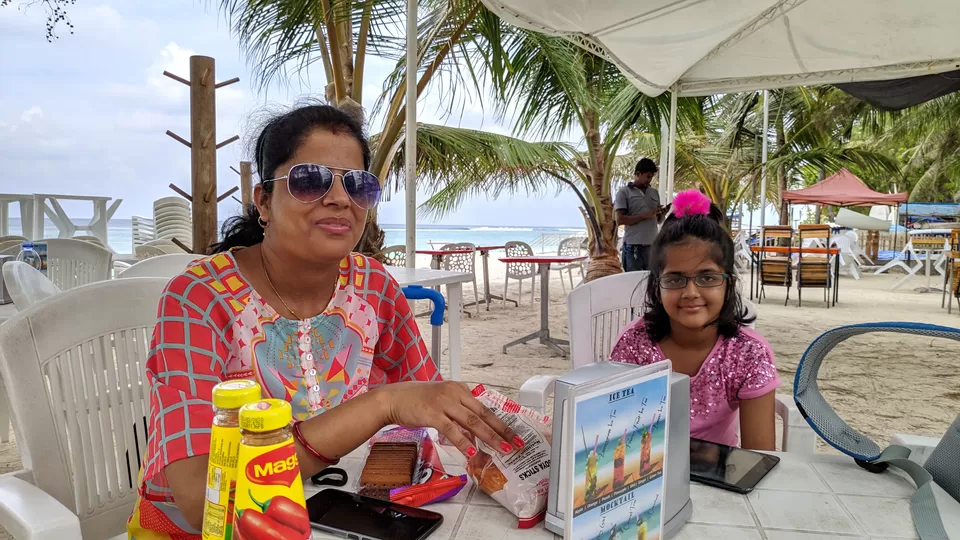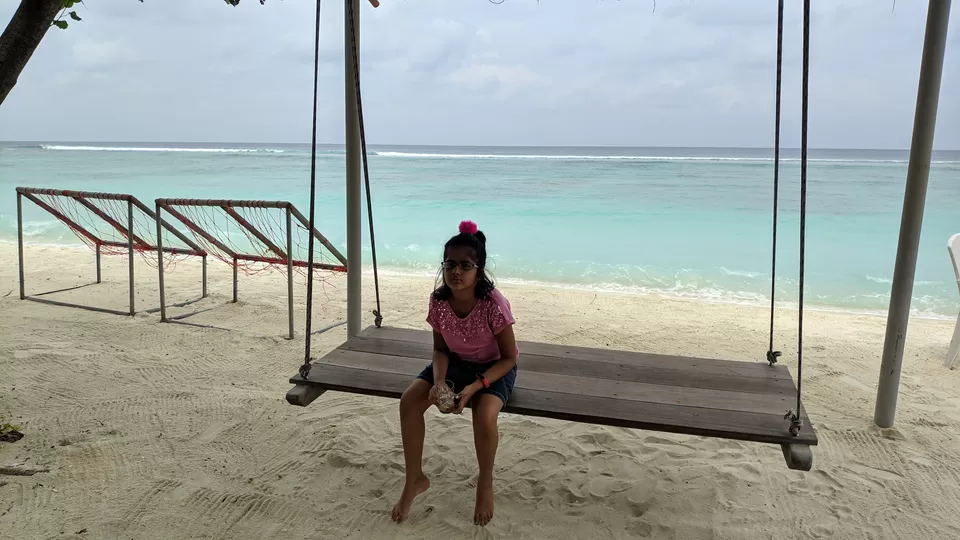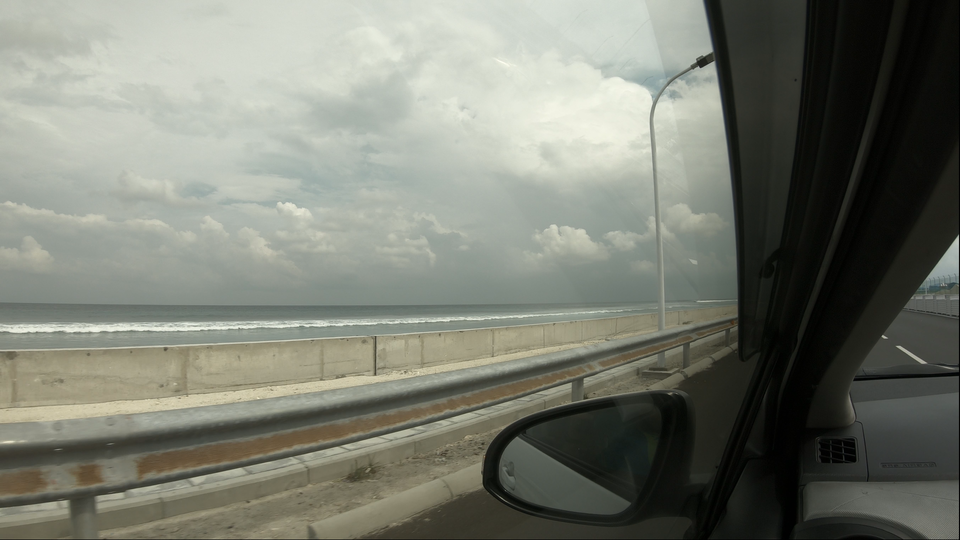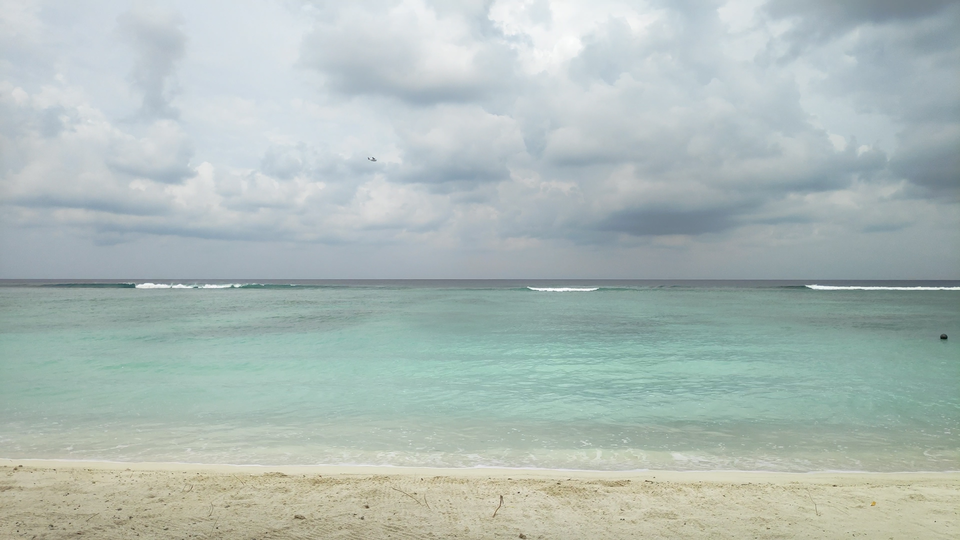 It took roughly 30 mins speed boat ride to reach Adaraan Select Hudhuransuhi. Where, we were greeted with warmth and cold towels. Cold towels work wonders in humid conditions. The check in process was exceptional and personalized. We had booked an over water villa in Prestige Ocean Villas, at the reception we were greeted by our butler- Ihusaan ( meaning Ehsaan in Urdu and favor in English).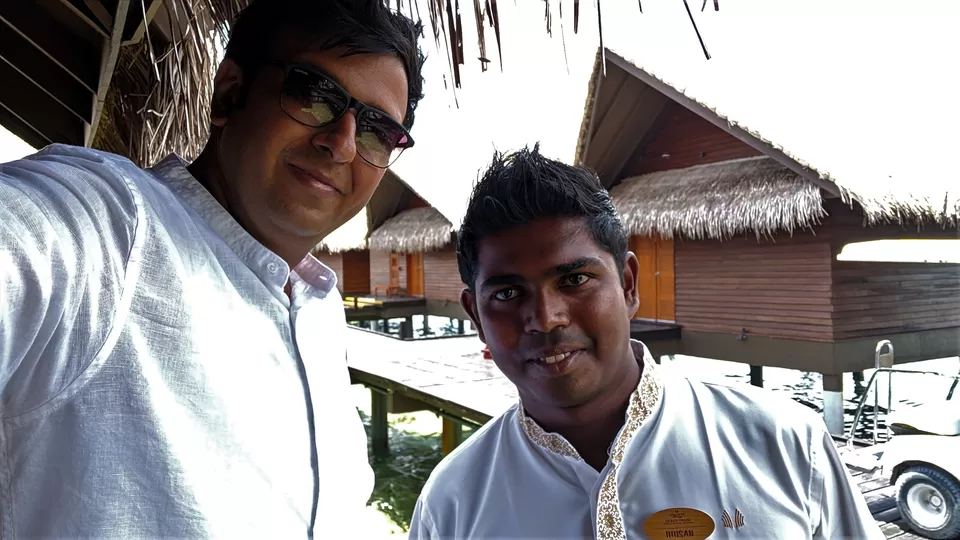 He gave us a detailed tour of the resort before taking us to Ocean Villas' dedicated reception where the check-in formalities were done and we go the keys of our own villa for 2 days.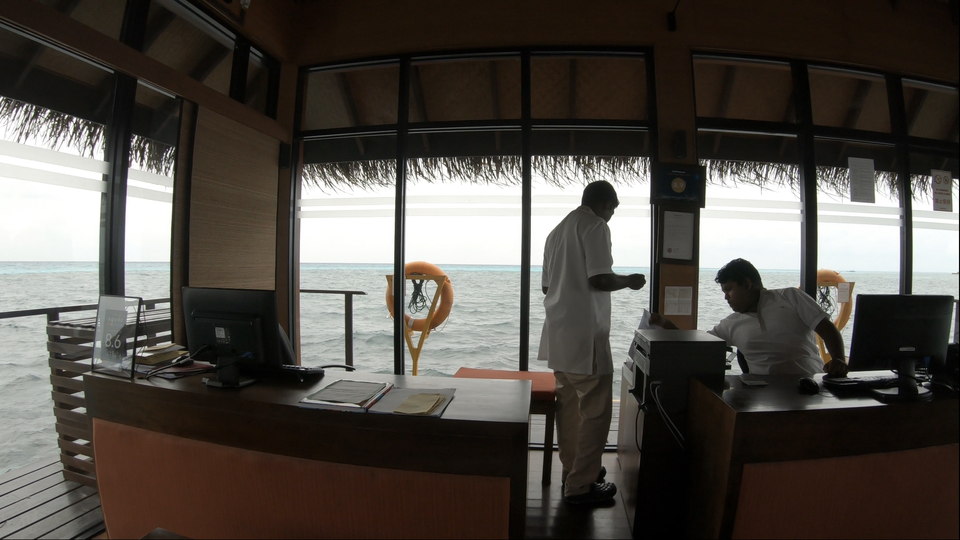 The villa had exceptional views, right on top of Indian ocean. Our Villa was facing west and sunset, where we experienced an amazing sunset.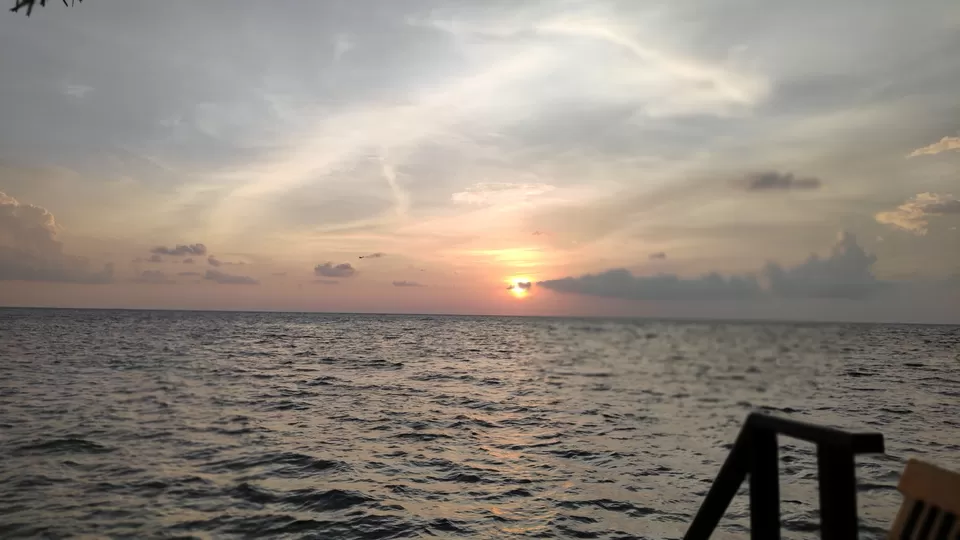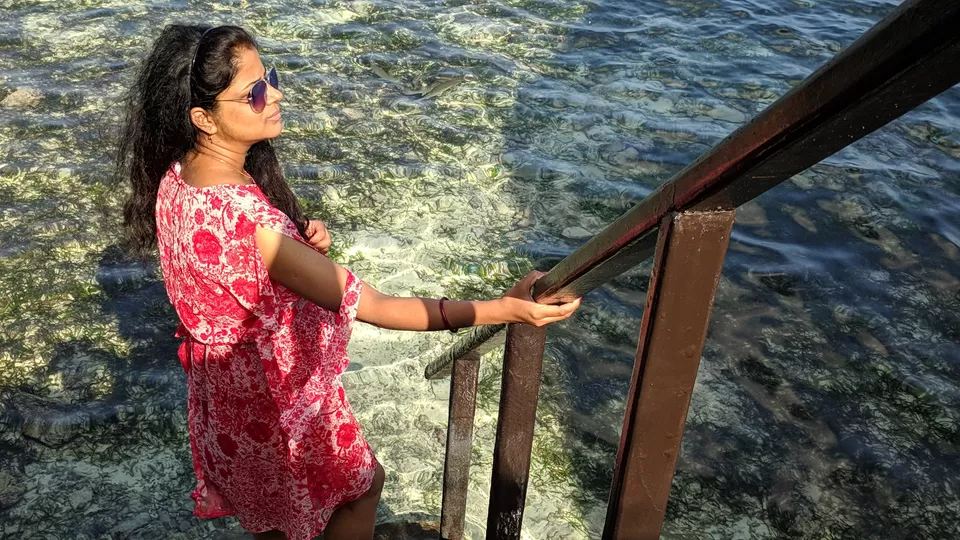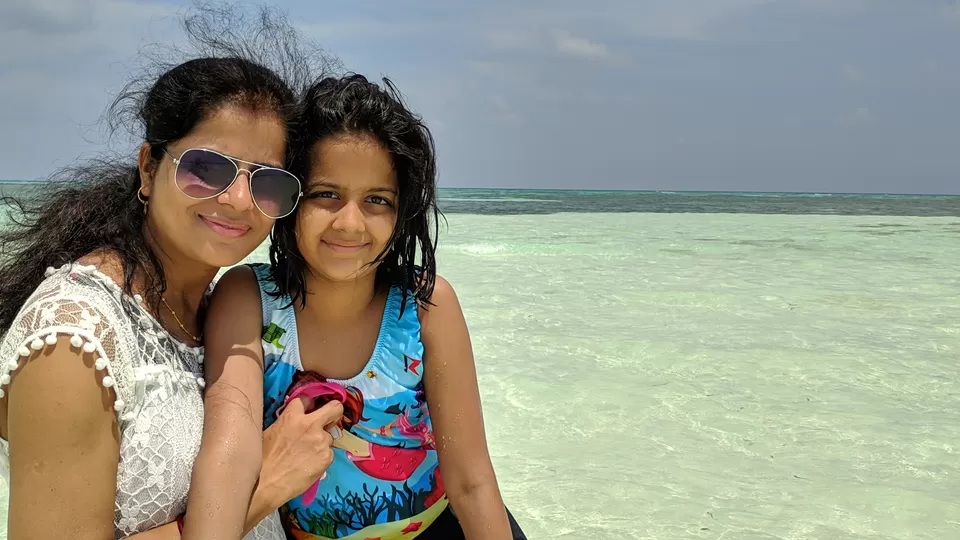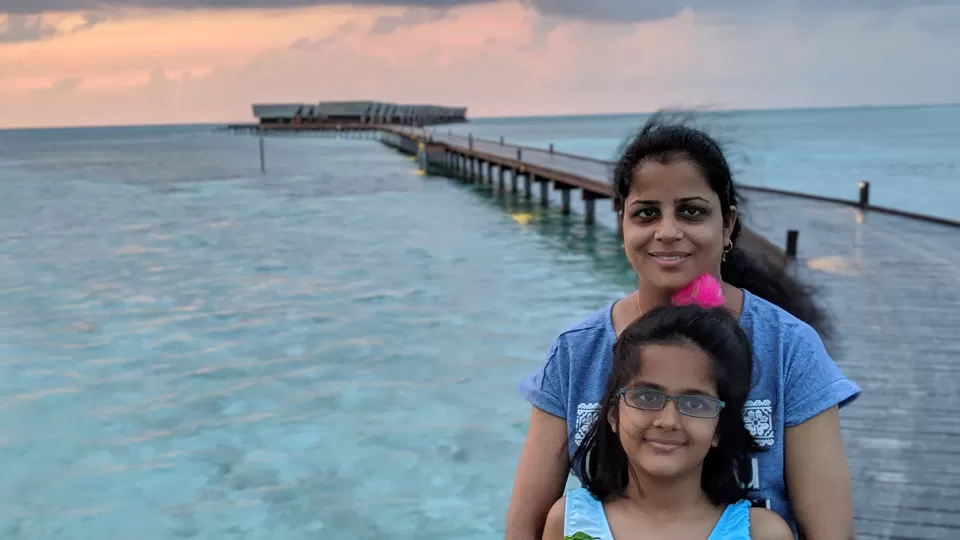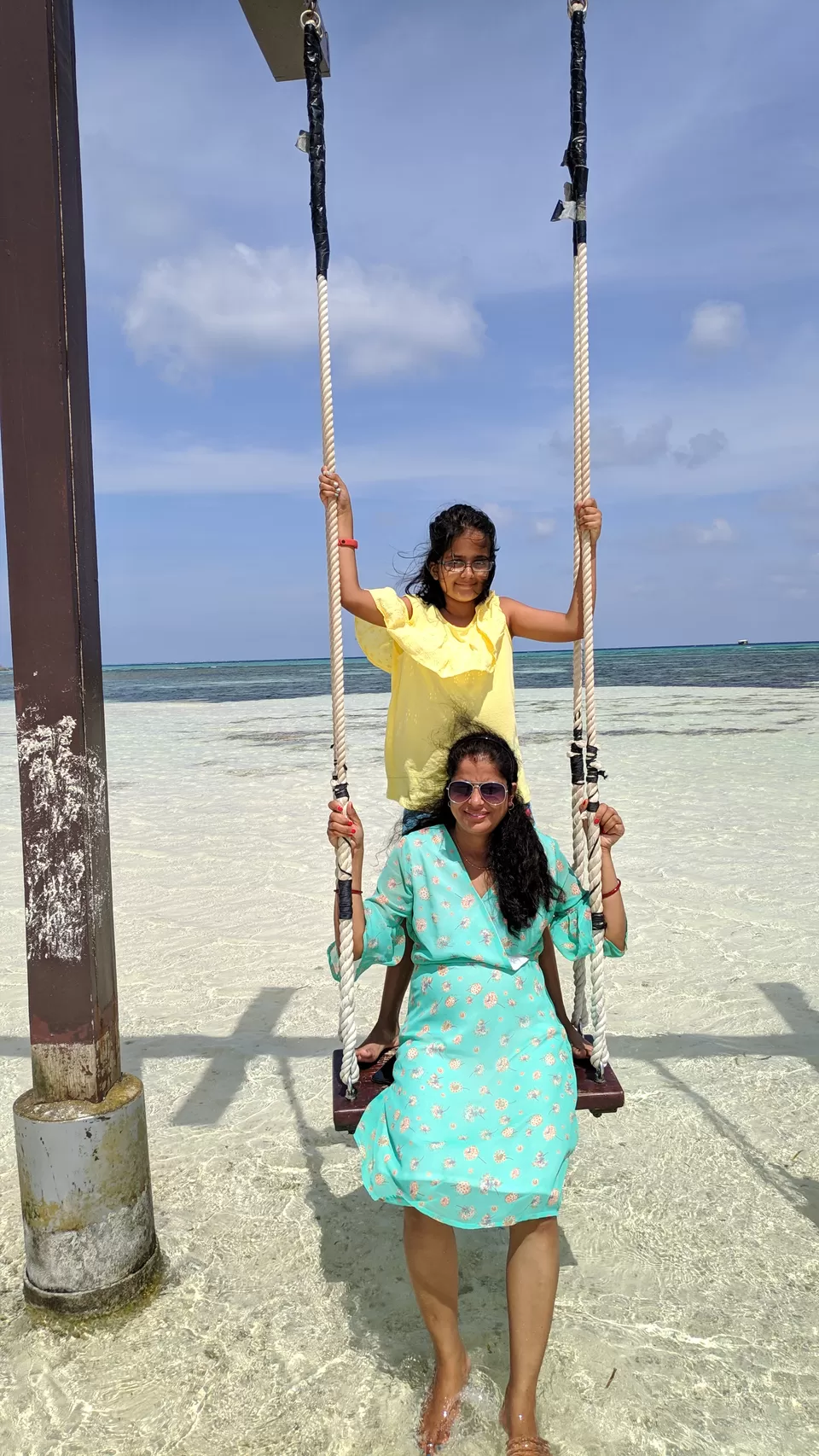 The Island where this property is based is quite huge and our Villa was approx 1 KM from the reception. Thankfully they were giving the buggy service to go to anywhere on the island.
The resort had many facilities, water sports ( the prices were on a higher side, as is the case with any Maldivian resort), swimming pool (the obvious for any resort), souvenir shops, excursion center, Photo-shoot services among others.
The services in this resort were good. will definitely recommend it.
For details you can watch my Maldives-Luxury on a budget, Part 3 on YouTube
We had chosen the Beach Villa for our stay. and it was like this.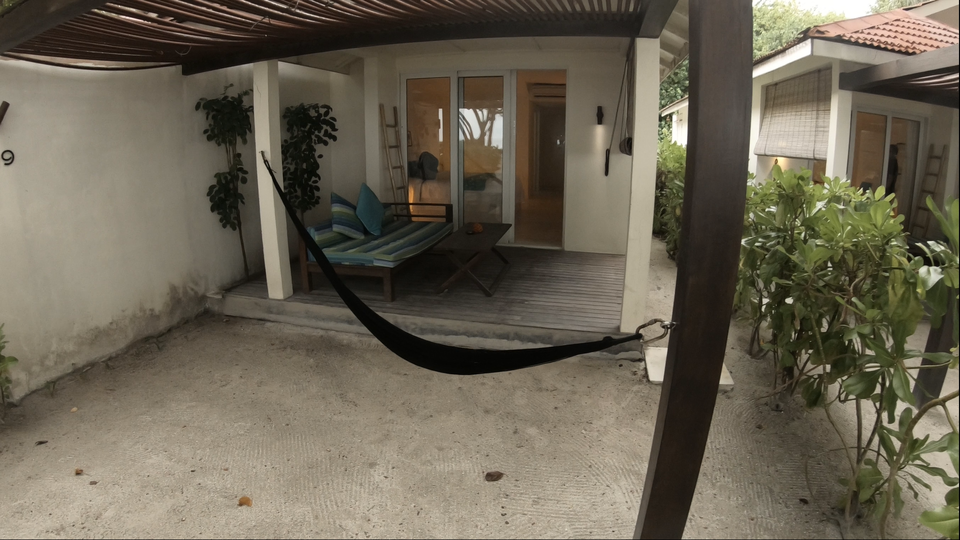 The island is quite big and they had buggy on call facility to take you to any part of the island.
I stayed for 2 nights in this resort and I would say it was a pretty awesome experience.
For details you can watch my Maldives-Luxury, on a budget Vlog Part 2 on YouTube
For details of budget travel to Maafushi, please watch this.