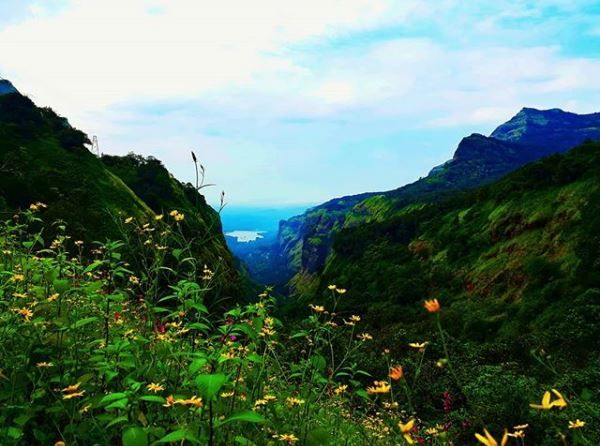 Pune can be a difficult place to find things to do during weekends, Not because it's rare to find things to do. It is difficult only because it has too many hidden treasures that you miss against typical Rajmachi and Torna.
Andharban, roughly translates to The Dark Forest. Covered by dense overlay of flora, it does get quite dark in there. It also has a wide variety of Fauna, especially, sightings of The Giant Indian Squirrel could be a lucky break for you. The trek starts at Pimpri Village, and stretches till Bhira Dam, a distance of 13 odd kilometers. Mostly a gradual downhill trail, but slippery and dense enough to be dangerous if not careful. Hence, it took us 6 hours to complete 13kms.
We set off at 7 in the morning on a Sunday in July last year. Pre-requisites packed and loaded, the cabs took roughly three hours to drop us at the trail start point, which you can conveniently find on Google Maps( I would highly recommend you to download maps for offline access as there is absolutely minimal internet accessibility after Pirangut. The option will be there under more steps in your directions panel, scroll all the way down through the directions to find it. )
The road towards Andarbhan; Mulshi Road, wades through the lush green landscapes and twisty ghats. So pack yourself a hearty breakfast, a nice camera and.... extra time, if you can. Early morning views during monsoon are icing on the cake when going somewhere.
And after a while, when you are done soaking in the beauty of Plus Valley and Tamini Ghat, just when you think you've seen enough, you will be at the entrance of the beautiful trek you are about to embark near Pimpri Village (There are no markers for the start point on the map, just keep moving ahead until you see restaurants that'll come up to your left, ask them and they'll guide you.)
We packed some Pithla Bhakri from one of the restaurants, got ourselves a guide for Rs. 600; an old man with a stick who spoke nothing but pure unfiltered Marathi. But he was good at hand gestures, so, we started following his footsteps.
Initially, the paths guiding you to lush green hills of Kundalika valley won't seem like a big deal. But soon, the path becomes narrower and slushy with loose rocks. Make sure your shoes grip well in such terrain before wandering in.
About an hour into the journey, we were greeted by this beautiful view of the valley.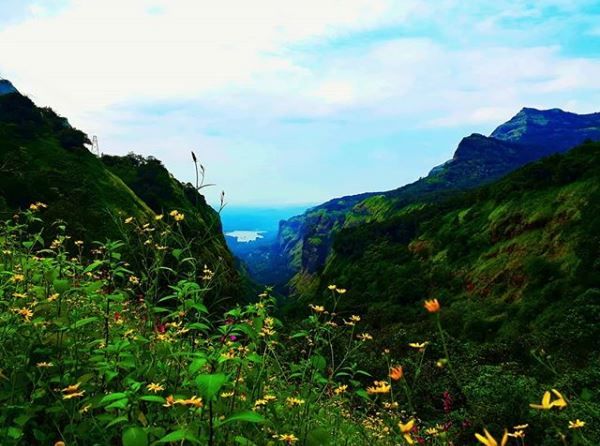 And a few steps later, a tiny river, not too wide, but mildly powerful. Its quite possible that during extreme monsoon, one would require ropes to pass through. This stream marked the start of the actual andharban, the real entry point to the forest. And in a few minutes, we felt the forest become fairly darker due to the overgrowth up above. Streaks of sunlight that leaked through dark green leaves kept revealing the beaten trail.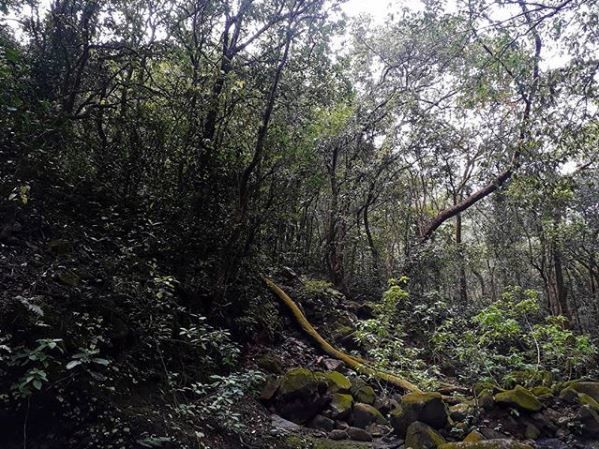 Eventually, after a single and steady climb through slippery and humid trail for a very short period, we saw light. It was a small plateau from where we could see the mighty hills on the right side and clouds rolling in.
We paced ourselves to avoid rain, but within minutes, it caught us and left us drenched. My trusty quechua raincoat helped an awful lot though.
About 40 minutes of walk through the plateau led us to the extremely tucked-in Hirdi Village. I counted 5 houses there, and one served pretty good tea. Instead of having our packed food there, muttering and chatting like bratty city dwellers, we left the isolated little village, and headed down through an extremely steep descent studded with loose rocks where we found a small rock for us to rest and eat. After eating, we packed our garbage in small plastic bags and kept it in our backpacks ( Please do not leave anything behind). .
The next 2 kilometers were the hardest part of the journey. Extreme humidity and rain aren't your best buddies, especially when paired together. On top of that, if the descent is super steep, rocky and narrow? Yeah, it's bad. After a few slip and falls, we reached the bottom, greeted by yet another rivulet. There is a small tea stall there, they also serve maggi. We had a bit of that and a quick dip in the water.
We crossed the rivulet and a few meters later, we were out and onto tarmac, which led us to this extremely beautiful view of Bhira Dam.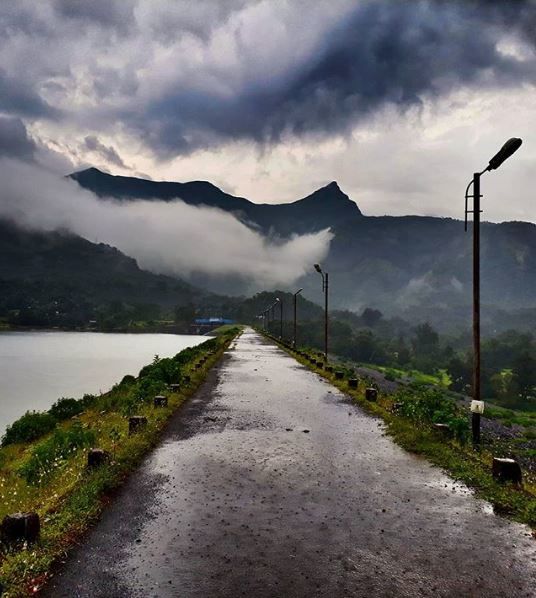 This marked the end of the trail. It was about 4PM and pouring. We had arranged for our cabs to come around, pick us up at the end point. After a humid, slippery, lush and beautiful trek, we headed back to our boring city lives with Andharban in our hearts <3
Cheers.