As the Sun rises, in the urban neighbourhood, on a Saturday morning, we urbanites look for tranquilizers to sooth our depressed minds, and tired souls. What can be a better than a dance of a million Fireflies, in the lap of nature. With this in mind, we set out to the best place known for these tiny little glowing crawlers, as there mating season during pre-monsoons transforms the normal Purushwadi village to a Magical land, straight out of fairy tales.
By now, a lot of us might have read and heard a lot about the fireflies at Purushwadi, Bhandardhara, and Rajmachi, but I must say that reading about them, and looking at the pictures on the internet is one thing, and seeing it live, with all those tiny lights dancing in front of your eyes, is an altogether different dimension.
We trusted Google Maps for our journey, and although it did not navigate us through the fastest way, but we were still happy, as the route taken was full of scenic views of green mountains and deep valleys with waterfalls, all the way. This goes via Otur, Brahamanwada, Kotul, onwards to Purushwadi however, faster will be to take a road till Sangamner, and then onwards to Rajour, from there it is just 8 kms to Purushwadi.
We took the turn from Alephata to Otur, which is although just a single lane road, has a view to enjoy, and sunsets are a marvel, as it plunges down the beautiful lush green valleys.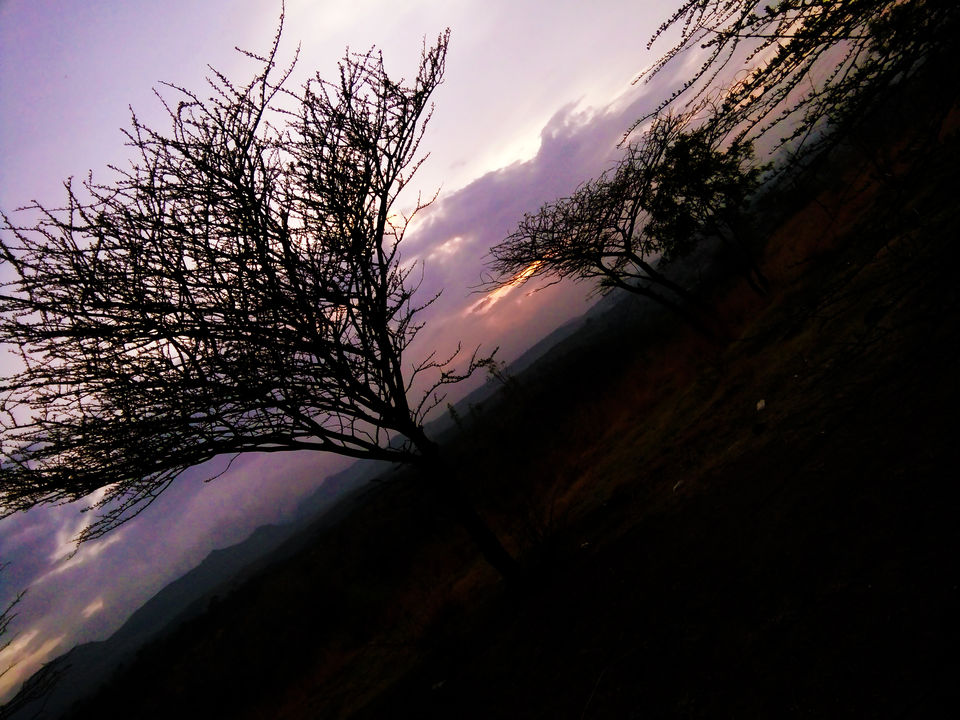 As we took the way towards, Purushwadi it has already grown dark, and it started to rain as well. My friend mentioned to us that the raindrops are shining in the headlights of the car, only to find that those were fireflies, as we took a look on the back of the car, we were spellbound at the view of trees covered with tiny glowing lights.
Taking this as an auspicious sign (:P, as if we cared), for our successful trip, we moved towards our destination, with renewed euphoria, and reached Purushwadi around 09:30 PM. Now this is no way the time to reach such a fairyland, as the villagers might have slept, however we are not the best bunch of punctual people. :P.
The Villagers are quite welcoming, and assisted us in getting a Home stay as we haven't done any kind of advanced booking. We waited some 10 minutes, before we were on our way to our shelter for the night. The guy(Dinesh) negotiated and finally agreed on INR 1500, for all 4 of us. He also informed us that it is better for the villagers if we come through the organisation Grassroutes, as they use the amount collected for the growth of these kind of villages across Maharshtra. Once at the place, we unwinded from the entire days weariness, at his home, where we were greeted with warm food, eventhough it was so late at night.
After food, we got ready to roam amidst the Magical lands of Purushwadi, with the beautifully glowing insects, all around. As we moved towards the jungle, our paths were enlightened by the twinkling arachnids. We were spellbound by the patterns created by the fireflies, as they were everywhere, on trees, grass, flowers, us....

@instagram: thevk56