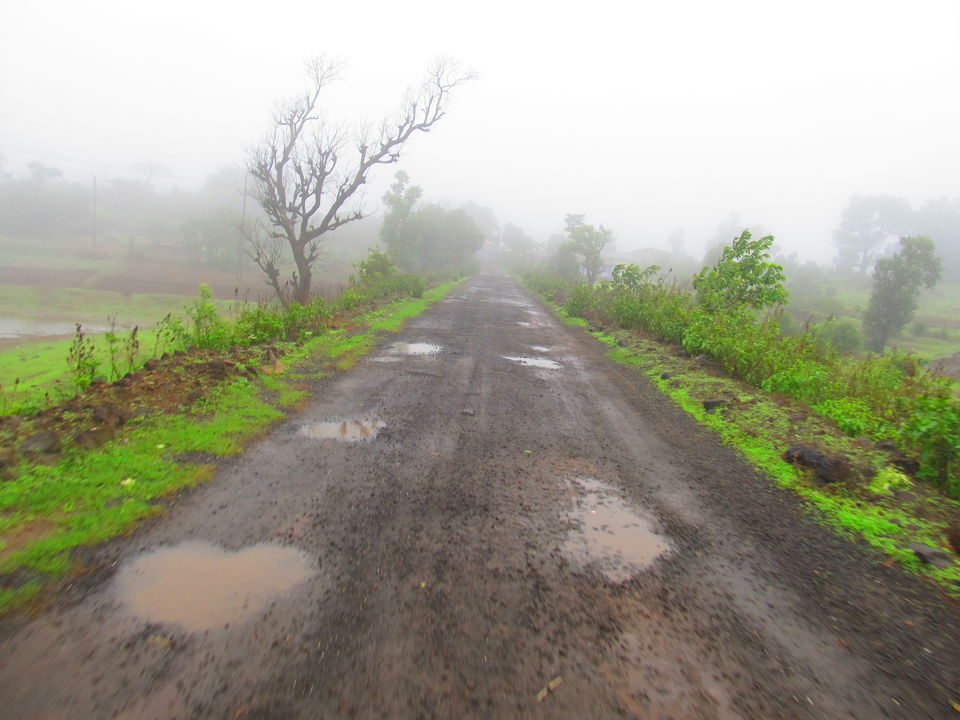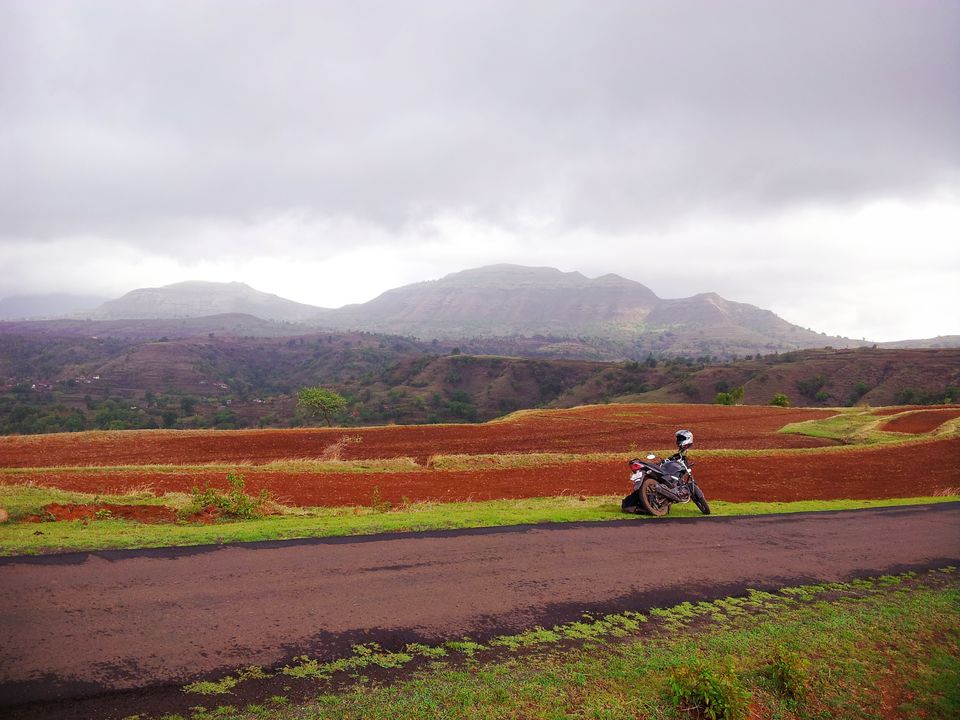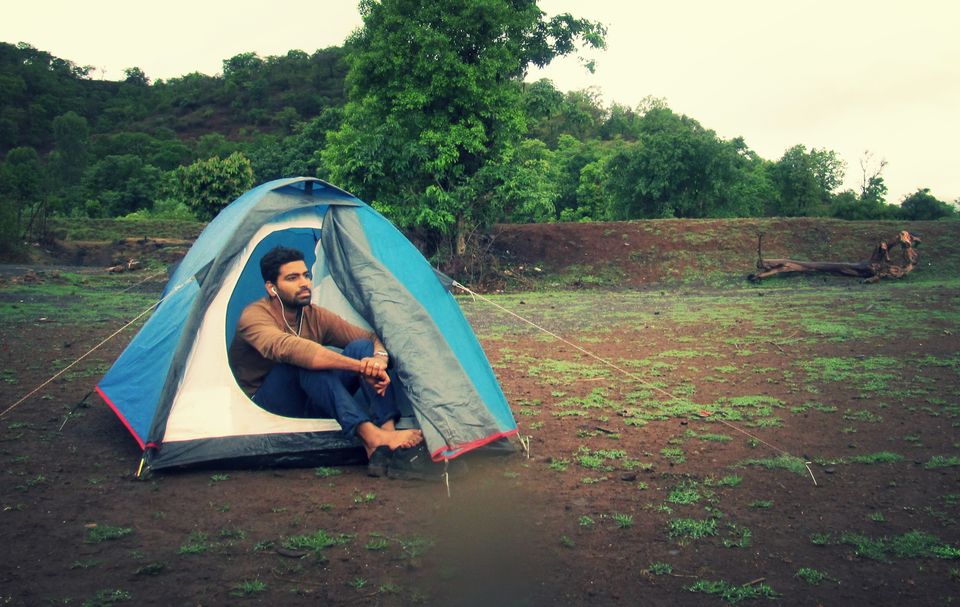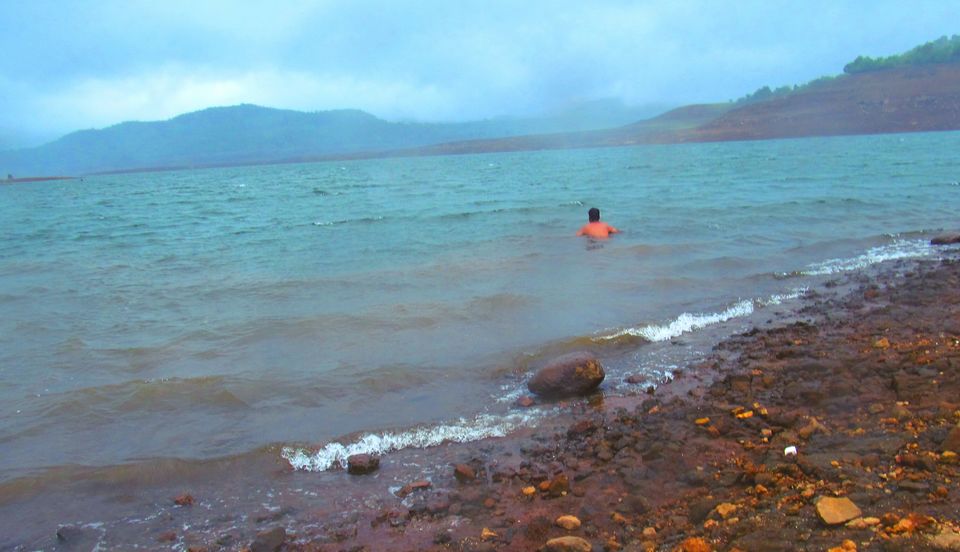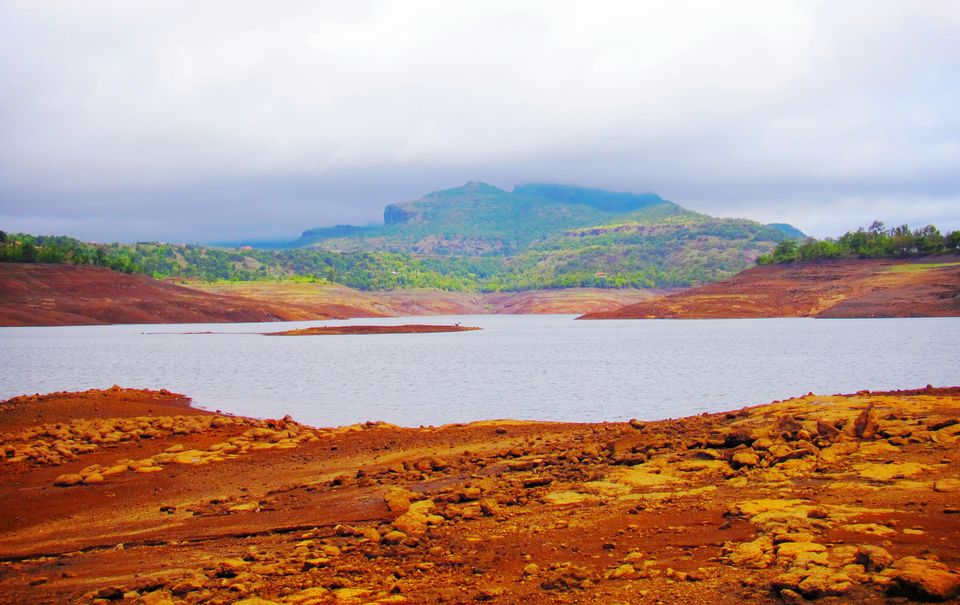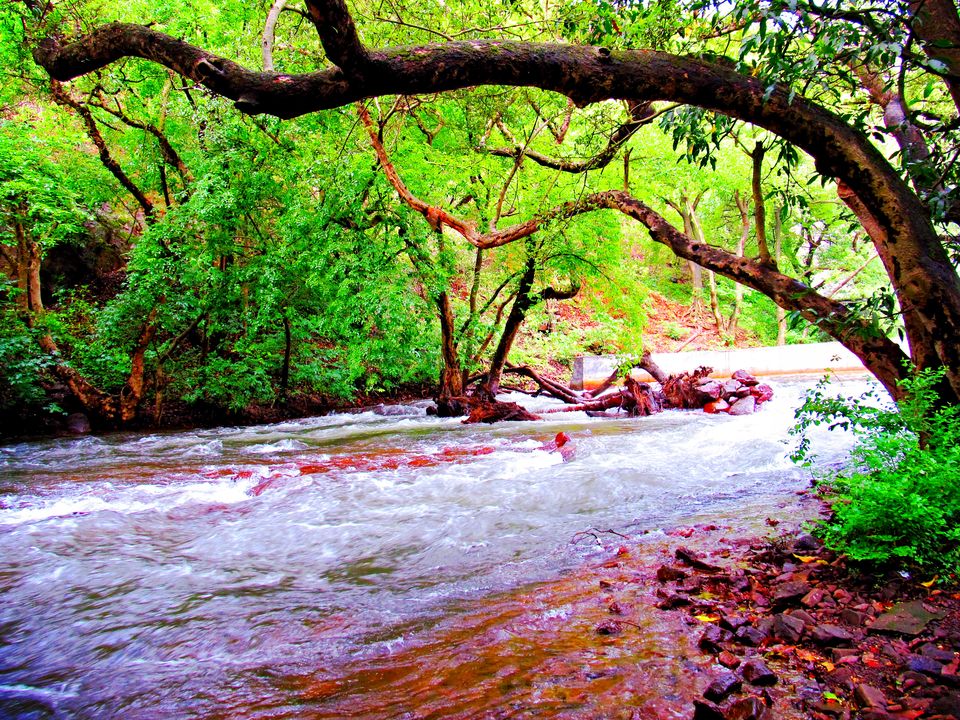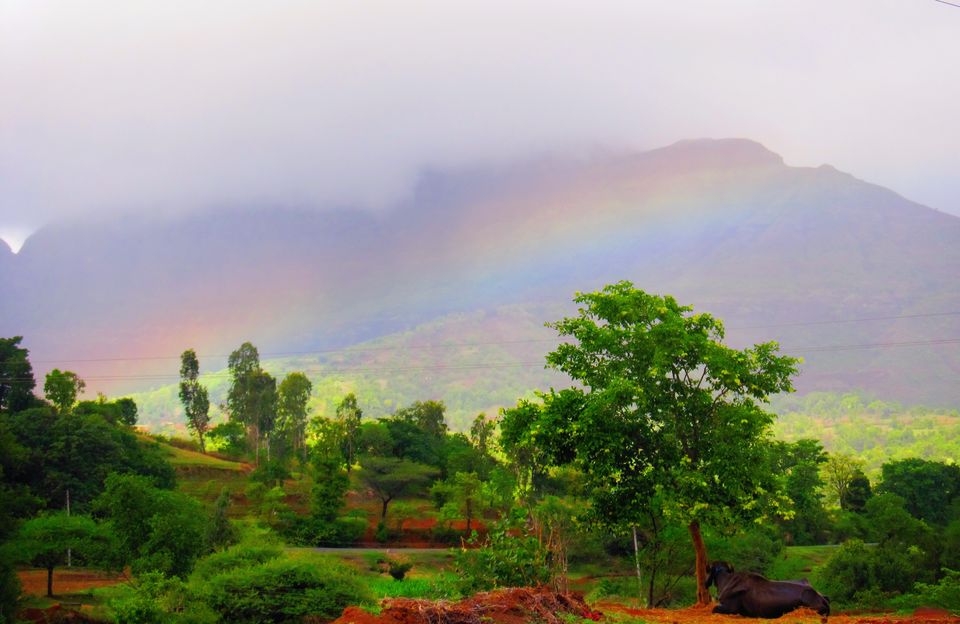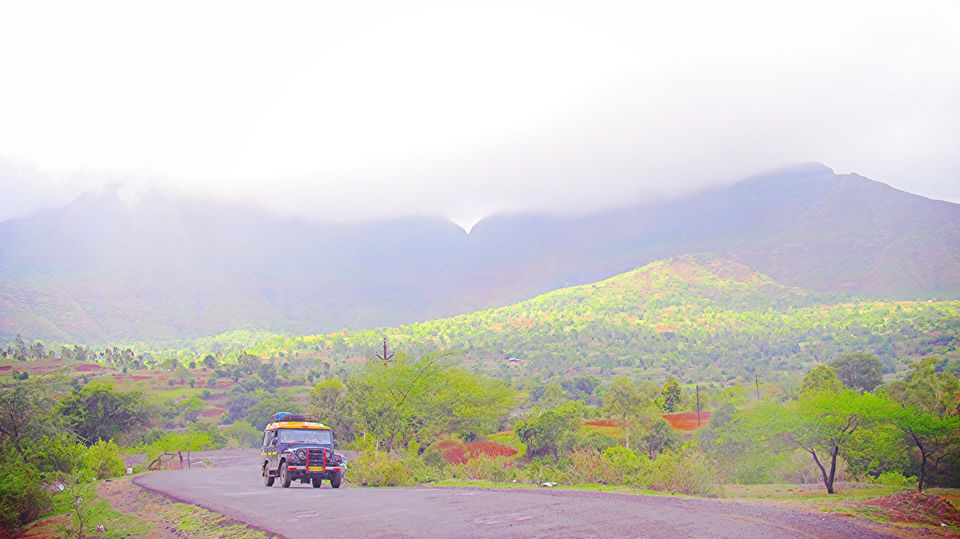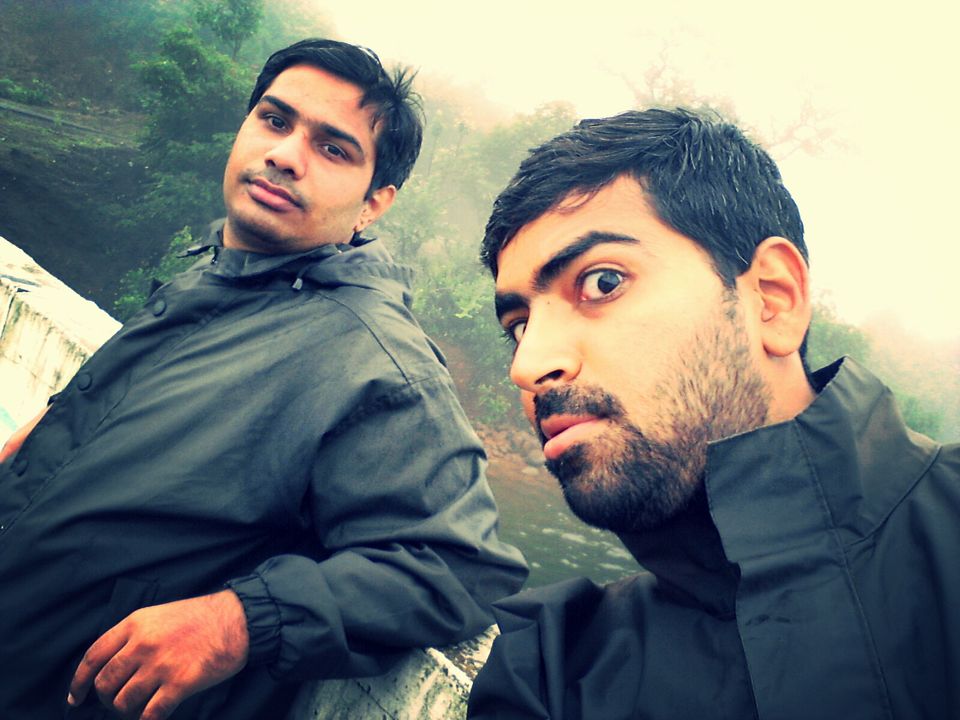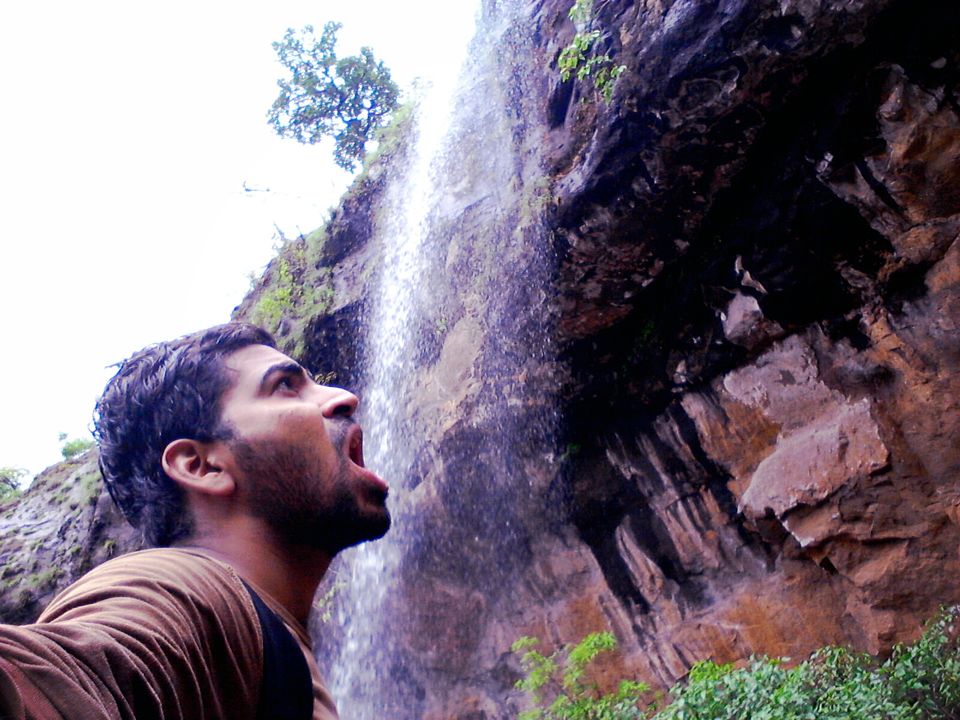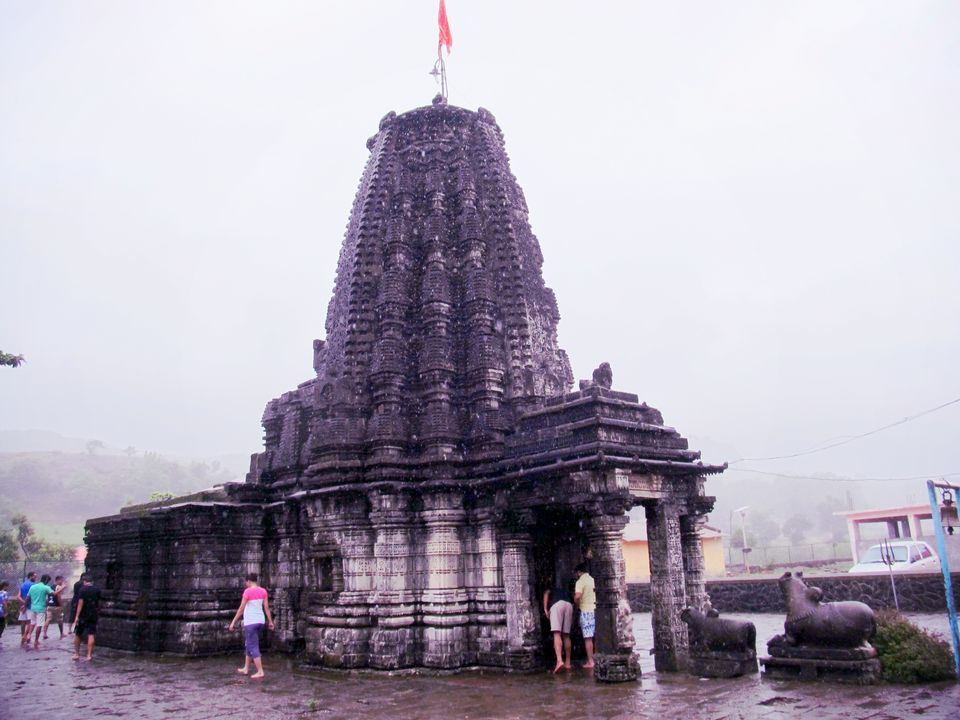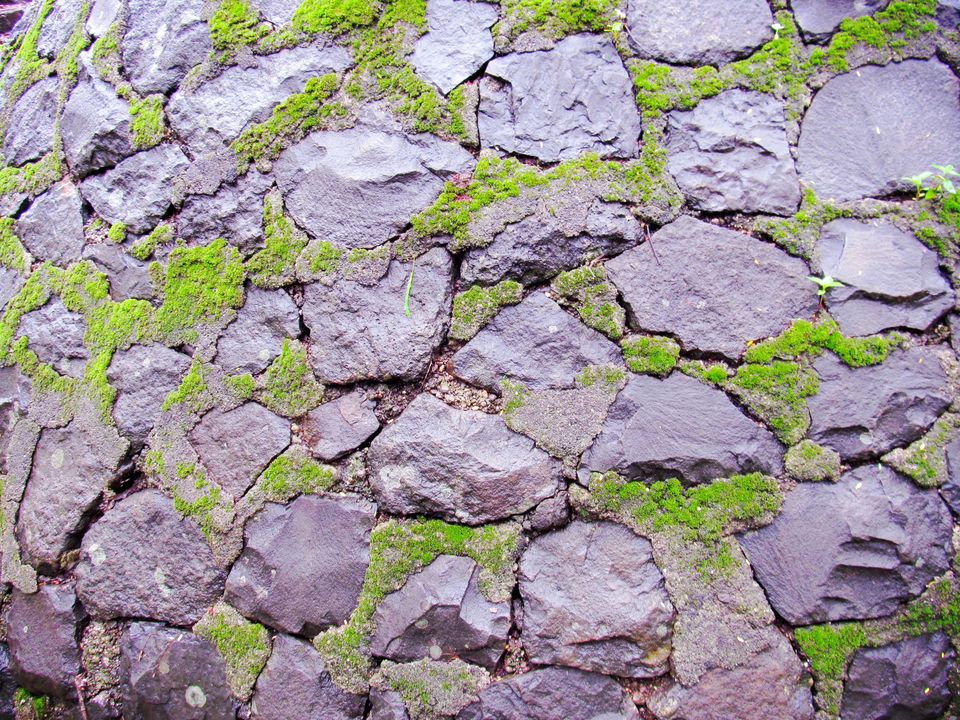 With every travel the radius of a wanderer's reach extends to a new limit. The destinations where I have never been before excites me most and if it has a special feature, I just can help myself pull along and reach there. The reason of the season were fireflies. It was almost a year when the concept of imagining millions of fireflies in valleys of Sahyadris was introduced to me. One of my friend told me that the best time to watch them is the between the first rains and heavy rains of monsoon. This year (2015) the fireflies were expected to be seen between last week of May until first week of Jul. I had 2 destinations in mind, Bhorgiri and Purushwadi. I have already been to Bhorgiri last year so the obvious choice for me was Purushwadi. There is one renowned commercial group who conducts fireflies event at Purushwadi providing accommodation and other facilities, I called them up as a prospective customer but the only purpose was to find out whether the fireflies are there or washed away :-D. Special thanks. Travelling with a commercial group is like carrying your comfort zone along and any adventure is not real if you don't tear the comfort zone and step out. The thrill of finding food, ride and shelter is a teacher in its own way.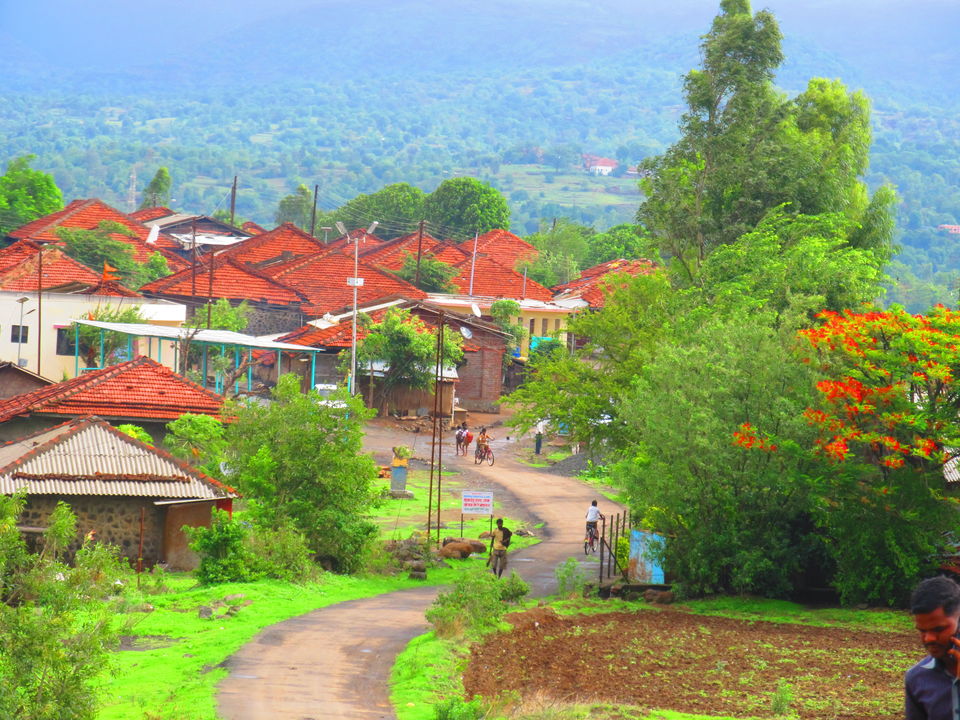 Purushwadi is very close to Bhandardara region which is a nature's all in one gift hamper. It has waterfalls, lake, mountains, authentic rural lifestyle and scenic landscapes. There was no reason not to travel further 30 Kms and reach this Green heaven, so I knitted a 3 days 2 Night plan, 1st night for Fireflies camping and second night at Ratanwadi considering the number of spots we wished to cover. Like always the research and planning was 11th hour and the message went out to manager for Friday off at work. There was only one companion for the ride, my friend Prashant. I Arranged a 150 cc bike since my cd-deluxe (100cc) would surely pant its life out pulling 2 bodies of 180 lbs each and a 50 lbs bag :-D. Prashant is a kind of person who will only ask the time span of the ride, he is neither aware nor interested in the details of destination.
I woke up late on Friday (19th Jun), packed the bag and picked Prashant from Swargate at 12:30 pm, both of us withdrew 1000.00 INR each from ATM and we were set-off towards œNashik Phata (Pune-Munbai Highway). We did not refuel in the city because there was already some gas in the tank which gave us opportunity to fill up at lower rate/litre near Bhosari (Fuel '-€œ INR 500.00). Thanks to Shell Petrol pump who gave a free oil check up only to realize that there was almost none in the bike. We got the oil changed and headed towards our first stop, Narayangaon. At Narayangaon, we had light meal (INR 90.00) at œHotel Hrushi (Opp. Bus Depot). We also shopped for evening munchies (INR 120.00) and Prashant was already carrying home made 'œtheplas' for dinner.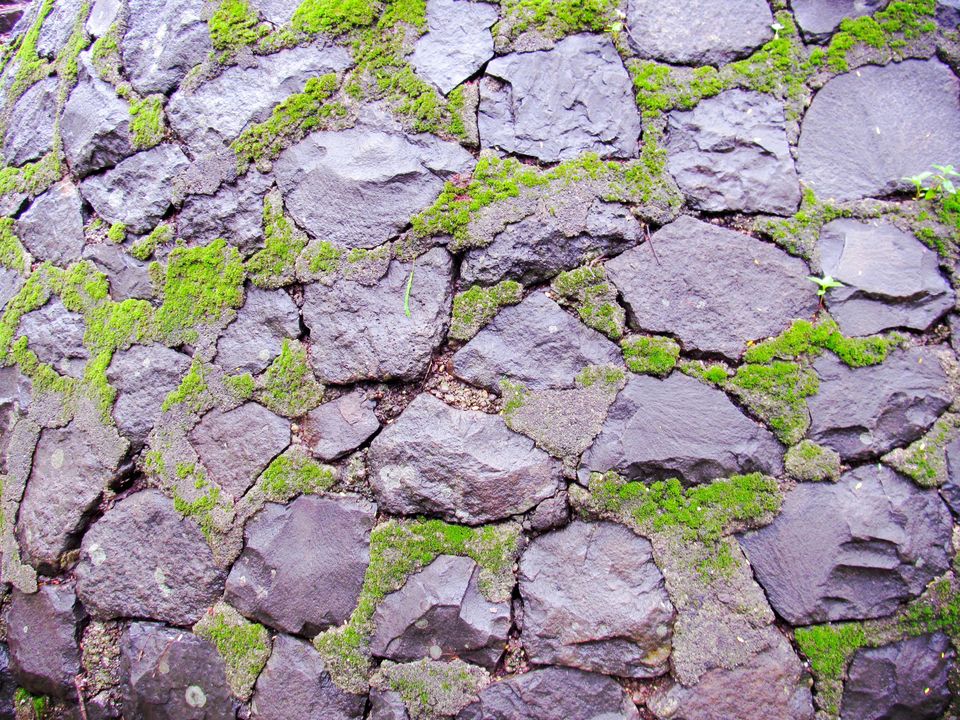 Here comes the important instruction on route. If you search on Gmaps it shows the route Pune-Narayangaon-Ozar-Otur-Brahanwada-Palnade-Purushwadi (161 Kms) but if you ask me, I would suggest Pune-Narayangaon-Bota (left turn)-Bramhanwada-Palnade-Purushwadi (170 Kms) based on my past experience. Its 9 Kms more than the Gmaps route but very straight forward and time saving. The Narayngaon-Ozar-Otur-Bramhanwada patch is very confusing, time consuming and the condition of road is very bad as compared to Narayangaon-Bota which is a part of Nashik Highway.
I had also saved the route in Prashant's phone who was giving directions but we were also confirming the way with localites on the way. After taking left turn from Bota the road until Kotul was decent enough but narrow. Another tip on riding bike on narrow rural roads is to keep the bike on the center left to avoid radials slipping off road while surpassing Pick-up trucks and State Government vehicles. Also, accumulated dirt on the outer edge of roads might have metal particles resulting in punctures. A puncture here might ruin your itinerary entirely.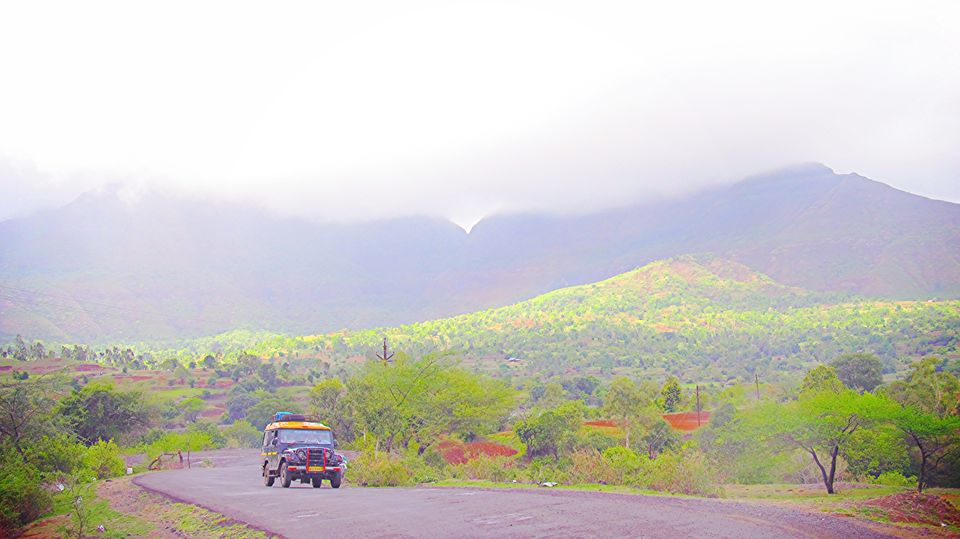 We reached Palnade and took a left turn towards Purushwadi (if you prefer simple route and good road conditions with a few extra miles you may choose to go via Rajur). The clock was already ticking 6:15 pm and the thick blanket of monsoon clouds were hinting to early darkness. One good thing about the group that conducts fireflies event at Purushwadi is that they have painted signs on the road 'Fireflies' to lead to the exact location of their campsite.
We reached at their campsite and asked if we could setup our tent close to their vicinity. They refused to give any space in or around their campsite which was a known risk. Though I don't think they own that land still we did not have time for further discussion as we were losing light and another reason I did not insist much is because the camp site was almost like a mini resort. It had permanent set of tents with extra layer of tarp, well built wash-rooms and food at your call. There was no thrill from any aspect of camping. So we started looking for a place to camp not far from camp site but far enough not to have any interference from them. We found a nice plain few hundred meters from the camp site , very quite and serene. With last 15 mins left of the light we quickly pitched our tent (keeping in mind the wind directions since it was an open ground and heavy wind currents may uproot the tent). We kept our luggage inside, illuminated the tent interiors with the rechargeable torch light. The time was 8:00 pm, We ate 'theplas' with mixed fruit jam accompanied with dry 'bhel' for dinner. By the time we were done with dinner and rest it was 9:00 pm.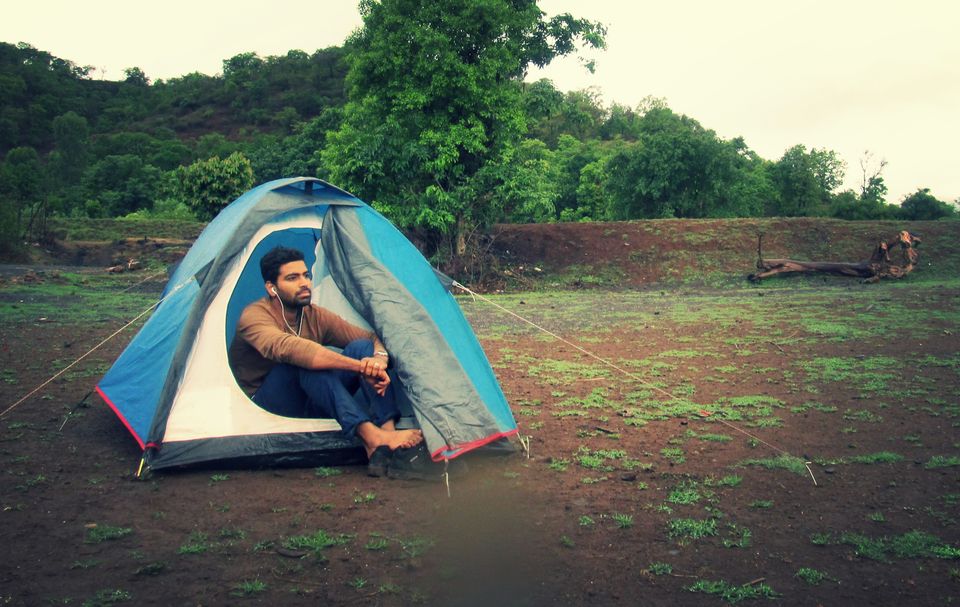 We were set to take walk in the near by forest and grasslands for the sole reason we were there, the Fireflies. As I opened the tent main entrance chain from inside I saw few tiny glowing creatures around the trees surrounding our camp site, there were like 50 or 100 of them. I told Prashant to switch off the torch light. Once the only source of light was turned off, the hundreds multiplied into thousands and the numbers were constantly increasing as we walked towards the dense grasses. As the iris was expanding the fire of the flies was getting brighter and the number of SOSs were constantly rising, some sitting on your shirt, some reflecting on the wet tar, some grouping on the trees. We were walking down the road which leads from the village descending all the way down the valley. We came across a sharp right turn and on the right side there were dense bushes and 2 heavy trunk trees which were blocking the view of what was approaching. Once we took the right turn, we witnessed the most incredible view of the trip. There was a long straight road, on the left had side was a small mountain and on the right hand side was a huge pasture with multiple sized trees embedded in it with millions of light green LEDs flying and blinking. The trees were very much looking like decorated Christmas trees. There are some pictures in my life I never tried to capture because my eyes were busy painting them on my mind's canvas, this was one of those moments. The light was so bright we did not need the torch to show us way any more. I am not an Astronaut but I was surely witnessing a galaxy right here on earth with uncountable stars. I took one firefly delicately to ensure it isn't harmed, watched it to the closest focus. It walked illuminating my palm's life line, I got the message.
Back to the tent, Prashant was dead asleep as soon as he laid down, he was on the trip right after his night shift. I put on the ear phones with 'œlong nights (Into the wild)' on the play-list, feeling the breeze from tent door and dim blinks of the fireflies sitting on the tent.
I woke up at 5:30, had a walk around in the soft drizzles with birds' tweets as background score. We freshened up, wrapped the tent, refilled the water bottles and hit the road towards Bhandardara at 7:15. The road was just a Grey strap on the deep browns and fresh greens. We had a photography session with breathtaking backdrops.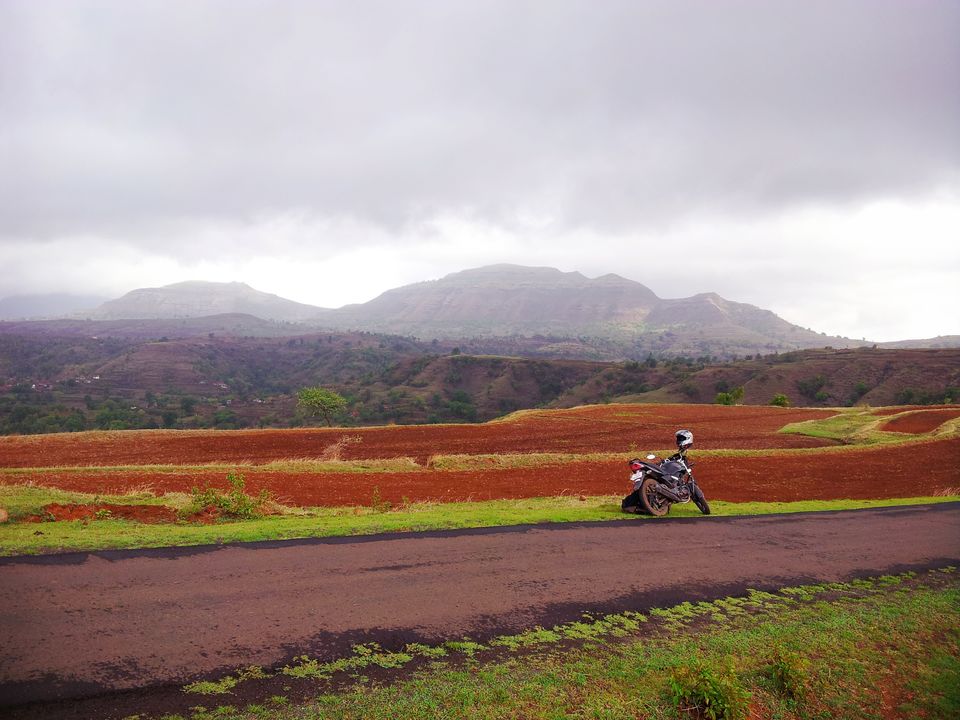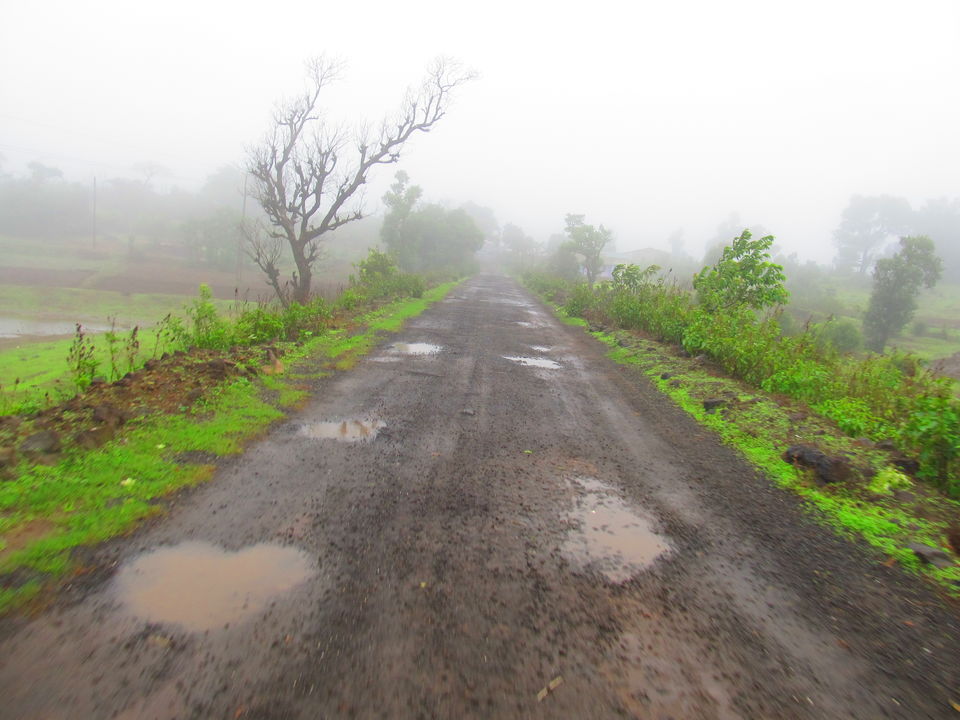 On the way to Bhandardara there is a small diversion for Randha Falls but all the Locals we inquired said there isn't any water so no use to visit. So, we dropped Randha falls from the list and reached Umbrella falls. Living up to its name the shape of the falls looks like a giant umbrella however the rains were not yet in full force so the Umbrella was half the size though massive enough to wash out any thing in its way. We had the breakfast at a small 'dhaba' just outside the Umbrella falls garden. Next destination was Ratanwadi which was 17 kms via Shindi. While crossing the Dam bridge we could see a horizontal landscape patch right through the dam gates giving a glimpse of the calm Arthur lake. There is always hope to swim in a lake which is the reason one compartment of my bag always contains swimming shorts. Prashant was ready to jump in the lake even before asking. The dip was so heavenly I thought I was flying while floating on the surface and the dense fog with soft showers were all adding up to the feeling. There were no rites or rituals involved but my soul was surely purified. May be travelling is way to worship Mother nature.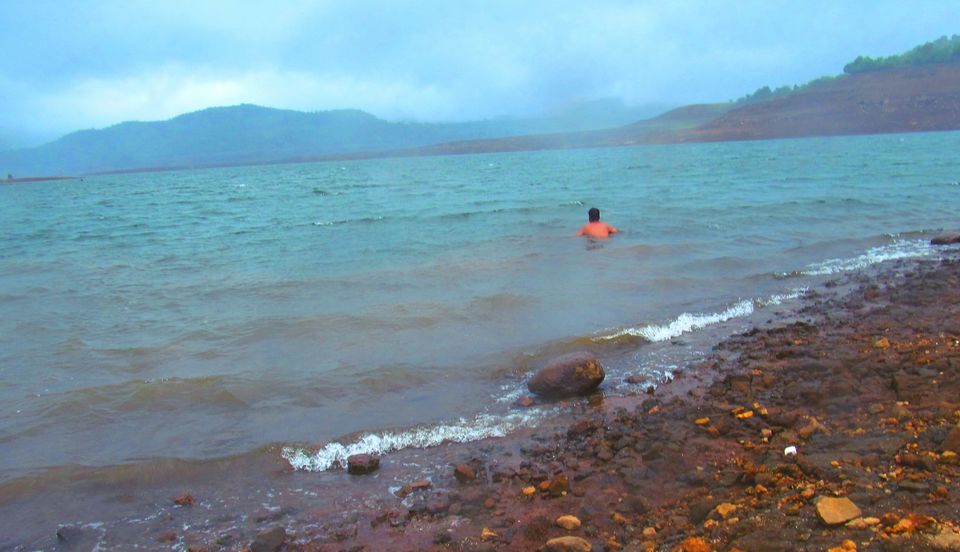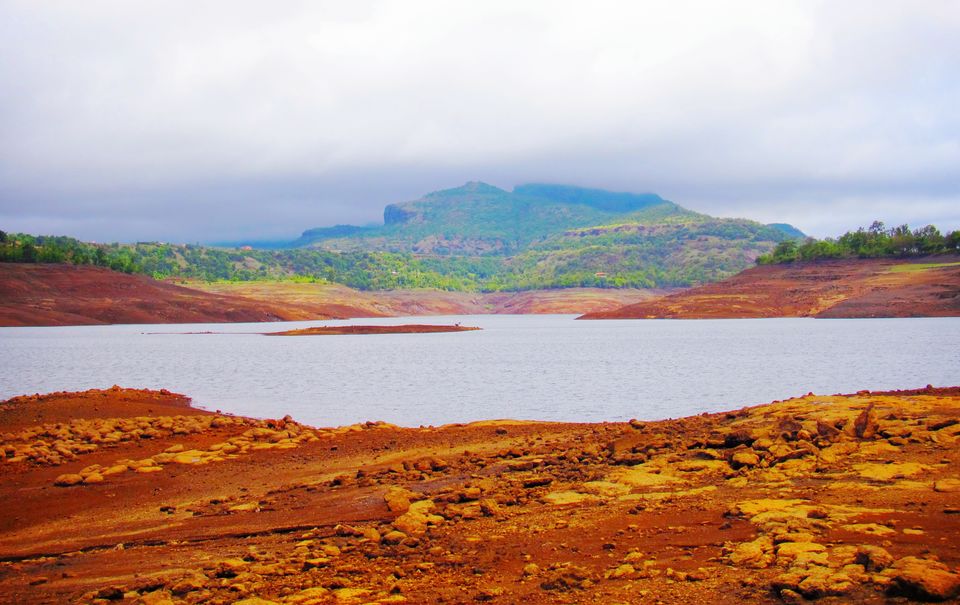 We headed towards Ratanwadi via Shindi. You have to come back to Bhandardara after the Umbrella falls and Arthur lake visit and look for a Inverted U gateway displaying names of the destinations which it leads to, namely 'Ratanwadi', 'Samrad' & 'Ghatghar'. The journey towards Ratanwadi began. One of the few paths where I wished the destination never arrived. The silver shimmers of the single lane roads slithering around the fog covered peaks. The rainbows otherwise are considered rare phenomenons, here we were tired shooting them. Waterfalls far and near everywhere. The farming families busy thrusting the rice saplings in the soil water fields. The ever varying rain splashes, from pin points to cotton balls face-to-face. Air so fresh your lungs will thank you for treating them.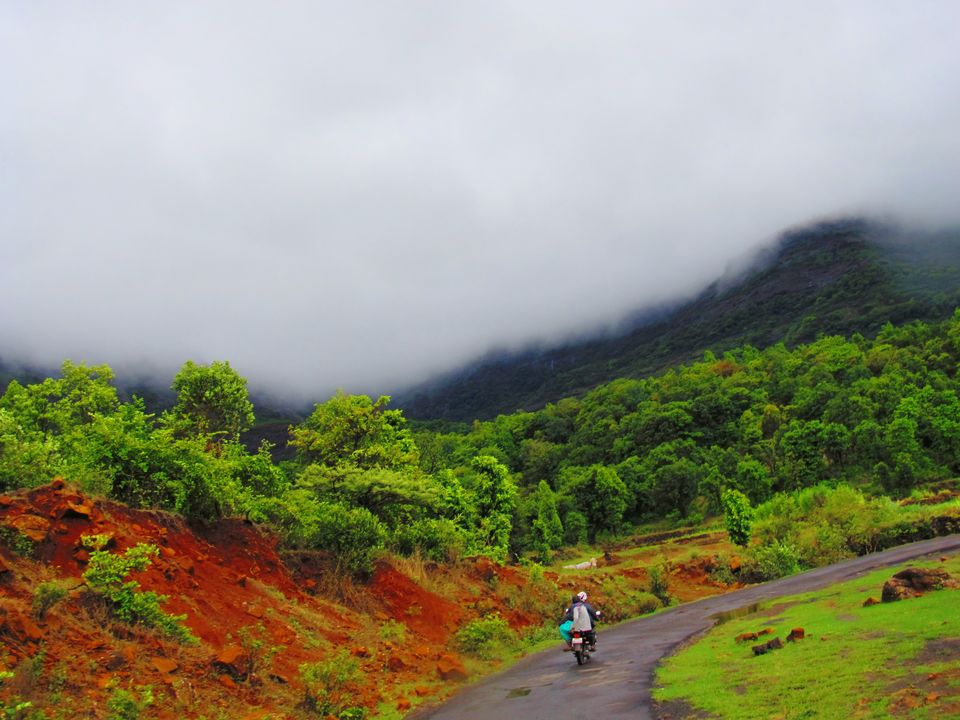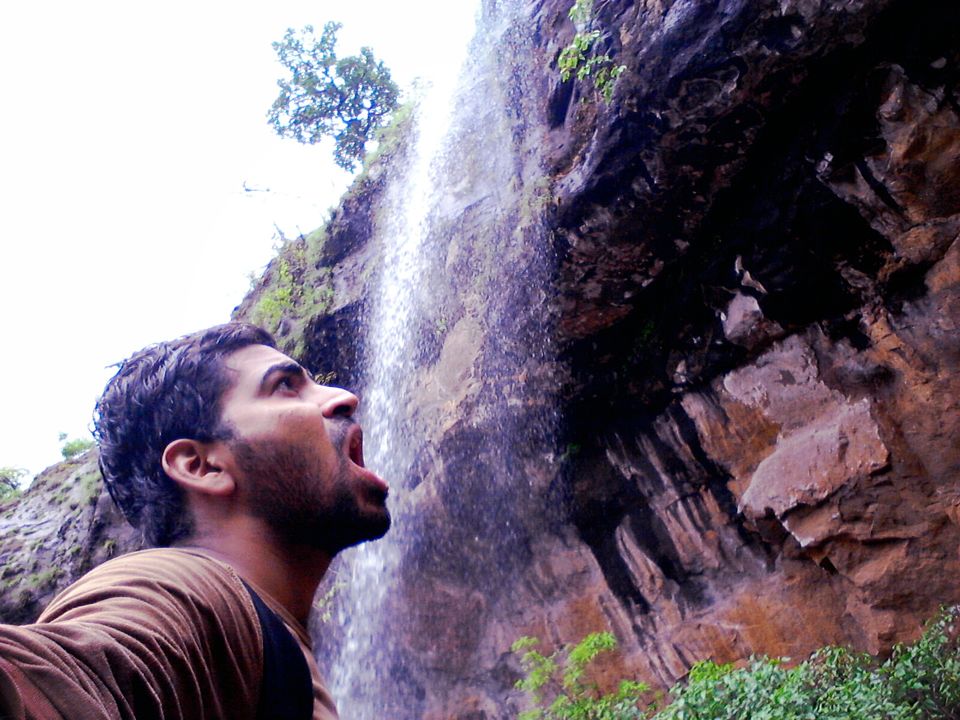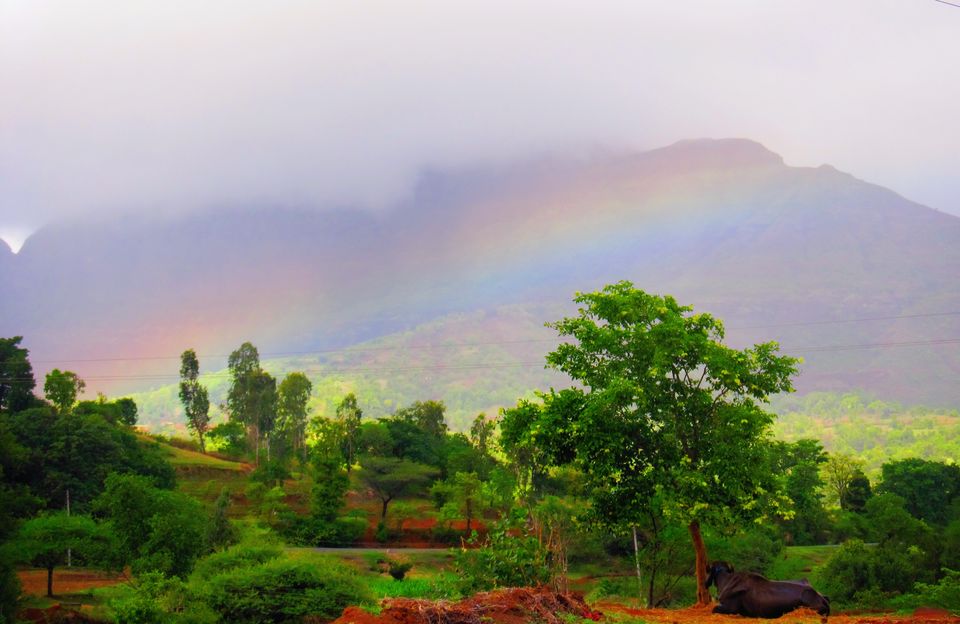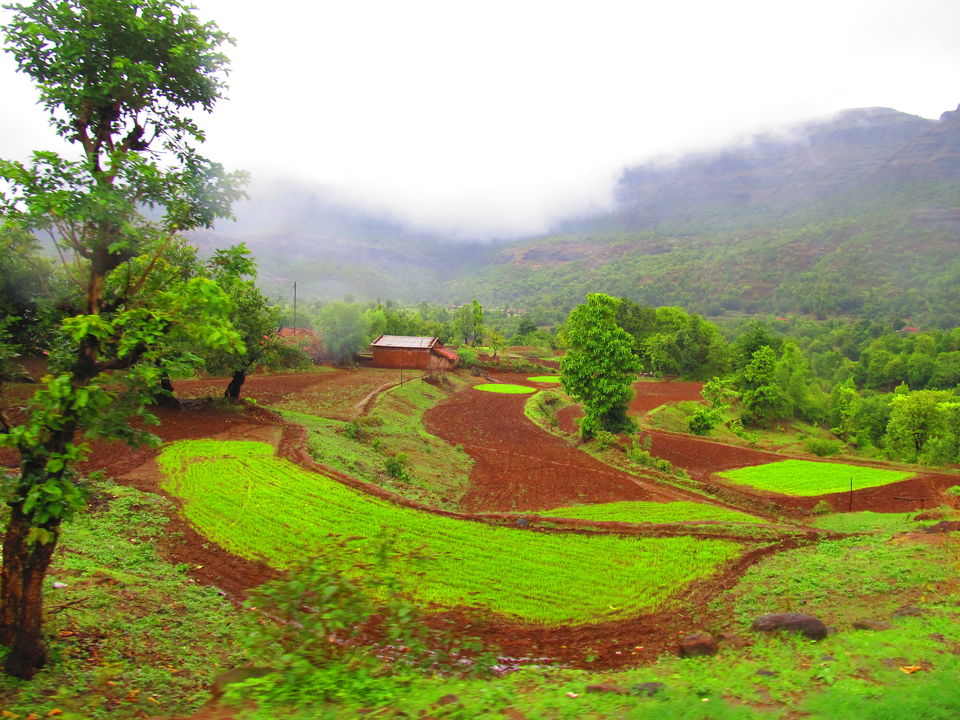 Ratanwadi arrived, watch was striking 1:30 pm. Aruteshwar temple is the main attraction here. It is beautiful stone carved Shiva Temple made during Shilahaar Family ruling in Maharashtra 900 AD. This is one of 12 Shiva Temples built by King Jhanj. Ratanwadi also serves as the base village to Ratangad fort. There is a in built fort magnet which was attracting me for the trek but Prashant reminded me the pact, the only condition for he being in this trip was that there was no trek involved :-D. So we dropped the idea of climbing Ratangad. There are many accommodation options which have come up lately in Ratanwadi. All we were looking for was either a decent and reasonable roof or a field to set up the tent. Luckily we found a nice house-hold in the vicinity of Amruteshwar temple who were letting of their rooms out for INR 300.00. It was a typical village hut, with red roof tiles and mud cowdung plastered walls. We unloaded our luggage and had a 15 mins nap. Prashant was just on the verge of entering the dream inception mode when I kicked him awake.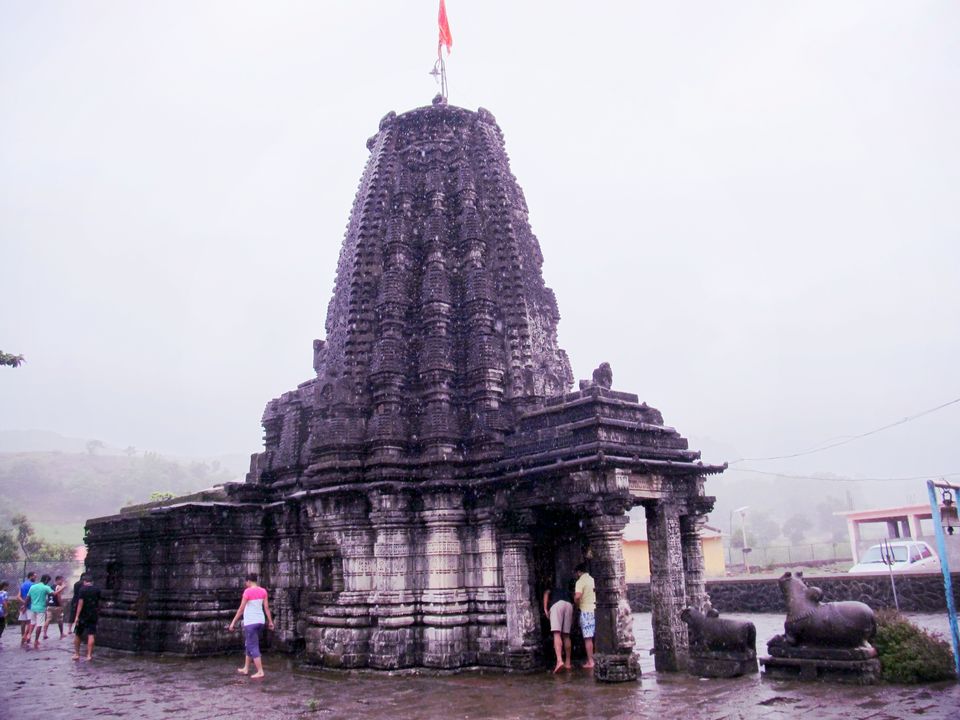 We just carried our water-proofers and kept rest of the baggage at the room. The next destination was Kokan kada near Ghatghar village, about 12 kms from Ratanwadi. The more we riding deeper, the scenic view were turning exhilarating. The colors were turning from Vivid Brown and greens to Cloudy Whites and vintage greens. We surpassed Samrad which serves as a base village to 'Sandhan valley' a.k.a 'The Valley of Shadows'. Before you reach Ghatghar there is a small dam over Ghatghar lake. It has open gates to dam wall, you can actually take you bike on the dam wall, so did I. There was so dense fog all we could see the gate we entered from and few meters ahead. Even the water was wearing a white blanket with twigs and trees arousing amidst lake to contrast. We sat on the dam wall and had cream-rolls and biscuits, in this travel trance we had completely forgotten to have lunch.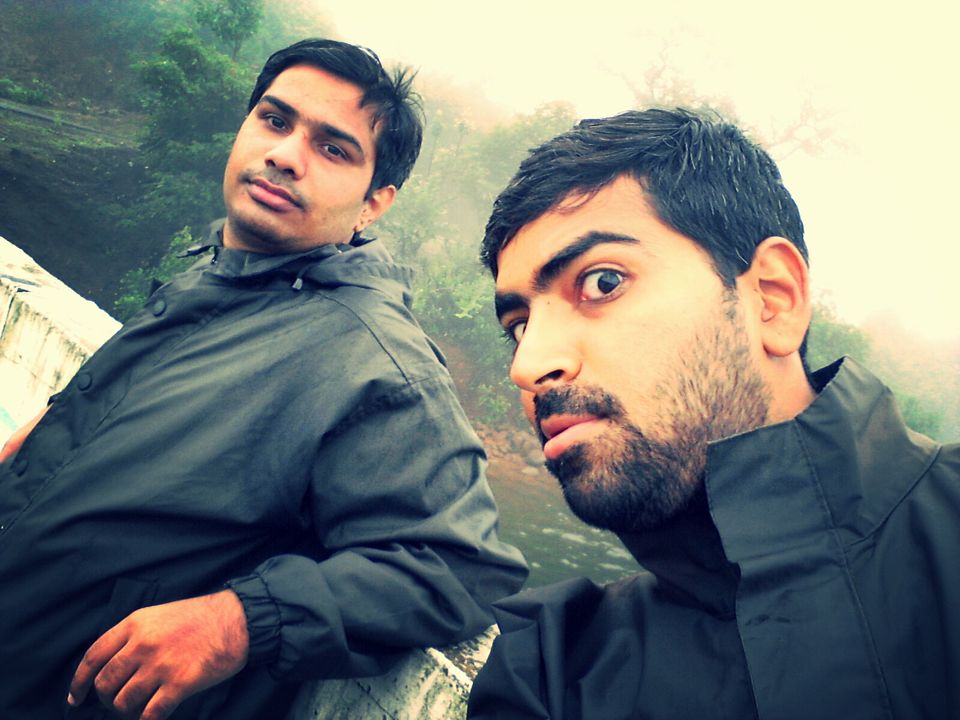 Just a few meters ahead of the dam on the right hand side you will see a giant yellow latch. May be something to operate the dam gates. Take a left turn from here and just 100 meters ahead you can witness the magnificent Kokan Kada. I parked the bike and hand held the digicam which was low on juice. There are barriers put up to ensure safety, something like the ones erected at points of Mahbaleshwar and Tiger point. Please be informed that this Kokan Kada is different than the one at Harishchandragad. May be it was monsoon that was making every frame so damn unique and scenic. I was stuck at the barriers for about 15 mins without speaking a single word. The picture showed a dam, not sure of the name (its not defined on the gmaps as well) and up above were dark clouds, the bulls eye at distance had sun rays falling on lush green pastures. It started raining with heavy volumes of drops, we sat under a tree, had onion 'Bhajia' plate and did nothing but looked at the horizon with half-open eyes.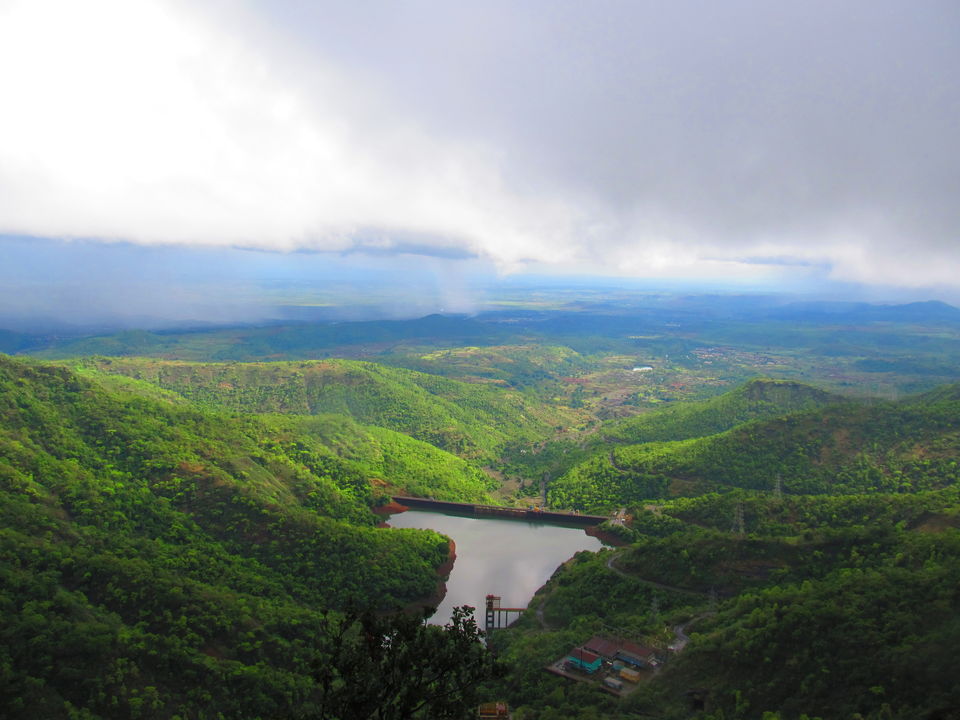 The time was 4:30 pm, I asked Prashant what's next? Rather it was a question to myself since Prashant never knows what's the plan. All the spots on the list were covered and we did not wish to ascend Ratangad so there was nothing left for the evening or for that matter next morning. Though this was a leisure ride, the idea of me being at one place for another 14 hours was some how not digestible. ""Shall we ride back home" was my question to Prashant. He said "hell yes". Both had reasons to go back and we would get an entire Sunday. With the engine vrooming the wheels rolled swiftly to Ratanwadi. We loaded the bags and informed the owner's boy who got us the room that we wont be staying. He was humble and very much ok with it, still we tipped him INR 50.00. The clock had hit 5 pm. Primary target was to reach Bota and touch Nashik Highway before dark since the state highway and internal village roads can be tricky and slow. The return journey was rapid. We took just one back straightening stop and the mission to reach Bota without losing light was accomplished. Our backs were loaded however the tummies were empty. The Narayangaon junction was filled with heavy traffic due to road maintenance. We ate our meal at Hotel Hrushi, the same place where we had our lunch on our upward journey. Here is a tip on ordering food, no matter how much hungry you are, most of the time we over-order resulting in the food wastage at the end. Prashant and I follow a simple and economical menu to order. We order one special rice plate (limited full meal - 3 vegetables, 2 chapatis, dal, rice, sweet, papad & dessert) and one snack item e.g. 'Meduwada sambhar' , 'sample bread', 'Missal Pav', etc. you can always order extra 'chapatis' since the vegetables proportion is always higher as compared to the bread. Our bill was INR 125.00 for 2 fully grown hoggers with full tummies :-D.
The last 75 kms of the 200 were the most painful. Prashant's case was worse since he had the 4.6 kgs tent in his backpack. On our way up we were discussing ride to Leh, and now, on our way back Prashant was like ""I am out". We stopped near the Toll to gave some rest to the spine. This was the last off-seat session. The closer we were reaching to home, the pain was growing intense. I dropped Prashant home and reached my place at 10:30 pm.
The hot shower was treating the body and I could see the railing of mud and dirt snaking away but it could not clean the prints of the travel memories on my spirit. People come back from travel and say 'I am home', I say 'I never left home'. Earth is our home, no matter where you go, you will always be home.