The very aspect of culture, people, belief, tradition and geography that makes us different, also binds us all together in this country. You travel to a remote new place, pushing your comfort zone, in a completely different state than yours, and discover a horde of new experiences.
But when you sit down for a meal at a local restaurant/home stay/stall, that's when the flavors of warmth and love, served piping hot and fresh, make you feel at home.
Food has that superpower, doesn't it? And who better than a foodie to understand and revel in the diversity of cuisines in this colorfully diverse country?
What I'm about to uncover are some local dishes soaked in tradition, simmering with the vivacity of Maharashtrian culture, right in the middle of the urban amalgam.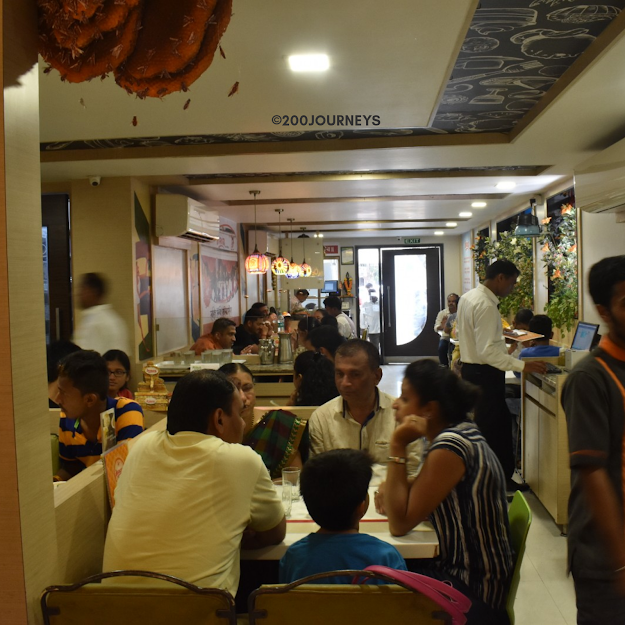 WHERE: Aaswad, Dadar West.
61, Sadanand, opp Amar Hind Mandal, Gokhale Road (North), Dadar West, Mumbai.
WHAT: Exploring 3 authentic and downright delicious Maharashtrian dishes!
Time : It's closed on Monday & timings are from 10 AM to 10:30 PM
During my vlogging & journeys I always recommend visiting Maharashtra during monsoons. Between June-September, it's the time of the year when nature comes alive in its green grandeur and the place is drenched in a cool and dreamy haze. With this pitter-patter in the backdrop, biting into fresh, hot food is an experience second to none!
Though not in the monsoons, but in the sunny summers, I set out to explore authentic Maharasthrian food with 200Journeys on #FoodieFriday. I had heard of this highly popular and recommended restaurant named Aaswad in Dadar, which is what I wanted to try out.
Dadar is interestingly, the busy, first planned suburb of Mumbai and also the hub for the immigrant Marathi culture. But let's cut to the chase - with a grumbling stomach and a hunger for exploration, it was lunch time when I landed at Aaswad.
One thing to consider when you're planning to pay Aaswad a visit is the crowd. Especially during weekends, make sure you keep a buffer of at least half an hour to an hour for waiting. But be rest assured that it is all going to be worth it!
Best Maharashtrian Restaurant to try Marathi Food
Aaswad is known and loved for their spicy and home-style, yet delicious Misal Pav, Kothimbir Vadi, Thalipeeth, Puran Poli, and when during the season of the king of fruits, Aamras Puri among other specialties.
So starting out with one of my favorites on the list, I ordered one of the specialties of Aaswad: Misal Pav. With a loyal fan following only second to the legendary Vada Pav, Misal Pav is something that can be had for breakfast, for a snack and even for a meal.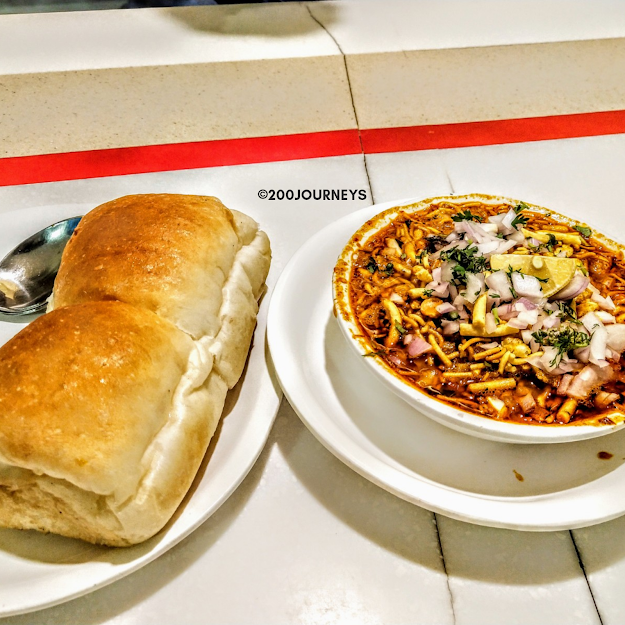 That's how versatile and loved this dish is! Misal is a spicy red curry mainly made of matki (moth beans) and the complementing crunch of the farsaan/namkeen/sev, topped generously with freshly chopped onions, lemon and coriander (called usal without the farsaan).
This is served with warm, soft pav – a kind of bread. The best part about this dish is the tanginess cutting through the spice, healthily balancing the body's acidity. Needless to say, Aaswad's Misal Pav rendered me speechless, and lived up to the hype!
Cost: Rs.63/- | Dahi Misal: Rs.83/-
Next in line was Kothimbir Vadi. Kothimbir in Marathi translates to Coriander, and Vadi is an equivalent for (usually fried) wedges. Made of fresh coriander, besan (gram flour) and spices, this is an authentic crispy snack that's steamed and then fried.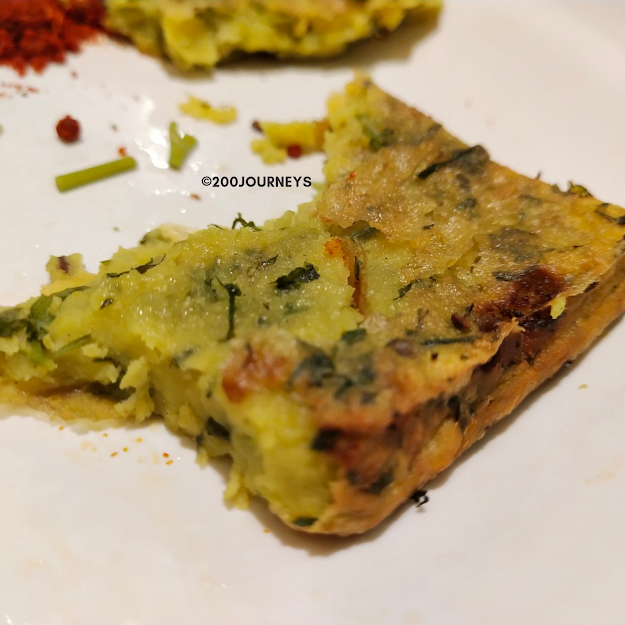 It was served with two different chutneys: a spicy red chutney and a milder, slightly sweet coconut chutney. The red chutney accentuated the spicy flavor of the vadi, while the coconut chutney cut it down with its mild tone.
Cost: Rs.63/-
The third interesting Maharashtrian snack I tried was Thalipeeth. A kind of pancake, Thalipeeth is typically made with a special flour called bhajanee, a mix of roasted grains including rice, wheat, nachni (ragi) and jowar – all blended together with onion and spices.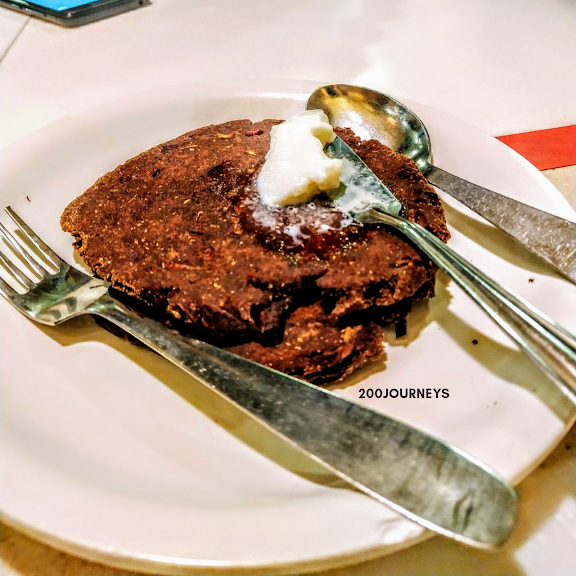 This was served with Dahi Chutney, light curd with a tadka (fodni in Marathi) of chillies, mustard and halad (Turmeric in Marathi), and garnished with a creamy dollop of Loni (home-made butter).
Cost: Rs.63/-
Ahh, the sigh of a tummy satisfied and taste buds delighted! But, no matter how much you Eat , there's always room for Dessert .
And the dessert I tried at Aaswad was a surprise that just HAD to be tried. In came the Puran Poli Ice Cream. Your read that right!
Puran Poli, a well-known Maharashtrian dessert, is a poli (roti/Indian flat bread) stuffed with puran (sweet lentil and jaggery). This unique fusion of a traditional sweet-dish with an eternal favorite frozen dessert tasted amazing!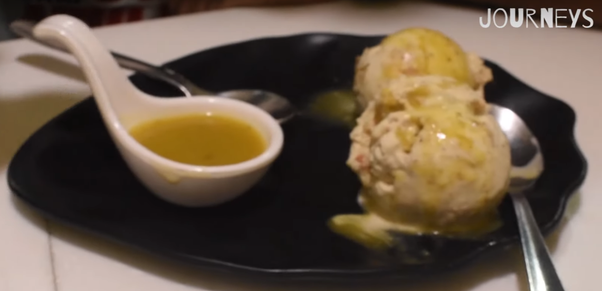 It was served with extra puran sauce on the side (which in itself tasted sweetly satisfying). While the ice cream appeared like butter-scotch on first glimpse, it tasted very different – and deliciously so.
And on this sweet note, my exciting excursion of Maharashtrian cuisine came to an end (for this round). In parting, I'd like to mention that Aaswad is a pure vegetarian restaurant and the highlight here is the purity and authenticity of food.
In addition to the amazing dishes I talked about, there are a lot more to choose from, including Puri Bhaji, Pav Bhaji and South Indian snacks like Idli, Dosa and Uthappa – that are just as good.
Every dish is freshly prepared, retaining its flavorful simplicity and served with utmost love.
A complete value-for- money experience, indeed! Stay tuned for more such trips and explorations.
Meanwhile, you can subscribe to my channel 200Journeys on YouTube and follow my journeys on Instagram as well!

Until next time, keep exploring.
Also read : Chennai Express Train restaurant