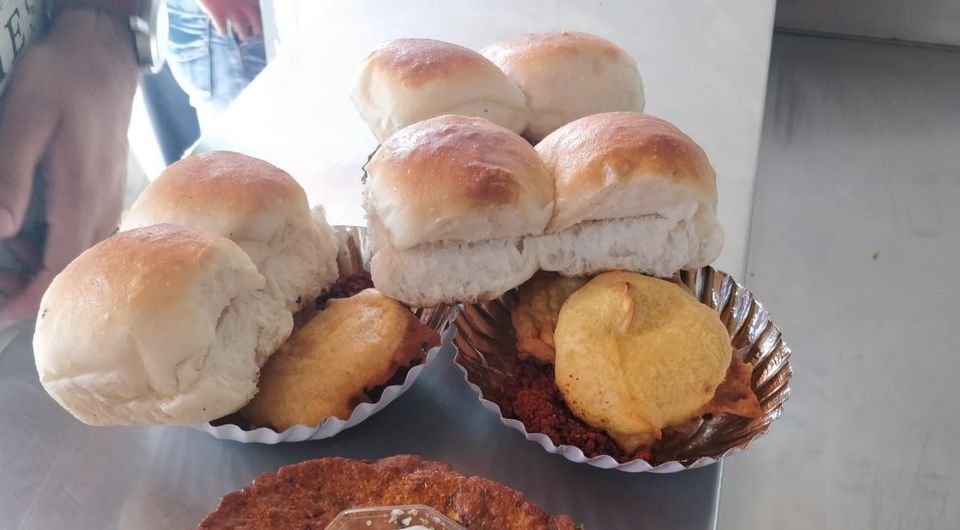 21 years old, born and brought up in Mumbai. Growing up in city of over 18 million people can be tough and exciting. 18 million people from every nook and corner of the country have made Mumbai their home. Some originally from Mumbai whereas some from it's outskirts whereas some from far away. They bring with them their culture,heritage and their unique ways of cooking and representing their food. This ever growing city never sleeps and it requires the kick of spice and sweetness of food to keep it going!
1. Vada Pav
This is quite obvious, isn't it? The originality and pride of whole of Maharashtra. A "between the bread" magic available at almost every corner in the city at just Rs12. For a normal person, 1 is enough but for me 2 to 3 is the limit. Stalls around the city will get you a basic taste but some hot places to have Vada Pav:
a. Chembur Post Office ( Chembur )
b. Shree Krishna Batatawada, near Plaza ,Dadar
c. Kirti College, Dadar
2.Misal Pav
Misal Pav! Also from Maharshtra but you'll find authentic misal taste not in Mumbai but in Malvan(Kolhapur),Pune,etc. Like the Vada Pav you'll also find Misal Pav on small stalls all around the city but i would highly recommend you to try:
a. "House of Misal" in Dadar near Plaza. They provide a good variety of Misal with authentic taste. Can you believe they serve Tandoori Misal, Pani Puri Misal?! Uncanny ways to prepare a Misal, but it's good! Zomato rating : 3.9/5
b. "Mamledar Misal" in Thane and Chembur. Spiciest Misal i ever had was here. Overconfidence(in myself) and underestimation(of spiciness) cost me dearly.
c."Aaswad Misal" in Dadar. This is an Award Winning dish for the tastiest vegeterian dish in the world which we all are proud of. Zomato rating: 4.3/5
3. Pav Bhaji
Also a dish which is dear to whole of Maharashtra rather just Mumbai is Pav Bhaji. A thick spicy vegetable curry containing mostly of mashed potatoes served with bread at just 40-200 bucks depending where you eat. You'll find stalls of Pav Bhaji at Matunga,etc but these places serve the best pav bhajis:
a. "Cannon Pav Bhaji" Opposite CST station. Price: 40Rs.
b."Sardar Pav Bhaji" Probably the most oiliest Pav Bhaji on the planet. I took it parcel and this is what i found when i got home:
Too much Pav right?

4. Chaat
We are now moving out of Pav domain and entering into the world of chutneys,sev and puris.A light snack serving boiled white peas with a combination of sweet and spicy chutneys in a Puri. You'll find less stalls of chaat around compared to vada pav stalls but generally they are besides each other. You'll get a plate starting at 20Rs at stalls specifically.
a."Elco" at Hill Road
b."Gurukripa" at Sion
c."Monsoon- The Chaat Corner" in Lokhandwala
d."Gupta Chaat" in Chembur
5.Dosas, Idlis and Medhu Vadas.
These guys even though they do not originate in Maharashtra, they are loved the same regardless.People enjoy eating them for a light meal but the Dosa domain has boomed a lot. Dosa joints are becoming the next popular food joint on the block. Combinations like Pasta Dosa, Chocolate Dosa,etc which one has on his/her risk but they actually turn out to be good!
Some good Dosa Joints are:
a. MawaliBhai Dosa (Matunga, Ville Parle ,Mira Road)
b.Pure Milk Centre (Ghatkopar)
c.Cafe Udipi, Cafe Madras, Hotel Ramashray (Matunga)
6. Thalis
Authentic street food belong to the streets, if you eat them in a fancy hotel there's a high chance they'll probably ruin it.