How many of you stopped watching or reading the news over the last couple of weeks? Well, I know at least I had, when things started to get overbearing and there was news of loss and suffering everywhere. Sometimes, that's all you can do to protect you mental health – step away from what's out of your control and causing you harm. While that's one way to feel better, another is to surround yourself with a little dose of joy even when the situation suggests otherwise.
As a slight beam of respite, the condition of the country is looking better after weeks of turmoil with new cases of Covid-19 slowly decreasing, and the citizens of the country stepping up to be each other's aid.
So, here's the third edition of 'a little dose of joy with Joydeep Ghosh' in an attempt to give a boost to your mental health and kickstart the week with stories of kindness, positivity, important innovations, and in general things on the lighter side of life.
"Mask Mike" to amplify the spoken voice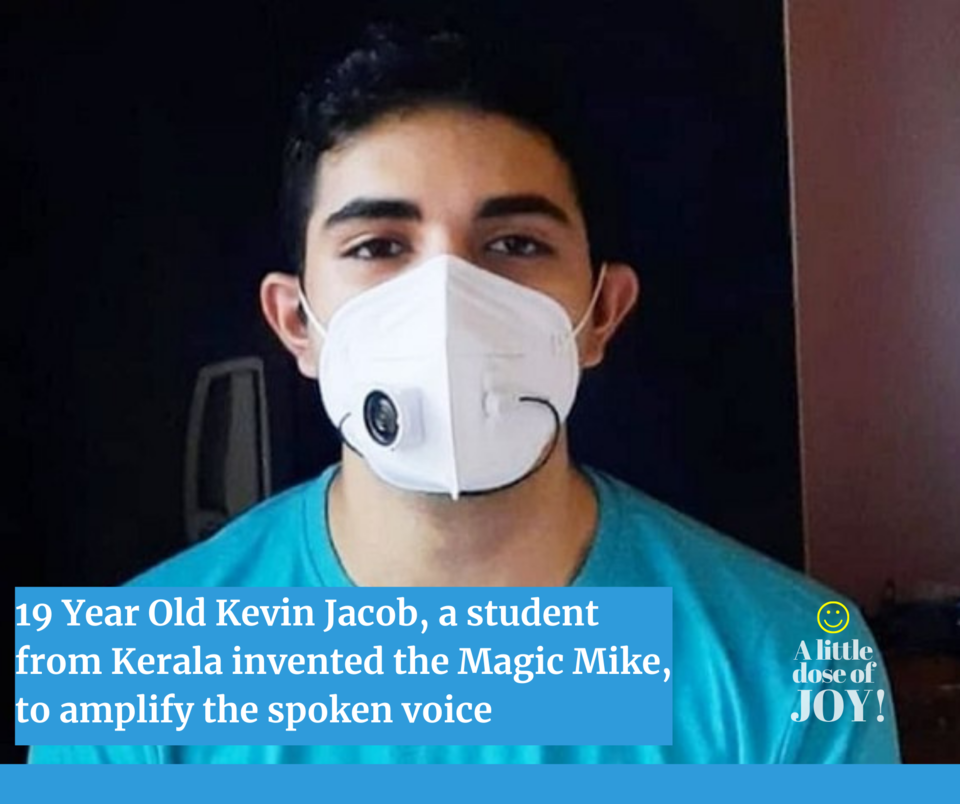 The first dose of joy comes from a young innovator, only 19 who observed his doctor parents returning home with sore throats after spending the entire day speaking in raised voices ever since the start of the pandemic. While it is absolutely essential to wear a mask at all times, there is an issue of muffled speech that makes it difficult for the listener to hear, more so if they have a hearing issue. Kevin Jacob, an engineering student from Thrissur has designed a Mask Mike, which is a mask fitted with a mic and speakers that will amplify the user's voice while speaking without having to strain one's vocal cords.
Such young innovators, addressing key and relevant problem statements is a definitely joy wrapped up in the form of new innovations.
Eid mubarak! When hospital walls weren't enough to restrict helping hands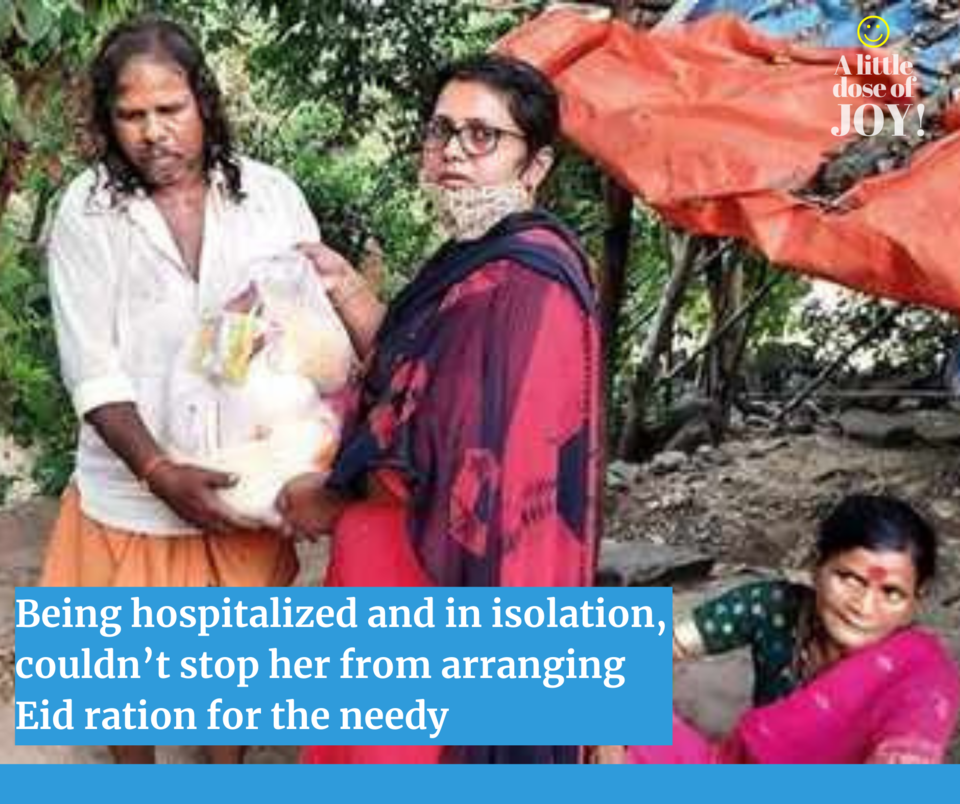 What would one do if they have tested Covid positive and are hospitalised? Typically, rest. But not Shaheen Jamadar. The needy families of Dharavi reached out to her for basic rations prior to Eid. They did not know that she is hospitalised and under isolation. Despite that, Shaheen got to work from her hospital bed, and by the time the moon was sighted, rations had been delivered to the 170 families that had reached out to her seeking help. Her efforts inspired the other residents of Dharavi to pool whatever little resources they could and donate it to the NGO providing relief to the poor, instead of donating it to the local mosque.
Stories of such determination to serve the community bring the much needed joy in these times.
Restoring 'faith'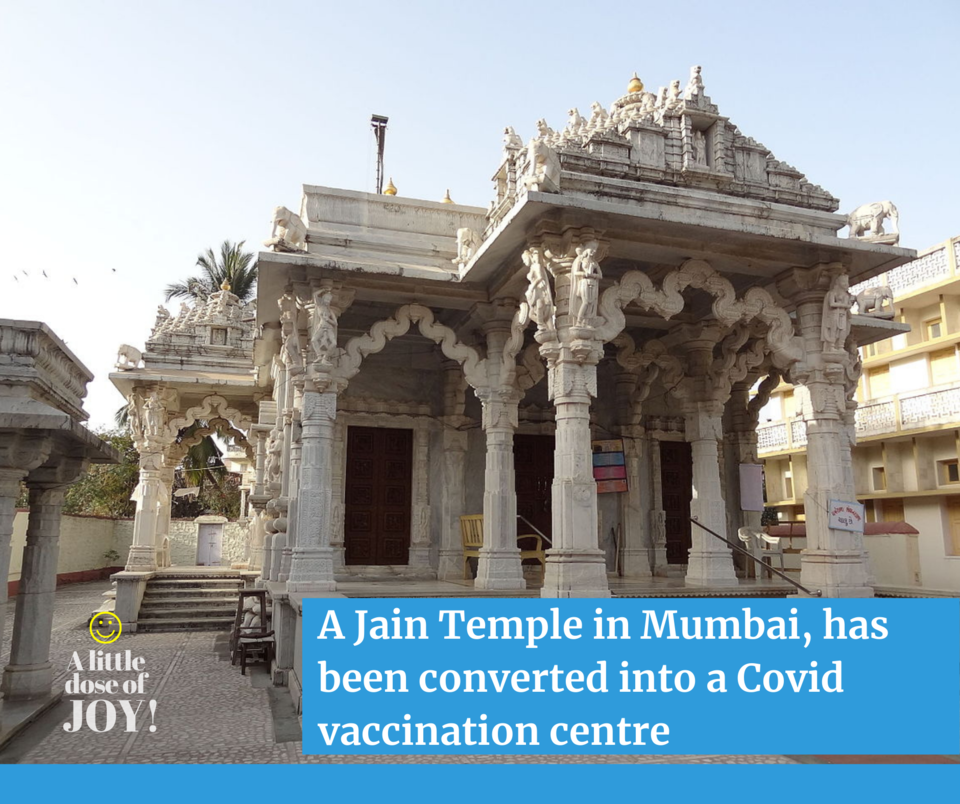 It's heartening to hear stories where religious centres put behind their differences of faith, and come together to serve the public. A Jain temple in Mumbai has opened its door to the vaccination drive. The temple has been converted into a vaccination centre with CCTV cameras, refrigerators to store the vials and rooms for the doctors and patient observation.
If more such places of worship come on board as vaccination centres, it will ease the pressure on the already stressed hospitals.
A selfless kind of love, 11 years and going strong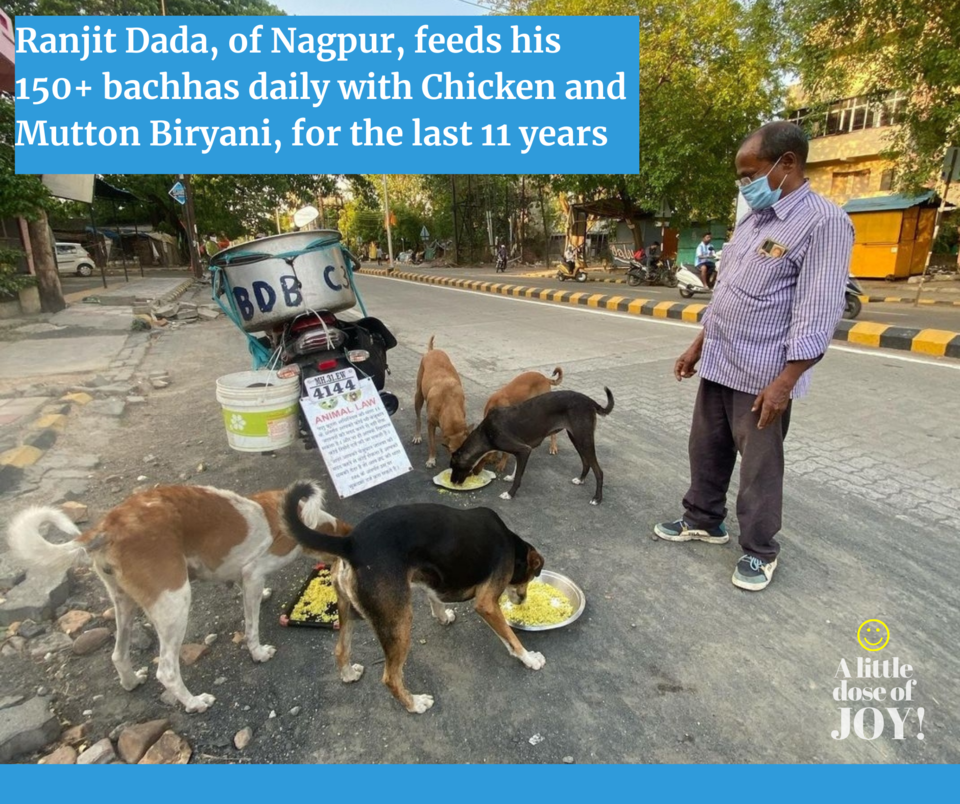 A 58 year-old man from Nagpur, Ranjeet Nath, is an inspiration for all animal lovers and every human being alike. For the last 11 years, he has single handedly been feeding around 150 -170 stray dogs on a daily basis. What started out with feeding them biscuits, has graduated to feeding them with chicken and mutton mixed biryani. He does all the preparation and distribution of meals for his 150 odd bacchas (as he lovingly calls the dogs) alone, and is a one-man army that sustains purely on donations.
Such love for our four -legged friends, is a dose of joy we all can take inspiration from.
A lesson in saving thousands of litres of water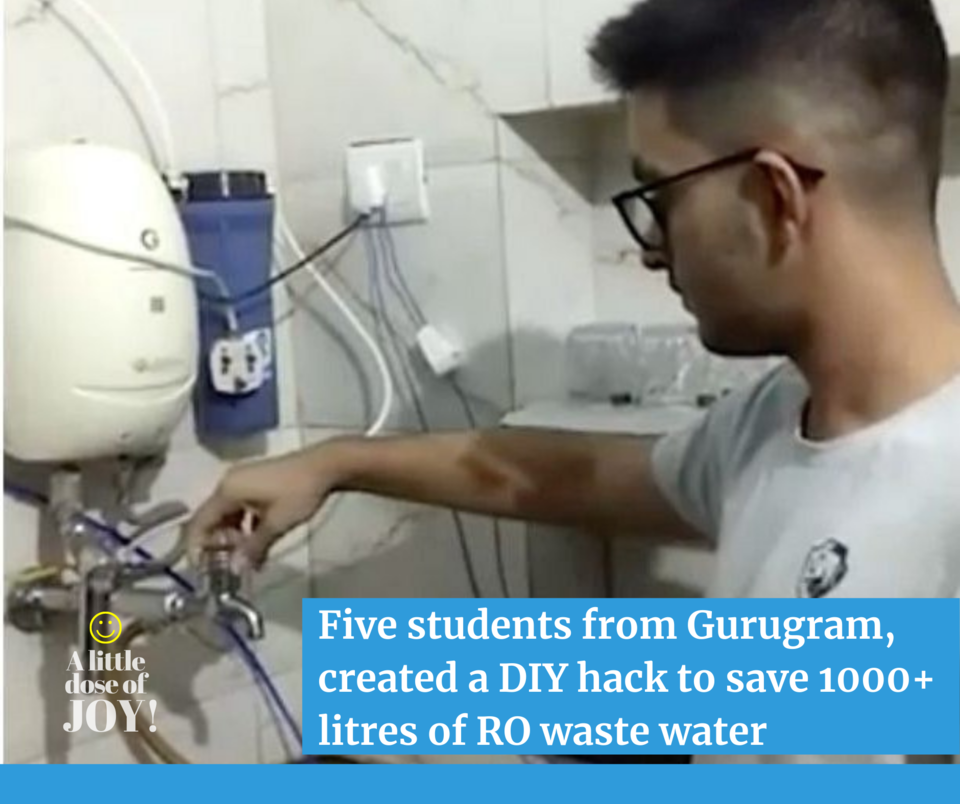 If you have an RO water filter at home, at some point you may have cringed seeing the amount of water that is wasted in the process. When five school students of the Shiv Nadar International School in Gurugram started working on a water conservation project, the young minds created a tap-like device, that saves thousands of litres of RO waste water. The simple device can be fixed to our washbasins as it uses the RO wastewater, recycles it, and pumps it back into the regular tap, which can then be used for multiple purposes including washing utensils etc. This mechanism has been installed in several homes, a few restaurants as well as the Gurugram Commissioner's office, where it is saving over 1000 liters of water every day.
It's indeed a dose of joy to see young kids doing their bit for the planet, and serving some serious goals for the adults.
A heartwarming story from the Far East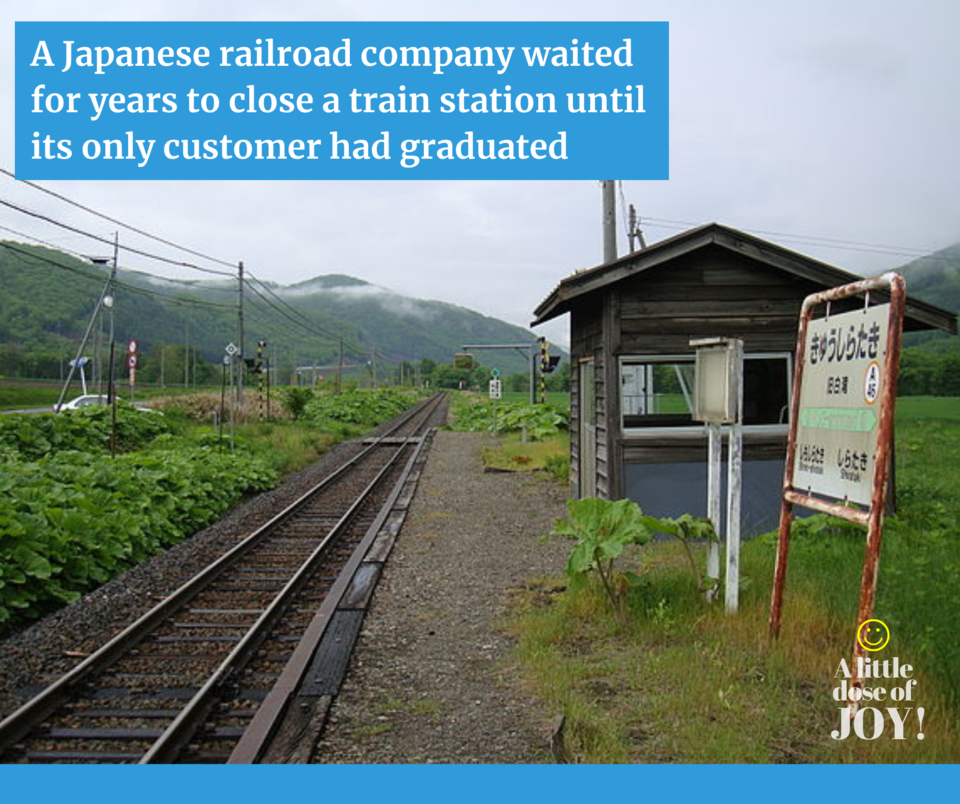 The Kyu-Shirataki railway station in Japan, which was being shut as it is possibly the least used station in the country, remained open for just one passenger. The staff noticed that only one person caught the train everyday, a teenager Kana Harada who commuted to school every day via the train. The railroad company decided to keep the station open for one full year despite its non-usage, just so that Harada could finish school and graduate.
This seemingly small, but actually massive gesture may seem like a story from a few centuries ago in today's age of commercialism, but it definitely added joy not just to Harada's life but ours too.
Life is about these small victories, isn't it?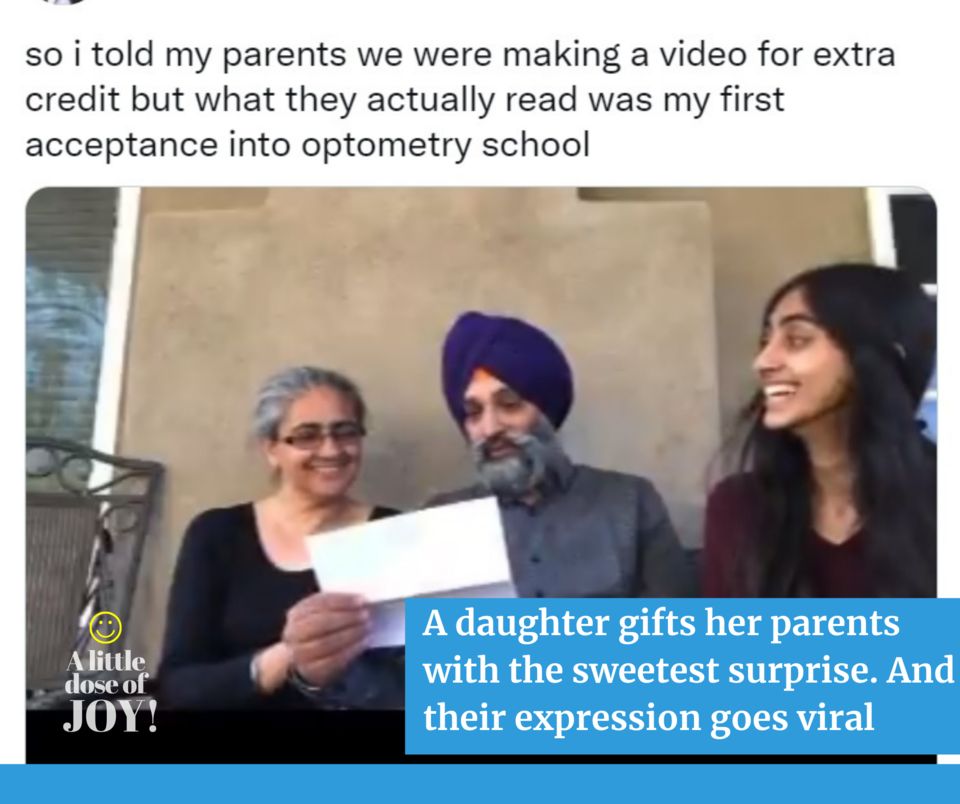 When a daughter convinced her parents to record a video for extra credits, little did they know that they would be reading her college acceptance letter. What followed, and the pure joy on the faces of the proud parents. This simple family moment has gone viral, filling everyone who is seeing it beam with happiness.
Did this little moment of joy bring a huge smile to your face too?
This group of friends who have been ringing in smiles and laughter, for about three decades now are back!
This week's last dose of joy has to be the most anticipated reunion of the TV industry! While one of the most popular sitcoms stopped airing over 2 decades back, this group of F.R.I.E.N.D.S are having a reunion.The joy that spread on the internet after they dropped the trailer last week, is contagious and we can't wait! The reunion episode will be streaming from May 27. What could be a better reason to laugh your way through this week than this? :)
Hope this curation made you smile just a little, just enough to offer some respite during these times. See you next Monday with more such doses of Joy!
If you have any such positive, inspiring pandemic stories to share, you could tell us in the comments or send a DM on the Tripoto chat.
Earn credits and redeem them on Tripoto's weekend getaways, hotel stays and vacation packages after the pandemic is over!