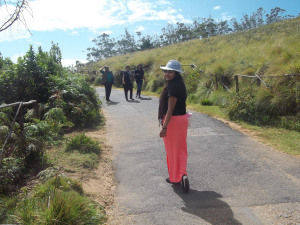 Two months ago, I went to The God's Own Country – Kerala with my family. I travelled via air from Jaipur to Kerala, a three hours of roller coaster ride and, believe me, it was tiring – I realised that travelling by air is less fun than travelling by train. First off, the reason being the pain and some terrible sensation in the eardrum, secondly floating over clouds for three hours becomes tedious. So if you have plenty of time and have already planned Kerala as your next destination, I advise you train journey over air.
Just when we reached Kochi, the Kerala's capital, my mind recalled the pictures I had googled before coming to this verdure place. Without skipping a minute hand, we rushed to Munnar. It takes nearly four hours to reach Munnar from Kochi. Being a North Indian, South India's weather seemed too appalling to me but Arctic people would surely have loved this heat of the sun, that seemed as a fireball to me. Travelling through a long serpentine way under sweltering heat was a struggle for us; we are used to straight roads but on our way, the food, pineapples garnished with masala proved a quid pro quo to the not-so-good experience of travelling.
A sigh of relief after a tiresome day when all of us spread-eagled in our hotel rooms in Munnar. I totally loved its weather, it being a hill station. I spent my best morning here, mesmerised by the tea plantation from my windowpane, sun rays falling over the silhouette of last night and gazing over the drizzled rainwater accumulated over leaves. We draped ourselves in summer clothes, without knowing it would be chilly, for Eravikulam National Park, Munnar. If you ever happen to go here, then do leave before the sun rises for the same to avoid cumbersome experience of standing in the queue at the same time stand the parky. Eravikulam is famous for endangered goat, Nilgiri Tahr. The location, 2695m high, is surrounded with high mountains beneath pristine blue sky enticed me more than the endangered species which the place is known for.
Thence we set off for The Blossom Park. The place is beautiful, filled with a variety of flowers, with placards-inscribed with botanical names, one of them I remember is "Babyblush." We left for Mattupetty Dam, some twenty minutes away from the Blossom Park. On our way, the driver told us a story about the way we were crossing through that during night humans rarely cross this way for a king elephant along with its swarm smashes "men" while it doesn't harm women. On being asked of reason he reverted, "once upon a time a group of male pestered it, since then it has been taking revenge." Standing beside the wall, eating pineapple, looking down the water splashing with great velocity was treat to my eyes. By this time, we were too fatigued to walk around and take photographs. We grabbed some 'Homemade' chocolates and banana chips from the shops on our way to the final spot of day one. The day would have been incomplete without watching Kathakali, (a dance more of gestures than music itself) performance, despite tickets being expensive, my brother and I stubbornly persuaded parents to let us take to watch it. Unfortunately, none of us liked it – not that the performance had any shortcoming, rather it was depiction of section from Hindu scripture that we had no knowledge about. Here is an advice , know about the Hindu mythology and its Gods before going to watch such performance else it would not be a bang for your buck. The enervated day ended well with luscious South Indian food
Thekkady, Periyar National Park was our next day's first destination. We couldn't get the tickets for boating, they had sold out. Here is an advice: book boating tickets online a few days before you come to the destination. This day went in vain, we didn't go anywhere else and had do make do with only the luxury of the hotel.
The third day as planned was The Venice Of The East- Allelepy, we didn't know we were heading off to a heavenly place until we reached there. It is the most beautiful place I found in Kerala and second best, after Havelock island, Andaman, amongst the places I have been to in India. We hired a boat for an hour to travel into the backwaters. If you want to luxuriate into backwaters and have pockets full of currency, go for "House Boat" – it must give a sumptuous experience. Incidentally, do you know how to swim ? Learn it before you head to Kerala. My brother and I kept hopping for pictures; who wouldn't? Such a promising land for photographers. Deluxe boats rowing into widespread land of sea and distant tropical villages, running along the coconut trees, an eye candy of sun set, sinking into water – such is Allelepy. If I were alone, I would have met the villagers, who are surrounded with water, prone to floods and know of their lives.
Then we proceeded to a Allelepy beach. On our way, I contemplated how Kerala is different from Rajasthan. Kerala so squeaky-clean, has a bunch of federal banks, traffic police dressed similar to public police. Kerala has preserved its culture and heritage – its language Malyalam, its clothing (Lungi and bordered sari for men and women respectively). Communist parties aren't bad at all if they can run a state prosperously like Kerala. It seemed to me an entirely different country, for few Keralities know Hindi, but our driver, a gentleman, an exception, knew not only Hindi but also eight other languages.YES, Eight!
Our last destination, beach, proved an icing on the cake. I was too melancholic to leave The God's Own Country for my place, Jaipur. There's something special about South India, and Papa has already planned our next destination, and it is somewhere down south itself.