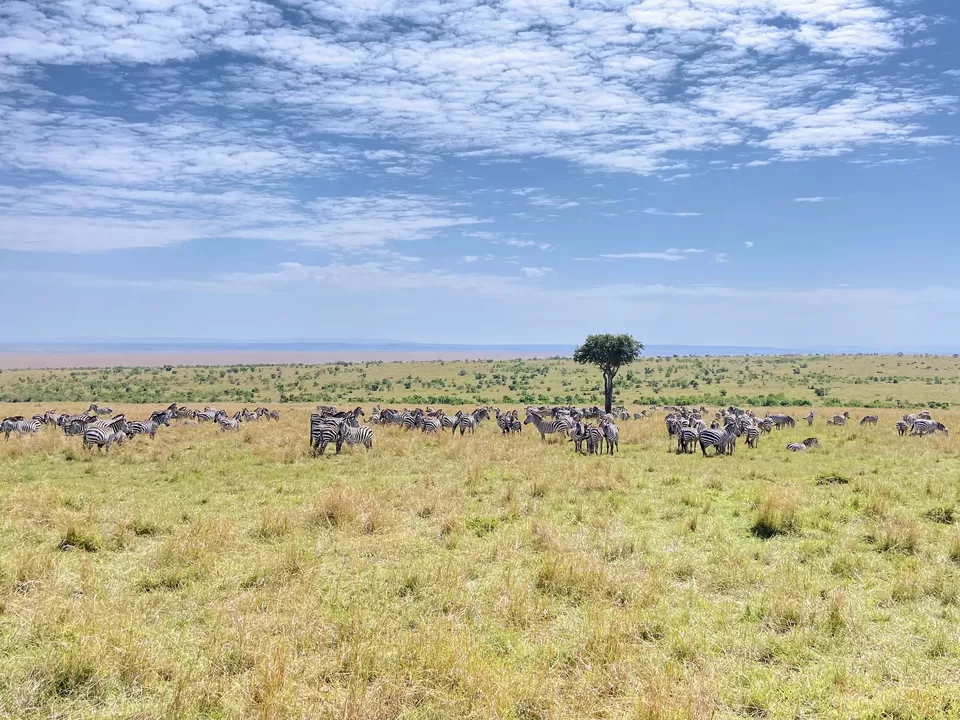 Jumbo! 👋🏼
(Yes, this is how Kenyans/Masai people greet; it means Hello)
We (My wife and I) recently did a 7-day safari tour (Oct 2022, first week). We are sharing our experience and research below. Hope it helps you too 🙂.
I have written about these topics in this blog (in this order):
1. Best time & duration of visit
2. What to expect from the different national parks?
3. My itinerary & trip highlights
4. Trip planning (Safari tour, stays, expenses, what to pack etc.)
5. FAQs
Here are few other things that you may want to know before you read ahead (I will use these later):
- Big 5 is a term used for the 5 of the most famous African large animals - Lions, Leopards, African Elephants, Black Rhinos and Cape Buffaloes.
- Game Drives is a term used for driving in the parks to look for wild animals (what people usually call safari).
Best time to visit
While you can visit throughout the year, recommended time is from July to Oct (Aug/Sep being the best), as this is the time when animals migrate from Serengeti (Tanzania) to Masai Mara (Kenya) and you get to see them in thousands. We visited in the first week of October.
How to decide how many days to spend?
If you are a wildlife enthusiast, spend at least 10 days here. If you are someone whole enjoys travel experiences, you may plan a 4-7 day trip, depending upon your budget, interests and time available.
We did a 7 day / 6 nights trip. And, would recommend a 6 or 7 day trip to get the most out of these national parks.
Kenya has a lot of national parks and depending upon what you enjoy, you may pick your spots. This is what we did (and loved):
Masai Mara - 2 nights
Lake Nakuru - 1 night
Lake Naivasha - 1 night
Amboseli - 2 night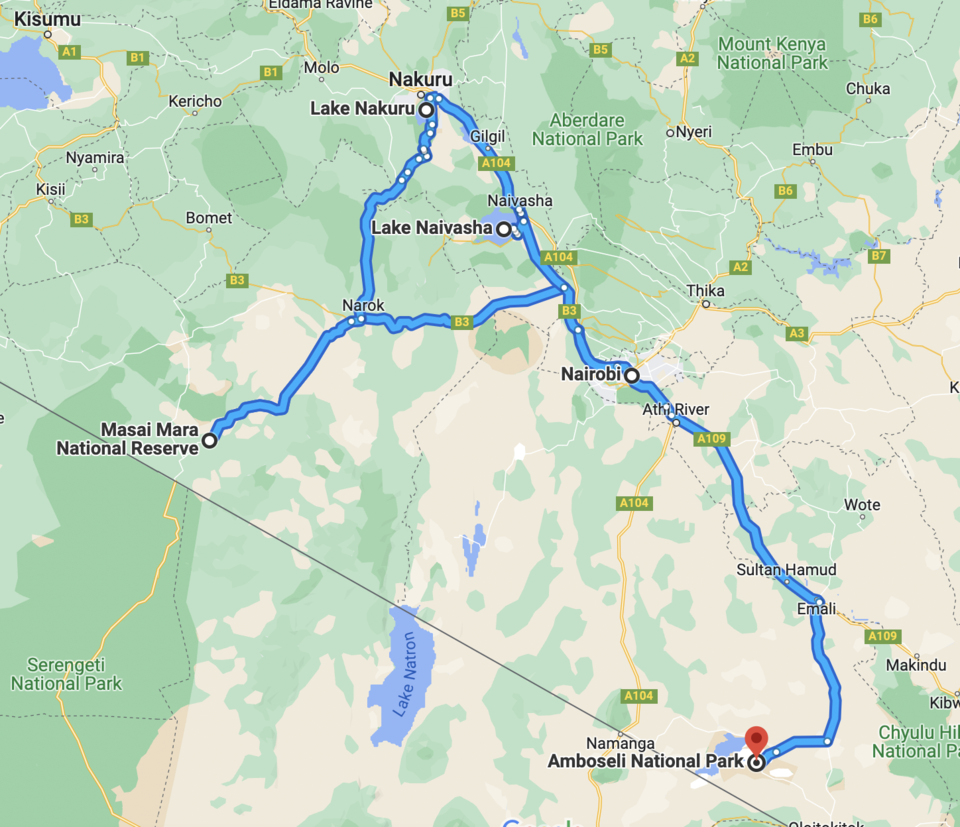 What to expect from the different national parks?
- Vast open grasslands where as far as you can see you'll find plain open lands.
- You can see easily spot 4 of the Big 5s: lions, leopards, African elephants and cape buffaloes.
- Visit the Mara river and see lots of hippos and crocodiles
- Walk alongside the Mara river (with a park ranger with you)
- Plenty (hundreds and thousands) of zebras, giraffes, warthogs, wildebeests and hyenas.
- At times, in a single sight, you can locate a lot of them together.
- Scenic routes and enthralling game drives.
- Visit the Masai villages and learn about their culture (ways of living, dance form, food etc.)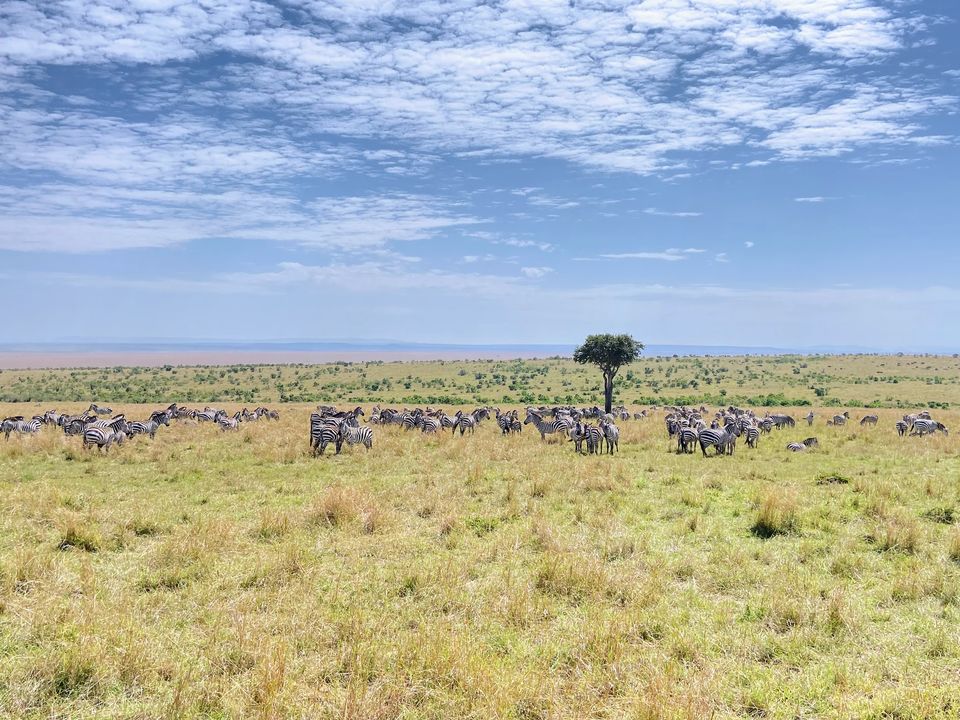 - Place to see both white and black rhinos (one of the big 5s) - Two critically endangered animals
- Beautiful view of hundreds of flamingos on the lake Nakuru, along with sightings of hippos
- You can also locate lions in addition to plenty of zebras and giraffes.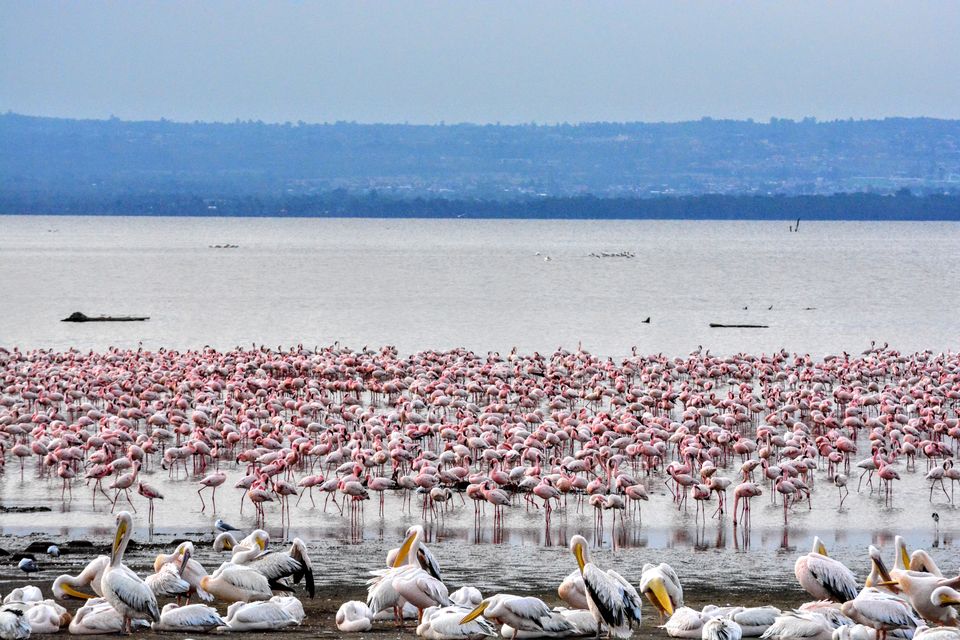 - Beautiful boat ride among the hippos in Lake Naivasha and a chance to walk among the zebras, giraffes, wildebeests and deer
- Visit Hell's Gate National Park - The inspiration behind the Disney movie, The Lion King! Ride a bike on the trail for 16 kms (back and forth) and see wildlife all around you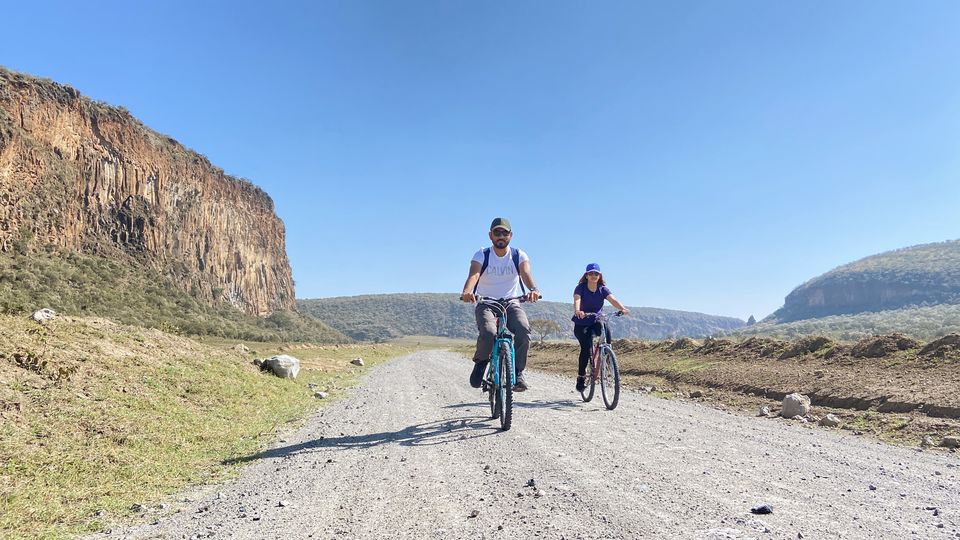 - Park to see the biggest tuskers (African elephants) in the world, and that too in very large herds
- You can find lions, and hippos as well, in addition to plenty of zebras, wildebeests, ostriches, giraffes, hyenas and warthogs
- Has a desert-like landscape (dry, hot and dusty) with the presence of a lake and a couple of swamps (my wife did not enjoy the heat and dust though)
- Get to see animals in/near the water bodies (Imagine 15-30 elephants frolicking around in the water)
- People say that you get to see animals with a view of Mt. Kilimanjaro (Tanzania), but when we were there, we could hardly see the mountain (was covered with clouds)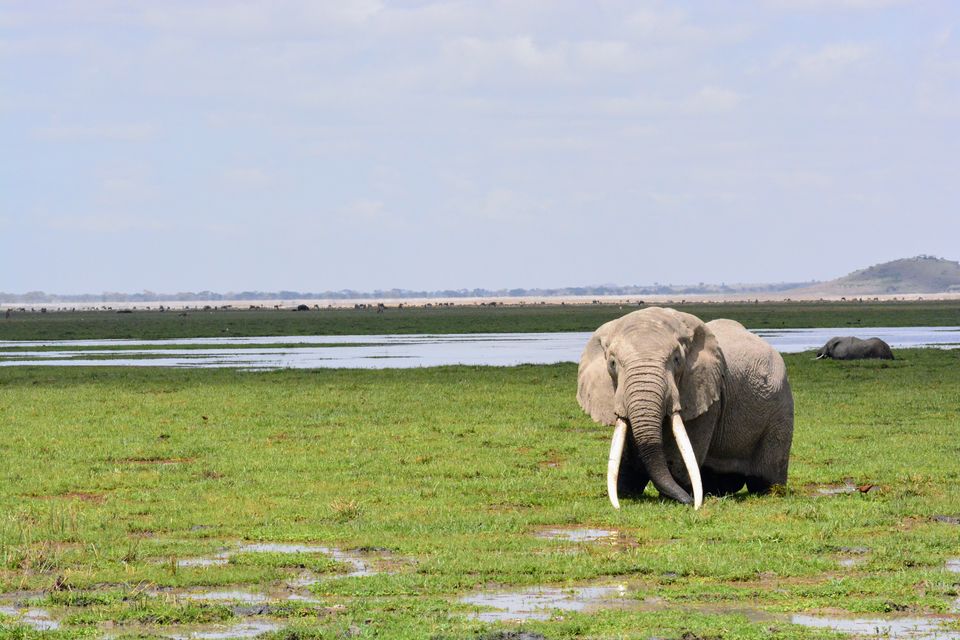 Itinerary & key highlights
Most safari tours start from Nairobi (Kenya's capital with a well-connected International Airport) and begin early in the morning (around 8 am).
Since, we were travelling from India (16-hour journey from Delhi; layover at Addis Ababa) and didn't want to rush, we came a day before and took a night halt in Nairobi (I'll call it Day 0). In essence, our trip was for 8D/7N.
This is how we spent our time:
Stay: Sarova Mara Game Camp
We met our guide at our hotel and started our drive from Nairobi to Masai Mara at 8 am. We reached Masai Mara in the afternoon, visited a Masai village to meet the locals and did their traditional dance with them.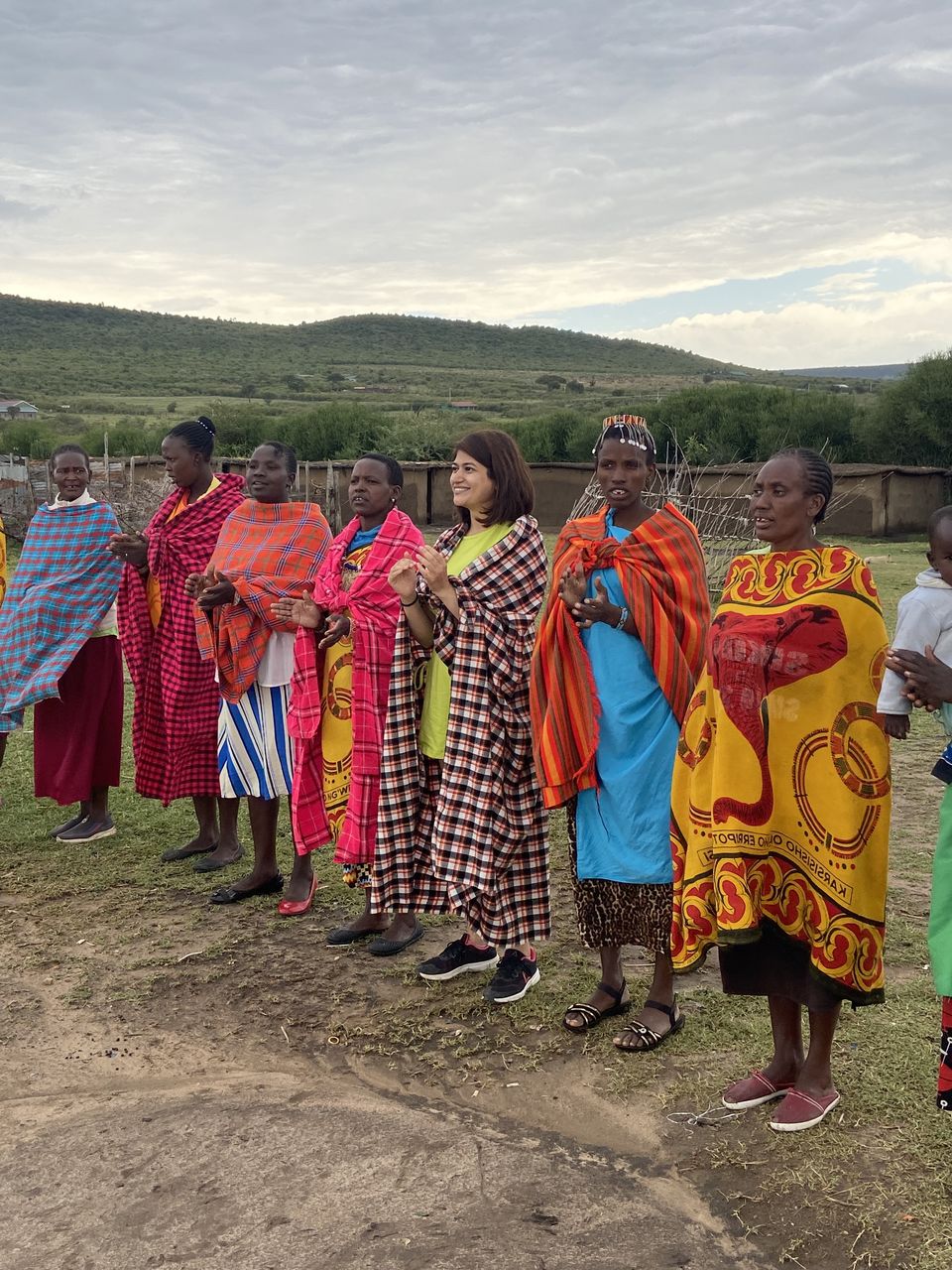 Later in the evening, we did an introductory ride (saw a few cheetahs, along with a lot of herbivores) and then later, checked-in in the resort.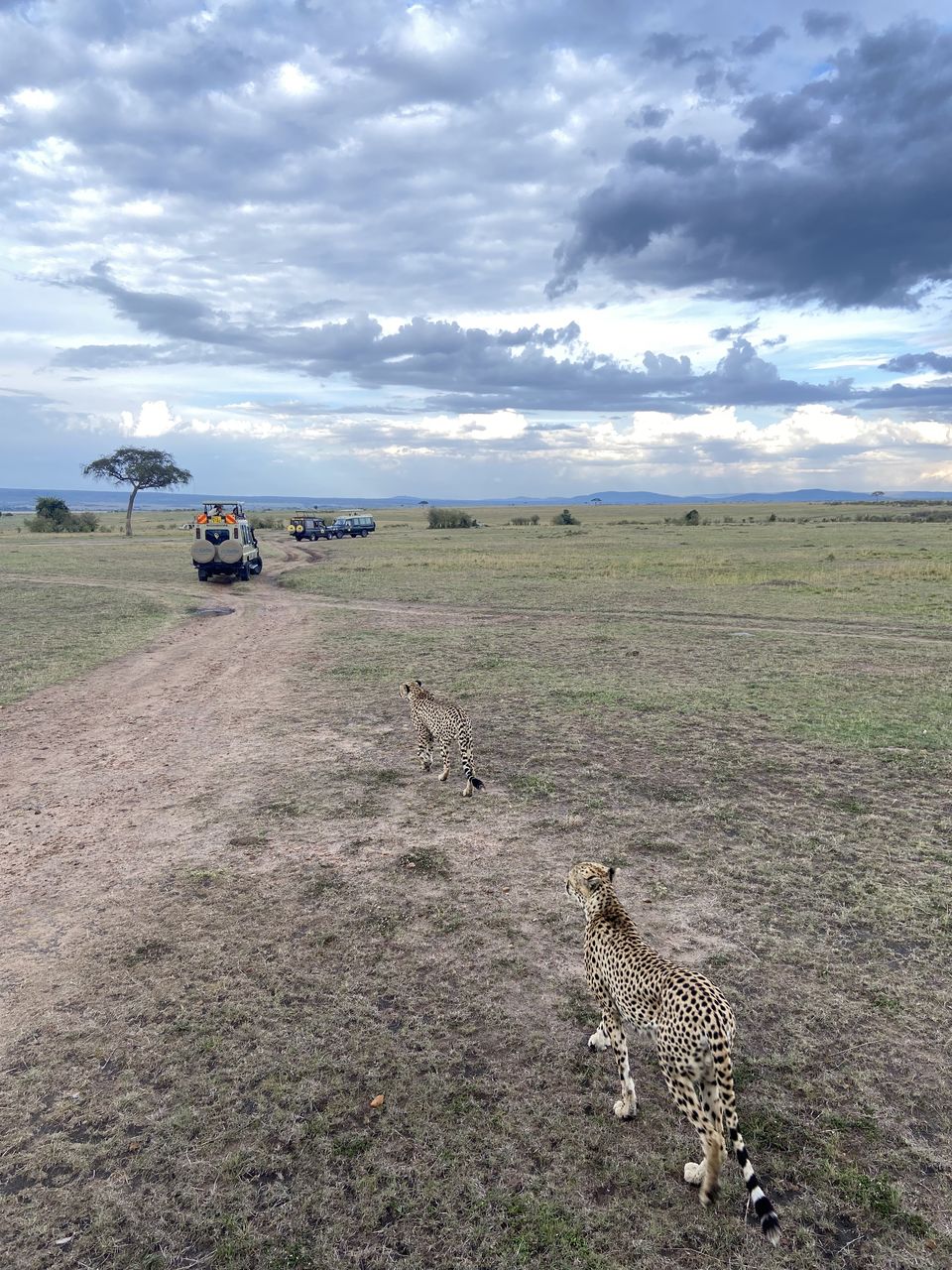 Stay: Sarova Mara Game Camp
This was a day with a full-day game drive, and undoubtedly the BEST day of our trip! :)
We left in the morning (post breakfast) at 8 and were lucky enough to locate 4 out of the 5 big 5s on day 2 itself.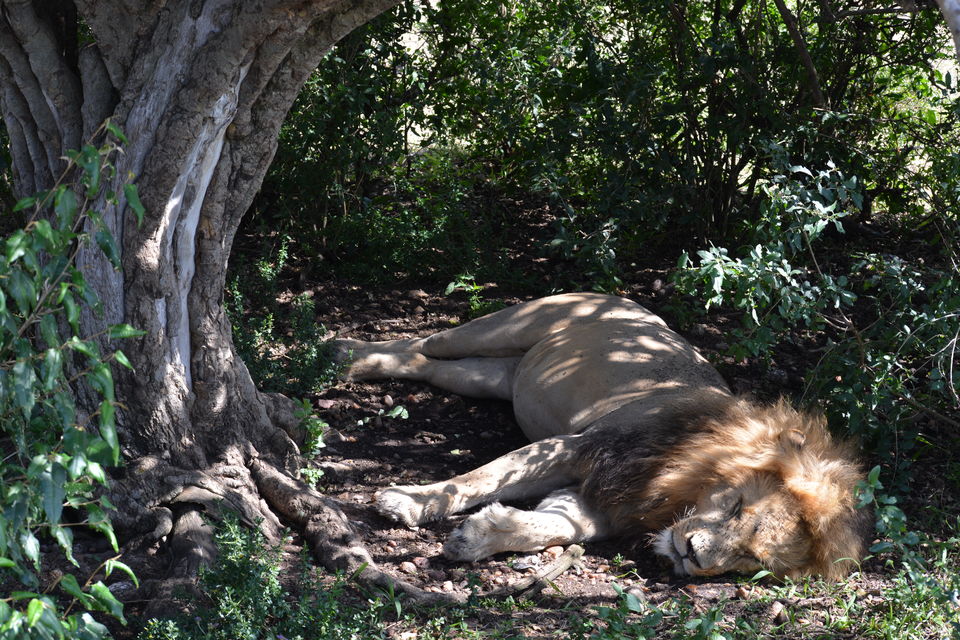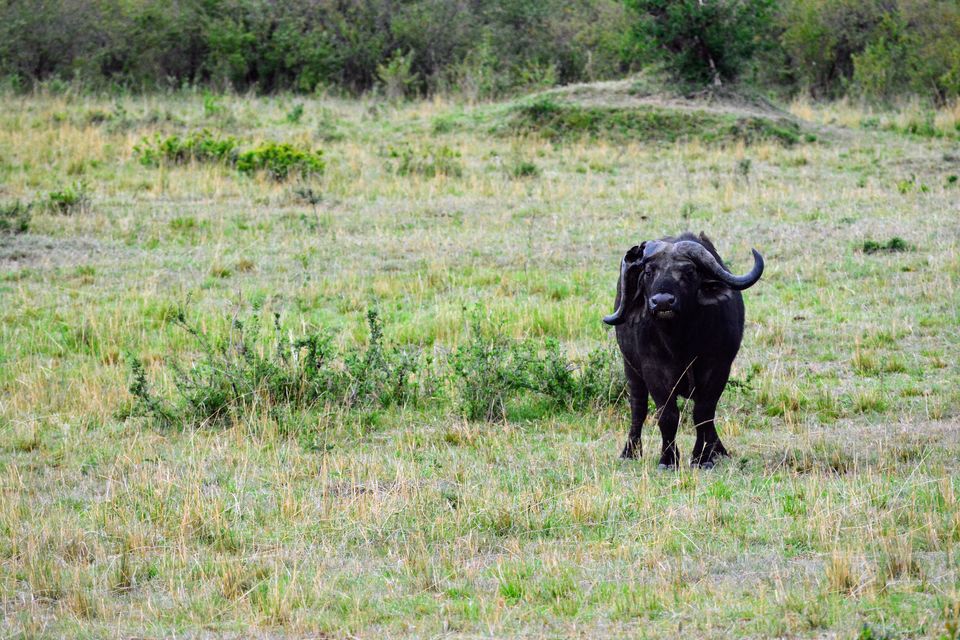 We also went till the Mara river, did a little walk along the river (with a view of hippos and crocodiles) accompanied by a forest ranger.
The vast landscape left us awestruck and for the most of our drive, I was standing and looking at the view from the top of my vehicle!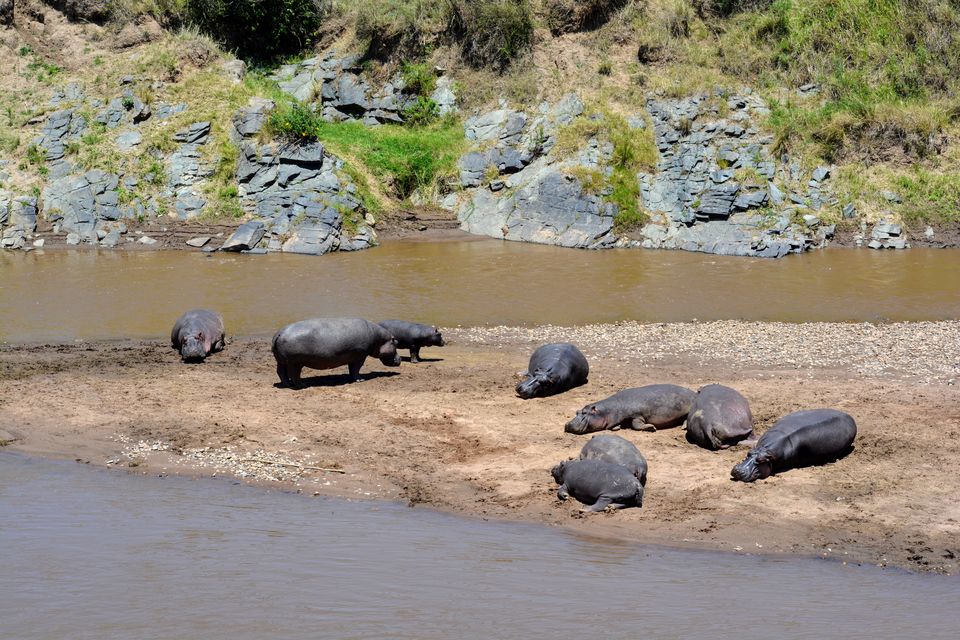 At the end of the day, we saw a lioness looking to hunt, watched the sunset and came back to take a good sleep.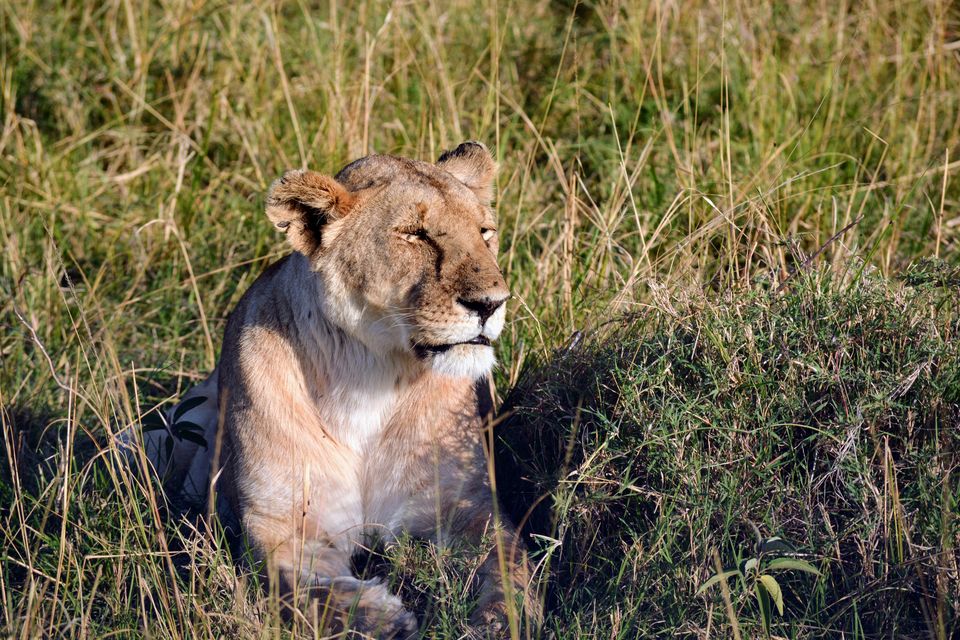 Stay: Sarova Lion Hill Camp
After having breakfast, we checked out at 8am and drove to Lake Nakuru (4-5 hours). We had a picnic lunch before beginning our evening game drive.
The evening game drive in the Lake Nakuru National Park gave us good views of rhinos, flamingos and giraffes.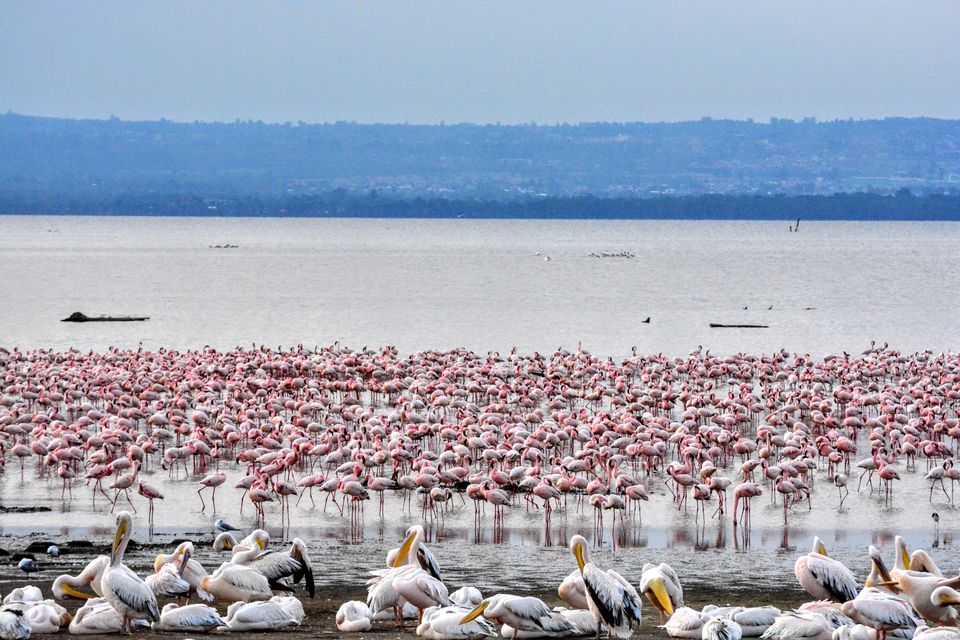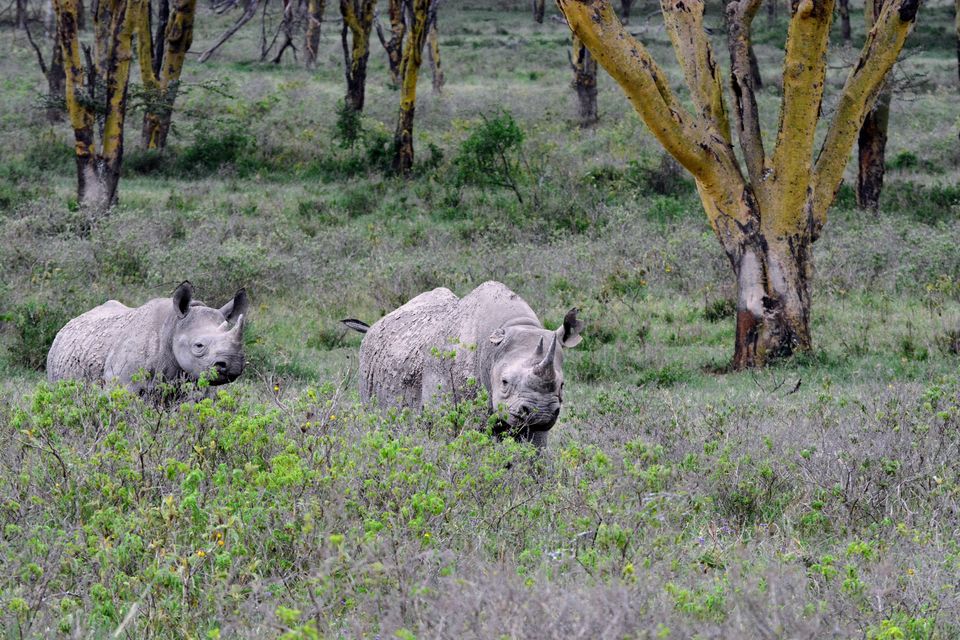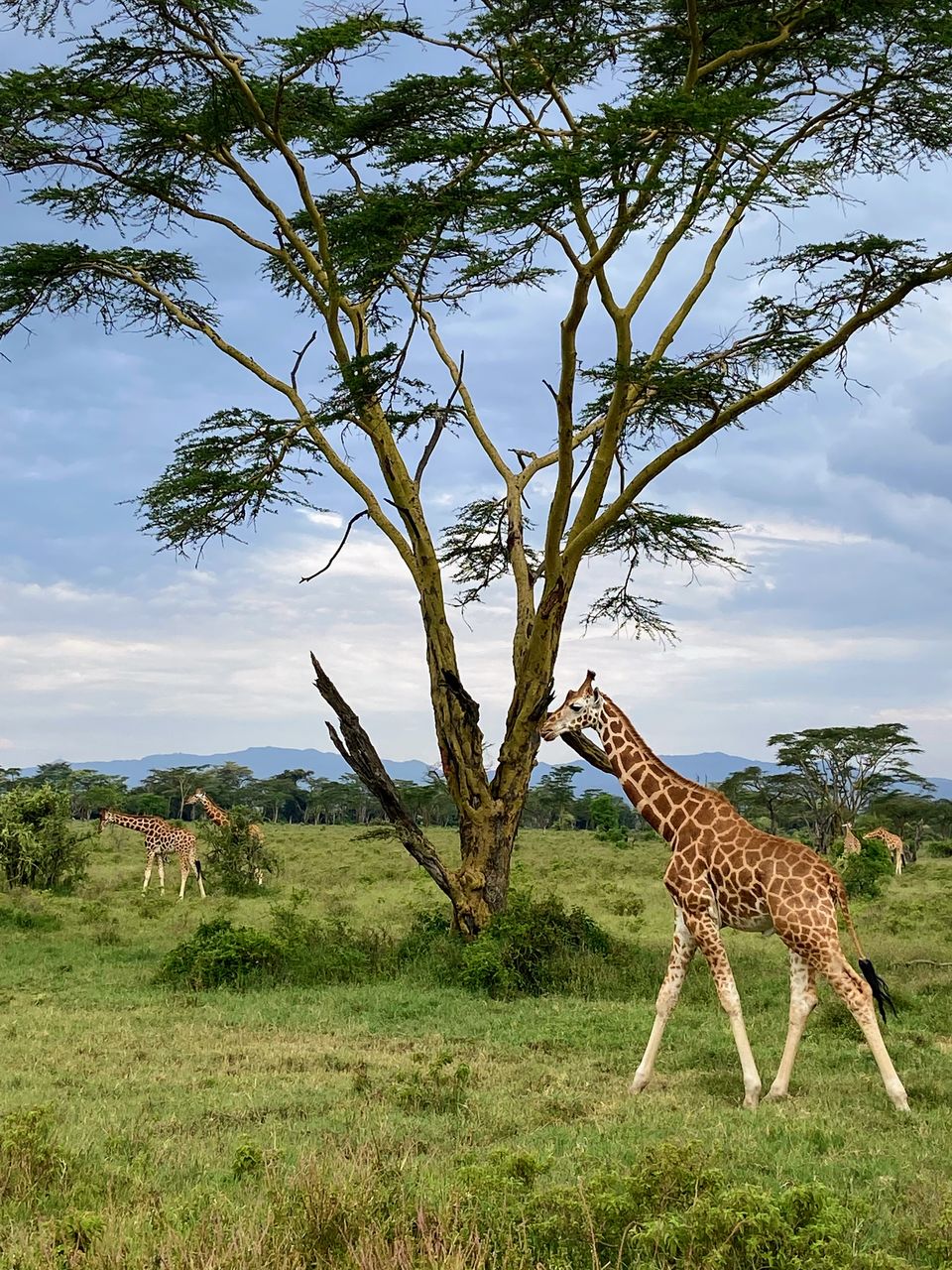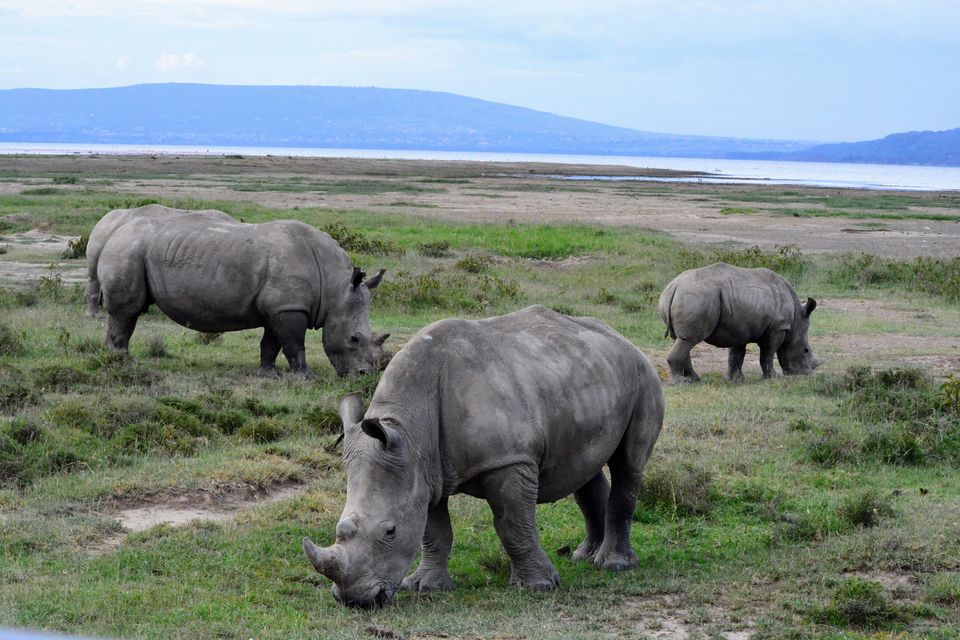 Stay: Lake Naivasha Sopa Resort
We did an early morning game drive in the Nakuru National Park (starting 6 am), followed by breakfast and checkout.
We then drove to Lake Naivasha (2 hours) for an evening boat ride.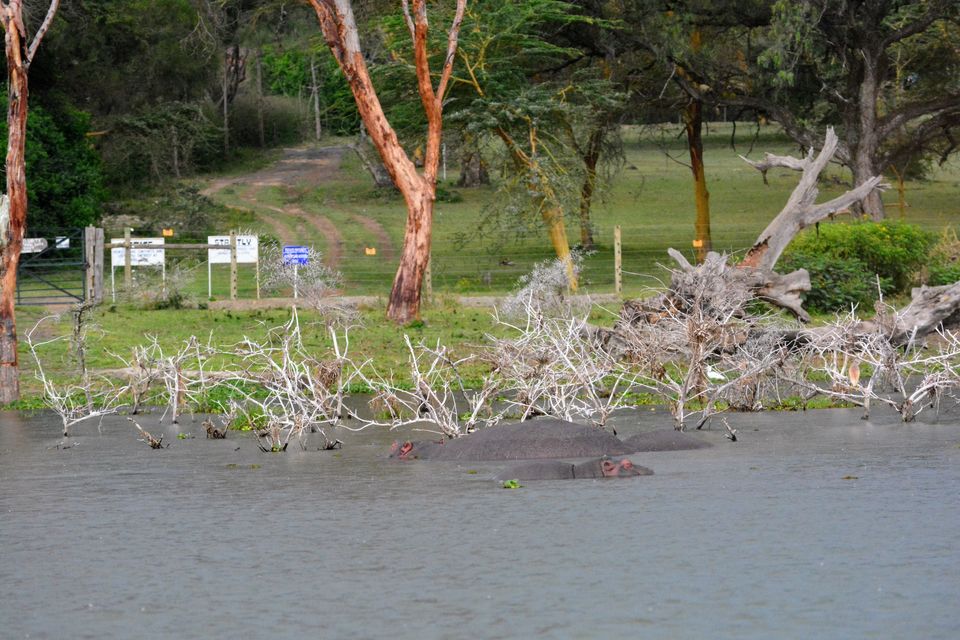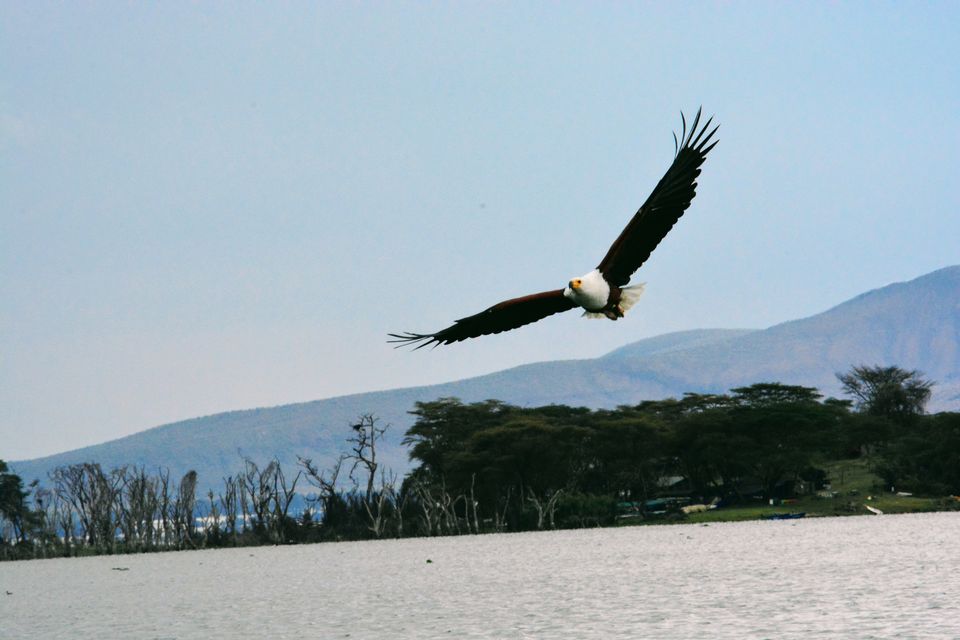 Post the boat ride, we did a small walk in the jungle among the zebras, giraffes, wildebeests and deer.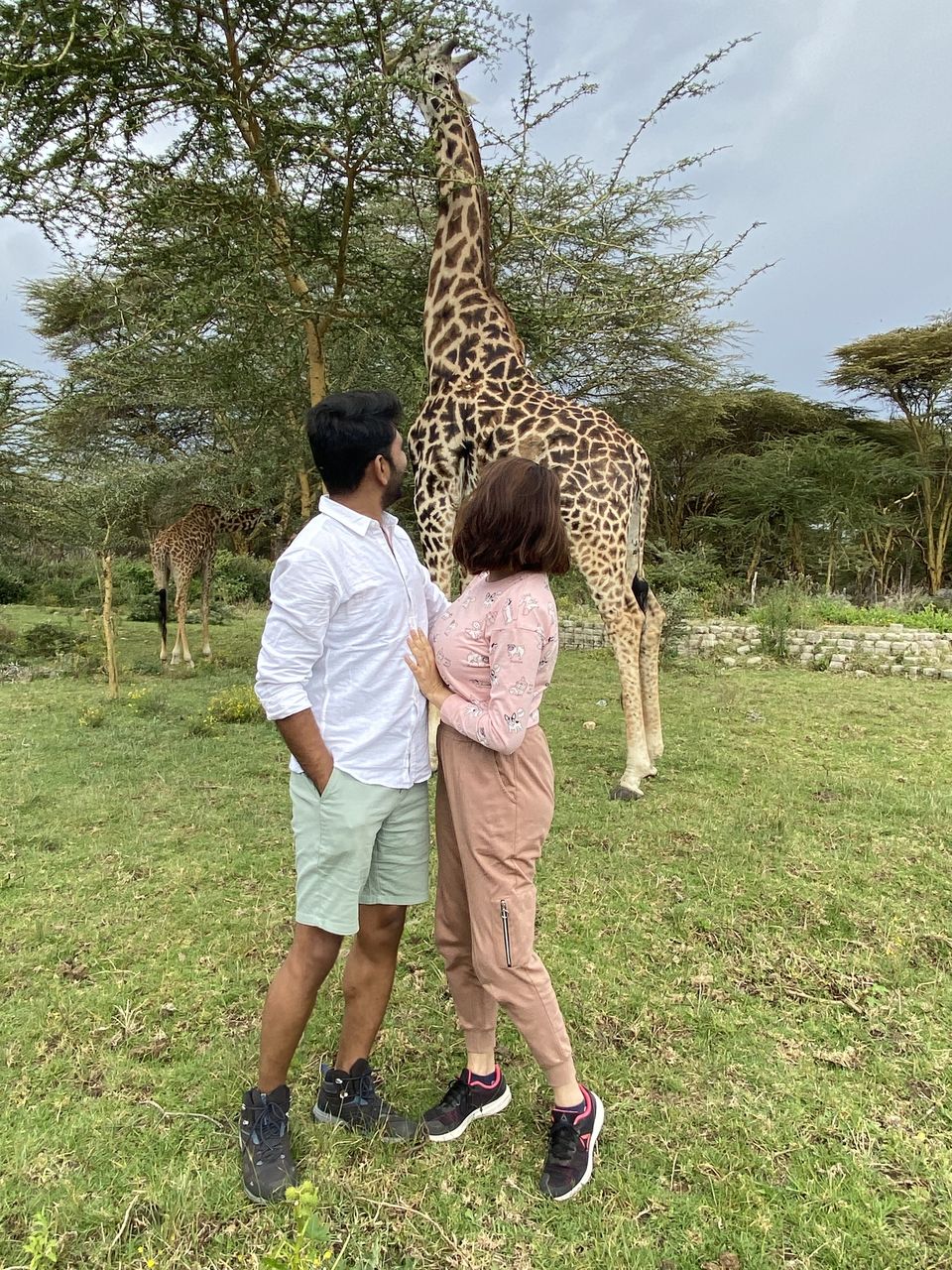 We later checked-in in the BEST resort of our trip. Imagine giraffes, zebras and impalas roaming around the hotel property! 😍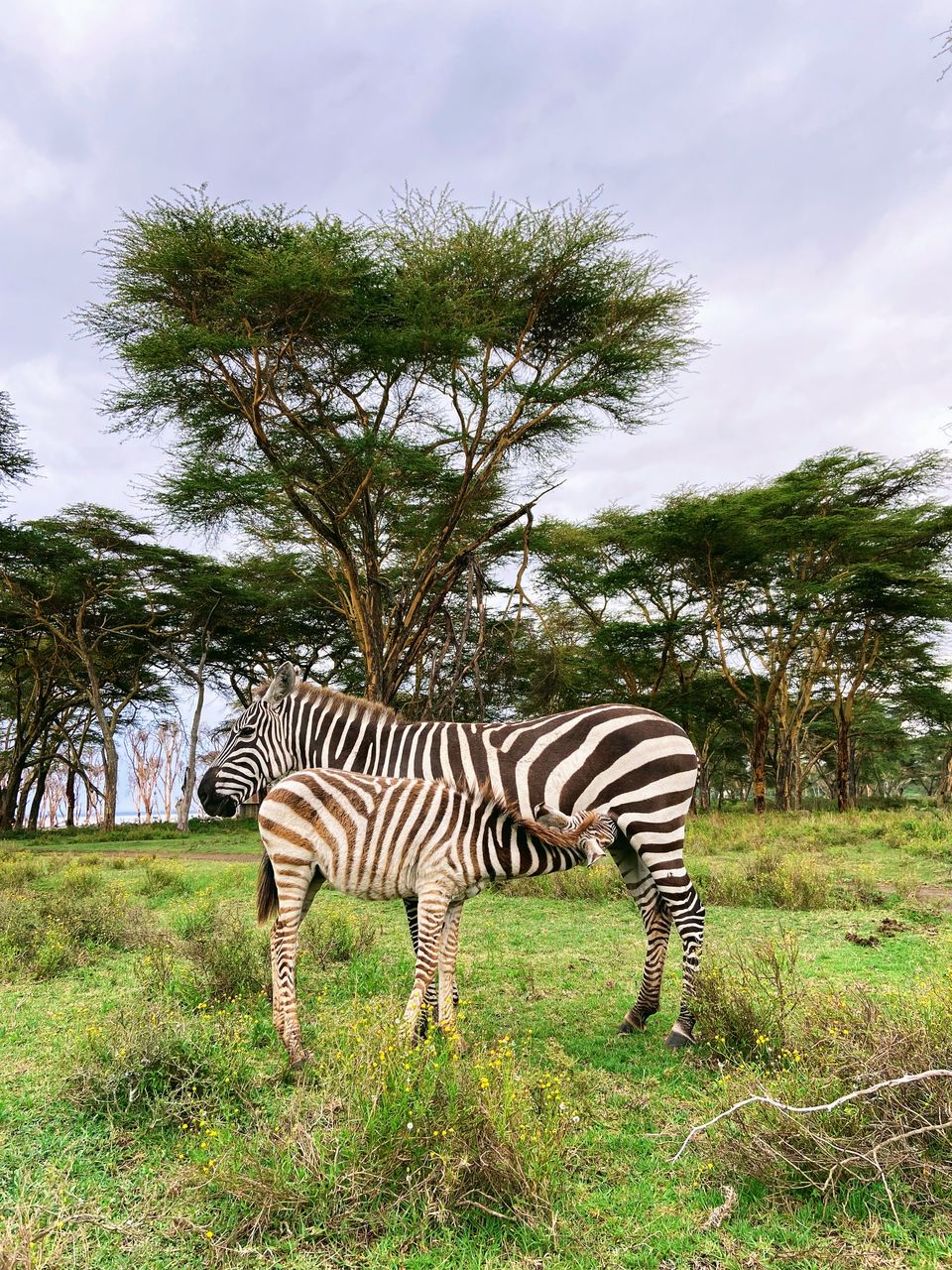 Stay: Kibo Safari Camp
After an early breakfast, we checked out at 8 am to visit Hell's Gate National Park. There were not a lot of animals here (or maybe we'd already seen a lot by now), but the bike ride was great!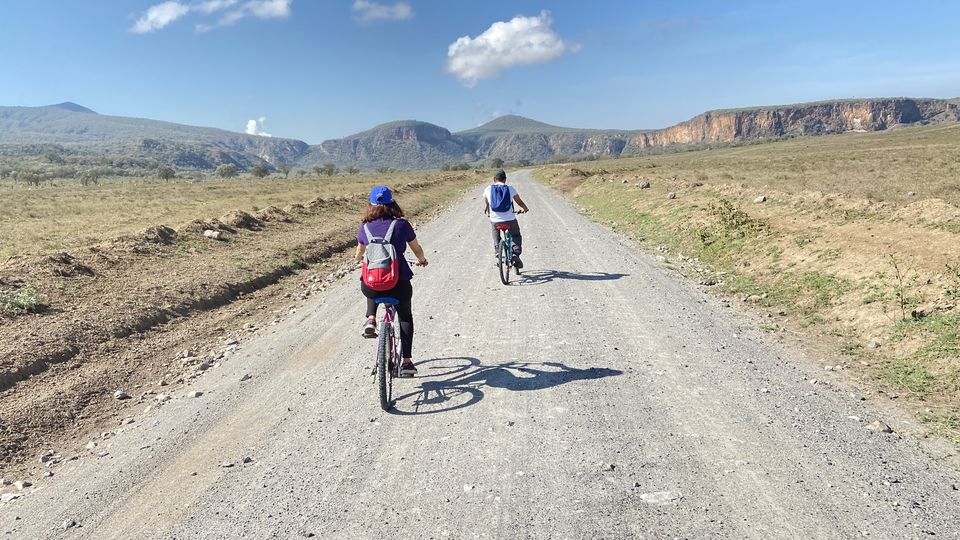 We also saw the place where Mufasa's death scene (from The Lion King) was shot).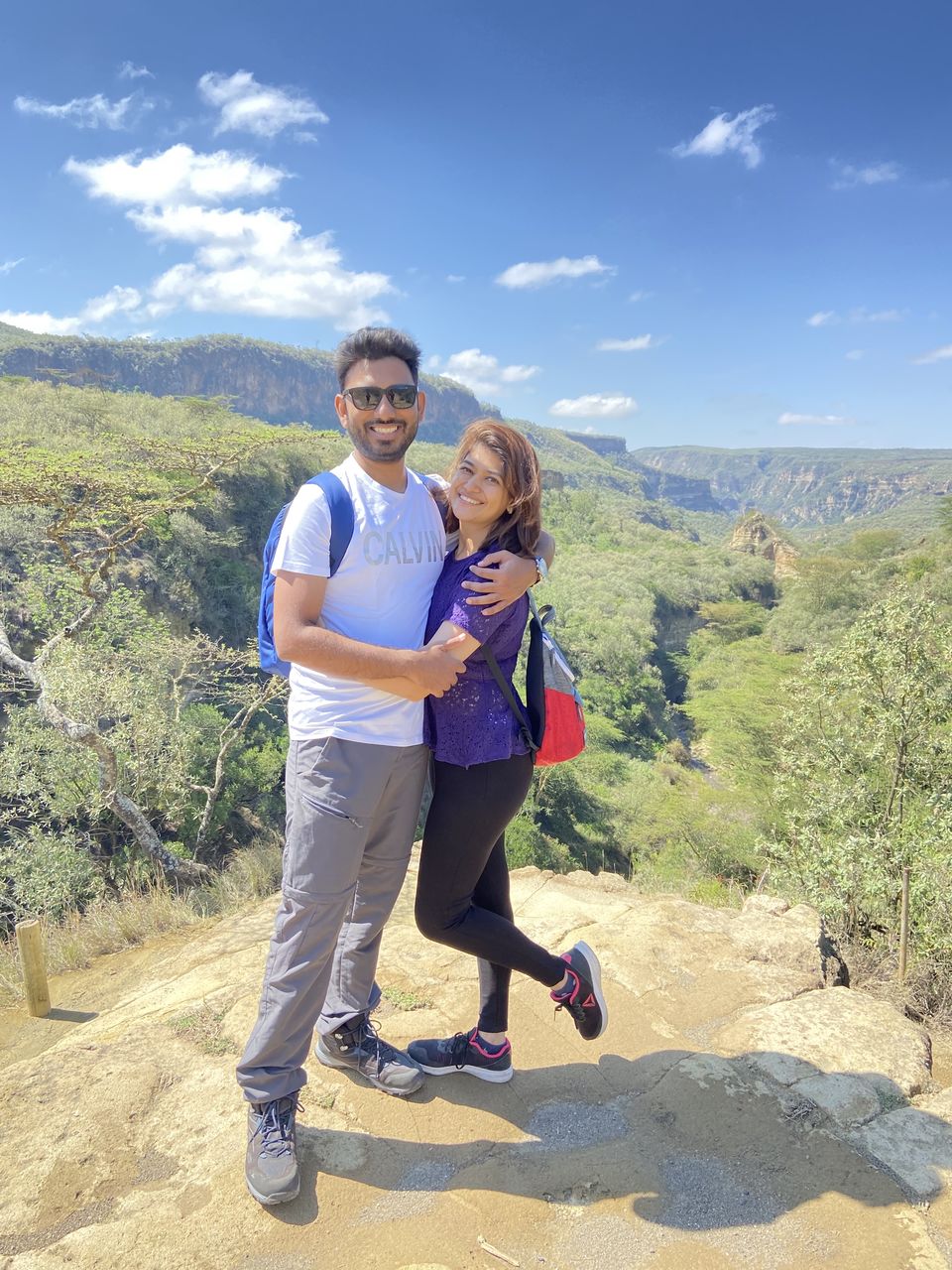 Post this, we started our long drive to Amboseli (6 hours) and checked in for a goodnight's sleep.
Stay: Kibo Safari Camp
This was another day with a full-day game drive. Amboseli has a very dry and dusty desert like landscape, and we had dust all over our hair within 30 minutes!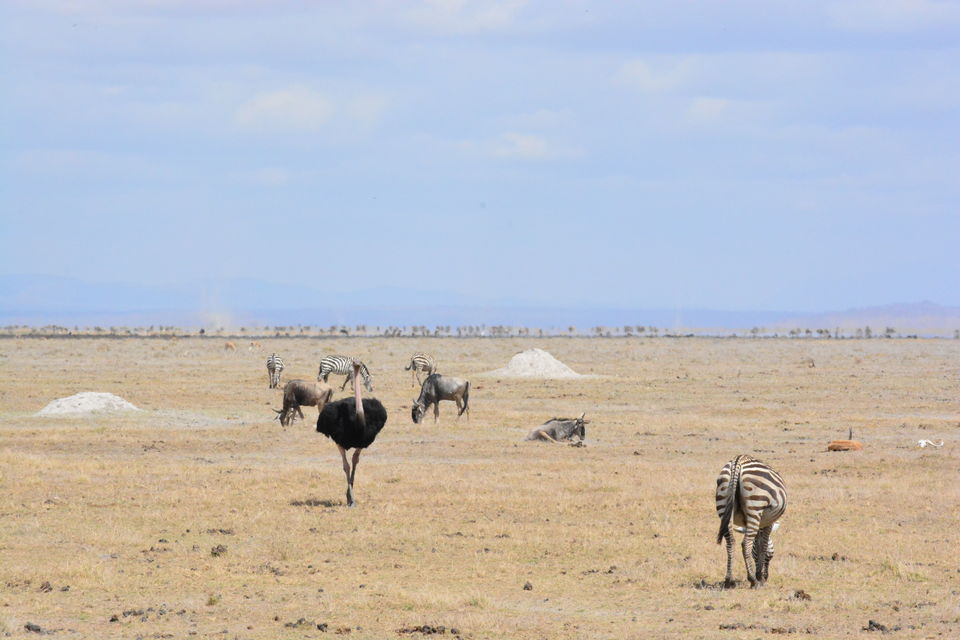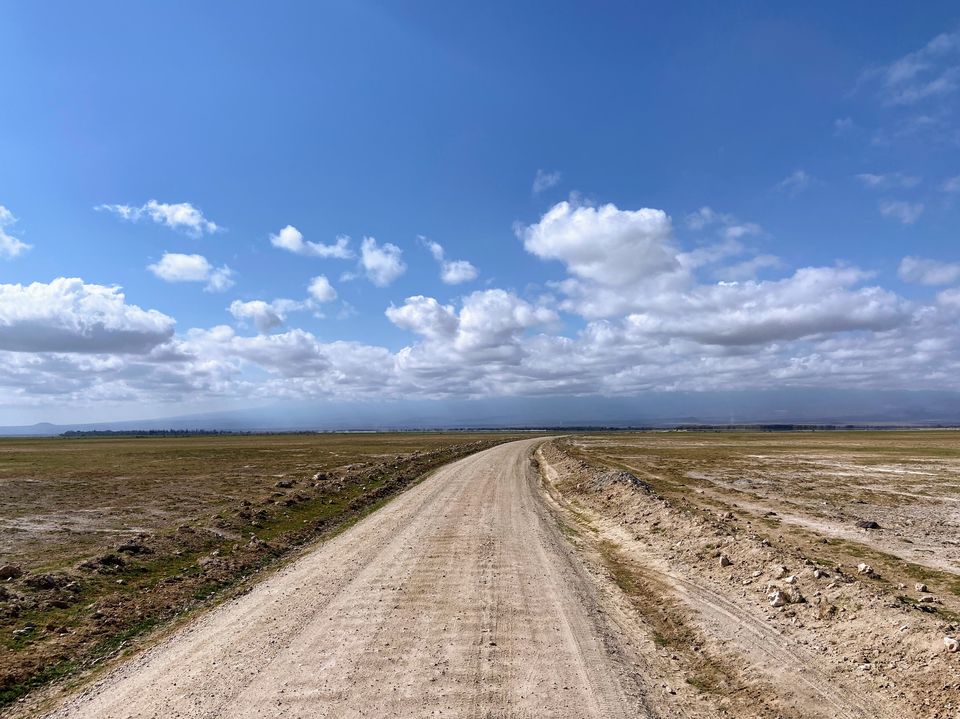 In the middle of this area, there's Amboseli lake with many swamps nearby where you'll find hundreds of elephants, wildebeests and hippos lazying around. We also saw multiple herds of ostriches (which we weren't really expecting!).
This is where we saw numerous herds of gigantic elephants with HUGE tusks.
Since, this park is small, we came back to our stay for a lunch and then went back again after a 2-hour break.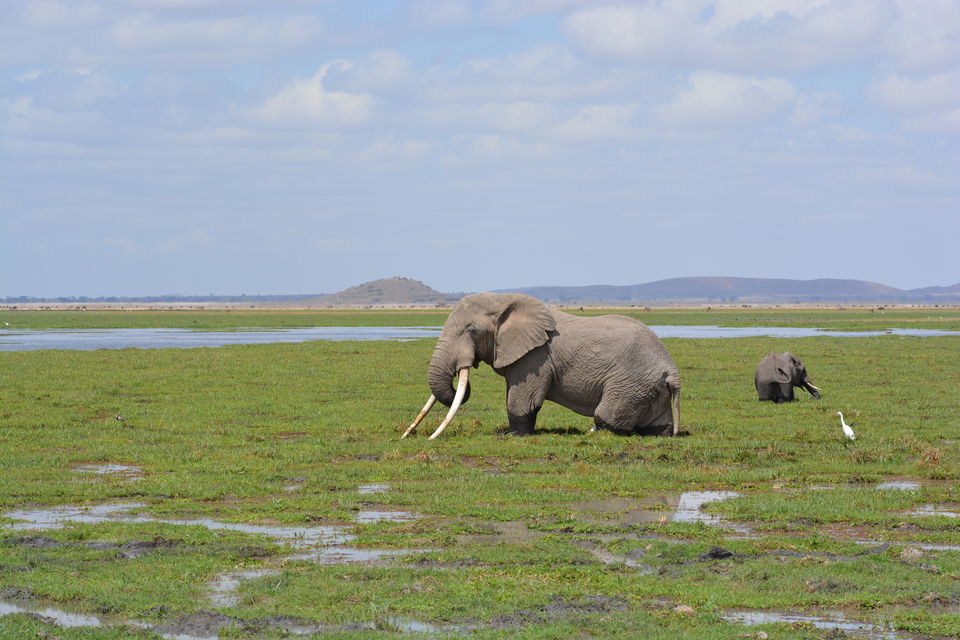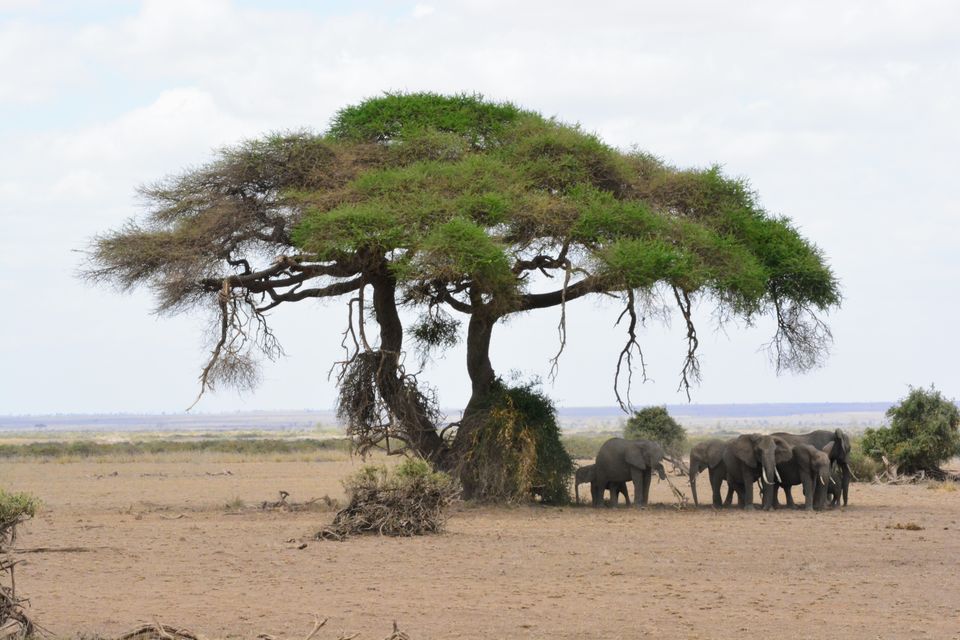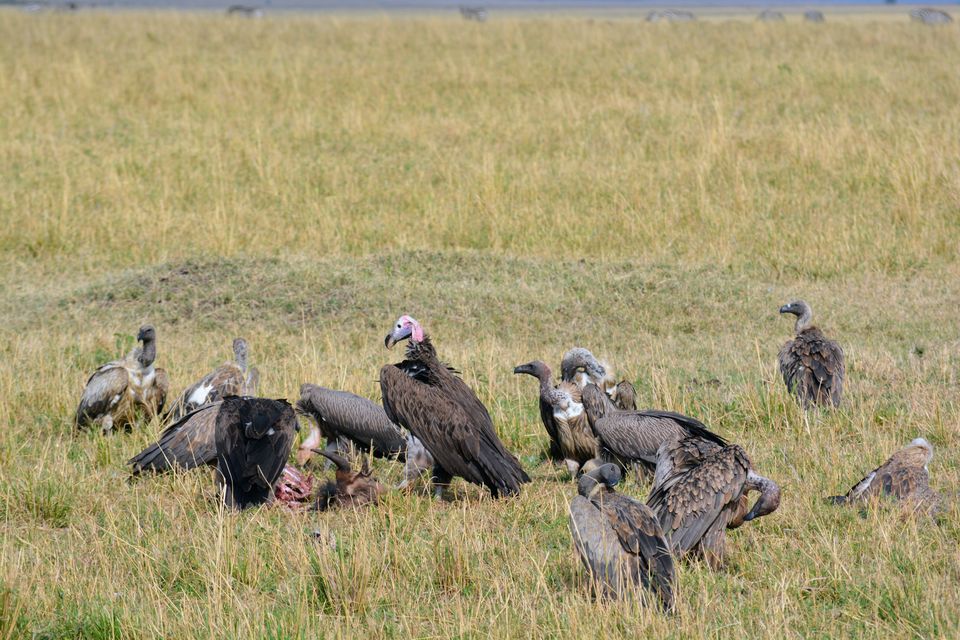 We ended the day seeing a hyena with its fresh kill, caught red-mouthed! :)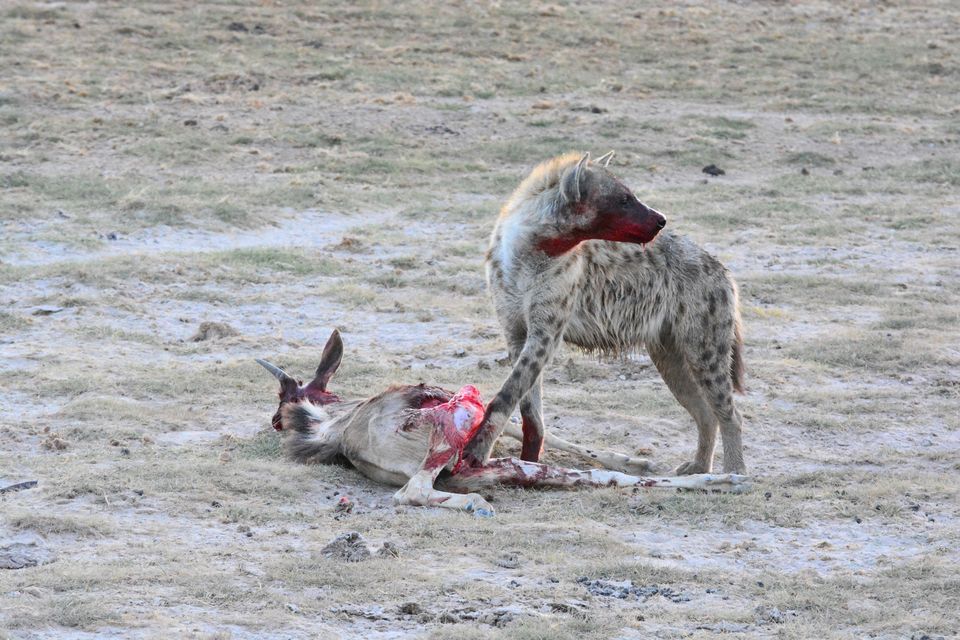 This was our last day. We had an option to do an early morning (6 am) walk for a sunrise view with the Masai people. However, we skipped it as we wanted to take a good rest before our journey back to India. We started our drive at around 10 am and drove back to Nairobi (5 hours) to take our flight back to India.
Further tips:
1. Packed Lunches - Most lodges have a standard packed lunch which includes a fruit (banana/apple), yogurt, some breads (roll/brioche) and/or burger buns with cheese/tomato, a piece of chicken/beef or sautéed vegetables), a pack of juice, water and a muffin. In case you don't enjoy this (we got bored after 2 days), you can decide to come back to the lodge for lunch (if you are on a game drive day) or you can eat on your way at some place (if you are on your way from one city to other)
2. Flying from Nairobi to Masai Mara - there's a small flight that you can take from Nairobi to Masai Mara to save time. We didn't find it much useful and wanted to travel by road
3. Spending more time in Masai Mara - You can chose to spend even 4 days in Masai Mara and skip other places. In this case, do ensure that you stay at 2 different areas in Masai Mara for 2 days each to cover most of the area.
Planning for the stay, safaris and transit
You can always plan the whole itinerary execution on your own (I generally prefer this), however, for this one specific tour I'd recommend booking a safari tour and here's why:
1. You'll be doing 4 national parks in 7 days and you'll need to plan for 4 different stays - (eg. whether to stay inside/outside the park)
2. You'll have to plan for entries in each national park and get a guide/tracker for each place - added effort
3. You'll have to plan for 5 different transits or get a separate car for all 7 days.
4. You'll have to arrange for hot picnic lunches yourself for all the days yourself
Given multiple such reasons, I'd recommend booking a safari tour. Most people we met there chose this option too.
Picking a travel company
There are hundreds of safari tour and travel companies which run in Kenya. We used safaribookings.com. This is where you can get options of different itineraries across number of days and budget. You get ratings and review of each travel company, so that you can make a safe choice.
We chose Apodiformes Adventures, and had a great experience with them.
The plan includes the following:
- Airport pickup and drop
- All stays with full onboard meals (breakfast, lunch and dinner; no drinks)
- All transits and water for the travel
- Entries to all parks (they are not cheap; ~$280/person for the itinerary we followed)
- An English speaking guide-cum-driver, who'll be there to help you throughout your journey.
- A 4x4 Land Cruiser with open rooftop for this whole journey
- All game drives are covered (you drive a lot!).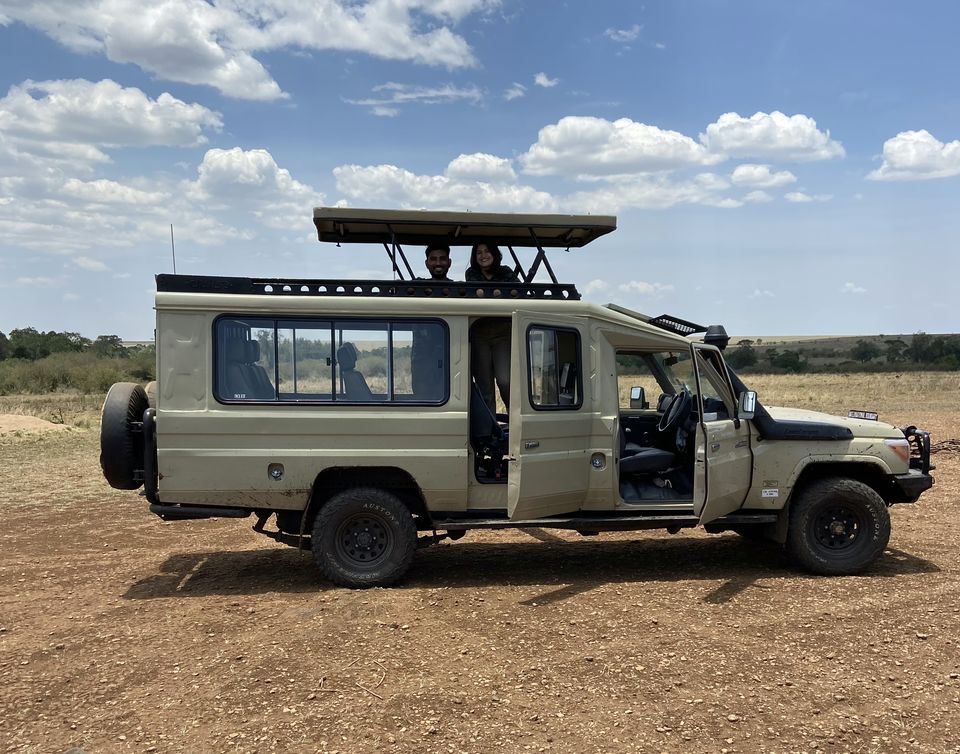 Budget for the trip
One big part of the budget is the Safari tour cost and hence I'll cover it in detail, followed by other costs which you may take up as per your interests.
Safari tour costs
The budget depends primarily on 3 things:
1. Number of Days
2. Private vs Group travel
3. Budget vs Premium Stays
Planning for number of days, I've already discussed, so let me spend some time on the others.
In a group travel, you may have 4-8 member group travelling in the same vehicle whereas, in the private travel, you get the same vehicle for just yourself. Benefits of private travel is that you can plan whole trip around you - no worry about changing plans (not doing early morning and starting late, or coming back for lunch on a game drive day vs eating packed lunch), while the cons being that it'll be expensive.
In budget stays, you generally get small camps or rooms in hotels outside the parks, which means that you'll have to travel to enter the park, which means starting your days even earlier (and remember that the days anyway start early) and leave the park earlier (chances of missing sunsets or lesser time in park). In premium stays, you mostly get to stay within the park or (right outside the park in some cases) and the properties and rooms are amazing. But, of course, the cost is higher.
We went for the private tour and the premium stays and our cost was around $4,000 or 3.2 lakh INR for the 2 of us (flights, tips, Nairobi stay and additional activities not included).
A budget Safari with group travel can cost as low as $1,600-$2,000 (1.3-1.6 lakh INR) for a similar itinerary.
Other costs
Mandatory expenses:
1. Visa - Kenya visa cost us $55/person
2. Flight tickets - ~$630/person for Ethiopian Airlines (layover in Addis Ababa, Ethiopia)
3. Nairobi hotel stay - Depends on your choice. We stayed at the Hilton Garden Inn which cost us around $130. Meals costs were on top of this.
Optional expenses:
1. Masai village visit- $20/person
2. River side walk in Masai Mara - $5 (as tip)
3. Naivasha Boat ride charges - $100 for a boat ride (1-6 pax).
4. Jungle walk in Naivasha - $10
5. Bike ride in Naivasha - $15/person with an additional $10 for the guide (recommended)
6. Hot air balloon ride - You can do a 1-hr hot air balloon ride in Masai Mara / Amboseli. Costs around $400/person. We found it quite expensive and hence, skipped it.
7. Souvenirs - The local shops have a huge scope for bargain (they quote obnoxious initial rates). We purchased from 2 different shops and got the items at 65% less price than the initial quotations! So, get your bargaining expert in front.🙂
8. Drinks in the lodges - Alcoholic and non-alcoholic drinks are not included in the tour package.
9. Tips - This is one area where we were really confused. Multiple blogs say that you may tip everyone (hotel staffs, all guides, boat drivers, etc.) Since, we anyway found all experiences to be expensive (compared to Indian costs and with a wrong assumption that it'll all be cheaper in Kenya), we didn't give tips everywhere, but did end up giving a tip to our Safari guide, who was with us for all the days. We gave him $10/day (which we believe in was good enough ). Still unsure though 🙈.
Overall costs
A private tour (semi-luxury) for a couple, would cost ~$6,000 (INR 5 lakh). A budget trip can be wrapped up within $3,600 (INR 3 lakhs) as well.
This excludes hot air balloon ride, which will cost additional ~$800 (INR 65K).
What to pack for the trip?
In addition to the standard travel packing, do ensure to pack the following:
1. A good camera - It's not everyday that you get to see these beautiful wild animals in large numbers and you would definitely want to capture those moments. Also, your phone cameras will not always work, as the animals maybe far away.
I carried my old DSLR which had a zoom lens up to 200mm. Recommended is at least 300mm lens.
2. A pair of binoculars - Some tour companies will keep a pair in the vehicle (do remember to check with them). If not, you should definitely get a pair. We carried our Nikon's Aculon 10x50 binoculars. I'd recommend a 8x42, which will have lesser zoom (but good enough for this purpose), but a better stability (lighter in weight).
3. Good pair of shoes - Recommended to keep a good pair of hiking shoes.
4. Light and comfortable clothes - Will recommend wearing lightweight track pants/shorts and T-shirts (neutral colours)
5. Sunscreen - It can get hot during the drives, unless you want a bad tan or sunburns, do keep applying sunscreen every 2 hours.
Some frequently asked questions
Q. Is it easy to get Kenya Visa?
A. It is very easy to get a Kenyan Visa for Indians. You need to apply for an eVisa which requires very basic documents. Once applied, you will receive your eVisa within 24-48 hours.
Q. Do you need a yellow fever vaccination to enter Kenya?
A. You do not need a yellow fever vaccination if you are flying from India. There are however, few countries, from where if you are flying, you'll require to present the vaccination certificate.
Q. Do you need RT-PCR / COVID Vaccination certificate?
A. Yes, you are required to carry both. Also, while flying back from Kenya, do remember to fill the Air Suvidha form online, which is a mandatory requirement since Covid-19 for all Indians flying back from another country.
Q. Is Kenya safe?
A. Many people have a misconception that Kenya is not a safe country. We however, never felt this. We found the people to be extremely polite and helpful and all the places we visited were very hygienic. There were also surprisingly a lot of Indians doing Safari when we visited there. Majority of the locals speak English and we didn't face challenges in communication too.
Q. Do you get vegetarian food in Kenya?
A. Even though the Kenyan diet involves beef and chicken, you will easily find vegetarian food almost everywhere. The taste, however, may not match the Indian taste, but it works. All the stays that we had, had proper Indian food options every day and we never struggled with food. They also eat samosas! :D
Q. Can't I just do 7 days in Masai Mara, and skip other places?
A. You can, of course. However, remember that you start getting tired after seeing similar things again and again. The only thing that can keep you up is to get interesting encounters every day (e.g. see a lion hunt), but they are rare. I would recommend keeping max 4-5 days for Masai Mara, that too split between 2 different areas (and hence, stays).
End notes
1. All the images used are clicked by me
2. I am not representing any travel organisation or sponsoring anyone
3. I don't aspire to become a travel influencer and just want to help out people like me, who tend to do a lot of research before planning a trip, across different parameters. So, if there's anything you feel I've missed or would want to know, please drop a question and I'll try my best to answer.
Hakuna Matata!!!