Mysore earlier known as Mysuru is one of South India's most enchanting cities, well known for its glittering royal heritage and magnificent monuments and buildings. It is mainly known for it's famous attractions like Mysore Palace, Brindavan Gardens, Chamundi Hills and Mysore zoo. But I will tell you about some novel spots here which are worth your time and visit. You will have a fascinating trip by visiting these unconventional and wonderful places. If you are looking forward to explore some new spots in Mysore, you can follow this article.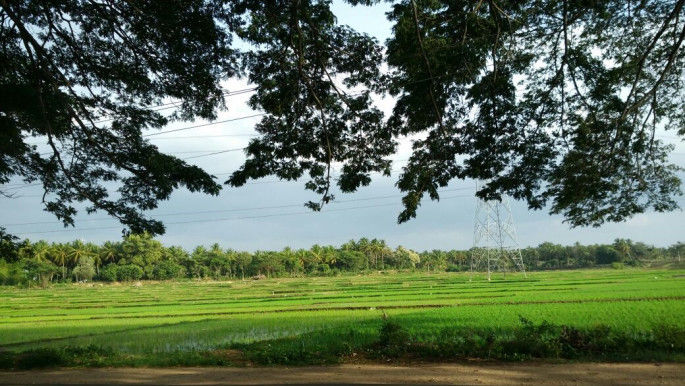 Mysore is not quite far from Bangalore, being just 150 kms away. You can chose any mode of transportation to get to this city from Bangalore, be it train, bus, car or bike. There are numerous trains available all through the day to get to Mysore. You can chose the one according to your convenience. Even buses keep plying all through the day and you can make your reservation beforehand or get a ticket on the bus stand itself. I feel the best way to visit the city is by a car as it gives you the privilege to start when you want and you can stop at any point according to your choice and need. The journey is no doubt an amazing one full of landscape beauty with green farms and palm trees all around. If you just have a day in hand and you want to make the most of the day exploring the city, it is suggested that you leave early morning and return by late evening.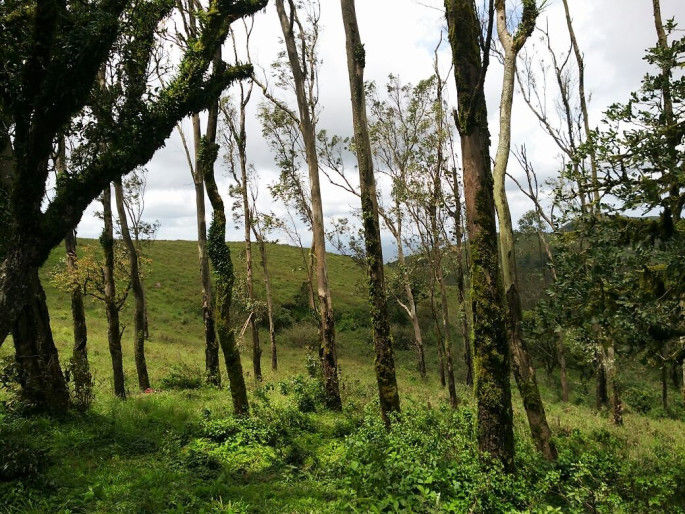 As you start early morning, you can stop at any dhaba or eatery on the way for a coffee break and have some local cuisine for breakfast. The strong aromatic coffee is going to do wonders, it will awaken you from slumber (as a result of waking early) and you will feel refreshed to enjoy the rest of the trip. You can also stop by the road to click a few pictures and to capture the moments for lifetime.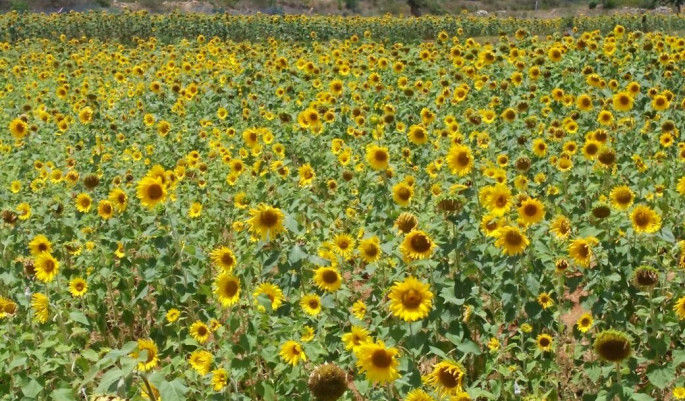 Our first stop was Gopalaswamy Betta located in the Chamarajanagar district of the state of Karnataka, at a height of 1450m and is extensively wooded. It is also the highest peak in the Bandipur National Park. Dense fog predominates and covers the hills round the year and you will feel as if you are floating in the clouds. The temple is dedicated to Gopalaswamy, which is one of the names of the Hindu God Krishna. Once you reach the place, you need to park your vehicle and take the bus to the temple. The ticket is nominal and you can take it once you board the bus (provided by the bus staff). Personal vehicles are not allowed to the top where the temple is situated. The view from the top is heavenly, giving you a glimpse of the lush greenery around and hills covered in clouds. The cool breeze gives you a soothing and appeasing experience. The same bus takes you downhill, once you are done with the temple visit. As you are ready to leave this place, you can notice vast stretch of sunflower gardens around. You can take a tour of the garden if you wish and can click a few pictures of the place covered in yellow.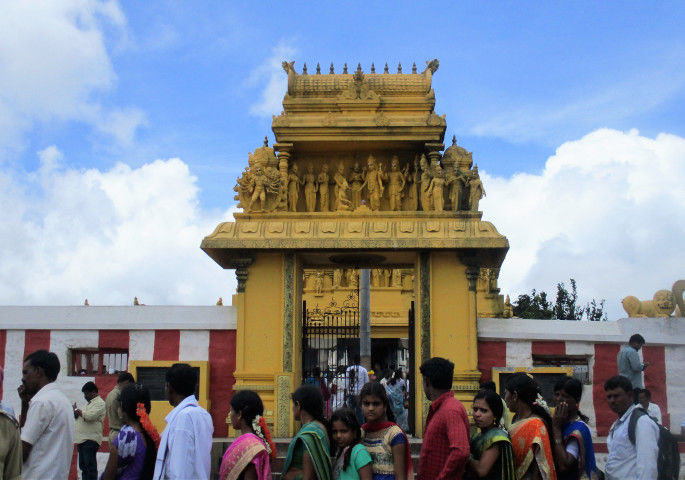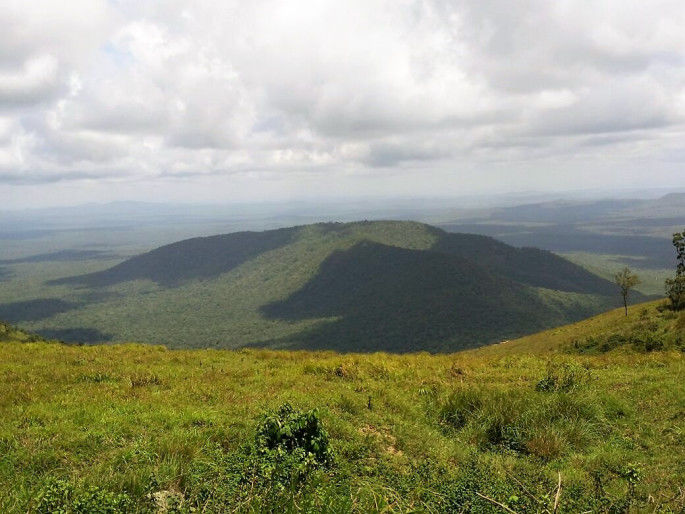 Next we headed towards Srikanteshwaraswamy Temple, Nanjangud also known as Nanjundeshwara Temple. Nanjangud, one of the ancient and well-known pilgrimage centers of Karnataka is at a distance of about 25kms from Mysore and is famous for its temple dedicated to Shiva (Srikanteshwara) described as Nanjundeshwara. The Srikanteshwara temple is located in the town on the right bank of river Kapila, a tributary of the Kaveri. Nanjangud is also known as "Dakshina Kashi" or "Varanasi/Prayag of South". We did not get much time in the temple as it was about to close. Make sure you check the timing before visiting the temple as it remains closed from 1pm-4pm.
But as much as we could witness and found out that the temple of Nanjangud is the biggest temple in Karnataka and measures 385 feet by 160 feet, with a total area of 50,000 square feet. The main entrance is very high and a masterpiece of architecture with all the carvings. The calm and composed environment will help you relax your mind and soul.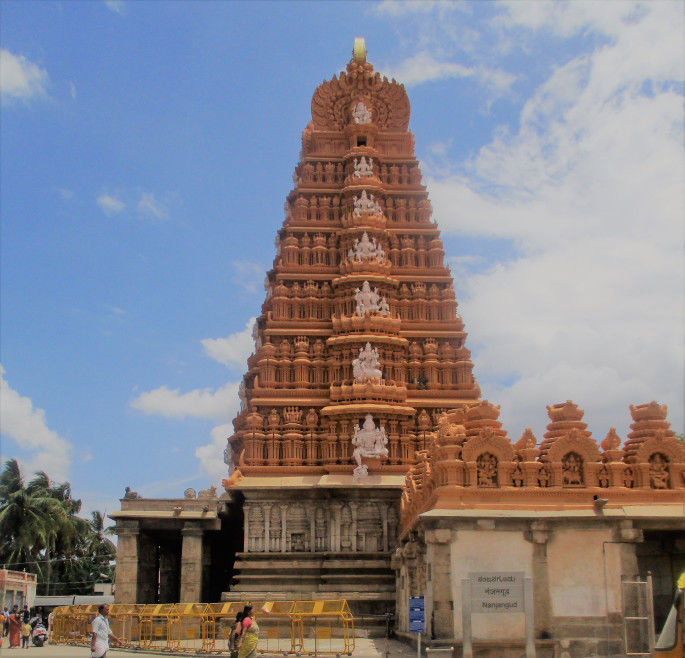 From here we left in search of a good restaurant for lunch. We found one quite soon and filled our stomach with some delectable and appetizing food. As it was late noon and we were tired after going around the city for hours, we thought to relax by visiting and spending sometime at the boundless Mysore Backwaters. What a view it was, so pleasant and charming. We were delighted to see this secluded gem, it made us feel as if we were on a beach watching the waves come and go. We stayed here for a while, playing with the waves, chit – chatting and admiring the beauty of nature. It was our last spot in the city and now we were ready to say bye to the royal city.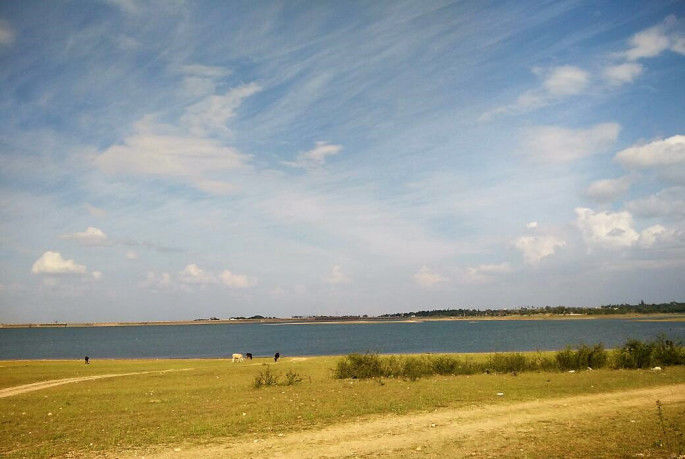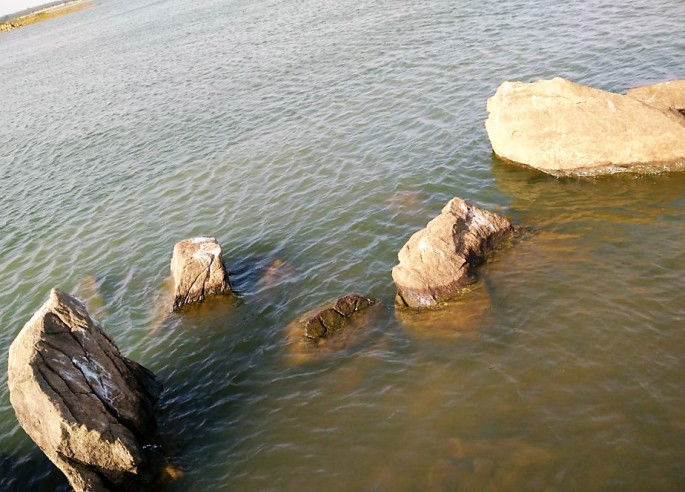 "Stuff your eyes with wonder, live as if you'd drop dead in ten seconds. See the world. It's more fantastic than any dream made or paid for in factories." – Ray Bradbury