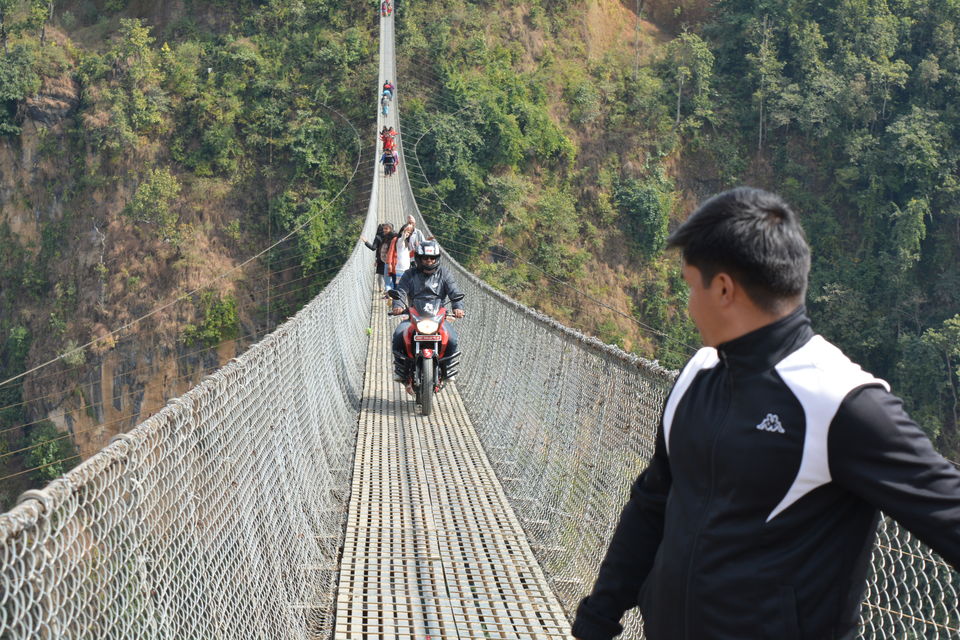 Since my childhood I traveled extensively to places with my parents. My father always carried his Camera, Lenses, Tripod to almost everywhere we go. So genetically the travel and the photographer bug was inside me. Four years back I was slapped with some false legal cases by my ex wife, I was totally shattered, exhausted and was left with no hope, I with intent started killing everything within me. But somewhere I was quiet sure that only travel can bounce me back to a positive life, but I was left with no inner strength to go out to travel.
After my divorce in 2016, to revive me my mother bought me a NIKON DSLR with 2 separate lenses and insisted me to fulfill my fervor for Photography and Travel and live your dreams. It took almost 2 years of my divorce when I stepped out for my first Solo Trip to Pokhara & Kushma (Nepal).
The idea of my first solo trip to Pokhara (Nepal) came immediately after watching a program on National Geographic channel about the World's highest, longest bridges. The suspension bridge of Kushma in Dhaulagiri region of Nepal which is some 60 kms from Pokhara immediately created a flicker inside me and that was the first nail in the coffin for my trip !!!!
I booked the train tickets to enter Nepal through Raxaul border (India) and did no pre-booking for my entire stay in Nepal. I thought to step out of my comfort zone by travelling alone & gain the confidence to discover myself again.
THE TRIP STARTS
I boarded the Mithila Express from Howrah to Raxaul (Bihar) and crossed the border to reach Birgunj (Nepal). This city is considered as the Gateway to Nepal. Birgunj is a busy & very crowded city but it plays a very significant role in the economy of Nepal due to its industries and its proximity with India.
I boarded a Pokhara bound bus in the evening at 6:00 P.M. (Nepali time).The bus had "VOLVO' & "FREE WI-FI" decals pasted all over but it was just a myth neither Volvo buses are imported into Nepal nor they have Wi-Fi connectivity in there public transports.
While travelling in that so called Volvo bus for almost 12 hours, I managed a 2 hours sleep somehow. My co-passenger was a young boy from a village near Birgunj and was working as a daily wages labor at Pokhara, he was helpful and accommodating in nature, though apart from his mobile charger he was having nothing to offer me but he gave me a good lead to stay only near Lake side to enjoy Pokhara.
Almost 5 hours into the journey, the bus stopped in a small hamlet called Ramnagar in the Chitwan district for dinner. Though it was February and at mid of the night with almost freezing temperature the small place was hustling and bustling with plentiful buses all making a pit stop for dinner. I could hear the Sound of Trishuli River flowing below while I enjoyed my hot Wai-Wai noodles and headed towards Pokhara to cover the balance stretch of the journey.
At around 6:30 a.m the bus dropped me at Prithvi Chowk and the air was much crisp & chilled as it was a night before. I checked into a hotel near lake-side and was allotted a lake and mountain facing room. I discovered Pokhara is a paradise for Paragliding, so the nomad in me landed in the office of Pokhara Paragliding Pvt.Ltd.at lake side and despite it was cloudy I could not stop myself and booked a ticket for 30 mins. Tandem Flight, they transferred me to Sarangkot the take-off point approx.4500 ft. above sea level. All set to fly then the Fear Factor, Adrenaline rush, Butterflies everything started activating within me. A fear tried to pull me back but anything that gets your blood racing is worth doing, finally I was in the air like a bird hovering over the villages, terrace fields, the mountains, the lake, the car's below, the air the view, the experience up there was so chaste that I would never want to go back to Kolkata again. The experience made me speechless.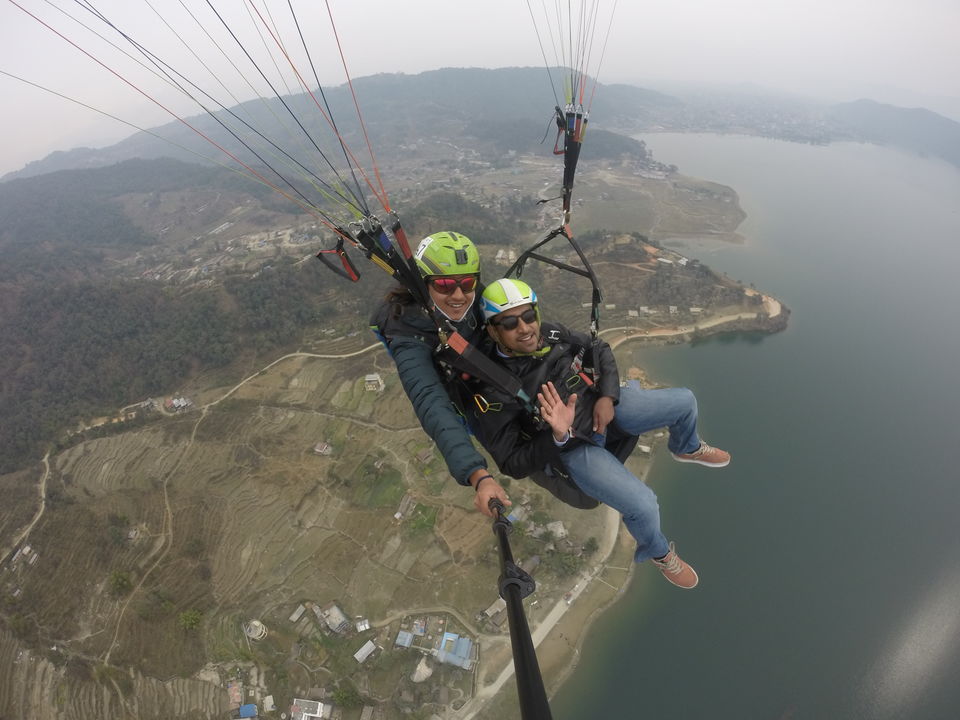 ABOUT POKHARA (A "NO HONKING TOWN")
1. There are plentiful of Hotels, Guest Houses, Home stays & Hostels to stay in every budget. TIP: Stay near Lake-side and not in the main town.
2. Again numerous of Cafes, Restaurants, Bars dots the lake side, so you will be spoilt with the eating options. TIP: Go for the traditional "THAKALI KHANA" of Nepal which consists of Dal (Lentil Soup) and bhaat (Rice) which is served with vegetarian and non-vegetarian curry, chutney, curd and local pickles. It is available everywhere served hot and fresh and its pocket friendly.
3. Transportation is not a problem , you get Tourist buses, local buses & Taxis, Flights. You can hire Mountain Bikes, Bullets, Scooters for the entire day.
4. PLACES TO VISIT IN POKHARA:
BOAT RIDE : Hire a boat and explore the Phewa lake to catch a glimpse of the Macchapuchhre peak what they say in the colloquial Nepali to Mt.Fistail.
BARAHI TEMPLE, SARANGKOT, DEVI'S FALL, PEACE PAGODA, INTERNATIONAL MOUNTAIN MUSEUM,CAVES ,MONESTRY are few places to visit.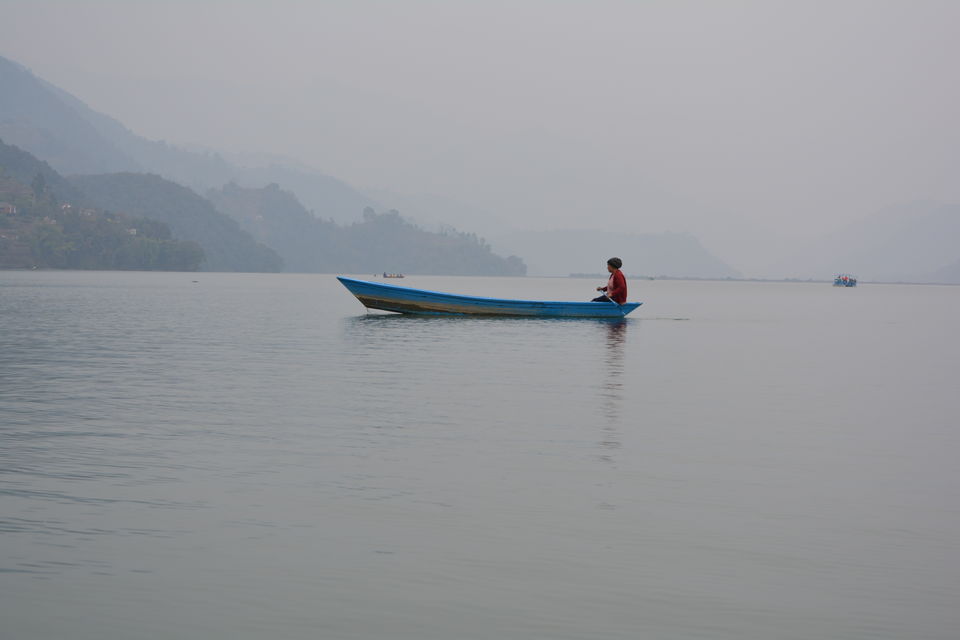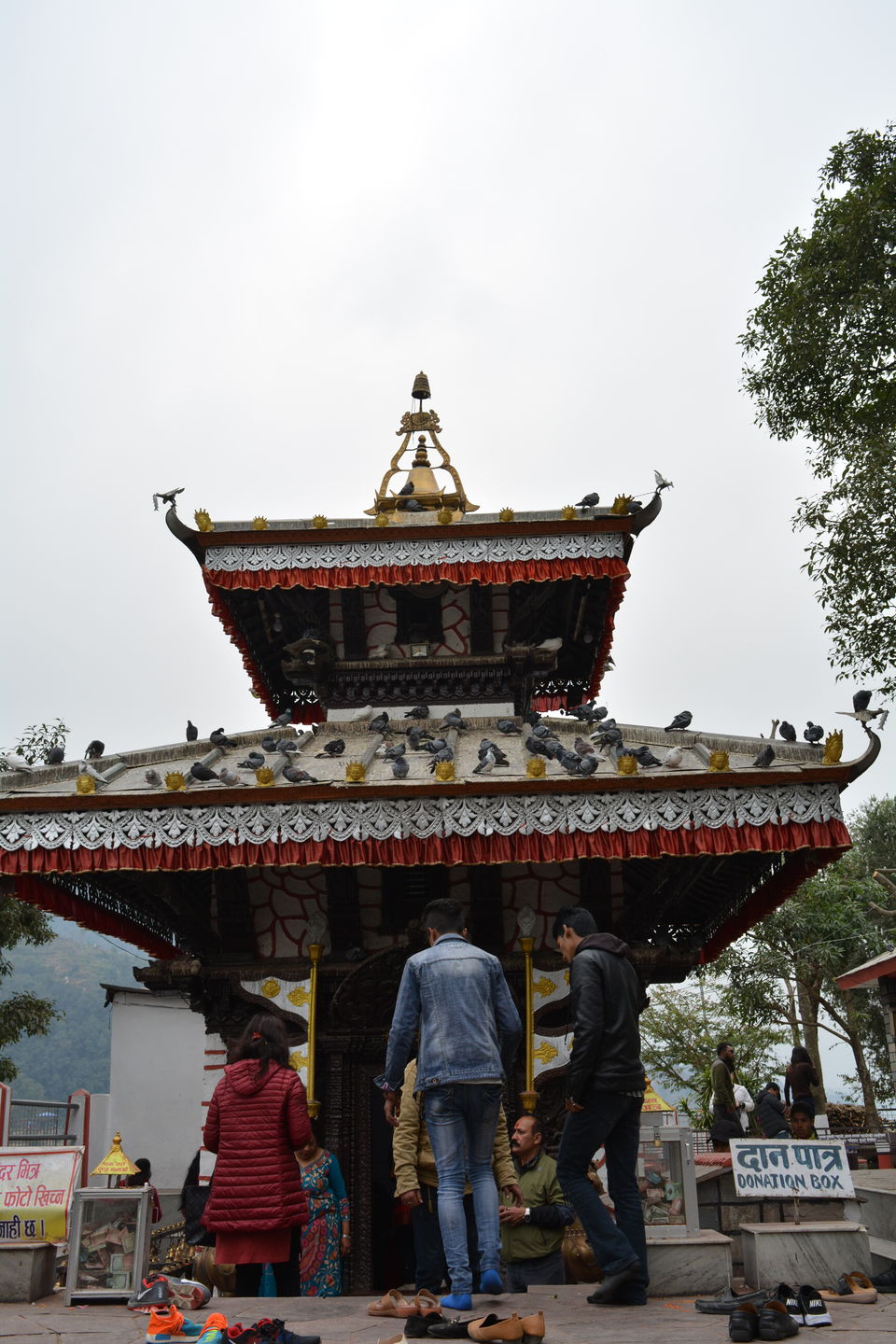 For adventure seekers there are countless choices from PARAGLIDING FLIGHT,MOUNTAIN BIKING TRIP,MOTOR BIKE TRIP, BUNGEE JUMP, ZIP LINE, ULTRA LIGHT FLIGHTS, RAFTING & KAYAKING, POON HILL TREK to THE FAMOUS ABC TREK (Annapurna Base Cap trek)
ABOUT KUSHMA (A must go place to enrich yourself)
It is situated 60 kms west of Pokhara, Kushma is the headquarter of Parvat district. You can reach Kushma by shared Scoprio or by Toyota Micro Van,(Charges 250/-NPR one side) they will drop you in 3 hours at Shivalaya Chowk and you need to walk and trek for 4-5 kms to reach this "KUSHMA – BALEWA" suspension bridge which is tallest and the longest rope wire suspension bridge in Nepal.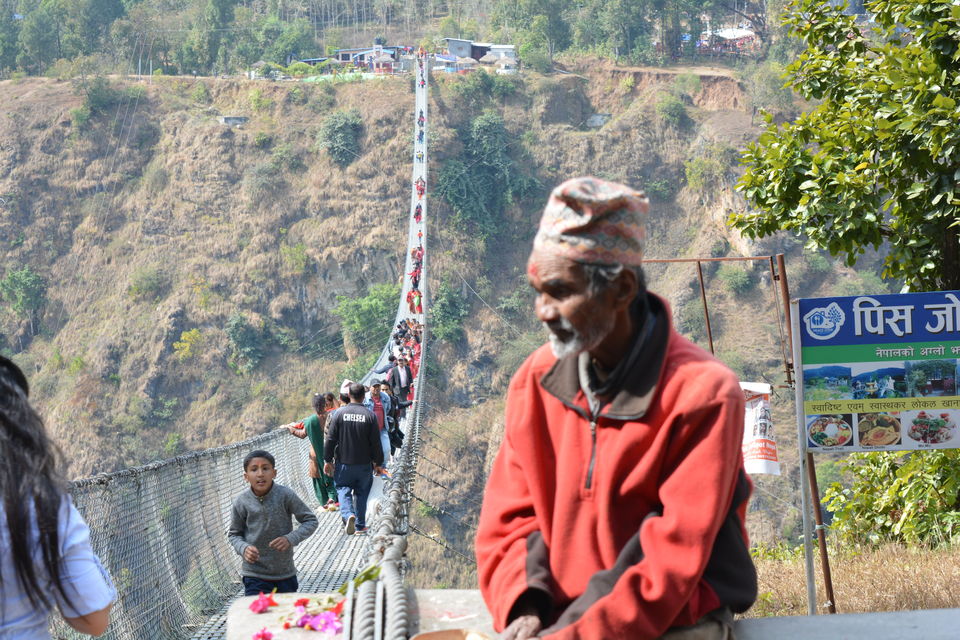 It links Kuhsma to various villages and it takes hardly 5.-7 minutes to reach the other side which 5 years back when the bridge was not erected took 2-3 hours, the bridge always totter. Standing in the mid point of this marvel I felt the Zephyr coming from the valley touching the Modi river below and giving me a sense of warmth and pamper. My co passenger from Pokhara to Kushma was this handsome guy Mr.Netra K.C. he was from Balewa village which was on the other end of this bridge, he guided me up to his village and he made me visit a 90 years old Lord Siva temple in the dense forest surrounded with Pine trees, fortunate I was that day being "SHIV RAATRI". I made good friend with Netra he introduced me to his mother and elder brother who happens to be an officer with the Nepal Armed Force, the gesture and the simplicity of the entire family will be etched in my mind till I die.
On my way back from Balewa village Bhole baba sent this attractive school going Nepalese girl Prativa Lamichhane from Kushma to assist and guide me to take me around, despite having least knowledge of DSLR Prativa captured few amazing images of mine on the bridge.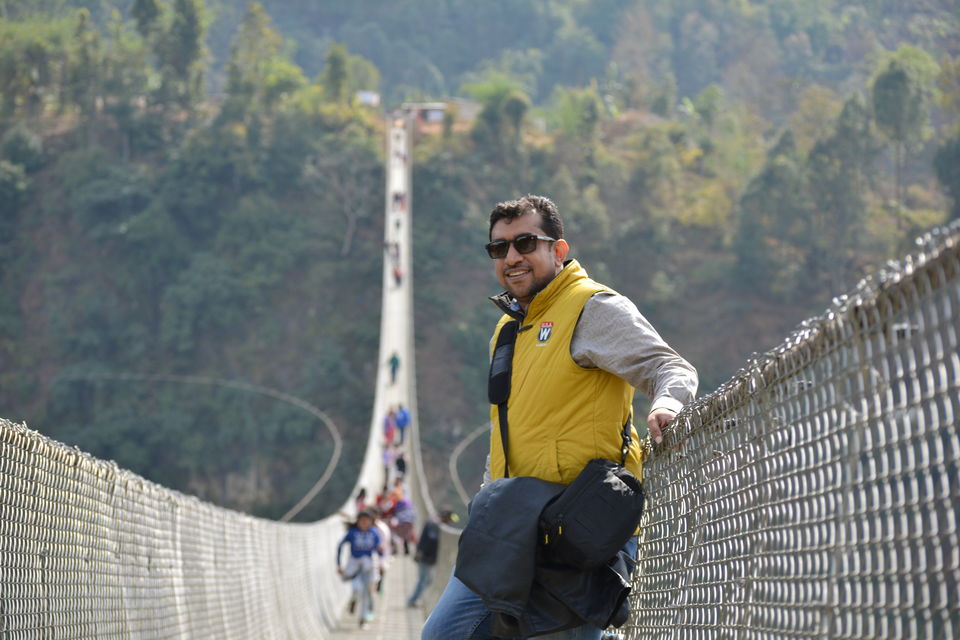 On our way back she shared that she is keen to study & practice Criminal law in India and likes to sham and get clicked like Bollywood actress ( I pleased her a little), we added each other on our friend list and our friendship will last forever. I was heavy hearten to bid adieu to few charming people I met on this trip.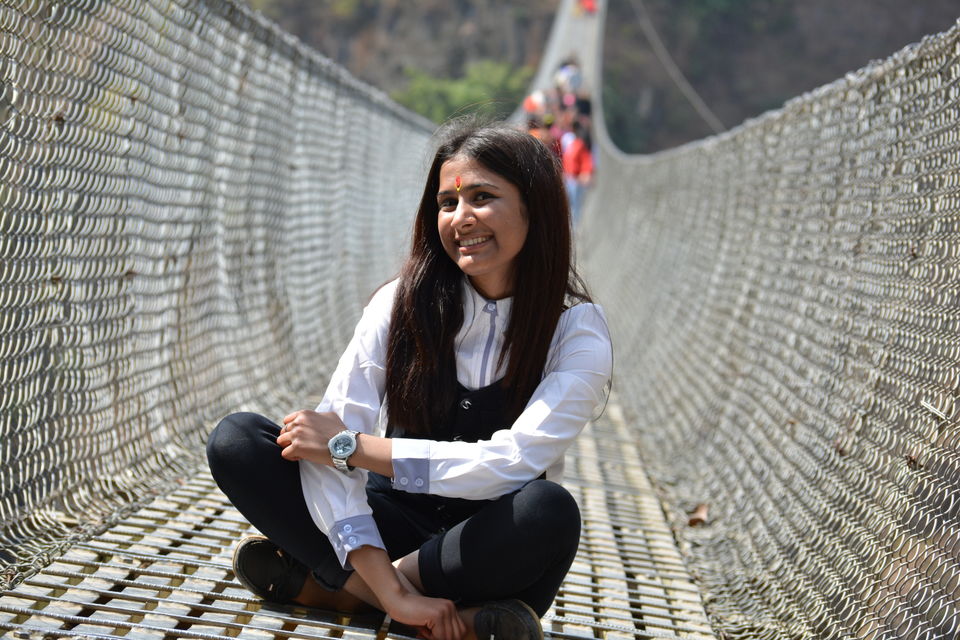 This trip made me much stronger, contented and simpler I had been in the recent years. My confidence level shot up and my discernment towards life changed by this Solo journey, I am again what I was before my marriage.