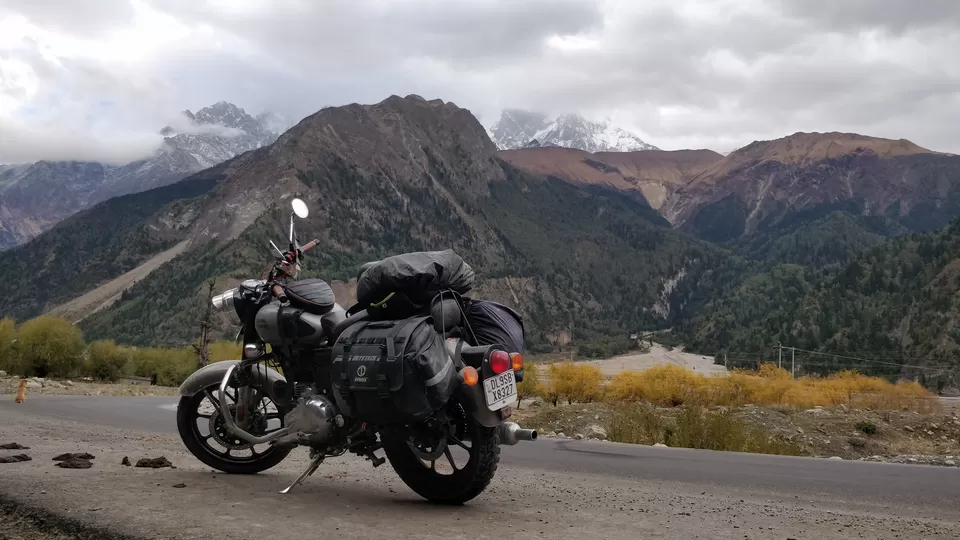 If you are reading about my journey to Nepal for the first time, don't forget to check on how I rode from Delhi to Pokhara on bike and how you can do it as well (includes permits, fuel costs, highway conditions, places to stay, etc.)
I spent 4 days trying on the local cuisines and exploring the life of Pokhara, and simultaneously clinching on a plan that gets me to my destination safe and sound (trust me, the plan wasn't in place until I reached halfway).
20 November 2021: I left at 9 AM from Zostel, Pokhara and hoped to reach Marpha (a village famous for its apple orchards and its brickish architecture) before sunset as it was ~150 kms according to Google Maps. Roads from Pokhara to Marpha are in good condition for the first 50 kms after which starts an unpaved road full of boulders and dirt for the next 100 kms. Views start to become scenic the moment you start on the unpaved roads and encounter multiple waterfalls on both sides of the road.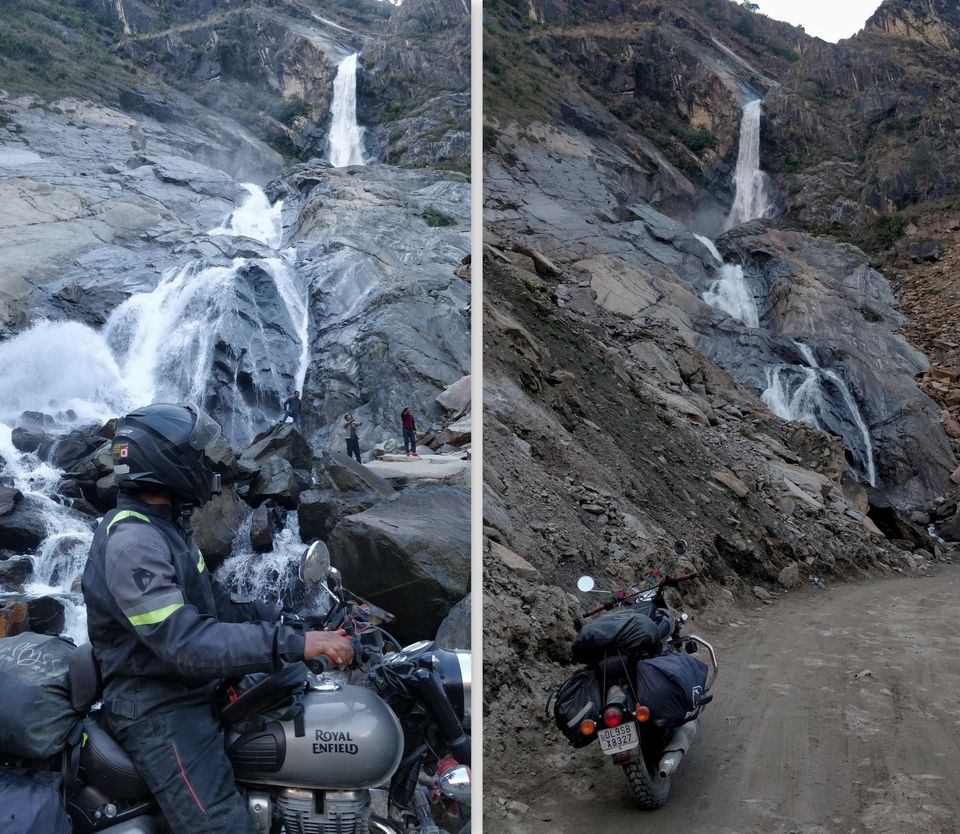 I was on track to reach my destination on time, however I happened to run into a road clearing on my way to Marpha which delayed my plan by more than an hour. After realizing that I will miss my timeline to reach my destination the first day, I decided to enjoy the moment and stopped on the side of the road to watch the sunset.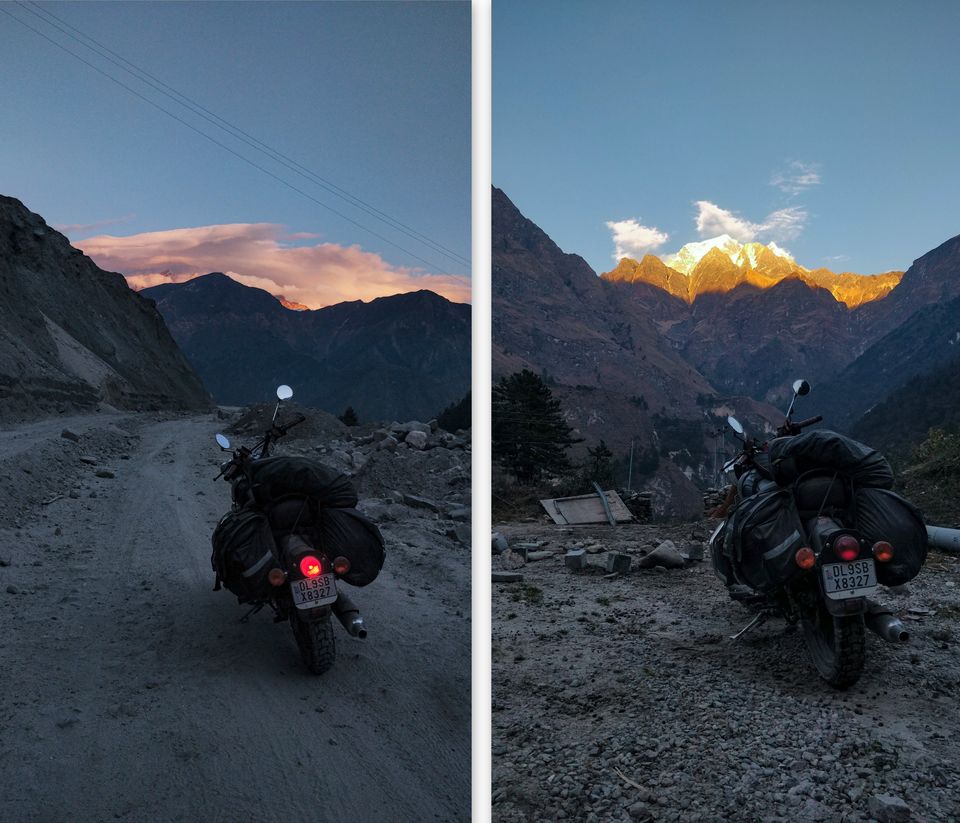 I decided to stay in Kalopani, a beautiful hamlet surrounded by the famous Tukuche and Neelgiri peak. I stayed at See you hotel where I paid NPR 1500 for an attached washroom bedroom and thali costed me NPR 400. Temperature was nippy and I was struggling to get by without a bonfire and some drinks down my throat. The hotel staff set up a bonfire for me and some other Nepali guests where we chilled for some hours while sipping our drinks and discussing about each other's recent travel stories.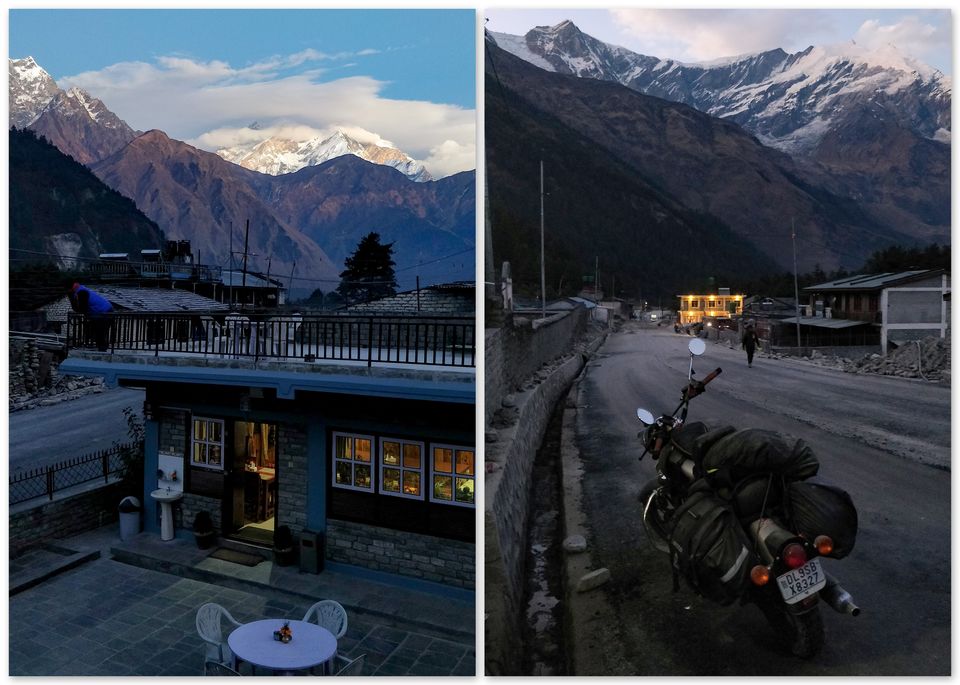 21 November 2021: After having breakfast in the morning, I started riding towards Marpha, where I had planned to take a hotel and then head to Muktinath temple. I stayed at Hotel Sunrise in Marpha for 500 NPR per night and it was so shocking as how the hotels (clean and hygienic) in the upper regions of Nepal are so cheap and beautifully located.
Coming to the road conditions between Kalopani and Muktinath, they are a good mixture of good and bad patches (last 15-20 kilometers lets you cruise at 70-80 Kmph).
I freshened up at the hotel and left for Muktinath temple. There are 2 ponds with fresh water flowing through them in front of the temple and 108 holy water outlets on the surrounding wall of the temple. It is believed that taking a bath in the right pond washes away your bad luck and the right one offers blessing for good luck. Although, I only washed my hands in the water outlets as temperature was very low.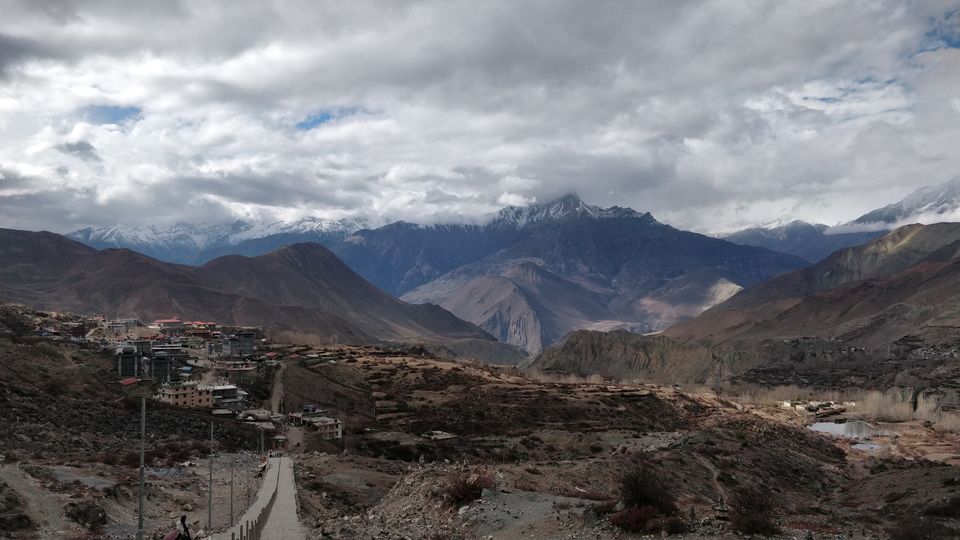 After taking the prasad and washing my hands, I came down to Muktinath village and treated myself with a Thakali Thali at one of the restaurants (don't remember the name) but the view from the restaurant looked something like image below. It was already 2PM and I had two places more to witness, one was the Leopard caves and another was Dhumba lake. Although I couldn't go to the leopard caves and Dhumba lake was not as pretty as I had imagined, it was still a wonderful day. I came back to Marpha by evening and called in an early night. For me it was more about challenging my body, riding on unpaved roads and go to Muktinath temple. Multiple people told me to not ride my bike alone on such difficult terrains where no one will be there to help you but what is life without some calculated risks. No one knows you as much you know yourself. If you believe you can do it, just go for it.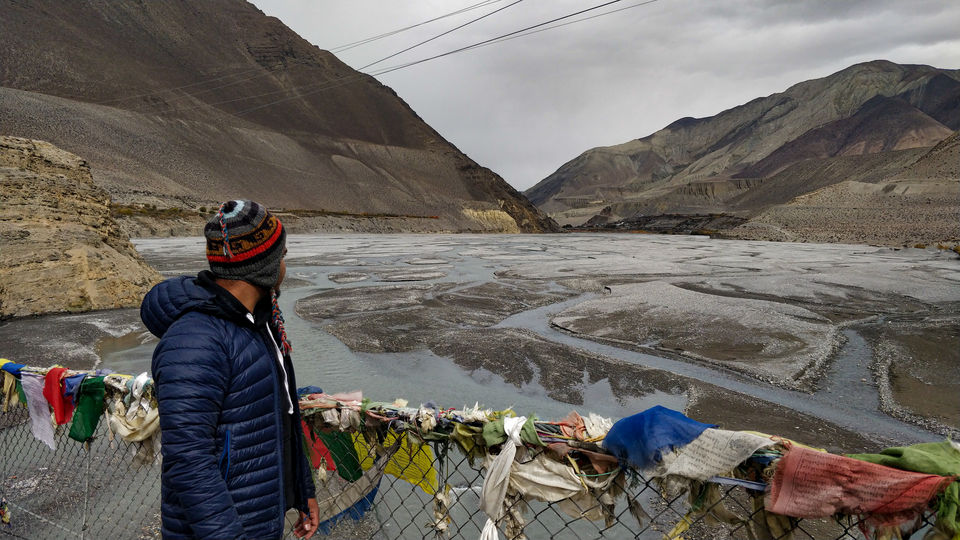 Next day, I left at 6 in the morning and reached Pokhara by 4 PM. As soon as I reached Pokhara, I rushed to the Royal Enfield service center in Pokhara and got my bike fixed as the odometer broke off due to extreme off roading. I waited for a day in Pokhara to discover any underlying issues in my bike and left for Manang Valley on 24 November 2021. To read more about my adventures in the land of Nepal, head to the last part of the series 'Manang Valley, a piece of heaven'