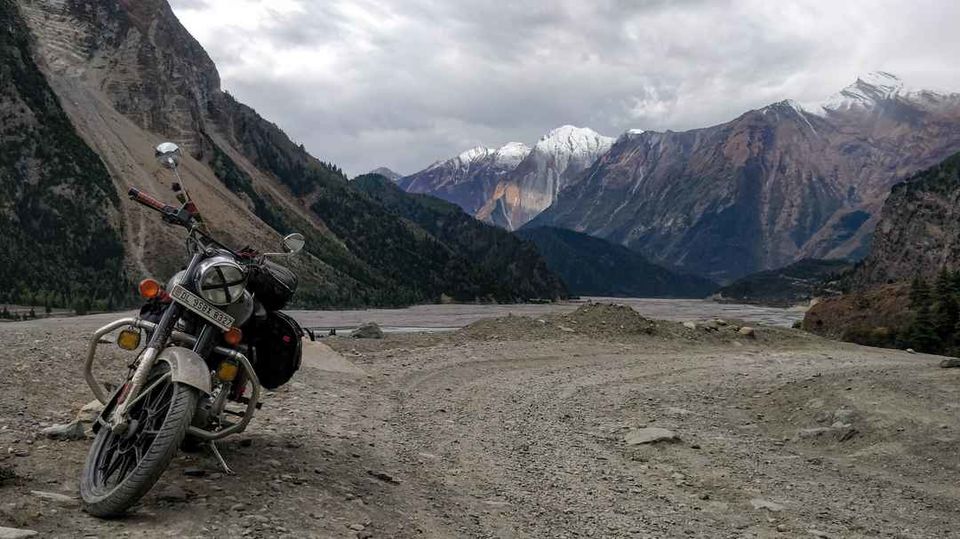 Had I always thought of travelling to another country? Yes. Never did I think that I will visit Nepal on a bike as my first international trip and it will scare me and amaze me simultaneously with its terrain and the beauty. Below is the story of how my mental and physical limits were tested on this crazy journey of conquering one of the toughest roads of the world (not even exaggerating).
This is a 3 part series where I cover my ride from Delhi to Pokhara, Pokhara to Mustang Valley and Pokhara to Manang Valley.
Day 1: Delhi-Basti
When going from Delhi to Nepal, travelers generally go to Pokhara (lakeside settled habitation) or Kathmandu (Capital of Nepal and more of a city) and make either of the two as their base destinations. I chose to ride to Pokhara and started my ride at 7AM in the morning and had to cover ~750 kms by evening to reach Basti (don't judge the place by its name) :P. I fueled up my bike and got the air pressure checked in tyres in Delhi. I was prepared for the monotonous ride till Lucknow due to the expressways and the fact that my Royal Enfield Classic 350 won't go above 100 Km/h due to the off roading tyres. Little did I know that my fuel reserve meter was not working and my bike jerked and stopped 40 Kms before the next petrol pump at an exit on the Agra-Lucknow expressway. Luckily, a local biker was taking the exit and was kind enough to lend me some fuel to reach the petrol pump. I paid him ₹200 for whatever fuel that he gave to me (because petrol is fucking expensive now) and continued my journey towards Lucknow. After finally reaching Lucknow at 3PM, I decided to take a halt for lunch at a road side restaurant and relaxed for a while. I left at 3:30PM from Lucknow and reached Basti - a district ~200 kms east of Lucknow, with a few cafes and decent hotels - at 8 in the evening. After completing the ride on Day 1, I freshened up at the hotel, ate a delicious thali and went off to sleep.
Road conditions: On the way from Delhi to Lucknow , you can find linen roads and will take you 8-9 hours depending on speed and number of breaks you take. Also, even the bikes are expected to pay tolls (₹300 one way) on Delhi-Agra-Lucknow expressway, so it'd be great if you can some cash handy. However, national highway roads from Lucknow to Basti are patchy and take you close to 4-5 hours and it would be better to ride in the daylight due to unforeseen potholes on the highway.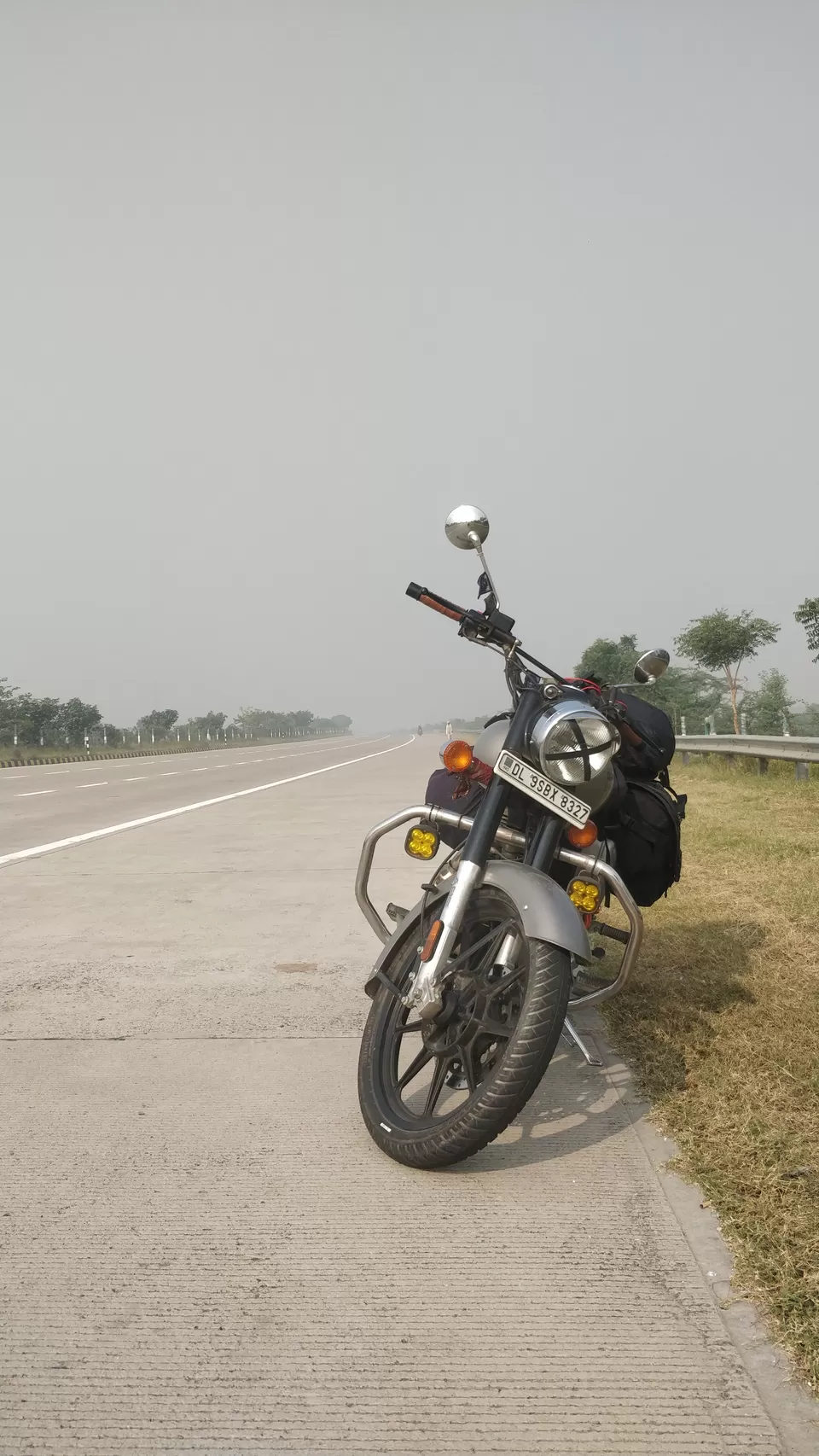 Stay Options: There are a lot of ordinary hotels in the main town of Basti. It was late in the evening and I chose to stay in Hotel Suyash Palace (4.1★ and 1275 Google reviews) and paid ₹1200 for a night. The hotel also has its own cafe and a rooftop bar which serves delicious Indian food. You can contact the hotel's manager (Mr. Manoj) at +91-8318306166.
Day 2: Basti-Sonauli-Pokhara
When riding on a time-crunch, it is important on when you start the ride for the day. I personally try to leave just before the sunrise and keep Ready to eat foods - such as Cuppa Noodles, Poha or Upma - and a portable kettle so that my ride doesn't get delayed waiting for the hotel to serve the breakfast. I left at 6AM in the morning from Basti, excited to ride across the India-Nepal border (Sonauli) in the next 4 hours. I took the state highway and reached Sonauli at 10:15 AM. In order to take a personal vehicle registered in India/outside Nepal, travelers needs to get a BANSAR certificate (have mentioned the process of obtaining it later in the blog) for their vehicles. I had some momos (because why not) at the border while an agent was getting my BANSAR certificate done from the authority.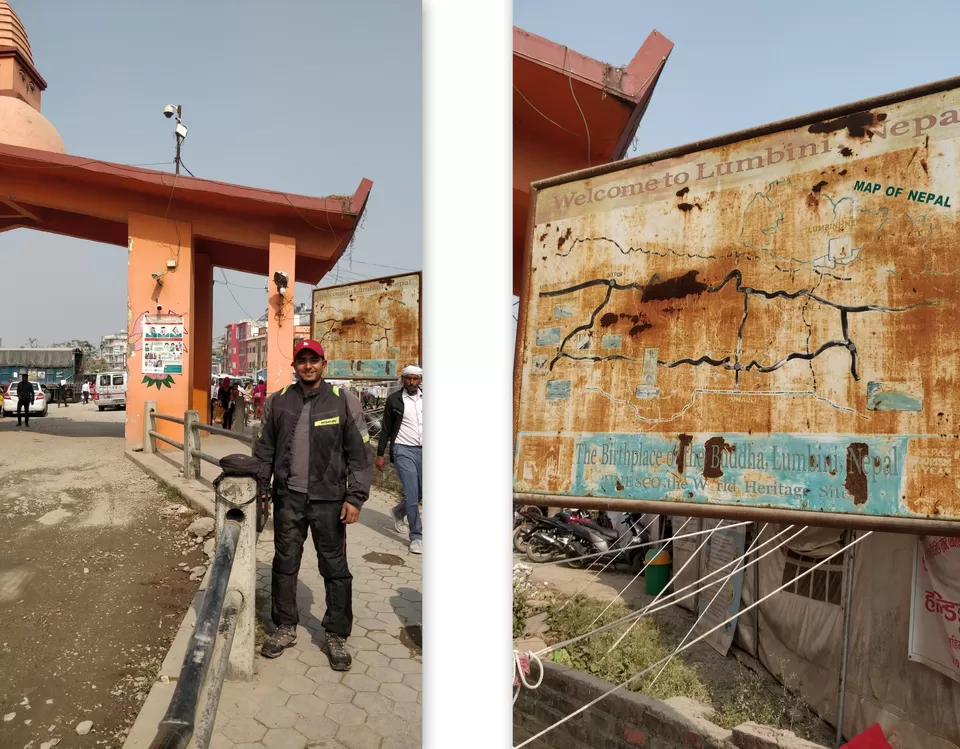 Road Conditions: Initial 50% of the roads from Basti to Sonauli border through the state highway are decent despite being a two way road without a divider after which it connects you to a national highway leading straight to the Sonauli border. Sonauli to Pokhara starts on a small unpaved road for the first 20 kms after which the roads are just fine enough till Pokhara and one can easily ride without any hiccups.
Stay Options: Pokhara offers a variety of options in terms of hotels and hostels. However since I always prefer to stay at hostels, I stayed 2 days each at Zostel Pokhara (₹349ight) and Pokhara Backpackers Hostel (₹300ight). Both the hostels offer comfortable clean beds. However, Zostel was fairly empty when I visited but has an in-house bar and cafe. On the other hand, Pokhara Backpackers Hostel had an amazing host who was hosting multiple travelers from around the world and offered free breakfast (Fruits, eggs and tea/coffee).
BANSAR Certificate: BANSAR certificate for a bike costs ~₹100/day whereas for a car it costs ~₹310/day. You can either delegate an agent (or a dalal) on the border to get the certificate for you or you can go to the authority office situated on the left hand side just after entering Nepal. Majority of the times, Nepal authority offers a certificate for 7-14 days (extendable upto 30 days either at India-Nepal borders or Kathmandu Airport) and in case you are looking to stay for a longer period, you/agent will have to request to the official or pay extra money to the official. You'd need Driving License and RC to get the BANSAR certificate.
Trick here is to inform the official that you want to stay for 4-5 days longer than your usual plan. E.g. Suppose you want to be in Nepal for 20 days, tell the official/agent that you need to be in the country for 25 days and after negotiation, he will most probably agree to 20. It is better to get the certificate for some extra days as violation leads to heavy penalty and in extreme cases, vehicle seizure as well.
In case you want to extend the vehicle's permit and you happen to be in Kathmandu, you are most likely to pay (>50% additional money of your actual BANSAR amount) the agent for extension (as happened in my case). The official who is responsible for the process is always busy and doesn't come to his desk even after several calls from several people (trust me, I and a few other Indians tried). On all days except Saturday, travelers are expected to visit the International Customs Office, whereas on Saturday, travelers are supposed to visit the International Arrivals Section as Saturday is a nationwide holiday for public offices in Nepal.
Trick here is to go for extension on a Saturday around 3PM (which is generally when the officials get free from the immigration hassle) and be done with the process in half an hour or so. In case you go to the International Customs Office, this process can easily take 3-4 hours even after paying extra money to the agent.
Around 11:30AM, I turned on the navigation and left for Pokhara through the national highway. In terms of food options, the highway leading to Pokhara offers very limited good restaurant options and hence, it is advised to fill up your stomach either on the border or look for clean restaurants on the way. Majority of the food joints on the way will be serving lip smacking thalis or chinese food, with a good variety of beers/hard drinks. At 6PM, I reached Pokhara and checked in at my pre-booked stay at a hostel.
Day 3-Day 7 Pokhara Sightseeing and Work-cation
Pokhara has a lot to offer - ranging from lit restaurants, dance bars, massage parlors, and pretty views of the Annapurna Range and Machapuchare. I was mostly in my chill zone for the 4 days that I was in Pokhara, where I was working and trying some vegan restaurants such as Umbrella Cafe and The Juicery Cafe (they host Jazz music events as well). Apart from these restaurants, there are multiple food joints that offer buff momos (I didn't try it) which is something that is difficult to find in India. So if you are a non vegetarian, I will suggest you to try those momos.
Apart from the chill cafes, massage parlors are the next go to destination for hikers/trekkers who generally are coming back from Annapurna Base Camp or Annapurna Circuit. Jiva Cafe & Spa and Tranquility Spa are some of the most common and well rated spas in Pokhara with massage options such as Trekker's massage, Ayurvedic massage, Thai massage, etc. I got to know about a massage offer of Tranquility Spa in Kathmandu, where they offer a professional massage of your choice from their menu (1 hour), Foot Reflexology (15 minutes) and Facial (30 minutes) for ~₹1400 if you visit any of their centers before 1 PM.
Since the goal of this trip was to explore and ride on the unforgiving paths to Mustang and Manang Valley, I chilled around in Pokhara for 5 days and only visited Pumdikot Shiva Statue (Nepal's Tallest Lord Shiva Idol Of 108 Feet) for sightseeing.
After prepping myself and the machine for the ride, I left to ride solo on the dirt roads leading to Mustang Valley. Navigate to my journey to Mustang and Manang from Pokhara to be thrilled and enjoy the troubles I faced on the way.