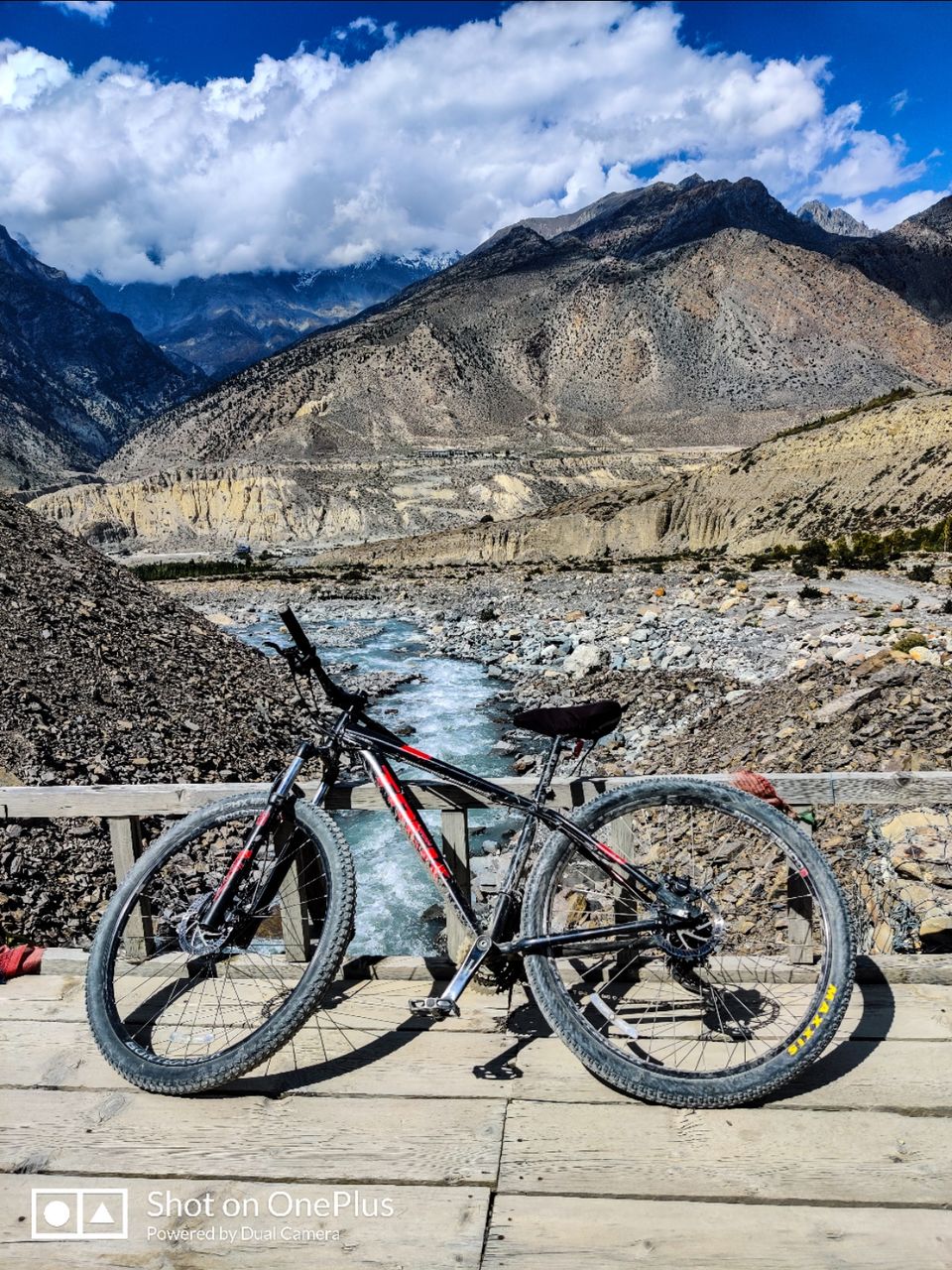 Arrived at Pokhara, checked in at Kiwi backpackers hostel for the night. Spent the night at the rooftop bar with some amazing people from countries all over the world. Felt like I had the world around the bar counter that night.
Got some lovely breakfast served at the hostel next morning. Headed out to get a feel of the city of Pokhara. Lakeside road is the touristy side of the city and I'd recommend sorting your stay in that zone.
Mountain biking tour packages all start around ₹60k-70k with most of the agents telling you it's impossible to do it anywhere below that. PERSONALLY, I feel the trekking trail is well marked and safe so you don't need a guide if you've got a phone with a decent battery with Google maps and maps.me installed. And some good sense of direction in your head. The trail doesn't show up on Google maps but Google's current location tool can be extremely helpful. Maps.me and a hard map of the Annapurna circuit will show you all the trails.
Booked flight tickets to Jomsom airport from Pokhara for the next day. Jomsom is at a relatively high altitude of around 2800m and at a distance of about 120kms from Pokhara. The jeep/bus ride to Jomsom would take you 12-16 hours via a very uncomfortable road so I found it much better to take a flight for ₹5000. Also this small flight has exhilarating views of the city and the Himalayas and you fly right by them!
Another downside of taking the jeep road is that you see most of the roads you're going to cycle down which spoils the thrill of the entire experience.
Flying time to Jomsom was 20 mins. Got a shared jeep to Muktinath for ₹350ish. Muktinath is a village situated 20kms away and at an altitude of 3800m. Got my MTB for the trek rented at ₹3000ish from Mustang outback run by a very generous man, Mr Tsheten. I was blown away by his hospitality as he offered me lunch and dinner at his home for the day. They have top end bikes for rental and you just have to drop it off at your lower altitude destination (I.e Tatopani). They also transfer your luggage so that you can have a light weight downhill ride. Tsheten suggested starting off the next day as there was a lot of headwind on that particular day.
Headed to play football with local kids in the evening. Lost my breath to those kids. Mountain air was too thin for my body and it needed time to adapt to high altitude conditions. Felt the effects of mountain sickness soon after. Avoid strenuous physical activity on the first day.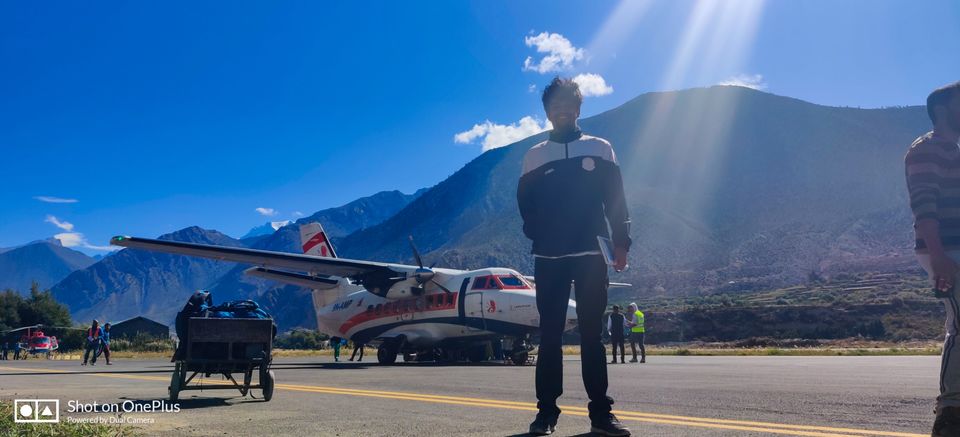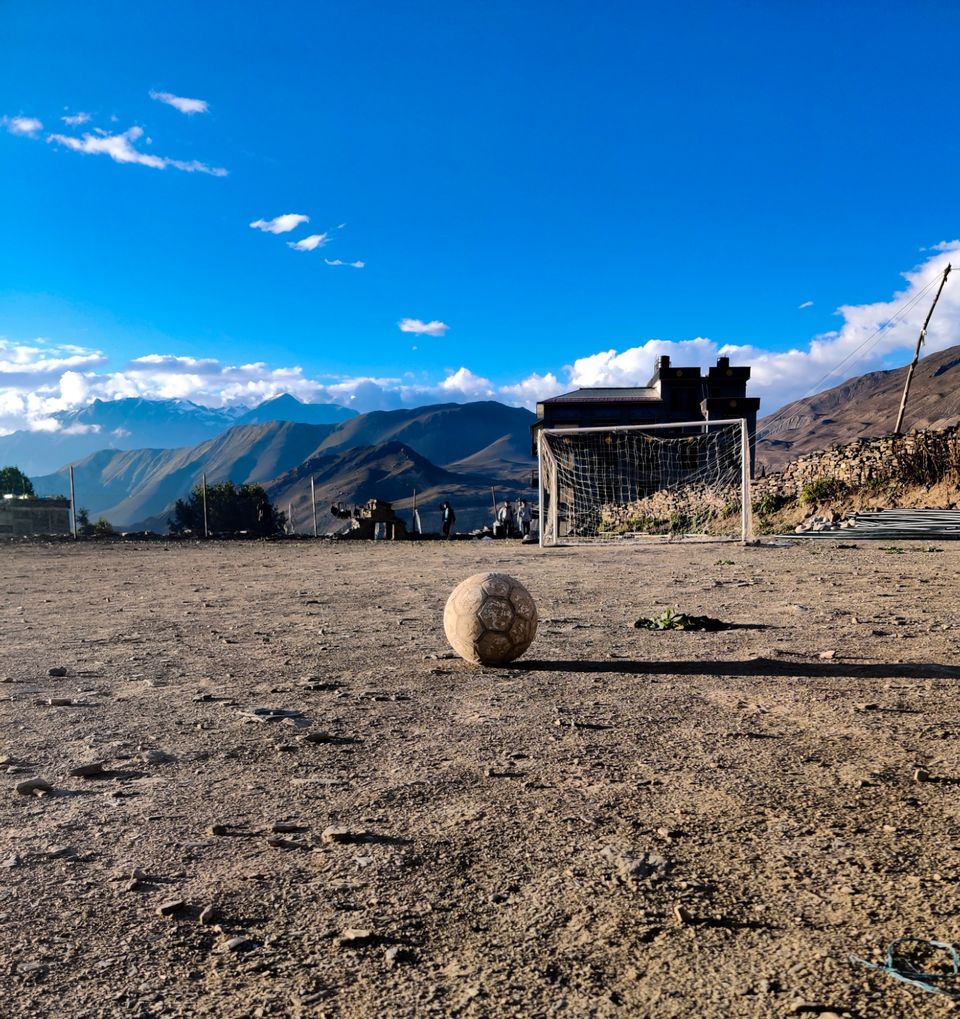 The planned starting point was near thorung la pass which was at an altitude of 4500ish metres but due to the fact that I was solo and symptoms of altitude sickness were showing up, I refrained from going any higher. Mr Tsheten marked the trails out for me on a hard map. Lupra/lubra valley trail was supposedly one of the best dirt trails around but also very deserted. The thrill seeker in me obviously pointed at this trail but I took the more popular, less dangerous trail all because I played football the previous day.
I carried just a small backpack with me for the ride which contained an extra tube, a small pump and some essential spare parts. There are small towns every 10kms with cafes and shops to buy food and other necessities so it isn't required to pack heavy.
The ride down to kagbeni is smooth and fast. It is one of the steepest/longest descents of the trail that lasts 10kms on a tarred single lane road . The Kagbeni-Jomsom road isn't a lot of fun to ride on as it is mostly gravel, flat and boring. Look out for the side trails by the river which are much more thrilling. Keep an eye out on maps.me to find tiny thrilling trails to take. Even if you happen to get a little lost, all you have to essentially do is find the river/river bed and head downstream to be back on the trail. Hanging bridges connect you to the parallel road on the other side of the river and sighting two back to back bridges would mean it'd give you the thrill of cycling up and down these structures.
Delicious chicken thukpa was served for lunch at Jomsom. From Jomsom, you deviate from the jeep trail on to the Annapurna circuit trail which takes you to Marpha via dhumba lake. The trail is truly worthy of an MTB dirt track. Upon descending from this trail past the lake, you arrive at this junction where a board says take left for your onward destination of Marpha. That board was probably knocked down during a storm and put back up by an illiterate or some jackass pulling off a sweet prank. Head straight and cross the bridge when you see the sign board attached in the picture.
A slight right from the jeep road takes the trail into the village of Marpha. A lovely village with a narrow road passing through the heart of the settlement. 30kms of cycling along with the altitude sickness had me tired so I called it a day at one of the many lodges in Marpha. Went around town on foot and visited the apple farms before nightfall. Food is expensive at high altitudes so do not be surprised if you're charged a minimum of ₹100 for milk coffee at any basic cafes.
My basic breakfast of omlette and muesli cost me approximately ₹400. The stay was affordable at ₹600 a night.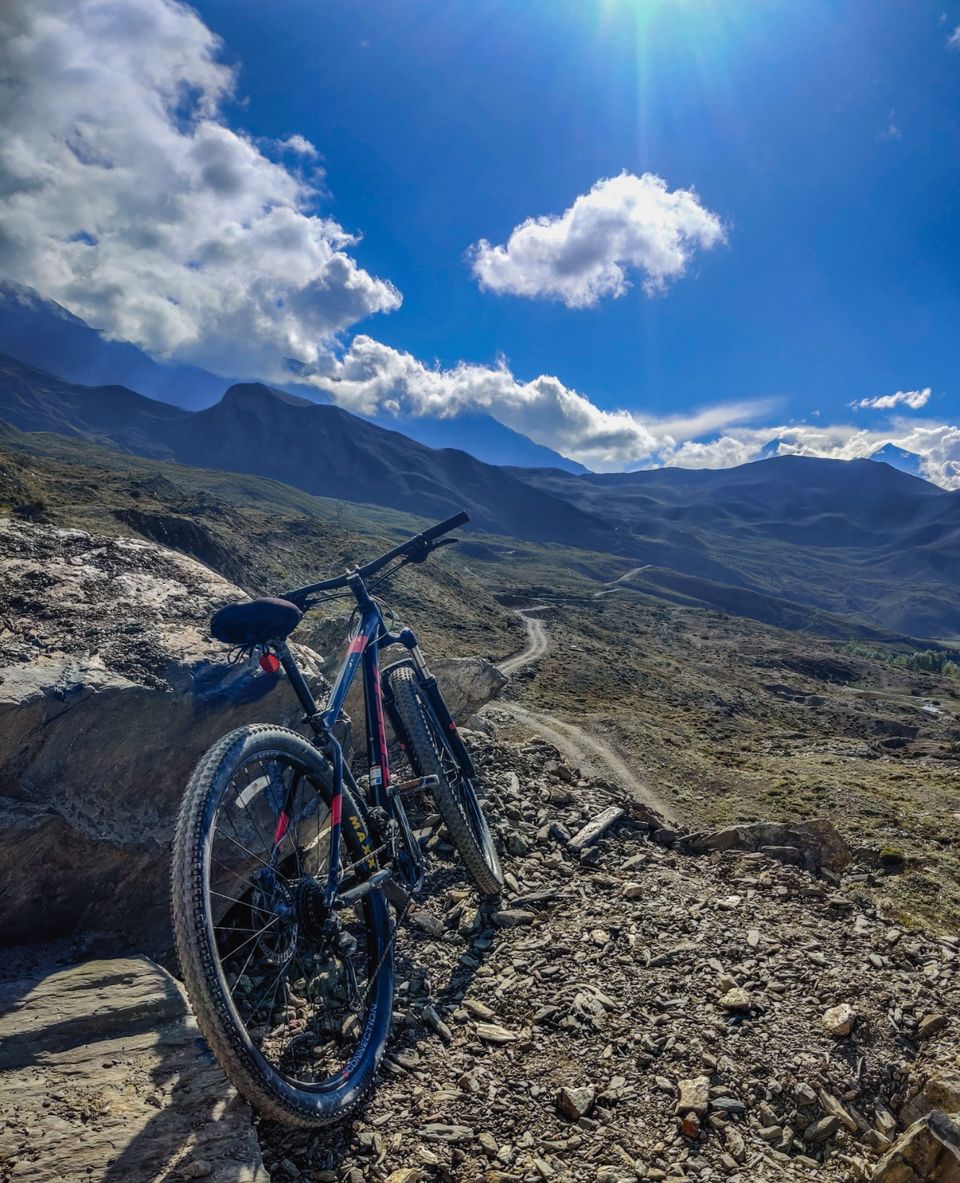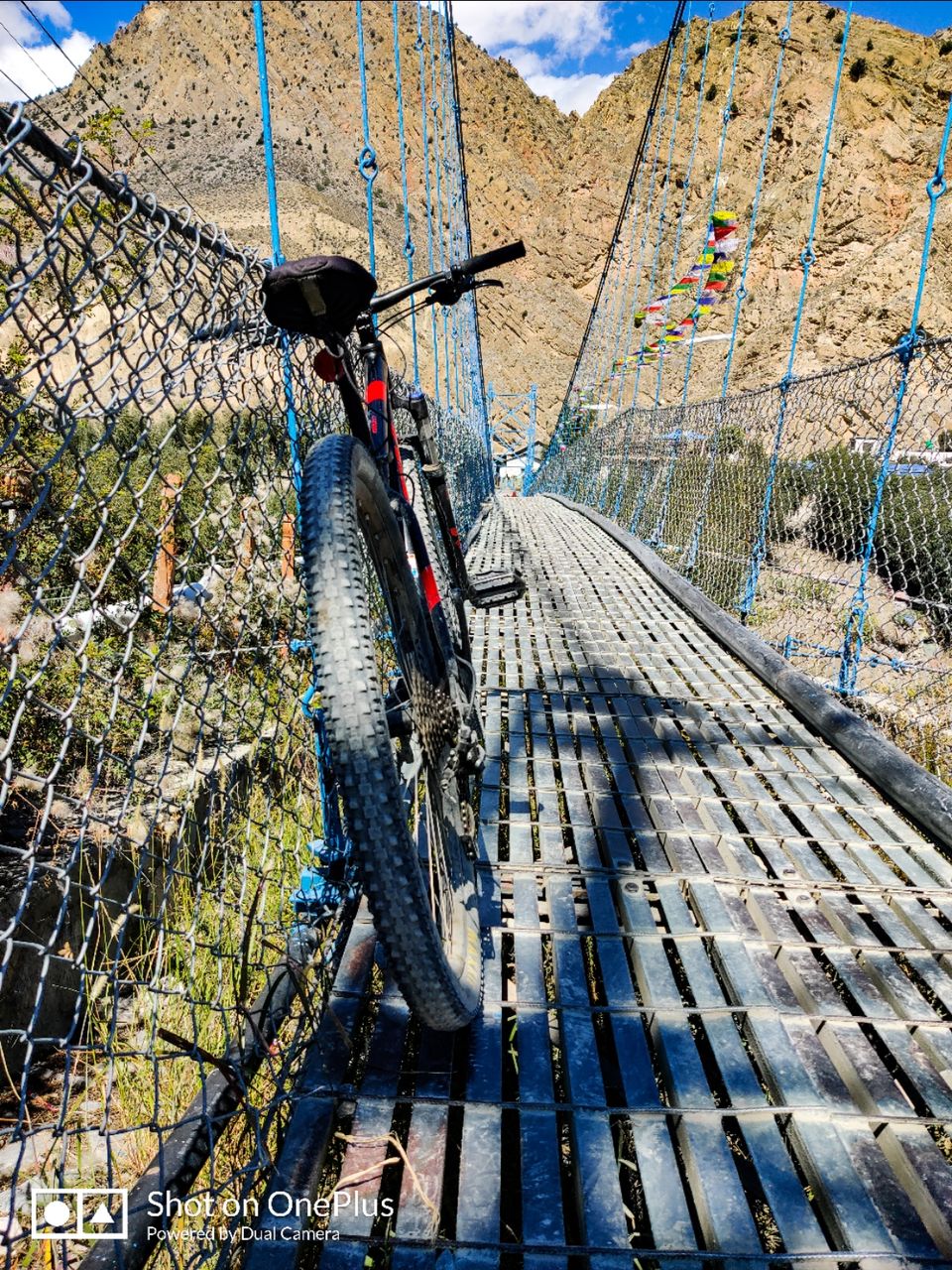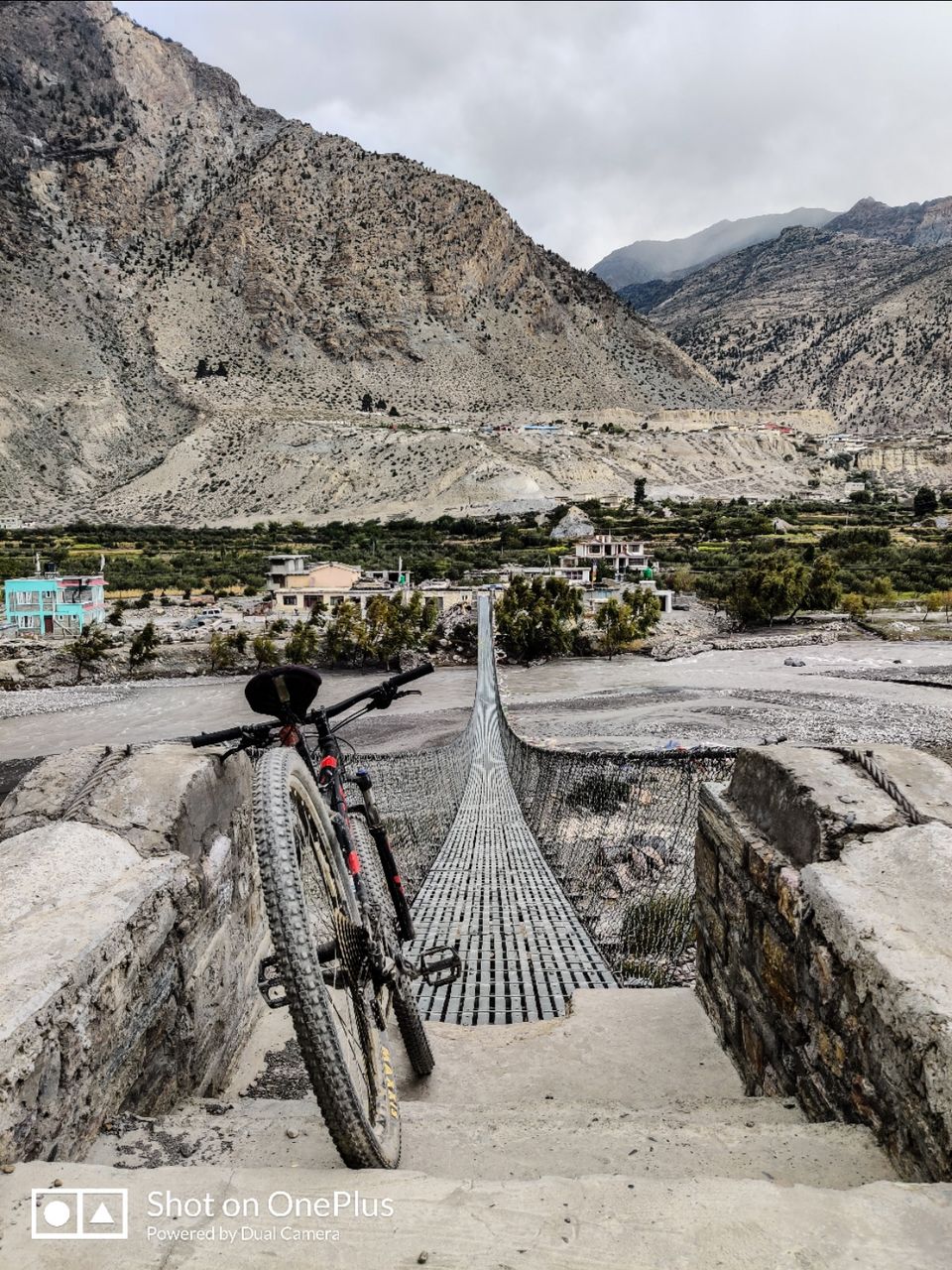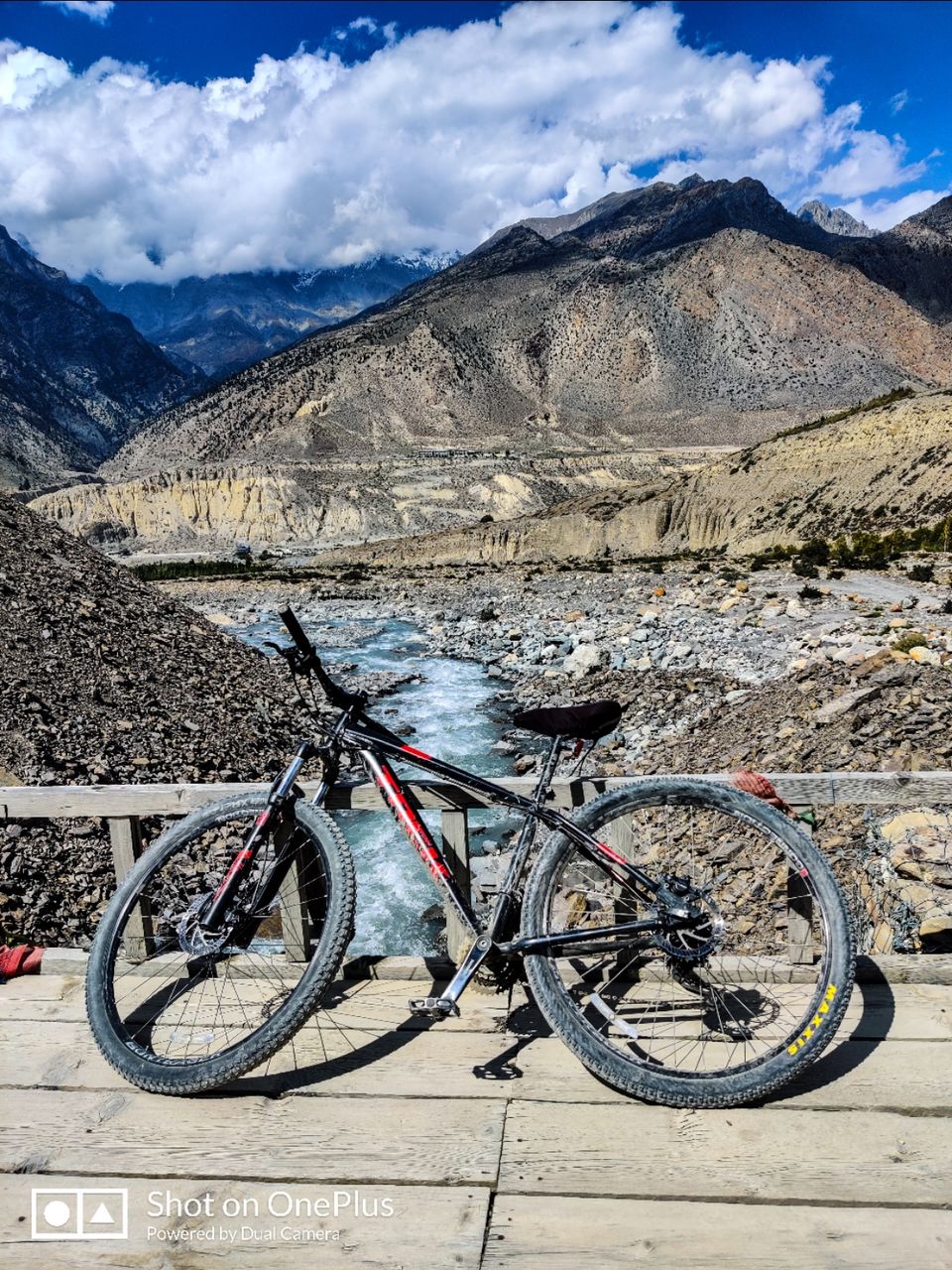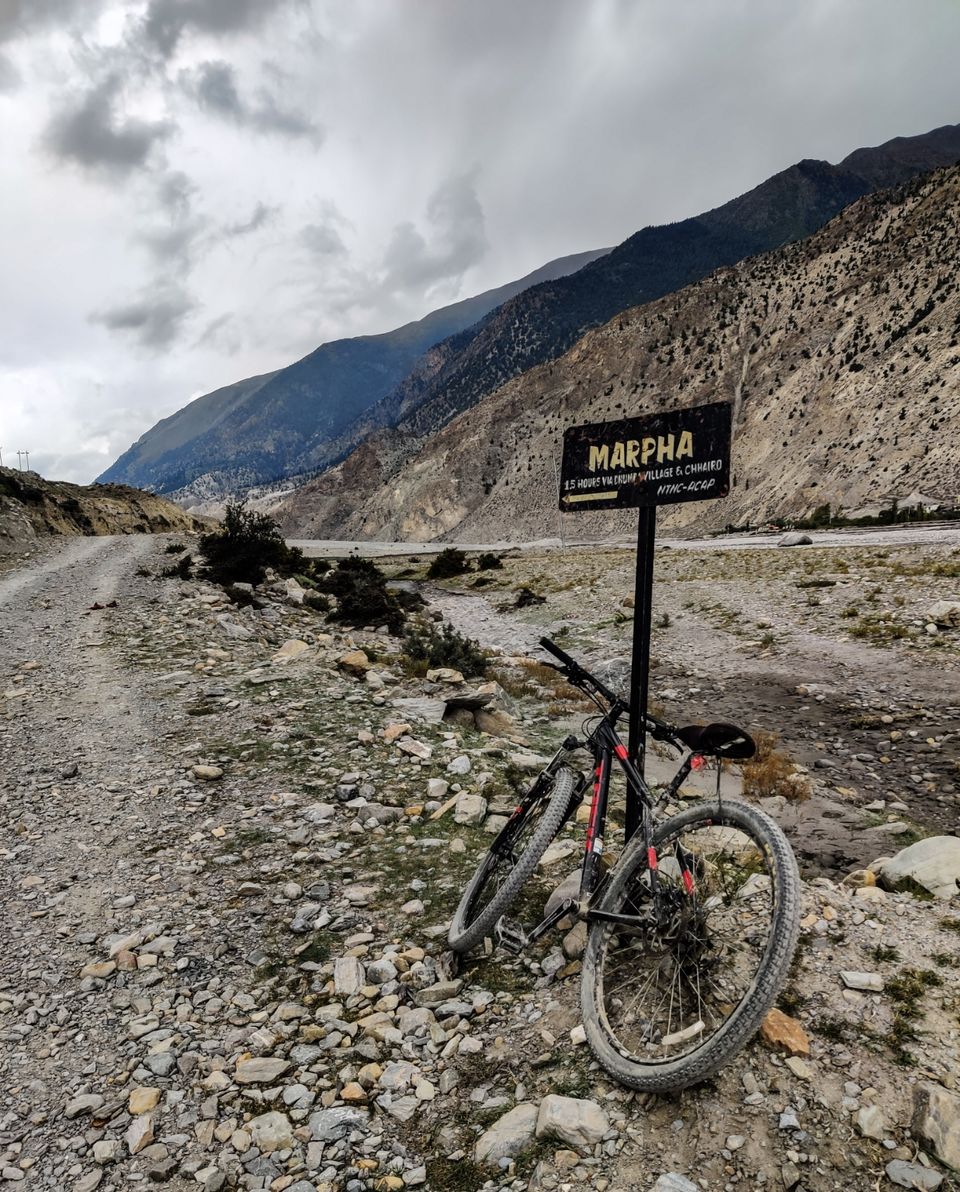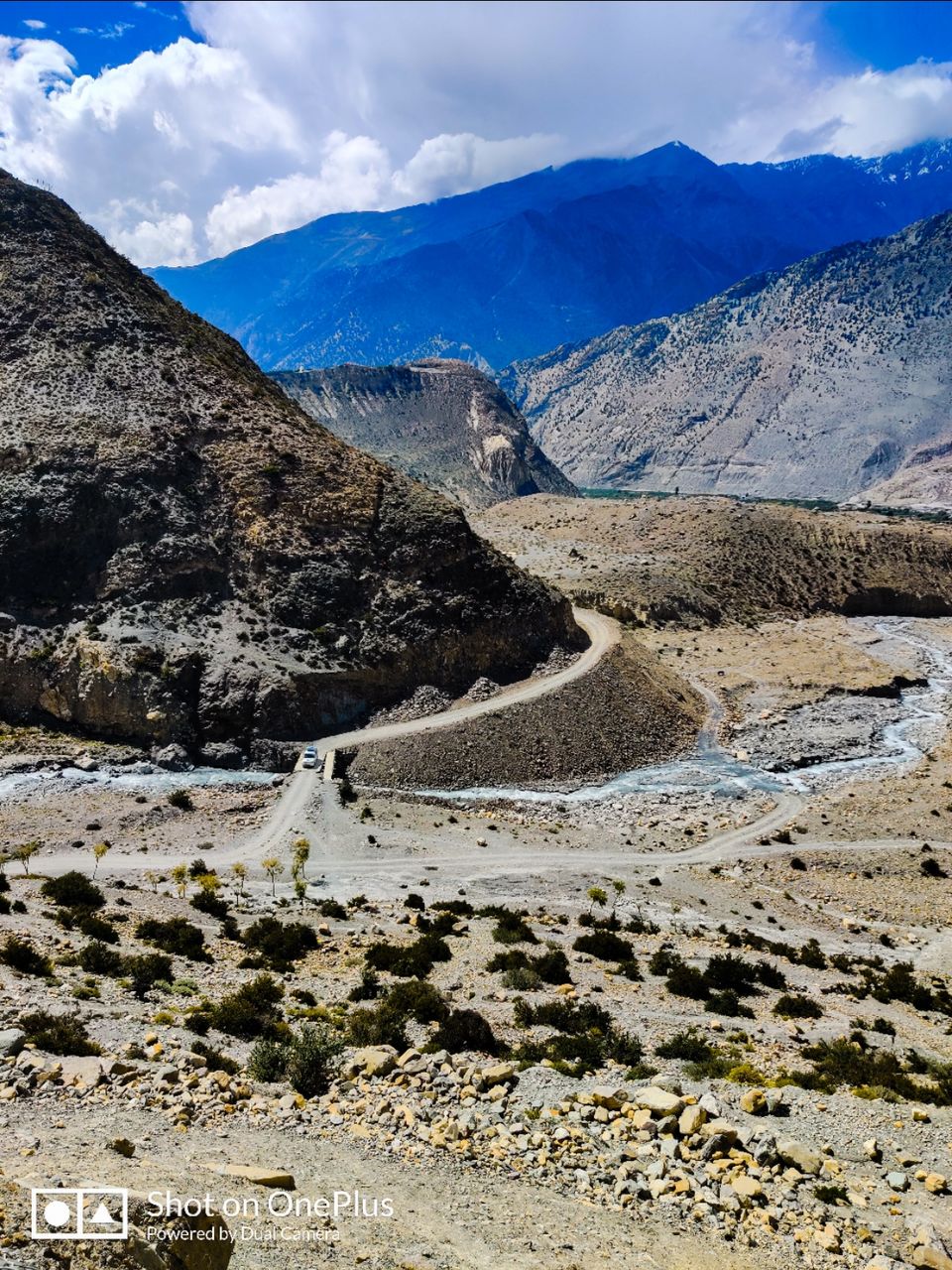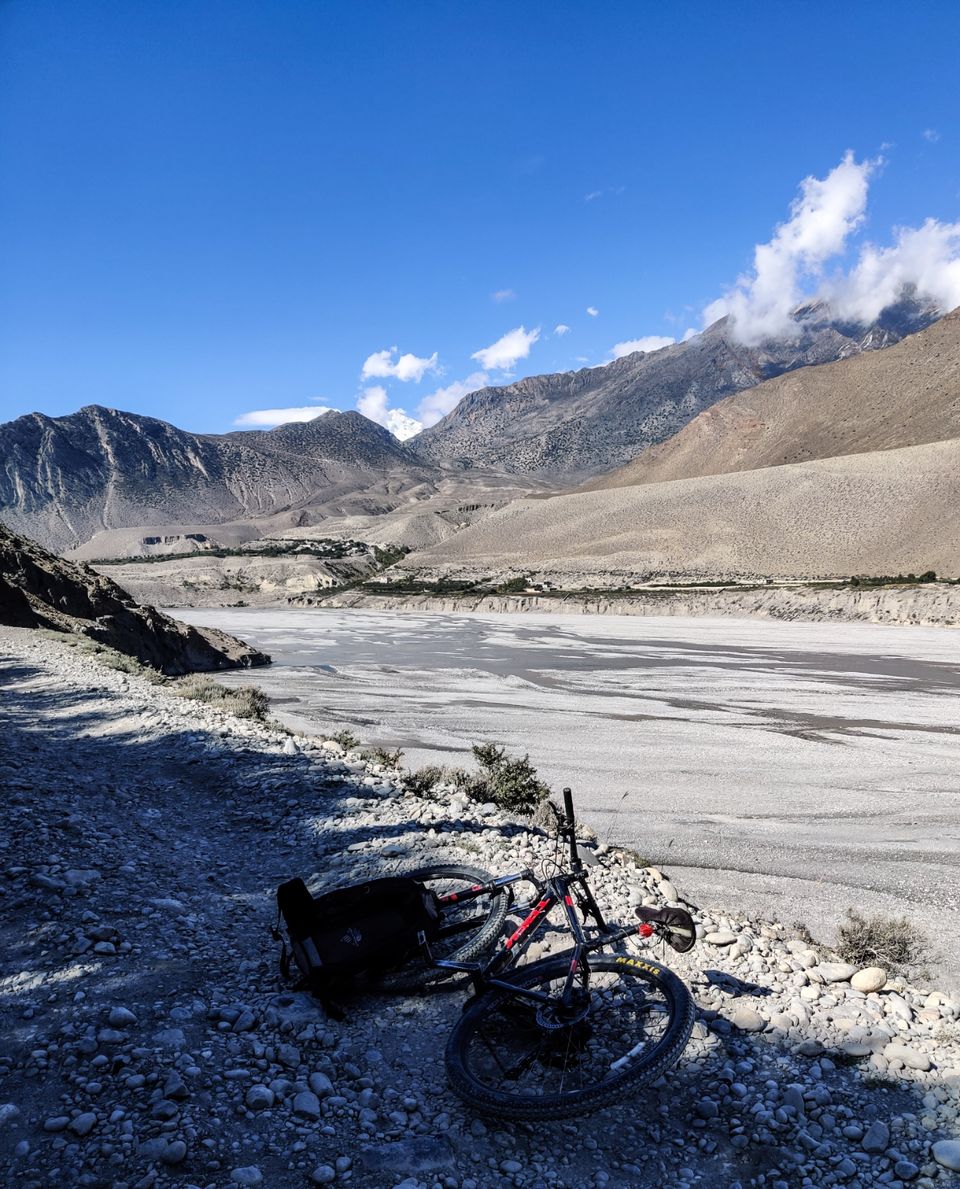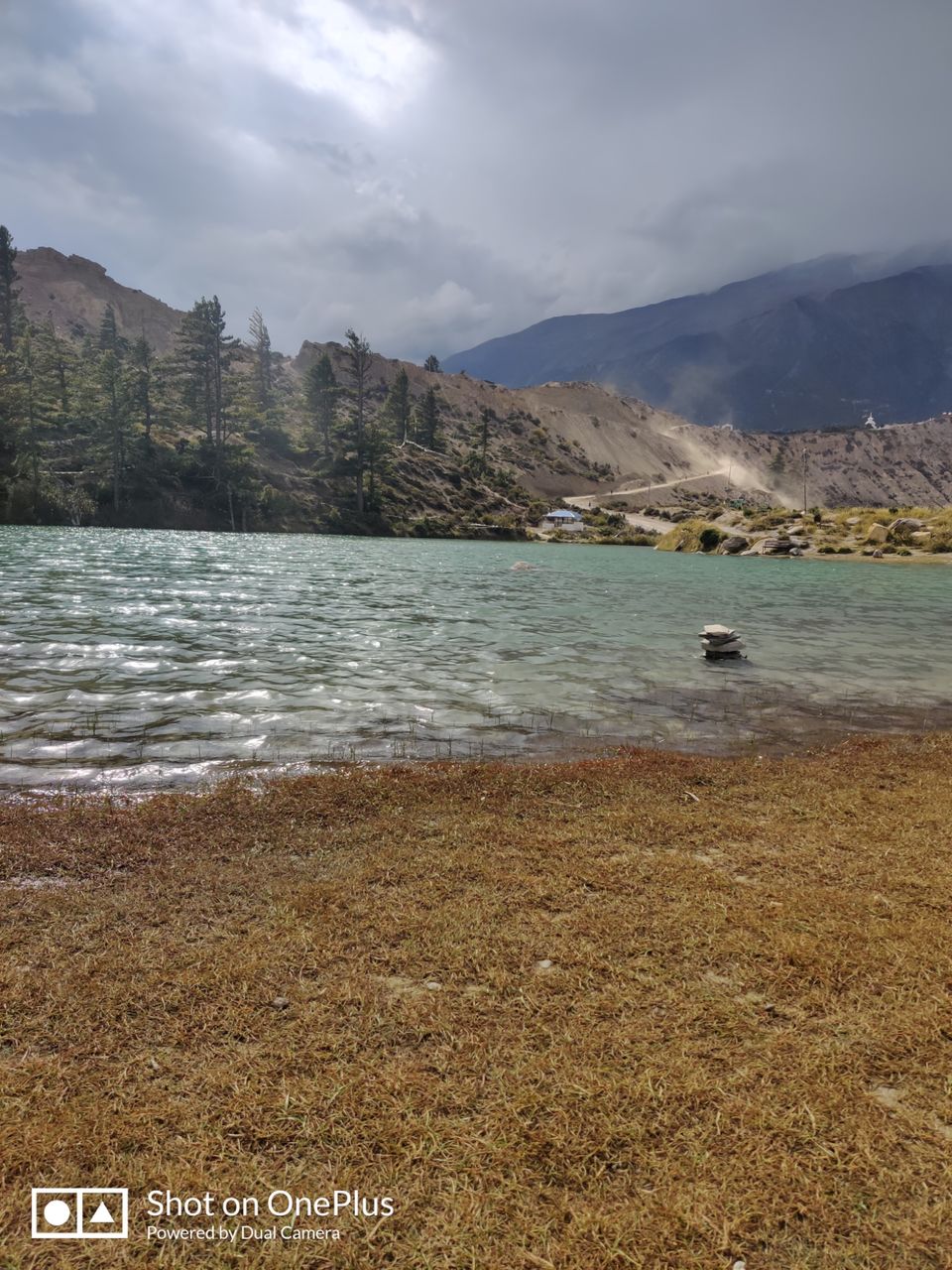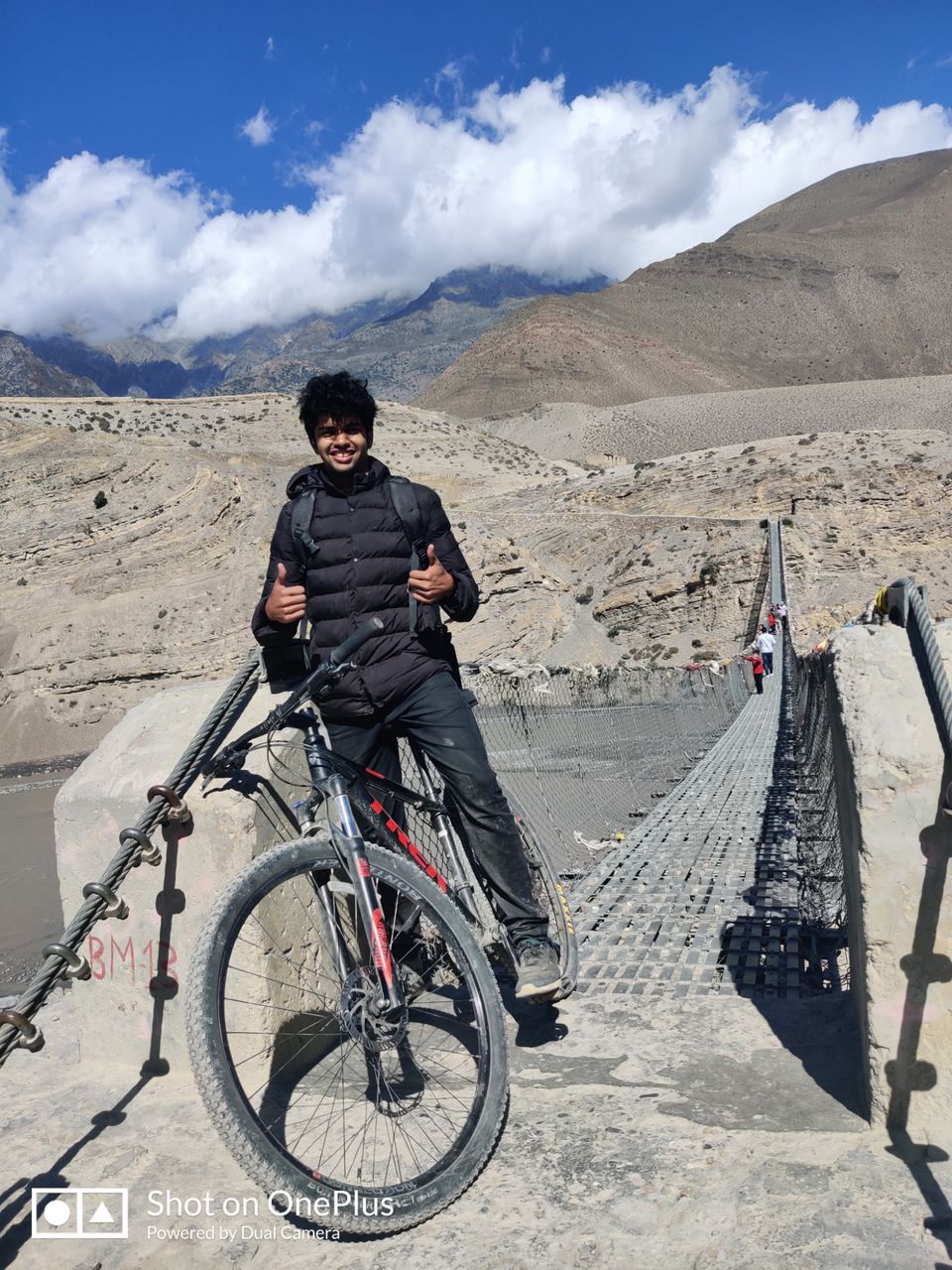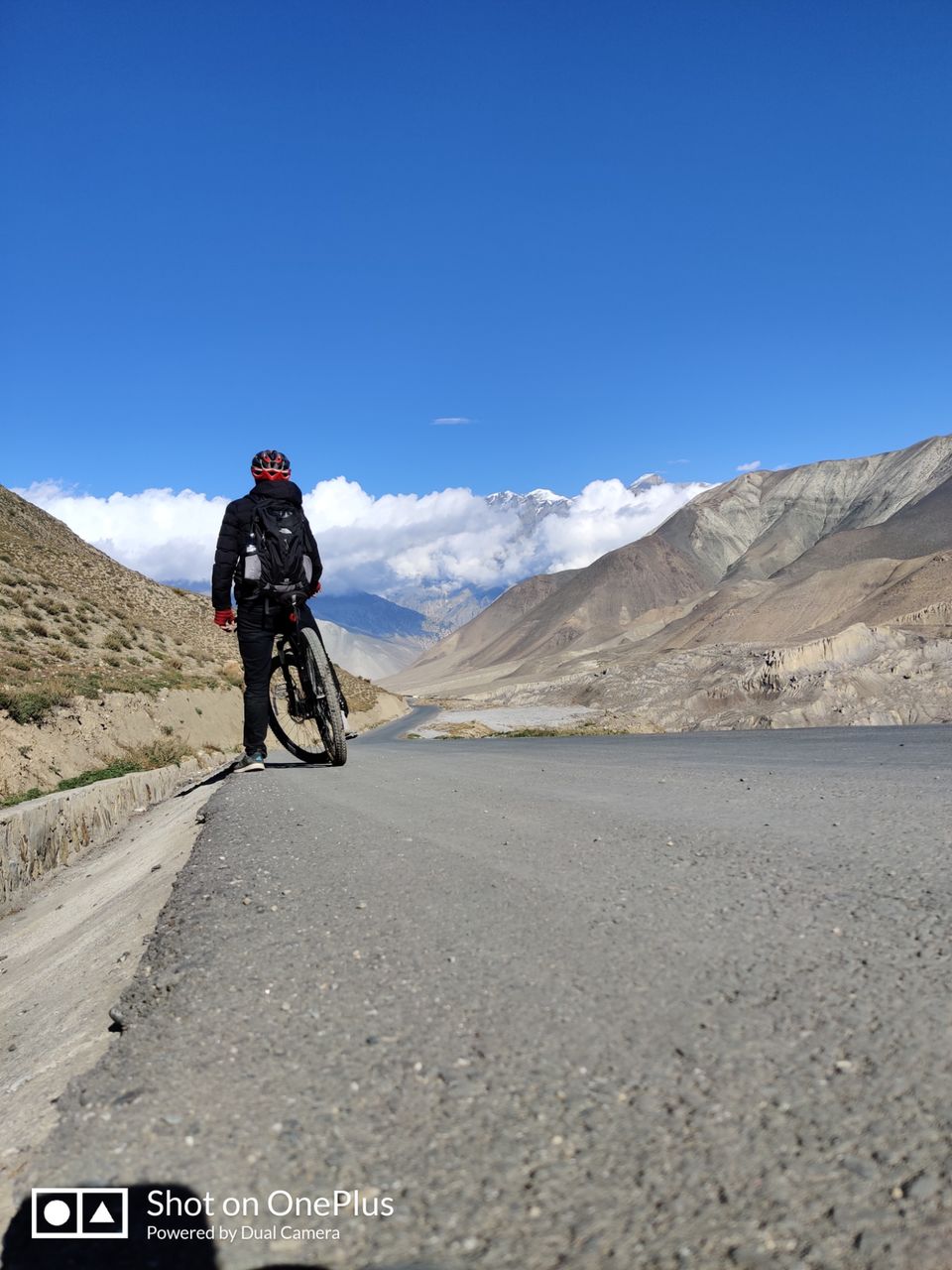 The effects of altitude sickness wore off as I descended down to Marpha and finally found the energy for a bit of adventure in the morning. The ride to tukuche was fairly pleasant with a lovely stream to give you company down the lonely trail, with the stream sometimes merging with it. Tried to bypass the town of tuckuche by taking the Annapurna circuit trail instead of the jeep road. A local informed me that it could be done only on foot but it wasn't exactly impossible on a cycle so I went ahead with it. 1km down and the trail split into two with no further info about it on any of my navigation tools. The right trail led me straight into the river while the left led me to a landslide. Took a U turn and headed back to the bridge that would take me back to the jeep road and to the town of tuckuche where I stopped for lunch and was treated with spells of rain. The rain converted the dirt track into a muddy swamp which I absolutely loved. Another 10kms down and I reached the village of kalopani where I crashed for the night.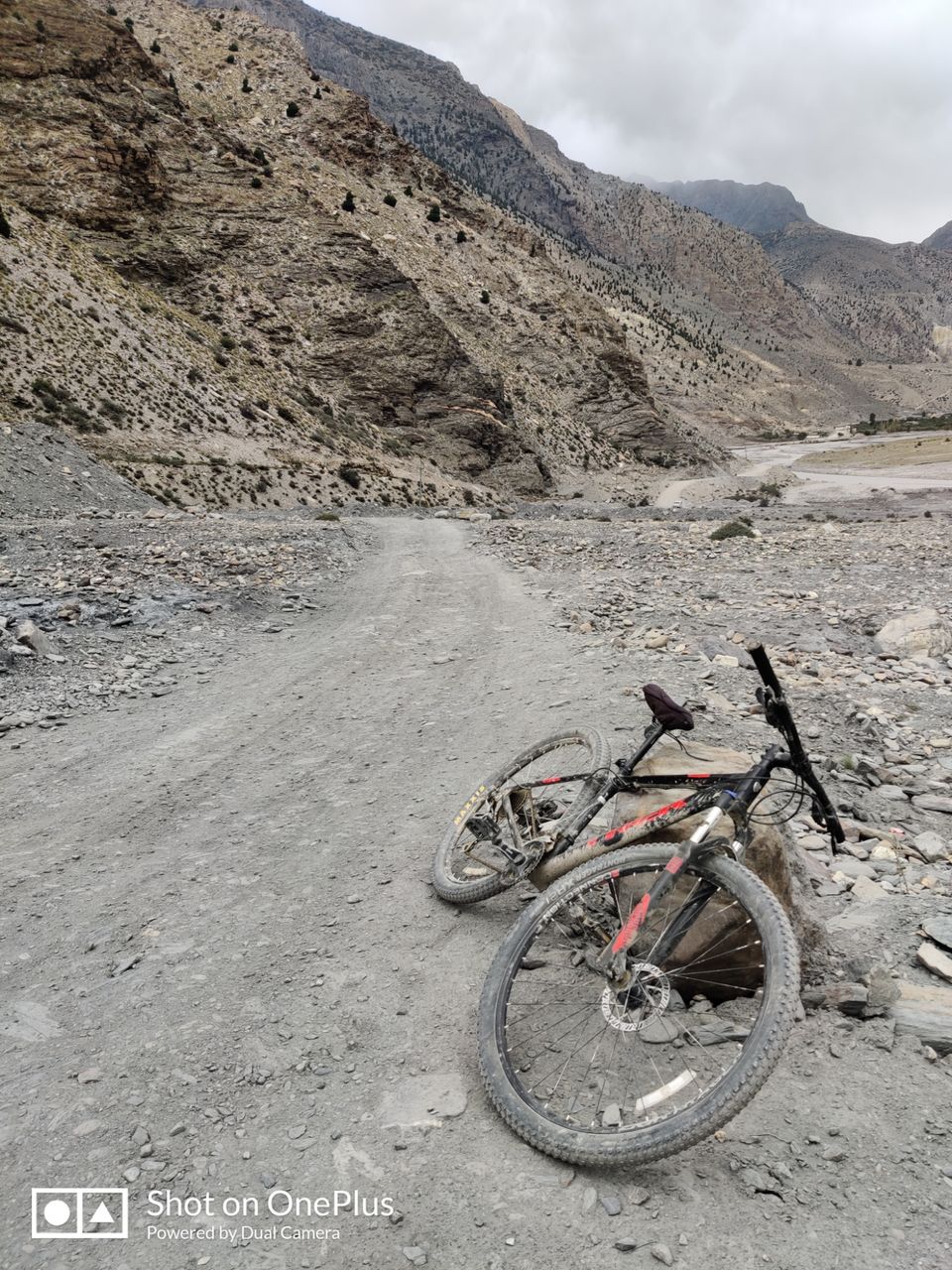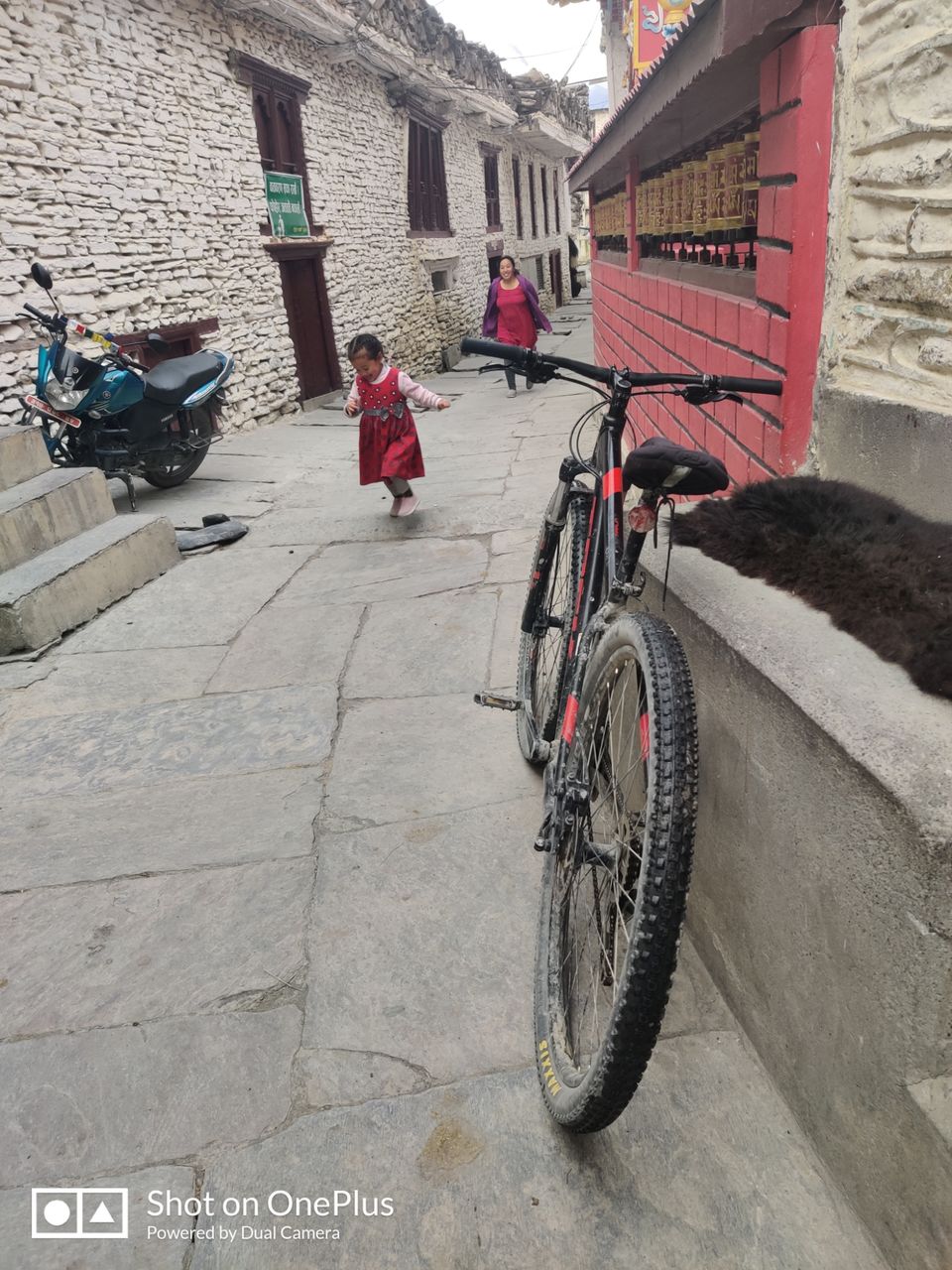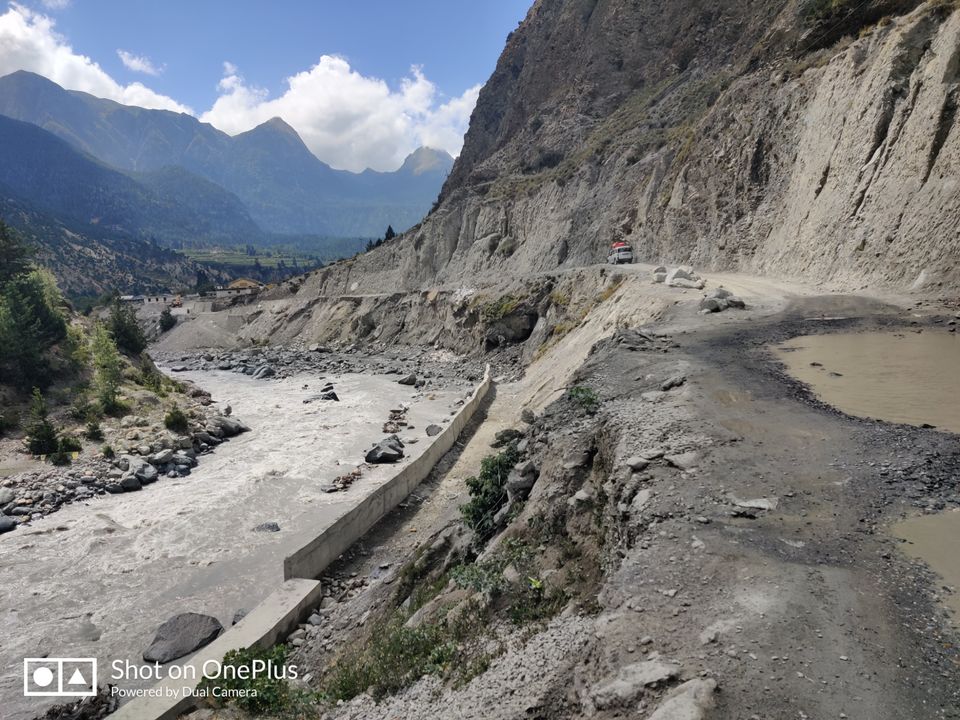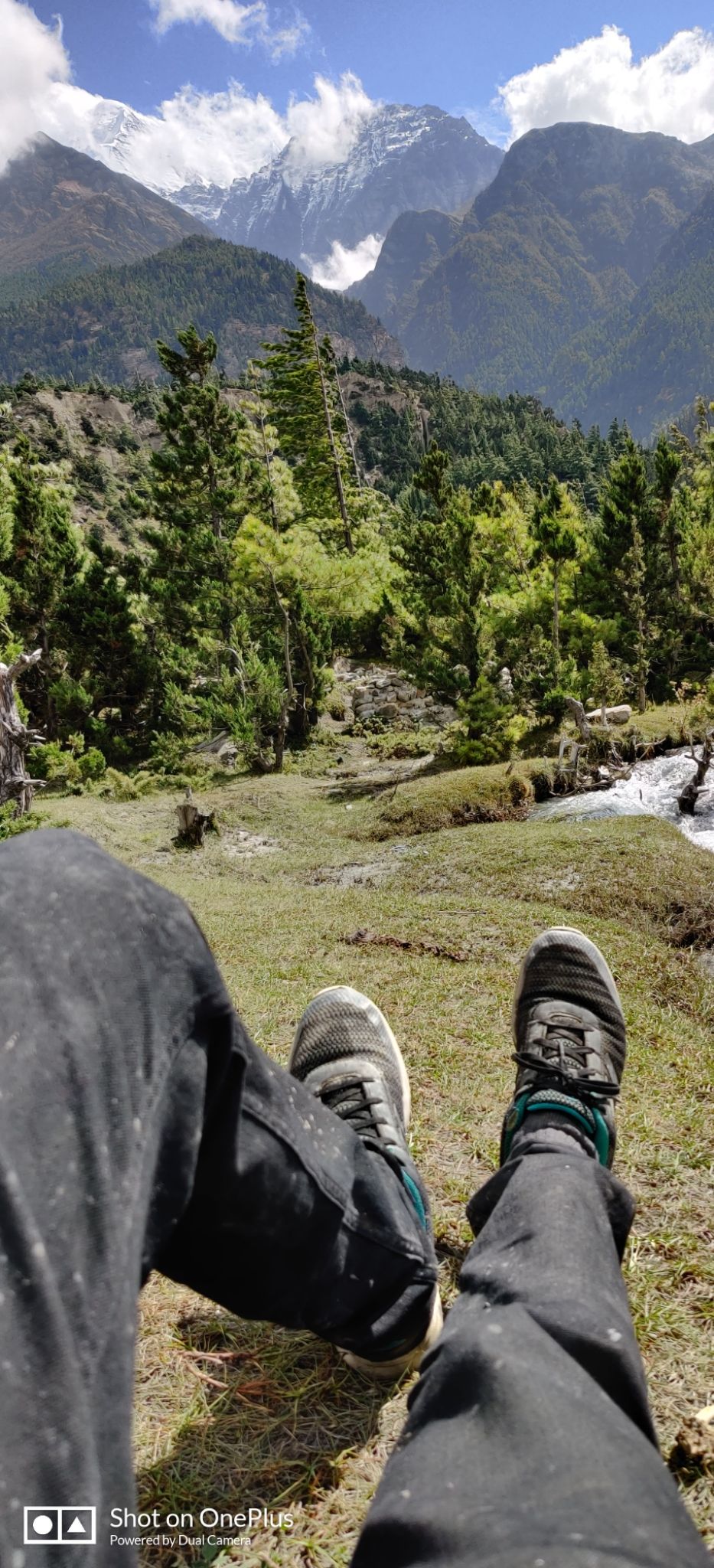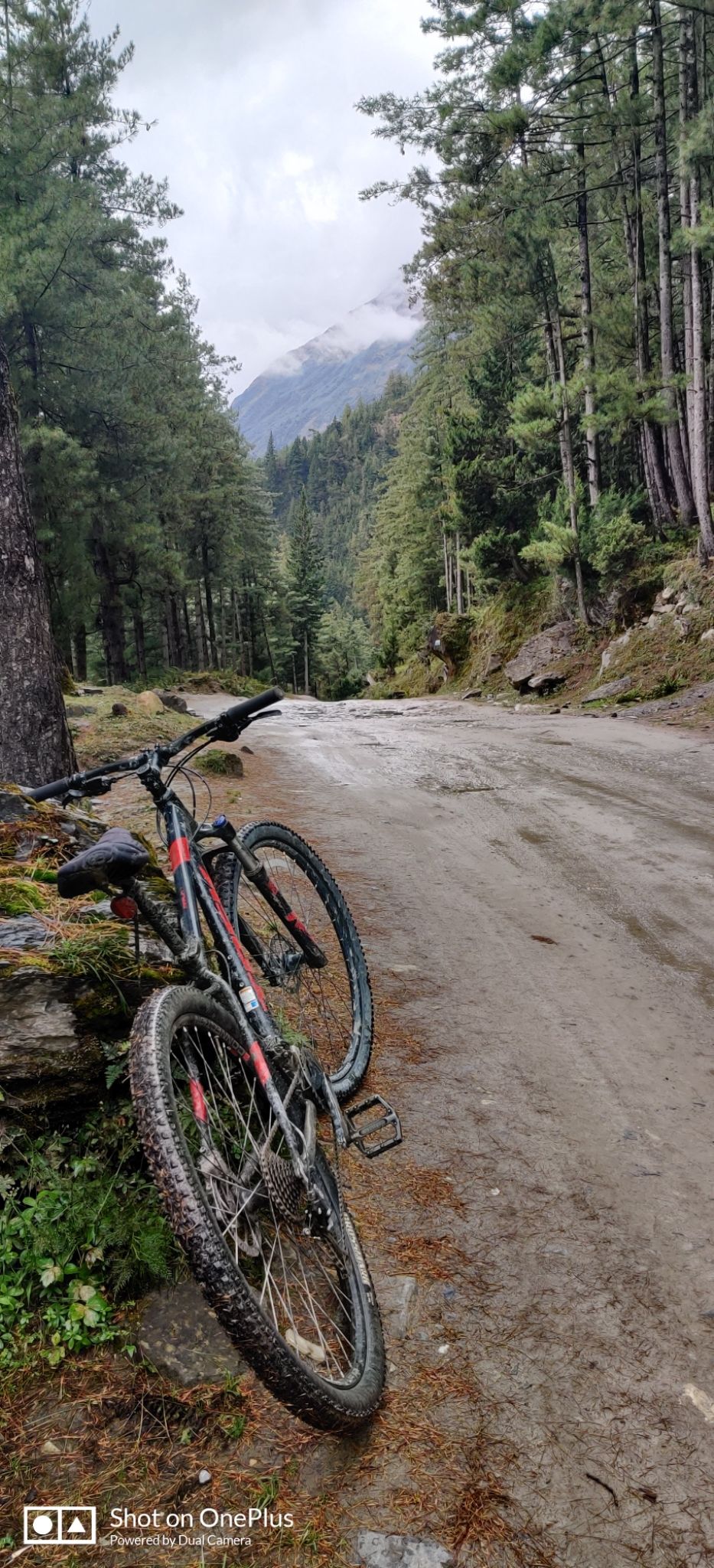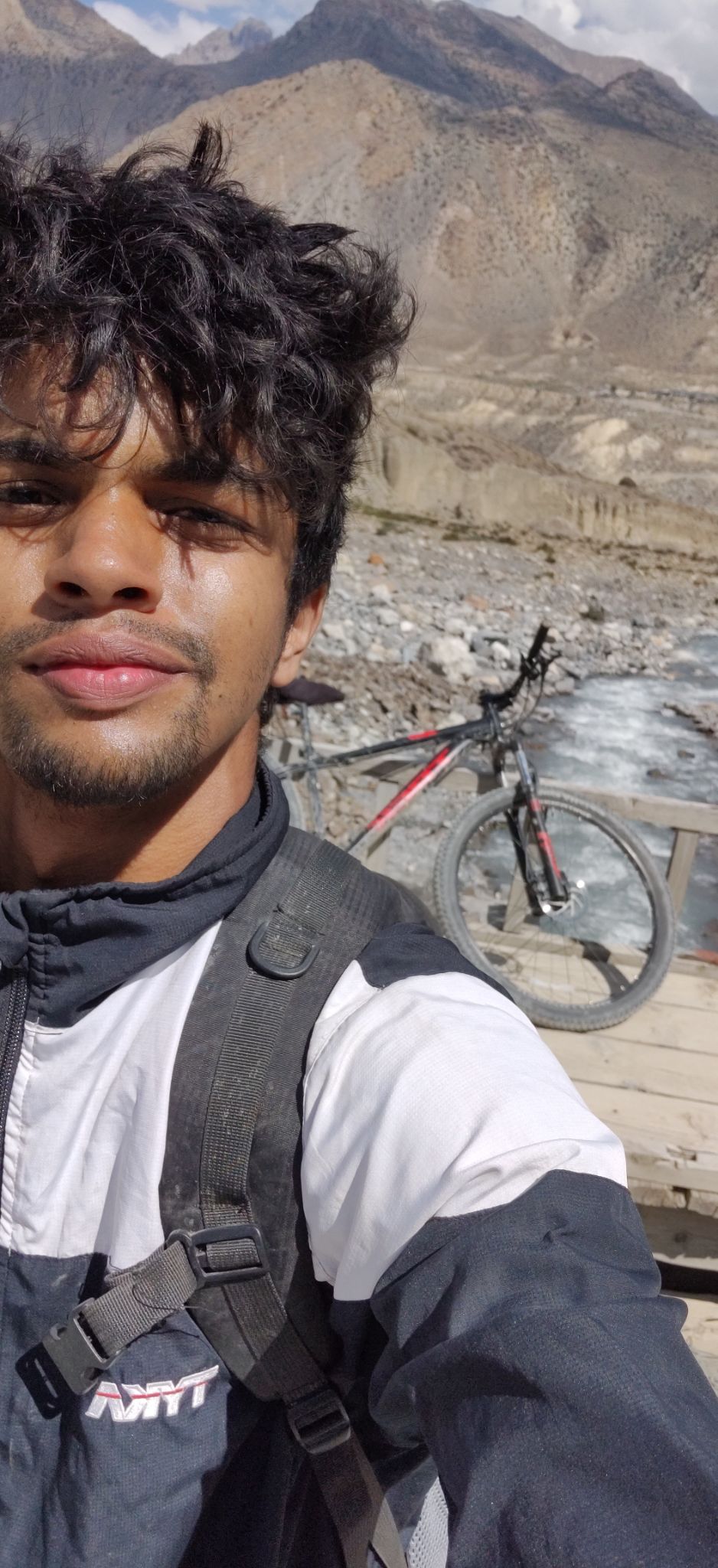 The ride down from kalopani to tatopani is the second steep descent of the trek which is about 20 kms. There are a couple of instances on this route to deviate from the jeep road and on to the Annapurna circuit but sometimes the AC trails shown on the map are old and outdated. Taking advice of the locals I took the ones they recommended and left out the ones they weren't confident about. This section of the trail is one of the best parts of the entire trek. A 90% downhill dirt track for about 20kms. Arrvied at Tatopani where I dropped the bike off at the designated location and collected my luggage which came by bus. Visiting the hot springs at tatopani was on my list but the bus I collected my luggage from was my last option to get back to Pokhara for the day. It was a tough journey of about 8 hours. This was where I felt ₹5k for that 20 min flight was very much value for money.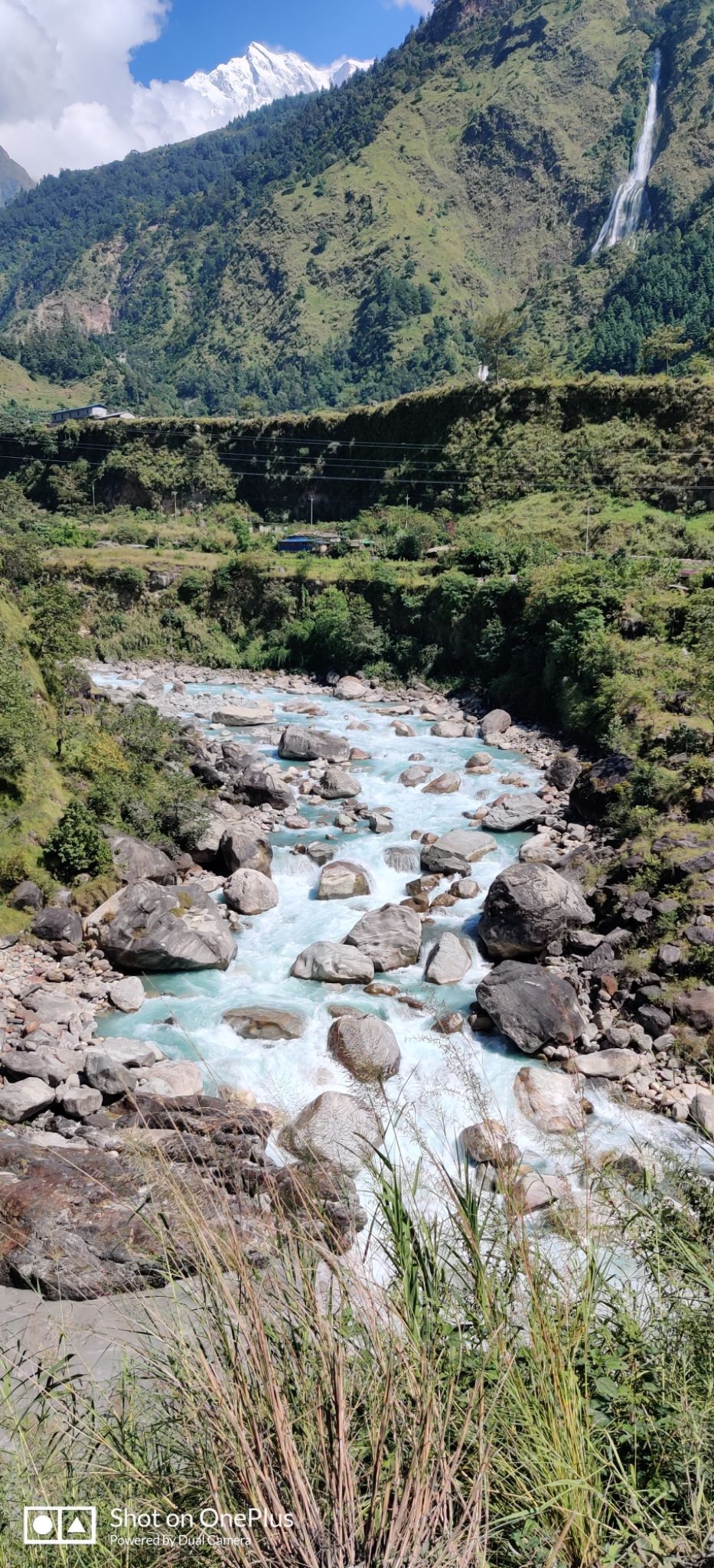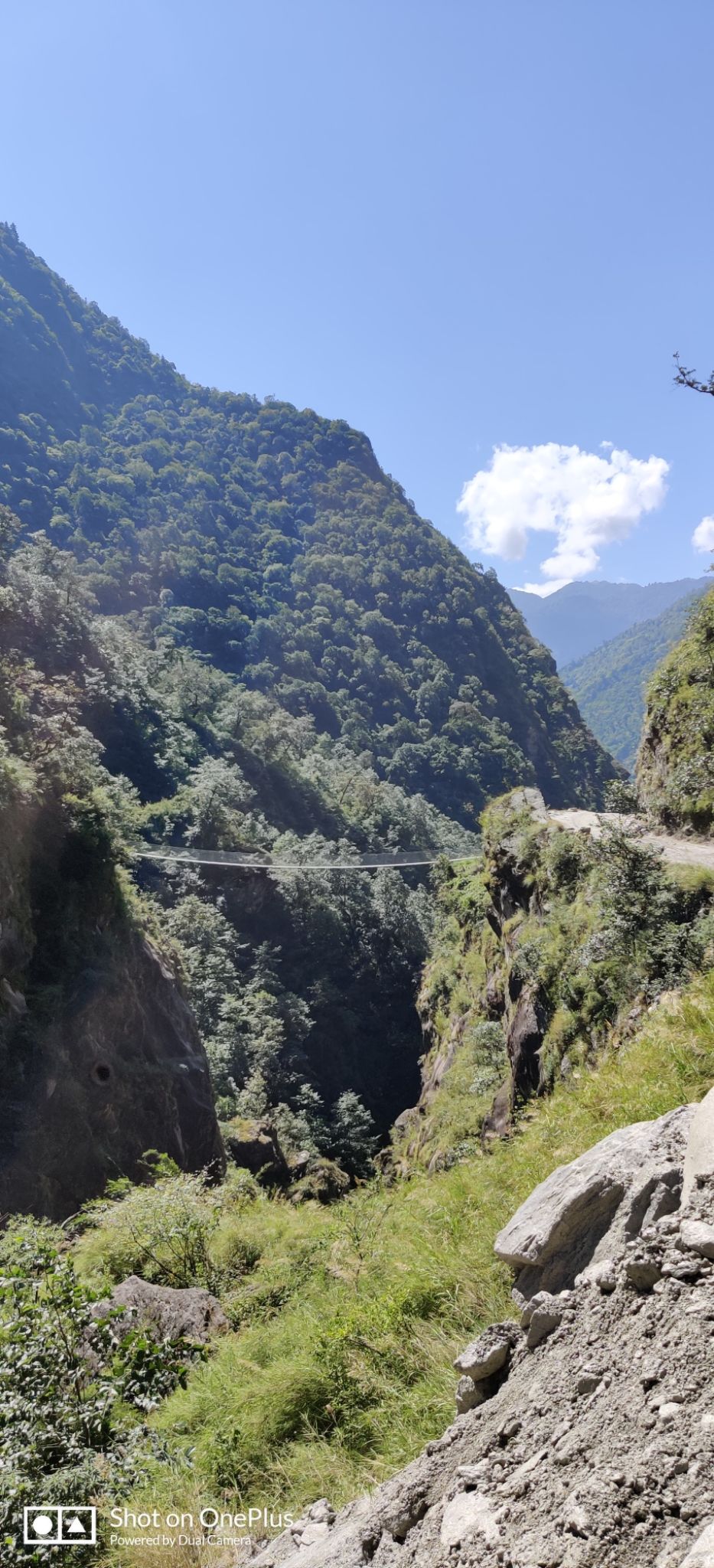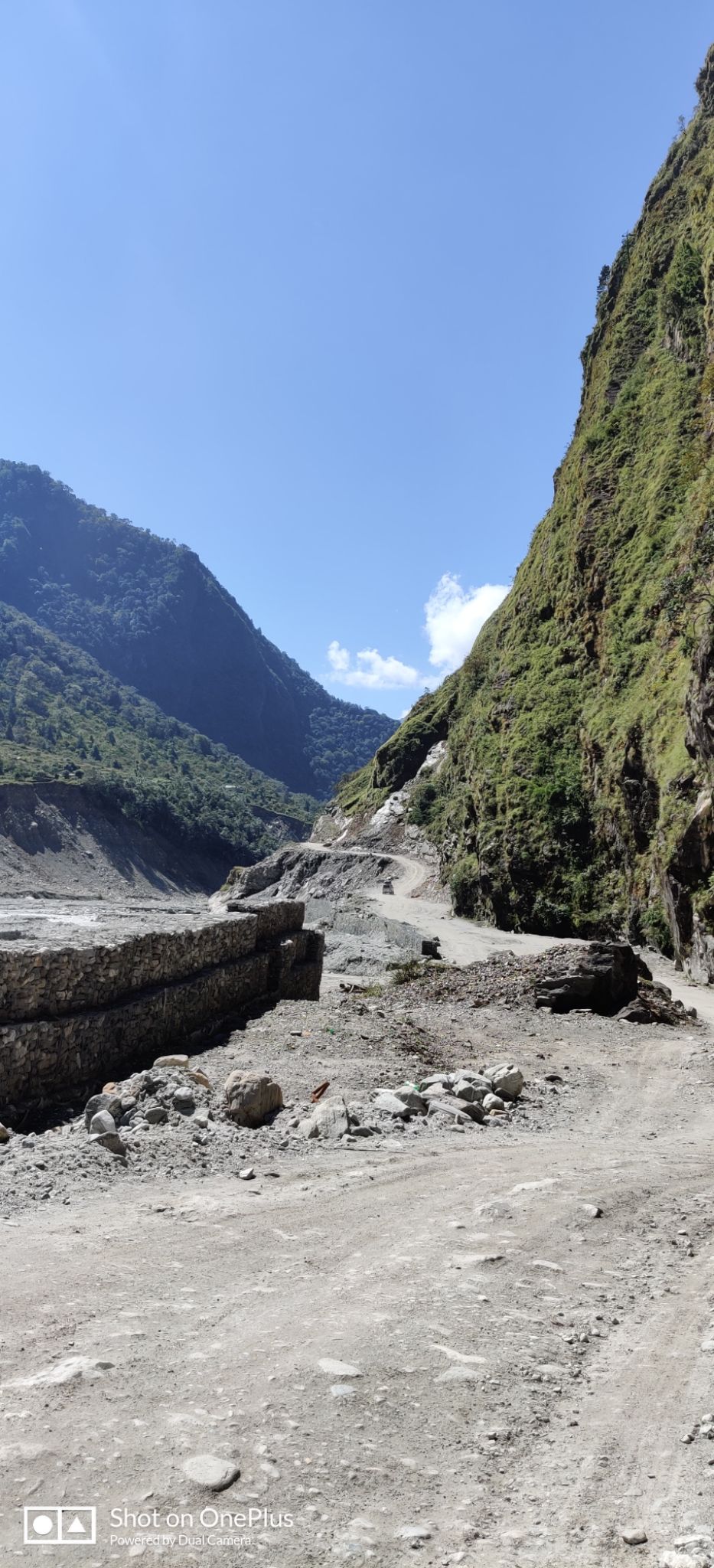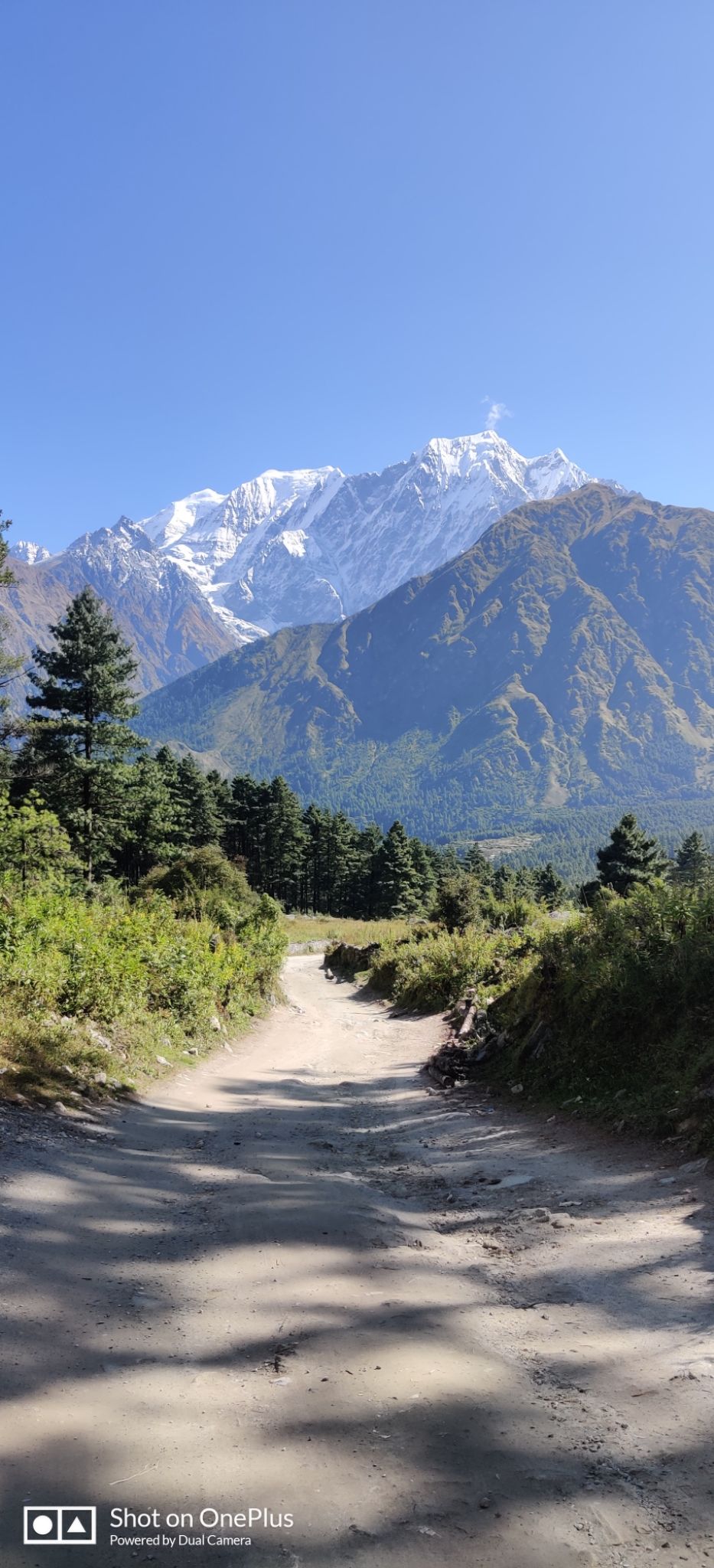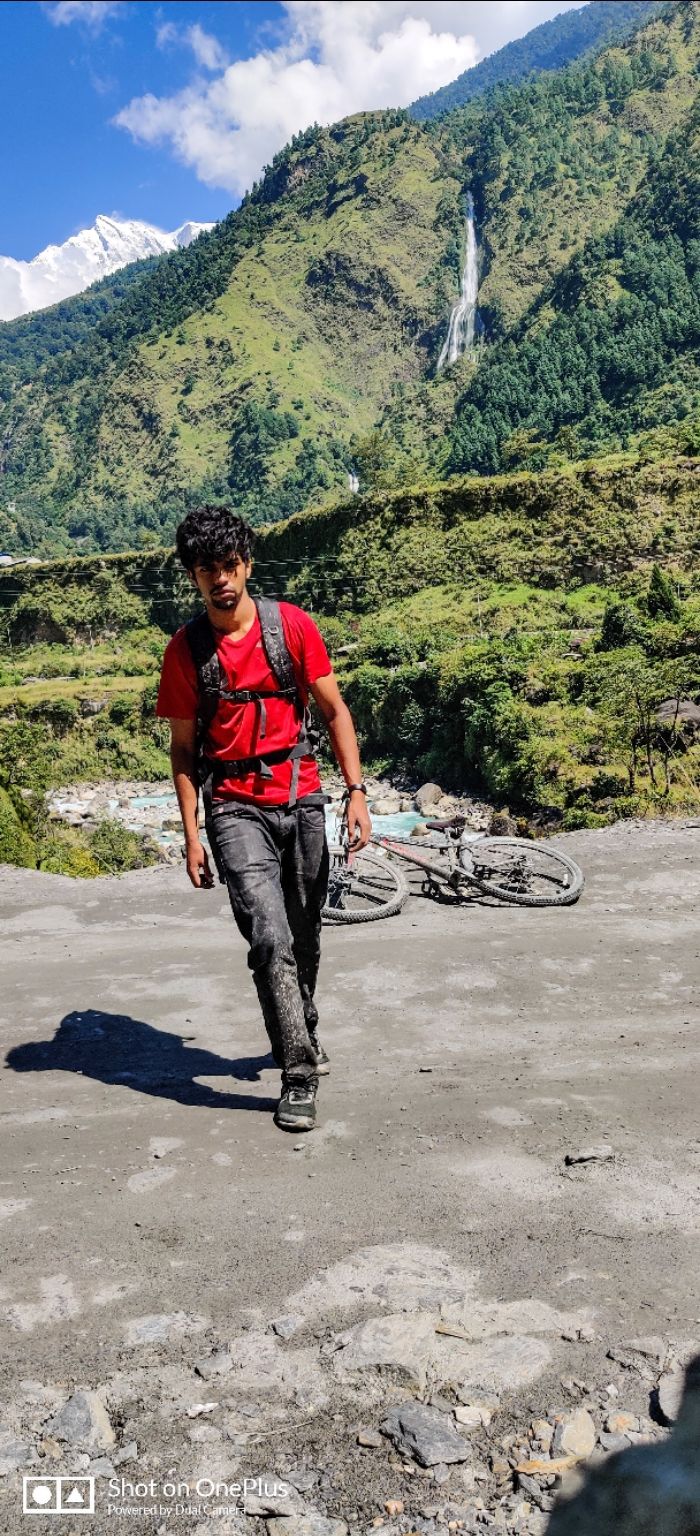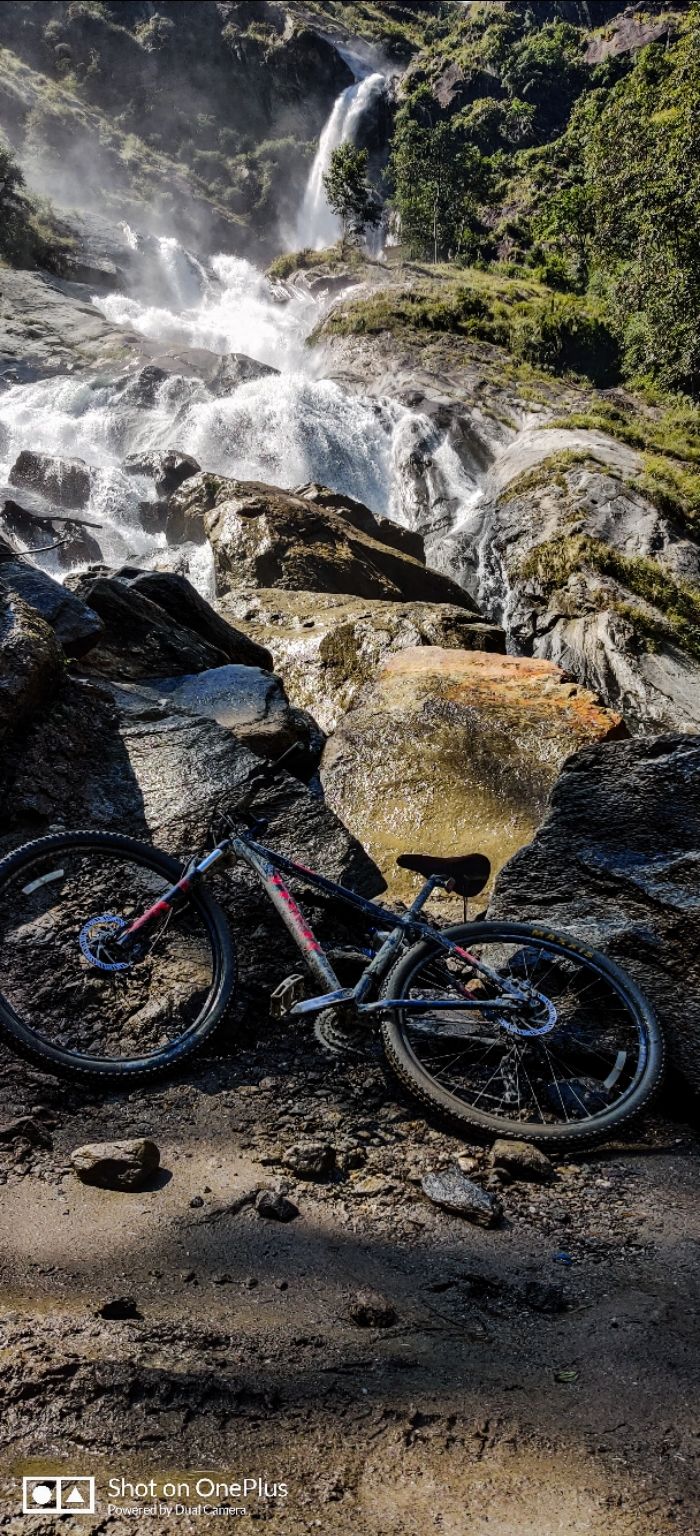 Basic iternary:
Gorakhpur-Pokhara-Jomsom(Flight)-Muktinath(Starting point, high altitude) - Kagbeni - Jomsom - Marpha - Tukuche - Kalopani - Tatopani (trek ends) - Pokhara
For more information on the trail search for the popular Annapurna circuit. This starts at muktinath (3800m) and terminates at Tatopani (1000m approx).
Budget: ₹15k
Trip budget breakdown:
Trek permits and TIMS card-2k
Cycle rental- ₹3k
Stay- ₹500 a night
Flight- ₹5000
Food- ₹300-₹400 for an average breakfast(Read as expensive)
Do read up on symptoms of altitude sickness.
For MTB rentals/bookings: mustangoutback@gmail.com