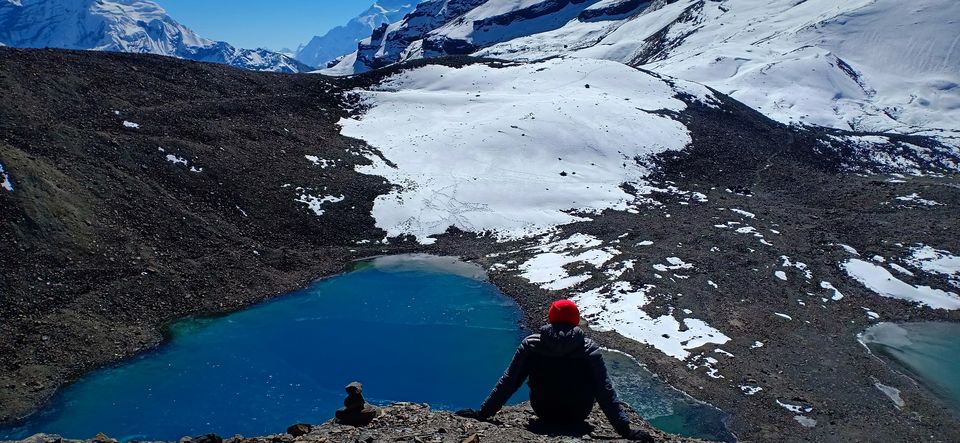 It must have the National Geographic Channel. In the era of no internet connection, I saw a document on trekking the Annapurna circuit. Can't quite recollect my age. What I recollect it how the sight of the Annapurna mountain range set my soul on fire. I vividly remember looking at a time lapse from that documentary and was left quite amazed.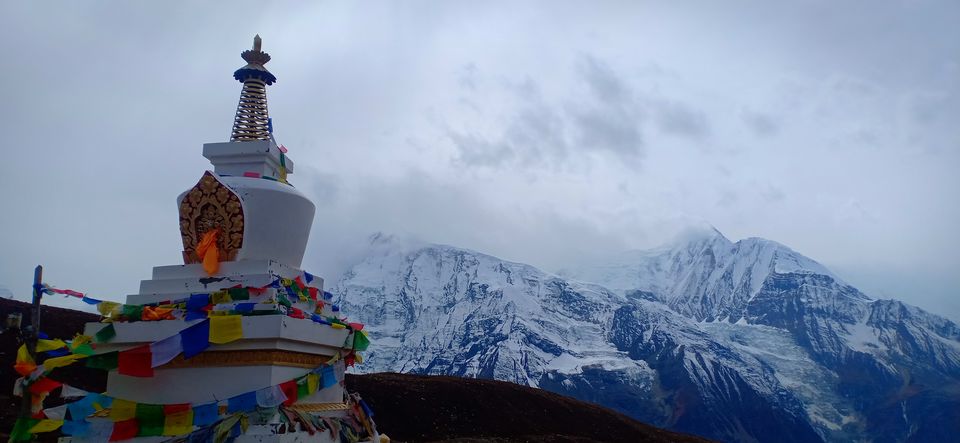 It was September of 2019, it had been a month of quitting my full time job, as a pastry chef at a restaurant in Mumbai, India. I had decided to give/sell my most of my belongings and embrace a minimalist nomad life. I somehow managed to get my things in 2 backpacks and a suitcase for certificates, books and things I couldn't give away. The suitcase was dumped at a friend's place in Mumbai and I set out travelling for an indefinite time.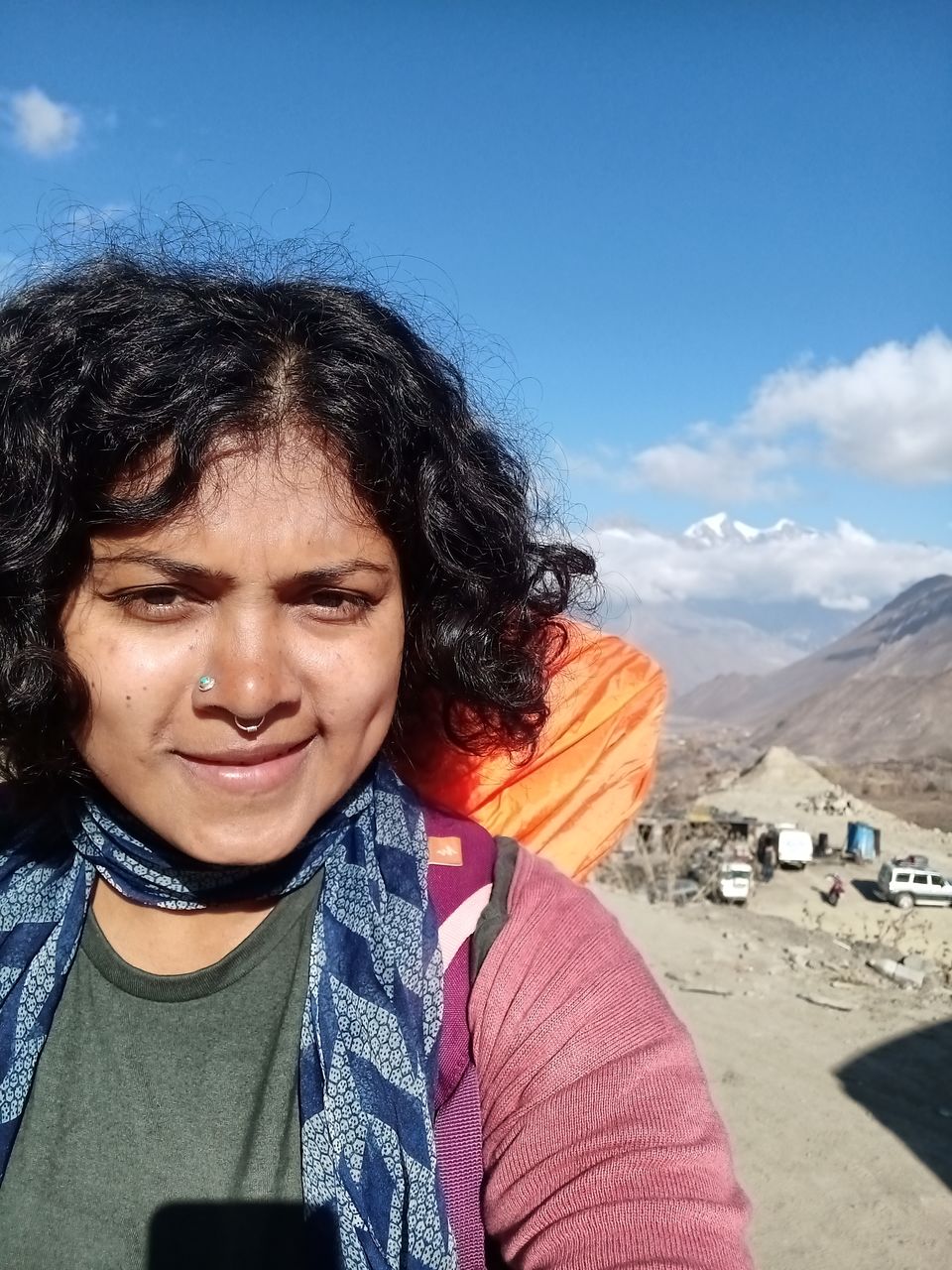 Spent a month in the Trans Himalayan desert of Spiti, also known as "Middle Land" referring to the land between Tibet and India. On my way back from Chandrataal, a moon shaped lake in Spiti. I hitchhiked to the main road (well, the main road or highway is a no man's land). Got into a bus into a Himachal government bus to Manali. The whole bus journey is a story in itself, but I will keep that for another day! All seats were occupied, I tried standing, but the curvy roads of the Himalayas would often knock my posture down. So I sat on the bus floor and ended up meeting a traveller named Nikhil. He asked me "where to next?" and I did not have any concrete plans. Since I had never explored places outside of India, Nikhil suggested me to try and go to Nepal. And his Nepal travel stories got me curious.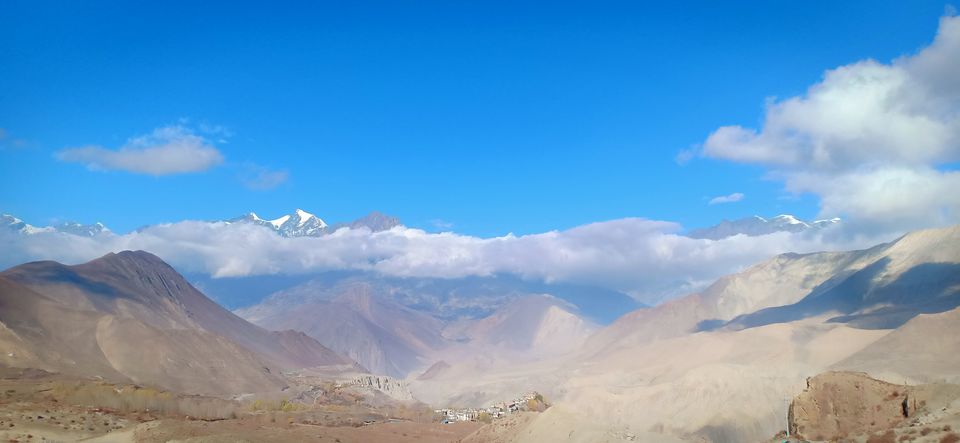 Crossed Nepal through the Sonauli border near Gorakhpur in the state of Uttar Pradesh in India. Skipped Kathmandu and took a local bus to Pokhara. Reached Pokhara at 5 A.M. Nepal Standard Time (NPT). The weather was pleasant, although slightly cold. Drank a cup of tea at the only local vendor till it was bright enough to walk to my hostel near Phewa Lake. Observing the architecture, people and the roads, suddenly I saw something. The Annapurna Mountain Range! Visible and clear from an altitude of about 1,000 metres. And a little later, Machhapuchhre, the fish tailed mountain was glowing with the first rays of the sun. Oh, what a warm welcome Nepal.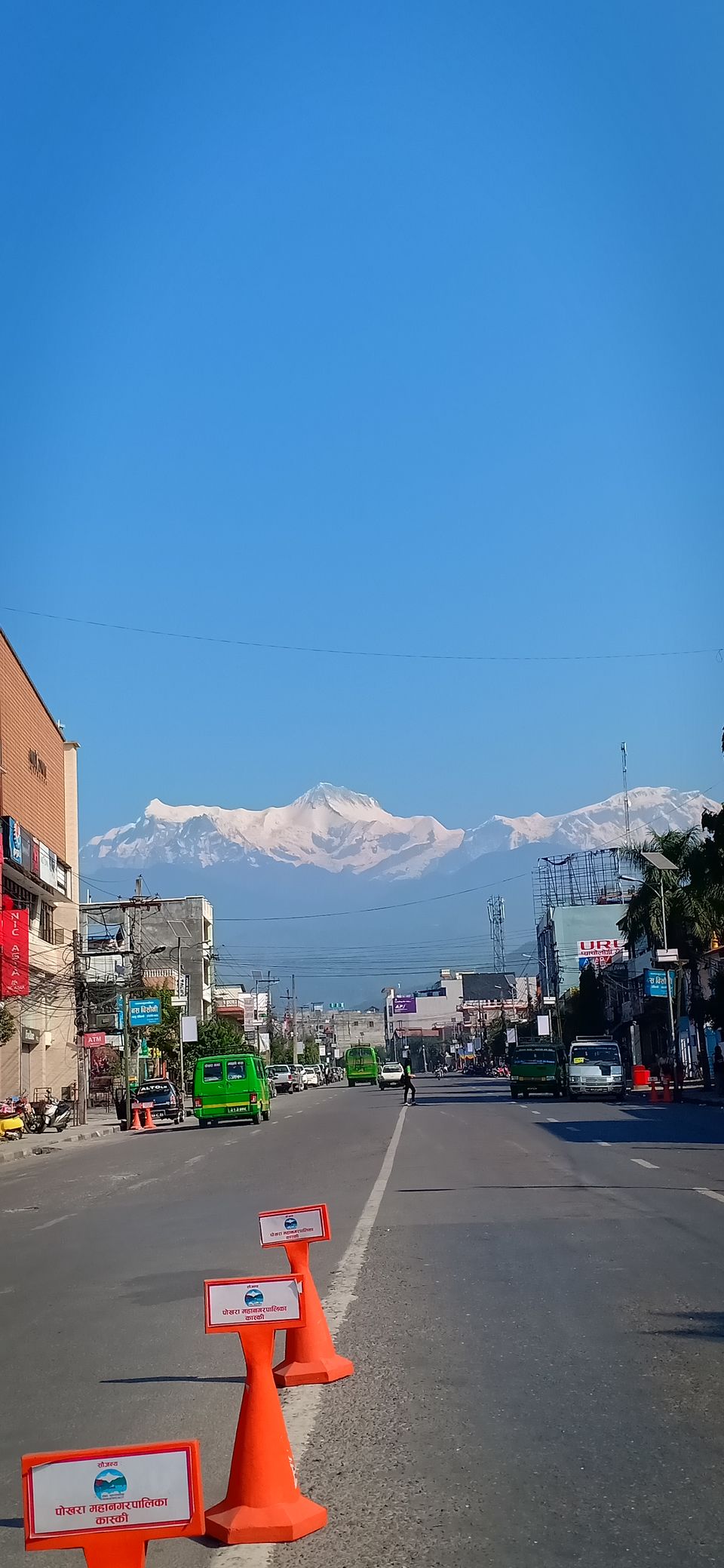 Spent a few days in Pokhara with no particular intention. Hostel accomodation came upto Rs.185/ day and I would eat 2 meals a day, so the expenses fell easy on my pocket. I was just trying to get my pending work of editing my travel vlogs from Spiti done. In most of the cafes, I chilled or ate at, I would often find books on trekking the Annapurna Circuit. Never in my wild dreams, did I think I would do it. That too solo and without a guide. But it seemed like, I had ended up in Nepal at the peak trekking season of October. October to November is when the Annapurna Region is filled with trekkers. The Nepal Himalaya is the most formidable mountain range in the world with nearly a third of the country lying above the elevation of 3,500 m.
Did you know that the world's highest peaks lie within Nepal's territory: Everest, Kanchenjunga, Lhotse, Makalu, Cho Oyu, Dhaulagiri, Manaslu and Annapurna,which are all over 8,000 m above sea level.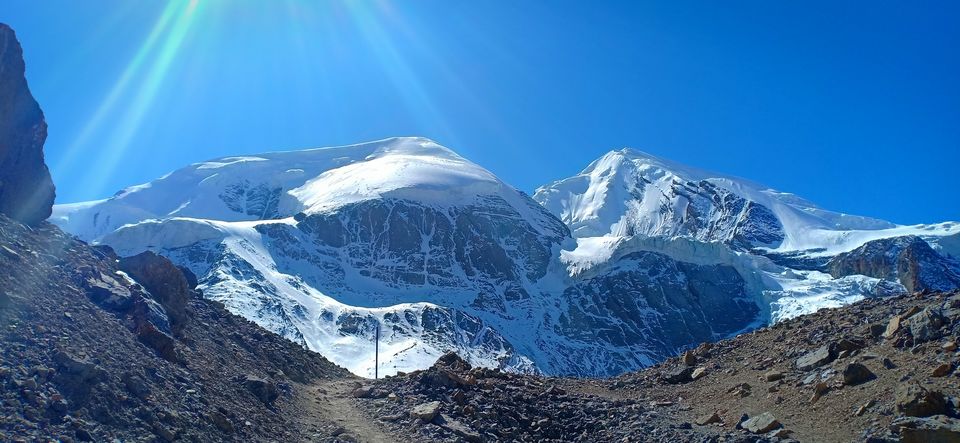 So after reading some books and blogs and being utterly confused, I decided to just do it. Another strong dilemma was deciding to do just the ABC base camp which was a fairly shorter one compared to Annapurna Circuit Trek. Call it serendipity, ended up meeting a trek guide who opened his own cafe near Phewa Lake. He gave me a few tips, suggested the Annapurna Circuit Trek, as one can see more mountains ranges and peaks on this trek than the Annapurna Base Camp and concluded saying "You can do it!". The ABC trek gets a little more traffic as it is a shorter trek and the teahouses get full easily. Whereas the Annapurna circumnavigates the Annapurna Massif and is a longer, more expensive trek.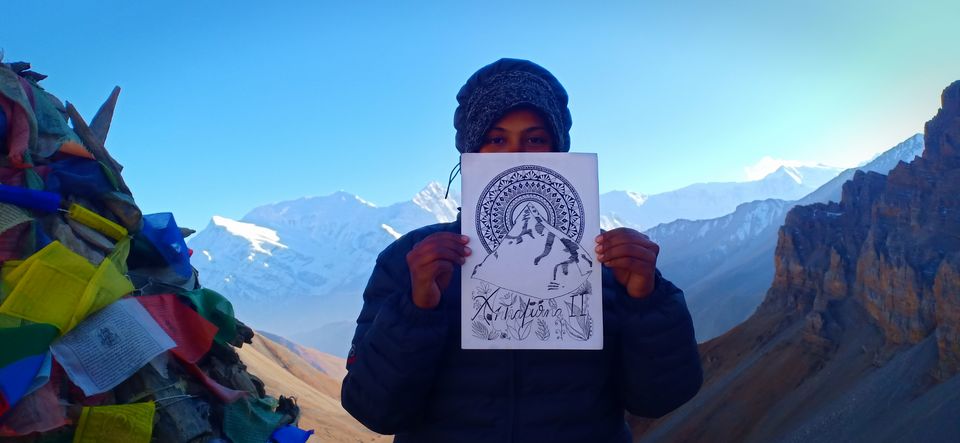 Here are some of my tips from trekking the Annapurna Circuit solo. I did this trek on 24th October 2019 and summited the Thorang La pass on 1st November 2019.
GUIDES AND PORTERS - Trekking agencies in Nepal cost $700-1000/ person or even more for the Annapurna Trek and take people in groups. The trek covers a total of 160-230 kms. depending on how much is covered in walking/trekking. On any normal day, expect to trek 12-16 kilometers on an average. The temperature range is 15 degree celsius and goes upto -5 and below in the night and higher altitudes. I did the trek without a guide or a porter. Brought a detailed Annapurna Conservation Map from a Book Store that helped me throughout the trek. The locals are helpful, the trail is marked well and there are very less chances of getting lost, given the no. of trekkers on the trail. To avoid a porter, back your bags lighter and you are good to go.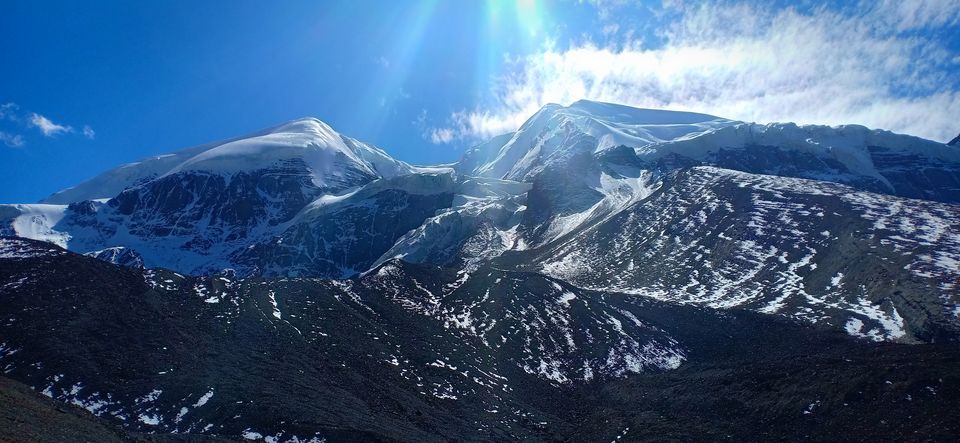 PERMIT - One needs to take permit for entering the Annapurna Conversation Area. It is $20 for SAARC and $50 for other nationalities. You need to carry the following to get your permit
1. 4 passport size photographs. One can get these clicked at the Pokhara or Kathmandu permit office too.
2. A passport copy is a must. In some cases, another identity proof such as driver's license or voter's ID card if accepted only upon the office's approval.
3. A health insurance is a must. Without which, permit is not granted. You can purchase travel health insurance online without much hassles.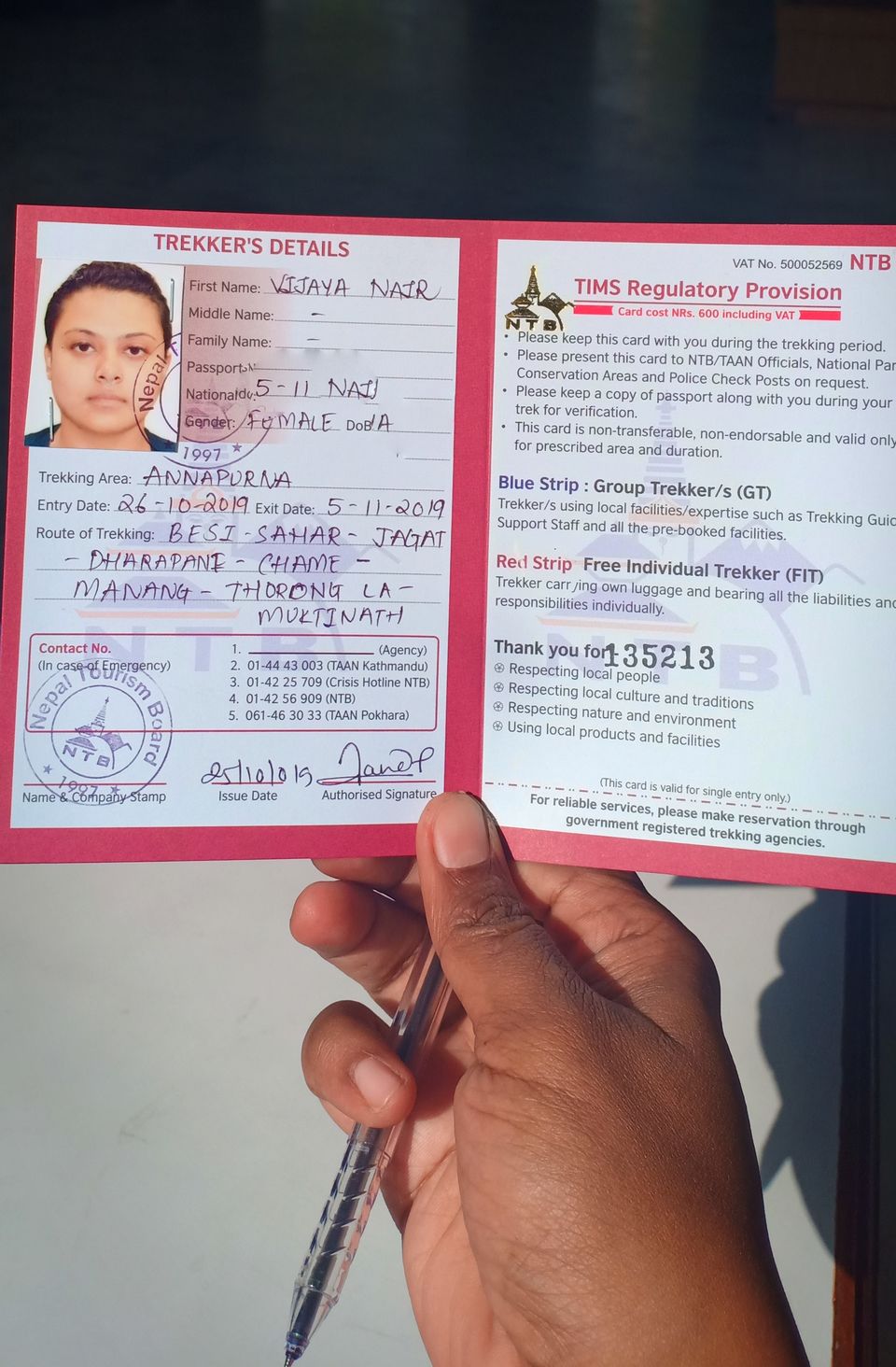 The whole process of getting the ACAP permit can take upto about 1-3 hours max. You will be issued a TIMS card or the trekking permit card. The color of the card is red, if you are trekking solo and blue if you are trekking with a group. The trekking permit card is an important document as it is stamped at different points on the trek and a trekker's details are entered to check on the safety of trekkers. Keep the trekking permit card safe and accessible at all times.
TRAVEL - If you plan to do the Annapurna Circuit Trek, you need to start from Besi Sahar. Personally, I would choose Pokhara anyday to the chaotic, dusty, congested Kathmandu. There are buses that ply from Prithvi Chowk in Pokhara to Besi Sahar at 7 A.M, 8.30 A.M, 11.45 A.M and 1.30 P.M. Alternatively, you can get a connecting bus or shared cab to Dumbre and then another connecting bus to Besi Sahar. Direct cabs are available too if you are ready to shell out some more money.
Besi Sahar - In terms of the trek, a recently built road (that is patchy at some point) goes all upto Manang. Besi Sahar is at 1,600 metres and Manang at 3,519 metres altitude. DO NOT MAKE THE MISTAKE OF TAKING A CAB ALL THE WAY UPTO MANANG. Yes, walking on the same road as the vehicles can be a little irritating, given the honking and the dust. For me, I took a cab upto to Jagat, because Jagat has hot water springs. But the max, I would suggest to go upto is Dharapani at the altitude of 2,640 metres. If you want to walk from Besi Sahar, that too is a good idea. I skipped it, thinking it would help me cut a few days off the trek, specially when the trail was the road!
Muktinath - Once you finish the summit of Thorang La and make your way to the long descent to Muktinath. First of all, tap your back, you did a great job! Second, if you can't feel your legs and want to end the trek at Muktinath, it is fine to do so. Of course there are cabs that will cost you a bomb or you can take the direct bus from Muktinath to Pokhara. The bus leaves every morning (in the peak season when the roads are open) at 9 A.M and the seats get full real quick. So don't show up 5 minutes to nine and cry that you could not get a seat. Go at least 30 mins early and get a seat in the front rows. The journey is about 10-11 hours, hectic as the roads are terrific and a constant roller coaster ride. The bus ticket is Rs.1430 Nepal Currency.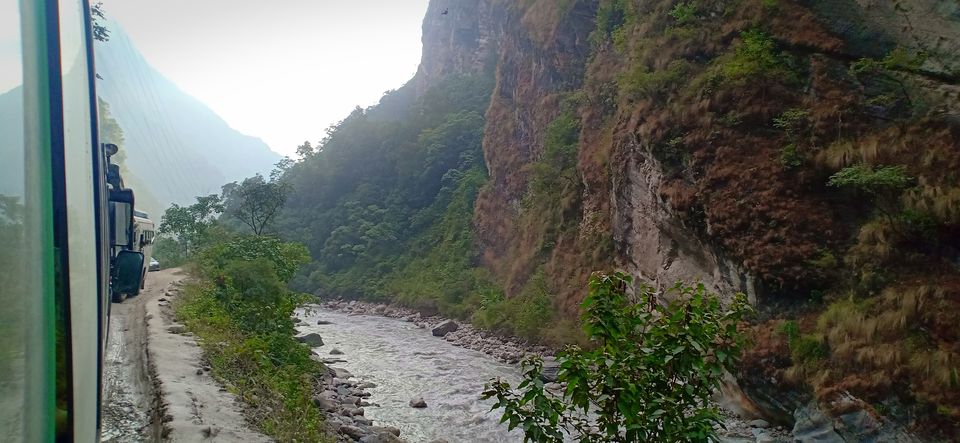 FOOD AND ACCOMMODATION - Food is an expensive affair on the Annapurna Circuit. The reason being that food needs to be supplied from the lower regions to higher regions and hence costly. Also, learned that if you eat and stay at the same tea house, you can ask for your accommodation price to be waived. Yes, you heard it right. The accommodation cost on the Annapurna Circuit is less. It ranges from Rs. 200 to 500 depending on the altitude or the camp you are at. When I reached Jagat, It was about 7 P.M and pretty dark. So I stepped at the first tea house I saw, called Revel Hotel. Their entrance was laden with chrysanthemum flowers and felt welcoming. The women who ran the hotel, upfront said she will waive off the room rent, if I ate there. So my bill would usually come to Rs. 1000 to 1200 on an average. Surprisingly, beer is also available throughout the circuit and is priced double than the regular cost price. I refrained from drinking beers as caffeine is best avoided on high altitude treks.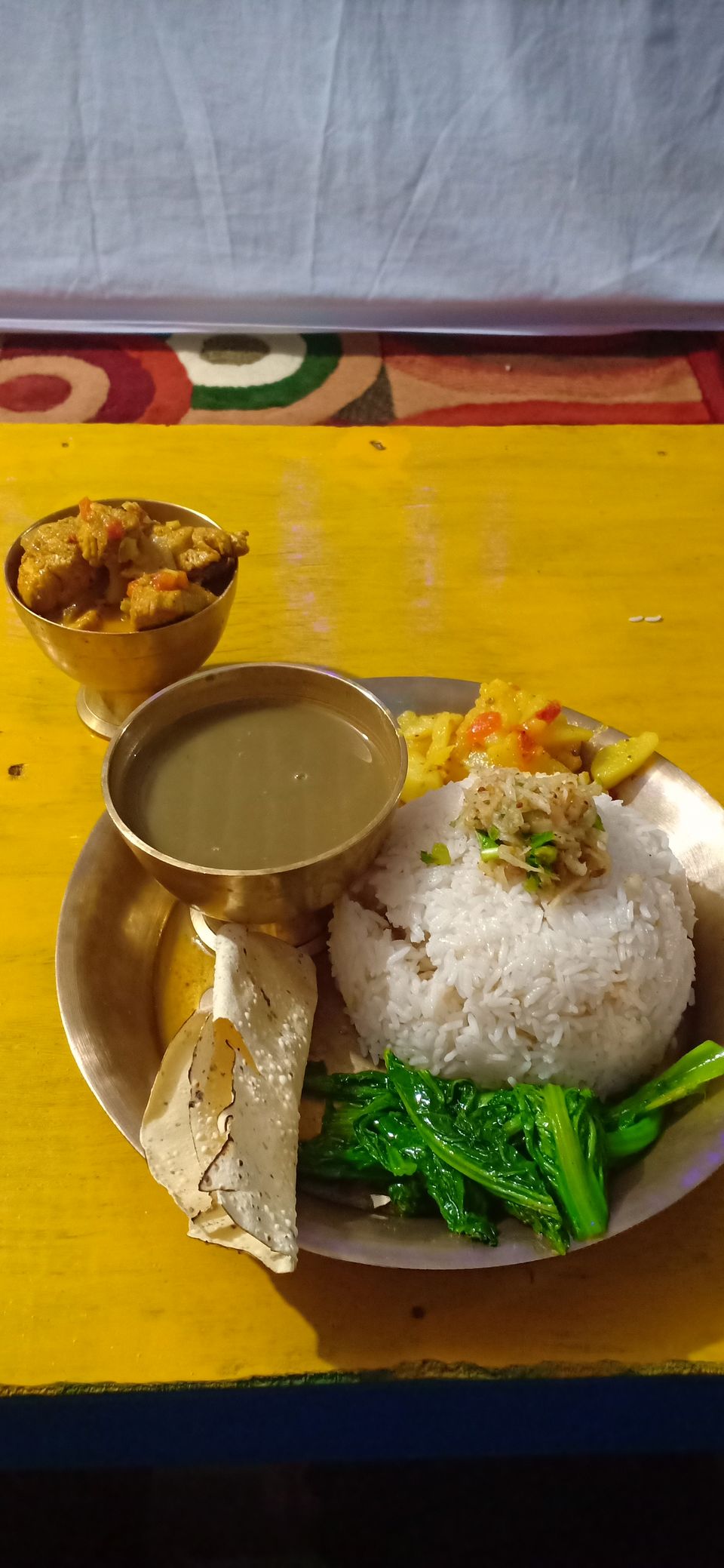 I looked at the menu, it had a lot of variety. From Pizza, to burgers, mashed potatoes and a few more regional and continental varieties. I decided to stick with the good old Dal Bhat. Dal Bhat is widely eaten in Nepal. It is generally served using a cooper thali or plate and has boiled rice, lentil curry, wilted spinach, a vegetable usually potato cauliflower and chutney. The best part is that you can ask for refills. In case, you are taking a meat thali, the meat part is not refillable. As you progress up and gain altitude, the villages of Braga, Mugje and Manang also serve Yak meat. I decided to stick to vegetarian food as I felt nauseous eating meat at high altitude.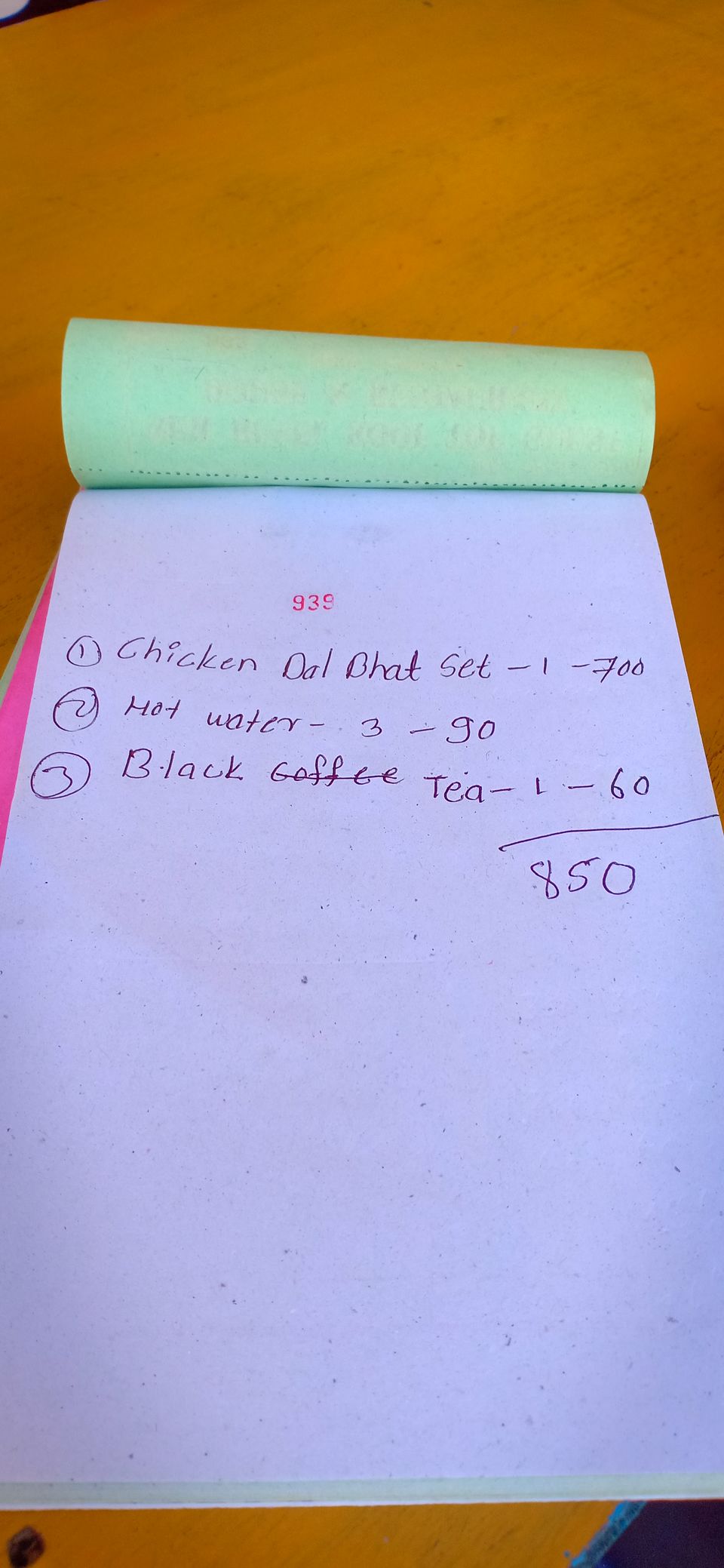 I used the free stay trick all upto Braga. The no. of tea houses go down from Upper Pisang. When I reached Braga (also known as Braka), the tea house demanded Rs.200 for a room. Fortunately found another solo women trekker from Italy and we shared the room and I paid Rs. 100. From Braga, I would strongly suggest to start trekking early from Braga onwards, as the tea houses ahead can get full in the peak season time. This specially applies for the Thorang High Camp.
Some trekkers prefer to stay at the Base Camp, which at 4,450 meters altitude. I suggest to trek the extra 500 meters altitude to High Camp, the same day as it can be quite tiring the next day. Trekkers start at 4 A.M if staying at Base High Camp. Since I reached the High Camp the previous day at 12 P.M, I was able to get a bed in the dorm room for Rs. 150 and the other room was priced at Rs.500. I have heard stories that at times, trekkers would end up sleeping in the kitchen common area as there would be no rooms available. And by the time it was 2 P.M, all rooms were taken and the fact turned true. Also it gets pretty cold and windy at High Camp. The water on the toilet floor and in the bucket was a block of ice at 12 P.M. Imagine how harsh the night was!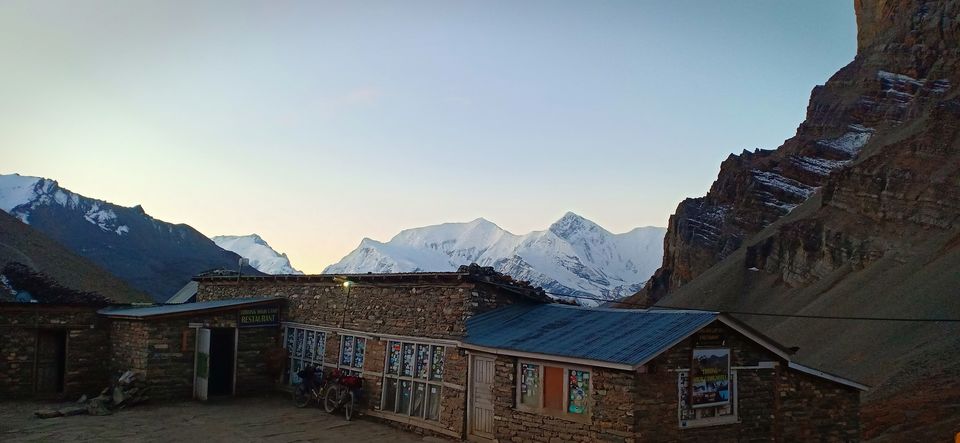 P.S - If you have started early on the day from Ledar camp, try and make it to the High Camp, it will help you for your summit the next day. As descent after the summit is excruciatingly long and took me a total of 11 hour to do the summit and reach Muktinath. If you are late and tired, stay at Base Camp.
The Annapurna Trek will spoil you in terms of variety of choices, local and continental food such as Pizza, fritters, cinnamon roll was available all the way til the high camp which is at 4,925 meters altitude. Cost of food increases drastically from Manang onward. At some places, a cup of hot water alone can cost you Rs.200. Also, if you are into cheese, you can buy some Yak Cheese priced at Rs.200/ 100 grams. (All prices mentioned in the article was in Nepal Currency, NPR)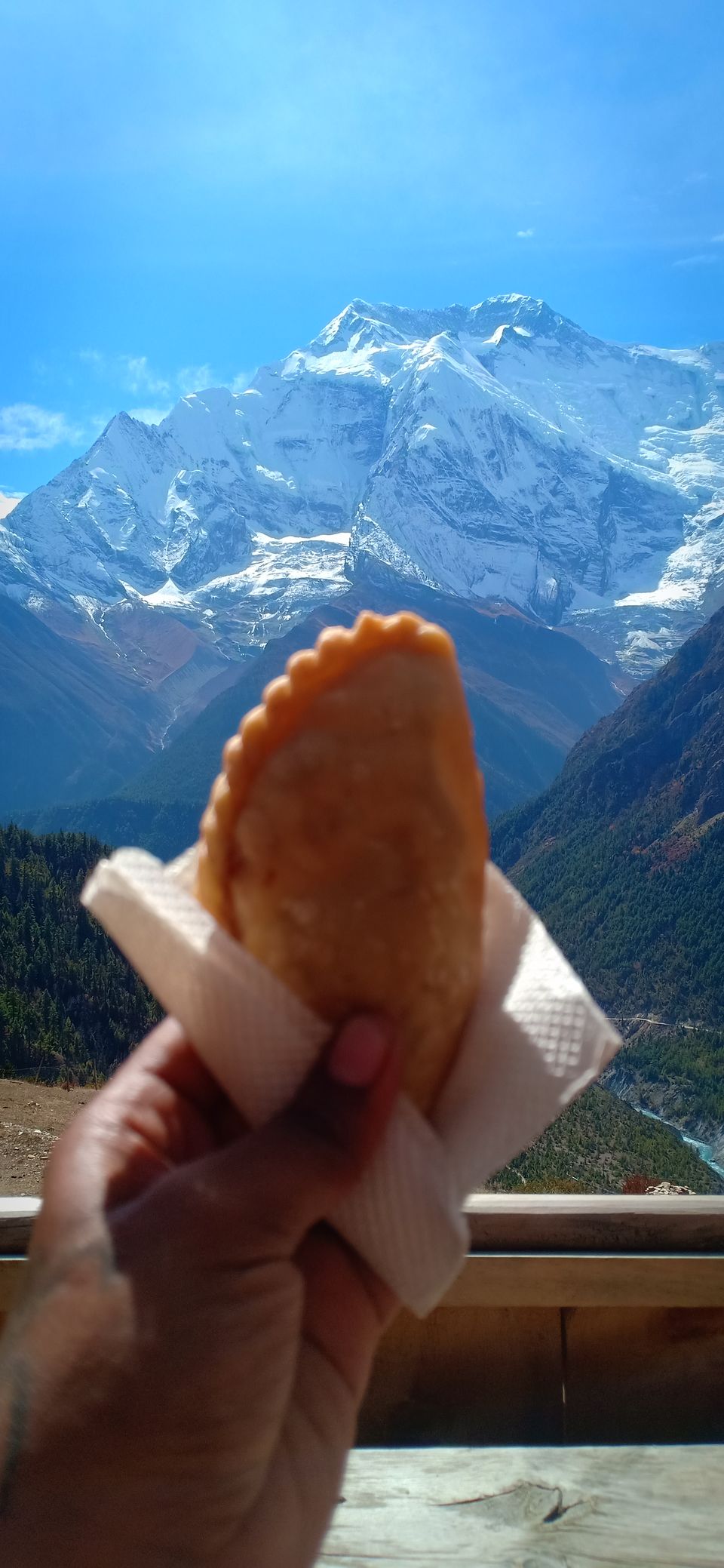 BATHING, TOILETS, MOBILE CHARGING POINTS, WI-FI - Tea houses provide hot water show facility for free upto Upper Pisang, after which a shower can cost about Rs.100-200. Toilet are usually Indian styled and not western toilet. Toilets are accessible at most tea houses and on the trail. In case you have a runny bladder and are peeing in the open, make sure you do not pee near a water body. Mobile charging points are available all the way upto the Thorang high camp. In some cases, charging point is available in your room and in most cases, there is a general extension where all the camera, mobile phones will get charged. Wi-Fi is free in the lower altitude and up till Manang. After Manang, expect to pay Rs.200 every night/ day.
Used the following gears on my trek
1. Trekking Poles - I only had one trekking pole. Some trekkers prefer 2 trekking poles. It definitely comes handy. I usually carry mine in the backpack and hence did not need to buy a new one. However, trekking poles can be purchased from Pokhara, Kathmandu or even Manang.
2. Winter Jacket - I was foolish enough to take just a flee jacket and another thin woolen jacket that I had brought years ago from a thrift shop at Commercial street, Bangalore. It was when I reached Braga, I realized that all those who suggested buying or renting the winter jacket were right. So at Manang, I purchased a North Face jacket with a cap for Rs.2000 NPR. Of course, it was a second copy, but regardless kept me warm, protected in the harsh temperature of -20 degree celsius and the super windy trail. Alternatively, one can also rent the jacket from Pokhara. I found one and the rent for 10-12 days was coming upto the same cost of a new jacket. Also a windcheater comes handy, in case it rains or snows.
3. A light backpack - A light backpack is a win-win. Carry only the essentials. I have had my days of over packing, but once I started trekking, I realized how difficult it gets. Plus when you are solo, without a guide or a porter, you feel like quitting the trek. Hence, PACK YOUR BAGS LIGHTER PEOPLE! I carried 3 black t shirts (that are priced at Rs.100 from the men's section at Decathlon) and 2 long sleeve t shirt's. A sunscreen, portable charger, toiletries, inner garments, 1 trekking pant that I used for 10 days straight. A set of alibaba pants, 1 thermal leggings I would wear every night. Another pair of leggings. An Astryx trekking hat that was brought from Pokahara and I realized that trekking gear is slightly cheaper at Pokhara. Maybe because Nepal is a mountaineering heaven or either because there is a a lot of second copy stuff.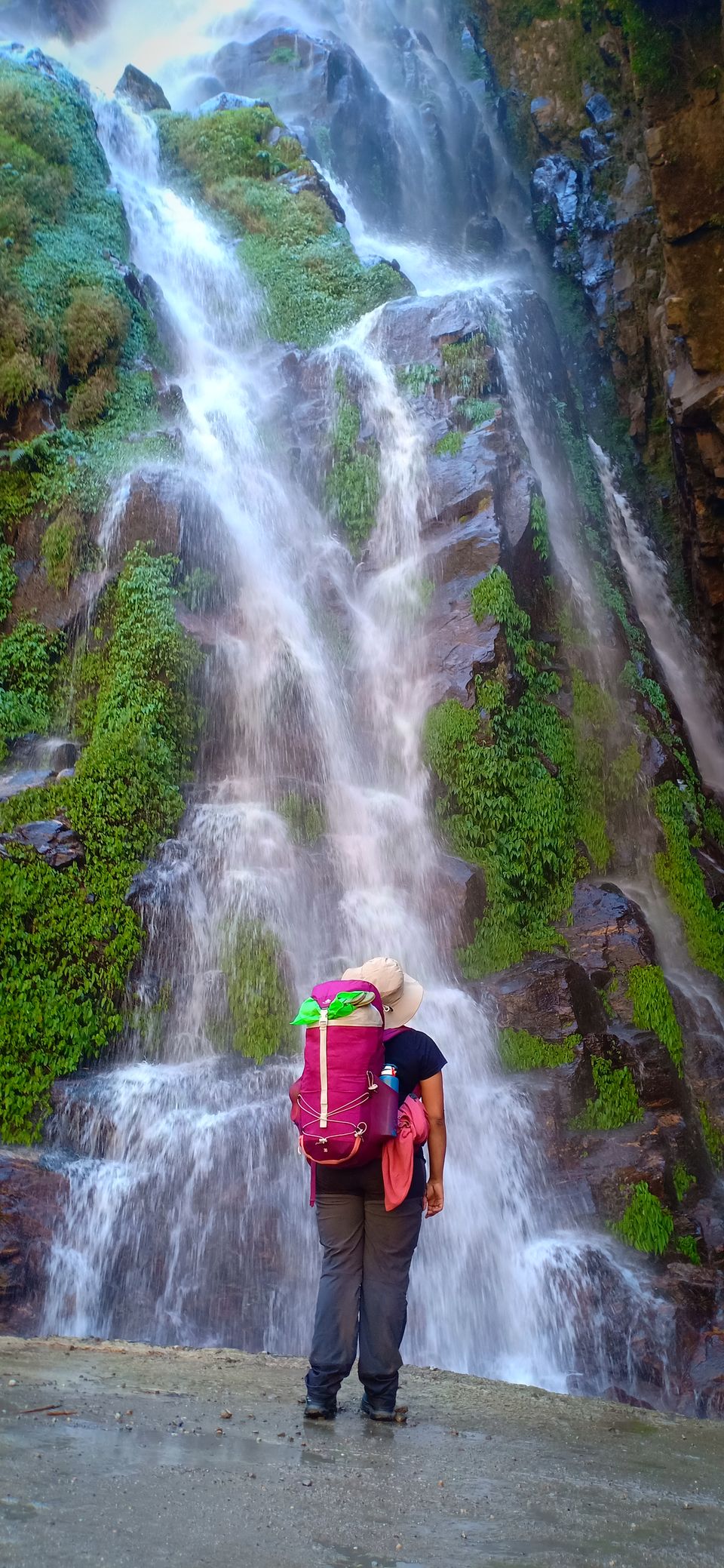 4. Food - I skipped eating lunch at the tea house for 8 days and saved approximately about Rs. 4000 NPR. I managed to get apples and had made a batch of granola bars. I would eat an apple, an energy bar and a black tea that would cost Rs. 100 NPR. The region from Dharapani till Kagbeni has apple orchids. The apples grown in the region are quite different from the ones, I usually ate from Himachal, India. Apples here are grown on vines and only after Muktinath, did I spot proper apples trees and not the plant being supported by vines. There is a apple factory at Bhratang and there is a coffee shop that serves pastries, breads, cold pressed apple juice and even chocolate and apple doughnuts. I brought about 4 apples for Rs.70 NPR.
5.Water Bottle, etc. - Please carry 2 water bottles. There was safe drinking stations throughout the circuit where 1 litre of water cost Rs.100 NPR. For me, I used the tap water and used a tablet of aquatabs. After an hour, the same tap water is safe to drink. Avoid buying one time plastic water bottles as the deposing scenes are bad. There are small abandoned stations, like tiny houses, that are in fact dustbins. filled with plastic that is going to stay on this precious landscape.
I also carried some eucalyptus oil as the cold really gets to you after Manang. Carrying a few strips of Strepsils and a first aid kit is highly recommended. Carried a light weight sleeping bag that supports upto 5 degree Celsius. It was a blessing and carry one if you can. Once you get in it, it is sealed and helps fight the decreasing night temperatures. Blankets are provided, but it is always nice to have a sleeping bag, specially at the Thorang High Camp.
LANGUAGE - The Annapurna Trek is the world's greatest treks and hence the locals have been receiving trekkers, tourists since a few decades now. Most of them converse fluently in English. Nepali is slightly similar to Hindi and for me as an Indian, I had absolutely no trouble conversing with the locals in English, Hindi. Some of them even mistook me for a Nepali girl.DEALING WITH AMS - Altitude sickness, the mildest form being acute mountain sickness (AMS), is the negative health effect of high altitude, caused by rapid exposure to low amounts of oxygen at high elevation. Symptoms may include headaches, vomiting, tiredness, trouble sleeping, and dizziness. While trekking, stay hydrated. Avoid eating meat at higher altitude as it can cause nausea, stay off caffeine. If you feel the symptoms of AMS, stop trekking to higher altitude. Remember, your health is your biggest asset. I met a couple who reached the High Camp and got AMS and could not summit Thorang La. It might feel heart breaking, but a sane decision to stop can save your life, as AMS can also be fatal.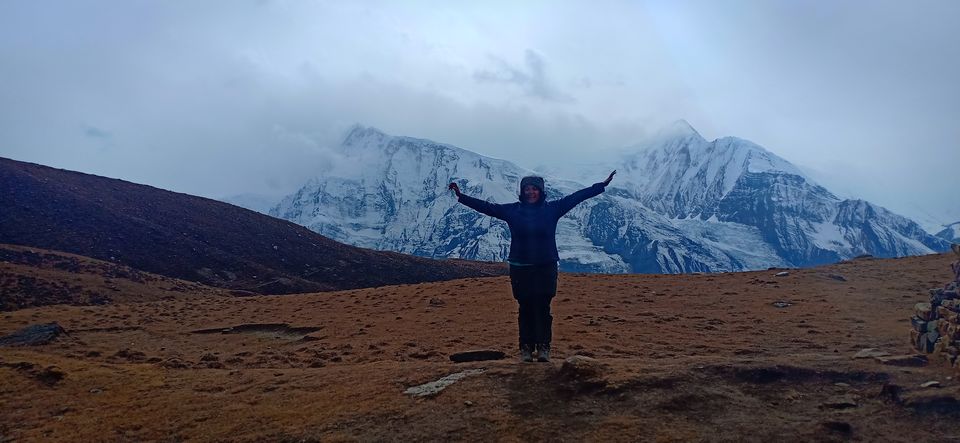 WHY SHOULD YOU BE INSPIRED TO DO THIS TREK?
Well, apart from the obvious love for mountains, nature. Annapurna Circuit trek starts from tropical villages with rice fields, beautiful fruit trees growing on the road side, wild flowers beautifying the landscape. Passing through tiny villages, having an access to look into the Nepali way of life. The blue waters of river Marshyangdi running parallel to gorge and the most of the trekking trail. The mighty Annapurna mountain massif, the Gangapurna mountain, Chullu peaks, Dhaulagiri, Manaslu, all leaving one in a state of awe with its undiluted sheer beauty. Bridges over river that give you an adrenaline rush. The scenery sometimes making you want to pinch yourself to believe you are in the Himalayas. The Kali Gandki having to be said one of the deepest running river gorge in the world. The Ice Lake (also known as Kicho), Tillicho Lake and a few other teal blue lakes on the circuit, Hot water springs, warmth of Nepali people, the grand Himalayan landscape are enough reasons to do the trek. Besides, they say you don't conquer the mountain, you conquer yourself and it is a good way to put your stamina and mental strength to test :)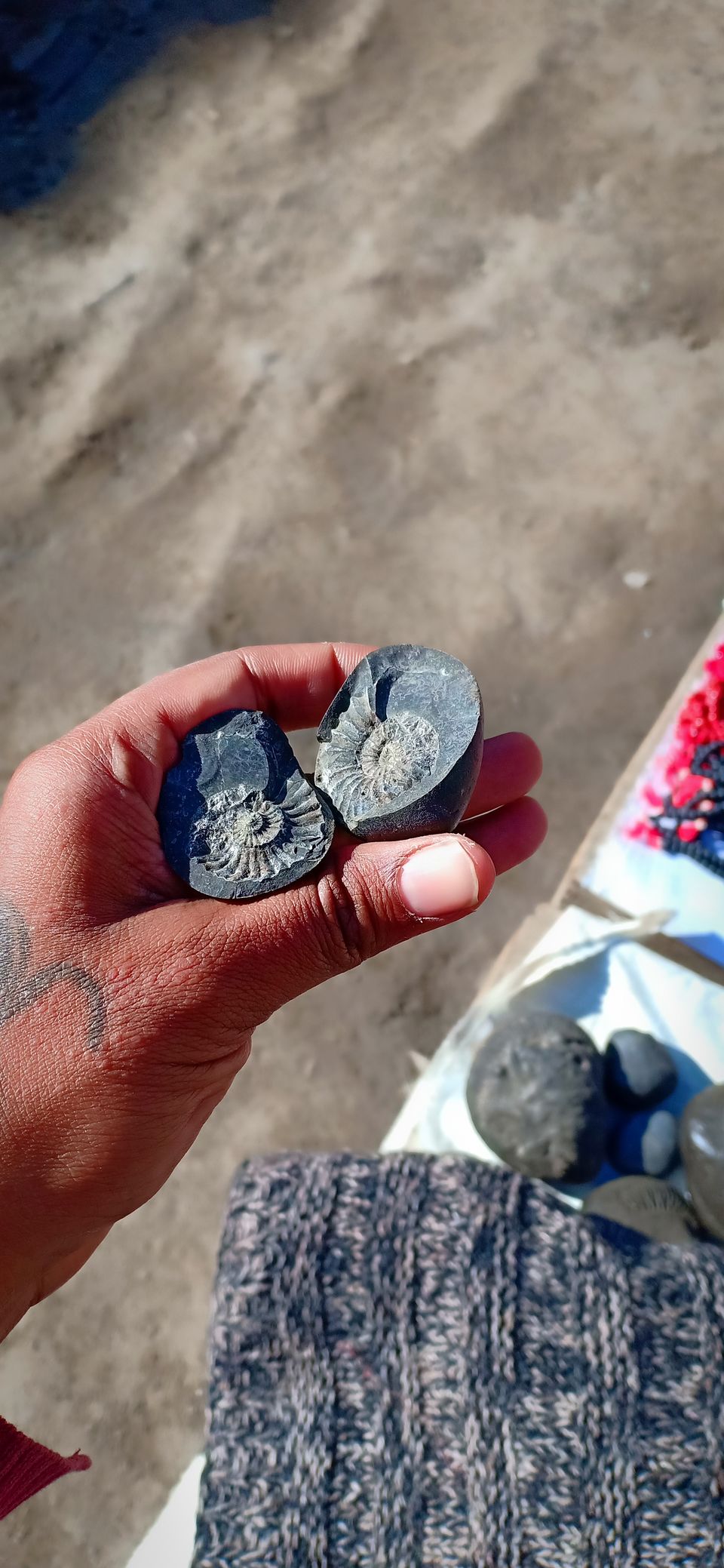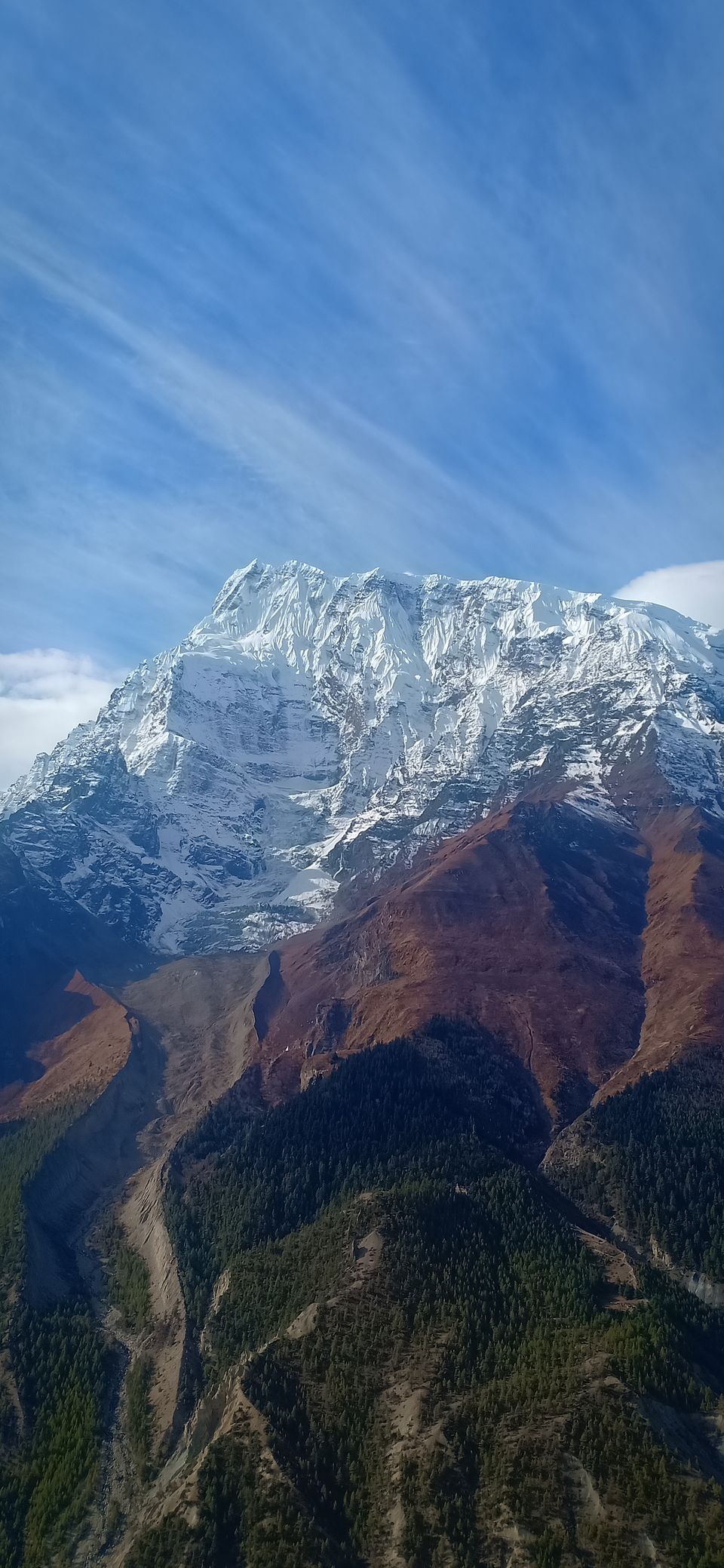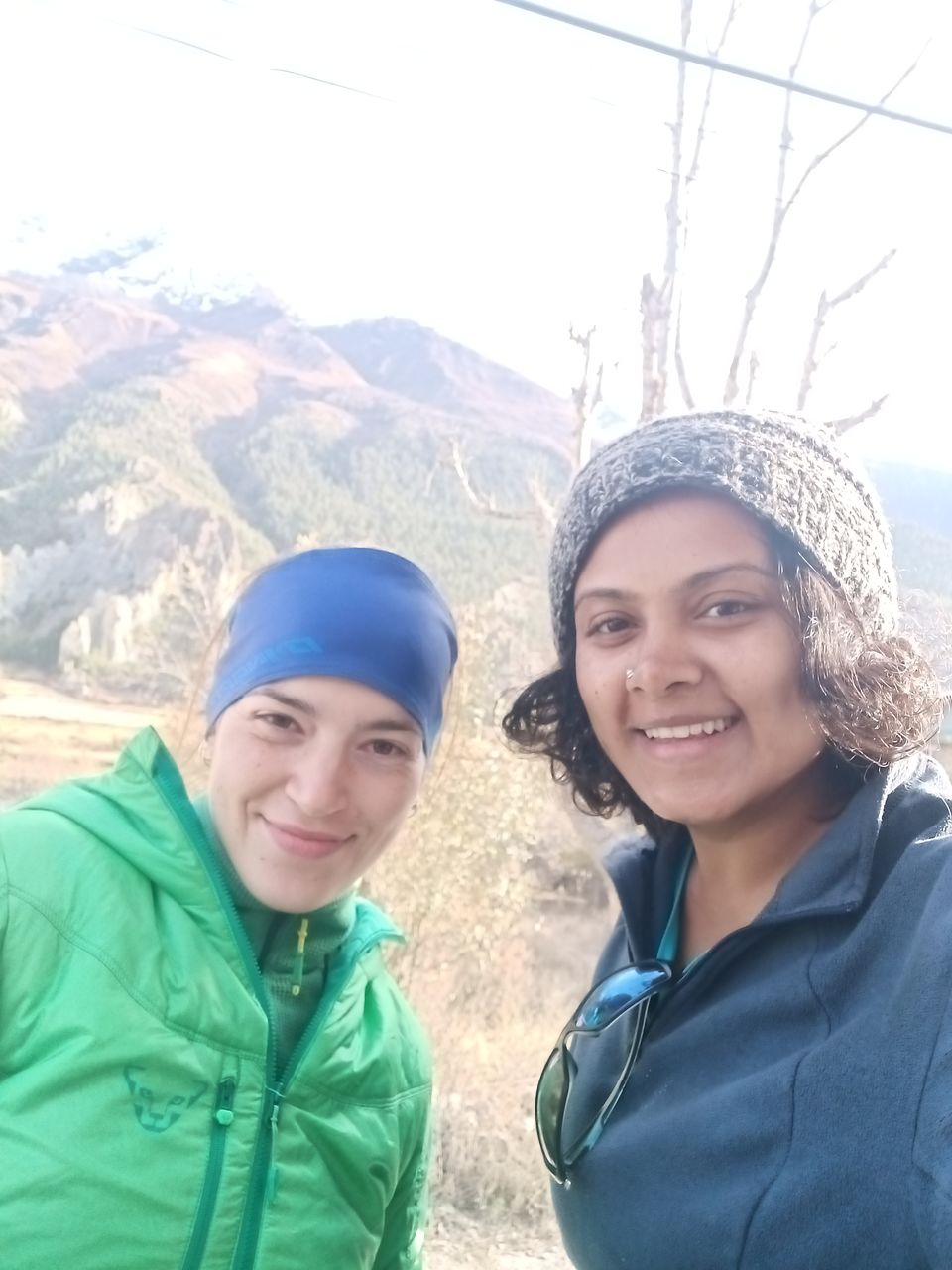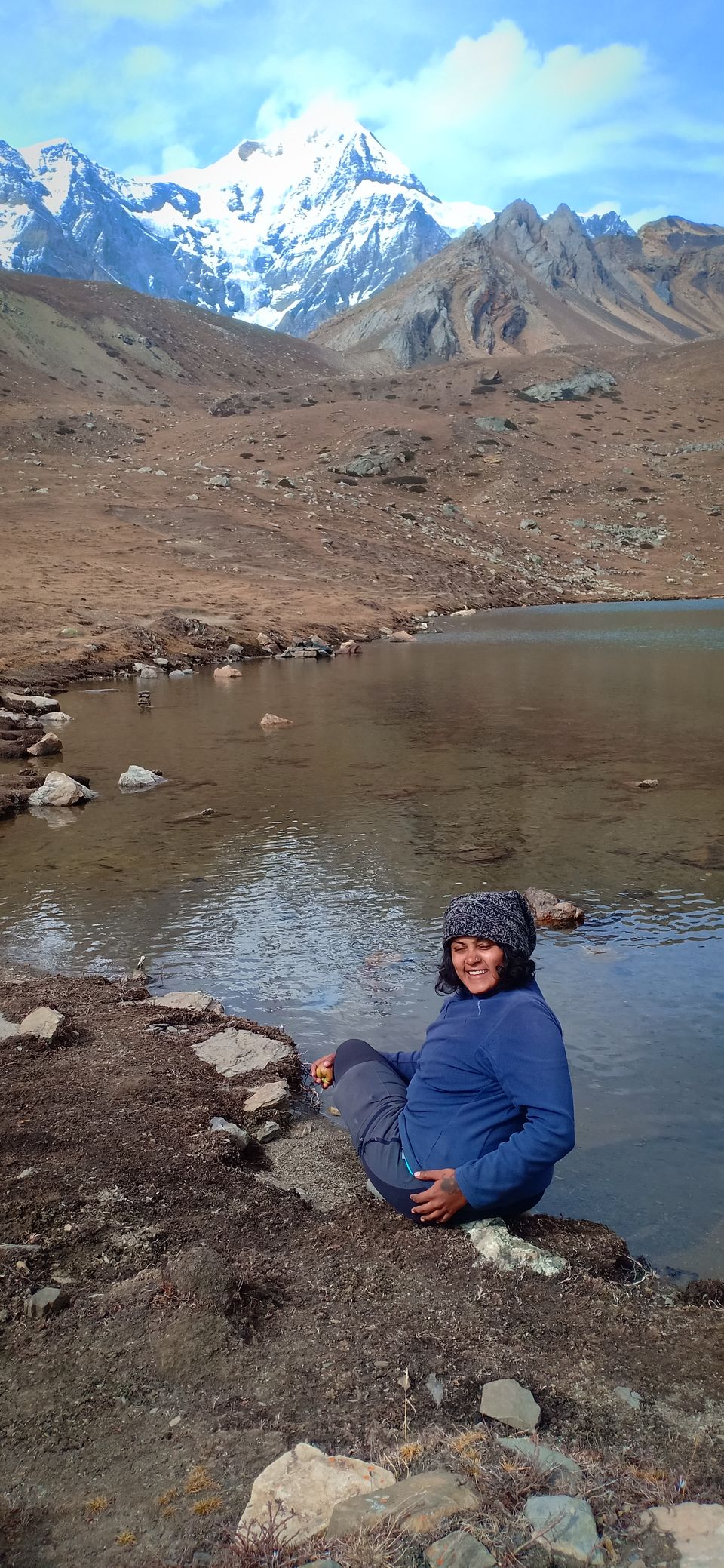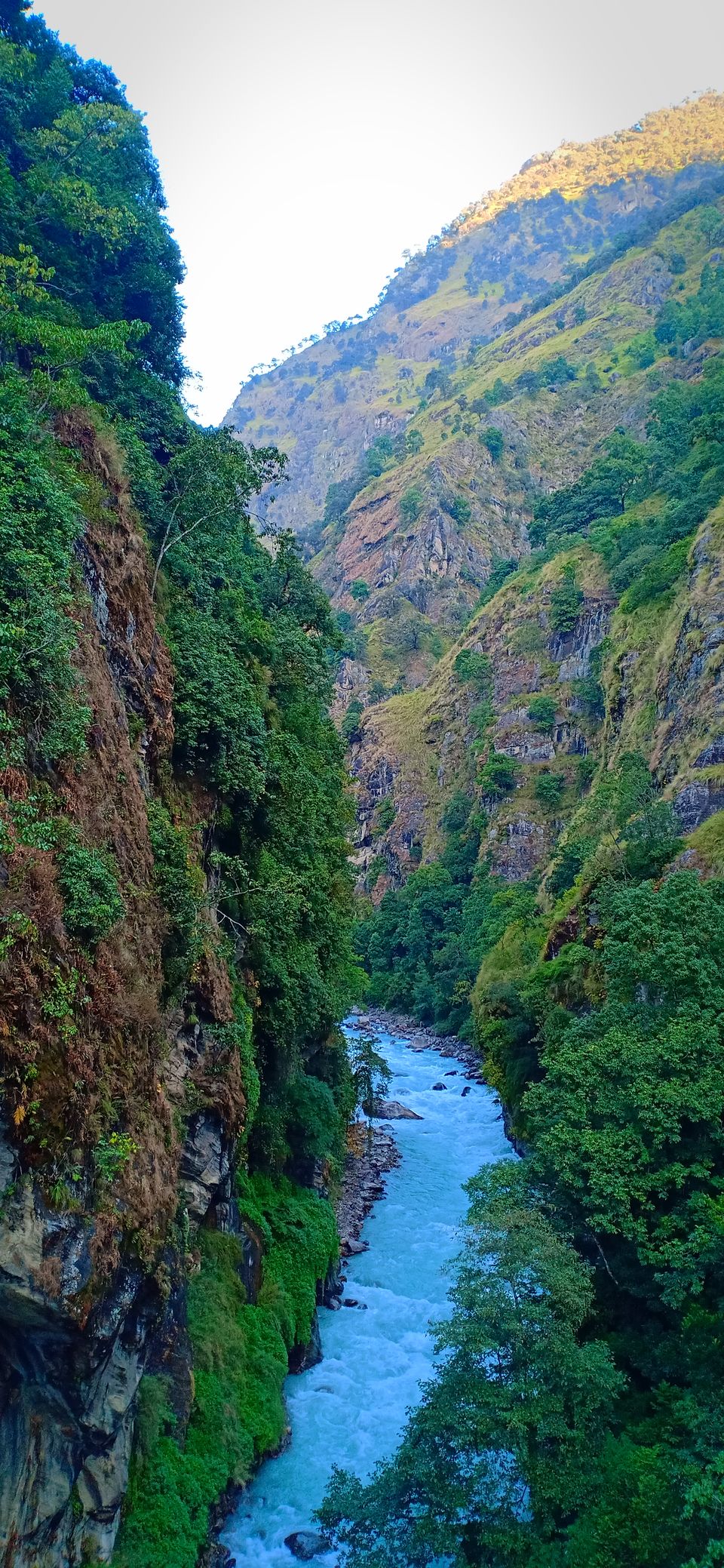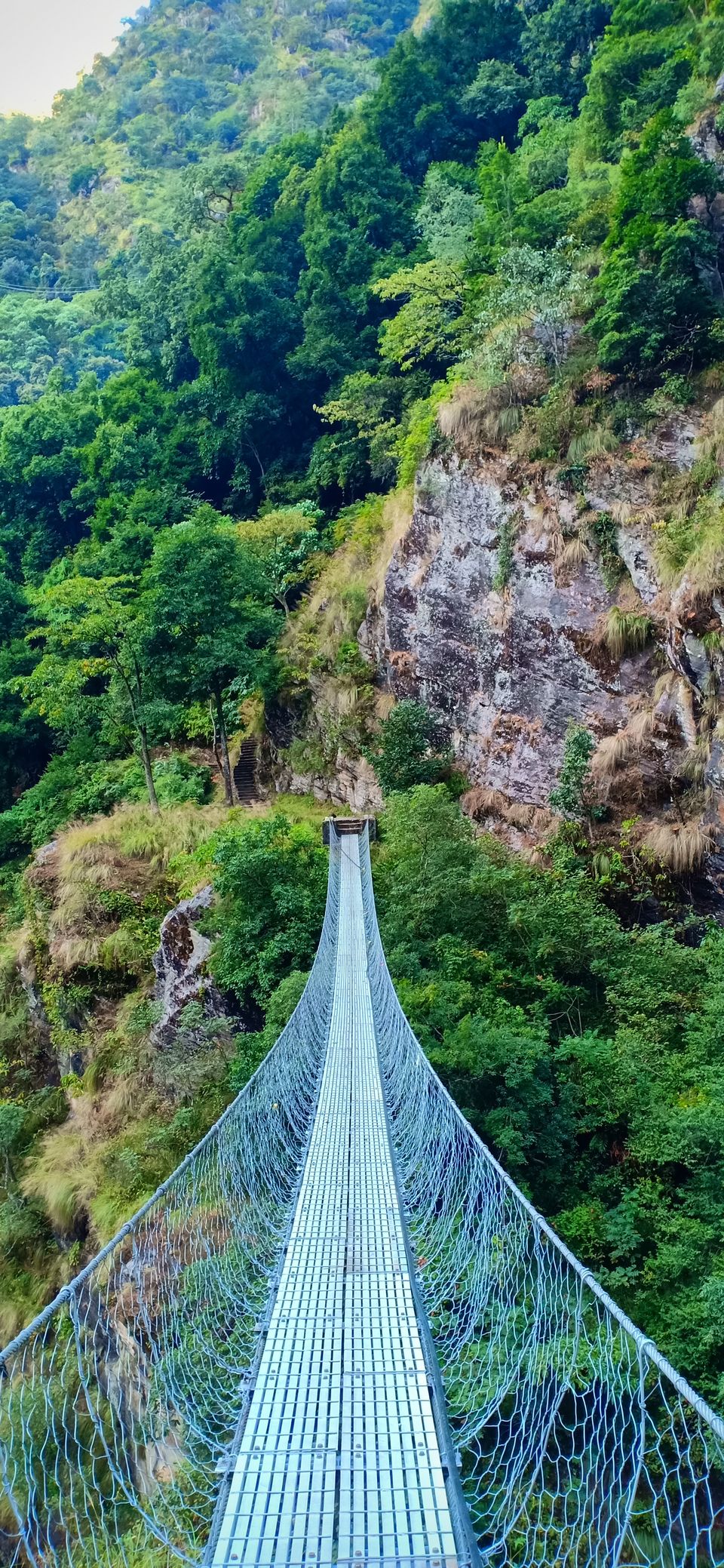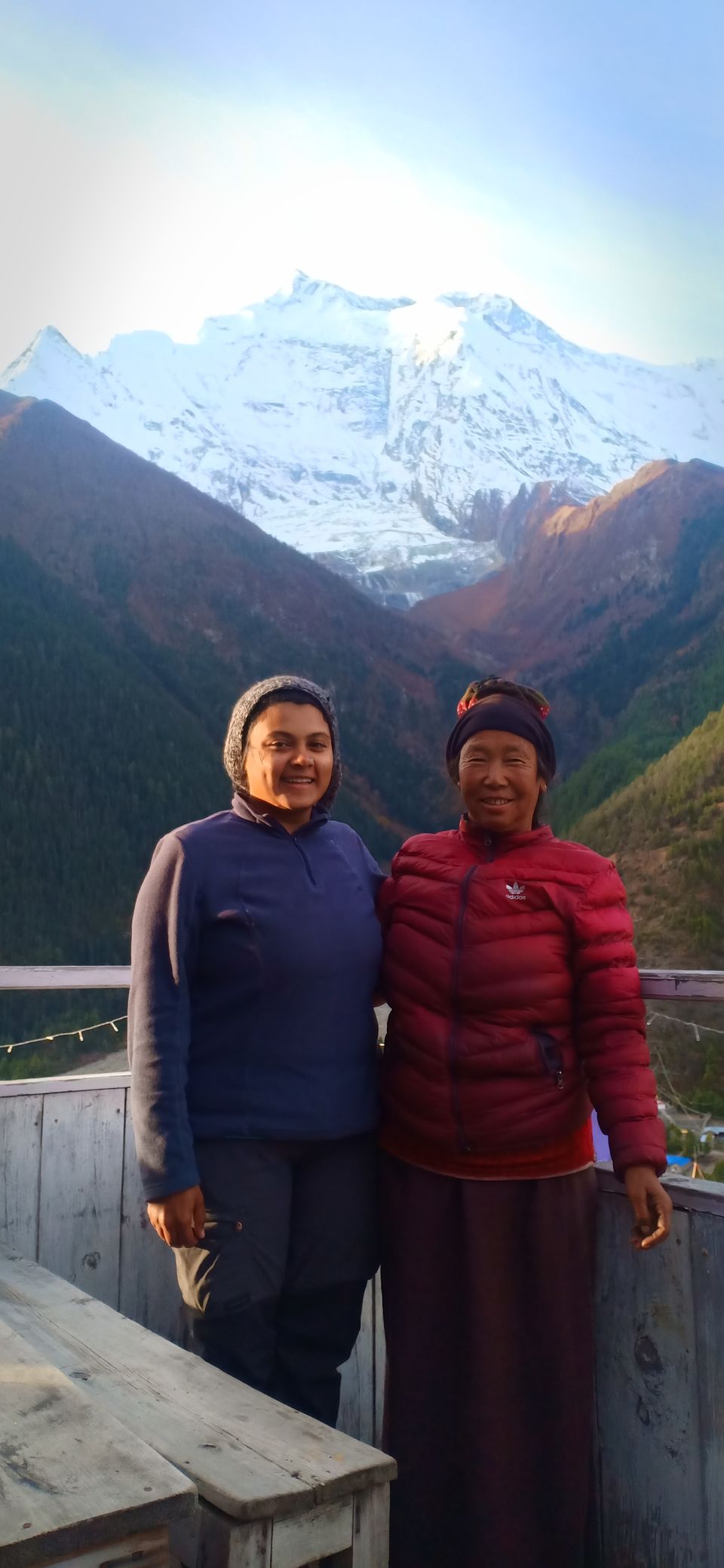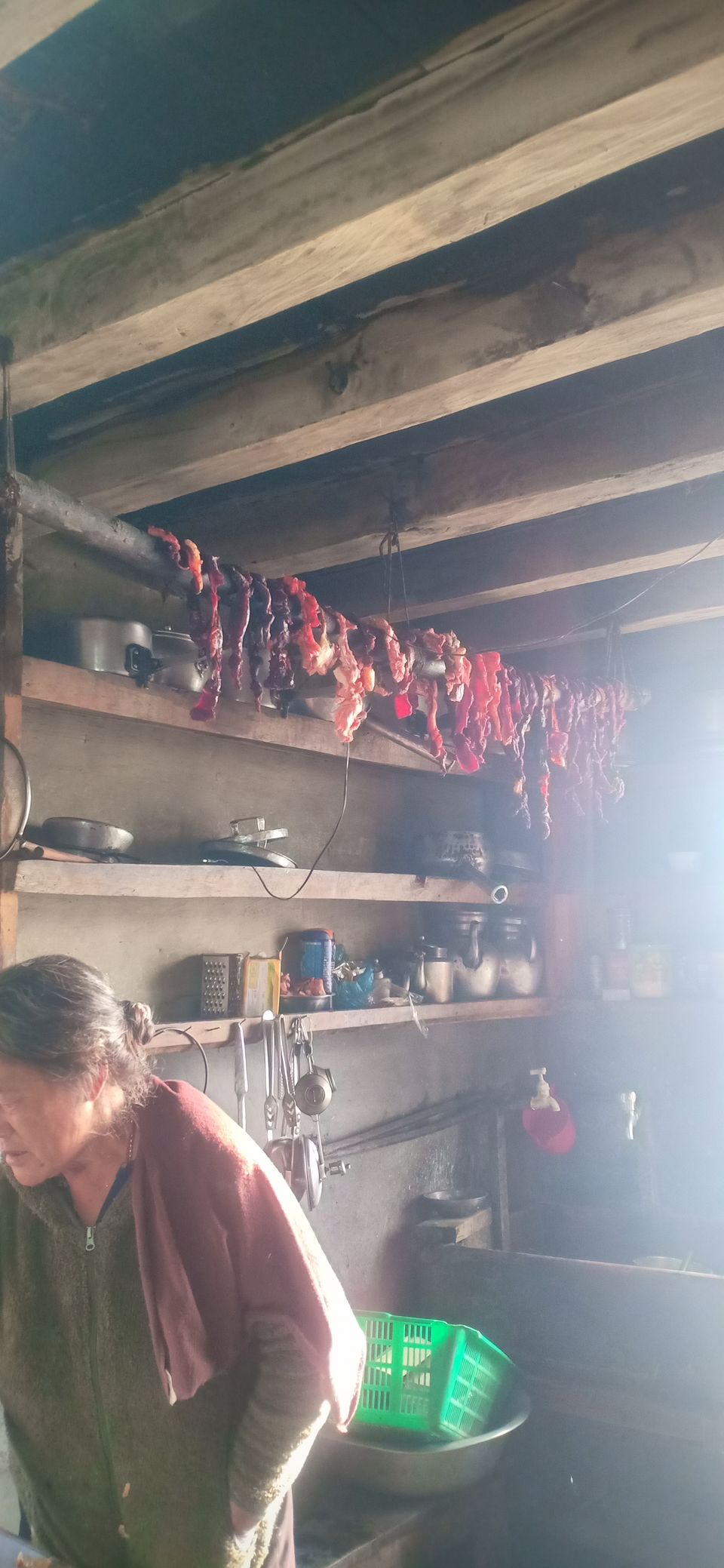 P.S - during the final summit, the guides/locals try to offer or sell a horse riding expereince so that getting to Thorang La at 5,400 meters gets easy. It can seem tempting, but costs $100-$200 with a chance of falling off and not acclimatizing. Skip the horse that torture, one step a time and in some time, you summit Thorang La!
I started the trek solo and was the only Asian women on the whole trek. I managed to do the entire trek with $200. I met plethora of trekkers from different countries, made a few dear friends and exchanged travel stories. The warm people of Nepal made me feel at home and were helpful and quite welcoming.
I have also documented the whole journey from Pokhara to trekking the circuit till Muktinath via a travel vlog. You can watch The Annapurna Circuit Trek travel vlogs on Youtube, channel link is The Meraki Explorer. For Nepal travel stories, follow me on Instagram. Hope, this article helps you to get a better overview of the Annapurna Circuit Trek and inspires to head to the Annapurna Region someday!
This is my travel story for #Tripoto'sLockdownGuide